This is a trip that I took almost 8 months ago, so the details might be a little rusty...but I filled up almost an entire memory card with pictures, so I hope they make up for it!
I took this two week vacation to London with my family last summer, touring London and the Cotswolds in Southern England, as well as a daytrip to Paris on the Eurostar. While admittedly a very touristy trip, I very much enjoyed myself, seeing the sights, as well as experiencing European public transit. (compared to the trains and subways here in the states, I must say...wow.)
Anyways, on to my flight:
KBOS - EGLL
Flight
#AA156
21 June, 2008
Equipment:
Boeing 777-200 (N770AN)
Seat Number:
37J (Window)
AA156 is an early morning departure from Boston, so the night before I had spent the evening in New Hampshire with relatives, to ease the drive into the airport. (From my house in Maine to Boston is about a 3.5 hour drive, but well worth it to avoid the mess of connecting in New York JFK)
I was surprised by how much AA's employees at Boston seemed to actually care about passengers. In addition to the staff behind the counter, there were two runners going up and down the line sending late passengers to the front of the line, or directing American Eagle passengers to a different terminal. This was one of the very few times that I've been able to describe checking in as "efficient." Since it was early morning, the line was by no means small, but it wasn't as torturous as I've experienced in Boston before.
Security was the same sort of efficiency. There were still a few people in front of me that somehow forgot about the liquids-ban, but so it goes. I think that will continue to be a problem until the ban is lifted.
After check in, I was left with about an hour and a half to kill in Boston's Terminal B. Terminal B is centrally located on the airport, and affords good views of a lot of surrounding traffic, including AirTran, jetBlue, and Cape Air (and of course, American) operations, as well the airport's runways. The morning sun was preventing any good pictures out towards the runways, but it was still plenty entertaining to watch all the planes going by.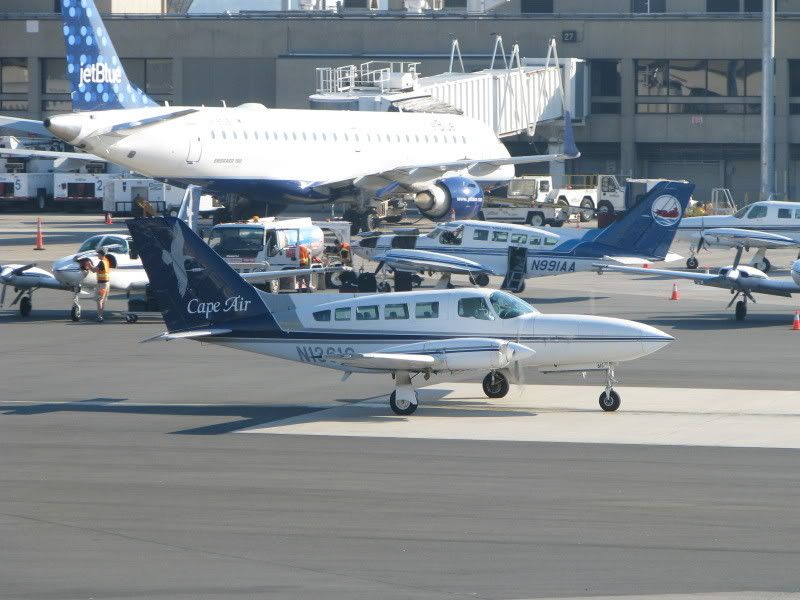 Cape Air/JetBlue's operation at BOS. I wonder how that partnership has been working for them?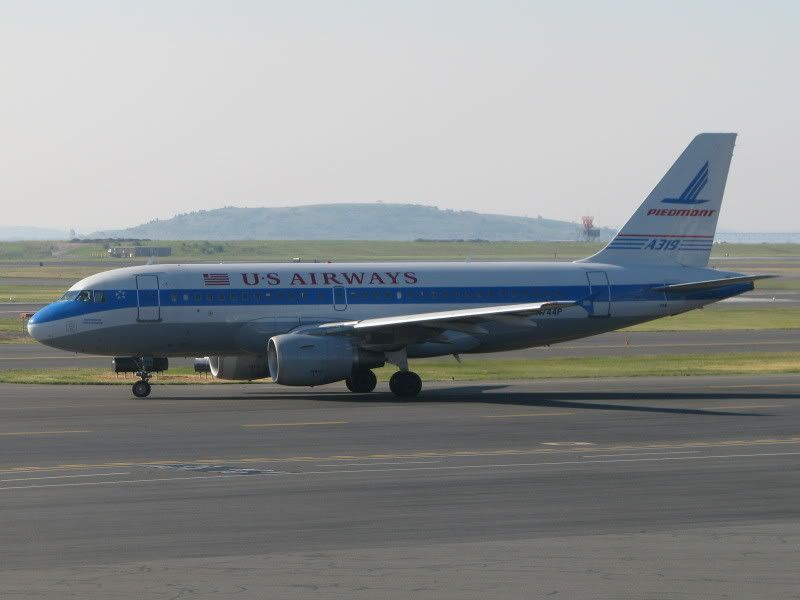 US Airways' Piedmont plane. This was my first time to catch one of the special liveries.
The aircraft to carry me to London was the only widebody at the terminal, 777-200 N770AN. The terminal was relatively empty, and the big jet seemed to loom over the end of the concourse.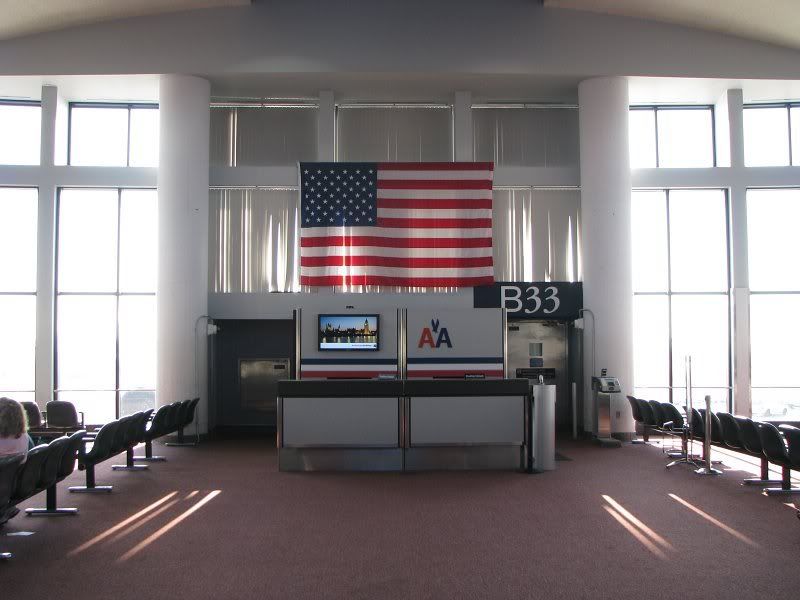 The departure gate, and the relatively empty terminal area.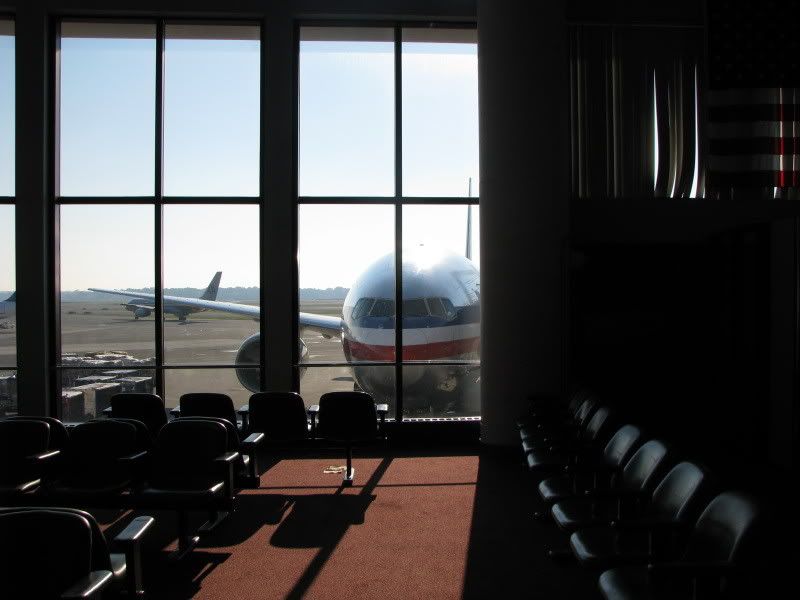 It looks like the 777 is spying on me through the window...
Boarding was relatively quick and easy. Despite the gate area being more or less empty, it was announced that the flight was full. There wasn't much of a line at the podium (something that surprised me, with the cattle-car approach to boarding that most flights take these days. Maybe it was just too early in the morning for everyone to care.)
On board, I was surprised by the spaciousness of the plane. While the seats were nothing to rave about (JetBlue's E-190 still has far more personal room than this 777) the overall volume of the cabin certainly did make it feel more comfortable. Compared to the Cessnas, RJs and A320s that I'm used to flying, any widebody would have felt like being outside to me.
When I first sat down, I was disappointed by the fact that my PTV wasn't turning on. After contemplating asking to be moved to a different seat, I realized that my seatmate had her elbow firmly planted on the "off" button in the arm rest mounted remote. Once I pulled the remote out of the armrest, the PTV began working normally.
My shirt is reflecting in the blank PTV. (It reads "Resistance is Futile. If < 1 Ohm")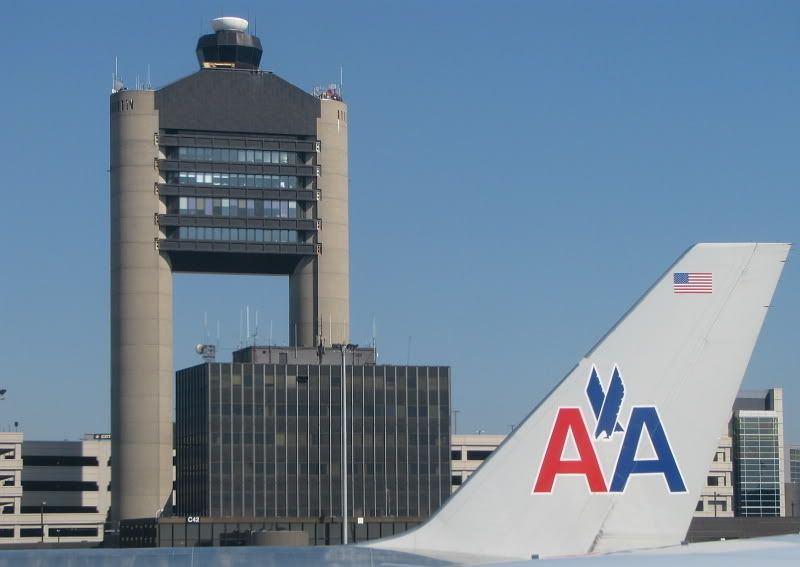 Classic Boston shot. Couldn't get away with a BOS trip report without a shot of the tower.
After a brief delay for some last-minute luggage, the cargo door was closed right below my feet, and we taxied out to Runway 22L. There were two or three planes in the conga line in front of us, and maybe a dozen following, varying in size from a Cape Air C402 to an American 757. We were off the ground quickly, banking East over Boston harbor, and then out over Cape Cod and over the Atlantic.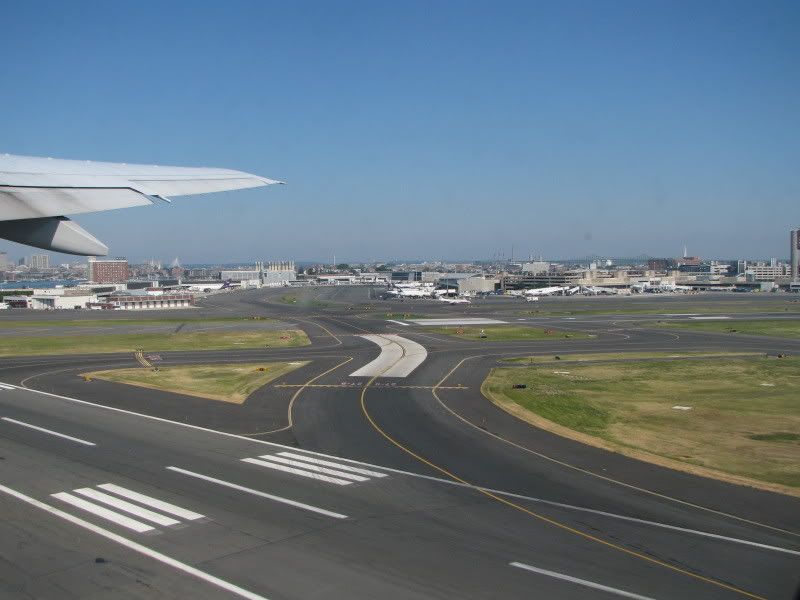 "Pos Rate, Gear Up!" (actually, I have no idea what the pilots were saying at this point...but it sounds cool to say.)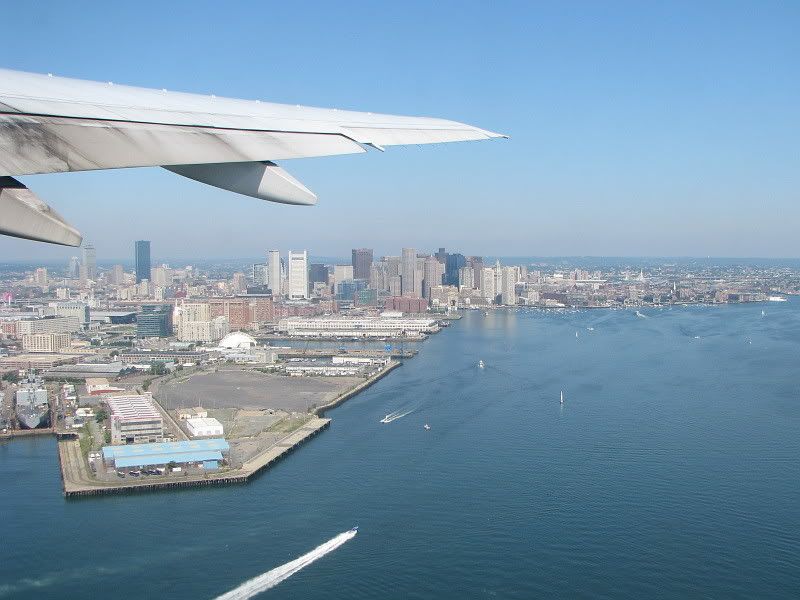 Boston's Skyline.
Shortly after departure I settled in with my PTV and kept myself entertained watching some TV shows, as well as catching up on my classic movies and watching "Casablanca" for the first time. Honestly, I don't remember how the service was on the flight. A light meal was served shortly after departure, and snacks and drinks later on. But since I don't remember anything about what I ate, it couldn't have been too bad (or too good either, for that matter).
Jumping forward to 4 or so hours later, as we approached the greater London area, we were put into a holding pattern with a number of other planes. Despite the delay of 15 minutes, I enjoyed watching the 747s and various other widebodies zooming around just above and below us.
The first thing I noticed when descending through the clouds was the compactness of everything. The layout of the greater London area is perfect for public transit...I love it!
We landed at Heathrow just behind schedule, under dreary evening skies. After spending another 10 minutes waiting for a PIA 777 to clear our gate space, and another 10 to get off the aircraft, I stepped out into a worn down and bleak London Heathrow Airport. While the maze of a walk to Customs and the worn out terminal wasn't pleasant, I still found this experience at Heathrow at least bearable.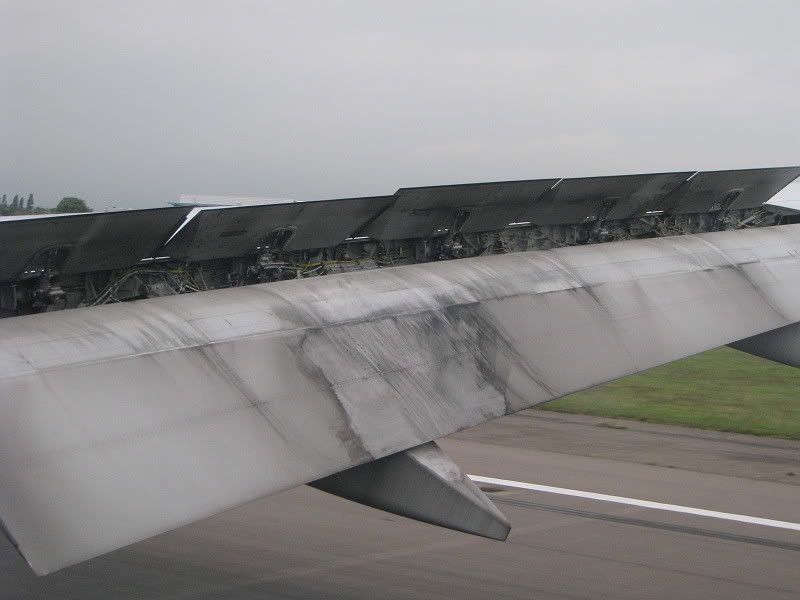 Spoiler Alert! Don't view this if you don't want to see the inner workings of a wing!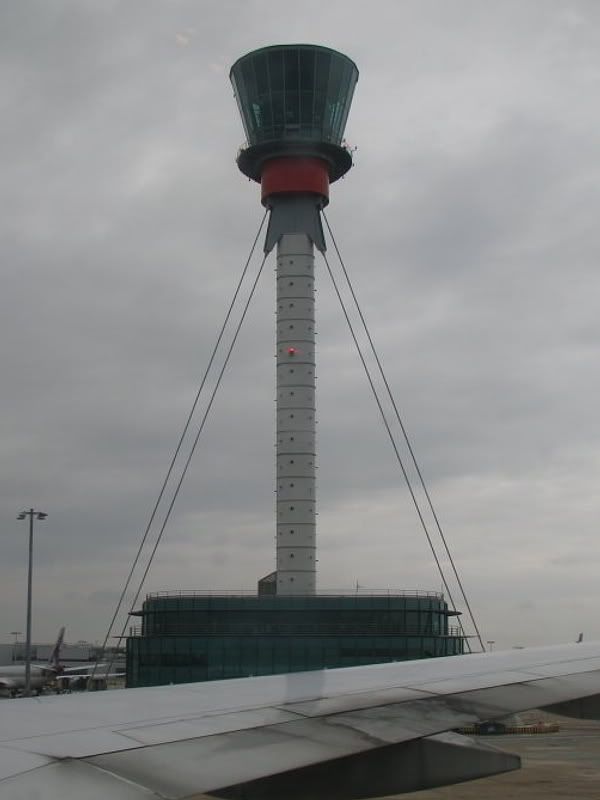 Waiting for a Pakistani 777 to pull out of the ramp, so that we can make our way in.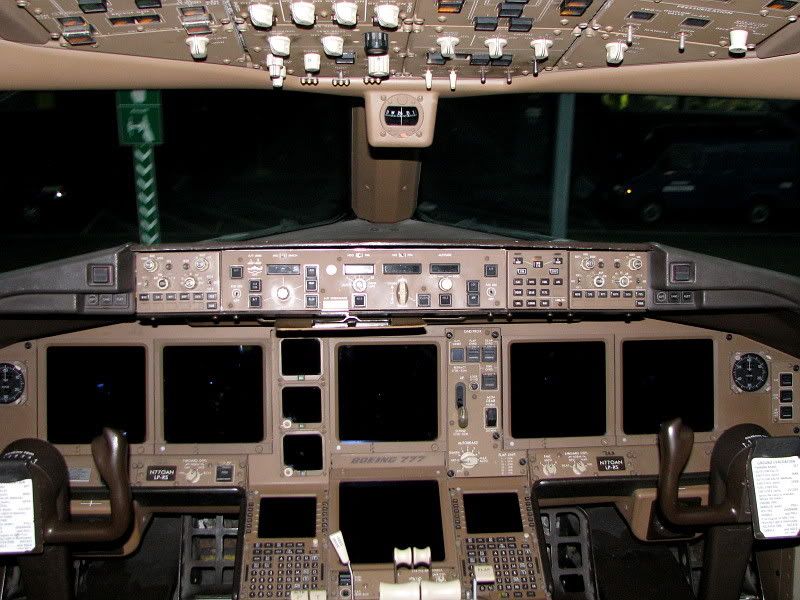 777 Flight Deck
After clearing customs (which in itself took about 45 minutes), my family and I made our way to a taxi for an almost 2 hour adventure across the streets of London to the condo we had rented in the Hammersmith district of London. This would be our home for the next week while exploring the city.
Since this is a flight-report, I'll leave my tourist commentary to a minimum, so that I can get back to the planes, trains, and all that fun stuff.
Heading out into London over the next few days, I stuck to the Underground for transit everywhere. I am really envious for those who have transit like this available to them at all times. Growing up in Maine, and now in Daytona Beach, even a short journey has always meant getting in the car, wasting gas, fighting traffic, etc. Having stores, attractions, and everything else within a quick walk or train ride is wonderful. I certainly want to live in a large city with transit like this once I get through with school.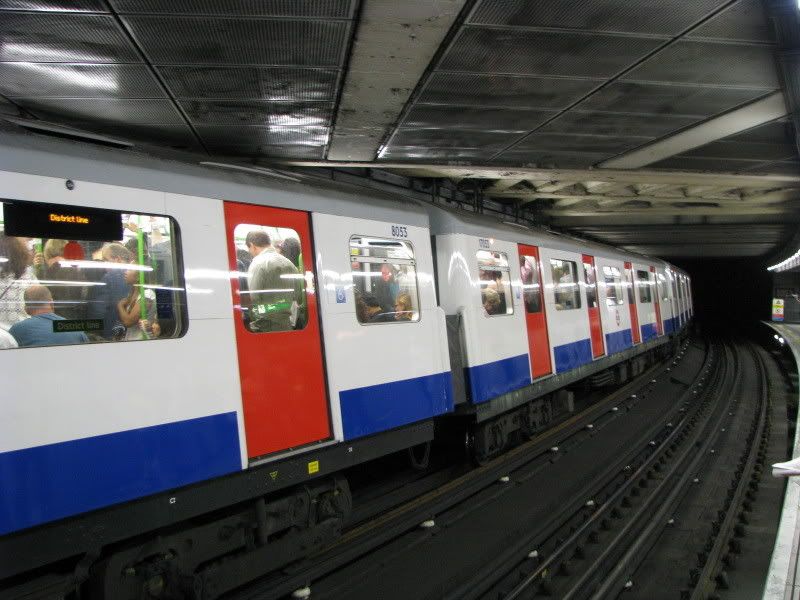 "Mind the Gap." District Line train at Embankment.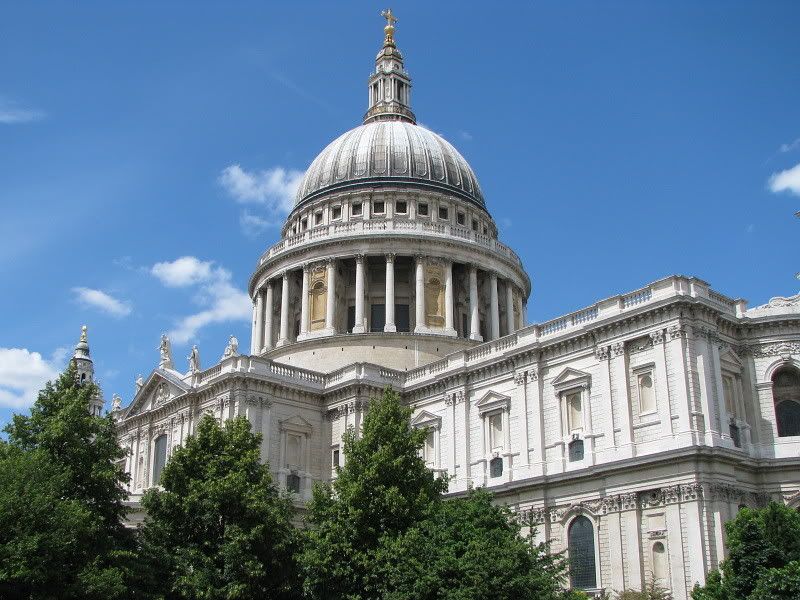 St. Paul's Cathedral's famous dome.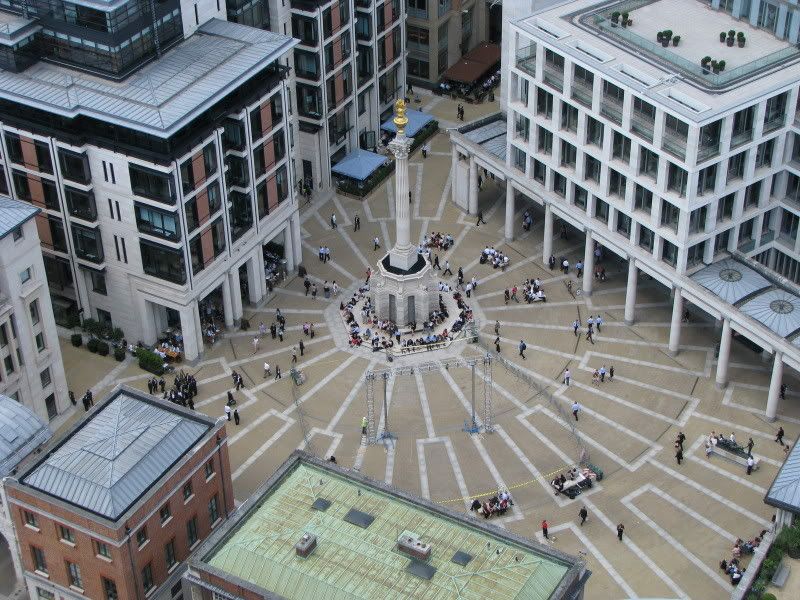 View from the top of the dome at St. Paul's. (don't know what this square is, but it looked cool.)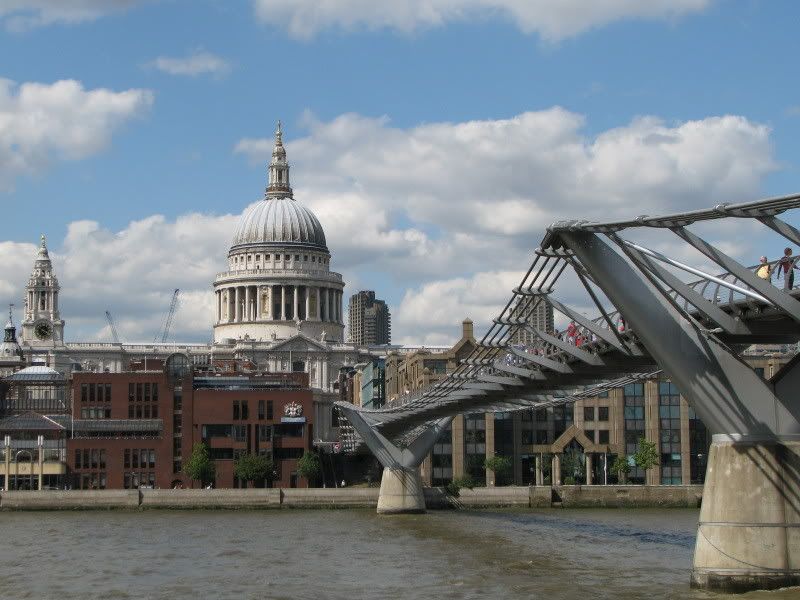 With the Millennium Bridge in the foreground, looking across the Thames at St. Paul's.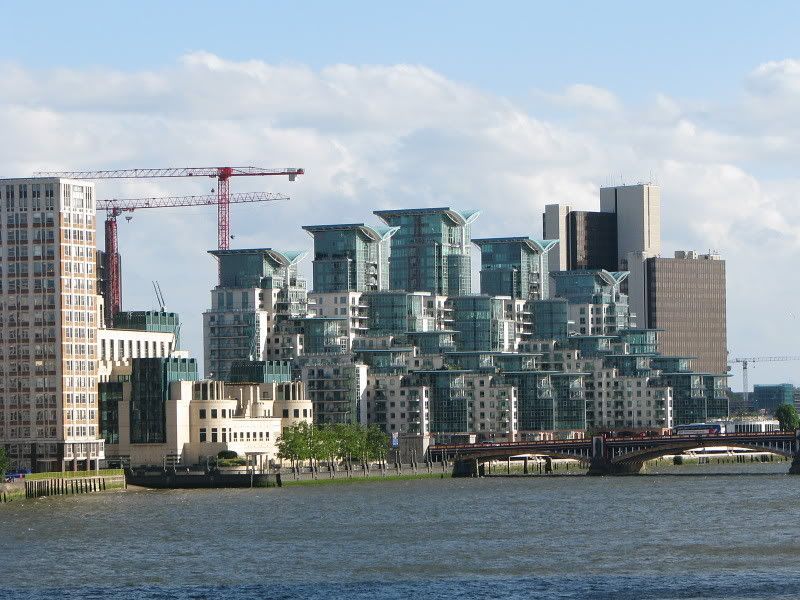 MI6 Headquarters, with a really cool looking apartment complex in the background. No James Bond flying out of the wall in a super-boat though...
The flat that my family was renting had great views out the skylights. I was able to gaze out the window at night and watch plane lazily floating by on approach to Heathrow, and then wake up in the morning to the sound of 747s roaring overhead.
Terrible quality photo, I know...but I took it by pointing my camera in the general direction of up and pressing the button when I woke up one morning.
On my third or fourth day in the city, I was waiting for a train, delayed due to a "person under a train" further down the line (is this really as common as it seems? In four days I had two delays for this same reason.) I quickly realized that the delay was actually good luck for me. Looking up at the sky I saw a large quad jet in the distance, and quickly confirmed my suspicion with a picture...it was my first time seeing the A380 in flight!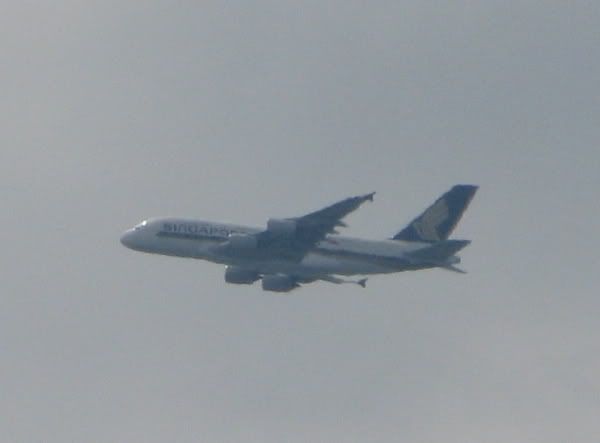 The plane that took my A380-virginity.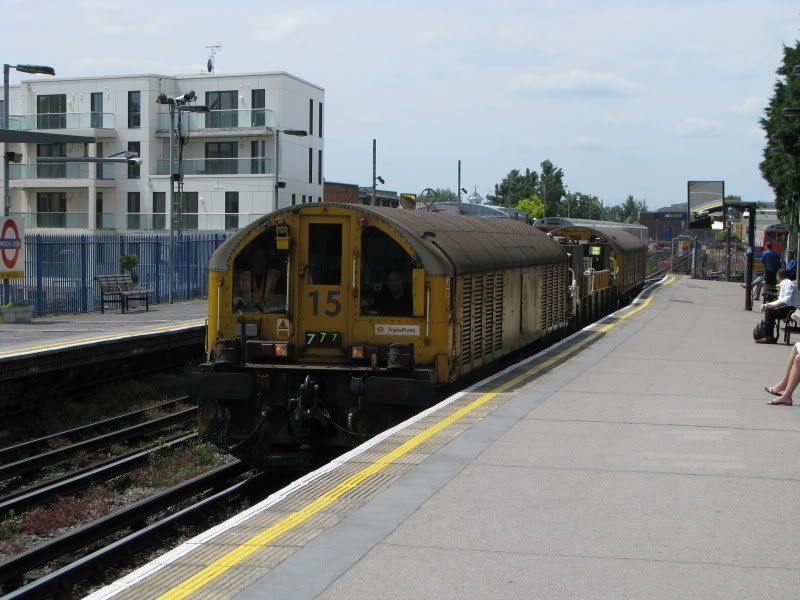 I got to see this cool line-maintenance train too!
Continuing my trend of visiting every tall landmark in cities I visit, I headed to the London Eye. Yes, it's just a big gimmicky Ferris-Wheel, but there is some pretty cool engineering built into this thing. From the entirely cable-suspended modular wheel, to self righting cars...it's worth the fifteen pounds for a ride.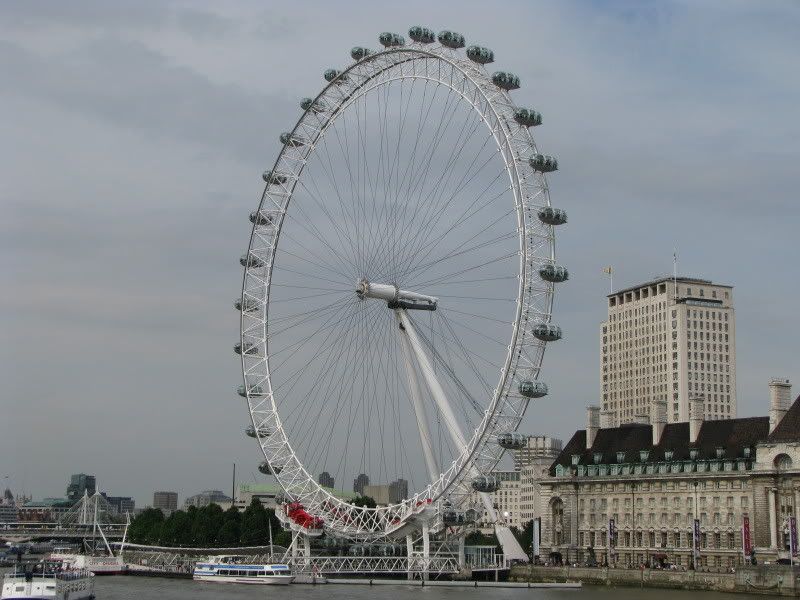 The Eye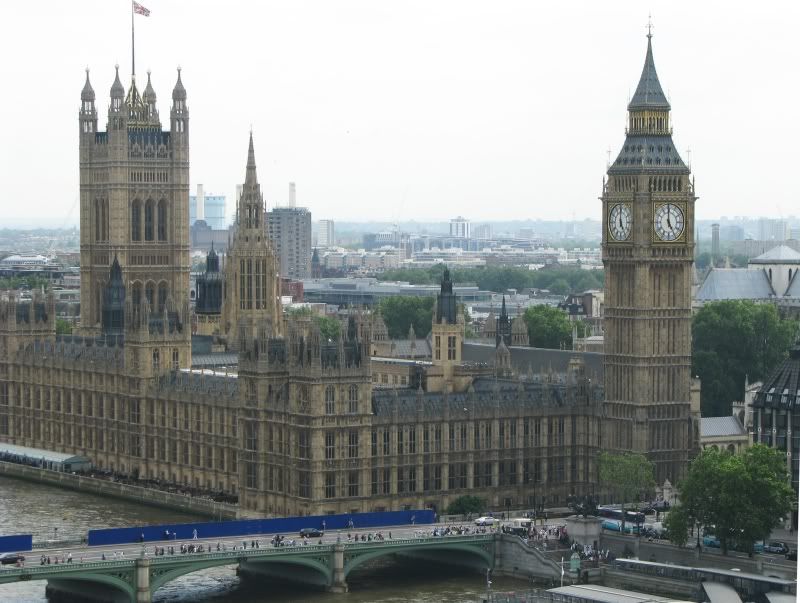 Big Ben and the Parliament Building, as viewed from atop the eye.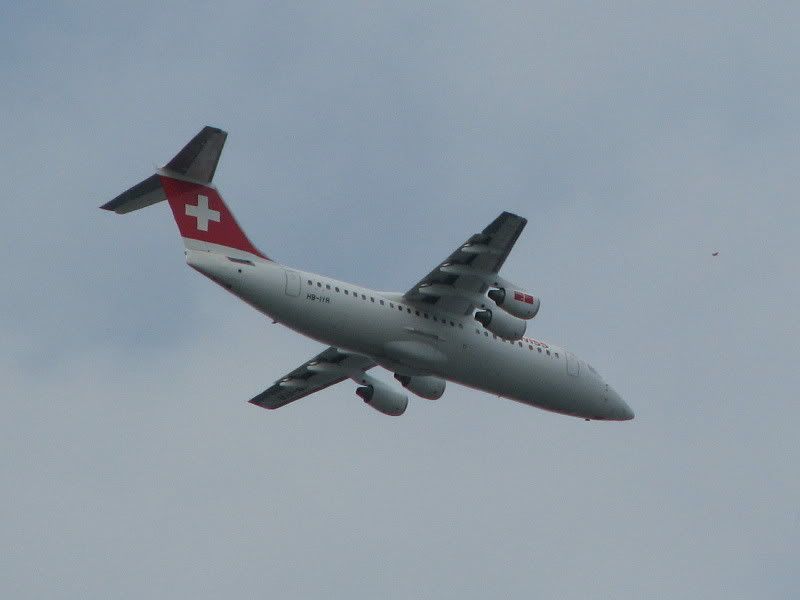 Even being on a really big wheel doesn't stop me from spotting. London City Airport traffic was constantly flying overhead (as well as a random SA330 Puma that hovered over the wheel for a few minutes.)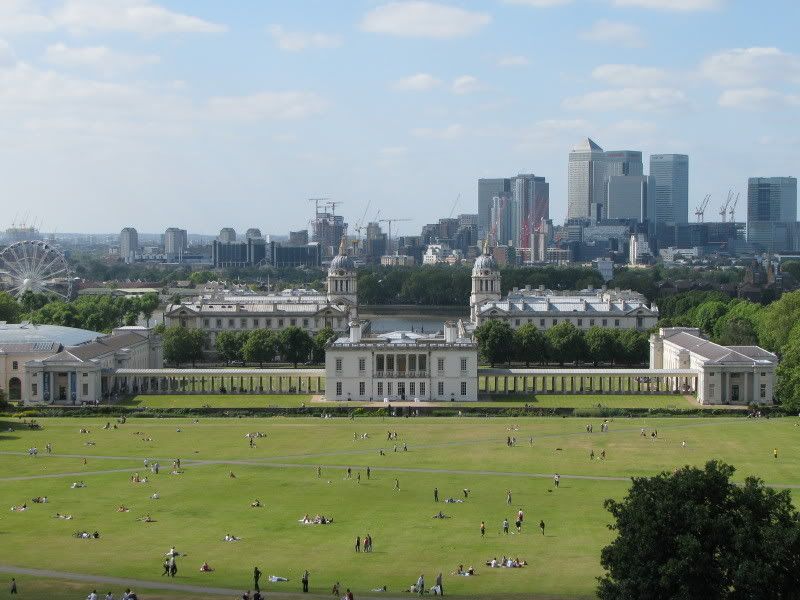 In Greenwich, standing just East of the Prime Meridian.
After 4 days in London, I was off for a day trip to Paris on the Eurostar. Being an American (although I could pass as Canadian if I really want to), I was slightly wary of what France would be like in this era (remember, this was last summer, at the finale of the Bush dynasty and deep within America's streak of utter un-popularity with the world.) But I was up for it, being able to experience High Speed Rail, and the Chunnel.
I boarded the Eurostar at London's Kings Cross/St. Pancras, and the first thing that I noticed was how long the trainsets were. Even the longest Amtrak trains in the US are only a dozen cars long, while the Eurostar trainsets are all 20 carriages in length. Even with all that capacity, the station was rather quiet, and boarding the train was done at a very leisurely pace.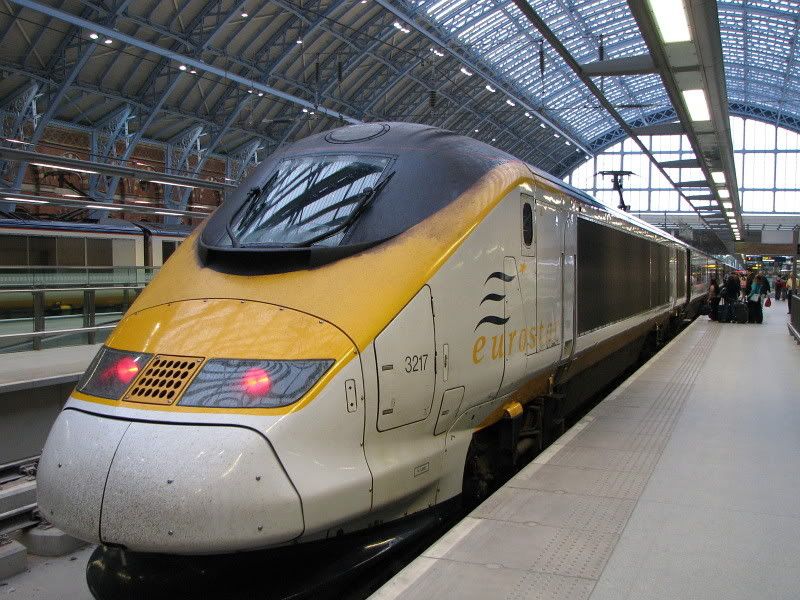 Trailing end power car, at St. Pancras.
In my carriage, the majority of the passengers were Londoners making a day trip to Paris as well.
With all the high-expectations I had for High Speed Rail, the Eurostar did not let me down. For such a large train, speeds well in excess of 100mph seemed graceful, and the trip was very smooth, with only a very few exceptions. When passing another train at high speed,I was surprised to be alerted first by a "wham!" quickly followed by "whiz!whiz!whiz!whiz!" lasting only a few seconds. As the pressure wave from the opposing train strikes the side of the carriage it makes a very pronounced sound, and then the carriages of that train whip by at a combined speed of nearly 300mph. Another interesting sensation I noticed on the English side of the tunnel was my ears repeatedly popping. Every time we went through a small tunnel or bridge, the air pressure inside the carriage would change. I never would have expected this before I experienced it.
After a 2:15 trip (only about a half hour spent in the Channel Tunnel, shorter than I expected), we arrived at Paris Gare Du Nord. Transferring to the Paris Metro was relatively easy, and quickly I was on my way towards the Eiffel Tower.
The Paris Metro uses a rubber tire system, similar to the Montreal Subways, so it has a much different feel to it than the metal-wheeled trains of London, Boston, or any other major city. I found the trains to be decently maintained and on schedule, but the system was much more grungy looking than the meticulously maintained London Underground that I had grown accustomed to.
Just stepping out of the subway at the Eiffel Tower is an experience in itself. Walking out of the portal and turning to the left, you find yourself atop a hill looking down on the Tower and the surrounding area. The view really took me by surprise.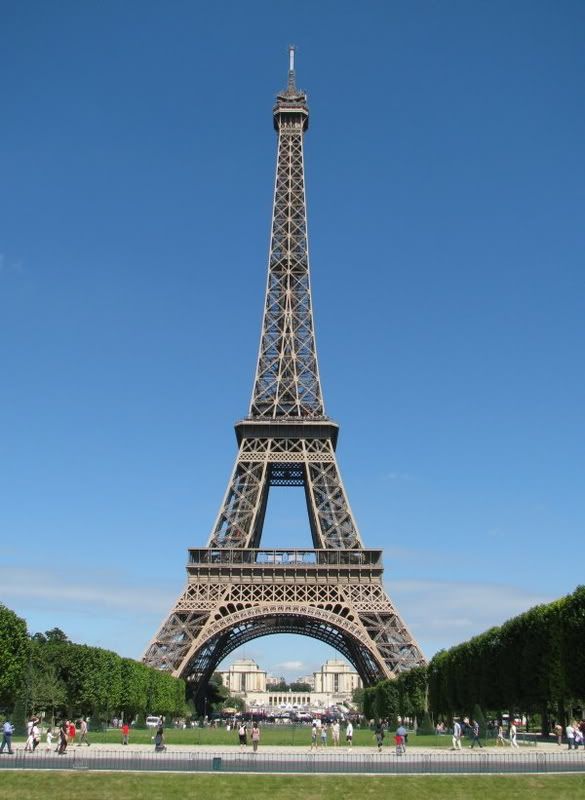 The Eiffel Tower. (duh?)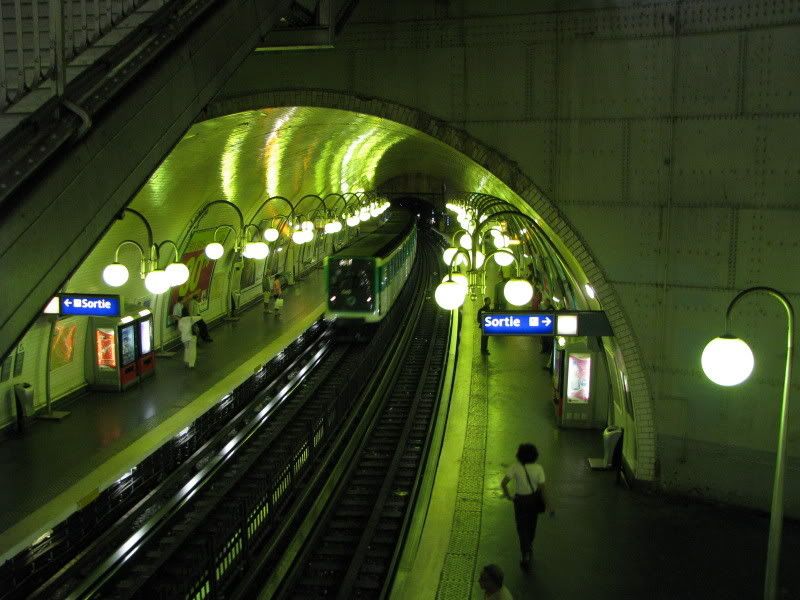 A Paris Metro stop. The entire stairwell/elevators were contained within the large metal caisson structure that you see to the right of the picture. Interesting construction for a subway station.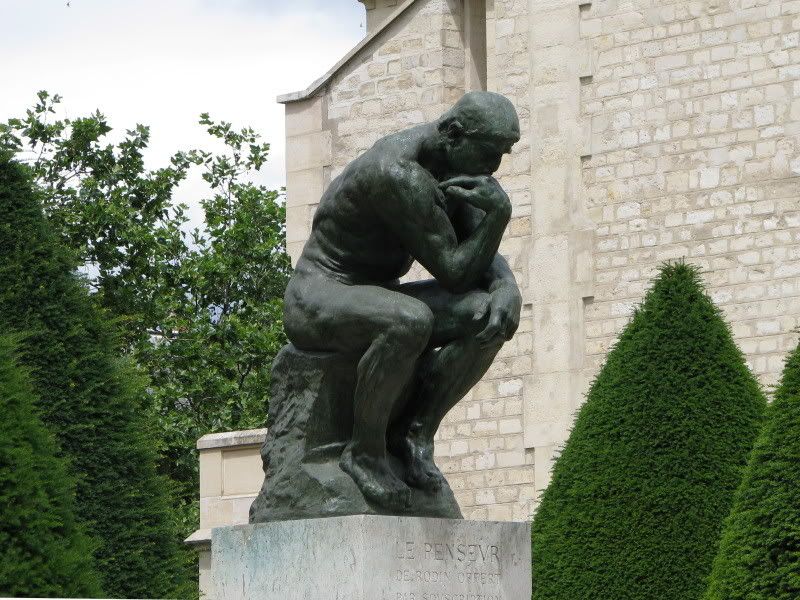 "The Thinker"
Looking towards downtown Paris, from atop the Arch De Triomphe. If you look closely, you can see the Grand Arche building, which is very fun to fly through the middle of in Flight Simulator...
My overall impression of Paris was...mixed. The city itself was nice. The architecture and layout was not as impressive as London, but certainly better than any American city I've visited. The people were...mixed. While there were a great number of people who were friendly and welcoming, there were a few examples that I came across of the "stereotypical Frenchmen." People that made it quite obvious that they didn't like Americans coming to their city. While I would not mind visiting again, my family did not share the same sentiments. As we were pulling out of the station on the Eurostar, my brother stated "you know what they say. When in Paris...leave."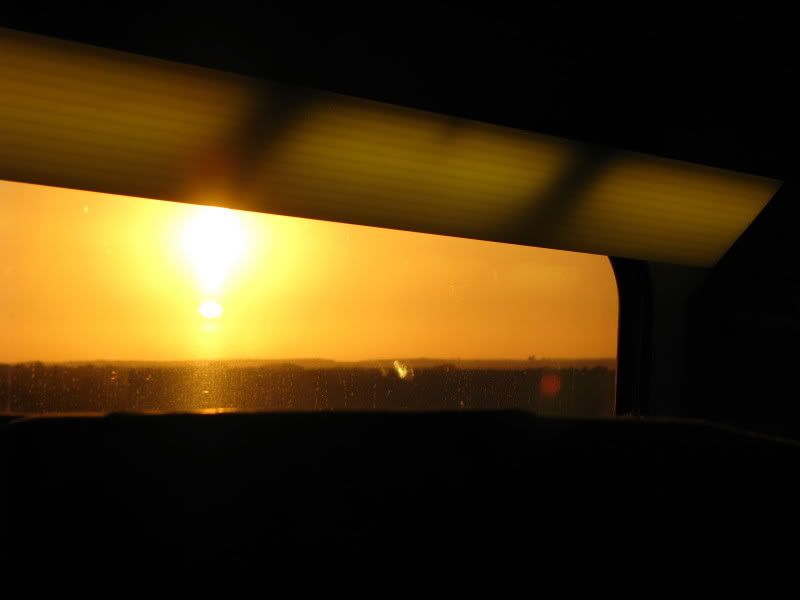 Chasing the sun back to the Channel.
Back in London the next day, I decided to kill the rainy day at the RAF Museum in Colindale. I have to say, I didn't truly appreciate most of the planes that I saw when I was there. Before this year, I've never really studied British aviation (most American history documentaries don't give credit to planes that aren't the P-51 or the B-52.) Now that I'm going back through my pictures, I wish I could go back and take a closer look, as there are really a lot of treasures in the RAF Museum.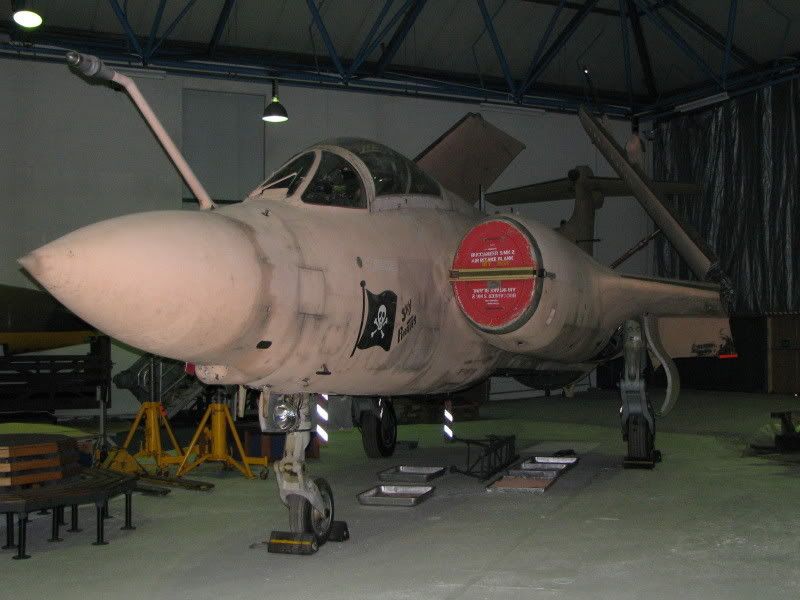 Blackburn Buccaneer tucked away in a corner.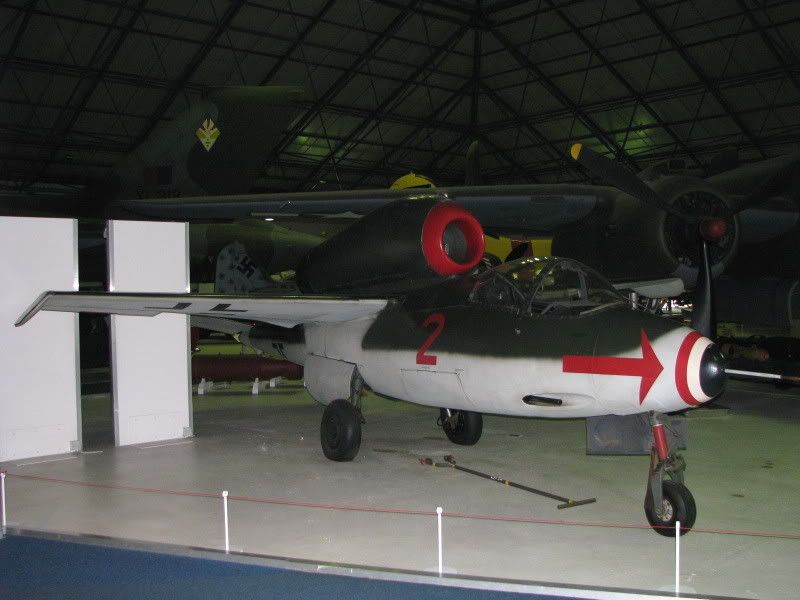 My favorite wooden jet aircraft. Well. The only wooden jet aircraft.
A couple days after the RAF Museum, we packed up, rented a car, and headed out West to the Cotswolds. Admittedly, I didn't know anything about the Cotswolds before I went (besides the fact that Jeremy Clarkson owns a house somewhere in the region.) I came to find out that the Cotswalds are home to some of the most stunning British scenery I've ever seen. Green rolling fields, hedged narrow roads, small villages and pubs. This region is as stereotypically idyllic British as it can get.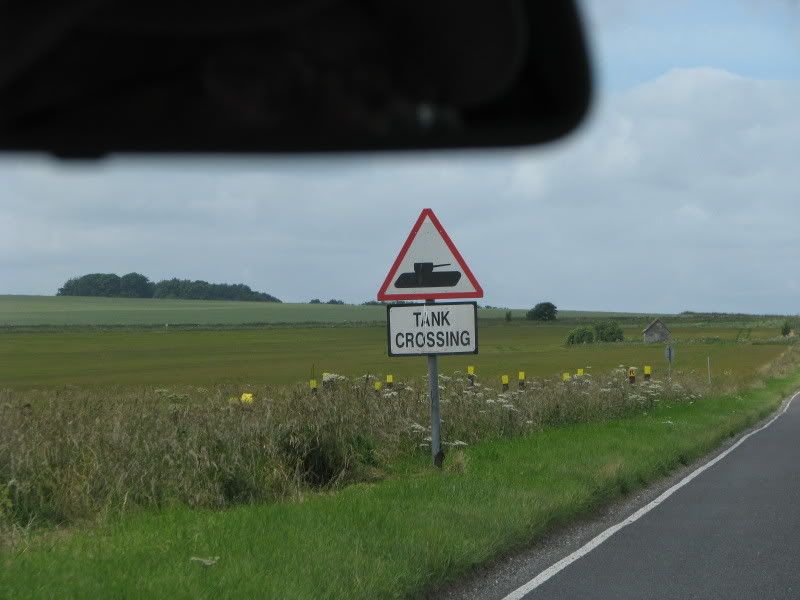 (...unfortunately, no tanks.)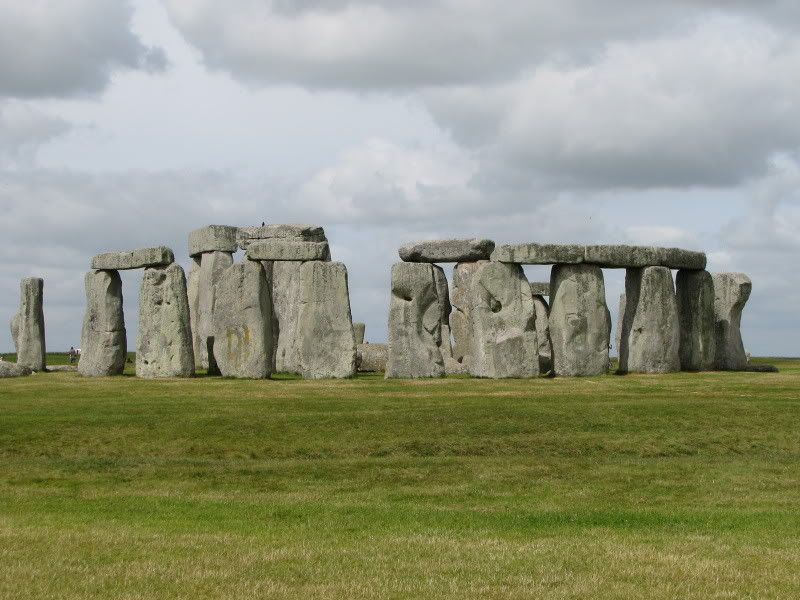 Stonehenge, where the demons dwell...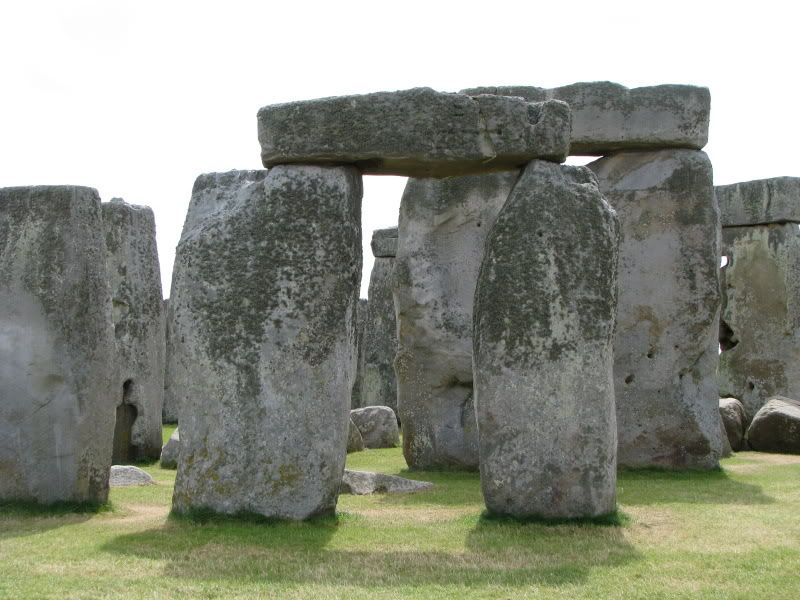 ...Where the banshees live and they do live well. (If you're confused, go watch "This is Spinal Tap." You'll thank me.)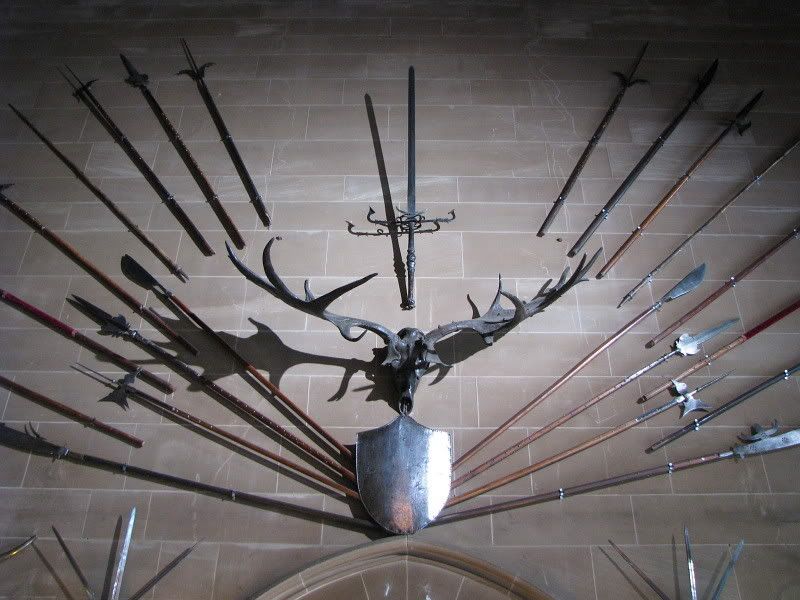 Pikes! (At Warwick Castle...an otherwise overly-touristy attraction.)
After almost a week staying in Stow-on-the-Wold, it was time to head back to London and head home. On the way back, we stopped at Windsor Castle. This was the last of many castles I visited. You may notice that I haven't included many pictures of castles though. My theory is that a castle is a castle. I know this may offend fans of the medieval period, or classic architecture, or things like that. But personally, I would much rather admire the urban architecture than a dressed up building of old.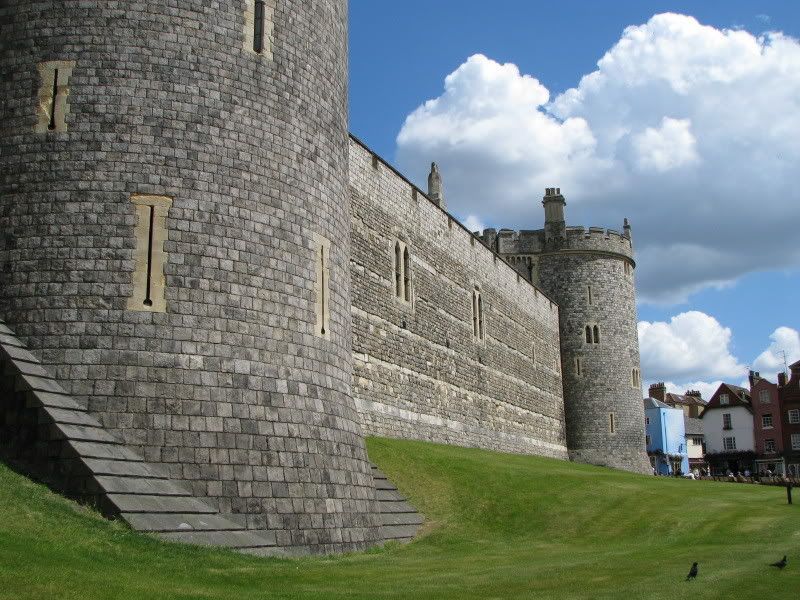 Windsor Castle's outer wall.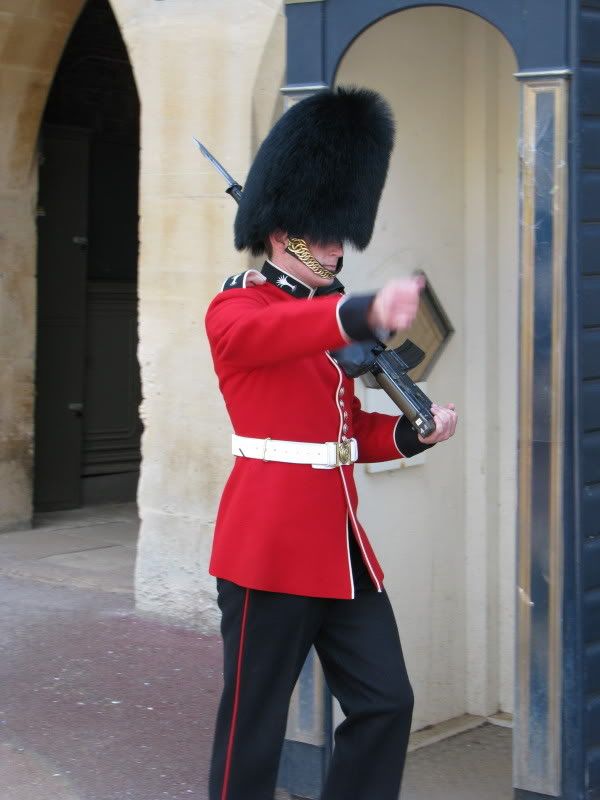 Palace Guard, armed surprisingly heavily with an SA80.
After Windsor Castle, we headed back to Heathrow to catch a morning flight back to Boston.
EGLL - KBOS
Flight
#AA109
5 July, 2008
Equipment:
Boeing 777-200 (N???AA)
Seat Number:
35A (Window)
Heathrow this time around did not impress me in the least. While my previous arrival into Heathrow did not require much time being spent in the airport, waiting to depart did. I promptly got lost in the maze of duty free shops, mall stores and retail outlets in my attempt to find airplanes to view. I eventually found that there were none to be seen, and settled in in a crowded area that I can only describe as a mall concourse. When my gate was
finally
announced, I made my way out of the mall and to the gate area, finding the actual departure lounges to be much more bearable. Windows were sparse, but I found a couple and was able to get a little spotting done.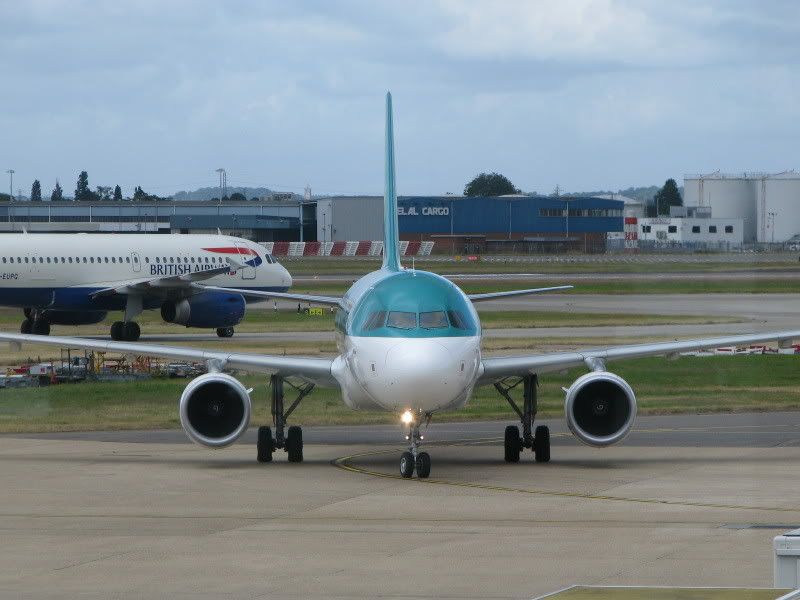 Typical LHR scene, although one that I don't get to see often.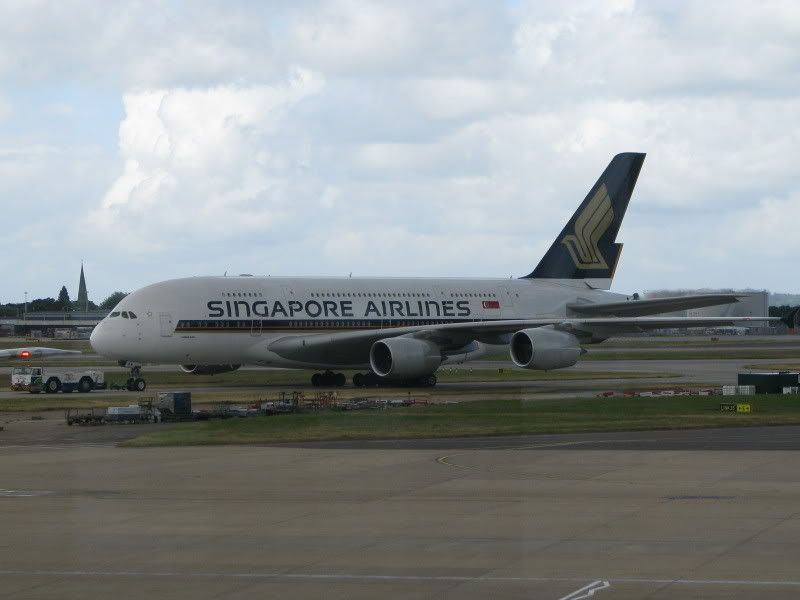 This A380 snuck up behind me...as much a behemoth of this size can sneak.
I remained in the departure lounge for a good amount of time, so I boarded shortly before the door was closed. The 777 quickly fired up and we began taxing to the runway. We waited for the runway for almost 10 minutes, behind a few narrowbodies, and some arriving aircraft, but then promptly got into the air.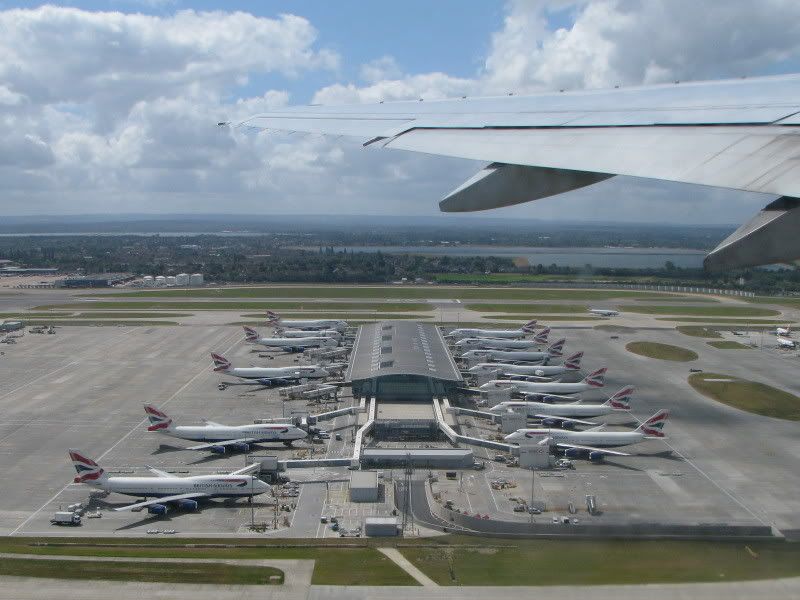 Count the 747s!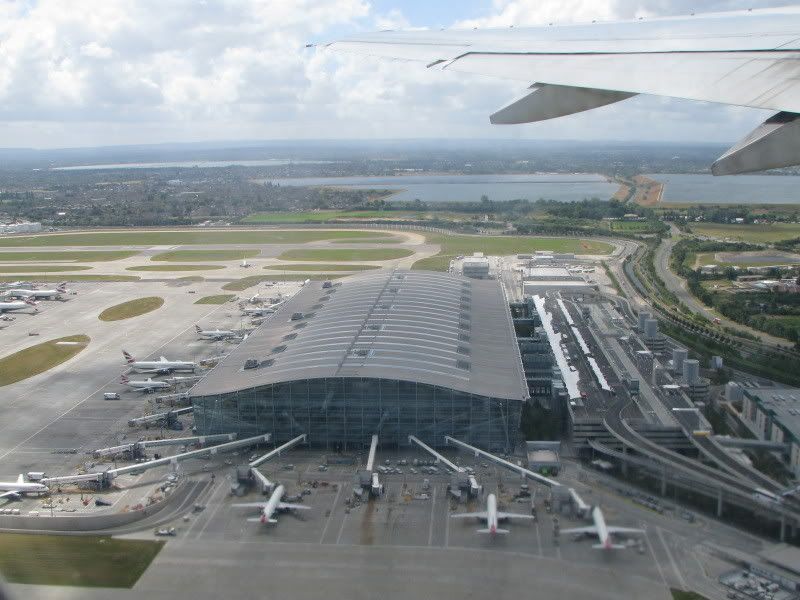 I can see my luggage from here! (oh, wait, that's just the pile that's going to the incinerator...)
The rest of the flight was more or less uneventful. The IFE system was programmed with the same selections as the flight over, so I spent a few hours killing time with my iPod and staring out the window, but that's nothing to complain about. The service was the same as the trip over (meaning I can't remember how the service was.)
Over the North Atlantic, there were icebergs visible in the water below, and there was some stunning scenery over Labrador as we made landfall.
The flight path took us right over Maine. If I could have parachuted out the back, I could have saved a couple hours of driving up from Boston...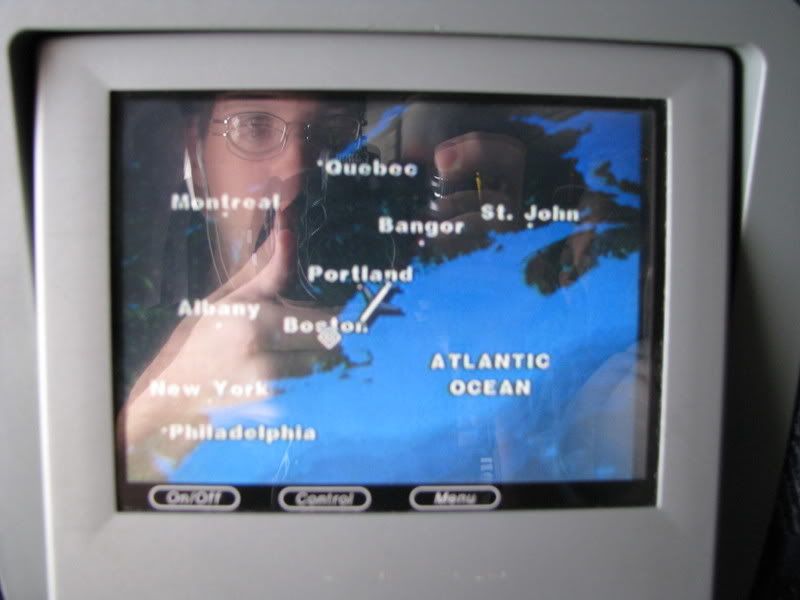 Passing right over my final destination. Pay no attention to the scary man in the reflection.
Arrival in Boston was on time, and the only hold up was waiting for luggage before customs. Overall, an average flight. Nothing to write home about, but it got me home nonetheless.
My overall opinion of this trip though...American Airlines continues to deliver consistent service. Nothing spectacular, but on time performance, no-frills customer service, and reasonably priced fares to where I want to go.
London, and my experience in England in general was...spectacular. Planes, trains, and automobiles galore. Friendly people, great architecture and technology, and plenty of interesting history. Given the choice, I would not hesitate to return to London, for any length of time. While I cannot speak with such enthusiasm about Paris, it was a wonderful city, and with more time to explore, I am sure that I would come to enjoy it as well.
Well, I hope you have all enjoyed reading my first international trip report. As always, all comments are appreciated! Thanks!