First of all I would like to tell you that this is a re-post of my report, since the pics on the original one didn't work. So for those of you who haven't read it, enjoy!
Hello and welcome to my 6th trip report. In this report i will cover my recent trip to Stockholm, and Lapland. One half of the trip is covered by train, and the other half is flown by airplane. I hope you enjoy reading.
Introduction
During the last two months, all the schoolwork had become very intensive, and hard. But still I maneged to score straight A, on all my tests. All the studying had made me exhausted, and i was in desperate need of a break. Luckily, the spring break was nearing, though I didn't have any plans on what to do. So i had to come up with something quickly. My first plan was to take a cheap last minute charter trip to some place where it's warm and sunny. I quickly abandoned these plans, because i hate traveling abroad with a bunch of other swedes, and besides, finding a cheap ticket at this time of year, would be practically impossible.
After having searched around for a while, I saw that SJ (the Swedish Railway Company) were offering train tickets to Lapland, for only €9,50 o/w. SAS were as usual offering o/w youth tickets for €55. So I ended doing a short daytrip (actually the trip took two days) to Kiruna, the outbound was to be done on train, and on the return I would be taking the plane.
The main reason to why i decided to travel Lapland, was because i hadn't been further North than Uppsala. The trip also gave me a good opportunity to use my newly purchased camera.
So the itinerary followed:
Västerås-Stockholm by high speed train
Stockholm-Kiruna by night train
Kiruna-Stockholm Arlanda by plane
ARN-Västerås by inter city train
Day One
My sister and i went down to the train station in Västerås, where i would catch the one o'clock train to Stockholm.
Today's ride was operated by the X40 double decker, the Swedish equivalence to the TGV Duplex, as it is also made by the French train manufacturer Alstom.
SJ today have a fleet of 41 X40's, and they come in two, or three car versions. The first one was delivered to them in 2004, and entered service in early 2005. The X40 can travel at speeds up to 200 kilometers per hour, which in Swedish standards make it to a high speed train. The X40 is said to be the most modern train on the railways of Sweden.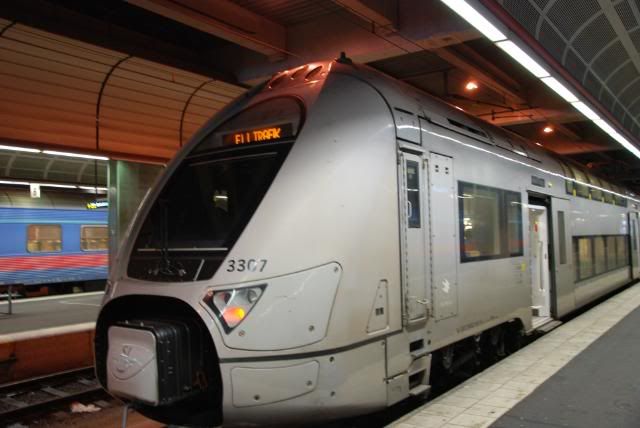 The X40, pic taken upon arrival in Stockholm.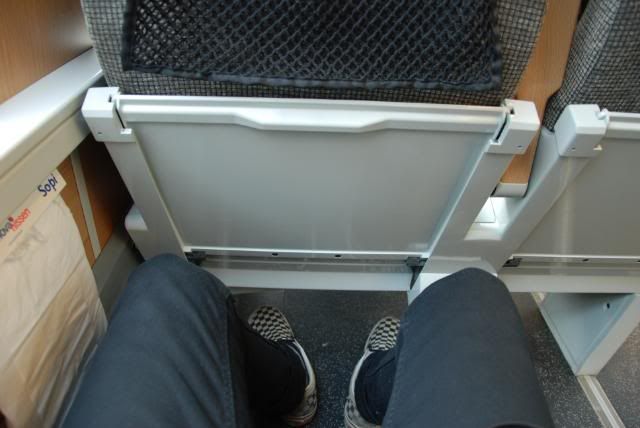 The seats on the X40 are super comfortable, and the legroom is great, at least for this 53 minute trip.
The bright, clean, and spacious upper deck cabin.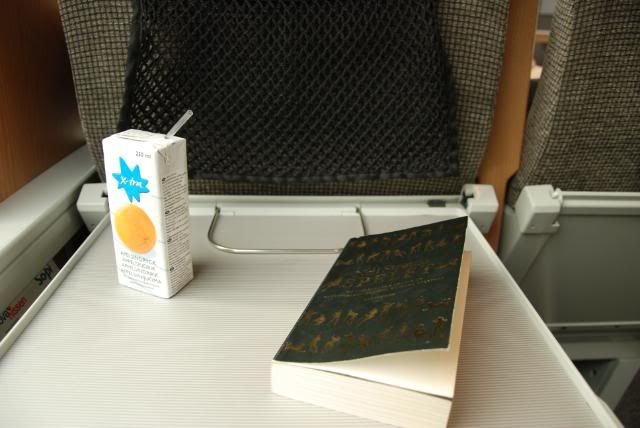 The "catering" and "IFE". For this trip, I decided to read
The Game, by Neil Strauss
, great book.
The X40 trains have vending machines on the lower deck, but i decided to bring my own drink.
Soon, we arrived at Stockholm's Central, and I must say that it felt like the time was just flying. Maybe it had so do something with the driver, driving the train at 200 km/h for almost the whole way, which is pretty uncommon. Or maybe it was the book, huh...
As I made my way out of the train, I decided to take some pics of the interior first.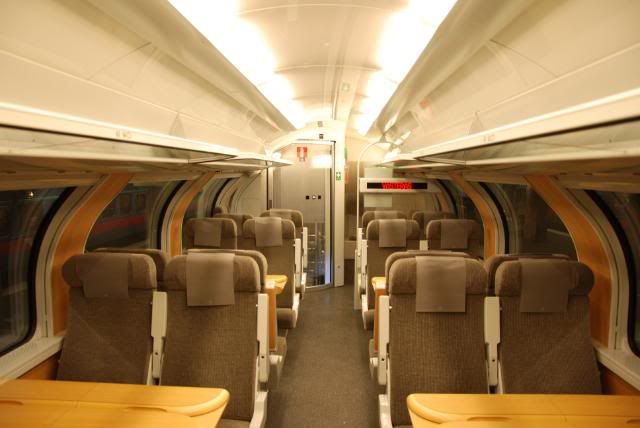 A view of the whole upper deck cabin. I must say that it feels like traveling in a much smaller train (just like they say about the 747).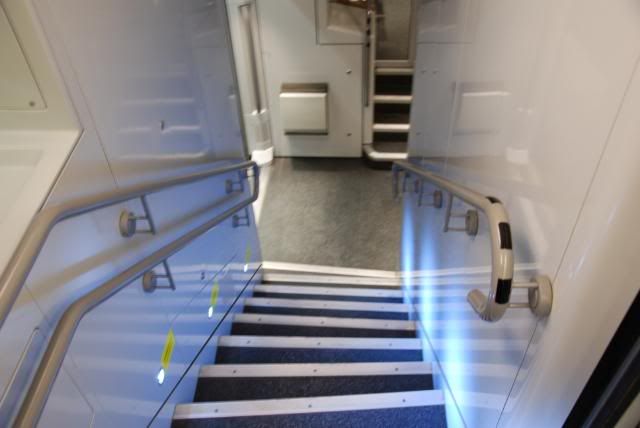 The stairway leading to the main deck.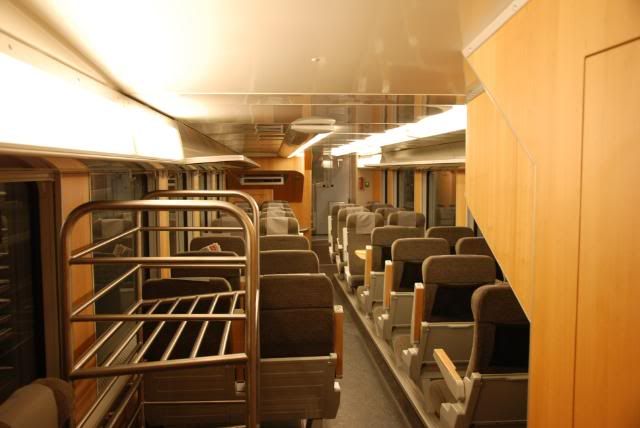 A view of the main deck cabin. Also very comfortable, but not as comfy as the upper deck.
Since it was now two o'clock, and my connection would depart at six, I had four hours to spare in Stockholm. Which gave me a nice oppritunity to do some photography. And yes I'm not a good photographer at all, but I'll give it a go.
Stockholm was very crowded today. Well it is spring break after all, so all the kids like me are off from school.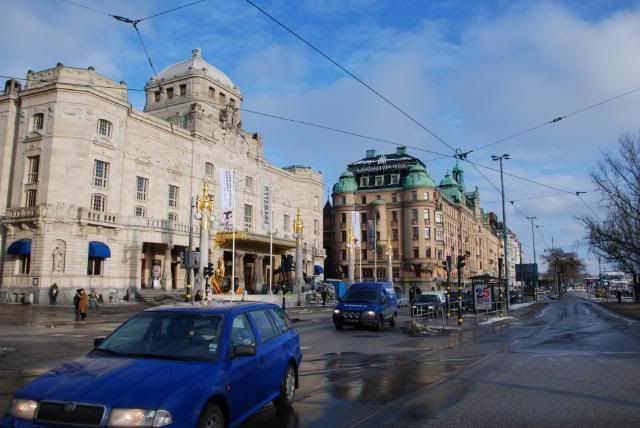 Not sure which building that is, but I'm guessing it's Stadsteatern (the city theatre).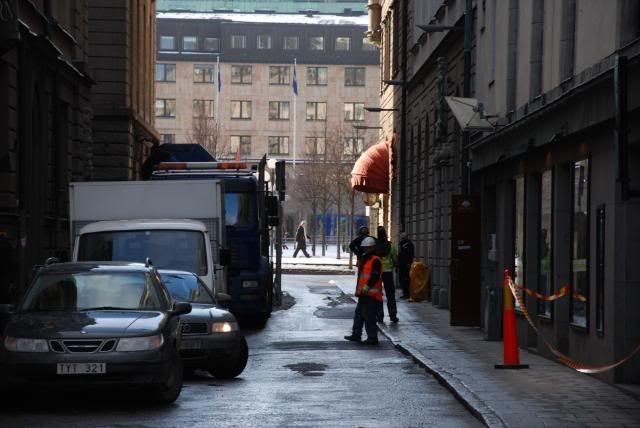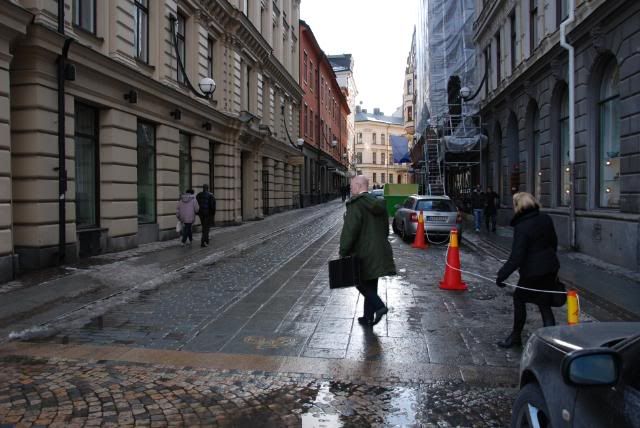 Some random alleys. It seems like there is some sort of construction going on there.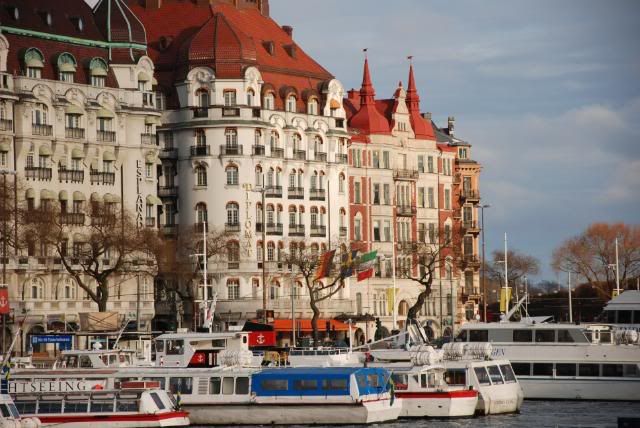 Some nice houses, by the marina.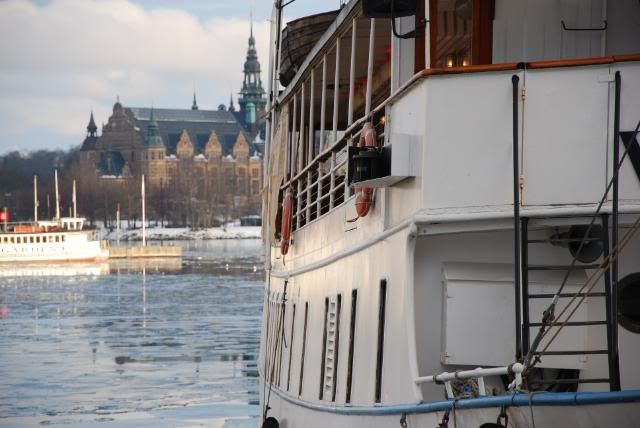 February isn't the best boat season, but if you come to Stockholm in May, you will see these boats go back and forth between the islands, that make up most of the city.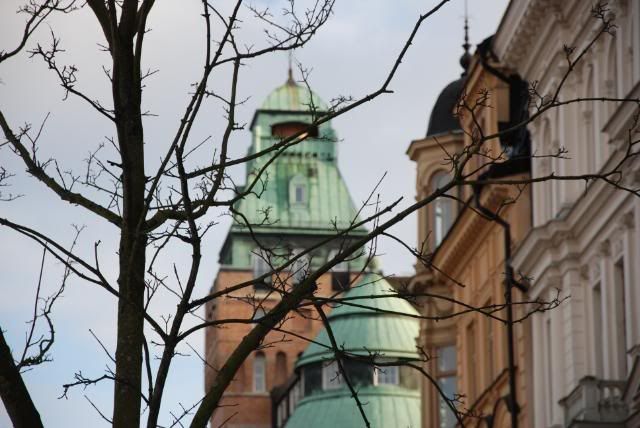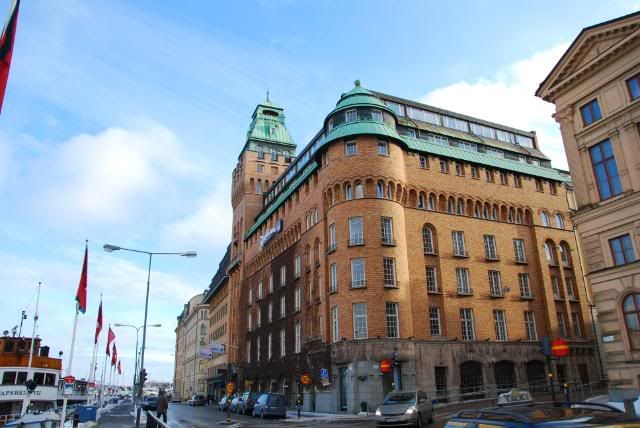 Not sure which building that is. But it looks very nice.
After having walked around in the Stureplan area for a while, I decided to go and check out the shopping mall near Sergels Square.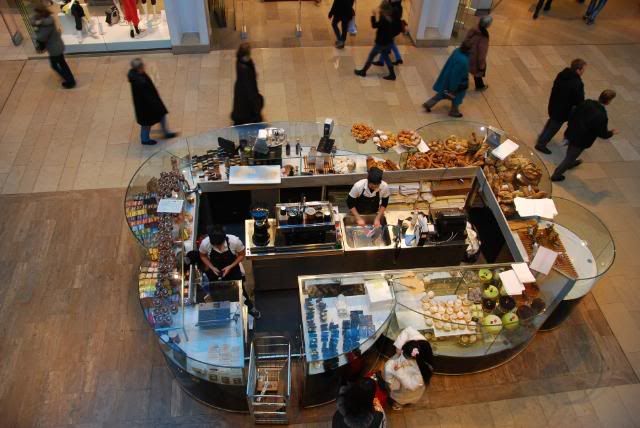 For a second there, I had thoughts of jumping down at those goodies down there. Both the edible, and the inedible.
The mall wasn't very spectacular at all, just a bunch of youths, and screaming children there. So I decided to head out to Sergel's Square. But suddenly, as I was going to take a picture, I noticed some dust on my camera searcher. I tried to wipe it off, blow it off, even rub it off, but nothing helped. So I went to a nearby camera store, to see what the problem was. It turned out to be some dust on the mirror, and it was quickly blown away with compressed air. And while he was still on the camera, he decided to dust it off the whole camera. Very nice of him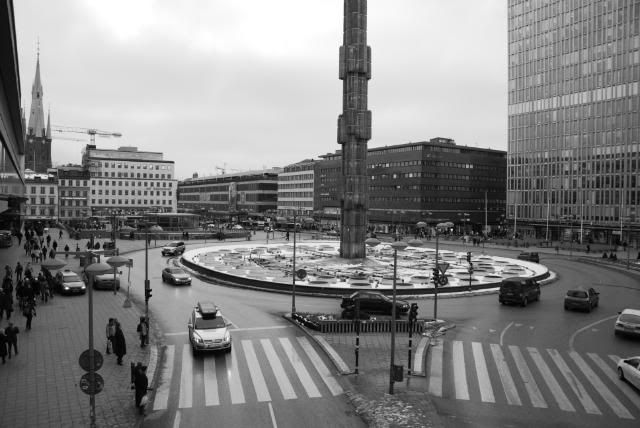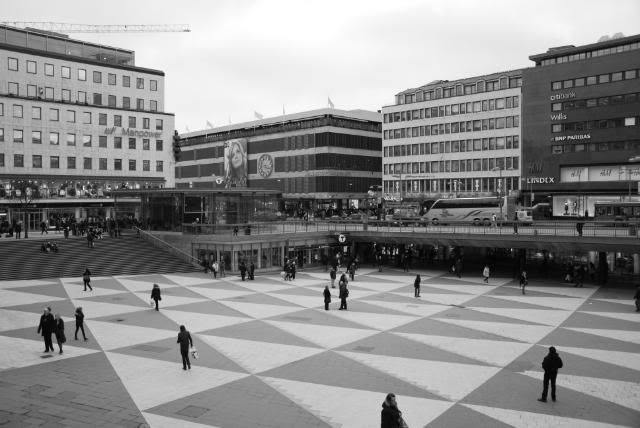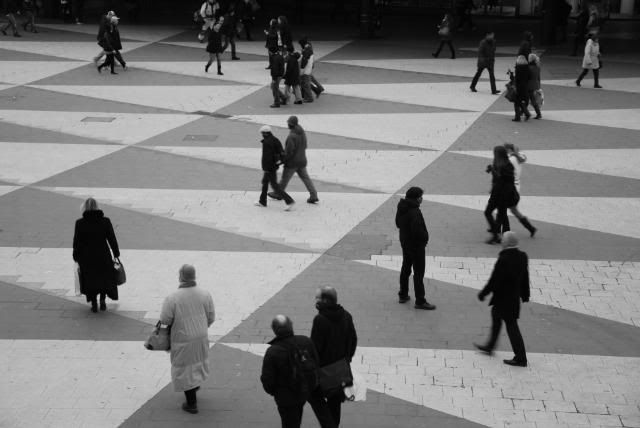 A black and white view on Sergels Torg (Square). I decided not to stay there very long, as the place is always packed with all types of weird people, and they were making me feel uncomfortable.
At around five o'clock, I decided to walk down to the central station, to catch my train to Kiruna, Lapland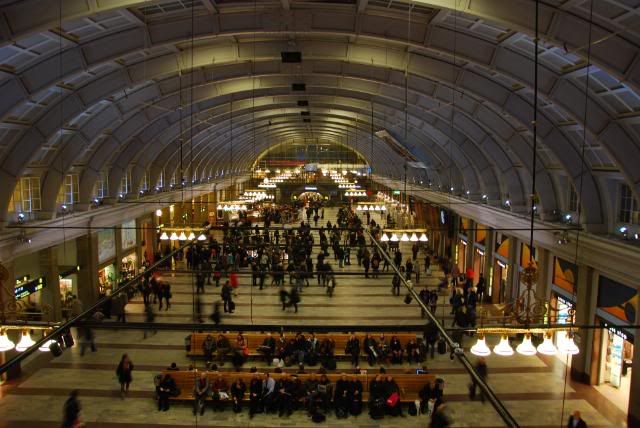 The central station was packed today with holiday makers, going to Åre or Lapland for skiing.
General trip information
Train nr: 94 (Norrlandståget)
Origin: Stockholm C
Destination: Kiruna (continuing to Narvik, Norway)
Departure time: 18.12 the 25th of February 2009
Arrival: 9.41 (Kiruna) the 26th of February 2009
Duration: 15h 29m
Seat and Class: Car nr 15 bed 33 (the top one) Shared sleeper suite, the equivalence to Business Class, in this case.
As I walked out to platform nr 4, it didn't take long before the train arrived. As the train rolled in to the platform, I got this strange feeling. Sort of the same feeling an astronaut gets, when he's about to board the space shottle for a long mission. At least that's the best way for me to describe it. As this was going to be my longest train ride ever, and since I have never flown long haul before, I thought this would be a good taster on how it could be.
I didn't take any pictures of the train, on the platform, as I didn't feel like taking up my camera from the bag.
Soon it was time for me to board the train. And I must say that the hallway leading to my suite felt very cramped. And I would get a rather unpleasant surprise when I entered the suite.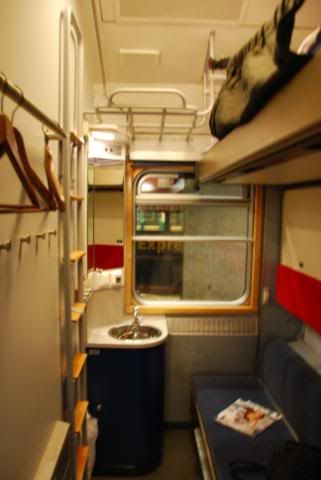 A view of the "Business Class" sleeper suite.
When I entered the suite, it felt very very cramped, almost like a prison cell. I could barely turn around without hitting something.
Anyway for my case, it was the highest level of comfort you could have for my the trip to Kiruna. And I only payed €9,50 for the ticket. In fact the ticket would have costed €120, so It could have been much worse. Besides after having seen the compartments in the couchette-car, I was more than happy to at least ride in this level of comfort.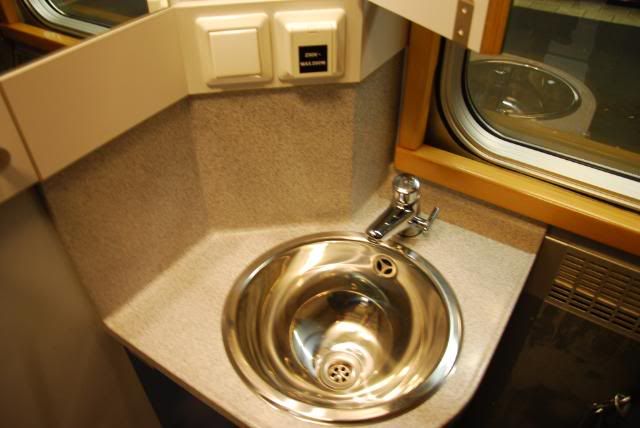 There was a small washbasin in every suite, but the water pressure form the water crane was very, very low. So you barely got enough water in hands to wash your face, or brush your teeth.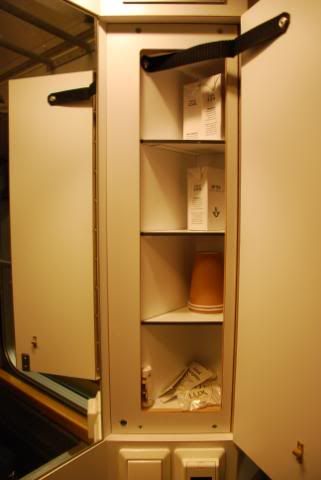 There was also a cupboard with amenities. Each passenger got one 250ml box of drinking water, one paper cup, one tiny soap and a small sample pack of shampoo.
Soon, the time for departure was closing up. And for a while I thought that I would get the whole suite to myself. But I was wrong.
Very soon, a man in his late 20's entered the suite. He was very nice and friendly, and we had a good chat. He told me that he used to live Kiruna, but now he was just going on a skiing trip to Riksgränsen (the furthest north you can come in Sweden). He had also bought a dirt cheap ticket, just like me. He was rather surprised when I told him that I was only going to stay in Kiruna for 6 hours. And when he say me taking pics, he asked me if I was becoming a photographer or something like that. But I told him about the website, and that I was making a report on this trip.
Later on, only two minutes before departure, a second man who apeared to be in his late 60's entered the suite (this man would turn out to play a very big part for me in this trip, but I will tell you guys later). The man was traveling back home to Kiruna, after a short visit to Stockholm. He was actually from Stockholm in the beginning, but he had lived in Kiruna for 53 years now. The man nice and friendly as well. He was also surprised when I told him about my short stay.
Soon the train leaved the station, and it was going to be a long trip for me. The train would do 15 stops along the way. And as we were slowly rolling out from Stockholm towards uppsala, my two suite mates began a conversation, that would last for the entire night. The lower bed is formed into a small sofa when it's not used for sleeping.
I decided to leave them in the suite, to go out and explore the train.
During my walk I found out that most of the passengers on this train were tourists, mainly from the USA, Japan, France, and other parts of Europe. Most of the French and Americans were college students.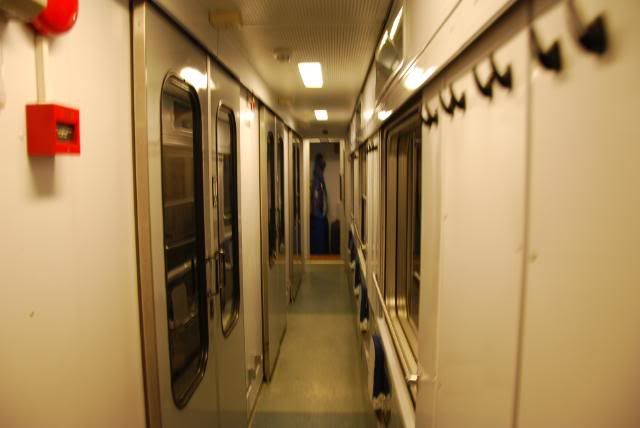 The couchette-car.
As I was very happy that I didn't end up here, otherwise I wouldn't have gone on the trip in the first place. To me it looked like something only cattle would travel in. And the atmosphere there wasn't nice at all. Most of the colege people had brought big boxes of alcohol, and they had already started playing beer chugging.
"Go back to San Diego, you fools!", was my only thought.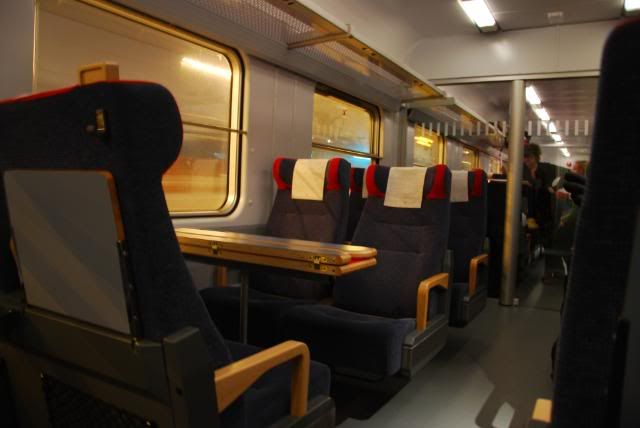 A cabin view of the seating car.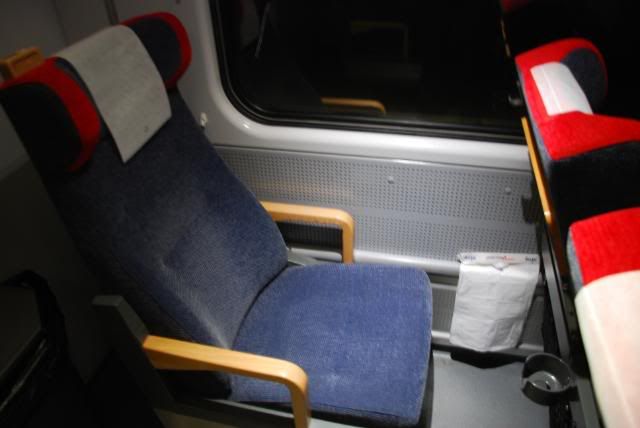 Very comfortable seats, In fact they are the same ones as on the X2000.
The only bad thing about them was the legroom. I couldn't stretch out my legs without hitting the metal bar in the seat in front of me. The seats didn't recline, instead they slided down, making the legroom even more cramped. Now I couldn't picture myself spending 15 hours in those seats.
Soon, I made myself comfortable in the seating car. And I must say that the seats were very good. So I sat there reading my book, for around three hours. After that I was getting very hungry. Luckily I had brought a sandwich from the train station in Stockholm.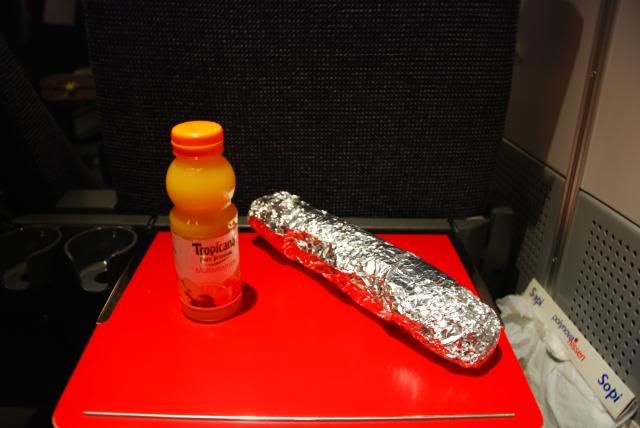 The catering for this ride was a roastbeef baguette, and a bottle of OJ. I have not much to say about the meal, other than it was edible.
As I was getting rather tired from reading, I decided to check out the bistro car. When I got there I found my two suite mates, still having that conversation, so I decided not to join them.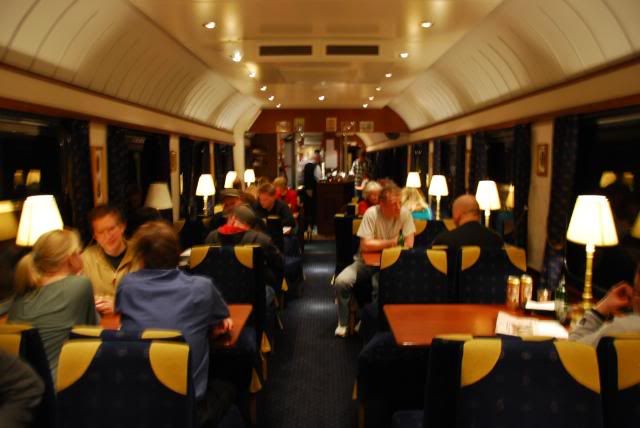 View of the bistro car.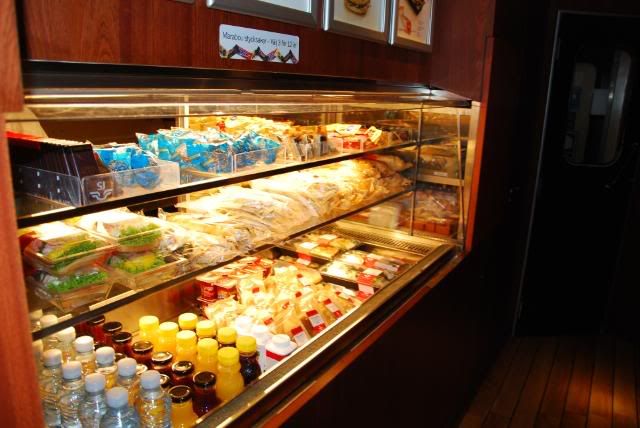 The food and beverage offerings.
As you could might understand, the only amount of drinking water offered for free to each passenger is that tiny 250ml tetra found in the suite. I was getting very thirsty, so I decided to buy an overpriced bottle of water in the bistro. Unfortunatley they didn't want to accept my card even though it was a Visa (Visa Electron), and neither did they have any water tetras left. So this meant that i had to walk around thirsty for the rest of the ride, but it aslo meant that I wouldn't be able to buy breakfast in the morning.
Soon, it was bedtime, and my suite mates had already gone to bed. As I was not tired yet, I decided to check out the shower. And I must say that I was pleasantly surprised when i saw it.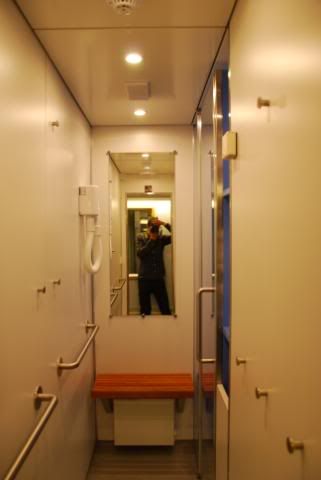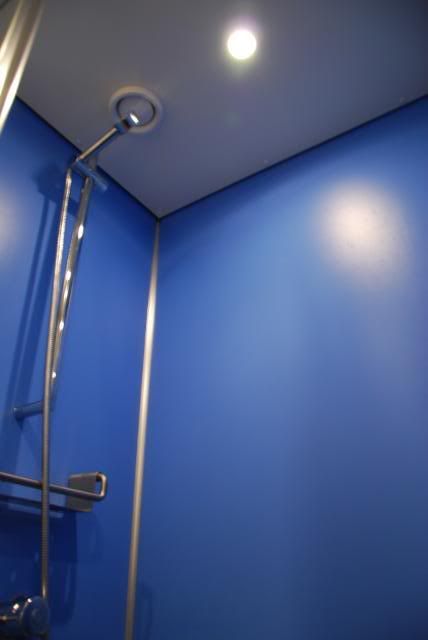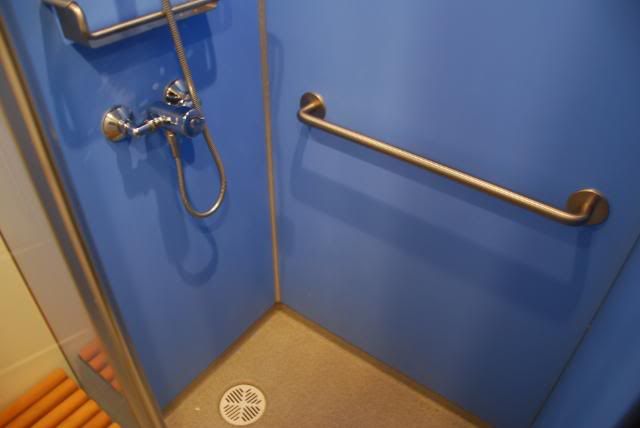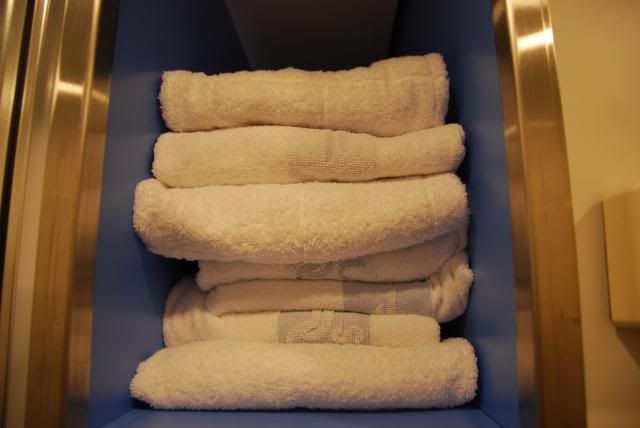 The shower was much nicer than I had expected, and it also had free towels. So I was really looking forward to using it in the morning.
Soon, I went to brush my teeth, take out my contact lenses, and all those other stuff you do before going to bed. When I got in to bed, I was surprised to find it so comfortable, and the linens were smooth as silk.
You sure can't complain about the legroom here
By the time I had got in to bed, It was only 22.30, so I decided to read a couple of more chapters in my book, before turning the lights out.
The night trains travel much slower and smoother than the conventional day trains. But sleeping in them wasn't very comfortable, and i found it very hard to fall asleep, as I was pushed to the sides every time the train went through a curve.
At around midnight, the train stopped at a station called Ånge, and we stood still for around 90 minutes. I knew that the train would split in two halfs, at one part of the way, but not this early. As I would later find out, the locomotive (engine), had broken down. So they had to replace it with another one. I did actually check the traffic info for train 94, a few days before my trip, and almost every time there was something wrong with the engine. So tonight was no exception. Anyway, after this small incident the train continued the journey, and I finally fell asleep.
Day Two
I woke up at around 7 o'clock in the morning, around two and a half hours before arrival in Kiruna. In order to be the first person to use the shower I woke up this early. The Shower was very nice, warming, and refreshing.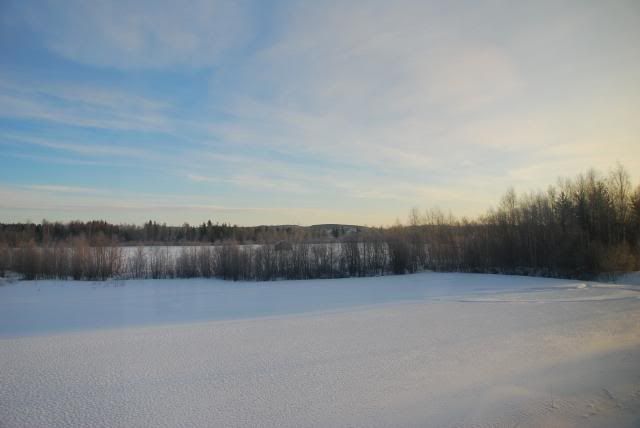 My first sight of nothern Sweden.
As I made my way back from the shower, the train conductor told me about the small incident with the engine. And because we only had one engine, the train wouldn't be able to split in half, so they had to take the train to Luleå, and for the rest of the passengers traveling further on to Kiruna and Narvik, had to be taken there by bus.
Very soon the train made a stop in Boden, so all passengers going to Kiruna and Narvik had to get off the train. And as a compensation the train conductor told me that they would be giving away all the food in the bistro. So I hurried down the aisle to the bistro. Unfortunatley, I only maneged to take a bottle of Minute Miaid, and some toffees. I saw this American guy, taking four or five meal entrées with him, and I really regret that I didn't take at least one.
After that, I ran back to my suite to pick up my belonings.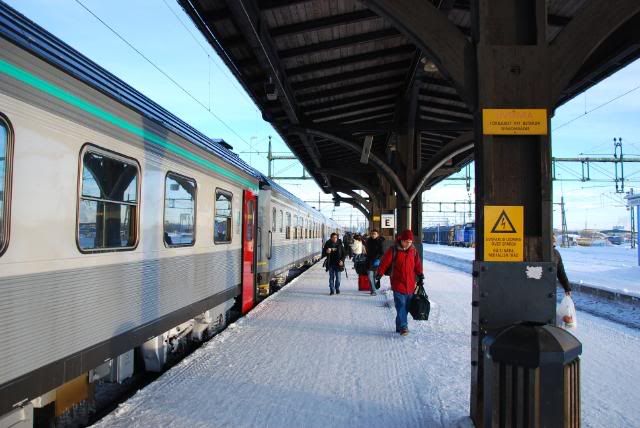 Soon, we disembarked in Boden. By the time I took this photo, the cold was really biting me in my cheeks.
As I entered the station building, I bought myself some breakfast from the shop. And just so you know that you're in the north of Sweden, the cashier was a beautiful looking blonde girl. As I got out of the station, five busses pulled in.
After quickly having eaten my breakfast, consisting of a Risifrutti (vanilla rice pudding with strawberry jam), I went around to ask the bus drivers, about the bus going to Kiruna.
When I got in to the bus, It was packed with French skiing tourists, all of them seemed very unsatisfied, and upset about this equipment change. One of them did for some reason start imitating an Air France flight attendant, which I found a bit comic.
As everyone except for one person had boarded the bus, we had to wait for that last passenger. It turned out to be the elder man that i shared suite with, he took a seat in the row behind me. He told me that the distance from Boden to Kiruna was 350 kilometers, and that the bus ride would take almost four hours.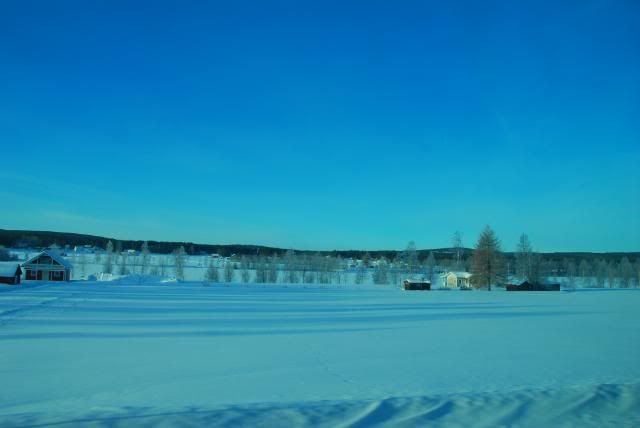 The beatuiful landscape. I wouldn't have been able to see all this from the train, so it was a good thing for me that the train engine broke down.
We quickly started talking, and he also offered to act as a guide for me, and later for the entire bus. He told me the story about almost everything we passed, and It was very interesting. He also told me that he had lost his wallet on the train, and that his mobile phone wasn't working, so he asked me if he could borrow mine. I gladly gave him the phone, and told him that he could use it was much as he wanted. The man was very grateful for this, and offered me a guided tour around Kiruna. It was a great offer, and I thanked him very much.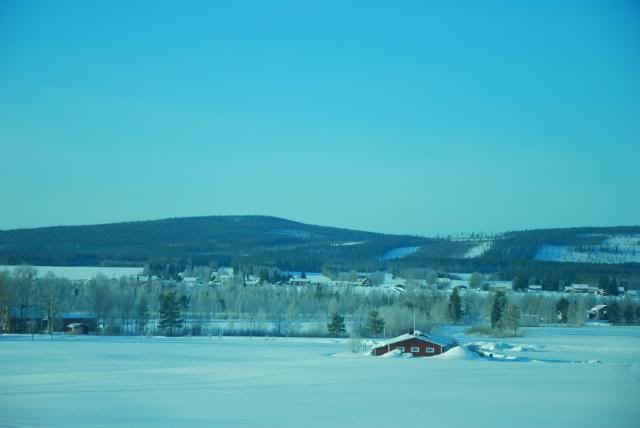 Here are some pics of the bus ride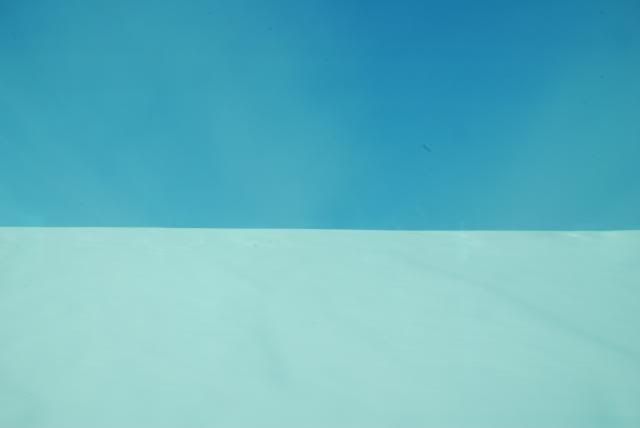 We crossed the arctic circle, somewhere around here. It would have been nice to have a certificate for that, but they have stopped issuing them.
A sleeping French guy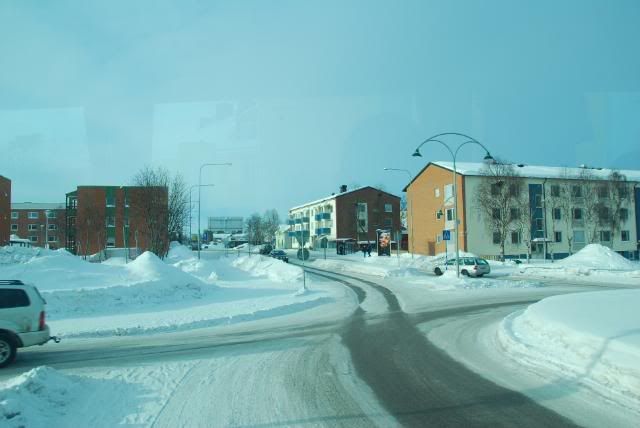 Soon, we arrived at a city nearby Kiruna called Gällivare. It was a very boring city. But my guide told us that he would be getting a new hip, in the hospital there on Monday.
Soon we arrived in Kiruna, after a three and a half hour long bus ride. This was my final destination, and I had reached it after having traveled for more that 18 hours!
The man, who's name is Magnus, told me invited me over to his home, for a light after noon snack. I couldn't refuse, as I was dying from both hunger and thirst.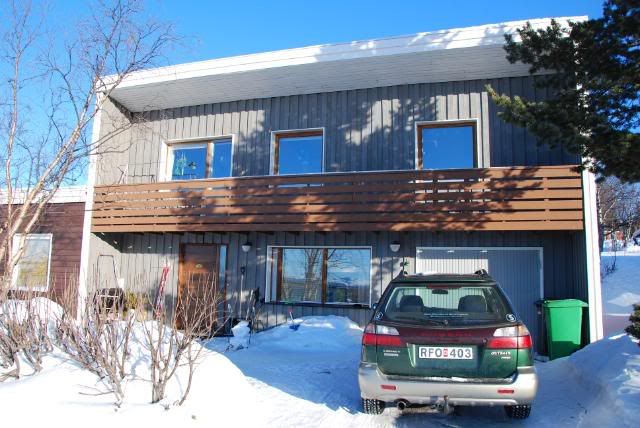 Magnus's house. A very nice house, with a great view of the mountains in the horizon.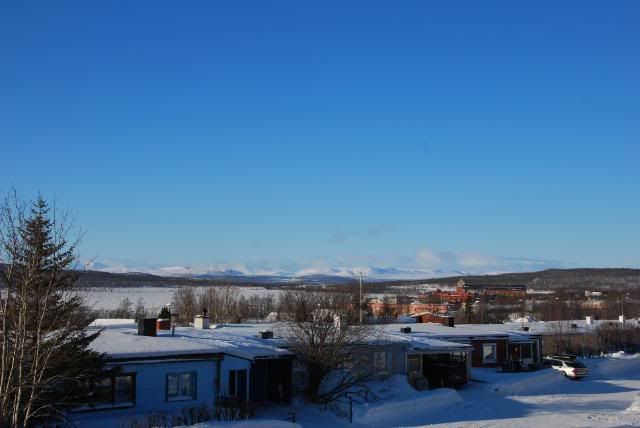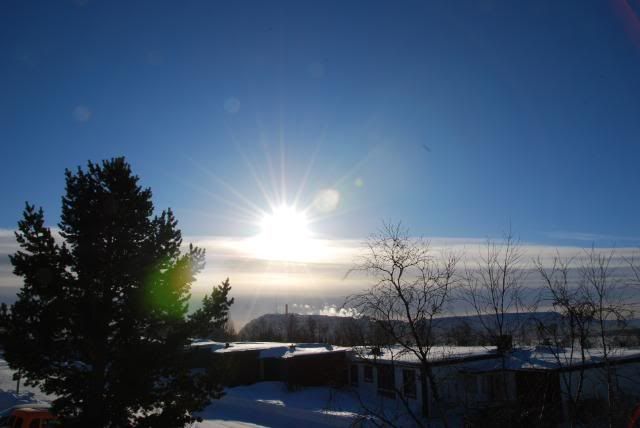 As Magus's wife was preparing the snack, I went out to the balcony to take some pictures.
During the meal, we had some very interesting conversations. I told him about my aircraft technician studies, and how I wanted to become a Pilot, but my color blindness stopped me. And it turned out that Magnus was also colour blind, but much more serious than me, as I only have a small red-green decency. He told me that he wanted to be a train driver, but his color blindness stopped him as well.
When we had finished the meal, Magnus took me out for a sightseeing tour around Kiruna. Our first stop was a big mountain, from where I could get a nice view of Sweden's highest mountain Kebnekaise.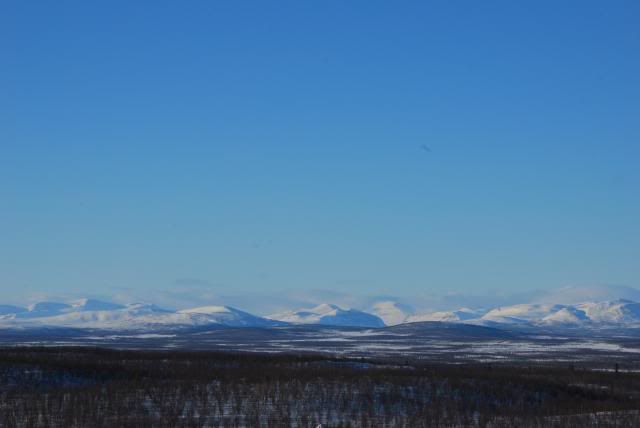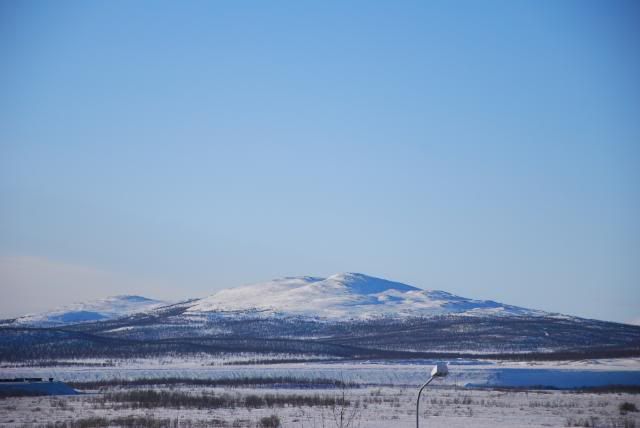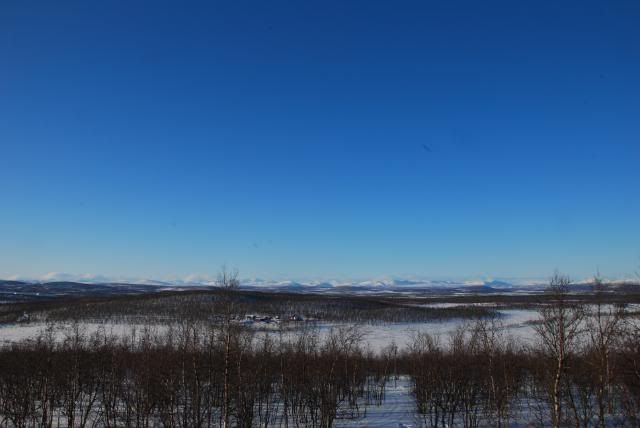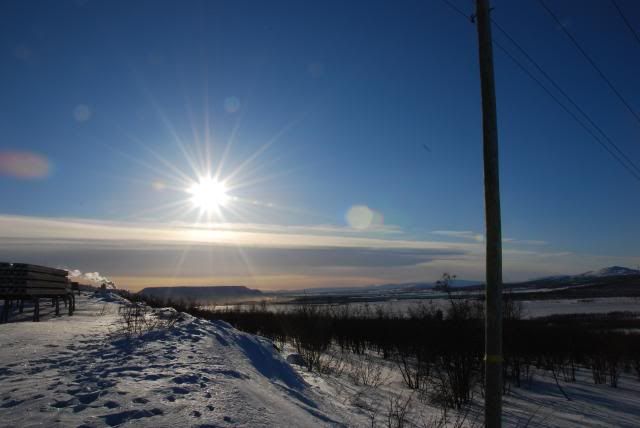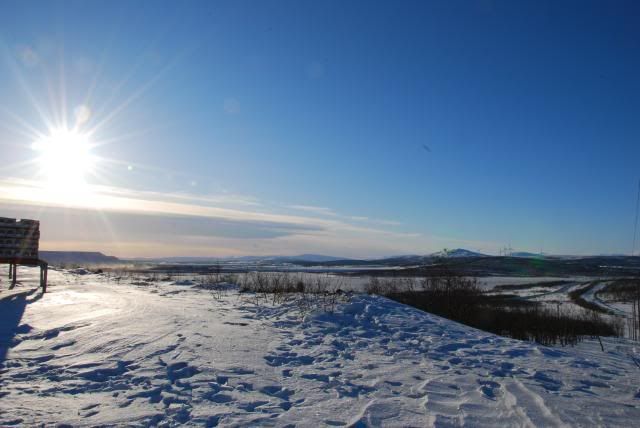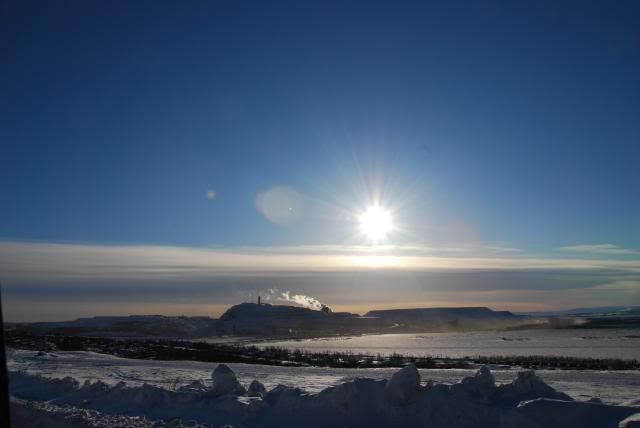 Here are some pics from the mountain.
Magnus told me that because of the big ore mine, the entire city of Kiruna had to be moved to this place, that I was looking out over. And they have 30 years to move the city, and they have already began building water and sewage lines.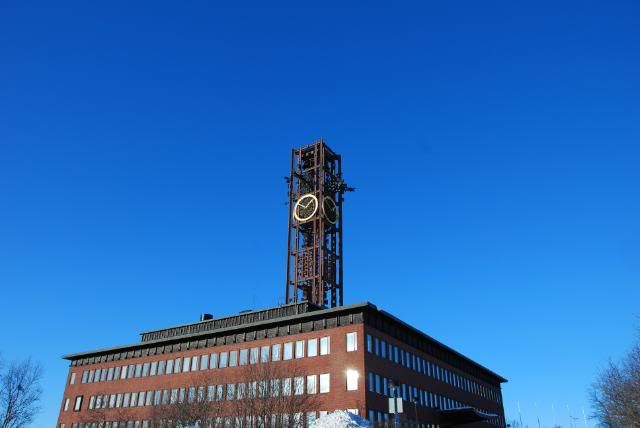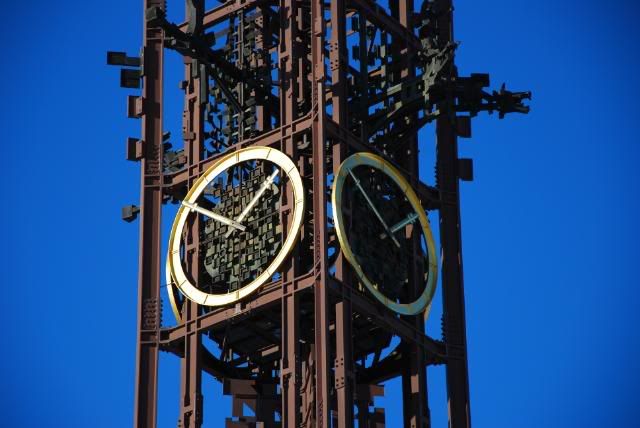 Next stop was the Town Hall.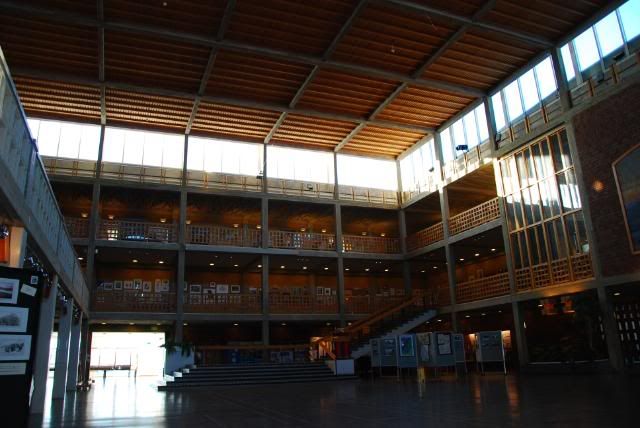 The interior of the Town Hall. Magnus told me that they have many big parties here.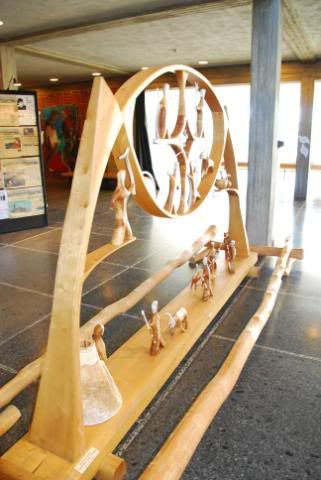 Some Samian artwork, made of wood, and reindeer bones.
This is where all the decisions are taken.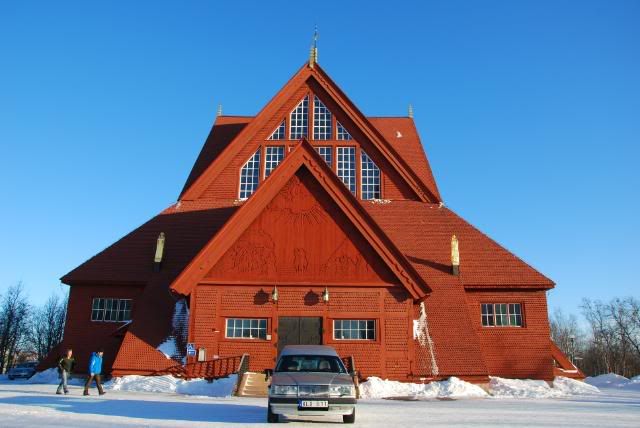 Next stop was the famous Church in Kiruna. But due to a funeral, Magnus told me that we weren't allowed to enter. That explains why the hearse was parked there.
The clock tower.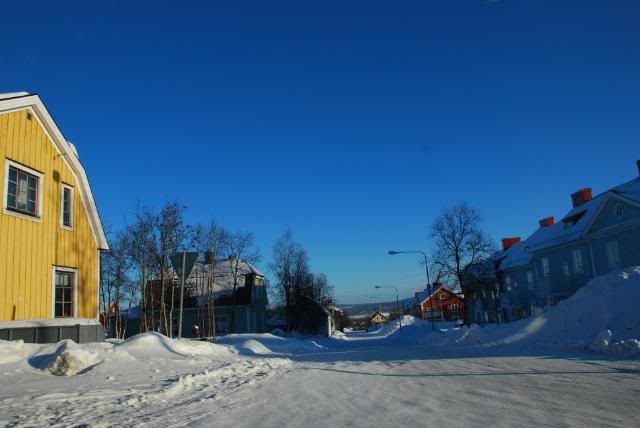 Most of the houses in Kiruna are made of wood, and they are all over 100 years old. The reason to why they have stayed in such a good condition is the low humidity, at these arctic latitudes.
One last view of the city before heading to the airport.
Magnus decided to drive me to the airport, since there were no busses, and a taxi would cost me more that €30. What a rip-off!
Soon we arrived at the airport, since Magnus had a bad hip, he didn't want to get out of the car. And he turned out to be 80 years old! But still so cheery, very amazing if you ask me.
I said goodbye to Magnus, and I told him "So it did after all turn out that you people from Kiruna really live up to your good reputation, of being helpfull". He smiled back at me, and drove away.
And I couldn't be more thankful to him. First, for giving me a tour that I would otherwise not have gotten if I was here alone, and secondly for saving me €30.
Soon I made my way inside the terminal.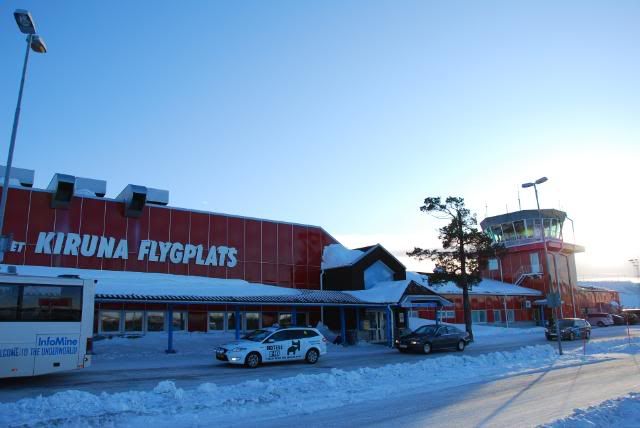 The reason to why the building is red, is because it makes it easier for the planes to spot it, since the snow is so white.
The check in area at the airport. There were four check in counters, and a self service check-in machine from SAS.
Since I had no luggage to check in, I proceeded directly to the Security control. The security agent were two young women in their 20's. This time, they didn't assume that I was a terrorist, just because I'm Arab looking. They also allowed me to bring my lens solution, I only had to show her that it was nothing else than that.
General trip information
Airline: Scandinavian Airlines Sweden (SAS SE)
Flight: SK1047
Origin: Kiruna Airport (KRN)
Destination: Stockholm Arlanda Terminal 4 (ARN)
Departure: 15.50
Arrival: 17.25
Duration: 1h 35m
Aircraft & Reg: Boeing 737-683 SE-DNX
Seat & Class: 08F Economy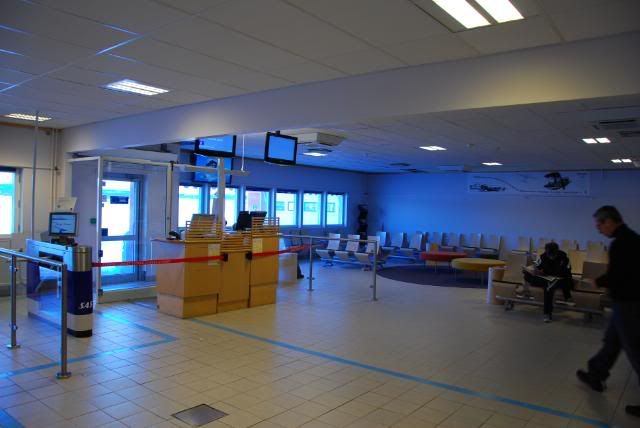 When I entered the departure lounge, there was nothing there to be found except for some newspapers and some chairs.
Soon, I could see the aircraft coming in on the runway, followed by a big cloud of snowy dust. The aircraft pulled up right in next to the terminal, just like a bus would to. And as soon as the aircraft was deboarded, fueled, and loaded, the boarding started. Since only Economy Class in available on domestic flights, everyone was allowed to board at any time.
Walking towards the aircraft.
The captain didn't look too happy when I took a picture of him and the plane.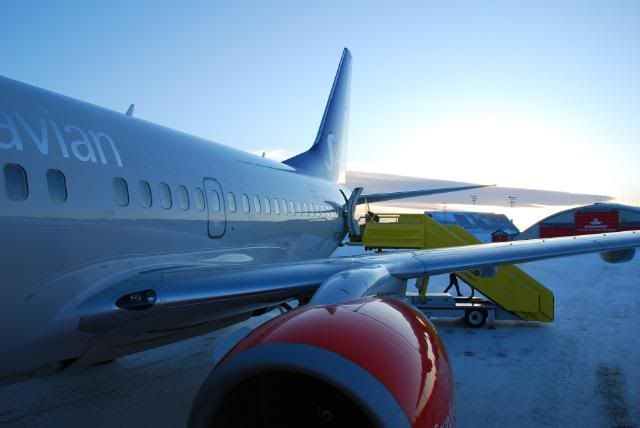 Walking up the airstairs.
Right before entering the aircraft, I took a step to the side, and took this nice shot of the fuselage. I really love the reflections on the fuselage.
Any chance this shot could make it in to the database? Probably not, huh...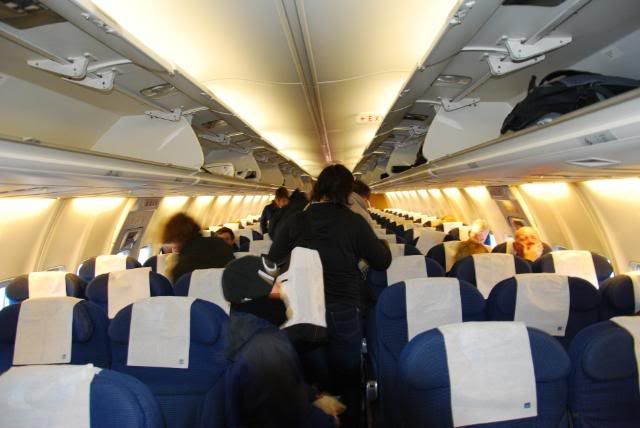 Cabin during boarding. This aircraft was fitted with the "old" interior, which is MUCH better than the new one.
My seat for this flight. If there's one SAS are good at, it has to be their seats. They are very comfortable.
The seat legroom was rather ok, It have been much better on previous SAS flights.
The crew on today's flight consisted of one male f/a, one female f/a, and a first officer. That's right, a pilot working as cabin crew? Has the whole world gone mad? I found this to be very odd, how comes that a pilot works as a flight attendant? Is this common, or was this just a one-off? Anyway, he didn't look too happy about it. And the strangest thing was that he looked like a senior.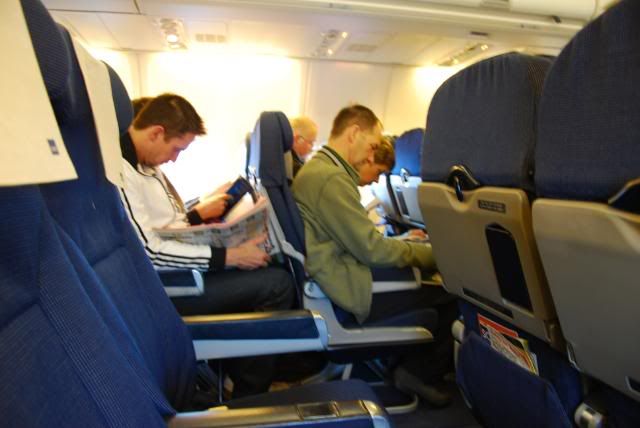 I was actually the only pax to have a whole row, all to my self.
Oh, wait! There was a young girl sitting in the aisle seat, but she quickly moved away when she saw me taking pictures. I guess she was thinking "What a freak, seems like that guy have never been inside a plane before"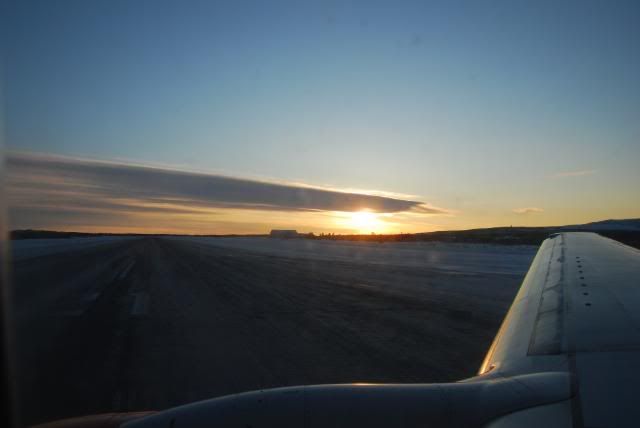 Soon we began our taxi to the runway.
We taxied by the Arctic Arena. The biggest hangar in the arctics. Big enough to hold a Boeing 747. The facility is used by NASA for atmospheric reasearch, but Airbus, and Eurocopter come there from tome to time, to do winter testing.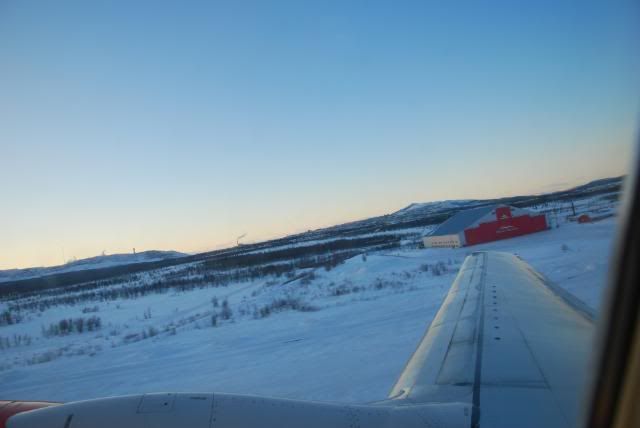 The take-off was pretty long and heavy.
The climbout was very slow. This 737 sure climbed slower than a bloody goose!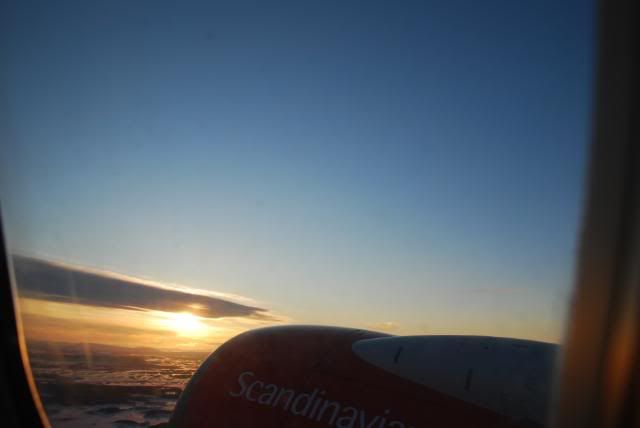 We made a short left turn, before heading south towards Stockholm.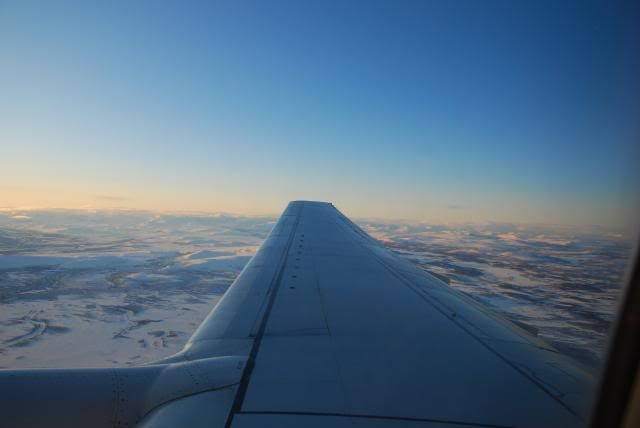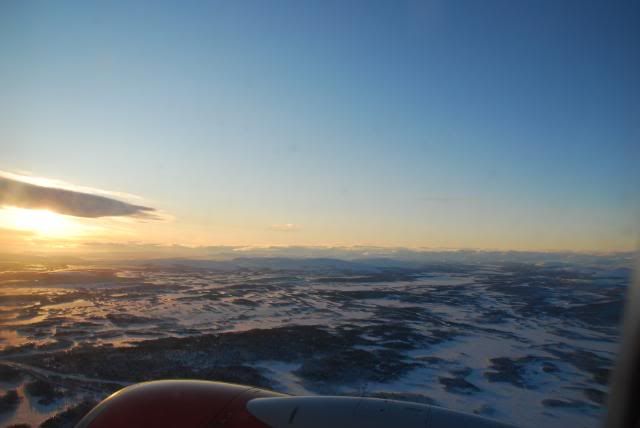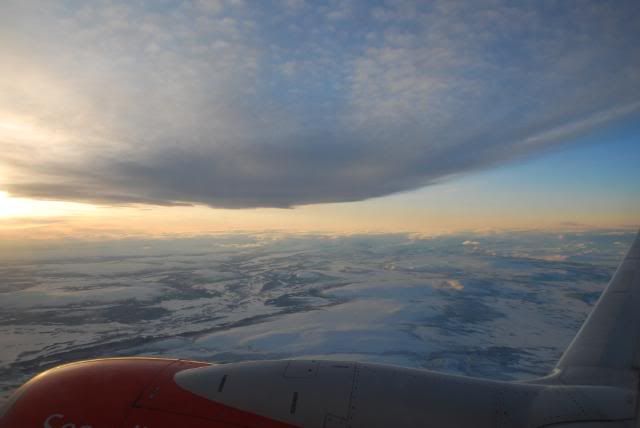 During the climb I got some pretty spectacular views, before going through a thick layer of clouds
It seemed pretty ridiculous that, what took me more than 19 hours to get there, will now only take 95 minutes.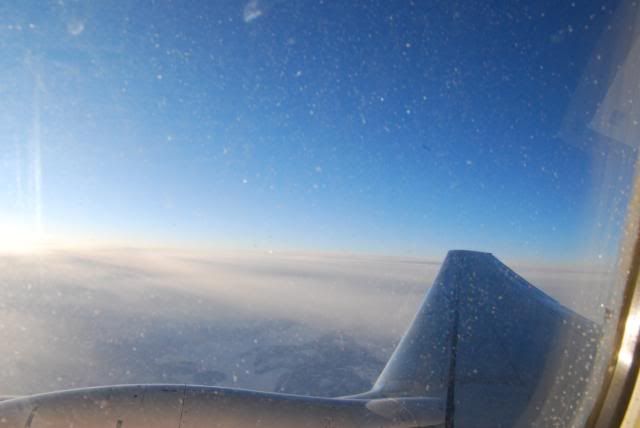 Cruising altitude.
As we reached cruising altitude the crew started the BOB service.
Since I was getting really hungry, I was looking forward to have a nice pack of organic rootfruit chips. When the f/a had placed my snack, along with a coke, I hage her my card. She then told me that they didn't accept it. So she had to remove all the items away from my tray table right in front of my eyes, as they were about to fill up with tears. And I didn't even get a glass of water for free, when I asked her for one. Now that's just terrible service, aren't flight attendants supposed to serve you food, not take it away from you?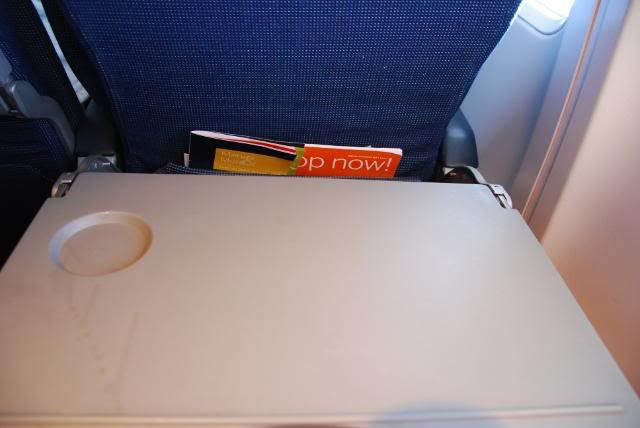 Since they wouldn't accept my card, I had to settle down with the only thing they offered complimentary... air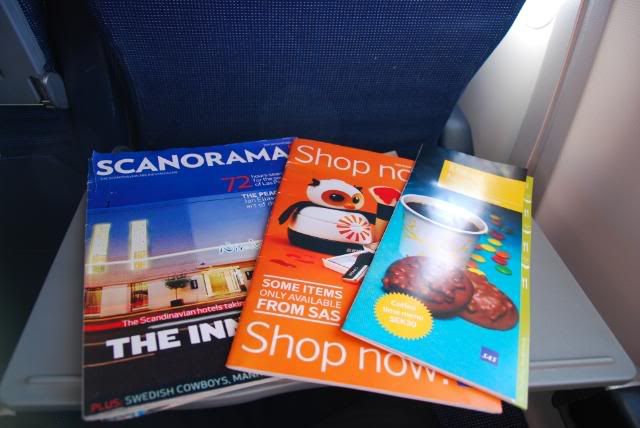 The IFE offerings for this flight. I didn't read any of them, as I was too busy taking pics.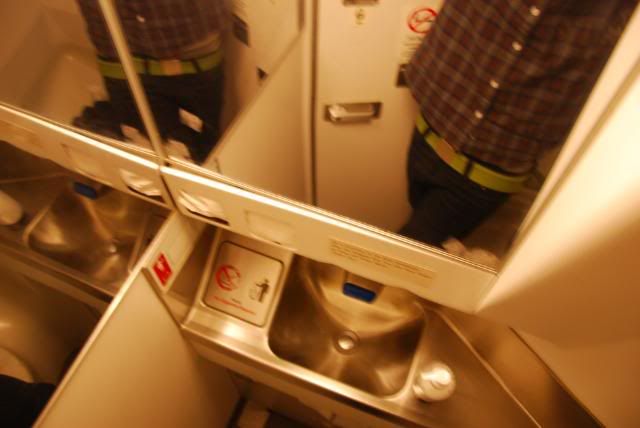 A blurry pic of the lavatory. Not much to see here either.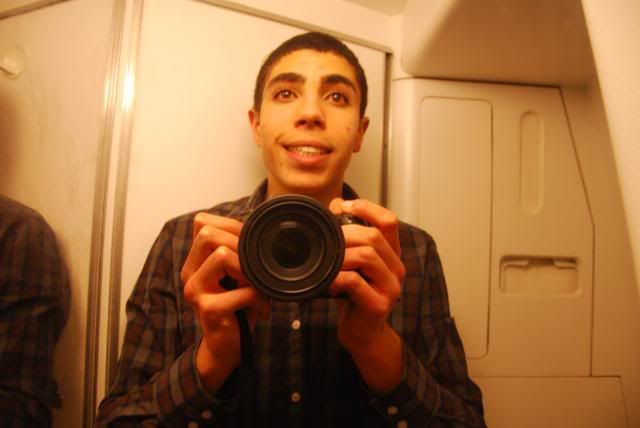 And here's a bad picture of me, inside the lavatory, giving a bad fake smile, while holding the camera with my creepy long fingers and big hands.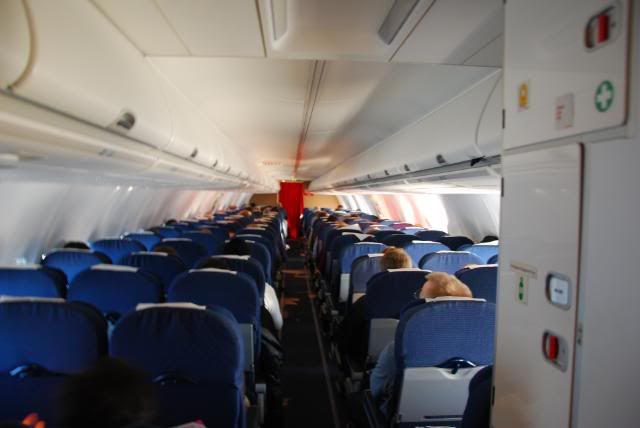 Cabin view, from the back. I know that many of the fellow members on a.net such as Planehunter and Airbuseric, insisted in that I would do that next time.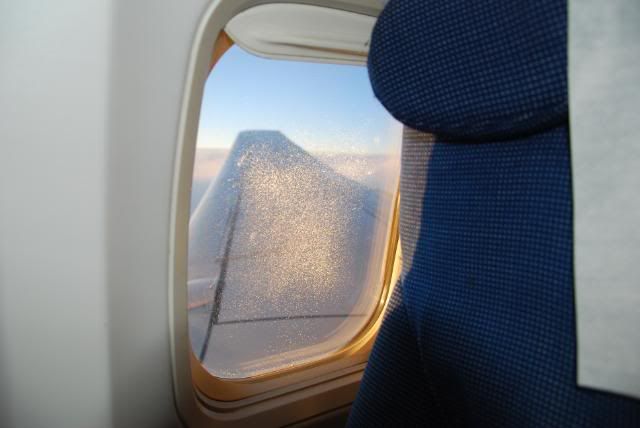 The windows were very dirty, which made it difficult for me to get some nice low aperture pics of the sun and sky.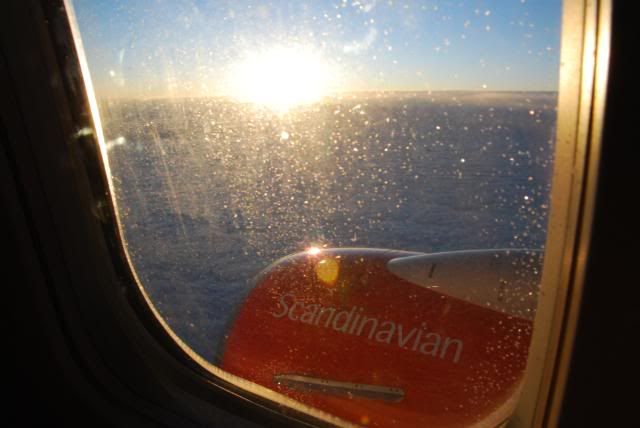 Soon we began our descent into Arlanda. And down there, the weather was bad.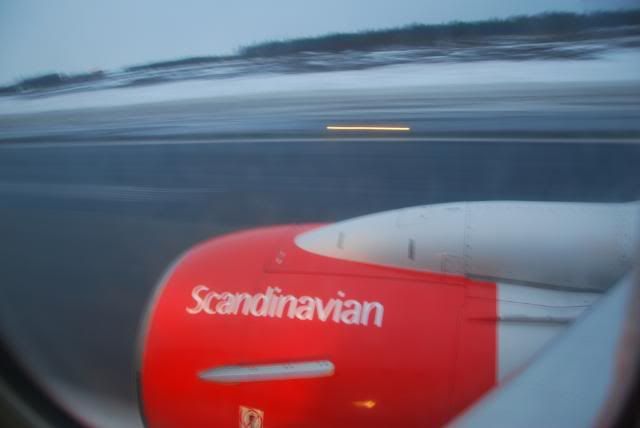 We touched down, 10 minutes ahead of schedule. After a quick taxi, we parked at ARN Terminal 4, which is used for domestic flights only.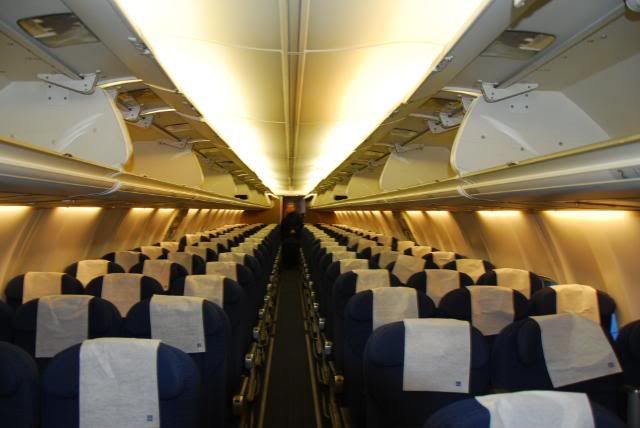 One last pic of the cabin before leaving the aircraft. The male f/a asked me if he was on the picture, but I said no. But insisted on taking a pic of him, but he declined my offer. I didn't get a chance to visit the cokcpit this time, as the first officer f/a was blocking the door, and he didn't look too happy. So I assumed that he didn't want to let me in.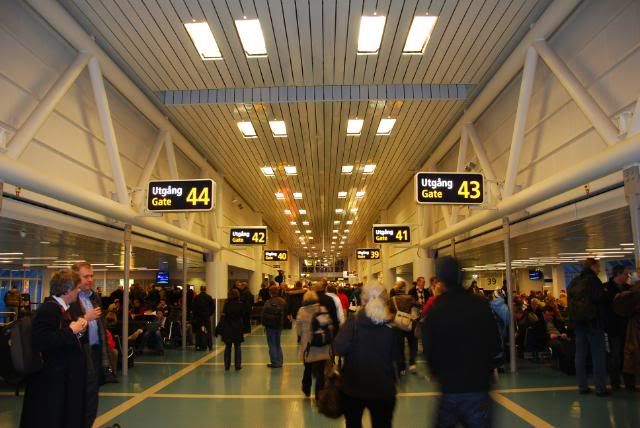 A view of ARN T4. At this time of the day, it is packed with business travelers, many of them are commuting by plane.
I had two and a half hours to kill before taking the train back to Västerås, so I walked around the terminals. In Terminal 5, a man came up to me and handed me a big with two sandwiches, he told me that he had to get rid of them, at the security check. So he gave them to me instead. That saved me another €5.
So during this whole trip, I had only spent €1,10, on that Risifrutti in Boden. Apart from that, I had gotten almost everything for free, well except for that glass of water on the plane.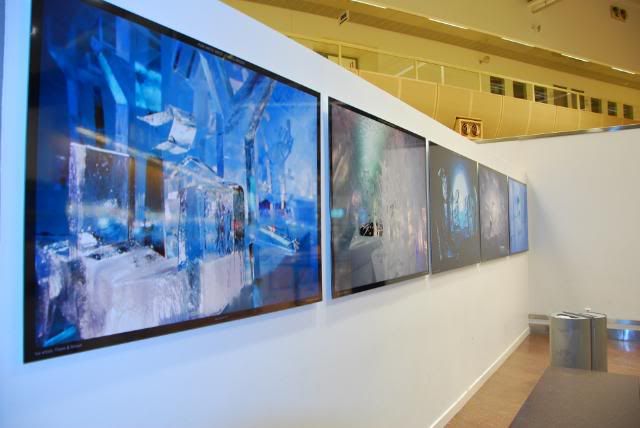 This is what I missed, when I visited Kiruna. So I assume that the Ice Hotel is just a reason for me to go there again some time.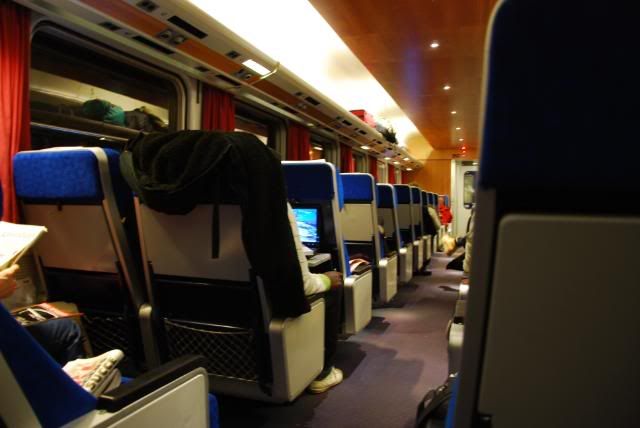 There was nothing spectacular about the last train ride for home. And I didn't want to take many pics, since I was very tired by the time. For most of the ride, I read the last chapters of my book.
I arrived safely in Västerås, at 21.35. Next up was a short walk home, before getting some much needed sleep.
Conclusion
I must say that SJ's night train was much nicer than I had expected. And I couldn't have been more happy to get to travel at the highest level of comfort. Though I really think that they should do something about their engines, if the keep braking down, almost every second day. Though it was very nice of them to offer us free food and drinks, as a compensation. When it comes to my experience on SAS, it was terrible as usual. A cup of coffee would have been just enough for me on that flight. The crew were pretty average.
For the train trip I'll give it 6/10
For the flight I'll give it 3/10
I guess that will mark the end of this report, and I really hoped you enjoyed reading it.
So feel free to give me your comments.
Regards
Jonas
Camera used for the report was a Nikon D80 + a Nikkor 18-105 VR lens
(p.s even though I used a DSLR, the pics came out a bit bad. That's because I forgot the ISO setting on 100, making the shutter times a bit long. And I also had the optimize image on VI+. Next time, I'll make sure not to forget about the settings.)