Dear all,
in november 2008 I found a great deal on lan.com for a Ccs-Lim-Eze-Lim-Ccs.
I am normally an Eco flyer but from time to time there are great Business fares ex Ccs - in this case LAN had a promo (I think it is still bookable) in Business to Buenos Aires - one of my favorite citys in the world. The fare was around 1200 USD incl tax for the return ticket (using the official exachange rate, using the black market exchange rate it was just 500 USD so a real bargain). A great deal to test the new Lan business product.
Made the booking via phone as otherwise you have to pay in USD and not in Bolivares our local money. The booking was slow as the operator from LAN did not found the mentioned tariff - but with some additional data she found the fare and booked the tickets.
The next day I payed the tickets via bank-transfer and received minutes after the e-tickets via e-mail.
LA-2565 / Ccs - Lim / B.767-300 / 13.02.2009 / seat 2A.
Finally after 3 months of waiting the day arrived and after a bussy day in the office I made my way to Ccs Airport wich is located around 5 minutes from my office. Arrived around 2,5 hours before the ETD and the LAN check-in was already nearly empty.
The check-in process was very slow and unfriendly - Anyhow after around 20 minutes of typing, checking documents etc... we received our boarding passes - for Ccs - Lim and also for Lim - Eze.
We filled out the venezulean customs-documents and made our way to the security-checks and emigration, wich this time was a reall breaze - not a standard for Ccs.
After emigration we made our way directly the the Admirales Club - as Lan is using AA lounge for there premium passengers.
The lounge was filled as beside our LAN flight there was also a AA flight to MIA. The food choices are very limited, only - cheese and crackers - but a good choice of spirits - I had 2 screw-drivers and some chees and crackers. After around 1 hour boarding was anounced, and we made our way to Gate 14 - boarding was quick as we used the seperate business class line.
We were welcomed and escorted to our seats - the first impression was just "WOW" a really great product that LAN has launched! I am sure it is the best business product in LatinAmerica and one of the best in the world.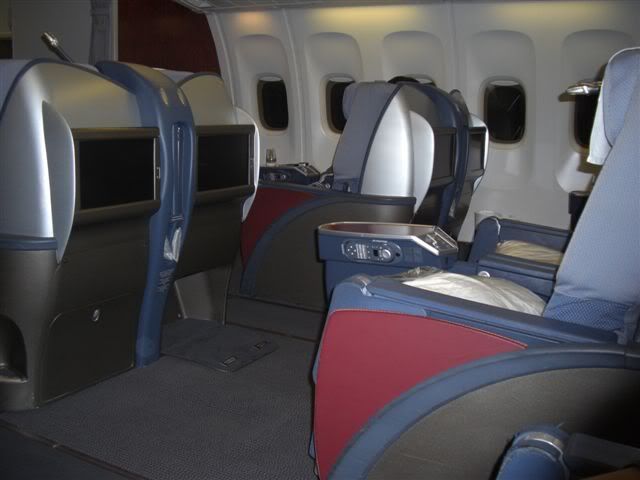 Pre-Departure Drink - Champagne
Amenity-Kit, very basic but a nice touch for a 4 hour flight!
Second Pre-Departure Drink - this time PiscoSour
We pushed back with around 15 minutes delay and made a powerfull but short take-off run. After 15 minutes in flight it was time to eat dinner - on medium-haul flight LAN offers only express options - in business it is a full dinner but served on 1 trai - not per course. I found it a little bit disapointed as 4 hours should be enough for a full dinner served per course.
There were 3 choices, steak, fish or vegetarian pasta - my wife had the fish and myself the steak - both options were great! Both accompanied with a starter salad and warm bread - for dessert there was a choice between fruit-cake or fresh-fruits, we both opted for the fruits. LAN has great choice of wine - no wonder as an chilean carrier.
the steak - wich was very good and tender
the fish, wich was also very good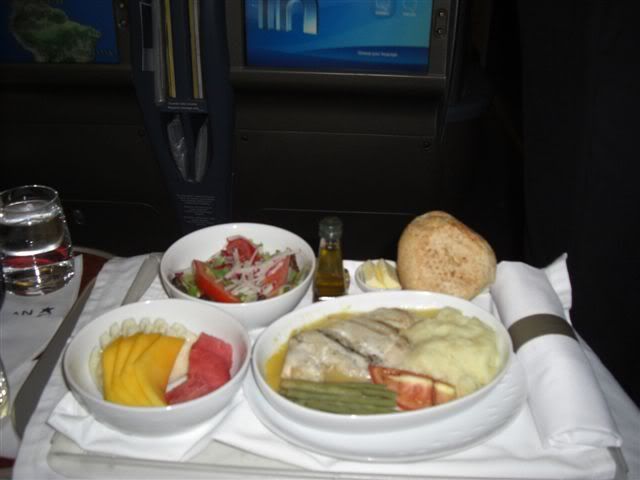 after dinner coffee and bailys was offered. We relaxed the rest of the flight time and around 3,5 hours after the departure we started our decent into Lim.
We deboarded and had to go again through security - as we had around 2 hours of conexion we made our way to the lounge. Lan is using in LIM the SUMAQ LOUNCH - it looks like nearly every major carrier in LIM is using this lounge with the exeption of Taca. The lounge was very bussy as LIM has heavy departure bank at midnight, AA to MIA - LAN to many destinations, CO to EWR, AC to YYZ to mention only a few. Anyhow, I have to say it is a great lounch - only snacks are served as food but they have an incredible sortiment of spirits and some niche featchers like fresh-squezed orange juice etc... I had some beers and some snacks like finger-sandwiches, olives etc... The time passed quickly and after checking the duty-free shops we made our way to the gate. Have to say that LIM has great duty-free sortiment!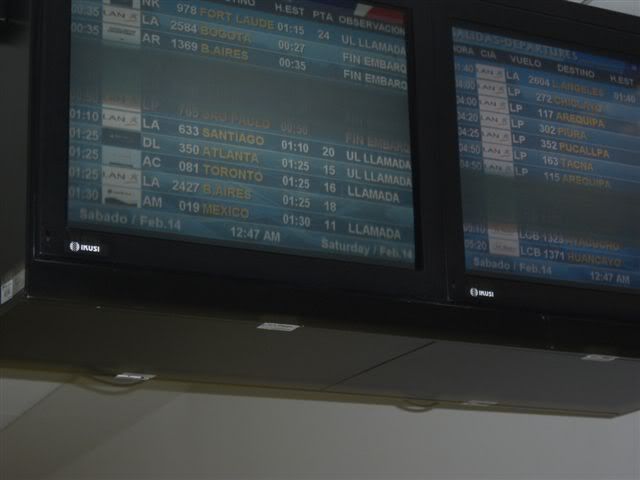 LA-2427 / Lim - Eze / B.767-300 / 14.02.2009 / seat 2J.
Boarding was again a breeze - but only for business passengers - as for economy it was chaotic.
Had again as pre-flight drink a champagner. The take off-run was again very quick and short. As the ETD was around 01:30am I enjoyed quickly after the take-off my nice full-flat business seat and slept straight for 4 hours - have to say the Business Seat is just great! Lan offers on this redeye flight sandwiches as night snack - but as I slept strait I did not enjoyed much of the service.
Minutes before landing in EZE.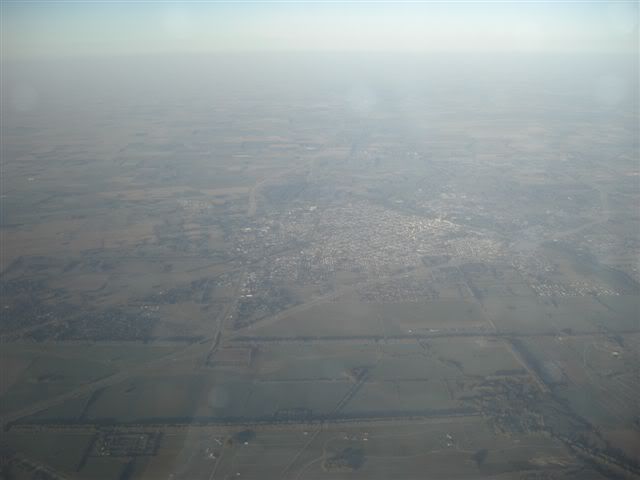 Landing and deboarding was quick, same for immigration and luggage pick-up. Around 30 minutes after the landing we were already on the highway bound for Buenos Aires CityCenter.
We stayed for 2,5 days in Buenos Aires enjoying the great nightlife and food!
Puerto Madero
On Monday 16.02.2009 it was time to leave Buenos Aires again - as I had booked a 3 day stay in south Patagonia - to be more precise to El Calafate (Glacier National Park).
LA-4430 / Aep - Fte / A.320 / 16.02.2009 / seat 5k (all economy configuration).
our A.320 to FTE.
seat-pitch was ok - for a 3 hour flight.
the service - a ham and cheese sandwich and a mini Alfajor (a traditionall Argentinean cookie. Comparing to the US carriers not bad - but for a 3 hours flight in SouthAmerica it should be a little bit more.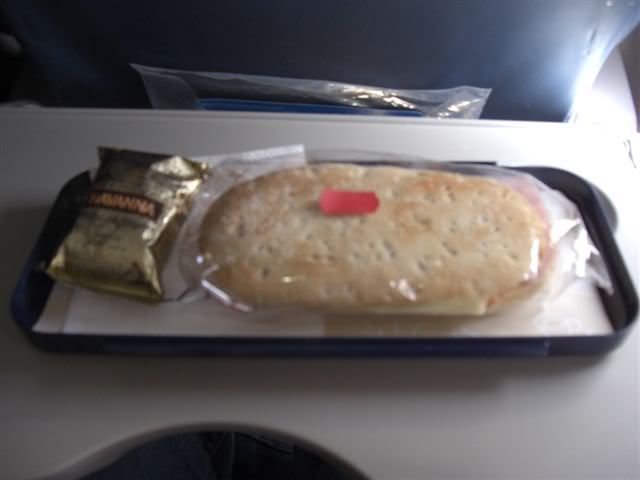 over patagonia.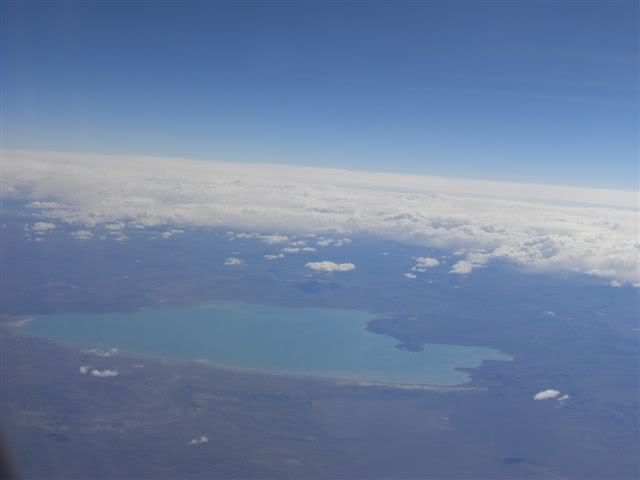 landing at FTE.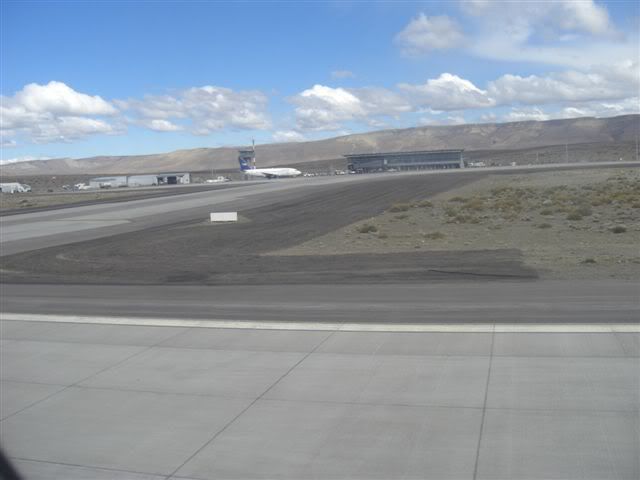 our A320 after deboarding.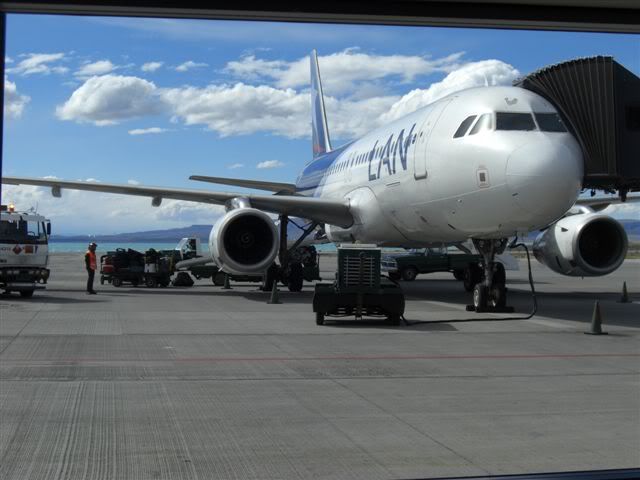 I arranged the transfer to our hostel and after exploring a little bit El Calafate - a small town with around 10.000 inhabitans we had a nice dinner - including the famous patagonian lamb.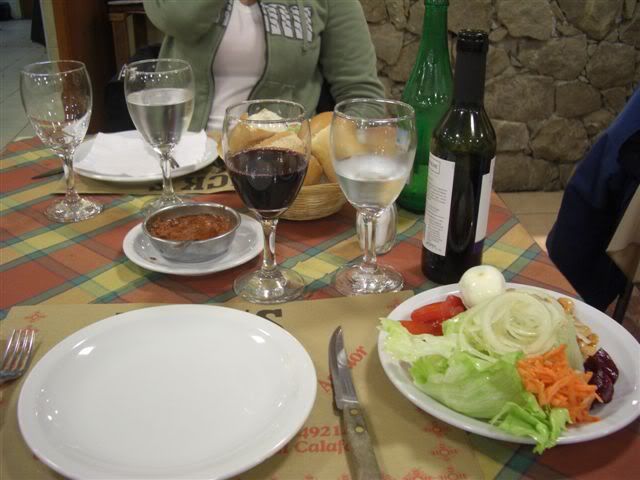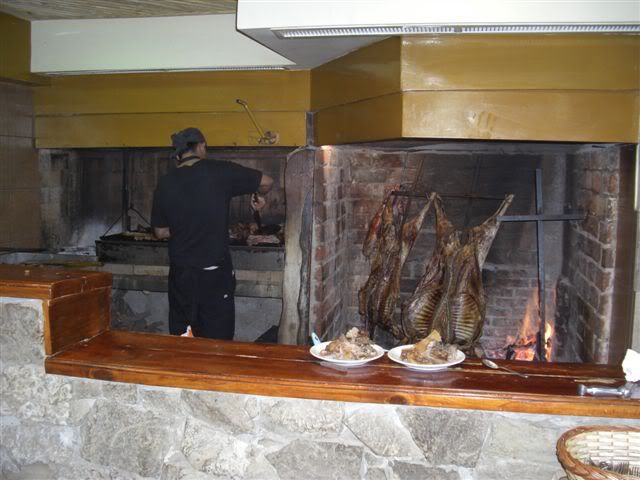 On 17.02.2009 it was finally the day to explore the glacier national park. It was really fascinating, this is the famous Perrito Morena glacier.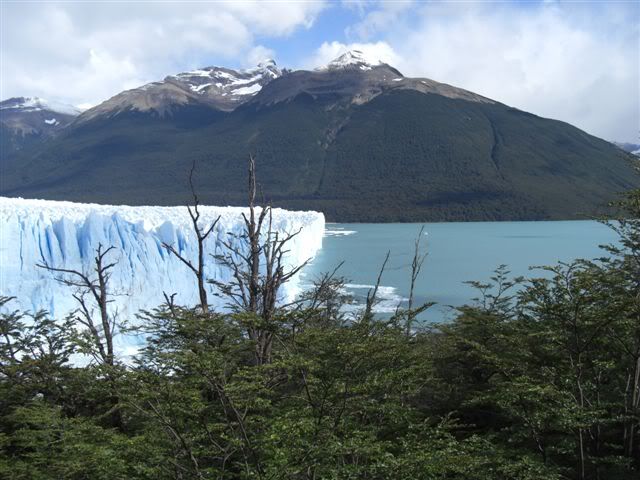 a trecking tour on the glacier.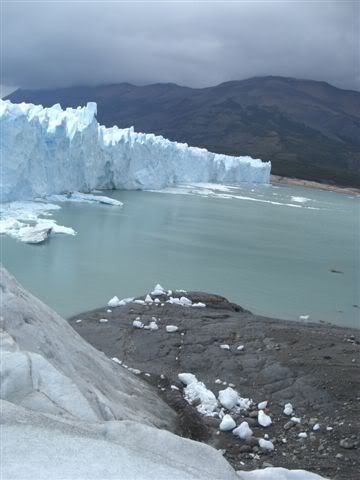 On the next day we did a great tour on a catamaran, exploring the Largo Argentino - including Icebergs and other glaciers - like the Upsala glacier etc..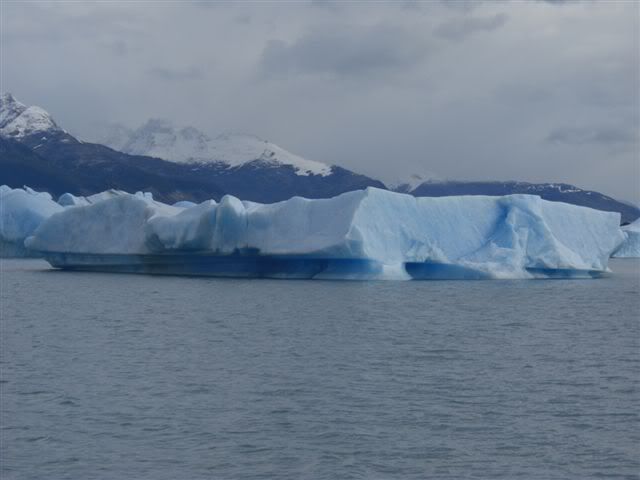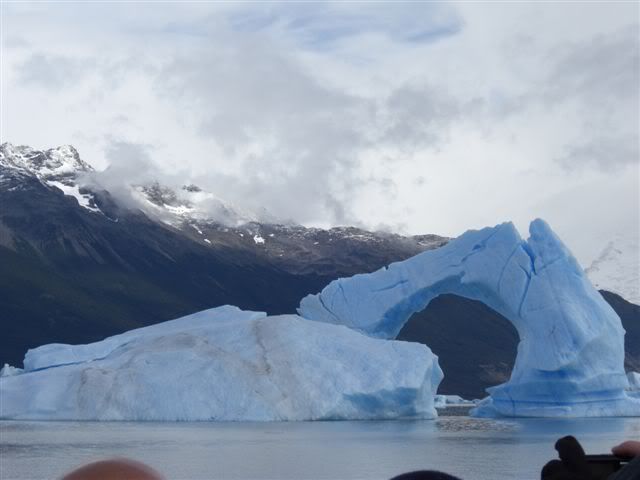 LA-4431 / Fte - Aep / A.320 / 19.02.2009 / seat 2A (all economy configuration).
check-in was again quick at the small airport so I had still some time for spotting...
Twin-Otter operated by the Argentinean AirForce.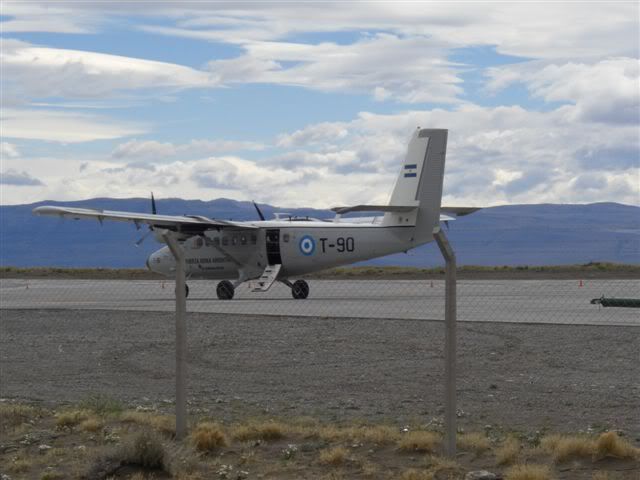 F-28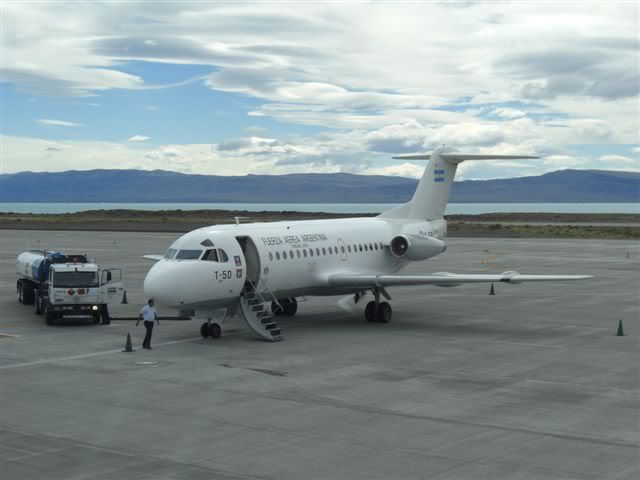 Austral
Our A.320 arriving from Buenos Aires.
Just after take-off - this is the old airport of El Calafate - the new has around 10 years.
The service was again the same as on the outbound flight.... but this time I had a nice can of Quilmes.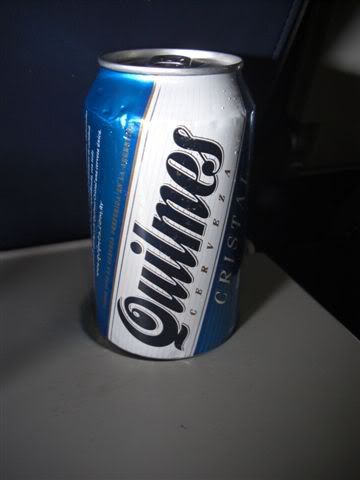 Around 1 hour south of Buenos Aires.
The flight was uneventfull and we arrived with around 30 minutes delay at 09:30pm in AEP
Went with the taxi to our hotel and had a nice dinner - at around 00:30am, in Argentinan it is tradition to eat very very late dinner.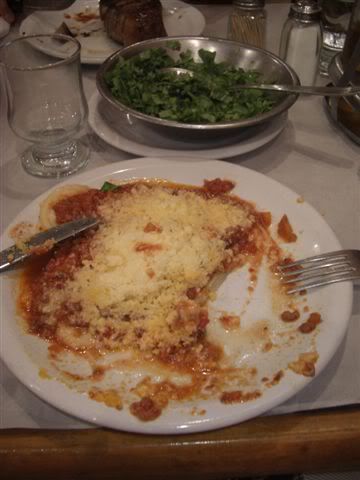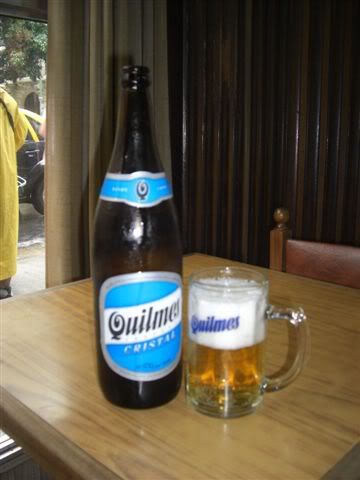 .
We had still 5 days in Buenos Aires - it is really a great city!
The famous La Boca district.
Diego Maradona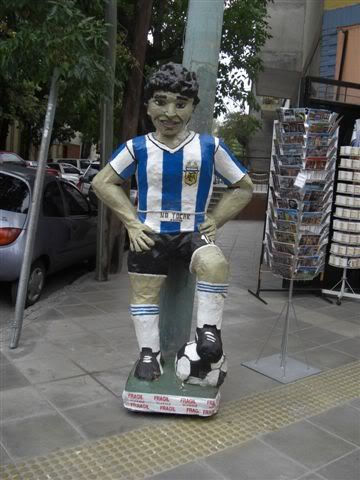 A classic Argentian snack, ChorriPan.
San Telmo district.
The great Argentinan Beef cuts.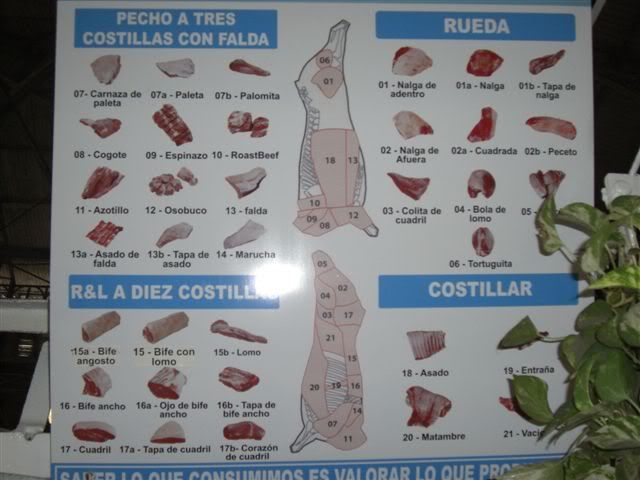 Casa Rosada - from there the President is runing the country.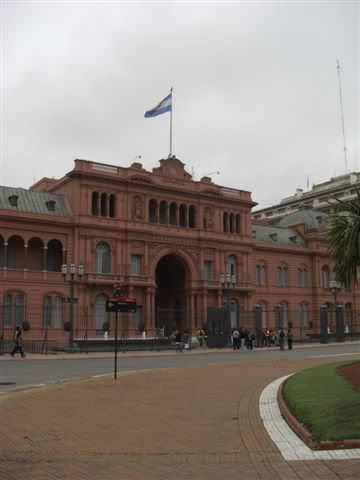 A great Argentinean culture = wine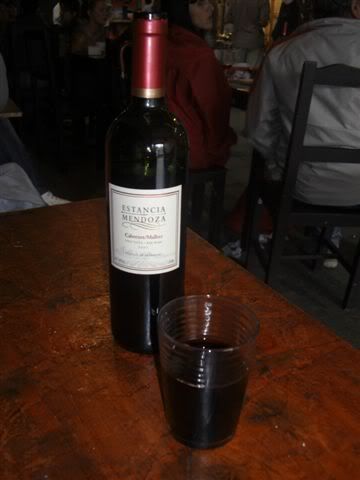 On Sunday it was time for an argentinean football mach, unfortunately Boca Juniors was playing out of town... so we had to go to an River Plate match... against Banfield, River Plate won 2:0.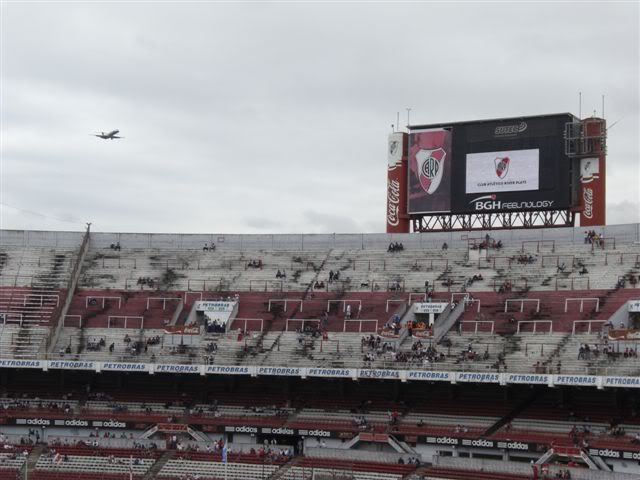 Banda Brava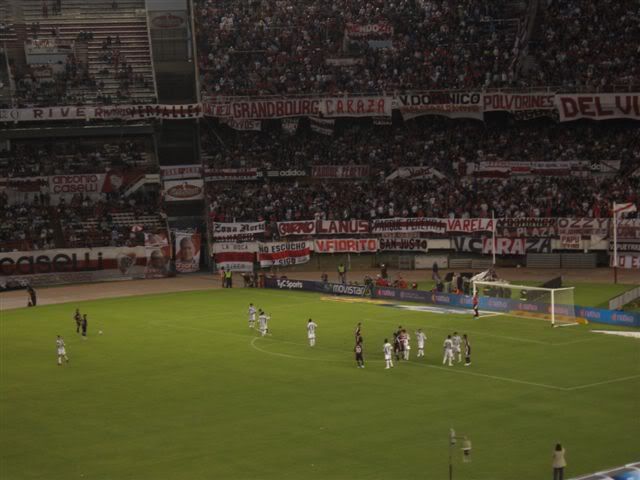 On the next day, our last full day in Buenos Aires it was time again to explore the city. The famous obelisk.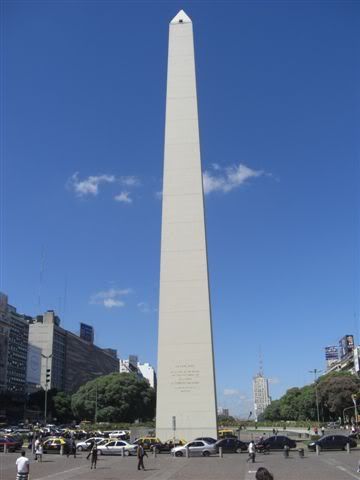 Again a nice lunch...
The famous "La Bonbonera" stadium, home club is Boca Juniors.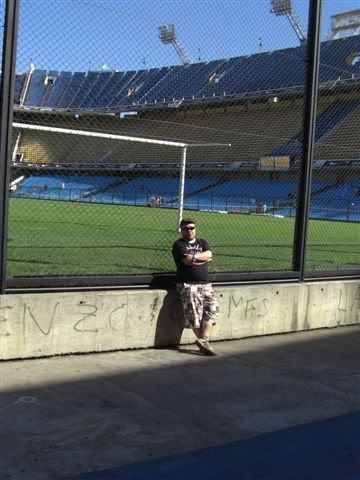 LA-2426 / Eze - Lim / B.767-300 / 24.02.2009 / seat 2A
Eze, terminal 2
Admirals Club.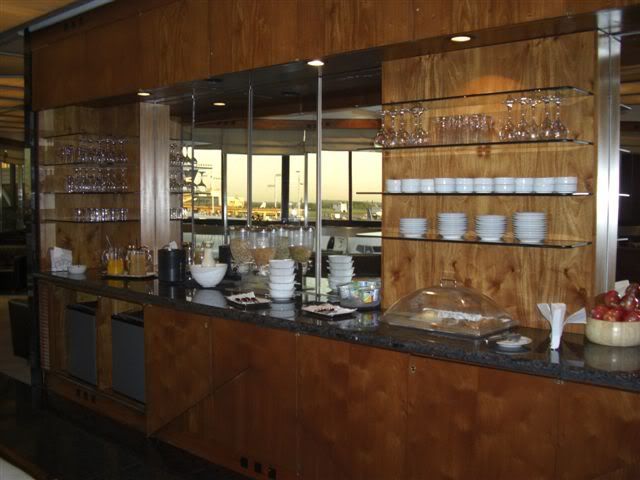 food choices were limited but ok for breakfast, cereals, muffins, bread, butter, jam, etc...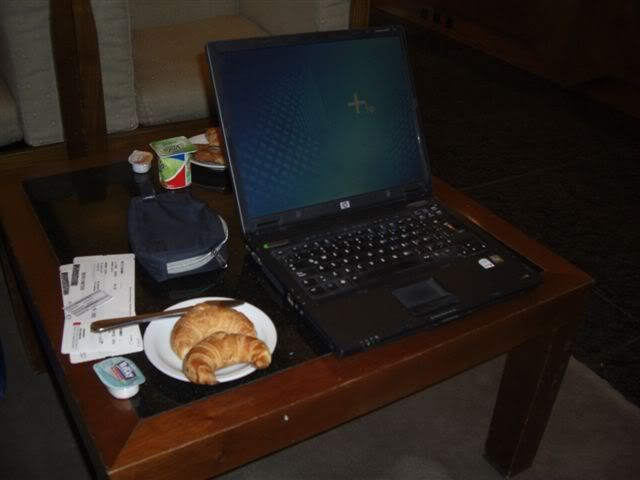 AA B.777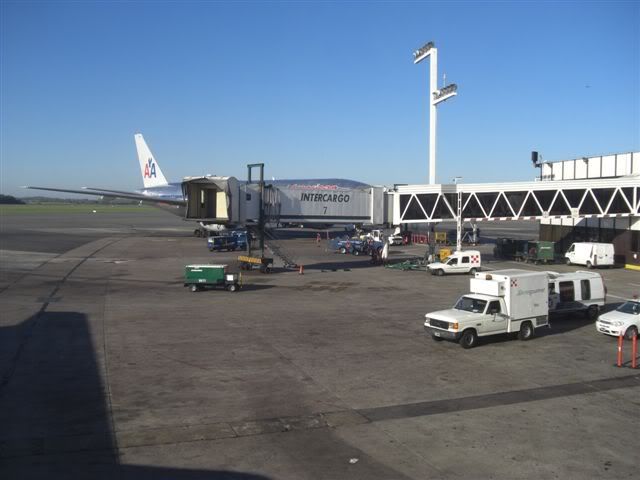 pre departure drink, only orange juice and water.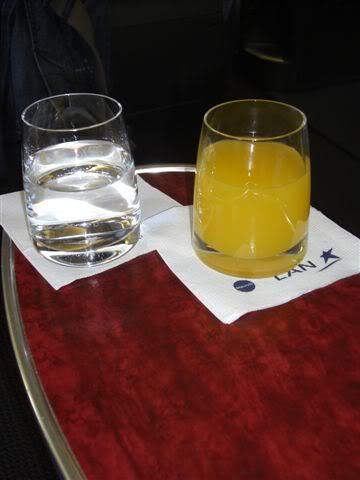 TAM A320 to GRU.
really nice LAN business cabin.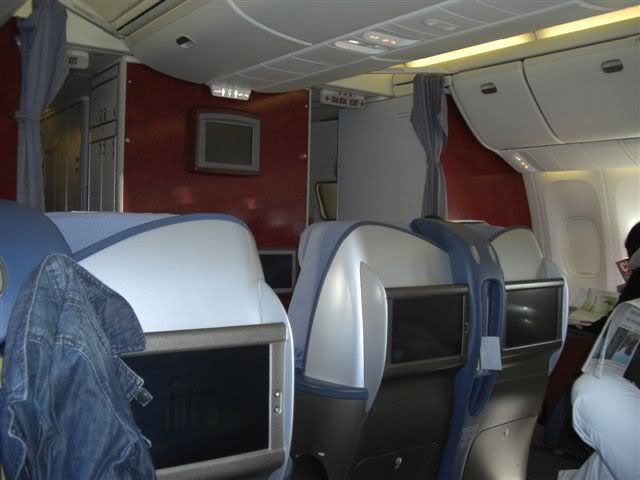 AirPlus A330, can the A330 do EZE to MAD nonstop?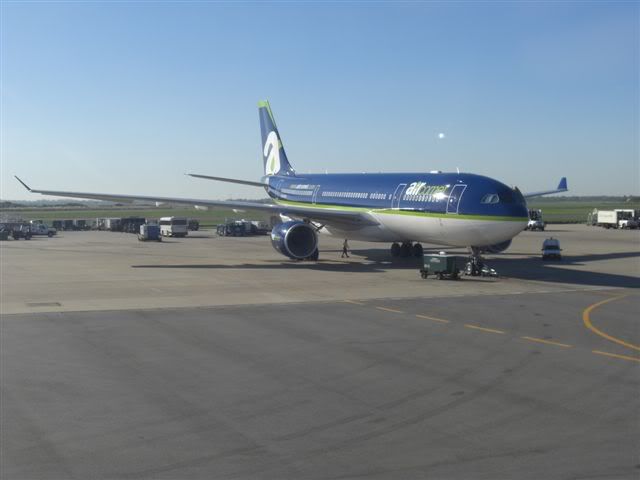 Iberia A340 from MAD
minutes after takeoff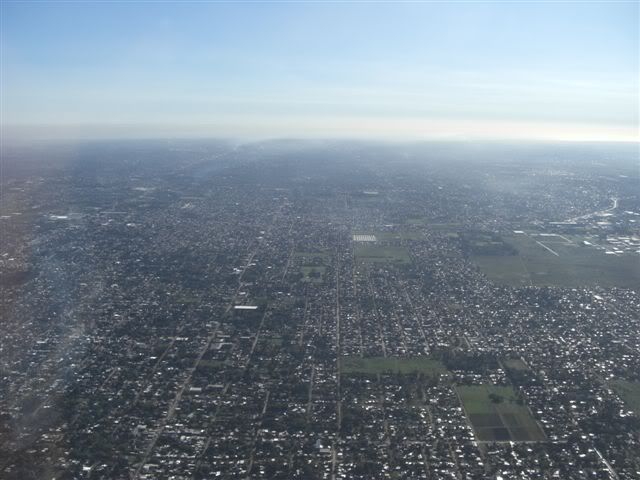 relaxing before the breakfast service.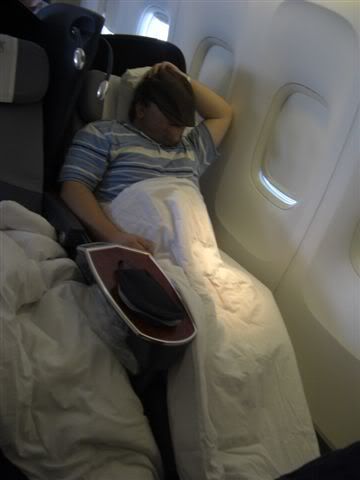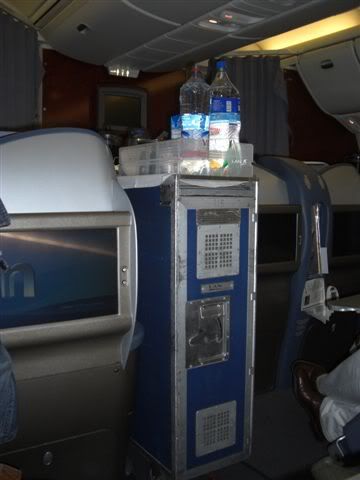 For breakfast were 2 choices, omlette or ham and cheese plate, my wife had the omlette and myself the ham and cheese plate, both options were very good.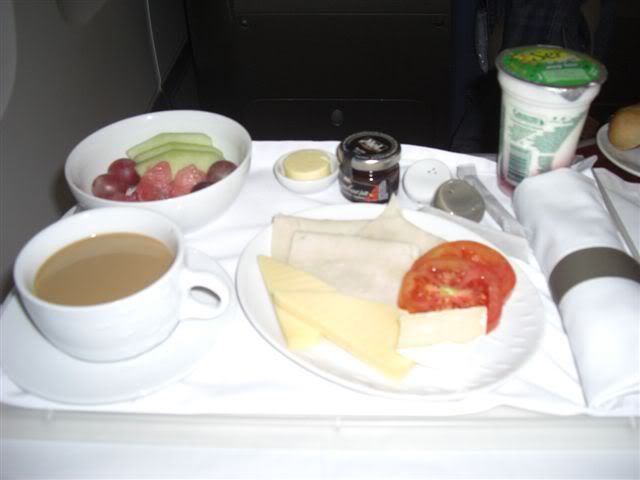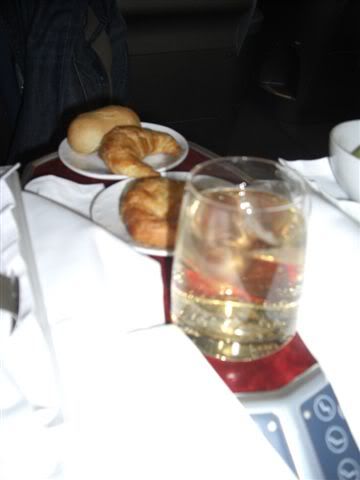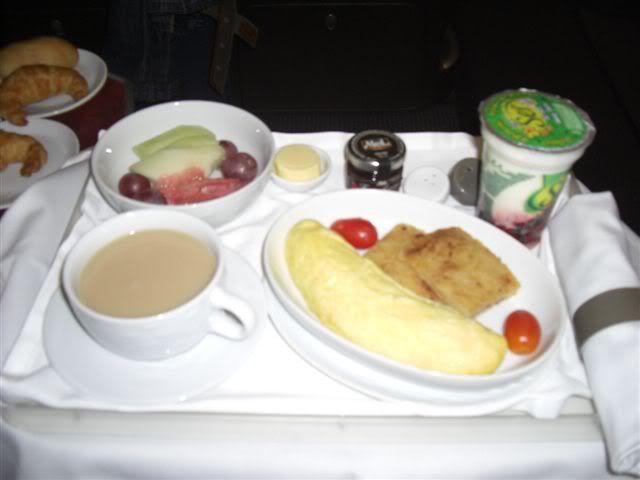 over norrth argentina
already in decent into LIM
Taca Airbus starting from LIM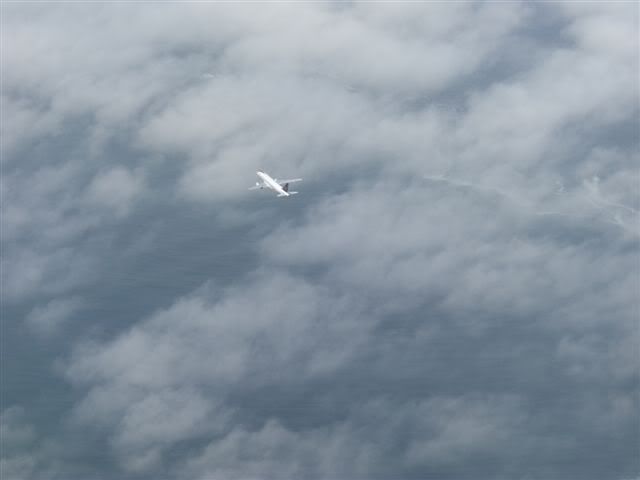 on finals.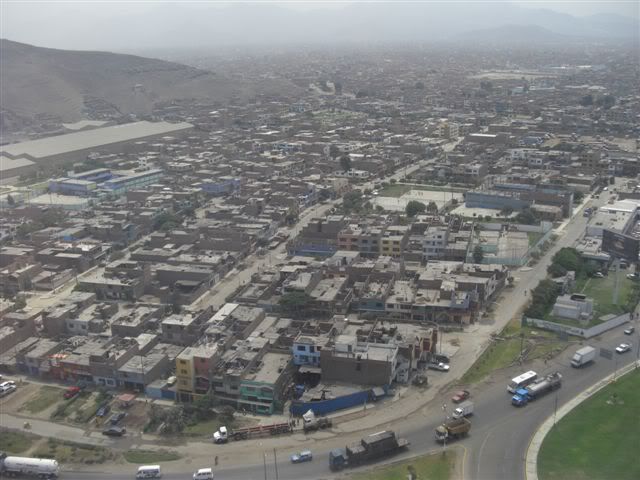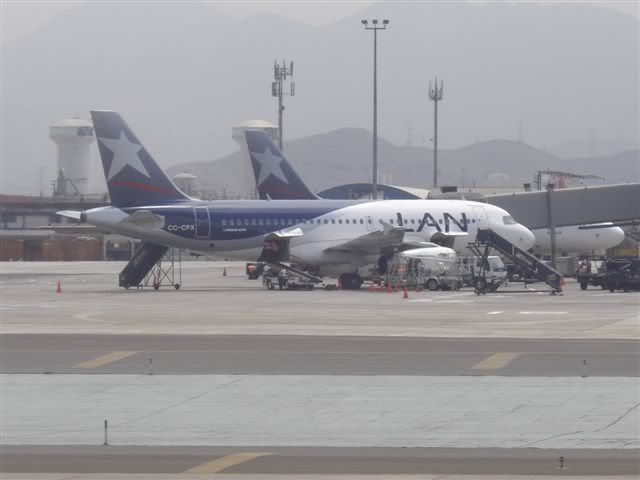 Lounge time!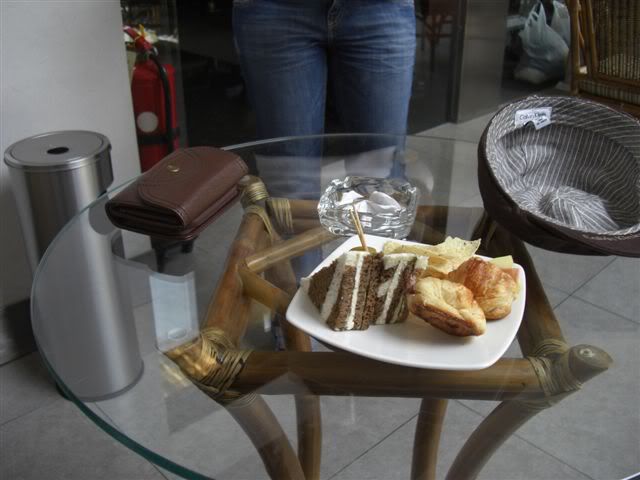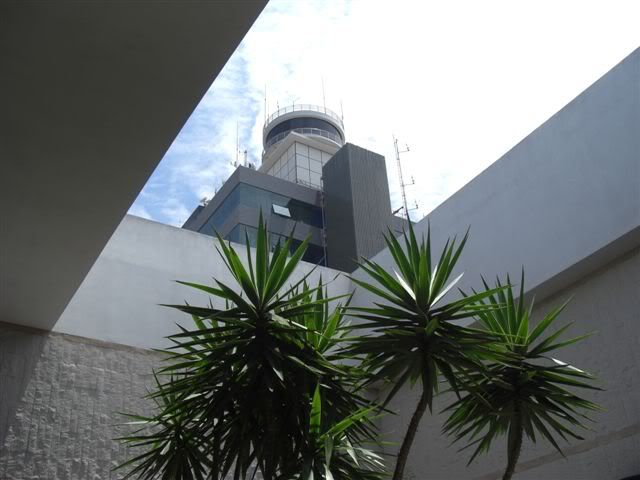 the barkeeper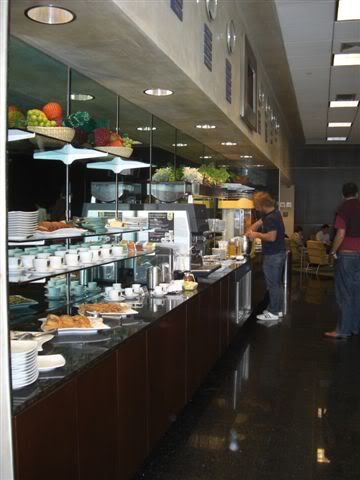 departure board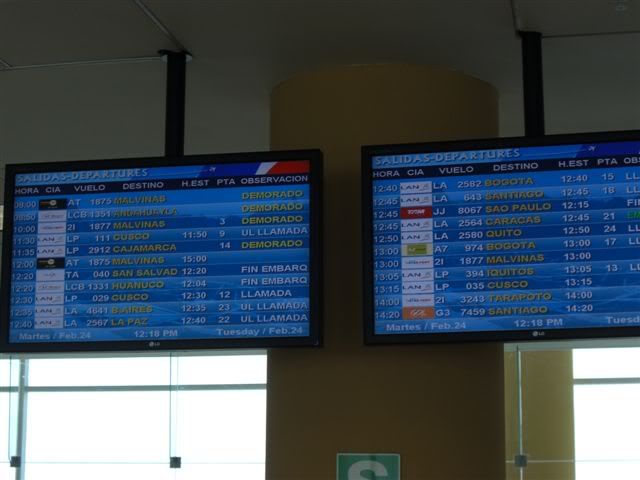 our 767 from EZE
LA-2564 / Lim - Ccs / B.767-300 / 24.02.2009 / seat 2J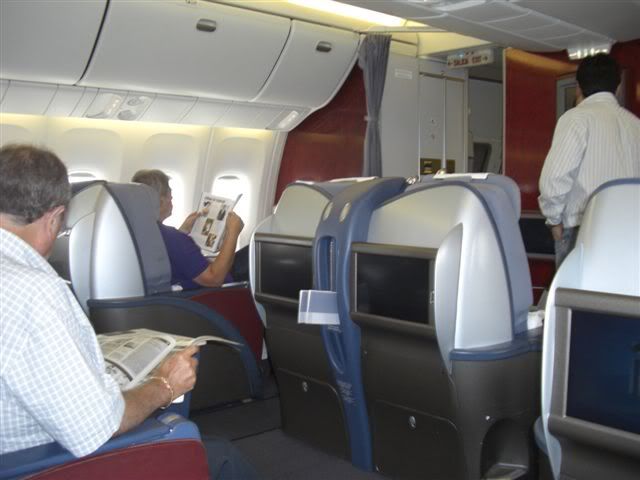 some spotting from our aicraft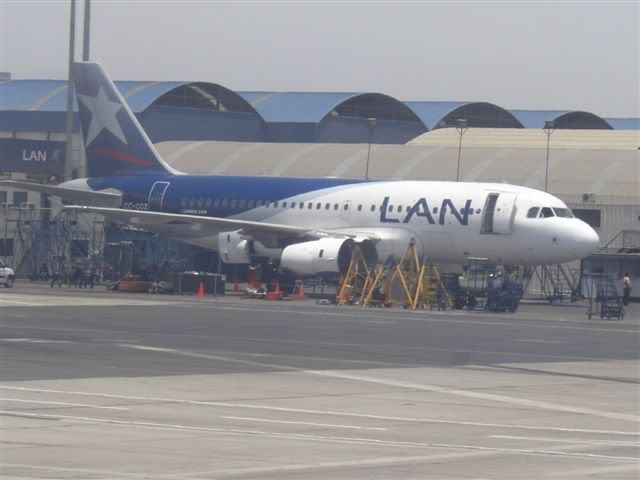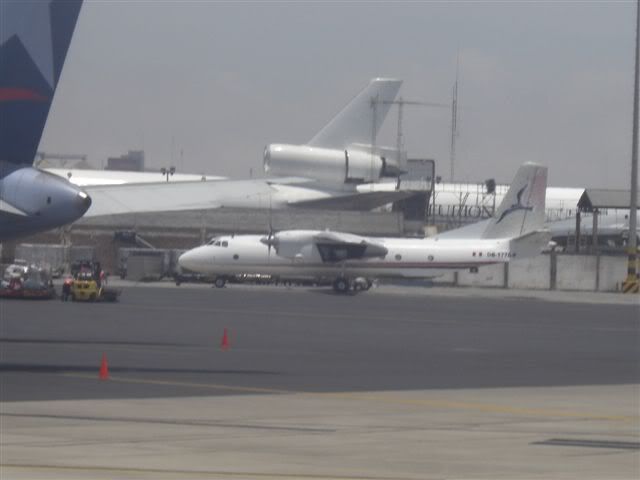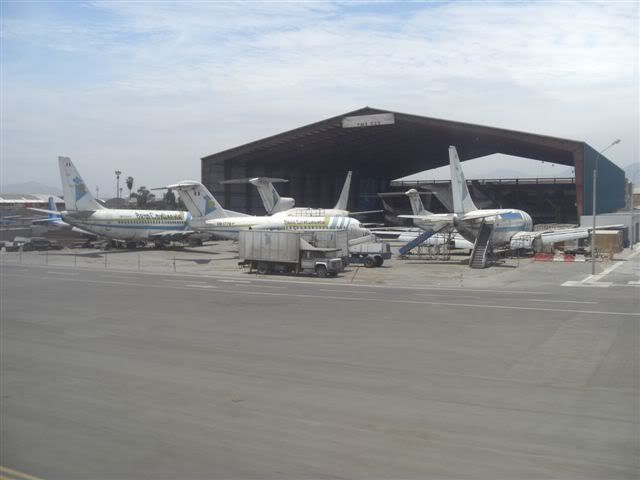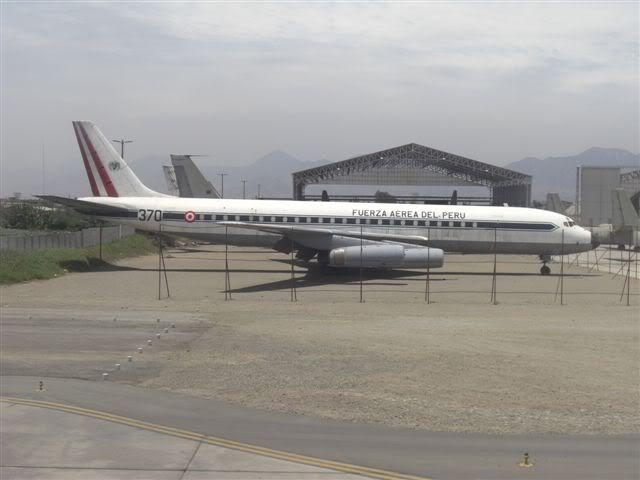 LIM after takeoff, typical foggy weather ....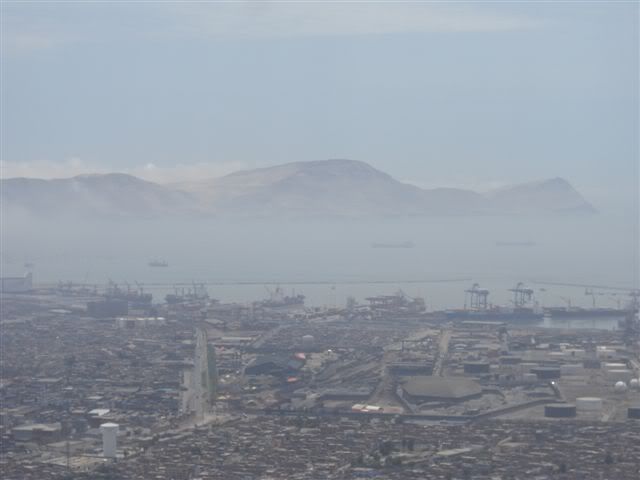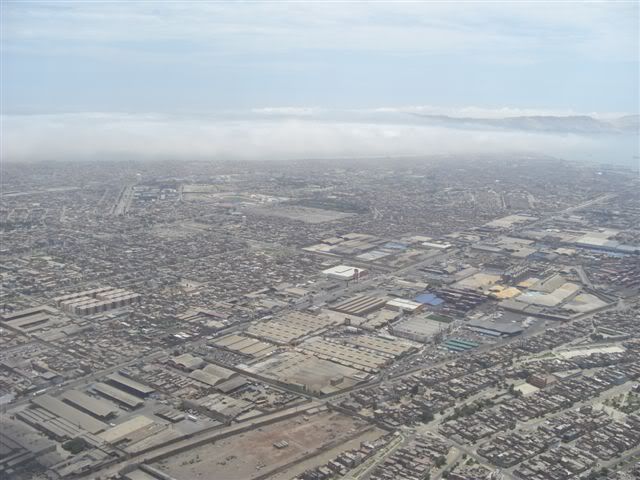 Business Headset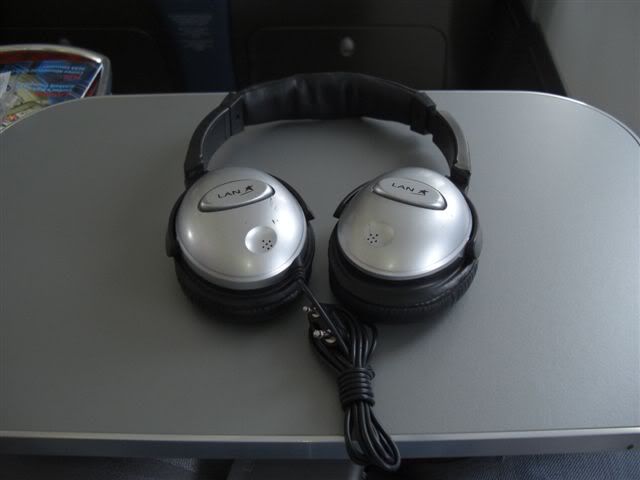 this time we had an express lunch, again 3 choices
steak, chicken or pasta... , my wife had the steak and myself the chicken, both options very good again!
chicken
steak
ginger ale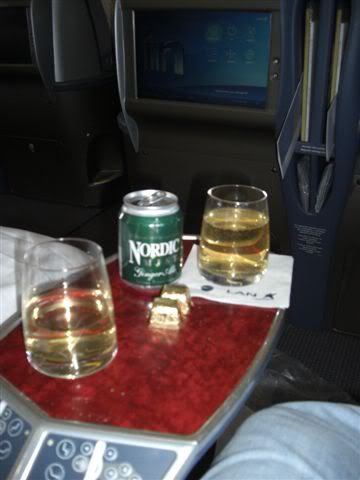 myself relaxing a little bit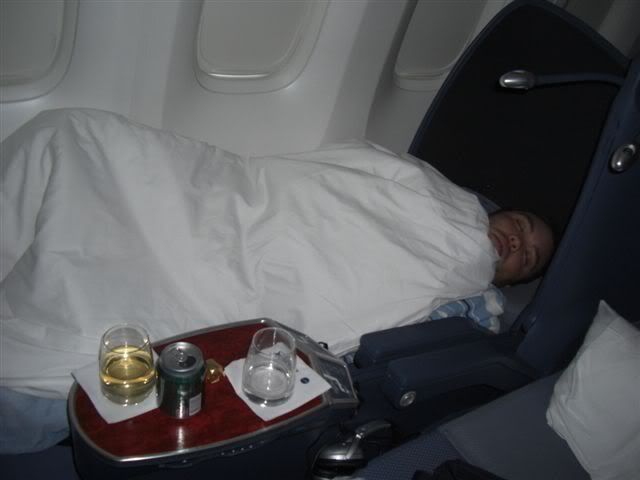 already in Venezulean airspace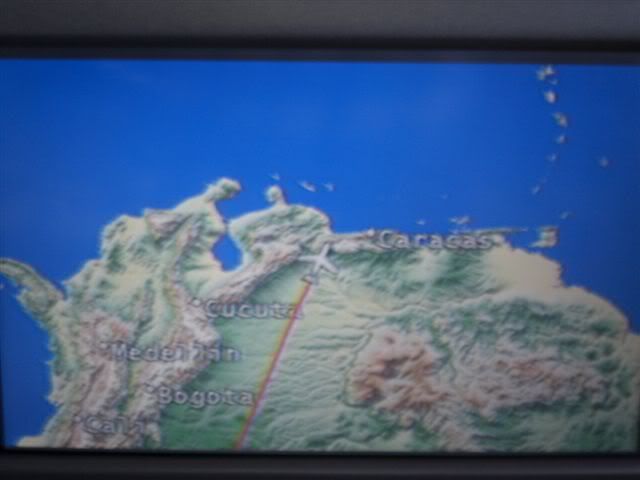 10 minutes away from Ccs, Vln airport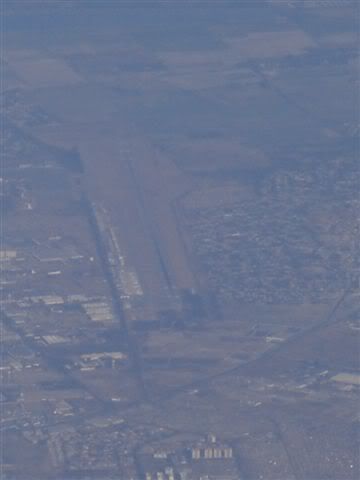 Puerto Cabello Port, todays most busiest Port in Venezuela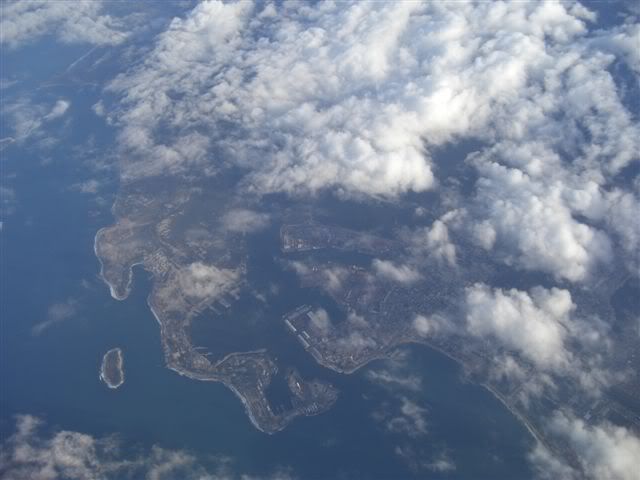 Nice beaches at Argua state.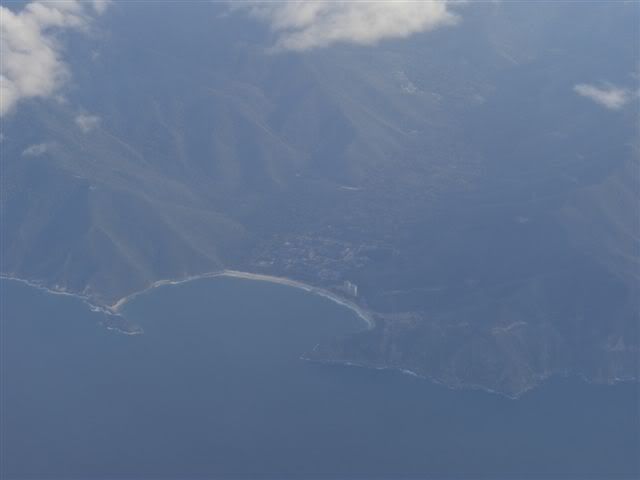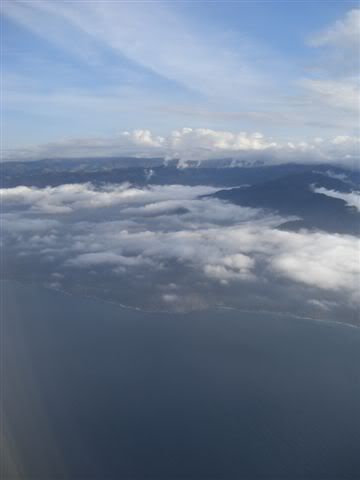 already on finals into Ccs.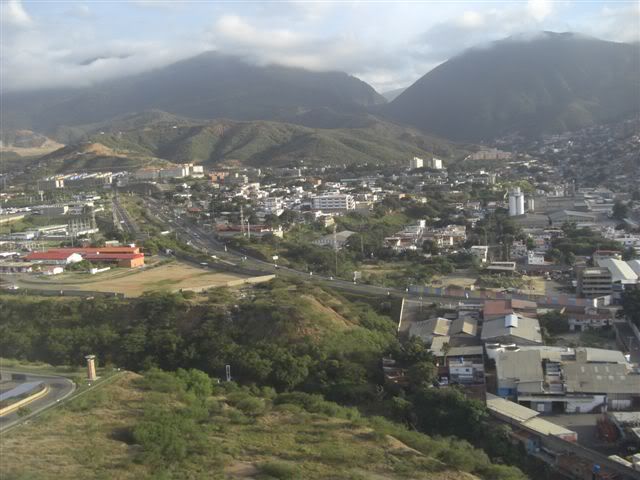 All in one I have to say that LAN is offering a real great Business product, only negative points are, on 4 hours flights the food should be served in courses, the staff should be more attentive (only 2 rounds of drinks and they should be more friendly to the customers) on all 6 flights the staff was very cold but professional.
Hope you enjoyed the report and I really appreciate your commends.
regards
Avianca