Air Asia X Sdn Bhd
D7 2716
Kuala Lumpur – Perth
Airbus A330-343E (9M-XXA)
Duration: 5 hr 30 min
ETD: 2300H GMT +8
ETA: 0530H GMT +9
11 March 2009
I had to start my journey in Singapore which required me to carry out a connecting flight from there. It was an unremarkable flight on Tiger which is a reliable and comfortable option, and the highlight of this flight was that it was carried out on a new-ish A319-132 (9V-TRA) delivered in January this year, the latest fleet inventory for this fledging budget carrier.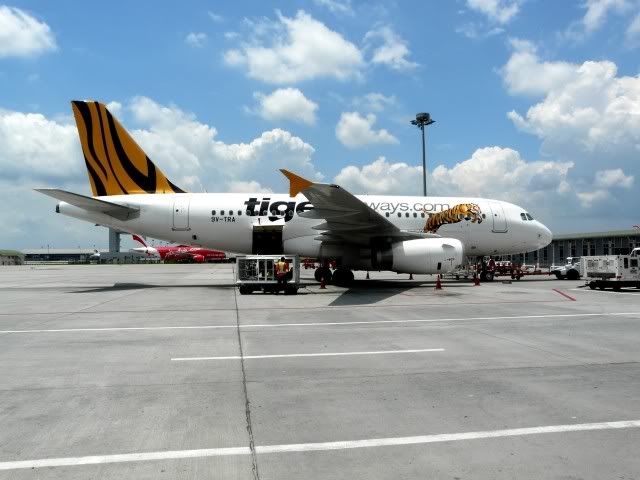 KL Low Cost Carrier Terminal (LCCT)
I have heard MANY negative feedbacks about this terminal. On arrival, the first impression was the Spartan set up of it all and the generous use of metal hoardings. Passengers are funneled into open-air walkways which would eventually lead to the main terminal for processing. At some portions, we are left open to the elements and it would not be the place to be should the monsoon activity pick up pace.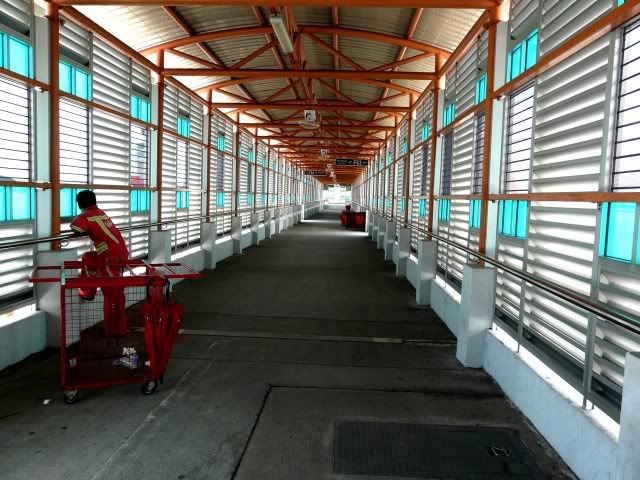 Walkway immediately after exiting the aircraft, as you can see – was built immediately on the tarmac and the cul de sac is clearly visible on the ground.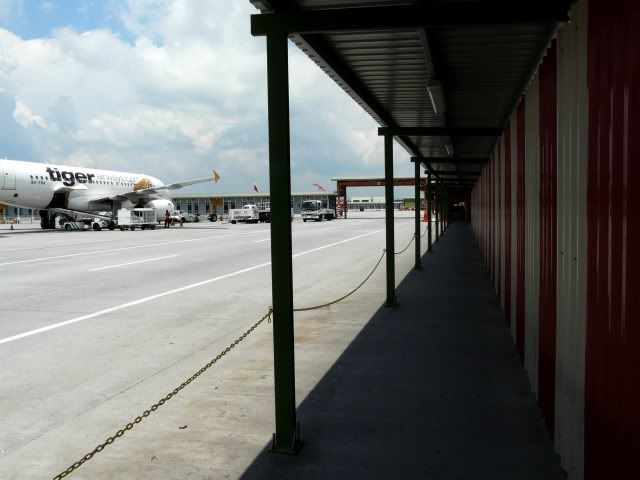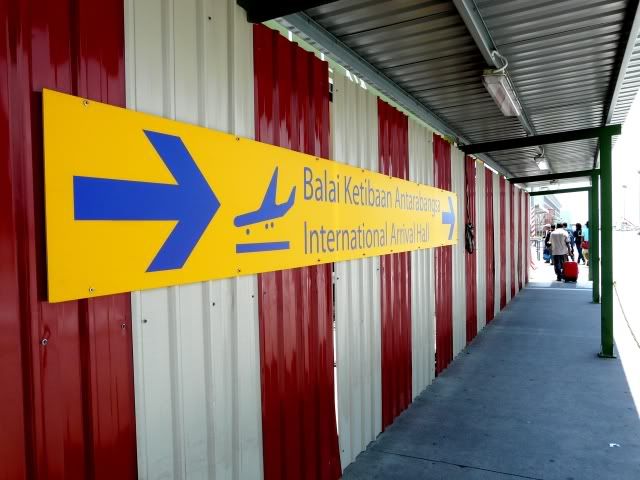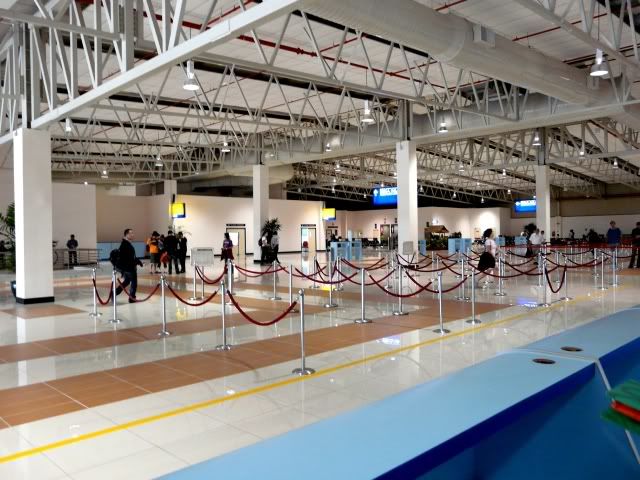 Thankfully, immigration was quick and swift but my main intention was to try out the much maligned transfer between LCCT and KLIA, where I intended to leave the luggage for the day. On exit from the arrivals, utter chaos met us with roads clogged up with cars, obviously too narrow for that volume of movement. It was hot, noisy, and signs that seemingly led to nowhere. I immediately ran back into the cool confines of the arrivals and asked "Where is the transfer bus to KLIA again, please?"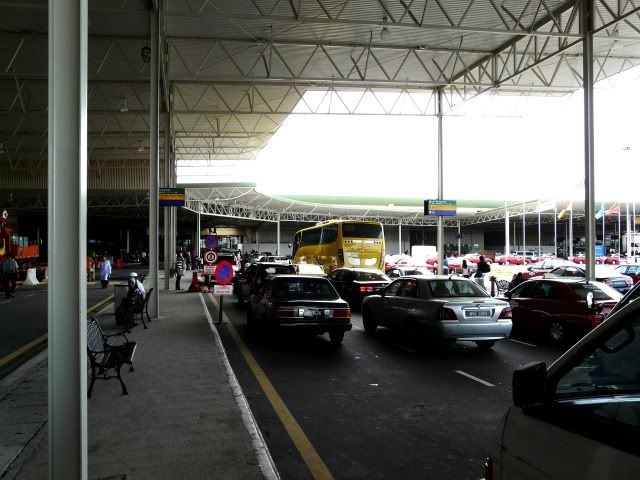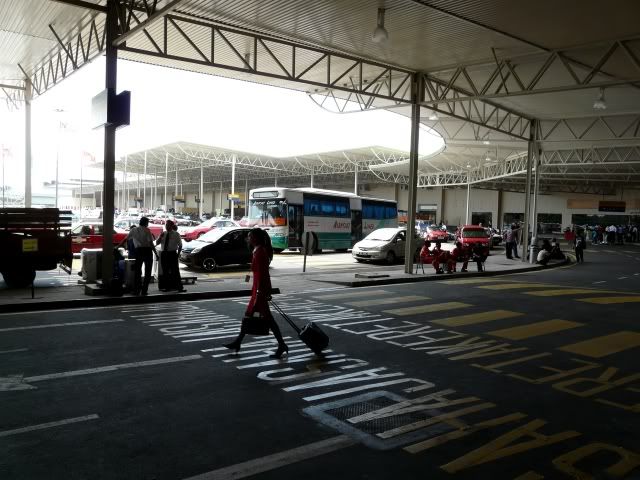 Out into the madness again, I attempted to look for the bus bays at the opposite end of the terminal building. It really felt like I had stepped out into a back-water, 3rd world sub-Saharan African nation ruled by some gun-toting, self awarded, multi-star general. I really expected Idi Amin to pull up in a convoy of black Mercedes Benzes at some point.
We did eventually find the bus at the terminus but once again, there were limited signs to point us to the right direction. With the help of some well-meaning touts, we did eventually board the right bus for a RM1.50 ride to KLIA.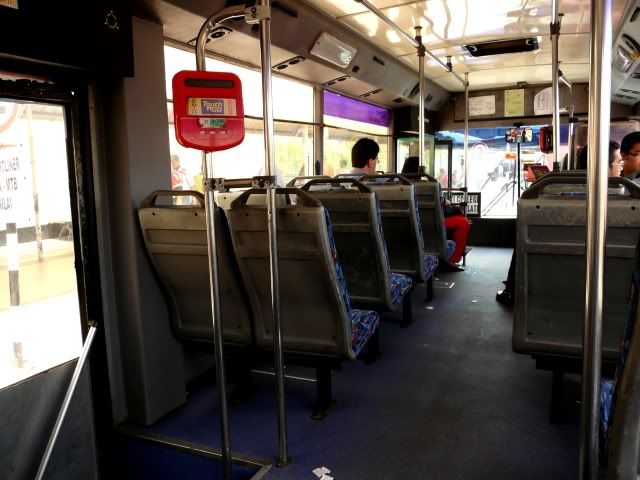 This stuffy non-air conditioned air conditioned bus was obviously not equipped to be used at airports as it was a dirty, somewhat smelly city commuter bus. Travelers be warned, there are no luggage storing facilities on the bus.
Heave-ho… we managed to get settled comfortably with luggage in tow, by now we were drenched in sweat from the humidity. The journey wasn't even halfway complete, and we felt drained already.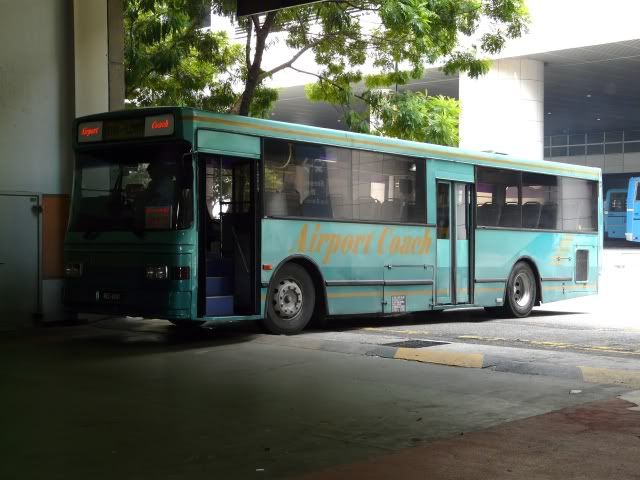 We creaked and bounced our way along the airport perimeter road and finally pulled into the underbelly of KLIA's bus terminus. Journey time was close to 40 min from a terminal which could be seen "just across the tarmac".
Thankfully, left baggage facilities in KLIA worked like a gem. Off to town we went on the KLIA Express and back so this transfer process was reversed for our departure later that evening. In the pouring rain that ensued, this proved to be a challenge as the transfer bus was leaking causing many passengers to swap seats throughout the journey.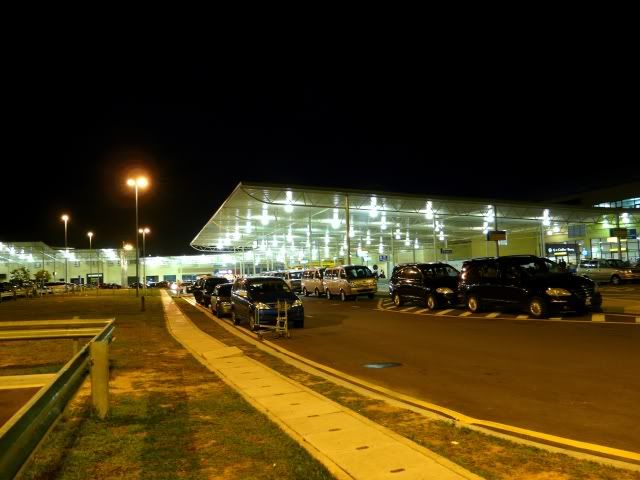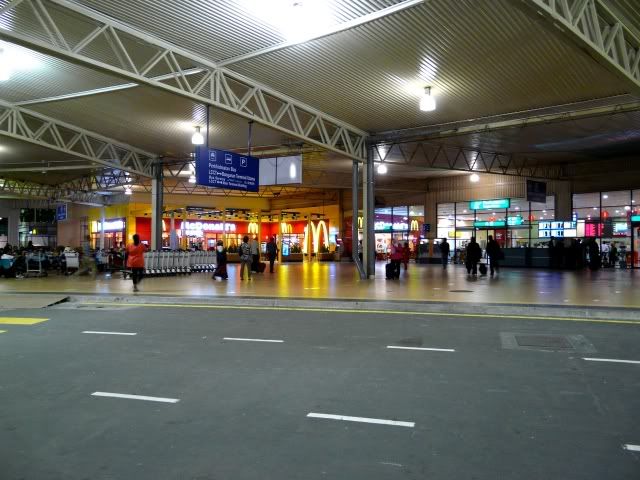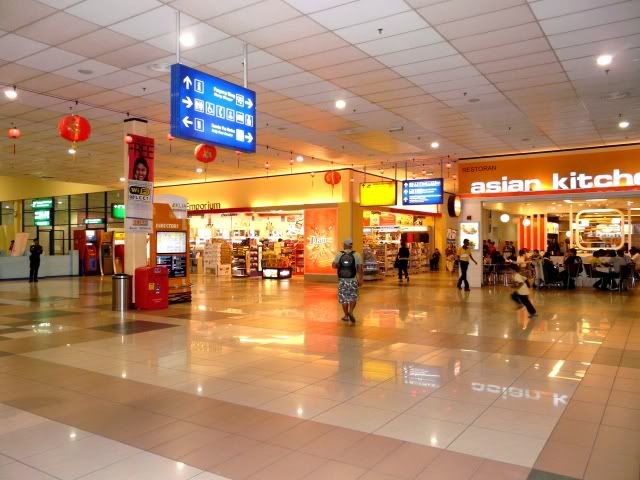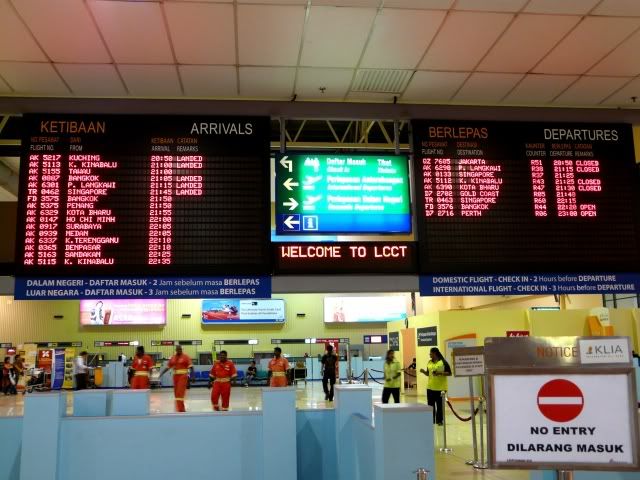 Departure facilities at LCCT were more spread out although it was still a rather busy time of the day, on hindsight I don't think there was even a lull period for the LCCT. During busier periods, signs that this terminal is bursting at the seams were the sights of people spilling out from every orifice imaginable. Along the corridors, from the toilets, all restaurants, shops, and if people could hang from the ceiling, I know for sure that area would be used too.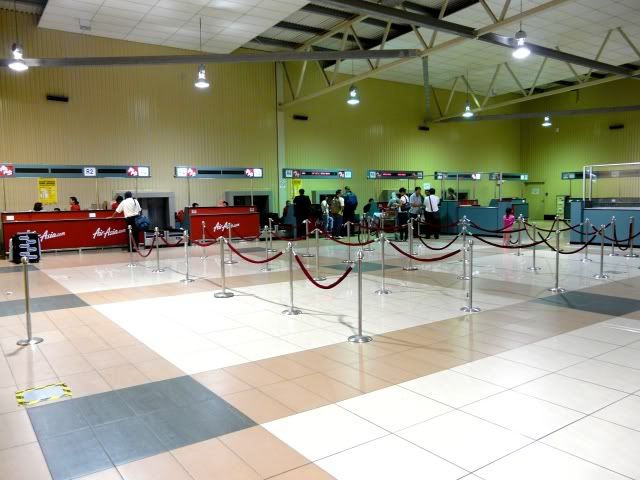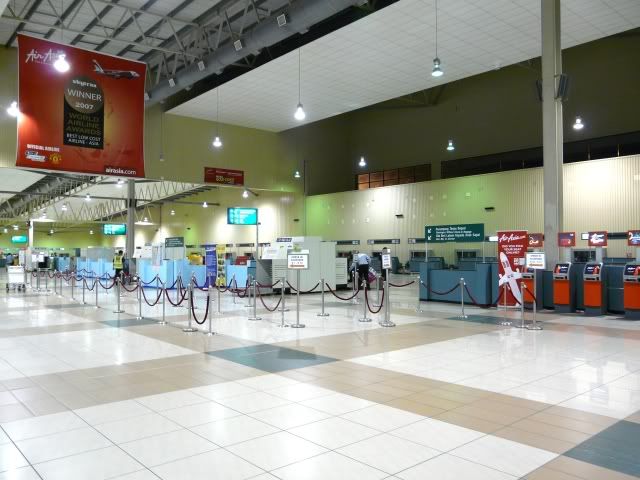 Self check-in kiosk were not useable for foreign passports unfortunately.
Check in for the flight to Perth was handled by very friendly agents at the far end of the hall. This said area was specially cordoned off from the others and it seemed it was catered for the exclusive use of Air Asia X - since they utilize larger planes, meaning more passenger flow. Plus points for this clever people flow management.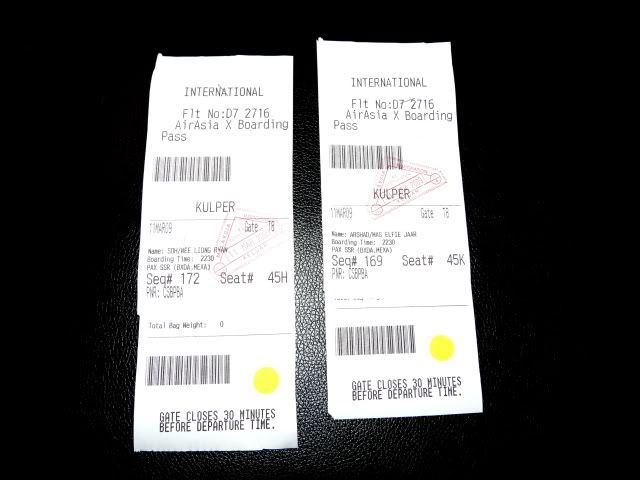 A lot of us are tempted to go airside immediately after check in but do not be duped at LCCT. Once passed immigration, there is absolutely nothing to do. We were confined to a room which was only adequate enough to hold one A330, and at most 3 A320s worth of passengers. Thankfully, an Air Asia Thailand flight to Bangkok was in the midst of boarding so the crowd eased slightly afterwards.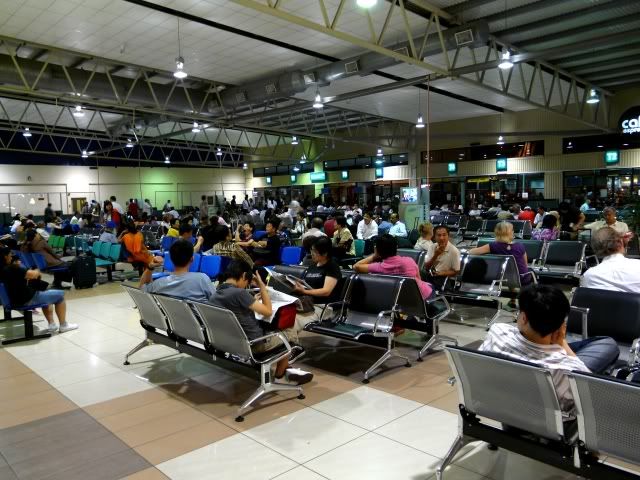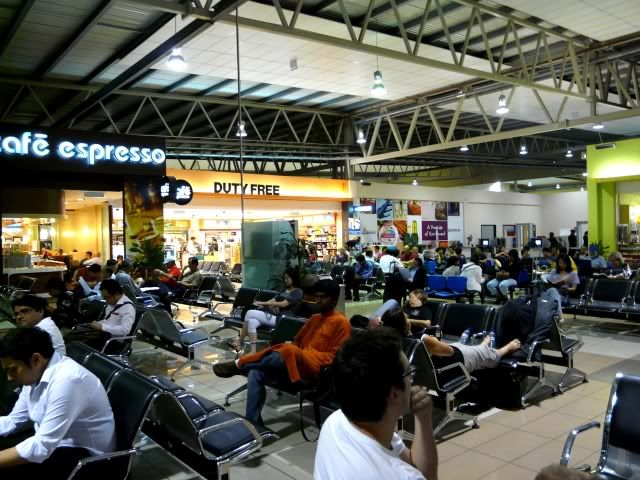 Boarding through Door T8 was called and we were soon filed up for our trek outside towards a shiny, new looking A330 waiting at the cargo bay parking area which was really some distance away from the LCCT. Previous complaints about the rush to board were largely unfounded ever since Air Asia introduced assigned seating for all their flights. To cut cost, passengers were made to walk and at no time did I see any buses being used. Not that I am complaining! I went shutter crazy as I walked freely on the tarmac towards my waiting plane!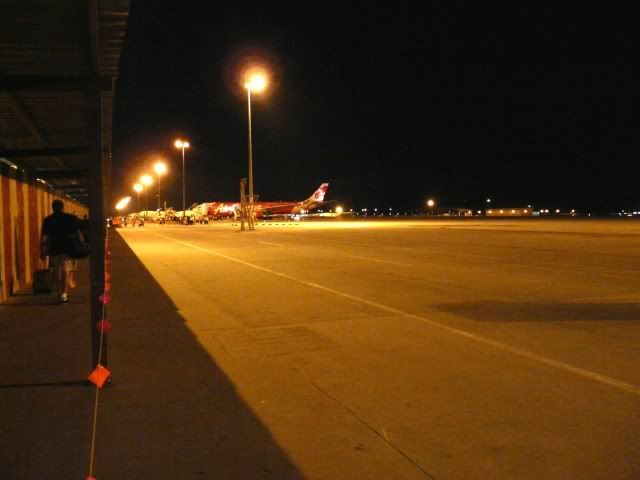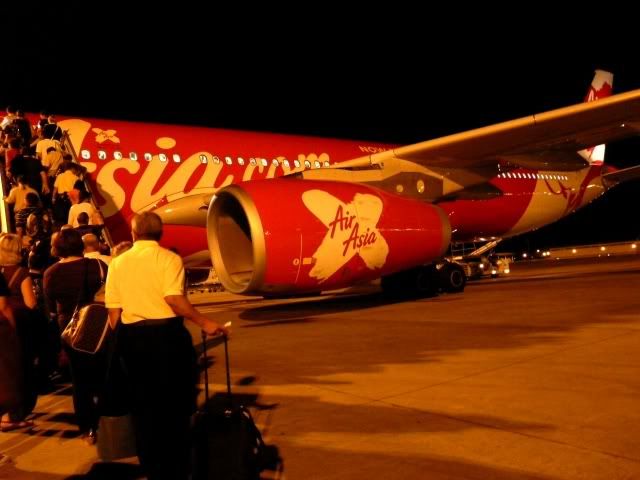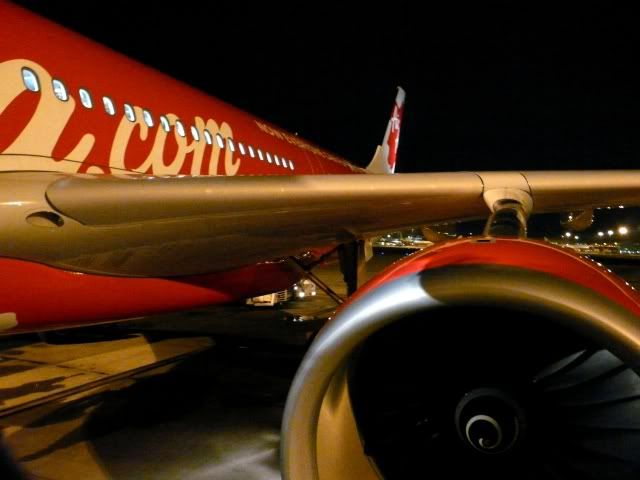 Presenting – AIR ASIA X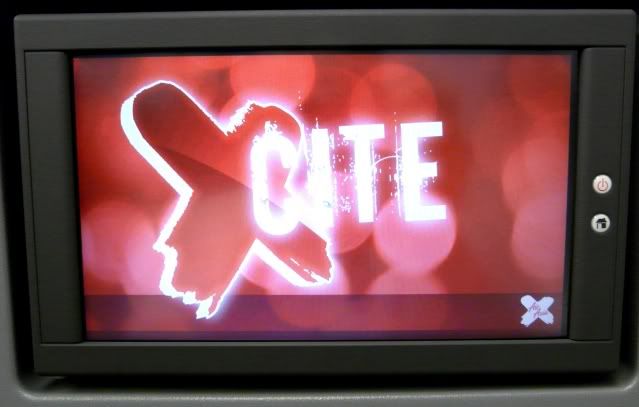 First impressions of the cabin…. WOW! It was slick, modern, chic, fashionable, overall an awesome sight. Smart black leather seats encased in a light grey plastic shell, which was equipped with a large touch screen PTV on the seatback. Set against the blood red carpet on the floor and it really made the whole scene look more like an evil Miami-vice like chill out bar with tracks from Hotel Costes II serenading softly in the background. Unfortunately, the background music was a more bubblegum Westlife's Bop Bop Baby.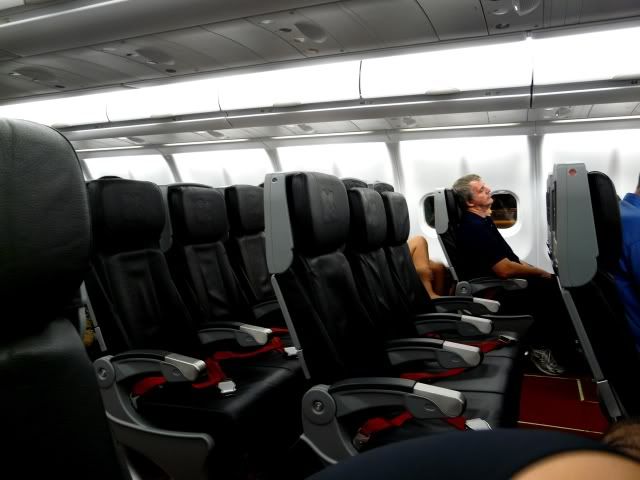 The seats on Air Asia X are definitely narrower than normal, which explains their ability to cram a 3-3-3 set up on the A330. Despite weight-related jokes being thrown at me in recent times, I fit into the seat just fine and it didn't feel any different from the seat on a legacy carrier. In fact, Tony Fernandez did demonstrate that his big butt could fit on the seat, so I don't see why anyone else should have an issue with it unless you are morbidly obese. To compensate for this slightly narrow width, an excellent pitch was in store.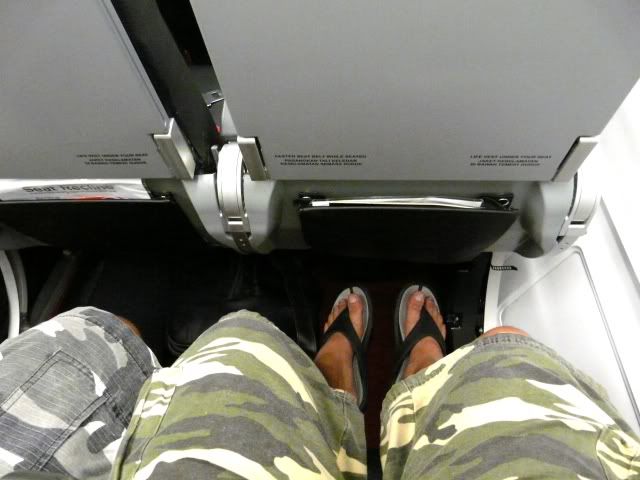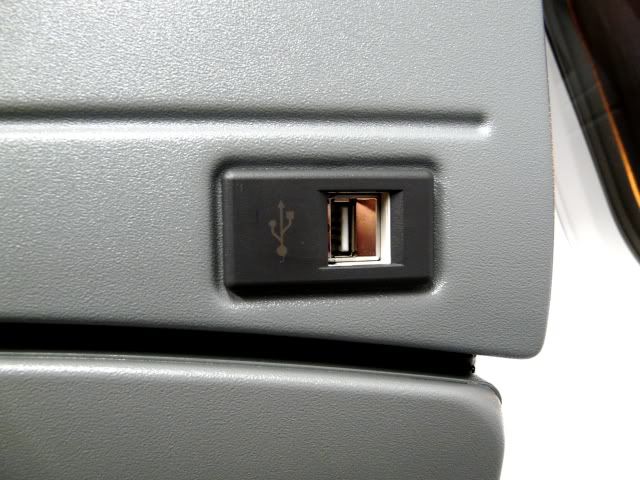 Recline… It was weird. How should I word this? Because the seat was encased in a plastic shell which was fixed in its stance, a conventional recline cannot be executed allowing an amazing pitch to be ensured. Press the recline button; the bottom seat cushion is pulled out horizontally towards the front, and the bottom half of the backrest goes with it creating an artificial "recline" feel. So you recline without physically doing it. Ingenious, isn't it? It will take your brain a while to get the message "it feels like recline" because you never actually carried out the action of pushing the seat back. Humans are indeed a funny bunch being creatures of habit.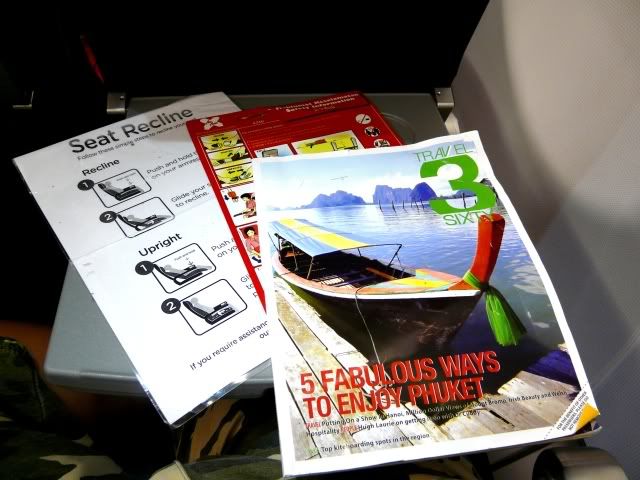 Air Asia X has an in-flight magazine. Note the diagram on how to recline your seat.
Recorded announcements came on welcoming passengers and it was played in several languages including Malay, English, Mandarin and (strangely) Cantonese. Push back was on time at 2300H with the safety demonstration carried out manually despite the presence of PTVs. Perhaps producing safety videos is an expensive affair?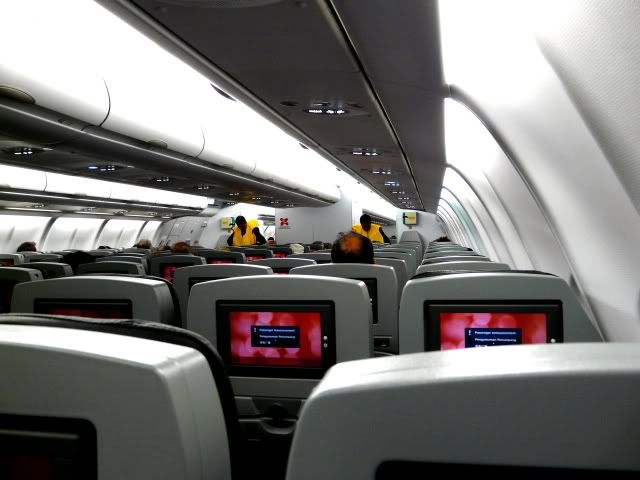 With the cabin suitably darkened, a northerly take off on Runway 32R was in order behind a MAS 777-200 for our 5 hr 30 min journey. The northerly trek was soon cut into a left turn for a southerly flight path, treating the passengers on the right side of the plane with a momentary splash of bright city lights radiating from Kuala Lumpur in a distance before it all became dark again.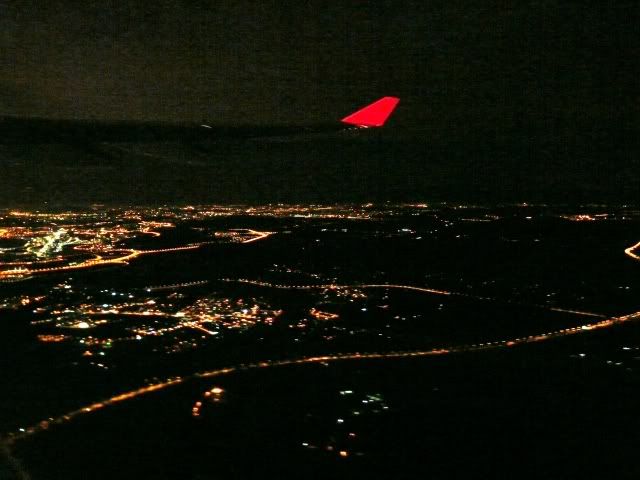 Cruising altitude: FL390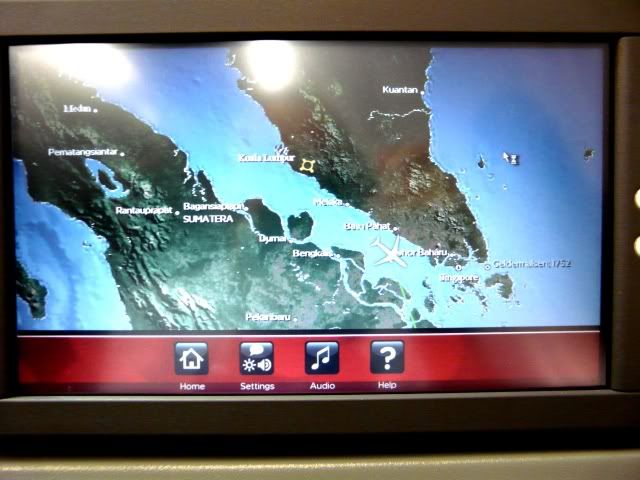 2340H: Final cruising altitude is stabilized and the cabin crew broke into action selling the entertainment headsets for RM30.00 per pop for usage with their "Xcite" IFE. There was a whole selection of audio, movies, short features and game options which would definitely keep one entertained for hours. In my opinion, this fresh IFE offering is comparable – if not better, than most of the legacy carriers out there. What you get for free on the PTV are the moving map channel, seat to seat chat function and meal ordering facilities. All I need is the moving map, really - so I saw no need to purchase the headsets.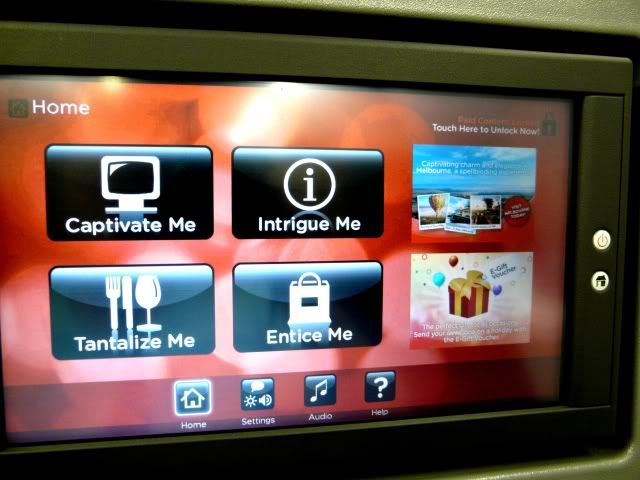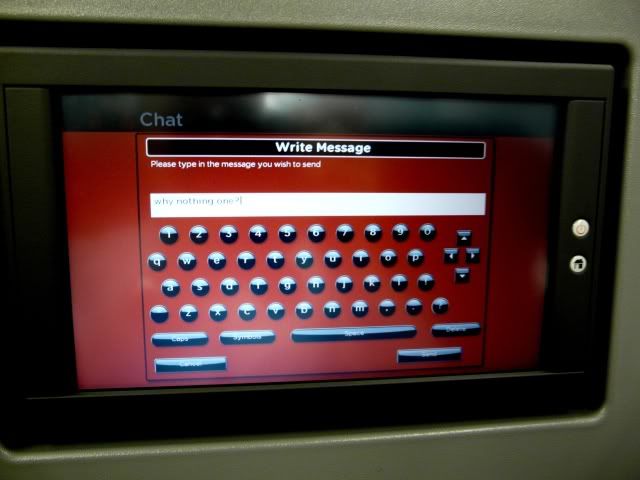 Somewhere over the west of Singapore (I would have loved to be on the port side of the aircraft to see the city lights), the meal carts were wheeled out on both aisles to begin what was a lengthy meal service from aft. Passengers who ordered pre-paid meals were attended to in quick time indicated by their seat numbers on the manifest, double checked with the provision of boarding passes. I was presented with a hot entrée of the famous Malaysian delicacy Nasi Lemak – a serving of coconut rice with savory condiments, in this case was an egg with chili paste and chicken rendang. This meal came with a bottle of water and a Kit Kat chocolate bar.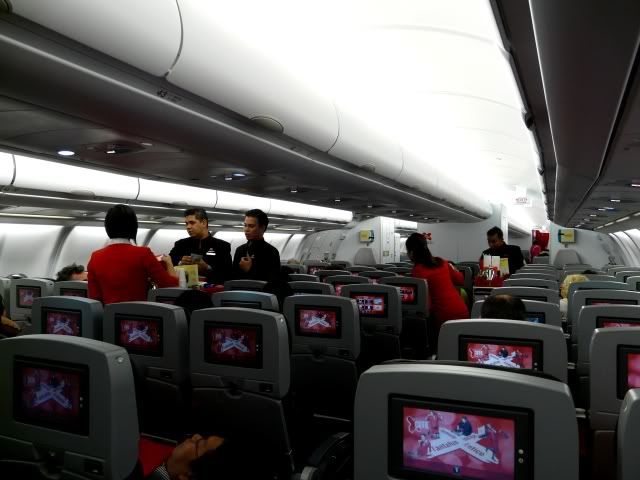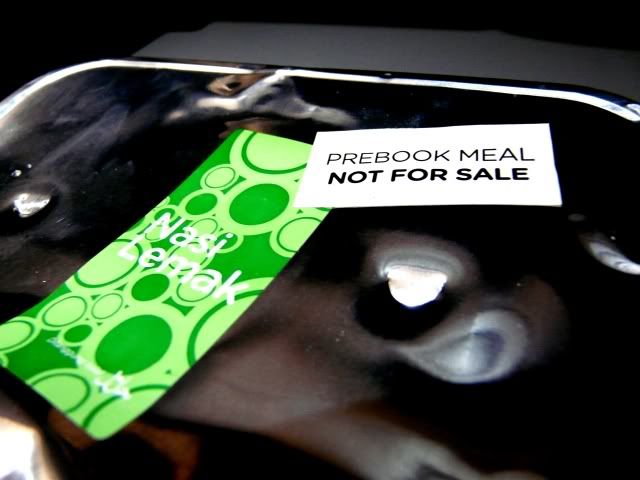 "Here you go, Sir. Enjoy", all done with a smile and did I mention how snip and sharp the crew looked in their outfits?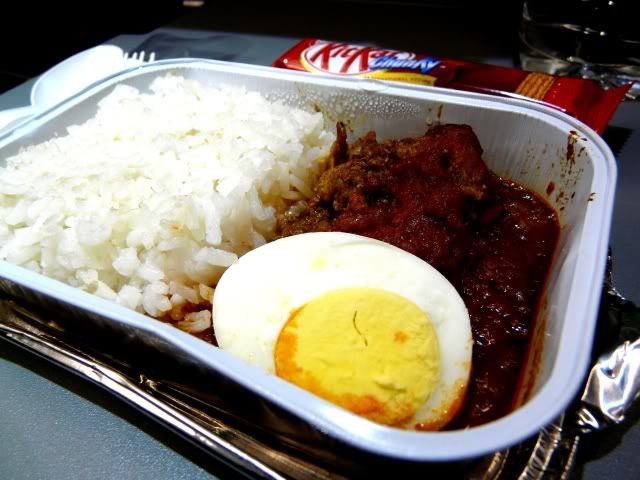 All was well and good so far and I was enjoying myself tremendously. The meal, although presented in a cheapo looking tin foil, was of great quality and rather palatable.
While majority of the meals were pre-ordered, I hardly saw any exchange of cash between the flight attendants and passengers which let me to think many preferred to have everything settled online during the booking process. It was made known that passengers who pre-ordered their meals would be served first.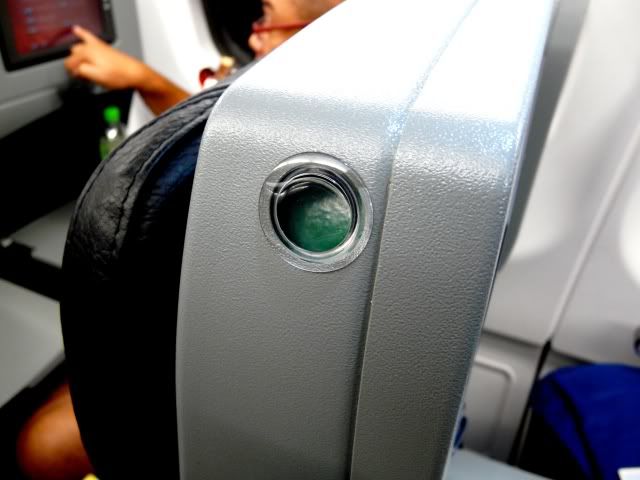 Since there is no way for the cabin crew to physically tell whether is the seat upright during takeoff or landing, indicators like these are used. Green = upright, red = not.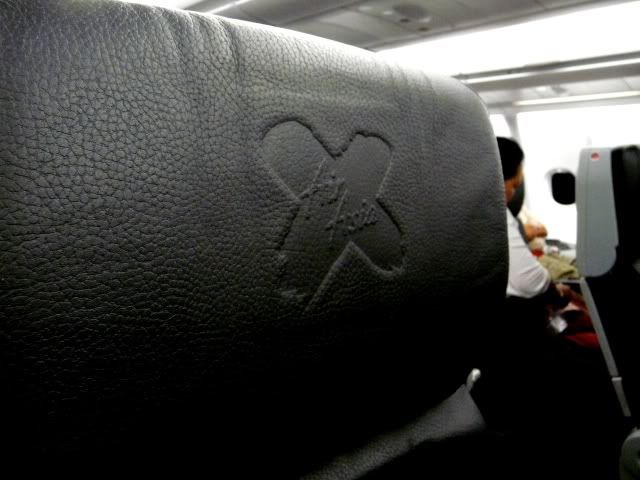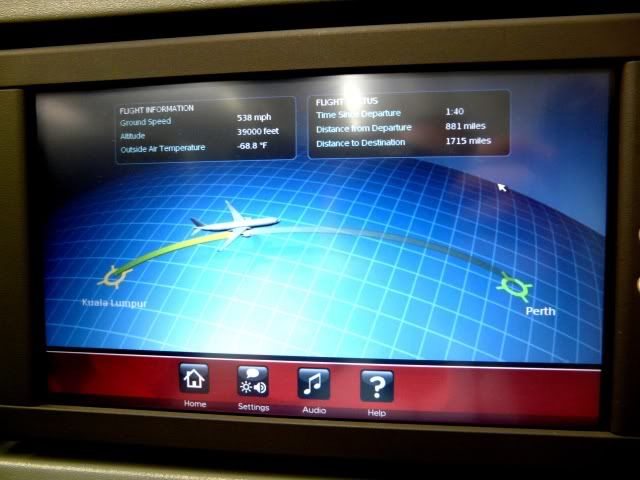 0115H: By now, the meal items have been cleared and passengers were already beginning to nod off one by one. The announcement went something like "Ladies and Gentlemen, we will be dimming the lights soon so if you wish to read, please turn on your overhead reading lights. If not, rest well and sweet dreams."
One thing I liked about the new generation Airbuses was how the lights faded on and off instead of a stark flickering. And it was with this that the cabin lights faded slowly from bright, to dim and finally fainting into pitch black with the illumination coming only from the PTVs and exit signs. Before the lights went out completely, the flight attendants walked about the aisle and quickly helped turn on the overhead lamps for those passengers who were observed reading. Nice touch.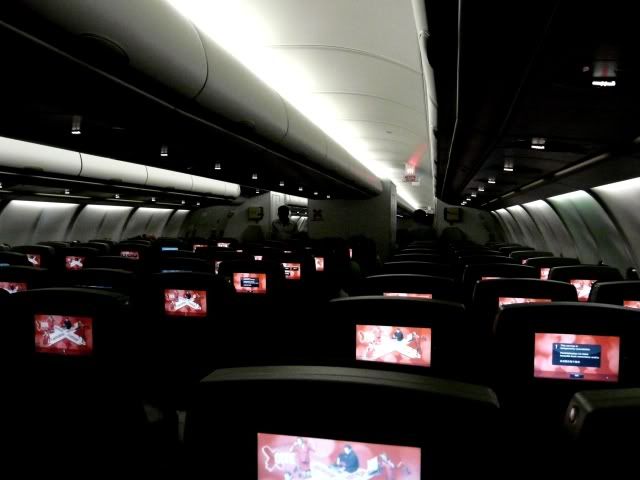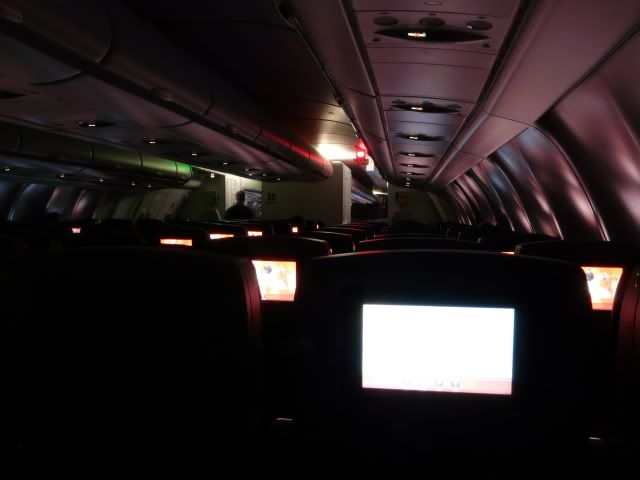 The empty seats in my vicinity were all snapped up as those lucky ones sought to stretch out on 3 seats and had a fruitful sleep. I myself curled up on 2 seats by the window while my partner moved a row ahead of me and had 3 for himself. "COMFORT ME" kits could be purchased for a nominal sum which consisted of a blanket and pillow, but I was doing fine with my own fluffy pillow which I brought along courtesy of a previous QANTAS flight. While boarding, there were a few passengers seen lugging along large pillows obviously from their own bedrooms. While it was a comical scene, it was a rather logical one I think.
0245H: I jerked myself awake presumably from a very vivid dream of running away from Ru Paul… It was a frightful dream and one that I was glad to be out of. But a look at my watch, I was amazed I actually managed to sleep at all on a plane! By now, according to the flight show we were just made landfall in Australia. The scenery outside was nothing short of stunning. The moon was out in full force, light scattered clouds were seen beneath and the desert lit up and glowed eerily grey. Unfortunately there was no way for me to capture a shot of it from my camera.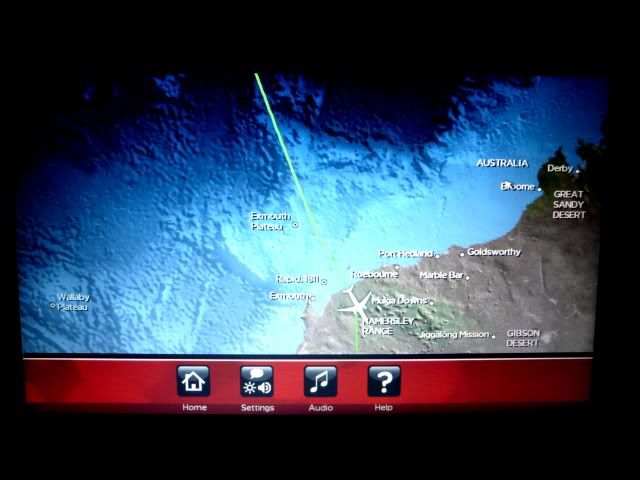 In the darkness of a slumbering cabin, the flight attendants were constantly seen cleaning the lavs, picking up trash, and basically walking around the aisles with the help of a little pen-torch light. Occasionally a serving of a hot entrée was seen to be taken to sporadic passengers throughout the flight.
0325H: Little by little, the cabin lights glowed. It was time to wake up and being the cheeky aura Air Asia portrayed them to be, I was surprised there was no sound of a rooster's crow to signify the start of a morning.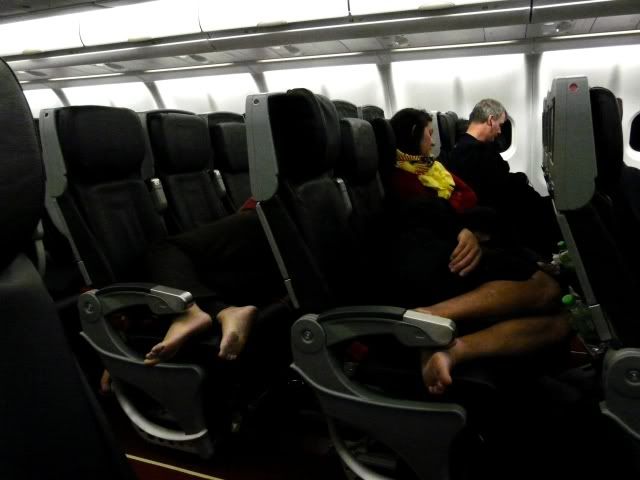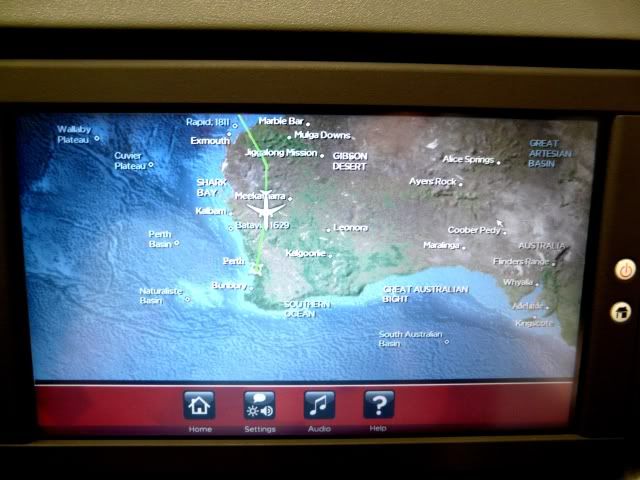 The cabin crew made one final pass with the meal carts asking if anyone wanted breakfast and no sooner did the flight deck announce we were commencing our descend in 15 minutes. Weather in Perth was fine with a ground temperature a cool 21 deg Celsius.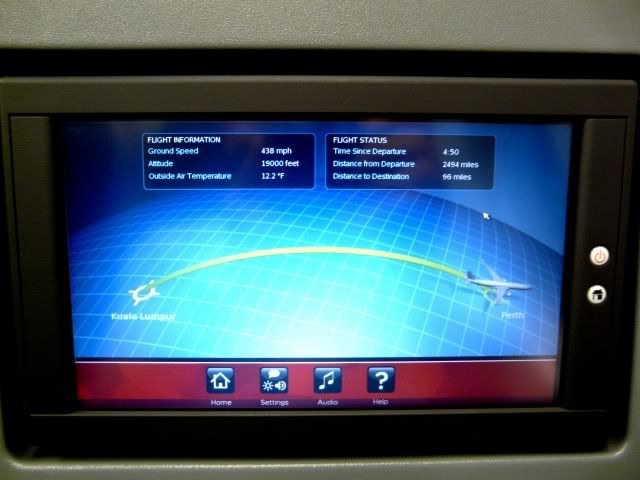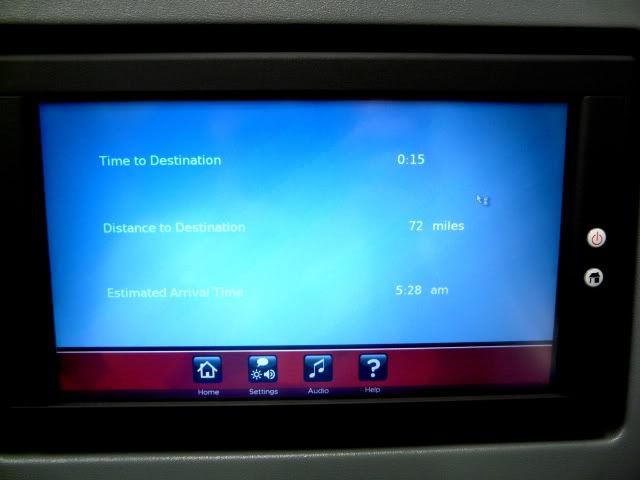 The usual drill of a cabin being sprayed with a disinfectant was carried out. I guess non-Australian registered aircrafts belongs to the great unwashed? Hahahaha… Nah in all seriousness, it has been a while since I have seen this because my recent trips down under were all on QF planes which are not required to go through this process.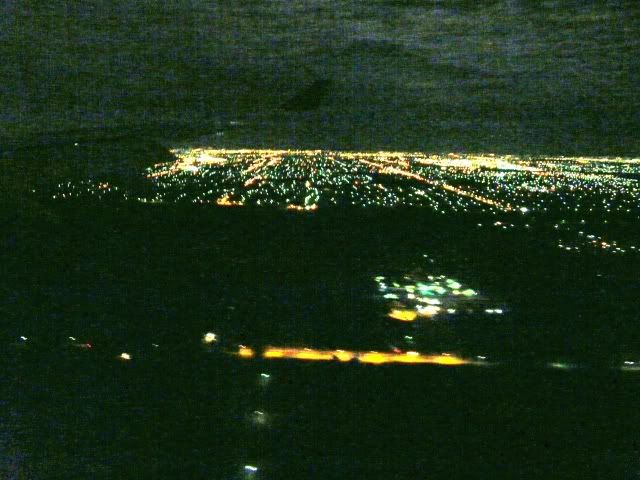 On the dot at 0400H, the A330 nosed down towards terra firma onto the land once declared terra nullis. Hello Perth, I am back, indeed. Taking a rather inland approach, we flew low over the northern suburbs of Perth to set up for a Runway 21 landing. 30 minutes later, a smooth touchdown minus the roar of reverse thrusts ended a fantastic flight.
Local time was 0530H on chox due to daylight savings at the end of summer. This journey was not destined to have a great end, unfortunately.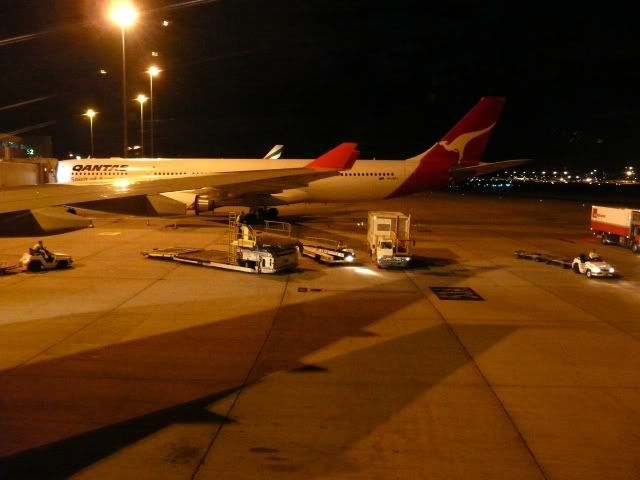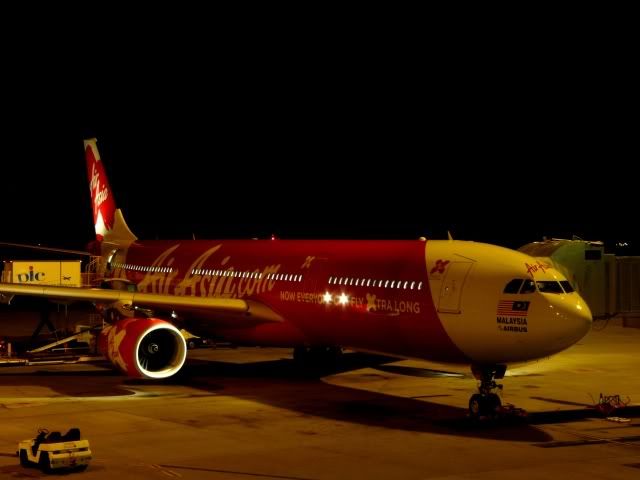 WELCOME TO PERTH AIRPORT – HOME OF THE WORLD'S FRIENDLIEST IMMIGRATION OFFICERS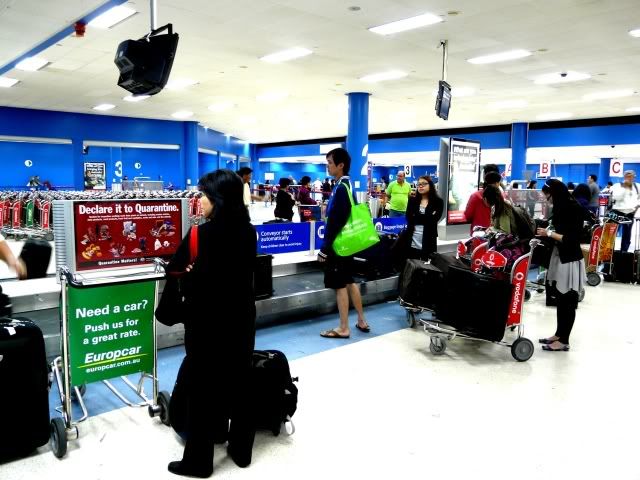 I understand the need for border protection, but I have never met such condescending and downright rude immigration officers in my life.
Both my partner and I were flagged out for further inspection after we passed passport control. Our phones were taken and swabbed for narcotics trace, we were asked to turn on our phones and smses looked through, laptops were booted up and files gone through to look for porno, bags emptied and contents laid out (and I mean EVERY single morsel of items all laid out) e.g. Name cards, credit cards, memory cards, camera fittings, travel itinerary, tissue paper, QF pillow, leftover Malaysian Ringgit, wallets opened, credit card receipts….
Amongst many questions asked I was quizzed with…
• "Why do you travel with your name cards?"
• "What do you do for a living? Project management? What is that? Elaborate…"
• "Why do you fly via Kuala Lumpur? Why not direct from Singapore?"
• "What were you doing in Kuala Lumpur? Why did you stay so long there? Transit? Why so long?"
• "Why do you have copies your educational certs with you? Are you sure you are not here to seek employment?"
• "Who is your "friend" you are staying with? What does he do? How come you do not know the postcode to his address? Applecross? He sounds rich, you sure you don't know what he does for a living? How old is he? What is your relationship with him?"
• "Why are you only in Perth for such a short time? Holiday? All that distance for such a short time?"
• "You have any porno in your laptop? No? Used for work only? Yeah?"
• "You mentioned you are in project management in Singapore…"
Good Lord and the whole process would repeat itself again!
I did notice almost the entire plane load of passengers (except for the obviously Aussie looking ones) was being quizzed in this fashion leading to a tremendous line at customs. This led to a long time before we were finally allowed to go past the EXIT doors and officially into Australian soil, where my worried friend was waiting, frantically texting me but there was no way I could reply to him because the officers had my mobile phone (or rather it was placed aside with items they wanted to inspect further and I was told not to touch it despite the buzzer going off from incoming texts). It was surely a crappy way to begin our holiday feeling like a dirty, sinful, law-breaking mongrel of an illegal immigrant.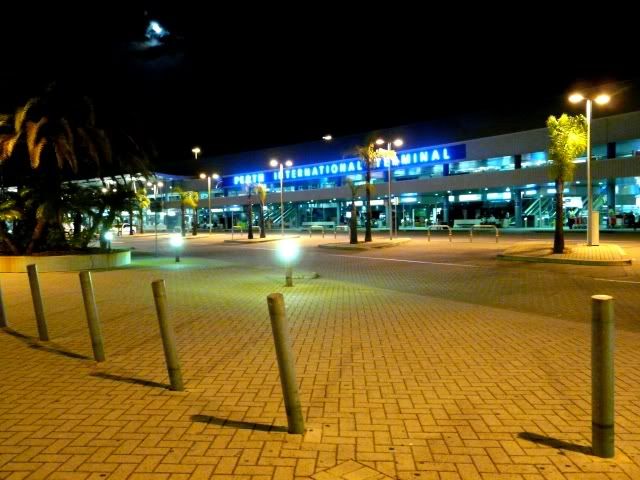 FINAL THOUGHTS
The KL LCCT is a functional (not pretty) piece of building if you do not have to do the transfer between there and KLIA. There were direct buses being offered by Air Asia and 2 other companies from there to KL Sentral and they use proper coaches equipped with baggage storage, nicely air conditioned and properly cushioned seats. All that for RM9.00 so it is a better way to get downtown. LCCT's closest competitor would be the Budget Terminal (BT) in Changi Airport but from the looks of it, they might as well be on a different league looking at the vast difference in passenger numbers they handle on a daily basis. Thanks to Air Asia, LCCT makes BT look like a monastery – although the latter is very much nicer built without that temporary feel, it lacks the "buzz" of a thriving hub.
That being said, KL LCCT really needs to be upgraded quick time because they are indeed struggling to cope with the volume of passengers as we speak. Air Asia is growing faster than what everyone anticipated and the facilities simply cannot handle them. A new and permanent LCCT has been planned (finally!) and now everyone is watching to see when it would be built, whether the planned 2011 deadline would be met by the ever infamous feet-dragging Malaysia Airports Holdings Berhad, the custodian of the land around KLIA.
Until then, for all the wrongs the KL LCCT is – they have done all they could within the confines of the present structure to ensure operations continue to churn. Whoever said KL's airport is a ghost town obviously hasn't been to LCCT. It all lies in the hands of MAHB now how they would want to bring this forward.
To say that Air Asia has revolutionized the way we travel in Asia would be an understatement.
Now everyone can fly! This is the mantra that has been drilled into our psyche by this burgeoning airline group. Whether it is through their various airline franchises and subsidiaries, the main gist of it all is to pack our bags and leave the house.
When Air Asia first began to take shape, it was in a form of a regional full serviced carrier owned by the government-linked conglomerate DB Hi-Com. Needless to say it was a sad looking outfit with 2 – 3 routes out of Subang living in the shadow of Malaysia Airlines.
Enter Tony Fernandez, an airline enthusiast with absolutely no experience in running an airline other than being a head honcho from the music industry. He took over the reigns of Air Asia and bought it for a token sum of RM1.00, saddled with debts in excess of millions. And thus, the success story of Air Asia started to take shape.
Analysts all over the world immediately went into "doom foretell" mode…
The most foretelling of them all was that many agreed Asians were not ready for the onset of LCC travel. A lot argued frills of the legacy carriers were still the de-rigueur in this region which explained the existence of so many top tiered airlines based here.
Tony Fernandez was definitely on to something. The concept of LCC travel back in 2001 was largely foreign. The likes of Ryanair and Southwest were but a distant strange method of travel which we Asians would only laugh at. It was with this challenge of the untested, that the "new" Air Asia took flight in 2001, straight into post-911 era. There could not have been a worst time to launch an airline.
Fail? It did not. 8 years later in 2009, this airline has sprouted 2 additional franchises in Thailand and Indonesia – making them one of the largest airlines in this region. Ruffling the feathers of their initial skeptics, more so none other than their closest competitor Malaysia Airlines, Air Asia has caused a shift in the paradigm of traveling demographics radiating out from Malaysia into the region. All of a sudden, everyone wanted to emulate the doomed Air Asia. Neighboring countries saw their own flag carriers respond with creating their own LCC offshoots like Nok Air and Tiger Airways. Malaysia, ironically, never saw their own flag carrier create one only until mid 2007 when MAS gave birth to Firefly. Better late than never, some say.
Being the success it is regionally, long haul route development was the natural progression. In the midst of recent failures of other long haul LCC set ups like Oasis and Zoom, skeptics were once again up in arms singing the song of failure in unison. Somehow we already knew the pattern; the louder the chants of failure are the more Air Asia wants to prove us wrong.
I shall not dwell on the controversy of how Air Asia X received their AOC but to cut a long story short, governmental arrangement of the domestic route system in Sabah and Sarawak went from MAS to Air Asia (who created a subsidiary Fly Asian Xpress to handle these prop commuter sectors), and finally back to MAS again all within a space of a year. Using the AOC of Fly Asian Xpress, Air Asia X was created for the sole purpose of operating to long haul destinations for parent company Air Asia Sdn Bhd.
While no one knows what lies ahead in the future, there is only one constant in that the louder the nay-sayers yell, the more Air Asia seem to thrive. And so with that, we look forward to what else Air Asia can come up with.
I am a self-confessed convert from a legacy-only traveler to LCC aficionado. Never mind the jibes thrown at me e.g. Queen Bee of LCC, it all depends on how you want to look at it. Going on a holiday, the journey there and back is a large part of the experience and flying by LCC almost guarantees good trip report material. The things I do as a trip report writer, really!
Hope you enjoyed.
Do feel free to look through my other trip reports as well.
1.
KLIA The World's Best White Elephant.
2.
MH Is NOT Malaysian Hospitality. The Return.
3.
MH: More Than An Airline Code... SIN-BKI
4.
Sawasdee Soiree! BKK-SIN On Tiger Pt 2 (pics)
5.
Sawasdee Soiree! SIN-BKK On Tiger Pt 1 (pics)
6.
Voyage Vietnam: SGN-SIN Part 3 (pics)
7.
Voyage Vietnam: HAN-SGN Part 2 (pics)
8.
Voyage Vietnam: SIN-HAN Part 1 (pics)
9.
SIA New Business Class 777-300ER Part Deux!
10.
SIA New Business Class 777-300ER Pt 1
11.
Thai Air Asia BKK-SIN Part 2: +Airport Review
12.
Thai Air Asia SIN-BKK Part 1
13.
Jetstar/Valuair SIN-CGK (pics)
14.
Saigon-S'pore On SQ (pics): Not 35K Again!
15.
S'pore-Saigon On SQ (pics): Oh No... 35K!
16.
A Tiger's Growl: HKT-SIN The Return (pics)
17.
A Tiger's Growl: SIN-HKT (pics)
18.
Jakarta-S'pore On SIA - No More Protests Please!
19.
SIN-CGK On SIA Pt 1 (pics)
20.
BKK-SIN On SQ, Return Flight. Megatopless (pics)
21.
SIN-BKK On SQ Jubileeless (Pics)
22.
The Return Flight. PER-SIN On QF Pt 2 (Pics)
23.
Perth Calling! SIN-PER On QF Pt 1 (Pics)
24.
MAS KL-Singapore First Class. (Pics)
25.
MAS Johor Bahru - KL (pics)
26.
The Return Trip: SYD-SIN On Gulf Air (pics)
27.
Golden Falcon SIN-SYD On Gulf Air (Pics)
28.
The Fun Continues! BKK-SIN On VF (Pics)
29.
Budget Flight S'pore Style! SIN-BKK On VF
30.
Pic-Rep Part 5: Jakarta/CGK - Singapore On SIA
31.
Pic-Rep Part 4: Bali-Jakarta On Lion (Delay!)
32.
Pic-Rep Part 3: Jakarta - Bali On Lion Air
33.
Pic-rep Part 2: Bandung - JKT/Halim On Merpati
34.
Pic-Rep Part 1: Singapore-Jakarta / CGK On SIA
35.
Jakarta / Cengkareng - Singapore On KLM WBC
36.
Bandung-Jakarta / Halim On Merpati (Pt 2)
37.
S'pore-Jakarta On KLM World Biz Class (Pt 1)
38.
Kuala Lumpur - Singapore On MAS, First Class
39.
Singapore-Kuala Lumpur On MAS, First Class
40.
KL-Johor Bahru On MAS (part 2)... With Photos!
41.
Johor Bahru-KL On MAS (Part 1)... With Photos!
42.
British Airways: SYD-SIN
43.
OZ Odyssey With BA: SIN-SYD-BNE-SYD
44.
Blast Fm E Past: SIN-SYD On Qantas
45.
K Lumpur - S'pore On MAS F Class
46.
S'pore-K Lumpur On MAS F Class
47.
Kuala Lumpur - Johor Bahru on Malaysia Airlines
48.
Bangkok -S'pore On Swiss (LX) Biz Class
49.
S'pore-Bangkok On Swiss (LX) Biz Class
50.
Phuket-KL-S'pore On Malaysia Airlines (pics & Rep)
51.
S'pore-KL-Phuket On Malaysia Airlines
52.
SIN-KUL-SYD On MAS, First Time In Ycl!
53.
Langkawi-KL-Singapore On MH, Continuation...
54.
BKK-SIN on Thai Airways
55.
Rockhampton - Singapore on Singapore Airlines
56.
Singapore - Rockhampton on Singapore Airlines
57.
BKK-KUL-SIN on Malaysia Airlines F and J Class
58.
SIN-KUL-BKK on Malaysia Airlines F and J Class
59.
SYD-MEL-KUL, SZB-LGK on Malaysia Airlines
60.
ORD-DTW-NRT-SIN on NW
61.
SFO-MDP-ORD on NW
62.
SIN-NRT-SFO on NW
63.
KUL-SIN on SQ F Class