Dear readers,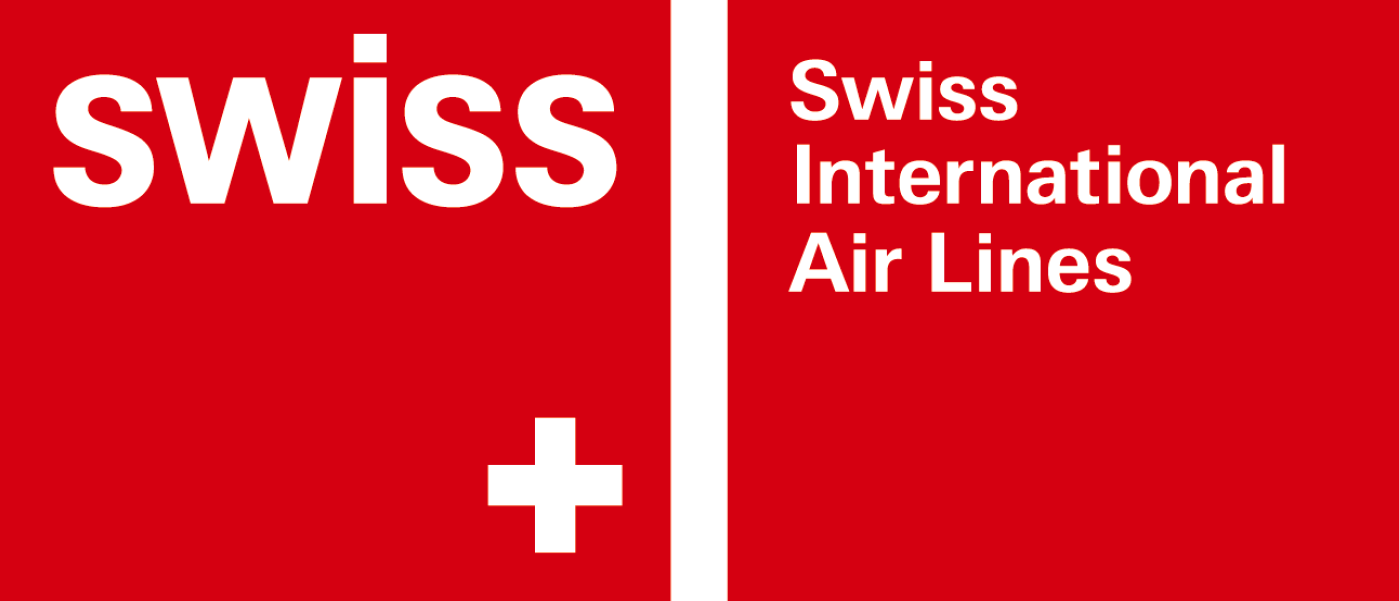 This Sunday I had to leave for a training course at our headquarters in ZRH.
After making a nice breakfast with hot croissants and other delicious things for my GF I had to rush to go to the Airport. I already packed my carry-on the night before, so no issues there.
Quickly I started my nice new Renault and drove off to the South. WHOOPS, I first needed to make a pit-stop and refuel my car with some fresh Diesel as otherwise I would end up somewhere on the road without gas.
I managed quickly, although not as quick as the Formula One pit stops. Now I was ready to go and got on my way to the airport. After just 55 minutes I parked my car near my office, some 300mtrs away from the main terminal building.
Online check in was already done the night before and I was the 42nd passenger to check in online. If you think of it, airlines must be very happy with this feature, as it really saves a lot of time and money on the airport itself.
As I only had my carry-on, laptop and camerabag ( yes, three pieces of hand-luggage ) I could go directly to the passport control area. The wait was only a minute or two, and soon I was airside at the airport. I had some time left to go and make some pictures.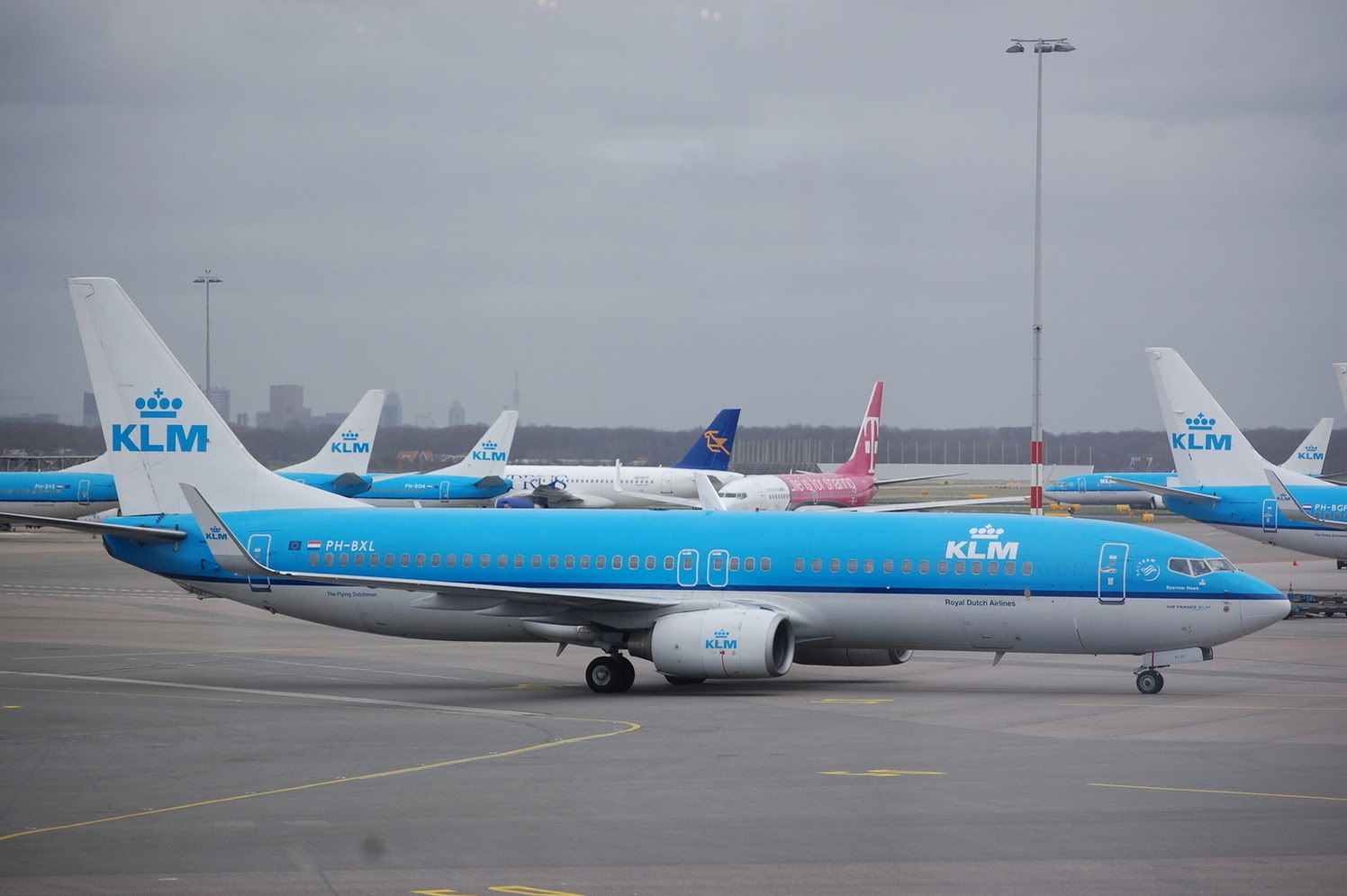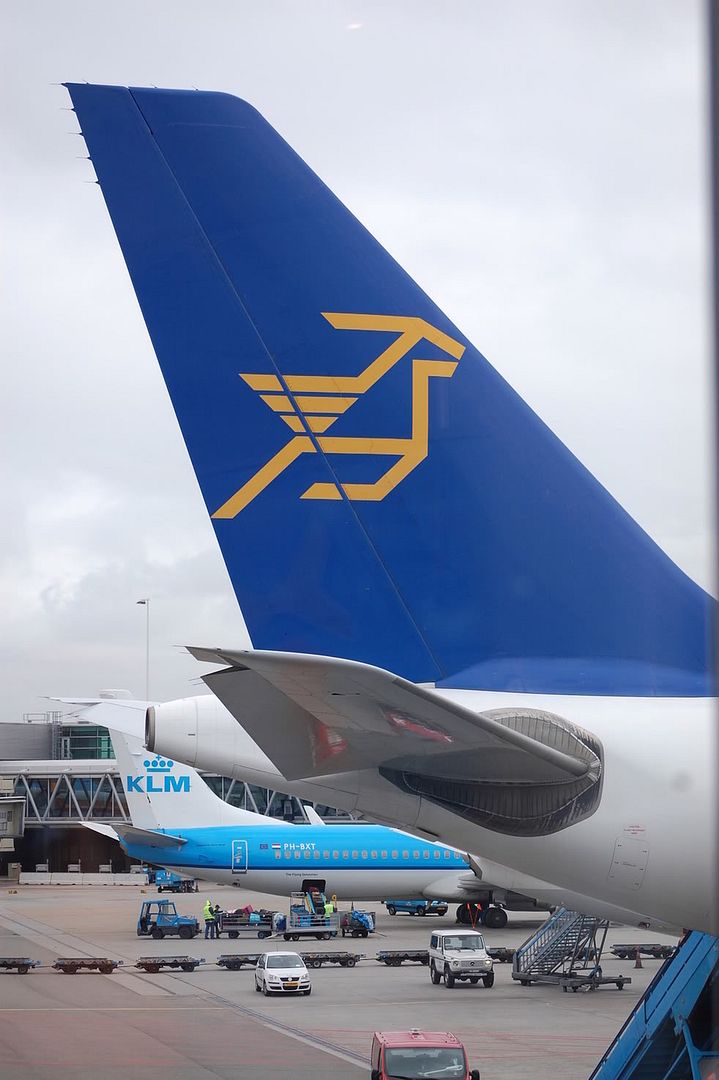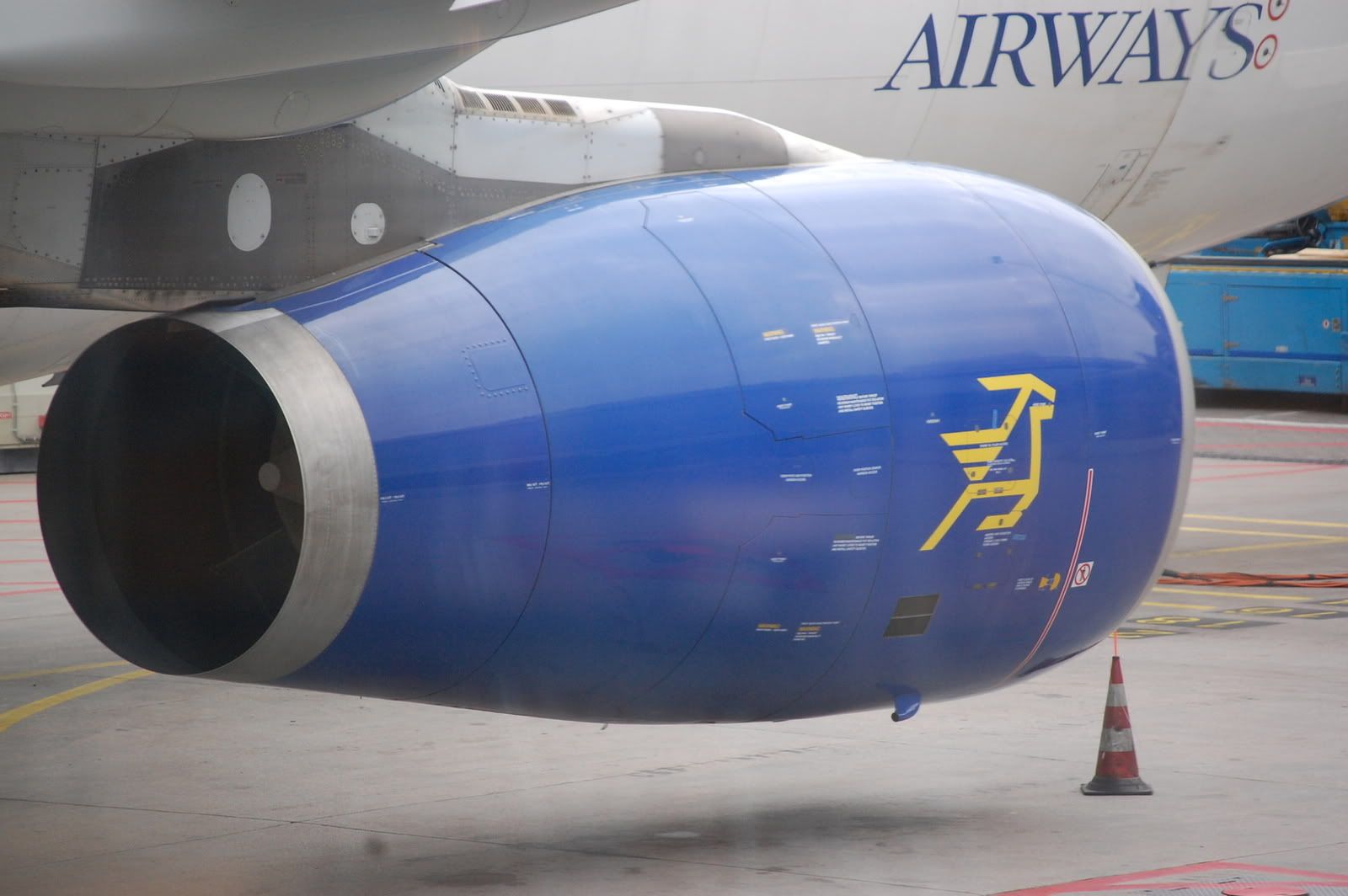 No special things were spotted, only a Cyprus A330, with in the distance on a remote another Cyprus Airbus, this time an A320. I assume the 320 got technical and they decided to operate the next flight with some bigger equipment.
I went to my gate D16, where already quite some passengers were queued up for security check. They only started checking when the aircraft arrived and docked to the airbridge.
I knew on forehand that it would be an Airbus 320, which is covered well in my log.
Luckily it was a registration that was not covered yet. HB-IJV was operating my flight LX729 to ZRH on this day.
Flight : LX 729
Stretch : AMS-ZRH
Date : 15-Mar-2009
Aircraft : Airbus A320-214
Msn : 2024
Registration : HB-IJV
Delivered :12-JUN-2003 to Swiss Sun, afterwards rebranded Swiss
Seat : 5F
Load : C-class 0% / Y-class 85%
Gate : D16
12th flight on the 320 and the first on this machine
HB-IJV is a machine used to operate for Swiss Sun, which mend a slightly different interior.
Where the normal LX 320's feature slimline seats, this bird still had an old generation "fat" seats, with audio plug in in the armrests.
The crew on this flight existed of 3 or 4 female flight attendants. I only saw three, but AFAIK the 320 needs 4 to operate.
There were 3 rows reserved for C-class, but all C-seats remained empty on this flight.
Y-class was well filled with mostly leisure travelers who spent the weekend in Amsterdam.
I had my seat on the right side of the plane, which turned out the wrong side as well.
Stupid me, I should know that I would be having the sun constantly on my side, when travelling to the south-east during this time of the day.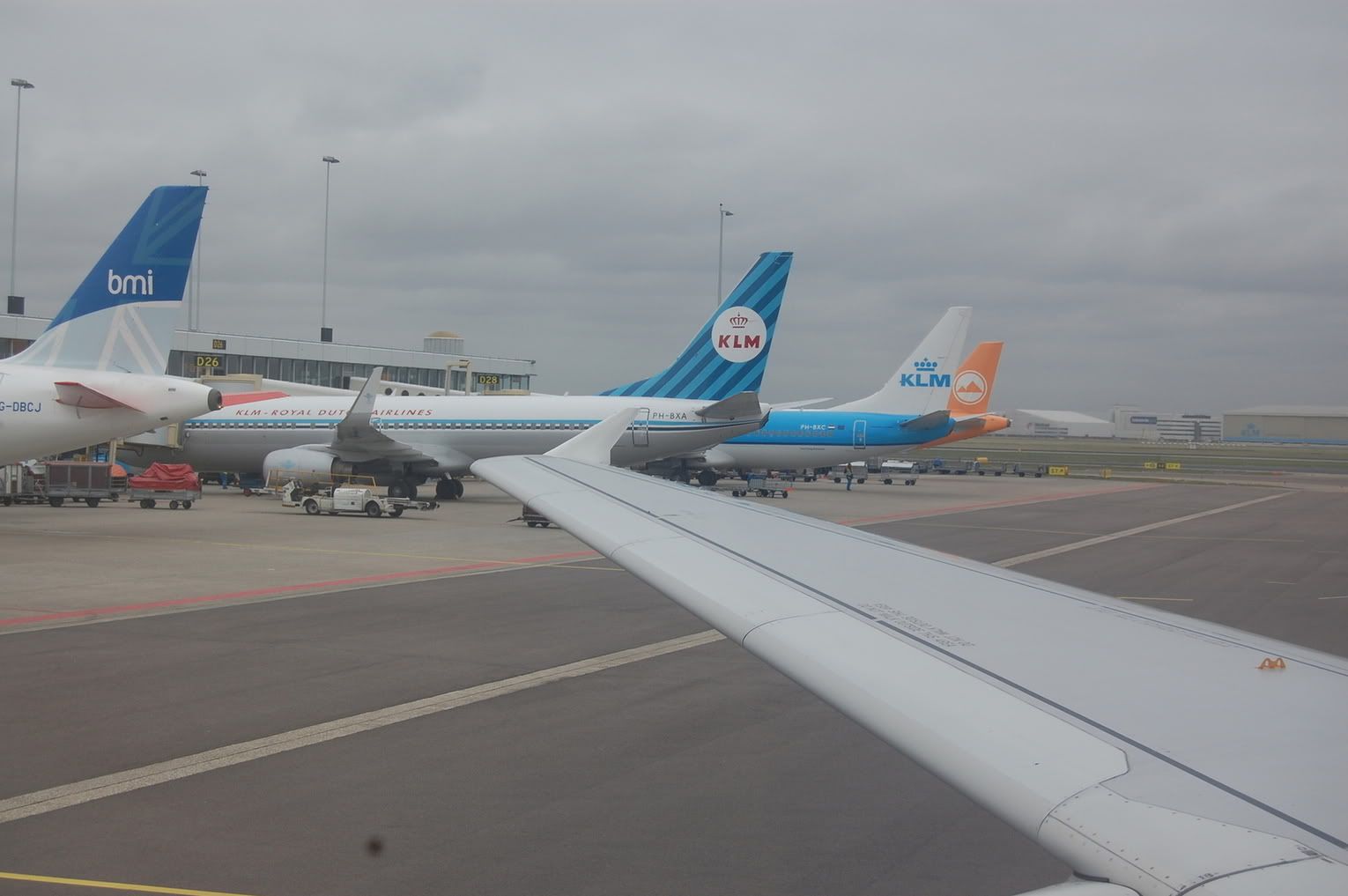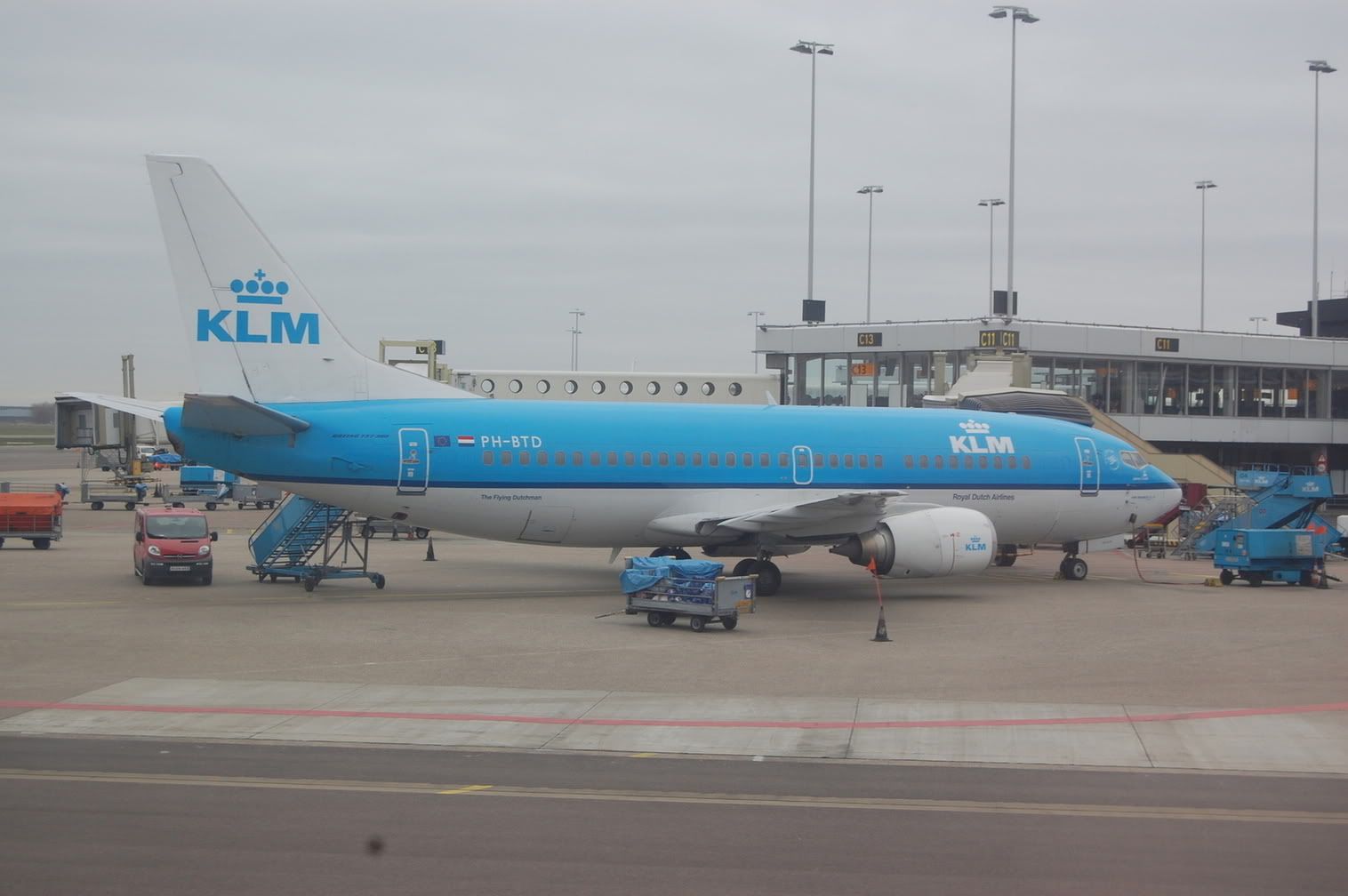 Soon push-back was commenced and we taxied towards rwy 36C which was our runway for take off. A short hold and the engines spooled up and we jumped into the skies soon.
As the weather was quite cloudy, the views were not too good but anyway I made some pictures.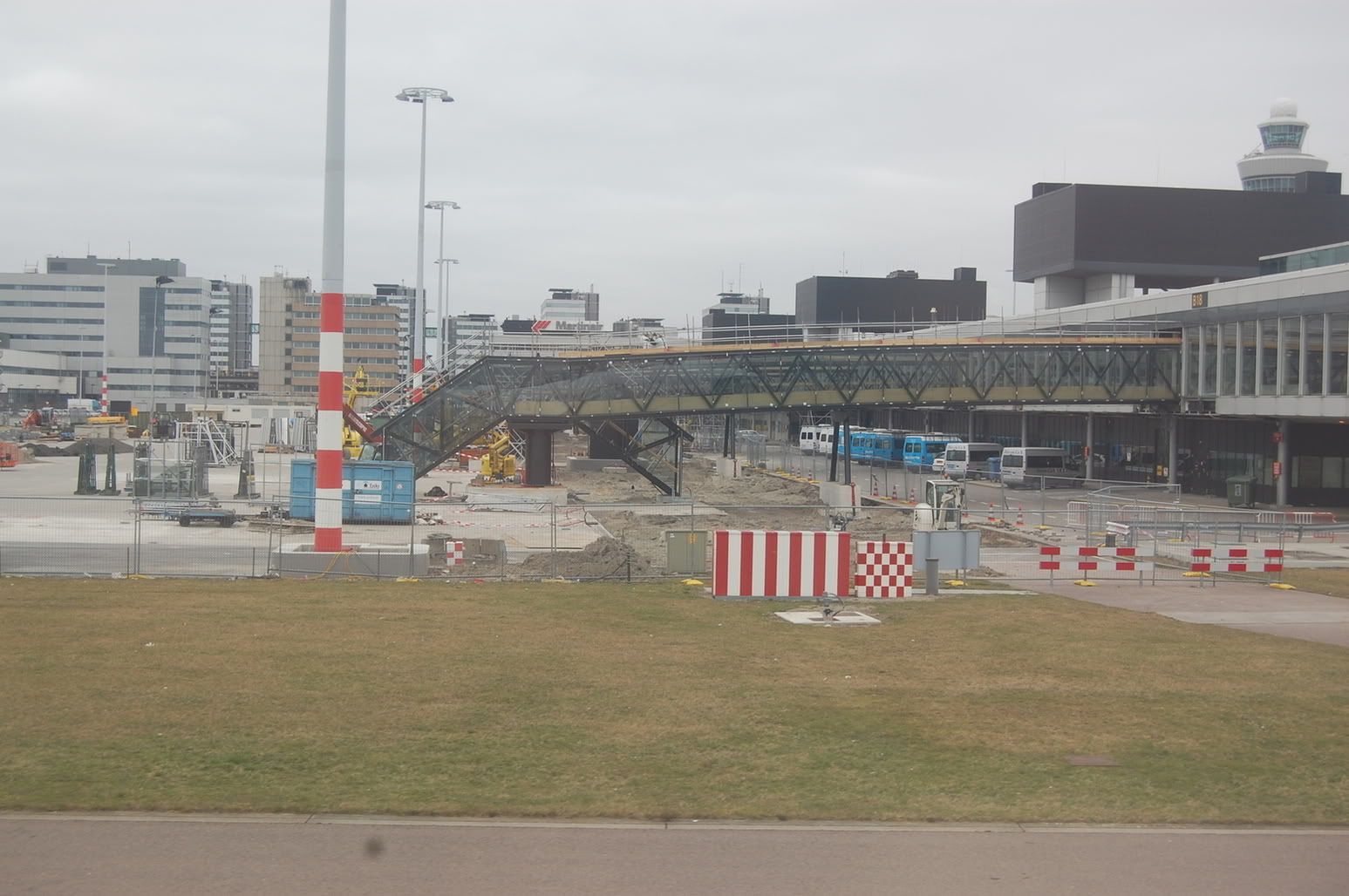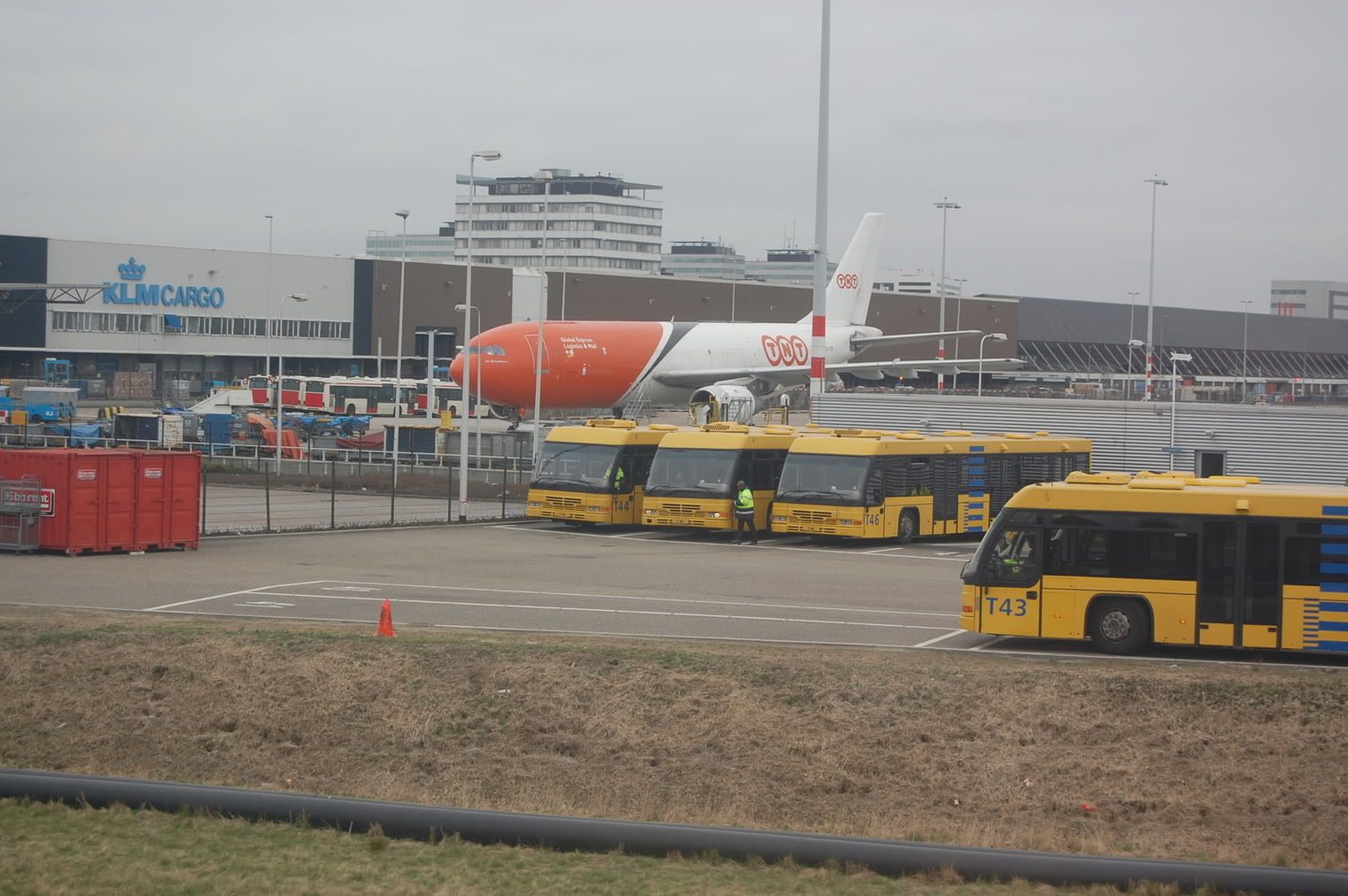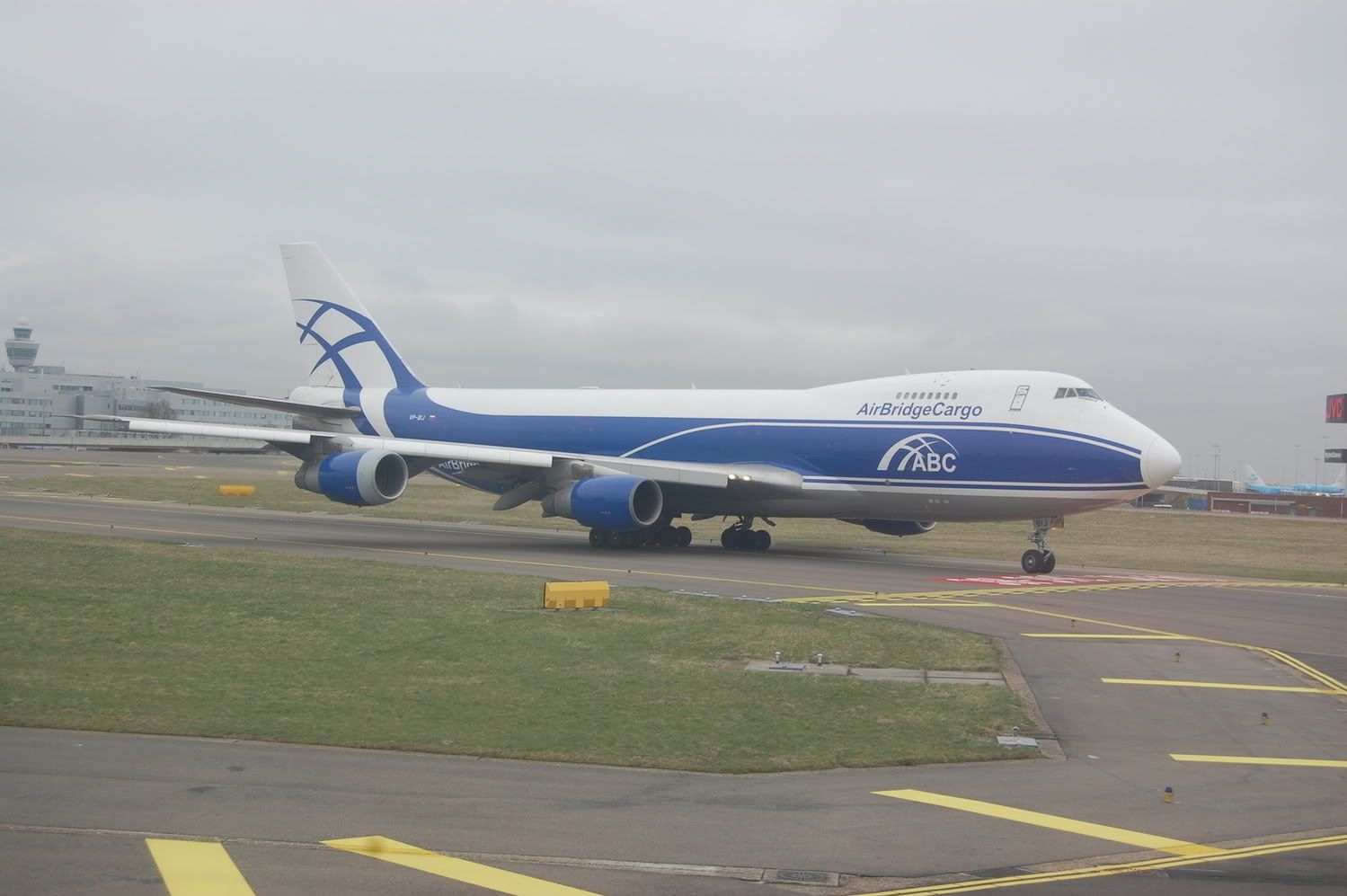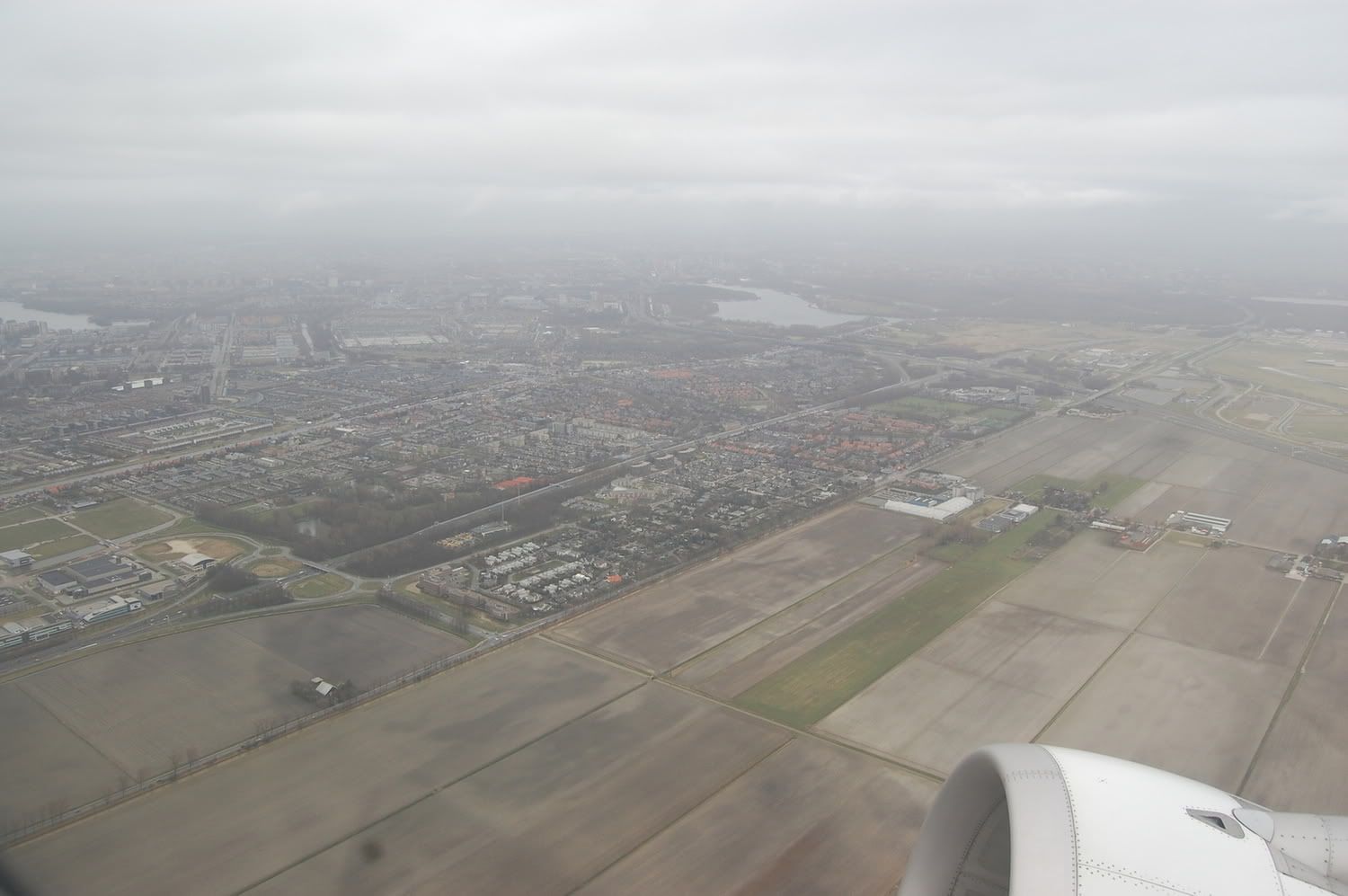 Soon service began, and with nobody in C-class it was quick and smooth. We all got served a small but tasty chocolate muffin with a hot or cold drink. Nothing special to be honest.
The captain soon came on the intercom updating us about the weather situation in Zürich which was around 10°C.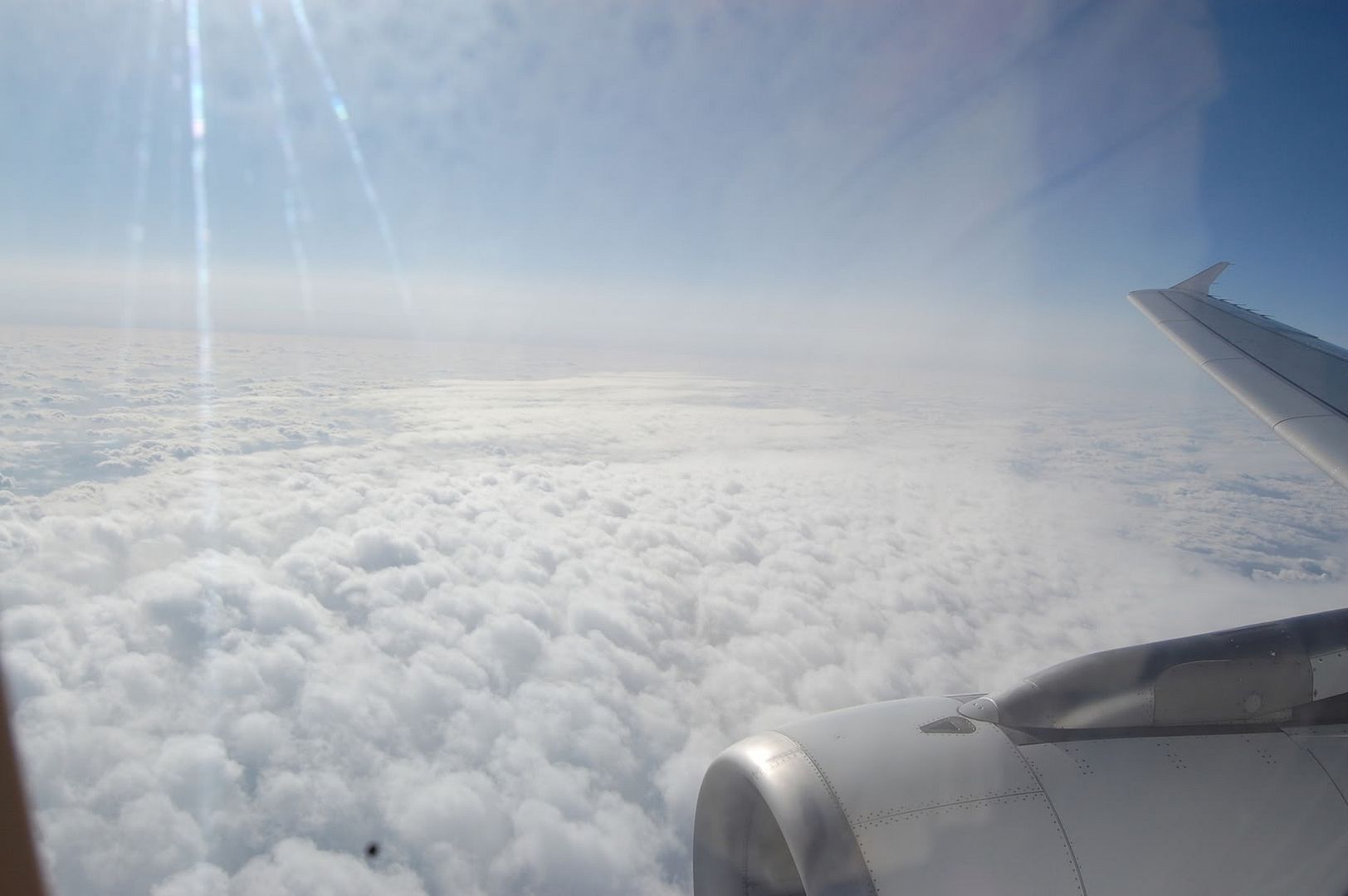 Then the favorite part of many passengers on LX, the complementary chocolate bar was given to us. Descending through the cloudy skies was also quite smooth. In the distance we could see some snowy Alps, which was rather lovely I would say.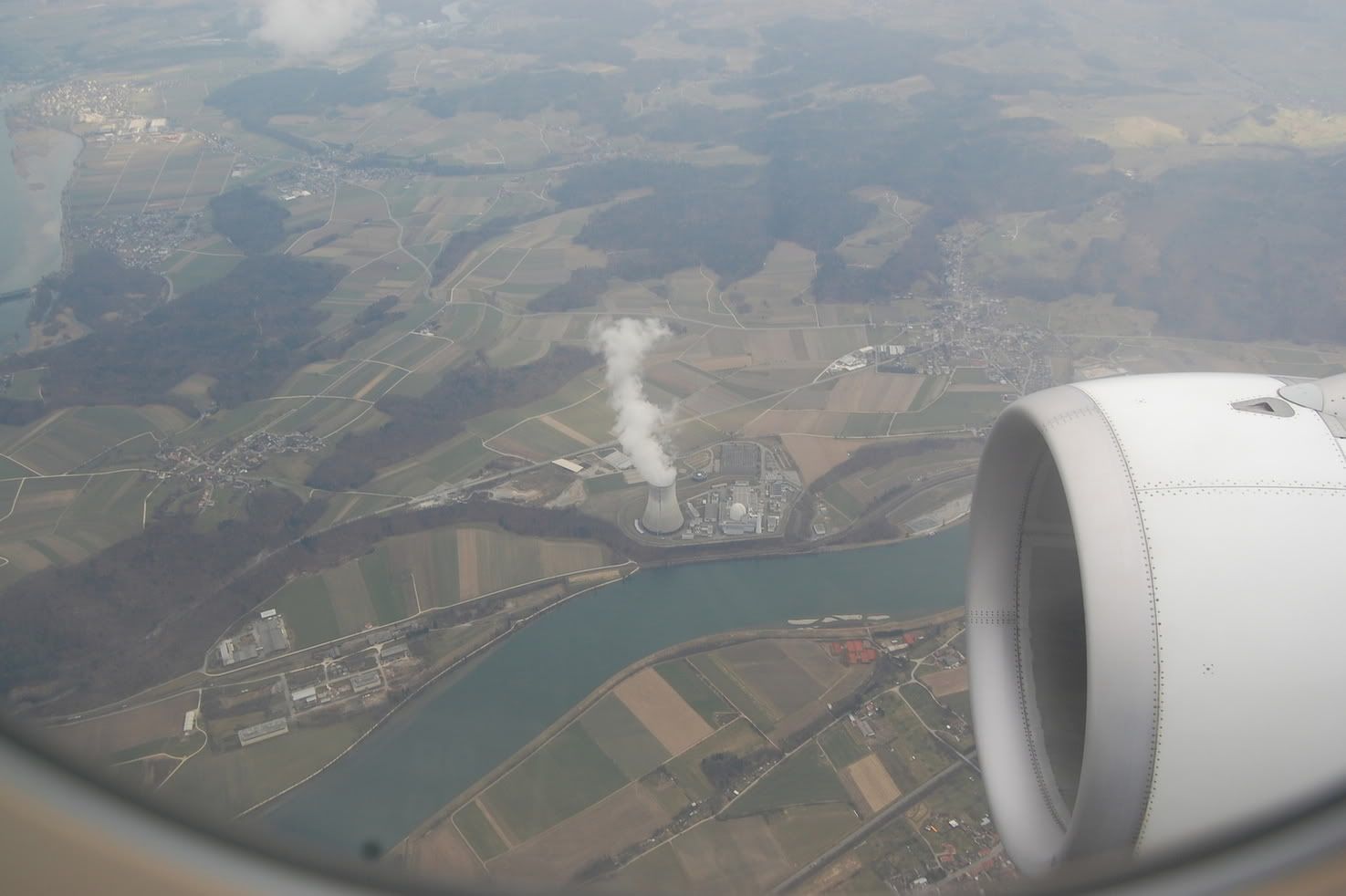 Touchdown was also very comfortable and with the thrust-reversers deployed we soon had our taxi speed. Docking at the gate next to a company Airbus 320 and everybody instantly stood up from their seats, panicking to get off the plane as soon as possible. I just waited a bit and could walk off without any stress. The captain was also present at the door and greeted everybody for flying Swiss on this short flight from Amsterdam.
Since I had no checked bags with me I could just walk out to the hotel-bus which took me to the hotel.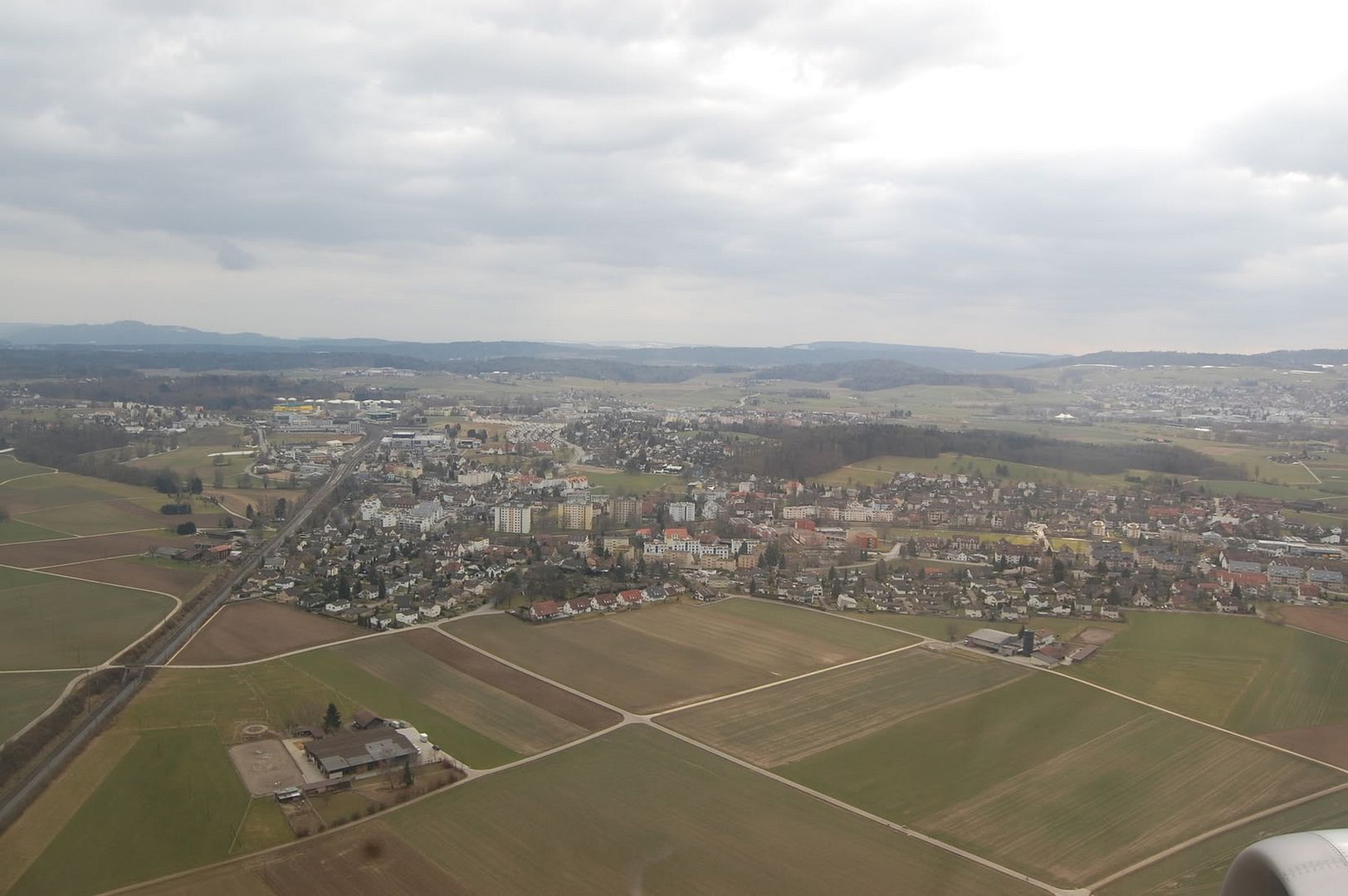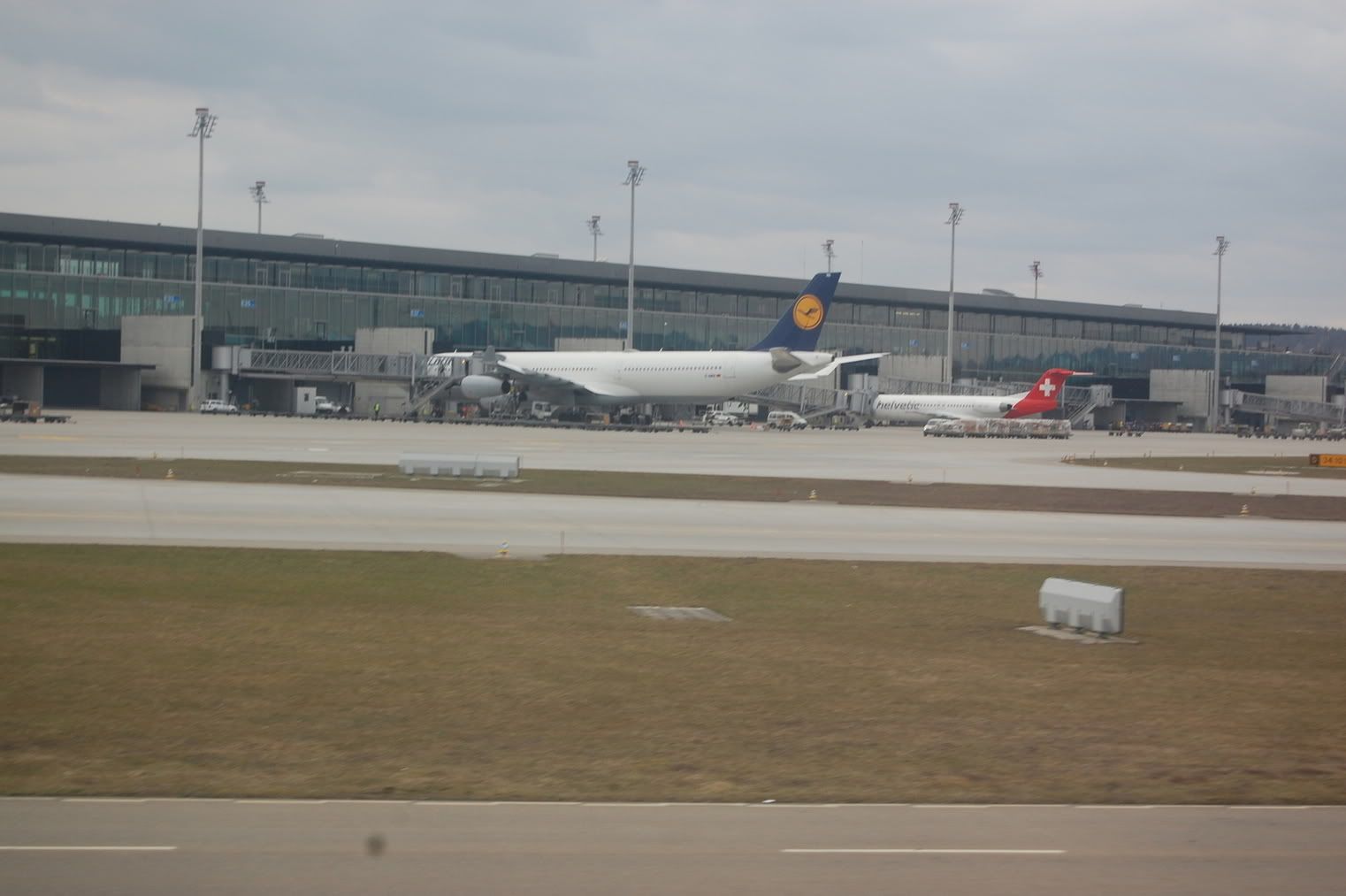 What was she doing at ZRH? Operating ZRH-BOS-ZRH for LX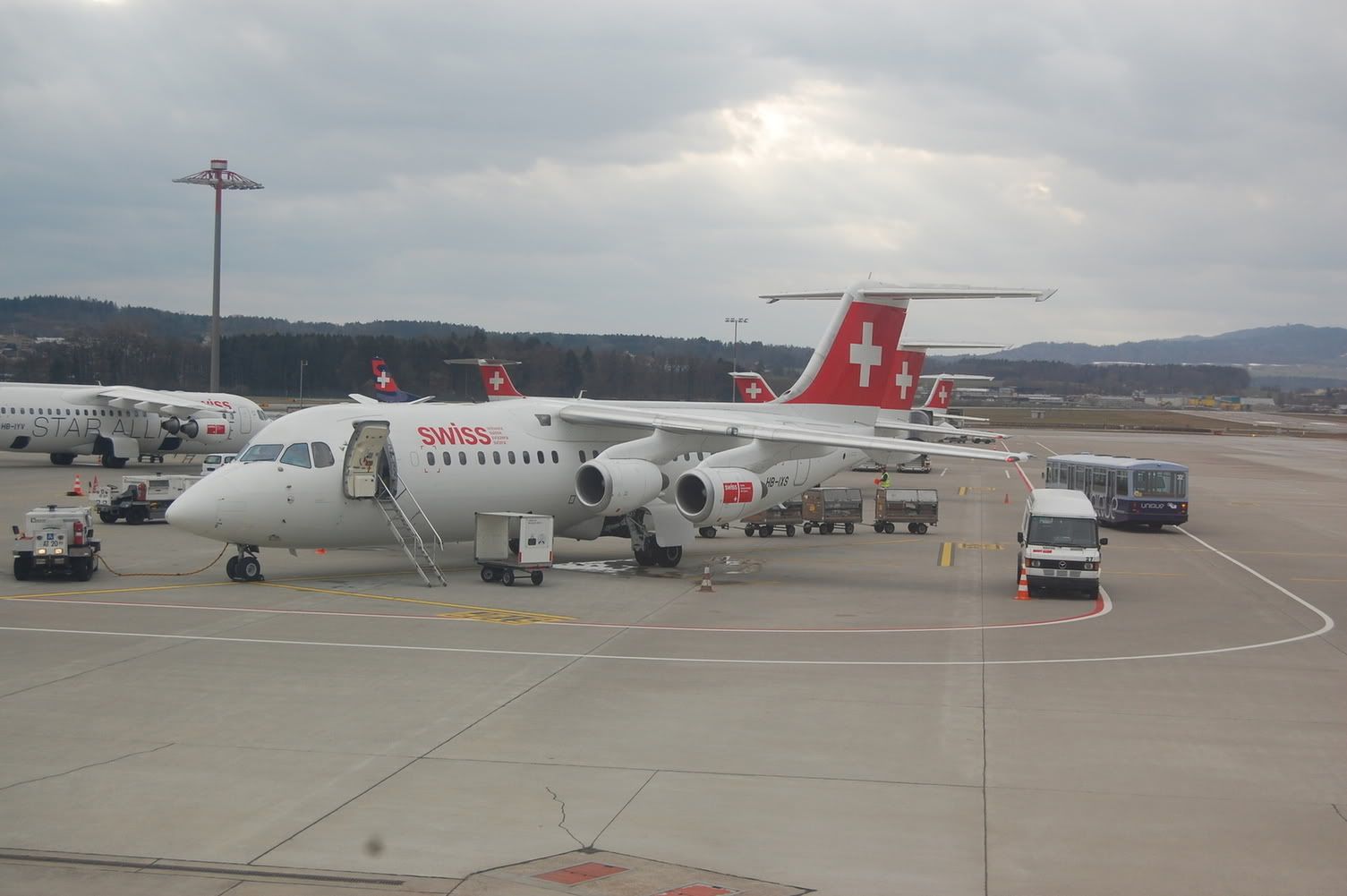 All in all a nice flight, but nothing really special. A new registration for my log is always nice.
After two days of hard work
it was time to go back home again. I arrived together with my collegues from Brussels, Prague and Budapest at the airport and we all said our goodbyes and left for our gates. All our flights left within 20 minutes from each other.
We queued up for security at the A-concourse. The lines were actually not too long, but still it took almost 30 minutes to get past it. Behind me in the queue was the top famous football player Ruud Gullit, most probably on a private trip. Anyway, after security I went to my gate A67 and managed to get on board with only minutes left before boarding would end.
Flight : LX 734
Stretch : ZRH-AMS
Date : 17-Mar-2009
Aircraft : Airbus A320-214
Msn : 585
Registration : HB-IJJ
Delivered :10-may-1996 to Swissair and per 31-mar-2002 in service with Swiss.
Seat : 32A
Load : C-class 100% / Y-class 90%
Gate : A67
13th flight on the 320 and the first on this machine
When entering the Airbus I noticed that the flight was very full with 6 or 7 rows reserved for C-class all fully booked. Y-class was also rather full and I tried to make my way down the aisle of the Airbus to my seat at row 32. This particular aircraft had the newer slim-line seats which is far better that the old generation seats. Legroom was quite ok, but I had to store my carry-on under the seat in front of me, since all bins were full.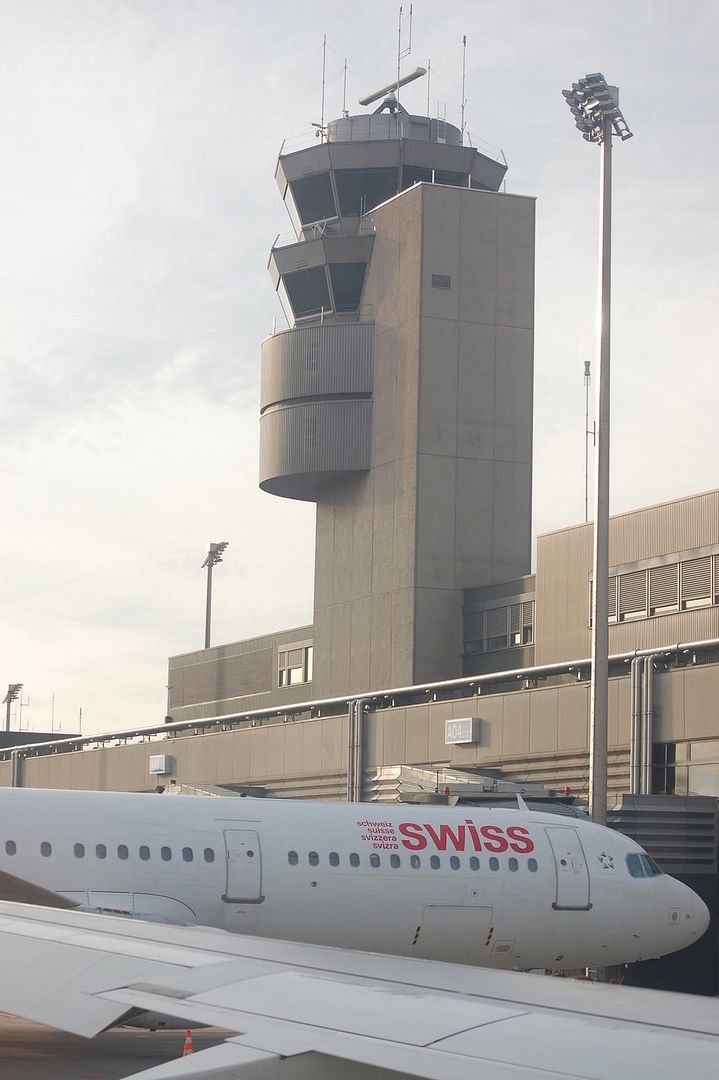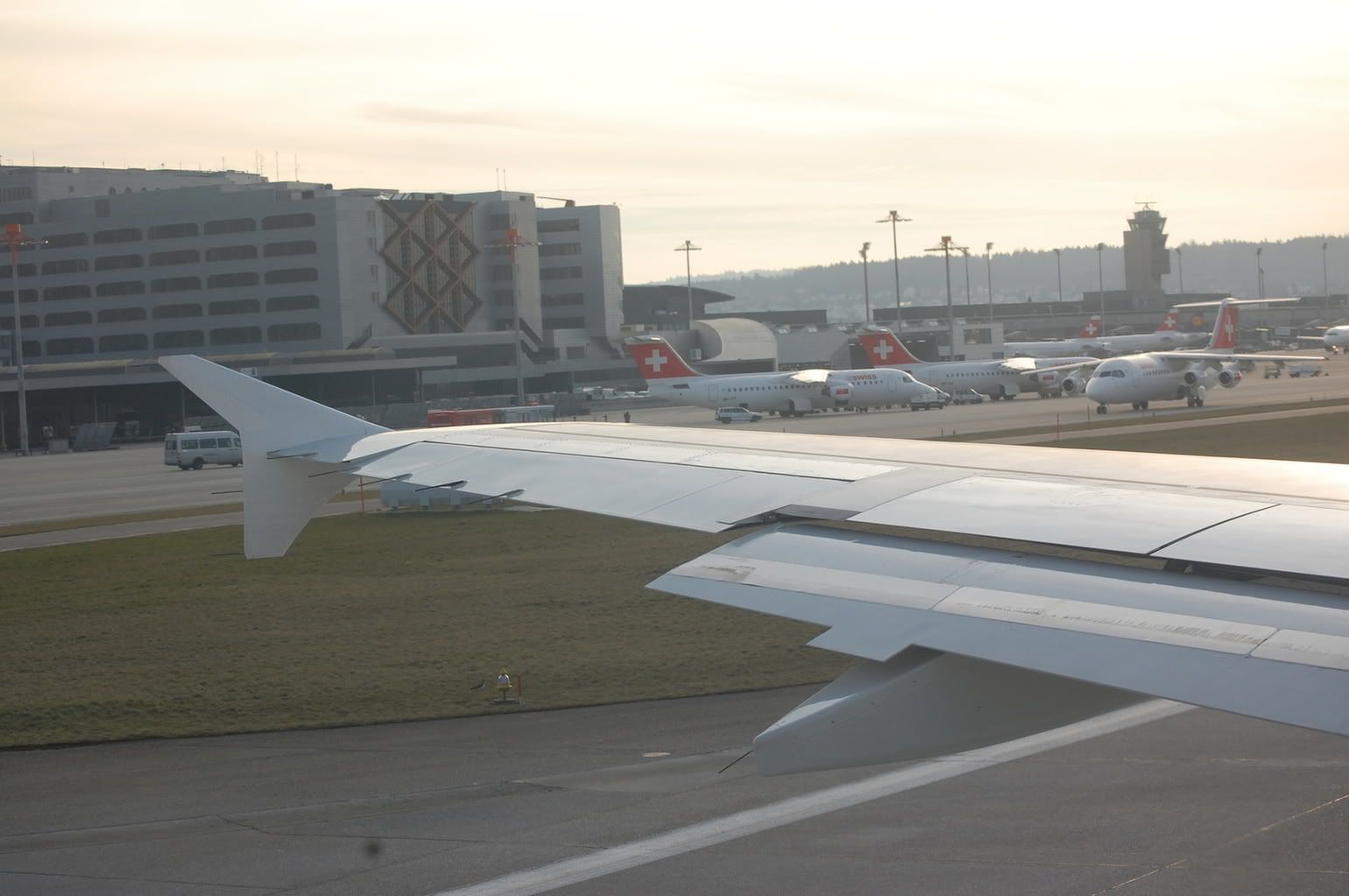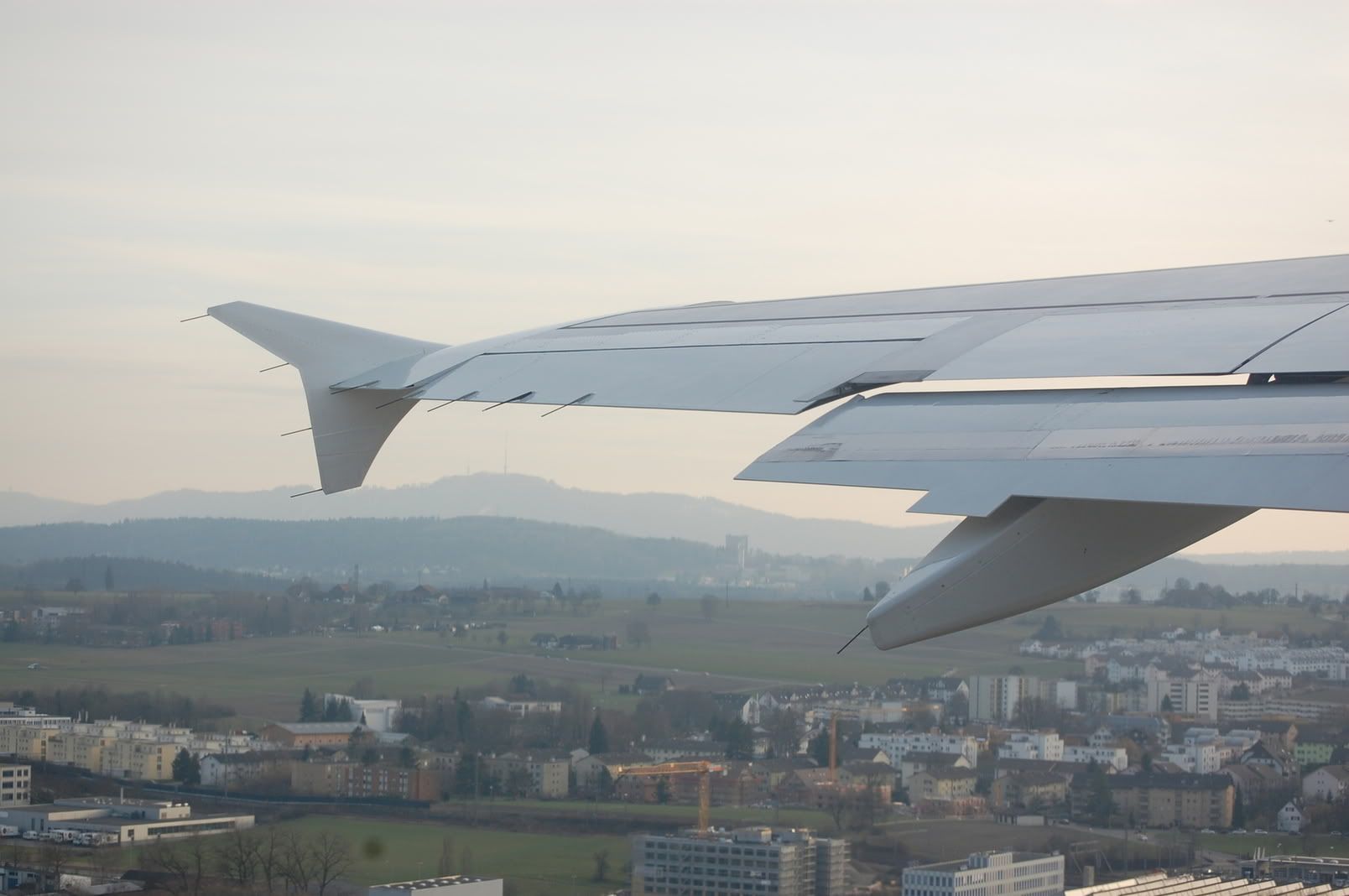 Luckily the middle-seat remained empty, so I had some space to move around with my feet.
Soon push-back was commenced and the captain welcomed us on board the aircraft in 3 languages, English, German and French. We were assigned rwy 28 for take-off which was a comfortable 3 or 4 minute taxi. Since I had my seat on the left side, I had some great views of the Alps in the distance. It just keeps me amazed every time I see them. He! We don't have mountains in The Netherlands! LOL!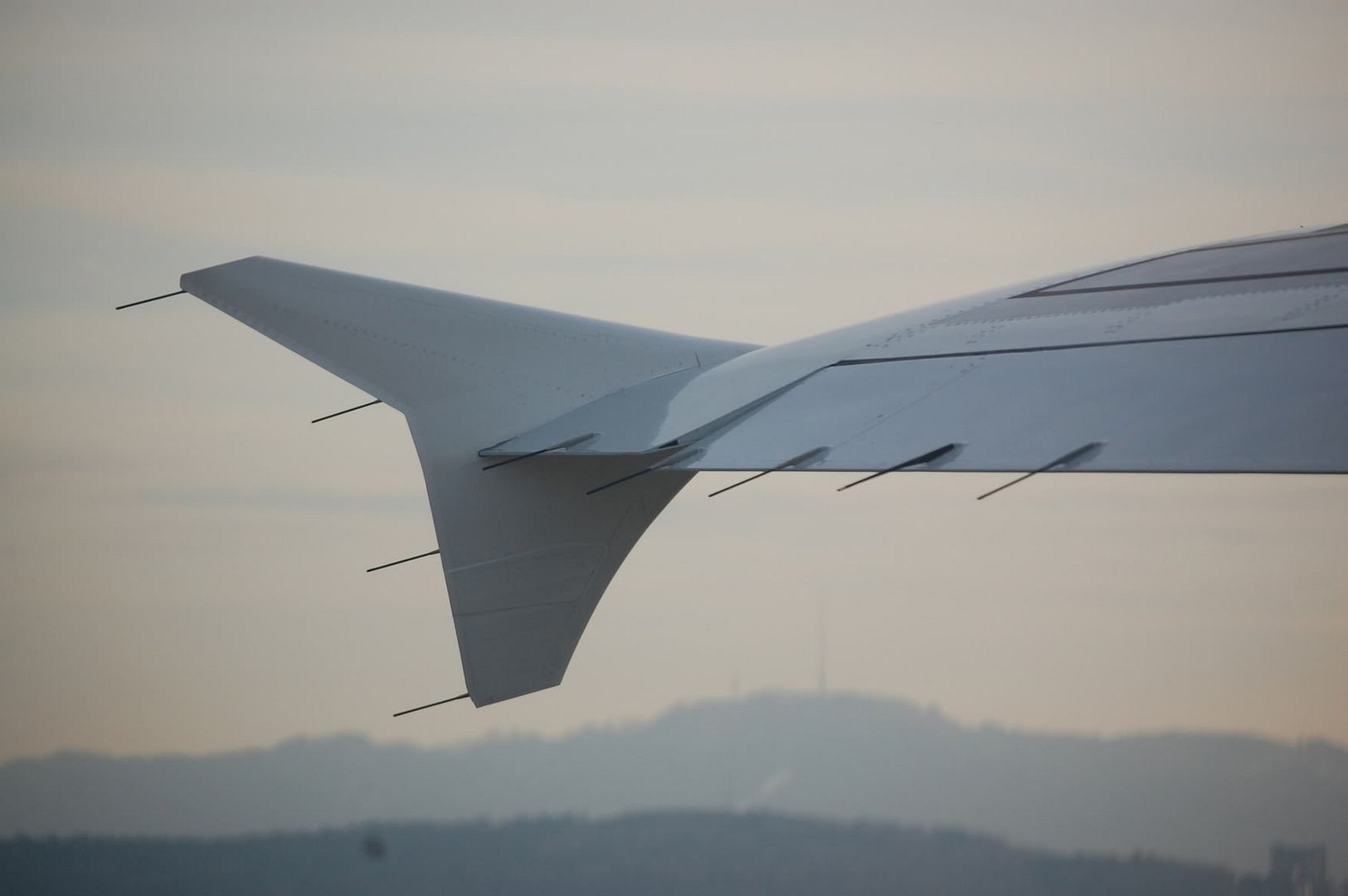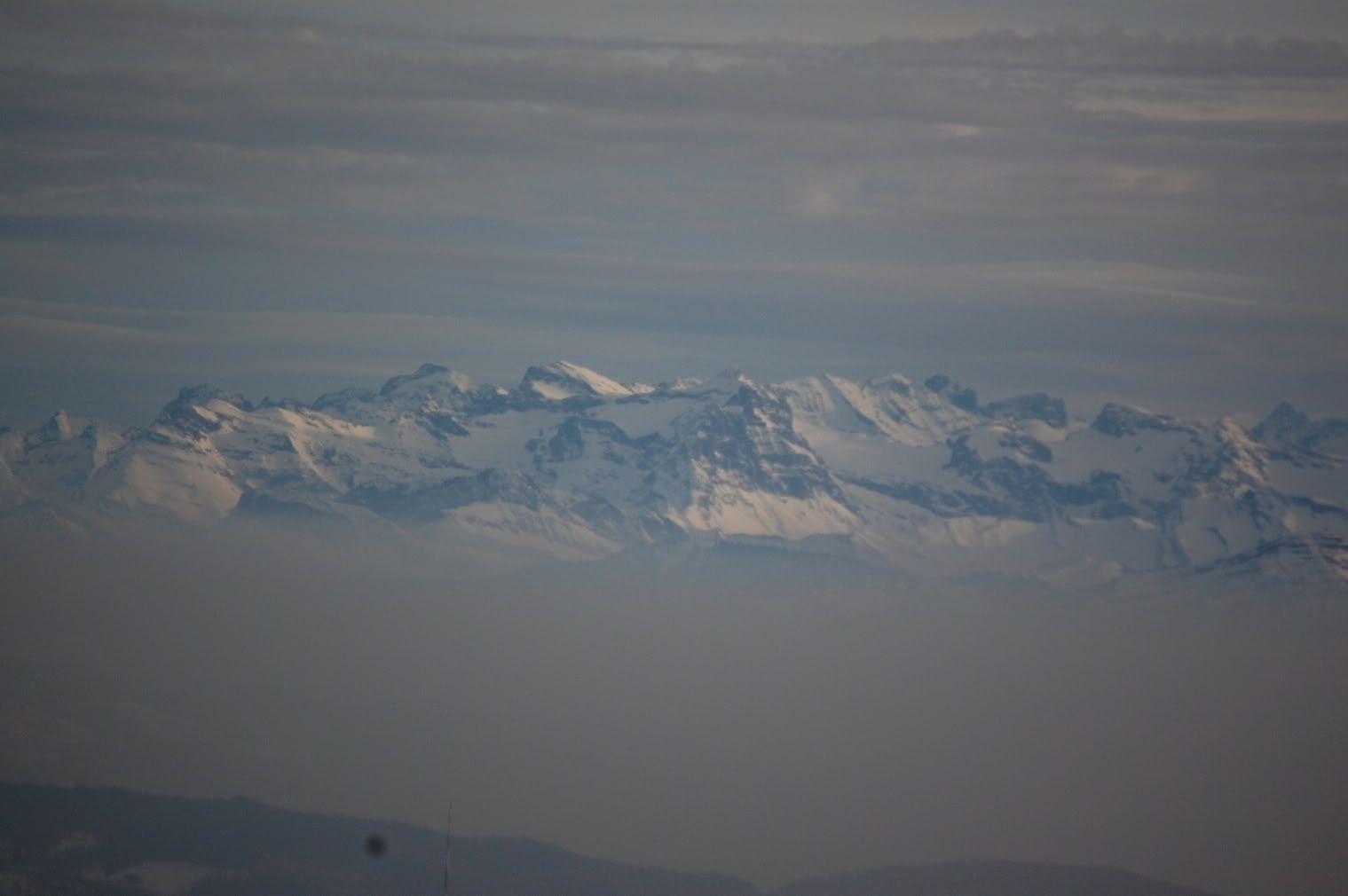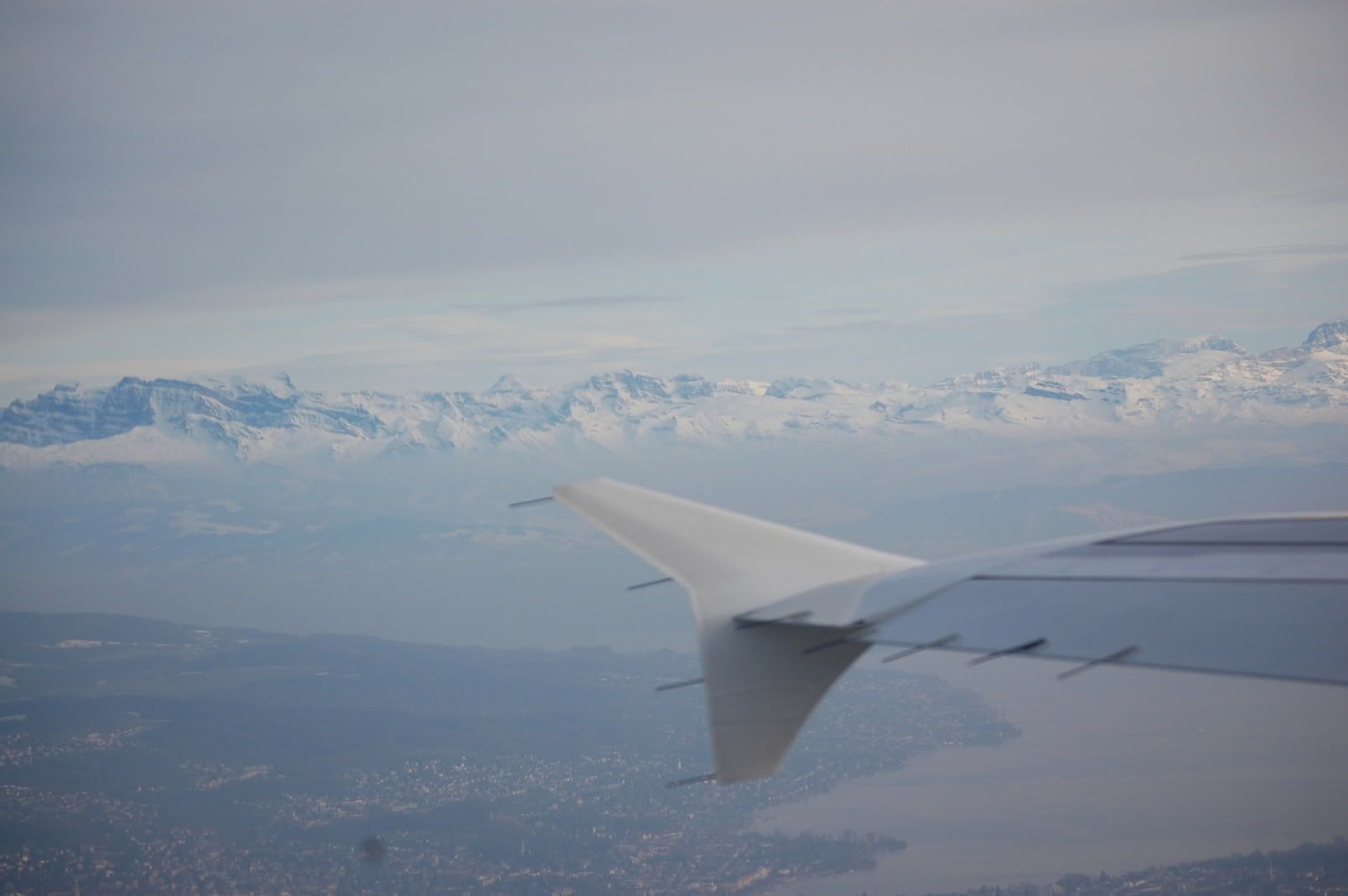 Clear view over Zürich and the Lake
Soon after take off we turned more north west bound and our flight path took us over France, Luxembourg, Belgium and finally The Netherlands.
Service was also good, with a beef sandwich and some drinks. Views during the cruising of the flight were restriced since the sun was constantly burning in my face, I actually closed the shade for a while. Ruud Gullit was also on this flight enjoying the views over BRU and ANR on his side of the aircraft.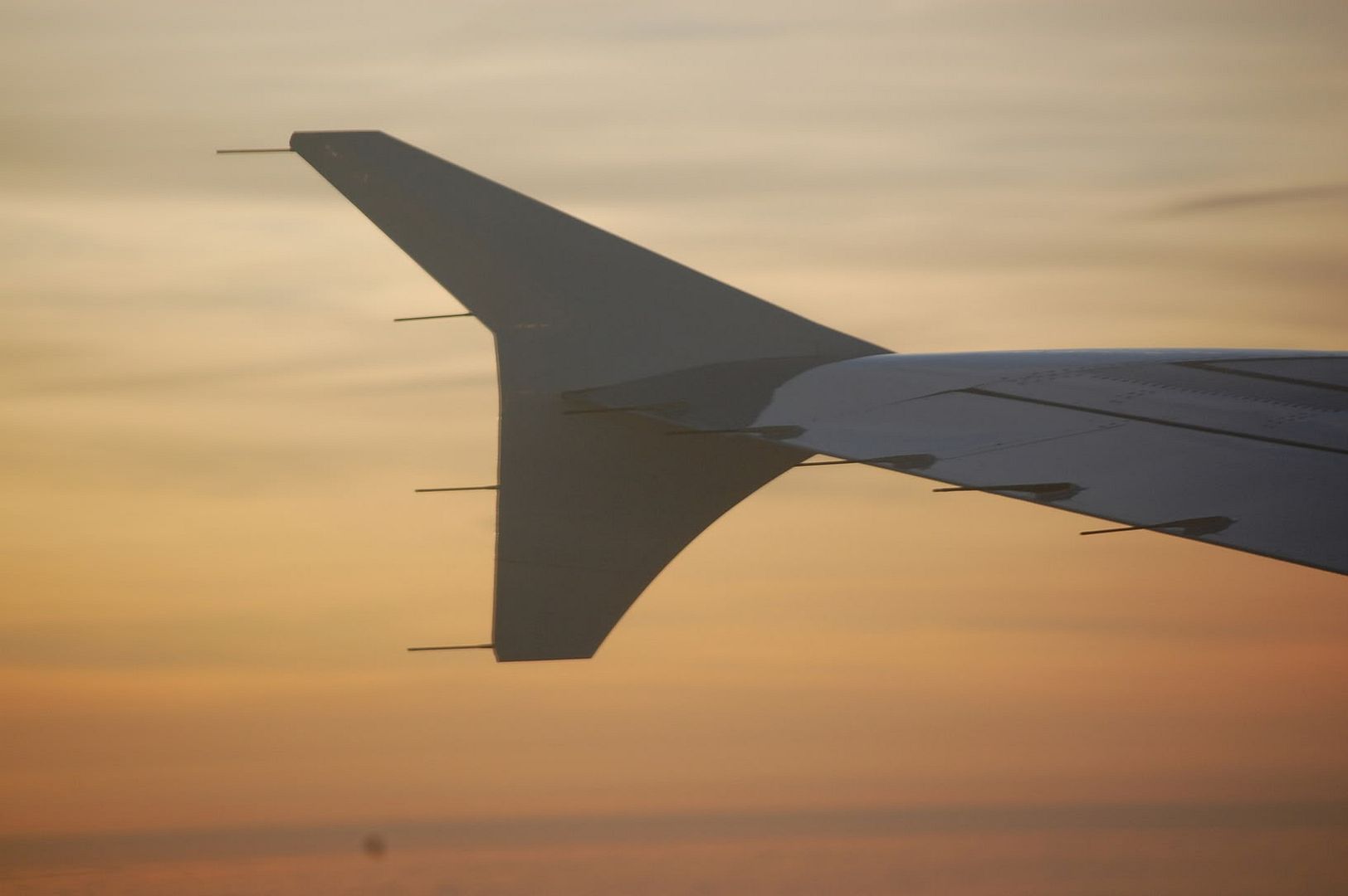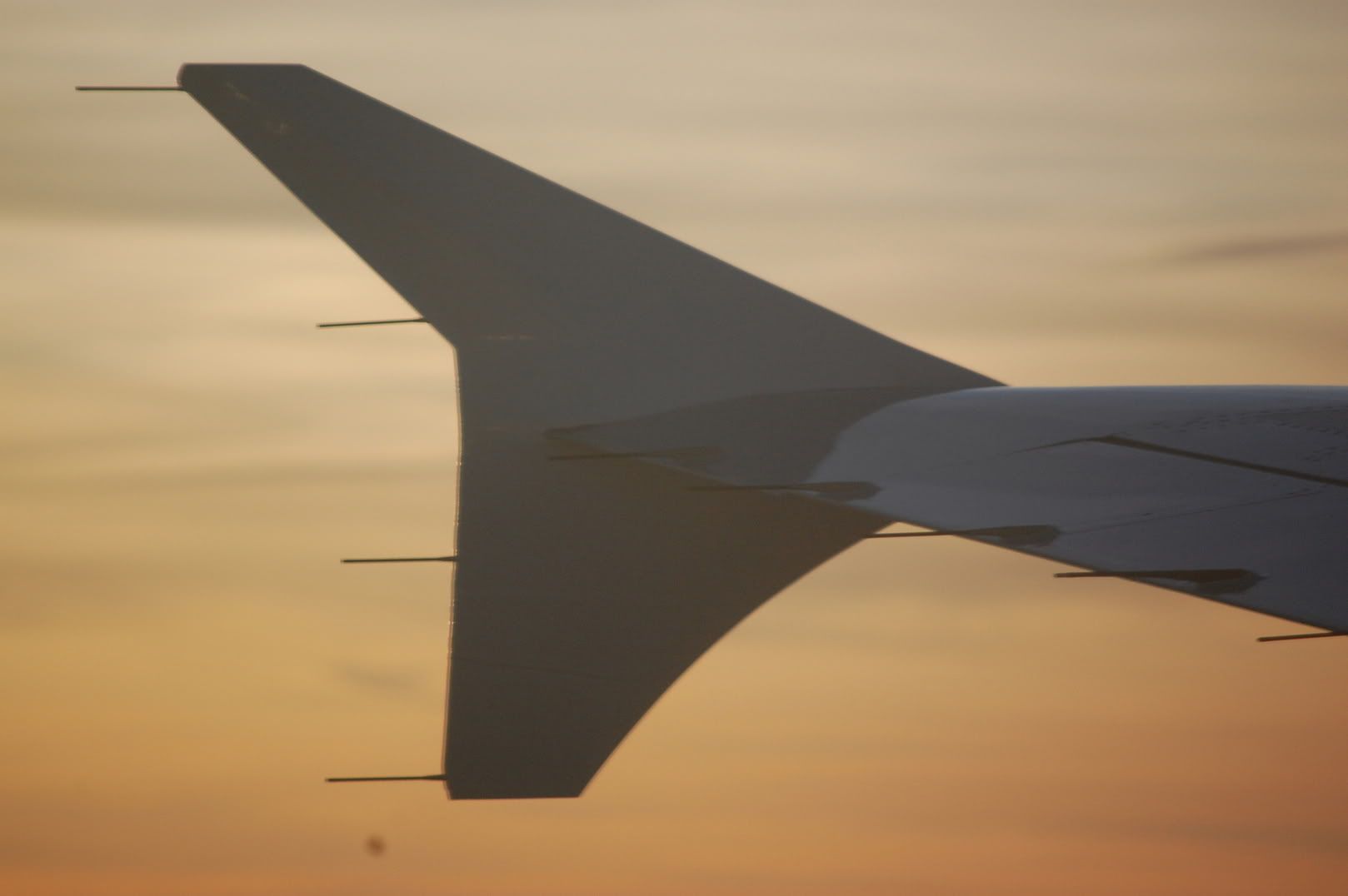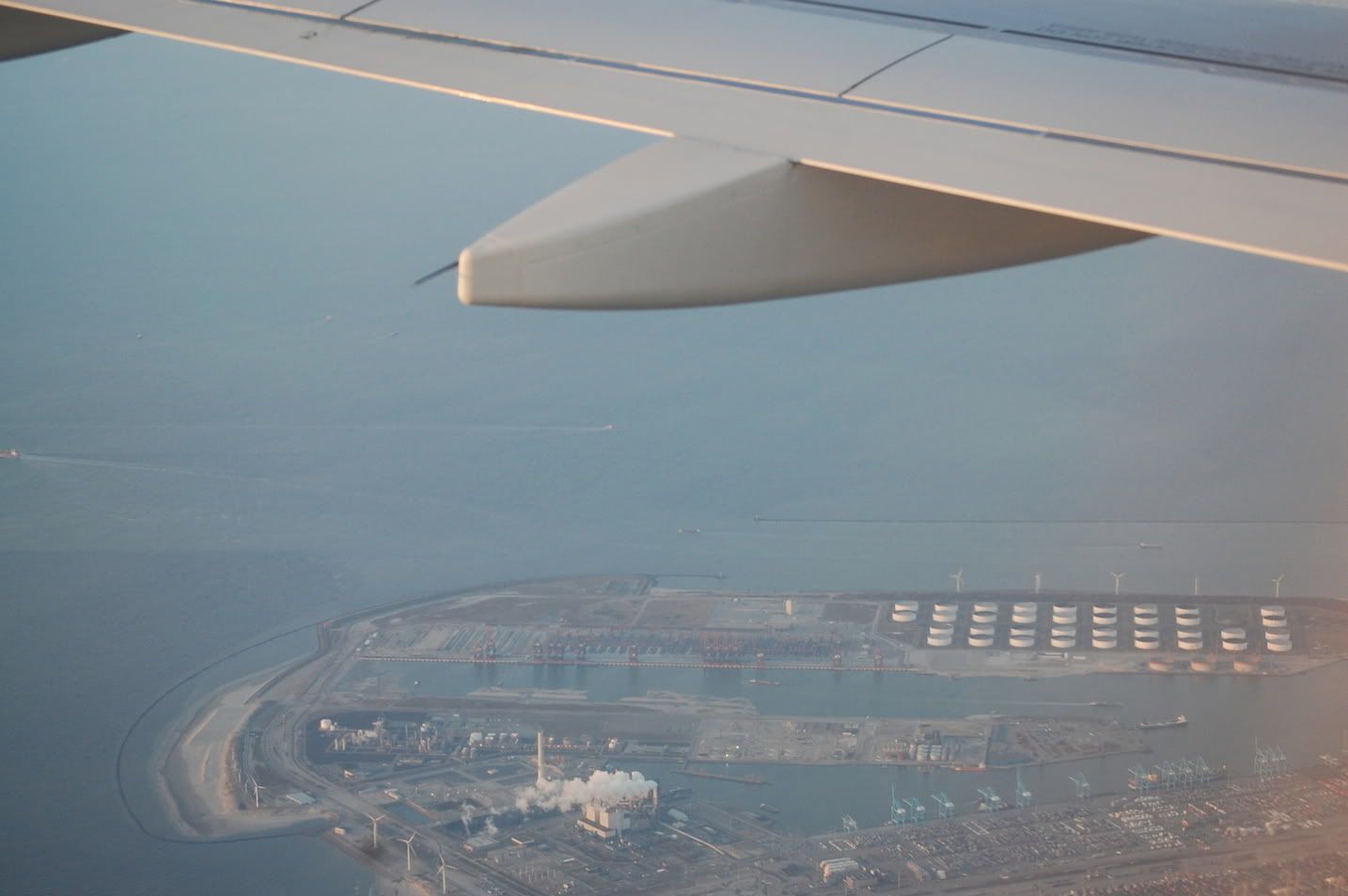 In the lower right corner the Ferry waiting for her departure to Hull, UK.
Main Entrance of the Rotterdam Harbor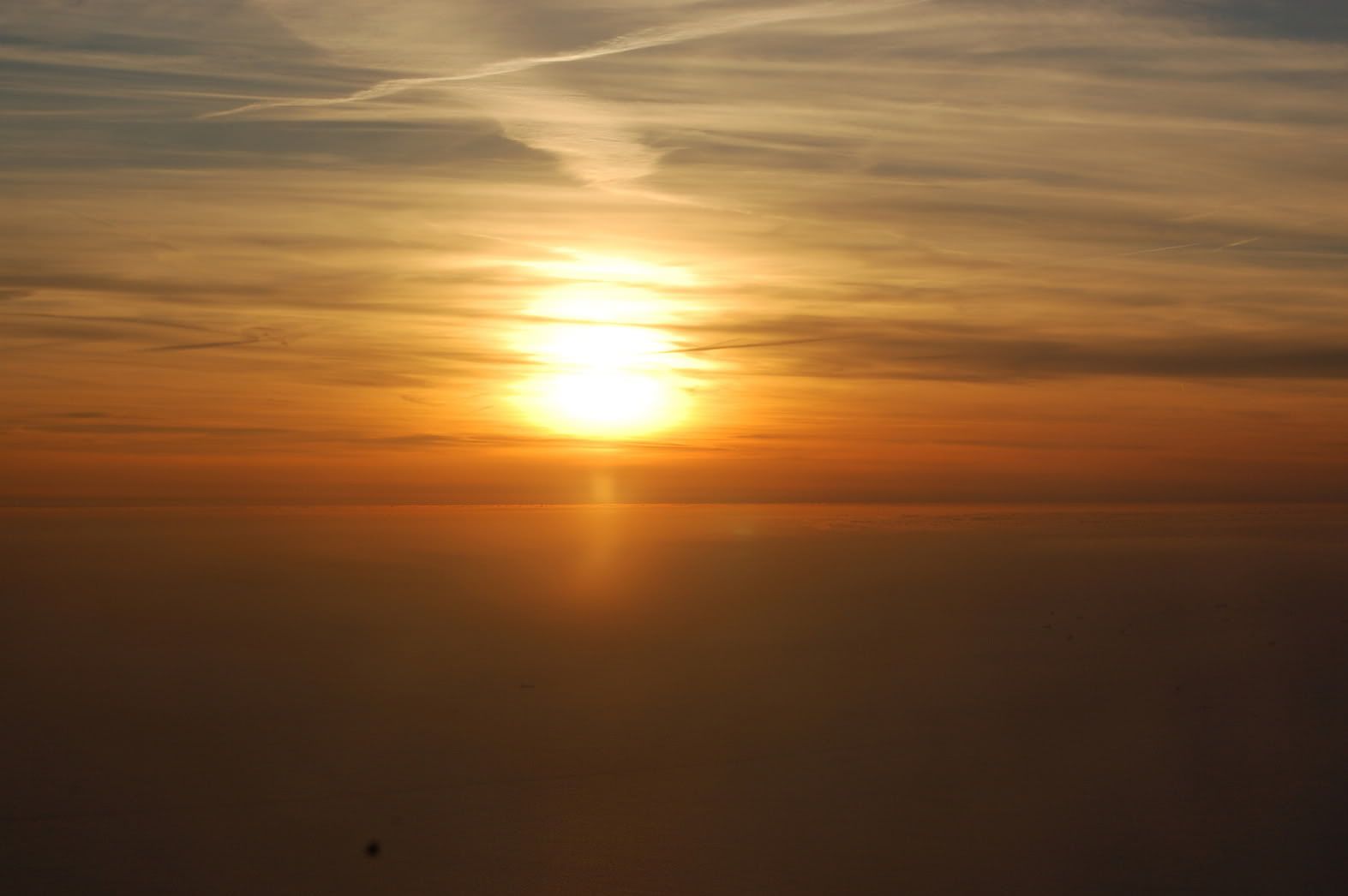 When we started our descent just about over Antwerp, I opened the shade again and could see the coastline of the Netherlands with the entrance of the Rotterdam Harbor, Scheveningen and finally also IJmuiden. Our assigned runway was the 06, which was a almost straight in approach and a short taxi to our arrival gate.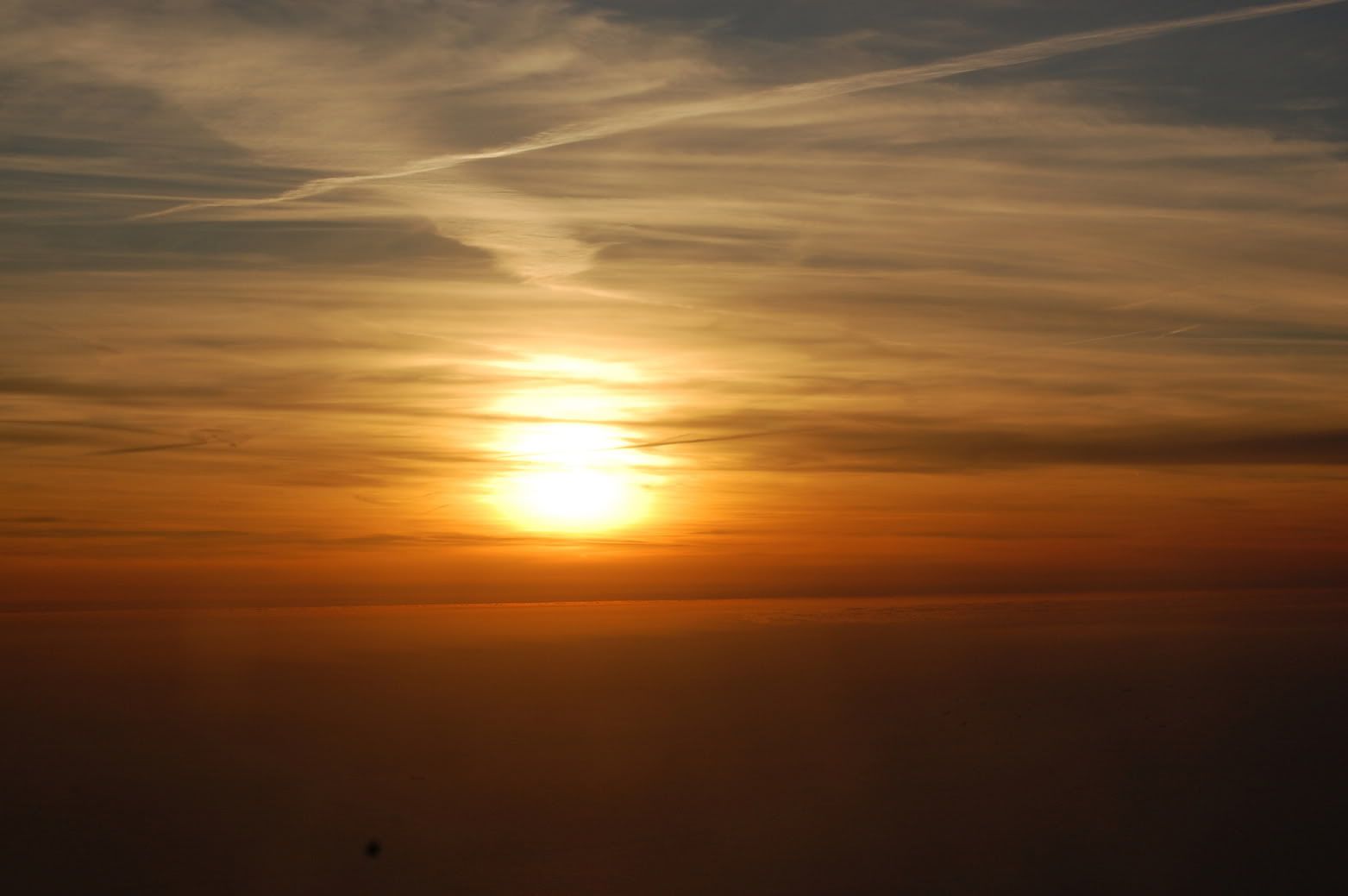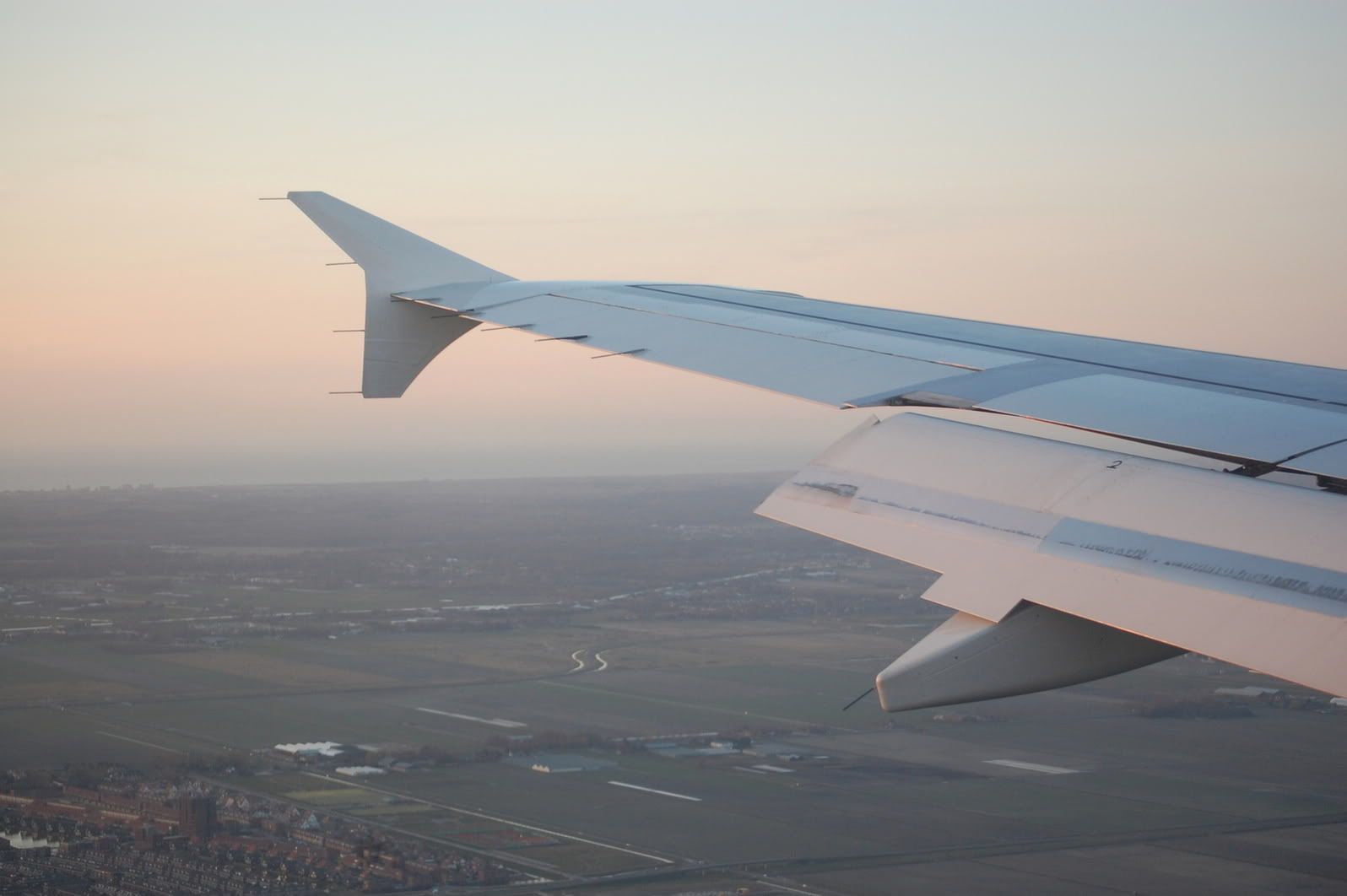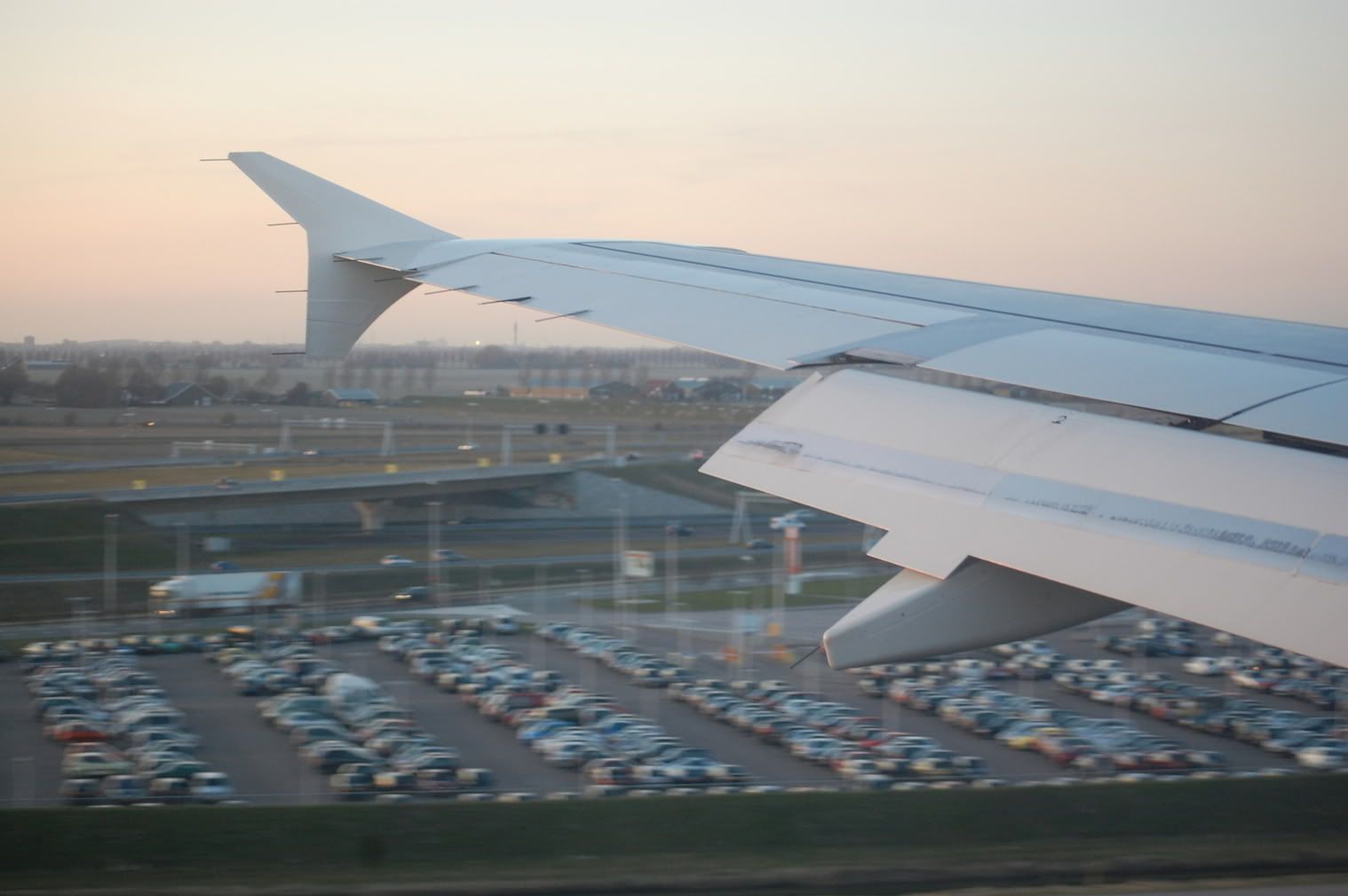 Our landing was a very comfortable one. The breaking started very smoothly, but suddenly we braked really hard. Still don't know why.
Our gate D18 was not ready for us, since we arrived a couple of minutes early, so the airbridge was attached after a couple of minutes.
I grabbed my belongings and walked to the passport control. The were again huge lines with only 2 desks opened. Soon I noticed some people lining up at a closed desk, as they were just about to open this desk.
So finally it took me under 3 minutes to pass the control, where otherwise I would have been left waiting for like 30 minutes or so.
Then back to the car, and I drove off home again!
Well, this is about it for now. It is just another simple AMS-ZRH-AMS story, but I thought why not sharing it with you.
Please feel free to share your thoughts and comments. Sorry for the black spot on all pics, there was some dust on the mirror of my camera
Thank you for reading!
Joost (D-ALCE)