Hey!, this is my return trip home from florida, heres a link to the outbound trip report in case you havnt seen it.
http://www.airliners.net/aviation-fo...ums/trip_reports/read.main/144511/
Like the last one, this one has photos taken by my cellphone, so the quality isnt that great..but you will get the point.
Wednesday, March 18,2009:
FLL-PHL
flight: US716
aircraft: 737-400 (N450UW)
seat: 20F
View Large
View Medium


Photo © Joseph K Wagner
http://flightaware.com/live/flight/A...6/history/20090318/1812Z/KFLL/KPHL
We drove through pouring rain most of the way to FLL from Boca Raton, it began to let up as we got onto 595 from the turnpike. It was the first day in a very long time that south florida had any good rain, it had been very dry. I got to the airport at around noon. The US ticket counter didnt look very busy this time of day; I quickly checked my bag, paid my 15$ and headed for security. That whole process took less than 10min. It was maybe another 5min to get through security, very easy. I walked down to my departure gate, E9.
I sat down by the window, where i had a decent view of the runway and taxiways.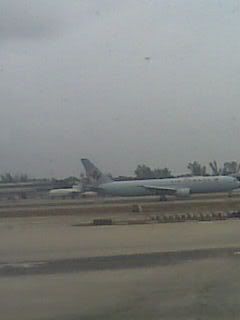 That was my first time ever seeing an AC 763 in FLL.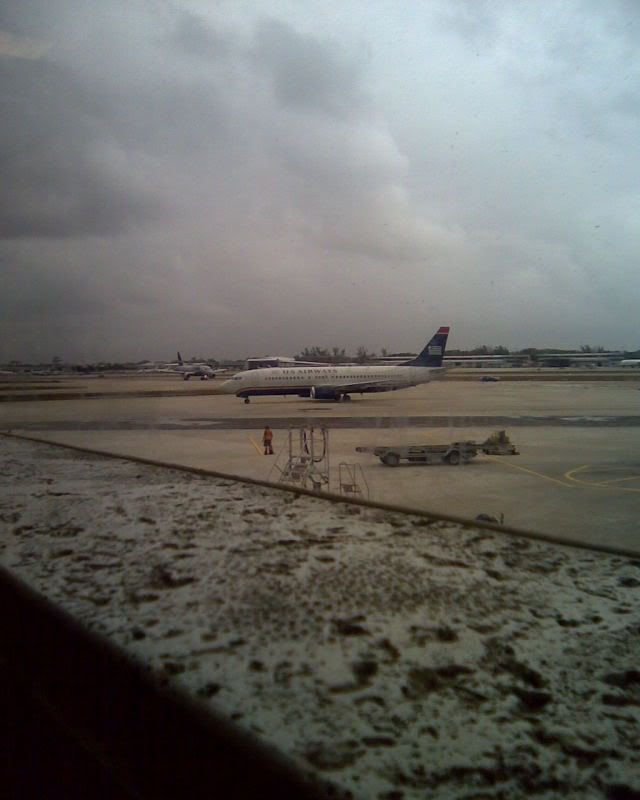 My ride to PHL pulling up to the gate after landing.
Boarding started at around 1330, I boarded with zone 2: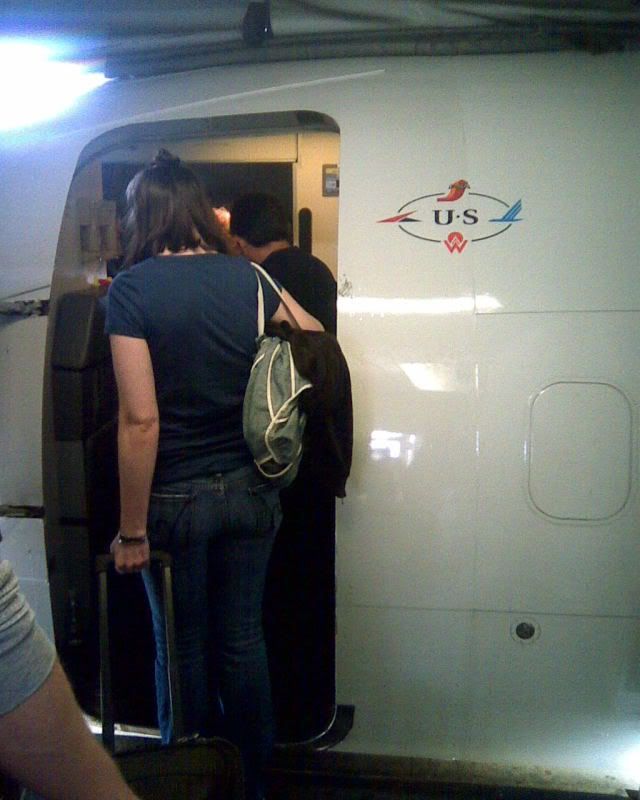 Once i settled in my seat, 20F: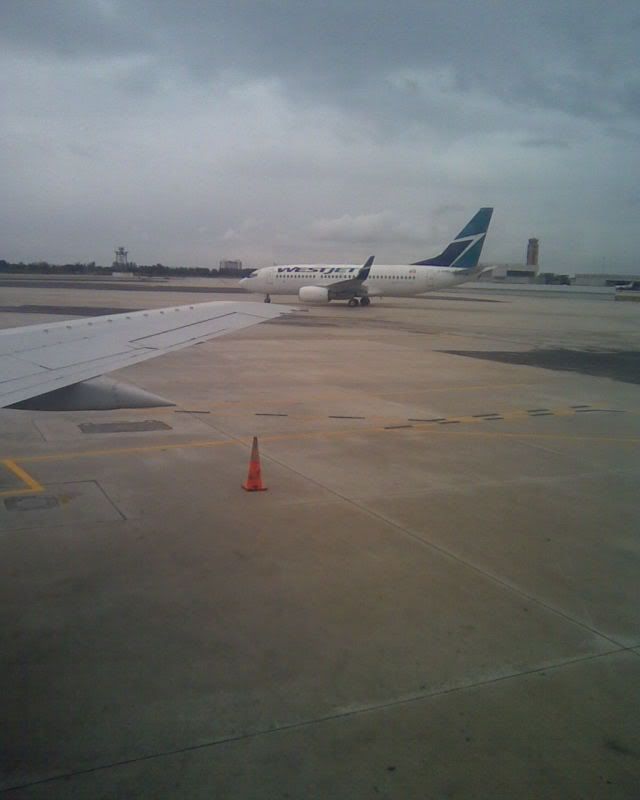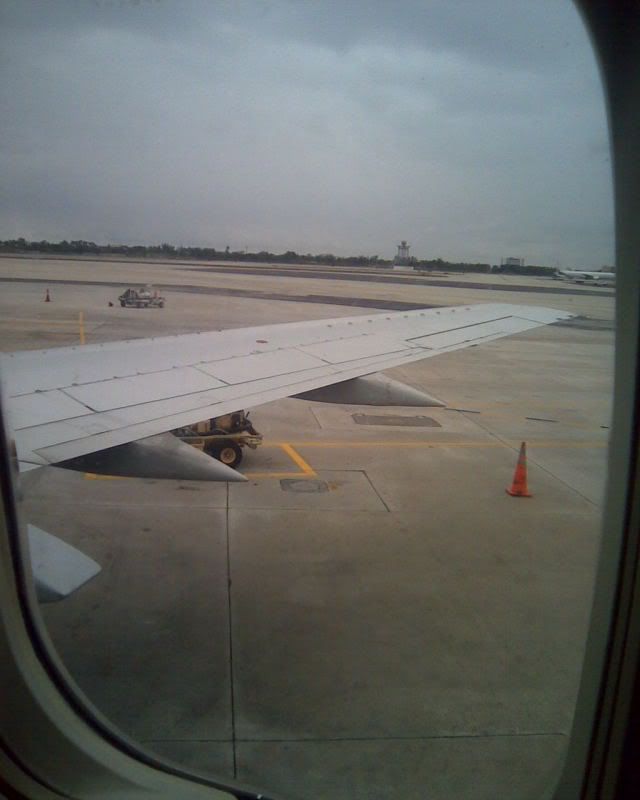 The flight was completely full, i watched as more and more people filled in: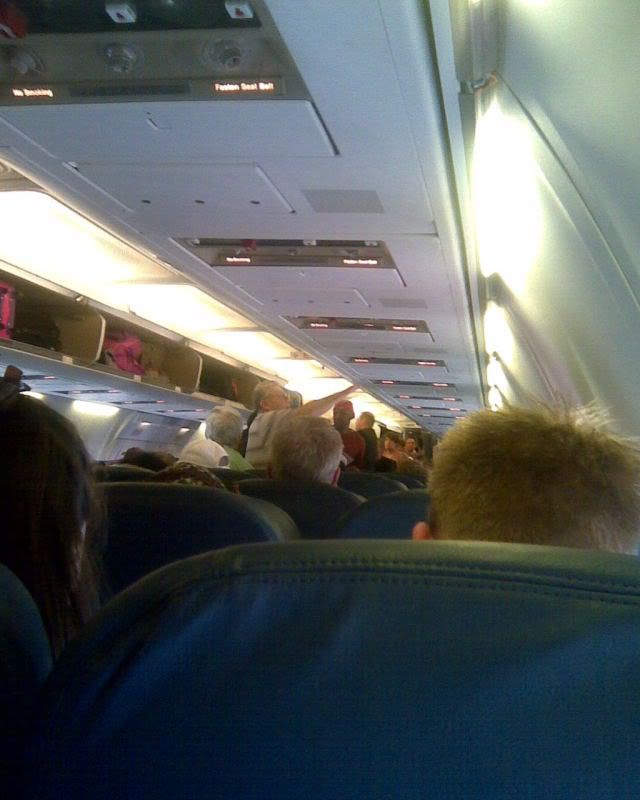 Just finishing pushback as a nice looking CO 739 taxies by:
Engine start, and starting our taxi: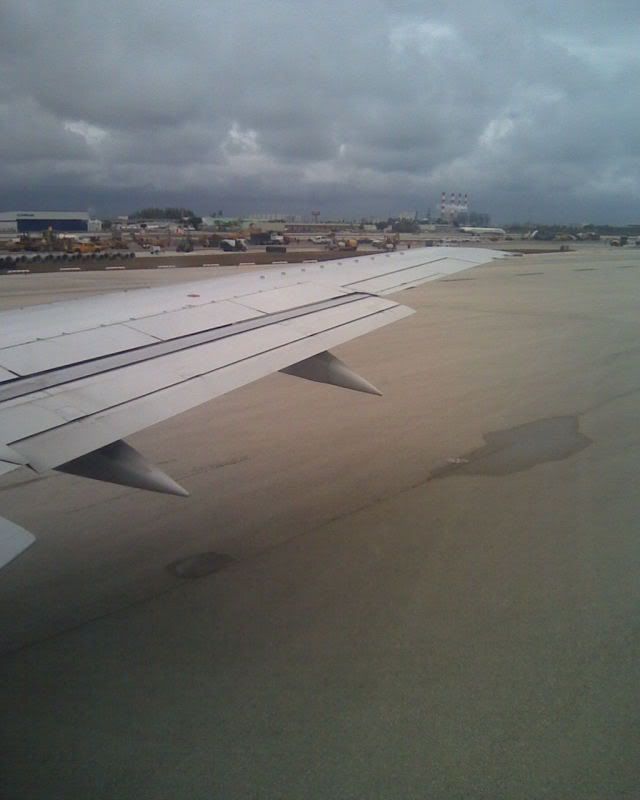 Going to rwy 9L for takeoff:
Lining up on 9L with the tower visible:
Takeoff was powerful and loud. This is why i love clasic 737s. Also you can see that AC 767 and a few other planes parked at their gates:
Climb out was fast and steep, we were quickly over the ocean, and the next several minutes got bumpy as we headed into the clouds: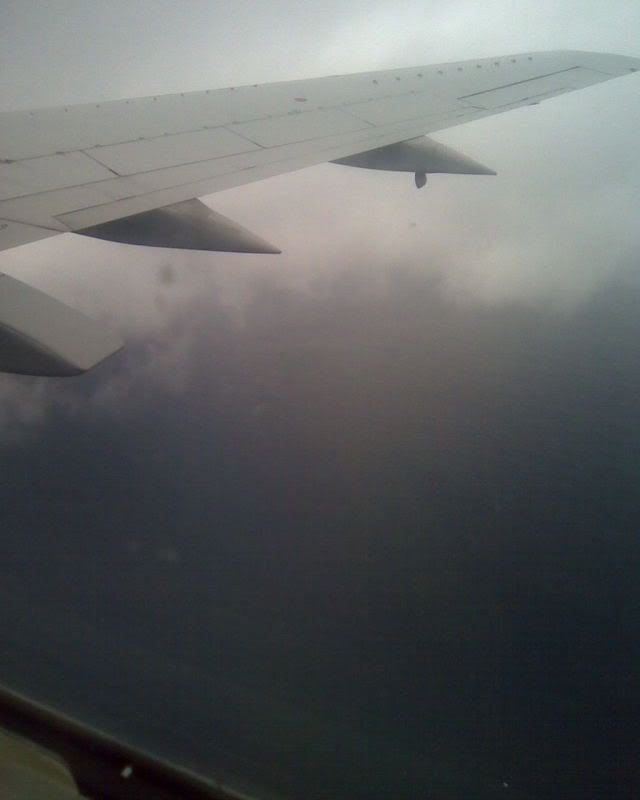 The turbulence did not let up after we broke through the clouds as we banked left and right a few times to avoid even rougher air. These pics just give the general idea, but there really were some magnificent cloud formations up there: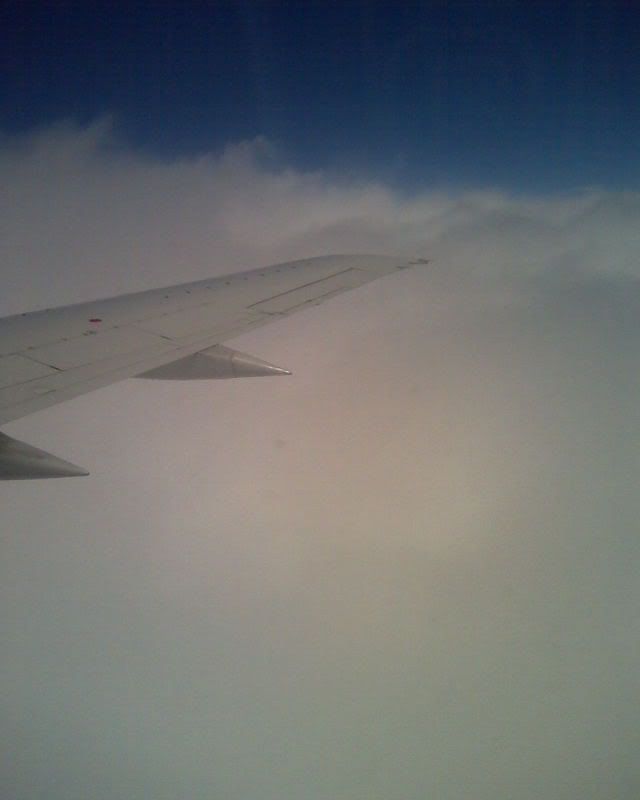 A little while later, we leveled off in some smoother air. The cabin crew began the free beverage service. I ordered the cran/apple juice. From then on out, the flight was mostly smooth and uneventful.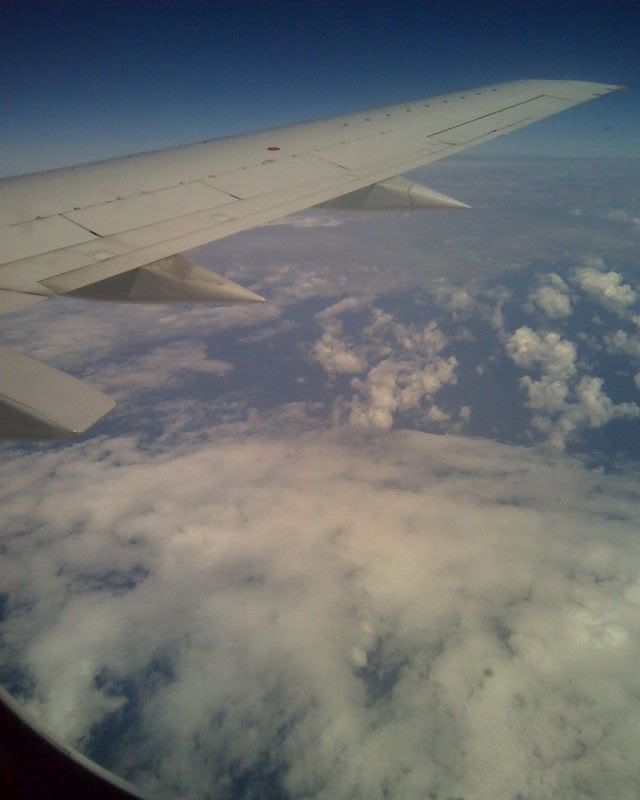 I got bored of watching the girl sitting next to me get beat badly by the computer in games of chess with her laptop; so i decided to take more pics. Mostly some views of the Outer Banks of North Carolina, coastal Virginia, Maryland, Delaware, and parts of New Jersey before landing in PHL:
I took this pic for two reasons. First, theres an airport that i could not identify; second, it looks like a giant paw print made into some lakes. This was over eastern North Carolina.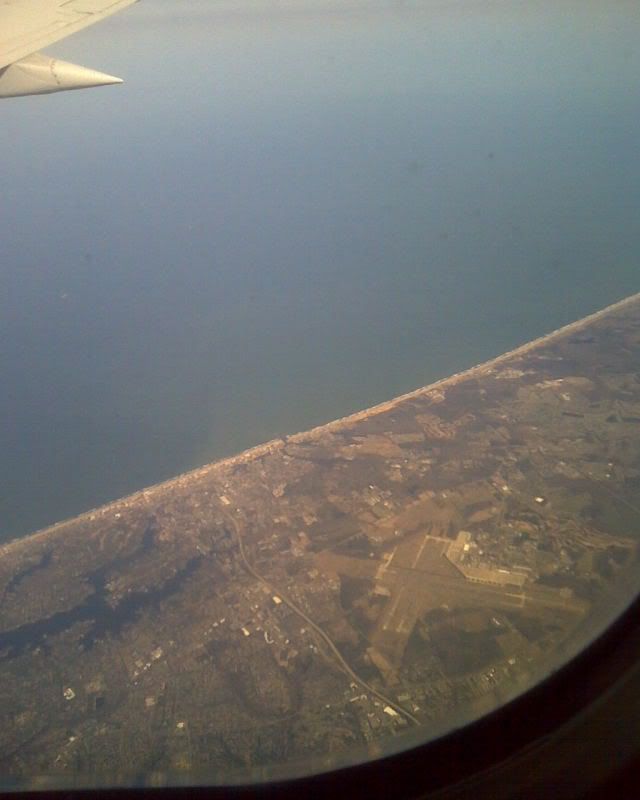 starting our decent into PHL:
After making several sharp turns to avoid the heavy traffic around philly, we came in for landing. Might be hard to see but theres the football stadium, and way off in the distance is downtown Philadelphia.
A view of 27R as we are on final for 27L: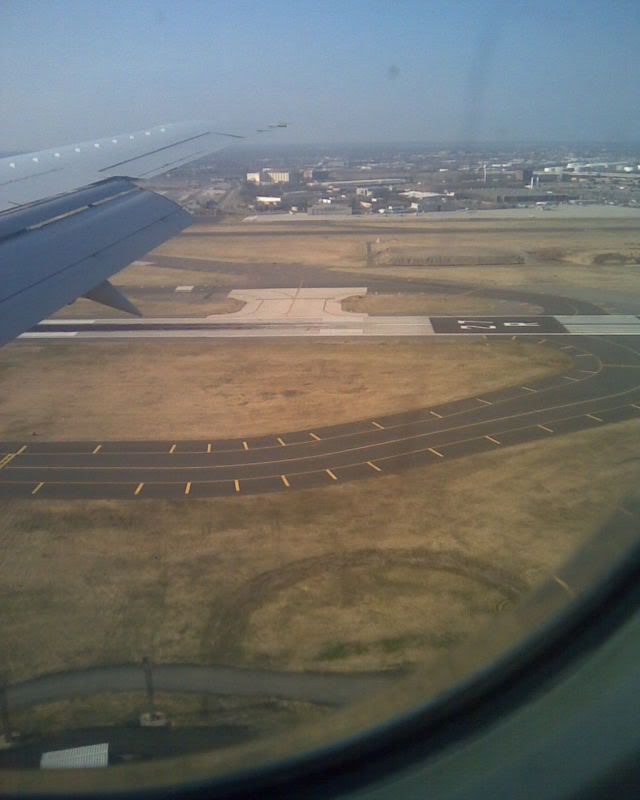 Touchdown in PHL: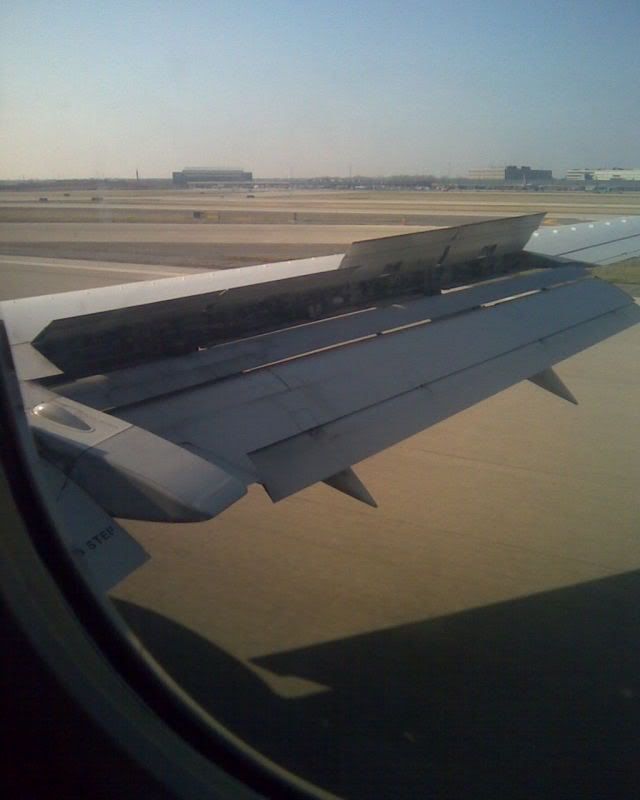 After landing, we taxied all the way down to the west side of the airport, passed the de-icing pads, then turned back towards the terminals. Ive never been this way after landing in PHL, its kind of far, but we taxied quickly: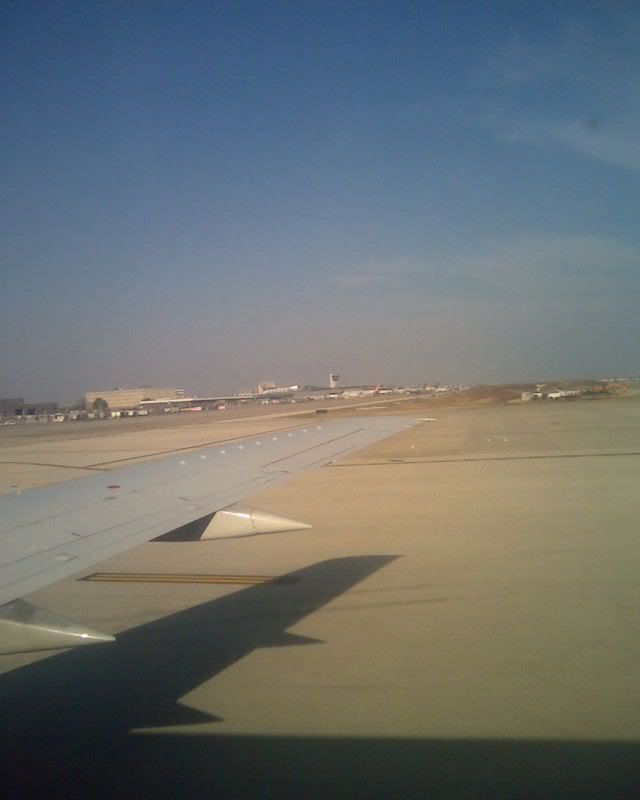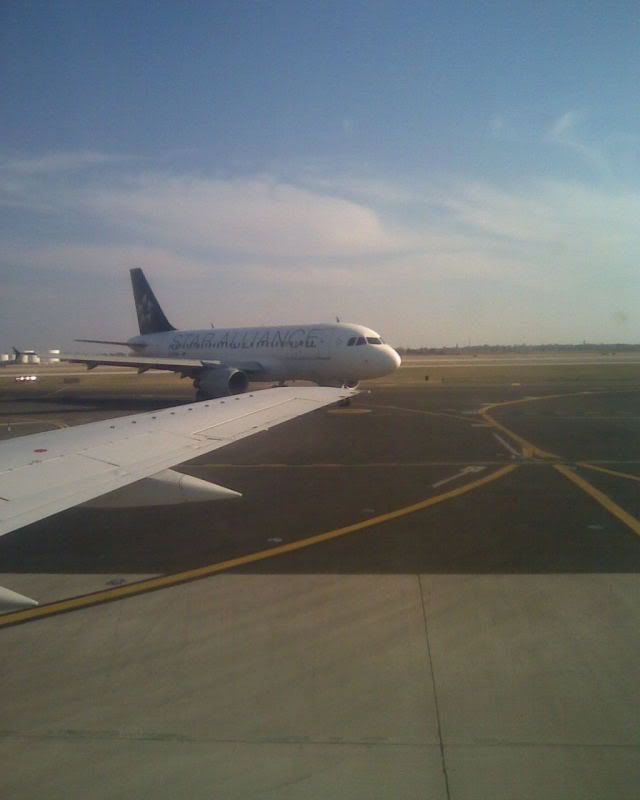 Parking at the gate at the end of a good flight, next to an E190 and an A320 :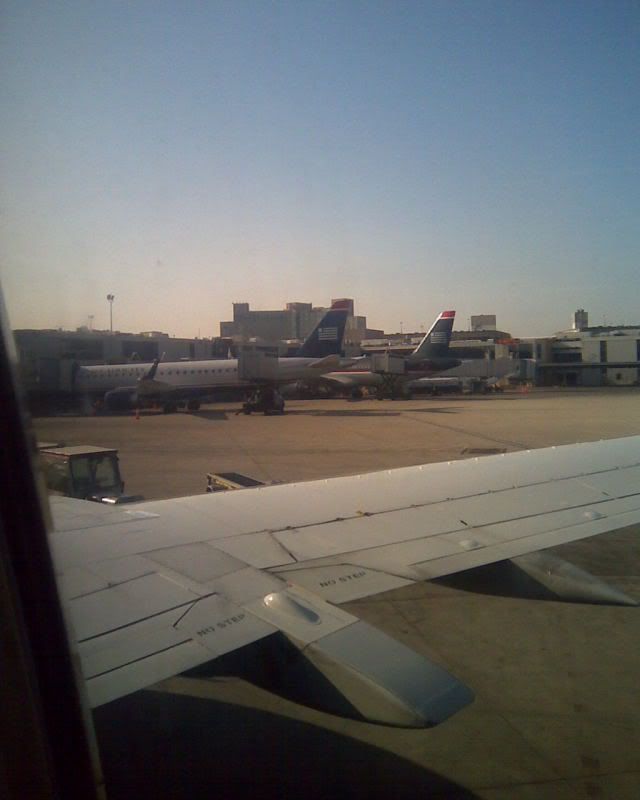 I felt hungry after getting off the plane, so i walked up out of C terminal to the Chick fil-A located between B and C. I got my food and sat down in a rocking chair in front of a large window looking out to the apron.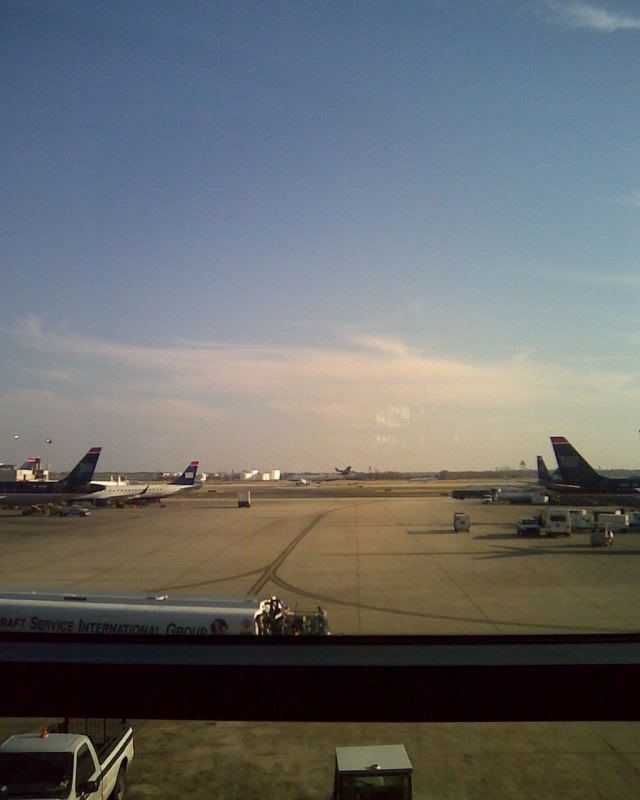 An E190 at its gate, taken from the moving walkway as i was walking back to my gate:
Back in terminal C, a nice tail&winglet: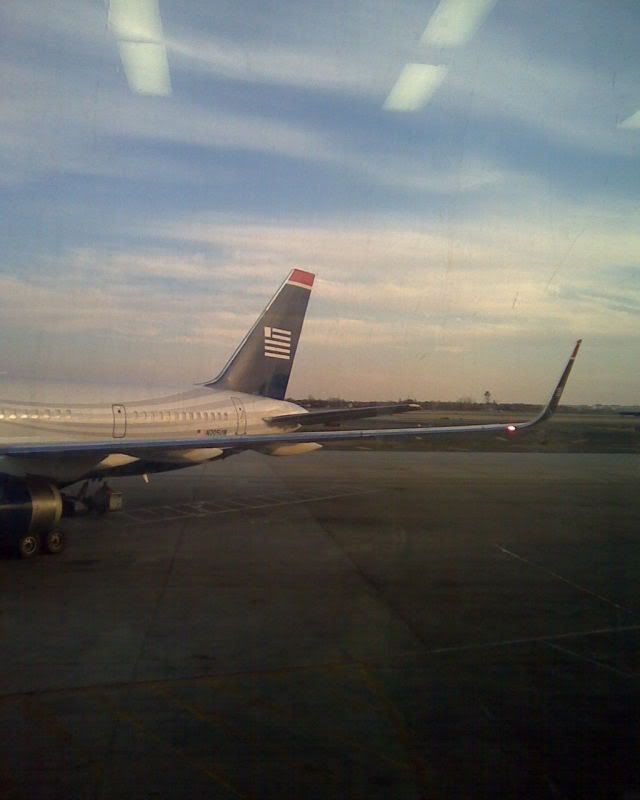 Due to how gate C28 is situated, you cannot see very much of the plane thats parked there, but here is the nose of the E190 that I will fly on to BWI. One thing that i dislike about PHL is how some of the gates are set up, having to walk down one level to get to the jetway, C28 was not one of those.
PHL-BWI
Flight: US1569
aircraft: E-190 (N948UW)
seat: 16A
View Large
View Medium


Photo © Dan Vincent - New England Airports
http://flightaware.com/live/flight/A...9/history/20090318/2315Z/KPHL/KBWI
I boarded with zone 2 again:
The interior was very nice, and fresh looking. The seats were comfy too. This was my 2nd E190 flight and i really like them, i plan to keep flying on them whenever i can.
Just after getting to my seat, an E175 taxies past, with PHL tower:
Pushing back on time, PHL tower: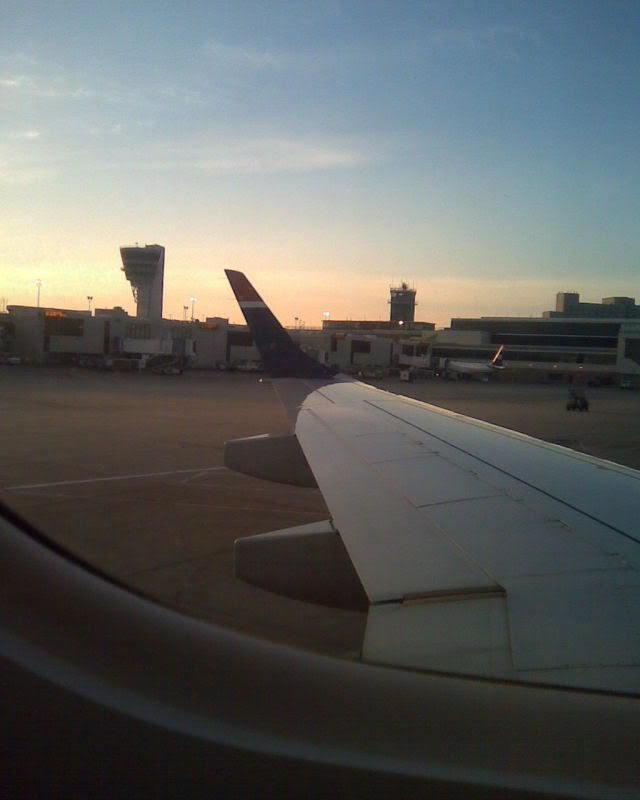 The captain informed everyone that we would be waiting behind about 20 planes for departure. Slight delay, but we would end up getting into BWI right on schedule.... A 25min flight blocked as 1hour...schedule padding ..Typical PHL evening rush.. good times: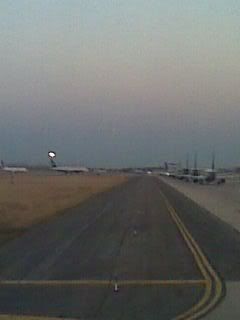 after that, it got too dark for anymore pics. I still took some, but they turned out far worse than any of these. We took off into the dusk sky of off 27L. Then slight bank left towards Maryland. Soon after that, i began to see more lights and we flew right next to downtown Baltimore. It was a spectacular sight that i wish i could share, but not with a crappy cellphone camera.
We made a sharp left turn over my hometown Columbia,MD. I could see my high school, roads i recognized, and the neighborhood i live in. We then came in over BWI's employee parking lot, then flared in a nice nose-high E190 fashion and landed on rwy10 at BWI. No reverse thrust was used, just very heavy wheel braking. We turned off the runway and taxied to our gate at D24. I went down to baggage claim and got my fully intact suitcase, which arrived on the belt after only a few minutes waiting.
Another great trip completed with US. Very fun flying with them. Its been a long time since i was in PHL, despite all the trash talk about it, PHL is an awesome airport. US has been making improvement after improvement. If you havnt flown US in a long time because of one bad experience you had years ago, give them another try now, they have made quite a turn around. True, there is always room for more improvement, but that also goes for all the airlines.
Again, apologies for the quality of some of the pics. Thanks for reading. Hope you enjoyed. Leave comments. Fly US.
The End