The A380 - Really a Step Forward for Economy Class Passengers?
London - Dubai - Doha on Emirates
View Large
View Medium


Photo © Kim Vanvik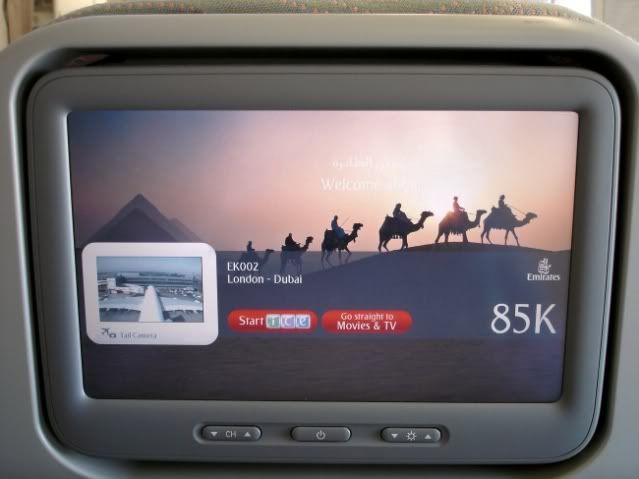 Intro
My latest trip report series starts with a review of the Economy Class product on
Emirates'
flagship, the
Airbus A380
. I will also try to answer the question whether the A380 is really a step forward in terms of comfort for Economy Class passengers. In addition, you'll also get an impression of the carrier's offerings on the short Dubai-Doha sector (operated by Airbus A330-200).
The return flights on
Emirates Boeing 777s
and the connecting flights on
British Airways, bmi
and
Aer Lingus
will be featured in separate reports.
Background
More than a year after the A380 entered commercial service it was time to consider all available options for getting a ride on the giant. Originally I had planned to fly on the A380 between Sydney and Auckland as part of a trip to Australia, but it won't be certain for a while when I'll be able to go Down Under again. Then in late December I noticed a Skywards special: Round trips between Europe and the Gulf were offered for only 36,000 miles instead of 40,000 miles - 10 percent off. I still had some 37,500 miles left, due to expire by the end of 2009. So I checked the available flight options and found out that it would be possible to go to Bahrain, Doha, Dubai, Muscat or Kuwait for only 36,000 miles - a flight on the A380 included. After considering all the different visa requirements, flying and connecting options as well as accommodation costs it was clear that Doha would be the most attractive destination for a short trip.
First of all, I booked a round trip LHR-DXB-DOH-DXB-LHR by using my Skywards miles, including EK002 on the A380. Taxes were only some 70 Euro, btw. EK001 - which would be a longer flight - wasn't available for my particular amount of miles. Now I needed to book connecting flights to and from LHR as well as hotels close to LHR. I decided to travel to LHR on the day before the A380 flight in order to minimize the risk of missing it. I also decided to go home one day after my return to LHR because EK003 wouldn't arrive earlier than 18:15 in the evening. So at first I added a MUC-LHR flight on British Airways. Apart from being quite boring, going back to MUC from LHR on either BA or LH turned out to be quite expensive. So I decided to fly LHR-DUB on bmi and DUB-MUC on Aer Lingus - the fares weren't bad and both carriers would be new ones for me.
Monday, 16 March 2009
London (LHR) - Dubai (DXB)
Emirates, EK002
13:43-00:23 (13:45-00:30)
Flying time: 06:16 (hrs)

Airbus A380-861
A6-EDB (MSN 013), delivered in 10/2008
Economy Class, Seat 85K
Quick Check-in
I had airport view from my room at the
Jurys Inn Hotel
, so I spent a few hours with spotting before leaving for Terminal 3 shortly after 11:00 in the morning. While waiting at the Hatton Cross bus station I could watch EK001 on approach to runway 27L - a perfect on-time arrival. After only waiting for a few minutes in queue I was asked to proceed to the First Class counter. The lady didn't grant me an upgrade, but she was very friendly, nevertheless.  
"Oh, you are coming back in two days already"
, she said. I confirmed and told her about my intention to fly on the A380. She quickly handed out my boarding passes and wished me a pleasant flight on the bird. I had reserved seat 85K on the A380, located in one of the last few rows. According to the lady, the flight would be full.
"The early afternoon flight is usually quite full"
, she explained.
Giant at the Gate
Passing security was only a matter of a few minutes and soon I arrived at gate G7 where the giant jet was being prepared for its journey back home to Dubai.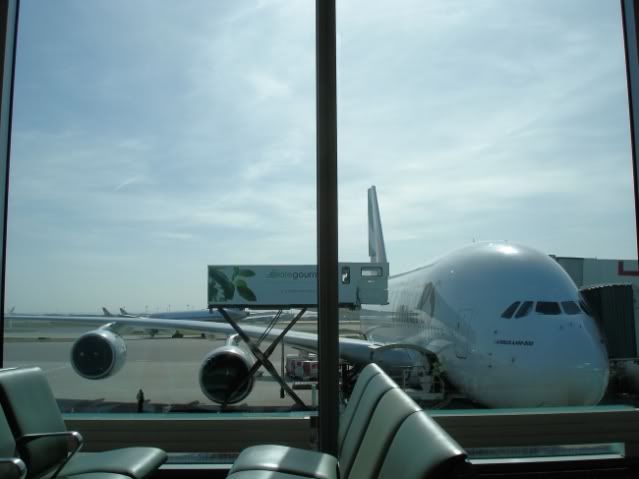 The plane was Emirates' second A380,
A6-EDB
, completed in March 2008 and delivered in October. Many passengers, no matter if old or young, took pictures of the bird - which wasn't easy because the window front was facing the sun.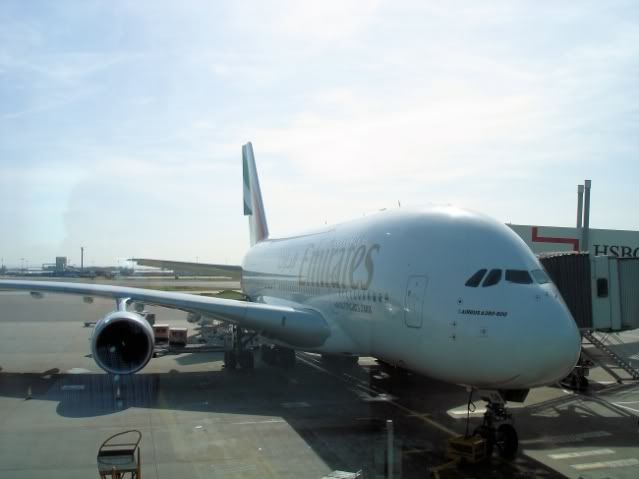 No doubt, the plane is an impressing sight - but the nose section in particular can't be called exceptionally beautiful...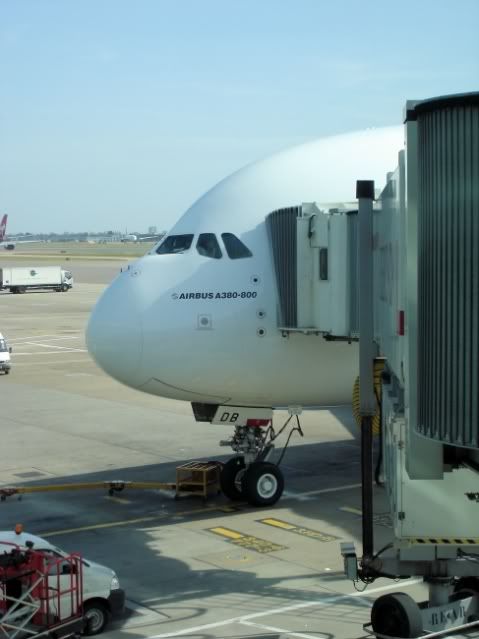 Cabin Comfort
Boarding by zones was started about 45 minutes prior to departure. Seat 85K in the rear cabin belongs to zone F so I immediately hit the road. A very friendly flight attendant welcomed me aboard and even addressed me by my name - never experienced that before in Economy Class.  
Warm colors are dominating in the Y Class cabin:
The 18 inch wide recliner seats are quite hard cushioned and - believe it or not - my seat in particular was even creaking when I sat down. Don't blame my weight - that hasn't happened anytime before, at least not on such a young plane.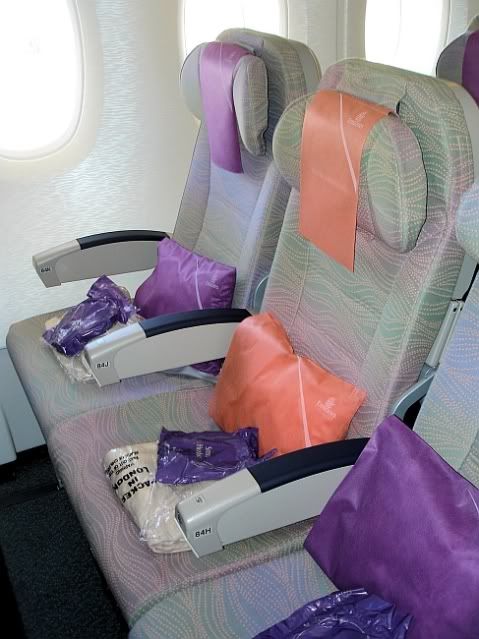 Btw - the outward curved fuselage on the main deck prevents you from leaning against the wall, something which may be missed, particularly on long flights. The windows seem to be very large - but it's rather the window frames which make the windows appear larger. And the distance between the outer and the inner glass panels is quite large which makes it difficult to take clear pictures in certain situations.
Large 10.6-inch touch screen, integrated handset, double-foldable table, cupholder with auto-leveling feature, laptop power supply, USB port, coat hook - what else do you need on a seat back?
Seat pitch (between 32 and 33 inches) is quite generous: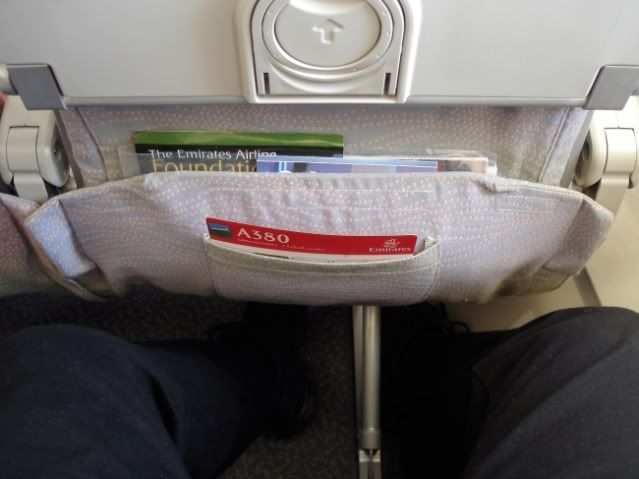 That's what can be called technical progress: the IFE box has become slim and tiny:
On-time Departure
Parked next to us was the relatively new Boeing 777-300ER A6-ECN - which blocked the view of a Singapore Airlines A380.
The captain announced that the flying time to Dubai would be six hours and seven minutes today. According to him, we would first cruise at an altitude of 39,000 feet and later climb to 41,000 feet. One of the four massive GP7270 engines under a massive wing:
After boarding was completed the flight attendants distributed hot towels - and it was time to stretch out, the middle seat would remain empty. Later in the flight I found out that the front and middle Economy Class sections were packed - in contrast to the rear section where numerous seats remained empty. Two minutes prior to the scheduled departure time
A6-EDB
was being pushed back: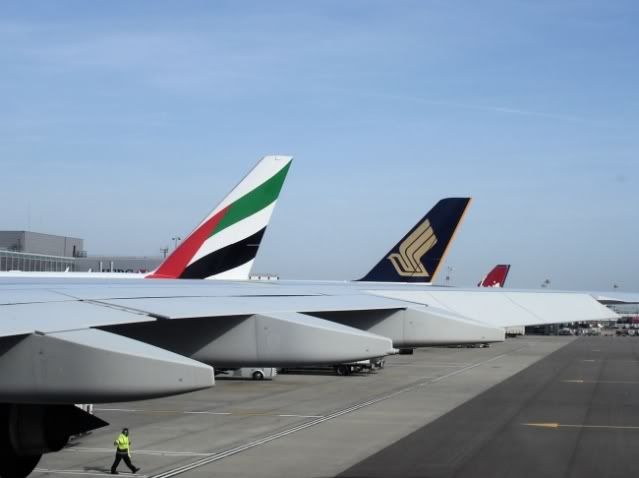 Engine start-up followed immediately - and it was a really quiet start-up. I switched to the tail camera which I would rate as one of the most enjoyable features on EK's A380.
Slow right turn: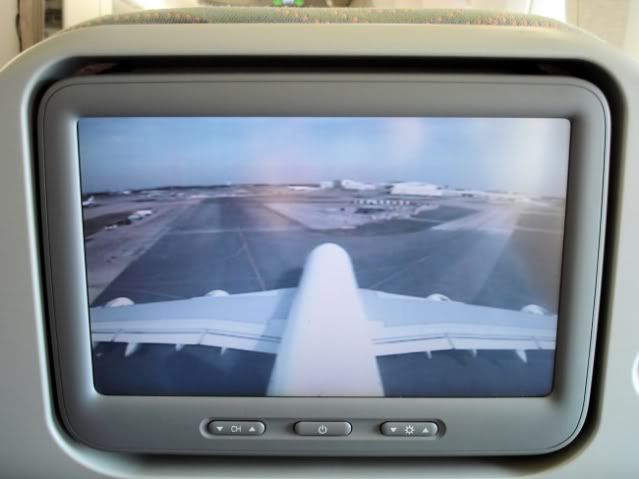 Quiet Take-off
Immediately after rolling onto runway 27L the engines started howling - or better said - they started "running faster" and quickly accelerated the giant aircraft. It was just amazing how quiet these engines were during take-off.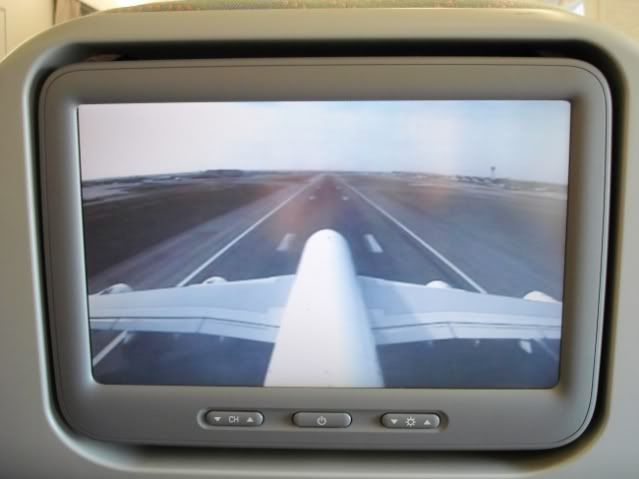 A6-EDB
rolled down the runway almost without rattling and shaking and smoothly lifted off. How small these 747s appear nowadays...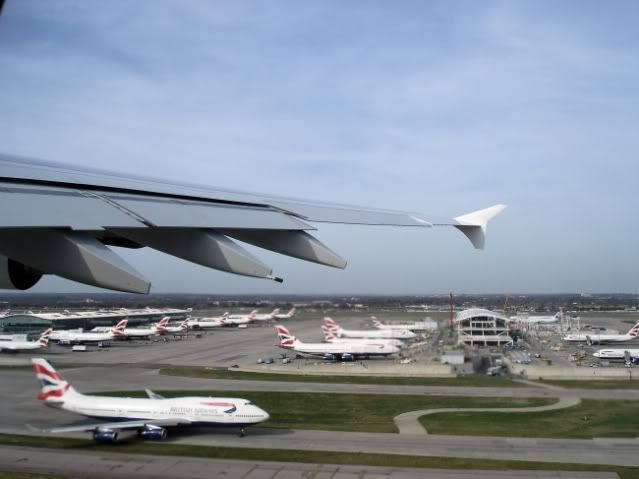 BA tails all over the place...
...would be fantastic if all those tails were still painted in different colors.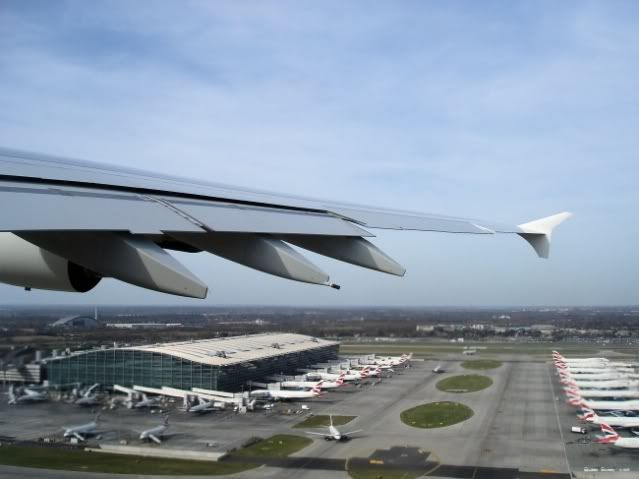 Shortly after lift-off
A6-EDB
turned left - which looked quite spectacular on the screen:
In-flight Entertainment
Emirates'
ice
in-flight entertainment system
(i = information, c = communication, e = entertainment)
has become famous since its introduction a few years ago, but the success hasn't stopped the airline from introducing an even more advanced version on the A380 and the newer 777s. It's called
ice Digital Widescreen
and offers a choice of more than 1000 channels of entertainment.
"A wider choice of entertainment on a wider screen"
is how Emirates describes it on its website. The new
ice Navigator
interface helps to click through the countless options easily and quickly - you don't need to go back to the main menu any more. You can also go straight to the desired movie or feature by simply entering the channel number (which can be found in the 70 pages strong entertainment guide). Main menu: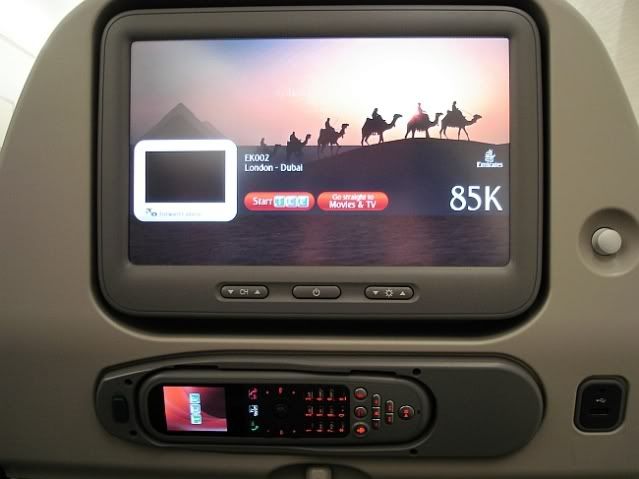 The high-quality handset also features a full qwerty keyboard on the other side, very helpful for sending SMS or emails.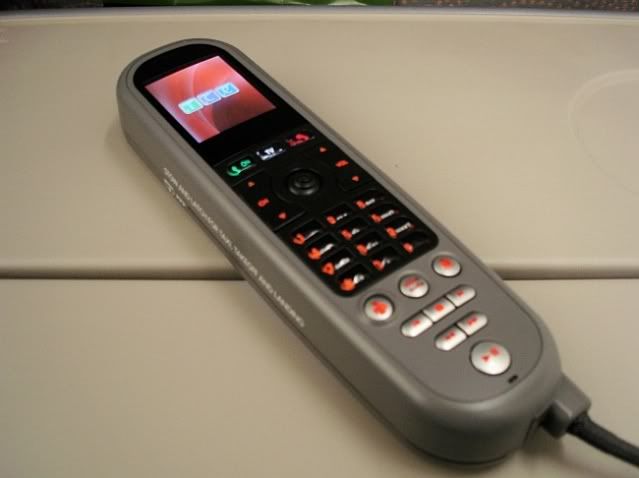 The AVOD system offers a huge selection of entertainment options - actually not easy to count. These are the highlights:


- More than 200 movies, available in many different languages

- Hundreds of TV features (comedy, sports, drama, kids' programs, etc.)

- Nearly 10,000 music tracks on hundreds of albums (playlist builder)

- Hundreds of radio channels (podcasts, operas, etc.)

- More than 100 video games (including new games and all the classic ones)

- Advanced airshow (moving map with 3D aircraft model, external camera views)

- Regularly updated news

- Duty Free shopping

- Information about Emirates, Skywards, Dubai etc.

- SMS & Email

- Option to plug in a digital camera for viewing images

ice Digital Widescreen
is easy to operate and I didn't notice any problems. Btw - the one and only feature exclusively available on the A380 is the tail camera view.
Snack
Forty minutes after take-off tasty biscuits and drinks were served. Of course you get ginger ale on Emirates - but I don't like these tiny cans.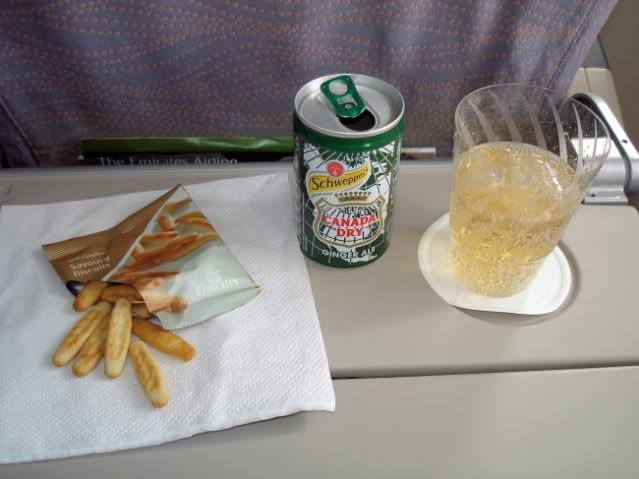 Rear Cabin Views
Now it was time for a first round of cabin pictures - I decided to start in the rear section. The outward curved wall is clearly visible here: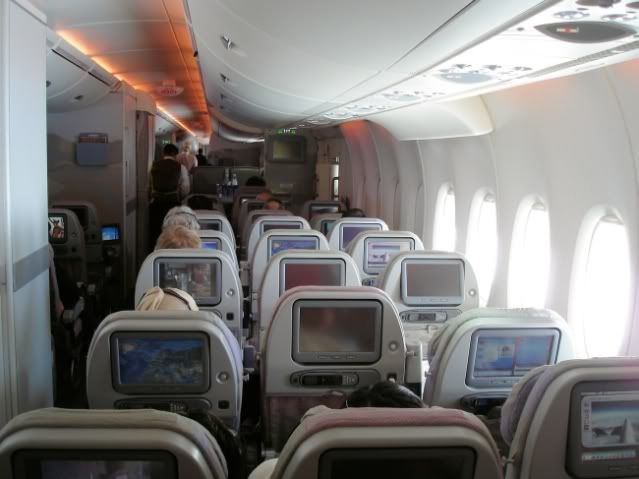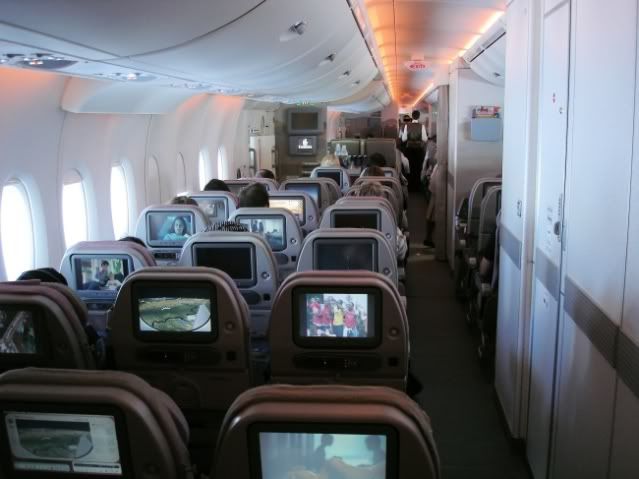 The location of the crew rest compartment in the middle of the cabin is not bad from a passenger's point of view - it helps to feel more private in the nearby window rows.
Spiral staircase: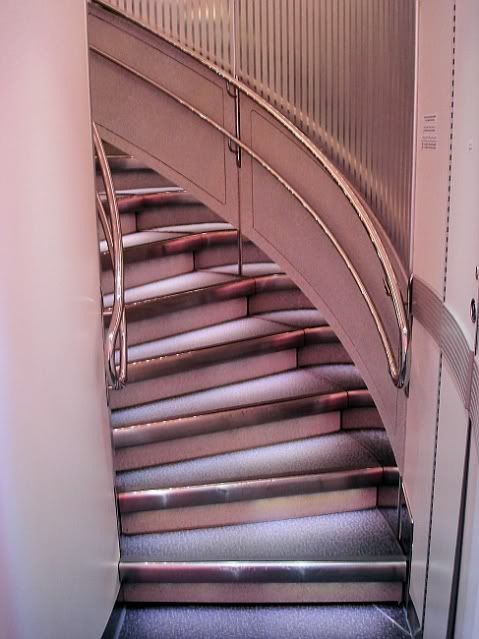 It was a bit disappointing to see that the lavatories haven't become larger - but I liked the wood paneling (also fitted in the lavatories on EK's newer 777s).
Lunch
The flight attendants started to serve "lunch" almost 1,5 hours after take-off - quite late in the afternoon, but one has to consider that a pre-landing snack is not served on that flight. Menu cards had already been distributed shortly after take-off: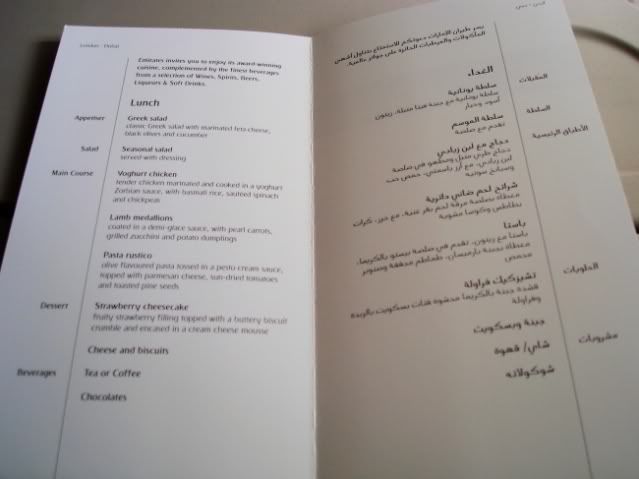 Appetizer
Classic Greek salad with marinated feta cheese, black olives and cucumber plus a seasonal salad with dressing
Main Course
- Yogurt chicken: tender chicken marinated and cooked in a yoghurt Zorbian sauce, with basmati rice, sautéed spinach and chickpeas
- Lamb medaillons coated in a demi-glace sauce, with pearl carrots, grilled zucchini and potato dumplings
- Pasta rustico: olive flavoured pasta tossed in a pesto cream sauce, topped with parmesan cheese, sun-dried tomatoes and toasted pine seeds
Dessert
Strawberry cheesecake - fruity strawberry filling topped with a buttery biscuit crumble and encased in a cream cheese mousse
I decided to order the lamb, but that choice was already gone. However, the flight attendant promised to check whether a portion was left in the galley. She returned a few minutes later and didn't have good news. Then I ordered the chicken which she had to pick up in the galley. So some more minutes passed until I could finally start eating.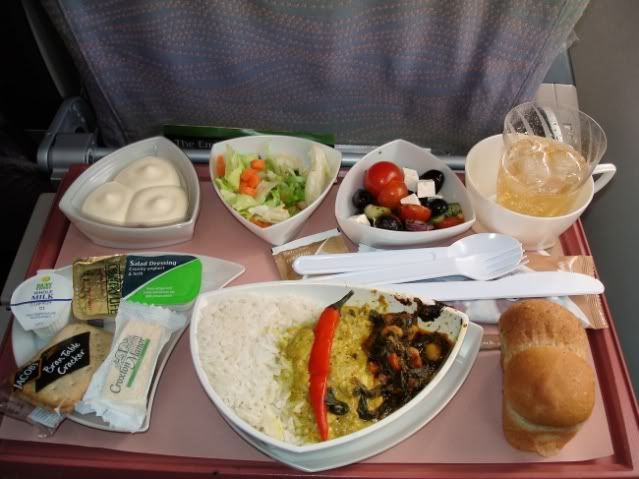 The presentation of the food in general was good as usual on Emirates, but the main course didn't look as attractive as on my former EK flights. However, everything was very tasty - and the portions were really filling. I finished the whole meal and also ate a part of the red chili pepper - which almost burned my mouth!  
  I like to eat hot stuff, but that was too much. There should have been a warning somewhere - because you cannot guess whether it's a mild or very hot one. My favorite was the strawberry cheesecake - it tasted excellent.
Flying into the Night
The sun was slowly disappearing when we were cruising over Romania...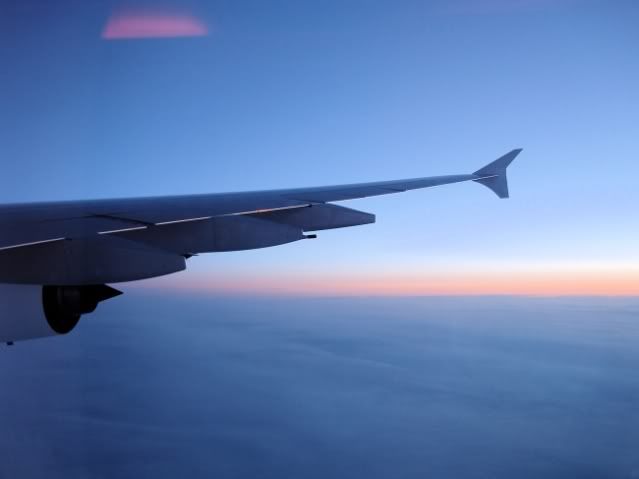 ...and it was time to switch to the tail camera again - what an amazing view!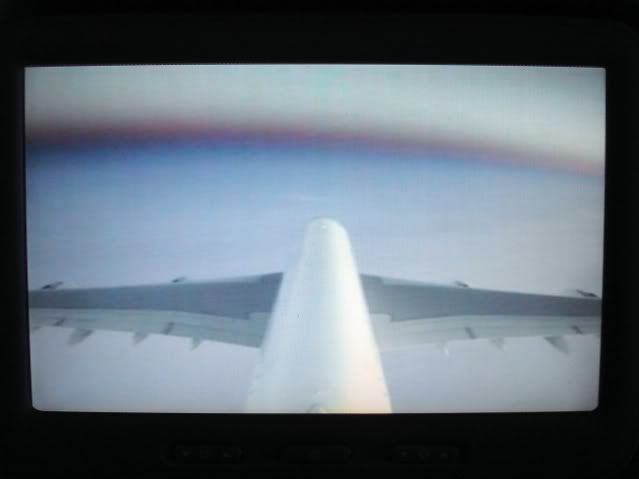 Of course the cabin is equipped with mood lighting: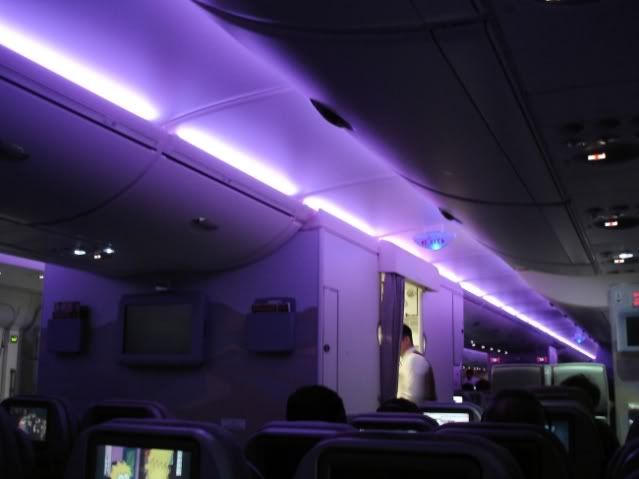 Here's the new style airshow with 3D aircraft model and numerous flight details - including the plane's registration (also available on the newer 777s). What I find annoying is that the airshow is regularly interrupted by Emirates advertising - things haven't changed. So you may sometimes miss interesting places on the ground.
The
ice Navigator
is located on the lower left, news headlines can be found on the very top:
Front Cabin Views
Now it was time for a walk through the whole main deck cabin. The noise level was steadily decreasing on the way - and there wasn't much left once I arrived in the nose section. Lavatory access via stairs: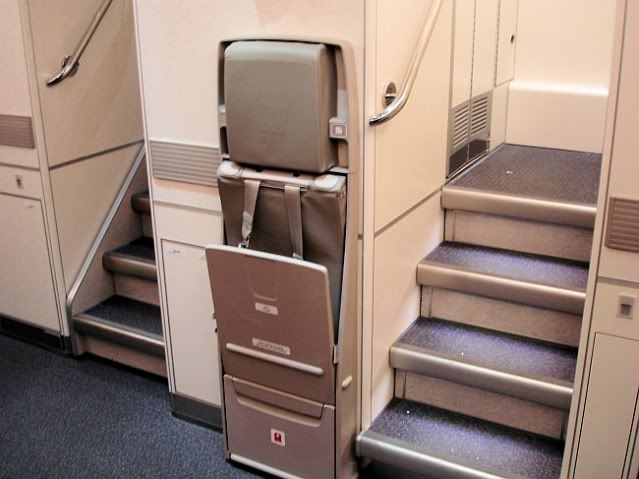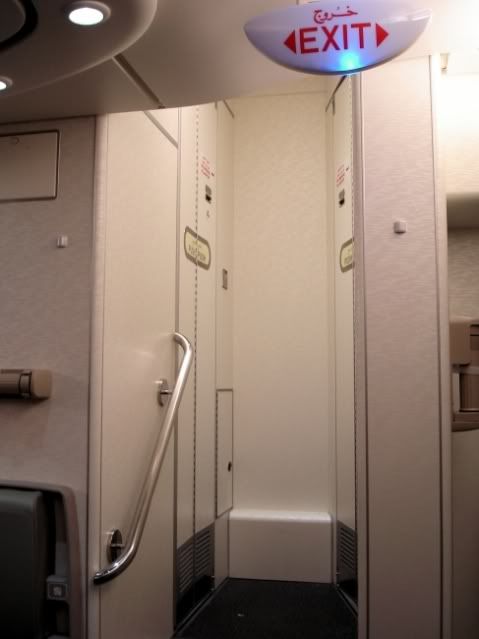 Numerous lights...
...above the main stairway. No access for the cattle class folks...
All you can see is the self-service bar: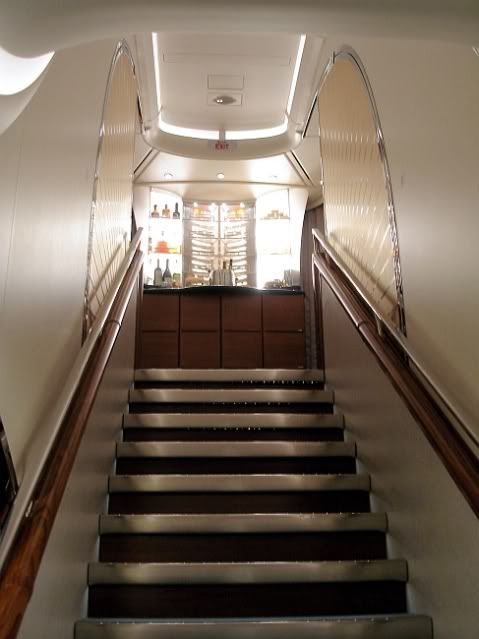 All those who want to turn the heat on need to get an access code first.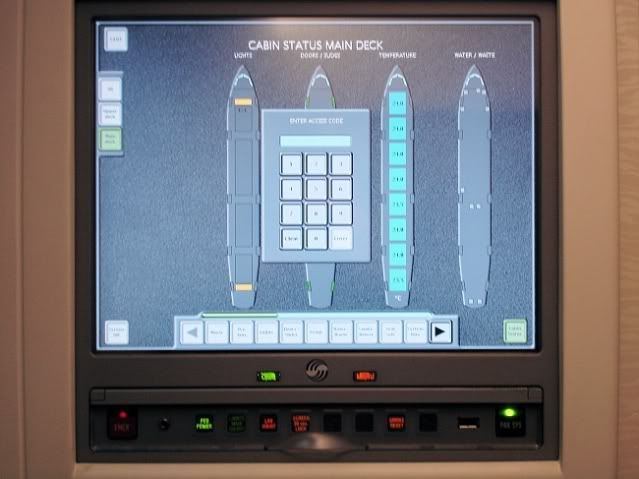 Air Brakes
Time passed quickly thanks to the excellent IFE system. When I switched back to the airshow some 1,5 hours prior to landing we were cruising over Iraq: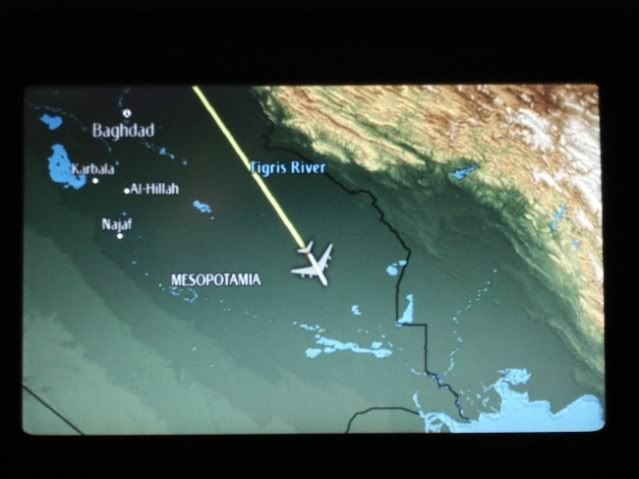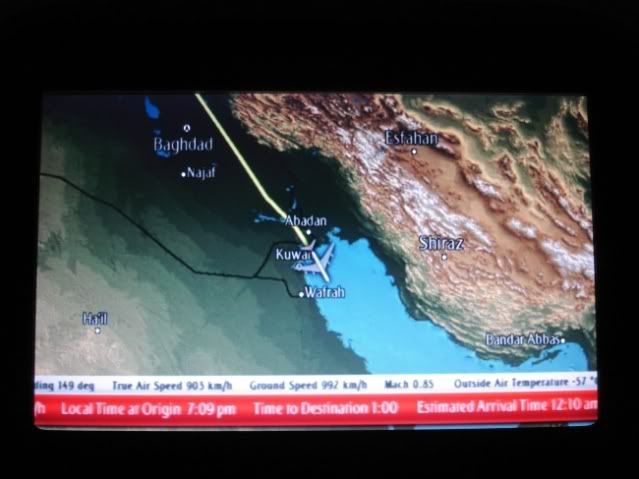 Due to a strong tail wind the speed was steadily increasing...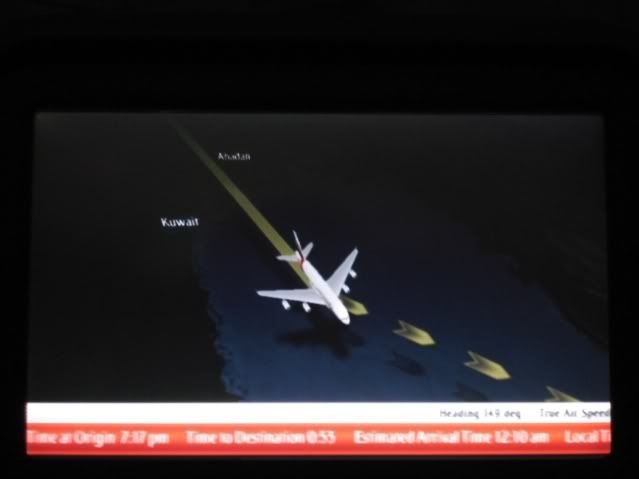 ...and at a certain point of time I noticed a ground speed of 1079 km/h. After the approach to Dubai had been started the air brakes were used for a few moments - and for the first time during the flight the plane was really rattling. Only 23 minutes to go: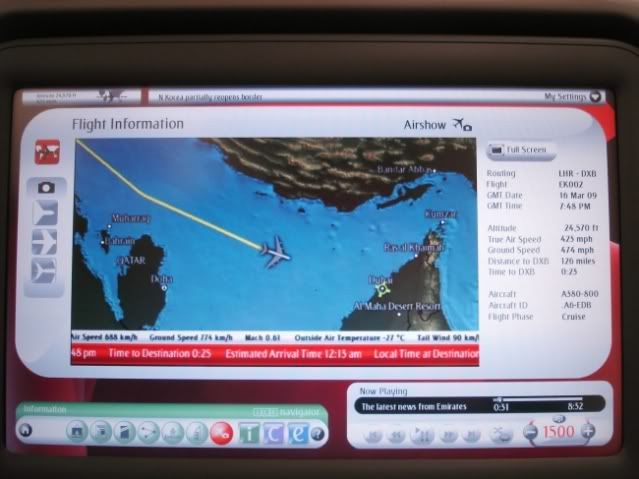 Pink and orange colors were now dominating in the cabin:
Bumpy Landing
After crossing Dubai's coastline it was time again to switch to the tail camera:
Inspired by a smooth take-off and smooth movements in the air I was also expecting a smooth landing - but quite the opposite happened.
A6-EDB
touched the ground hard, jumped up again and downright slammed onto the runway - Airbus test pilots couldn't have done that any better!  
Dubai Airport - Transfer at Terminal 3
Deboarding didn't take much longer than on other large aircraft and I soon set course for the departures level. However, I was stopped by two large queues after a while - some 100 people were waiting in front of two security checkpoints. The queues were growing and growing, but two other security checkpoints remained unused. Funky terminal, but endless queues.  
It seemed to take forever until I could finally pass the checkpoint. You really have to wonder about certain people and all the stuff they carry around as hand luggage...  
Once I arrived at the departures level the situation didn't improve much - masses of transit passengers were moving through the corridors and I had to watch out all the time for bags, elbows and other dangerous stuff in my way...
Tuesday, 17 March 2009
Dubai (DXB) - Doha (DOH)
Emirates, EK847
02:23-02:27 (02:30-02:30)
Flying time: 00:41 (hrs)

Airbus A330-243
A6-EAJ (MSN 451), delivered in 01/2002
Economy Class, Seat 37A
Boarding
After a long walk I arrived at gate 128 and first had a look at the aircraft. The plane scheduled for EK847 was
A6-EAJ
, a three-class Airbus A330-200 delivered in early 2002. Boarding (by zones) was started about 40 minutes prior to departure, but many people didn't care about the announcements. Several people were then told to wait until their zone would be called - others were standing next to the entrance and almost blocking the way for those who wanted to go aboard.  
Cabin Comfort
Before sitting down I took a picture of the seat - and a friendly flight attendant immediately asked me whether he should take a picture of me.  
  Of course I agreed. I still knew these seats from my flight on
A6-EAE
in 2006 - they're simply too hard.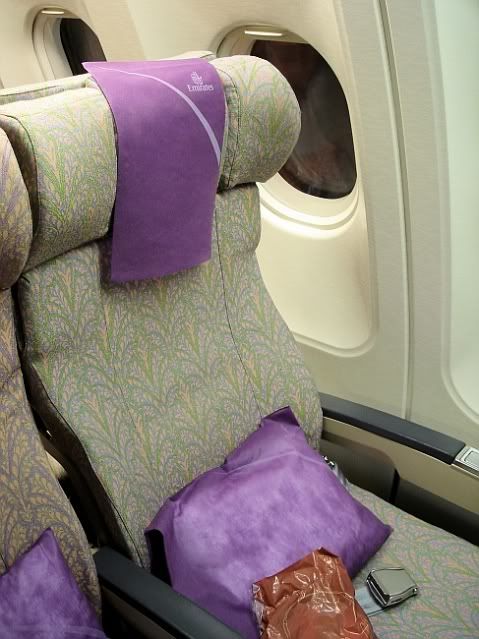 Old style seat back - at least compared to EK's latest models.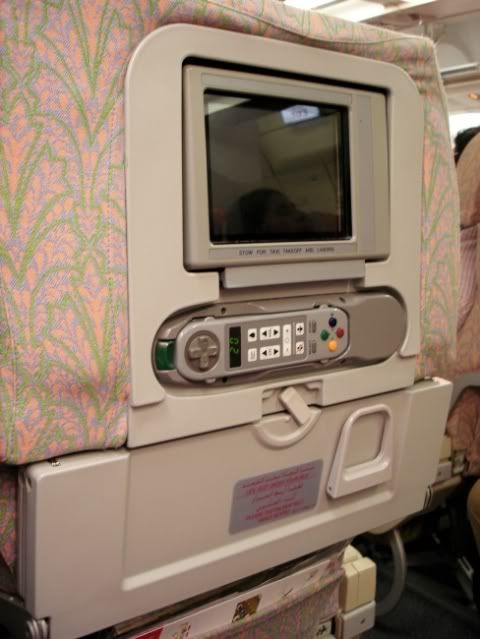 Seat pitch (32 inch) is sufficient, but the large IFE box takes away a lot of space: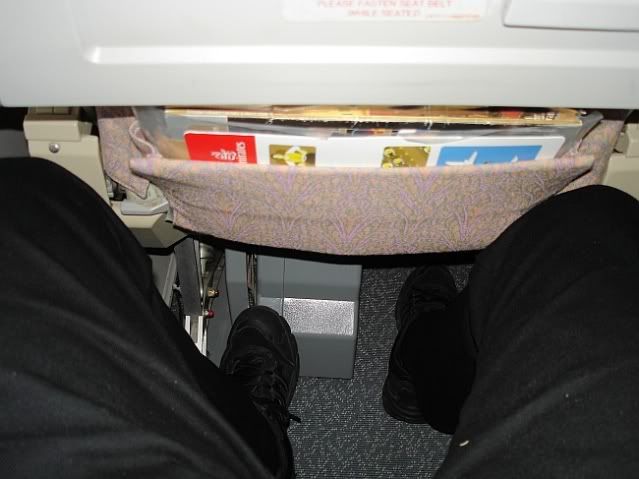 Boarding was completed quickly, the load factor reached just about 50 percent. The captain soon announced that the flying time to Doha would be less than 40 minutes. After hot towels and sealed cups of water were offered the plane was being pushed back early. Exactly 20 minutes later
A6-EAJ
powerfully lifted off into the night sky.
Midnight Snack
As soon as the plane had climbed to its relatively low cruising altitude the flights attendants started serving a snack - and I was surprised to get a tray with beef and ham sandwich, a kind of wrap filled with meat and vegetables as well as a piece of coconut cake.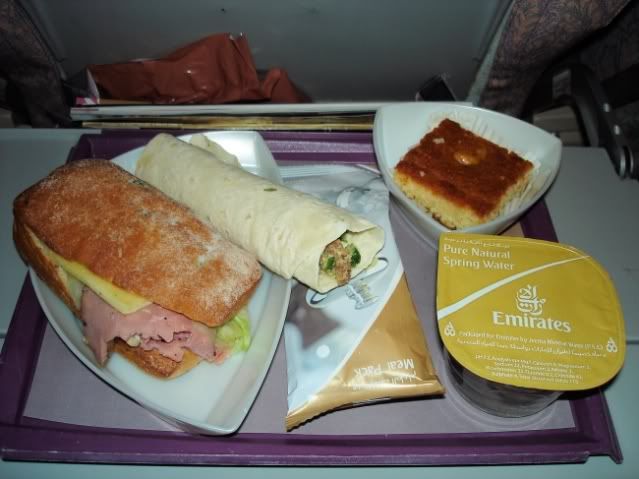 I guess it doesn't happen very often in these days that you get too much food on a plane. The cake was very sweet, but didn't taste bad. In contrast, the wrap was not to my taste at all. I packed the sandwich into my bag and ate it later - and it tasted still good a few hours later. Would be interesting to know how many passengers are actually hungry in the middle of the night. And I guess it must be very stressful for the flight attendants to serve and recollect everything when the plane is full on such a short hop.
In-flight Entertainment
The entertainment system on the A330 is Emirates' oldest, with a choice of 68 different movie & TV options, 26 radio channels and 50 games. You can't do much on a short hop anyway, so most of the time I watched the air show. Only some 25 minutes after take-off the plane was already leaving the cruise altitude again.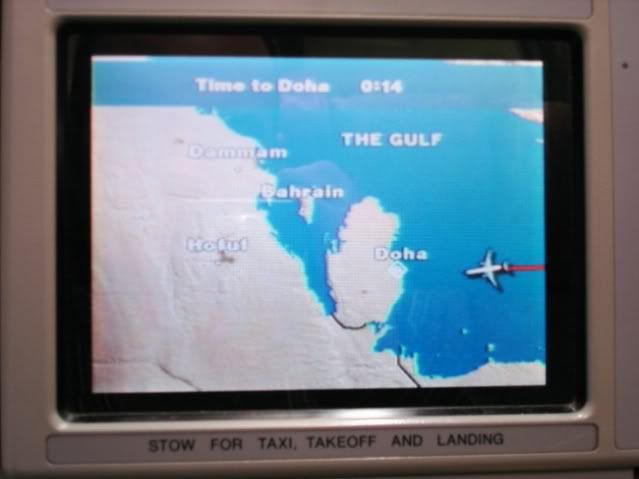 It was time again soon to switch to the front camera: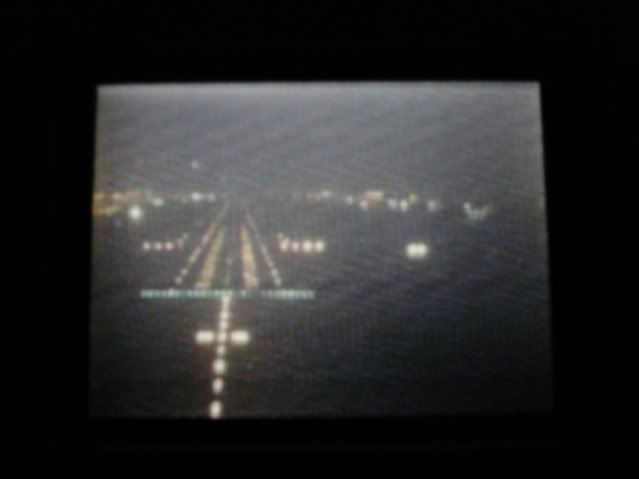 We touched down exactly 41 minutes after take-off and rolled to a parking position next to a Singapore Airlines Cargo Boeing 747-400F. Deboarding was just a matter of a few minutes and a bus took us to the terminal building.
Doha Airport in the Middle of the Night...
Ten minutes later I joined a long queue of passengers waiting in front of the immigration counters. It seems many of them were guest workers, most of them already equipped with visas. It took about 20 minutes until a friendly female officer welcomed me at her counter. She asked for a credit card and issued a tourist visa for 100 riyal (20 Euro). I picked up my luggage, passed customs and walked to the arrivals hall.
The guys at my booked hotel, the Al Mourouj Inn, hadn't been very communicative prior to the trip. After repeatedly asking some questions about the check-in time and mentioning my arrival time via email I had been told the following:
"check-in time accepted as per your mail. your room will be ready on arrival."
So I hoped the hotel would send the free shuttle to pick me up - but they didn't. Then I tried to change money, but the counters were closed. I found that quite strange because numerous flights arrive in the middle of the night. Telephones could be used with calling cards only, so I called the hotel by using my mobile phone. Now I was told that the shuttle wouldn't be available at this point of time and that I should take a taxi.  
I mentioned the fact that I wouldn't be able to get any Qatari money, but the receptionist simply said it wouldn't be a problem for taking a taxi to the hotel...a guy responsible for allocating people to the taxis said exactly the same, but 20 minutes later in front of the hotel the driver asked for Euro or US dollar. I'm not sure whether he wasn't able to or didn't want to understand my offer to change money first at the hotel. The meter showed 29 riyal (= 6 Euro), but he asked for 8 Euro. I wanted to give him a 5 Euro bill plus a few coins, but he shook his head:
"No change!"
Great. So I finally handed out a 10 Euro bill so that I would finally be able to leave the taxi and get some sleep...story to be continued.
Conclusion
Flying on the
A380
was an exciting experience - mostly because it is partly completely different from other aircraft in terms of size, sounds and movements. It's amazing how quiet it is in the cabin during take-off and cruise - but the question is whether that's such a big advantage in every respect. I know that numerous people prefer a quiet cabin, but personally I don't mind about the noise level on aircraft such as the Boeing 777. Dozens of people sitting in close vicinity produce a variety of sounds, by talking, laughing or snoring (just to name a few) - and the lower the noise level of the plane is, the more you get to hear - which is not desirable in my opinion.
As for the smooth take-off and smooth movements - nice, but not revolutionary different from other large widebodies. And additional space is not necessarily available to passengers sitting in Economy Class. If you compare seat width and seat pitch on certain websites you'll notice that the A380s currently in service aren't really outstanding. I flew back on one of EK's 77Ws which are equipped with slightly narrower seats - and I didn't feel much more cramped. The technical gimmicks such as advanced IFE and mood lighting are also available on other aircraft. In Emirates' case you get the same IFE and the same type of seats on both the A380 and the newer 777s. Yes - it's a pleasure to fly on the A380 for a number of reasons, especially as an enthusiast, but for Economy Class passengers in particular the introduction of the A380 itself is not a step forward in terms of comfort - IF you don't mind about the noise issue, of course.
Emirates'
Economy Class product in general can still be rated as superb. Ground staff and most flight attendants were friendly and motivated, the cabins were clean and the
ice
IFE is excellent. It was a bit disappointing that my preferred meal choice was already gone on EK002, but the quality of the food in general is outstanding. Portions are more than sufficient (especially on short hops), food presentation is great in most cases. Seating comfort is not bad - pitch is actually very good - but the seats are too hard. Nevertheless, Emirates' Economy Class product still belongs to the best on the market. Transferring at Dubai has become more convenient after the opening of Terminal 3 - but it's still not a pleasure during peak hours.
Next report: DOH-DXB-LHR on Emirates 773 and 77W
Best Regards,
PlaneHunter
[Edited 2009-03-25 15:36:52]