Feedback always appreciated.
Trip Report: 068
Flight Category: Y-ILR (See Report End)
Date: 31 Jan-09 (See Report End)
SDT/SAT/Dur/Delay: 0820/1500/14:40 hrs
Flight:
Qatar Airways QR 83
, 736 miles
Routing: DOH-JFK
Aircraft: 77W
Seat: Economy, 1K
I > Background:
Given the economic downturn, January had been a slow month at our firm. Since I have long decided that it just wasn't worth pondering if I will have a job tomorrow, I decided to take some time off and visit Cairo for a few days. After an amazing time there (have I mentioned how much I love Cairo?), it was time to pack and go home. My options included flying on MS or trying some exotic routings and new carriers … being the crazy aviation geek that I am, I decided on the later. In the end, I bought a ticket on CAI-DAM-KWI-DOH-JFK. The intent was to try both Jazeera Airways as well as Qatar Airways. Both airlines had not featured on my flight log and I thought this was a good time to have them crossed off. I was particularly interested in Qatar as it was the last of the big 3 "premier" airlines in the GCC region and I wanted to see how it stacked up against Emirates and Etihad (and, throughout the report I will point out comparative advantages). CAI-DAM was on MS and since there have been several trip reports on MS' short-haul product, I will skip it for now.
While there has been a plethora of really good TR's on QR recently, I believe this is the first on their prestigious DOH-JFK flight in J. Anoosh covered them well when it was DOH-GVA-EWR and this can be accessed at:
http://www.airliners.net/aviation-forums/trip_reports/read.main/119526
II > Pre-Flight:
a) Before Airport:
Qatar Airways is the flag carrier of Qatar. Based in Doha, it operates a ever expanding hub and spoke network which spans to around 80 destinations. It is set for continued growth with a strong order book and ever expanding international ambitions.
I booked the entire ticket through a travel agent who was able to secure a great pricing by selling me the ticket on United stock as a UA code-shared flight. I love my agent in Caracas – she truly is an angel! Anyways, QR does maintain a decent website and one can do online booking there with ease. However, I was unable to lookup my PNR and several calls to their call center in Doha yielded no means to actually reserve a seat. NOT IMPRESSIVE!
b) At Airport:
Arriving in Kuwait the earlier evening, I went to my favorite Italian restaurant for dinner before heading back to the airport to just hang out in the lounge. After sleeping for a few hours, an uneventful flight brought me to Doha. In the past, there were separate buses for premium passengers. This time around, it was the same bus … we were just told to wait onboard as the premium terminal was the 2nd stop.
Upon reaching the premium terminal chaos ensured. There was no one at the check-in desk and 2 angry men had been waiting for over 30 minutes! After waiting with them for another 15 minutes (security would not let us enter the terminal), 2 Filipino men appeared and started to ask for our passports etc. No apologies whatsoever. One of the men wanted to take our passports so that they could go scrutinize the passport, visa, etc. He promised to find us in the lounge and give it back to us. At this time, the American man became reluctant to do this as the last time he had given his passport in Doha, they had lost it. Interestingly, the other man (a Bangladeshi U.S. permanent resident) said that his passport was once taken and his U.S. visa page was ripped apart! Hearing these horror stories, I decided to stay with the men and wait for my passport. As we were being checked in, another bus brought a bus load of passengers from Karachi who were on an over-sold flight from the night before and were promised an upgrade to J-cabin. As they arrived, the 2 Filipinos left us and started barking to the mostly innocent Pakistanis. Yet, they were extremely civil to the few white guys in the KHI bus and told them that their upgrade had cleared! WTF!!! The Pakistanis were sent packing to the Y-terminal! As many of you know, I am not someone that stands for such crap and began losing my mind with the Filipino dude. Anyways, after talking to his Lebanese supervisor who basically told me it was corporate policy to do what they did! I had always known that racism was systematic in the Gulf – but I believe institutionalized racism is called apartheid! Anyways, after getting my new boarding pass and being cleared to go to the U.S., I had to re-do security and allowed to enter the premium terminal.
The premium terminal itself is nice. It is spartan and calm and you have all these QR agents running around ensuring the passengers do not miss their flight. The terminal is broken to a Business and First section with each providing enough amenities. I particularly liked the Nintendo room and the Business center. I wanted to take a quick shower but lack of time prevented me from doing the same.
Boarding was by bus and here we followed another absurd policy. Prior to boarding, we had to go through security once more. However, this was conducted by the least friendly people I have encountered in a while. Ready for some shocking news? These guys were ruder than anything I have encountered at CDG … and those who know me on this board recognize how much I hate CDG! So when boarding is called, you go through the gate to a security bus where they go through security again – remember, this is the 3rd security point – and where they took away my nail clipper from TRNC. Sad. After clearing this security inside the bus, you then walk to another bus which finally takes you to the bloody plane.
The entire process is anything BUT civil and I wonder how this can enhance the premium experience. Anyways, upon entering the aircraft, I was greeted by the lead Indian FA who took me to my seat and took my jacket. He asked what I wanted to drink and was soon brought a much needed glass of champagne. The guy obviously knew what he was doing and was aided by 3 other Indian men and 3 Asian women in the premium cabin (1 Korean, 1 Filipina, and 1 Malay). Load factor in J was around 50%.
Airport - External:
NONE
Check-in – Premier Terminal:
(I think the pissed off look of these 2 dudes say it all …)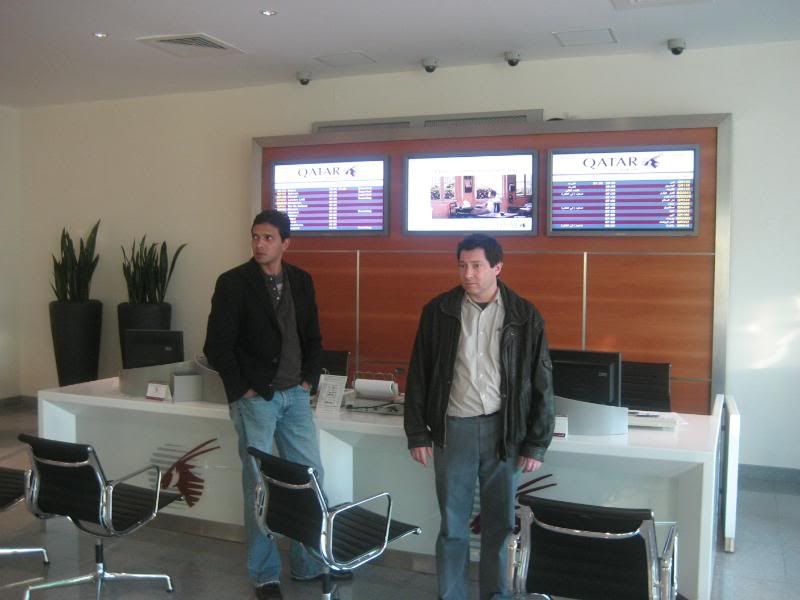 Airport - Internal:
(Internal)
(FIDS)
NONE
(Post Security)
Scenes of the tarmac:
(QR lineup)
(AB6 cargo)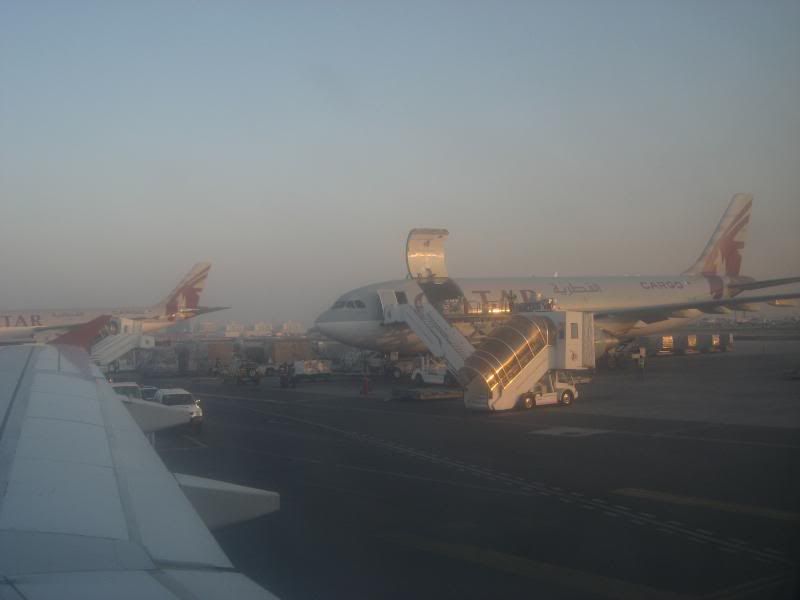 (QR – various types – including one in Asian games livery)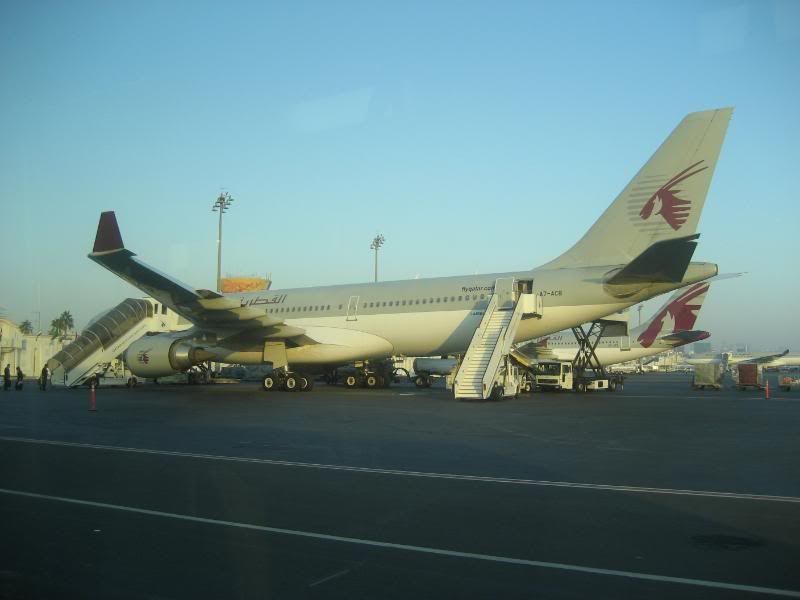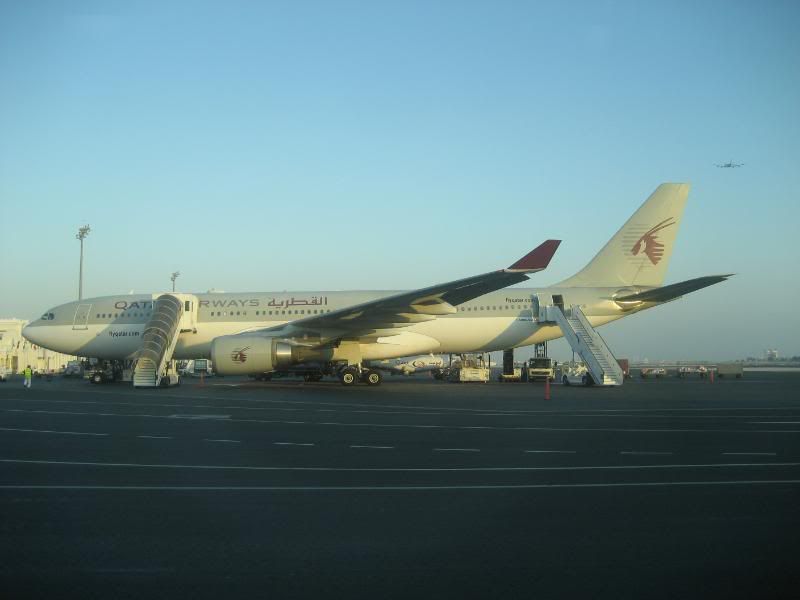 (Brave competitor in rival field)
Lounge
(J Lounge – within premier terminal)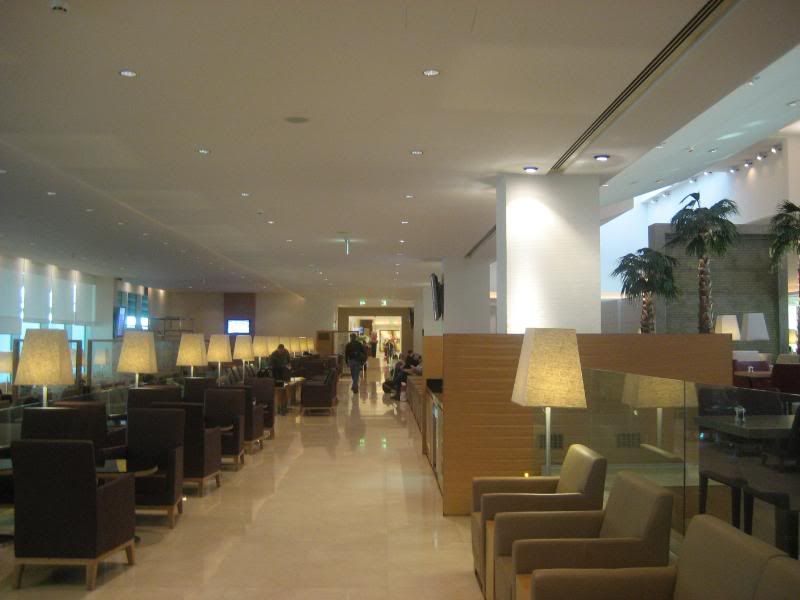 (Nice touch)
Boarding:
(Boarding Gate)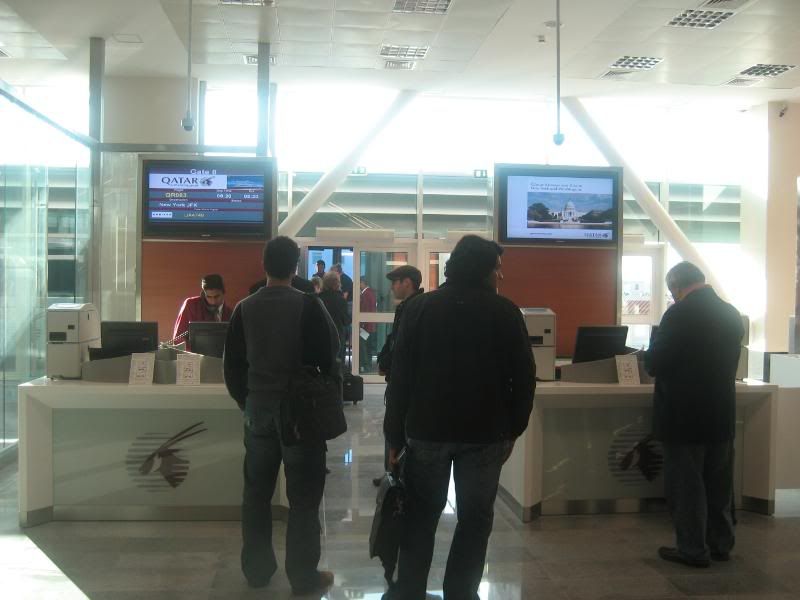 III> In-Flight:
a) Service Schedule + Impressions:
Immediately after boarding, liberal drink service commences. Also while on the ground, amenity kits are distributed and cold towels are given out. Soon after take-off, menus are distributed and main meal service commences. Around 90 minutes prior to landing, a final meal service happens. Like Etihad, their service also follows an "eat anytime" approach. However, I found QR's much more well organized and experienced. Perhaps in the end, the crews make all the difference?
b) Aircraft + Seats:
Qatar Airways 77W were immaculately maintained in J. The maroon seats within an off-white environment and set against mood lighting made the cabin an extremely welcoming environment and prepared you for a soothing flight. Having flowers in the bulkhead enhancing the classy feeling of the cabin. The seats themselves are made of cloth and are nothing special in seating position. However, the moment you recline it to full 180, it truly shines! The "bed" created by the seat is truly flat and incredibly nice. Not only do you get a fully-flat feeling, the folds are minimized and small ensuring there are not too many "bumps" as one dozes off. I have a hard time sleeping on planes and I was able to manage a solid 7 hours sleep with zero interruption. Pretty impressive. Accentuating the great sleeper seats is the ability to be comfortable in several positions, and rather decent legroom. Finally, the seat itself is ergonomically designed with ample storage space and all that. I especially like the "chilled" space to keep bottles of water, etc. Last word is about the well maintained bathrooms – complimented by nice Aigner products. Overall, the seat was super conducive to dozing off. It does not provide the same level of privacy as Etihad's excellent J seats … but then again, the seats are better maintained and not having minor "technical issues" like many of my recent Etihad's J seats.
Aircraft:
(@JFK)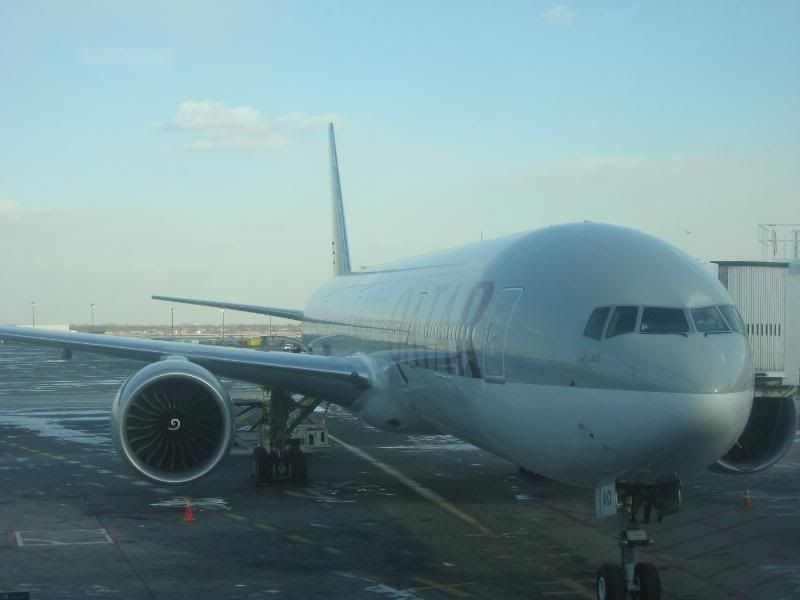 Views from Aircraft:
(Take off from DOH)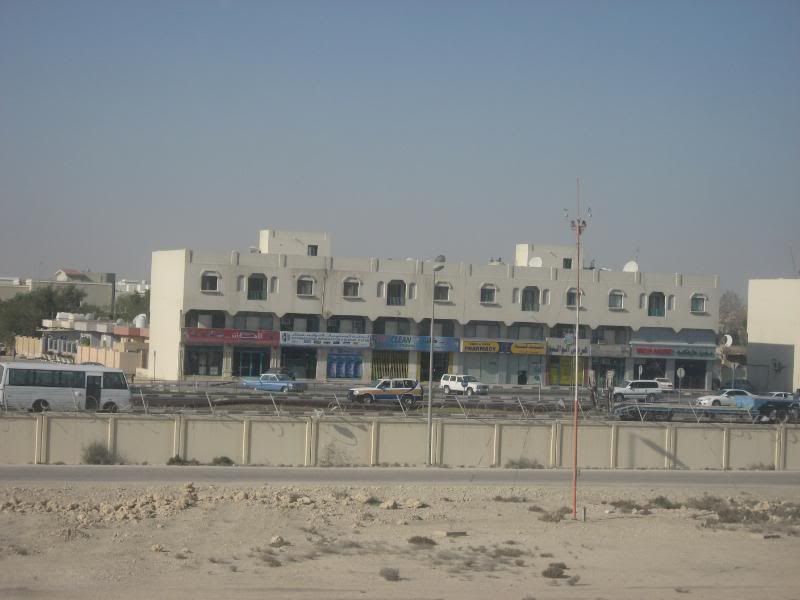 (Spot the Afriqiyah aircraft)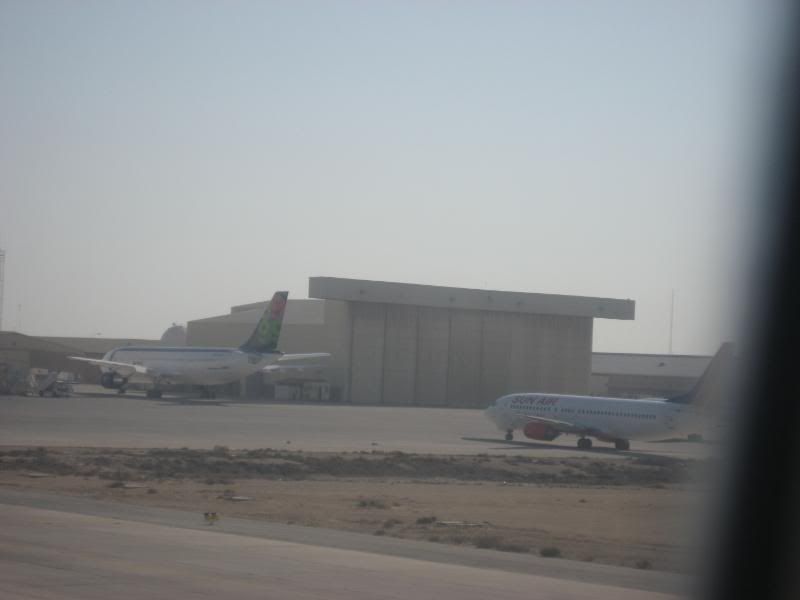 (View from the flight – over Iran)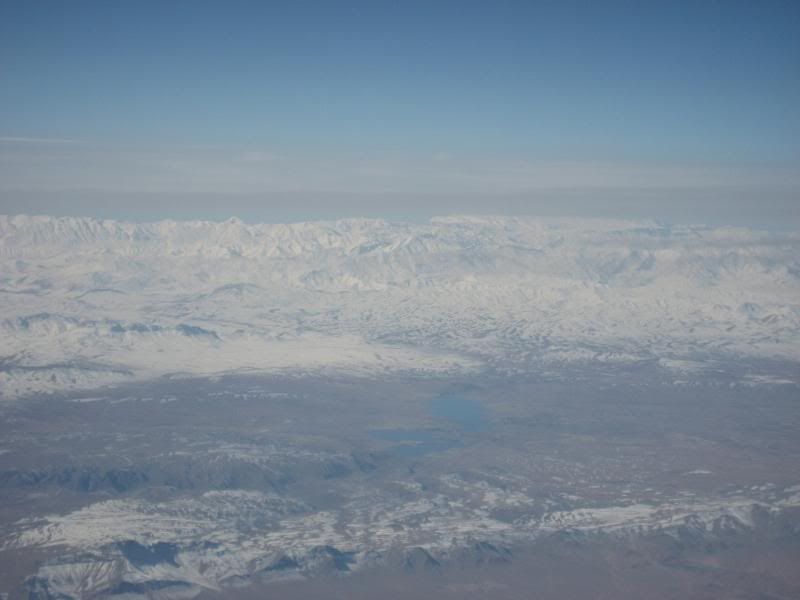 (View from the flight – Long Island)
General Seat Views + Seat Legroom
(Water Cooler)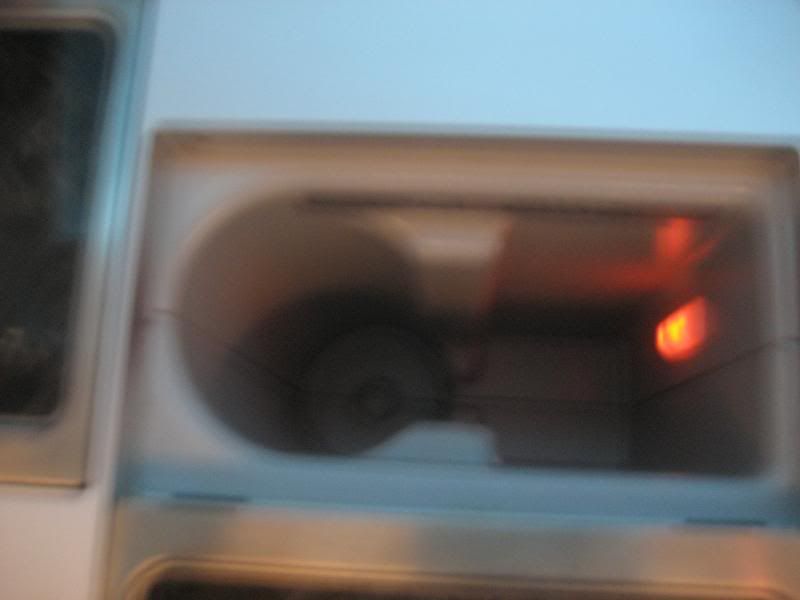 (Seat legroom)
Seat Recline + Angle View:
(Comfortable recline)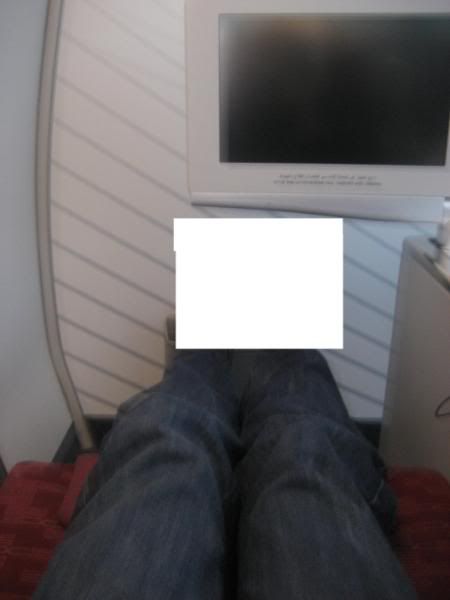 (Awesome bed)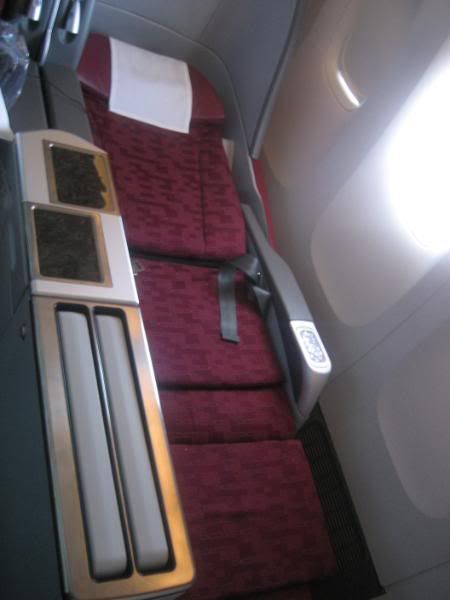 (50% load)
Cabin:
(Nice touch of flowers)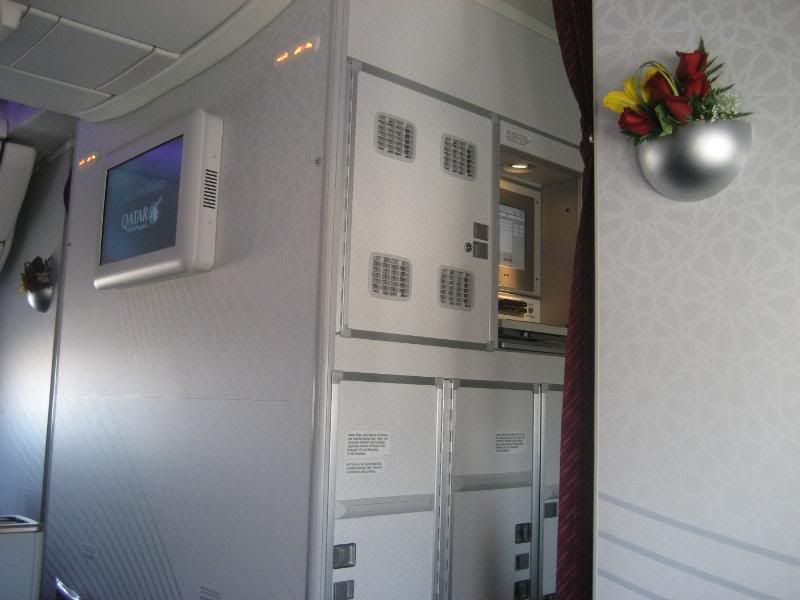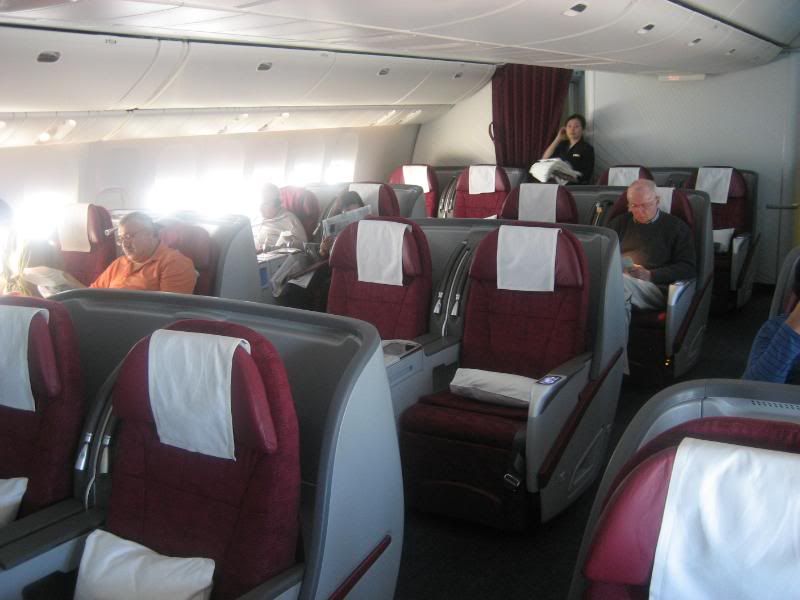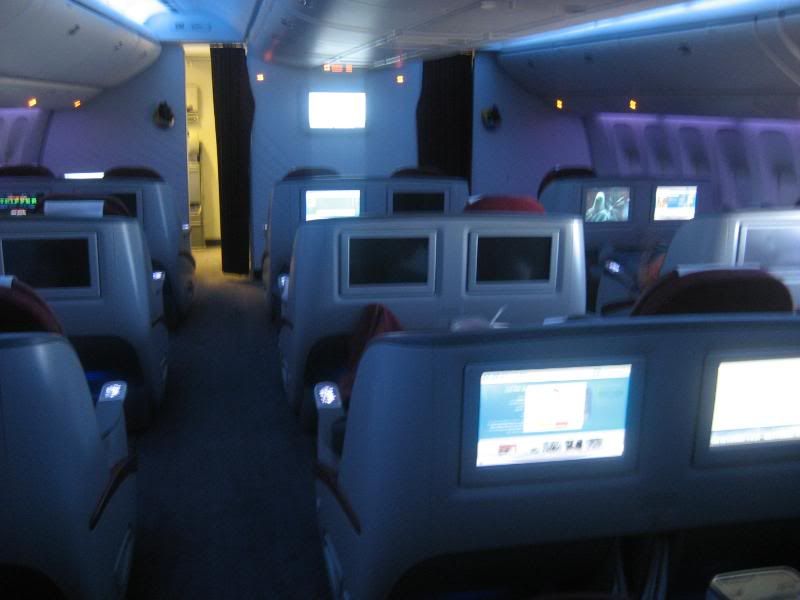 c) Meal + Beverage:
Qatar Airways also provides an "eat when you want" service. Menu cards are distributed in elegant leather folders (really classy) and the Indian purser came and took my order graciously and asked me what I wanted and when I wanted it.
The menu consisted of an excellent collection of beverages – pretty impressive listing actually – though, I am not a fan of Laurent-Perrier. They should take some hints on champagne from conViasa
. Breakfast choices (upon departure from DOH) were plentiful and I ended up choosing the highly delicious strawberry/avocado smoothie, really fresh fruit, and as my main, an excellent Japanese crab omelette with Japanese salmon (not well-done sadly). Accompanying the entire meal was an excellent bread basket collection which was warm and just right. Presentation was impressive as well. One thing though – the period between each entrée was just way too long and it seemed that service would fall apart as soon as the Chief Pursar was not looking. Hmmm.
Throughout the flight, there was the option to snuggle to a café watching a movie with some biscuit, or chose from one of the rather good "indulgence" options. See menu card for more details. While QR had no self-bar, there were enough runs of alcohol and other beverages being done to keep most travelers happy.
Given the rather odd flight time, the main meal is taken by most prior to arrival at JFK. I chose to have mine around 90 minutes prior to arrival to tune my body to U.S. Eastern time. Now, here is where QR disappointed. Unlike their breakfast options, none of the main menu items were anything noteworthy. The antipasto and the Arabian mezze appetizers were nice. However, the main course completely and utterly disappointed. I had the baked hammour which looked like it had come from a TV dinner, with salsa put on the side, and some kumera wedges put on the side. Even worse, the other options included a seared veal and a tofu option. No chicken. No truly Italian, Indian, or Arab option. I mean, the whole thing was rather BLAH and less than stellar. Thankfully, the warm blueberry cheesecake was delicious and I downed it with a Bailey's. Overall presentation was great … but presentation alone does not satisfy hunger!
During the flight, water bottles were handed out. And, during my movie, I was able to take advantage of several mini-eats. Not bad.
Finally, while not perfect, a word of praise must be given to the crew who did the "eat-whenever" service schedule MUCH better than their counterparts at Etihad.
(Menu)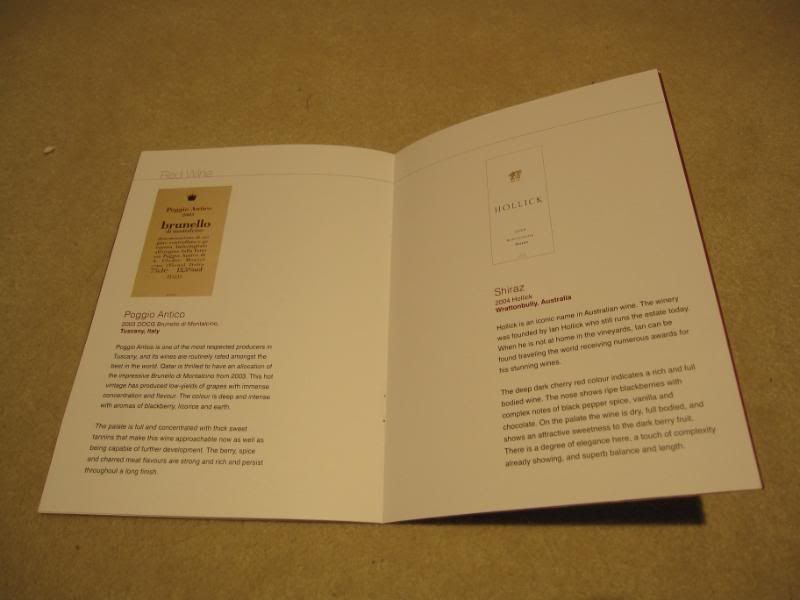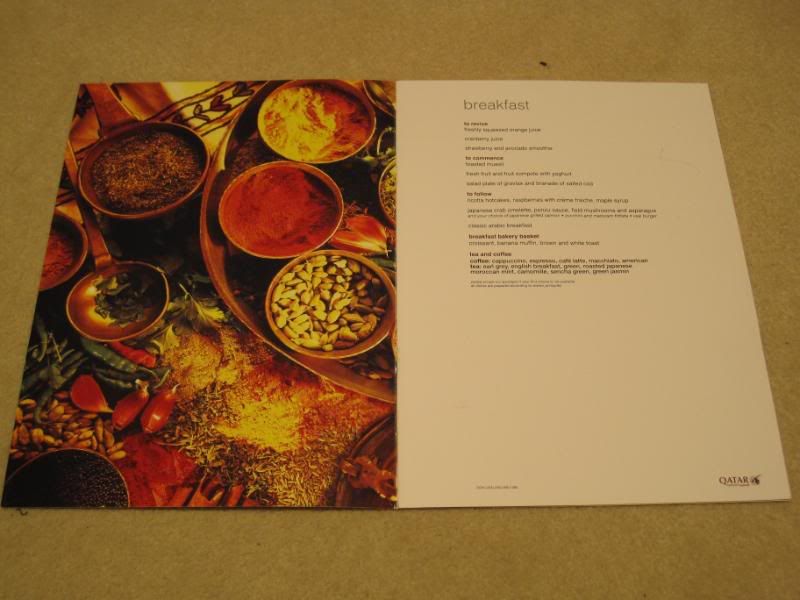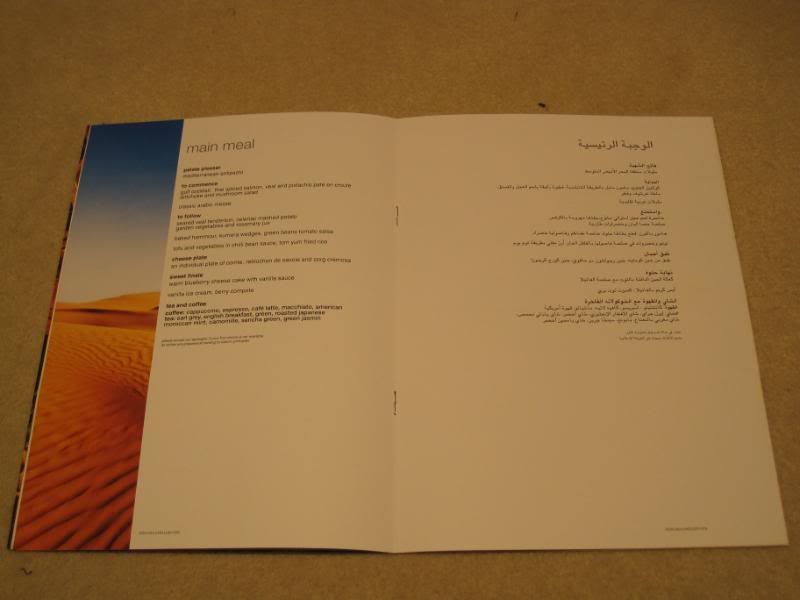 (Excellent smoothie)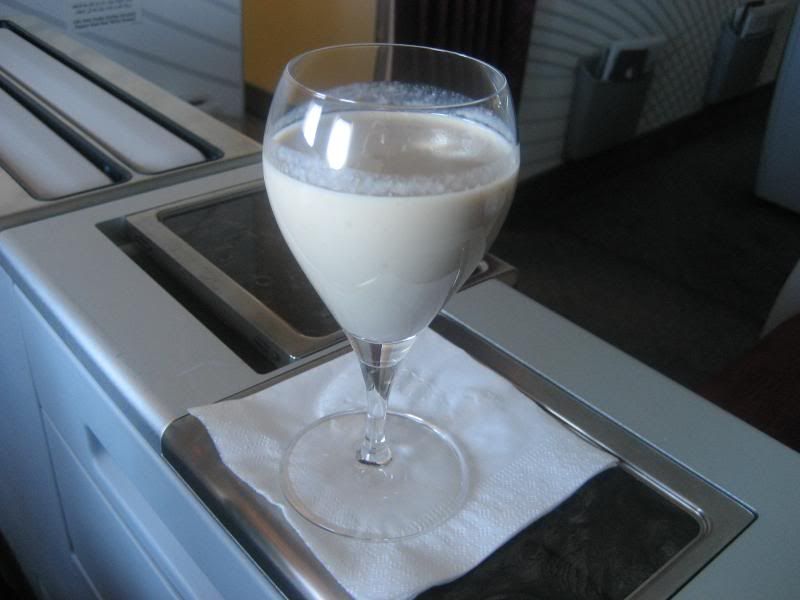 (Breakfast)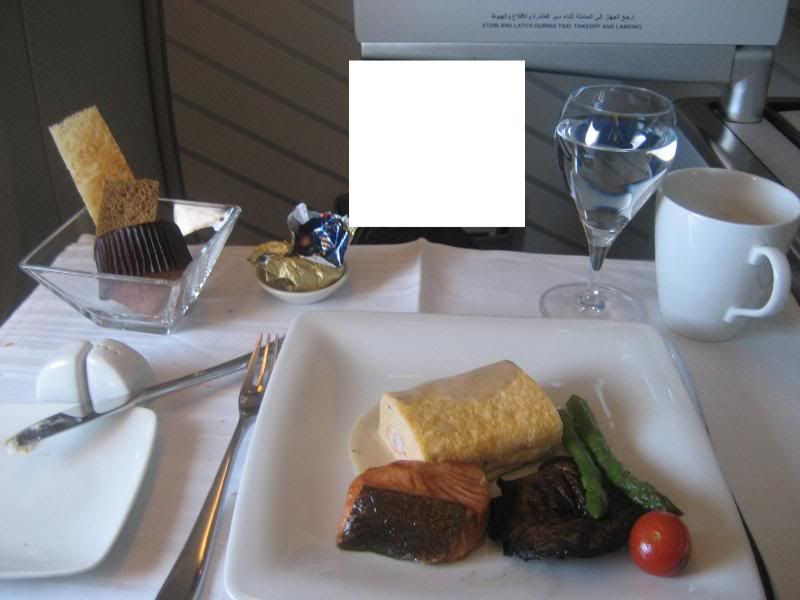 (During movie; in-flight)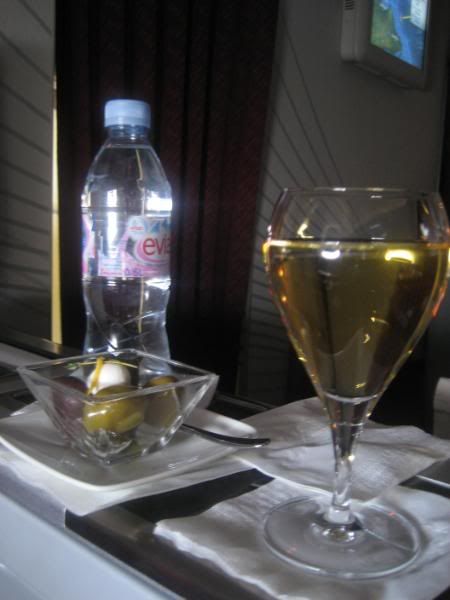 (Main meal)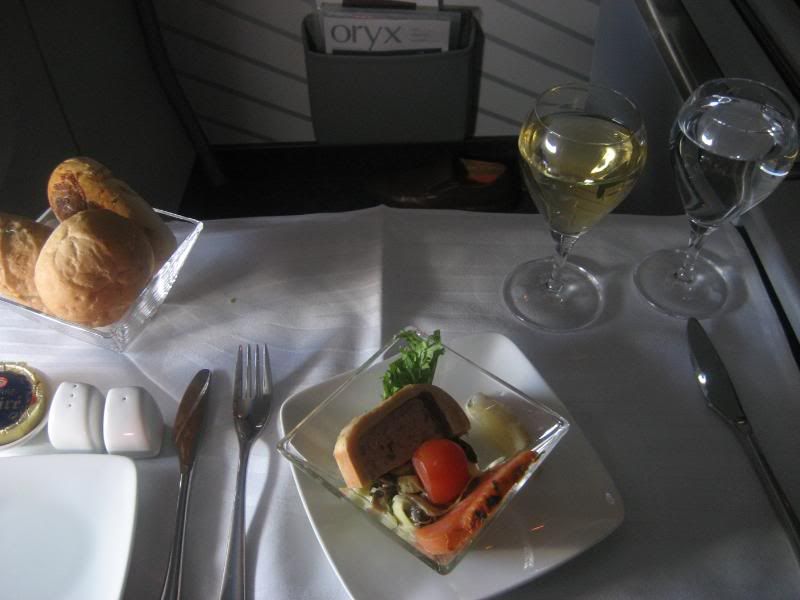 (Main Meal: sub-standard main entrée)
(Main Meal: good dessert)
d) Inflight Entertainment:
Qatar Airways' has an impressive IFE complete with good (but not great) noise cancelling headsets. The handset is easy to use and has a full QWERTY keyboard for SMS/Email/etc. I was impressed by the clear LCD screen (though, very small by current J class standards), the good interactive menu (I liked the feature which lists all the movie alphabetically instead of having to go through each genre and picture icon – which makes it visually appealing, but terribly time consuming), and the over 100 movies on demand. Better yet, they were movies you wanted to watch! I chose "Vicky Cristina Barcelona" and was impressed by the sound and picture quality. Enhancing the experience were the cabin crew who came and did rounds like in some premier cinema hall. It wasn't perfect though – the moving map kept on thinking we were headed to Bombay and the "time to Bombay" remained at 0:00. Also, the SMS/Email feature I was keen on trying turned out not to be active.
(QR's IFE: average screens, above-average headset)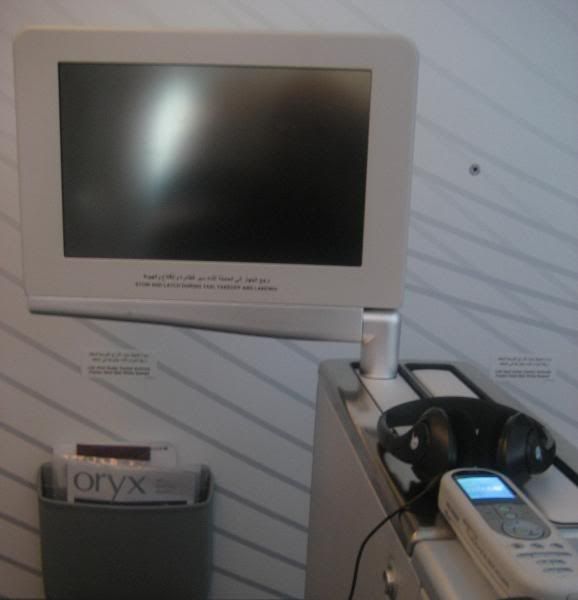 (Controls)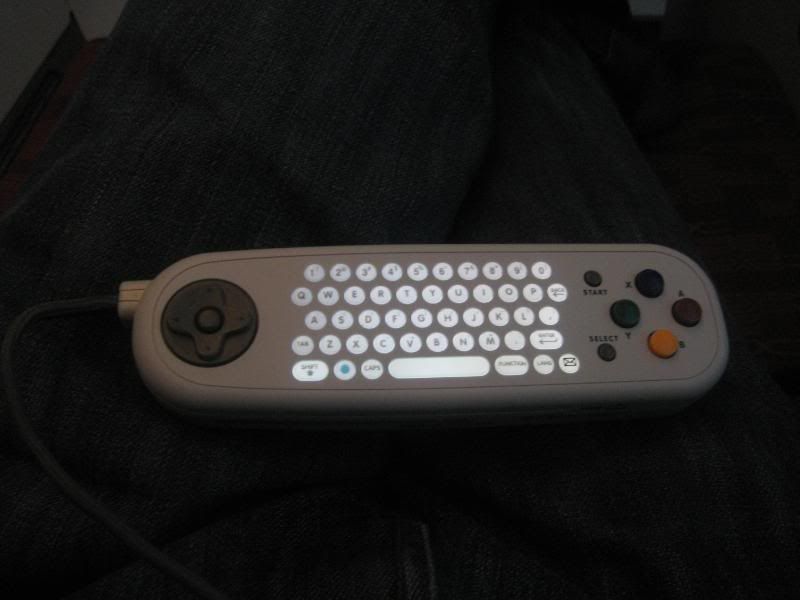 (Excellent IFE)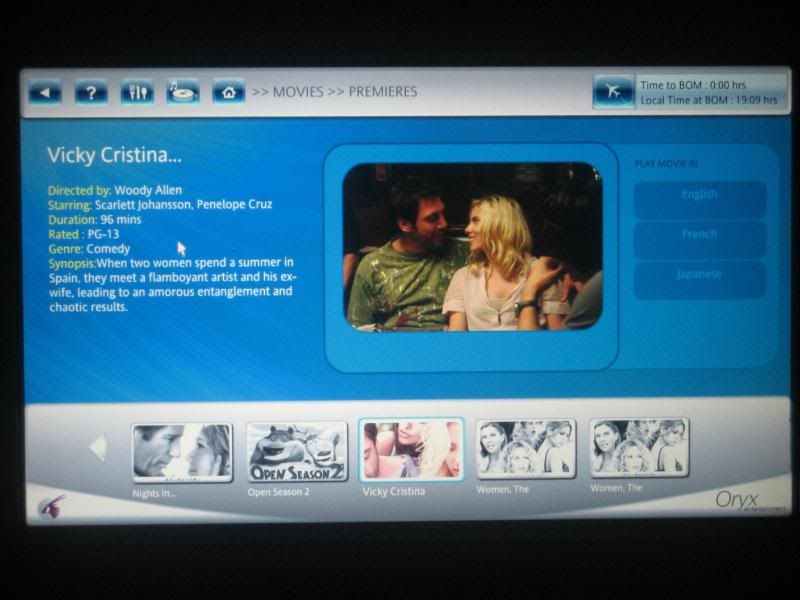 (Great menu)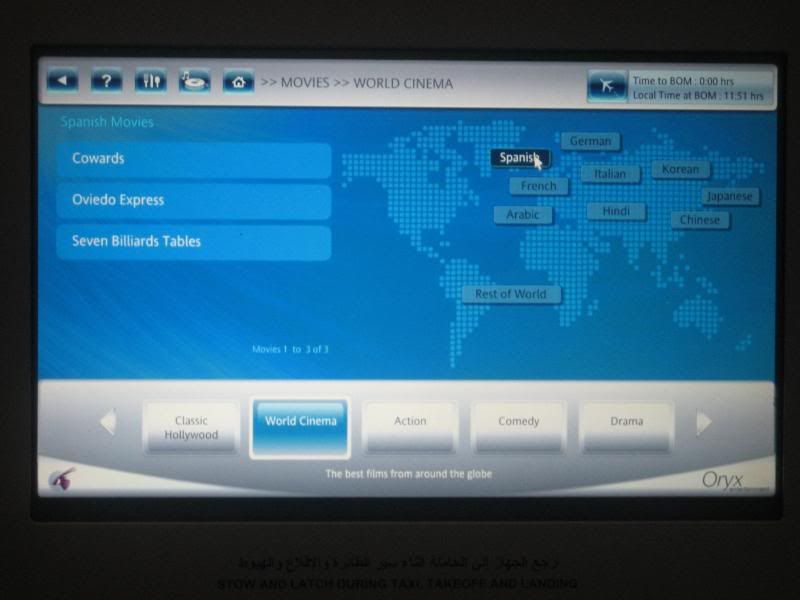 (Too bad it did not work)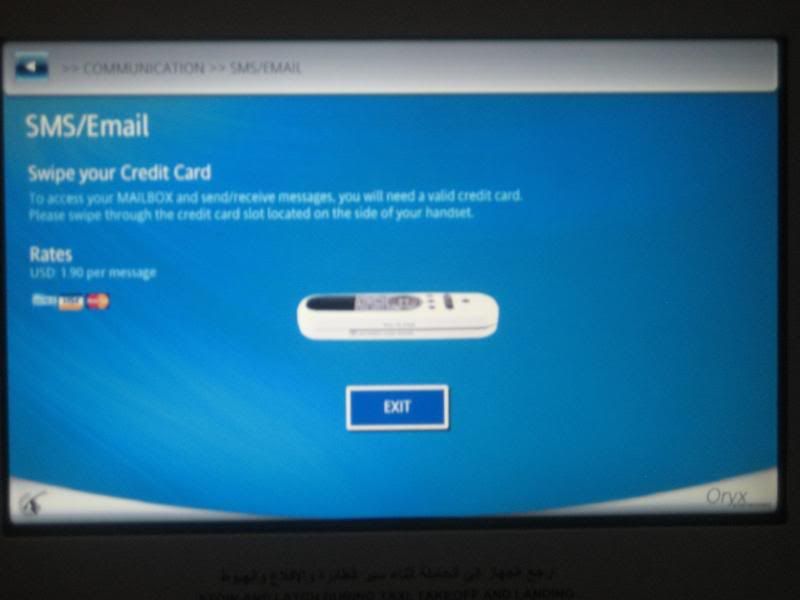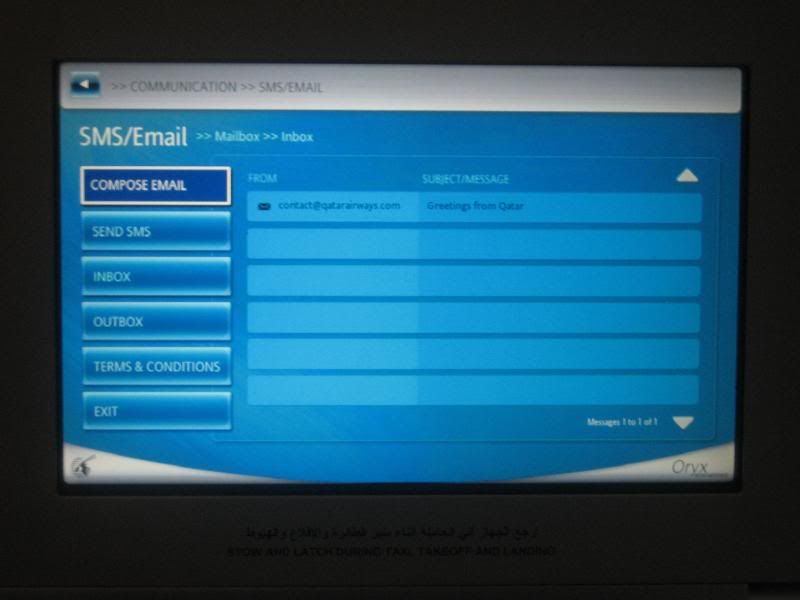 (Cool moving map – though, we are not headed to BOM)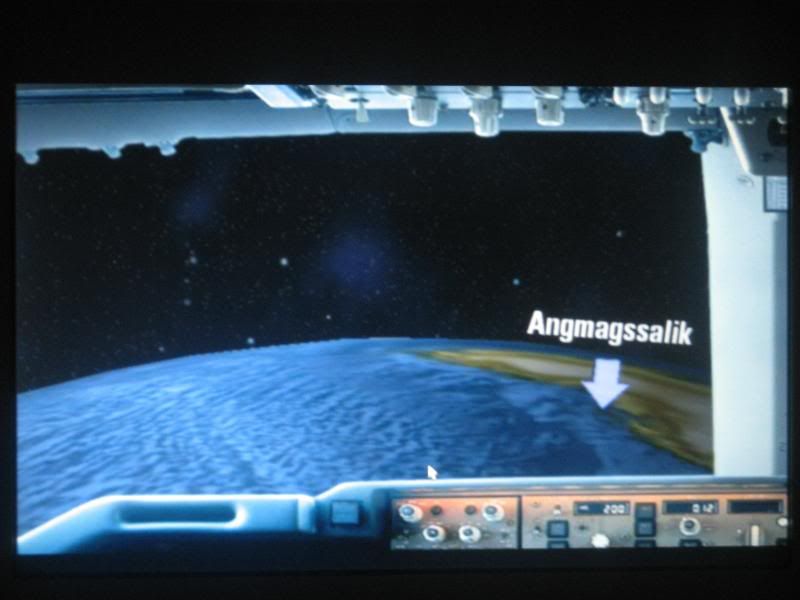 ("In-flight magazines", Boarding Passes, etc.)
(I cannot believe I had to pay for the playing cards!)
e) Crew:
Ok. I have never been impressed by crew of Gulf carriers. Perhaps a lot of this has to do with the generally obnoxious and apathetic crews I have found on Emirates and somewhat on Gulf Air, or perhaps because recent experiences on Etihad confirmed the un-classy hectic attitude most of these crewmembers have. Qatar Airways went a LONG way to change my view of Gulf crews. Simply put, they were MILES ahead of their competitors (EY, EK, and GF). While they were not perfect (too much time between entrees at meals) and service sometimes fell apart when not being supervised, they were in general a pleasant group of individuals who truly made you feel at home. I liked the little touches – like the Indian purser introducing himself and speaking of his 7+(?) years at QR; the Filipina crew member who was shocked at my Tagalog ability and deciding to take good care of me; or, the Slovakian FA in Y who shocked me on the performance of 77W vs. 346 than most airline execs I know (this happened when I was looking out of the window at the huge 77W engine and she said, "a beautiful thing isn't it"). Now, I am going to sound terribly politically incorrect and generalist – and I am sure to get flak for it – but this is my report and I guess I am entitled to my opinion
. In general, I have found the best crew on Gulf carriers to be from Lebanon, India, Egypt, Thailand, Algeria, and many parts of eastern Europe. 80% of the worst crews I have found (and this is particularly true at Emirates) are Australians (interestingly, not Kiwis – who are usually much more friendlier). Now, I would love to commission a social scientist to study this phenomena. But, the Australian crew members I have got on EK, EY tend to be more fascinated with gossiping loudly than service. True, this is a generalization … but its broadly based on a lot of flying I have done.
Anyways. Another small tidbit of good service was when I asked the Indian purser to wake me up in 7 hours. I had dozed off and woke up in around 6 hours – he immediately noticed and reminded me that I had one hour more to sleep and "not to worry". Also, each time, my bottle of water would become empty, I would wake up to it being replaced with a new bottle. Not bad.
Prior to disembarkation, the purser came and thanked me for flying Qatar and looked forward to seeing me again. Very impressive. Of course, I took his name and will be forwarding a note of thanks to Doha on a job well done.
IV> Post-Flight:
Arrival into JFK was smooth. However, immigration took forever. The QR agents on the ground were overzealous and yelled at me when I tried taking a picture of the 77W. Whatever.
(JFK)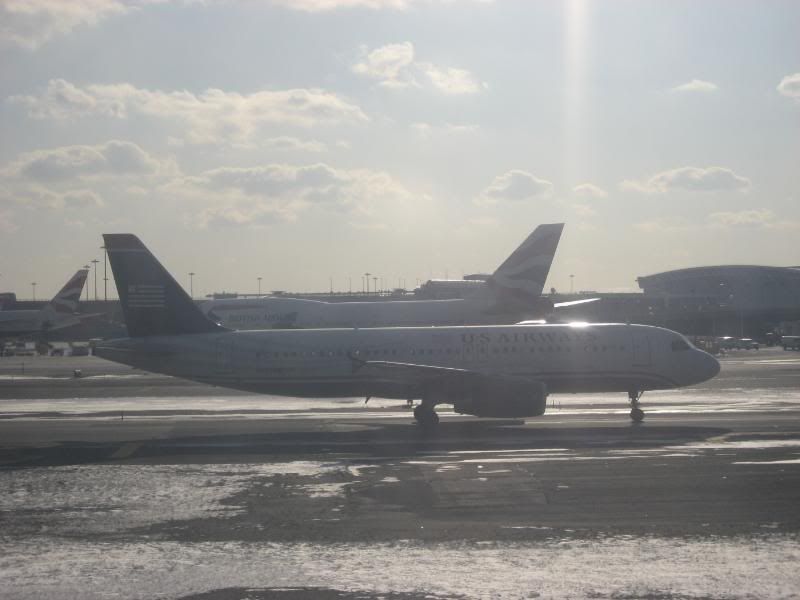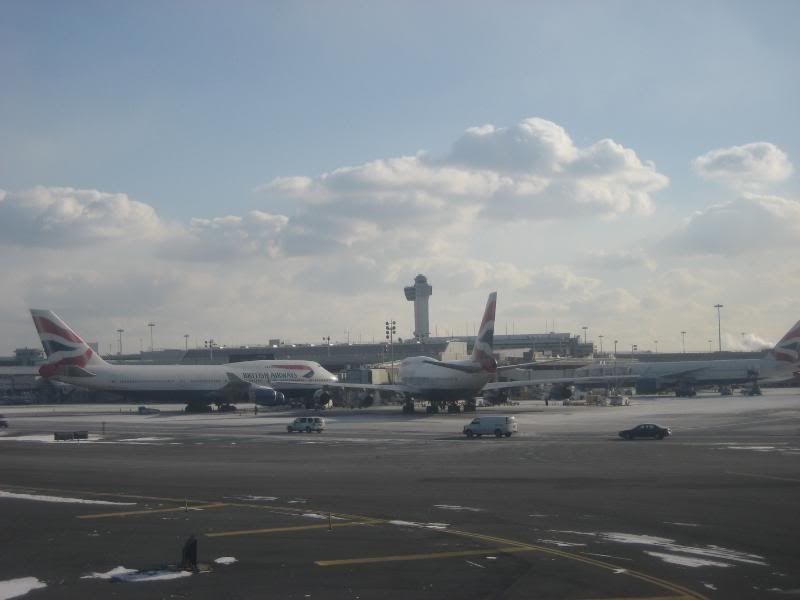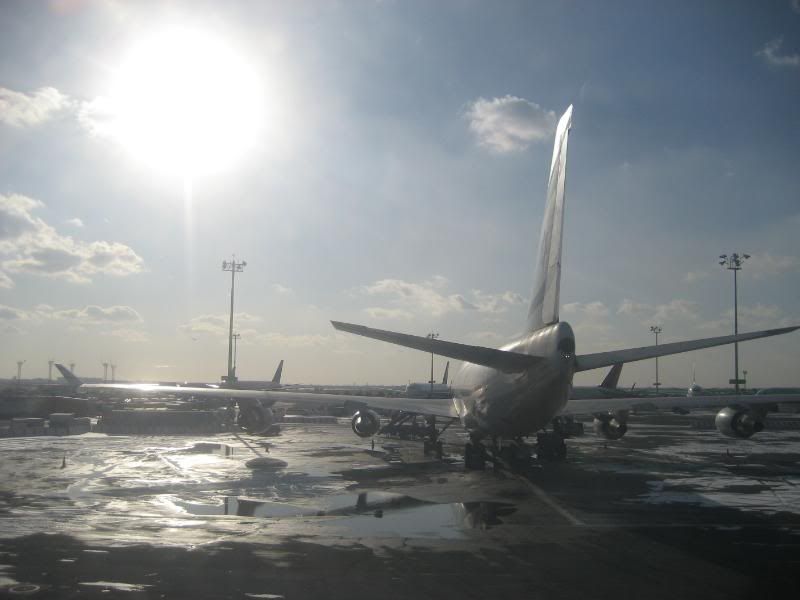 V> Impressions + Scores:
A truly great airline is made possible by the women and men that serve it. As many of my trip reports have indicated, poor "hardware" can often be compensated above and beyond by brilliant "software". Qatar Airways definitely had that going for them. The crew on the flight was simply great and probably the best I have had amongst any GCC carriers (though, in the Middle East as whole, I think MEA has the best crew members). Small touches went a long way in making me feel happy and welcomed. Complimenting the crew was good "hardware" manifesting itself in a great IFE and good seats. While the beverage service was above average, meals were not quiet "5 Star" quality.
Unfortunately, an airline and trip is judged by the entirety of the experience. While on-air handling was great, I cannot forget the absolutely pathetic ground handling at Doha. The haphazard arrogance and general belief that national origin dictates service quality is something I can never endorse and support. A truly great airline recognizes to treat passengers as humans and modifies their customer approach to be respectful of national cultures. At Doha, one was treated primarily based on the color of their skin and/or passport cover. It is a shame really as it took away from an overall good experience. I would sincerely hope QR recognizes this and shapes up – otherwise, it might soon wake up and see those who travel it mostly (those evil Pakistanis for example) may someday have an option and decide to vote with their wallet.
Qatar Airways is a good airline. If not for the horrible experience at Doha, I would have endorsed it. However, I give it a reserved one-thumps up and will always look at other options before deciding to fly them. Having said that, I must praise them for creating a fine in-flight product which is significantly better than Etihad, and MILES ahead of Emirates. Amongst the GCC region, I have no hesitation in saying, Qatar is the best of the lot.
1.0 > RESERVATION: 5.0
2.0 > CHECK-IN: 1.0
0.5 > LOUNGE: 9.0
0.5 > BOARDING: 1.0
2.0 > SEAT: 9.5
0.5 > AIRCRAFT OVERALL AMBIENCE: 9.5
1.0 > IFE: 8.0
2.0 > CREW: 9.0
2.0 > FOOD: 7.5
0.5 > BEVERAGES: 8.0
0.5 > A.KITS + OTHER FREEBIES: 9.0
0.5 > DISEMBARKATION: 8.0
1.0 > ON-TIME RECORD: 9.0
WEIGHTED OVERALL IMPRESSION (WOI): 7.09
(Pre-flight WOI of all reviews: 6.50)
* Weighted Overall Impression (WOI) aligns scores with what matters most. Weights are indicated alongside each category.
(Scores are based on comparison with other airlines in THAT class of service – No comparison of Y vs. F for example)
VI> Other Trip Reports:
PREMIUM:
8.64:
Turkish Airlines (59): JFK-IST: 11/2008
8.61:
Air Canada (49): YYZ-SCL: 06/2008
8.11:
Aeroflot (33): MOW-DEL: 09/2007
8.04:
Korean Air (40): NRT-ICN: 10/2007
8.02:
Delta Airlines (24): JFK-CDG: 08/2007
7.46:
LAN (55): YYZ-JFK: 09/2008
7.82:
Singapore Airlines (06): EWR-SIN: 09/2006
7.14:
Swiss (52): SCL-GRU: 06/2008
7.02: Qatar Airways (68): DOH-JFK: 01/2009
6.96:
Etihad (61): JFK-AUH: 12/2008
6.93:
Delta Airlines (18): SEA-JFK: 11/2006
6.84:
ConViasa (65): CCS-DAM: 01/2009
6.81:
Air Canada (17): ICN-YYZ: 10/2006
6.70:
KLM (32): EBB-AMS: 08/2007
6.36:
Privatair (60): MUC-BOS: 12/2008
6.25:
Korean Air (45): NAN-ICN: 10/2007
6.11:
TAP Portugal (53): GRU-OPO: 06/2008
5.75:
Singapore Airlines (16): CCU-SIN: 10/2006
5.64:
NorthWest (46): ICN-NRT-SEA: 10/2007
5.39:
LOT (54): WAW-JFK: 06/2008
5.07:
TACA (66): JFK-SAP: 01/2009
4.42:
Air France: CDG-JNB (25): 08/2007
ECONOMY: Long + Medium:
9.26:
Air India (48): JFK-DEL: 02/2008
7.38:
Avianca (01): BOG-LIM: 07/2006
7.07:
Sri Lankan (62): KWI-CMB: 12/2008
6.41:
American Airlines (58): LHR-BOS: 11/2008
6.26:
Jet Blue (21): CUN-JFK: 02/2007
6.06:
Air Canada (04): YYZ-YVR: 09/2006
5.89:
USA 3000 (19): PUJ-BDL: 01/2007
5.79:
Air New Zealand (42): RAR-NAN: 10/2007
5.46:
TAP Air Portugal (23): OSL-LIS: 05/2007
ECONOMY: Short
8.56:
Paramount Airways (38): BLR-MAA: 09/2007
8.56:
Kingfisher (64): HYD-CCU: 12/2008
8.24:
Kingfisher (14): IXA-GAU: 10/2006
7.87:
Indian (34): BOM-MAA: 09/2007
7.72:
Alliance Air (13): CCU-IXA: 10/2006
7.57:
Indian Airlines (10): DEL-CCU: 09/2006
7.23:
West Jet (03): YYC-YVR: 09/2006
7.15:
JetLite (37): BOM-GOI: 09/2007
6.70:
Spice Jet (09): CCU-DEL: 09/2006
6.63:
Air Fiji (44): NAN-SUV: 10/2007
6.63:
Jazeera (67): DAM-KWI: 01/2009
6.58:
Air Tran (02): EWR-MDW: 08/2006
6.48:
Air India Express (63): CMB-MAA: 12/2008
6.44:
CO Micronesia (39): ROR-YAP: 10/2007
6.41:
Pacific Sun (43): NAN-SUV: 10/2007
6.37:
Skybus (47): SWF-CMH: 02/2008
6.33:
Kenya Airways (29): NBO-BJM: 08/2007
6.33:
Sky Europe (56): LTN-BTS: 10/2008
6.31:
Indigo (15): GAU-CCU: 10/2006
6.31:
easyJet (57): BUD-LTN: 11/2008
6.22:
Air Link Swazi (28): MTS-JNB: 08/2007
6.22:
Air India (36): HYD-BOM: 09/2007
6.13:
Adam Air (07): SIN-CGK: 09/2006
6.13:
Air Rarotonga (41): RAR-AIT: 10/2007
6.00:
Transairways (27): INH-MPM: 08/2007
5.95:
Air Canada (05): ALB-YYZ: 09/2006
5.85:
SAS Norge (22): OSL-AES: 05/2007
5.81:
LAM Mozambique (26): JNB-MPM: 08/2007
5.69:
Air Deccan (12): IXZ-CCU: 10/2006
5.67:
Rwanda Air Exp (30): KGL-NBO: 08/2007
5.07:
Go Air (35): MAA-HYD: 09/2007
5.00:
Sky Airline (51): IQQ-SCL: 06/2008
4.96:
Valuair (08): CGK-SIN: 09/2006
4.78:
Air Comet Chile (50): SCL-IQQ: 06/2008
4.74:
Fly 540 (31): MYD-LAU: 08/2007
4.33:
Viva Aerobus (20): ELP-MTY: 02/2007
4.11:
Air Sahara (11): CCU-BOM: 09/2006
(Note on Codes: Y – Economy, J – Business, F – First :: I/D – International/Domestic :: SR/MR/LR – Short/Medium/Long Haul)
(Note on Date: Dates are modified to be +/- 3 days from actual flight date to not reveal actual flight pattern)
VII> Other Pictures:
(Great amenity kit)