Feedback always appreciated.
Trip Report: 069
Flight Category: Y-DMR (See Report End)
Date: 06 Feb-09 (See Report End)
SDT/SAT/Dur/Delay: 0945/1140/02:55 hrs (Delayed by 00:34)
Flight:
Spanair JK 5010
, 1097 miles
Routing: MAD-LPA
Aircraft: 320
Seat: Economy, 29A
I > Background:
I had been at Madrid for a week of work and decided to take a quick trip to the Canary Islands to see a good Venezuelan friend of mine. I decided to fly Spanair on the outbound and Air Europa on the return. Interestingly, the low-cost Vueling had the highest fares on both inbound and outbound dates. There have been several reports on JK, but I believe this is the first on their MAD-LPA (Gran Canaria) routing.
II > Pre-Flight:
a) Before Airport:
Spanair is a Palma de Mallorca based airline that was until recently a subsidiary of SAS. It has an extensive network within Spain and Europe and has a few flights to West Africa. Its bread and butter route include connecting the Canary Islands to other parts of Spain. In August 2008, one of its MD-80's crashed during take-off while performing the same MAD-LPA routing.
Booking for the flight was done on Spanair's website at
www.spanair.com.
While the booking process was easy, and I was able to get my tickets without difficulty, it isn't a fully developed site. Beyond ticketing, the most you can do is view your itinerary and add your FFP info. No ability to chose seats or modify your reservation.
b) At Airport:
Spanair uses the rather depressing looking T2 at Barajas. For those used to the elegance of T4, T2 is a step back in time and really reminiscent of some of the depressing terminals at LHR. The lady at the counter did not believe I was Star Gold, and insisted on carefully scrutinizing my card before letting me have a boarding card. Interesting as there was absolute no line and when she pulled up my PNR, she could see the status. Oh well. Since I was going to an island, I wanted to sit by the window … and unfortunately, the only one available was on the penultimate row. Oh well.
Anyways, security early in the morning was a breeze and I was soon off to the modest (but functional) Spanair lounge. It is nothing special – but better than many top lounges of supposed premium carriers. Bonuses included lavish views of the apron and runway, and many computer terminals affording quick internet access.
After hanging out and checking my emails, I made it to the boarding gate. At boarding time, it was announced that the flight would be delayed by 30 minutes due to late arrival of incoming aircraft. Anyways, after a short wait, boarding commenced by seat rows. Interestingly, no special boarding for J passengers or Star Gold members. Upon boarding, I was greeted by a relatively chirpy group of flight attendants as I made my way to the back of the bus. One thing that strikes you immediately is how cramped the seats were. I mean, I think seats on U2 had better pitch than this! Oh well. Worse was that I sat next to a French woman who could not walk – and since I felt horrible, I had to suffer from bad legroom and an incredible desire to take a leak throughout the flight. Y load was 75%.
Airport - External:
(Barajas T2)
Check-in:
Airport - Internal:
(Internal)
(FIDS)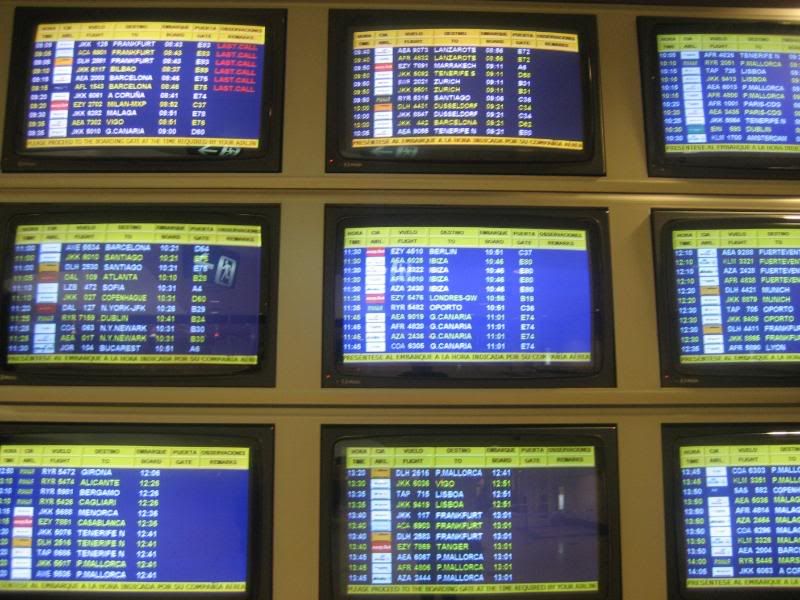 (Post Security)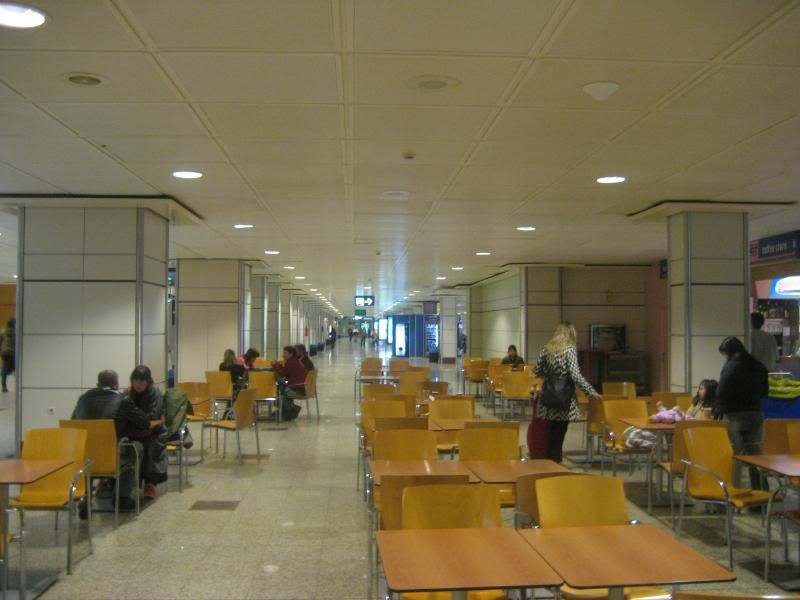 Scenes of the tarmac:
(Taken from the JK lounge)
Lounge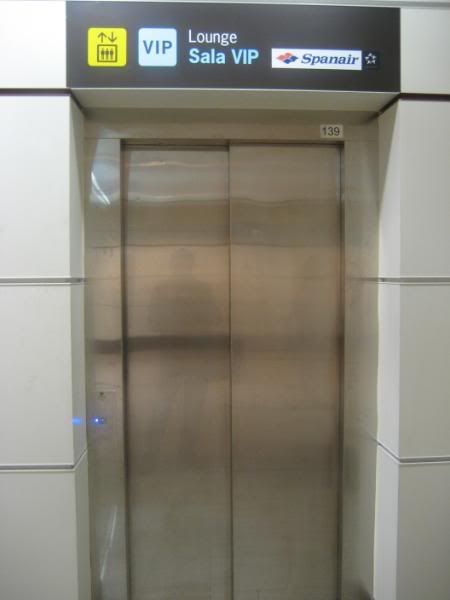 Boarding:
(Boarding Gate)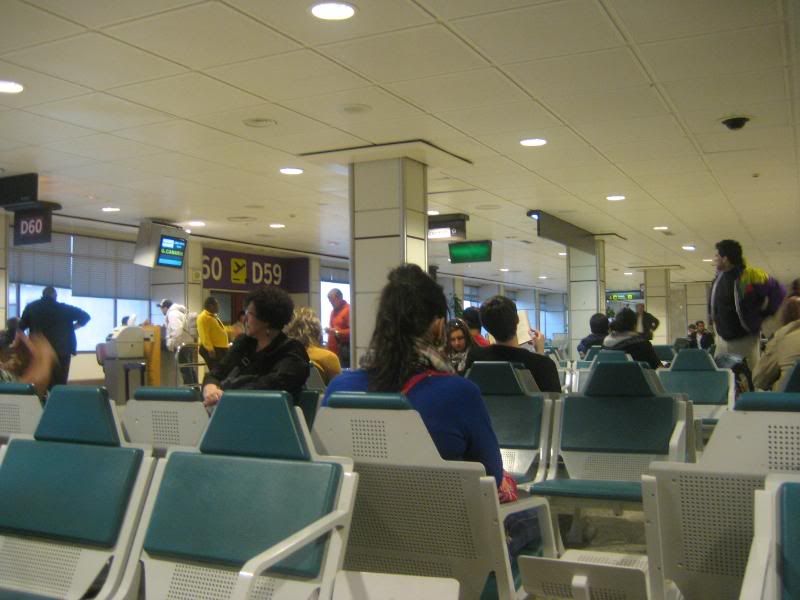 (Chaotic boarding – the Spanish have embraced "ILBST")
III> In-Flight:
a) Service Schedule + Impressions:
Spanair has evolved to being a strict low-cost carrier where NOTHING is free. Soon after take-off, the cart of drinks and food for sale were rolled by. Duty free sales were done shortly thereafter.
b) Aircraft + Seats:
Spanair's 320 with white décor and blue seats were nothing spectacular. The seats themselves were rather comfortable … however, the legroom was absolutely abysmal. I am not a tall guy by any stretch of the imagination (5 feet 10 inches), but I found the legroom to be one of the worst encountered in recent memory. Together with an almost non- existent legroom, it made for a rather uncomfortable ride. I strongly recommend those who want to fly them to use an aisle seat! And, I felt like kicking myself as the lounge lady had offered to switch me to a middle exit seat.
Aircraft:
(@MAD)
Views from Aircraft:
(MAD)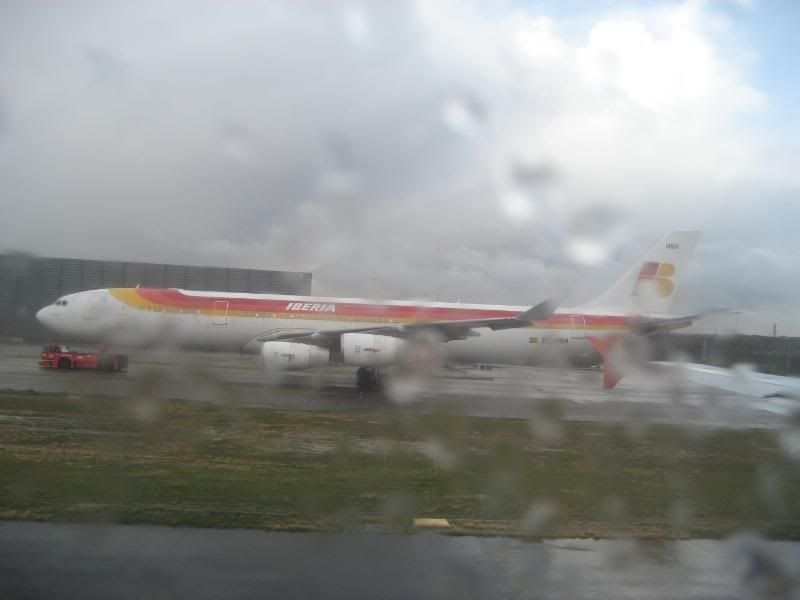 General Seat Views + Seat Legroom
(Seat legroom – seriously, it was skimpy)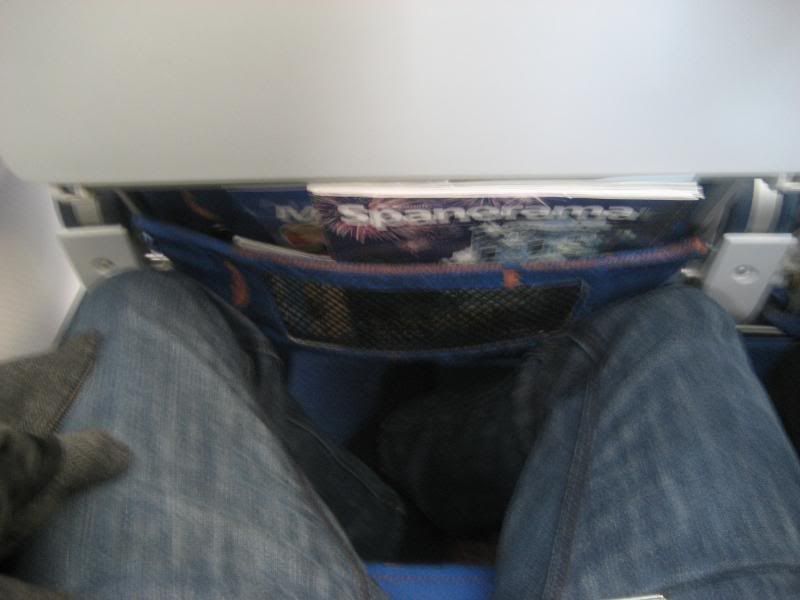 Seat Recline + Angle View:
(Super modest recline)
Cabin:
c) Meal + Beverage:
Nothing on Spanair is free. I guess it will take me a while to adjust to this European short haul service concept on carriers that are legacy, network, and alliance members. Anyways, the menu was rather comprehensive and I purchased myself a rather crappy tea (EUR 1,50) and a rather filling ham sandwich (EUR 5,00). The entire purchase could be done using a credit card and the crew were courteous during the service.
(Menu)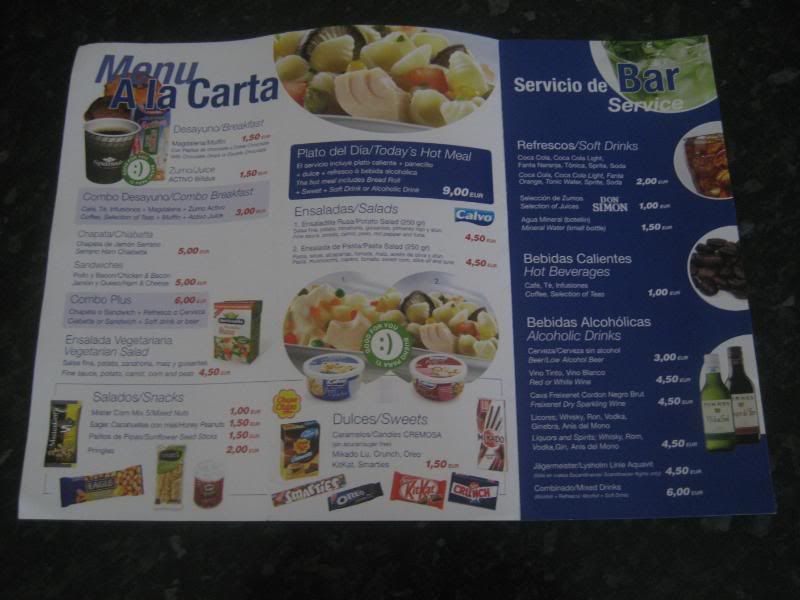 d) Inflight Entertainment:
This is where the almost 3 hour flight became really painful. While there were some video monitors in the aircraft, it was not switched on beyond the safety announcements. Very poor! Effectively, there was nothing to do but be constrained to my poor seat not being able to get out. The in-flight magazine was average (hmm…will they change Spanorama to something else now that SK is off-loading them?).
("In-flight magazines", Boarding Passes, etc.)
e) Crew:
One of the better aspects of JK was the crew. They were friendly at all step of the way and I was actually surprised to receive such service from a Spanish flag wearing carrier. At boarding, they greeted you … during meal service, they were friendly and nice and full of smiles … at disembarkation, they were also super friendly. I had left my passport behind (oops!), and when I ran back to the aircraft, they were like, "miss us already?"
. Nice.
IV> Post-Flight:
Arrival at LPA was smooth and we had made 15 minute of our delay en-route. LPA always makes me smile because as soon one arrives you hear German, Nordic, Dutch, and British accents. The only "Spanish" accents are from … Venezuela
. YAY.
(LPA)
V> Impressions + Scores:
Spanair gets the job done … for cheap. It is not an airline that is going to be recognized for impeccable service anytime soon. Its business concept of charging for everything is absurd … though, I do recognize its part of business sense and the overall trend in Europe. The on-board crew is what pushed JK from average to slightly better than average. I give JK an endorsement and would look at them … but like most LCC's, I would chose them only if times are convenient and if the price is super cheap.
1.0 > RESERVATION: 7.0
2.0 > CHECK-IN: 7.0
0.5 > LOUNGE: 7.5
0.5 > BOARDING: 7.0
2.0 > SEAT: 2.0
0.5 > AIRCRAFT OVERALL AMBIENCE: 5.0
1.0 > IFE: 5.0
2.0 > CREW: 7.0
2.0 > FOOD: 6.0
0.5 > BEVERAGES: 5.0
0.5 > A.KITS + OTHER FREEBIES: 5.0
0.5 > DISEMBARKATION: 8.0
1.0 > ON-TIME RECORD: 8.0
WEIGHTED OVERALL IMPRESSION (WOI): 5.85
(Pre-flight WOI of all reviews: 6.51)
* Weighted Overall Impression (WOI) aligns scores with what matters most. Weights are indicated alongside each category.
(Scores are based on comparison with other airlines in THAT class of service – No comparison of Y vs. F for example)
VI> Other Trip Reports:
PREMIUM:
8.64:
Turkish Airlines (59): JFK-IST: 11/2008
8.61:
Air Canada (49): YYZ-SCL: 06/2008
8.11:
Aeroflot (33): MOW-DEL: 09/2007
8.04:
Korean Air (40): NRT-ICN: 10/2007
8.02:
Delta Airlines (24): JFK-CDG: 08/2007
7.46:
LAN (55): YYZ-JFK: 09/2008
7.82:
Singapore Airlines (06): EWR-SIN: 09/2006
7.14:
Swiss (52): SCL-GRU: 06/2008
7.02:
Qatar (68): DOH-JFK: 01/2009
6.96:
Etihad (61): JFK-AUH: 12/2008
6.93:
Delta Airlines (18): SEA-JFK: 11/2006
6.84:
ConViasa (65): CCS-DAM: 01/2009
6.81:
Air Canada (17): ICN-YYZ: 10/2006
6.70:
KLM (32): EBB-AMS: 08/2007
6.36:
Privatair (60): MUC-BOS: 12/2008
6.25:
Korean Air (45): NAN-ICN: 10/2007
6.11:
TAP Portugal (53): GRU-OPO: 06/2008
5.75:
Singapore Airlines (16): CCU-SIN: 10/2006
5.64:
NorthWest (46): ICN-NRT-SEA: 10/2007
5.39:
LOT (54): WAW-JFK: 06/2008
5.07:
TACA (66): JFK-SAP: 01/2009
4.42:
Air France: CDG-JNB (25): 08/2007
ECONOMY: Long + Medium:
9.26:
Air India (48): JFK-DEL: 02/2008
7.38:
Avianca (01): BOG-LIM: 07/2006
7.07:
Sri Lankan (62): KWI-CMB: 12/2008
6.41:
American Airlines (58): LHR-BOS: 11/2008
6.26:
Jet Blue (21): CUN-JFK: 02/2007
6.06:
Air Canada (04): YYZ-YVR: 09/2006
5.89:
USA 3000 (19): PUJ-BDL: 01/2007
5.85: Spanair (69): MAD-LPA: 02/2009
5.79:
Air New Zealand (42): RAR-NAN: 10/2007
5.46:
TAP Air Portugal (23): OSL-LIS: 05/2007
ECONOMY: Short
8.56:
Paramount Airways (38): BLR-MAA: 09/2007
8.56:
Kingfisher (64): HYD-CCU: 12/2008
8.24:
Kingfisher (14): IXA-GAU: 10/2006
7.87:
Indian (34): BOM-MAA: 09/2007
7.72:
Alliance Air (13): CCU-IXA: 10/2006
7.57:
Indian Airlines (10): DEL-CCU: 09/2006
7.23:
West Jet (03): YYC-YVR: 09/2006
7.15:
JetLite (37): BOM-GOI: 09/2007
6.70:
Spice Jet (09): CCU-DEL: 09/2006
6.63:
Air Fiji (44): NAN-SUV: 10/2007
6.63:
Jazeera (67): DAM-KWI: 01/2009
6.58:
Air Tran (02): EWR-MDW: 08/2006
6.48:
Air India Express (63): CMB-MAA: 12/2008
6.44:
CO Micronesia (39): ROR-YAP: 10/2007
6.41:
Pacific Sun (43): NAN-SUV: 10/2007
6.37:
Skybus (47): SWF-CMH: 02/2008
6.33:
Kenya Airways (29): NBO-BJM: 08/2007
6.33:
Sky Europe (56): LTN-BTS: 10/2008
6.31:
Indigo (15): GAU-CCU: 10/2006
6.31:
easyJet (57): BUD-LTN: 11/2008
6.22:
Air Link Swazi (28): MTS-JNB: 08/2007
6.22:
Air India (36): HYD-BOM: 09/2007
6.13:
Adam Air (07): SIN-CGK: 09/2006
6.13:
Air Rarotonga (41): RAR-AIT: 10/2007
6.00:
Transairways (27): INH-MPM: 08/2007
5.95:
Air Canada (05): ALB-YYZ: 09/2006
5.85:
SAS Norge (22): OSL-AES: 05/2007
5.81:
LAM Mozambique (26): JNB-MPM: 08/2007
5.69:
Air Deccan (12): IXZ-CCU: 10/2006
5.67:
Rwanda Air Exp (30): KGL-NBO: 08/2007
5.07:
Go Air (35): MAA-HYD: 09/2007
5.00:
Sky Airline (51): IQQ-SCL: 06/2008
4.96:
Valuair (08): CGK-SIN: 09/2006
4.78:
Air Comet Chile (50): SCL-IQQ: 06/2008
4.74:
Fly 540 (31): MYD-LAU: 08/2007
4.33:
Viva Aerobus (20): ELP-MTY: 02/2007
4.11:
Air Sahara (11): CCU-BOM: 09/2006
(Note on Codes: Y – Economy, J – Business, F – First :: I/D – International/Domestic :: SR/MR/LR – Short/Medium/Long Haul)
(Note on Date: Dates are modified to be +/- 3 days from actual flight date to not reveal actual flight pattern)
VII> Other Pictures:
(LPA – cool combination of turbo-props and Nordic scheduled and charters)