This airline is by no doubt one of the largest and most reputable in Africa. Regionally, this airline has North, South, East, and West Africa extensively covered, providing seamless connectivity for its customers. Feeding this regional network, this airline also boasts an array of International destinations that may seem conservative at first sight, but after giving it some thought, one is bound to see that this 'elite' selection of routes was carefully chosen to cover just the right places in the right regions.
Overall, this airline flies to over 50 destinations covering Africa, Europe, The Middle East, The Indian Sub-Continent, and Far-East Asia. This obviously doesn't come on its own. Its solid management clearly knows how to run this airline, and this includes a group of route planners that I have personally enjoyed working with on a number of occasions. They know their markets well enough to keep this airline moving, and have also found opportunities in bringing several interesting 5th Freedom flights to reality; one of which I had the pleasure of flying.
This airline is by no doubt one of East Africa's finest…..This airline is Kenya Airways.
Welcome to my 13th Trip Report,
This TR will cover the following flights on Kenya Airways in Economy Class:



- HKG-BKK: B767-300ER

- BKK-HKG: B767-300ER


This is the second series of my three-piece TR series covering my holidays in HKG & BKK over New Year's Eve 2008/2009. The purpose of my trip to Bangkok was to attend a series of dance parties that were happening over New Year's Eve. Since the USA can be too far for this sometimes, Bangkok seems to offer the same style of entertainment I wanted, so a friend and myself decided to give it a try.
There are several great options to fly between Hong Kong and Bangkok. In fact, I don't think I have seen any other route that serves an overkill amount of 5th Freedom flights such as the HKG-BKK pairing. Apart from the usual (and boring) Cathay and Thai options, Emirates, Ethiopian, Kenya Airways, PIA, Royal Jordanian, and Sri Lankan were also available. Out of that bunch, I was mostly interested in Ethiopian Airlines and Sri Lankan Airlines, however ET's timings were not favorable, and UL's frequency did not match my required days of travel either. So in that case, I decided to go for Kenya Airways, which offers a daily frequency (I think) with different timings that were very attractive.
So I went ahead and booked my ticket on KQ's website, which was completely hassle-free. Within moments and without any hang-ups I booked my seat, paid for the fare, and issued my ticket.
Tuesday December 30th 2008
I was so excited that night that I did not even get half a second of sleep. Giving up, I got out of bed at 3AM and drank several cups of coffee to keep me going for the day. I decided to go online and check on the status of the incoming flight from Nairobi, which appeared to be arriving HKG from NBO and BKK at 4:28am, some 30 minutes ahead of schedule.
KQ 230 Flight Status
At 5:15am I checked out of the hotel and by 5:35am I was in a taxi and on my way to the Hong Kong In-Town Check-In Station, where I could check in for my flight and catch the Airport Express to HKG.
By 5:45 I was dropped off at the station, where I proceeded directly inside to check if KQ uses this facility. To my surprise, and to all my aviation fanatic friends' whom I constantly sms'd about my KQ happenings, KQ does provide this service to its passengers, which is very convenient!
Check-In Counter FIDS at The In-Town Check-In Station
I arrived at the check-in desk allocated for my flight, where two not-so-friendly-but-efficient CX staff simultaneously checked me in. Perhaps it was too early in the morning for them, but these ladies seemed to want to do anything but smile.
KQ In-Town Check-In Desks
A few minutes later, I was issued my boarding pass, and was relieved from the task of carrying my luggage, which was tagged to BKK. I then proceeded to the Airport Express Train.
My Boarding Pass
Inside The In-Town Check-In Station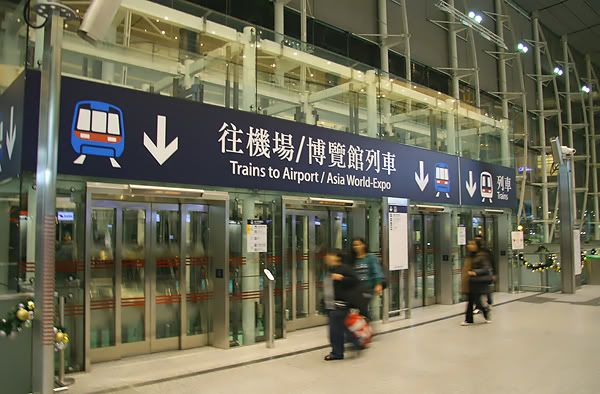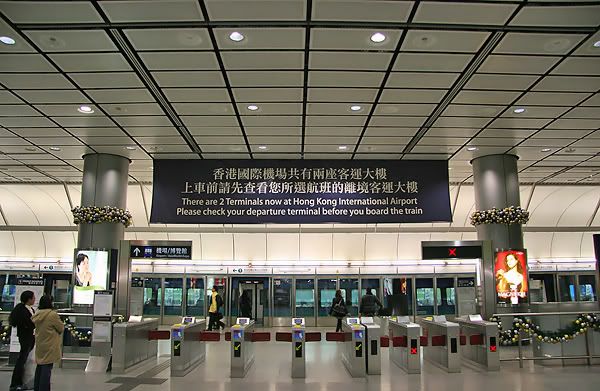 Inside The Airport Express Train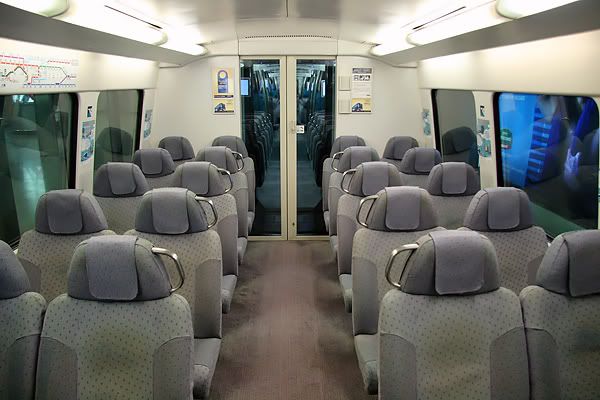 In typical Hong Kong fashion, the train left the station at exactly 6am, and after a quick 25 minute ride, we arrived at HKIA.
Arrival Information Inside The Train
Stepping off the train, I decided to walk around the landside check-in hall before heading towards security and immigration as I had plenty of time. Naturally, HKIA is my favorite airport masterpiece, and I could spend hours inside while time simply flew by outside.
On My Way From The Train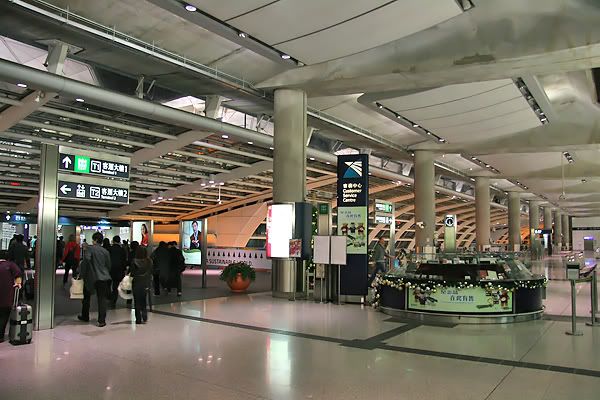 Approaching The Main Check-In Hall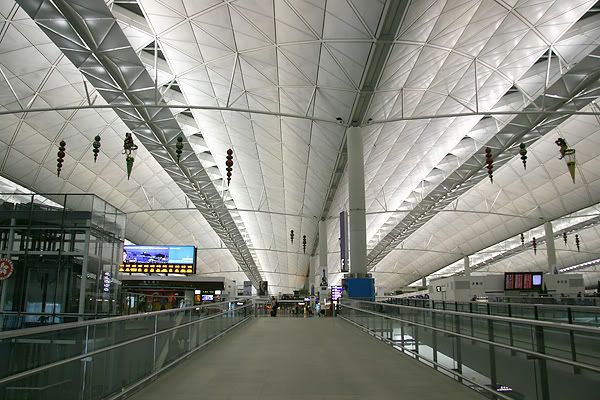 Signage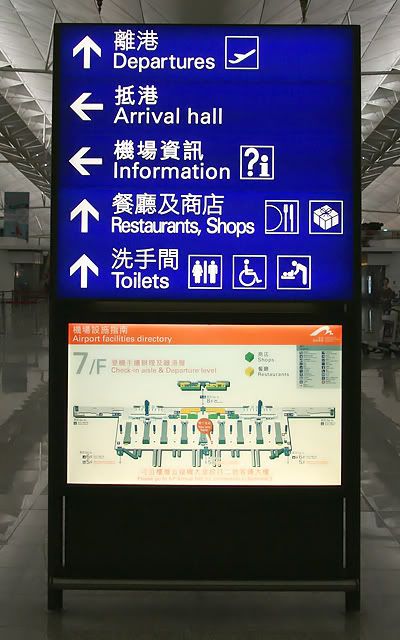 FIDS
Christmas Decorations Still In Place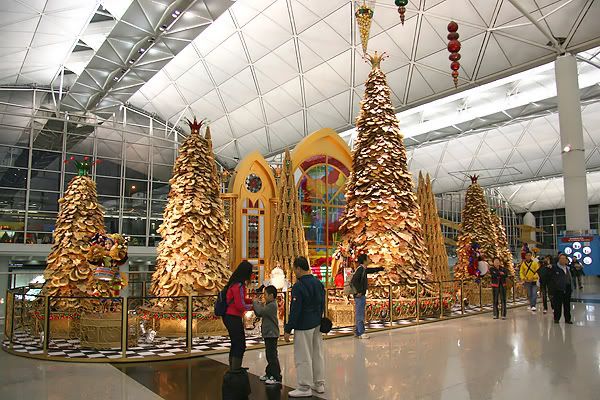 As I was strolling around the check-in desks, I spotted an area overcrowded with trolleys stacked with boxes that looked like they were about to burst and spit out their contents all over the place. I figured that must be KQ's counters; and I was right. The flight seemed full, and seemingly most of the passengers were flying to NBO.
Kenya Airways Check-In Counter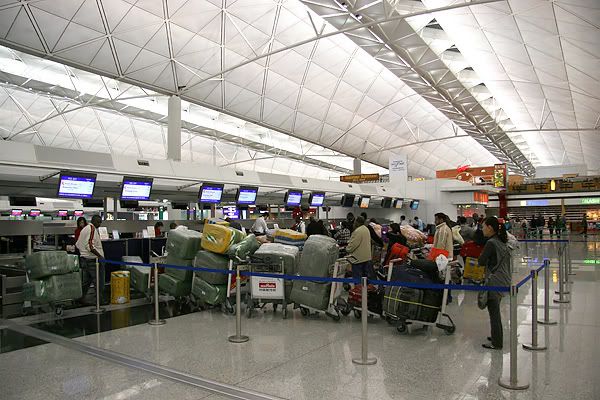 Malaysia Airlines Check-In
Shopping
At 7:05am I was done with my inspection and decided to head through security and immigration. By 7:15am I was airside. I met up with my friend who was to follow me to BKK a day later, and we had a quick breakfast before he headed back to work.
On My Way To The Gates
As I walked around the terminal, I arrived at a gate where passengers were boarding a Singapore Airlines flight that had arrived from SFO, and is continuing to SIN. I could not help but stop and observe what had to be the most organized boarding process that I have ever seen in my life. Everyone simply submitted to forming a perfect queue where not a single body was trying to over pass the other. Even the announcements were automated and played in perfect periods. Where the hell does this happen in our world today? I was just hypnotized!
Singapore Airlines B747 (9V-SPE)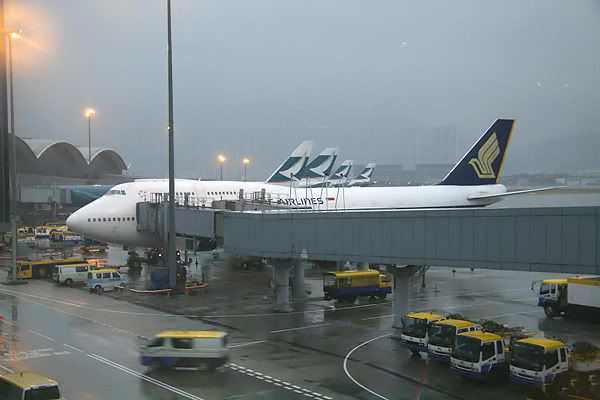 Dominated By Cathay, Lead By Singapore Airlines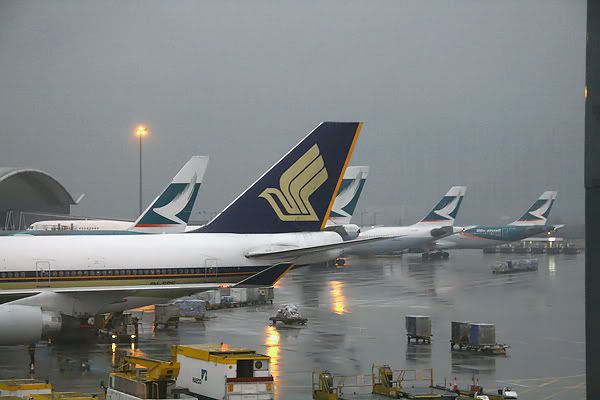 Continental Airlines B777 At The Remote Stand
Malaysia Airlines A330-300 (9M-MKA)
Cathay Pacific Airbus A340-300 (B-HXO)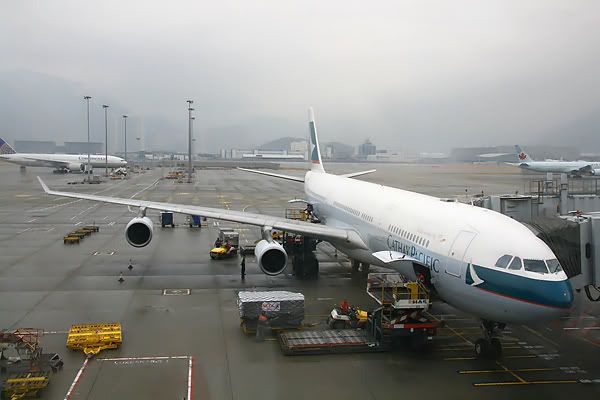 Cathay Pacific Special Livery B77W (B-KPF)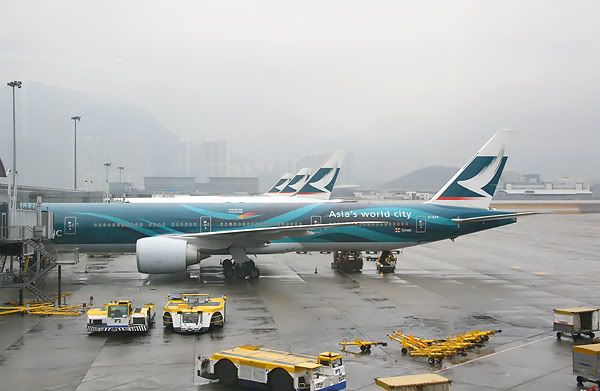 I finally arrived at my gate at 9:05am, and spotted the Kenya Airways B767 awaiting her flight back to Bangkok and Nairobi. I was so excited about getting on a B767 again. Me and this aircraft go a long way back as I had practically flown every single one in the KLM fleet all throughout the aircraft's lifecycle with that airline. It was once my favorite and most comfortable ride in the air; I literally flew on this aircraft until I got sick of it.
My Kenya Airways B767-300ER That Was To Take Me To BKK
Tail Action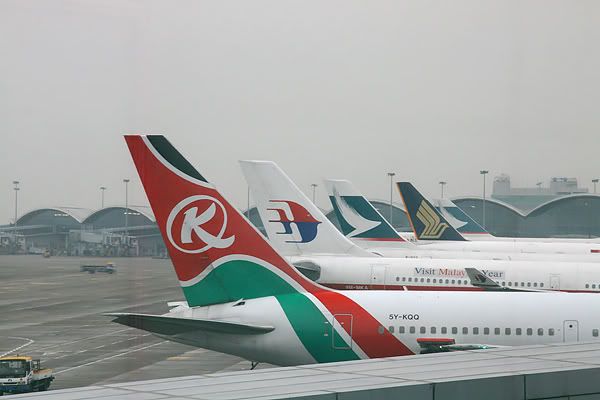 Gate 23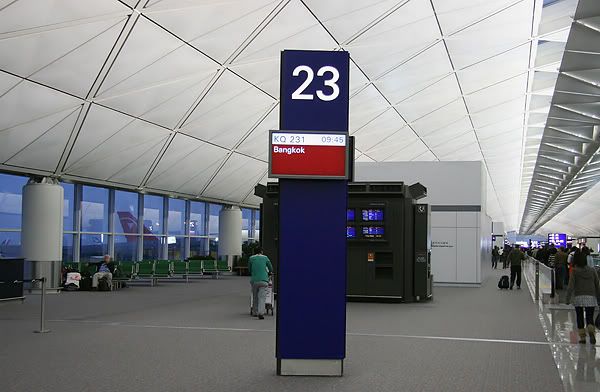 By 9:10am boarding had begun with several announcements that really were of no use. Everyone simply got up from their seats and flocked to the gate in complete madness. People from every direction kept trying to overtake each other and what made it worse were the very rude CX ground staff that treated these passengers like cattle. In their miserable attempts of forming a queue for boarding, the agents simply shouted, scolded, and even pushed some of the passengers. I wasn't very happy with Cathay's non-premium ground services this time.
As I approached the agent by the gate, he stopped me from proceeding by shoving his hand on my chest and ordering me to wait until I got my carry on weighed. "You wait here, must weight carry on!!!" he said. I stood where I was and nothing happened, while he let the other passengers proceed. I kept waiting, while he continued to ignore me. After some time he asked his colleague to weigh my carry-on then let me proceed.
I walked down the aerobridge until I arrived at Door 1L of the B767, where the lead purser was standing to welcome all joining passengers on board.
"Welcome on board sir. You seat is straight ahead, and it is in the last row"
By 9:15am I was on board.
CONTINUED BELOW