MISSION: Catch the DC-9 in Northwest colors (before they're gone forever)!
Hello everybody,
long time no see! After almost one year of abstinence in writing trip reports I would like to welcome you again to my recent one-day trip. I'm out of practice and the benchmark is set high. So don't expect a quality report a la Abrelosojos, FLIGER67 or OA260 (just to name a few of you guys).
This report covers my mission to catch a very classic aircraft which I don't think will be around anymore in the near future – the McDonnell Douglas DC-9!
It's a rather long report and I added as much pictures as possible, but my digicam isn't the newest therefore it sometimes lacks of quality.
The routing today:
DL6517 DTW-CVG CR9
DL6361 CVG-ORD CR2
NW149 ORD-MSP D9S
NW1456 MSP-DTW 753
I bought this ticket less than three weeks prior departure through cheaptickets.com as neither Delta nor Northwest provided this routing on their websites. The total amount of only 120 USD is unbeatable if you consider you pay only 30 USD for one single segment including taxes. Even for the train from Detroit to Chicago you're going to pay more in such short notice.
During booking seat reservations could be done and frequent flyer number could be added. After purchasing I got the Delta confirmation code with which I could easily modify the flights on the airlines respective website. Surprisingly this ticket had connected automatically with my Delta Skymiles account even though I bought it through another website. I did never see this happening before.
Anyways, enough talking around, let's go ahead with the trip! Enjoy and please let me know if you like it or not! Appreciate that...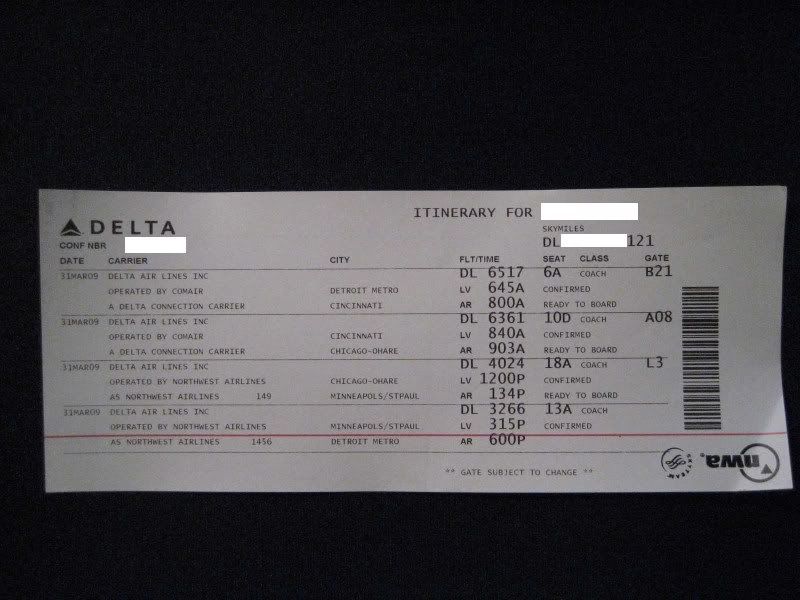 DL6517 Delta Connection operated by Comair
DTW (Detroit – Metro Airport) – CVG (Cincinnati/Northern Kentucky Intl.)
STD 0645 | ATD 0701
STA 0800 | ATA 0752

Aircraft: Canadair CRJ-900ER N554CA Ship 15169
delivered 20-03-2008
View Large
View Medium


Photo © PRM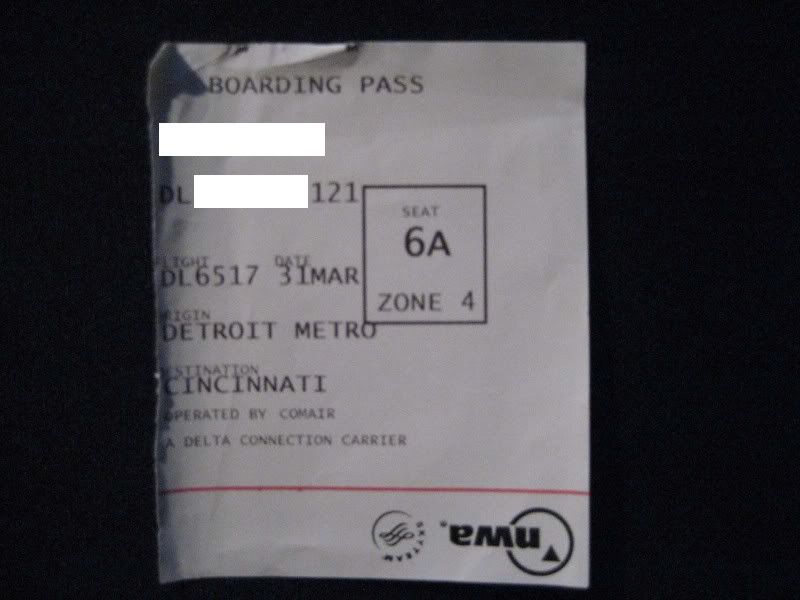 For your hobby you sometimes make a sacrifice. To wake up in the middle of the night at 4am is for me a big challenge, but the DC-9 is worth it!
The morning routine was done and I was on my way to the airport. Luckily it's a ride of only 15-20 minutes from my home. I parked my car at one of the many longterm parking lots near the airport with shuttles running 24hours to both terminals.
I checked in the day before, but I don't have a printer available. I immediately proceeded to one check-in kiosk and grabbed 3 of 4 boarding passes. For any reasons it didn't print the last segment with NW.
At this very early time the McNamara Terminal in DTW is somehow still sleeping.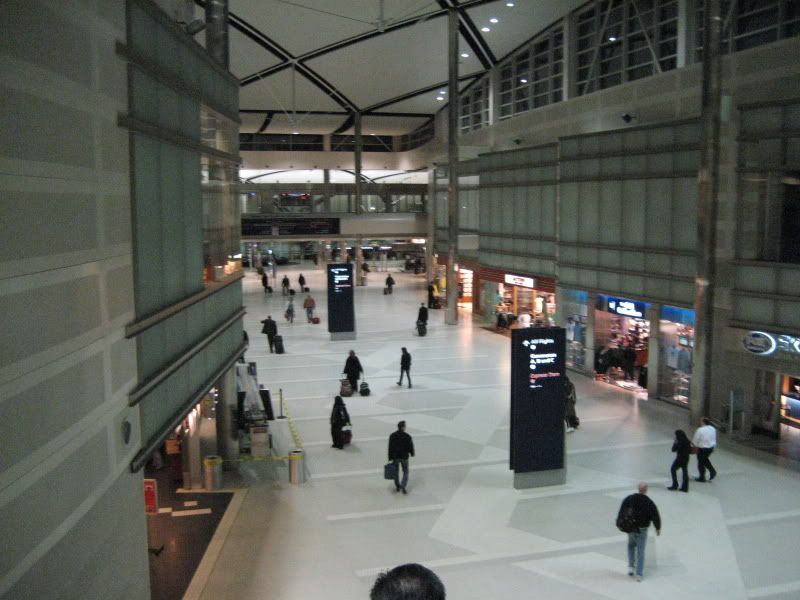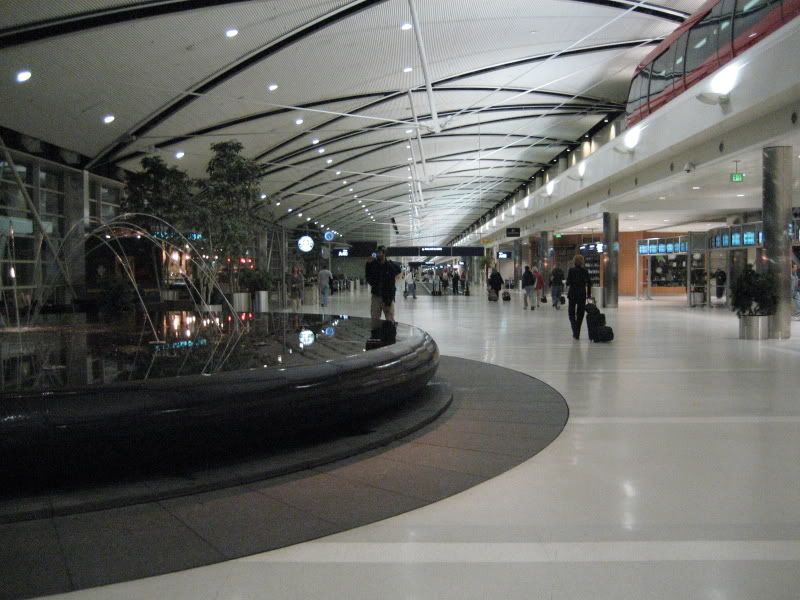 After security I had coffee at Starbucks and strolled around concourse A. As the boarding time came closer I made my way through the tunnel to concourse B where my first flight for the day to CVG would departing.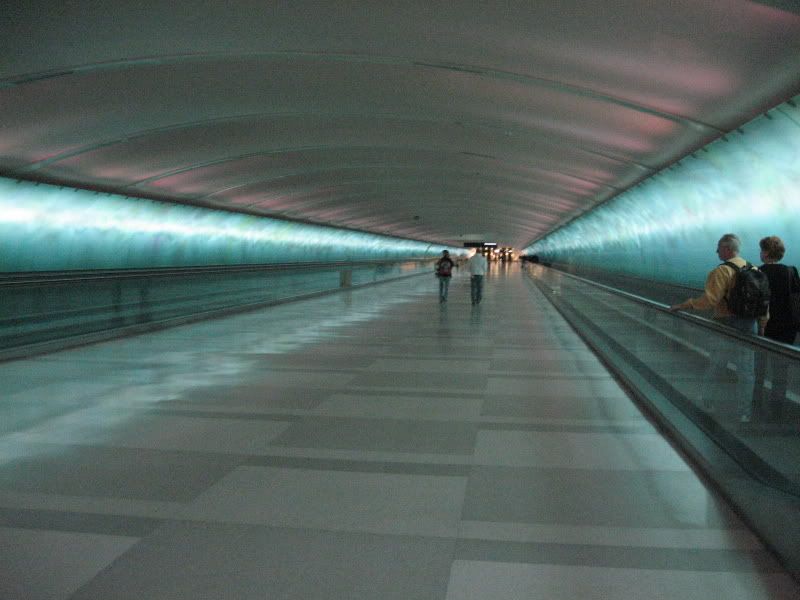 My shiny new CRJ-900 (the second youngest in the Delta fleet) was sitting at the very last gate of concourse B - gate B 21. It was still dark outside. I couldn't get a decent picture without reflections.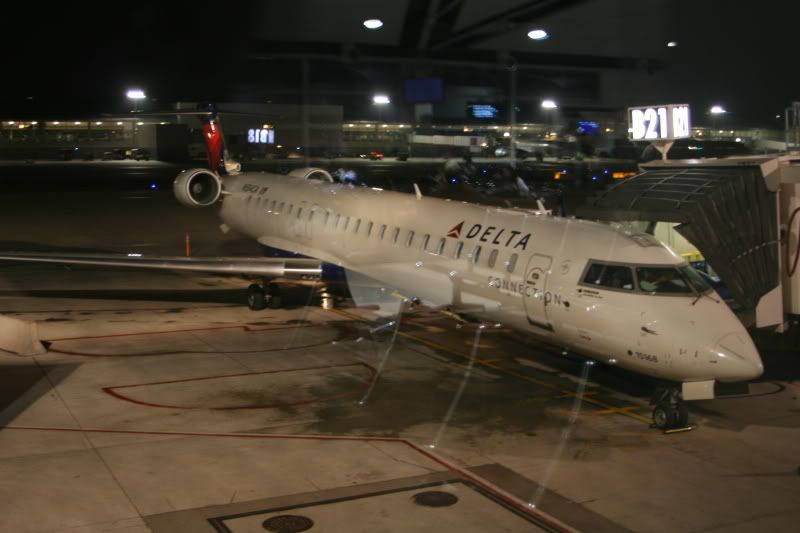 Boarding started on time with the First Class. Shortly after they continued boarding by zone numbers. I had zone 4 so I was one of the lasts to board the aircraft. It was an almost full flight with only 3-4 empty. Luckily the seat next to me remained empty. I prepared myself for a short nap after reaching cruising altitude, but no chance with the child and her mother sitting behind me.
We pushed back on time and took off from runway 4R. Shortly after we reached our cruising altitude.
Lake Erie and the first sun shines of the day.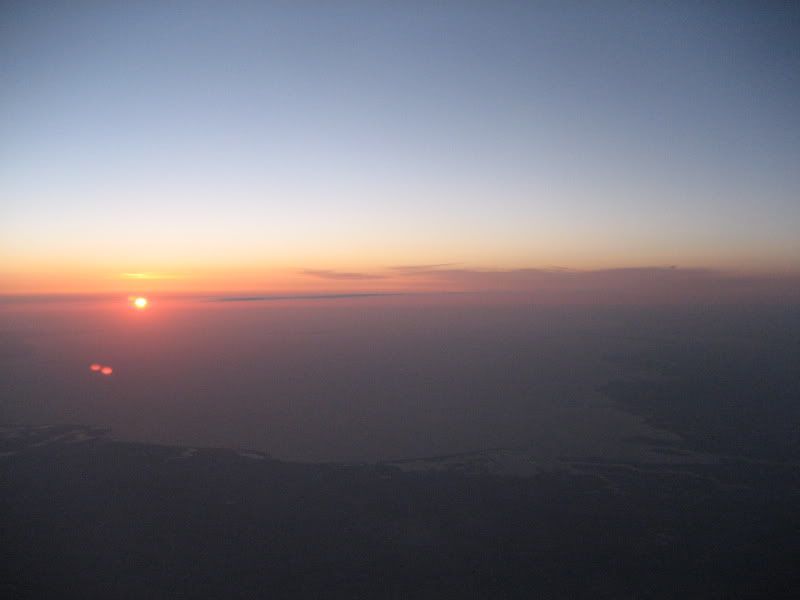 The very friendly crew consisting of two FA's served some beverages though nothing else than spring water and peanuts were available.
After 35-40 minutes into the flight we began our initial approach to CVG. Here is a picture of Ohio shortly before the captain announced the approach.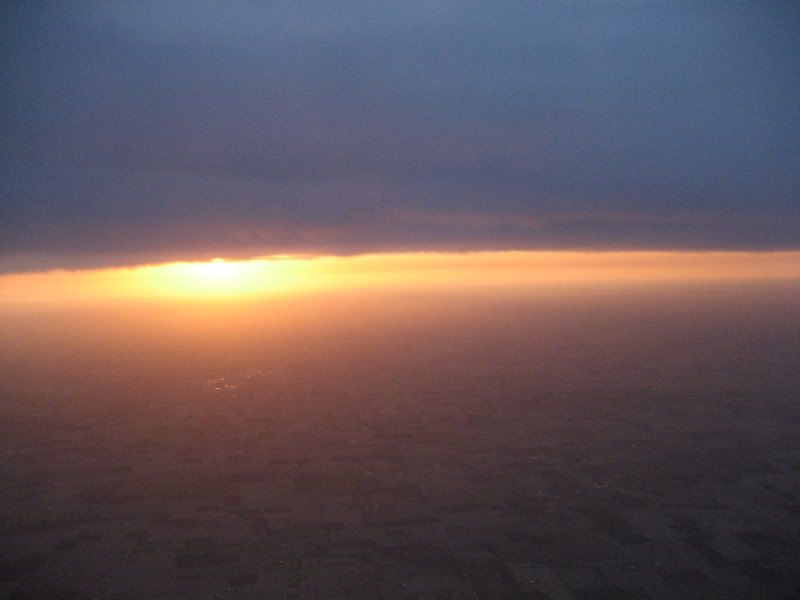 Until this time I couldn't manage to sleep at all as the mother and her daughter were continuously talking very loud that the whole cabin were aware of their connection flight to MCO and their short connection time of 1h and that they don't have any boarding passes and and and... Anyways...
We touched down at runway 18C and taxied to our gate B16 which would mean a transfer from B to A for my connection.
I thought only in Victorville or Manara aircrafts are stored???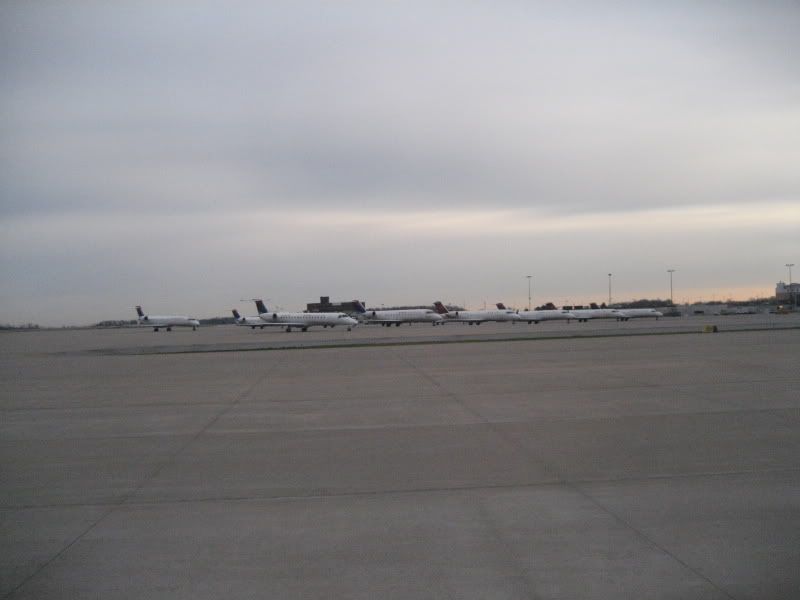 another Comair CRJ parked next to us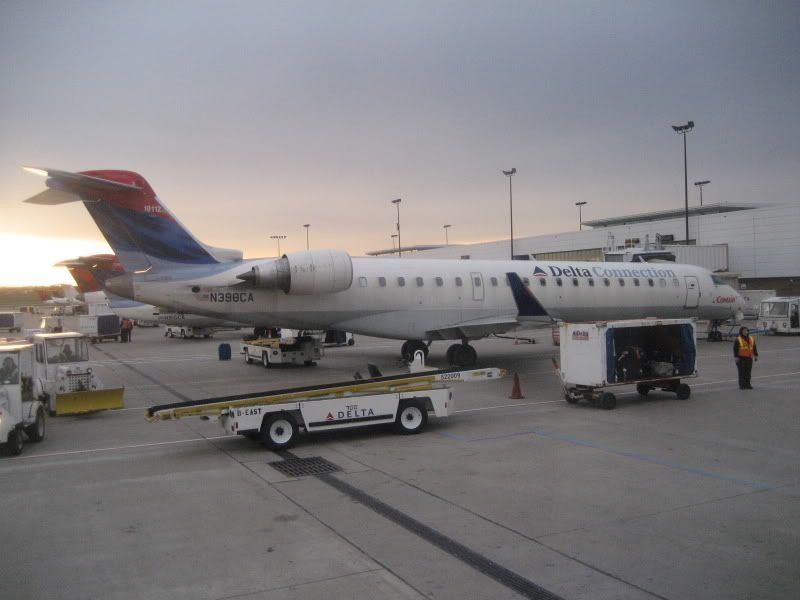 Goodbyes to the crew and on the way to concourse A. Even though I had only 40 minutes to connect I wasn't in a hurry as I heard that CVG is very easy to navigate. Indeed I arrived my next departure gate (A8) within only 10 minutes.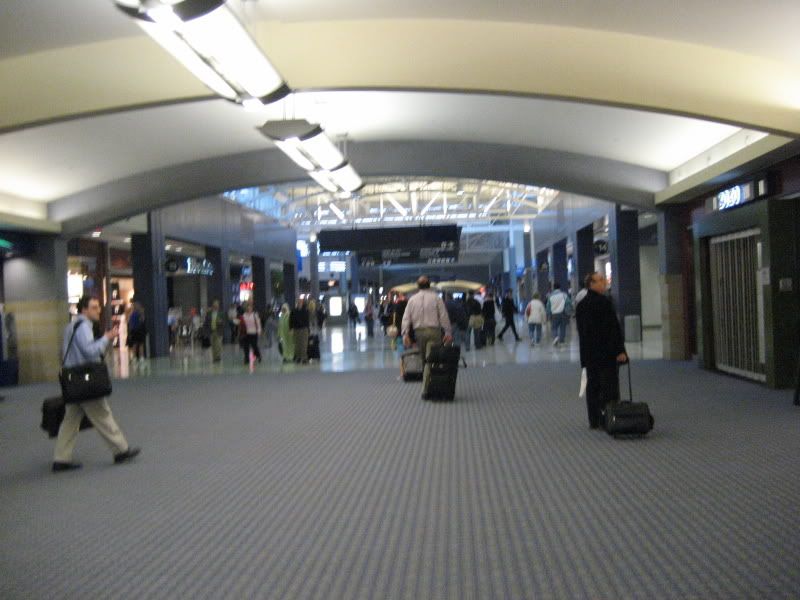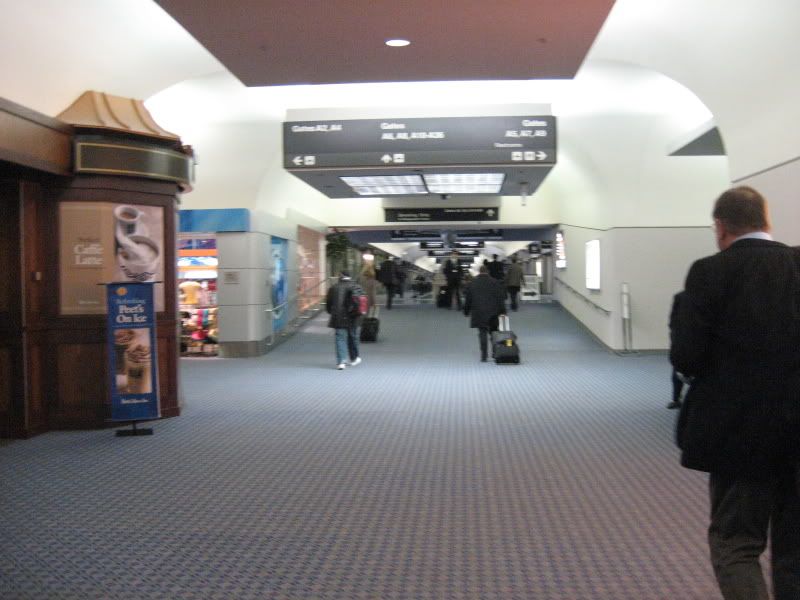 Even though it was very early in the morning the two FAs were nice and attentive. Also some updates about cruising altitude and weather for CVG from the cockpit.
Almost new aircraft, inside and outside spotless, usual leather seats (good for flights up to 2h, but no more) and lots of legroom. I like those CR9s!
On time departure and on time arrival. Delta operated by Comair did a good job on this flight.
DL6361 Delta Connection operated by Comair
CVG (Cincinnati/Northern Kentucky Intl.) - ORD (Chicago - O'Hare Intl.)
STD 0840 | ATD 0846
STA 0903 | ATA 0834

Aircraft: Canadair CRJ-100ER N954CA Ship 7100
delivered 24-01-1996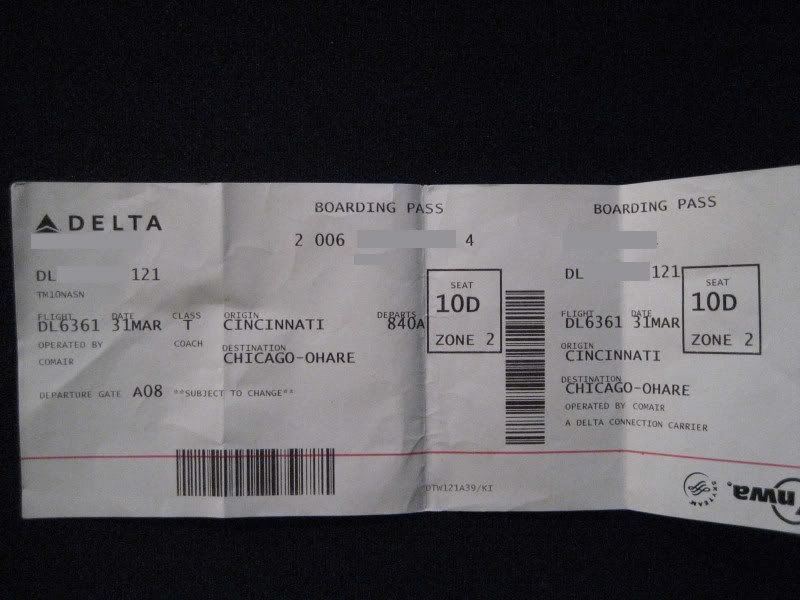 As boarding wasn't announced yet when I arrived at the gate I walked around the concourse to get a decent shot of my aircraft. CVG is for sure a Delta CRJ heaven. I've never seen so much CRJs in one airport in my life! On the other side I only saw a couple of Delta mainline aircrafts.
After searching for the best position I found a smoking lounge with a window directly facing my CRJ-100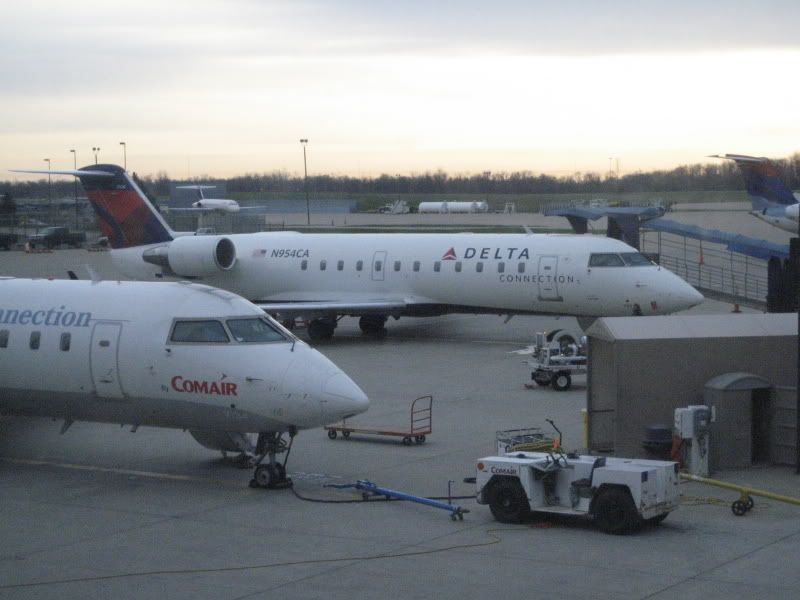 N954CA again with all his brothers and sisters. Note that this is only one side of the A concourse. Exactly the same amount of CRJ were parked at both the other side and at concourse B.
As no First Class cabin on this aircraft was available Delta started boarding first with their Elites and those needing more time to go on board. Shortly after it was our turn (zone 2).
Here is a shot from the gate window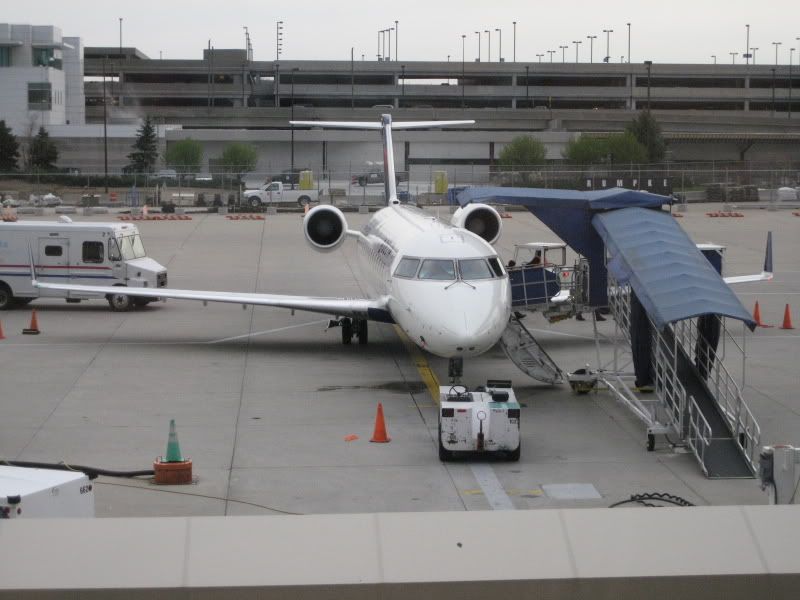 As you can see in the picture one has to walk down the jetway first onto the tarmac. After a right turn you will find yourself in front of a funny construction which I never saw before. Well, I never boarded a CRJ like this. Normally you just climb the stairs, but not in the US!
Anyways...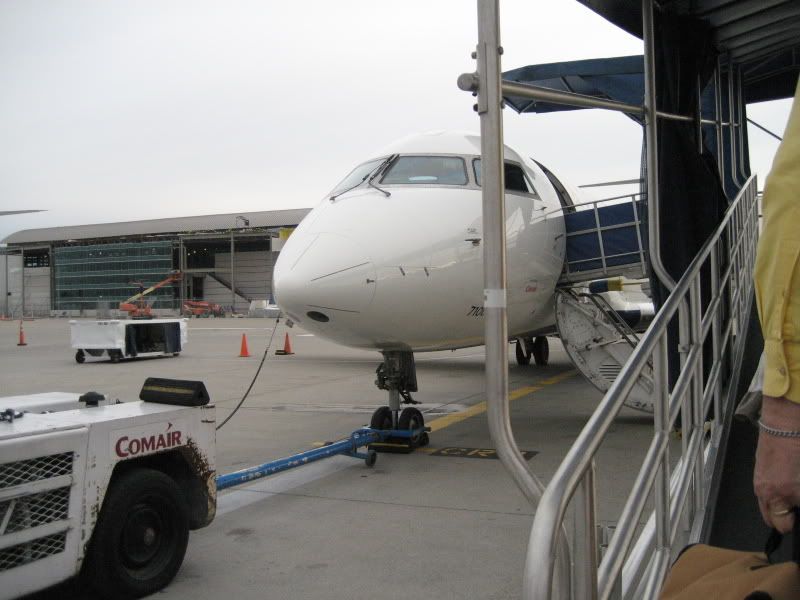 this odd construction gave me the opportunity to take one of my favorite shots: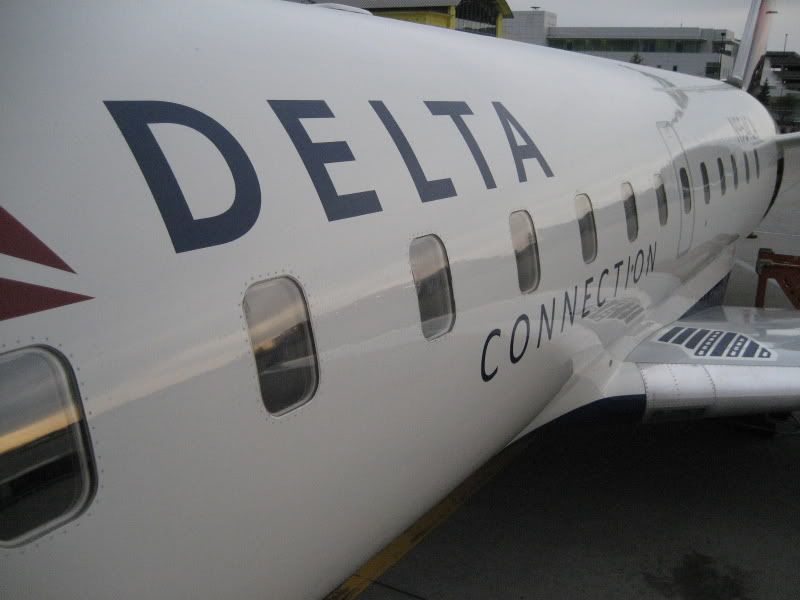 I personally like the new Delta livery much. I don't know why, but I think it is somehow classic and futuristic at once. The CRJs as well as the A330s look very pretty in my eyes, the 747 rather not though.
I suppose this bird got his new dress very recently as no pictures in the database with the new livery are available.
Back to the topic!
This flight was full and I hate full CRJ-100 flights. Especially when the guy next to me almost hits the panel due to his tallness. I really feel sorry for these guys as this aircraft is really not made to accommodate tall guys like him. I mean, I'm only 5'8, but also for me it's really cramped. You can hardly move around when seated at the window.
Our neighbor going to YYZ
Only one FA for this flight, a rather senior in her field. She was professional, but also charming and nice.
We left the gate some minutes earlier and took off from runway 27 with a direct West heading. Before we took off from CVG the captain came on the PA to inform us about a very bumpy flight. And so it was! Minutes after take-off we hit a cloud cover with heavy turbulences. Even though we reached our cruising altitude already the turbulences were present every once in a while.
The FA apologized for not being able to serve hot beverages due to the weather problems, but surprisingly she managed to serve cold drinks without a trolley. She ran from row to row, got the order and came back immediately with the drinks.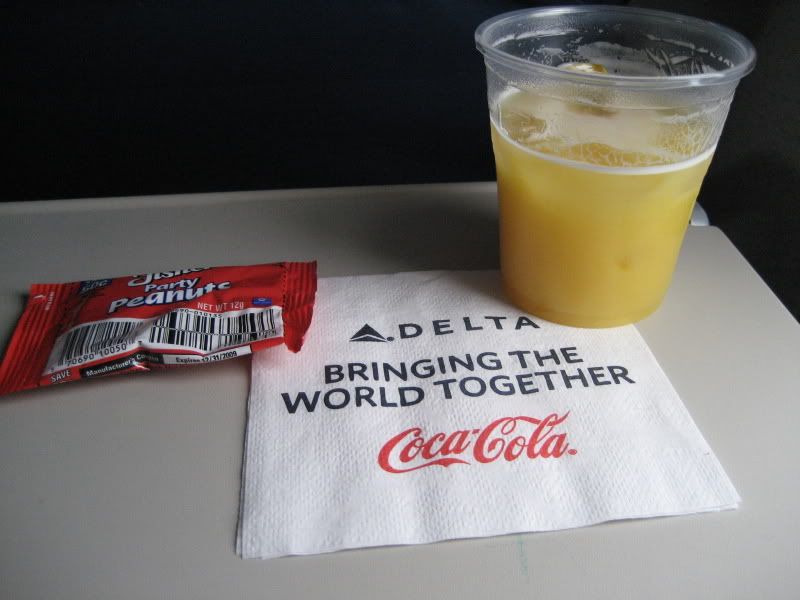 the peanuts are somehow familiar...
Luckily the estimated flight time was much shorter than the scheduled (20 minutes less). As much as I love being on board an aircraft and flying all around the globe, I really dislike these CR2-flights.
Soon enough "Windy-City" was recognizable through the clouds. Really not the best weather! Sorry for the bad quality of the shots.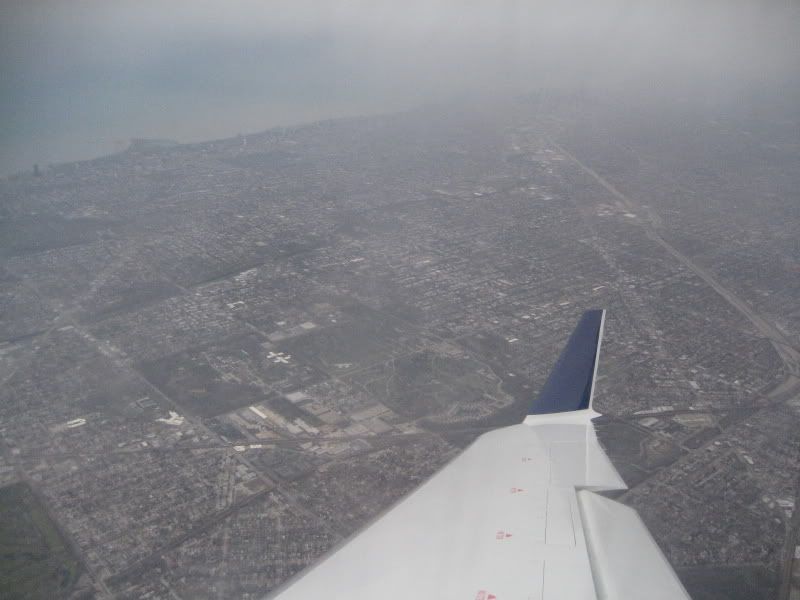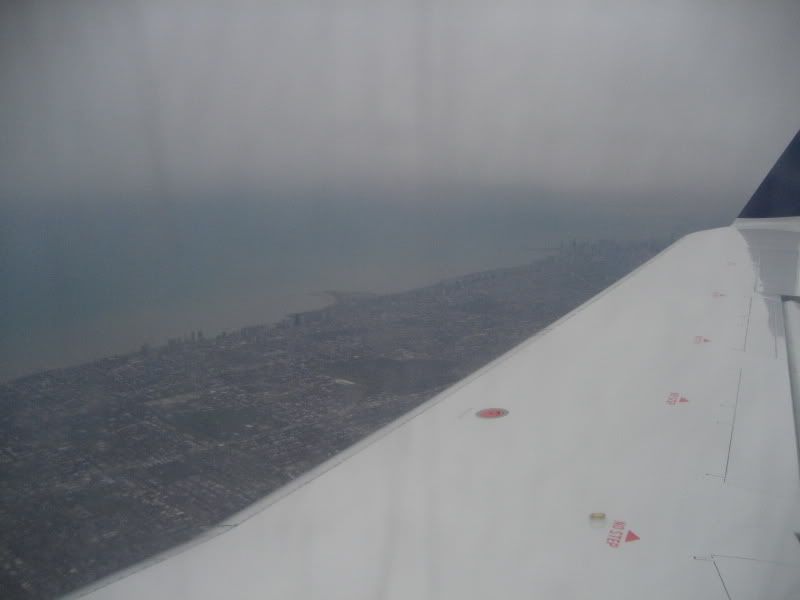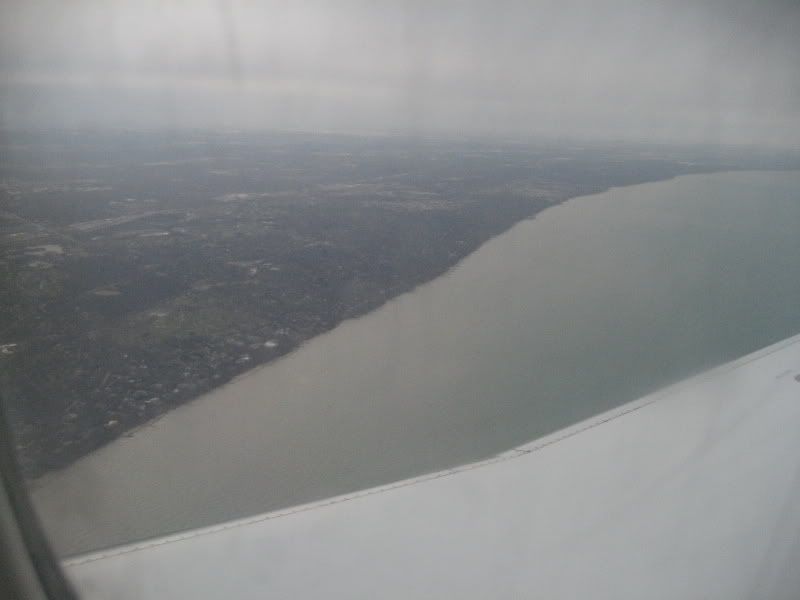 After 48 minutes flight time we touched the ground again on runway 22R and taxied to position L10B. It was a looong taxi to the gate.
I waited until everybody disembarked to ask for a cockpit picture. Fortunately the captain stood in the door to say goodbye to his passengers. I kindly asked him and he kindly allowed me to take a cockpit photo. Thank you!
by the way, this is the cabin during deboarding: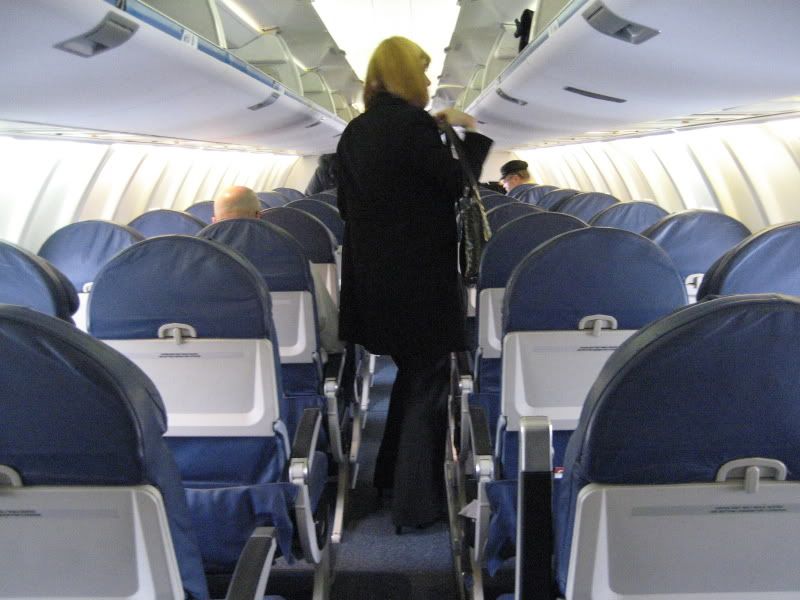 and N954CA again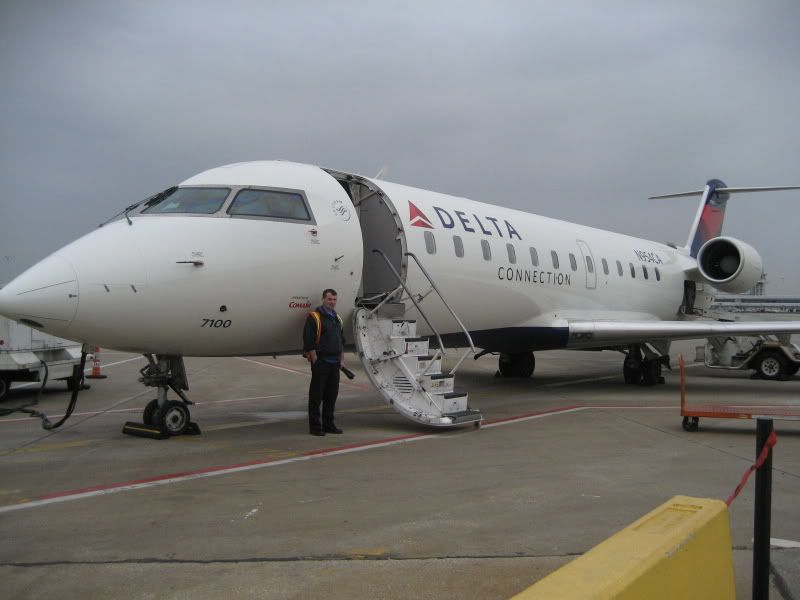 This really wasn't a good flight for me. I was cramped, the flight was full, I had limited space to move or stretch my legs and it was bumpy. To be honest I was glad as it was over.
But I still want to mention what a great job the crew did. The cockpit informed us beforehand and also during the flight gave us updates about weather and so on. And also thumbs up for the single FA as she was able to serve all of us (remember she went back and forth to the galley after every two pax), she managed the situation very professional and kept herself calm at all time, but she never forgot to keep smiling and be attentive. Great job!
NW 149 operated by Northwest Airlines
ORD (Chicago - O'Hare Intl.) - MSP (Minneapolis/St.Paul Airport)
STD 1200 | ATD 1201
STA 1334 | ATA 1331

Aircraft: McDonnell Douglas DC-9-31 N8928E Ship 9949
delivered 12-07-1967 (41.7 years old!) to Eastern Airlines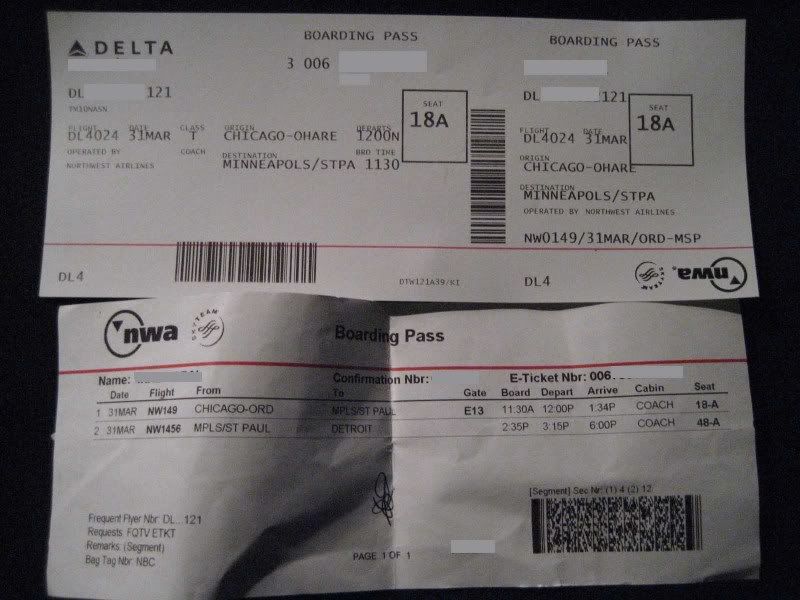 Now I had like three hours to kill until my first ever DC-9-31 ride!!!
I explored the whole airport, went to all terminals (including T5 Intl.) and watched the action around. United and American are the top dogs at O'Hare for sure whereas I would say UA has slightly more operations.
The weather was so bad that I didn't try to take any pictures at all. Here are only some examples to show how gray, dark and rainy it was: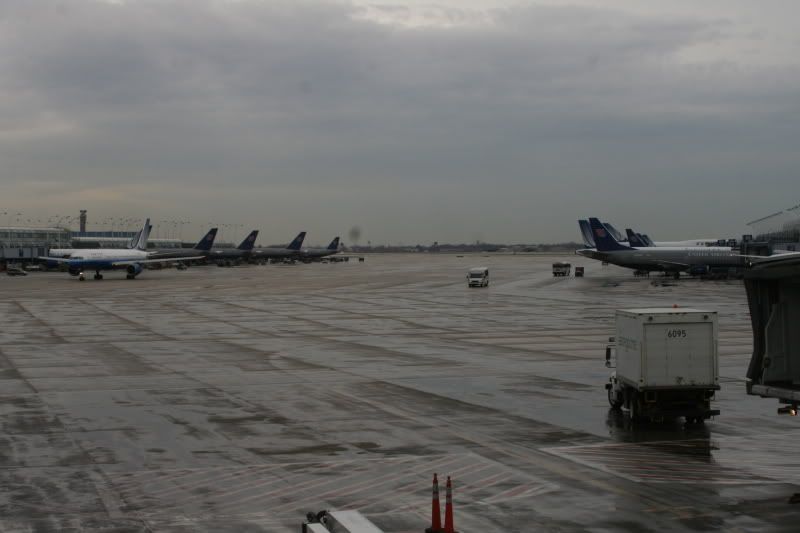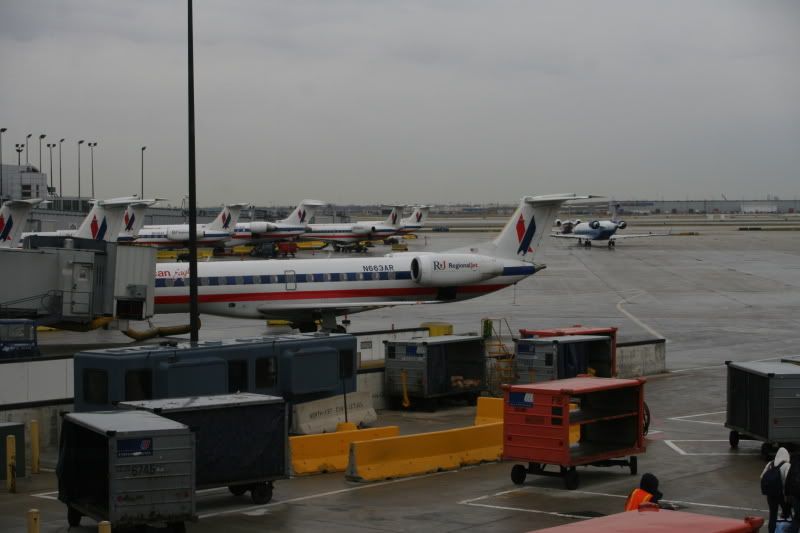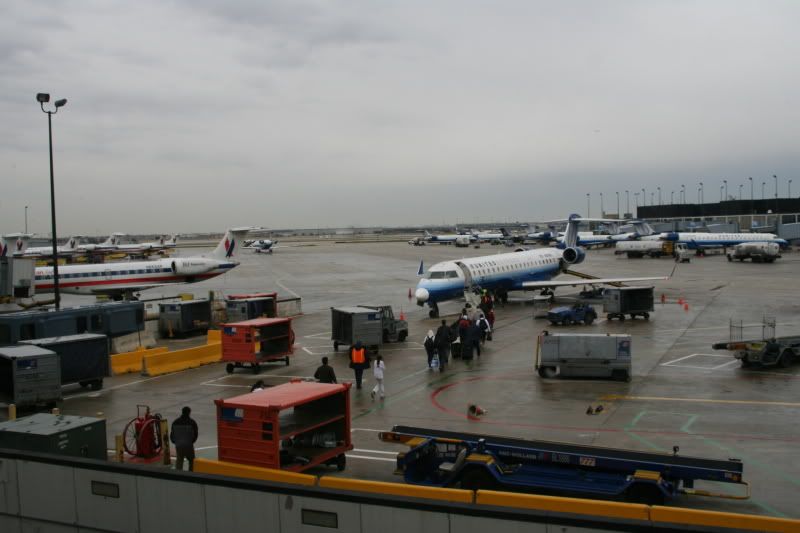 Terminal 1 is my favorite terminal in O'Hare. A lot of shopping opportunities, nice construction, a lot of windows to watch movements which also illuminates the whole inside of the building. United is the landlord here.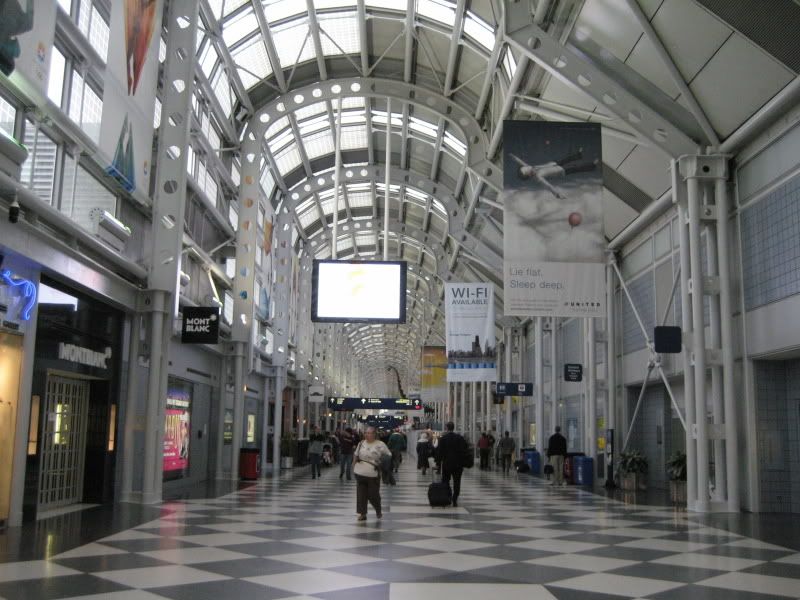 My Northwest flight was departing at terminal 2. Delta is operating out of terminal 3 so I'm not sure if NW stays at 2 or all the operations will be moved to 3. Time will tell...
After having a lunch I went outside the security area for 1-2 smokes as I still had a lot of time and it wasn't a busy day at all. The first time ever I had a very funny and nice TSA crew. Usually they're doing there job like robots, but these guys had a special "Windy-City-Touch". Can you imagine making jokes with TSA guys, because you forgot to remove the bottle of Coke inside your carry on?
Well, after this nice security experience I went straight to the gate which was far at the end of the concourse (E13). My DC9 was already waiting there for it's ride to MSP.
The jetway of E11 was blocking the view to get a decent shot of N8928E at the gate. Here are my tries: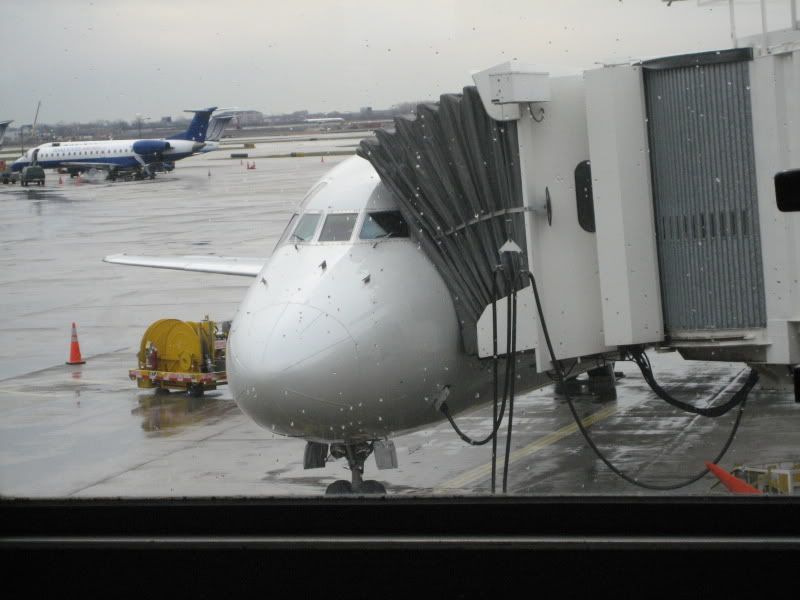 30 minutes prior departure they announced boarding. First Class, than Elites and Exit Row seater and after that the remaining cabin.
Upon entering the aircraft it didn't really look like almost 42 years old! Indeed the overhead bins and seat covers were in a much, much better condition than other airlines actual situation.
I was seated in row 18 which is shortly in front of the engines. When picking up my boarding pass at the gate the agent asked me to change my seat more to the front as the people always want to avoid seating in the back especially on the DCs, but this didn't bother me today as I was flying for the joy and the fun and THIS CLASSIC!
Honestly these two JT8D-7B engines make some serious noises and if I was to fly on them everyday I would use earplugs, but as I said before "today I don't care!". So I enjoyed the sounds when the engines started, a fresh smell of fuel covered the cabin and everything was shaking. By the way, we pushed back on time..
It was a rather long taxi to 22L and we were number 6 or 7 in line for departure. It was a bumpy take-off, but nothing seriously couldn't managed by our "old-boy". He most probably suffered some more worse weather situations.
After reaching cruising altitude the two FAs first served the First Class cabin. Than it was our turn and surprise, surprise another bunch of the very same peanuts I got on the previous two Delta flights along with a Pepsi.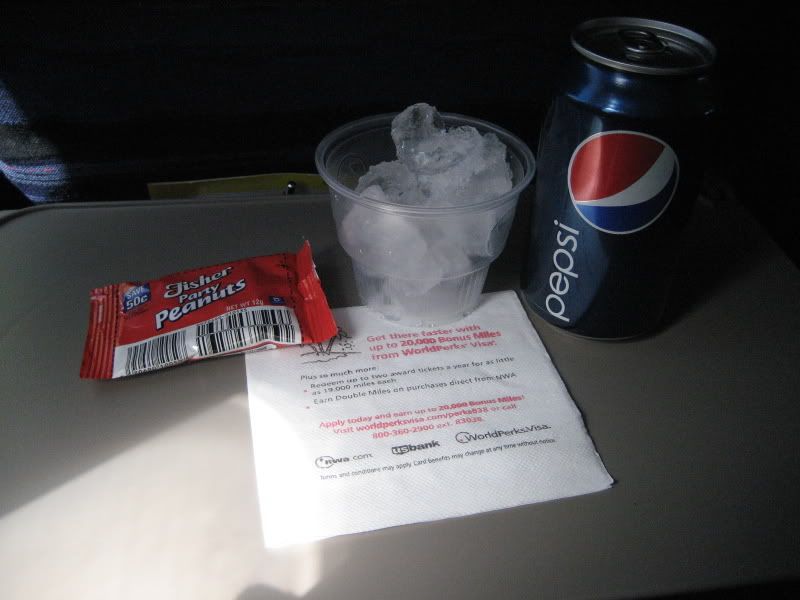 I would say the FAs on this flight were reserved. They did they job, but nothing more. No smiling at all... I don't care as long as they perform well in emergency situations!
As it was getting boring outside (only clouds)...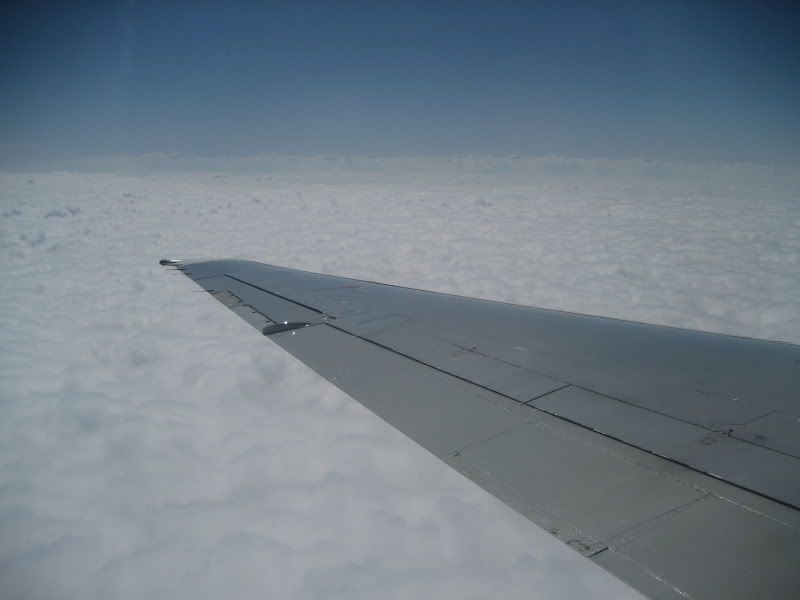 ...I dozed off for a couple of minutes to be awaking up by the pilot giving us a lot of information. We had to hold for 10-12 minutes and he told that MSP has three parallel runways and parallel approaches are normal procedures so that we don't be scared when we see another aircraft flying very close outside. He added that it's going to be rough during descent, but once we passed through the cover of clouds we'll be fine. And so it was...
We touched down on 12L very smoothly and immediately left the runway to taxi to position F7. Three minutes ahead of schedule we were on block again.
I waited until everybody left the plane and to my surprise even the cockpit crew were gone already when I reached the front
only one of the FA was there, but she allowed to take pictures of the cabin and the cockpit. Especially the cockpit shot is my best shot for this day!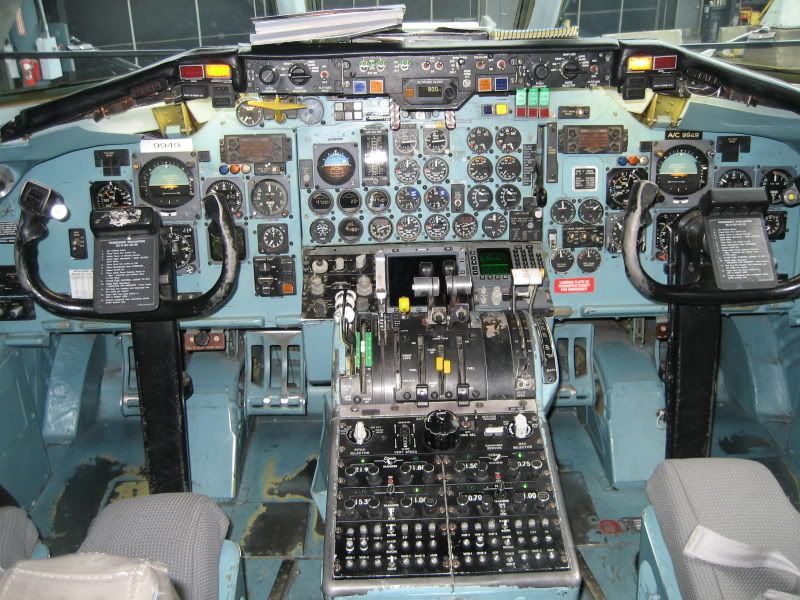 just compare the cockpit of the CR9 on the top with this classic cockpit! All I can say is WOW!!!
At the gate I took a last picture of N8982E.
All in all I really enjoyed this flight. I didn't fly because I wanted to get from A to B, I flew because I wanted to enjoy it!
NW 1456 operated by Northwest Airlines
MSP (Minneapolis/St.Paul Airport) - DTW (Detroit Metro Airport)
STD 1515 | ATD 1507
STA 1800 | ATA 1757

Aircraft: Boeing B757-351 N596NW Ship 5816
delivered 21-10-2003 (youngest NW 753)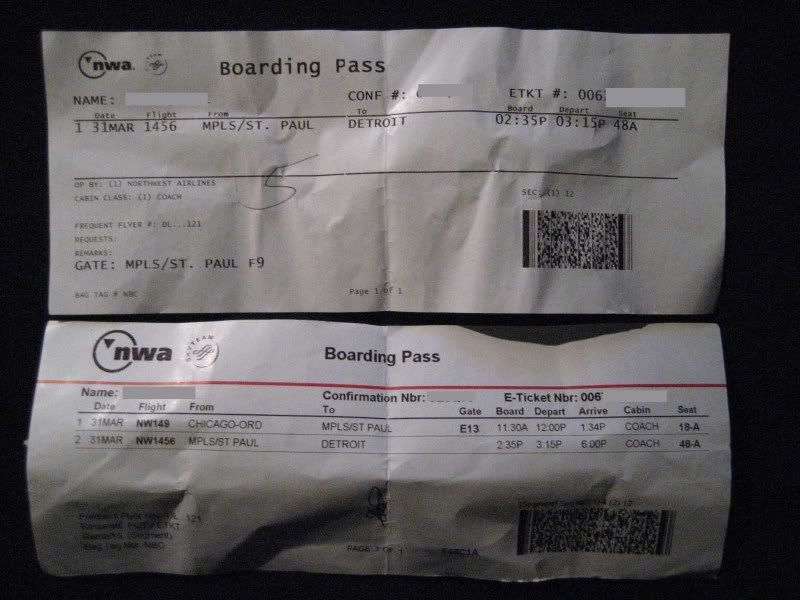 After arriving from ORD I immediately went to the screens to find out that the departure gate for my last leg to DTW is going to be F9 which is right next to the arrival gate F7. Nice! My itinerary said 753 for this flight, but at that time no aircraft was visible at the gate and I had around 90 minutes so I went out again for a smoke. On the way back security took only a couple of minutes. Here are some shots of the terminal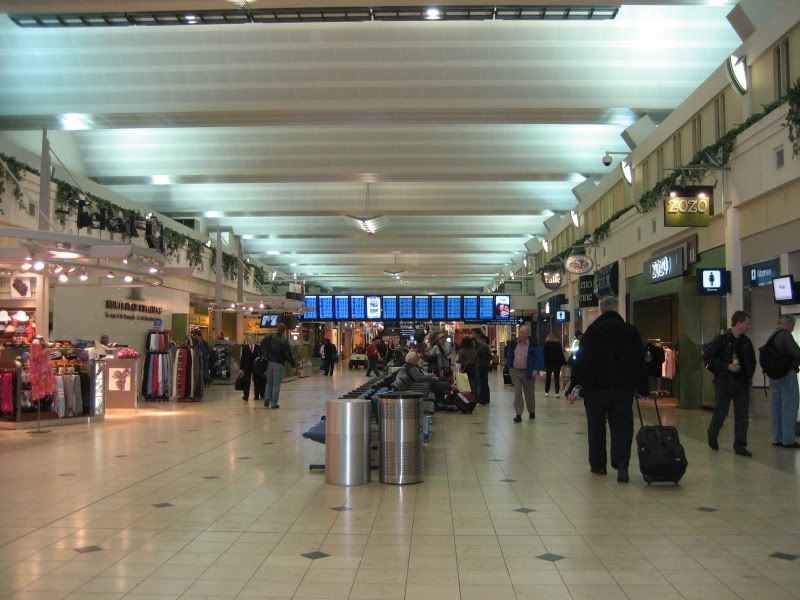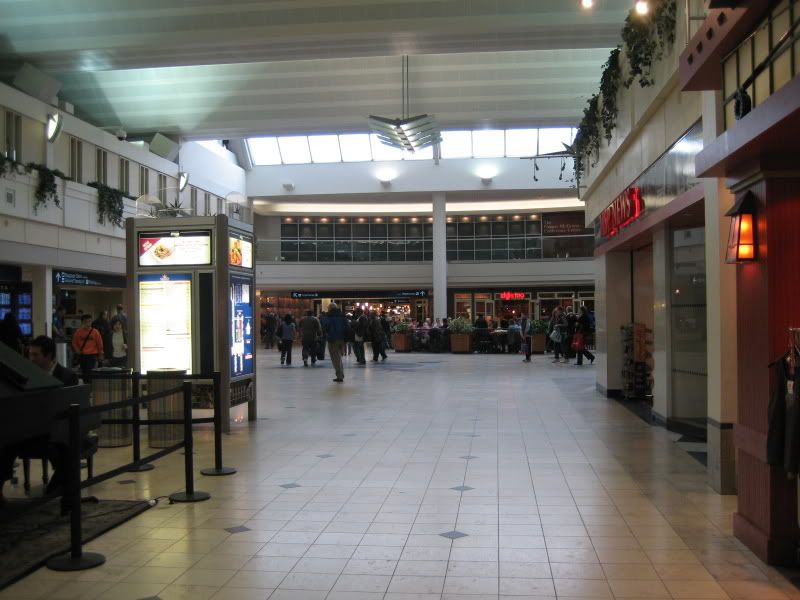 I went to the food court to have a view on the apron as well as a ice cream at Ben&Jerry's
My 753 arrived already and gave me now the opportunity to take a picture of both my DC9 and the 753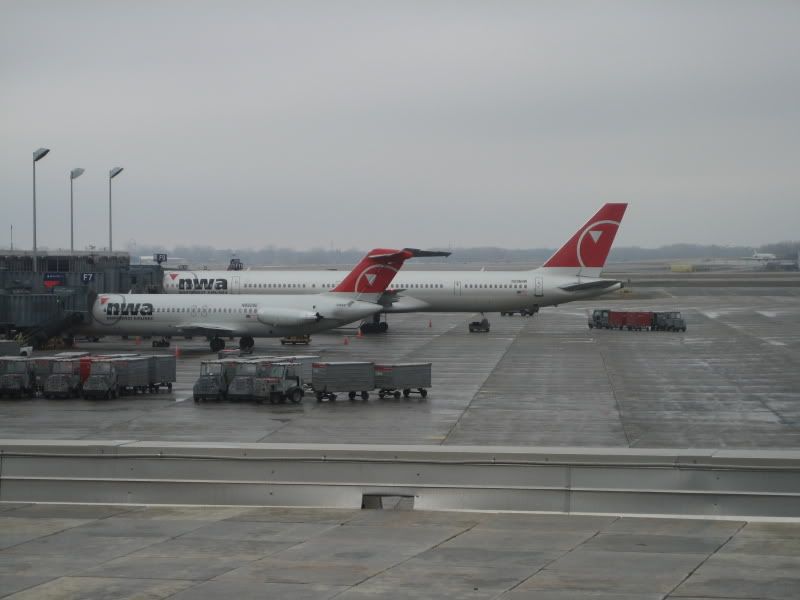 and another one directly at the gate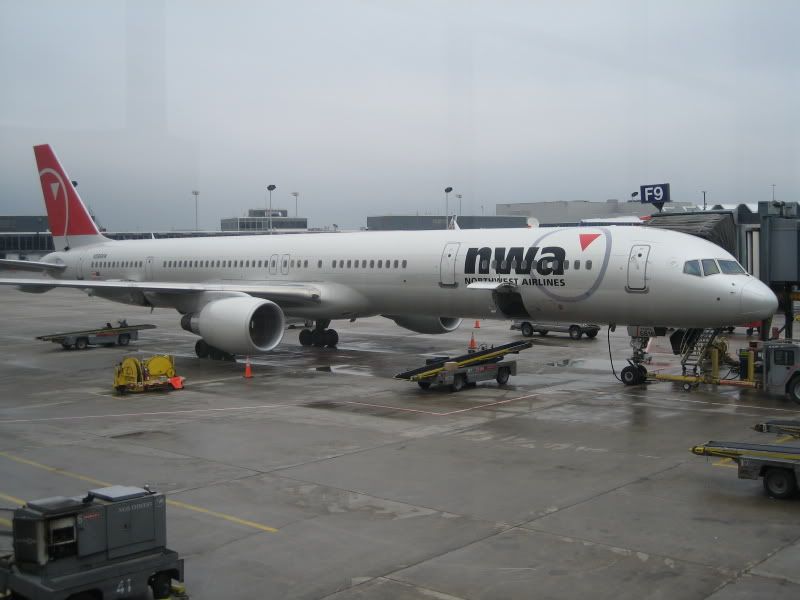 this bird is an ETOPS aircraft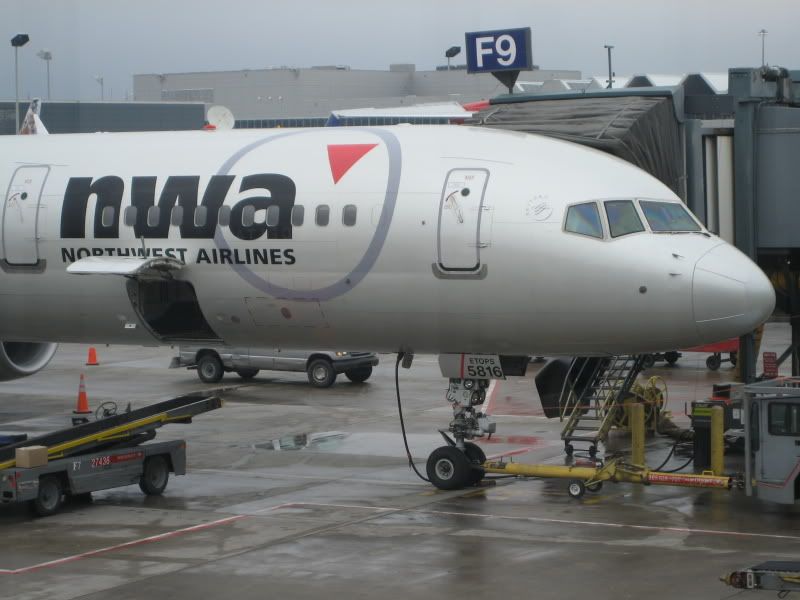 boarding started on time, full First Class cabin with all the free upgrades (the screen showed 14 cleared upgrades, the capacity is 24 in F), but a rather empty Economy. I would say the load was around 40%. For sure it's not easy to fill 200 coach seats when you have flights between the two hubs every hour. On this flight I had the whole last row for myself.
Push-back was some minutes ahead of schedule and we took off from runway 12L.
Once reached the cruising altitude the view was the same until Michigan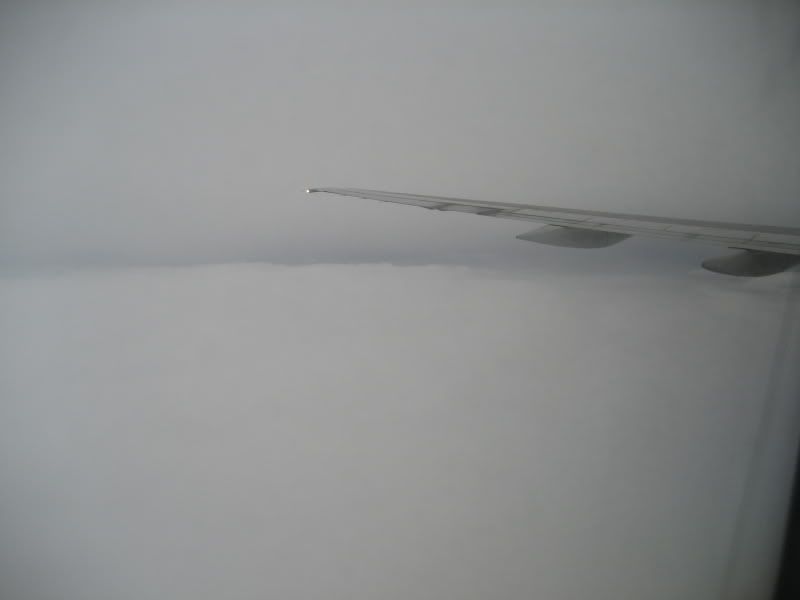 Really boring weather... Anyways...
The crew came around. This time hot beverages were available: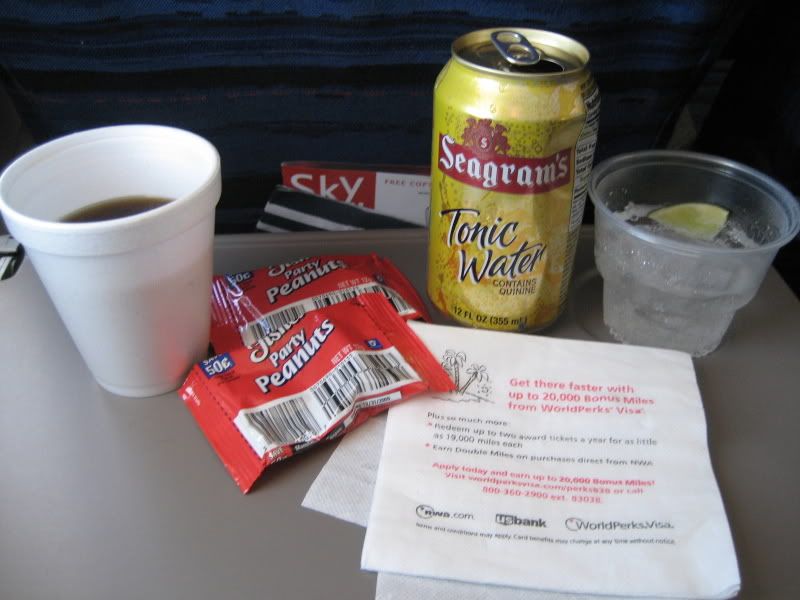 It was really a boring flight: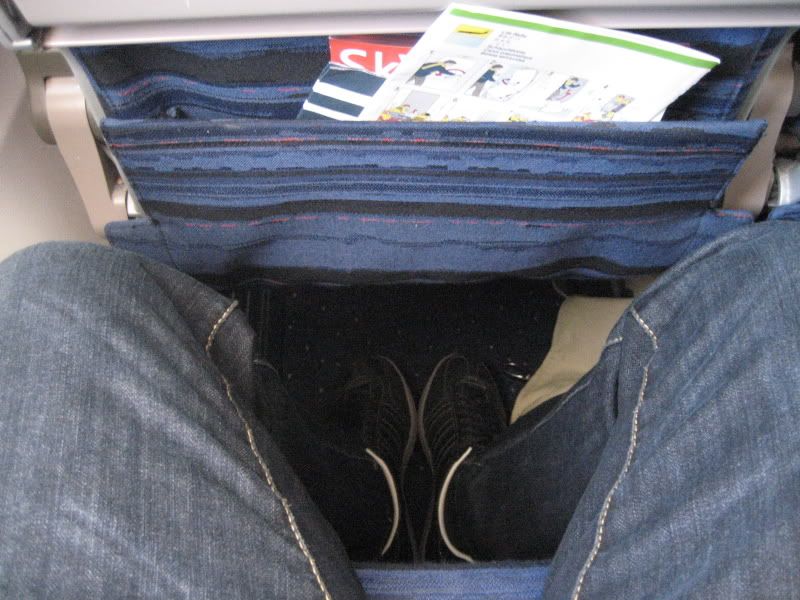 the aft section of the cabin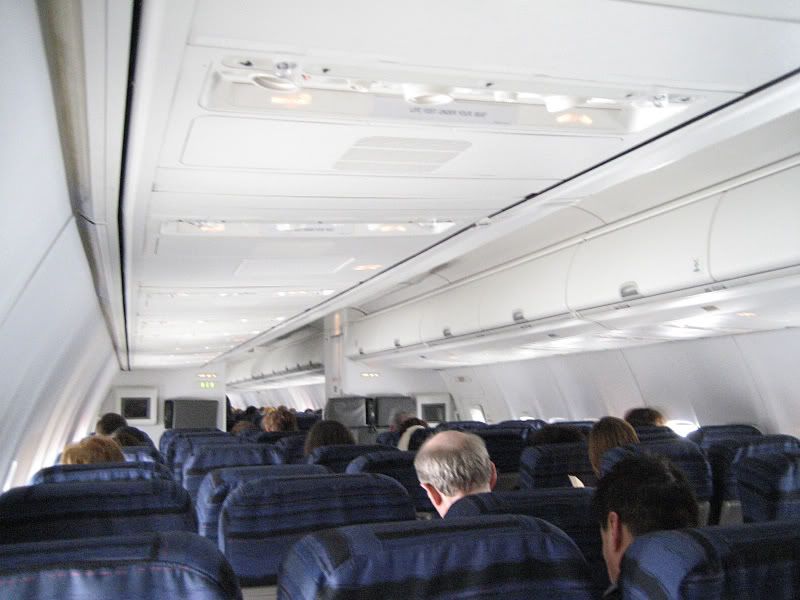 Soon enough Detroit and DTW were visible in the distance:
Touch-down on 04L and a rather long taxi to the gate. During taxi some interesting shots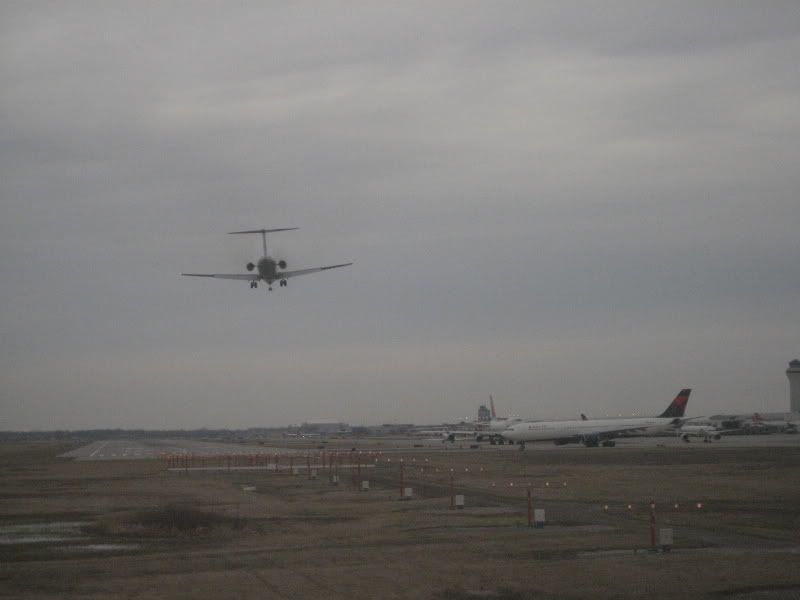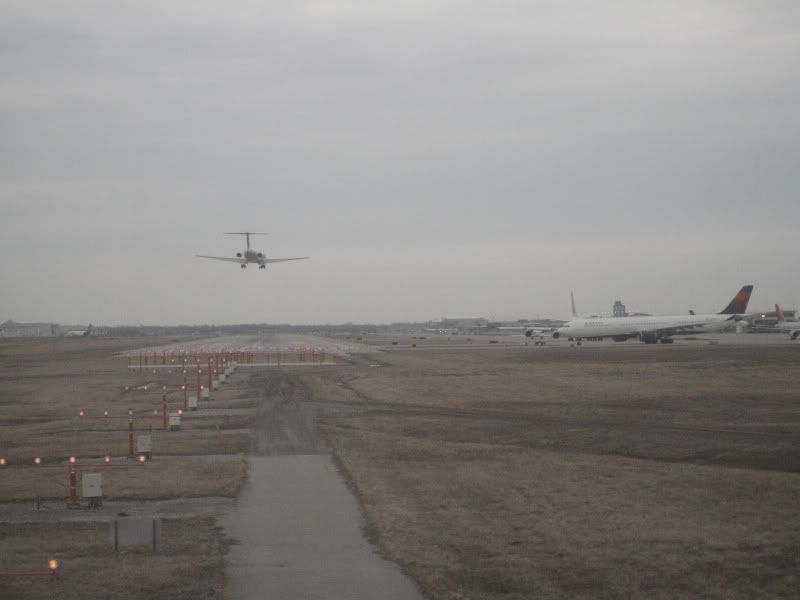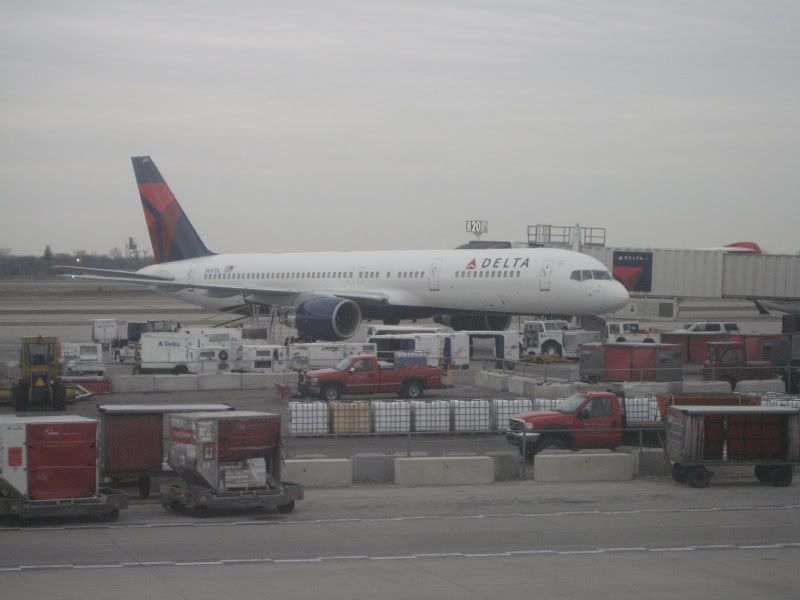 And on block some minutes ahead of schedule at A66. The middle economy class section during deboarding:
Deboarding through door L2 so no possibility of a quick cockpit shot. The aircraft was going to return to MSP again. So I assume it is a MSP based 753?
Did I told you that I love the McNamara terminal? This is really a nice, modern and easy to navigate terminal. The perfect base for a mega hub.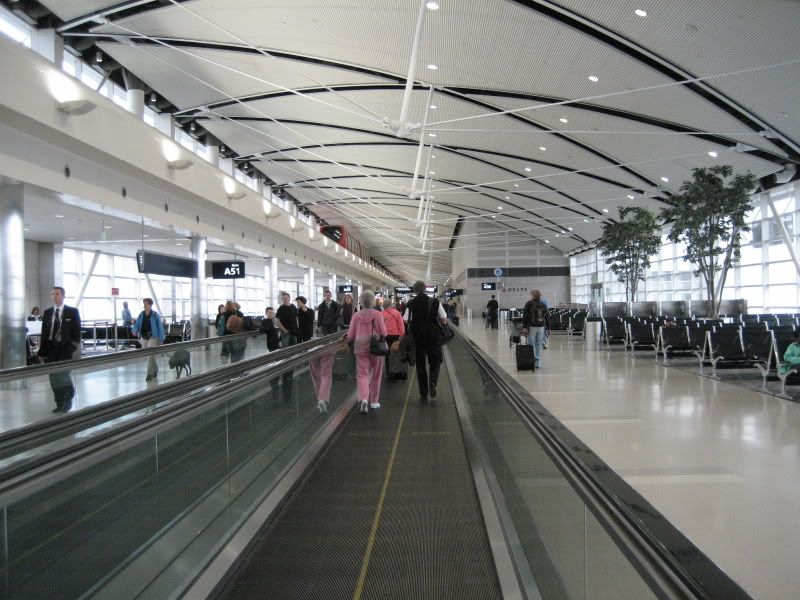 and no visit of DTW without taking a picture of the famous fountain (sorry very dark pictures):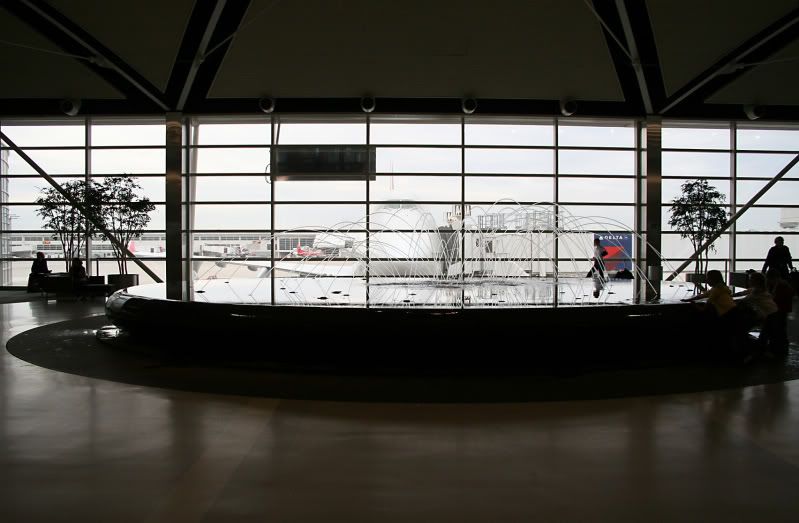 and a final picture from the curbside:
sad to know that in the near future everything here will be blue and red. I love the NW livery!
Every story comes to an end. Now we reached ours. Conclusion?
The new Delta is a reliable airline which will take you from A to B on time The newer aircrafts are spotless and the older one in a very good condition.
I think I liked more the Delta crews on todays day trip, but the Northwest weren't mad or mean, they were just doing their job like the Delta's, the only difference was a smile.
And last, but not least I'm very happy to get on board a real classic airliner. It's amazing to know that this aircraft is so old, but in such a good condition. Good job NW!
Hope you like this report. Any comments are appreciated!