Feedback always appreciated.
Trip Report: 070
Flight Category: Y-DMR (See Report End)
Date: 07 Feb-09 (See Report End)
SDT/SAT/Dur/Delay: 1725/2110/02:45 hrs (Delayed by 00:27)
Flight:
Air Europa UX 9141
, 1097 miles
Routing: LPA-MAD
Aircraft: 738
Seat: Economy, 14F
I > Background:
I had been at Madrid for a week of work and decided to take a quick trip to the Canary Islands to see a good Venezuelan friend of mine. I decided to fly Spanair on the outbound and Air Europa on the return. Interestingly, the low-cost Vueling had the highest fares on both inbound and outbound dates. More surprisingly, while there have been several reports on A.Net on Spanair, Air Europa reports are rare. I only found PH's report on the MAD-BCN shuttle and another from 2005. This is the first report on the LPA-MAD flight.
II > Pre-Flight:
a) Before Airport:
Air Europa Líneas Aéreas, is a Majorca based airline that operates domestic scheduled services and long-haul flights to the Americas and Caribbean. It is an associate member of the Skyteam alliance and a fully integrated member of Flying Blue.
I tried to use Air Europa's booking engine at
www.aireuropa.com,
but was unable to do so. In the end, I was able to recreate the same itinerary on Orbitz for cheaper. Anyways, their website is extremely temperamental and I was unable to use their hopeless check-in option either. While I was able to view my reservation, no option existed to edit or chose seats. Worse, was the inability to chose anything for FQTV info outside FB.
b) At Airport:
Aeropuerto de Gran Canaria is a simple and efficient airport that does well to meet its demand. It is a very generic glass structure, but surprisingly efficient (overlooking the security checks). My friend dropped me off 2 and a half hours before … and I kind of just hung out until the check-in desks opened exactly 2 hours prior. The check-in lady from the ground handling company was efficient and was able to comply with my request for an exit row seat. However, she had a miserable time to include my Delta FQTV information and was unable to do so after 20 minutes of trying. I was convinced she had no idea what she was doing as she kept on referring to a manual (with pictures of the various cards) and asking me whether my card was a "Gold", "Silver", etc. I kept on saying it did not matter and just to see that she enters the code "DL" before the FFP number. Either way, I gave up, took the boarding passes, thanked her and went off for a security check.
Mid-afternoon is busy time at LPA as there are several flights headed out. This manifests itself is long security lines which took almost 30 minutes to clear. Post security, the terminal opens up to a cacophony of action with several shops, café, and bars. After walking around and spotting for a bit, it was time to board. Again, no priority boarding as we took a bus that would bring us to our aircraft. UX's 738 looked good and we boarded using the front air-bridge to a rather indifferent crew. There were no warm greetings, nothing. The seat pitch in other rows looked marginally better than Spanair as I made my way to the rather generous exit row. Y load was 75%.
Airport - External:
(Aeropuerto de Gran Canaria)
Check-in: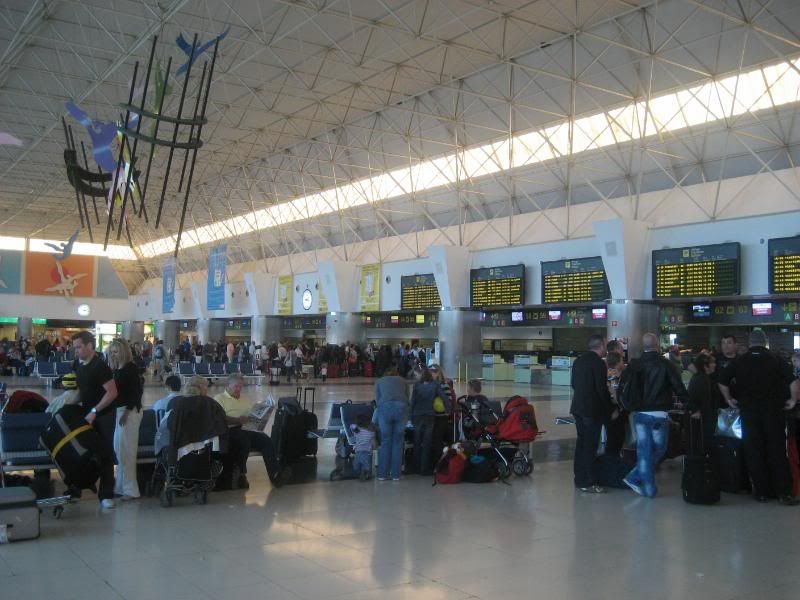 Airport - Internal:
(Internal)
(FIDS)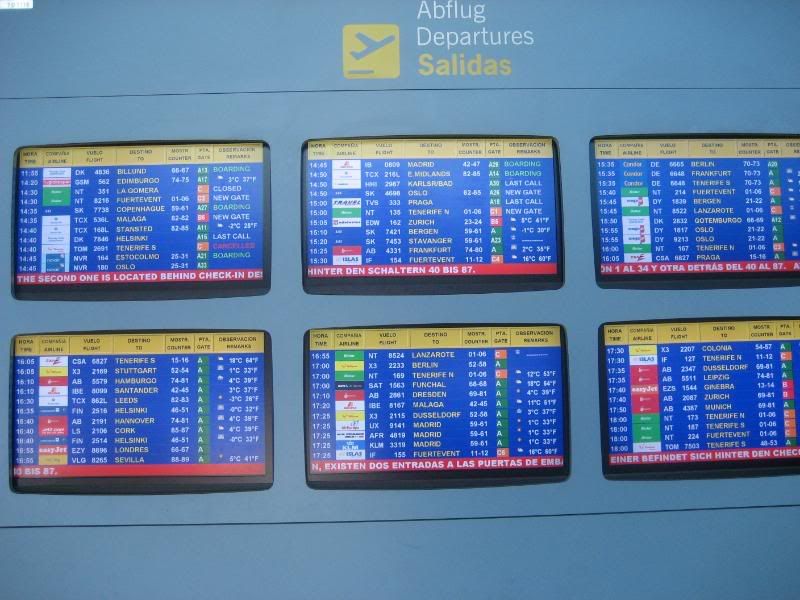 (Post Security)
Scenes of the tarmac: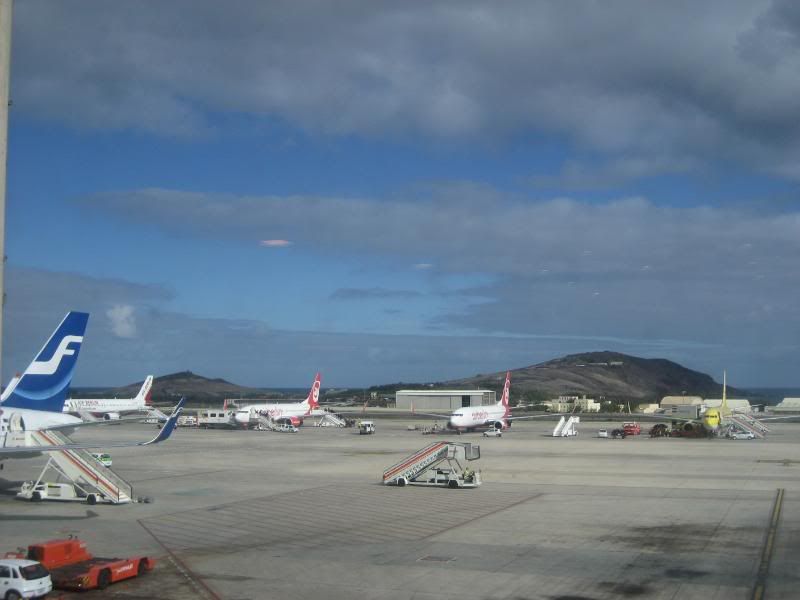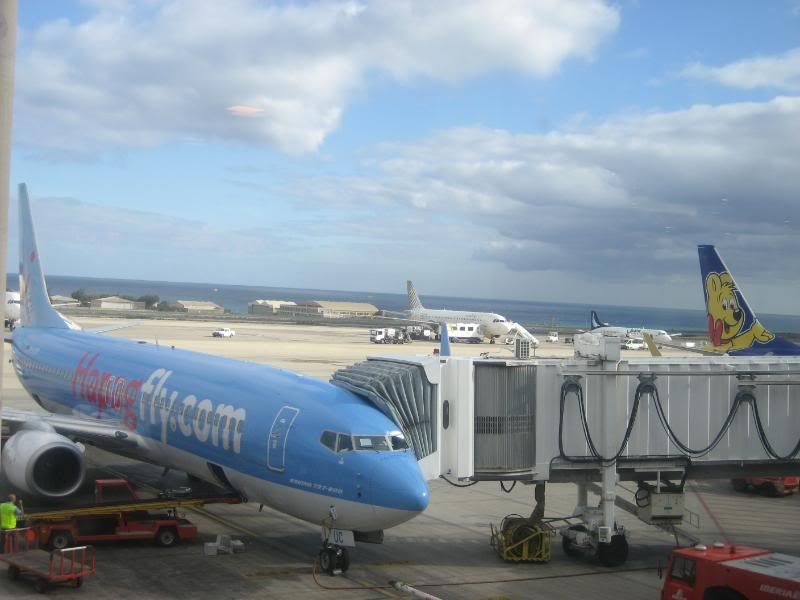 (A 330 of AB – just shows why German is heard more often than Spanish in Islas Canarias)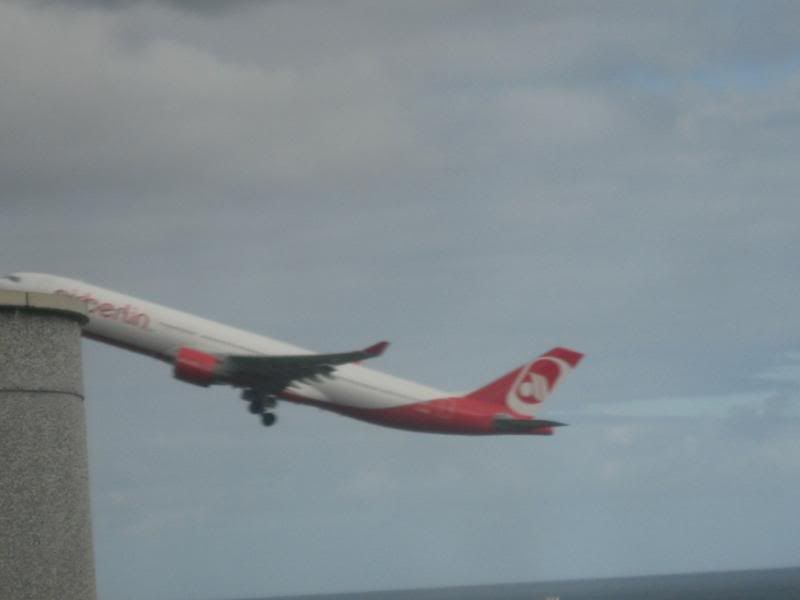 Lounge
NONE
Boarding:
NONE
III> In-Flight:
a) Service Schedule + Impressions:
Air Europa is a strict low-cost carrier where NOTHING is free. Soon after take-off, the cart of drinks and food for sale were rolled by. Duty free sales were done shortly thereafter.
b) Aircraft + Seats:
Air Europa's 738 looked worn out. From various things falling apart (see picture) to an overall filthy cabin. The blue seats were marginally more comfortable than Spanair's 320. Legroom in non-exit row was also marginally better and the recline was non-existent. Overall, I would not want to be stuck on any row but exit on these birds.
Aircraft:
(Credit: Daniel Villa)
Views from Aircraft:
(LPA)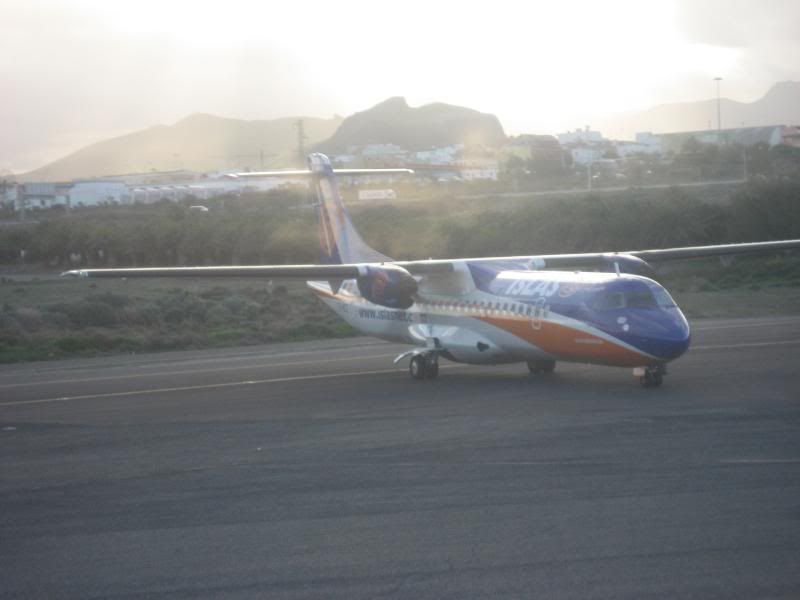 General Seat Views + Seat Legroom
(Seat legroom – gotta love exit rows)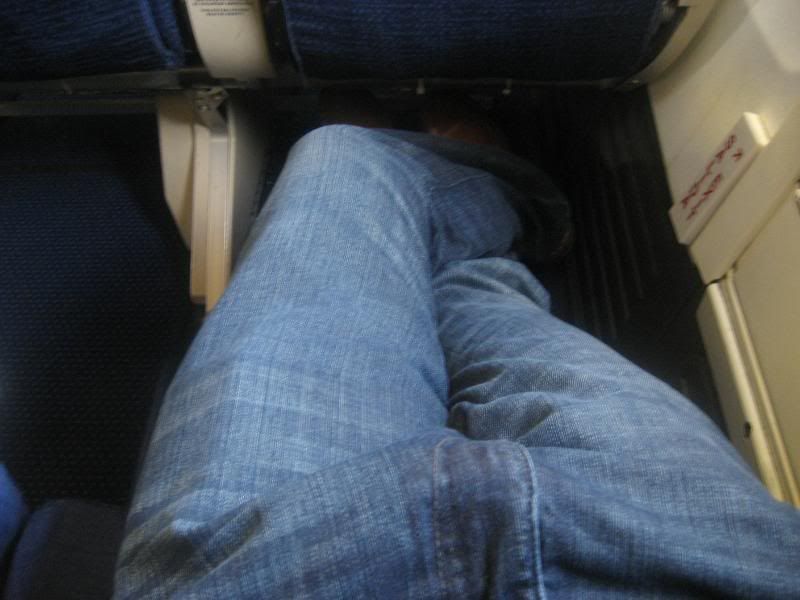 Seat Recline + Angle View:
(No recline)
NONE
(Angle view – with all UX staffers)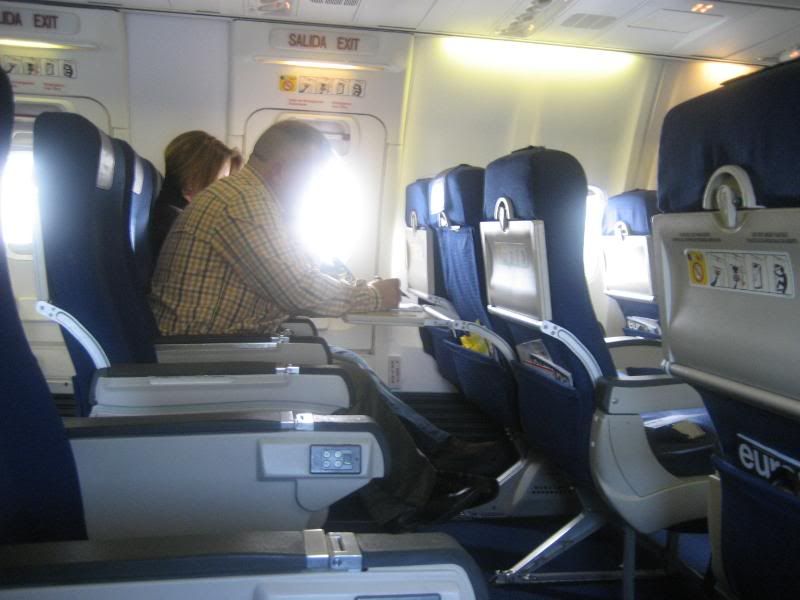 Cabin:
(Many small things gave a poor impression)
c) Meal + Beverage:
As mentioned, nothing on Air Europa is free … and as I mentioned, I guess it will take me a while to adjust to this European service concept on medium haul flights by a network carrier that is also an alliance member. Again, the menu was rather generic and I am always surprised by the very "blah" offerings on board. Since I was hungry, I bought water, Twix (EUR 1,50), and a rather nasty "mini-baguette de tortilla" (EUR 2,50). Unlike the food quality of Spanair, UX's offering just sucked. The "tortilla" I paid for was moist and had a weird after-taste. The entire service was done using credit card … though I felt the crew was again just indifferent.
(Menu)
d) Inflight Entertainment:
This is where the almost 3 hour flight became really painful. While there were some video monitors, they kept on playing around 5-6 music videos in a loop. I mean, how cheap can an airline get? Not impressed at all. But then again, with competition Spanair doing the same, I don't blame that overall service standards on longer intra-Spain flights are nothing to write home about. Perhaps our Spanish A.Netters can tell us if things are better on these flights on Iberia or Vueling?
("In-flight magazines", Boarding Passes, etc.)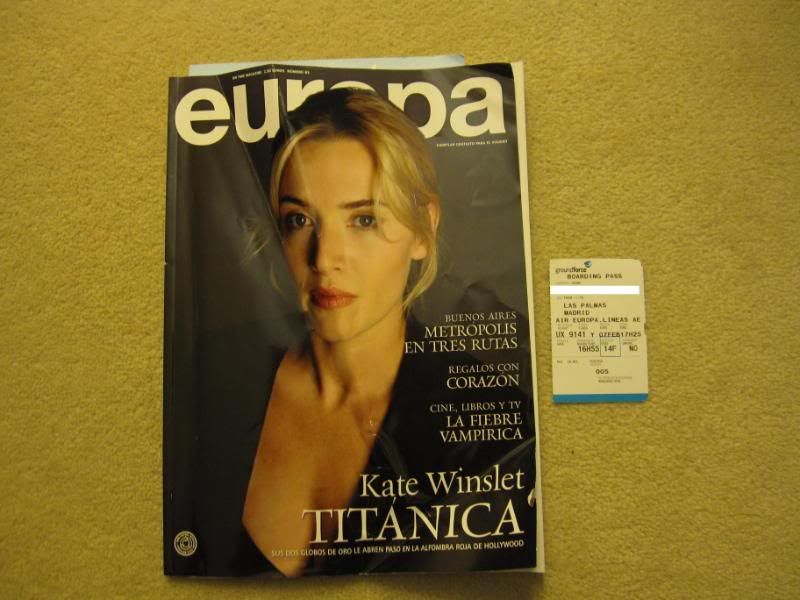 e) Crew:
Adding to the overall shoddy flight was Air Europa's crew who seemed to want to be anywhere but on board. From an indifferent welcome (actually, they didn't really welcome anyone), to a complete disinterest during the meal-for-sale schedule, they were one unhappy group. I didn't see a single smile … of course, part of this might because I never really saw them outside the one service run! Another thing I found interesting … and perhaps this is the service culture in Spain, is that all the non-revs boarded (and had all the exit row and bulkhead seats) much before revenue pax came in. This would be a "no-no" in many places. Interestingly, it must have been my flight … I was the only revenue pax in an exit row seat.
IV> Post-Flight:
Arrival at MAD was smooth and I was soon enroute to take "Linea 8" to a night of fun.
V> Impressions + Scores:
Of course, Air Europa gets the job done … and that too for cheap. However, that is where the role of Air Europa as a carrier ends. It is not a service oriented airline. While I can pretend to overlook the poor hardware (seats, IFE's, etc.), I just cannot get past the poor attitude from its crew members. This separated Spanair from Air Europa and took the former to a level of acceptableness that UX can only wish for. Unless I had no choice, I would not fly UX again. Two thumps down.
1.0 > RESERVATION: 5.0
2.0 > CHECK-IN: 6.0
0.5 > LOUNGE: NA
0.5 > BOARDING: 6.0
2.0 > SEAT: 6.0
0.5 > AIRCRAFT OVERALL AMBIENCE: 4.0
1.0 > IFE: 5.0
2.0 > CREW: 2.0
2.0 > FOOD: 5.0
0.5 > BEVERAGES: 5.0
0.5 > A.KITS + OTHER FREEBIES: 5.0
0.5 > DISEMBARKATION: 8.0
1.0 > ON-TIME RECORD: 8.0
WEIGHTED OVERALL IMPRESSION (WOI): 5.19
(Pre-flight WOI of all reviews: 6.50)
* Weighted Overall Impression (WOI) aligns scores with what matters most. Weights are indicated alongside each category.
(Scores are based on comparison with other airlines in THAT class of service – No comparison of Y vs. F for example)
VI> Other Trip Reports:
PREMIUM:
8.64:
Turkish Airlines (59): JFK-IST: 11/2008
8.61:
Air Canada (49): YYZ-SCL: 06/2008
8.11:
Aeroflot (33): MOW-DEL: 09/2007
8.04:
Korean Air (40): NRT-ICN: 10/2007
8.02:
Delta Airlines (24): JFK-CDG: 08/2007
7.46:
LAN (55): YYZ-JFK: 09/2008
7.82:
Singapore Airlines (06): EWR-SIN: 09/2006
7.14:
Swiss (52): SCL-GRU: 06/2008
7.02:
Qatar (68): DOH-JFK: 01/2009
6.96:
Etihad (61): JFK-AUH: 12/2008
6.93:
Delta Airlines (18): SEA-JFK: 11/2006
6.84:
ConViasa (65): CCS-DAM: 01/2009
6.81:
Air Canada (17): ICN-YYZ: 10/2006
6.70:
KLM (32): EBB-AMS: 08/2007
6.36:
Privatair (60): MUC-BOS: 12/2008
6.25:
Korean Air (45): NAN-ICN: 10/2007
6.11:
TAP Portugal (53): GRU-OPO: 06/2008
5.75:
Singapore Airlines (16): CCU-SIN: 10/2006
5.64:
NorthWest (46): ICN-NRT-SEA: 10/2007
5.39:
LOT (54): WAW-JFK: 06/2008
5.07:
TACA (66): JFK-SAP: 01/2009
4.42:
Air France: CDG-JNB (25): 08/2007
ECONOMY: Long + Medium:
9.26:
Air India (48): JFK-DEL: 02/2008
7.38:
Avianca (01): BOG-LIM: 07/2006
7.07:
Sri Lankan (62): KWI-CMB: 12/2008
6.41:
American Airlines (58): LHR-BOS: 11/2008
6.26:
Jet Blue (21): CUN-JFK: 02/2007
6.06:
Air Canada (04): YYZ-YVR: 09/2006
5.89:
USA 3000 (19): PUJ-BDL: 01/2007
5.85:
Spanair (69): MAD-LPA: 02/2009
5.79:
Air New Zealand (42): RAR-NAN: 10/2007
5.46:
TAP Air Portugal (23): OSL-LIS: 05/2007
5.19: Air Europa (70): LPA-MAD: 02/2009
ECONOMY: Short
8.56:
Paramount Airways (38): BLR-MAA: 09/2007
8.56:
Kingfisher (64): HYD-CCU: 12/2008
8.24:
Kingfisher (14): IXA-GAU: 10/2006
7.87:
Indian (34): BOM-MAA: 09/2007
7.72:
Alliance Air (13): CCU-IXA: 10/2006
7.57:
Indian Airlines (10): DEL-CCU: 09/2006
7.23:
West Jet (03): YYC-YVR: 09/2006
7.15:
JetLite (37): BOM-GOI: 09/2007
6.70:
Spice Jet (09): CCU-DEL: 09/2006
6.63:
Air Fiji (44): NAN-SUV: 10/2007
6.63:
Jazeera (67): DAM-KWI: 01/2009
6.58:
Air Tran (02): EWR-MDW: 08/2006
6.48:
Air India Express (63): CMB-MAA: 12/2008
6.44:
CO Micronesia (39): ROR-YAP: 10/2007
6.41:
Pacific Sun (43): NAN-SUV: 10/2007
6.37:
Skybus (47): SWF-CMH: 02/2008
6.33:
Kenya Airways (29): NBO-BJM: 08/2007
6.33:
Sky Europe (56): LTN-BTS: 10/2008
6.31:
Indigo (15): GAU-CCU: 10/2006
6.31:
easyJet (57): BUD-LTN: 11/2008
6.22:
Air Link Swazi (28): MTS-JNB: 08/2007
6.22:
Air India (36): HYD-BOM: 09/2007
6.13:
Adam Air (07): SIN-CGK: 09/2006
6.13:
Air Rarotonga (41): RAR-AIT: 10/2007
6.00:
Transairways (27): INH-MPM: 08/2007
5.95:
Air Canada (05): ALB-YYZ: 09/2006
5.85:
SAS Norge (22): OSL-AES: 05/2007
5.81:
LAM Mozambique (26): JNB-MPM: 08/2007
5.69:
Air Deccan (12): IXZ-CCU: 10/2006
5.67:
Rwanda Air Exp (30): KGL-NBO: 08/2007
5.07:
Go Air (35): MAA-HYD: 09/2007
5.00:
Sky Airline (51): IQQ-SCL: 06/2008
4.96:
Valuair (08): CGK-SIN: 09/2006
4.78:
Air Comet Chile (50): SCL-IQQ: 06/2008
4.74:
Fly 540 (31): MYD-LAU: 08/2007
4.33:
Viva Aerobus (20): ELP-MTY: 02/2007
4.11:
Air Sahara (11): CCU-BOM: 09/2006
(Note on Codes: Y – Economy, J – Business, F – First :: I/D – International/Domestic :: SR/MR/LR – Short/Medium/Long Haul)
(Note on Date: Dates are modified to be +/- 3 days from actual flight date to not reveal actual flight pattern)
VII> Other Pictures:
(Islas Canarias)