Flight 1
Flight number: JQ 636
Route: AVV-BNE
Date: Friday 03 April 2009
STD: 17:35
ATD: 17:45
STA: 18:40
ATA: 18:55
Aircraft: Jetstar A320-232
Seat: 22E
Boarding pass flight 1
My mother and I decided to visit Brisbane as some old friends of hers who previously lived there but had since moved to Canada were back in town for a while. I wasn't going to refuse a free trip up north as the cold Victorian middle months began to take hold and jumped at the chance for three days in the sun. Upon mentioning this trip to a very good friend of mine, Juzzie (not actual name), he also expressed an interest in coming along and so it was decided that we would all head up there for the first weekend of the term one school holidays. We were originally booked on JQ 640 for a 21:45 departure however a couple of weeks before we were rebooked for reasons unknown on the 636, which would leave considerably earlier - I wasn't complaining though, it just meant even more time in Brisbane! We would return the following Tuesday, the 7th April on Virgin Blue - which offered more convenient departure times on the way back.
After a bit of confusion as to the best way to get to Avalon Airport, about 45 minutes away from Melbourne's CBD near Geelong, my mother, Juzzie and I decided to take the V/Line train (regional train) from our home station and connect to the SITA Sunbus shuttle bus at Southern Cross Station (one of the two "Central" type stations in Melbourne). This would've worked out perfectly had a massive electrical storm not knocked out the state's entire rail network on the afternoon of our departure! The entire system came to a halt when we were about an hour from Southern Cross Station and our train sat at this point for about 1 hour 45 minutes before slowly making its way into the city.
- Brief interlude here: Connex, the brand name for the operator of the train network in Melbourne, a subsidiary of Veolia International is the company all Victorians love to hate! Whenever something goes wrong on the network, the finger is automatically pointed at Connex. True to form, a bunch of people on the train exclaimed loudly how they "hate connex" (well maybe not as nicely as that but you get the picture
) - Anyway, back to the TR;
There were strangely no taxis waiting at Southern Cross and we let a person we met on the train with half an hour to get to a Thai Airways flight to Bangkok at Melbourne Airport connecting to Nairobi and Kigali take the first one that came. Within 15 minutes another taxi came and we headed out southwest towards Avalon. The traffic wasn't too bad and we made it to the airport 5 minutes before STD, thanks entirely to a taxi driver who was pretty much skilled in bad driving.
Rushing up to the closed check in counters I asked whether there was any chance of making the Brisbane flight and was given a simple and blunt "Nah mate!" by a member of Jetstar staff. After it came to light that we had checked in online but didn't have boarding passes we were urged to "run for it" to try and make the flight. We sprinted through the shed-like terminal building only stopping for security where the personnel were extremely friendly and reassured us that we would make the flight. After quickly clearing the checkpoint we made it to the gate where boarding was still underway. This actually took longer than expected and resulted in a short delay. Our luggage that should have been checked was only sports (or "duffle" to US readers) bags and fit easily into the overhead lockers therefore was no problem.
The flight had a load factor of almost 100% and I could only see 3 seats empty. After a short taxi out to runway 18 we took off before making a Northerly turn to the left.
Shortly after takeoff: Bellarine Peninsula, south of Geelong.
Looking south at Indented Head and Portarlington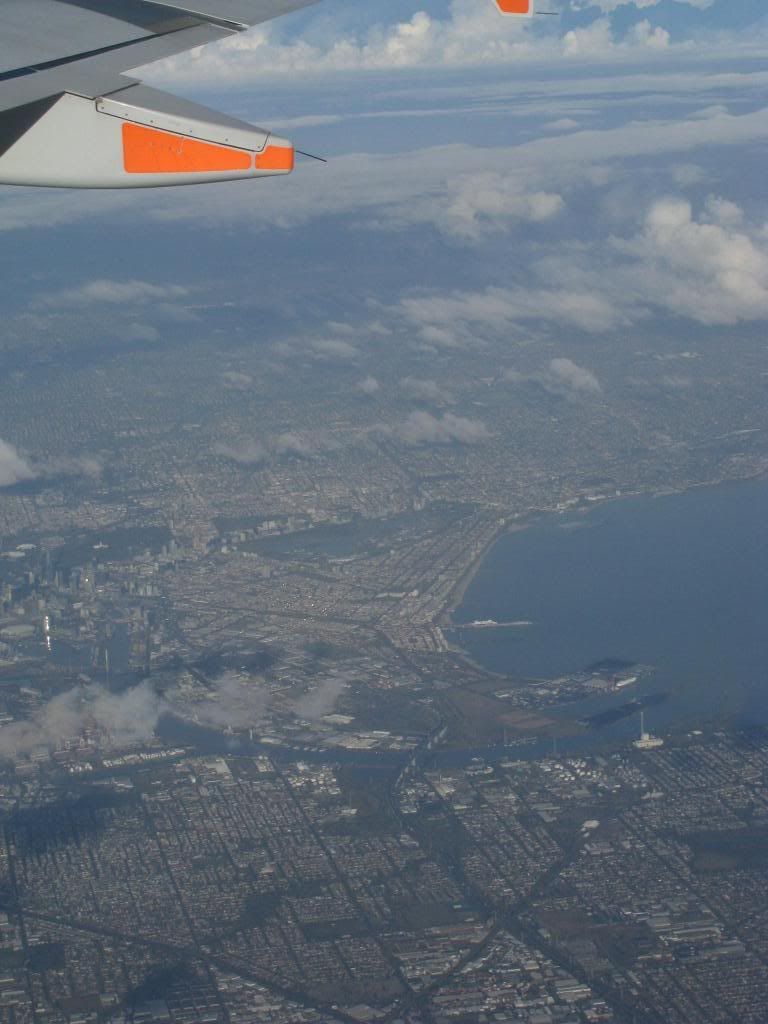 We began heading North and passed right by Melbourne's CBD - awesome view of skyscrapers, the Yarra River, St. Kilda, Albert Park, Station Pier, Newport Power Station, West Gate and Bolte Bridges etc...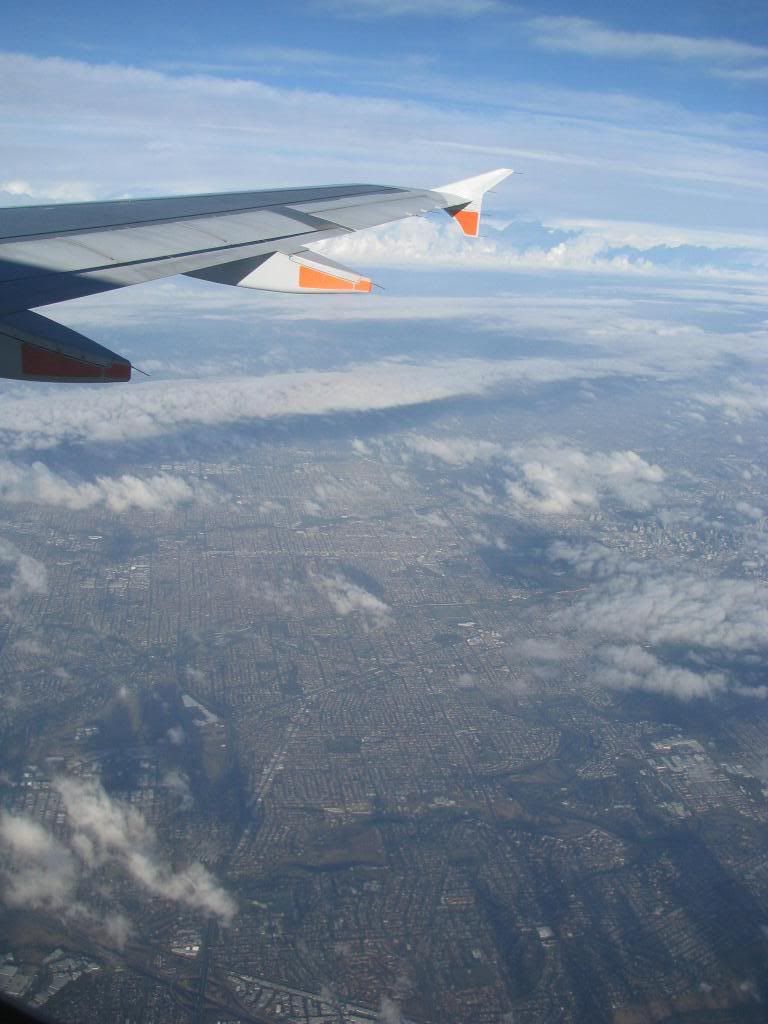 Northern suburbs, Essendon, Moonee Ponds, Pascoe Vale etc...
During climb - during a patch of light turbulence.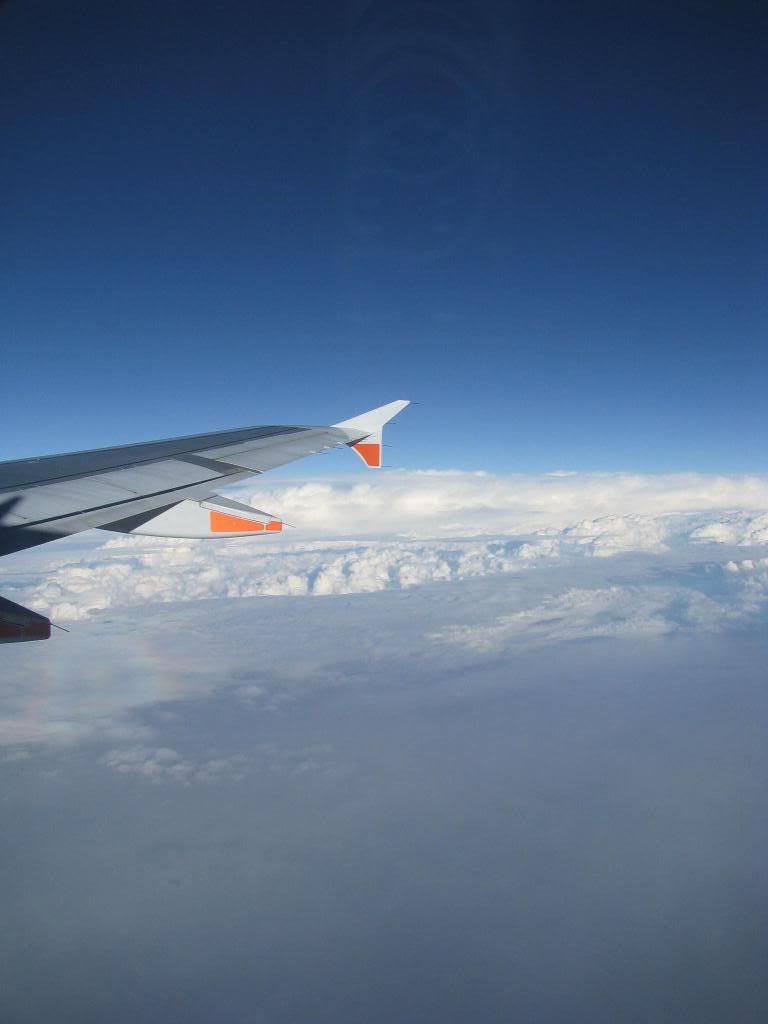 During climb, heading northward.
During cruise over New South Wales, looking East at sunset.
Cabin pic' taken covertly - I'd found from a previous flight to Bangkok that Jetstar don't tend to take too kindly to photography
There were various snack options for purchase on board and I chose the "Sandwich Combo 1" which was a ham and cheese sandwich, a small carton of pringles and a soft drink. The sandwich tasted okay although the bread may have been a bit stale and the ham and cheese were of let's say..."interesting" quality...
- Not exactly fine cuisine but it was edible at least!
The flight was smooth with only a brief patch of turbulence shortly after takeoff and the FAs were curteous and professional in manner. The snack cart seemed to take ages to reach our seats and they kept having to run to the back to get extra things. Apart from that, the seats were reasonably comfortable and leg room what you would expect from a discount domestic carrier.
After a quick descent over southern Brisbane we came down over the CBD before making a somewhat firm landing on runway 01. Taxiing to the domestic terminal was swift and after an even swifter disembarkation and walk across the tarmac from our stand we found ourselves in the middle pier, the Brisbane home of Jetstar, Alliance Airlines, Macair and Sunshine Express. The weather in Brisbane was about 25 degrees C with a humidity of around 85%.
Overall the flight was what one would expect for the price paid of $99 AUD. Only a little behind schedule, fairly comfortable but not spectacular seats, edible food and friendly FAs.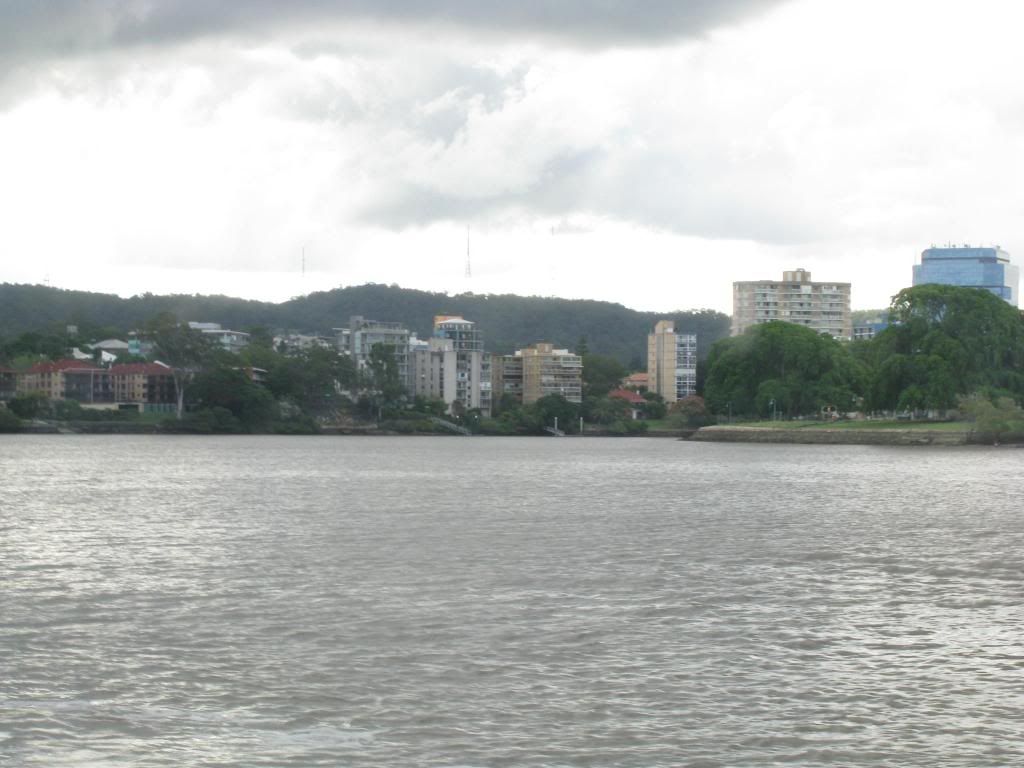 Part of Brisbane city, taken from Citycat high speed commuter ferry.
Another part of the city taken from the ferry. I believe the bridge in the foreground is a rail bridge connecting the northern suburbs to the southern ones and the bridge in the background is the William Jolly - upon which part of the Inspector Gadget film was shot.
Brisbane Gallery of Modern Art
Brisbane is one of my favourite cities in Australia and Juzzie and I spent the three days visiting various things around the city and its environs such as Wet'n'Wild Water World, QUT (Queensland University of Technology), UQ (University of Queensland), South Bank Parklands, Logan Hyperdome (a definite must see
), Queen Street Mall and the Botanic Gardens. The time went by way too fast and after a fantastic long weekend it was time to head back to rainy, cold Melbourne.
Flight 2
Flight number: DJ 318
Route: BNE-MEL
Date: Tuesday 07 April 2009
STD: 09:00
ATD: 09:23
STA: 11:25
ATA: 11:24
Aircraft: Virgin Blue Boeing 737-7Q8 VH-VBC
Seat: 14F
Gate: 43
Boarding pass flight 2
We were driven by the friends of my mother to the airport this morning and arrived with plenty of time to spare. We had again checked in online (this time printing out our boarding passes) so all we had to do was drop off our bags. We queued for about five minutes before being quickly processed and proceeded to security. The Virgin Blue security area at Brisbane Domestic Terminal was fairly busy this morning although things were still moving well. My bag, as it always seems to, was singled out and I was asked by a talkative member of security staff to show what the "two metal loops" at the bottom of it were. Turns out it was a puzzle game thing which I'd put in there ages ago and forgotten about - it wasn't a problem anyway and soon we'd climbed the escalators to the first floor where all departures and arrivals take place.
Virgin Blue section of Brisbane Domestic. Clean and efficient but not exactly architecturally stunning...Looking towards multiuser middle section where we arrived on Friday
Looking the other way, towards far end of Virgin Blue section
Our aircraft at gate 43, prior to boarding
Close up of VBC, showing her title "Betty Blue"
Virgin Blue ERJ-190 VH-ZPI with TOLL Priority B737-300F ZK-TLD in background
Terrible view of International terminal showing Air Vanuatu B737-800 and Pacific Blue, international division of Virgin Blue B737
China Airlines A330-300 recently arrived from Taipei as CI053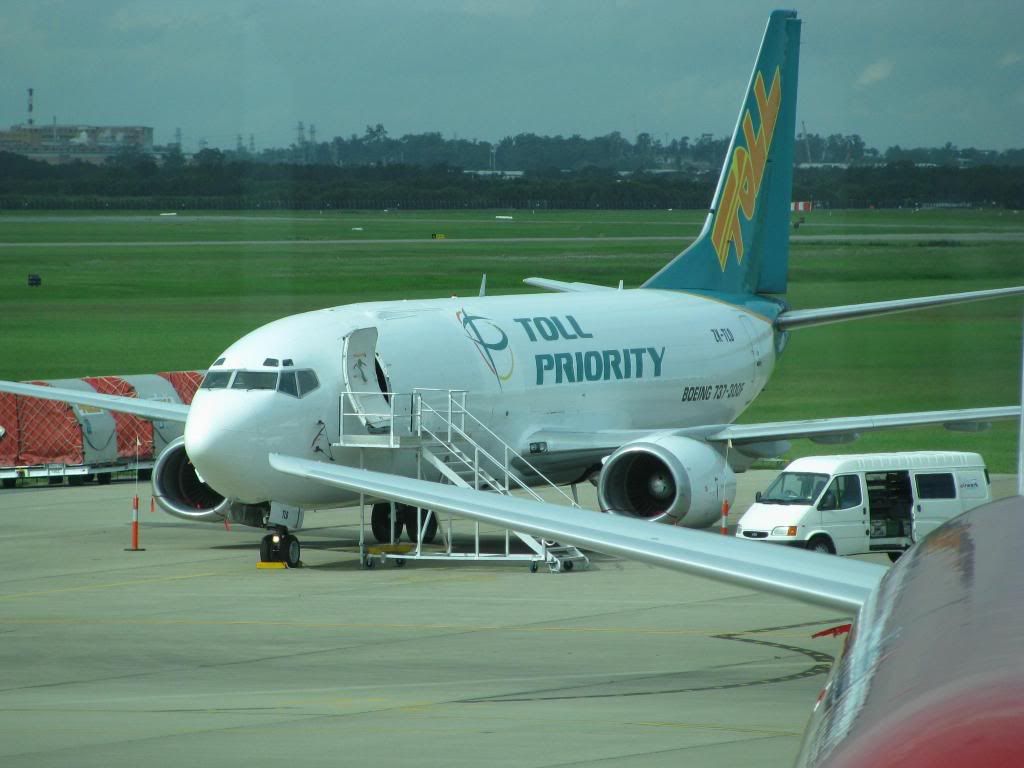 ZK-TLD, TOLL priority B737-300F
Another view of our aircraft, VH-VBC
Boarding, which was supposed to start at 08:30 was delayed a bit due to "crewing requirements" but when started was done very quickly. The crew welcomed everyone on board by their first names (well tried to, the one greeting Juzzie had difficulty reading the name printed on his boarding pass
) which was a nice touch. The only door in use for boarding, 1L was closed promptly and shortly after pushback the cabin crew peformed the safety demonstration - it was interesting to note that even though the aircraft was equipped with seat back video screens, there was no video safety demo' as there is on Virgin Atlantic. As soon as the safety demo' was complete the aircraft began the taxi out to runway 19. There were a few aircraft in front of us such as a Jetstar A320 and Japan Airlines 767 as well as a couple of aircraft on final which delayed our take off by about 25 minutes in the end. Watching the takeoff of the JAL aircraft, it seemed to be struggling against a significant crosswind however it didn't seem so bad when our aircraft lifted off and I'm not sure I would have notice had I not been expecting it.
The aircraft was very clean and the seats more comfortable than on Jetstar. The tray table's distance from you could be adjusted, something which the lack of annoyed me on Jetstar and which made it difficult to view my laptop screen. Also, the cabin crew on Virgin Blue seemed very happy throughout the flight - continually smiling and laughing...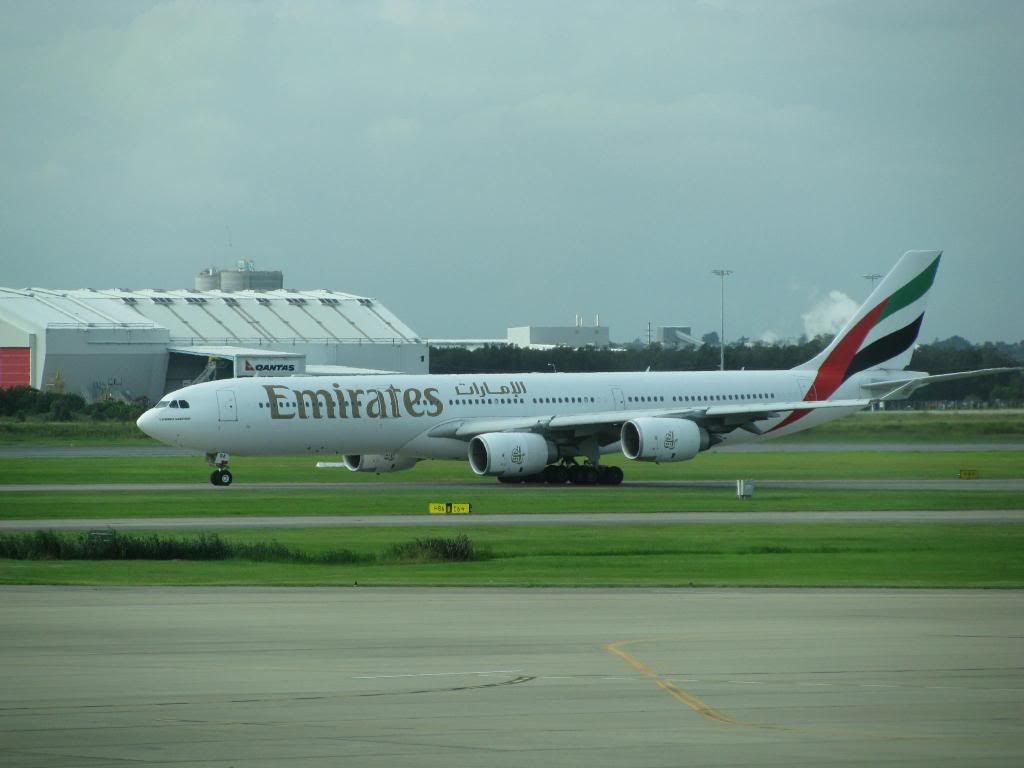 Emirates A340-500 A6-ERA taxiing out for departure to Auckland as EK434
View across field at a couple of F-100s, one former US Airways aircraft and another all white
Sky Air World ERJ-170LR, VH-SWO - formerly with Solomon Airlines
Juzzie at the top of the jetway - apparently not happy about heading back to Melbourne...
Alliance Airlines F-100 VH-FKK
Jetstar A320-200 VH-VQE
Japan Airlines B767-300 JA618J, ready for departure to Tokyo Narita as JL762
View of international terminal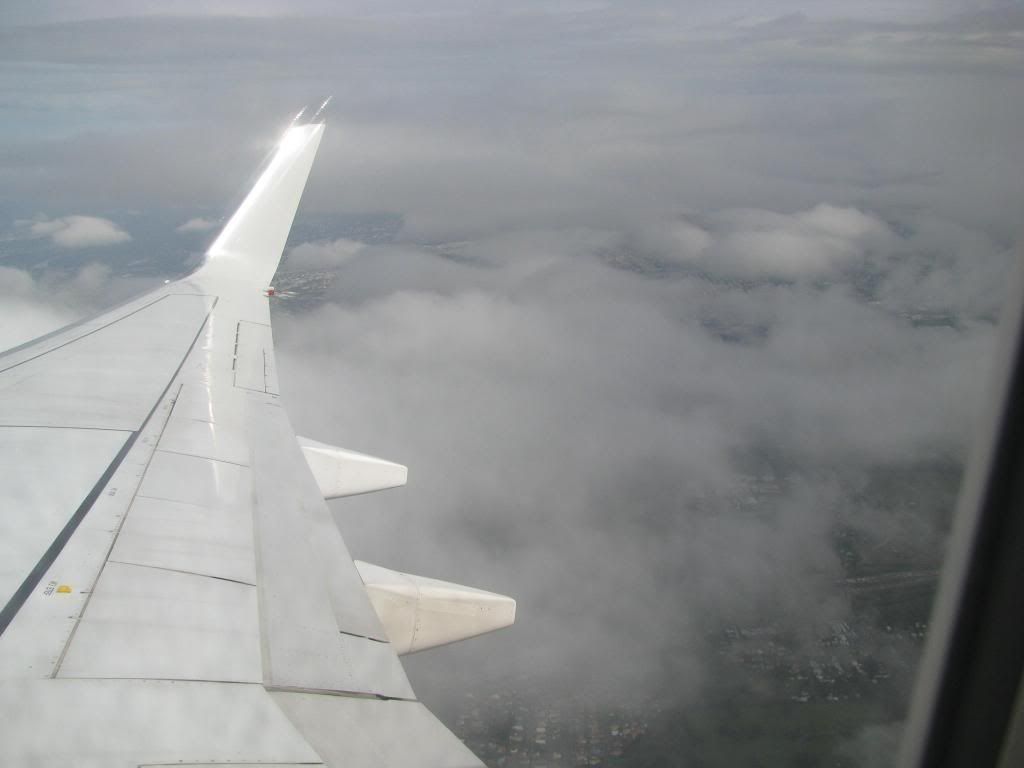 Shortly after takeoff, over Brisbane city
The climb took us over the gateway bridge and out over the Southern suburbs of Brisbane such as Mt. Gravatt and Larapinta. A good view was offered out the right hand side of the aircraft of the Brisbane River, the CBD and various suburbs. Shortly after takeoff an announcement was made detailing the entertainment options, snack choices and some promotional information about Virgin Blue. A video of the take off and intitial climb can be found here which includes most of the aforementioned announcement too:
http://www.youtube.com/watch?v=qRRETq4D01U
.
Brisbane
Southern Brisbane, near Archerfield Airport
View over Brisbane looking towards CBD
CBD
Heading out over South East Queensland
After a series of left hand turns following departure we began heading south over Queensland, New South Wales and eventually Victoria. As we were made well aware beforehand, the 24 satellite PTV channels were switched off about 10 minutes into the flight and I chose not to pay for their use as a. It's not a very long flight b. My Ipod and computer both have stacks of entertainment options on them c. The view out the window wasn't half bad and d. I had people to talk to
.
Soon the snack cart came around and I bought a bottle of water, which was well...just water...what can you say about water?!
At one point the captain announced the fact that Dubbo, a small regional city in New South Wales, could be seen out the right hand side of the aircraft although I couldn't make it out - it was a bit too hazy. Over Victoria however, places like Bendigo, Ballarat and Maryborough could easily be spotted (with a little help from the airshow).
Crusing over central New South Wales
Cabin shot, check out the overwing exit - something's coming loose...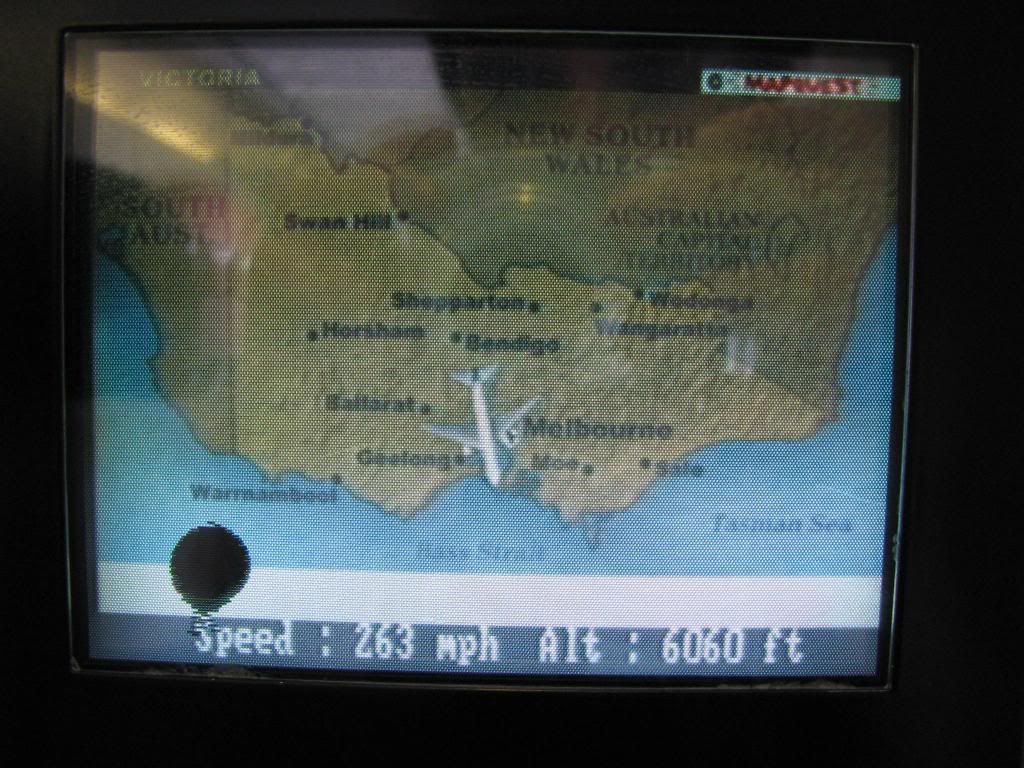 Just before landing - screen was damaged, hence the black splotch
Landing video
http://www.youtube.com/watch?v=SfQDMV9kNPM
The descent took us over central Victoria and we made a straight in approach to runway 16 passing over Bulla just before touchdown at 11:24 actually a minute ahead of time, despite our late departure. We taxied quickly up to the gate at the main pier of the Virgin Blue terminal at Melbourne Tullamarine and within five minutes we had disembarked into the building. The construction of the new international terminal wing was now well underway and this could be clearly viewed from the Virgin Blue terminal.
Getting away from the airport involved a suburban bus to Broadmeadows station, suburban train to the city and finally a regional train home. All costing only $4.20 AUD concession, a significant saving over taking the airport shuttle Skybus direct to the city which would have added $16 AUD to the cost and not saved all that much time.
Thanks for reading!