Part One of the trip report can be found
here
.
It was a very depressing summer as far as Australians were concerned because of the devastating bushfires in Victoria that claimed over 200 lives. It was tragic, very tragic… We arrived in the nick of time to escape the heat of summer. The dry and sunny weather coupled with the cool southern winds welcomed us into autumn. Perfect weather for the outdoors, although I got quite sun-burnt by the end of my stay without realizing it.
The dry weather had numbed my index finger from the constant static I kept experiencing whenever I reached for a metal surface, mostly the car door. It was very painful, bright, silver arcs of electricity shooting out from my hands like I was the Emperor trying to kill Luke Skywalker in Return of the Jedi. Sigh… I was ready to go home.
15 March 2009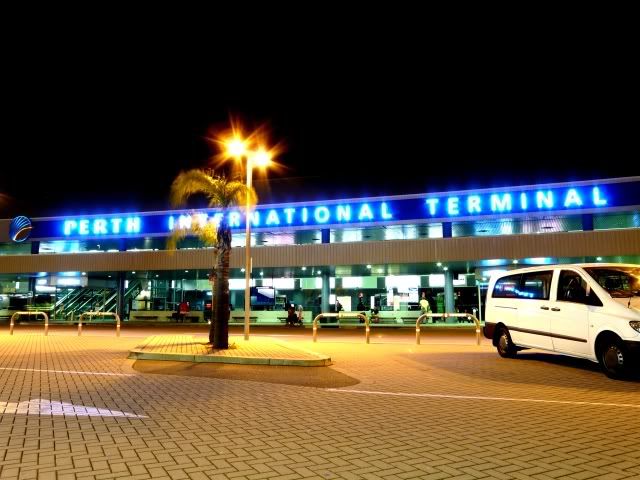 It was convenient having the rental car with us till the end because we had to get up early, REALLY early for our return flight. A scheduled departure time of 0705H meant that we had to be up and running by 4am. Lots of sleepy hugs and kisses later, I was reversing out of my friend's driveway, twisting around the suburban lanes of Ardross and out onto Canning Highway towards Perth International Airport.
With the traffic being non-existent, our Camry very silently pulled into the rental drop off in 20 min tops. The Camry's door was not quite done with me yet. ZAP! Another bolt of static shot painfully through my arm, owwwch… Good riddance, bitch! Maybe it is my biological set up that caused this but I have since developed a fear of touching car doors and door handles preferring to use my feet or quickly giving the surface a quick "slap" to ground myself first.
Anyway….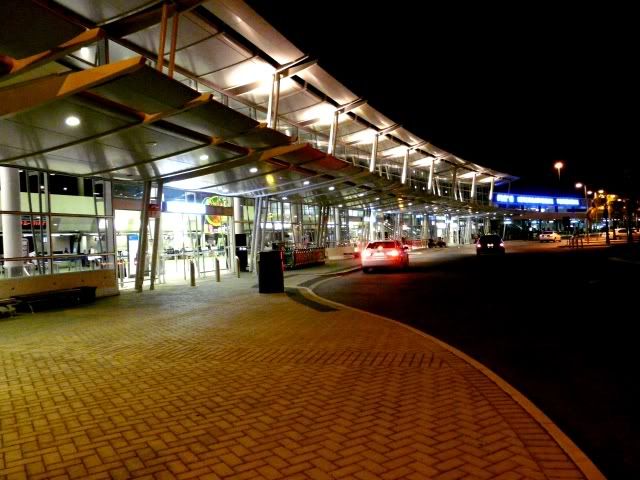 The renovations for Perth's international terminal seem to have stopped halfway giving it a very inconsistent façade between the departures and arrivals. Regardless of that, it is a very easy building to navigate because of the simple layout, not much fuss to it.
Having purchased extra check in baggage allowance, we were horrified when told about busting the 30kg limit by 5kgs. The charge was a hefty AUD50.00. However, the lovely lady at check in was advising us to remove some items from our bag to have it as carry on but looking at how "full" our cabin bags were, we decided to go ahead and pay the fine.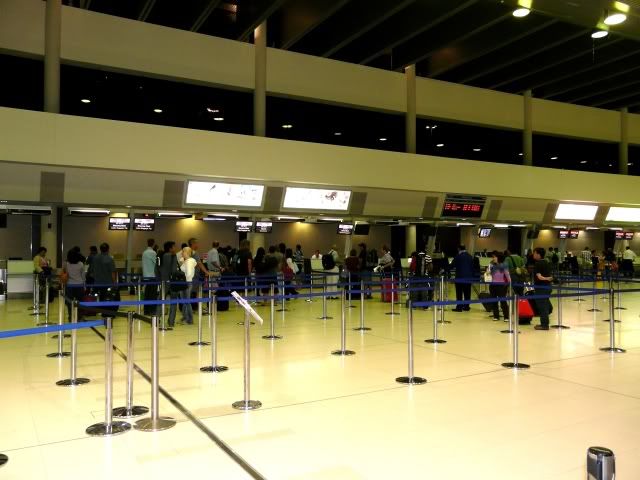 "Oh my Darlings, I would rather you buy me a box of chocolates than pay fifty dollars for nothing! Don't worry; I will see you at the boarding gate, eh? *wink*"
I guess we weren't paying? Meanwhile her colleague was explaining to us that "AUD10.00 per kilo is really reasonable compared to what other carriers were charging". I have to mention they were really nice ladies who behaved very motherly on hindsight, very sympathetic and lovely aura surrounding them it made you feel warm and relaxed. True gems of customer service at Perth's airport, might I add! Our morning banter included a brief discussion on Air Asia X's configuration for the A330 - which is one of a kind - but is in turn giving these ladies a headache as they try and get used to the letterings of the seat numbers illustrating what's an aisle or window seat.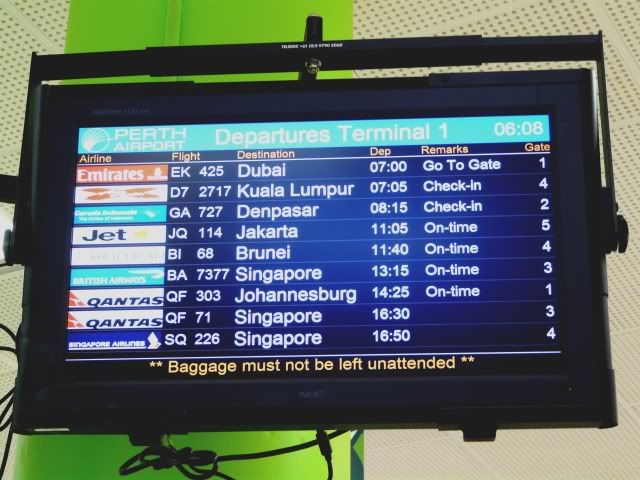 Perth's traffic is soooo busy I won't know what to do with myself.
Other than a Garuda flight at adjacent bunch of counters in the midst of checking in, the departures was otherwise empty while the arrivals area hosted the first trickling of passengers fresh off the customs roasting pan from an Air Asia X plane, all looking traumatized and disheveled.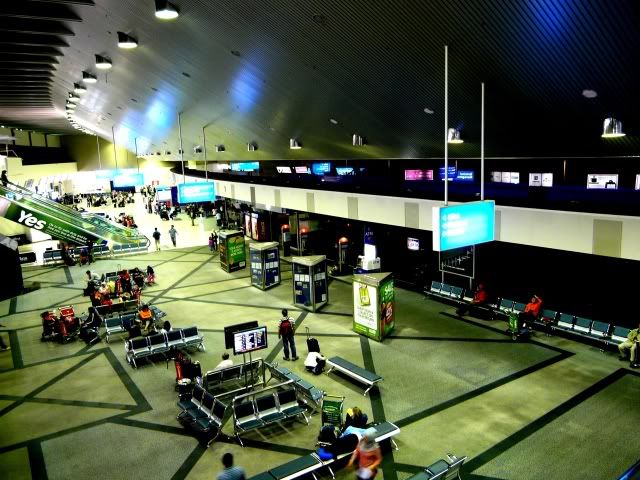 You can almost make out the trickle of traumatized passengers at the far end of the arrival hall.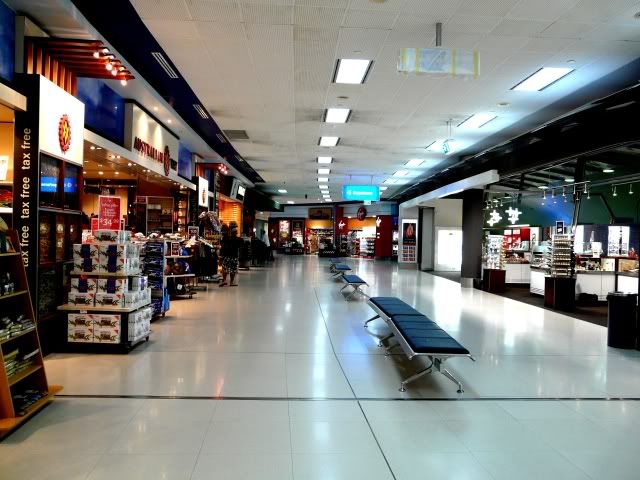 Landside duty free shops.
We didn't forget to buy a box of chocolate before heading past immigration for our check in lady, who was later seen at the entrance of the plane. She was genuinely pleased when we passed her the chocolates. While lining up at immigration, we braced for any further interrogations that may be waiting, but were however pleasantly surprised by the officer who was processing us both.
"How was your holiday? Oh such a short stay, make sure it is longer next time… You are lucky; so many chops in your passport!"
Going past the metal detector, getting taken aside to have our phones swabbed for narcotics trace was becoming somewhat of a norm but this time round the officer was apologetic so he attempted to get chatty.
"Flying Air Asia, eh? They must be very cheap, eh? How much did you pay, eh? Really? Their flights get cancelled much?"
Phew, at least that was a nice end to the Australian immigration issues we experienced on arrival. Perhaps they are not too strict on the people leaving as opposed to entering?
AIRSIDE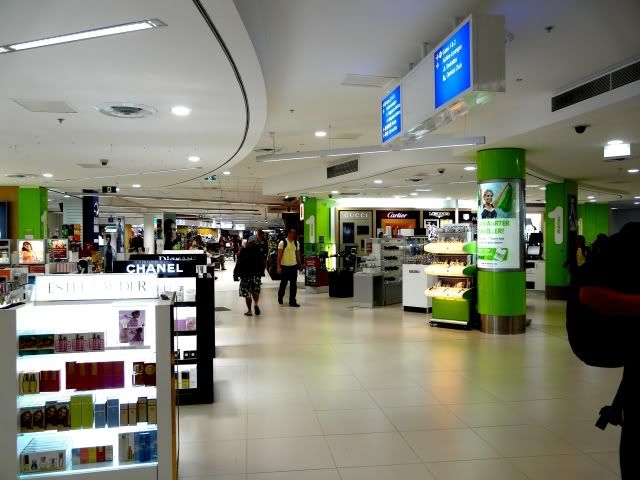 Perth Airport is not a big one by international standards. I have been coming to this wonderful city many times since I was a little boy and with each trip, the space at airside seems to get smaller and smaller as more retail space gets created. In the future, we would be lining up at our gates amidst shelves of retail items while we get sprayed with all kinds of colognes and perfumes from eager sales assistants! We would smell no different from a hooker on boarding an aircraft in the future…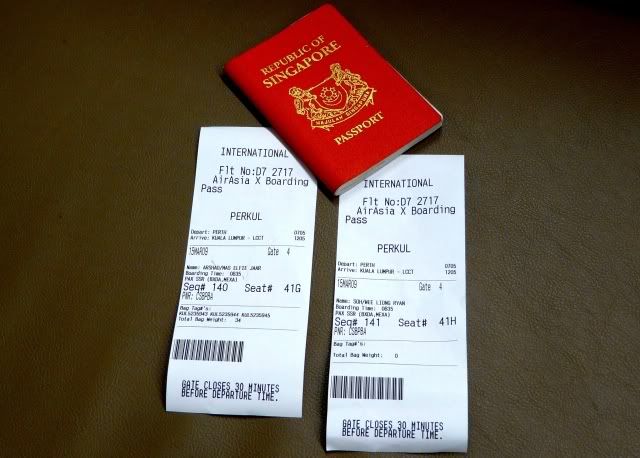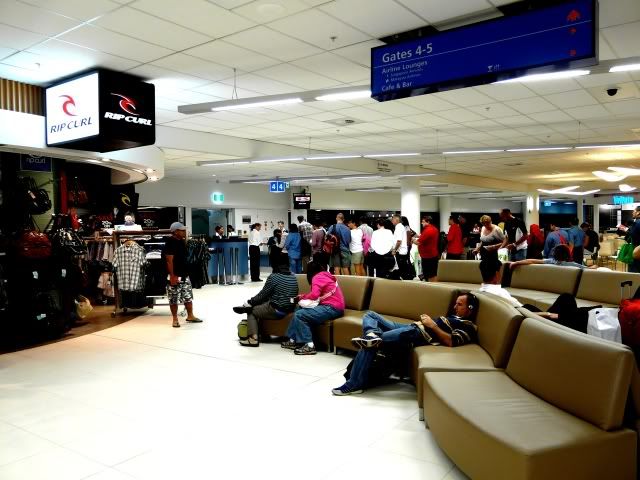 Someone needs to learn how to sit properly. If only my mom was here, she would have loved to smack him REALLY hard on the head to sit up straight.
The way Gate 4 was set up and the organization of the queue, I could not look out onto the tarmac to get a good look at our aircraft because up till this point, I still haven't caught a glimpse of it. Boarding was soon on the way and while walking down the stairs to access our aero-bridge, I looked out and I saw what I thought was an Air Mauritius A340…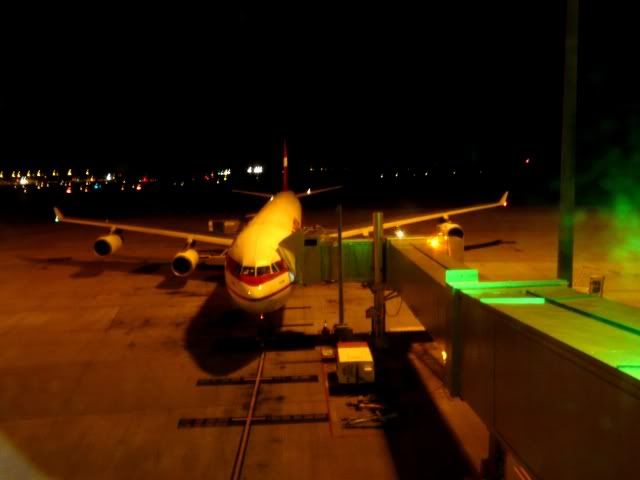 "This cannot be…"
I mused,
"We must be getting bussed to a remote location."
But no, into the aerobridge we went…
"Wait a minute, Mary. Could it be?"
BIENVENUE à LA XANADU – PINK PIGEON!
Air Asia X Sdn Bhd operated by Air Mauritius Limited
D7 2717
Perth – Kuala Lumpur
Airbus A340-312 (3B-NAU "Pink Pigeon")
Duration: 5 hr 30 min
ETD: 0700H GMT +9
ETA: 1130H GMT +8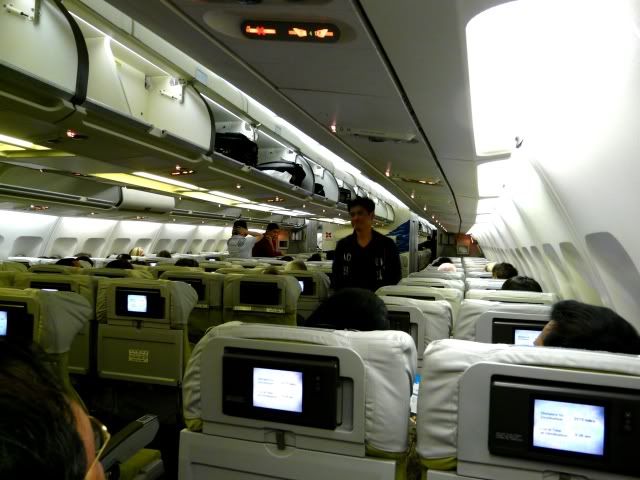 "Bonjour! Welcome on board! Allo monseuir, boarding passes please!"
Tacky looking paintings on the bulkheads aside, first impression of the cabin was an extremely positive one. In economy class, sherbet lime green upholstery with light grey leather winged headrest was the perfect color combination to soothe our morning tired eyes. I could almost feel the warm breeze of a Mauritian beach on my skin.
As passengers poured down the aisle, the flight deck PA'ed a welcome to all of us, referring to this flight as "Xanadu (Air Asia X's callsign) 2717".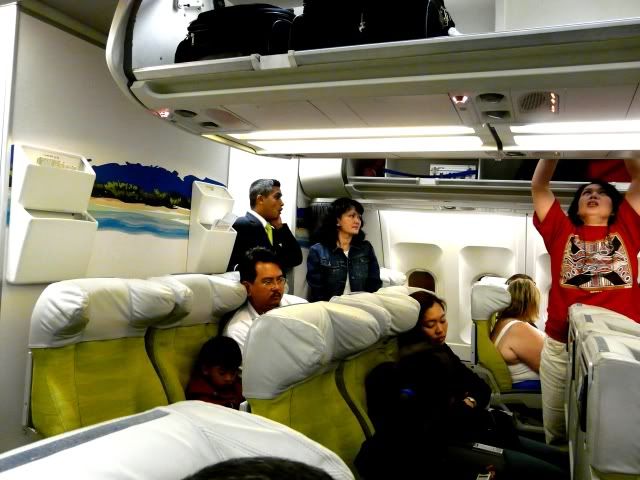 Greeting us were Air Mauritius stewards decked out in their Sunday's best, smartly suited with a white shirt beneath paired off with a lime green tie. Needless to say, a smile broke out on our faces at this somewhat pleasant change in itinerary. Hot looking dark skinned Mauritian men with Colgate ad teeth lined up along the aisle, as if welcoming us into some island fantasy la-la land. Samuel L Jackson, LL Cool J, Vin Diesel… You name it! I swore I saw them standing along the aisle in my spaced-out mode. But alas, not all the crew was men; because right at the back of the plane was a sole female Chinese stewardess.
"Allo sirgh ("Sir" with a bit of throat clearing sounds at the end)…. Your seat numbergh, pleeeease?"
Gilliane, who was assigned to usher us at the aft cabin today, was a cheerful and bubbly lady who was used to the confused stares of strangers she met in her line of work. Before I could get over my amazement with her being of Chinese descent, she offered in VERY heavy French accent…
"Yessssssssss, I um Shinese und I come from Maurghitius [Mauritius]. Mah-nee peeeeple dun know where is Maurghitius and … Ha ha ha… They alwayyys look at meeee und say " err… Malaysia?" und I say non, non, non! M-A-U-R-I-T-I-U-S… Ha ha ha… Mah-nee peeeple dunno where is Mauritius."
"I know where Mauritius is,"
I said,
"it is in the Indian Ocean and your capital is Port Louis."
Her pair of beady eyes enlarged,
"Oooh la la! Brghains [brains] and brghawns [brawns]! Ha ha ha…"
It was a lot of bubbly energy for me to take in at 6.30am but I did anyway, rather that than a grumpy snarl of a prison matron welcome on NWA wielding a leather whip! Although I must say the thought of a leather whip at times can sound strangely enticing…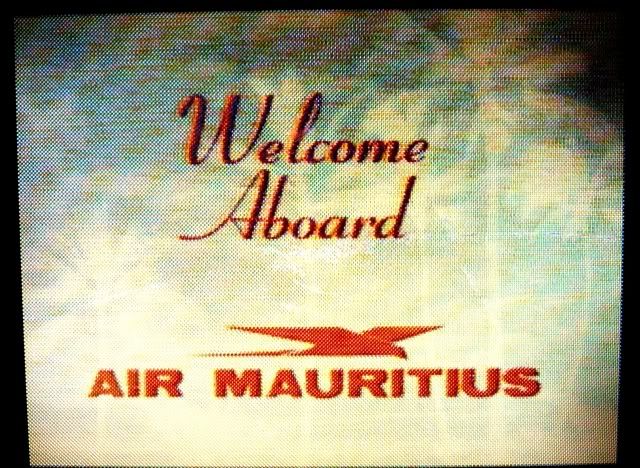 Our conversation was interrupted by a steward of Indian descent who merrily skipped up the aisle to Gilliane and excitedly yakked in rapid fire French (or was it Creole?) while animatedly flailing his arms, it ended in a violent burst of boisterous laughter among themselves before he ran back to his station up front. In my limited rusty French, I managed to gather the gist of the story – passengers were getting concerned because some members of the crew jokingly told them that this plane was heading to Mauritius and they have never heard of Air Asia X. Word spread fast in the fore economy cabin and several worried passengers got up to leave, fearing they boarded the wrong plane.
Sigh… People, READ! Air Asia X's logo was plastered on all forward bulkheads, and also on the fuselage next to Door 1L and decals read "THIS FLIGHT IS OPERATED BY AIR ASIA X SDN BHD."
"Oh zeees is funeee eh?"
Gilliane offered to translate what just happened as she wiped a tear from her eye from laughing so hard…
"Yes,"
I said,
"I know what happened. Some passengers want to get off."
"Oh tu parle francaise?!"
"Oui, je comprend un petit peu."
, closing my index finger and thumb together to emphasize my grasp for the language was indeed very scarce.
So again a round of laughter filled our vicinity as we bathed in the attention of Little Miss Sunshine. Meanwhile she conspiringly called out to the steward who spoke to her earlier, Lechman, and whispered "careful, we have French speakers on board" (while fingering her polished nails at the both of us) as if it was clandestine.
I was loving every minute of this flight, so far.
The problem was later serious enough for the purser to make an announcement that this was an Air Asia X flight to Kuala Lumpur and Air Mauritius was chartered to help carry out this sector. After his announcement, he broke into French to translate but stopped midway into "Bon matin madames et monseuir…" because he realized there was no need to as this wasn't officially an Air Mauritius flight.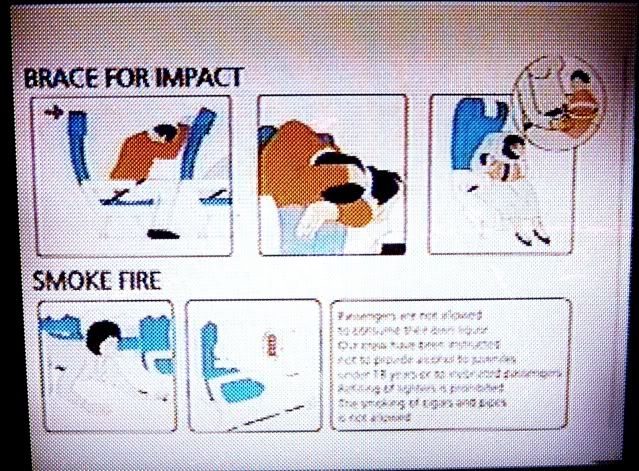 It seems this was the first flight the crew was operating on behalf of Air Asia X and they weren't used to NOT following up their announcements in their native language leading to numerous abrupt stoppages of French announcements. It was an amusing observation.
Despite the hoop-lah, we were pretty much on time when the doors were closed and push back commenced. Air Mauritius still has the first generation PTVs which was installed on their A340s. By today's standards, it looks very dated and even tiny by comparison. Can you imagine watching a Star Wars dog-fight sequence on that miniscule screen? Or how Wolverine would look more like a flea? But what was important to me, the activation of the flight show. I understand these PTVs will soon be upgraded to a larger one as the cabin refurbishments are presently in progress for their long haul fleet.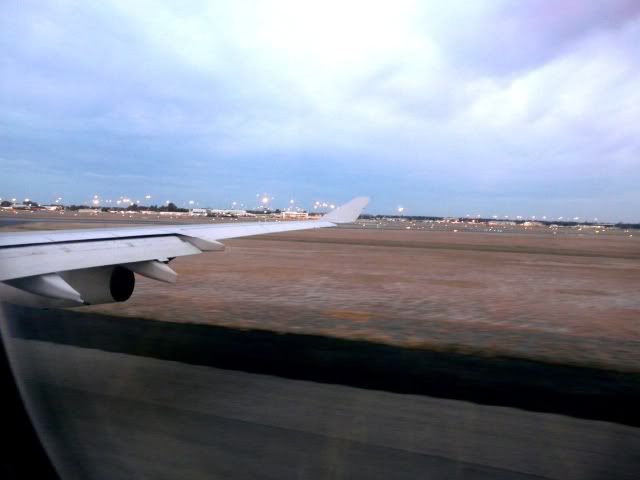 A rather lengthy taxi ensued as we prodded along the tarmac in the brightening skies towards the threshold of Runway 03. While journeying towards take off, the cabin was sprayed with disinfectant which I thought was rather odd as this action was normally performed on arrival but was it a requirement to do it to departing flights as well?
0713H: Good bye, Perth! Power off to the skies, please. Power… I said POWER!
P O W E R
!!! Oh sorry, I forgot we were on an A340.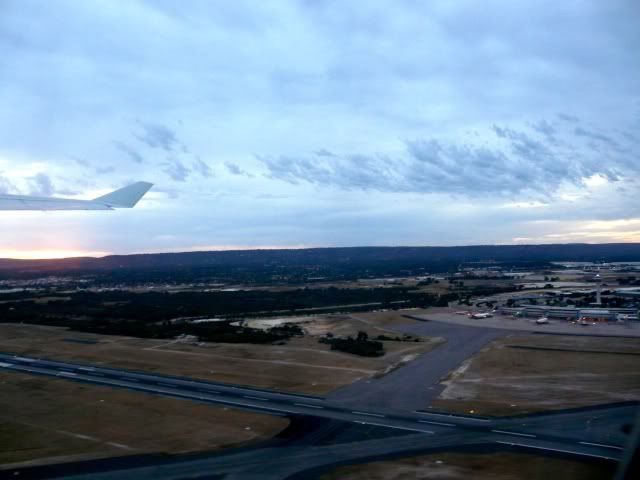 Pink Pigeon clumsily got airborne into moderately turbulent air as we pitched and yawed our way up in a northerly fashion. A left turn was carried out that brought us on a perpendicular heading to the coast before we turned north again over Joondalup. It was a strange departure maneuver so I wondered if there were some restrictions in place that morning or this zigzag pattern is indeed a standard departure profile for Runway 03.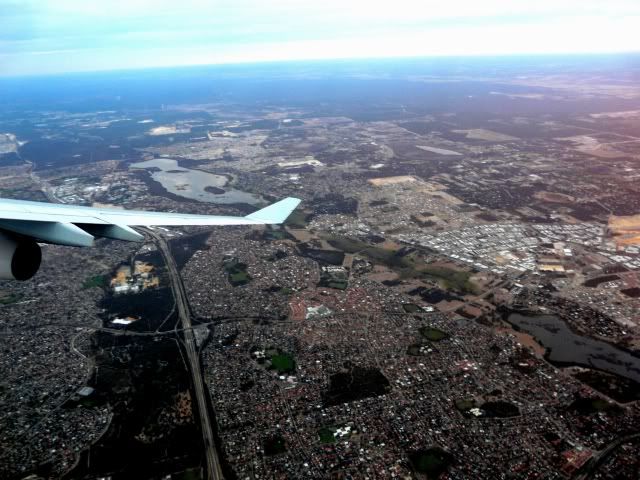 Making a final turn over Joondalup to continue our straight northerly flight path.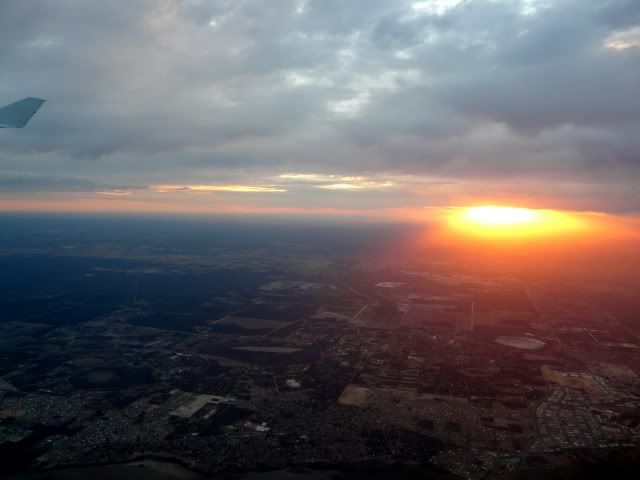 "You wanna klay-zee?! I show you I klay-zeeee!!" and so Kim Jong Il sets a nuclear off towards Western Australia. Actually no, it is just the rising sun.
Anyway, it was a very gloomy morning and pretty much overcast, so anyone waking up now in Perth would have been presented with a depressing winter-like grey.
As soon as we punched through the clouds, the glaring rising sun made its presence felt with so much intensity it was painful for the eyes. By 0730H, we were still in a steady climb towards out cruising altitude of FL380 when the seatbelt signs were turned off. Such a pity the sun was in the wrong direction, robbing us on the starboard side of a view of the spectacular Australian countryside.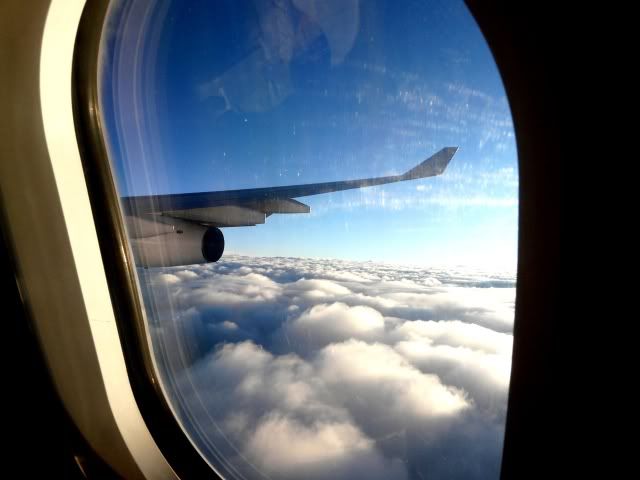 An announcement was then made to inform us that since this aircraft was a substitute, Air Asia X decided to provide complimentary meals and drinks to all for the "inconvenience caused". While I applaud Air Asia for doing so, further chat with the crew later on suggested that Air Mauritius – while negotiating for the charter contract - didn't want to deal with cash during meal time so one wonders if the announcement was spun in a way to make someone look good. But then again, it was idle galley chit chat so one does have to take what we hear with a pinch of salt! However, as for those who already pre-paid their meals (like yours truly, moi), we were told to take it up with Air Asia but I figured it wasn't worth it for RM15 to be put on hold for the next 15 years.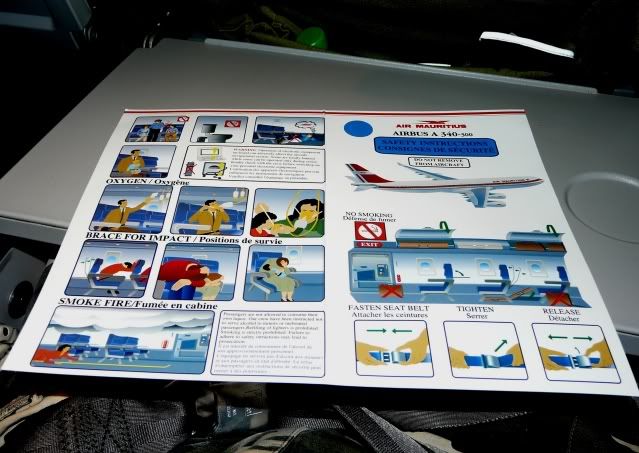 I was looking forward to pocketing the in-flight magazine of Air Mauritius but sadly this was all I found. No, they didn't carry any copies because this is supposedly an Air Asia X flight.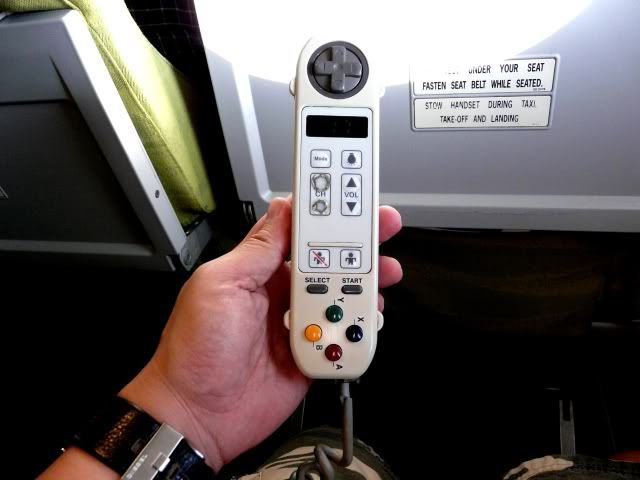 There was a time when having individual IFE alone was a WOW factor. These days, handsets like this one are a dying breed. Enjoy them while you can!
0745H: MEALTIME!
We were presented with two choices:
- Spicy chicken rendang with basmati beriyani rice and pickled vegetables
- Halal herbed BBQ chicken thigh with chat potatoes and steamed greens
Accompanying the main was a bottle of water, a kit kat chocolate bar plus a packet of fruit juice. This is rather substantial for a LCC, don't you think? I decided to opt for the 2nd choice and boy it was a good one. The rendang turned out to be rather palatable as well so it was a meal very well catered and of superb quality. I wonder if this meal was loaded in KUL or PER?
"Compliments of Air Asia, Sir / Madame. Enjoy!"
offered Lechman complete with a flirty smile.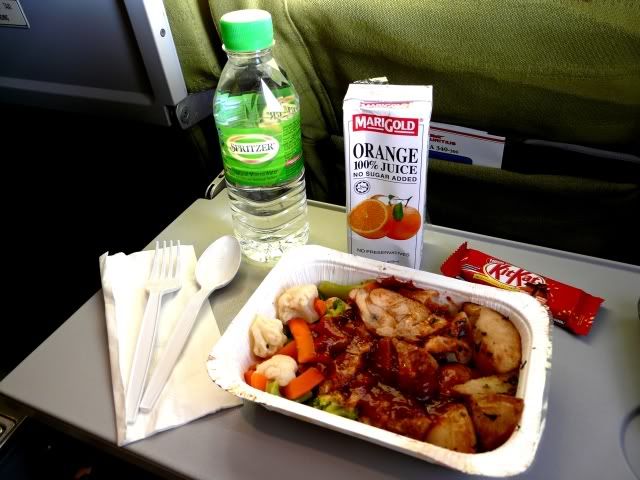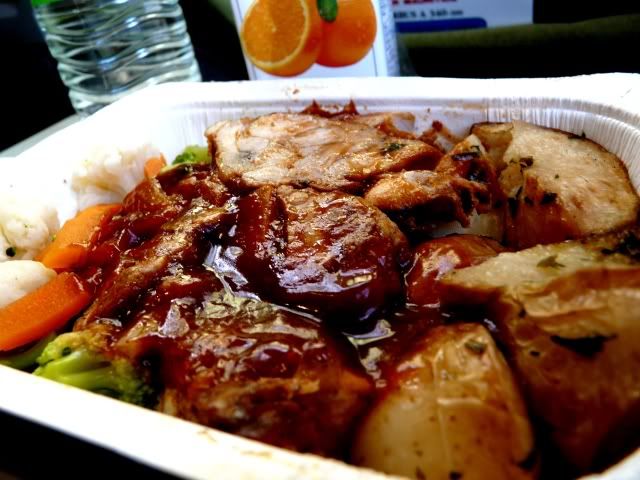 I know, I know. It looks like a pile of crap but believe me when I tell you it tasted scrumptious!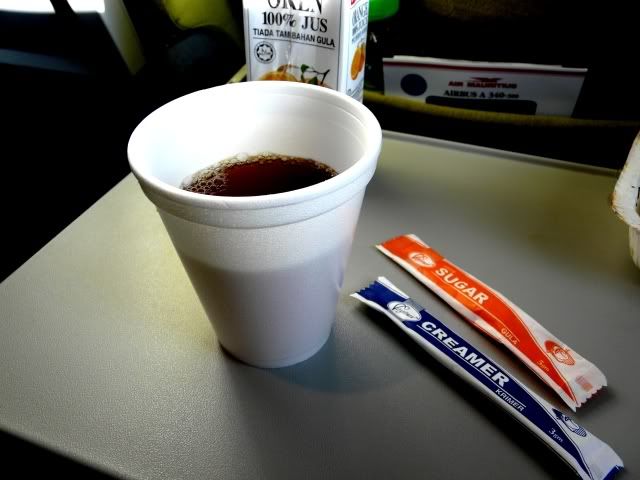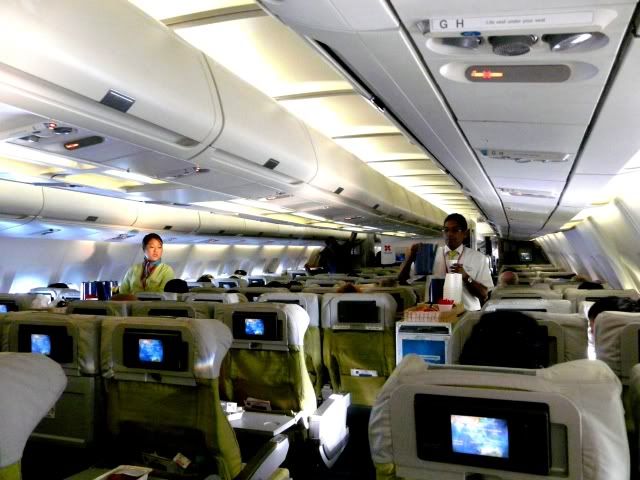 Gilliane with her face all lit up and Lechman on my aisle.
As the meal progressed, a coffee and tea service was also carried out free of charge. While we chomped down our chow - one delicious bite after another - Shark Bay loomed hazily outside and this was the final sight of Australian soil while we cruised out into the expanse of the Indian Ocean.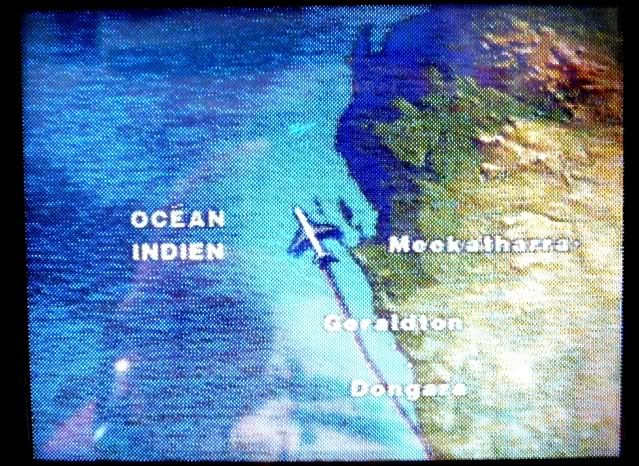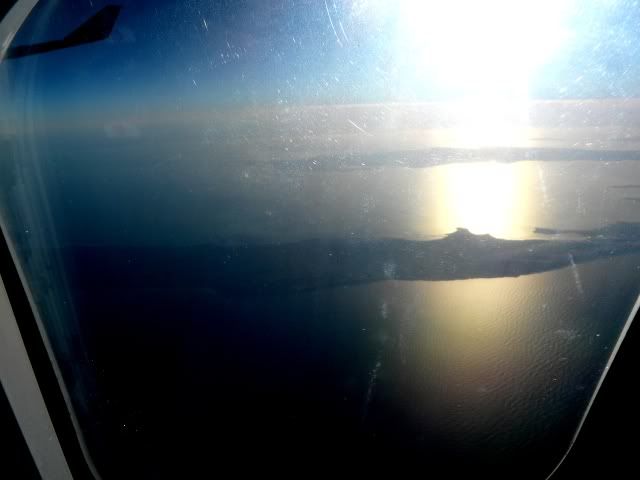 Bye bye Australia…
One thing I have to commend Air Mauritius on was their absolutely amazing pitch and generous recline of their YCL seats. This has to be the best I have ever seen! Looking at how all of Air Mauritius' A340s fly exclusively on long haul sectors, it is understandable. Now if only 3B-NAU was equipped with larger PTV screens like their A330s, it would have been perfect.
This is Business Class on some carriers! If you notice the position of my knees, I was actually slouching when I snapped this photograph.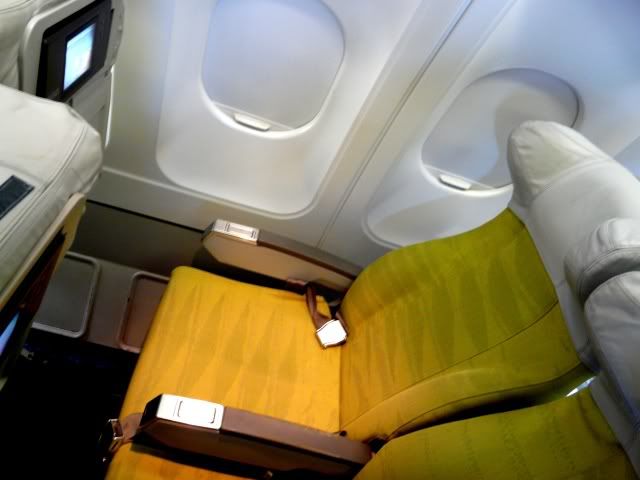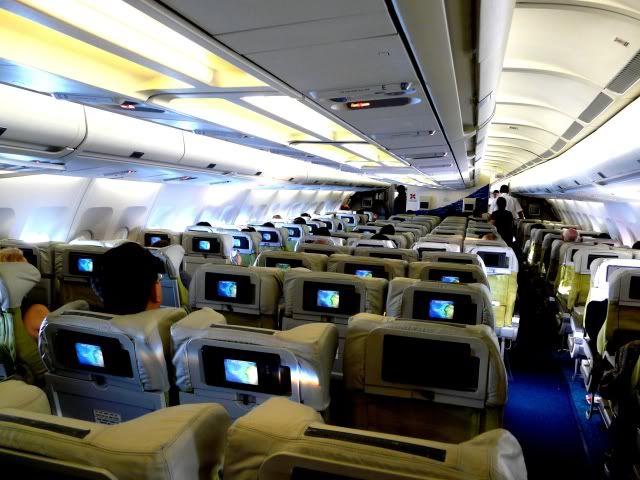 Within the hour, the meal items were progressively cleared and cabin darkened to allow passengers some shut eye time. Little by little, light in the cabin was turned off and window shades shut to create a darkened environment so much so it felt like a red-eye flight.
Having woken up so early, fatigue soon set in and that had me curled up on two seats to drift off into dreamland. My partner went off to the opposite aisle, snagged himself a window seat and he too was soon snoozing.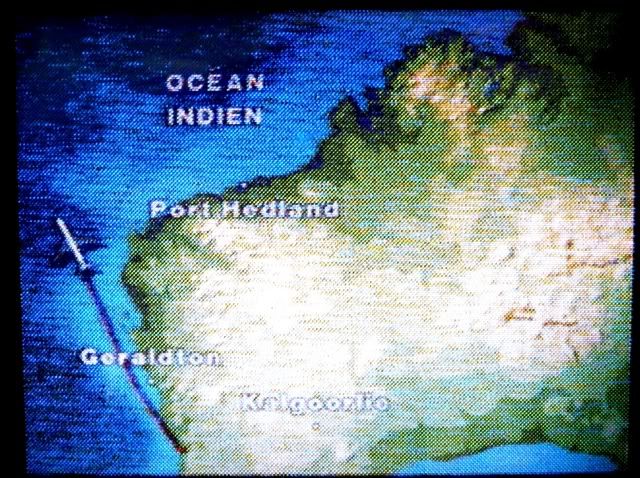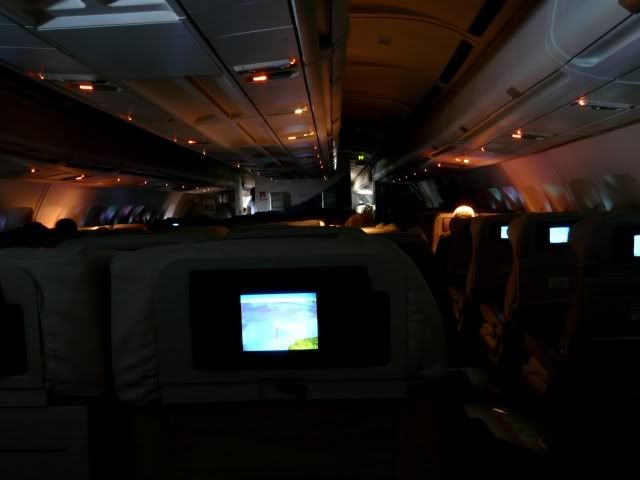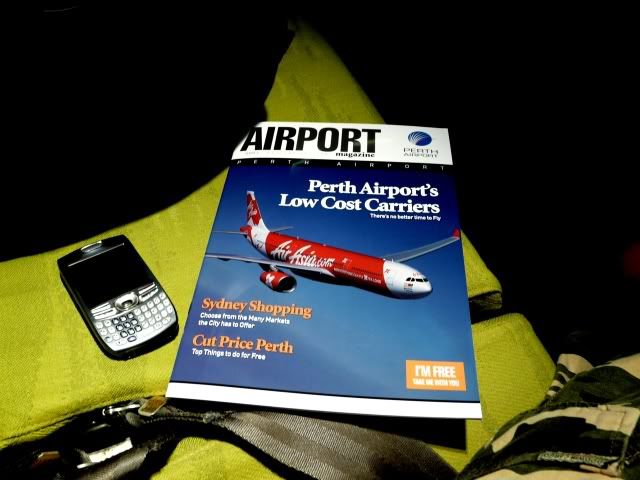 Hey! Look who popped up on Perth's airport magazine!
To be honest, the next few hours flew by in a blur because I was passed out in my comfortable 2-seater bed. The cabin crew did pass by a few times giving out bottled water to whoever required it. I got up once to visit the aft lav and ended up in a lengthy chat with Gilliane and another one of her brawny male colleagues. Although she was "feh-leh-fleu-ing" away most of the time, my attention was somewhere else on her colleague, instead. Air Mauritius has since stopped crew layovers in Singapore (pity) because of cost-concerns but instead have them staying over in Kuala Lumpur now. So their pattern is either MRU-KUL-SIN-MRU, or MRU-SIN-KUL-MRU depending on the day of operations.
Interestingly this being their first chartered flight with Air Asia X, the crew paxed to PER on an earlier Air Mauritius flight from MRU flight in order to operate this sector to KUL.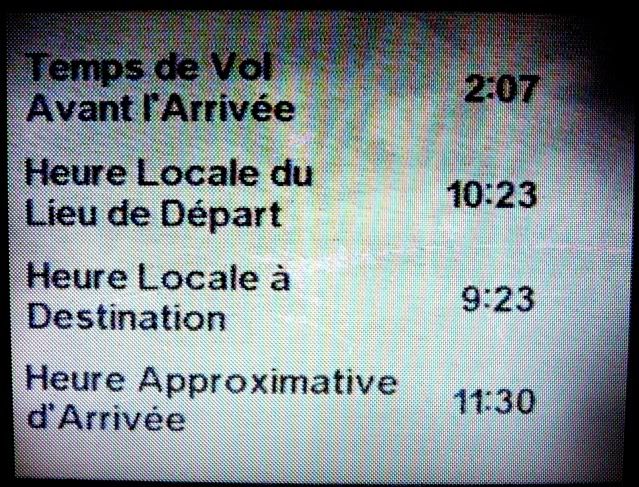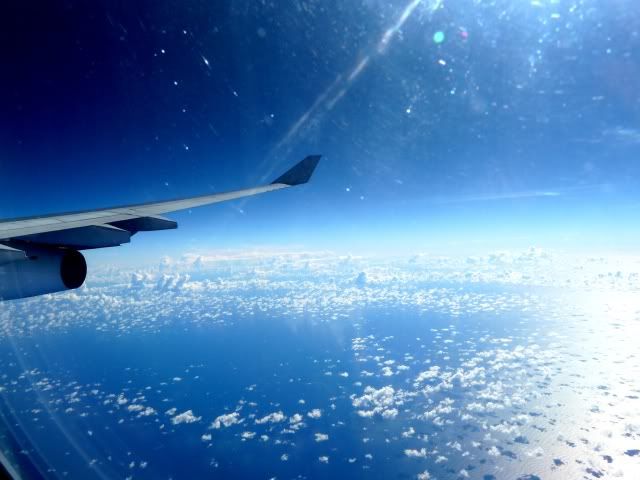 I have crossed many oceans. In this case, it is over the Indian Ocean…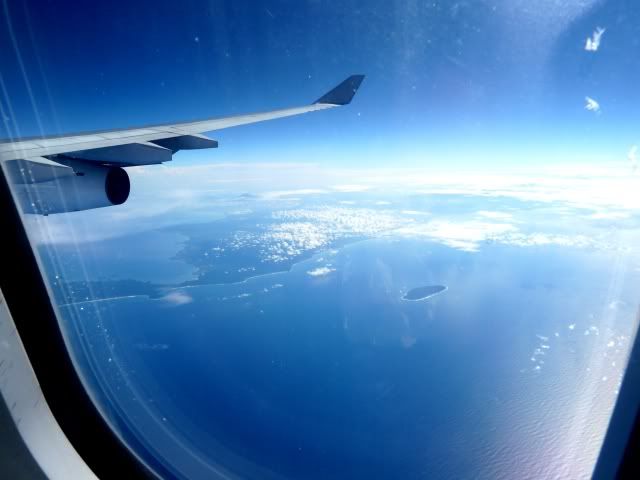 … and soon we say hello to the island of Java.
Our flight path had us skimming the western tip of Java towards Sumatra over the Sunda Straits. This is the vicinity of one of the world's deadliest and violent volcanic eruptions in 1883 (a blast that was heard in Perth and Mauritius) which enveloped the entire globe in a perpetual haze for a while. The island of Krakatoa was itself a volcanic island which sat above a gigantic caldera. This whole set up imploded and the island is presently broken into a group of 4 smaller ones. Witnessing nature from forty thousand feet in the air is indeed a spiritual and therapeutic moment.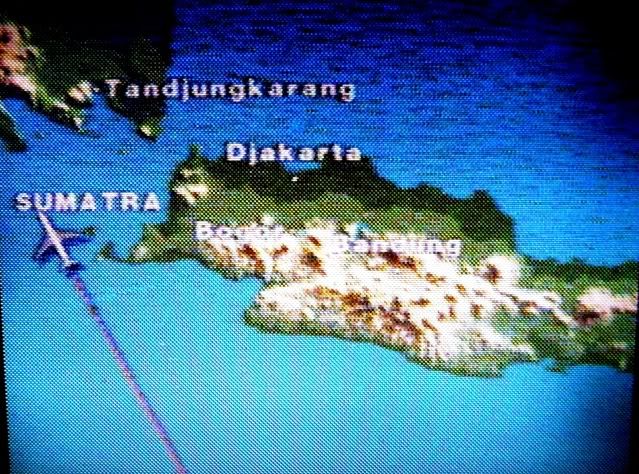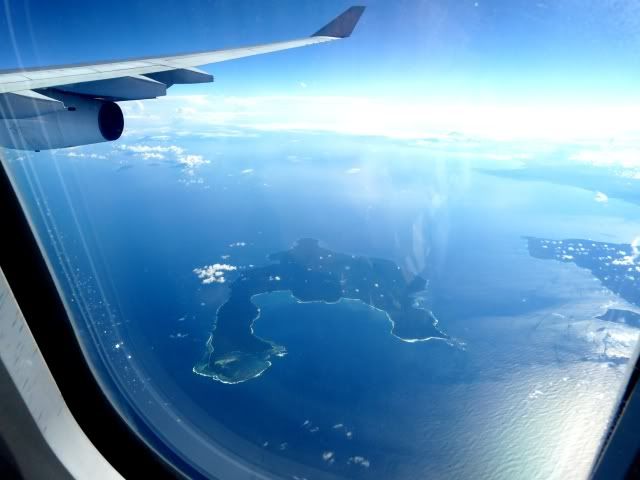 Directly beneath the engine are the remains of Krakatoa. It is hard to imagine the devastation from this serene picture of the Sunda Straits.
From here onwards, the journey over Sumatra was the start of our impending arrival into KUL.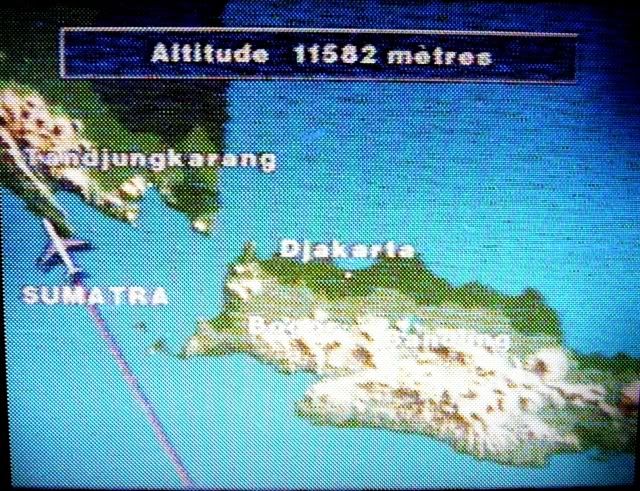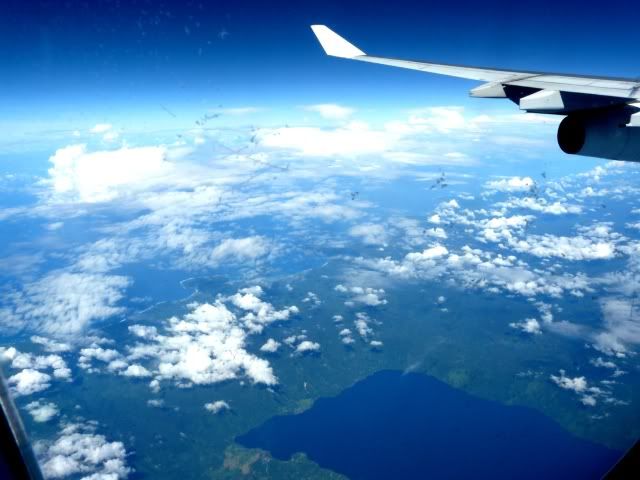 Lake Ranau, Lampung Sumatra. This extinct volcanic caldera is a very popular holiday location for the locals.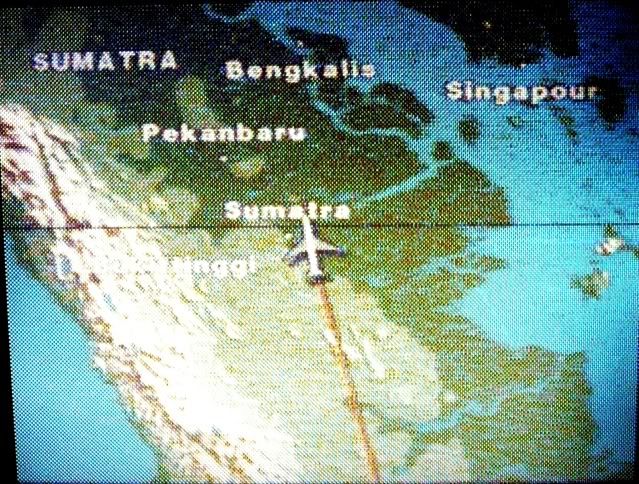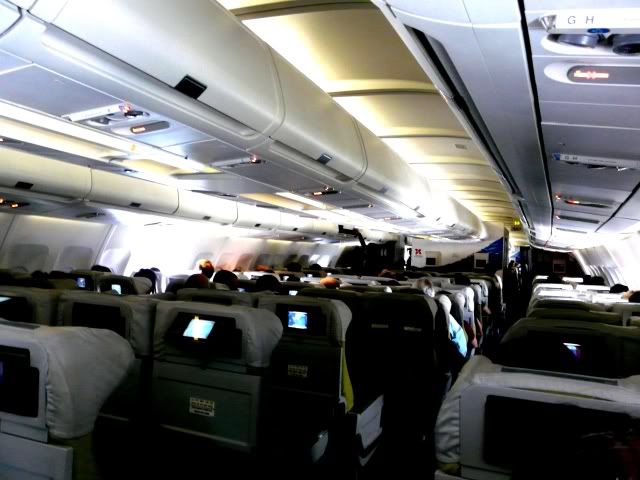 Nearing the destination, the cabin is slowly roused awake to prepare for arrival.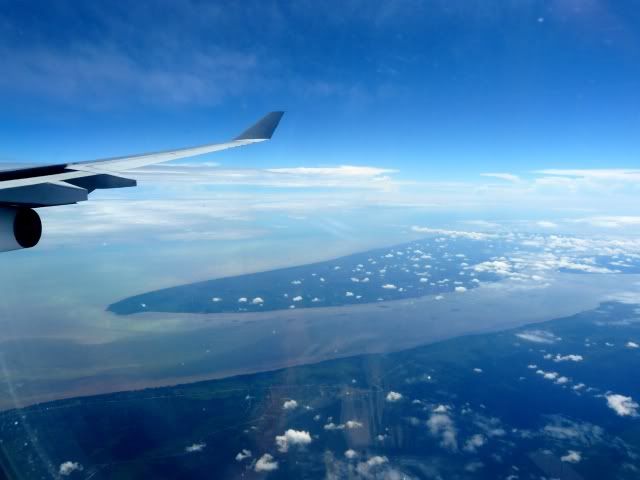 We leave Sumatra behind, officially saying goodbye to Indonesian airspace as we cross the Melaka Straits for Malaysia.
1200H: Pink Pigeon nosed her beak towards the ground and down we went with the help of spoilers.
A brief moment later, we crossed the dangerous waters of Melaka Straits and no sooner we made landfall with Peninsular Malaysia over Port Dickson.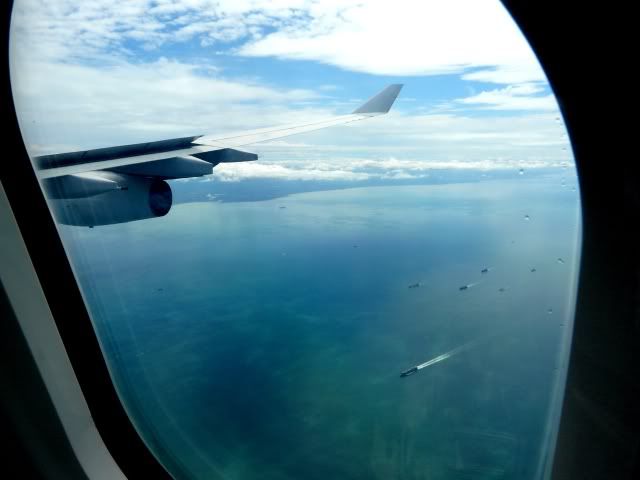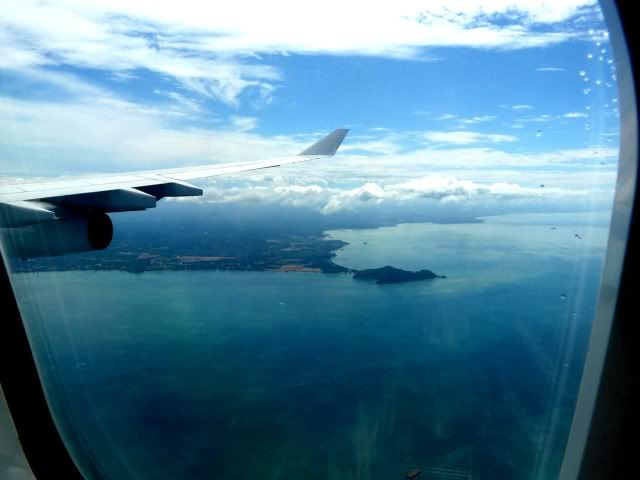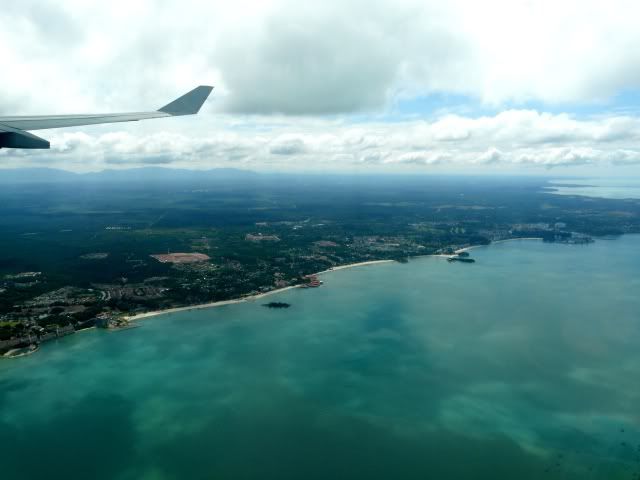 Skirting past the fine resorts of Port Dickson.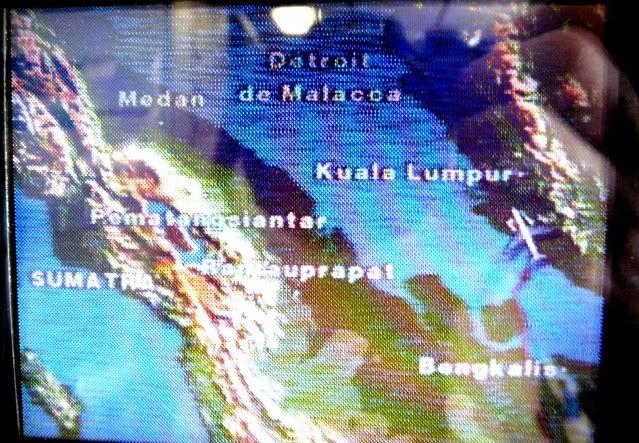 Almost there…
The weather as we approached Kuala Lumpur International Airport's Runway 32L, was a fine one for anyone who might have been plane spotting that afternoon. Perfect sunny conditions, breezy and scattered clouds made for a very conducive day.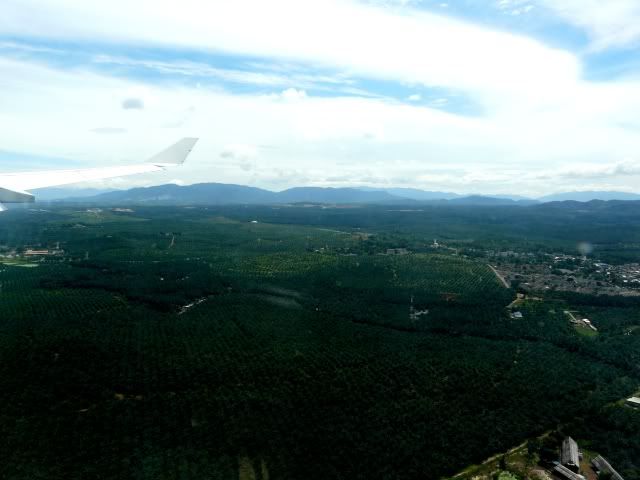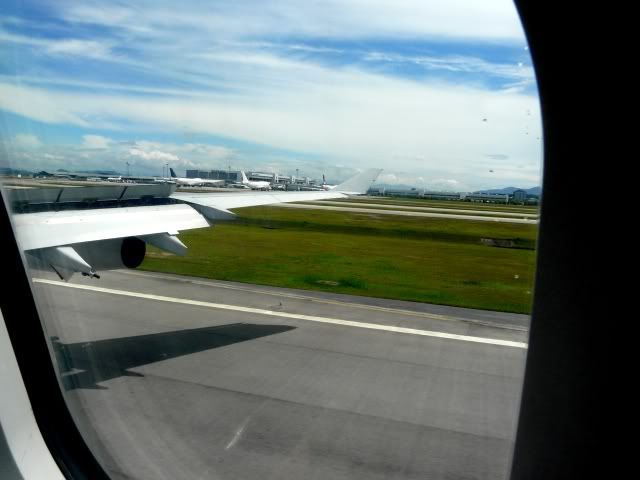 1230H: Touchdown! Welcome to KLIA… Oops, we are heading to LCCT, thank you.
"Ladies and gentlemen, welcome to Kuala Lumpur International Airport… [long pause]… I beg your pardon, Kuala Lumpur low cost carrier terminal. Please set you clocks back one hour and the local time now is 1130a.m... We thank you for flying with us today and thank you for choosing Air Mauritius… [long pause]… I beg your pardon. Thank you for choosing Air Asia X and see you again soon. Madames et Monseuirs, nou... [click! And the PA turns abruptly off]"
Another episode of chortles goes off in the aft galley… Perhaps after this flight, the crew will really get used to operating this charter.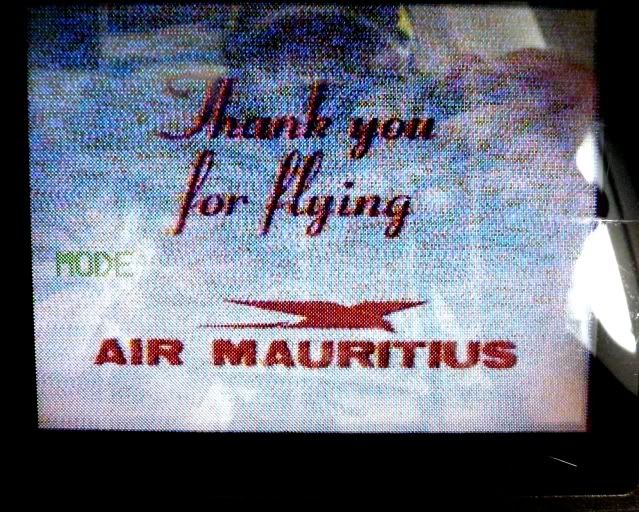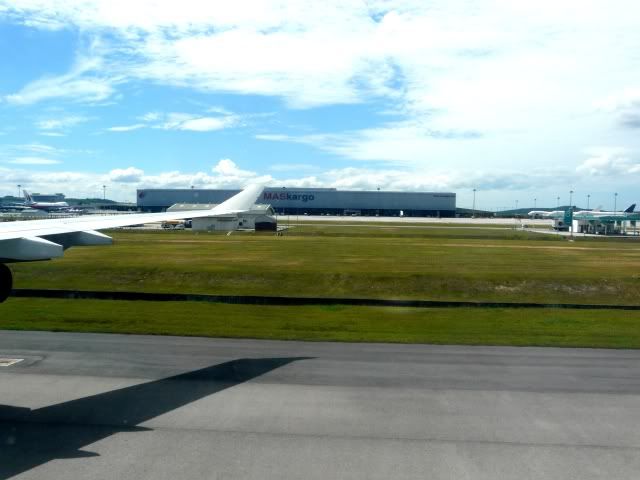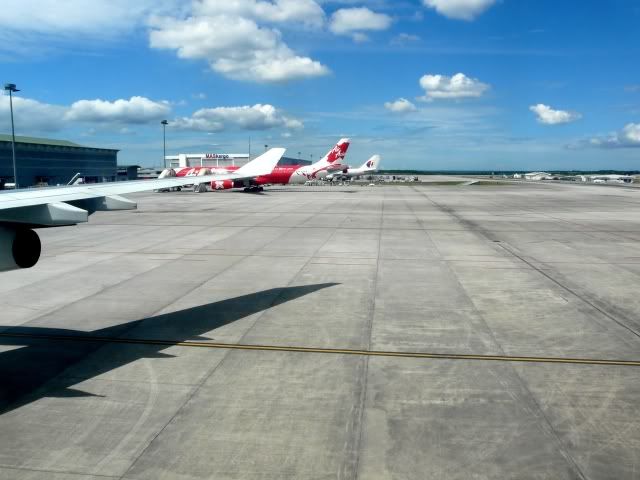 A cheerful round of "goodbye" along the aisle was dished out as we filed slowly out of the aircraft. We made sure we were the last to disembark so we could savor this moment a little longer, perhaps extend our holiday just by that few more seconds.
Lechman:
"Au revoir! See you next time on Air Mauritius, going to Mauritius eh?!"
… He didn't forget to flail his arms animatedly in the process.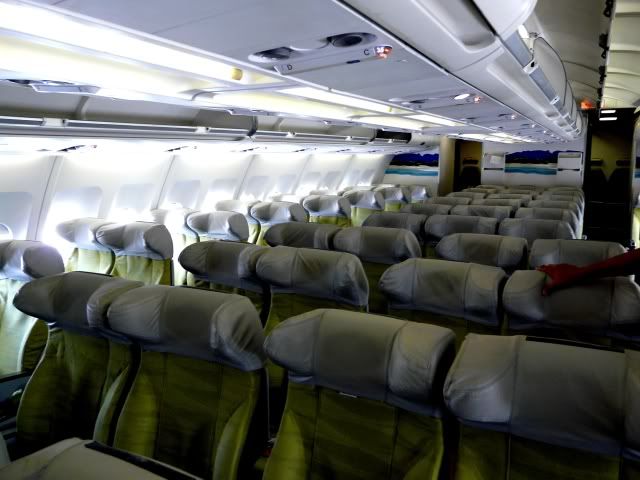 One final glance at my cabin…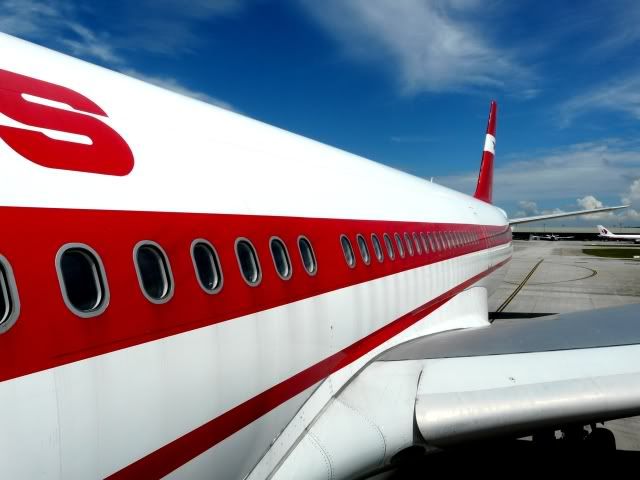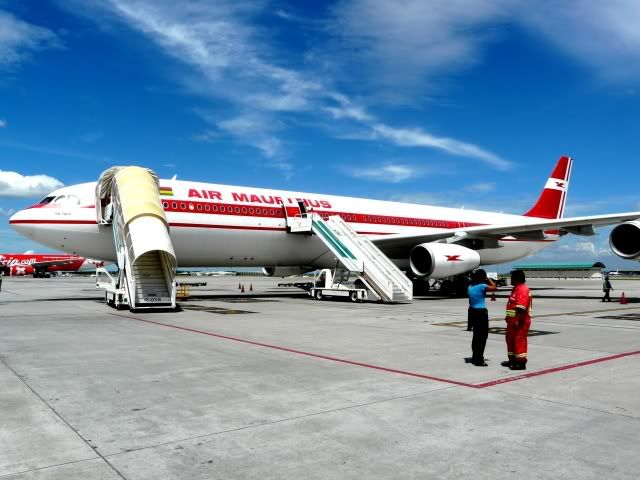 It was surely hard saying goodbye to such an awesome set of cabin crew who obviously loved their jobs. It has really been a while since I last experienced so much fun on a plane.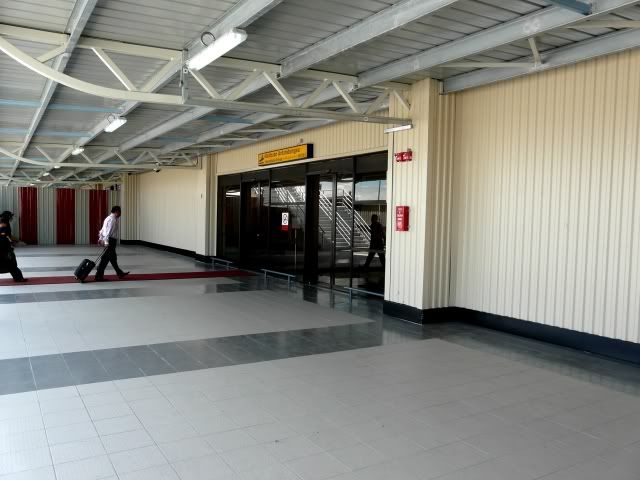 Into the tin shed we go!
As we meandered our way out, we kept bumping into the crew again and again at the arrivals, out on the curbside, over at the departures… In fact we met all over the airport. So it was "goodbye" again and again and again… But each time, the goodbyes got more intense it soon became an exchange of kisses on the cheeks with Gilliane.
My parting words to them,
"Darlings, I know it is difficult to resist beauty but you HAVE to stop following me…"
Afterwards that was the last I saw of this fun loving bunch.
In conclusion, is Air Mauritius highly recommended? In the words of Mr. Big from Sex and the City - Abso-f***ing-lutely!
Now this is what I call world class airport worthy transport. Noticed how the passengers are able to have storage facilities for their luggage? Courtesy of Air Asia's Skybus
This time round, we decided to leave out luggage at the LCCT for the day and tried out one of the direct buses that goes to KL Sentral. It was so much more convenient compared to that rickety transfer bus that goes to KLIA and many times more comfortable, all that for only RM9! The one hour ride brought us into town for lunch, massage, dinner, coffee, shopping and got a ride back to the airport from a friend.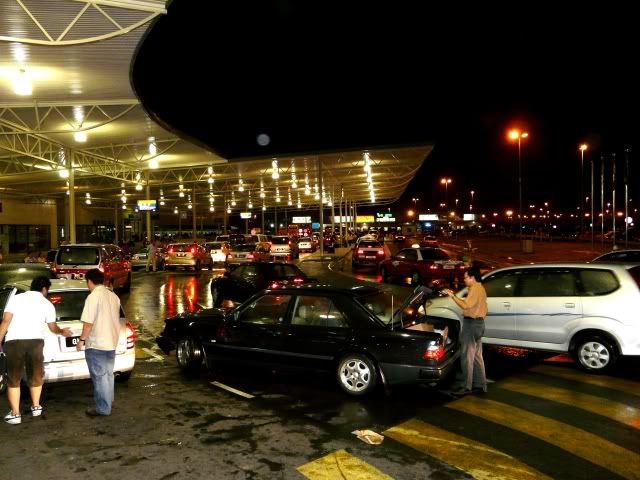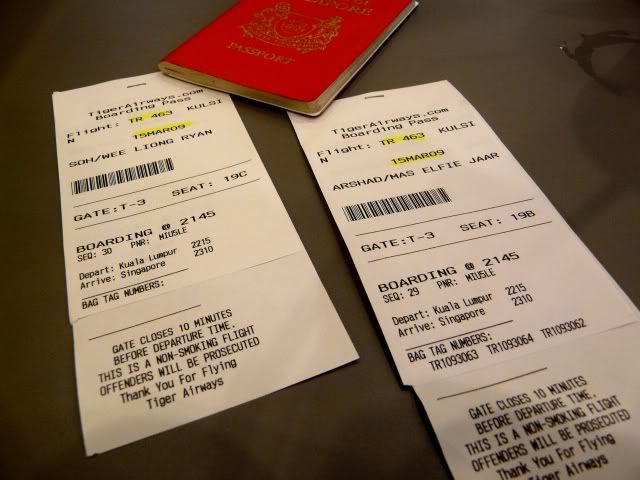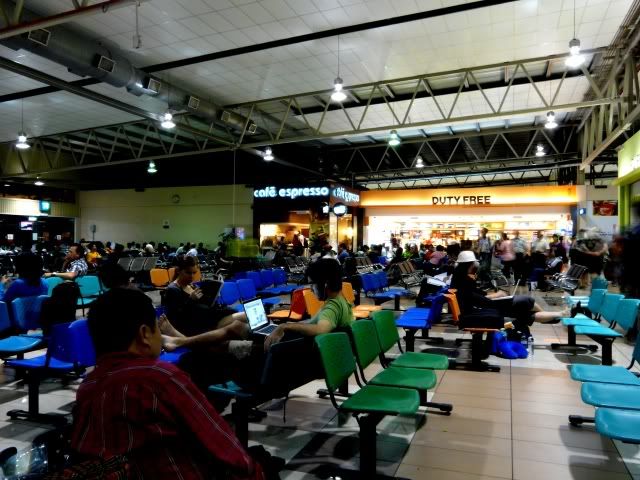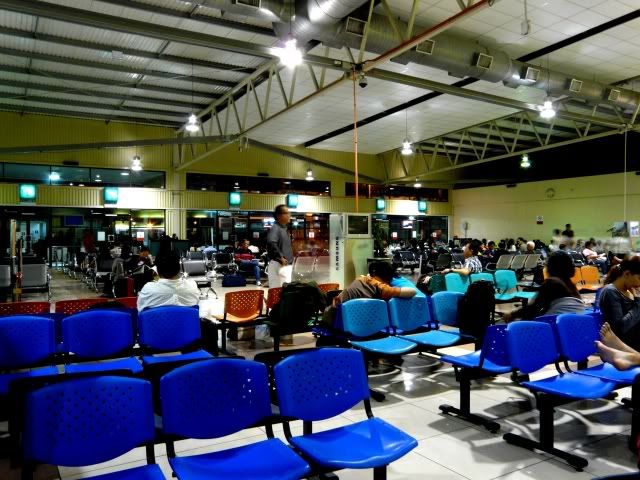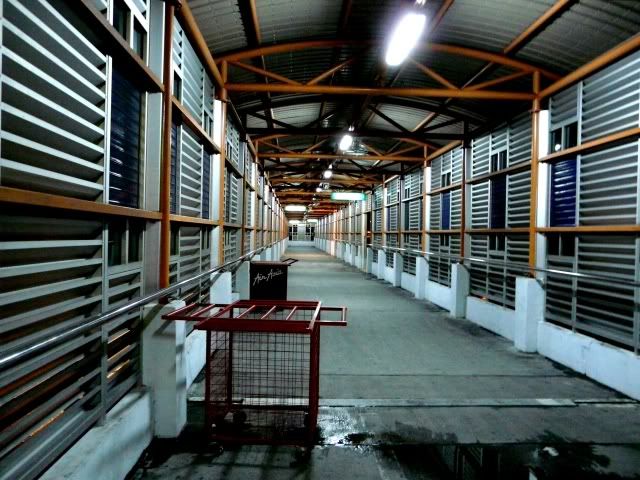 Doesn't this look like a gloomy hallway of a prison? Picture Queen Latifah in "Chicago" sauntering down this hallway posing by the metal grills… If you're good to Mama… Mama's good to you…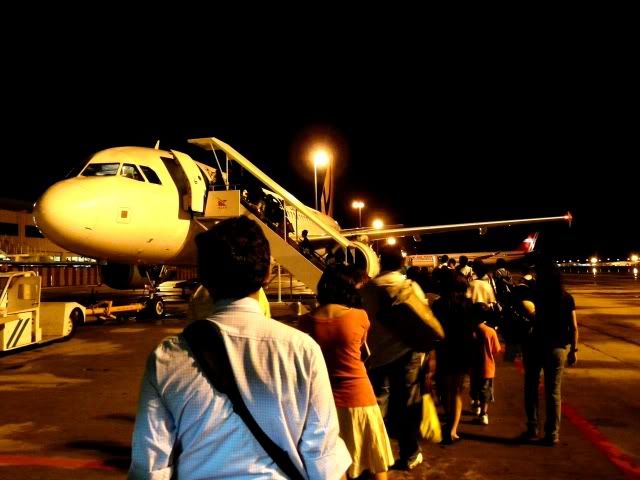 As I climb the steps to embark on my final leg to Singapore, I look longingly towards Pink Pigeon some distance away who is operating another sector to Perth, no doubt being crewed by another batch of bouncy, vibrant, welcoming and hot looking set of flight attendants. From flying the Paille-en-Queue panache to mounting onto purring crouching Tiger Girls (and hidden tissue paper in their bras, probably), the holiday had indeed come to an end.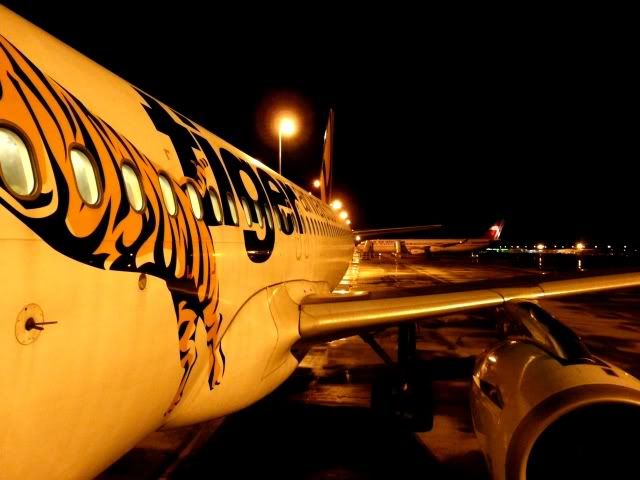 FINAL WORDS
Air Asia X's first A330, 9M-XAA (at the time of writing this report) was in Singapore getting re-configured into the standard 3-3-3 seating layout and having their IFE installed too. That explains the oddity of wet-leasing the Air Mauritius A340 to carry out flights to Perth. It was a rather unexpected but pleasant surprise though!
Another wonderful holiday clocked, if not slightly marred by our inbound experience with the less than stellar Australian immigration. The money which I saved on flying LCC was better spent elsewhere at my destination. Not to mention Air Asia X's tickets were gotten through a $0.00 promotion! While many people cry at the loss of experience while flying LCC, one can see that this "experience" is a whole new different one and it is up to the individual to see the light of it. So is the bucket half full, or half empty? Is George Bush a savior or the devil? Is Patsy Stone a woman or really a trans-sexual? We all see what we want to see…
If it wasn't for the advent of LCCs, I can only travel once a year. But now, I see myself going away once every few months (at the mercy of my allocated leave, of course), quenching my insatiable thirst for leisure travel (I don't think it can ever be quenched, really). I do not need much in-flight. I am not one who sweats over my FFP status and will not demand to be heard just because I am a Krisflyer [insert status level]. Let my work travel accumulate the miles to my FFP while I pay for LCC to bring me on another holiday.
I have been mesmerized by FFP memberships before and have stupidly allowed myself to be shackled by them for the longest time. Feverishly counting my miles per sector and calculating when my next upgrade would be etc., no I have had enough of that a couple of years back. And as for mileage runs – it is an indication, in my opinion, of being held ransom by your FFP membership so I really have better things to do with my money.
It is so ironic that I - being in the marketing field - would get taken in by the sirens behind the works of these frequent flyer loyalty programs.
That was before, and this is now – and just like the song by Mary Mary (God, everyone seems to be a "Mary" nowadays!), these words ring true in my head…
/Take the shackles off my feet so I can dance /
/I just wanna praise you /
/I just wanna praise you /
So now, I am truly dancing.
Hope you enjoyed reading.
Perth Airport
DOMESTIC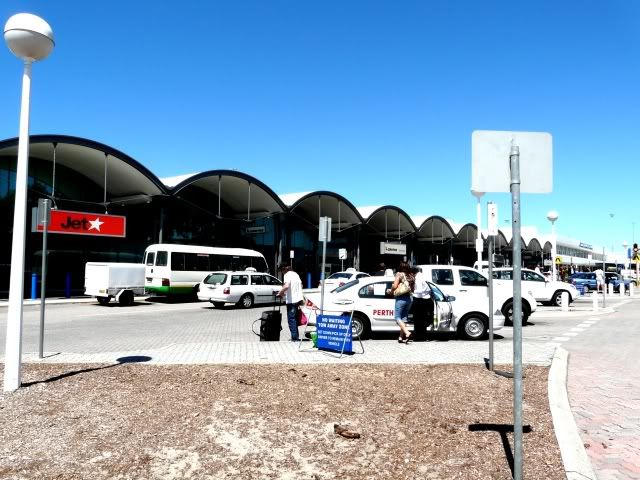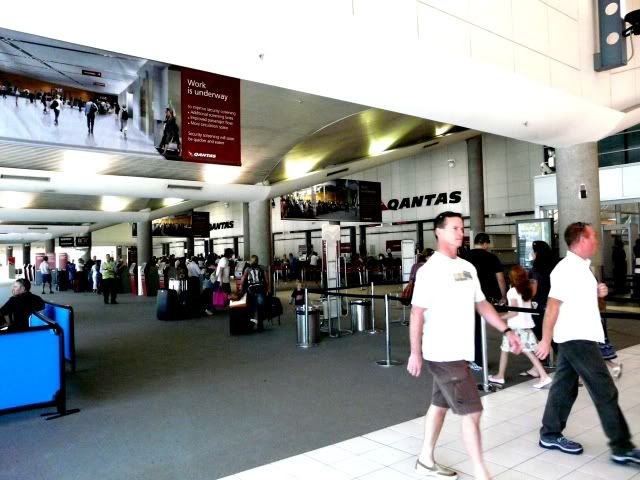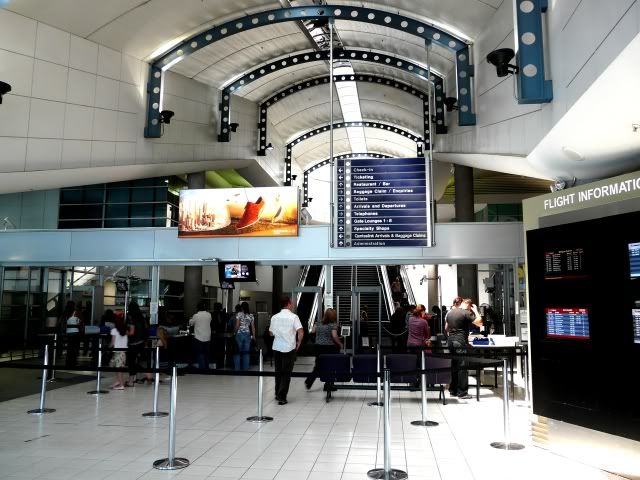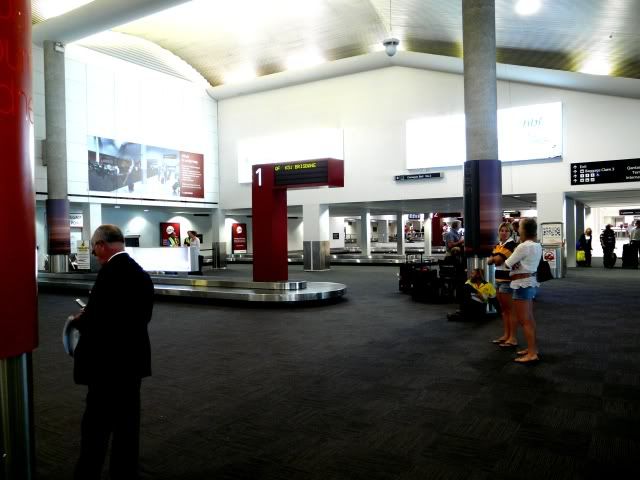 INTERNATIONAL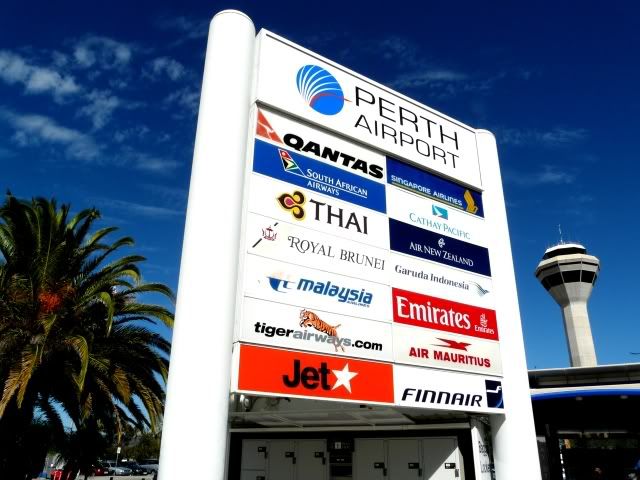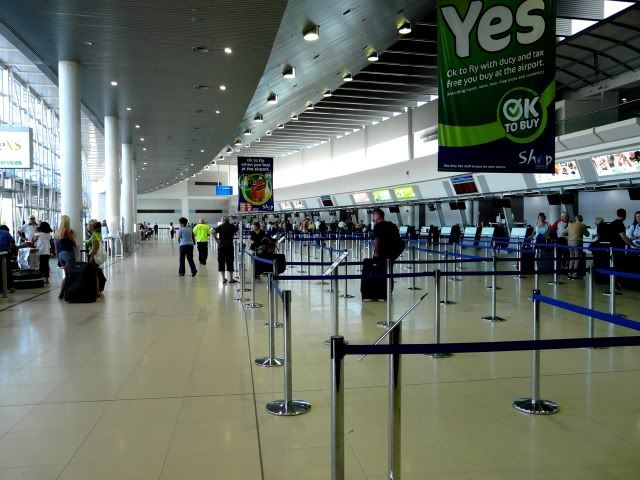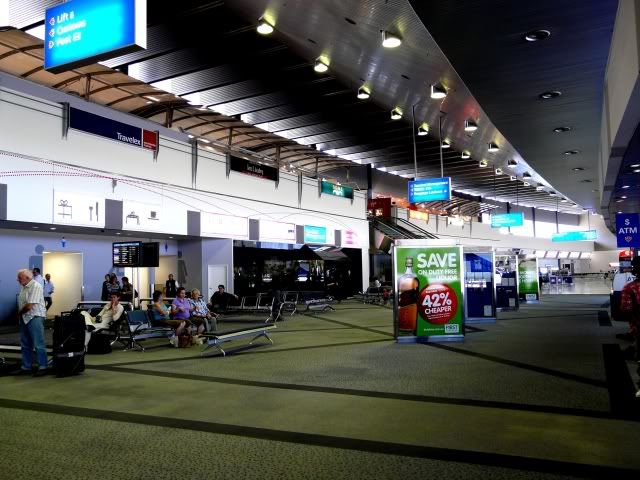 SPOTTING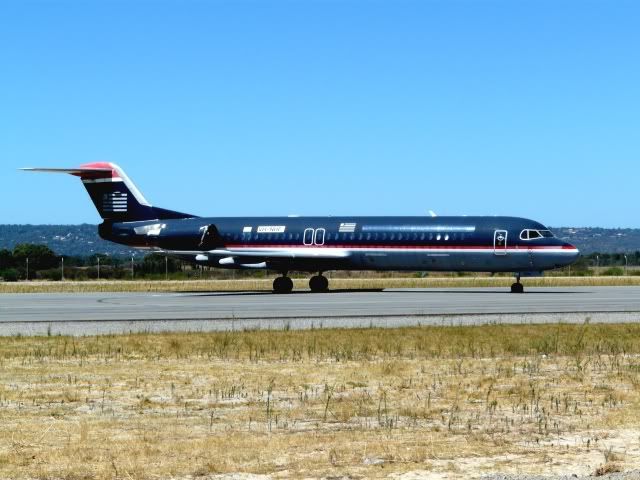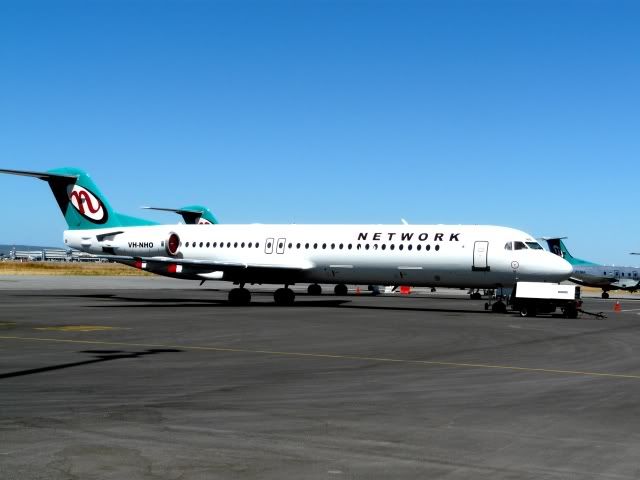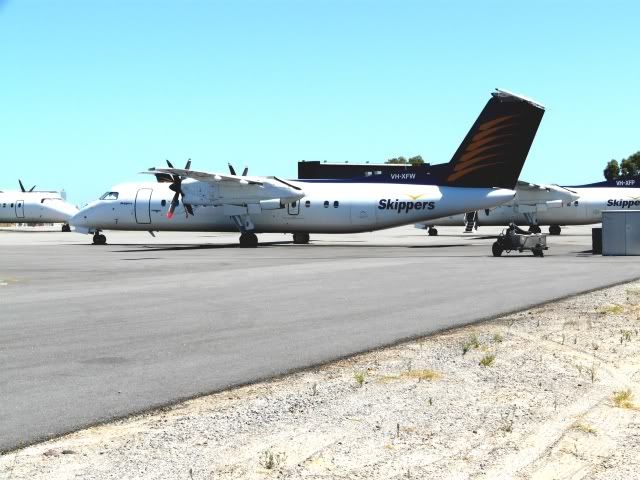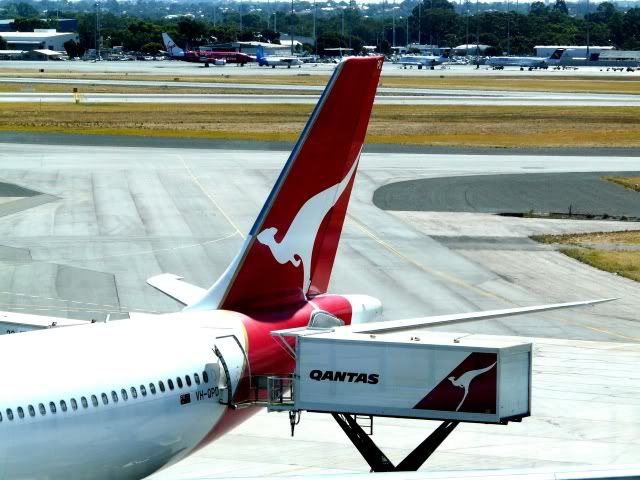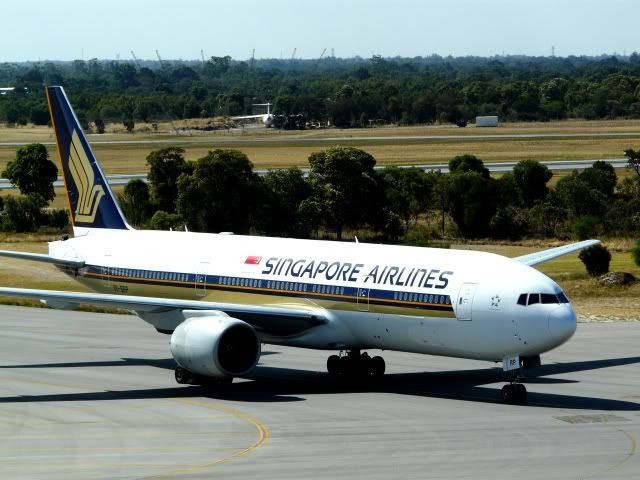 Perth, enjoy this SQ 777 while you can because soon it will be replaced by the A330.
Other pics of the vacation…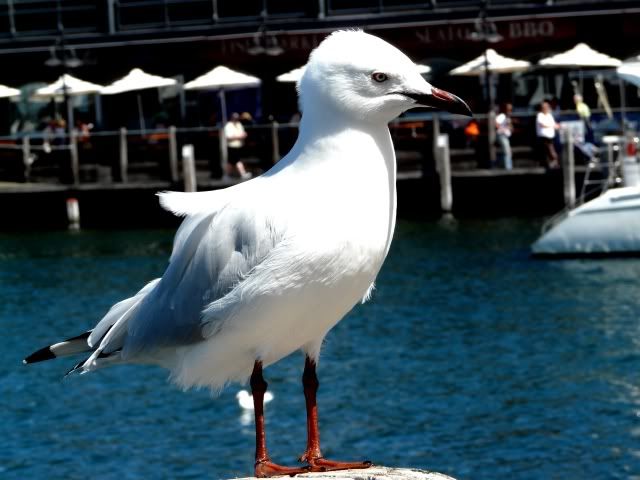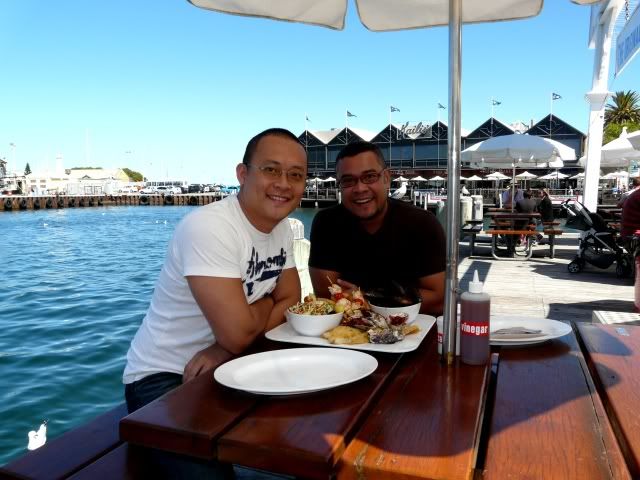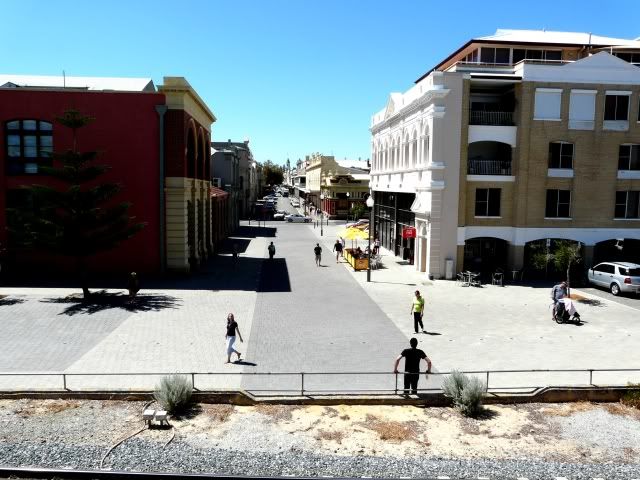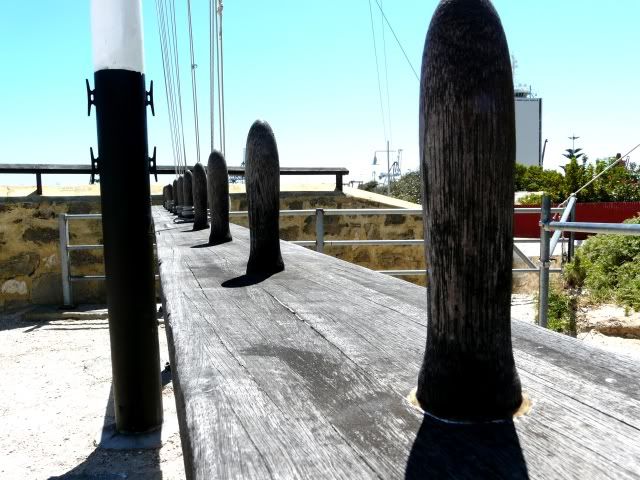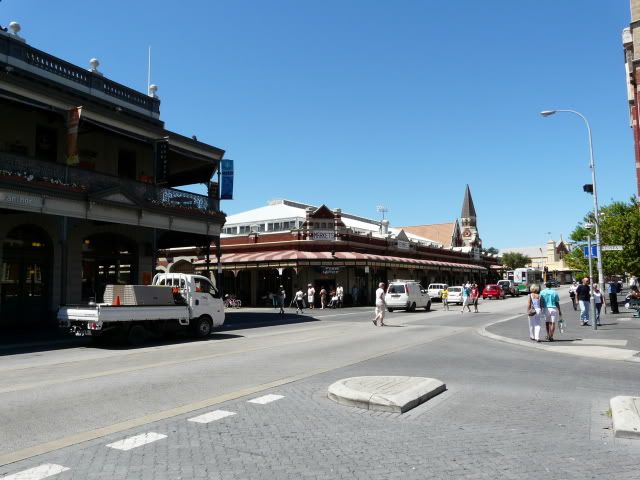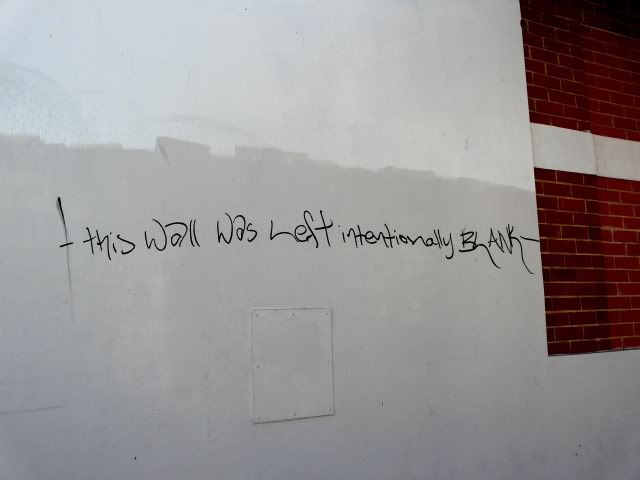 Do feel free to look through my other trip reports as well.
1.
Now Everyone Can Fly Xtra Long! Air Asia X KUL-PER.
2.
KLIA The World's Best White Elephant.
3.
MH Is NOT Malaysian Hospitality. The Return.
4.
MH: More Than An Airline Code... SIN-BKI
5.
Sawasdee Soiree! BKK-SIN On Tiger Pt 2 (pics)
6.
Sawasdee Soiree! SIN-BKK On Tiger Pt 1 (pics)
7.
Voyage Vietnam: SGN-SIN Part 3 (pics)
8.
Voyage Vietnam: HAN-SGN Part 2 (pics)
9.
Voyage Vietnam: SIN-HAN Part 1 (pics)
10.
SIA New Business Class 777-300ER Part Deux!
11.
SIA New Business Class 777-300ER Pt 1
12.
Thai Air Asia BKK-SIN Part 2: +Airport Review
13.
Thai Air Asia SIN-BKK Part 1
14.
Jetstar/Valuair SIN-CGK (pics)
15.
Saigon-S'pore On SQ (pics): Not 35K Again!
16.
S'pore-Saigon On SQ (pics): Oh No... 35K!
17.
A Tiger's Growl: HKT-SIN The Return (pics)
18.
A Tiger's Growl: SIN-HKT (pics)
19.
Jakarta-S'pore On SIA - No More Protests Please!
20.
SIN-CGK On SIA Pt 1 (pics)
21.
BKK-SIN On SQ, Return Flight. Megatopless (pics)
22.
SIN-BKK On SQ Jubileeless (Pics)
23.
The Return Flight. PER-SIN On QF Pt 2 (Pics)
24.
Perth Calling! SIN-PER On QF Pt 1 (Pics)
25.
MAS KL-Singapore First Class. (Pics)
26.
MAS Johor Bahru - KL (pics)
27.
The Return Trip: SYD-SIN On Gulf Air (pics)
28.
Golden Falcon SIN-SYD On Gulf Air (Pics)
29.
The Fun Continues! BKK-SIN On VF (Pics)
30.
Budget Flight S'pore Style! SIN-BKK On VF
31.
Pic-Rep Part 5: Jakarta/CGK - Singapore On SIA
32.
Pic-Rep Part 4: Bali-Jakarta On Lion (Delay!)
33.
Pic-Rep Part 3: Jakarta - Bali On Lion Air
34.
Pic-rep Part 2: Bandung - JKT/Halim On Merpati
35.
Pic-Rep Part 1: Singapore-Jakarta / CGK On SIA
36.
Jakarta / Cengkareng - Singapore On KLM WBC
37.
Bandung-Jakarta / Halim On Merpati (Pt 2)
38.
S'pore-Jakarta On KLM World Biz Class (Pt 1)
39.
Kuala Lumpur - Singapore On MAS, First Class
40.
Singapore-Kuala Lumpur On MAS, First Class
41.
KL-Johor Bahru On MAS (part 2)... With Photos!
42.
Johor Bahru-KL On MAS (Part 1)... With Photos!
43.
British Airways: SYD-SIN
44.
OZ Odyssey With BA: SIN-SYD-BNE-SYD
45.
Blast Fm E Past: SIN-SYD On Qantas
46.
K Lumpur - S'pore On MAS F Class
47.
S'pore-K Lumpur On MAS F Class
48.
Kuala Lumpur - Johor Bahru on Malaysia Airlines
49.
Bangkok -S'pore On Swiss (LX) Biz Class
50.
S'pore-Bangkok On Swiss (LX) Biz Class
51.
Phuket-KL-S'pore On Malaysia Airlines (pics & Rep)
52.
S'pore-KL-Phuket On Malaysia Airlines
53.
SIN-KUL-SYD On MAS, First Time In Ycl!
54.
Langkawi-KL-Singapore On MH, Continuation...
55.
BKK-SIN on Thai Airways
56.
Rockhampton - Singapore on Singapore Airlines
57.
Singapore - Rockhampton on Singapore Airlines
58.
BKK-KUL-SIN on Malaysia Airlines F and J Class
59.
SIN-KUL-BKK on Malaysia Airlines F and J Class
60.
SYD-MEL-KUL, SZB-LGK on Malaysia Airlines
61.
ORD-DTW-NRT-SIN on NW
62.
SFO-MDP-ORD on NW
63.
SIN-NRT-SFO on NW
64.
KUL-SIN on SQ F Class