Cyprus 2/2: LCA-MLA-MUC-STR on Air Malta and the Emirates
Hello, dear readers,
let me tell you something more around my latest trip with destination Cyprus.
The outbound part is here:
http://www.airliners.net/aviation-fo...ums/trip_reports/read.main/146390/
Now it was Wednesday, early morning, after a short night and a quick breakfast, it was time to explore Larnaca.
Some pix:
The ancient turkish fortress:
The mosque: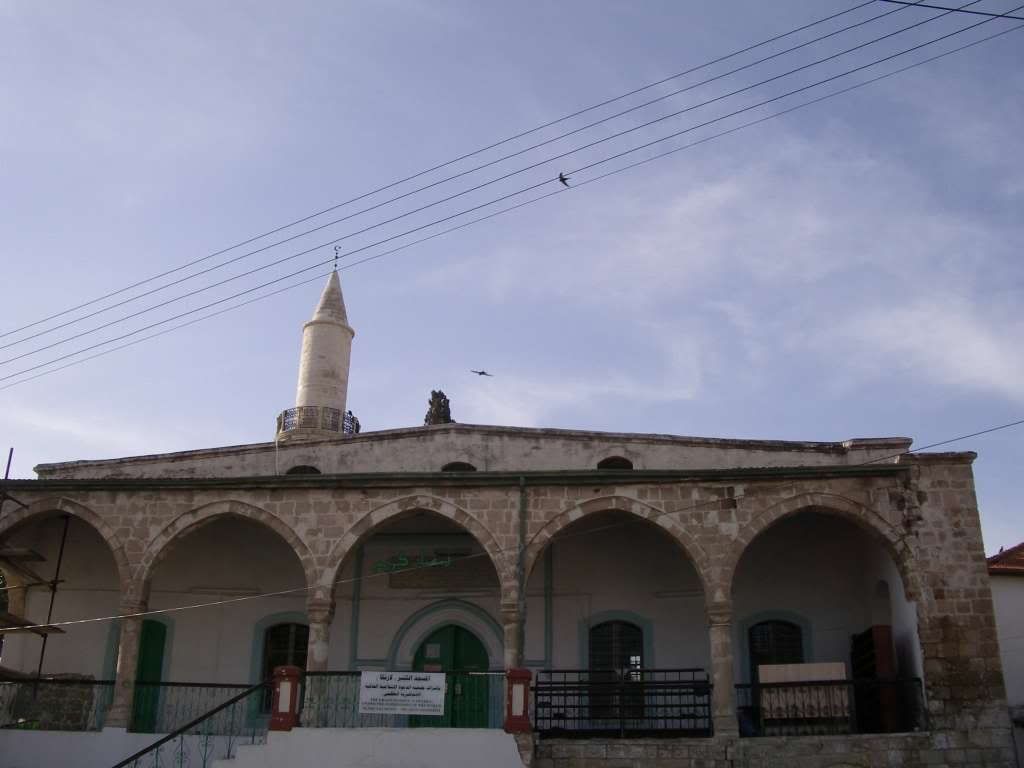 The minaret: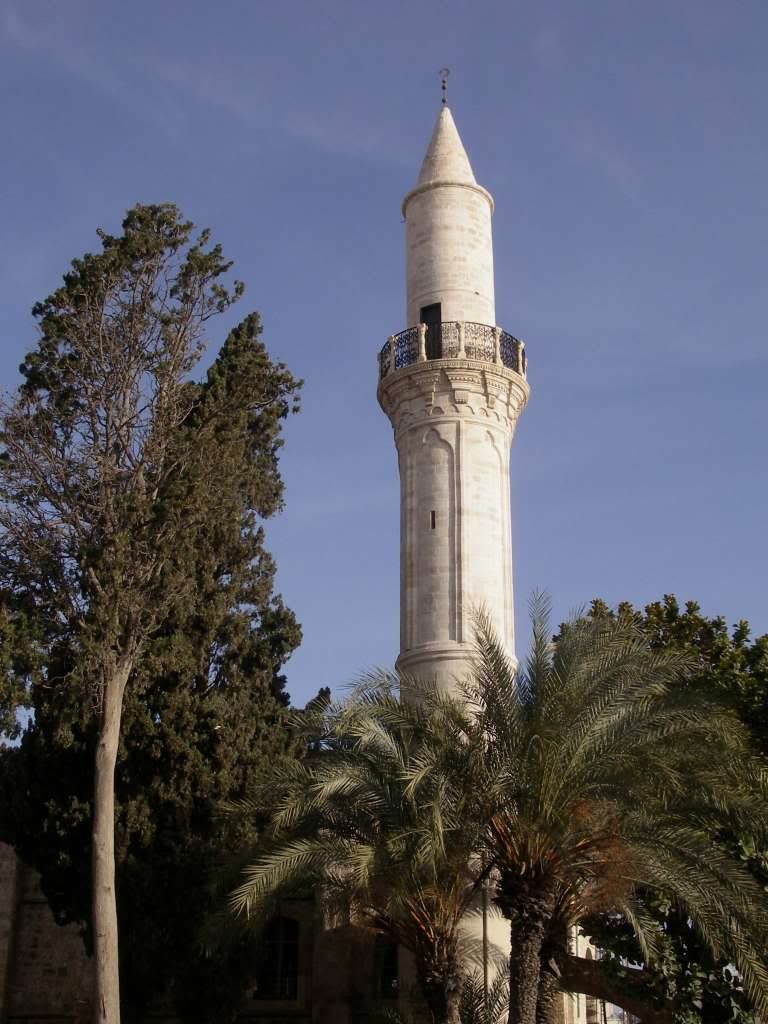 Agios Lazarus Church:
Harbour captains house: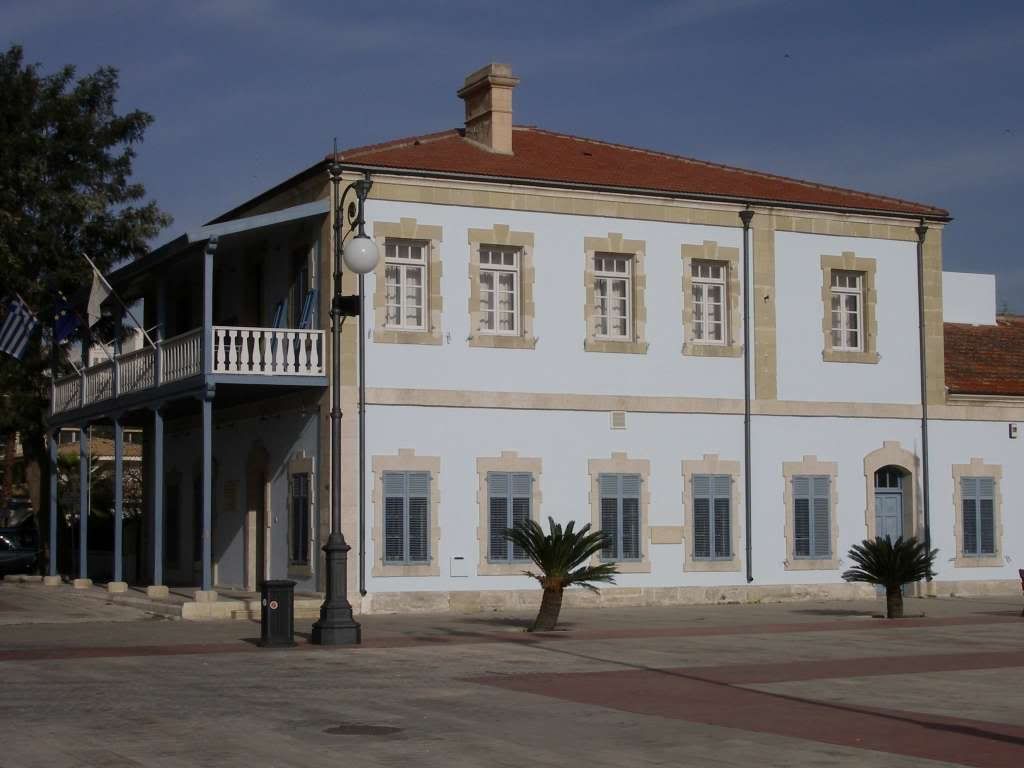 The beach: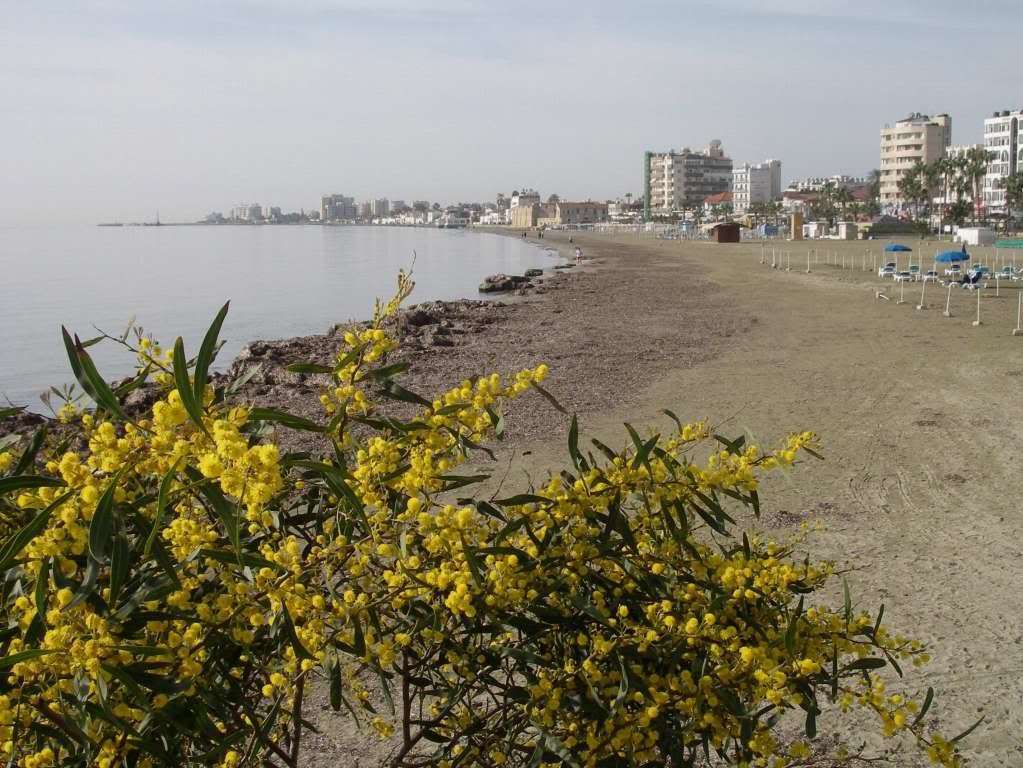 Good bye to my hotel: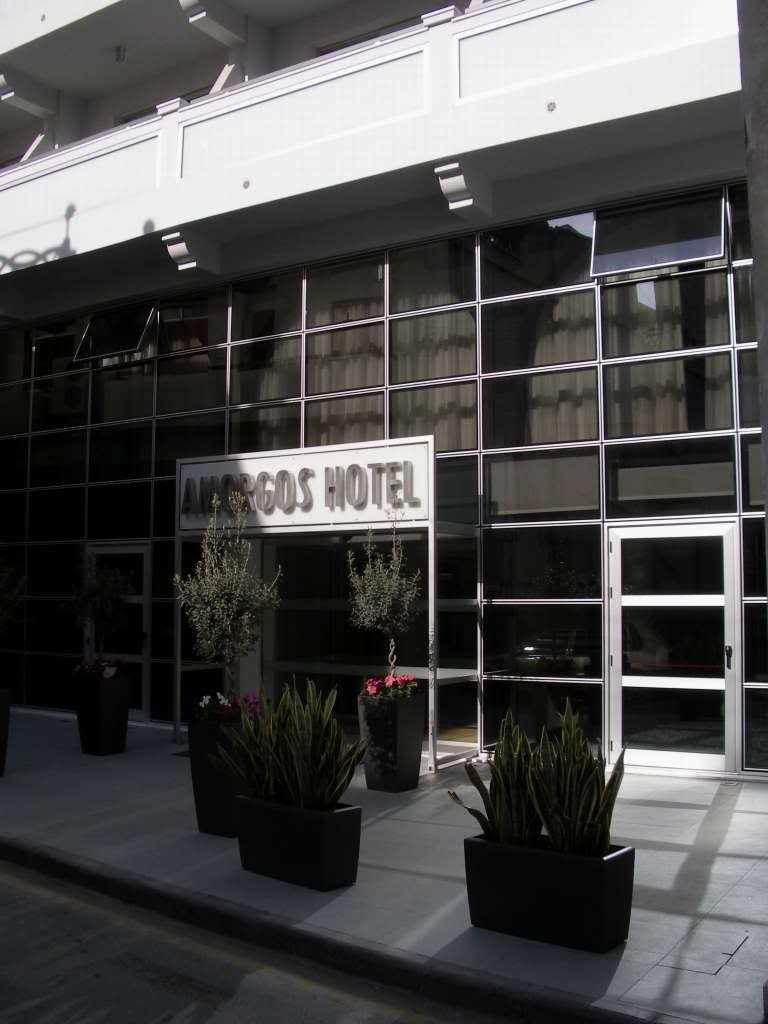 And further on to the airport for my flight´s back home.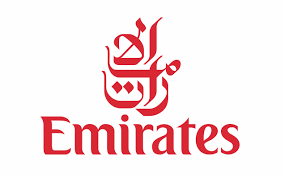 Wednesday, 01.04.2009
LCA (Larnaca-International) Sunny, 24 degrees centigrade
MLA (Malta-Luqa) Sunny, 17 degrees centigrade
Duration: 2 hours, 25 minutes announced
2 hours, 30 minutes actual

Service EK 107 operated by Emirates
Scheduled: 12.15 - 14.00 One hour time difference
Actual: 12.45 - 14.15
Gate: 3 Seat: 39A
Load factor: Near 100%
Fare: 97,50 EUR
By taxi was also this time my choice for the airport transfer. 15.-- Euros yesterday, 12.-- Euros now, seems expensive from my point of view, but no other options here.
LCA terminal is only a small building with an gate extension at one side. But a new terminal is under construction.
Four desks staffed, only a very low number of pax around. A friendly middle aged female checked me in.
My earlier secured seat 39A was ok. My connecting time at MLA was tighter than yesterday. Passport controll, bag delivery, new check-in and no secured seats on the further two legs. I´ve asked the agent if it´s possible to check my bag to my final destination today. She answered: "We will try it!".
And with a little help from her colleagues, was my bag decorated with a three airlines/three destinations tag. Hopefully to see it again at STR in the evening!.
No time to wait at security and soon thereafter in the gate area.
Not that much action there at LCA. All the pax had to wait in a central area far from the windows, but as long as the gate was not used, the door was open and nobody cares that I´am going for some pictures and waiting there.
Arrival N registered Omni Air: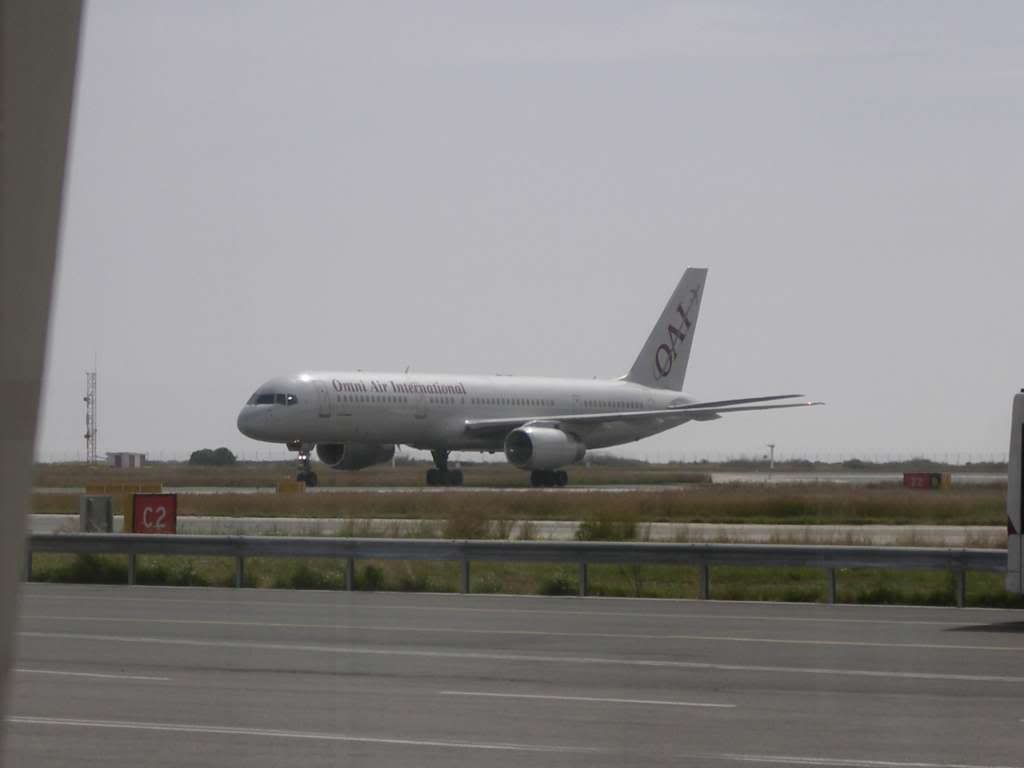 Departures board: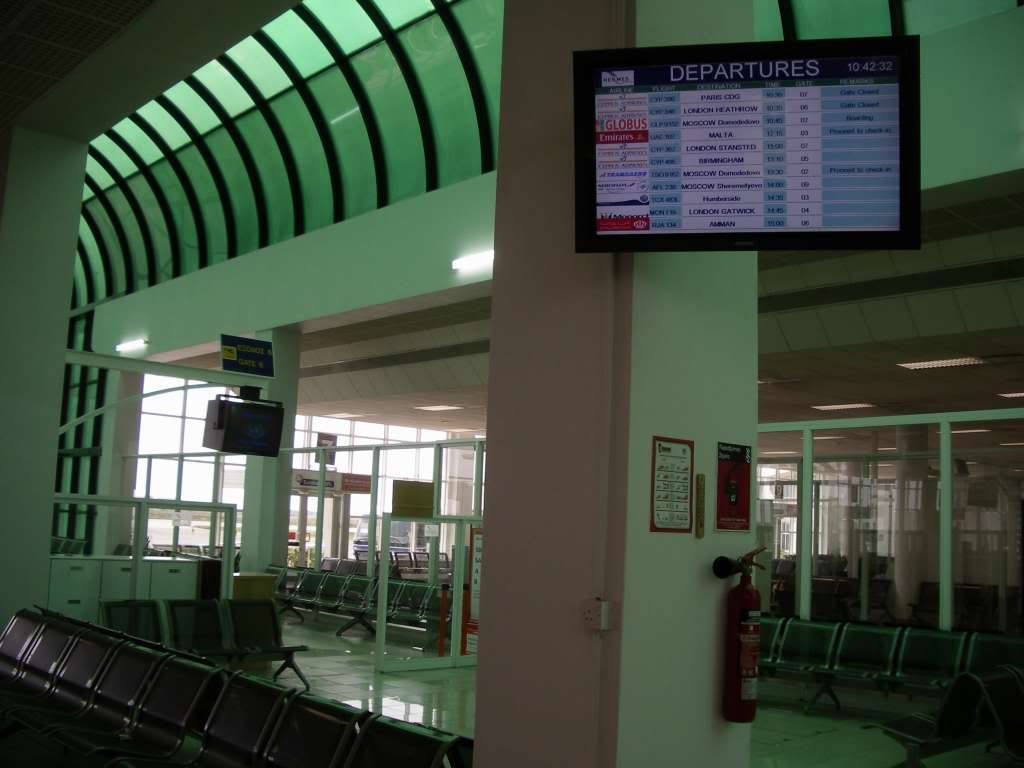 Cyprus Airways has the most flights, but Moscow was the top destination on the screen. It seems Cyprus is popular in Russia.
Boarding time comes and goes, lots of pax near that small gate area. I was impressed again. Such a huge demand between LCA and MLA, it seems like yesterday
most of the pax travelling only between these two mediterranean islands.
Some minutes late, my EK heavy arrived from DXB, taxied by and parked on the apron.
Arrival EK: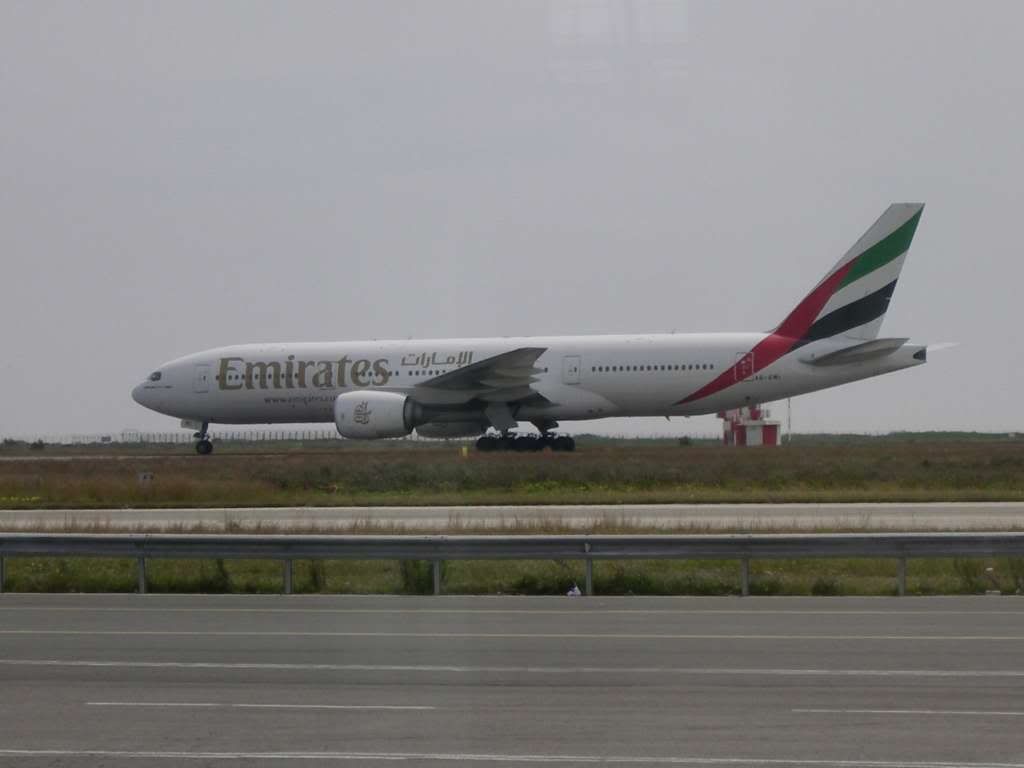 Taxi EK:
To the apron: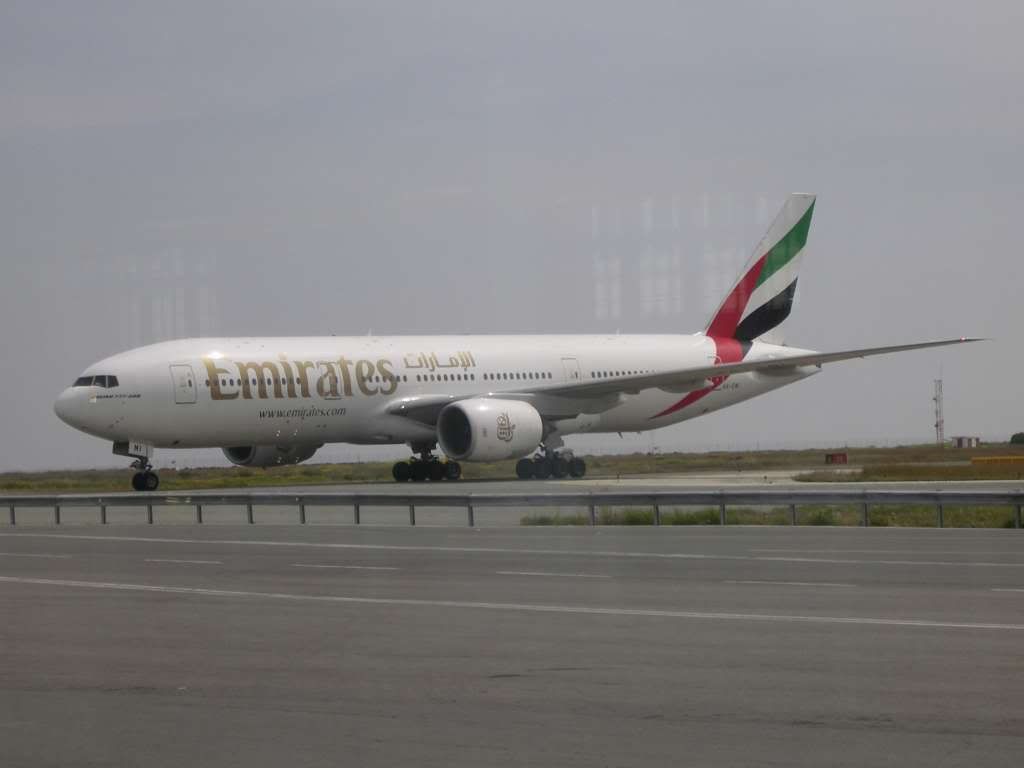 Arrival TNT: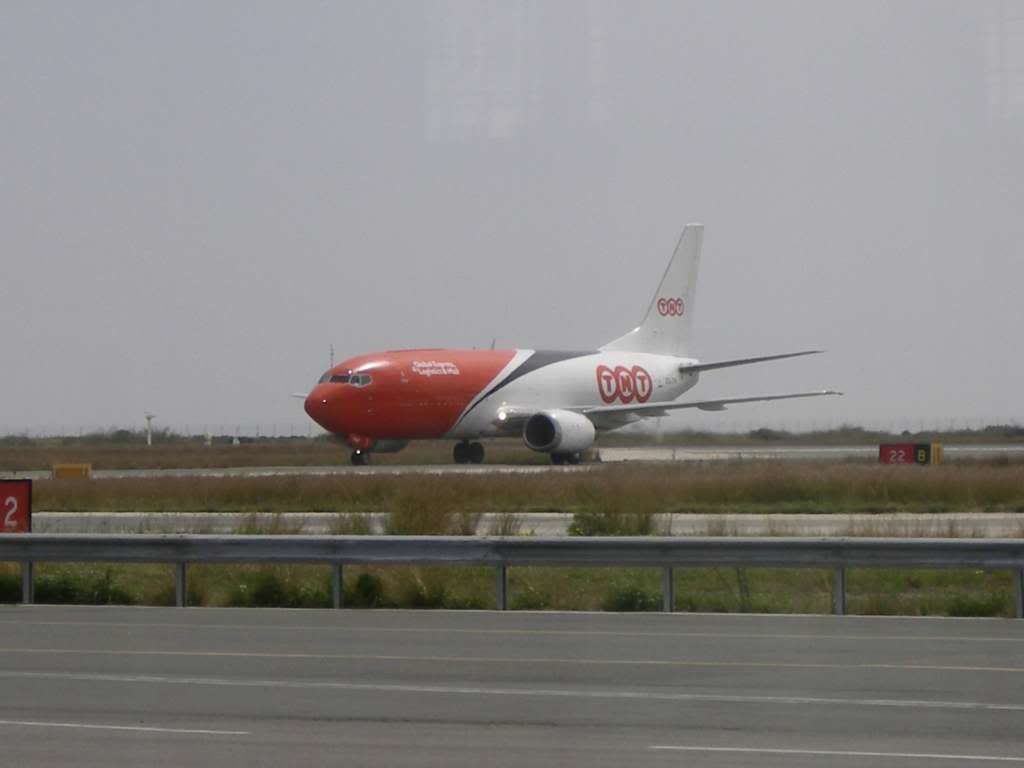 And the local hero: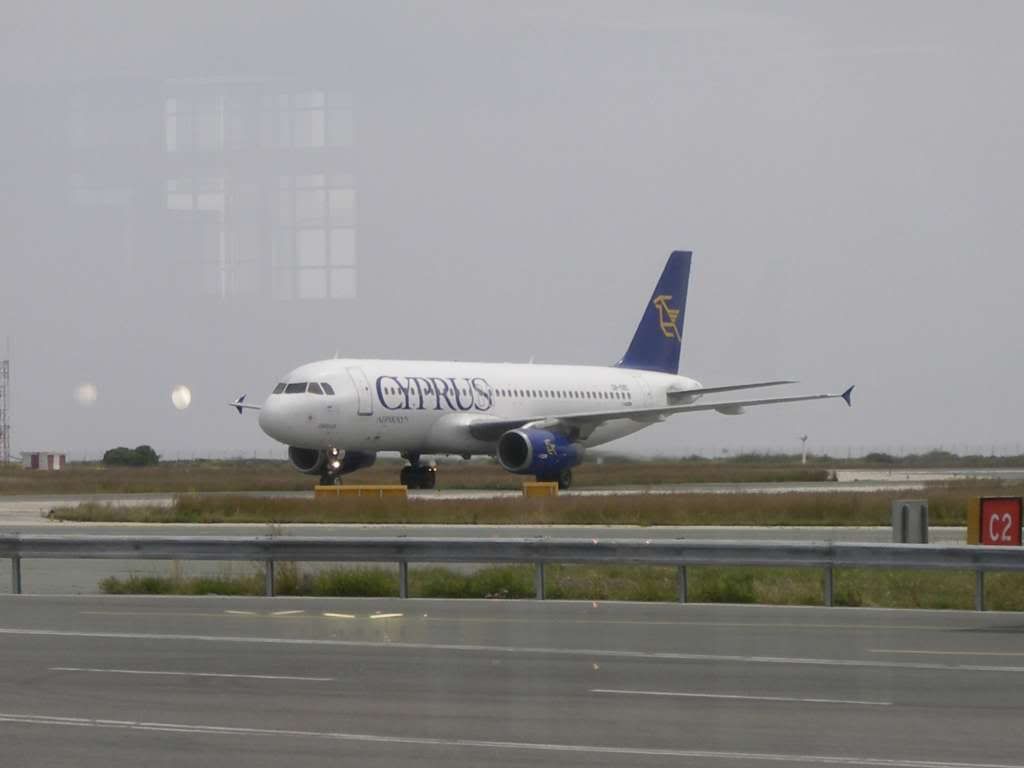 Aeroflot from Moscow: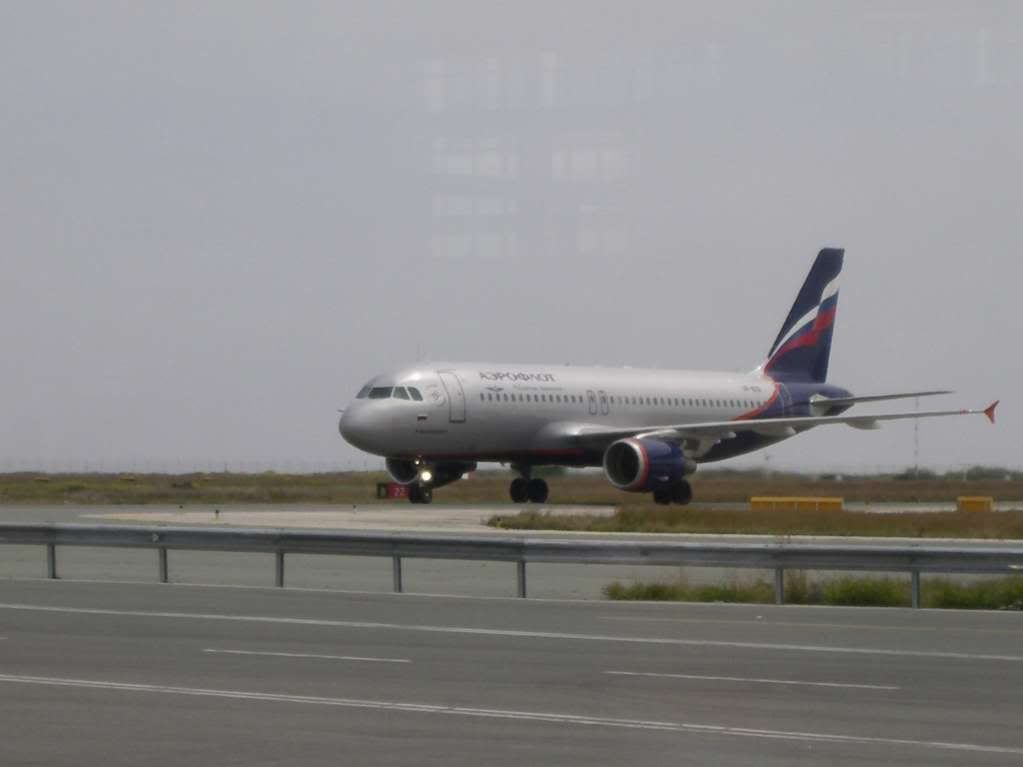 Boarding passes checked at the entrance to the small gate when boarding was called. Around twenty minutes more, till the door opened and the busses arrived.
Not the great fun there, all the pax cattled in, only a low number of seats. LCA is in immediate need for that new terminal.
Ok now, by bus to the plane. Some more apron shots with that really nice weather conditions. Interesting metal there.
Omni on the apron: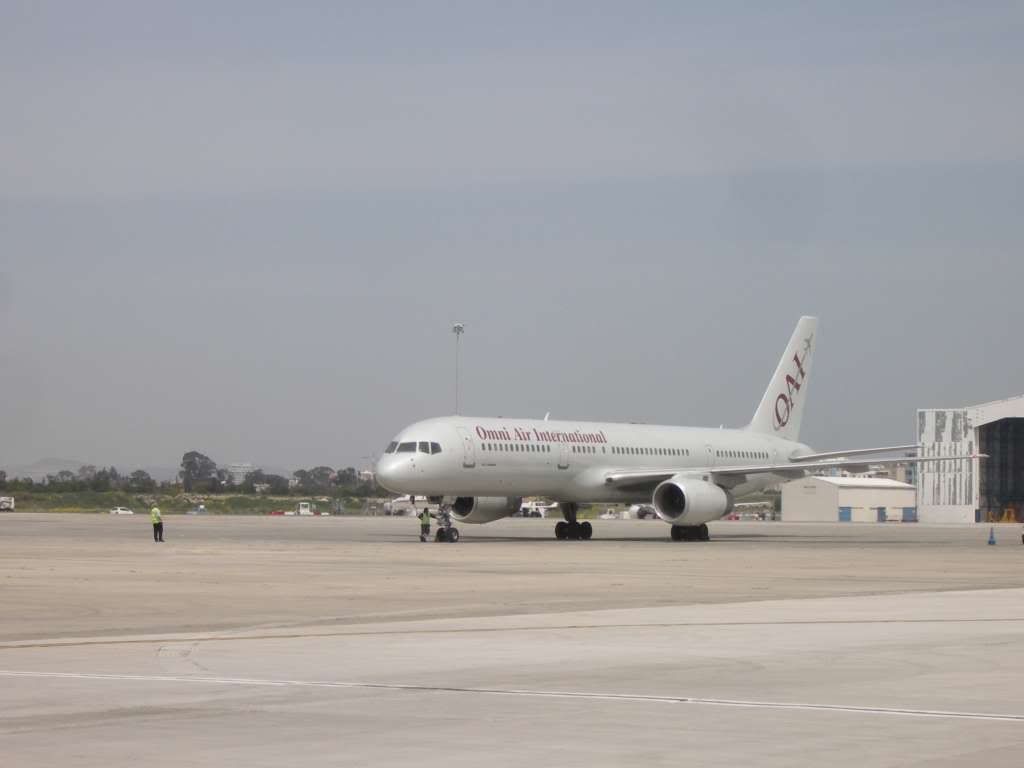 My machine: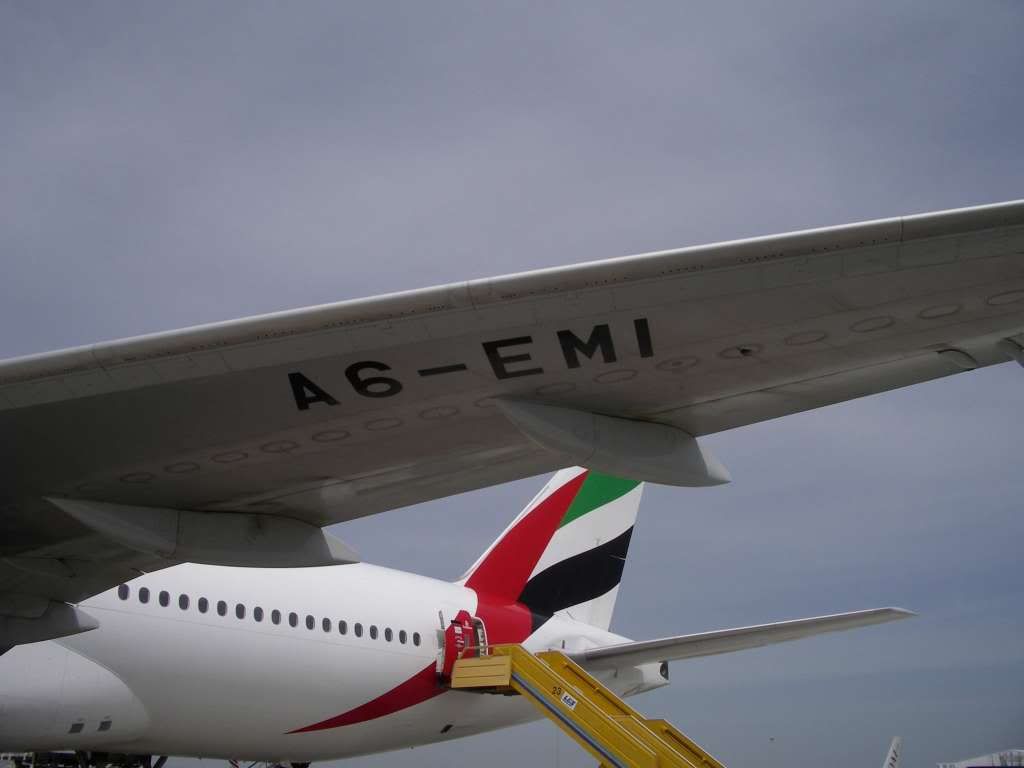 And again:
Todays machine A6-EMI was another Boing 777-200, one of the six ER machines, delivered to Emirates at 25.07.1997.
A new registration for my log, leg no. 2 on the 772.
Boarding by the rear stairs as one of the last pax, a young male in my window seat, no way here, that´s my one!.
Later a young asian guy seated next to me.
Slightly other seats than on the inbound leg yesterday, fabric in mixed colours, clean, comfortable, good legroom.
My seat: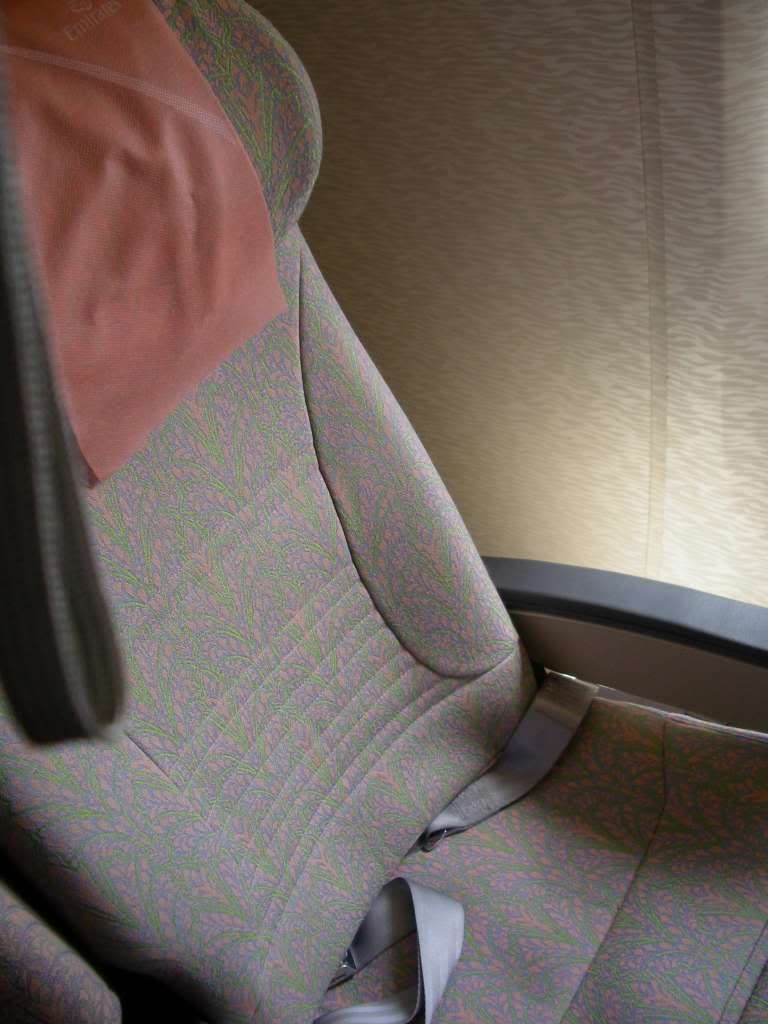 The cabin crew again from mixed nationalitys, not unfriendly, but alltogether a better impression yesterday.
The captain welcomed us friendly and detailed during boarding. According to the names, both pilot and FO seems European.
Only a short taxi and departure from LCA´s 2980 meter runway 22.
Departure: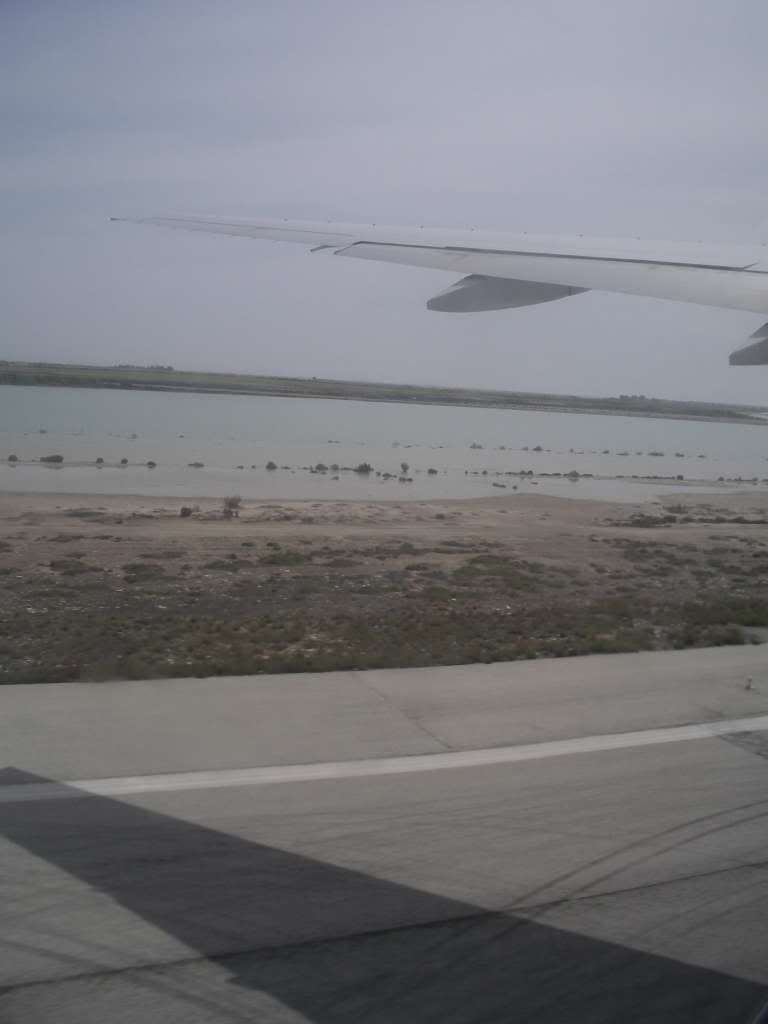 Near the airport: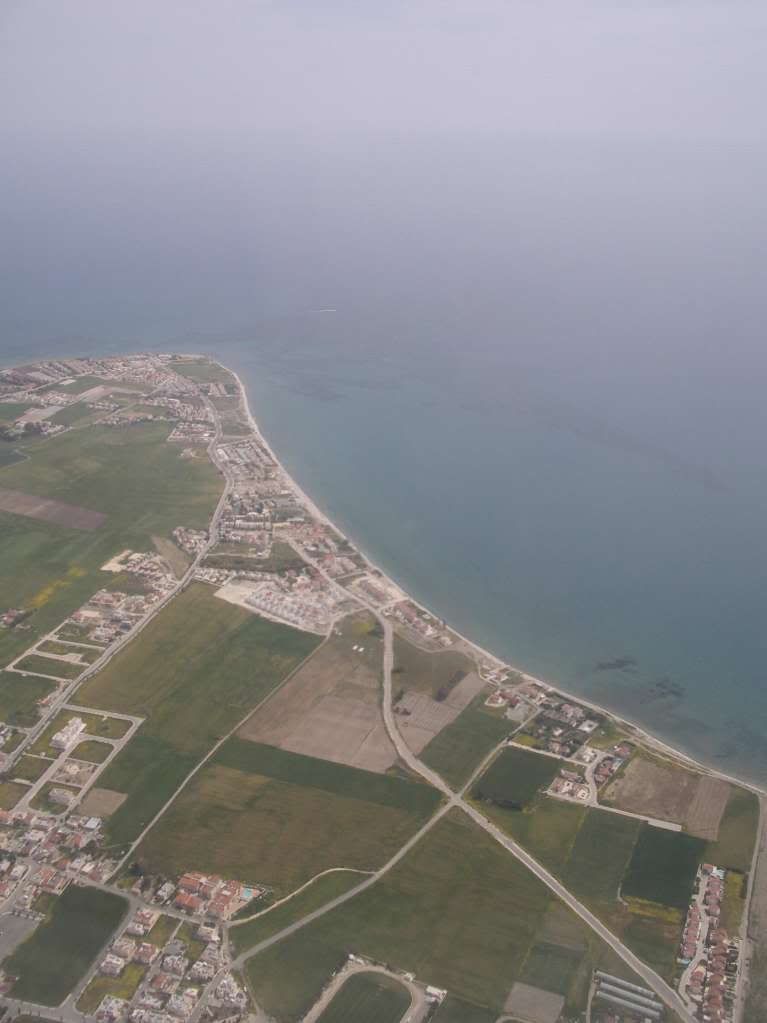 We´re going above Paphos, Sitia, Heraklion and Chania in clouds, later it cleared up above the med.
Paphos:
Sea view:
The map:
Closer:
Arabic: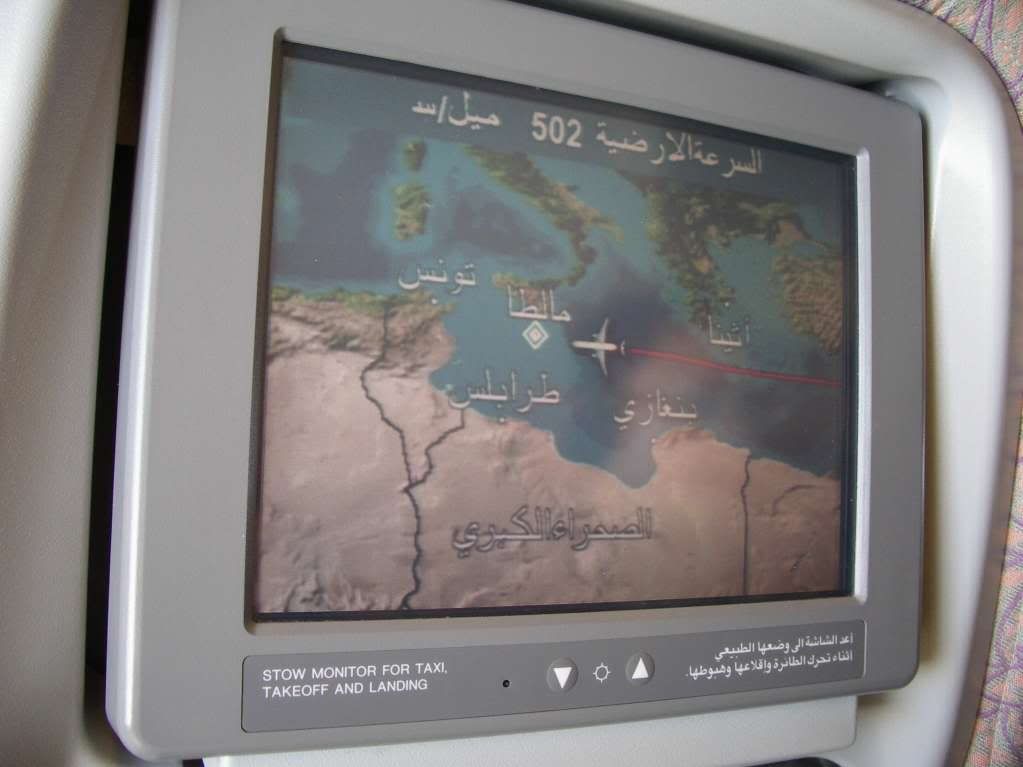 Malta ahead:
Flightlevel only 34.000 feet today.
Service was a cold plate and free drinks.
The menu folder: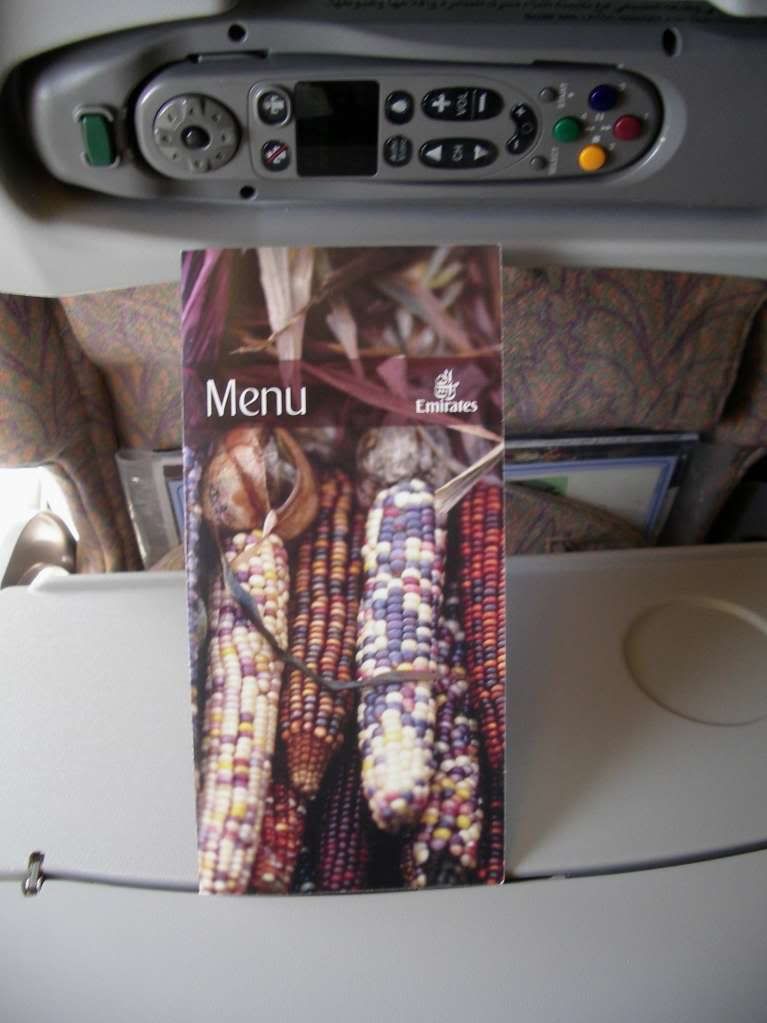 Inside:
And for real!: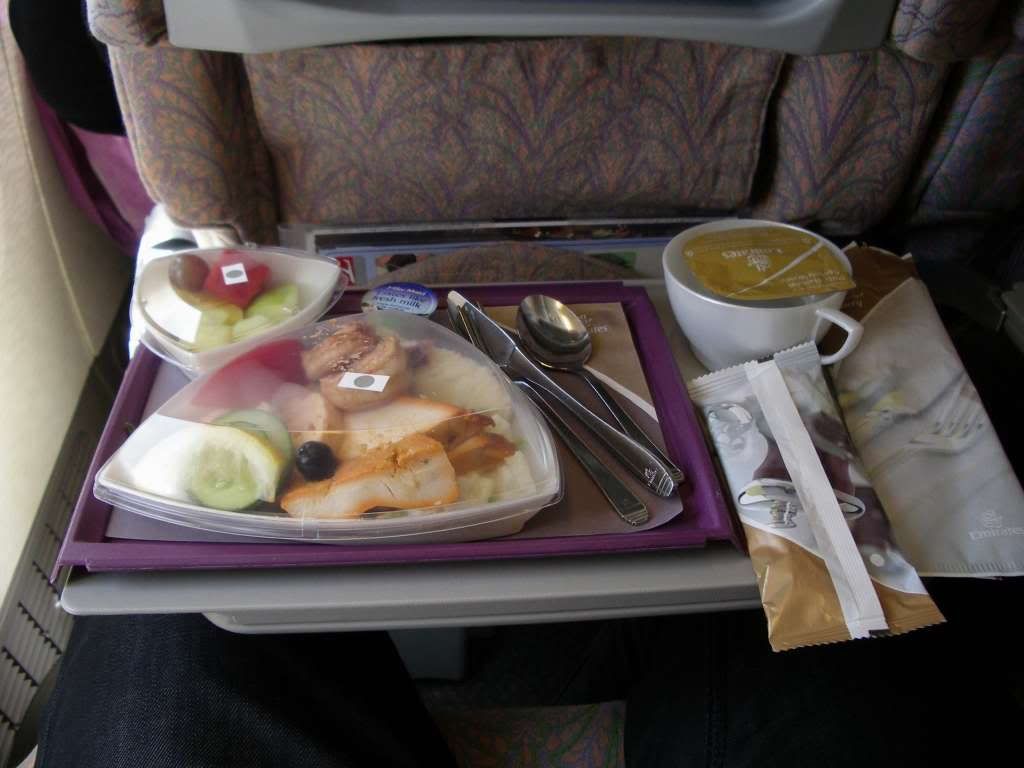 The pilot informed us short to descent into MLA around the weather conditions. No comment from the FO.
We´re passed the island, turned around above the sea and landed some minutes delayed on MLA´s 3544 meter runway 31 .
Also here a quick taxi, parked on the apron and ready to catch the bus into arrivals.
No time to wait at passport control and again out in the public.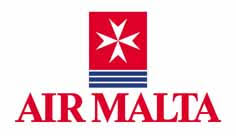 Wednesday, 01.04.2009
MLA (Malta-Luqa) Sunny, 18 degrees centigrade
MUC (Munich-Franz-Josef-Strauss) Light clouds, 16 degrees centigrade
Duration: 2 hours, 15 minutes announced
2 hours, 10 minutes actual

Service KM 308 operated by Air Malta
Scheduled: 16.35 - 18.55
Actual: 16.30 - 18.40
Gate: 2 Seat: 23F
Load factor: Near 100%
Fare: 53,44 EUR
Once more, a new airline for my log ahead.
Well, just around the corner when you leave the arrivals area, are the check-in desks.
Not that much action beneath a huge line of mainly retired couples what looks like a travel group.
And when I´ve gone for a look at the screen, KM payed two agents to check-in all the pax for FRA, TXL, MUC and unbelievable but true, that long line was mine.
I´am not amused, the queue moves slow, really slow. What happened when I´ve don´t checked my bag to finals and had to wait also to collect it?.
Anyway, some 30 minutes later in the queue it was my turn. I´am lucky, the agent changed only some pax ahead to me and so the middle aged female was in a good mood to work today.
She identified my bag, secured my seat of choice on the way to MUC, tried it for several times but can only fix the second last row on the flight to STR.
OK, good service here. The next security check with only some minutes to wait and again in MLA´s secured area. Lots of pax around now, much more than yesterday,
nearly no way to catch a seat.
What´s that?: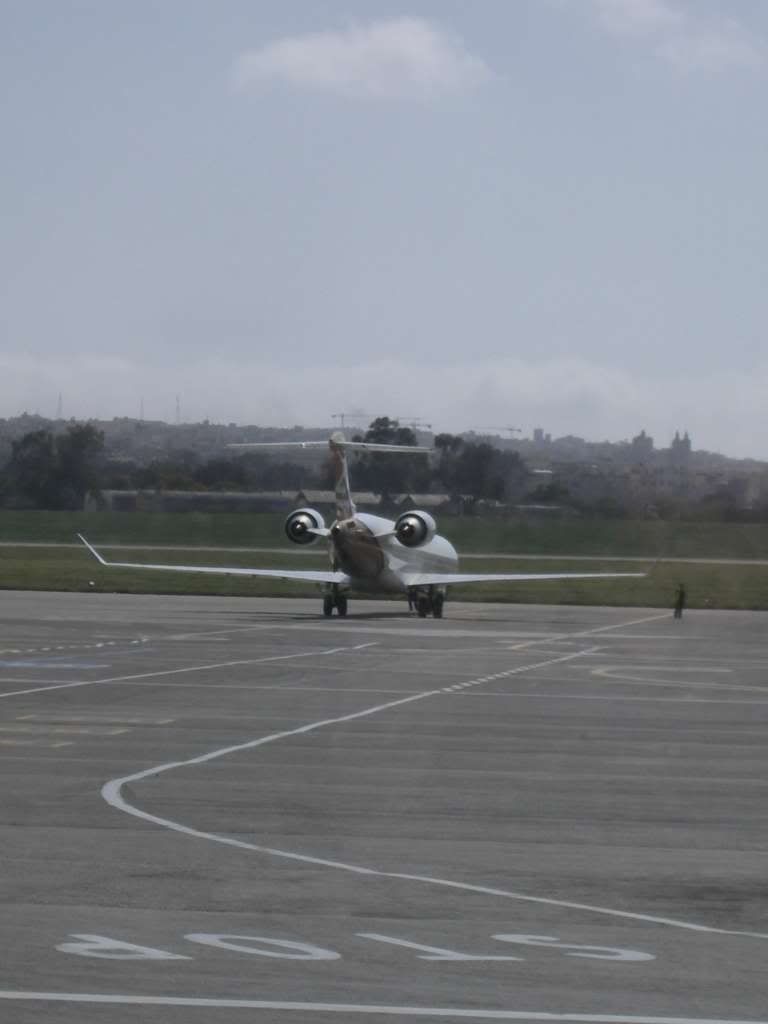 Lybian CRJ900 to Tripolis:
EK taxi to departure: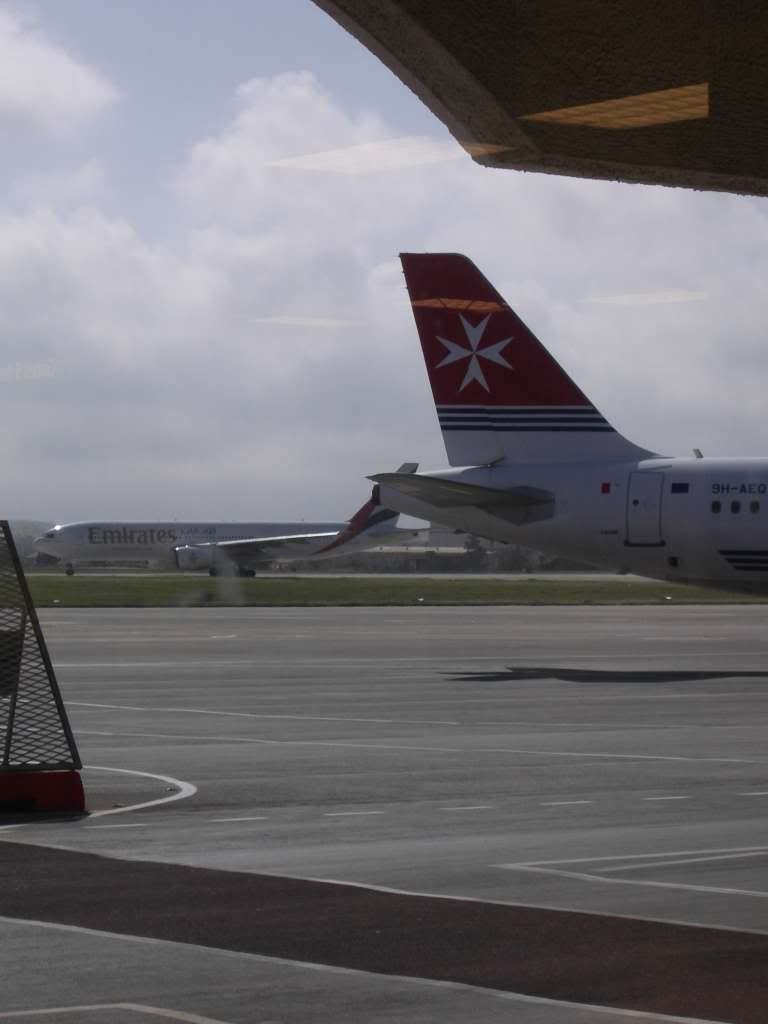 Some more Malta machines: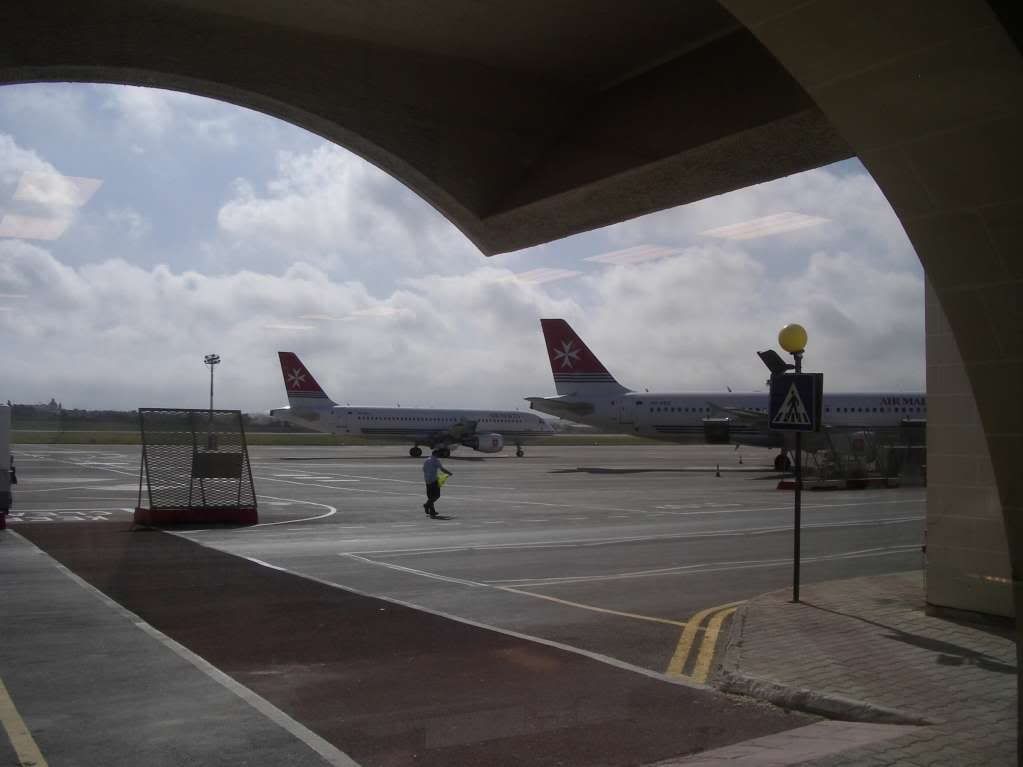 My plane was present on the apron when I arrived.
Boarding started ontime by bus, only a very short ride.
Another chance to collect some nice apron shots.
Under the wing: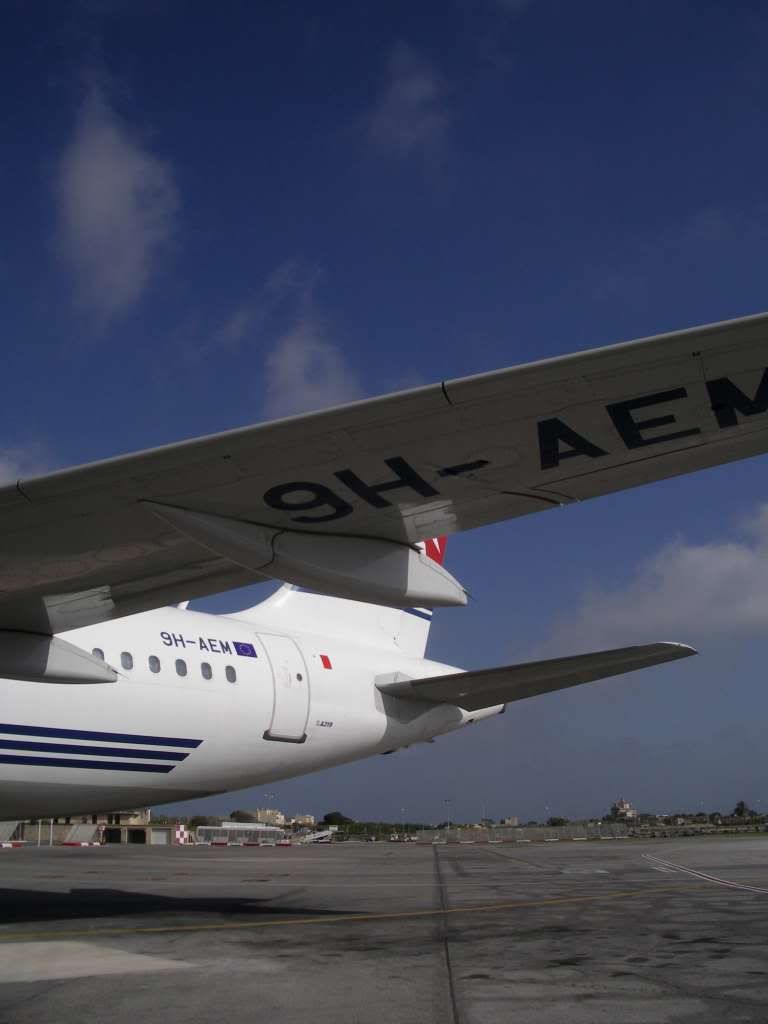 My plane:
And again:
My machine for that leg was 9H-AEM, one of the five A319´s in Air Maltas fleet.
Delivered at 05.02.2005 and therefore the newest example and a new machine to my log.
Leg no. 42 on the A319.
I was one of the last pax to board and with that nearly full load it seems only a low chance for a free seat next to me.
Two males in the last row, window and aisle, not amused when I´ve called for my window, absolutely no way for me to join the middle seat!.
The cabin fitted with dark blue leather seats, clean, but low legroom. Flat screen monitors, the map system only for a short time after departure and prior to arrivals on the screen.
My seat:
Two male, two female FA´s, let me say nothing what me impressed. They doing the job, nothing more.
It seems the flightdeck crew was from Malta. The pilot with a short friendly welcome during boarding. The FO also short during cruise with weather informations.
Departure from runway 31 in direction Palermo, Roma, Venice and Innsbruck.
The magic Aetna in the background: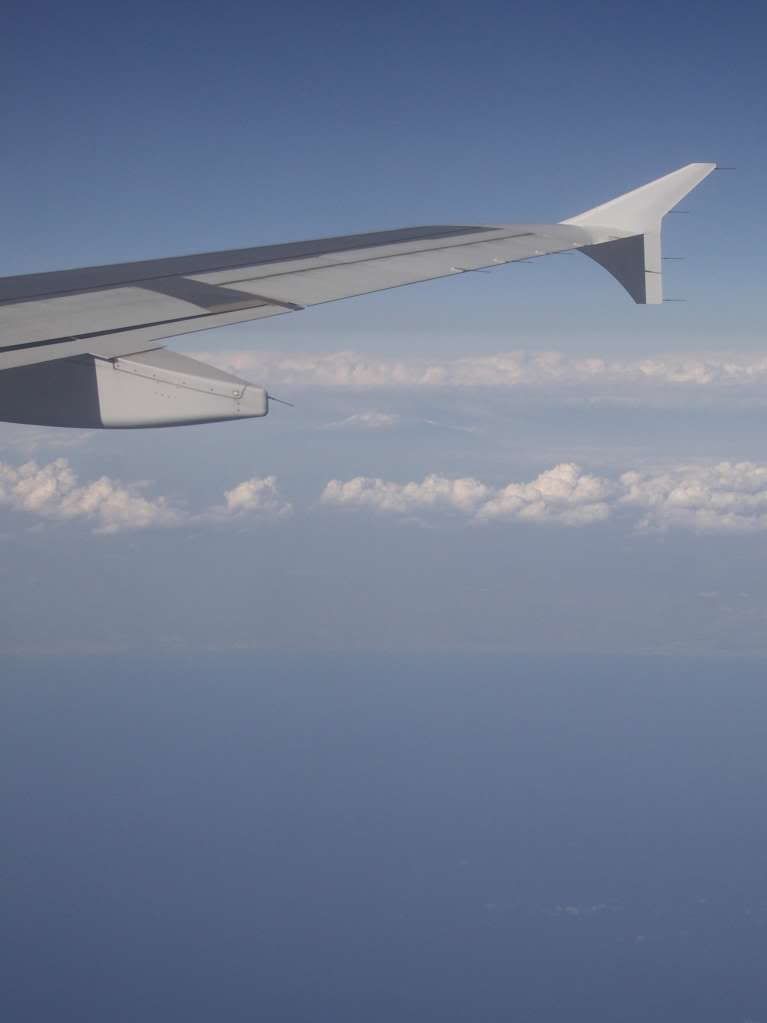 Reaching Sicily: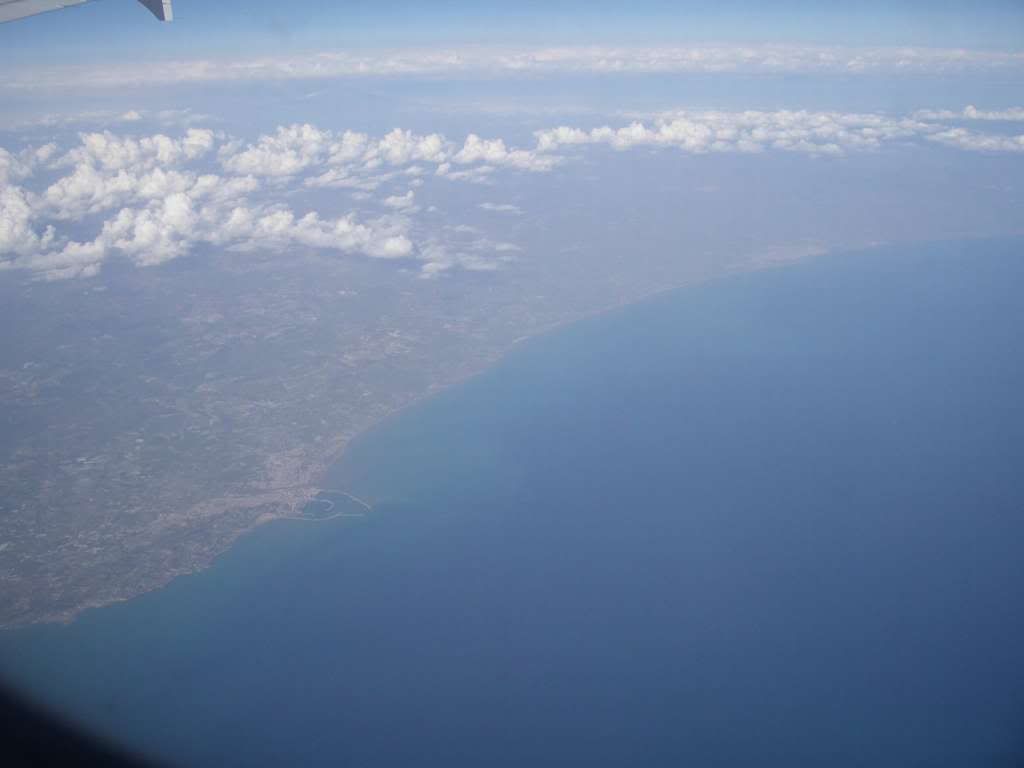 Service was another cold plate and free drinks.
The meal:
Lots of circles and curves during approach into MUC, finally touched down on the 4000 meters long runway 08R and taxi to our stand opposite T2.
New Dolomiti ERJ:
Another company machine:
Parked close by:
Bye-bye 9H-AEM: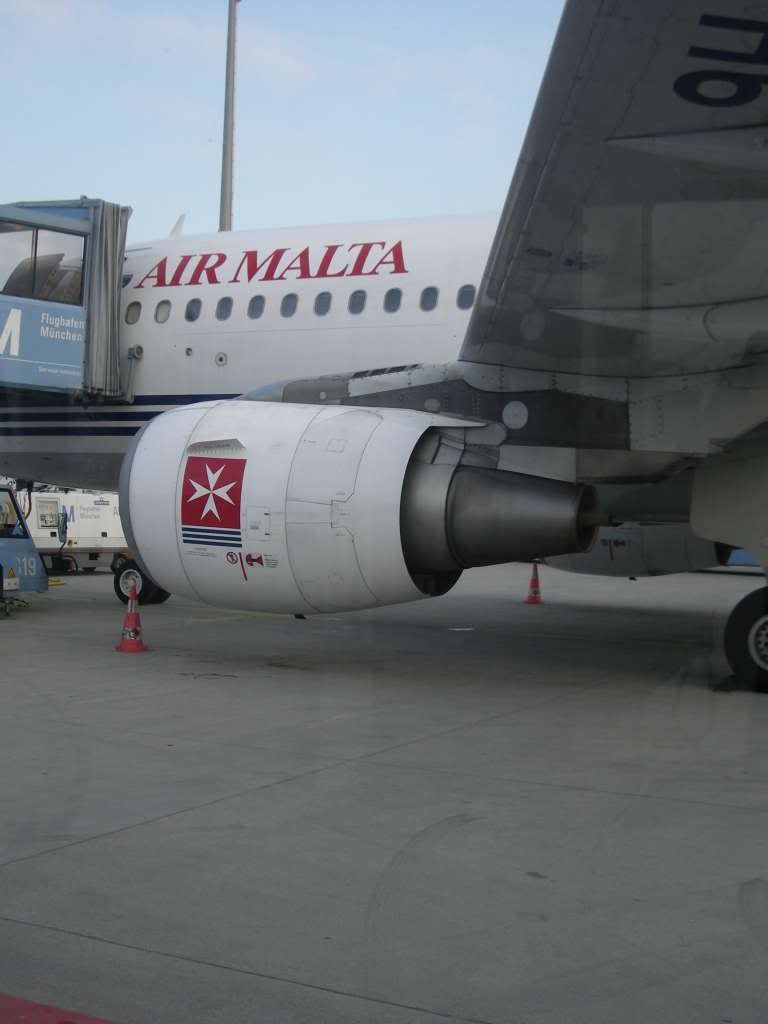 Bus deboarding into MUC´s modern and huge terminal building.
Wednesday, 01.04.2009
MUC (Munich-Franz-Josef-Strauss) Light clouds, 12 degrees centigrade
STR (Stuttgart-Echterdingen) Light clouds, 11 degrees centigrade
Duration: 40 minutes announced
45 minutes actual

Service LH 1374 operated by Contact Air
Scheduled: 21.15 - 22.10
Actual: 21.35 - 22.20
Gate: G27 Seat: 18A
Load factor: Around 60%
Fare: 53,44 EUR
Will there be something new on short notice?.
The Contact pilots gone for a 24H strike yesterday morning, so we will se if my flight is ok.
No delay when I checked the massive flight screen.
I walked a bit around, from one end of the terminal to the other, for real a long way to go!.
Some nightly pix later I was at the gate.
MUC T2, impressive:
TG 744 just arrived from BKK: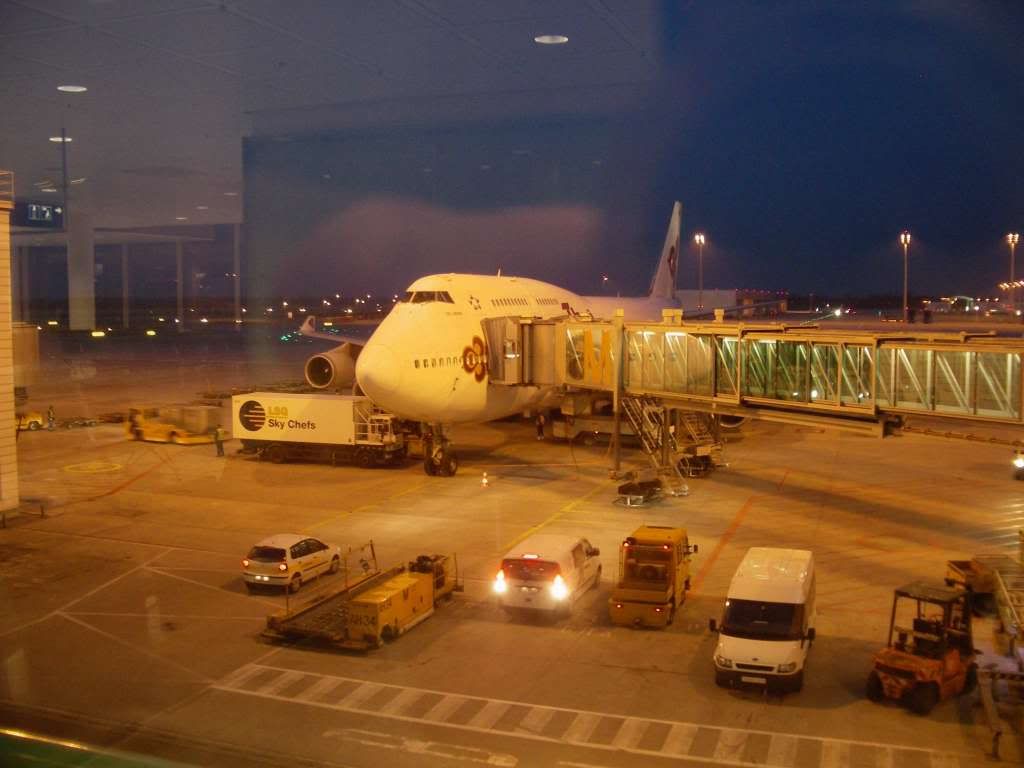 Some more departures:
The friendly female gate agent informed us about a short delay due to the late arrival of the aircraft. Nothing serious, she stated.
Boarding was called around 15 minutes late, by bus to the regional apron where the announced machine waited.
My machine: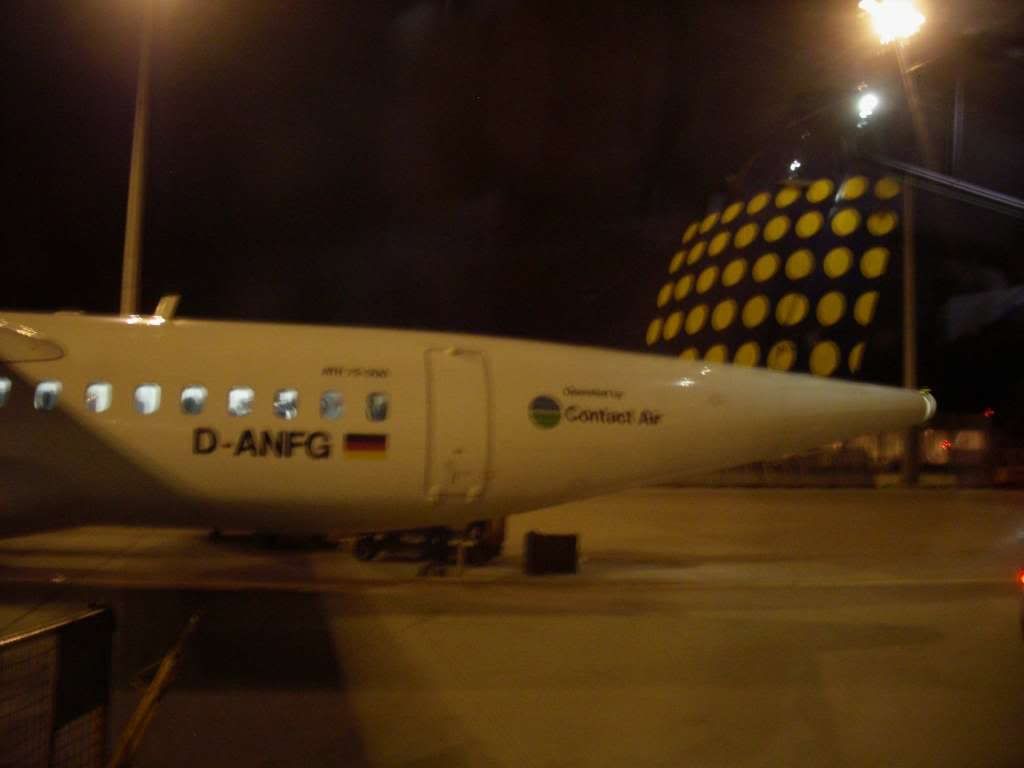 And again: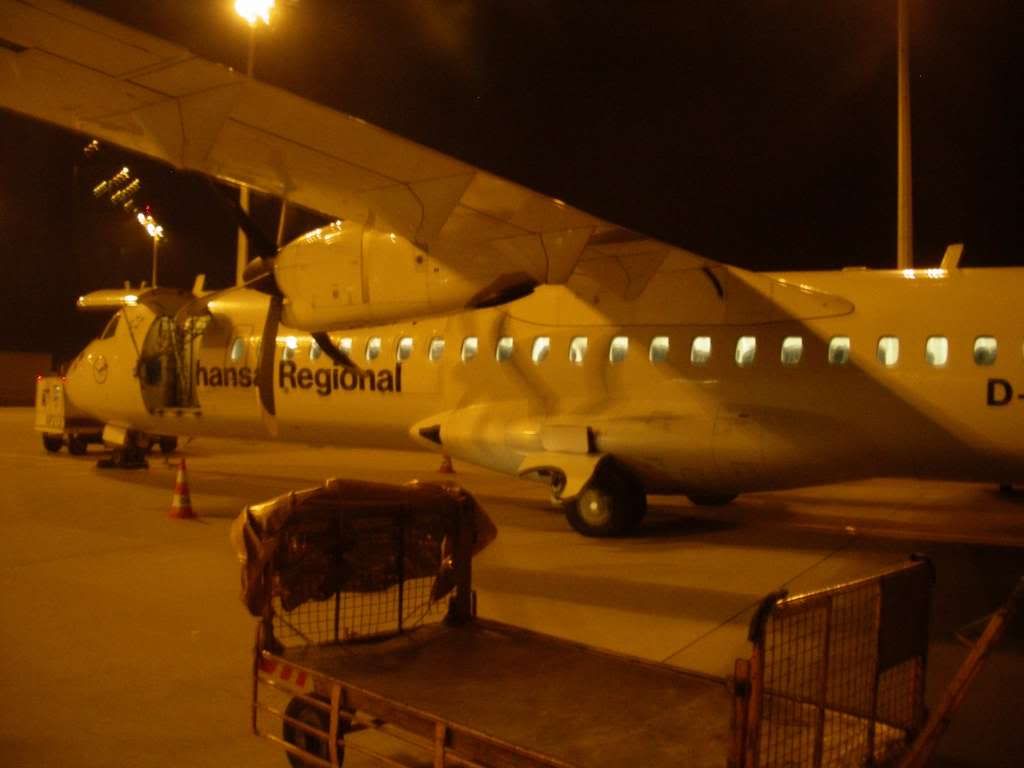 Contact Air operates 6 ATR 72 planes. D-ANFG is the oldest example in the fleet and was delivered at 22.03.2001 to its previous operator Eurowings and at 09.09.2005 changed to Contact Air.
Another new registration to my log, six flights around that trip, six new regs!. Leg no. 9 on the AT72.
Three female FA´s included one trainee on that machine, all together very friendly and professional.
The cabin fitted with dark grey somewhat oldfashioned leather seats, low legroom, clean so far.
Cabin:
And again: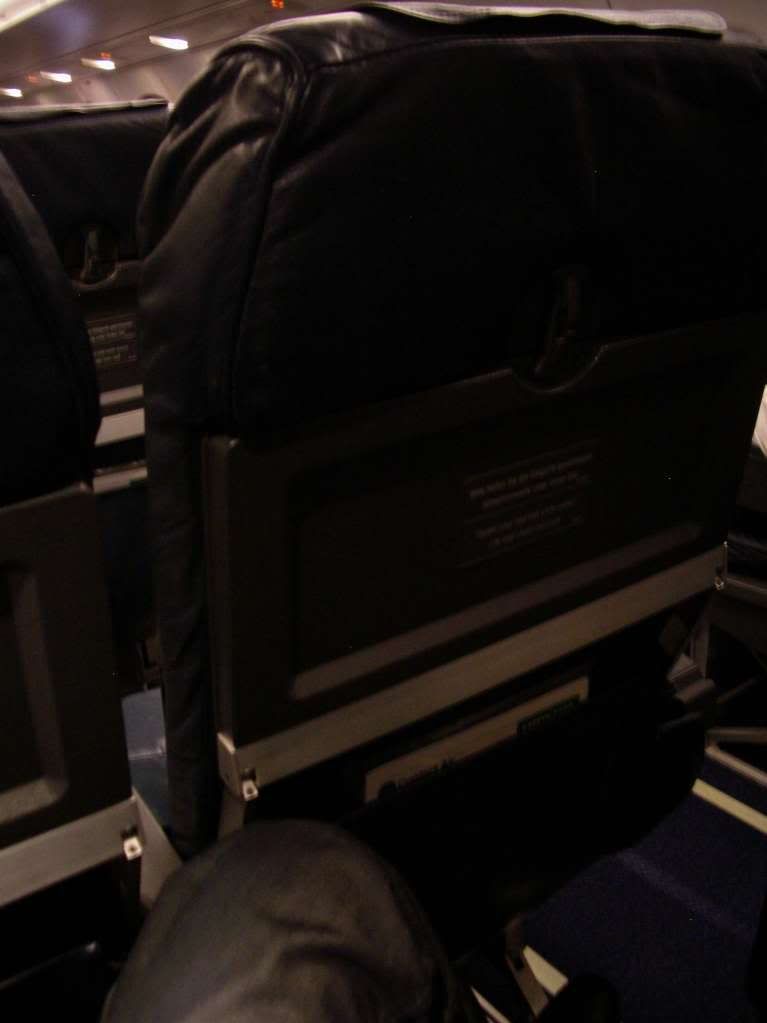 Departure from the also 4000 meters runway 08L. No route information nor a simply comment from the pilot.
Service was free water or beverages.
The FO was later on the speakers during cruise with detailed informations in a friendly style.
Another long approach to STRs runway 07 and landed with some 10 minutes delay.
I thanked the FA´s for their good job here, thumbs up especially to the nice and friendly trainee girl.
Parked on the regional apron, by bus to the terminal.
And will I see my bag here at STR again?.
Yes, it arrived only some very short minutes after me at the belt.
Professional service on LH, especially that friendly Contact Air crew on the short MUC-STR leg.
EK impressed me, real good on that short intra EU hop, friendly staff, good airline quality.
And I like the 772!.
And KM, not impressive, cramped, low level FA´s, not the way to catch me for a quick next flight here.
But all together a interesting trip with some new impressions and six new reg´s for me.
So, I´am looking forward to the next flights. Only some days to go, if nothing goes wrong as usual,
to catch another new plane type operated by a new airline together with some new airports for my log!.
Comments welcome,
Markus (FLIEGER67)