Hello dear readers !
I'm just back home after a two-weeks trip to Algeria. I don't have many free time because of work and the preparation of my trip to Canada later this week, but as the destination is not often covered here on the A.net TR forum, I'd like to share my experience with you. Although I normally like to write detailed reports, I'll (try to) keep the text short for this time, and let the photos speak themselves.
Back in November, when my wife and I decided to go to Algeria, our choice of airline was dictated only by price considerations, and I found out the cheapest option was
Iberia
, with, of course, a stop at Madrid-Barajas (MAD) (we paid 250 EUR per person, return, taxes included, which is very cheap when compared to typical Belgium-Algeria fares).
It was my second trip to Algeria, the first one was in 2005, flying Air France between Paris and Algiers, and including a domestic flight on an Air Algerie ATR-72. A report for that trip can be found using the following link :
http://www.airliners.net/aviation-forums/trip_reports/read.main/62566
During an A.net meet in Dublin last March (see the non-av forum), I had a discussion with members
HT
and
MEA-707
about Iberia, and both had bad stories to tell, especially
HT
who once faced serious luggage problems with them. Because of that, I did not have high expectations when I arrived at Brussels airport on the morning of April 1
st
.
Flight 1
From BRU (Brussels, Belgium) to MAD (Madrid-Barajas, Spain)
Iberia flight IB3207 / Seats 35 D-E-F
Departs : 07:55 / Arrives : 10:10 (on time)
Aircraft :
Airbus A321-211
EC-ILP
'Peñiscola'
(MSN 1716)
Runways : T-O 07R / Ldg 33R
Load factor (visual estimate) : 80-90 %
As I had checked us in online the day before, we just went to the Iberia fast bag drop counter, which made us avoid the long queue for the Iberia Economy class check-in. The friendly agent explained to us that our luggage was checked in until Algiers, and gave us Iberia 'Equipaje de Mano' orange labels for our cabin bags. We then proceeded to the passengers only area and through security control, without problems or delays. With many time left before boarding, we sat at our gate (A53) and let our son play and run while enjoying a much welcome coffee.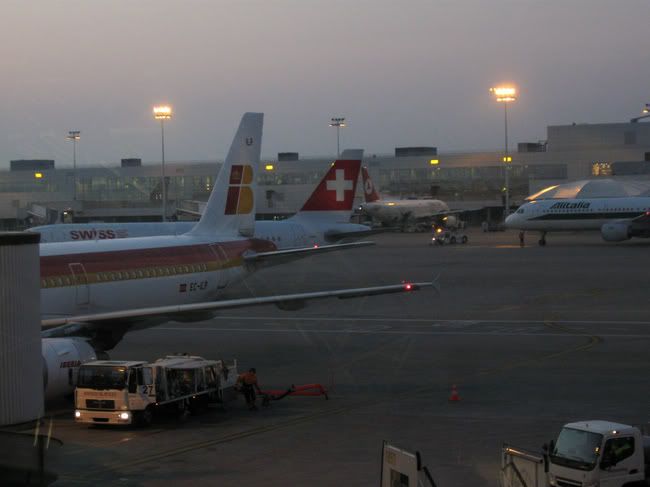 EC-ILP waiting for its flight to MAD
We boarded on time, being in the first boarding group as we were assigned seats in the second to last row. The crew seemed friendly and welcomed our son on board with a drawing/playing sheet and a box of pencils. When everyone had boarded, the crew made a manual safety demo while we taxied to runway 07R (quite unusual, and a first for me, as 95 % of my BRU departures are from 25R, with the remaining from 20).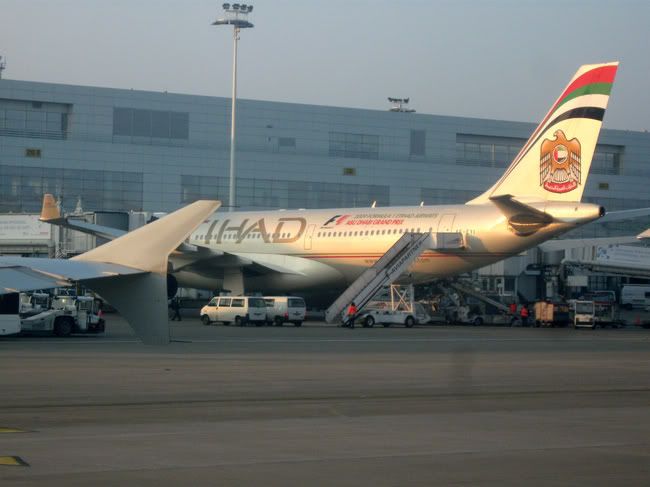 Etihad A330-200 A6-EYI, just arrived from Abu Dhabi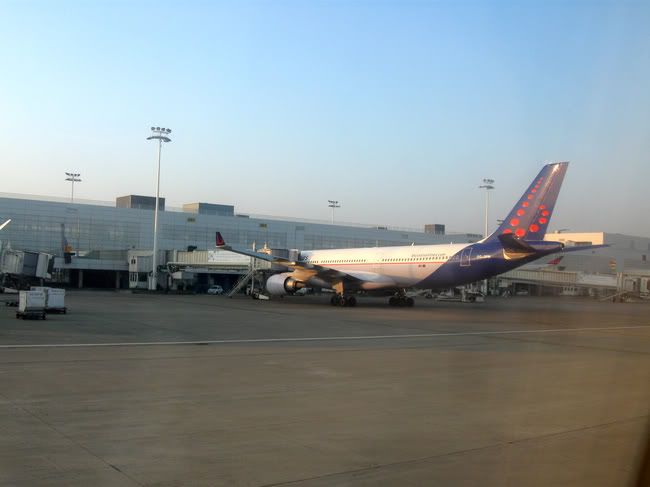 Brussels Airlines A330-300 OO-SFN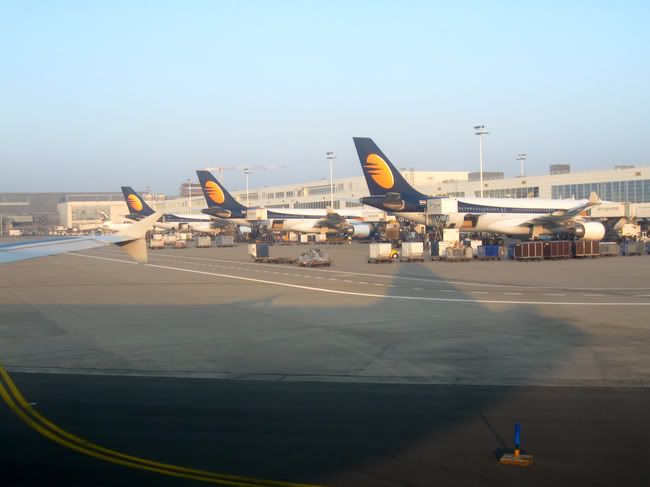 The Brussels Jet Airways hub !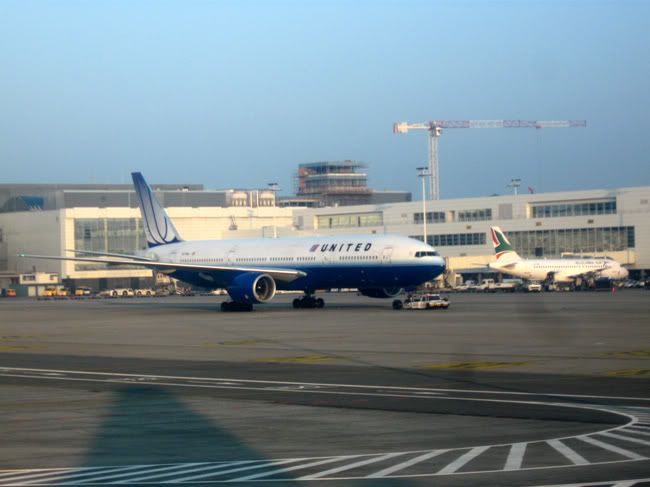 United B777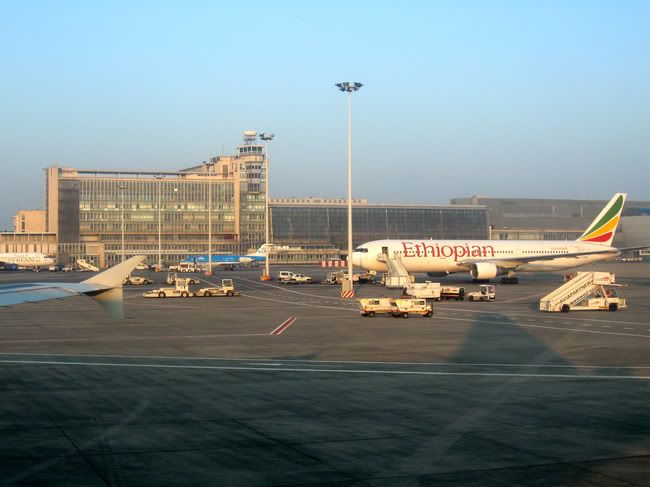 Syrian Arab A320, KLM CityHopper F-70, Ethiopian B767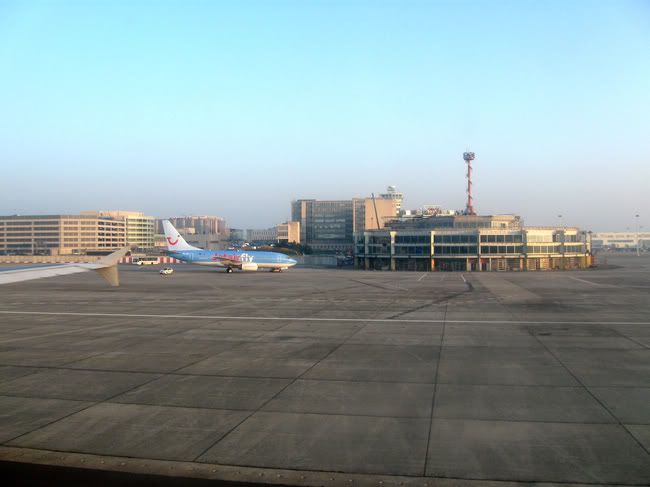 A lone JetairFly 737 in front of the abandoned satellite.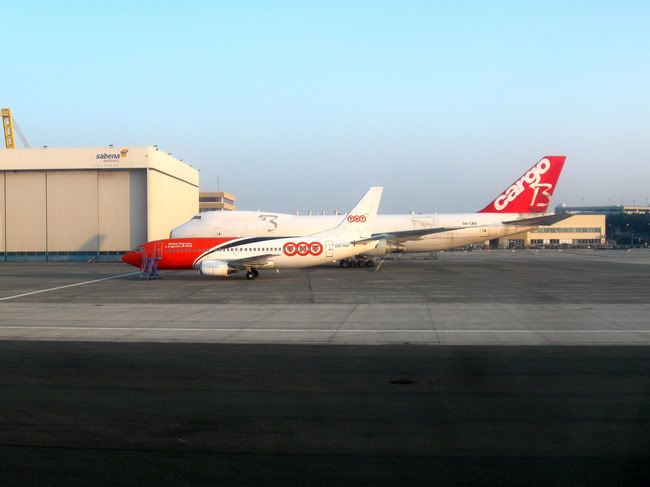 Interesting size comparison between a 737 and a 747.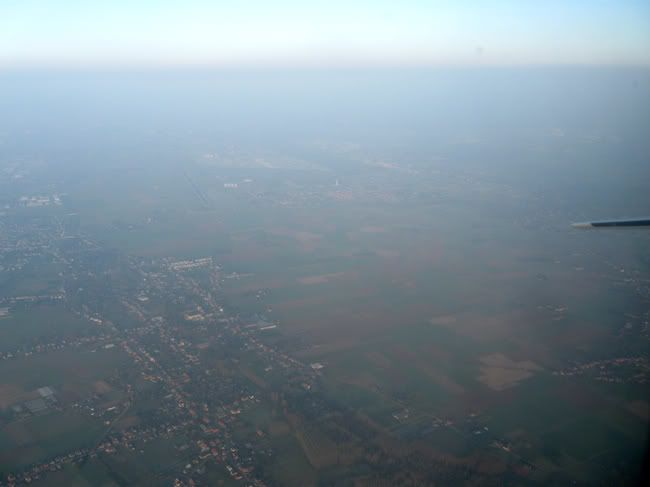 Airborne ! In the haze, you can see the end of runway 07R.
The flight was smooth and uneventful. Iberia does not offer any free drinks or food, so the crew came with the trolley for the buy on board service. I found the choice limited and relatively expensive, but I have to say that the cabin crew did a great job of being attentive and friendly. The landing was so smooth that it was hard to tell we had touched the ground, and we made a long taxi to our stand at the northern end of Terminal 4 (stand 332 I think).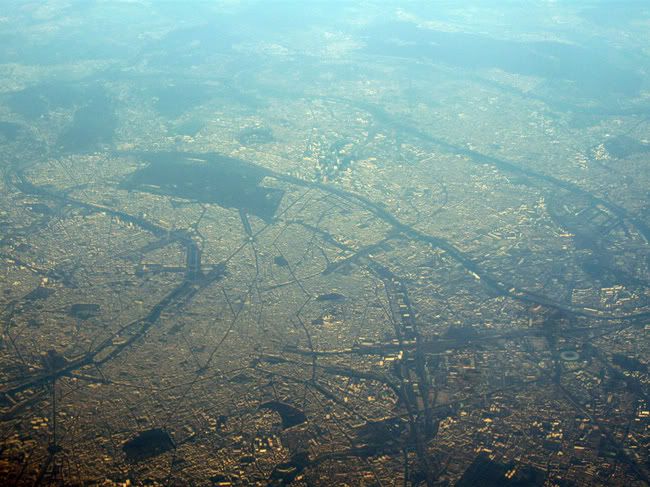 Nice view of Paris, France. Can you spot the Eiffel Tower and Arc de Triomphe ?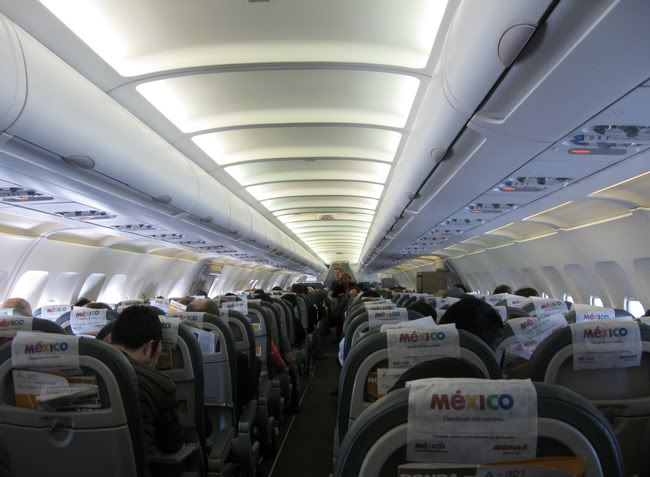 The cabin of this Iberia A321 during the flight.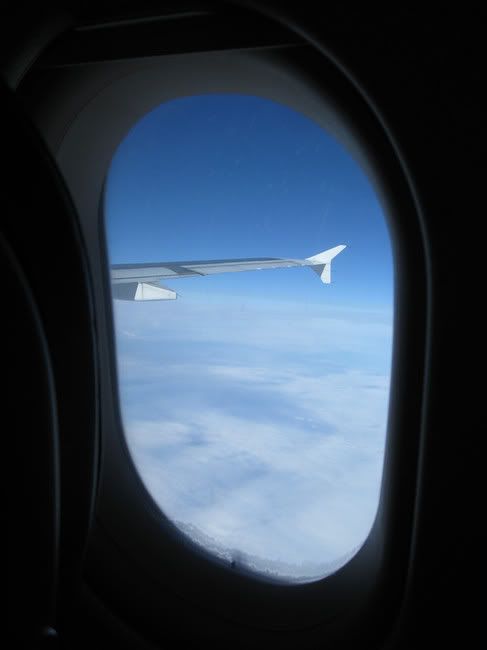 Our wing above a cloud covered southern France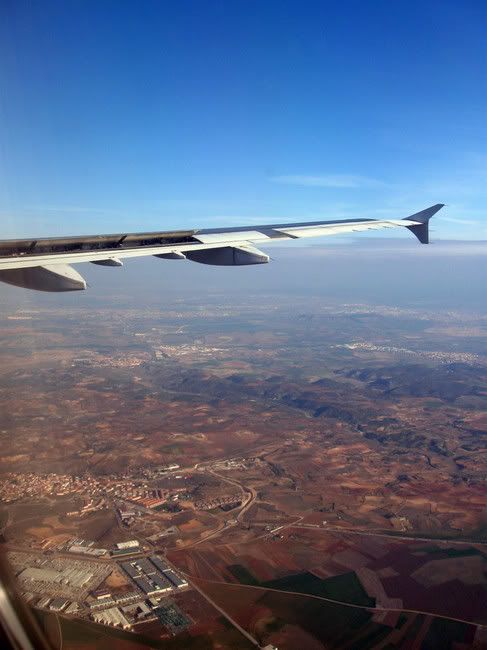 A bit of speedbrakes as we descend into MAD.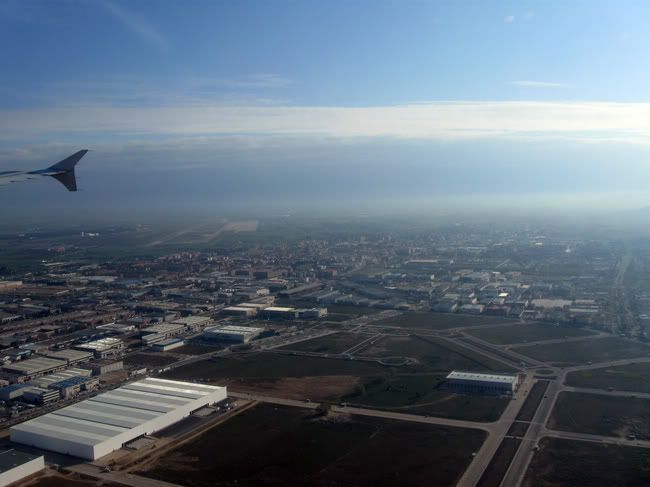 Torrejon airport clearly visible as we are on final for runway 33R at Barajas.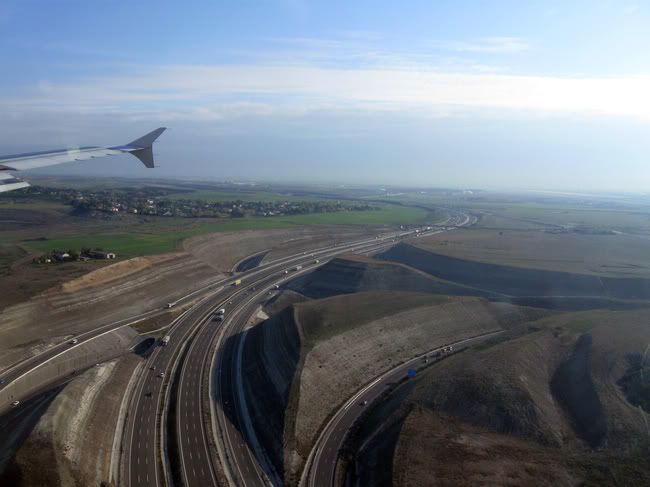 M50 highway just before touchdown.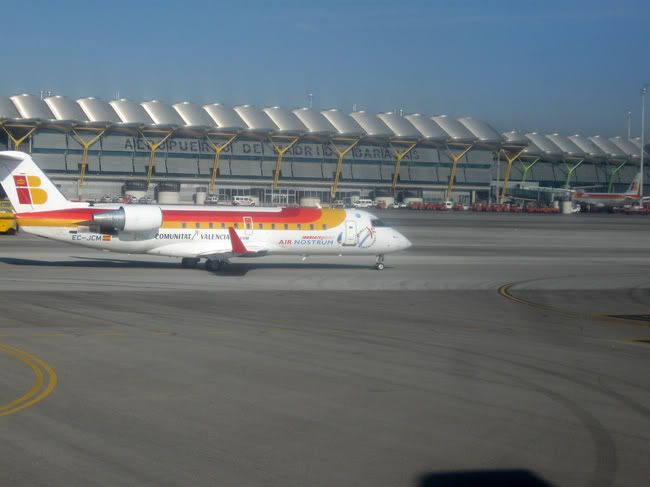 Air Nostrum (Iberia Regional) CRJ EC-JCM taxiing past T4S.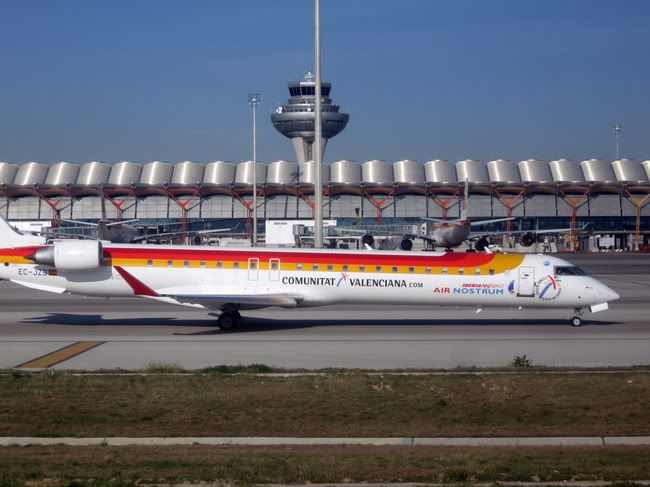 Another Air Nostrum CRJ (EC-JCS) in front of T4S
Connecting at MAD
While taxiing, the crew announced the gates for connecting flights in Spanish and English. There were quite a few passengers who had a connection, mainly to other destinations in Spain, but also to Portugal, Miami, and of course to Algeria ! Once into Terminal 4, I discovered its impressive and airy architecture for the first time, and loved it. The main building of Terminal 4 is used mainly for flights within Europe, while a remote building (T4S, 'S' as in 'satellite') caters for intercontinental flights. Both buildings are linked by an automated subway-style train, accessed through an impressive network of escalators and glassed elevators. Our flight to Algeria was leaving from T4S, so we took the train and passed through passport control. Inside, T4S is very similar to T4.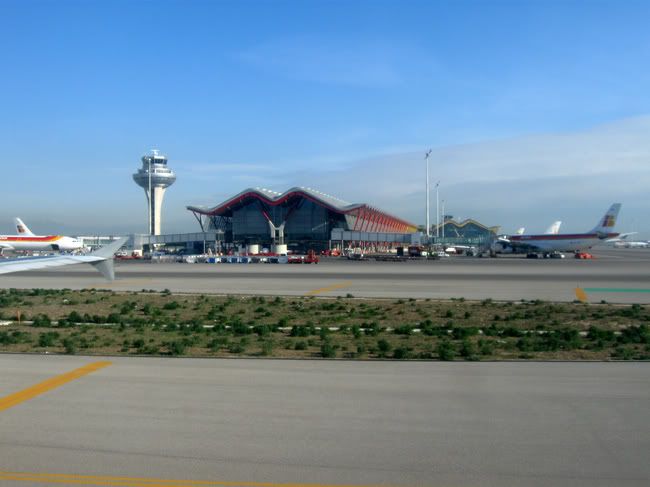 The beautiful T4S with IB intercontinental aircraft.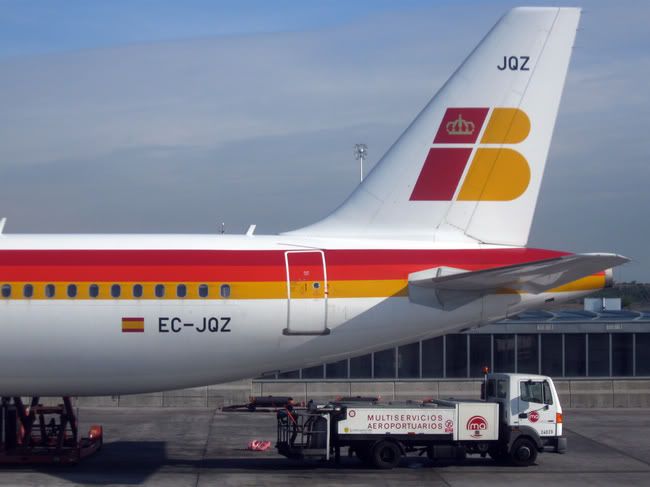 Docking on T4, beside sister ship EC-JQZ.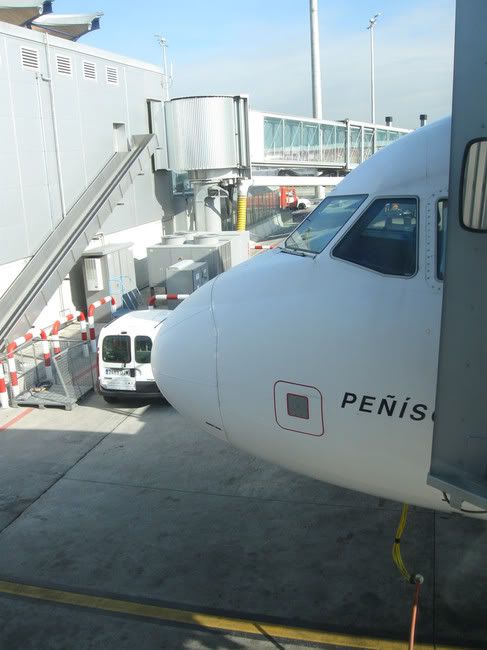 Strange name for an airplane, isn't it ?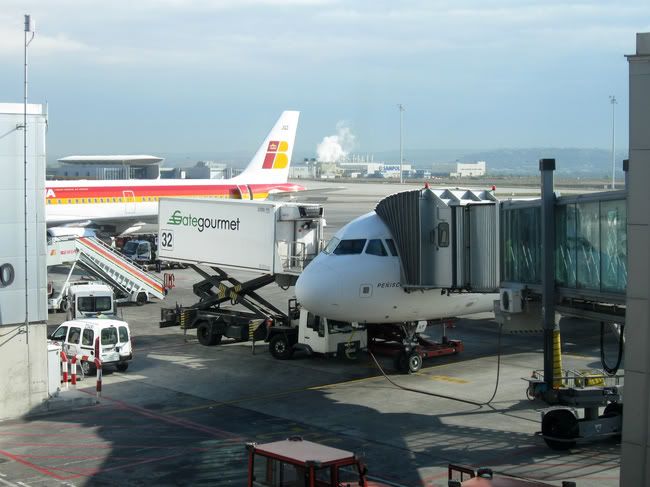 Last view of our aircraft as we walk through the jetbridge.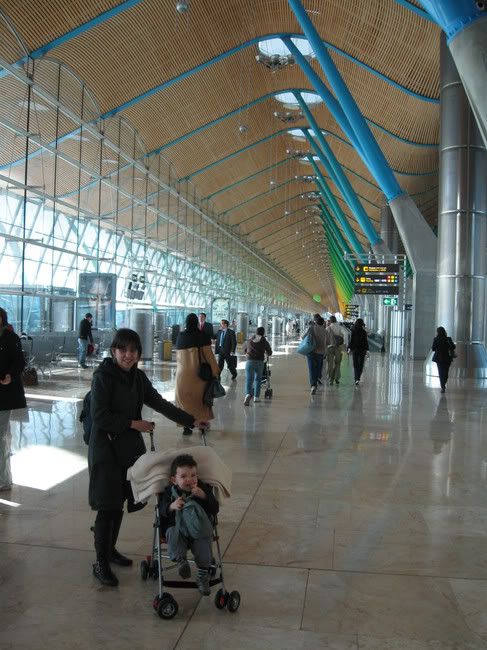 Beautiful and airy T4.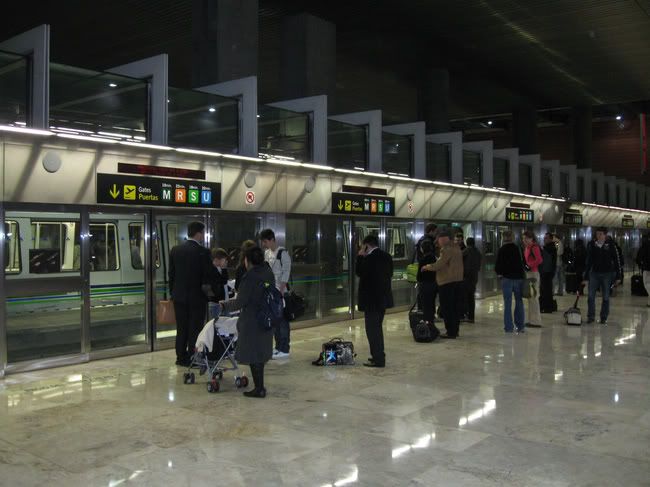 The automated train linking T4 and T4S.
Flight 2
From MAD (Madrid-Barajas, Spain) to ALG (Algiers-Houari Boumediene, Algeria)
Iberia flight IB3706 / Seats 25 A-B-C
Departs : 11:40 / Arrives : 12:10 (13:10 MAD time) (on time)
Aircraft :
Airbus A319-111
EC-KBX (MSN 3078)
Runways : T-O 36R / Ldg 23
Load factor (visual estimate) : 50-60 %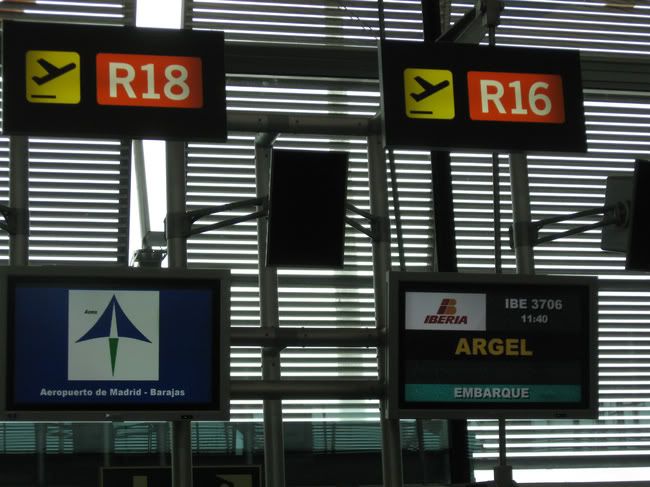 Boarding to Algiers at gate R16. Right on time.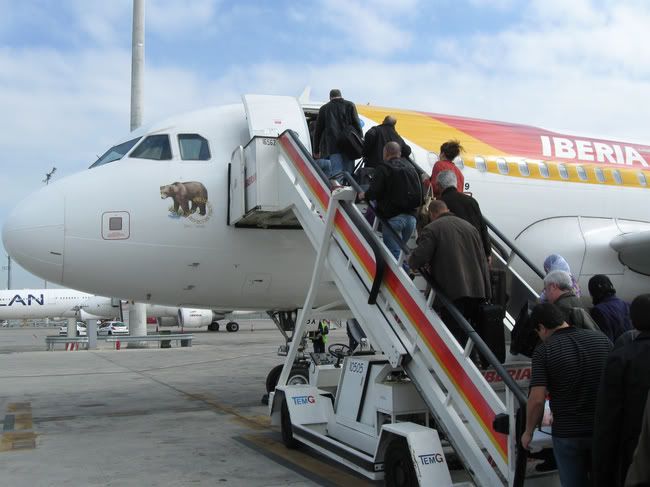 Too crowded on the front stairs...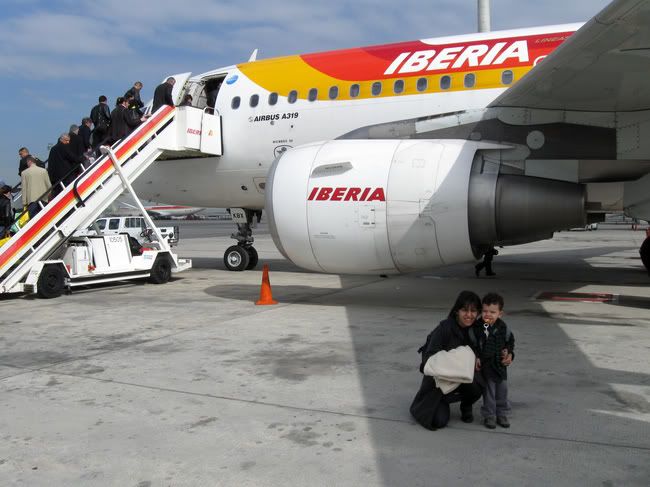 ...we'll use the rear stairs instead. A good opportunity for a photo under the wing.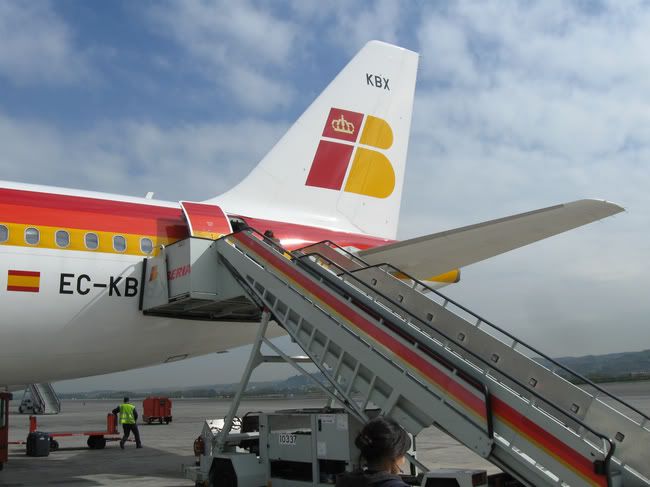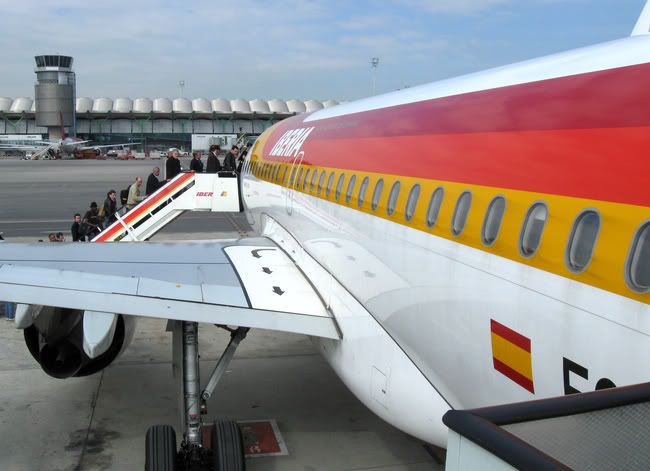 We boarded by bus as our aircraft was on a remote stand. Again, the crew gave our son a box of pencils and a drawing sheet. During the take-off from runway 36R, I spotted the place where Spanair 5022 crashed last year... RIP...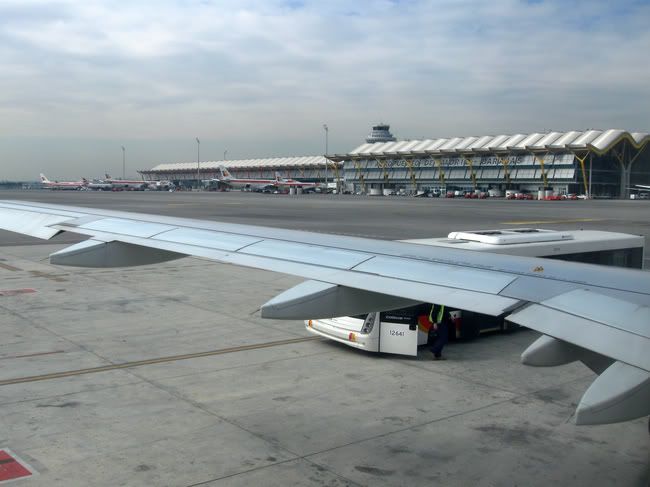 Terminal 4S seen from our remote stand.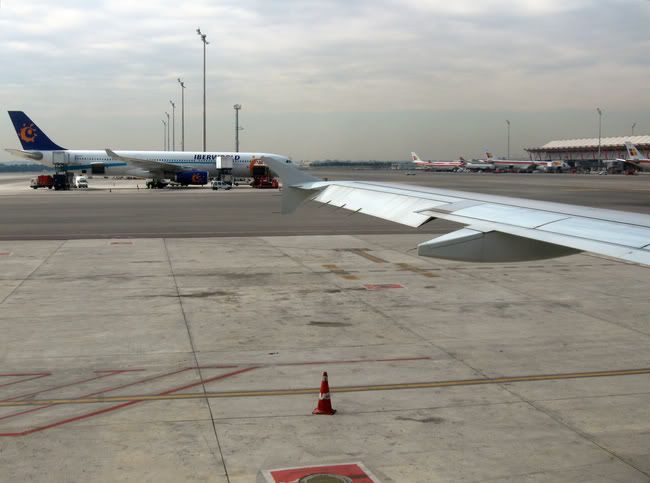 Iberworld A330.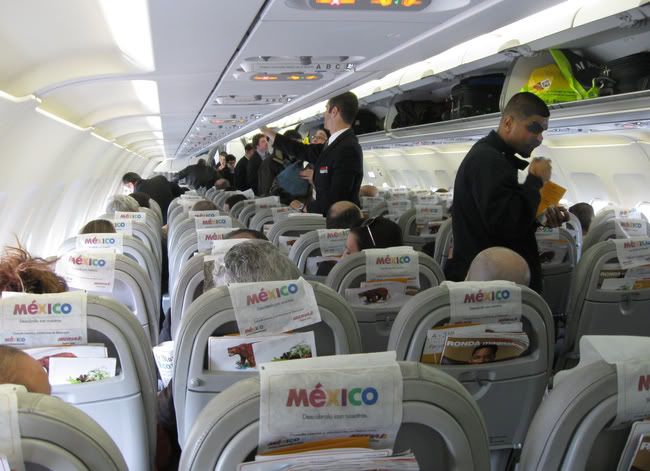 Cabin of EC-KBX during boarding.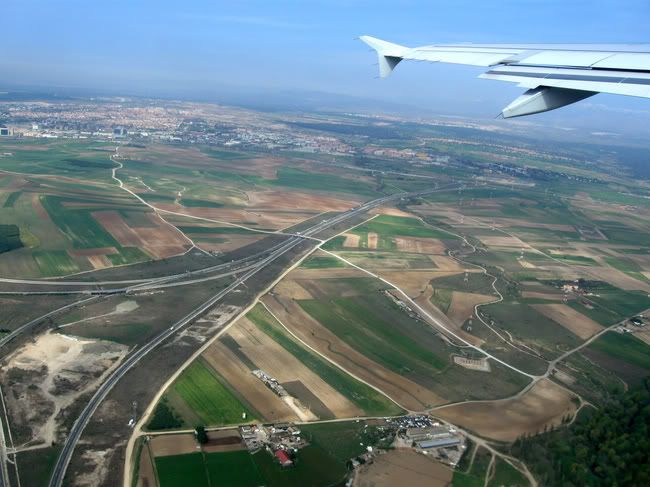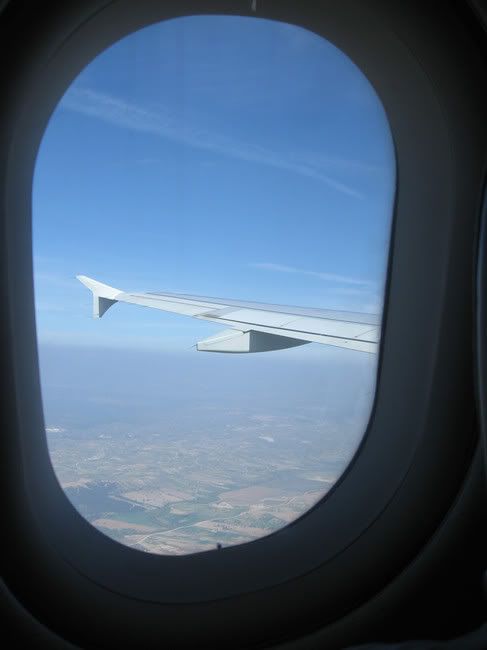 Again a smooth and uneventful flight. My son slept the whole flight, while my wife and I ordered a tuna / vegetables salad with a coke. The salad was really tasty, but I think the prices are really on the expensive side. The crew was smiling and friendly.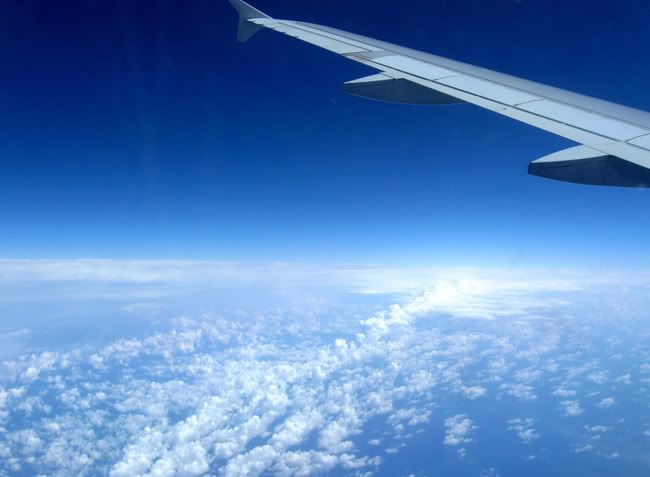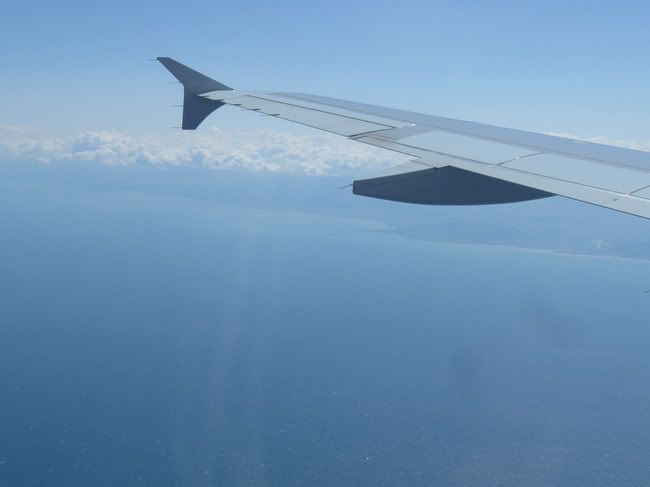 Algeria in sight !

Algerian coastline near Boudouaou (East of Algiers). We are already lined up with ALG runway 23.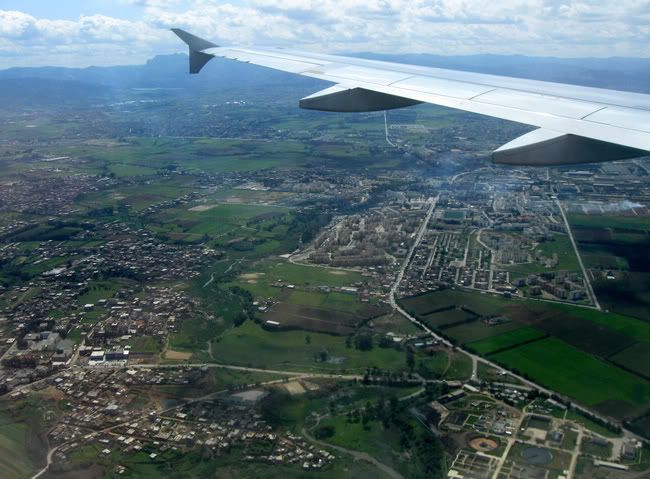 The town of Reghaia under the wing.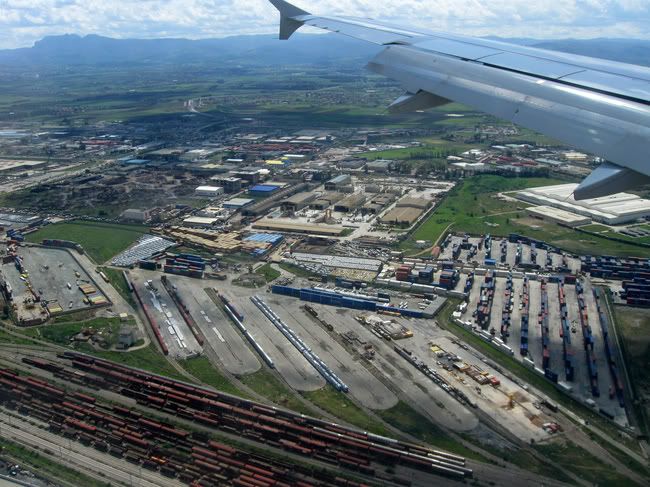 Railway yeard of Rouiba.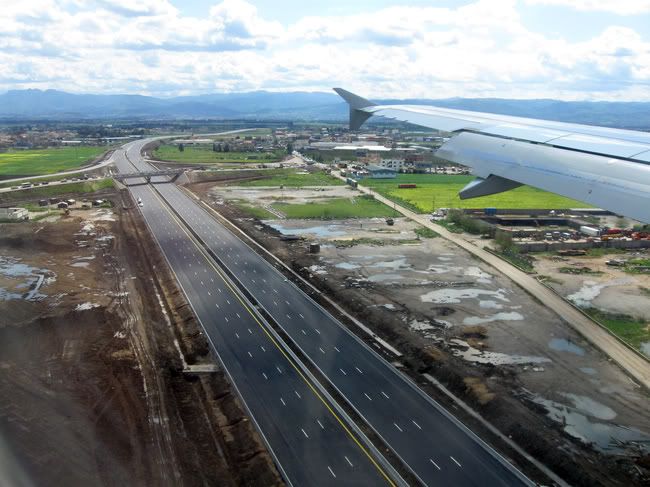 Brand new highway near the airport. Not opened yet.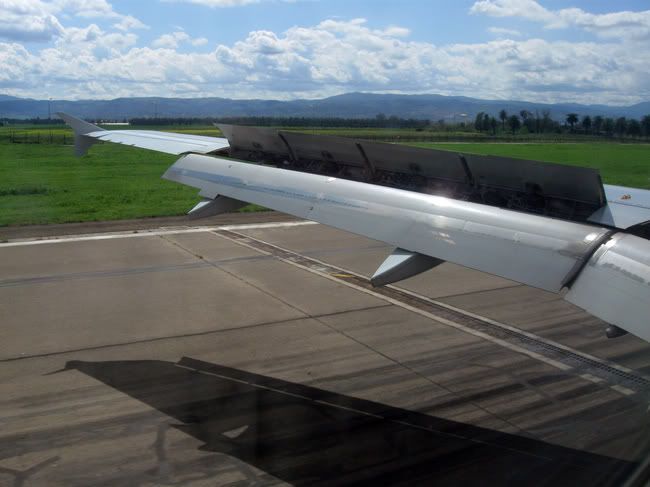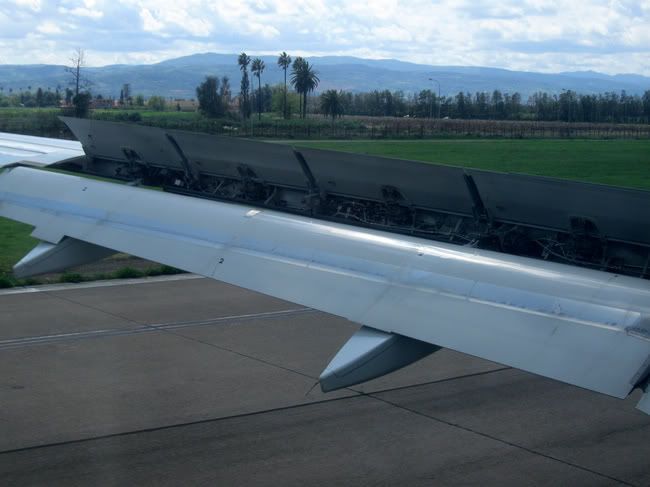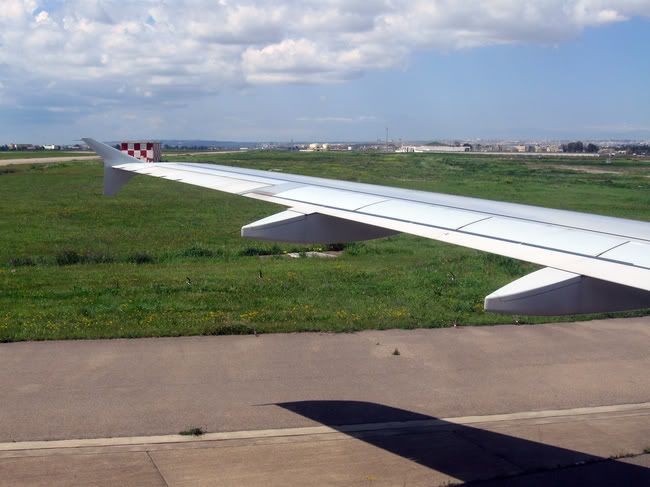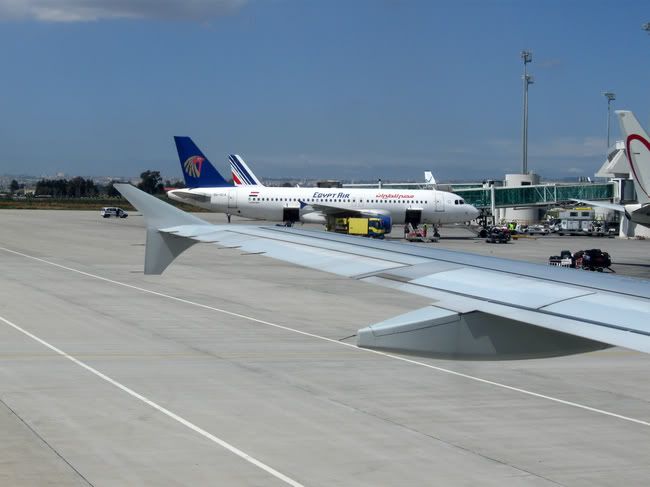 EgyptAir SU-GCA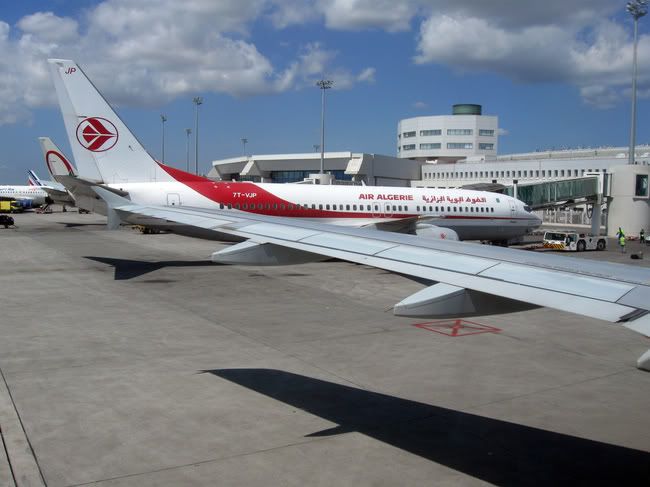 Air Algerie 7T-VJP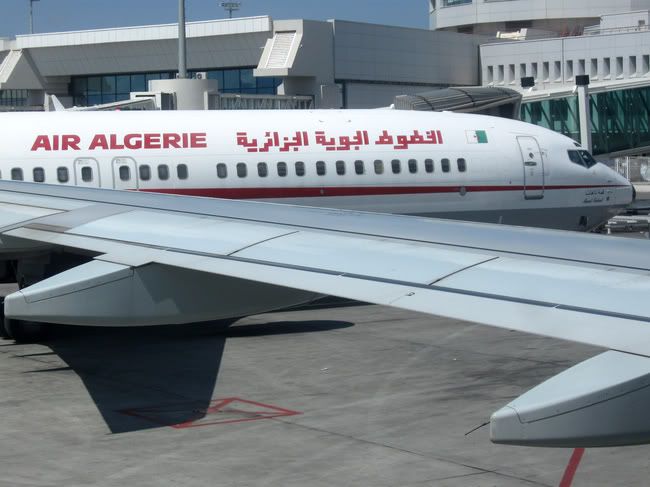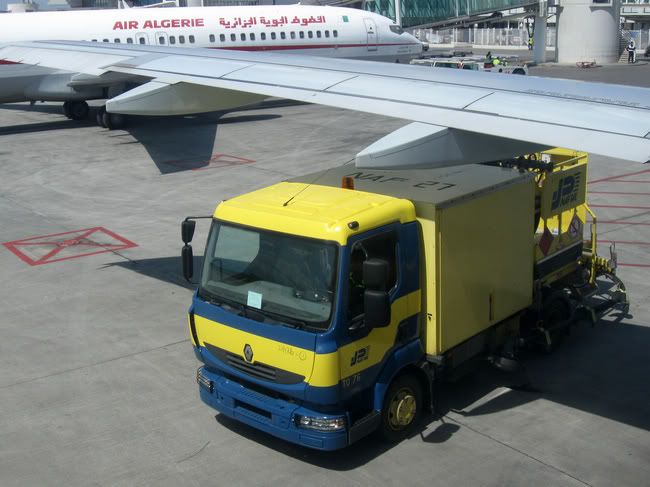 A Naftal refuelling truck. Naftal is the national fuel brand of Algeria.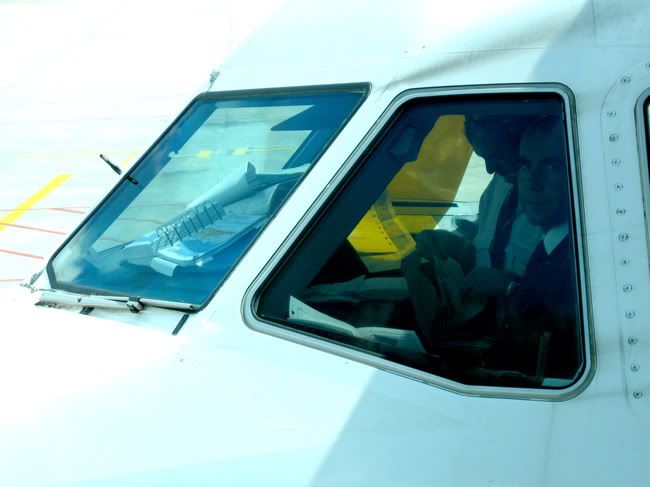 Thanks guys for the great flight !
After landing on runway 23 at Algiers (the airport is named after former president Houari Boumediene), we stopped at a jetway stand and our aircraft was refueled by a yellow 'Naftal' fuel truck (Naftal is the national algerian fuel brand, and no other brands are allowed to operate in the country). Passport control took a while (45 minutes !) because of all the bureaucratic procedures (passengers have to fill an 'arrival form' given before arrival, which is checked and completed by the immigration officer, who then stamps the form, check the passports / visas and stamps them). Although the queue was not long, it was moving very slowly, and a french guy in the queue (who is a permanent resident of Algiers) told me that it can be be a real nightmare during the Hajj season when several international flights arrive at the same time. I noticed that the signs in the airport were written in Arabic and French (like most road signs in Algeria), but not in English, which I thought could be confusing for non French speaking foreigners.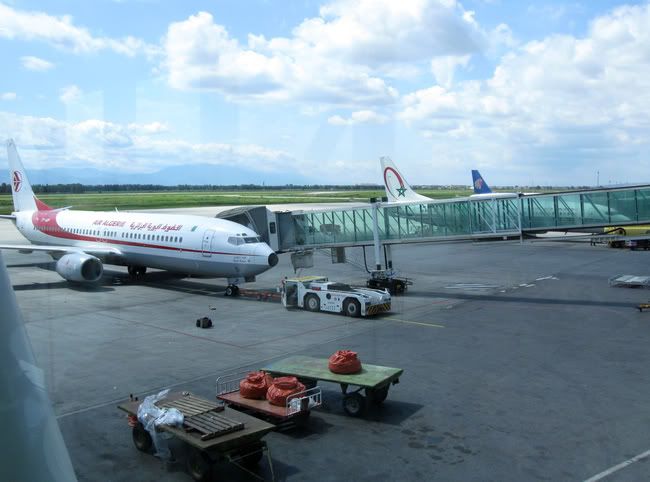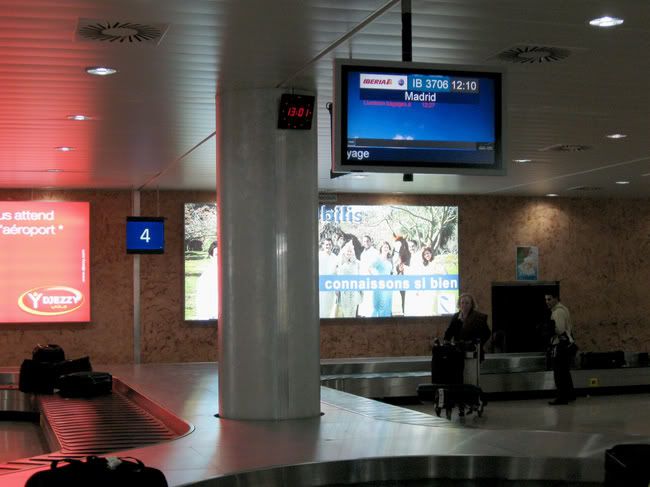 Algiers airport
After passport control, but before baggage reclaim, there was an X-ray hand-luggage control and metal detector, but the officers did not seem to care about the fact that everyone was triggering the detector... Of course, when we reached the baggage reclaim belts, our luggage was there, and in no time we were landside (I was surprised by how relaxed customs officials were, because they always were to be feared in the past). The new international terminal (opened in 2006) is a HUGE (and I really mean huge) improvement over the old one I used during my last trip in 2005. Most Algerians will tell you how much more modern, big, airy, beautiful than other airports in the world it is. Well, there is some exaggeration in this, but it's true that with this terminal, Algiers has finally got a world-class airport.
One has to be careful while taking photos in or near the airport, as there are a lot of policemen in the vicinity, and while I'm not sure whether photos are allowed or not, a lot of them seem to think they're not. I had planned to snap a few shots on the day of our return flights, but unfortunately my camera broke just as I reached the airport... Talk about bad luck ! I managed to repair it once at home in Belgium, and took some photos of the return flights on my cell phone.
The old international terminal is now used for domestic flights, while the old domestic terminal is used for some charter / Hajj flights.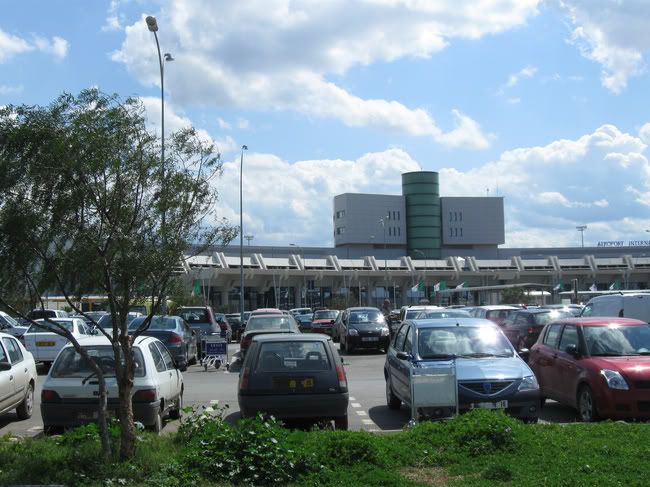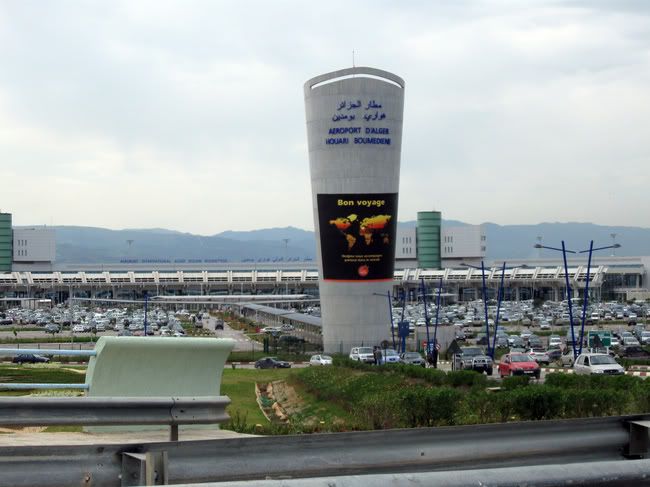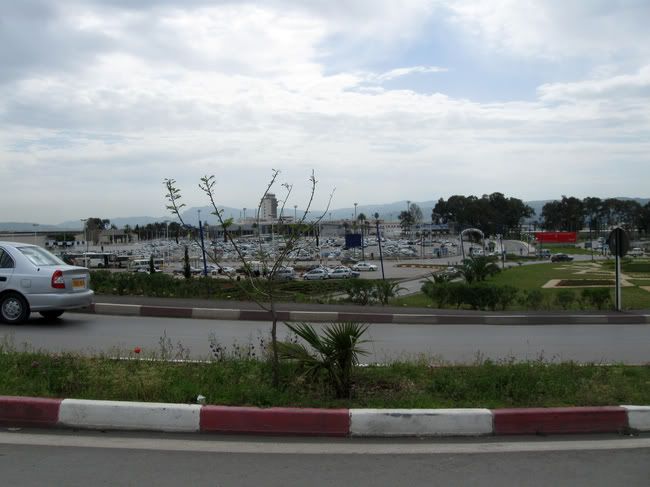 Looking towards the 'old' terminal (now domestic terminal) from the access road.
MyAviation.net has some good photos inside the new terminal :
MyAviation.net photo:

Photo © Salim mounir

MyAviation.net photo:

Photo © Salim mounir
Algeria
Algeria benefited from the recent high prices of oil, and it shows. New (much needed !) infrastructures are being built everywhere : the 'Est-Ouest' (East-West) highway connecting Tunisia to Morocco via most major algerian cities, the Algiers subway and tramway, the Oran tramway and the numerous housing constructions are just some examples of this infrastructure boom. It's worth noting that a lot (a vast majority, from what I could see) of those constructions are realized by chinese enterprises, with chinese workers, so it's not uncommon to see chinese people and chinese writings around construction sites. Also, I spotted a few chinese-made cars.
Security has improved a lot and with the exception of some spots in Kabylie (the region east of Algiers, between Algiers and Bejaia, where I experienced security problems first-hand) and in the far-South, the country can be seen as relatively safe. Credit has to be given to the army and special forces for eradicating most of the terrorist activity, and while the omnipresent security forces can seem oppressing for some, they allow Algerians to live normally, security-wise.
Although Algerians are not used to seeing foreigners (yet), with the exception of business centers and hotels in Algiers, they are very welcoming people and will do all they can to help you in case of need. As I said, there are not many foreigners in the country and chances are that you'll not pass unnoticed, but this is not something to worry about as long as you understand that you are in an arabic, 99% muslim country and act accordingly. It helps a lot to know some french or arabic (Algerians speak an algerian dialect of arabic, but should be able to understand mainstream arabic, and french in cities). The average wages is much below (probably more than 5 times lower) european ones, and while the country is developing fast, signs of poverty are still evident.
During both of my trips, I rented a car and drove a lot, including to remote / rural places. I recommend the biggest caution if you ever plan to do the same, as algerian drivers are really dangerous. Road signage is excellent (generally in both arabic and french), but not always followed by drivers ! Average speed is very low because of the numerous trucks and lack of highways, although the new 'Est-Ouest' highway, still in construction with some sections finished, should represent a real revolution.
Tourist infrastructure is severely underdeveloped, especially when compared to neighboring Morocco or Tunisia, with sub-par hotels and restaurants, although some international-class hotels (and associated amenities) tend to be built in the largest cities (mainly Algiers and Oran). Beaches are generally not equipped, often dirty, but the country offers a very wide range of breathtaking landscapes, not to talk about top-class ancient (roman) sites.
Below is a small selection out of my 1000+ photos :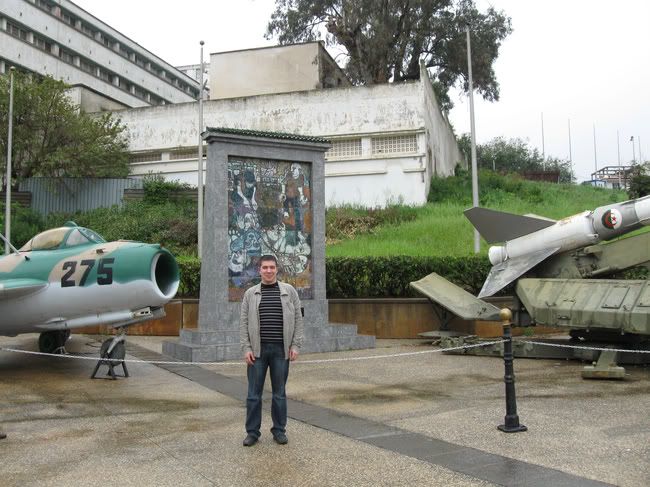 Yours faithfully, in front of an Algerian MiG-15 at the Army Museum in Algiers.

The Maqam ech-Chahid, an iconic monument built in 1982 for the 20th anniversary of the independence.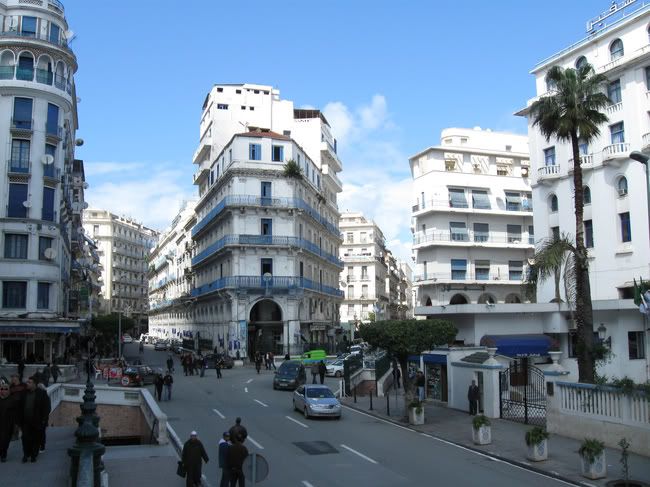 A typical central Algiers street.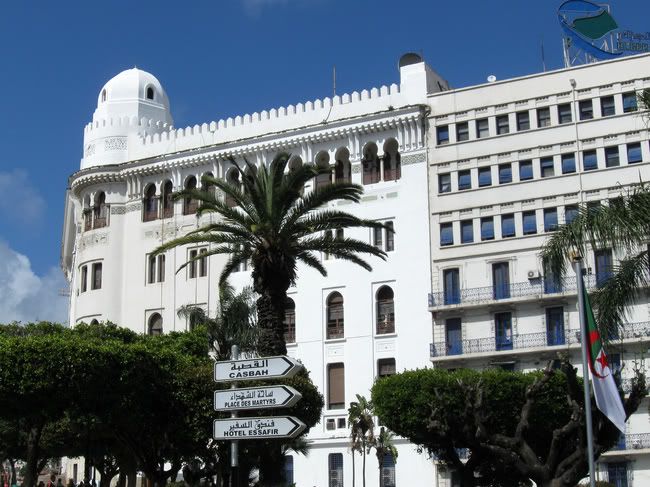 The central post office of Algiers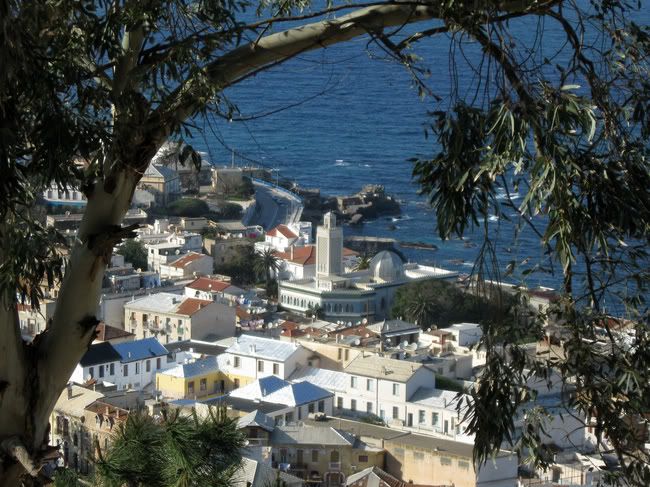 Bologhine, an upscale suburb of Algiers.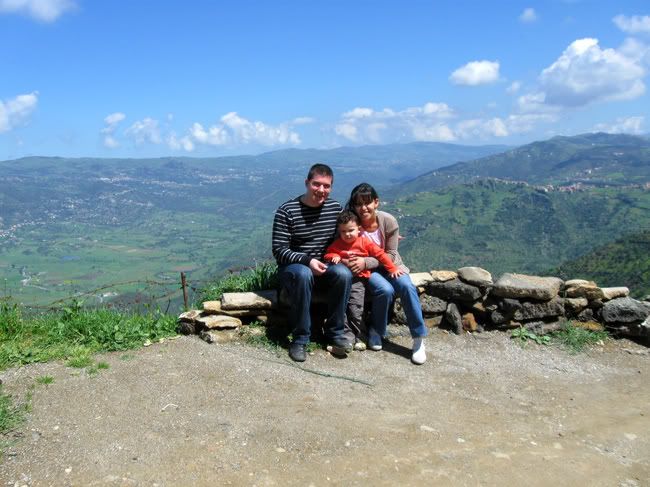 Me with my wife and son on top of a mountain in Kabylie (near Tizi Ouzou).

Beautiful landscape along the Azazga - Azzefoun (Kabylie) road.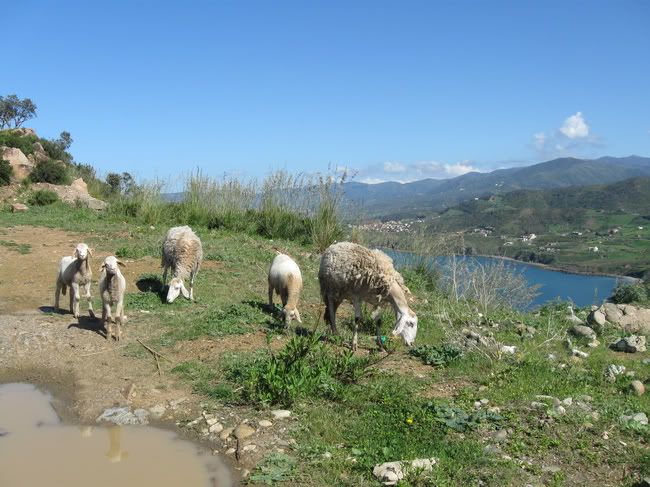 Sheep near Tigzirt.

Relaxing at Tipaza (60 km West of Algiers)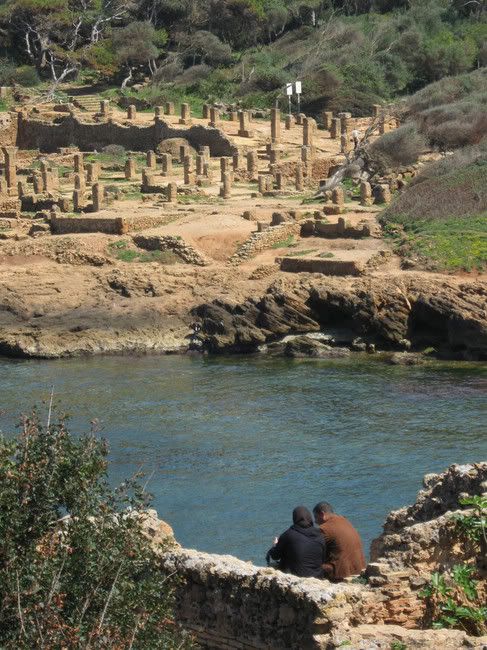 Ancient (roman) ruins of Tipaza.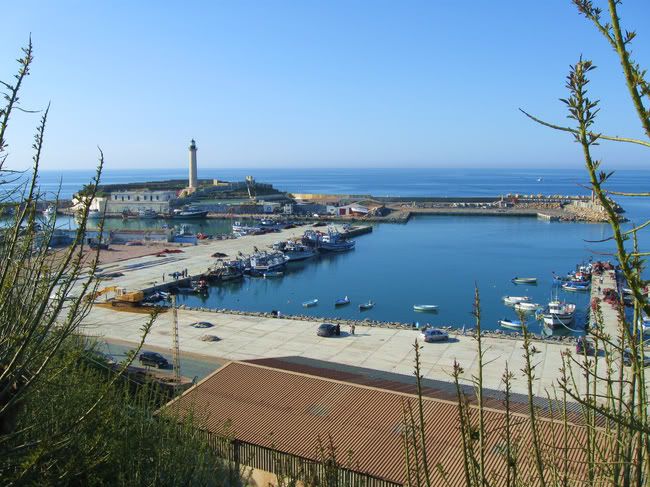 Cherchell harbour.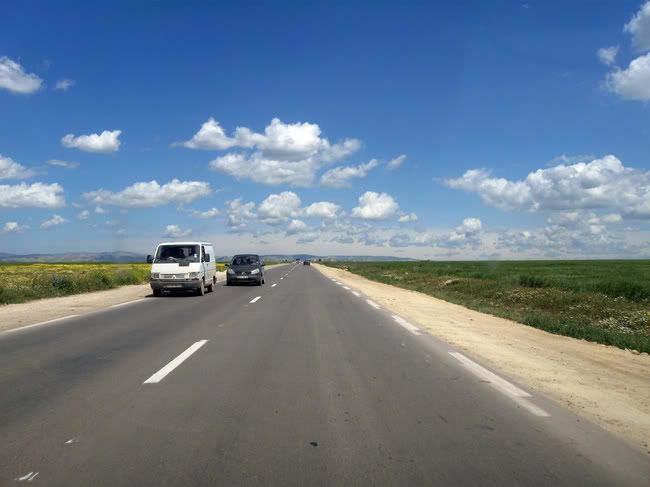 A road near Mostaganem.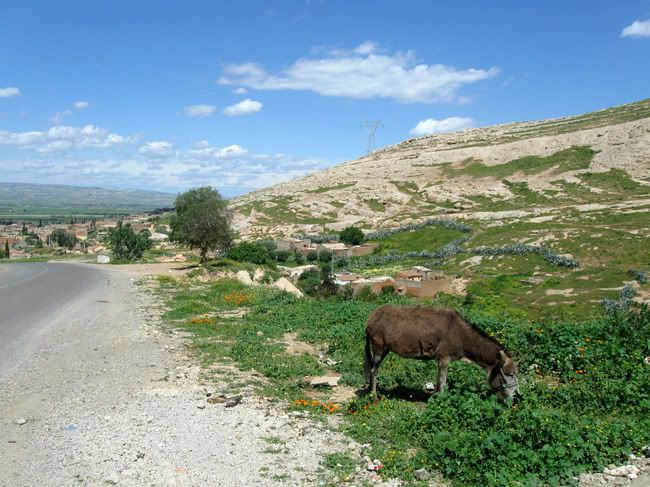 Between Oued Rhiou and Ammi Moussa.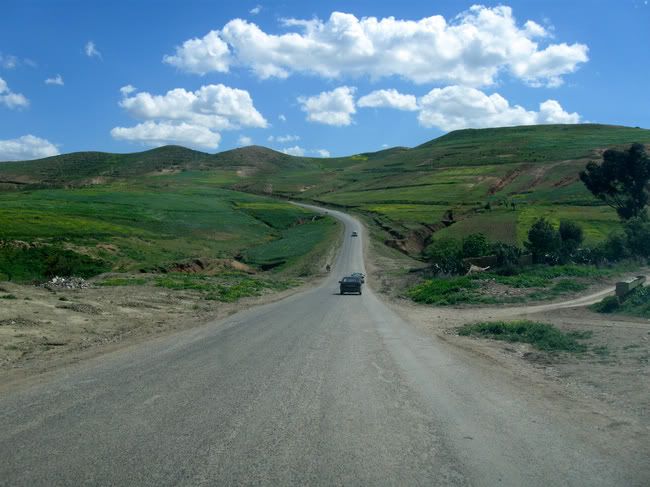 Between Oued Rhiou and Ammi Moussa. During the summer, the same landscape becomes brown.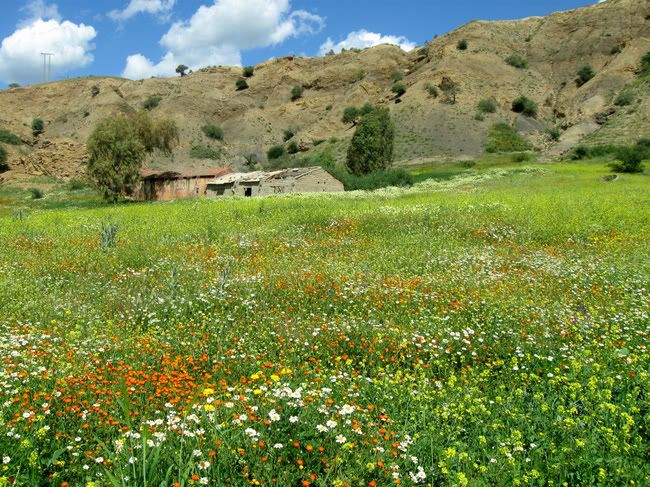 Flowers in Ammi Moussa.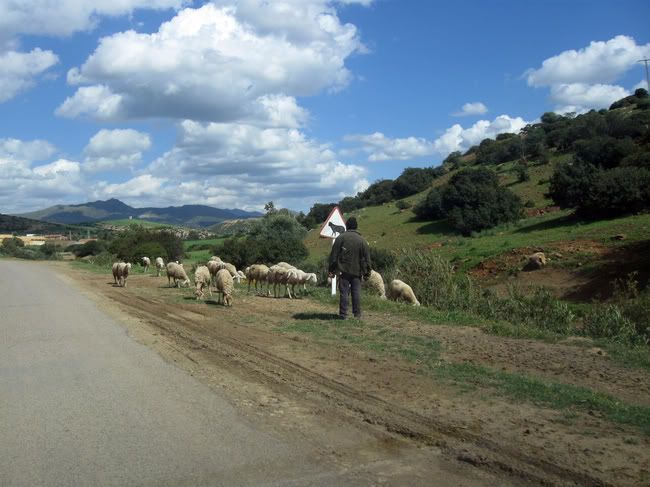 A very adequate road sign !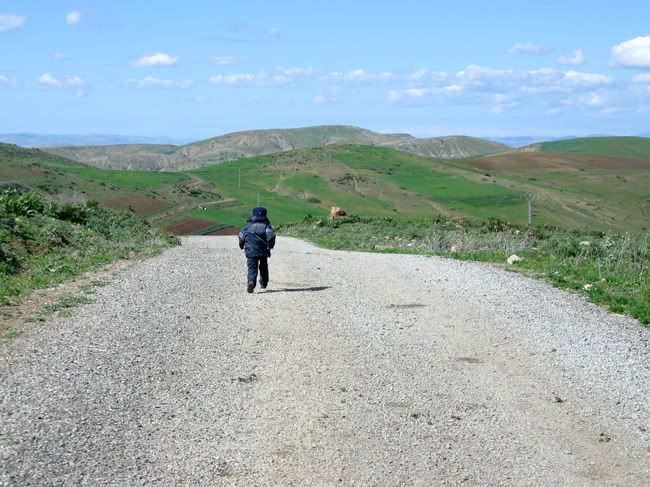 My son playing near Ammi Moussa.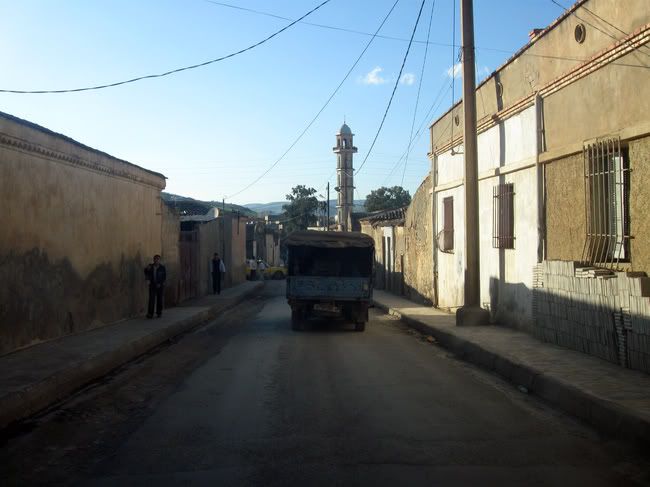 Typical street scene in the somewhat remote town of Ammi Moussa.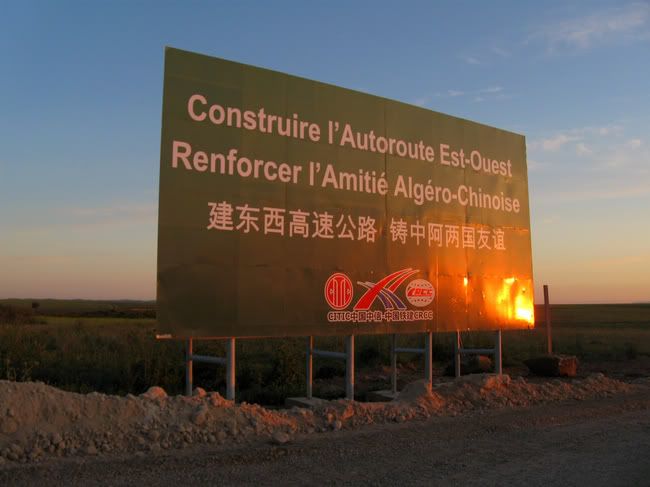 Chinese construction workers are everywhere. This propaganda sign says "Building the East-West highway, reinforcing the Algerian-Chinese friendship".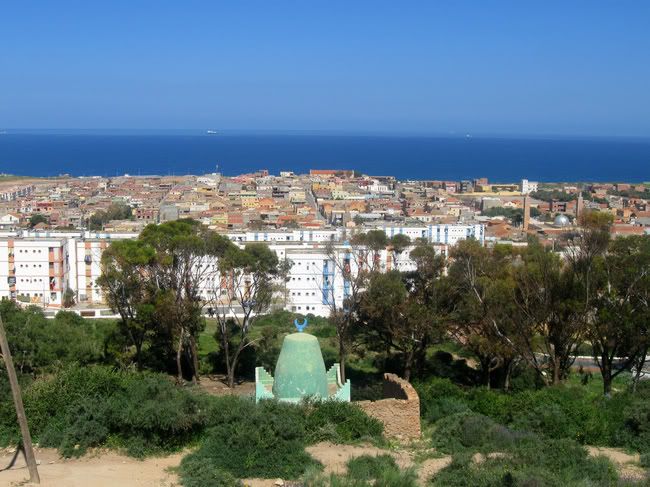 The village of Stidia, near Mostaganem, where I stayed for one week.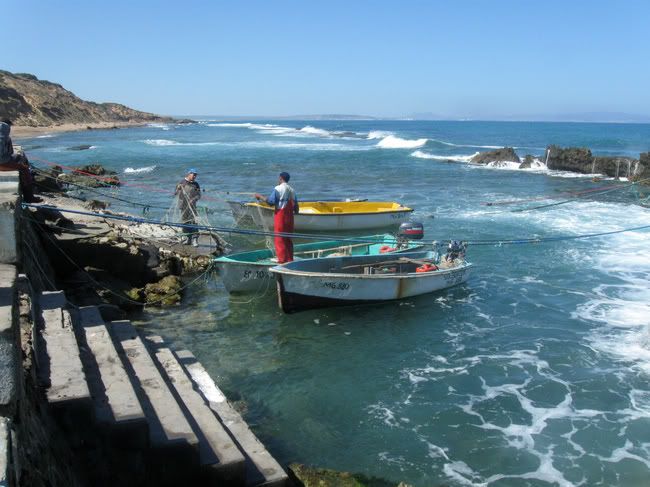 Fishers coming back home in Stidia.

Street scene in Stidia, in front of our house.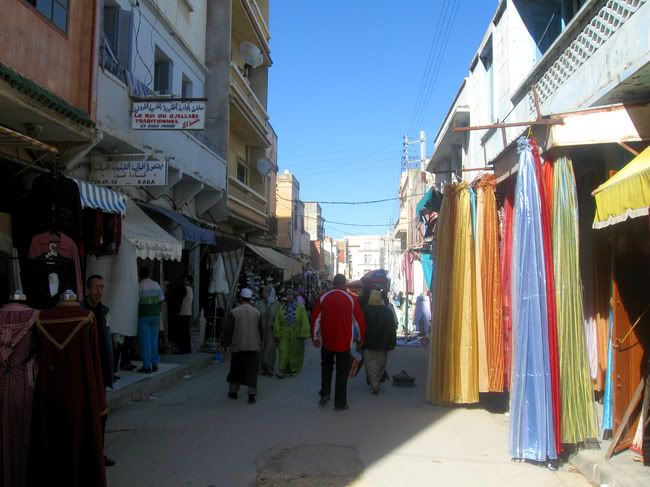 Market in Oran (the second largest city of Algeria), in the borough of Mdine Jdida.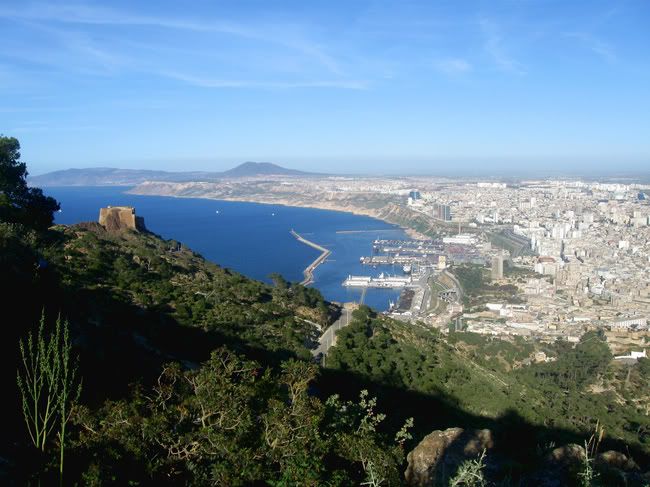 Overview of Oran from the nearby hill (Djebel Murdjadjo).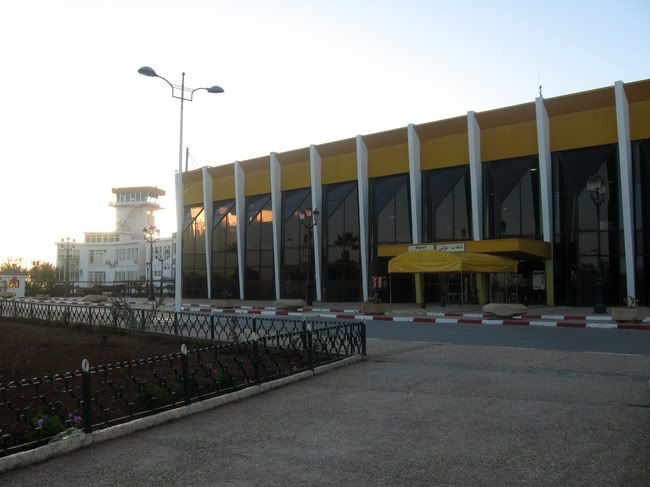 Oran Es-Senia airport (ORN) : international departures.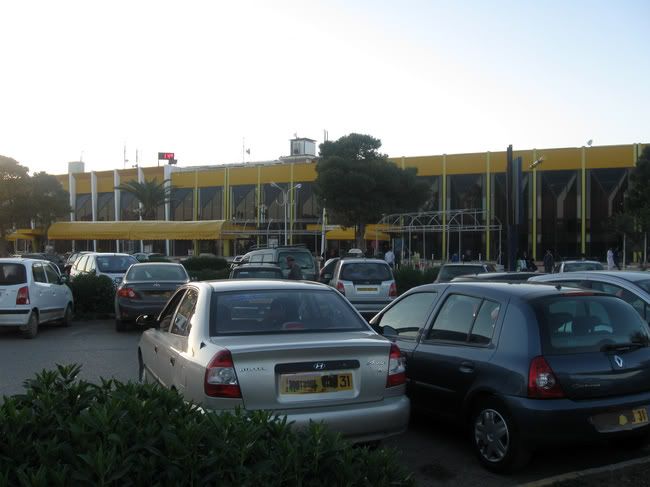 Oran Es-Senia airport (ORN) : domestic departures.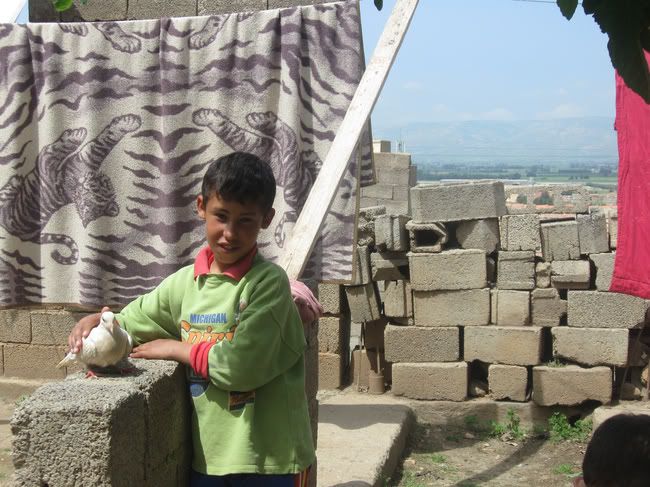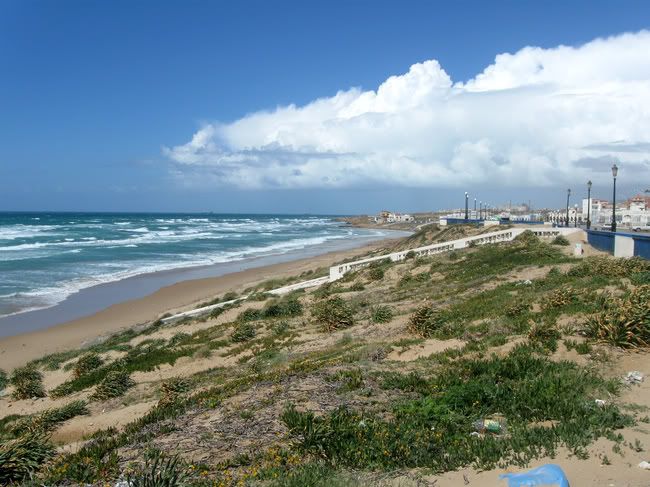 Beach near Mostaganem (Les Sablettes)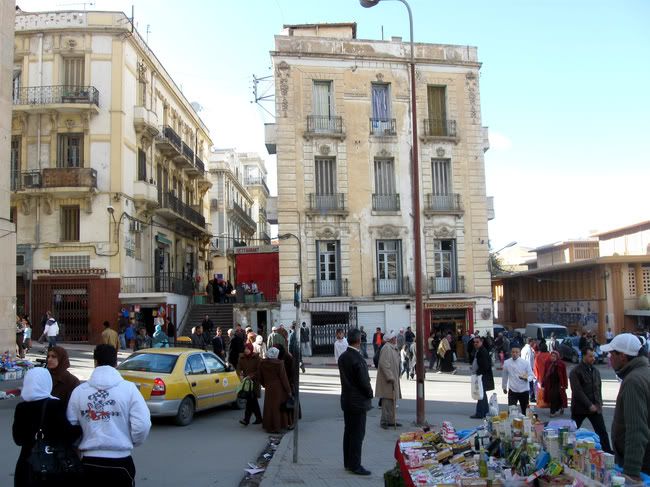 In Mostaganem (a city 80 km East of Oran, on the sea)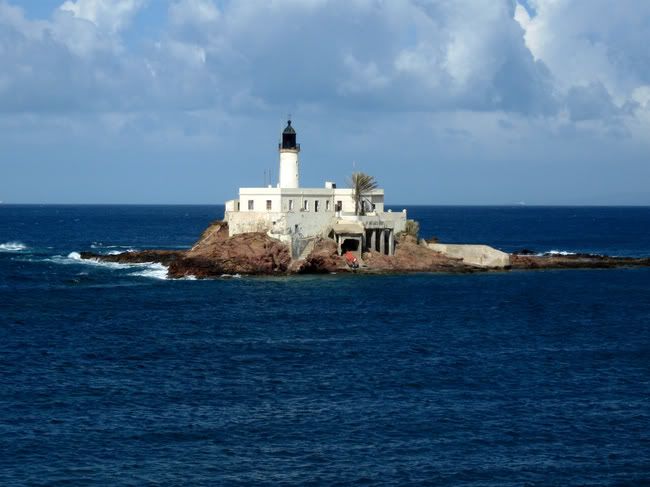 Lighthouse near Arzew.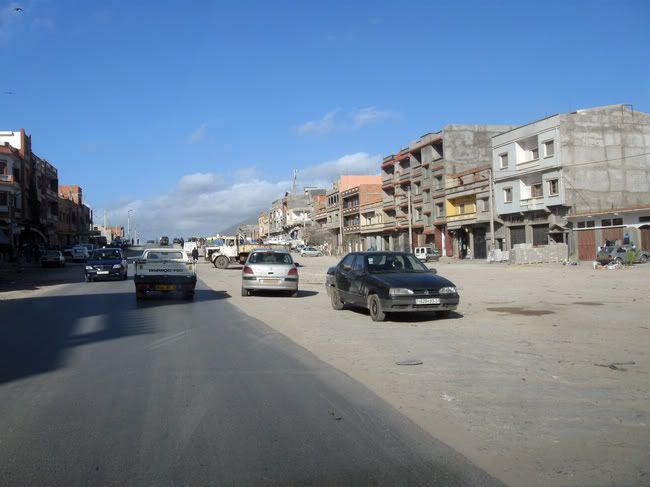 Typical algerian road, near Canastel (not far from Oran).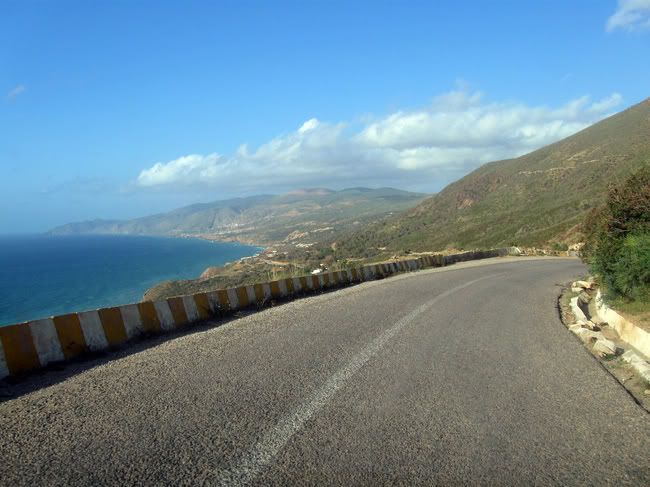 Scenic road between Canastel and Kristel.

A typical shop in Stidia.

Road near Mascara. The sign says "Reduce your speed".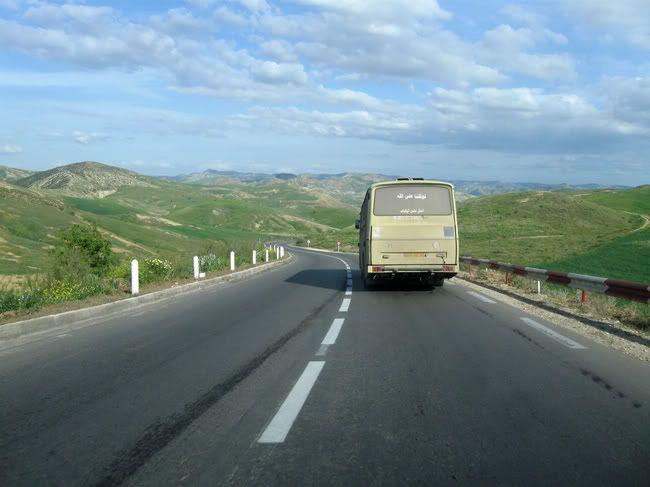 Road near Mascara.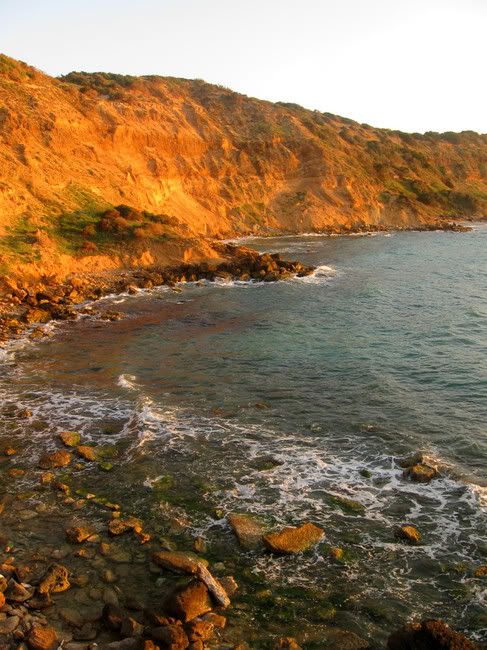 Rocks lit by sunset light in Stidia.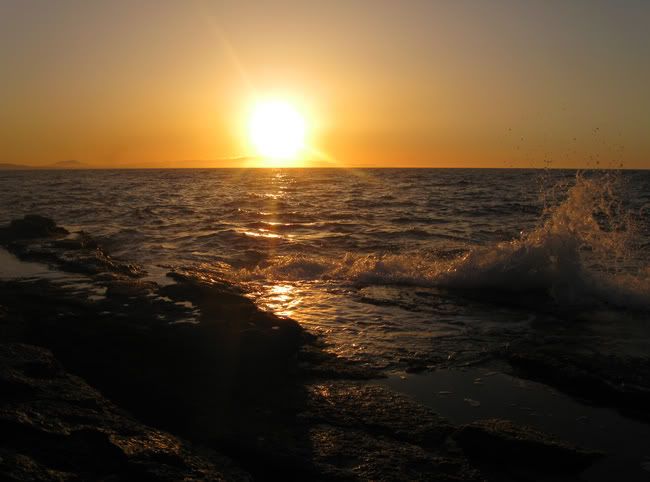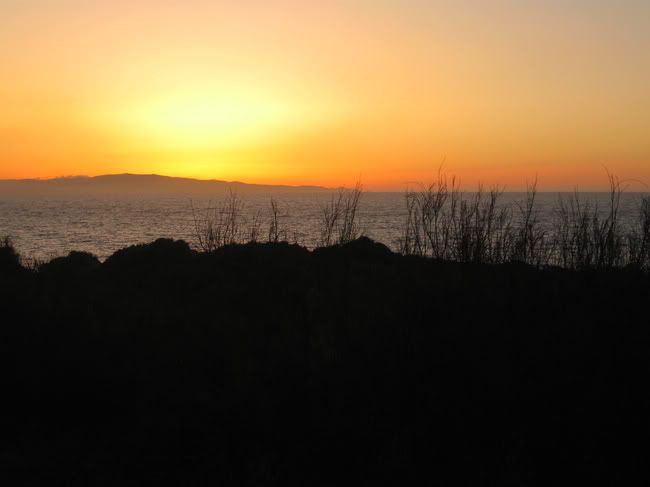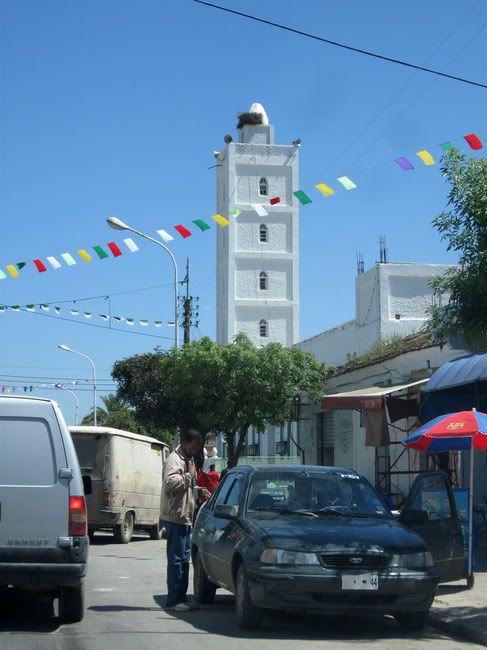 A stork nest on top of a minaret.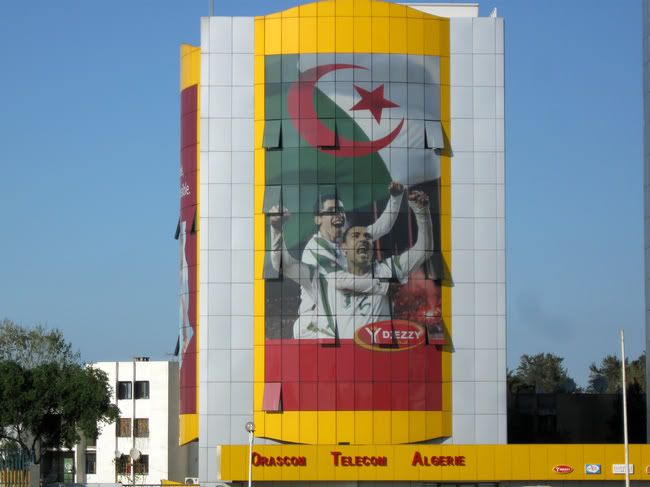 One of the many propaganda displays (here for the national football team).
Flight 3
From ALG (Algiers-Houari Boumediene, Algeria) to MAD (Madrid-Barajas, Spain)
Iberia flight IB3707 / Seats 16 D-E-F
Departs : 13:05 / Arrives : 15:35 (14:35 ALG time) (on time)
Aircraft :
Airbus A319-111
EC-JXV (MSN 2897)
Runways : T-O 27 / Ldg 18R
Load factor (visual estimate) : 80 %
The day before, we drove from Stidia (village near Mostaganem) to Algiers. We spent the night at the brand new Ibis Hotel Alger Aéroport, located in Bab Ezzouar, 5 minutes from Algiers airport. The hotel was in pristine condition and in par with other Ibis hotels worldwide, and our room on the top floor offered views (well, distant views) of the airport.
We arrived at the airport 2 hours before our flight, left our rental car and proceeded to check-in. There was a small queue and when our turn came, the unfriendly lady at the counter told us that one of our bags was weighting more than 23 kg, and although the total weight of all our cases was within limits, we would have to pay a fee. After trying (in vain) to convince her to forget about those 3 extra kilos, we ended up opening our cases in front of everyone and transferring some stuff from one to another, in order to reduce the weight of the faulty case to 23 kg. I had never heard of a rule stating that an individual case should not exceed 23 kg ...? The lady seemed satisfied, and handed us our boarding passes (including those for the MAD-BRU leg), advising us to pass controls without delay.
I thought we were well in advance, but I understood the advice later : there are many controls, some with a queue :
- First, everyone has to go to a special check-in desk to get its boarding pass stamped after a passport check.
- Then, a simple police control to ensure you passed the first control.
- Passport control (*very* slow).
- Classical security check (x-ray, metal detector).
- So-called 'Hand luggage control', where currencies exchanges during your stay are checked. We discovered that it's possible to skip this control, simply by saying we didn't take any currency declaration form on arrival.
Then, we entered the gates area, which is divided into 2 zones. One is supposed to be used by Air Algerie international flights, while the other is for foreign airlines. We found out that the distinction is not strictly enforced, both zones being mixed. There are duty free shops (selling alcohol), similar to those found in other international airports, and an algerian craft shop. We also passed, without entering, in front of first class lounges. There were some gate changes, but as the airport is not big, and because the windows offer good views of parked aircraft, it was not difficult to figure out from which gate we would be departing.
In the jet bridge, every passenger had to pass a thorough handbag check, before being allowed into the aircraft. Once seated, and while waiting for boarding to complete, I watched a Qatar Airways A330 in special 'Asian Games Doha 2006' livery dock to a neighboring gate. Other guests included an Air France A319, British Airways A320, Turkish Airlines A310, Lufthansa 737-300, Aigle Azur A321 and Air Algerie B767 and B737-800.
Note
: The remaining pics were taken on my cellphone, after my camera broke down.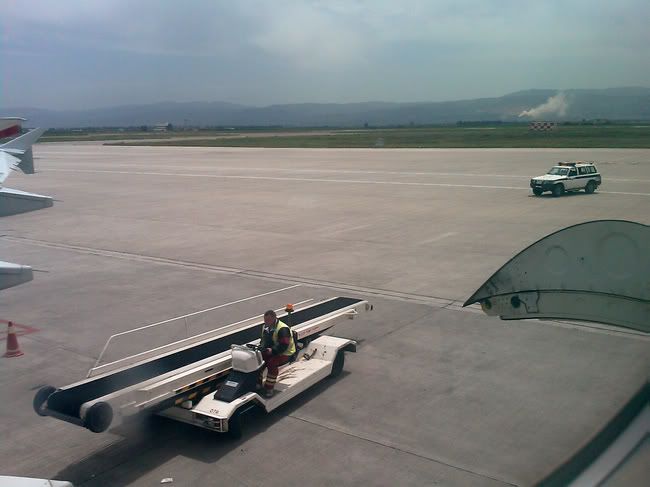 Air Algerie baggage loader.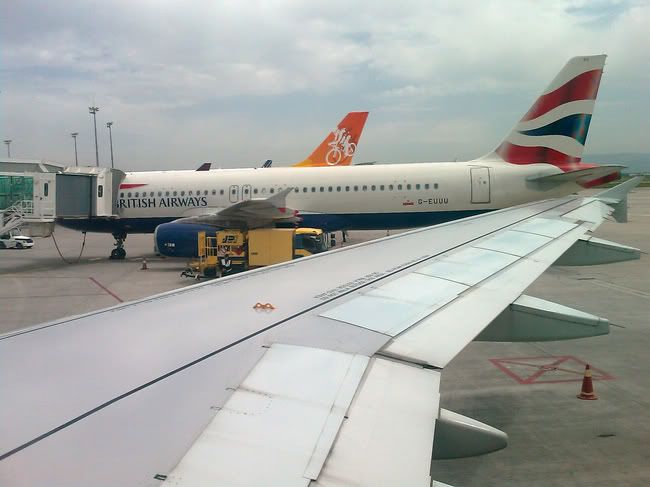 G-EUUU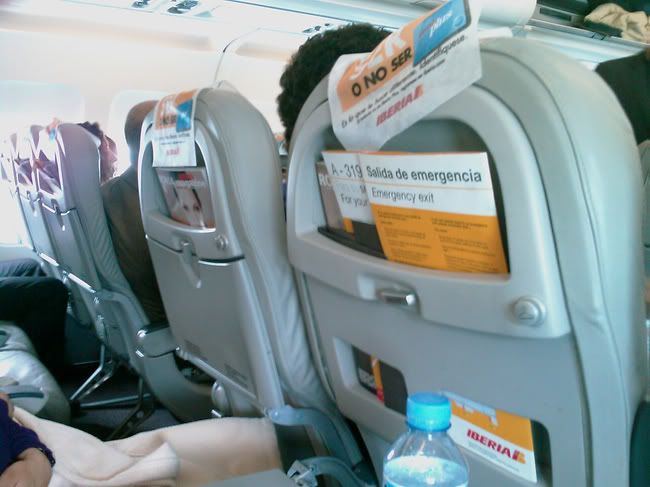 I actually found those seats reasonably comfortable.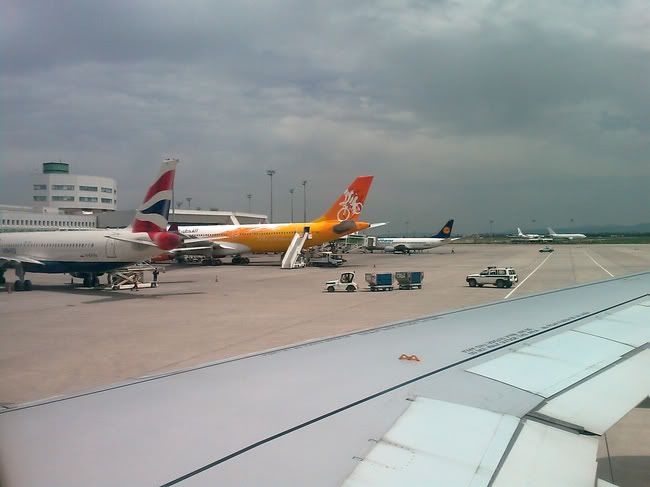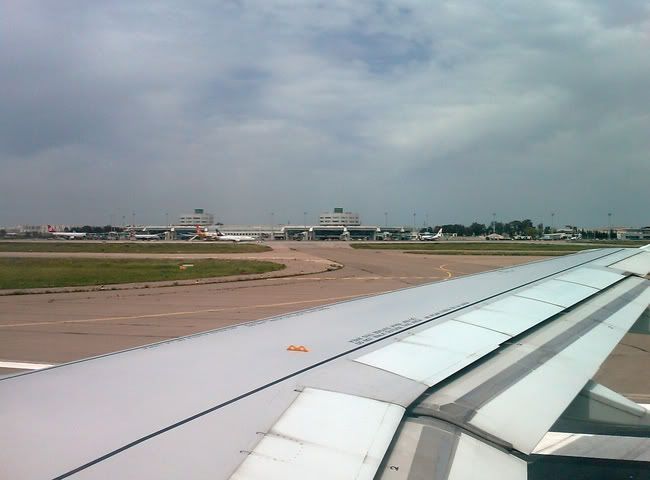 The whole international terminal visible, as we begin our take-off roll.
We took off after a short taxi (this time, no pencils for our son, but a friendly crew nonetheless). Our routing : right turn towards the sea immediately after take-off, direct to Ibiza, then to Valencia, and finally, direct to Barajas. The last minutes of the flight were a bit turbulent, with some people screaming when the aircraft hit areas of rough air, but the landing was perfectly smooth. We parked in the middle of T4S and disembarked using an airbridge.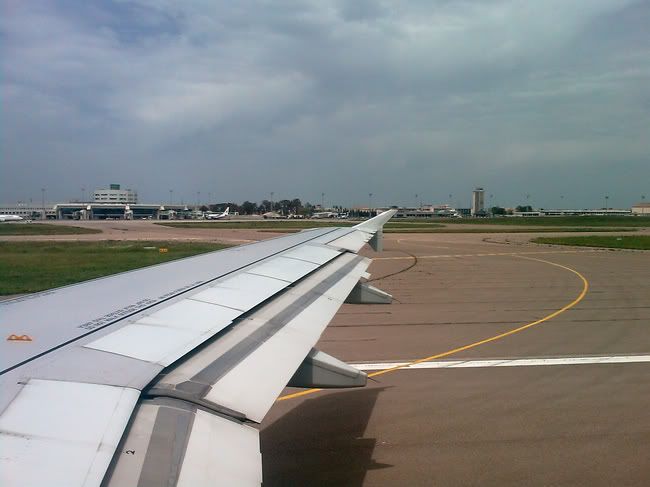 International terminal on the left, old (now domestic) terminal and tower on the right.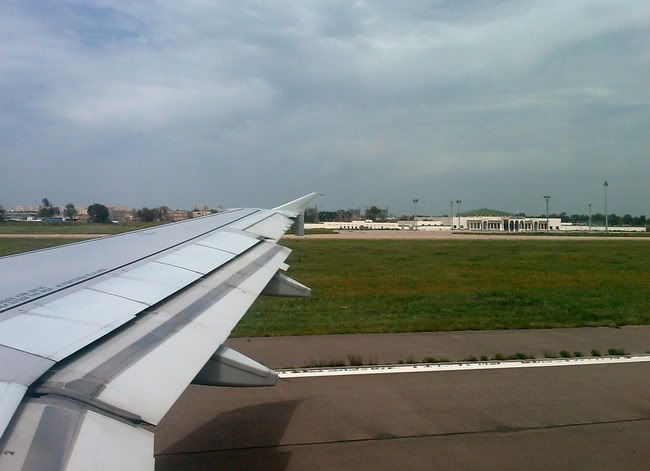 Something that looks like a new VIP/government terminal (located North of the center of Rwy 27).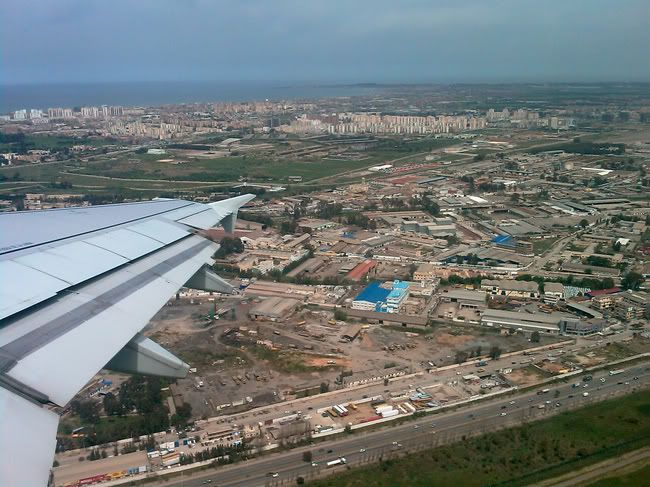 Overview of ALG (and runway 27 we just left), and the town of Oued Smar.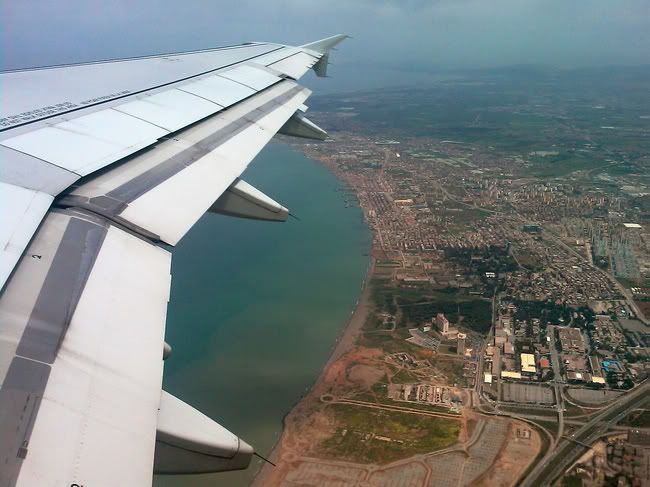 Bye bye Algeria ! Hope to come back someday. Hilton hotel in the foreground. Town of Bordj el Kiffan in the back.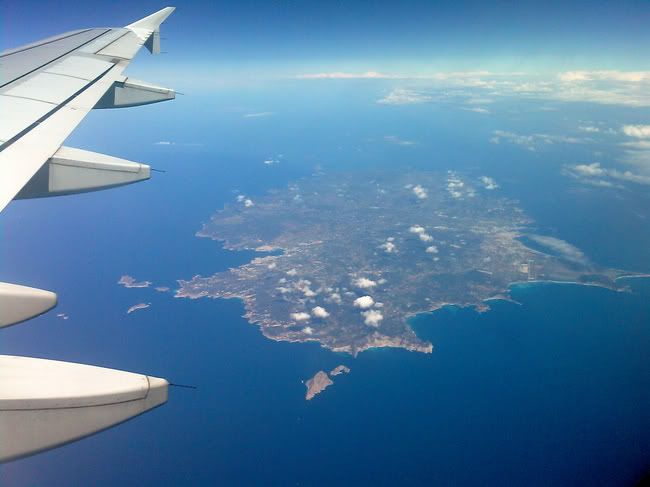 The island of Ibiza, and its airport on the right.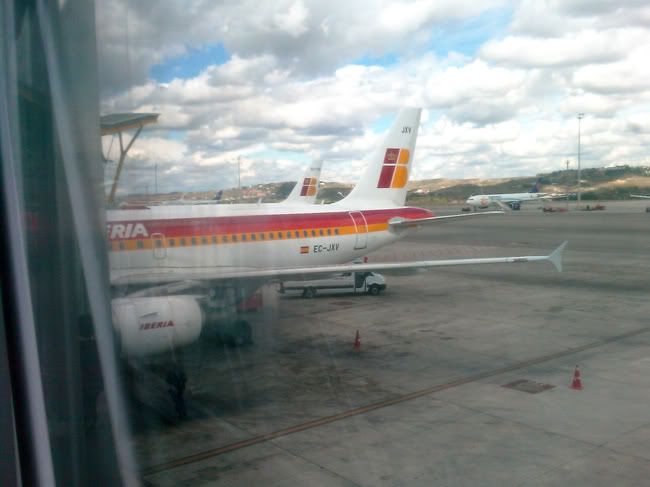 A low quality pic of our aircraft, EC-JXV.
Flight 4
From MAD (Madrid-Barajas, Spain) to BRU (Brussels, Belgium)
Iberia flight IB3208 / Seats 16 A-B-C
Departs : 19:50 / Arrives : 22:05 (1 hour delay)
Aircraft :
Airbus A321-211
EC-JEJ (MSN 2381)
Runways : T-O 15L / Ldg 25R
Load factor (visual estimate) : 80 %
Transferring at MAD was the exact reverse of our inbound flights : we passed passport control, took the train to T4, passed through security checks and waited for our flight in T4. As we had some time to kill, we went to a restaurant ('La Pausa'), and then sat at an empty gate to let our son play while I watched the departures from runway 15L.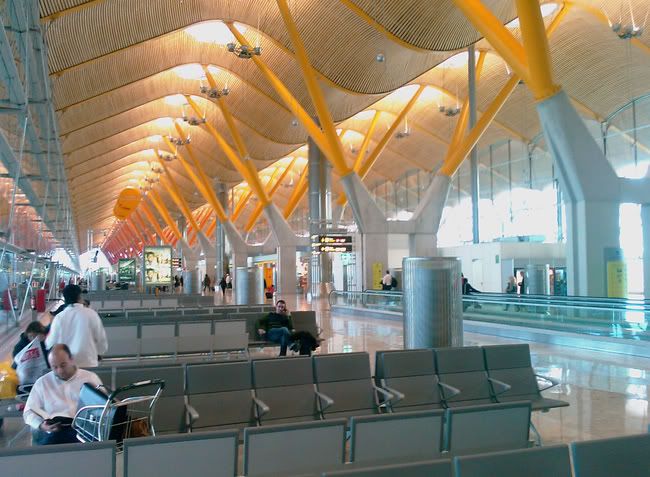 Waiting in T4.
During the return flight, I used the GPS of my smartphone (like I did on the other flights) to track our position, but as I was seated on an aisle seat, I got caught by a flight attendant who told me (in a very friendly way) that I could not use a GPS on board. I politely explained to him that the phone was in aircraft mode, and that the GPS was only a receiving device, not a transmitter. He seemed dubious at first, but after a few seconds of thinking, he allowed me to use it. Again on this flight, the cabin crew was smiling and friendly.
Upon arrival at Brussels, we docked at a gate on the remote 'Pier A' (where all european flights arrive and depart) and had to walk the VERY long way to the main terminal building (I heard some people complaining about the length of the walk). It took an indecent amount of time before our bags appeared on the reclaim belt, then we went landside (without any form of control !) where my father was waiting to pick us up. I finally went to bed around 3 a.m., having to wake up at 6 a.m. for work ...!
Conclusion
I once again enjoyed Algeria very much, and certainly hope to get back in a few years. I've heard some bad stories about Iberia, so I would like to stress the fact that we had a very pleasant experience with them. Granted, you won't get free drinks or food, but on all our flights, we had very friendly crews, attentive to our little kid, free newspapers, comfortable seats and clean cabins. All flights were on time, except the last one which had a 1 hour delay. All our luggage made it with us without problems. Connecting at Madrid was easy, although we had to walk quite a lot.
I hope you enjoyed the report and the photos. Feel free to comment or ask questions (about the aviation part of the trip, or about Algeria).
Regards
BrusselsSouth