Flight: JL 012 YVR-MEX
Aircraft B747-400 (Magic I; 2-class configuration - Seasons Business Class in nose section, Y class in 3 sections in main deck)
Service: hot towel service (after take-off), drinks + nuts; lunch; duty free, water every 30 minutes
1) Fares
The airfare between YVR and MEX is not cheap on JAL, and I could not find discounts on Expedia and the likes (The fare was around $800 including tax); which explains why the load is so low on this flight. I guess the fares for the direct flight from Asia to MEX must be $$ and it is profitable on cargo and business class, since there were about a dozen Seasons Class pax on board and the airline has operated to MEX for decades. Fortunately I claimed this flight on points.
2) Check-in
The flight from Tokyo is scheduled to arrive in Vancouver at 10:03. Check-in opens at around 8:50AM. JAL serves to MEX 2x weekly on Mondays and Fridays; on both of these days the flight to MEX is the only JAL flight out of YVR. Check-in was fast and efficient. Only about 15-20 pax boarding the flight from YVR; the remaining (estimated load of about 100 pax total) came from NRT.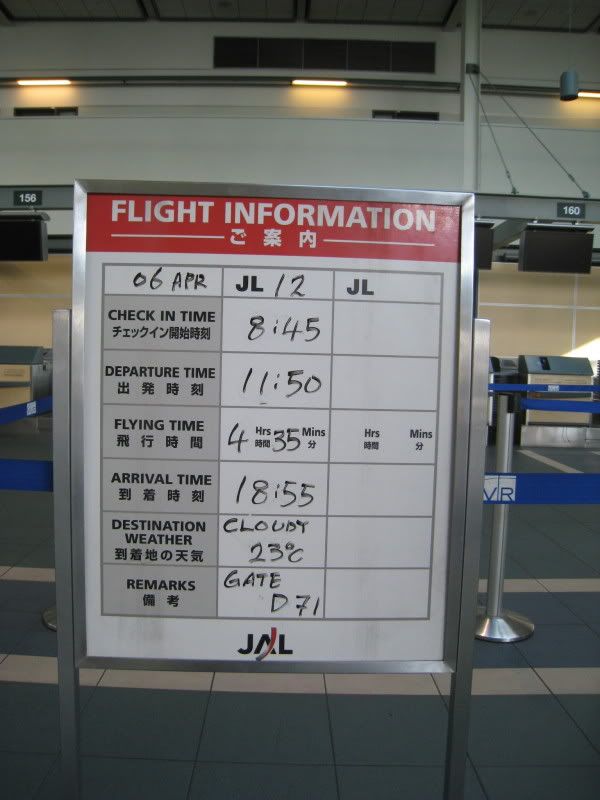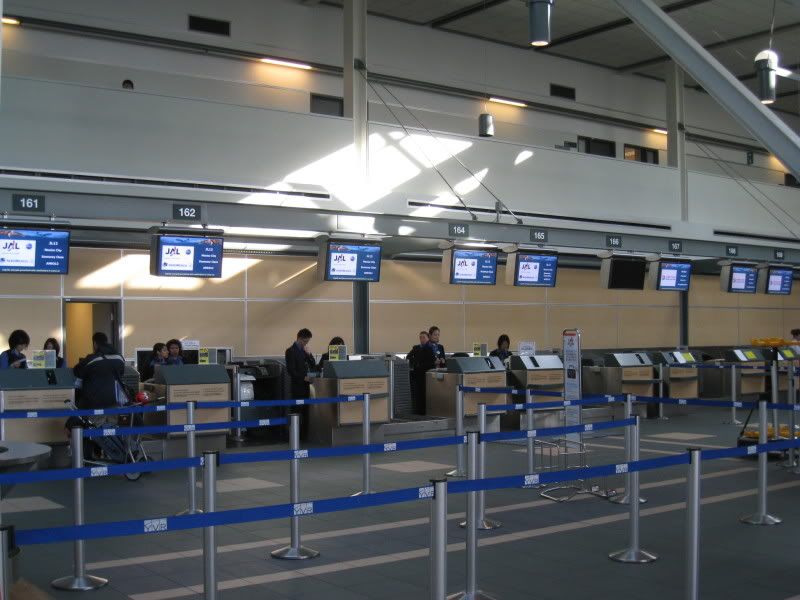 JAL flight attendants arriving at YVR, assembling to head to security check. Note that the FA's servicing latin america are all attractive young japanese ladies, except 1 tall lady to the right who is the spanish interpretor on certain inflight announcements. She was not serving Y class, though. Also, there is no male FA.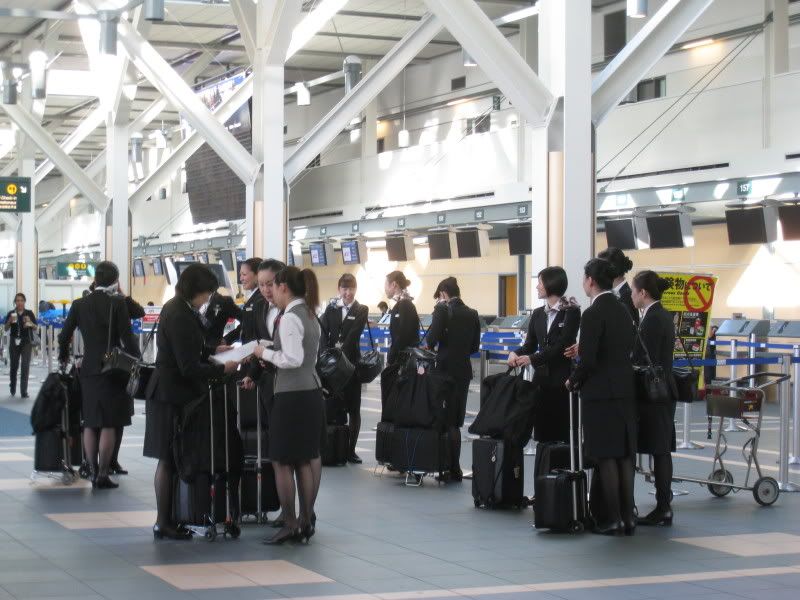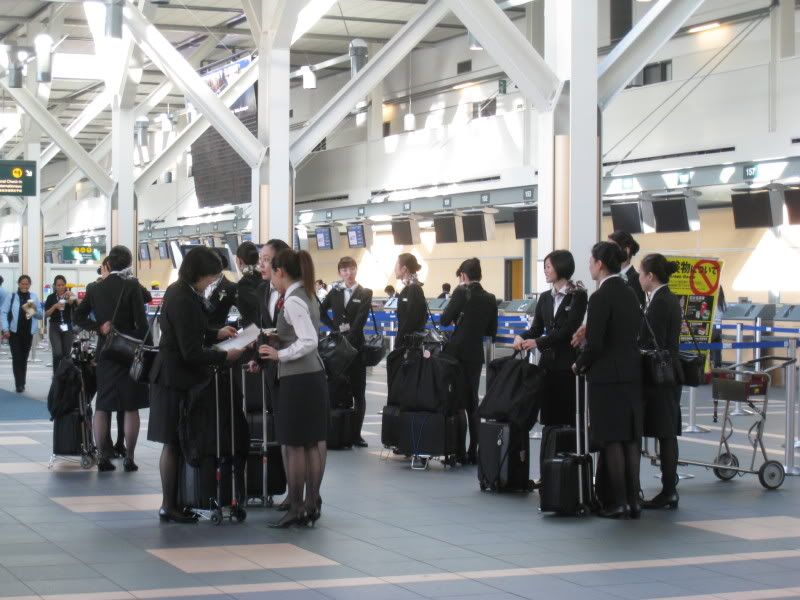 3) Awaiting boarding
The aircraft being cleaned from the NRT-YVR leg. Catering is by Cathay Pacific Catering Services (CLS)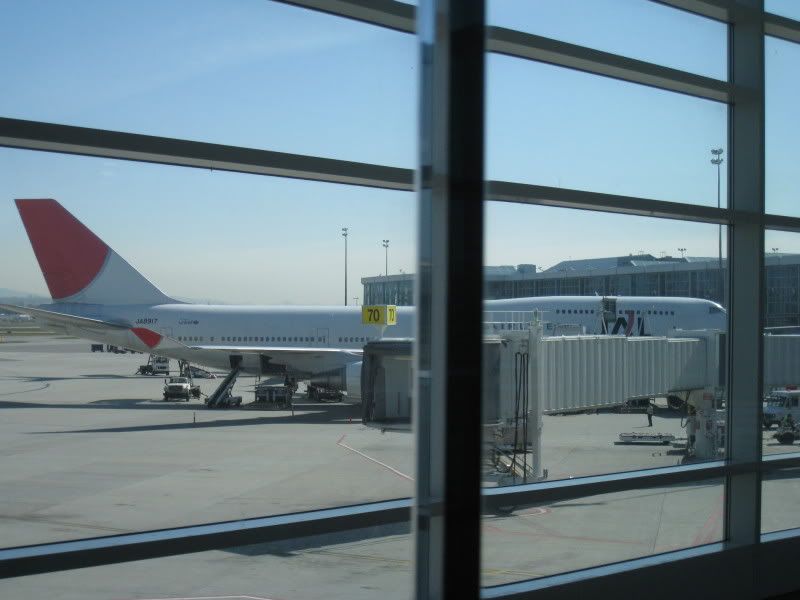 FA's for China Eastern's A330 service to Shanghai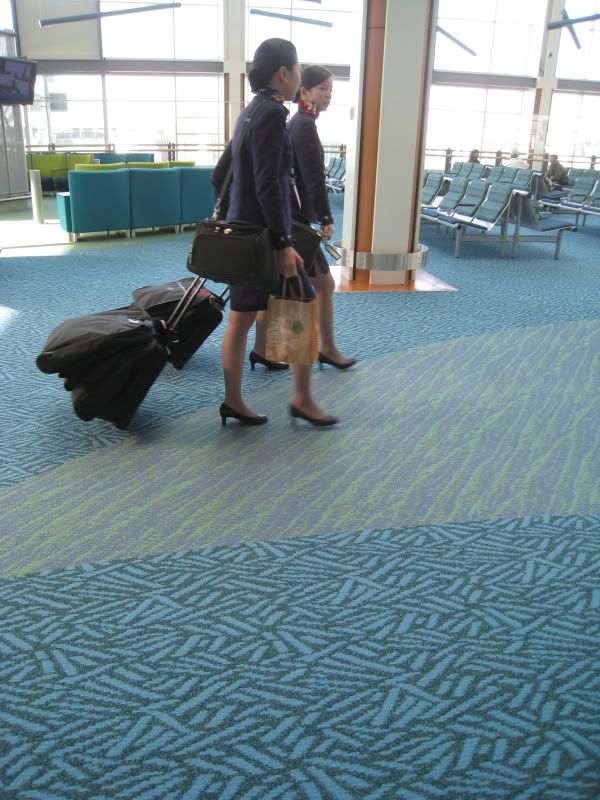 All transit pax from NRT are not allowed to leave the transit area, so it is sealed and pax originating from YVR to MEX are not allowed to enter the gate area until the NRT transit pax have all boarded. This allows NRT transit pax not to have to clear Canadian customs. There is free bottles of water for NRT transit pax. You can see how few pax are from YVR to MEX as there are very few people waiting outside of the transit lounge.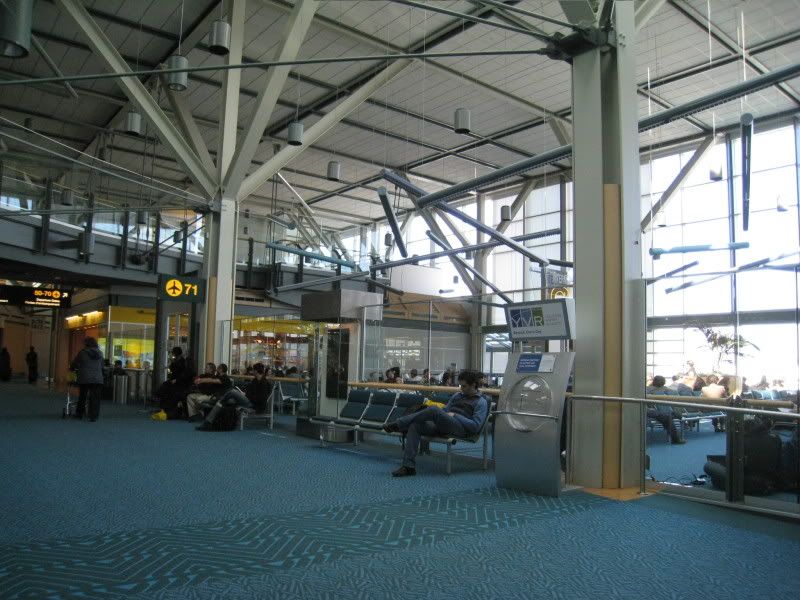 4) Boarding
Greeted with a"Ohayo!"
First section of Y class on main deck
Second section of Y class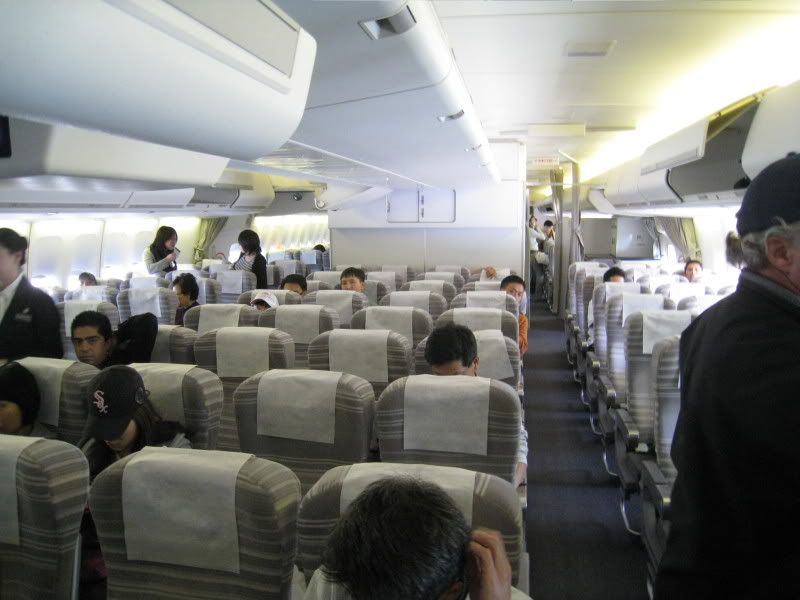 Third section of Y class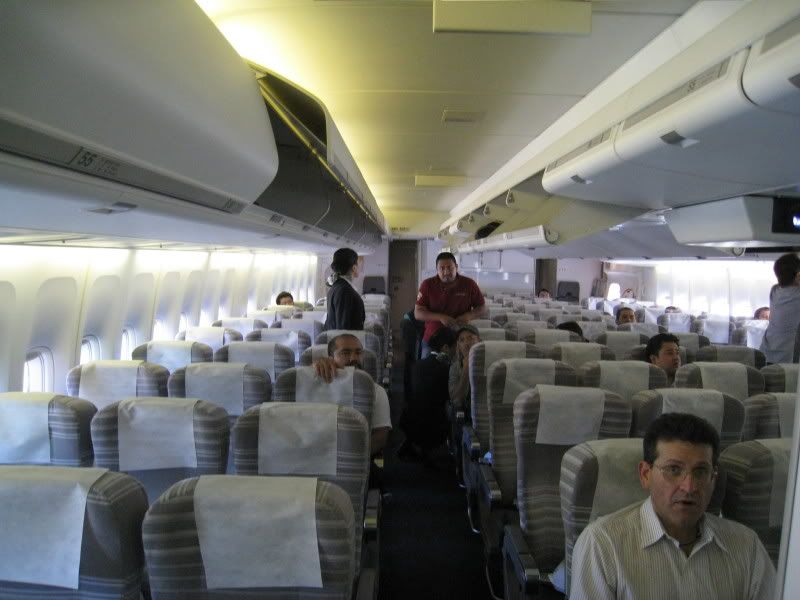 JAL has a no photo policy while the aircraft is on the ground or on take-off or landing, so I was very politely told by an FA to turn off the camera after these shots (also written in their safety cards and in the inflight magazine). However, I snuck a few more ...
Downtown Vancouver and Richmond
5) Inflight
NHK news is played on main screen. Hot towel service also started.
Drinks and JAL snack
Japanese TV programming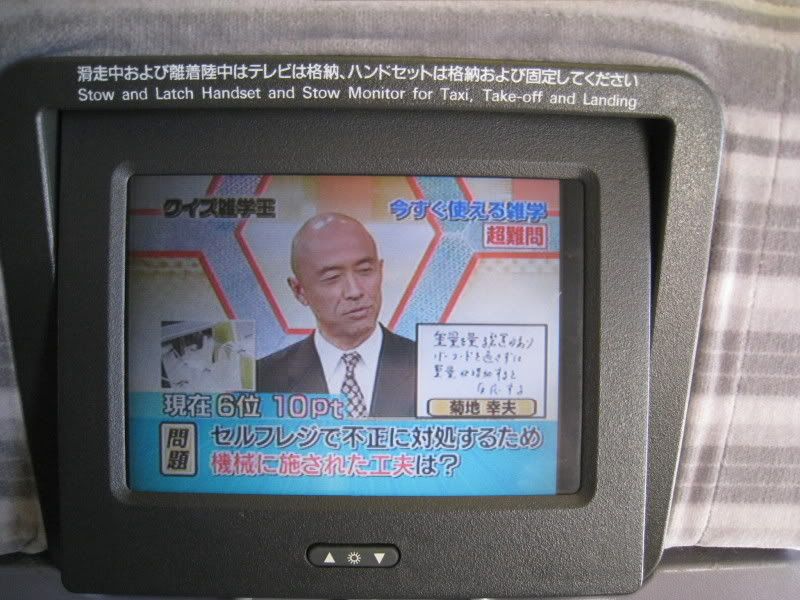 Meal service: choice of beef or pasta with alfredo sauce. JAL does not offer printed menus. Instead, the FA's show you a picture card of the 2 meals, with the name of the main dish in Japanese, English, Korean, and Chinese. There is also a drinks card which list all the drinks available, and you point to the FA the drink you want.
Note that the hot meal item is securely fastened to the tray
Drinks - the drink on the left is the JAL Skytime drink, which is a citrus lemonade - wonderful. Highly recommend you try.
Washroom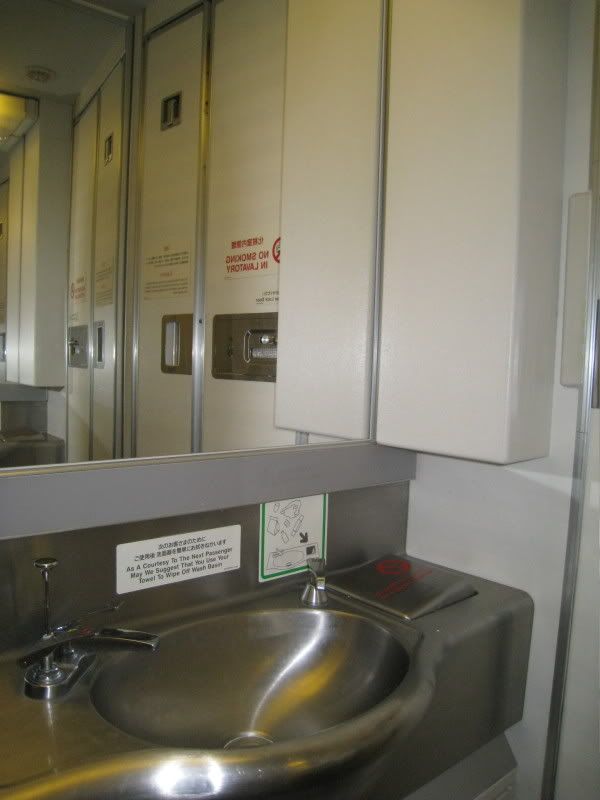 The FA is closing the blinds using a long stick to reach without bothering pax. Also if pax is sleeping during meal service, FA will put a sticker on the pax's TV screen to advise them to call the FA for meal when they awake. That is unthinkable service on North American airliners!
With such a low load, I can take some cabin pictures facing the seats!
Flight map
More japanese tv
Instructions for Japanese pax on how to fill out Mexican custom forms
These pax began their journey from NRT and are enjoying a deep sleep
6) Landing
Arrival video for Mexico City - narrated in English with Japanese subtitles to guide pax through customs at MEX, and to highlight tourist sights in Mexico City
Flight map
Mexico city (if anyone knows where the plane is flying over, please feel free to let me know)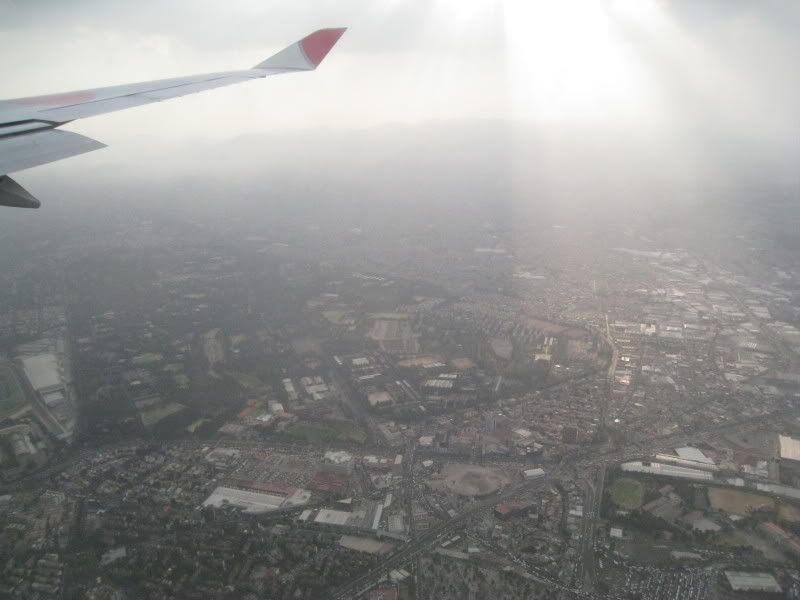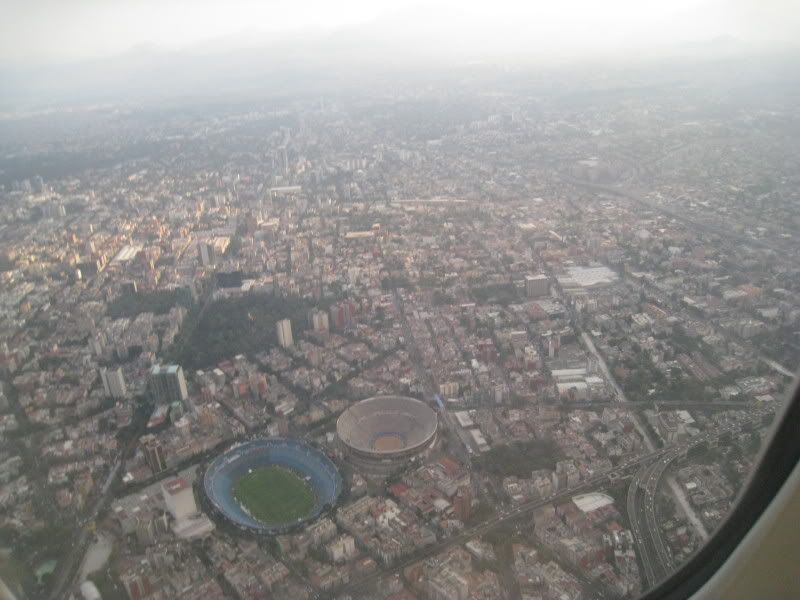 6) Deplaning
Again, I was very politely told by the FA after sneaking a few shots that it is "prohibited" to take photos of the aircraft while it is ont eh ground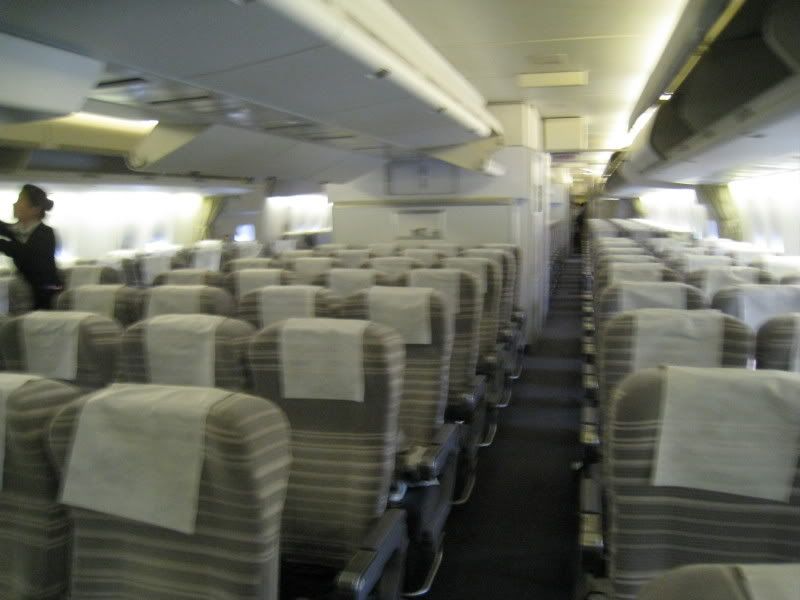 Baggage carosel for the JAL flight - there are Japanese ground staff approaching the JAL pax to help them locate their luggage.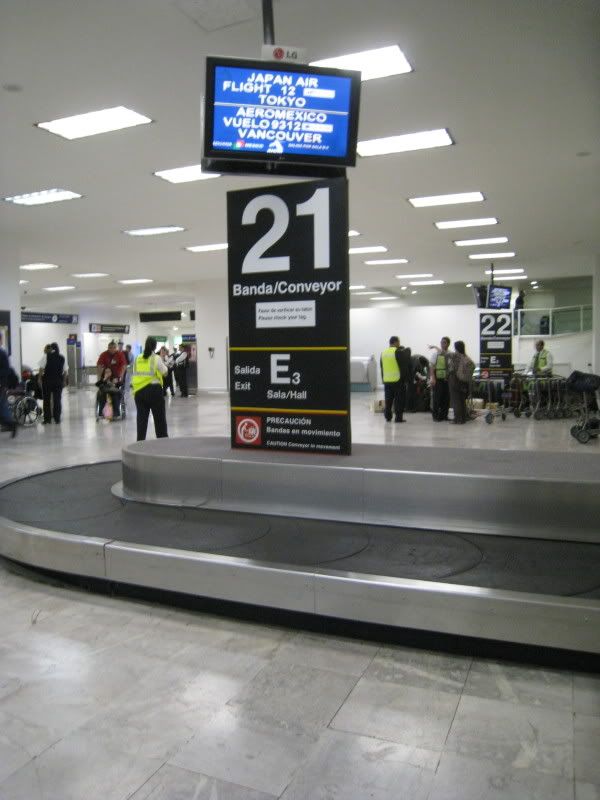 This is the only shot of the aircraft I can get in MEX. MEX is a horrible airport for spotting because the windows are blinded by these obstructive blinds.
Arrivals Hall at MEX
That's it for this flight. If you enjoyed this report, I will post the remainder of my flights on this trip:
a) JL 11 MEX-YVR (which continues to NRT)
b) AC 33 and 34 YYZ-YVR-YYZ on 777-200LR (the domestic segment of the Sydney Australia - Vancouver - Toronto route)