I was headed to Amsterdam and London, and decided to use Alaska Airlines frequent flyer miles. 280,000 miles were available, so my choices were NW business or BA club world for the two business class tickets. Obviously I thought BA was offering a superior product, so I decided to forgo the nonstop on NW in favor of more comfort on BA. 24 hours early, I check in online far enough ahead of time to get two seats next to each other on the upper deck of the 747.
I looked earlier in the day to check to see if the flight was on time. Unfortunately it showed a 40 minute delay. Since I only had a 1 hr 40 min connection in LHR, this made me worried. Regardless, I head to the airport as I normally would for the 7:40 flight. I leave at 5:30 from my house in Renton which is about 6 miles from the airport. I arrive by 5:50. We check in at the Club World desk. We get the seats I had requested which were in the second row on the upper deck. Check in was quick and efficient. We are warned that our flight is delayed 50 minutes due to a late arriving aircraft, but due to favourable winds, we should only be 15 minutes late into Heathrow and that we should have no problem catching our connection.
We had carry on items only, so we head to security. It was not that crowded with only a 5 minute line. I did not see any signs for a priority security lane for business class passengers. The TSA agent checking boarding passes was being very judicious. She made the man before me take off his hat. She thought that I didn't resemble the picture in my passport, which is mostly true since it was taken 8 years ago when I was a senior in high school. I pull out my drivers license and eventually she lets me through. I'm glad she cared, but am not sure why she was so careful.
After security we get on the train to the S Satellite. Once up there, we get in the elevator to the top floor where the BA lounge is. We check in and I ask the agent if the flight was full. She responds by saying "why? Do you want an upgrade?". I innocently say that I was just curious and she tells me that club world will be 100% full. We take a seat for about an hour. We grab some glasses of wine and snacks as it is getting close to dinner time. After a while, I go for a walk and see that the 747 has arrived along with a SAS A340. There are a good number of economy passengers waiting around the gate. I head upstairs to the lounge again and get a martini.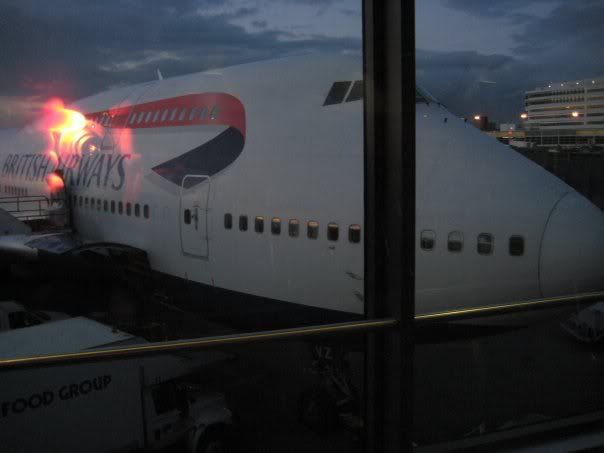 At 7:50pm a boarding announcement is made. The two of us hop the elevator down with some people who exited the first class section of the lounge. Boarding was crowded, but the fast track line was quick. We head down the jetway after showing our passport and have to show the boarding pass again once we board. We are directed up the stairs. This was my companion's first trip on a widebody and he was a bit surprised as we went up the stairs. I ask the flight attendant if I can put my bag in the closet at the top of the stairs. He says put it in the back while rudely muttering under his breath that it belongs in the hold to the other flight attendant. I proceed to my seat and get situationed and put some things in the side storage lockers on the upper deck.
Champagne is passed out and we begin to get settled. Boarding did not take too much longer. Before too long we get the announcement from the flight deck that we are about to push back and welcome us aboard. More announcements are made as we begin to push back. A female flight attendant pops out our screens and we watch the cartoon safety video. We begin our long taxi to the north end of the airport. I was excited at this point to get in the air and leave home for a week.
We make a left turn onto 16L and the engines throttle up. My companion is surprised at how slowly we accelerate. The 747 is not the sports coupe, but gets the job done. After 48 seconds, we rotate and slowly make our way into the air. It was a gradual climb. I am seated backwards in the window seat. It is a little unusual but not a big deal for me to be sitting backwards. The seat is naturally reclined enough so that even with the angle on takeoff, I am not leaning uncomfortably.
At around 10,000 ft, the seat belt sign goes off and the flight attendants start getting ready. I casually read and talk with my companion as we climb. Dinner menus are handed out. First out is the beverage cart. I choose some Red Wine. The selection was of middle caliber wines that cost in the range of $15-25 normally. The 4 choices are not bad and I have a syrah. It was a bold wine that I enjoyed. I also have water with it. I knew I wanted to have a couple glasses of wine so that I would be certain that I would sleep through the entire flight.
I select tortellini for dinner and have a salad for the appetizer. My companion wanted the Mahi Mahi, but it was unavailable so he went for beef. The food in my opinion on BA is not the best out there. The salad started off good and we proceeded to main course.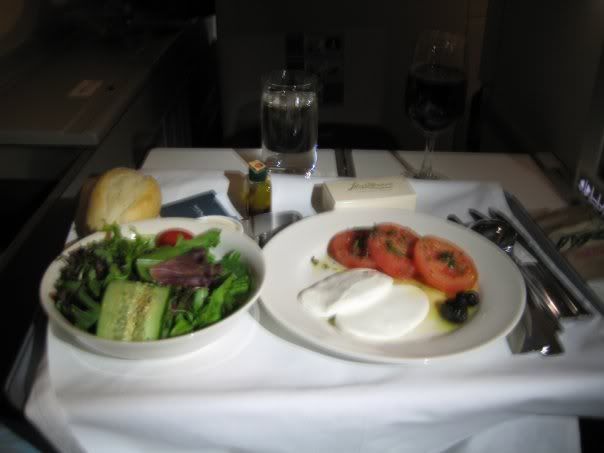 It was a drawn out service, but performed at a reasonable pace. Wine was passed out with each course of the meal. All of the service was done via a cart and nothing was hand carried, which is quite different than some other airlines in the premium cabins. Throughout the flight, I conversed with my companion. It was nice being face to face. It is easier to hold a conversation than it is side to side. Facing opposite directions meant that there was no elbow rubbing and I definitely felt like I had more personal space.
I had some wine with each course, which definitely made me ready to go to sleep after dinner. I skipped the dessert as I usually don't eat dessert. Once my tray was collected, I was pretty ready to go to sleep. It was about 10pm Pacific time. We had been in the air for about 90 minutes. Flight time to go was about 7 hours.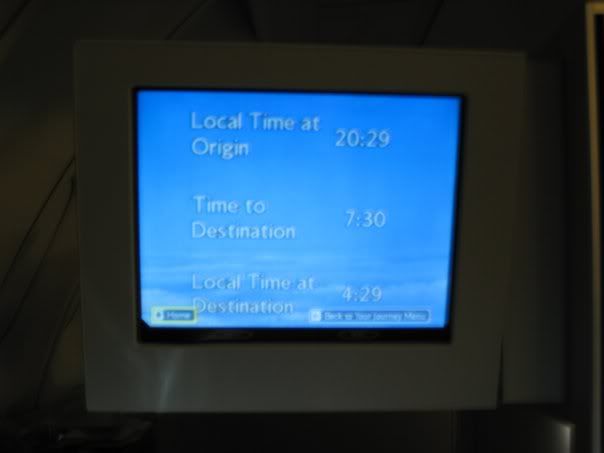 I reclined the seat to its full position. I adjusted the leg rest as well. The leg rest/pedastle is not the easiest to adjust, but I did make it suited for my needs. The bed was perfectly comfortable for me. The flight attendants made sure that all of the window shades were shut. I slept very well. I woke up once in the night and drank about half the bottle of water that was placed next to me. I briefly noticed the beginning of the breakfast service, but decided to skip it so that I would get a solid 6 hours of sleep.
When the light in the cabin started to get brighter, I finally did wake up. It was 4am Seattle time but 11am in London. We were less than an hour out. I freshened up and requested some more water. I pulled out the PTV and enjoyed the on demand system for about 15 minutes. I watched a portion of a friends episode.
The captain came on and announced we were 20 minutes from the seat belt sign coming on. They played an arrivals video about LHR. I tried to pay attention but was too groggy. The seat belt sign came on and the flight attendants made the announcement to prepare for landing. My companion finally wakes up with some prodding at this time. He was fast asleep and slept well, but almost got into bed with someone else at night when he walked back from the lav and went to the wrong seat. Fortunately he felt the lady and realized his mistake before she woke up.
The arrival process on BA has them prepare the cabin for landing far earlier than any other airline that I have flown on. The flight attendants get everyone prepared and ready far earlier than they need to in my opinion. I would appreciate the extra time in the comfortable reclined position watching the PTV, but they want everyone perfectly in lined. Not so surprised that the British are the ones following everything strictly to the book. Well my companion got up to use the lavatory. The flight attendants come by and seem completely stunned that he got up (we were probably at 15,000ft at this point). One flight attendant said to the other "well I guess we'll just circle around heathrow until he's ready". I was taken aback by how rude that was since he said it loudly in the middle of the cabin. He was definitely unprofessional saying something like that. Yes you should not get up, and the flight attendants have the right and obligation to inform you to follow the regulations, but it is not acceptable in my mind to be rude and make sarcastic remarks about it. He seemed to be talking to the other FA as if they were friends and there for each other and ignore the passengers opinions. I can understand flight attendants gossiping in the galley, but not being rude in the cabin.
We make a few turns and descend into Heathrow with a quick view of central London out the window. There was no circling or delays, which was nice since we were trying to make up time. The landing was nice and smooth. Kudos to the captain. We touched down at 12:05, which meant we were only a few minutes late. We pull off the runway and head towards terminal 5. But we stop on the taxiway and the captain announces that our stand is occupied and we will have to wait about 10 minutes. Oh well, at least our connection seemed legitimate, so I was not too worried.
Eventually we pull into a gate and the seat belt sign goes off. Everyone gets up and gathers their belongings. We waited a couple minutes at the top of the stairs and the flight attendants were being very friendly and chatting to some of the passengers. I began to think that those who were British were treated with a bit better of an attitude. I believe that this was unique to the two flight attendants on board this flight. I think in the end, I prefer a senior flight attendant who is respectful rather than a younger, less mature flight attendant in their 20s or 30s.
We exit out the single jetbridge and on our way to the terminal. We are at the B concourse. We head down 3 sets of escalators and into a train to the other concourse. It was all very structured and organized on where to go, although there was a lot of time spent on escalators, moving sidewalks and trains. We then head up 3 more floors and find a very long line at the international connections line. We find the fast track line and get our boarding passes scanned. We wait about 15 minutes in a line that ends at an escalator down there. The fast track line didn't help that much. We then head up the escalator and get in another line for security. They were being extremely strict and not letting people deviate from the rules. It was obvious to tell who some of the Americans were since they were less willing to follow the organized guidelines. I take everything out of my pockets and belt, but leave my shoes on and make it through. My companion sets off the metal detector for what seemed like the first time in his life and was surprised at how close the pat down that they give was. He made it through though.
We are now in the shopping mall which is terminal 5. It is 1:05 now and 35 minutes to departure, so we go straight to the gate. It was at the other end where many EU flights were leaving from. We are there 5 minutes before boarding was to be, so my companion said he wanted to run up and get some coffee at the lounge directly above us. I stay with our belongings while he was gone. The flight leaving at 1:45 to Bucharest boards and the gate closes and our flight has not boarded yet. I'm getting nervous because my companion is not back yet. It is 1:30 and he finally returns as everyone is boarding. He didn't have a watch and was a little groggy so he didn't know what time it was and when boarding was. I am glad he made it because I didn't know what he was going to do.
We have our passports reviewed and boarding passes scanned. We walk down the long jetbridge to the A319. Once on board, the flight attendant looks at it and we go to row 4 in the club Europe section. We had the A and C seats as the middle seats are left empty. I don't like this layout since I prefer the US style of having a wider seat with more legroom. Unfortunately that is not the way that Europe does it.
The flight attendant takes our coats as they are large and heavy which was nice. We pull out our Amsterdam guidebook and begin planning what to do in the next days as this was a vacation afterall. The captain announces that we will have a 15 minute gate hold due to heavy amounts of traffic departing. It was a reasonably clear day, but delays always happen at the most overcrowded airport in the world.
We push back and head to the east to line up for takeoff. It was a long and slow taxi. There were some interesting tales to look at outside the window of airlines that I rarely see. It was nice to see the two lonely Air New Zealand birds parked next to each other that would be doing the incredible feet of meeting up in 24 hours but by going the opposite directions, which make that tiny little airline from a country of 5 million people be the only airline in the world that can take you around the world.
We line up on 27L and spool up for our takeoff. It seemed derated, but a heck of a lot faster than the lumbering 747 from SEA. We climb smoothly and make a turn to the right and fly North of London on our East North Easterly heading to AMS. After about 8 minutes, the flight attendants start preparing for the meal service. I counted 6 flight attendants aboard the small Airbus with one I believe being in the flight deck for takeoff. That's double the minimum crew that you'd find on a US carrier, but they have to work hard to get a full service done on a 45 minute flight. At this point my companion and me are quite hungry as we had expected some time to snack in Heathrow, but out shrinking layover time and long queues eliminated that possibility.
I have some water since I was dehydrated and enjoyed the medium sized chicken ceaser salad. I knew I would have to eat reasonably fast, but my companion did not realize and he slowly at. Well as you would know, we quite quickly were about to go down and since BA likes preparing for arrival rather early, the flight attendants began collecting meals. I had just finished, but he was only about 1/3rd of the way into his meal. The flight attendant said he had a few minutes, so he was able to gobble it up along with the coffee (which obviously was not quite at the standard that us spoiled Seattleites are used to) that was passed out.
The meals are all collected and we are preparing for arrival after our short flight. We fly right over central Amsterdam, but there were a few too many clouds to get a good view. We make a sweeping right turn to line up to Schipol. We could really feel the tail swinging back and forth as we approached. The turbulence was a bit uncomfortable. It felt like the pilots were dealing with quite a crosswind. We have a rough touchdown with one wheel hitting first. We slow without use of reverse thrust and make a rather quick taxi to the gate.
Once we are at the gate, the two of us are excited to be done with our long journey. It felt like it went very quickly though. We head out and my companion almost forgot his coat that the flight attendant was kindly holding in the galley. I grab mine and definitely needed it since it was windy and cold in AMS. We make a walk over to immigration. It is rather simple with the security officials speaking perfectly clear English to us. At that point I realize that every single sign in AMS is in English… only English. There was not Dutch in the airport. I had been told that everyone in Amsterdam speaks English, but that was taking it to an extreme. It worked out well for us.
We try to buy a train ticket to Amsterdam Centraal at a kiosk, but it did like our American credit cards. We head outside into the adjacent train station and buy tickets at the counter. It is very convenient how the train station is right in the airport. We grab some Evian and wait about 2 minutes for our train into Amsterdam. It was 4,40 Euros and about a 20 minute ride. The train is the way to go. The smooth and silent electric train got us there comfortably and we exit the crowded train terminal and walk the 1km to our hotel which kindly enough google maps was 3 blocks off in its directions. We dodged the bicycles and trams and checked in to start our European trip.
Summary
Overall, I think BA offers a good product. The seat is great for sleeping, eating and everything. It is the most comfortable business class when travelling with a companion that I have flown. I definitely will fly with them again. The new seats are an improvement over the old, although I thought the old were perfectly acceptable as is. The upper deck makes things a lot nicer with the side storage bins.
The drawbacks were that they prepare the cabin early which limits the amount of time for sleep, food or relaxation. The other bad thing was the unprofessional crew members we had on the SEA-LHR sector. I hope it is an isolated incident because I have had equally amazing crew members on other BA flights especially on my previous escapade of a LHR-SEA flight that we had to board three separate times on two different planes over a 24 hour period before BA could solve all the technical problems. I think flight attendants should be careful with humor, especially when talking within earshot of passengers because on international flights like this, you get a wide mix of nationalities. Someone who is British might not respond the same way as an American or Indian (which I believe are the three most common nationalities on BA flights). Oh well, it wasn't that big of a deal.
I also think BA Club World is good enough so that first class is unnecessary. I know when I speak to my mother, she says she likes First when flying alone, but with a companion Club World is great. I had a good time and my companion did as well. We got there on time.
Rankings:
Check In: 9/10
Lounge: 6/10
Boarding: 5/10
Ground Crew: 8/10
Cabin Crew: 4/10
Food: 5/10
Seat: 10/10
IFE: 9/10
Overall: 7/10
Thanks for reading all 12 pages of this report. Please leave some comments. I might write CityFlyer AMS-LCY on a RJ85 if you'd like.
Feel free to read one of my other rather opinionated reports (sorry that my old server that hosted the pictures has been deleted and they are gone forever)
http://www.airliners.net/aviation-fo...ums/trip_reports/read.main/145344/
http://www.airliners.net/aviation-fo...ums/trip_reports/read.main/146316/
http://www.airliners.net/aviation-fo...ums/trip_reports/read.main/117407/
http://www.airliners.net/aviation-forums/trip_reports/read.main/52047/
http://www.airliners.net/aviation-forums/trip_reports/read.main/76333/
http://www.airliners.net/aviation-forums/trip_reports/read.main/90356/
http://www.airliners.net/aviation-forums/trip_reports/read.main/94549/
http://www.airliners.net/aviation-forums/trip_reports/read.main/92088/
http://www.airliners.net/aviation-forums/trip_reports/read.main/93445/
http://www.airliners.net/aviation-forums/trip_reports/read.main/90578/
http://www.airliners.net/aviation-forums/trip_reports/read.main/65586/
http://www.airliners.net/aviation-forums/trip_reports/read.main/85485/
http://www.airliners.net/aviation-forums/trip_reports/read.main/83957/
http://www.airliners.net/aviation-forums/trip_reports/read.main/76623/
http://www.airliners.net/aviation-forums/trip_reports/read.main/64586/
http://www.airliners.net/aviation-forums/trip_reports/read.main/70088/
http://www.airliners.net/aviation-forums/trip_reports/read.main/69626/
http://www.airliners.net/aviation-forums/trip_reports/read.main/69705/
http://www.airliners.net/aviation-forums/trip_reports/read.main/67513/
http://www.airliners.net/aviation-forums/trip_reports/read.main/65982/
http://www.airliners.net/aviation-forums/trip_reports/read.main/65478/
http://www.airliners.net/aviation-forums/trip_reports/read.main/56665/
[Edited 2009-04-30 19:50:56]