30.04.09 BA1438 A320-232 G-EUYB 5A
1st Flight on this aircraft & 85th A320 Flight
SCH DEP 08:50 SCH ARR 10:10
ACT DEP 09:03 ACT ARR 10:14
View Large
View Medium


Photo © Ruud Brinks
Another week and another trip to Edinburgh to view progress on our new project, unlike other trips this would be a day trip.
The alarm went off and 06:00, after the usual morning stuff it was out of the house and off to Heathrow, I arrived just before 7am. The shuttle left some 10 minutes or so later, after a short trip the shuttle pulled up on the arrivals level.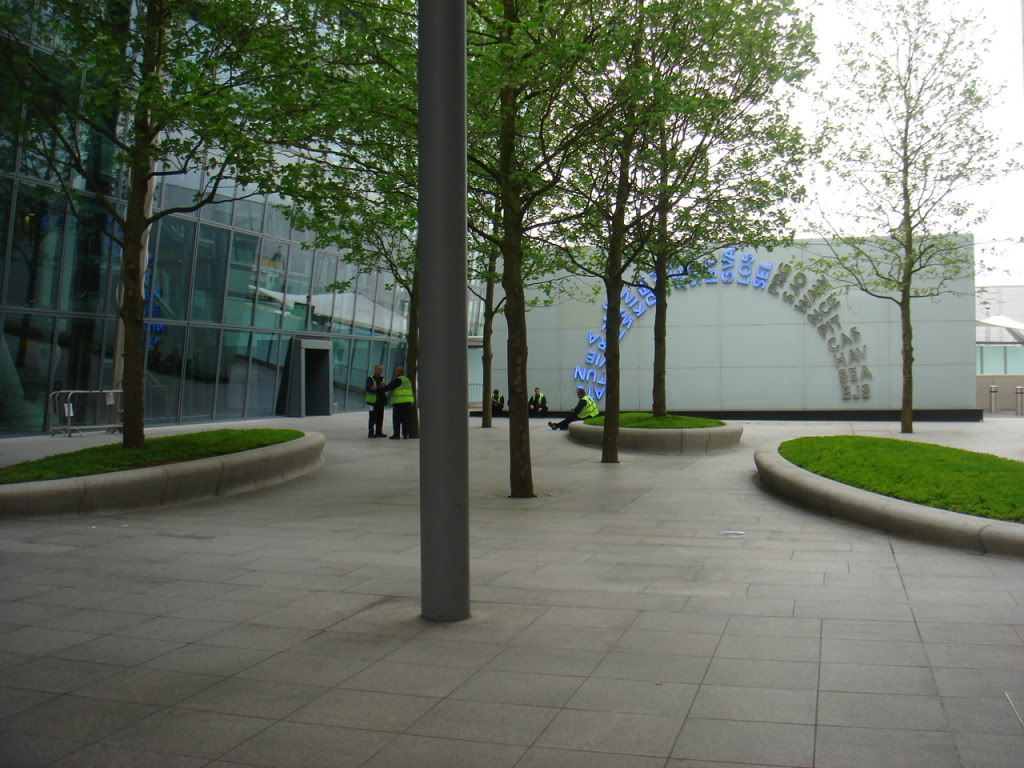 The only problem with being dropped at arrivals is getting to departures, do you take the lift, numerous stairs or the escalator?
Stairs? – No!
Escalator
And the next one
And the final one
Finally, depatures!
Boarding pass in hand I headed through security, it was 07:18, 9 minutes later I emerged airside.
From my weekly visits, I have to say that security at T5 is not as quick as it used to be, shame as it used to be excellent.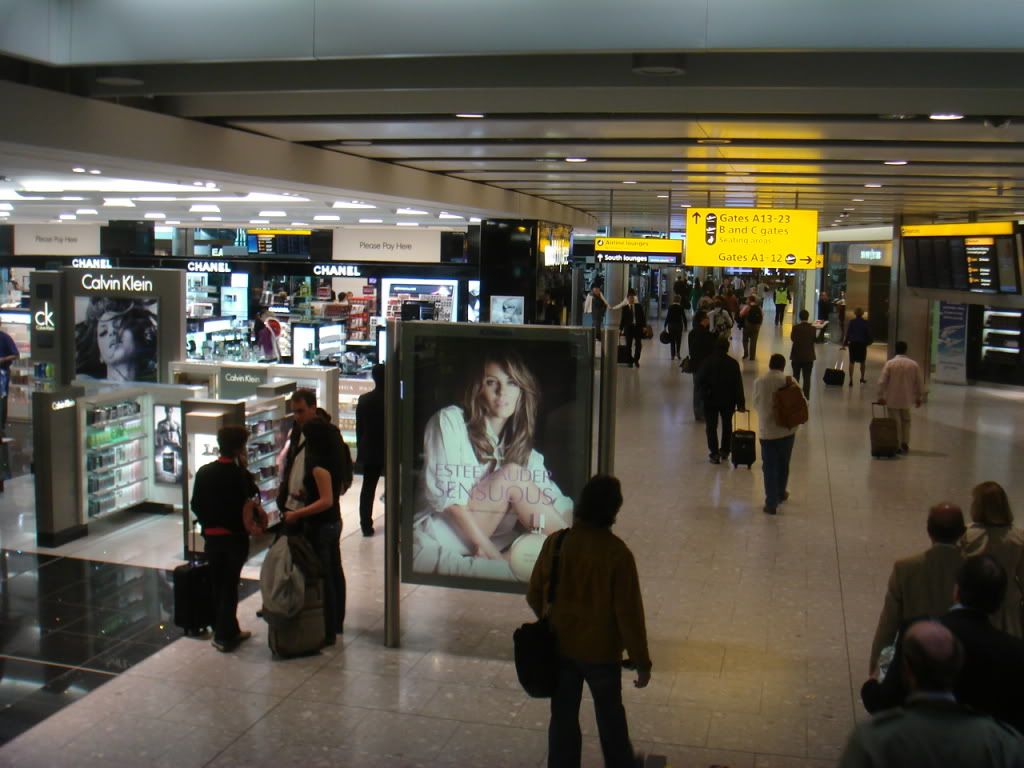 Breakfast was in order so I hit the South Lounge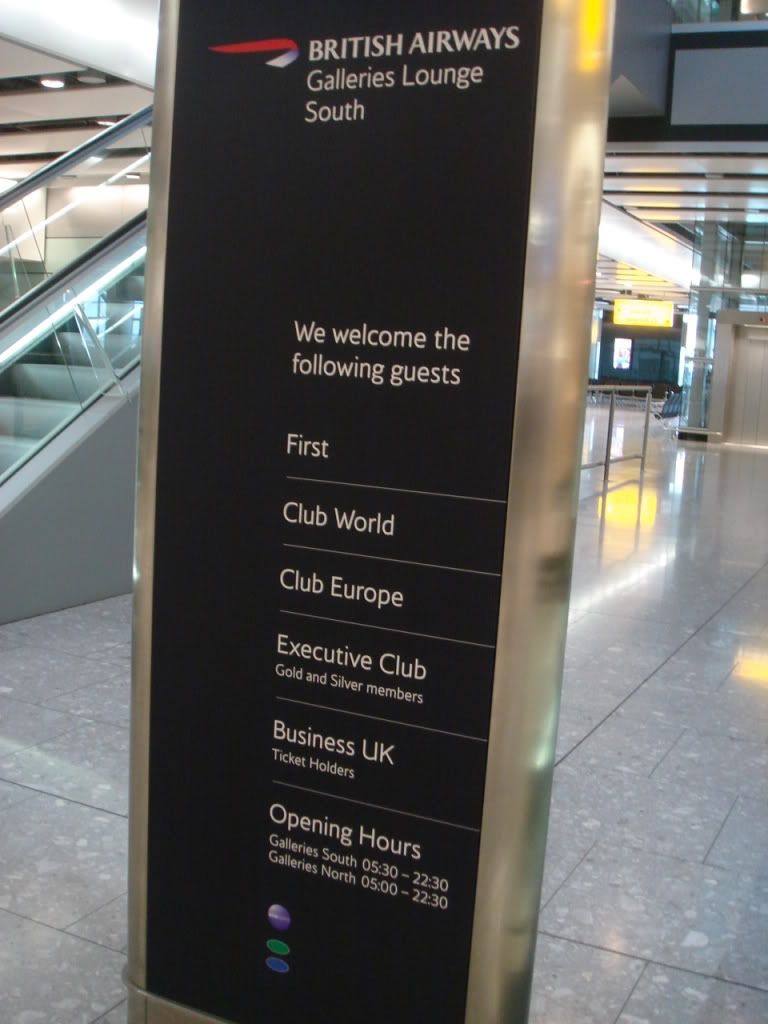 New feature outside the lounge
A few shots inside the lounge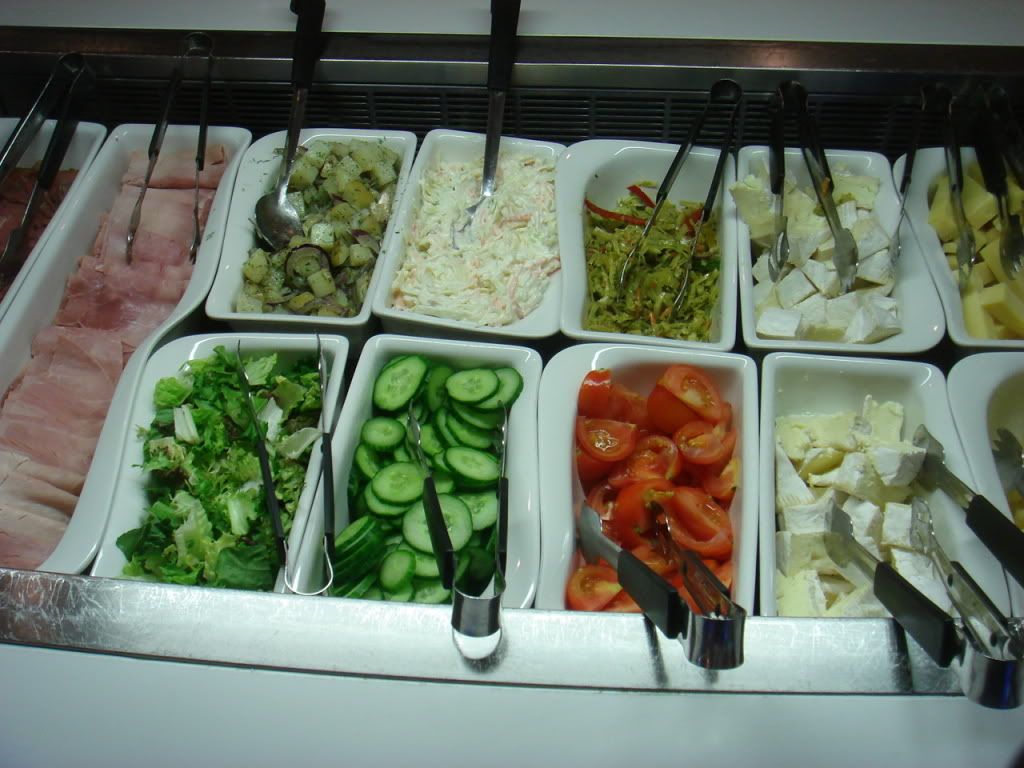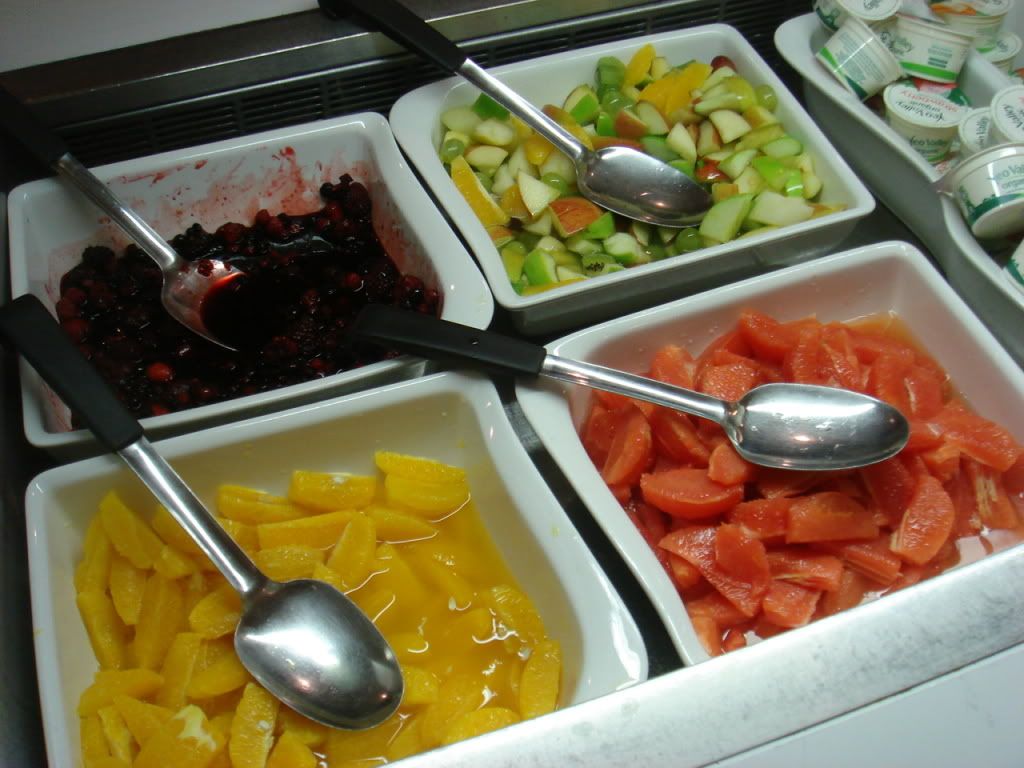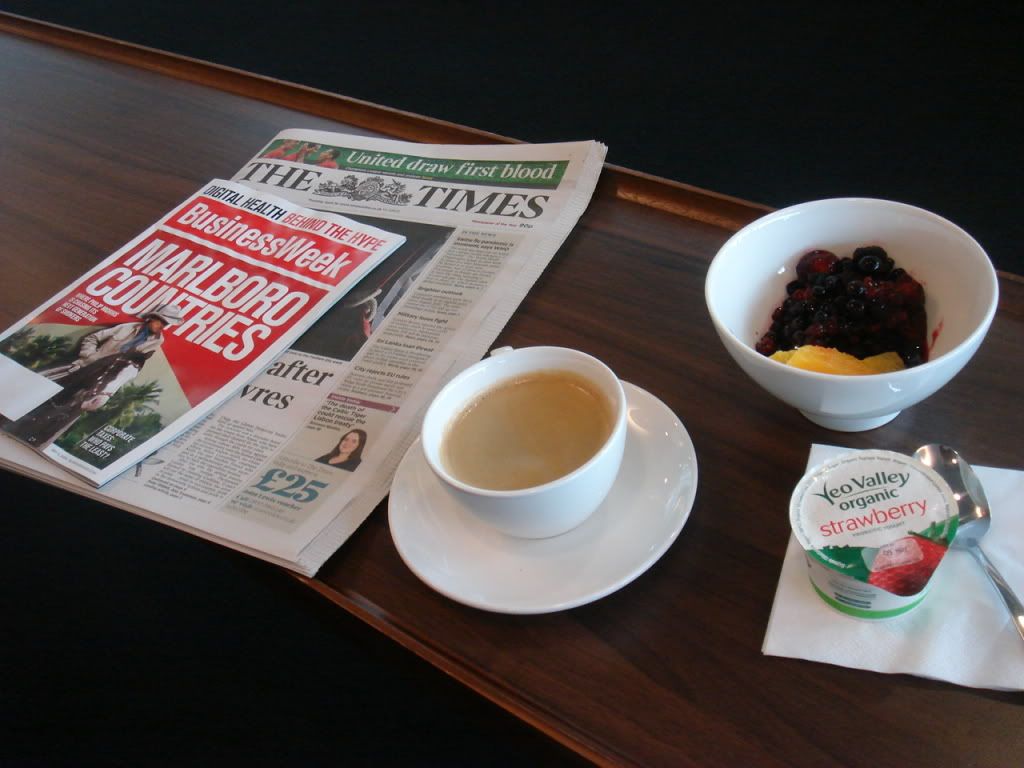 Decent stuff in the toilets
Left the lounge with plenty of time to spare, today's flight was leaving from gate 1, the same flight last week left from gate 19! – I kind of thought the same flight on the same day of the week had a good chance of leaving from the same gate, seems not the case.
Heading to gate 1:-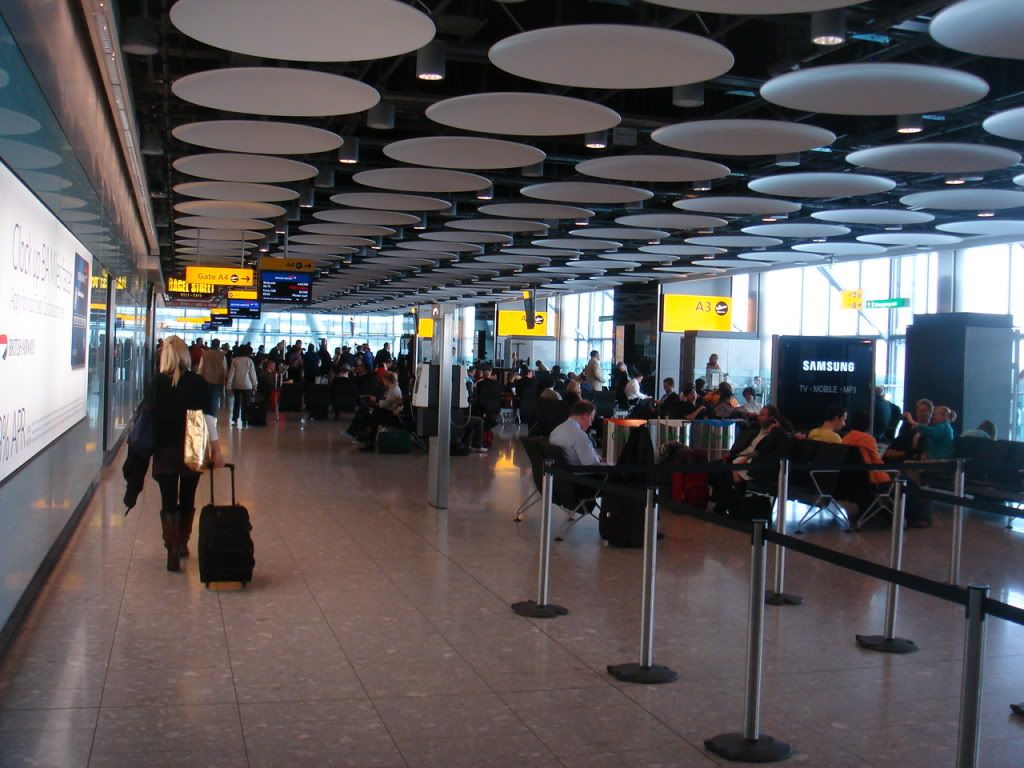 The gate area was busy, looking like another full flight – where is the recession?
My plane:-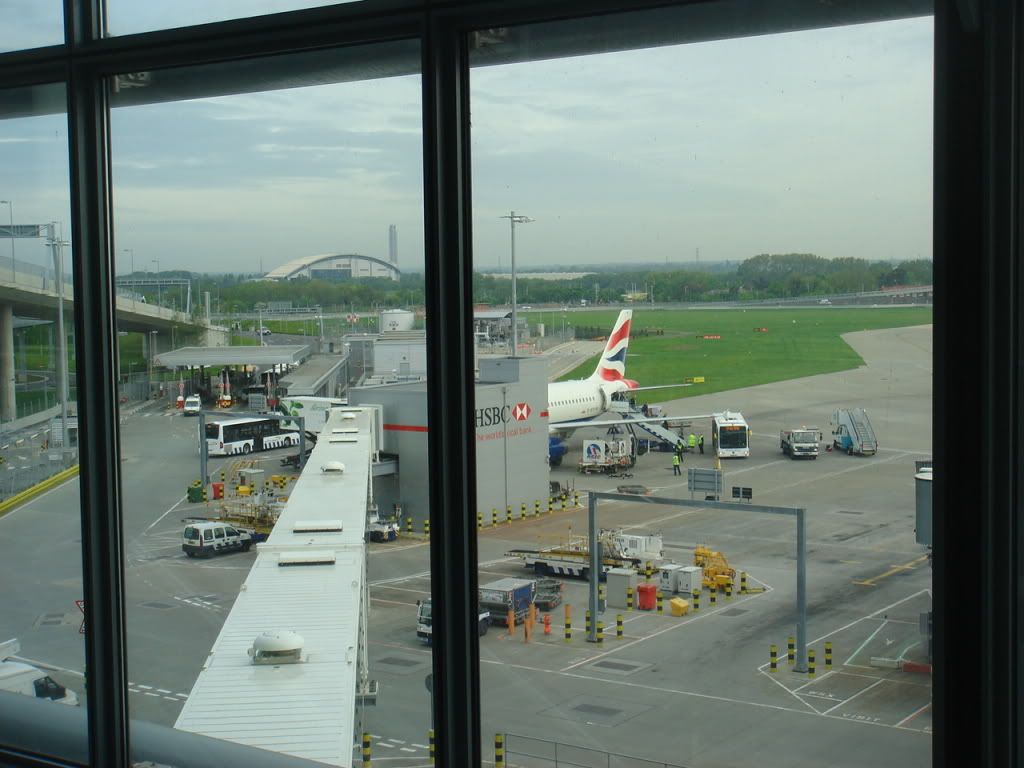 A little close:-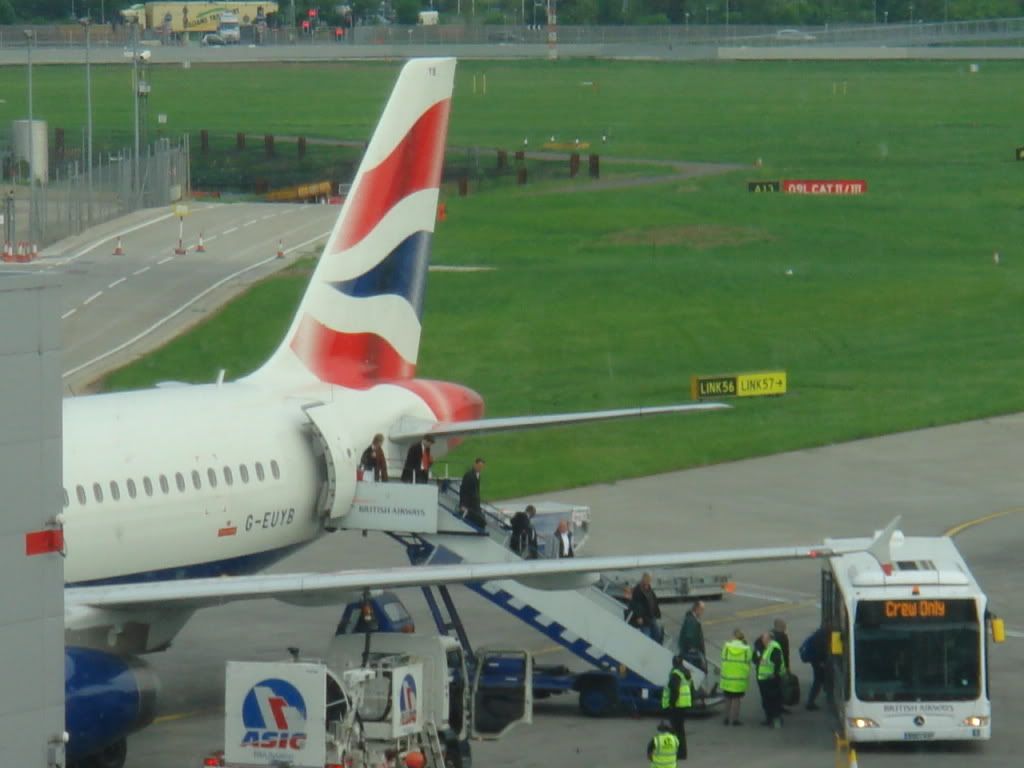 General boarding started at 08:45, the front door on the plane closed at 08:58, we had a full load this morning – again!
Push occurred @ 09:03, a short taxi between T5 and T5B led us to 09R, this mornings departure runway.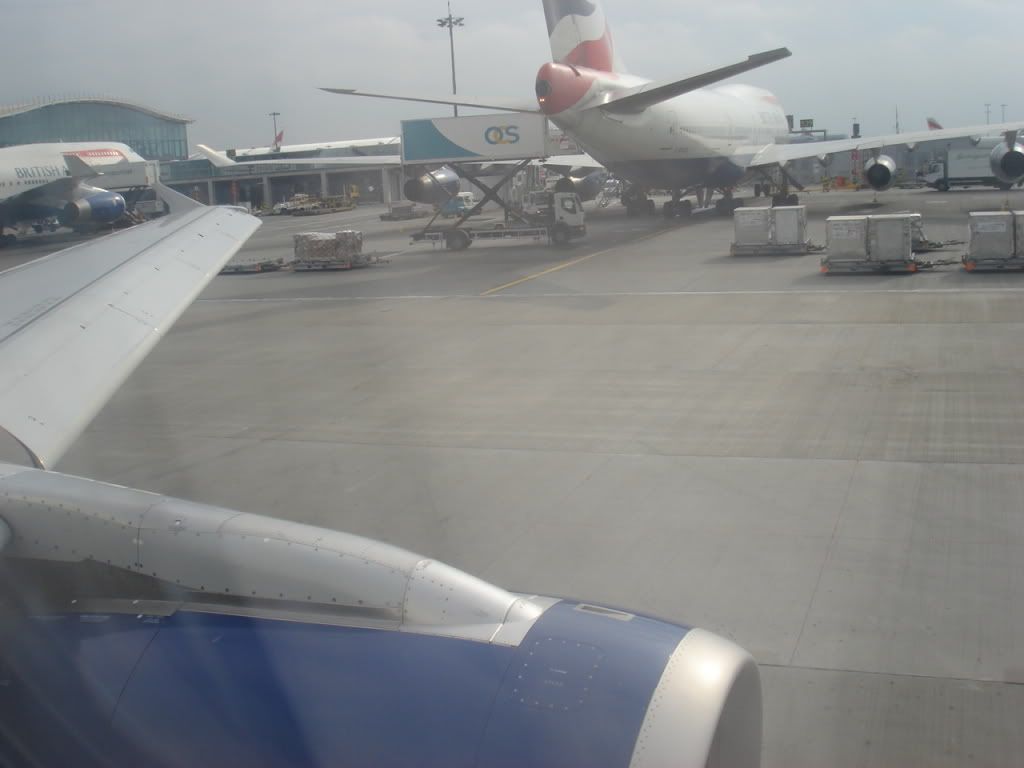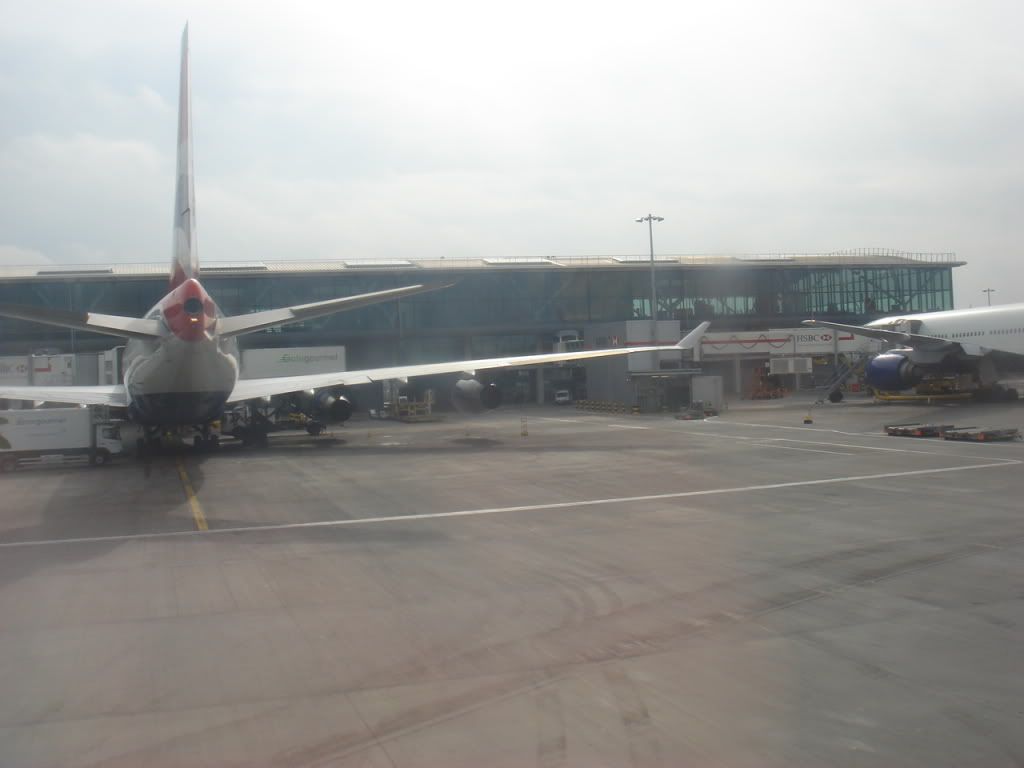 EUYB held for a DL 333, CO 772 and a LH 320, our turn next, wheels up at 09:23.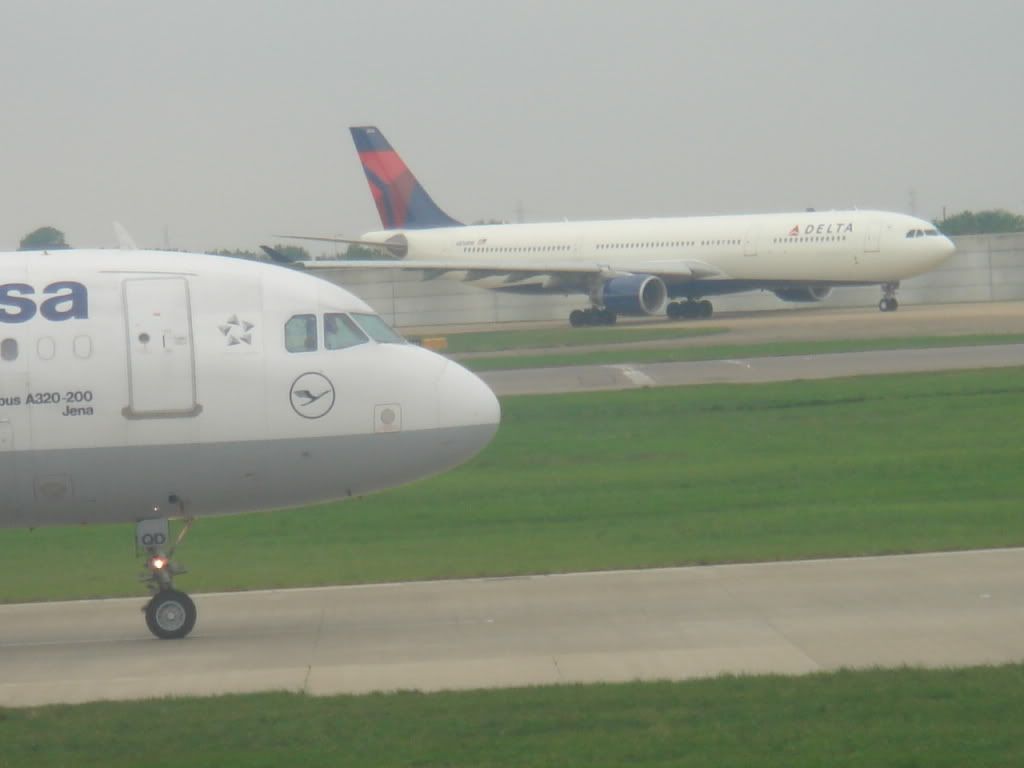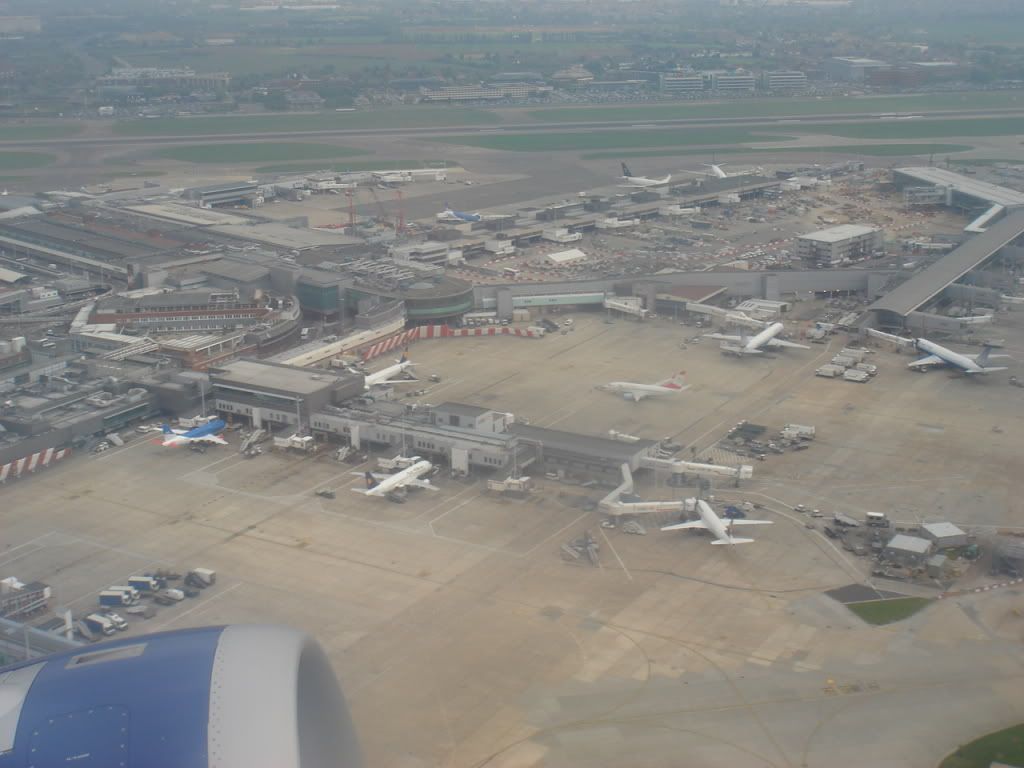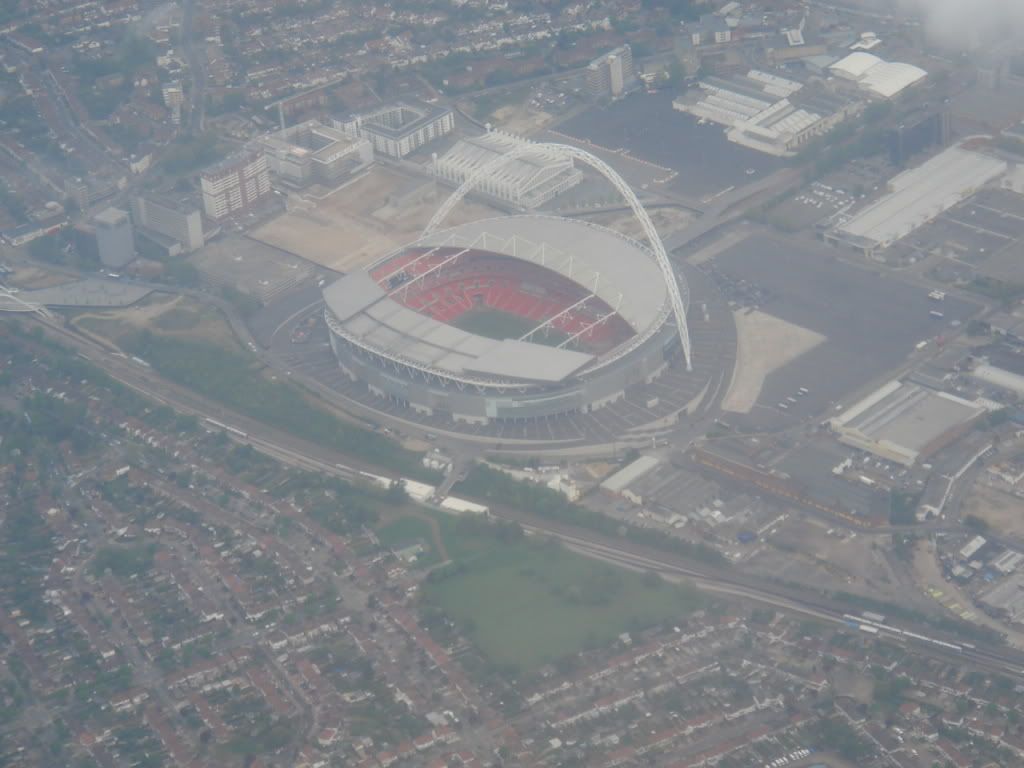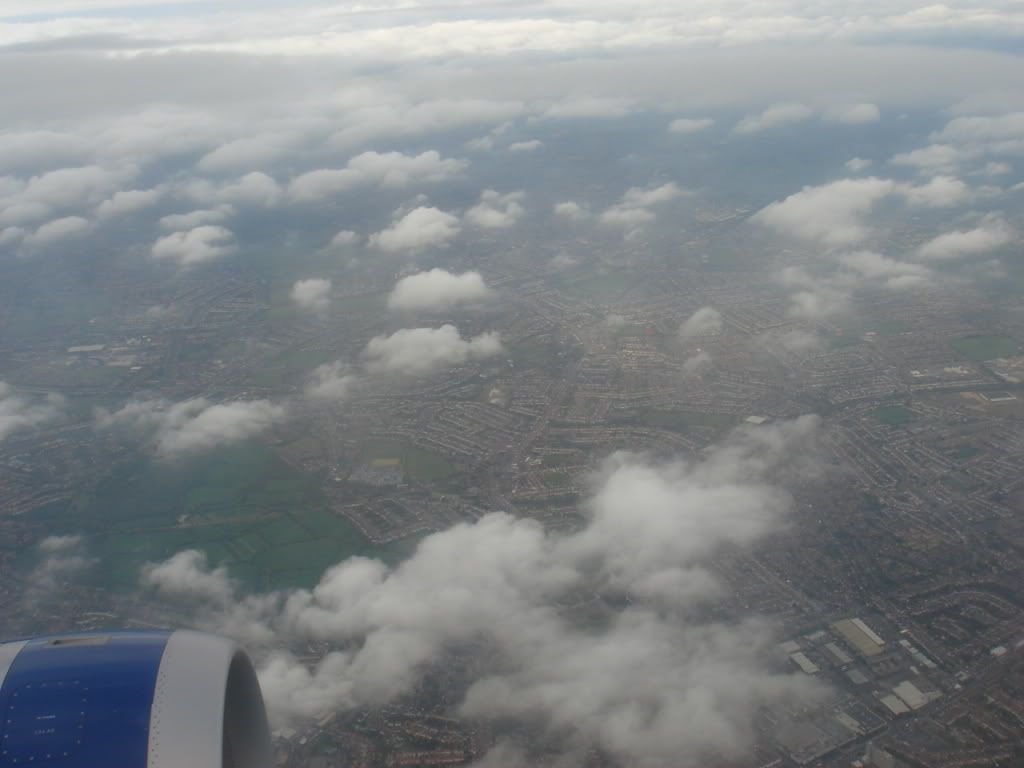 Flight time today was advised as 55 minutes, breakfast service started just after passing over the Luton area, the usual hot breakfast.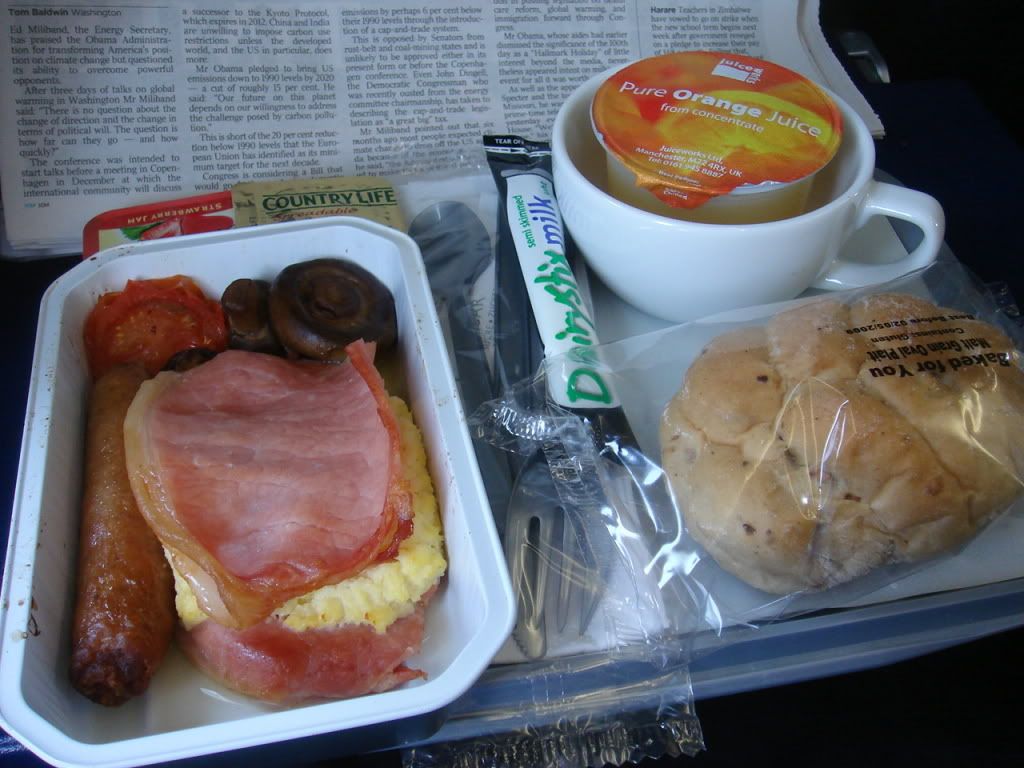 My only gripe is that the tea/coffee run is done after the meal so you either wait for the tea/coffee or you eat your meal and have the tea/coffee later.
Trays were cleared away during descent, views were rather cloudly, weather not that great!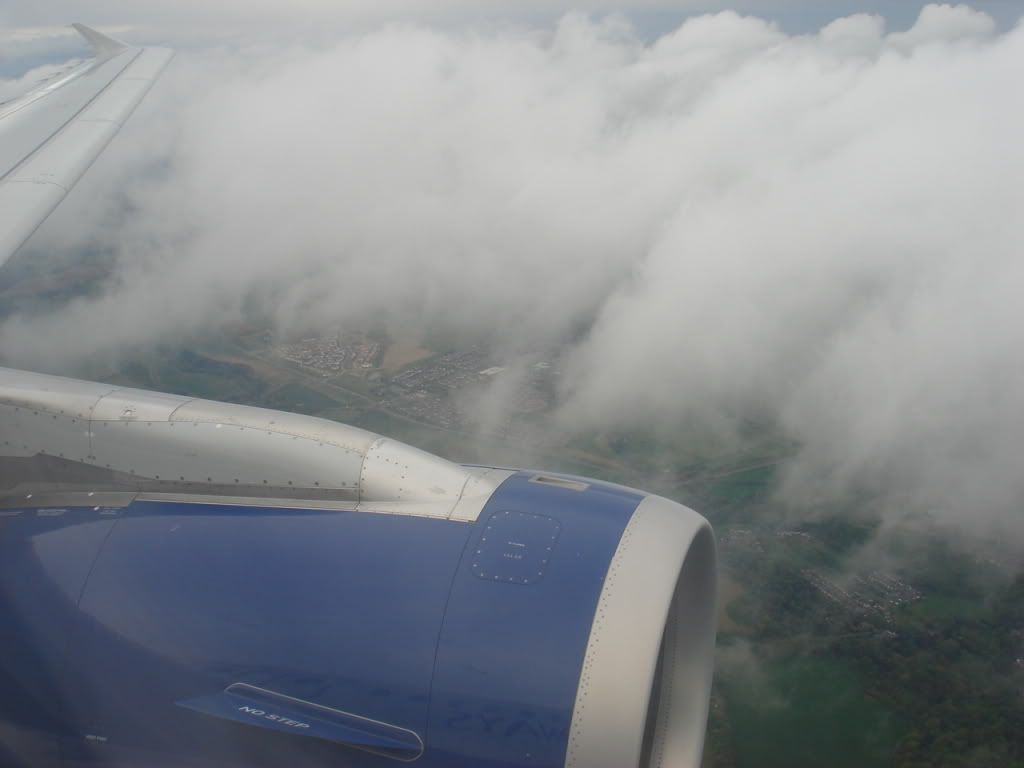 Leith:-
Wheels touched down at 10:14, some 4 minutes behind schedule.
5 minutes later we were parked at our remote stand. Edinburgh Airport is undergoing extensive upgrade works to the airside departure lounge, as a result pretty much all of the front terminal gates are out of action.
Leaving the plane:-
Once in arrivals I headed off to visit the project, progress is good.
30.04.09 BD59 A320-232 G-MIDR 6A
3rd Flight on this aircraft & 86th A320 Flight
SCH DEP 14:55 SCH ARR 16:25
ACT DEP 15:10 ACT ARR 16:27
View Large
View Medium


Photo © Resocha
After returning the car, I headed off to the BMI self service machines for my boarding pass. I had 6F allocated but looked at the seat map just to see what was around, 6A was free as was 6C, no seat showing for 6B so I took 6A, then off to security, it was 13:35.
Normally security at Edinburgh is just awful, the queues are long and it take a good 10-15 minutes to get through, today there was nobody in the queue, yes nobody, I had a whole machine to myself, not even a minute to clear it today, a new world record!
I've taken this flight before so normally expect to see lots of people around, today was different:-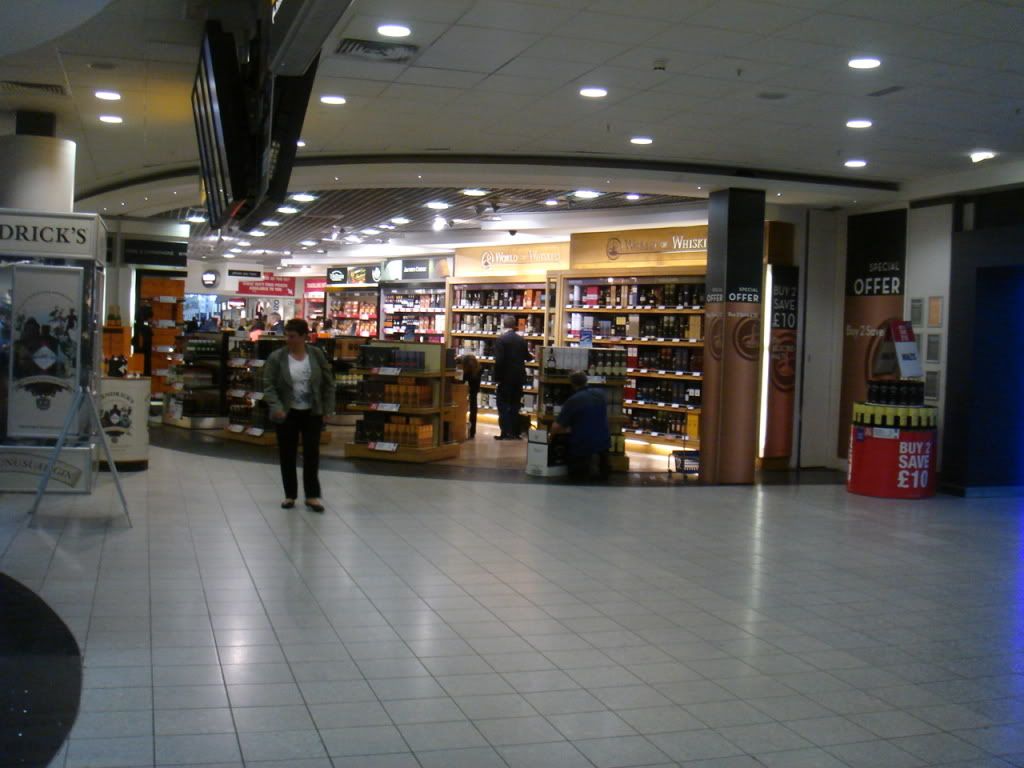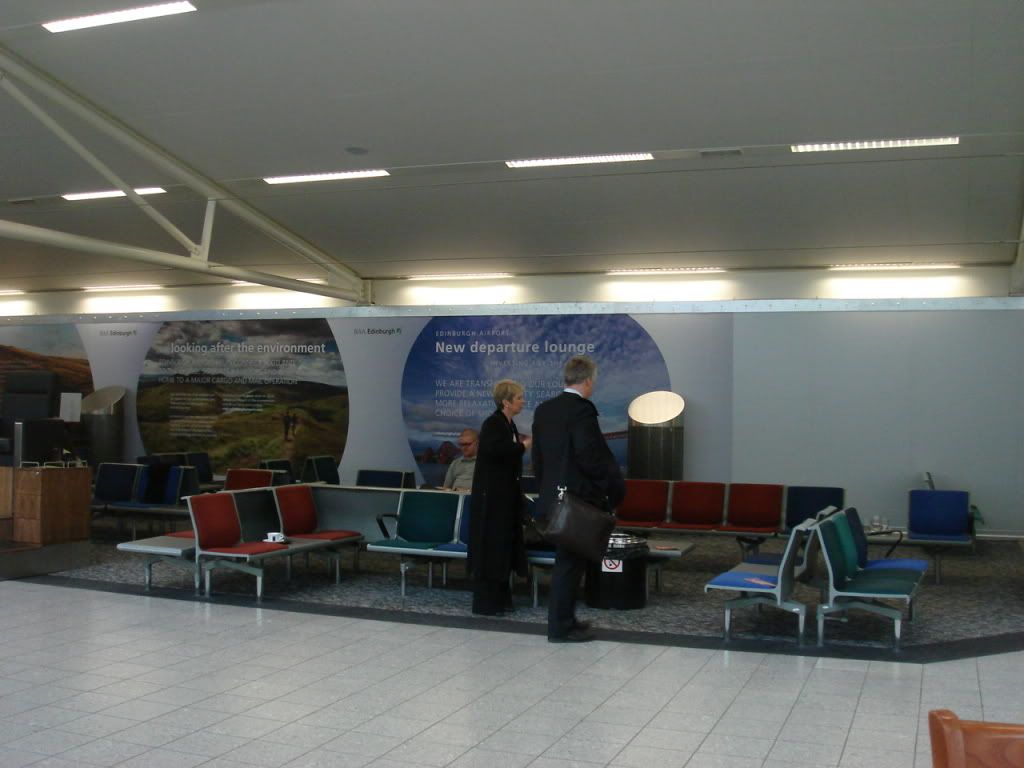 I had a pint and finished the paper then headed down to gate 3, appears our plane was little late arriving as it was just pulling into the gate when I arrived.
Boarding by pre-board then row's started at 14:55, doors closing at 15:09 – push back occurred 2 minutes later, just in time for the next BD aircraft using the gate:-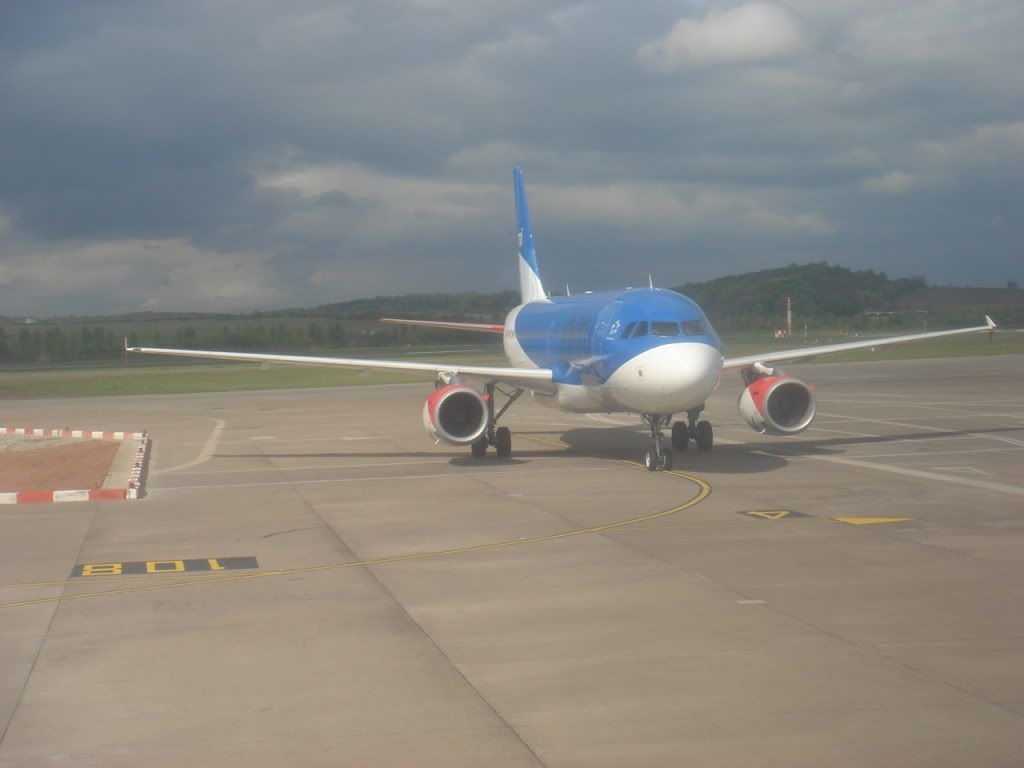 MIDR taxied out to the active, holding for a departing Dornier and arriving Flybe Dash 8, our turn arrived, wheels up at 15:24.
Today's flight was quite full, not as full as the morning BA flight, but not far from it. The decision to take 6A was good as row 6 had the business convertible set up of 2-3, always like to have a little more elbow room.
Row 6 was also the first row of economy so we had the first pick of meals/snack for purchase, not having had lunch I ordered a sandwich and cup of tea, being a Blue Plus cardholder these were free, one of the limited benefits of this card.
The rest of the flight was uneventful, approach was over London, here are a few pictures:-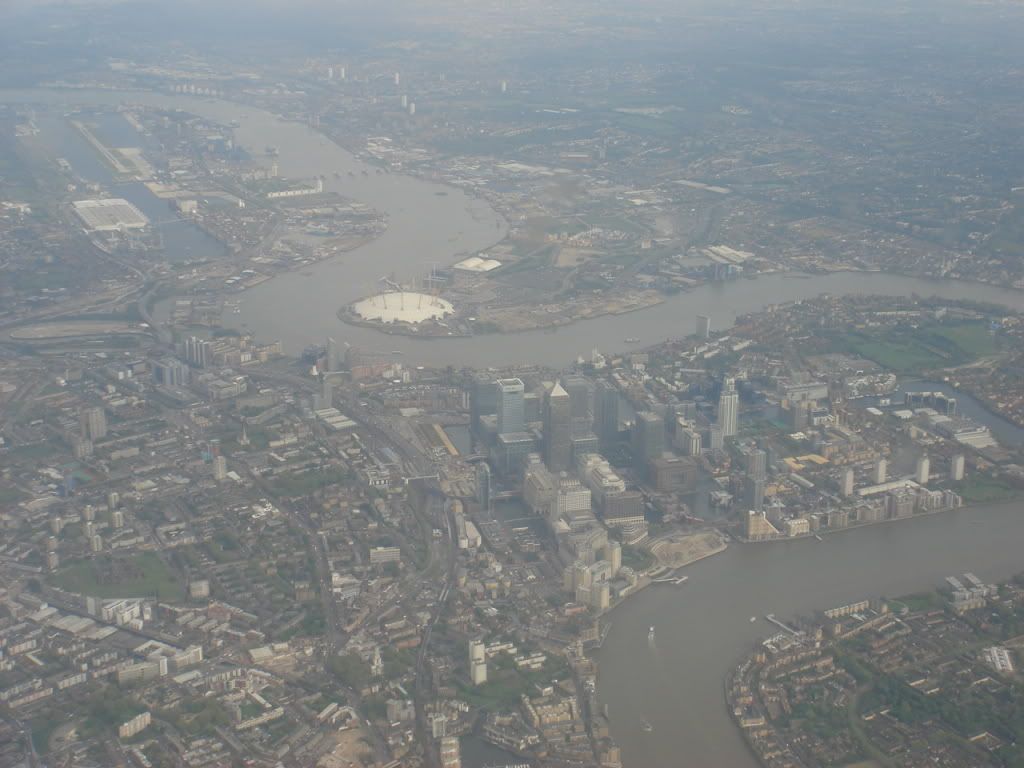 Richmond Park:-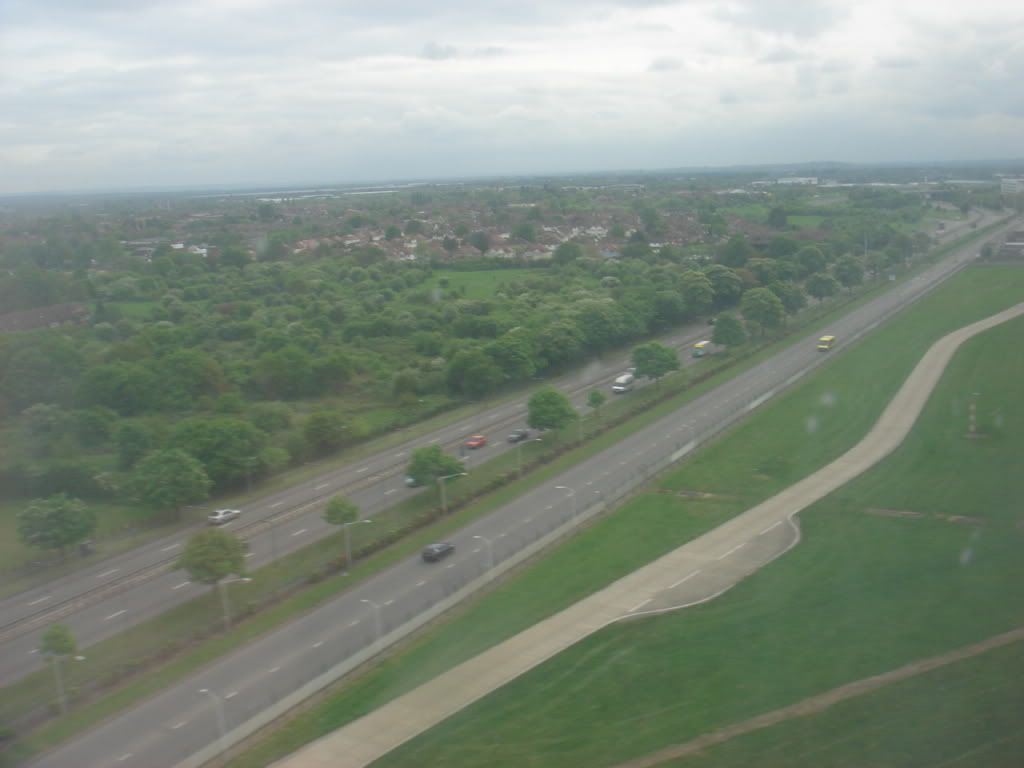 Wheels down on 27L @ 16:27, just behind schedule.
Durning taxi to the gate, T5C under construction
Summary:-
Can't fault BA, excellent service as usual, really nice cheerful crew too.
Can't fault BD either, still a shame they downgraded their product to this BOB one, they used to have a great product, I like many (I guess) chose this flight over BA, it was only £39 when I booked it, the next nearest BA flight was about £40 more.
Feel free to drop comments or questions.
Kind Regards
Mark