Hi all,
Only one week after my return from Algeria, it was already time for a new trip, this time to Canada (my first time there !).
For those interested, the report for my trip to Algeria can be read here :
http://www.airliners.net/aviation-fo...ms/trip_reports/read.main/147219/.
For this trip to Canada, I received a fixed budget from my boss, as a reward for some special work, supposed to be enough for transatlantic flights on a decent airline and a couple of nights in a hotel. However, as I wanted to try some canadian domestic flights, and to visit more than just one city, I decided to look for the cheapest flights and hotels, in order to spend the remaining budget into domestic flights.
The cheapest I found was on
US Airways
(booking on
Travelocity.com
), and I deliberately chose to make multiple connections just for the sake of taking as many flights as possible. So, although US offered a direct flight between Brussels and Philadelphia, from where I could connect to Montreal, I chose to backtrack to Frankfurt on the outbound leg, and to stop at Heathrow on the return leg. Some time later, a friend (and colleague) of mine decided to join me on the trip, but as he's not into aviation at all, I booked a more direct routing for him on KLM and Air France. Finally, I ended up with the following itinerary :
- Brussels - Frankfurt / Lufthansa A319
- Frankfurt - Philadelphia / US Airways A330-300
- Philadelphia - Montreal / US Airways Express (Republic Airlines) ERJ-170
- Montreal - Toronto / Westjet B737-700
- Toronto - Ottawa / Air Canada ERJ-190
- Ottawa - Montreal / Air Canada Jazz CRJ-705
- Montreal - Philadelphia / US Airways Express (Republic Airlines) ERJ-170
- Philadelphia - London (Heathrow) / US Airways B767-200ER
- London( Heathrow) - Brussels / BMI Regional ERJ-145
The last leg was originally scheduled on an A319, but I received an email about the aircraft and schedule change some weeks before departure. I would now have... 45 minutes to make the connection at Heathrow (needless to say, I was more than skeptical...). However, I was excited about being on an ERJ-145 as it would be a first for me.
Just a word about the pictures : as I wrote in my Algeria report, my digital broke down during my trip there. I tried to repair it myself and got it fine until... I arrived at the airport on the day of my departure to Canada ! I only found time to buy a new one when I arrived in Montreal, so the photos before that are taken on my cellphone. For some reason, I also did not feel like taking much photos on the return trip, but I'll compensate by adding some non-aviation photos of the trip, as usual. One last thing : I included a few photos from the Airliners.net database. Such photos have the black A.net copyright bar at the bottom.
1. Brussels to Frankfurt
- Lufthansa LH4571 / Airbus A319-114 D-AILP "Tübingen" / MSN 717
- 24-APR-2009 / Seat 21A
- Scheduled departure / arrival : 08.55 / 09.55
- Runway departure / arrival : 25R / 07R
I left home at around 5:30AM, took a bus to Charleroi train station, then a double-deck train to Brussels North station, and finally another (empty) train to Brussels Airport where I arrived at 7:30 AM. The day before, I had tried to check in online, but the US Airways website didn't generate my boarding passes as the first flight of the trip was on Lufthansa. The Lufthansa website gave me my boarding pass for the first leg, but not for the US operated flights. So I went to the airport check-in desk and after queueing for more than 30 minutes (!), the agent could only give me a boarding pass for the first two legs. I passed security without problems and after the usual very long walk I reached gate A55 on time for boarding. After boarding, we had to wait for a group of (I'm guessing) african students (around 30 of them) who came late and with some organizational problems (they did not know for sure with how many they should be !), so we finally left the gate 35 minutes late. This should not jeopardize my connection, I thought...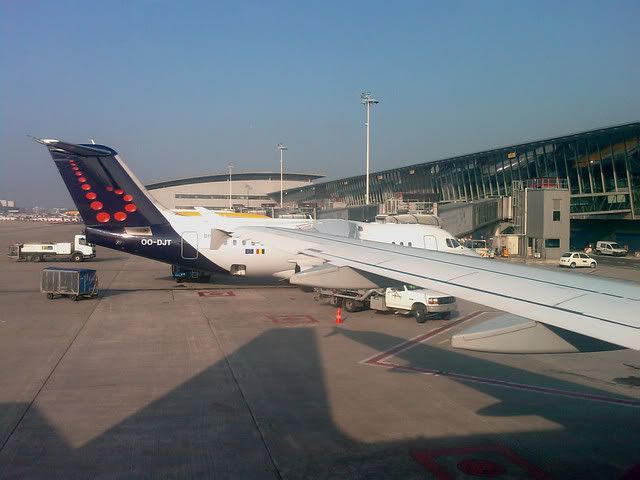 A selection of newspapers in different languages was offered in the jetway, just before the aircraft door, and complimentary LH postcards could be taken at the front of the cabin. The crew (a mix of young and older ladies) were professional, without being particularly friendly. We were offered a round of drinks, then a small cake a few moments before the approach into Frankfurt. The cabin of this A319 was showing signs of age, but was still in an acceptable condition (standard LH grey leather seats).
We made up part of our delay enroute, landed on Frankfurt runway 07R, had to wait for aircraft taking off from 07L, and finally parked at gate A1. A good proportion of passengers were connecting here at Frankfurt. I made my way to the C gates where I had to pass through passport control, security check and an interview with some security official. As there was an US Airways agent at the gate, I asked for a boarding pass for the PHL-YUL leg and finally got it. All those checks took quite some time, and I boarded the aircraft among the last passengers, using door L2.
2. Frankfurt to Philadelphia
- US Airways US701 / Airbus A330-323X N274AY / MSN 342
- 24-APR-2009 / Seat 33H
- Scheduled departure / arrival : 11.10 / 13.55
- Runway departure / arrival : 07L / 27R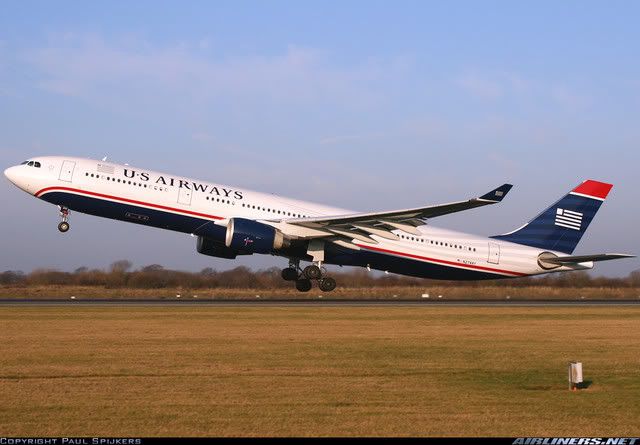 While making my way through the aisle to seat 33H, I couldn't help thinking of how cramped the economy cabin looked. A feeling that was confirmed once I took my seat : both the legroom and the seat width seemed below average. My seatmate was a rather fat American guy from Philadelphia, which didn't help the cramped feeling, but he was fortunately very friendly and we kept talking for a good part of the flight. As I told him, I had heard some bad stories about US Airways and wanted to try them and see by myself. He then said that, being from Philly, he was basically forced to fly US and thought it was unfortunate.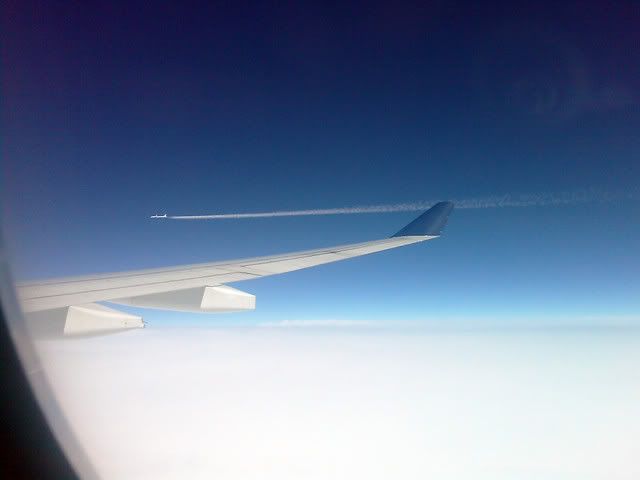 Racing with an UA 772. He ended up beating us.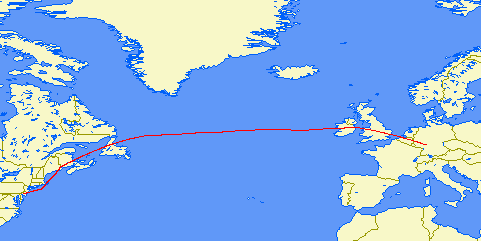 Our routing across the Pond, taken with my smartphone GPS.
Here are my personal impressions about this US A330 Y-class transatlantic flight :
- Uncomfortable seat. It felt cramped. Really.
- Almost full flight.
- No flight map on the PTV ???
- Free blanket and pillow, earphones for sale (4 or 5 US dollars, don't remember).
- Meals FAR below average, especially when compared to european airlines. Quantity and quality-wise. I had to choose between pasta or chicken, took the latter, and received the tiniest tray I ever saw. The chicken did not taste too good, but was still OK. Soft drinks for free, beer or wine for sale.
- Pre-arrival snack : small hot sandwich, which I actually found tasty. Two rounds of drinks in-between.
- Friendly cabin crew. Some of them average, but others really good, looked motivated and made funny jokes.
- On-time performance : perfect.
As you see, a mitigated impression, uncomfortable aircraft, low-grade food, but good crew. We landed on PHL runway 27R on time and had to wait a couple of minutes to get a gate (A18). I still had plenty of time before my connecting flight, but the wait at immigration (no long queues, fortunately) and security (long wait there) meant I reached gate B01 just when boarding for my flight to Montreal was about to begin.
Downtown Philadelphia under the wing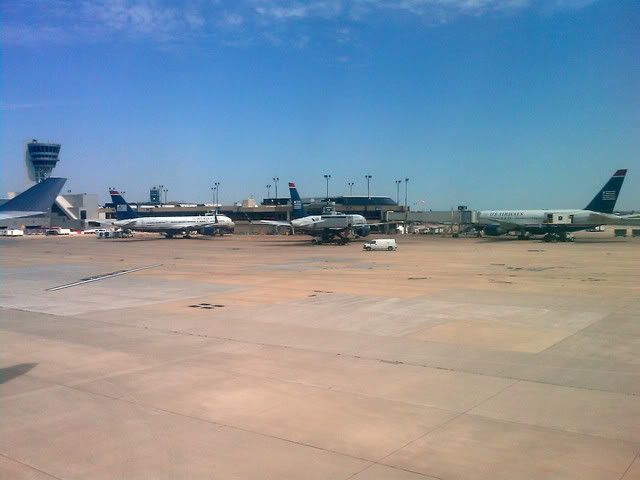 3. Philadelphia to Montreal
- US Airways Express US3490 (operated by Republic Airlines) / Embraer ERJ-170SU N828MD / MSN 48
- 24-APR-2009 / Seat 3F
- Scheduled departure / arrival : 15.35 / 17.11
- Runway departure / arrival : 27L / 24R
We boarded on time. The quantity of cabin luggage and the relatively small overhead bins on the regional jets meant some cabin luggage had to be put into the cargo hold. This particular aircraft had a special Star Alliance billboard livery.
We did not have to wait long before taking off, and the two flight attendants soon began their service, which consisted in a single round of (free) soft drinks. Although they did nothing wrong, they certainly looked bored and I don't remember seeing any smile during the whole flight. We passed just west of NYC, then almost straight to Montreal, and were treated with splendid views of the city during our approach.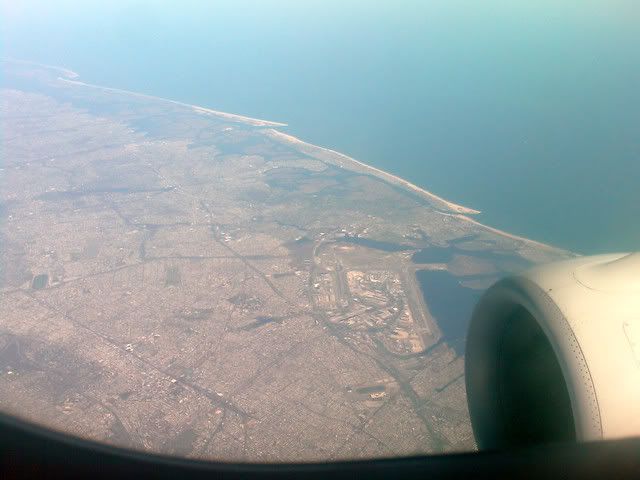 Above Brooklyn, with JFK airport visible
I actually found the Embraer more comfortable than the A330 in economy (I'm just talking about US Airways here), which is kind of weird as the Airbus serves much longer routes. Of course, the Embraer isn't equipped with PTV's.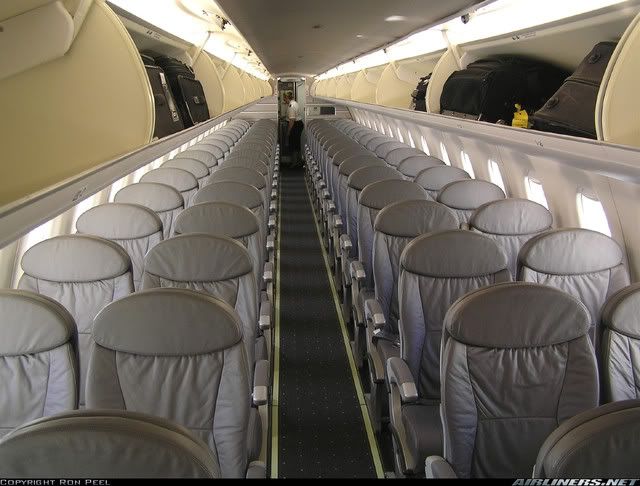 Upon arrival at Montreal, I needed something like 10 minutes to clear immigration, then met my friend whose KLM flight had arrived around the same time as mine. We then went to downtown by public transportation (204 bus till Dorval train station, then 211 bus), and enjoyed our time there.
Now, some pics from Montreal :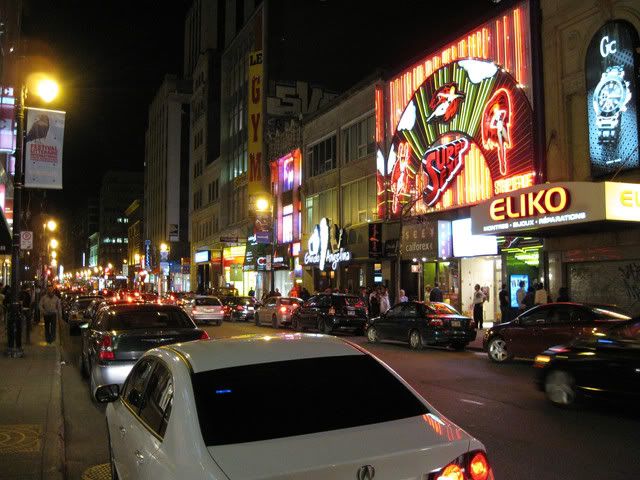 Rue Sainte-Catherine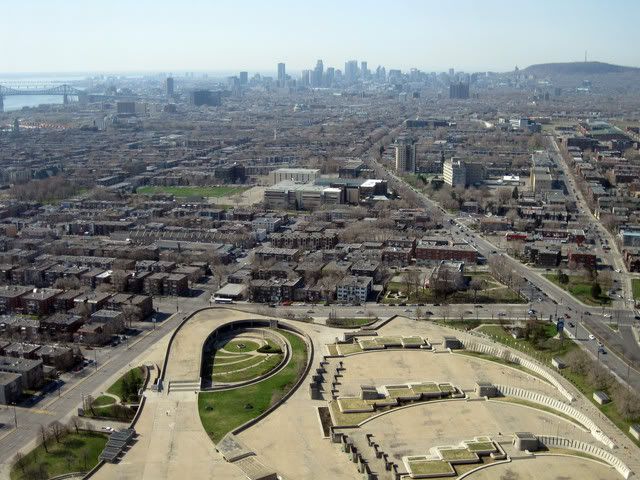 View from atop the Olympic Stadium Tower, with downtown in the distance.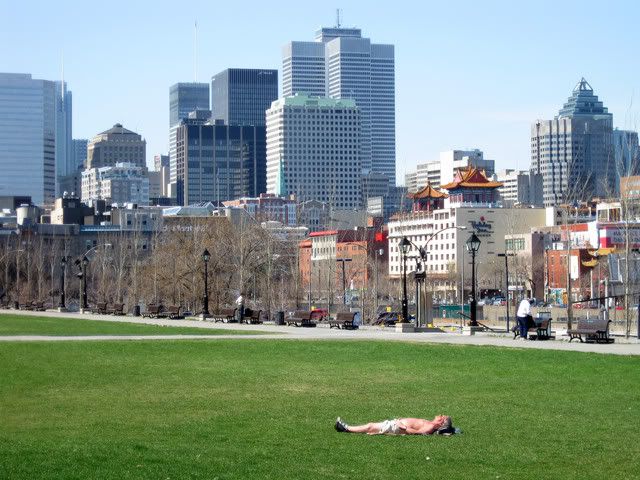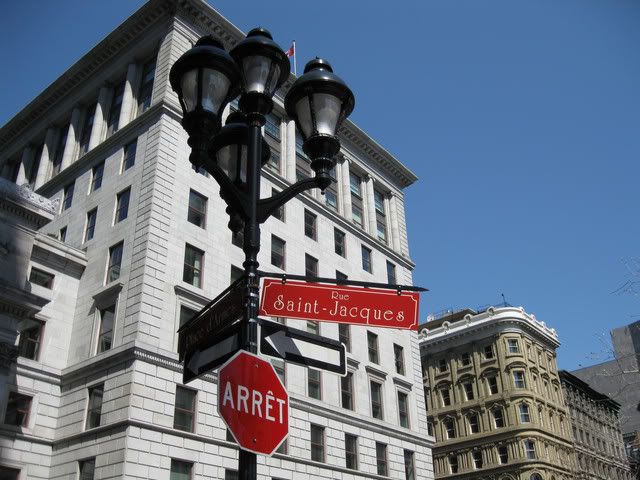 Tour de la Bourse (Stock Exchange Tower)



Subway entrance, Paris style (Square Victoria station).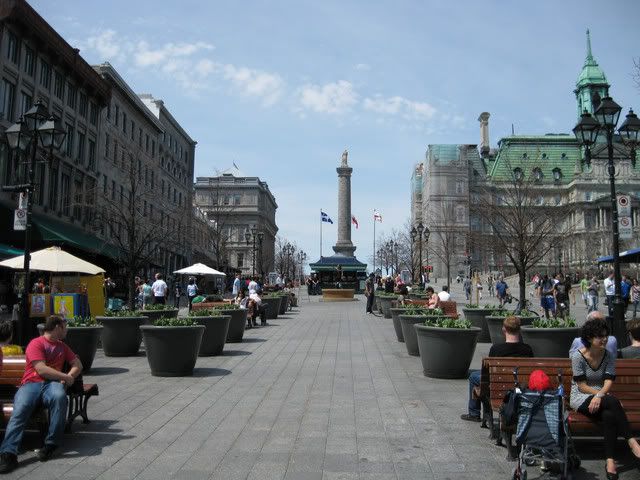 Place Jacques Cartier



Downtown seen from Mont-Royal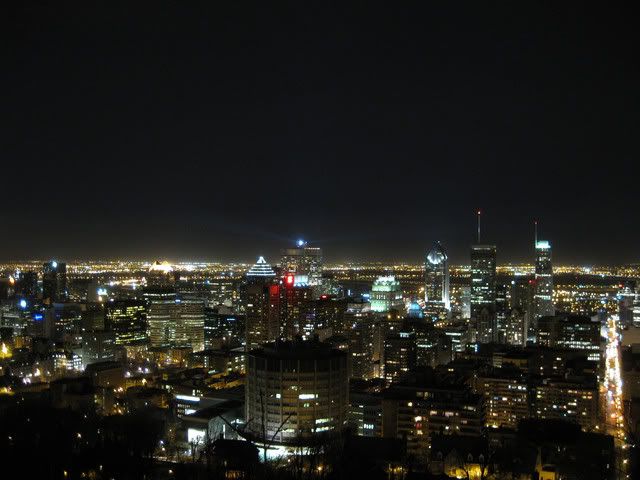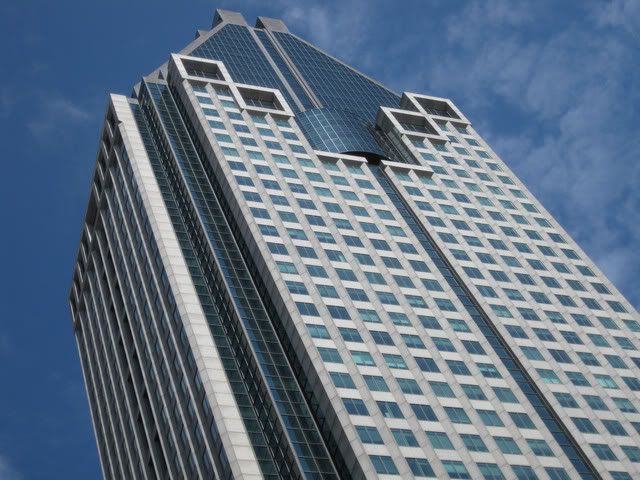 The "1000 de la Gauchetière".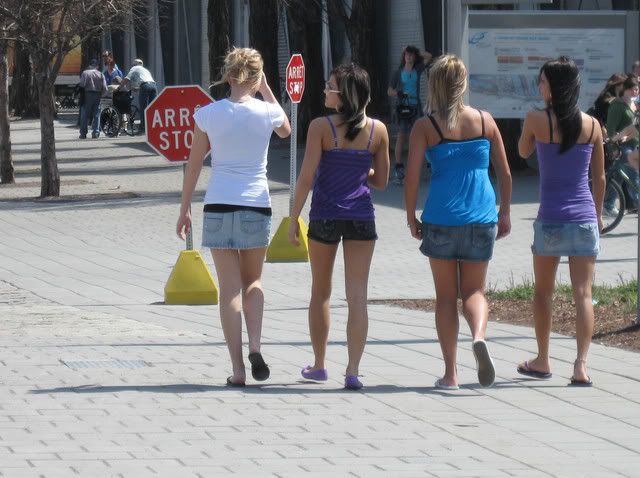 Old Montreal, an interesting place to visit...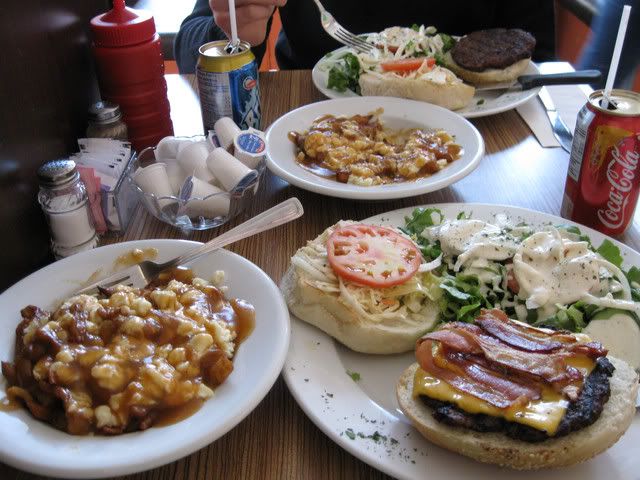 A cheeseburger with an infamous "Poutine"...
4. Montreal to Toronto
- Westjet WS473 / Boeing 737-7CT (winglets) C-FTWJ / CN 30713 - LN 2220
- 27-APR-2009 / Seat 22F
- Scheduled departure / arrival : 08.00 / 09.16
- Runway departure / arrival : 06R / 23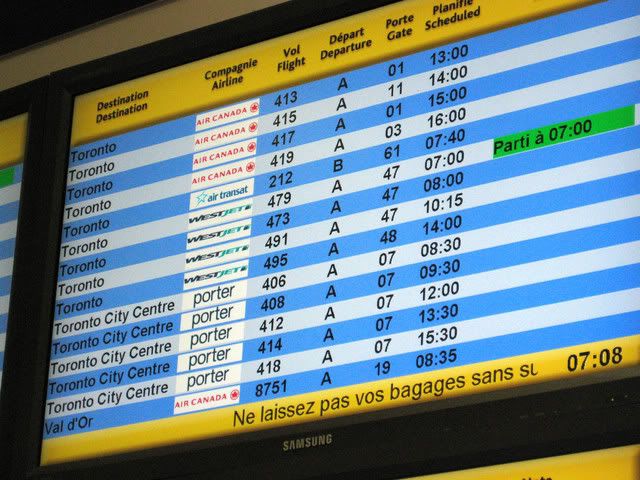 We went by bus to the airport where we arrived around 7.00 am. As I had already selected our seats using Westjet's mobile phone check-in facility, we just went to a self-service check-in kiosk to pick up our boarding passes, avoiding any queue. Passing security took a long time, we were in a dedicated security check for domestic flights which was quite thorough, so when we reached gate A47, boarding was about to begin. We took our seats in the back of the cabin, and I watched our neighbours while fellow passengers were boarding : Air Canada A320 C-FGYS, Hydro Quebec Dash 8-400, joined a few minutes later by Westjet B737-700 C-GQWJ. When door was closed, I noticed that the load factor for our flight to Toronto would be very low, probably in the 20 % range. The seats were reasonably comfortable, each equipped with PTV's which kept on cycling between Westjet advertisement and the flight map (on different zoom levels).

Light load on this flight...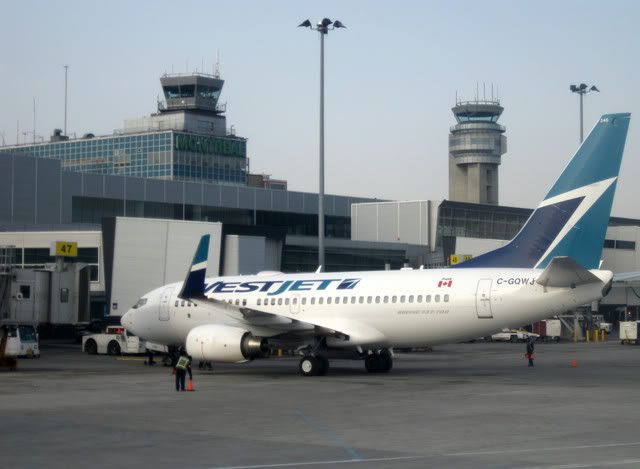 A company 737-700 posing in front of the "Montreal" sign.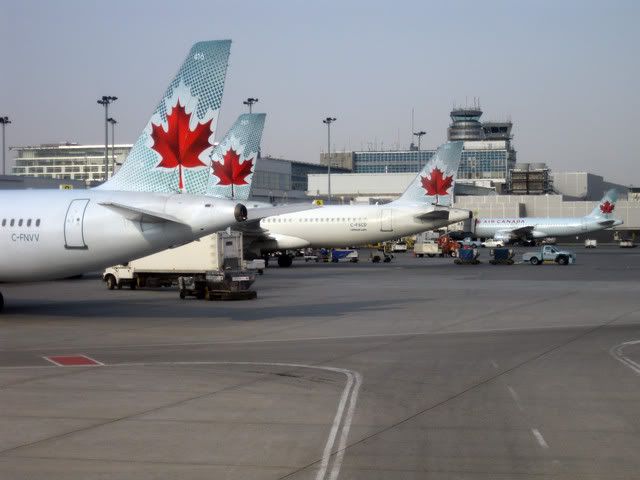 A collection of AC tails.
We taxied to runway 06R, waited for an Air Creebec Dash 8-100 to depart (flight 927 to La Grande with 6 intermediate stops !), and climbed through the clear morning skies. We enjoyed good views of downtown Montreal before turning left towards Toronto, passing over the clearly visible Mirabel (YMX) airport.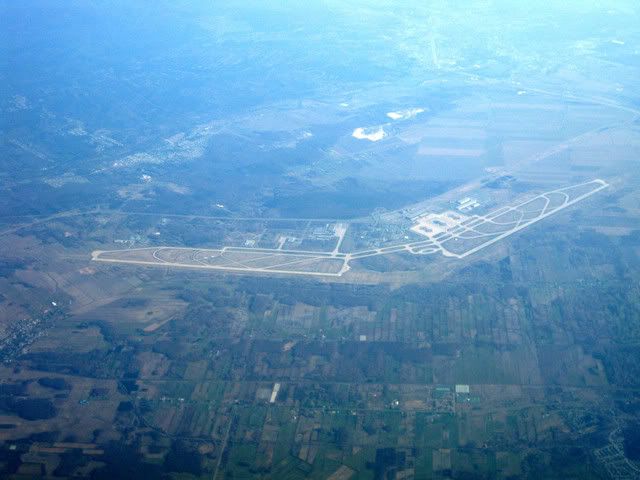 A friendly flight attendant offered us some coffee, and just one hour later, we were already approaching Toronto Pearson airport, where we landed on time on runway 23. A short taxi to gate C26 (Terminal 3) followed, then we left the aircraft and watched it being prepared for its next flight to La Romana, Dominican Republic, while having our breakfast at the adjacent bar.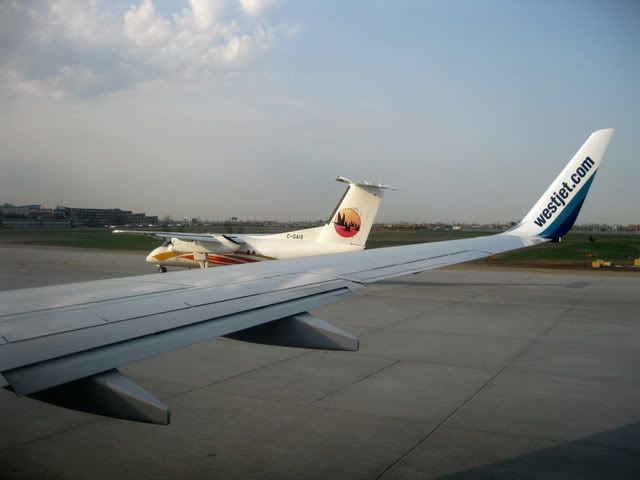 Air Creebec flight 927 ready to depart.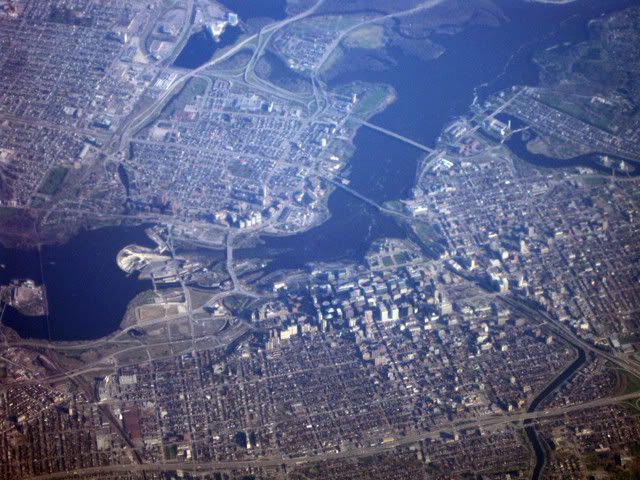 Downtown Ottawa.



The PTV showing the flight map, and a credit card swiping device.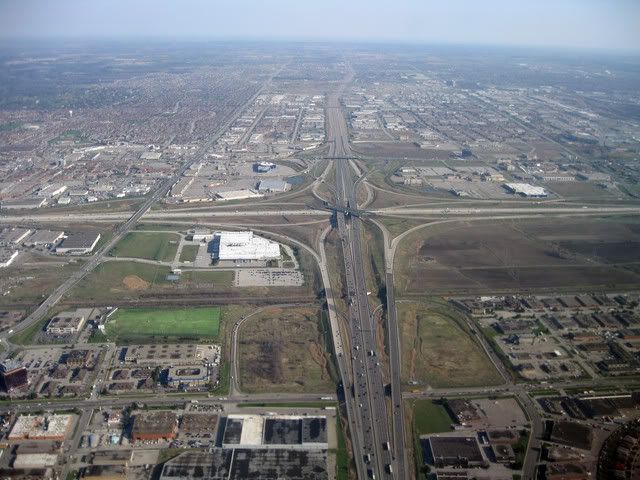 Intesection of the McDonald-Cartier Fwy and Black Creek Drive.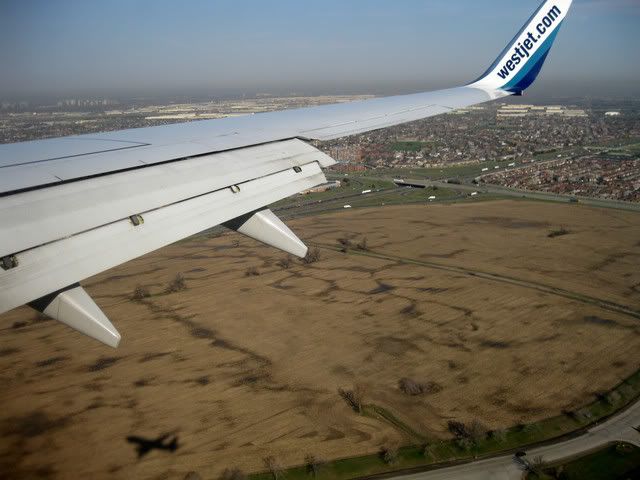 Catching our shadow just before touchdown.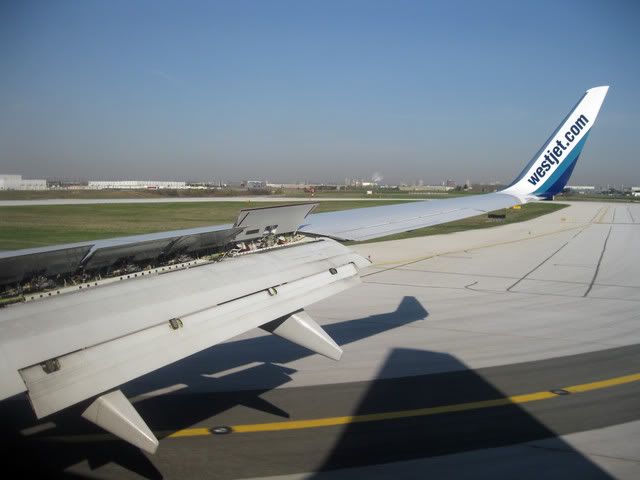 Our aircraft being prepared for its next flight to Dominican Republic.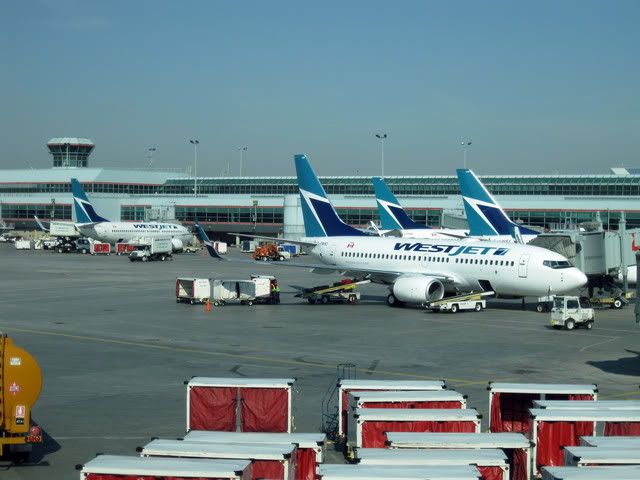 Other Westjet 737s at YYZ terminal 3.
Once again, we went to downtown Toronto by public transportation (bus 192 then subway at Kipling station) and visited the city (and some of its bars...), including the Islands and CN Tower. During our stay, I watched many Porter Airlines flights departing from Toronto's City Centre airport, located on an island close to downtown (we had excellent views on it from the CN Tower).
Some pics from Toronto :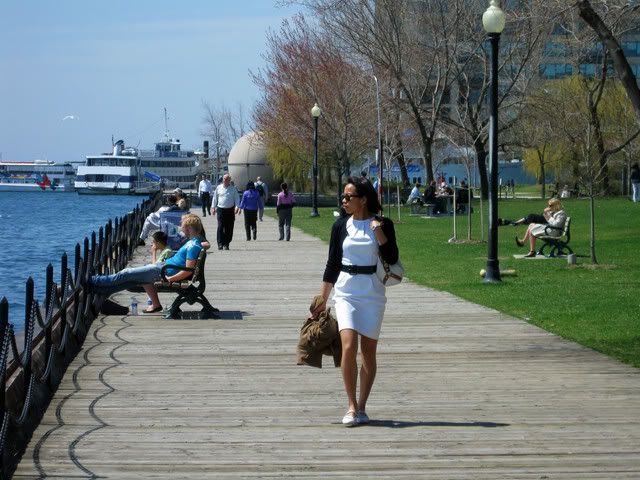 Nice lakefront promenade...



A Porter Airlines Dash 8-400 taking off from City Centre Airport, in front of the CN Tower.



Toronto skyline (seen from the ferry to the Islands).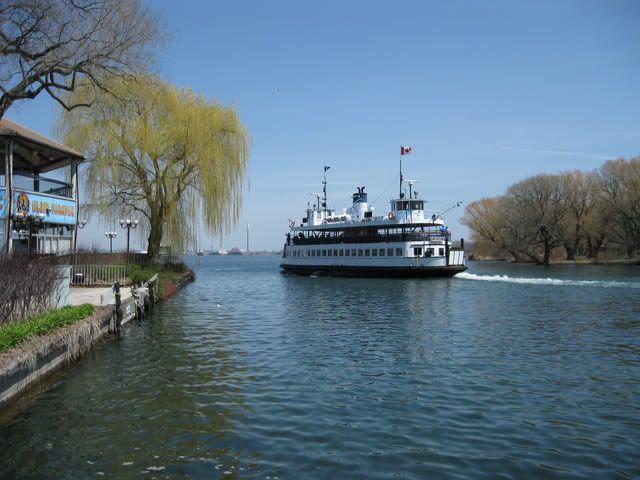 The ferry at Centre Island.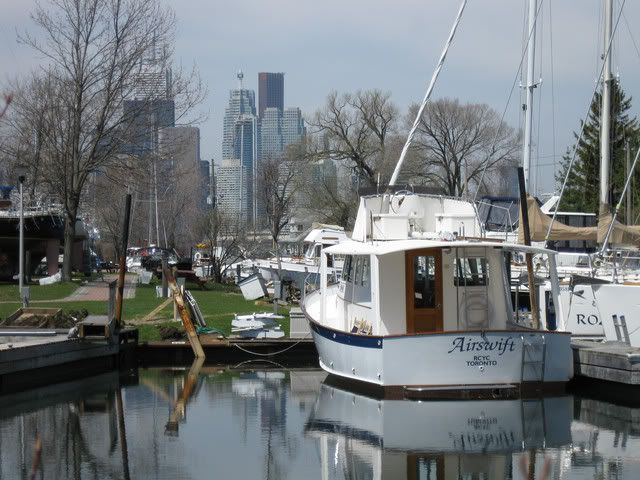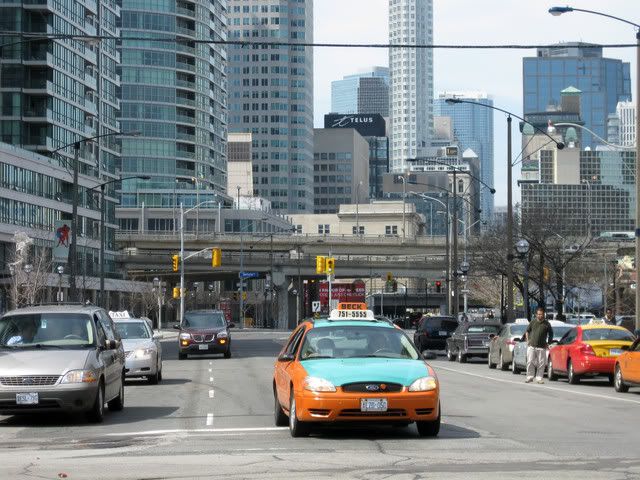 Starting point of Yonge Street, supposedly the longest street in the world.



Oh... And I thought Elvis was dead ?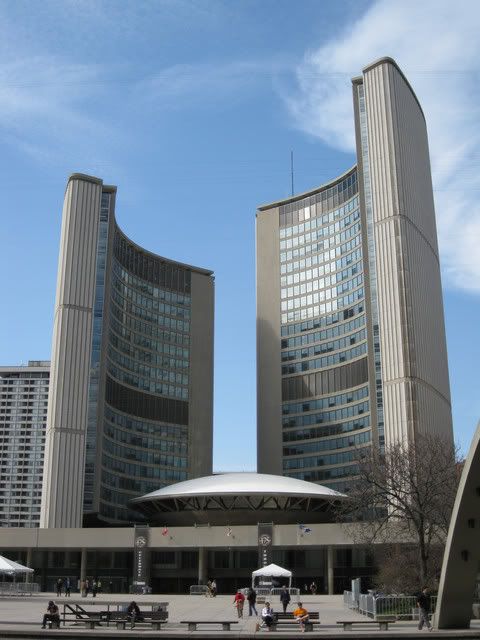 Toronto City Hall.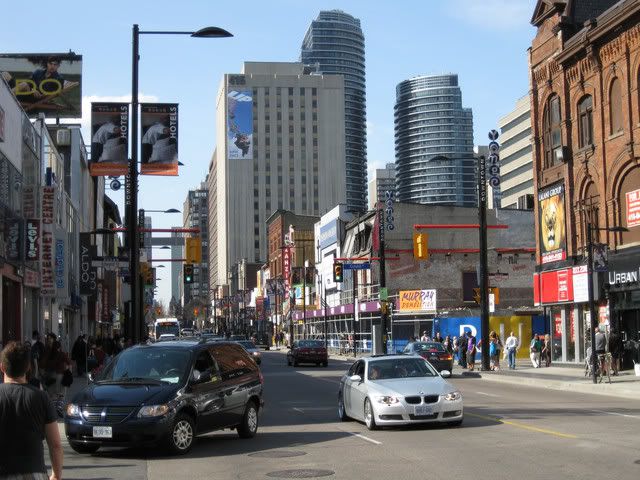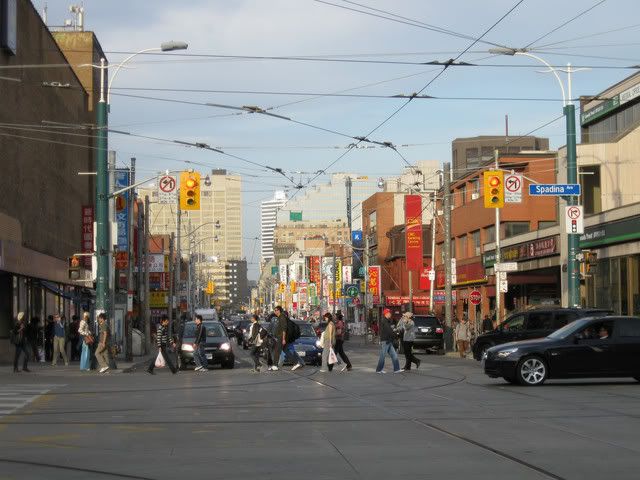 The following pics were taken from the CN Tower. On the first two, you can see the Toronto City Centre Airport, with Porter Airlines Q400's parked :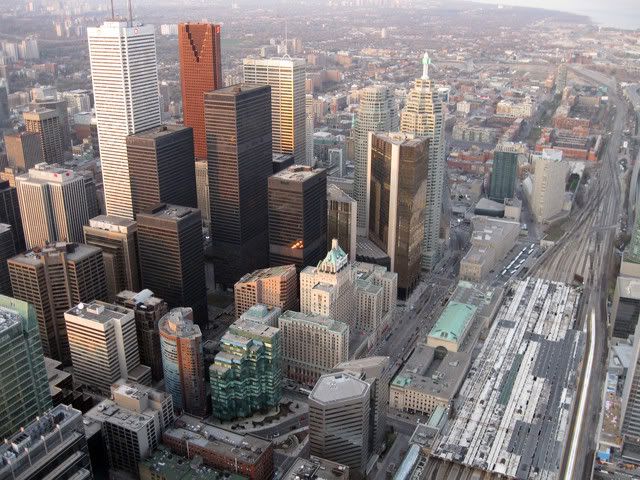 5. Toronto to Ottawa
- Air Canada AC1130 / Embraer ERJ-190AR C-FMZD / MSN 115
- 28-APR-2009 / Seat 31A
- Scheduled departure / arrival : 11.10 / 12.10
- Runway departure / arrival : 33R / 32
The next day was rainy. We had breakfast at St Lawrence market then headed to the airport, taking the subway till Kipling station then the 192 bus. This time, our flight was departing from terminal 1, as are all Air Canada's flights. The vast check-in hall was surprisingly quiet, we got our boarding passes from a self-service kiosk and proceeded through security without having to wait.
We waited for out flight at gate 133, in the domestic part of terminal 1, which had a calm and relaxed atmosphere. Our aircraft was hidden behind the jetway, but I managed to get its registration from gate 135 : C-FMZD.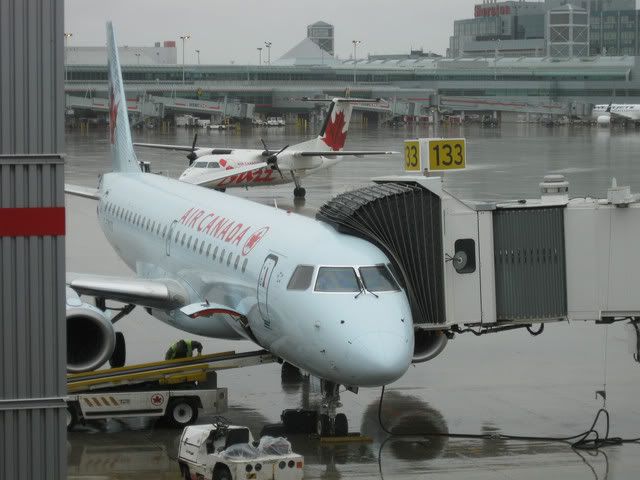 After boarding, I again realized that the load was relatively small. The captain explained that there was some technical problem in the cargo hold, and that they would have to unload cargo, fix the problem then reload, which would slighlty delay our departure. Funnily enough, one of the flight attendant wanted to translate the captain's message for French-speaking passengers, and her translation basically meant : "mechanics are currently trying to repair holes under our aircraft"...
Thanks to the generous seat pitch, the wait wasn't a problem at all. We took advantage of Air Canada's enRoute entertainment system, which I must say was very good for such a small aircraft : there was plenty of music and movies to choose from, earphones being complimentary.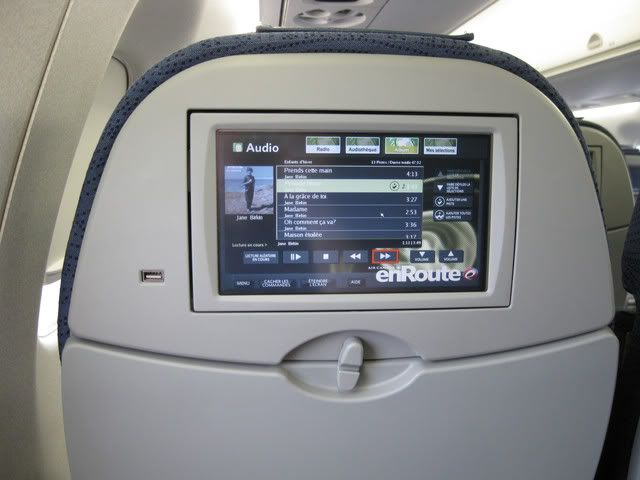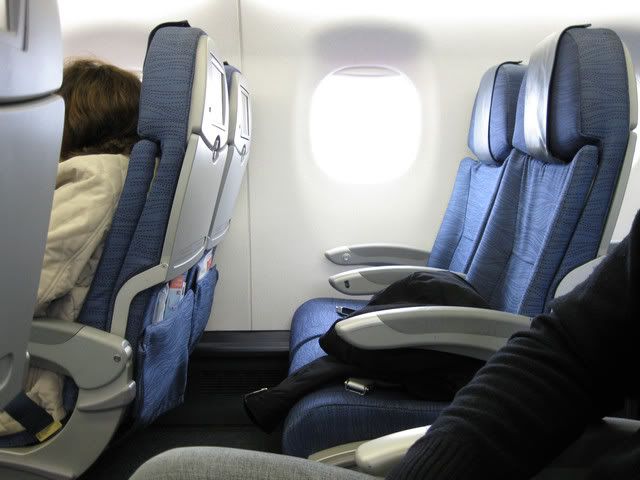 We finally took off 40 minutes late. Soon after, the cabin crew came with complimentary drinks while the aircraft was making the best it could to catch up the delay through rough weather. We landed on a wet runway 32 at Ottawa's McDonald-Cartier airport, only 20 minutes behind schedule. Both the apron and the terminal building were very quiet, Ottawa being a relatively small airport (it's the 6
th
busiest in Canada in terms of passengers).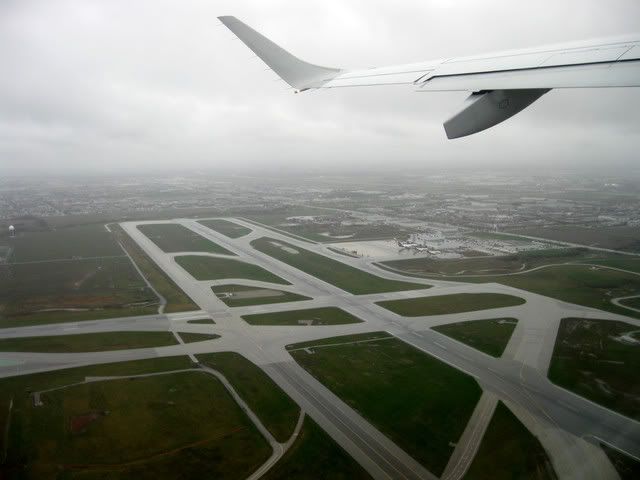 Rainy in Toronto...



...rainy in Ottawa too.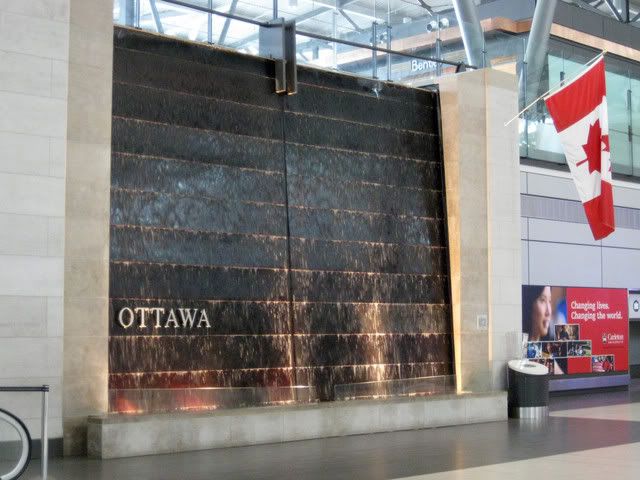 Welcome to Ottawa airport !
We bought a public transportation pass in the arrivals hall and took bus 97 to downtown. Again, a few pics :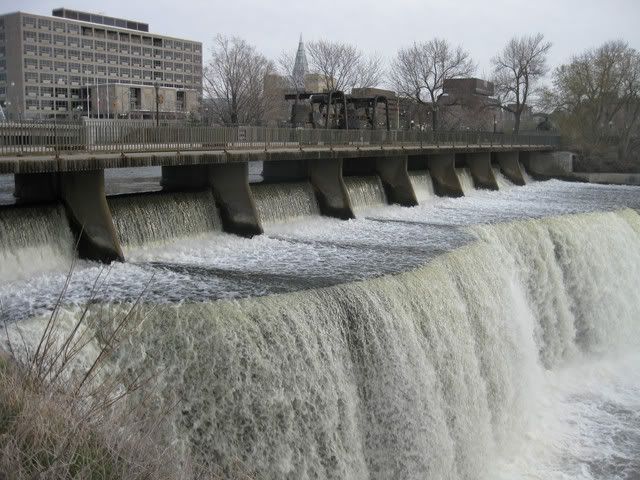 Rideau falls.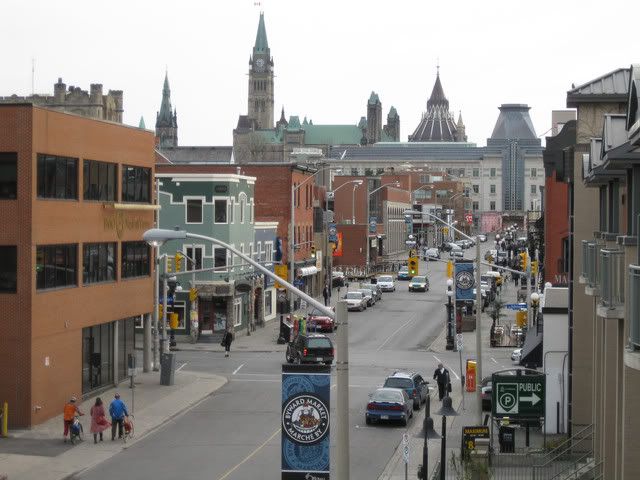 View from our hotel room.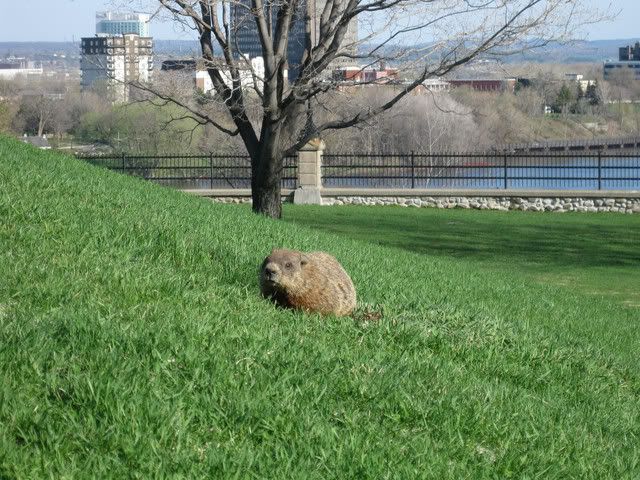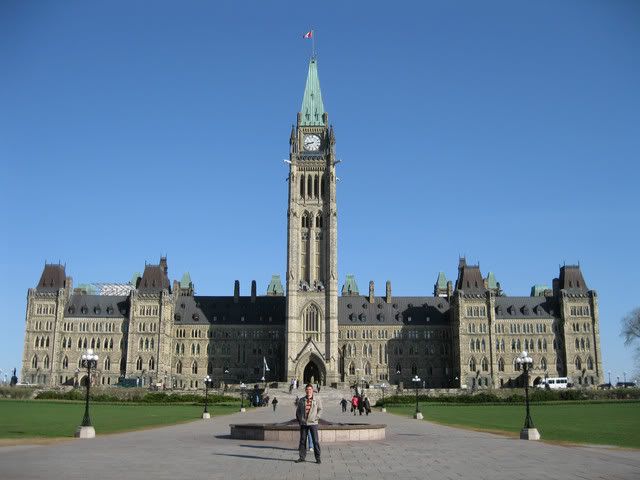 The central building of the canadian parliament. With me posing...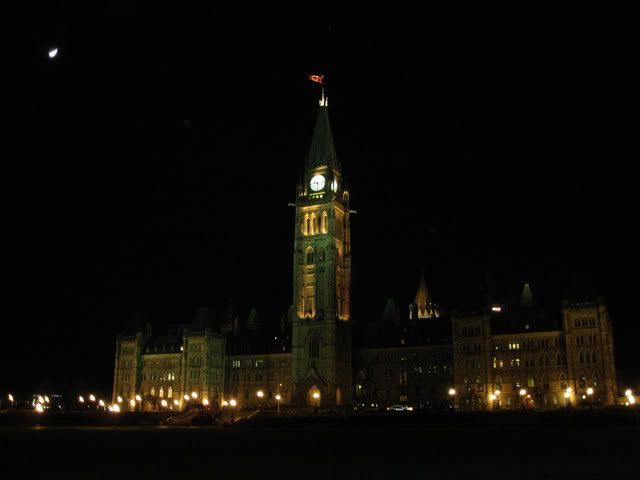 The same at night.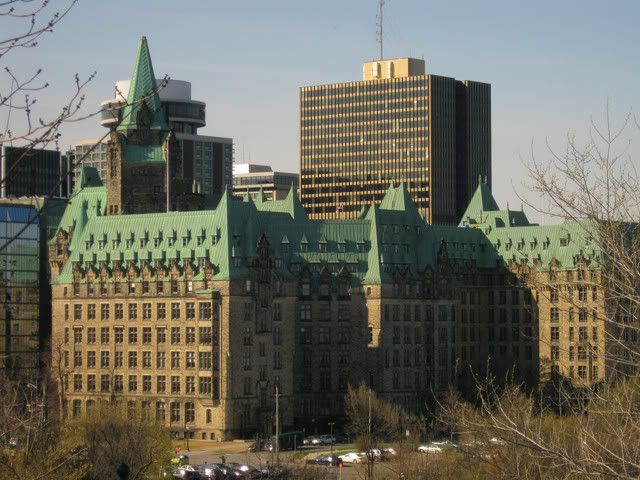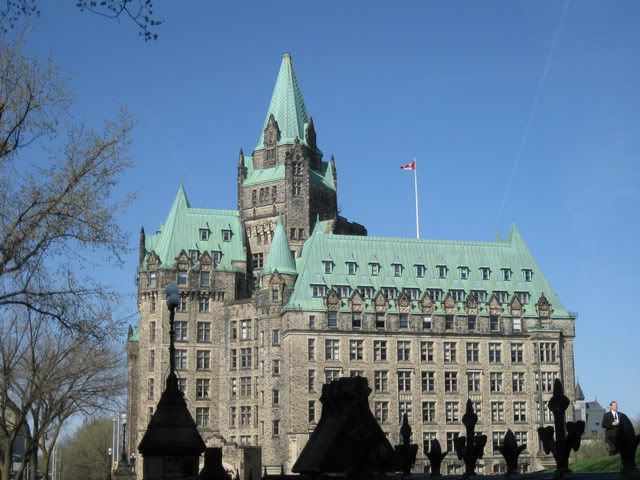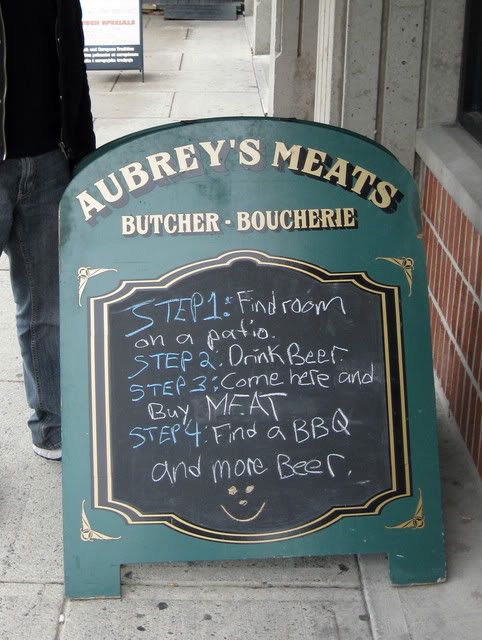 A butcher with a sense of humor.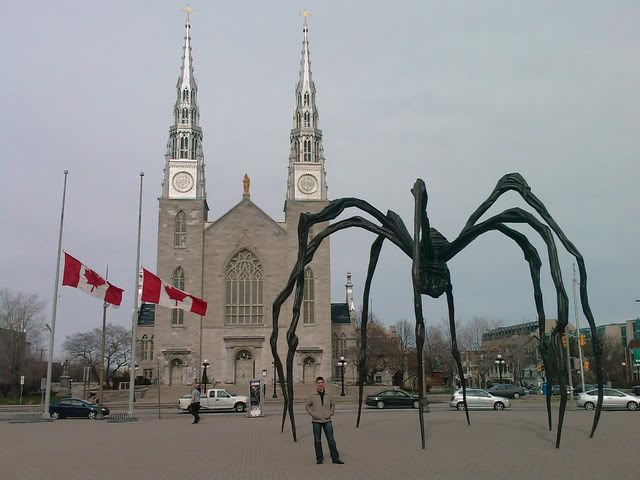 6. Ottawa to Montreal
- Air Canada Jazz AC8982 / Canadair CRJ-705ER C-FKJZ / MSN 15044
- 29-APR-2009 / Seat 25F
- Scheduled departure / arrival : 12.35 / 13.18
- Runway departure / arrival : 25 / 24R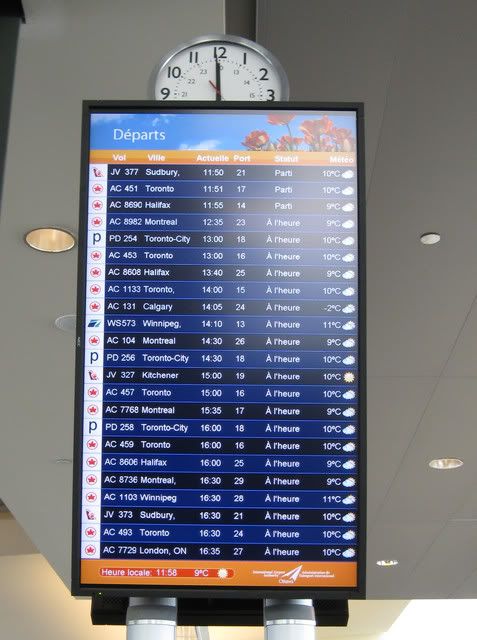 We arrived at the airport with plenty of time left before scheduled departure. A self-service check-in machine told us we were entitled to 2 pieces of hold baggage each (I had booked a less restrictive fare without noticing it), so after printing our boarding pass, we went to and Air Canada fast bag drop counter. The agent was one of the most friendly and funny I ever met : as there was no one else behind us, he talked to us for a while about Belgium, our home country, then in a very funny manner, he began to admire our belgian passports (featuring key belgian monuments). Again today, the atmosphere inside the airport was very quiet and relaxed, so after security, we went to a restaurant to eat a pizza while watching the few aircraft movements on the apron. After that, we went to our assigned gate (23) from where we could see the active runway. Among others, here's what I saw : Air Canada jazz CRJs and Dash 8s, Air Canada A319 and ERJ-190, Porter Airlines Dash 8-400, Bearskin Airlines Metroliner, and a more unusual CRJ-200ER of Nav Canada (Canada's civil air navigation service) used for inflight navaid inspection.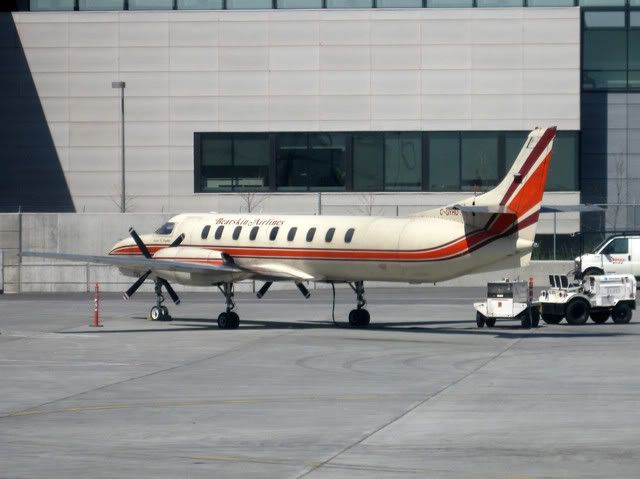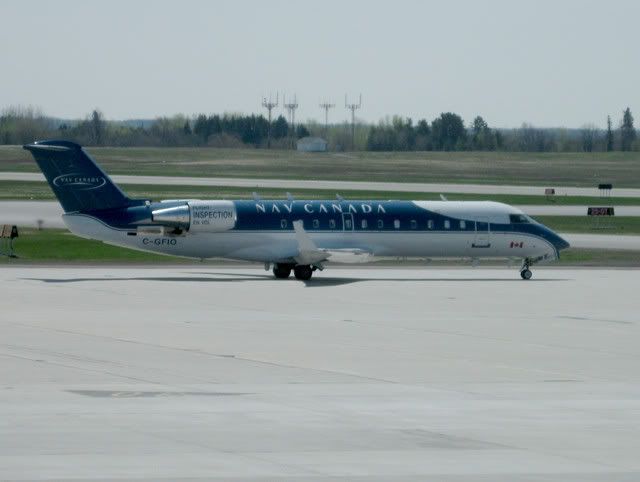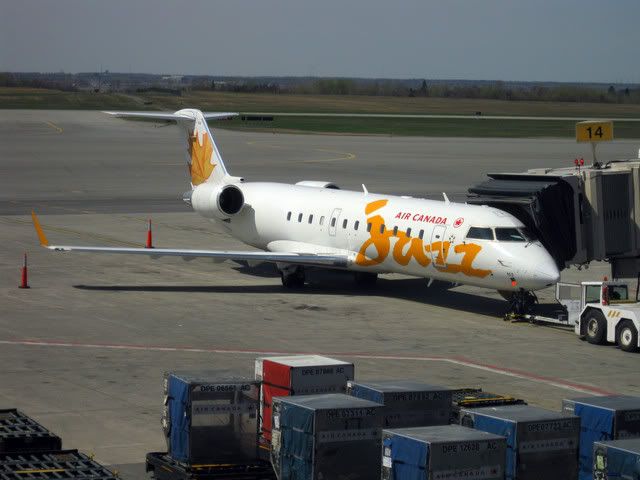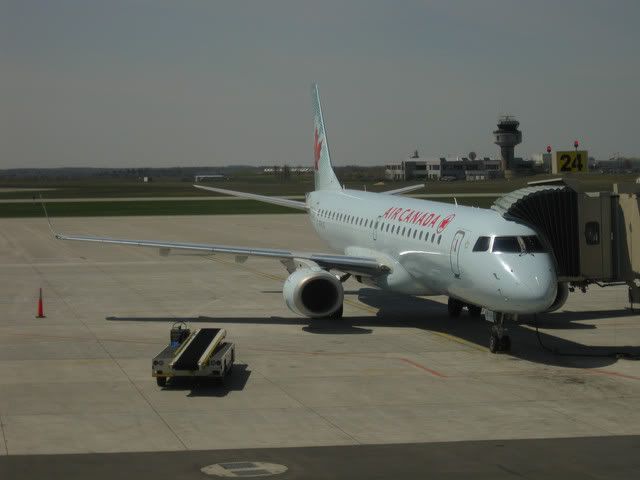 At 11:45, our aircraft (C-FKJZ) arrived from Saskatoon, with the same flight number as ours to Montreal. Air Canada Jazz is the only operator of the CRJ-705, a special version of the CRJ-900 featuring a business class section, reduced maximum seating capacity to allow its use under regional contracts, and a couple of performance enhancements.
It was my first time on board a CRJ, and although the cabin is indeed narrow, I found it quite comfortable, with ample legroom (I'm aware that 100 and 200 versions are supposed to be less comfortable, though). Every seat was equipped with a large PTV screen offering a wide range of music and movies. Earphones weren't provided, probably because the flight was too short. In contrast to our other domestic sectors, this flight was almost full, with some passengers continuing to Montreal from Saskatoon.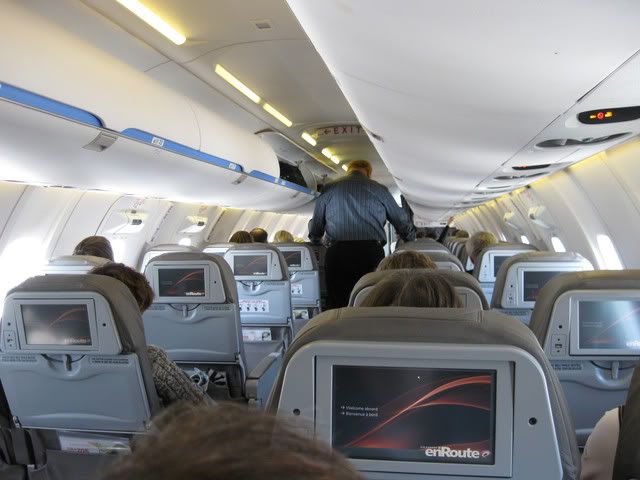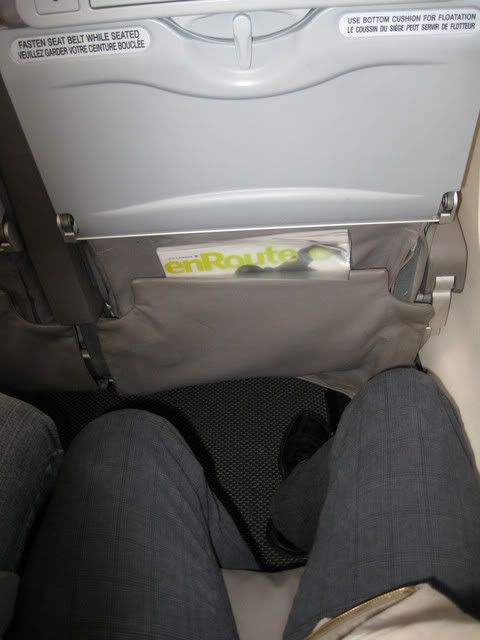 We left the gate ahead of schedule, taxied past a few freighters (FedEx A300 and CargoJet 727), a First Air hangar, an American Eagle ERJ-145, and eventually took off from runway 25. The flight lasted less than half an hour and we arrived in Montreal ahead of schedule. After getting our bags, we went to the departures level to have lunch.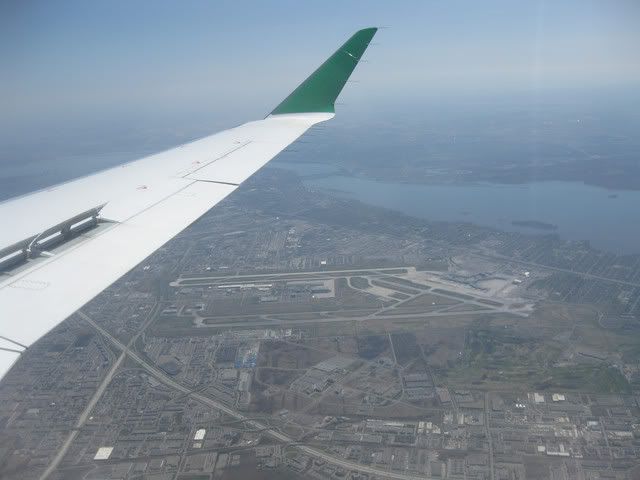 Above YUL, with a bit of airbrakes.



Montreal airport.



A couple of widebodies at the international concourse.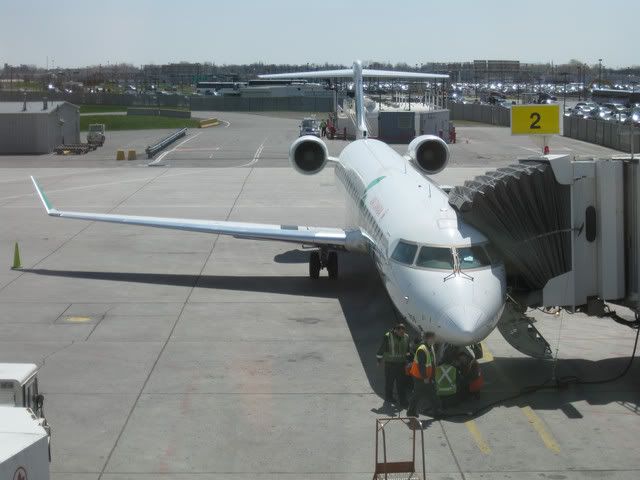 Our aircraft after arrival.


7. Montreal to Philadelphia
- US Airways Express US3407 (operated by Republic Airlines) / Embraer ERJ-170SU N808MD / MSN 21
- 29-APR-2009 / Seat 17A
- Scheduled departure / arrival : 17.50 / 19.34
- Runway departure / arrival : 24L / 9R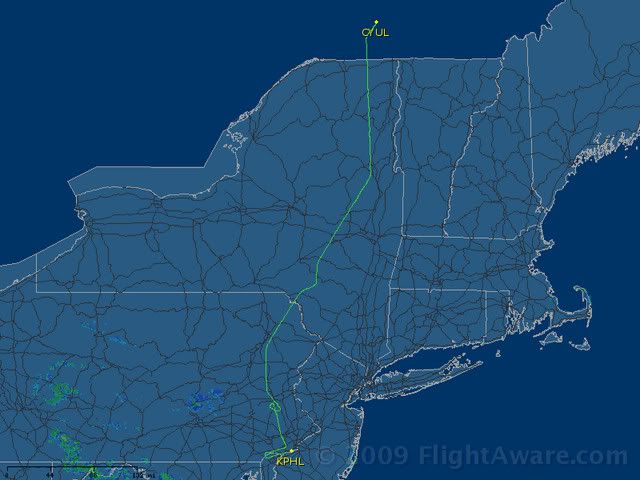 After eating, my friend went to the Air France counters to get his boarding passes (including one for his HST ride to Brussels the next morning). Then I went to USA check-in area where I found an almost empty US Airways counter. I decided to check my bag to avoid any hassle during my connections. I had planned to spend some time with my friend in the airport, but the US Airways agent told me that as I had checked my bag, I had to proceed through security immediately because it needed to be X-Rayed. As the USA departures area is separated from the rest of the terminal, I wished my friend a safe trip, filled the mandatory US customs forms and went to security. There I had to put my hold luggage into an X-Ray detector, then pass through usual security checks (complete with shoes removal). After security was a USA border preclearance facility, which works basically just as the immigration control in US airports and allows passengers from selected canadian (and a few other countries) airports to arrives in the US just as domestic passengers.
I then entered the gates area (dedicated for US-bound flights), where I bought a few souvenirs and read a book while watching the US flights arrive and depart (mainly regional jets).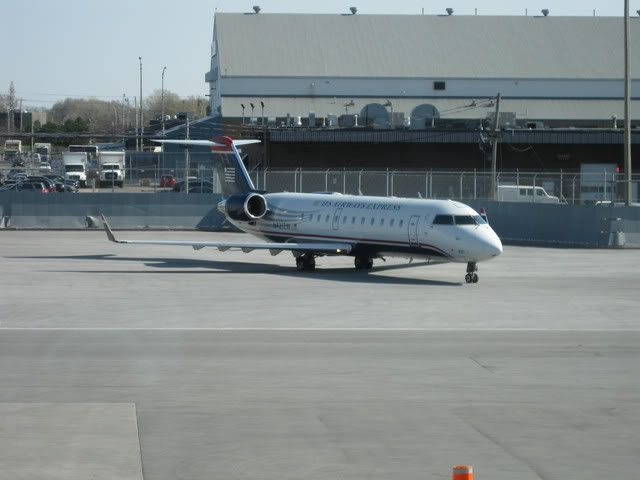 The previous US flight to Philadelphia leaving...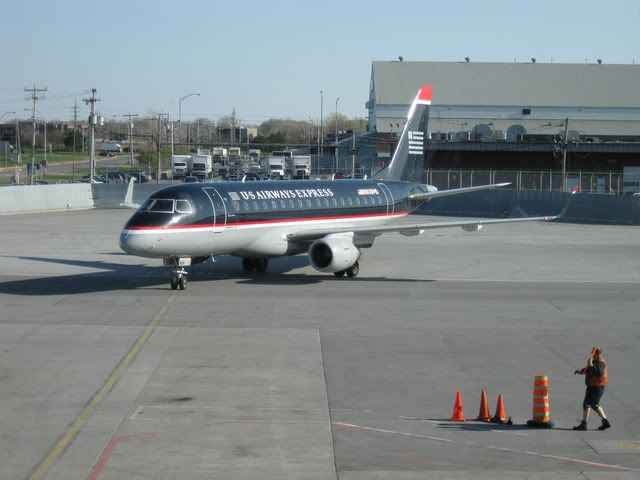 My aircraft pulling into gate after its arrival from PHL.
The ERJ-170 for my flight to PHL arrived on time at gate C80, and we started boarding after a 20 minutes turnaround. The cabin was just the same as on the PHL-YUL leg : comfortable, reasonably clean, without PTV's.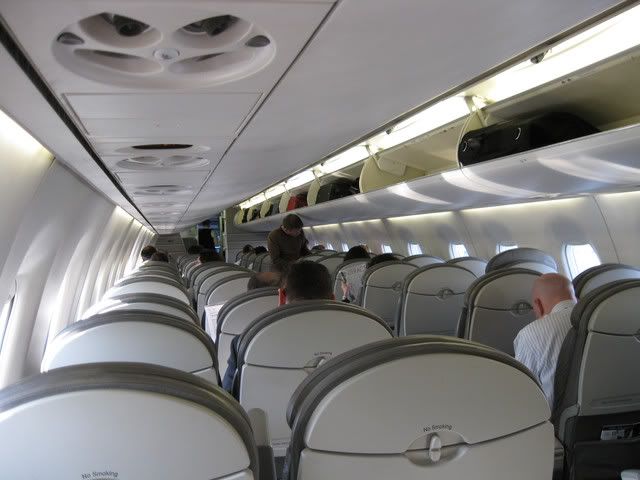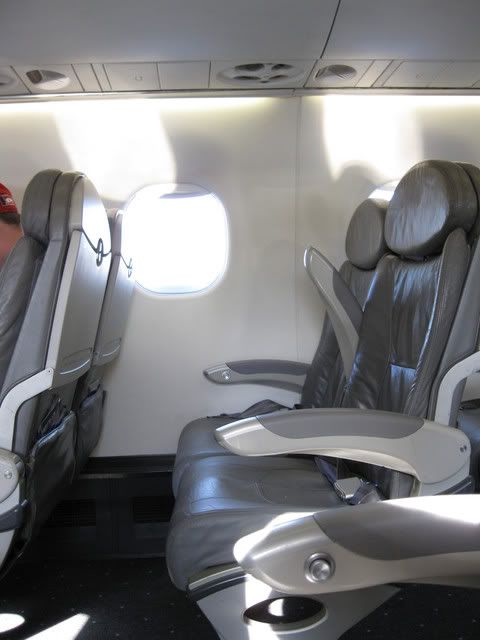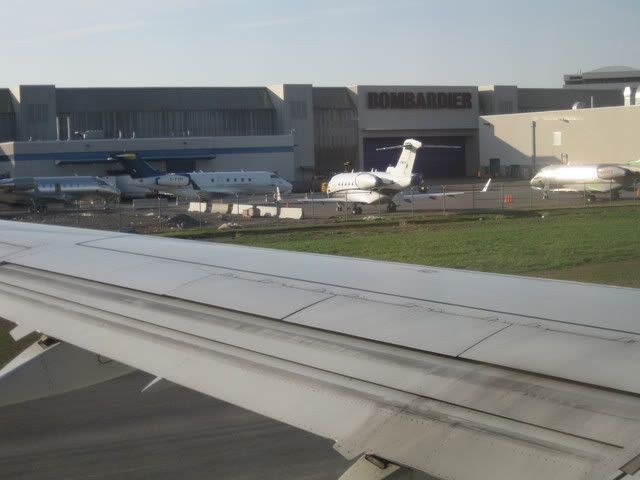 Bombardier facilities at YUL airport, seen while taxiing.
During the long taxi to runway 24R which included a tour of Bombardier facilities (we basically crossed the whole airport), I saw an Air France 747-400 taking off to CDG with my friend aboard. The take off and cruise were uneventful. I got an orange juice from a friendly flight attendant, and noticed the high number of vacant seats. We had to wait for awhile into a holding pattern near Allentown, PA, then proceeded at reduced speed to PHL, entered a lengthy (25 miles) downwind leg, and a just as long final approach. During the downwind leg, I watched many aircraft on final, following each other at a relatively short distance, and it was quite a sight ! After a soft landing on runway 9R, we still needed 10 minutes to reach our gate on terminal B, having to wait to cross 9L because of the numerous flights taking off. We parked near 2 US Airways A319s in special liveries : the first being "Star Alliance" N701UW headed to Syracuse, the other "PSA heritage livery" (beautiful, BTW) N742PS, preparing for departure to Boston. Our aircraft was to continue its day of duty as flight US3470 to Burlington, VT.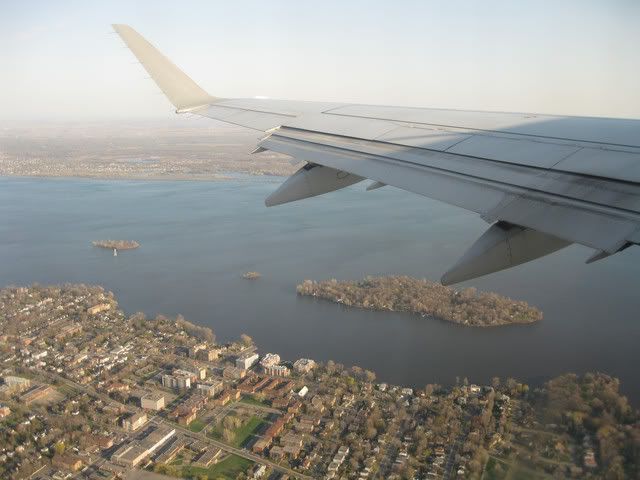 Downtown Philly under our wing. Beautifully lit.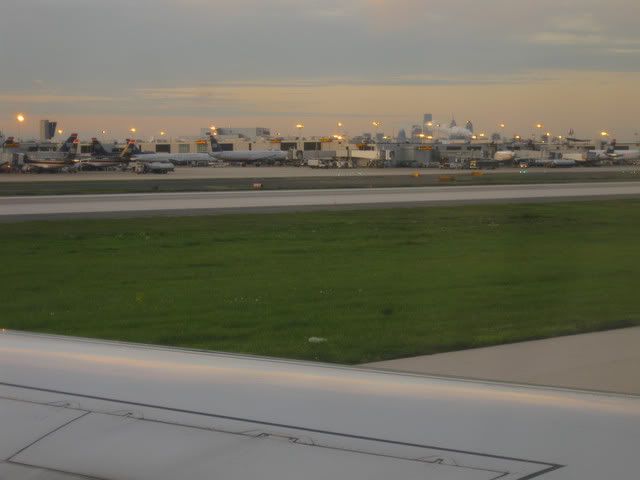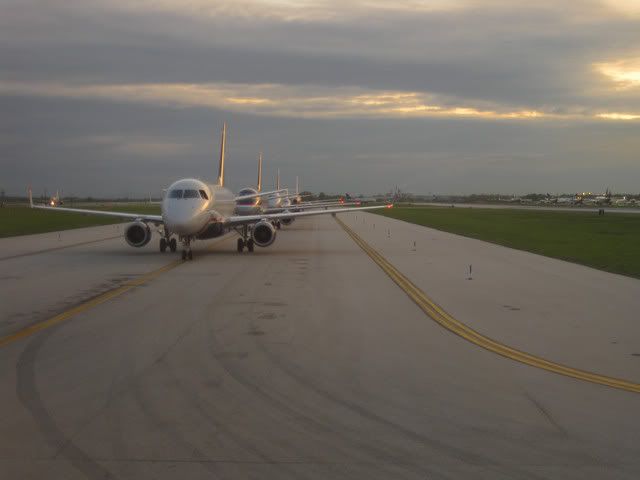 The queue of planes waiting to cross 9L.
8. Philadelphia to London-Heathrow
- US Airways US728 / Boeing 767-2B7ER N253AY / CN 24894 - LN 338
- 29-APR-2009 / Seat 27A
- Scheduled departure / arrival : 22.40 / 11.05 (next day)
- Runway departure / arrival : 9L / 9L
Once inside the terminal, I took the walkway leading to terminal A (international terminal, with some domestic flights). I was a bit surprised to find that there was no passport or security check to reach my departure gate. As I had a few remaining US dollars from a past trip in my walled, I ate at a McDonald's and considered going to a bar to watch live sports, but I opted for some reading at the gate instead. As I was early, I could choose a seat close to the windows, from where I could watch ramp and runway action. One hour before departure, an announcement requested that all passengers to London go to the gate desk to have their travel documents checked. This consisted in a passport and boarding pass check, and a red stamp on the boarding pass to prove the check was OK.
Upon boarding, I felt pleased to step in a 767 for the first time, even more so that I was on a 200ER version which is quite rare in Europe. The interior had a somewhat retro feel (the plane was 18 years old) but was in good condition. The seat itself, in fake leather, was comfortable and the legroom much bigger than on the A330. No PTV's on US 767s, but a couple of CRT TV screens across the cabin and a choice of audio channels in the seat. Again, headsets were for sale, the only complimentary amenities being a blanket and a pillow. Just as on the FRA-PHL leg, the food was a joke (choice of chicken or pasta, not tasty and in a small quantity, with a very small piece of bread and dry salad). Fortunately, the flight attendants were once again friendly and polite.
Leaving the US at night was beautiful, as I got excellent views of downtown Philly, then some time later of New York City and JFK airport, all lit up. I managed to get some sleep during the Atlantic crossing, which was a first for me, as I can't usually sleep in planes. Prior to arrival, we were offered a "breakfast" : a coffee (or tea) and a small tasteless cake. A real pity. We landed at Heathrow ahead of schedule, which gave me some hope of getting on my connecting flight, even if we had to wait more than 15 minutes on the apron for our gate to be ready.
9. London-Heathrow to Brussels
- BMI BD149 (operated by BMI Regional) / Embraer ERJ-145EP G-RJXD / MSN 207
- 30-APR-2009 / Seat 11A
- Scheduled departure / arrival : 11.50 / 14.05
- Runway departure / arrival : 9R / 25L
Fortunately, my flight to Brussels was due to leave from the same terminal (T1) and I already had my boarding pass, so all I had to do was passing through security, which was done without too much of a wait. As I entered the main departure lounge, the gate number had just been announced, so I decided to go and wait at the gate. The walk to reach it was quite long as it was located at the tip of a concourse (I think it was gate 57), and there was a passport control before entering the gate waiting area. When boarding was called, we were directed to some stairs that led us to the tarmac, where our beautiful ERJ-145 was waiting for us.
When I entered the aircraft, I immediately noticed how narrow the cabin was. For those not familiar with it, here is a good impression of the feeling inside the cabin (this picture was taken on another airline) :
View Large
View Medium


Photo © Marlo Plate - Iberian Spotters
Some passengers had to lean to walk through the aisle, and some had to put their cabin luggage into the cargo hold due to lack of overhead space. My seat (11A) was on the left side, without neighbouring seat, and it was an exit row, so I had plenty of legroom. The flight attendant asked me (and fellow passengers from the other side of the aisle) whether I was comfortable with the operation of the exit in case of emergency, to which I replied positively. Taxiing to runway 09R was kind of fun, as most other traffic were widebodies, or at least A320s. Actually, we were followed by... a Singapore Airlines A380 ! I wonder whether its pilots really did see us, from up there...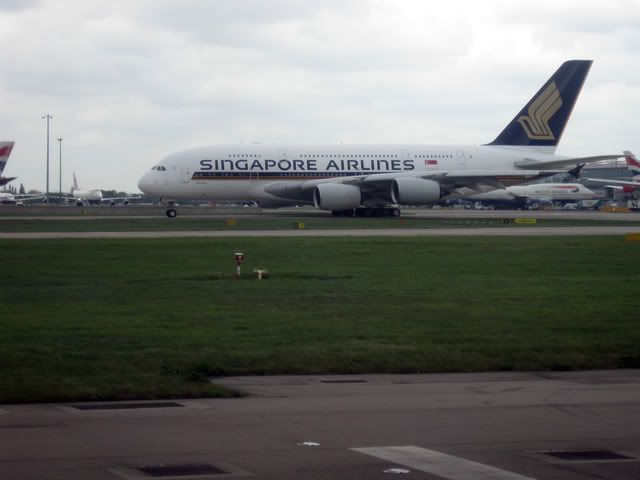 Look who's just behind !
Acceleration and take-off were like in a rocket ! Soon after, a round of drink was offered, but I think it was a buy on board service (correct me if I'm wrong). Anyway, the flight went fast, a bit bumpy, we passed over Ostend airport, Belgium, and began our descent to Brussels. Landing on runway 25L, taxi to Pier B, disembarking using the stairs (I think the jetways are not capable of adapting to the low door of the ERJ-145). When I arrived at the bagage reclaim belt, I was glad to see that my case had also managed to make the connection at Heathrow on time... I took the train to Charleroi station where my wife was waiting for me, et voilà...
Thanks for reading all this. As always, your comments and feedback are much appreciated !
Regards
BrusselsSouth