Good Morning, Good Afternoon, Good Evening everyone,
Introduction
This is my third trip report so far reporting on the LHR-HKG-LHR sector, the first with CX and the second with NZ and my millionth trip to HK! I really ought to join a frequent flier programme with an airline! I try to fly back to HK once or twice a year and was not planning on flying back this year…what with the credit crunch and all that business until my friend emailed me saying he caught sight of fares to HK with VS for 325GBP. Coincidently he was flying to KUL with the new LCC, Air Asia from Stansted around the same time as I was flying out to HK and I asked him to write a report but he refused. Some people are just no fun; don't understand the marvels of air travel!! I didn't believe him at first as flights to HK normally average at about 400GBP so I thought he must have been mistaken. I checked the VS website and saw that VS were having a special sale on to celebrate their 25th birthday! Wow! It was a very special fare as it was only available for one week and as my friend told me two days before the cut off date I had to book it quickity-split!
I was still debating whether to book it as although the fare was incredibly low I hadn't planned on going and wanted to save up to get my mitts on my Honda R type dream car (drooling starts here…) I have never flown with VS but always wanted to. When I was younger my parents would never book with VS as, quote 'they only use a small aeroplane!' Majority of the other carriers at the time were using B747 so compared to that then I guess the A340-300 is 'small'!! My folks claimed it wouldn't be safe flying on such a small aircraft and that kinda stuck with me growing up!! Even now I get apprehensive boarding a 737 jet, or even worse an aircraft with propellers!
I have always had the impression that VS is a 'fun' airline, very colourful and sparkly; compared to the more traditional and respectable airlines like BA. My cousin tried them out once to HK and I liked the amentiy kit they gave her, you get lip balm and eye shades and everything! She did comment that the seats were uncomfortable and the crew were not much good either but this was back in the dark ages when VS sent their A340-300 there.
So it was to be, my first time flying with Virgin Atlantic
Planning
I was actually shocked to learn that VS operates twice daily services from LHR to HKG using the A340-600, I thought they only had the single flight a day. This means there must be in the region of 10 flights a day to HKG, that's 70 flights a week!! That is unbelievable! This by far has to be the highest frequency of direct services from London to any Far Eastern destination. I wonder why it's so popular, well if it keeps the fares down then I'm all for it!
I decided to book the earlier VS238 which lands into HKG around noon and return on the late evening flight arriving into London very early morning. After flying with CX and NZ on their morning return flights back to LHR, I must admit I would rather fly in the dark; people are just too active on morning flights -and with me being a grumpy sod I am not too keen on this!! I did check with NZ and their fares were only 30GBP more expensive and I would have gladly paid for this but the thought of having to wake up at 5.00am for the return flight was really too much...it nearly killed me last time!
!!!RANT 1!!!
May I make a rant? I promise I don't have many! I was just about to confirm my trip when I noticed a credit card fee charge applied to my Mastercard and was disgusted at this. Both CX and NZ did not require this when I booked with them, I only thought the likes of Ryanair and Easyjet did this to get more money. I was not impressed with this so to avoid this added cost I used my debit card until I realised VS don't accept my debit card! Grrr…Instead I booked the same flight with eBookers who did accept it -they too charge a credit card fee which I thankfully avoided!
!!!RANT 2!!!
Trains here in UK are a total rip off!!! A return ticket from my local station to Heathrow underground would set me back a whopping £60! Unbelievable! The train companies here are an utter disgrace and expensive to boot! I had no choice I had to book using the train but realised that if I booked two separate tickets rather than one single through ticket to London I could save £20 with better connection times too, it just didn't make sense. I don't like using trains at the best of times and making it more expensive doesn't really encourage me to use them any more! Plus these tickets were for specific train times and should I miss a train then…well I'm screwed to put it bluntly. An open return would just be over £110. Utter disgrace!
VS Online Check in
VS website is very flashy and easy to use and navigate around. After booking my ticket I was able to log into my account and automatically assign myself a seat. A lot of the seats were not available so wasn't too sure if they block off some seats or if the flight was going to be full. According to seatcounter.com the flight seemed pretty light which is a good sign as I would have more room to play around! What I liked is that when you log in to your account there is a countdown timer counting down how many days, weeks etc until your next flight with VS. I booked my tickets about 6 weeks in advance and the time flew by and before I knew it I was set to go!
VS online check in facility allows you to check in 24 hours prior to departure time. I was driving home from work when online check in opened so when I got home I logged in. It's a simple procedure to check in, you enter your sex, nationality and email and that's about it. Once confirmed you have the option of changing your seat but beware once you log out you cannot log back in to change your seat again. CX online check in is quite a mission in comparison, wanting your date of birth, passport number and expiry date, nationality etc. Once confirmed VS will send an email confirmation to you with other important information like check in locations and airport information.
Outbound
I wanted to catch an earlier train service to arrive into Heathrow so I could explore the airport a little while and hopefully visit T5 and spot some planes departing or arriving. I don't go 'plane spotting' at airports and the only time I really get to see planes in action here in the UK is when I'm planning on actually flying myself; so visiting the airport is still kind of a novelty for me. After arriving into London's King's X station, I took the underground direct to Heathrow which is about a 40 minute journey. I decided to continue on the tube one extra stop and get off at T5 instead of the station to connect you to T1, 2 and 3.
I spent about 40 minutes exploring T5 and the area outside affording some good views of the apron and departing aircrafts. It was not that interesting and the intense sunshine made me quickly scamper to find some shade so I decided to take the Heathrow Express to T1, 2 and 3 to check in for my flight. After disembarking the train you walk through what can best be described as 'sewers' with electronic people mover escalators to direct yourself to your required terminal, for me T3.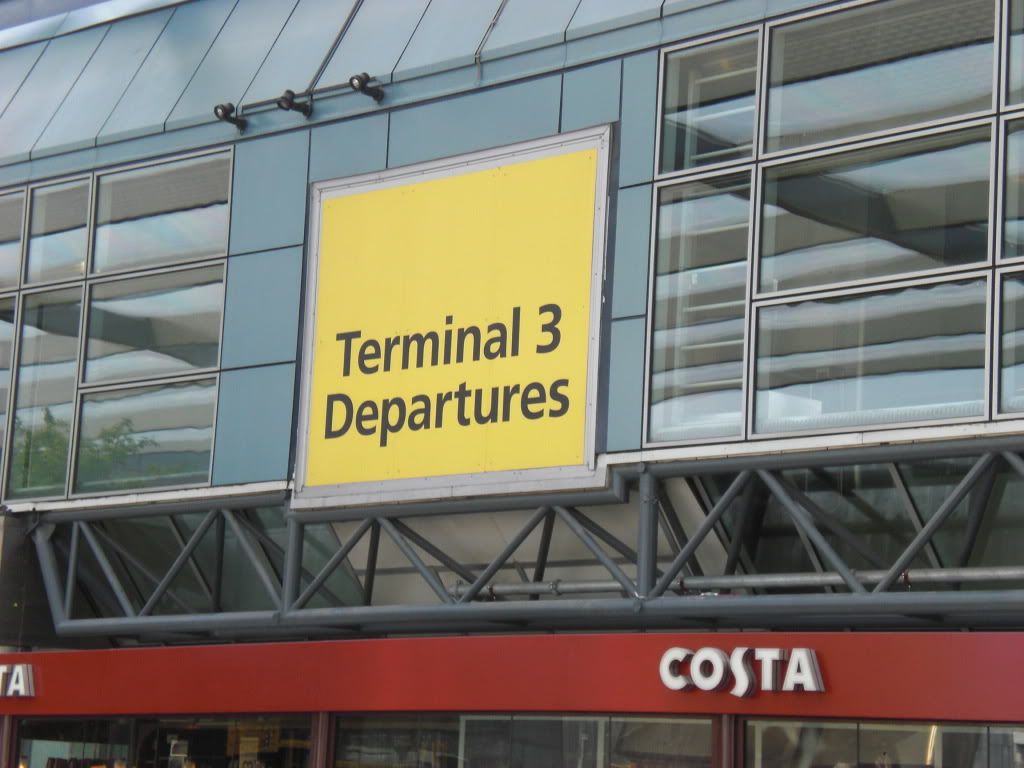 Outside T3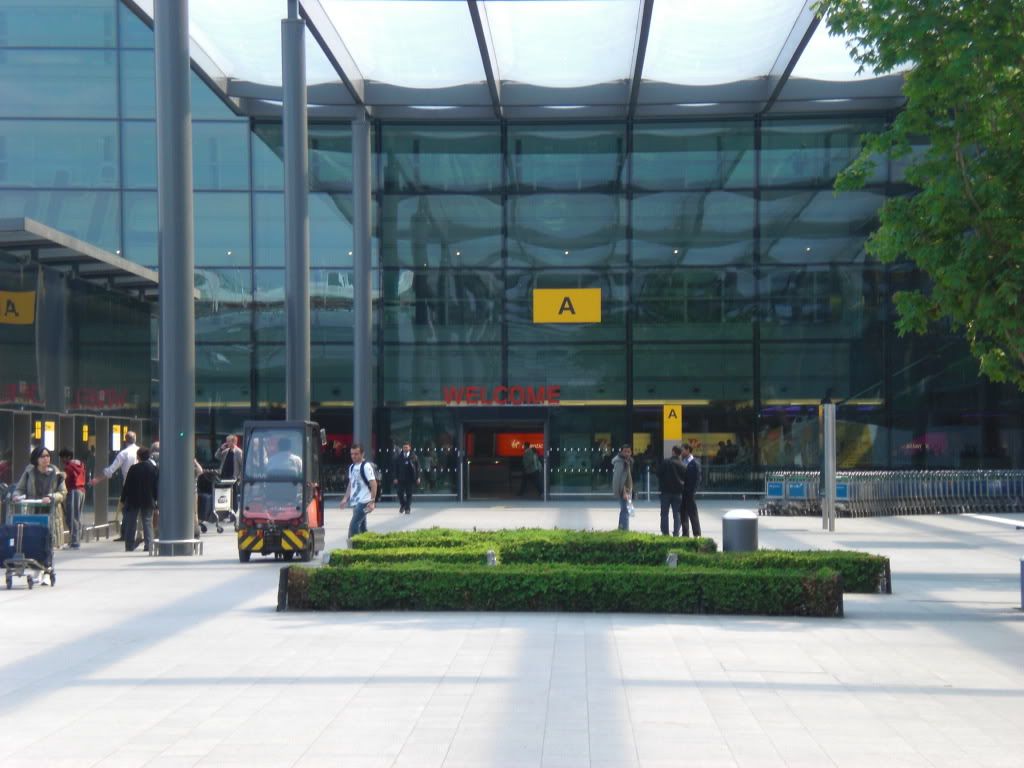 VS Check in area
I sat outside on the benches in the sunshine for a bit instead of going straight to the dedicated VS check in area as it was still a good 4 hours or so until departure time. Being easily bored I made my way to the VS check in area soon after and first impressions was that the area is really spacious, modern and bright. One thing I did notice was that there must had been 8-9 VS representatives just standing doing nothing much. I think they were there to help with self check in but I thought they were far too many and not one of them said hello or even made eye contact with me!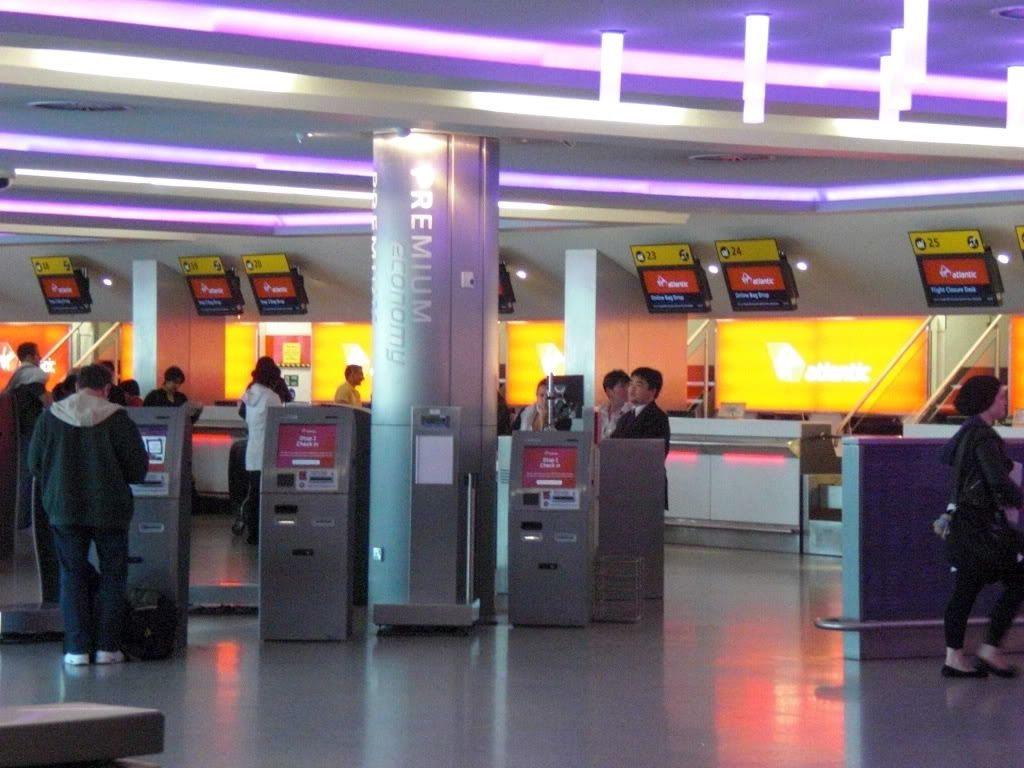 VS Check in desks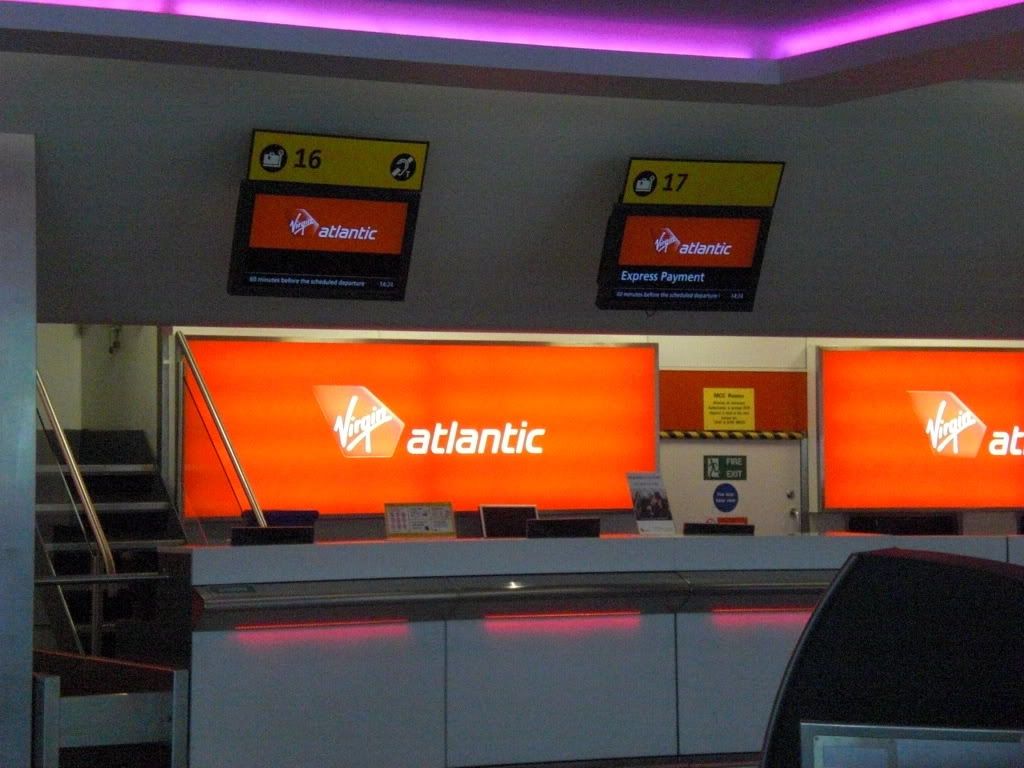 More VS check in desks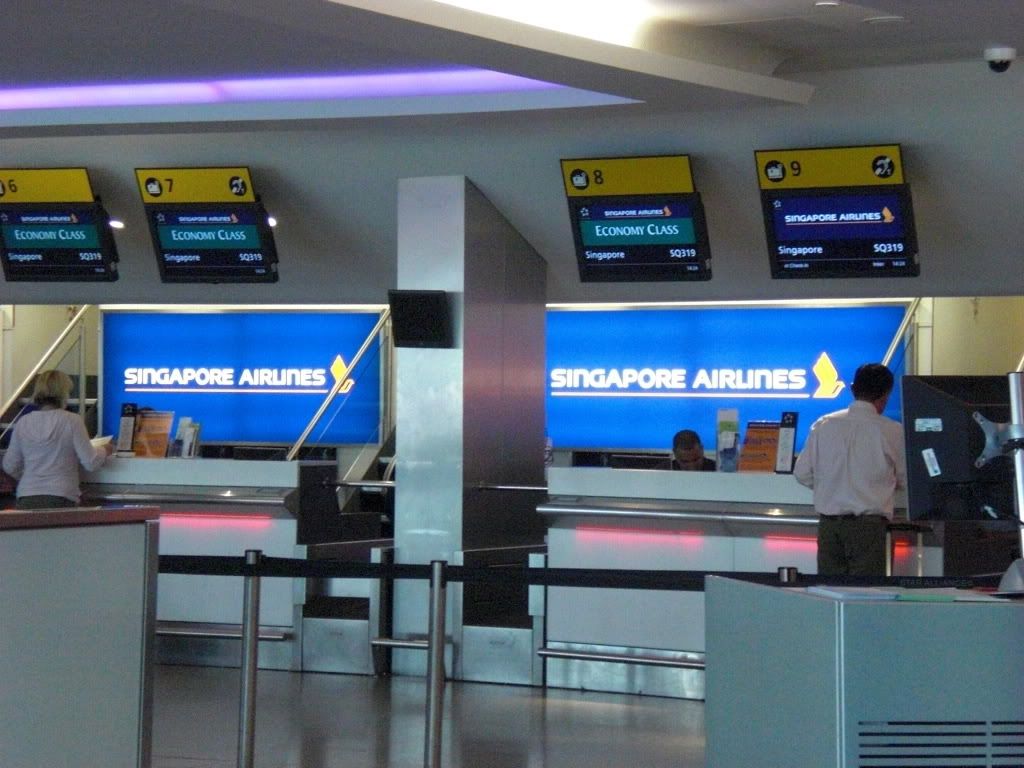 SQ checks in desks are in the same area as VS
Not too sure what this represents but I thought it was pretty neat!
There were very few passengers in the terminal but each check in counter had someone so I patiently waited being the first and only person in line. 10 minutes passed and I was still waiting and not one VS representative did anything, I don't know maybe they were having a go slow day?! I started to daydream and didn't realise when one of the check in representatives, the one from last minute check in desk I think waved me over. I think he took pity on me for waiting as I was definitely not late for check in!
Him frantically waving at me and me suddenly realising!
Me: Sorry, I was miles away
Him: That's ok where are you flying to today?
Me: Hong Kong, is the flight awfully full today?
Him: Let me just check, I don't think so…no, it's quite empty actually.
Me: Ah, brilliant!
Him: Did you check in online?
Me: Yes, I did but I did not enter any of my passport details.
Him: That's ok.
After checking in I walked around the rest of the terminal and it is in start contrast to VS bright and airy check in area, the rest of the terminal is dark and gloomy. What I do like about T3 is the number of international airlines housed making it an interesting place to see all the different nationalities and uniforms.
Ohayoo Tokyo!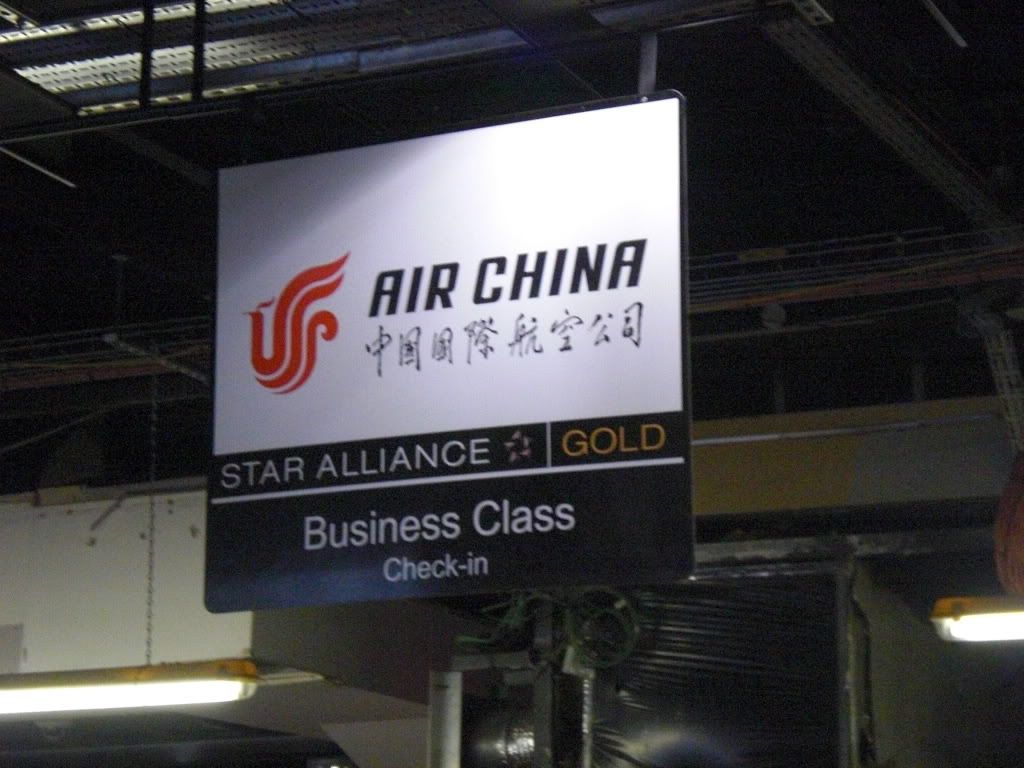 Air China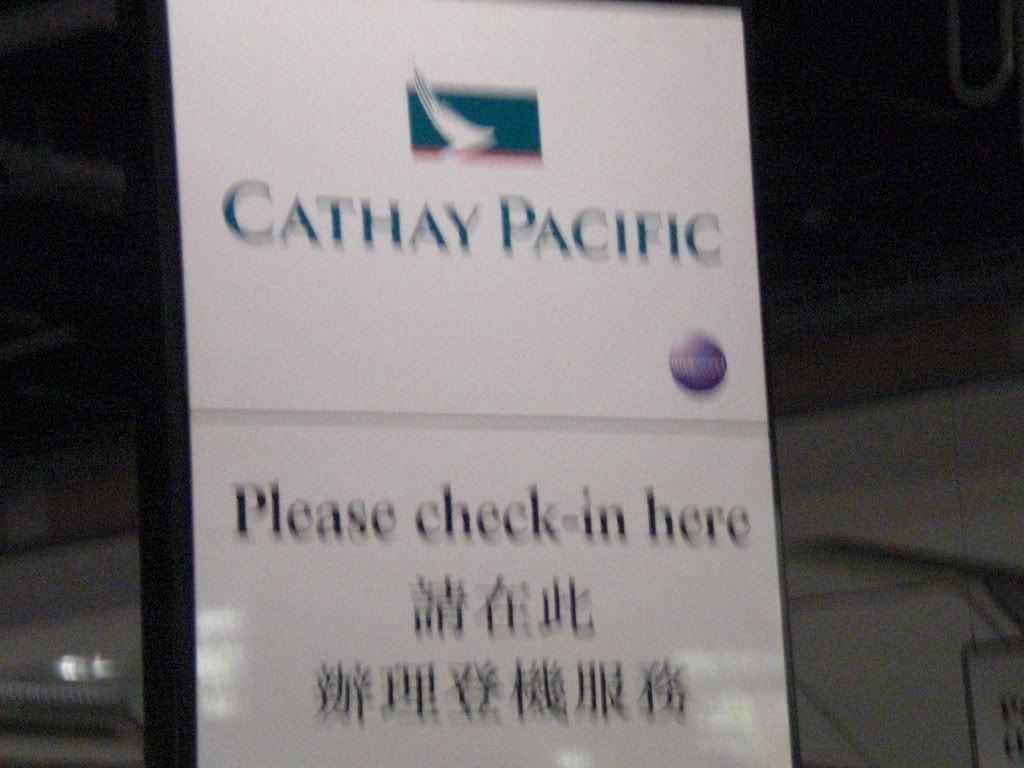 Cathay Pacific, my second favourite airline, after BA!!
To get airside you take the escalators to the second floor where there are shops and restaurants. The liquid restriction is still in place so I had to throw away my unopened bottle of water that I thought I would have drank by the time I reached the airport. Security is still an Army assault course to get through. A boarding card check is first required and then cabin baggage and laptops to be checked followed by a body check. I was asked to take my belt off which was a pain as I was wearing a fiddly belt and I was having trouble getting the belt off. I have a belt fetish. It must had taken about 5 minutes to take my belt off and was about this close to just taking off my trousers and walking through the body check machine in my boxers...oh wait…I was going commando!! Hahaha!!
I was a little concerned that whilst I was engaged in my belt ordeal my laptop along with my passport, wallet, bag and money had already gone through the x ray machine and I was worried that someone might take my tray with all my belongings. The security staff were useless at making sure that you only retrieved your belongings; I was given no number, like at HK, where that number you are given represents your tray with your belongings. A poor show on behalf of BAA. After that fiasco then there is a passport check and then you are required to take off your shoes for a shoe x ray.
I think you need to be given a certificate of achievement for passing through all that! Once through there is not much to do in the terminal apart from shopping or sitting in the waiting hall. Since I didn't want to shop, apart from buying a bottle of water, I decided to walk around the gate area. I have yet to see the A380 so was absolutely delighted to have stumbled across the EK A380 being pushed back for take off near gate 3! Initial impression is that it is not as big as I imagined it to be! I thought it would be much bigger! I think the 747 looks more impressive than the A380 even after so many years of the 747 flying! I am no longer in a rush to fly on the A380 and I would rather fly on a 747 after seeing the A380.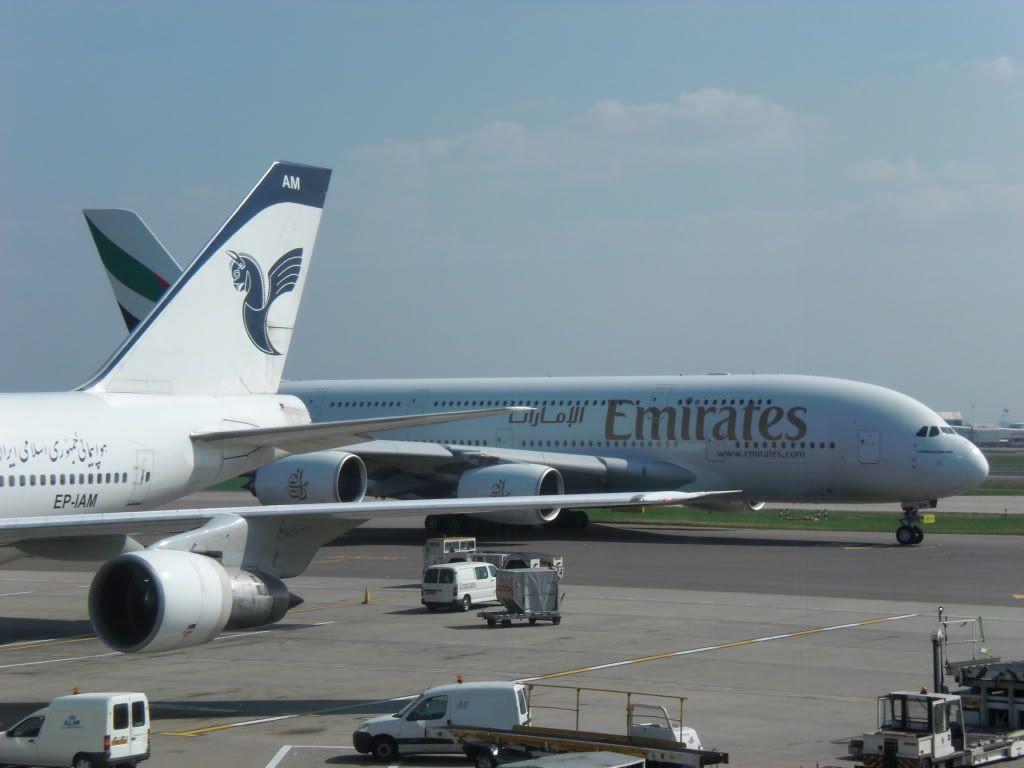 The EK Beast!!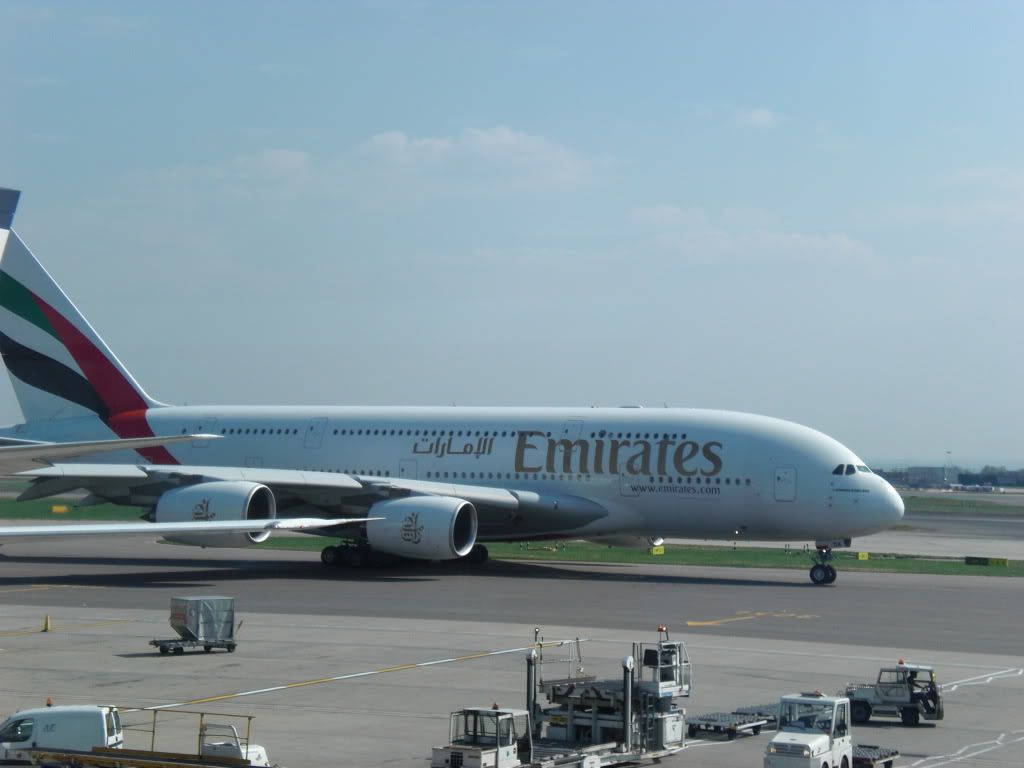 A380
!!!RANT 3!!!
After security there are no baggage trolleys to use. Therefore you are left carrying your cabin baggage during your time before you board the aircraft. I was left carrying my laptop and all my personal belongings which can be quite heavy especially when you are walking to a far away gate. Most other airports I have been to do provide luggage trolleys to use after security for passenger convenience. Not very customer focused hey BAA!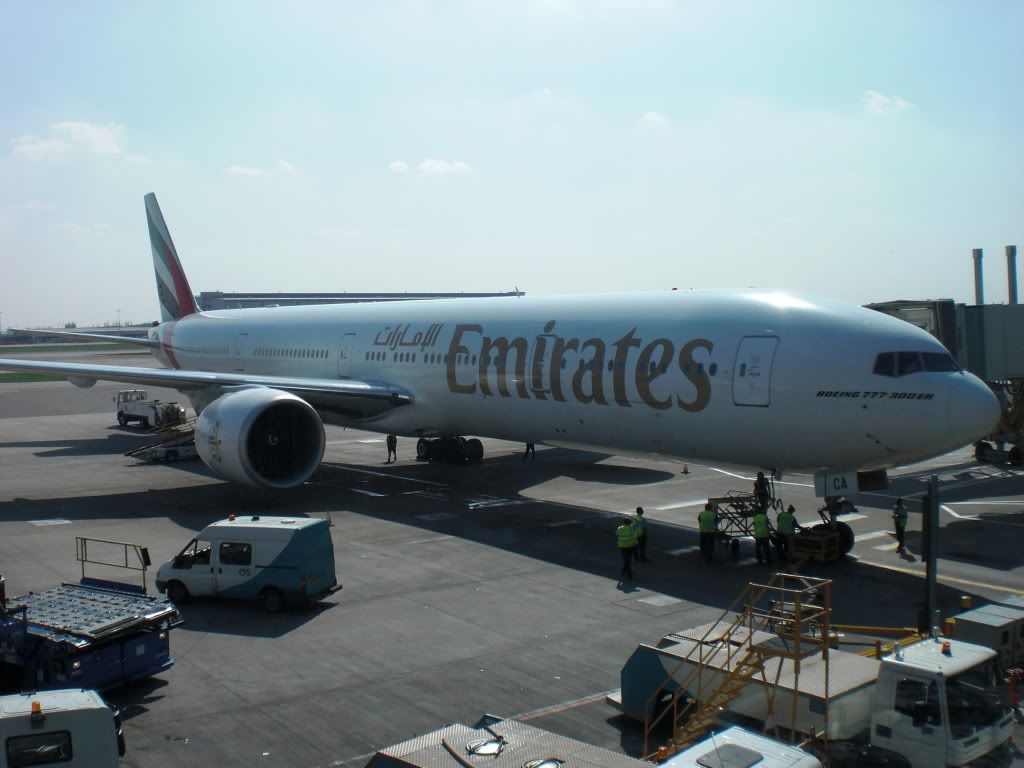 EK 773
ANA to Tokyo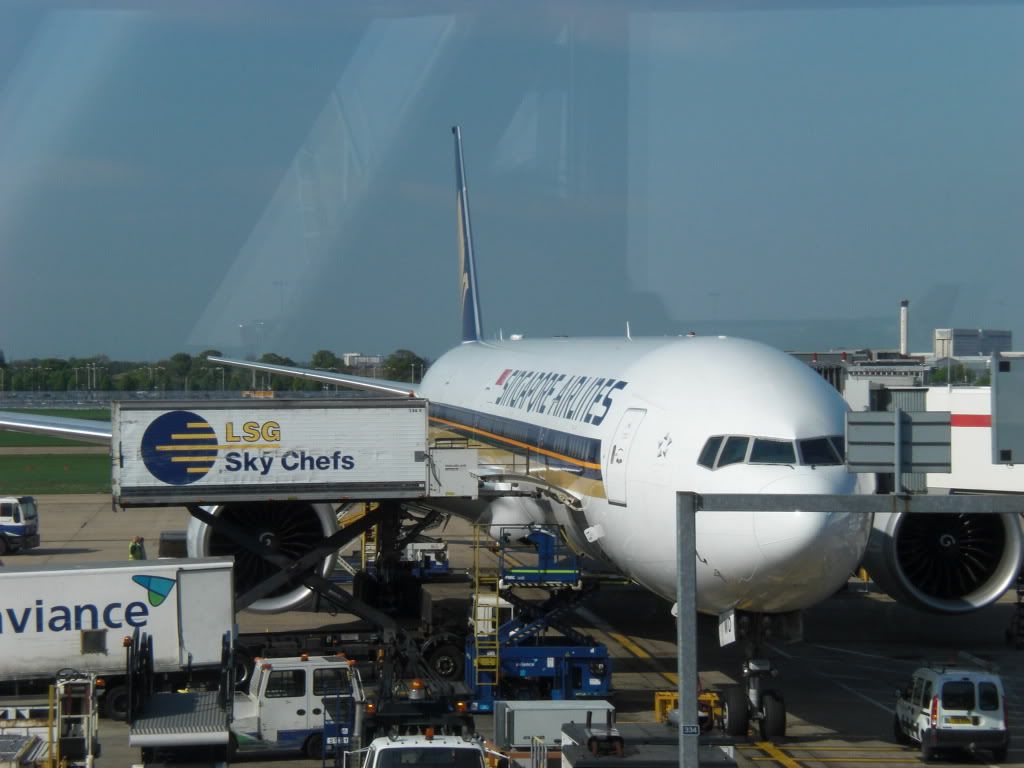 The SQ 773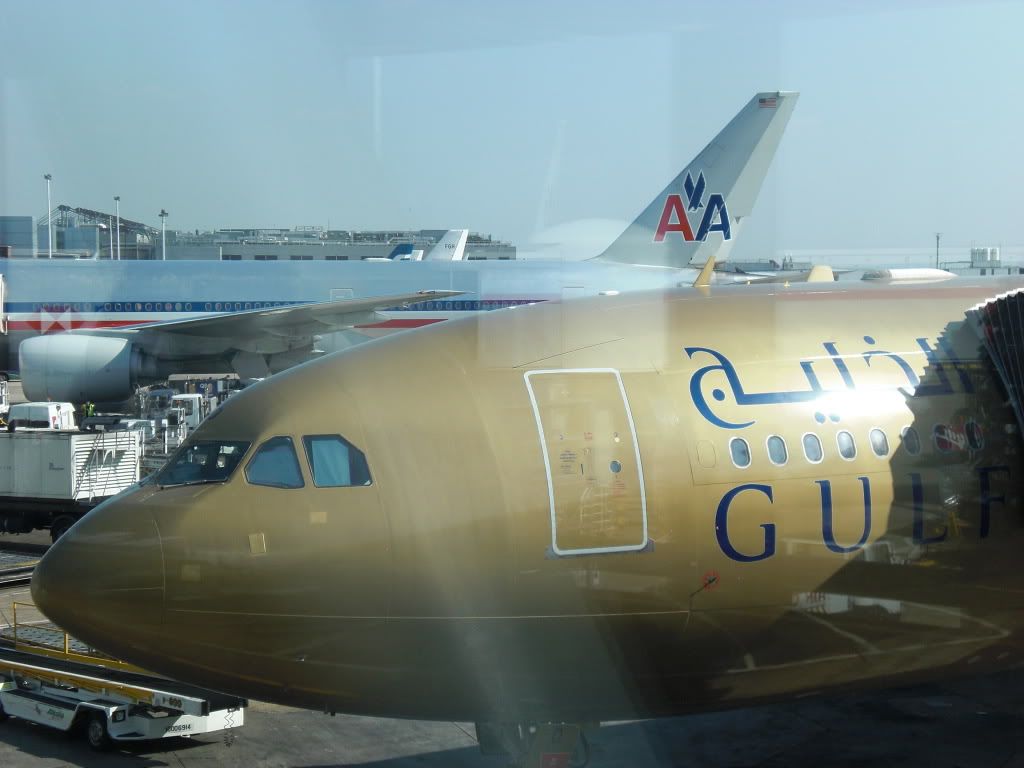 Gulf Airlines and American Airlines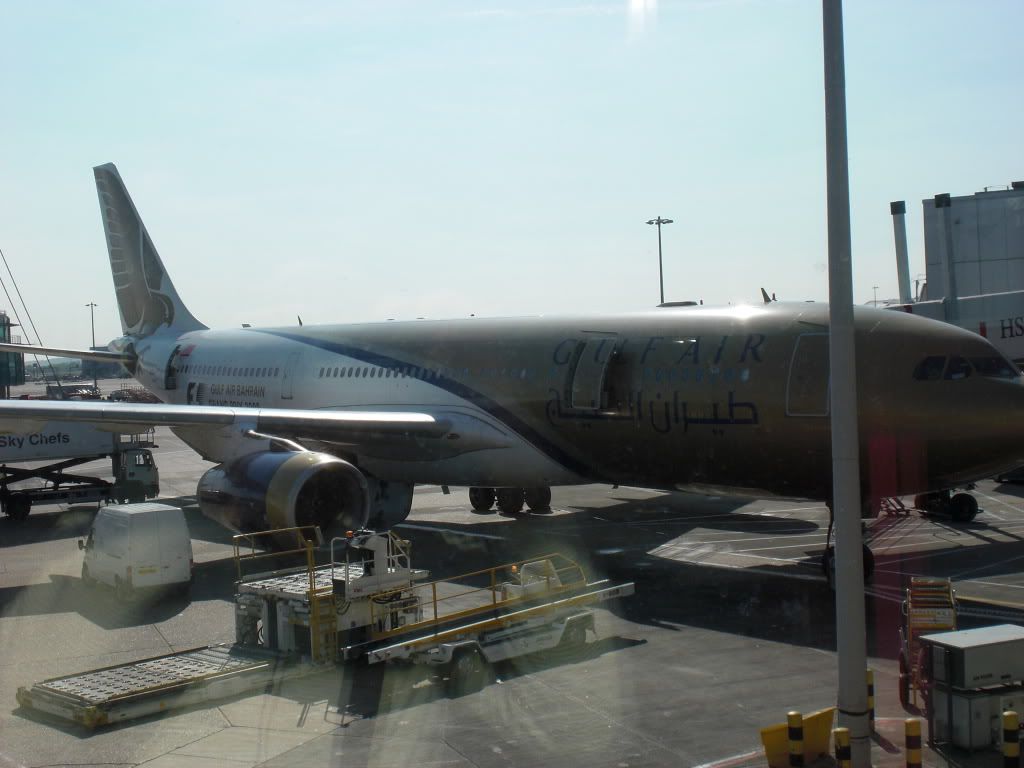 A better picture of Gulf Airlines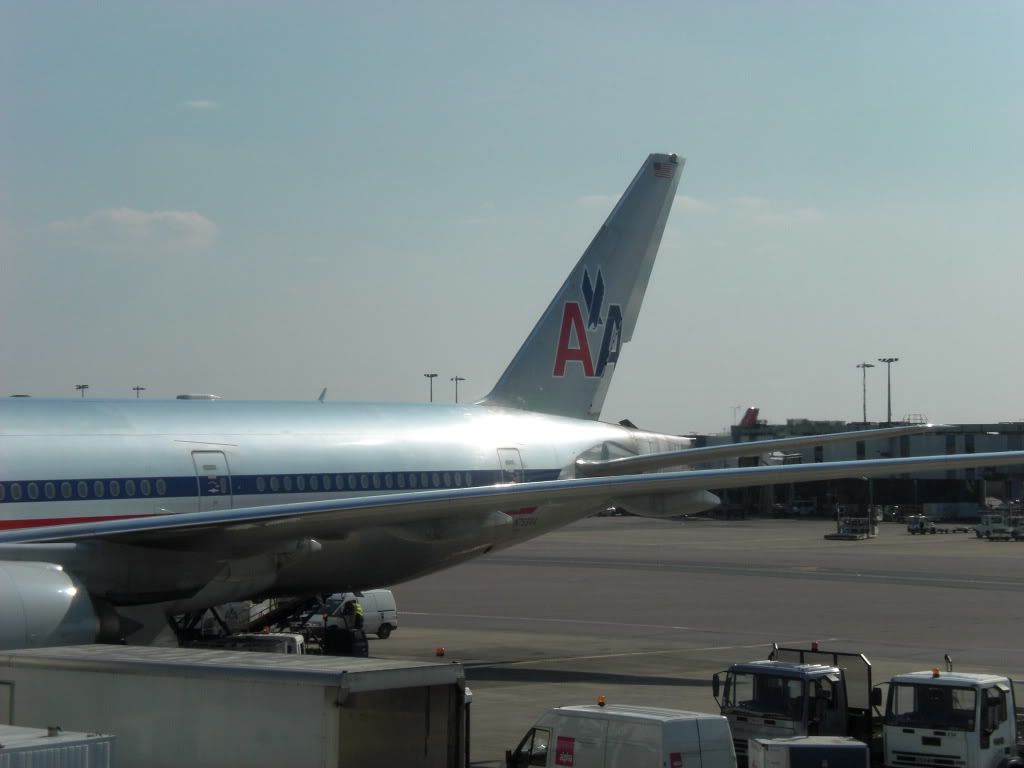 I think this one was flying to New York, maybe I could sneak on board??
The flight display screen had the gate open time of 17:15 which is the scheduled take off time for my flight. I bit concerned I asked a VS representative who was holding a card for passengers to New York and Los Angeles to board. He explained to me that the flight has been delayed by 1 ½ hours and I should wait in the waiting area until then. Great! Since I was lugging around a laptop with me I didn't feel like trekking around the terminal but upon seeing the flight to Tokyo open at gate 36 I thought it was worth a look.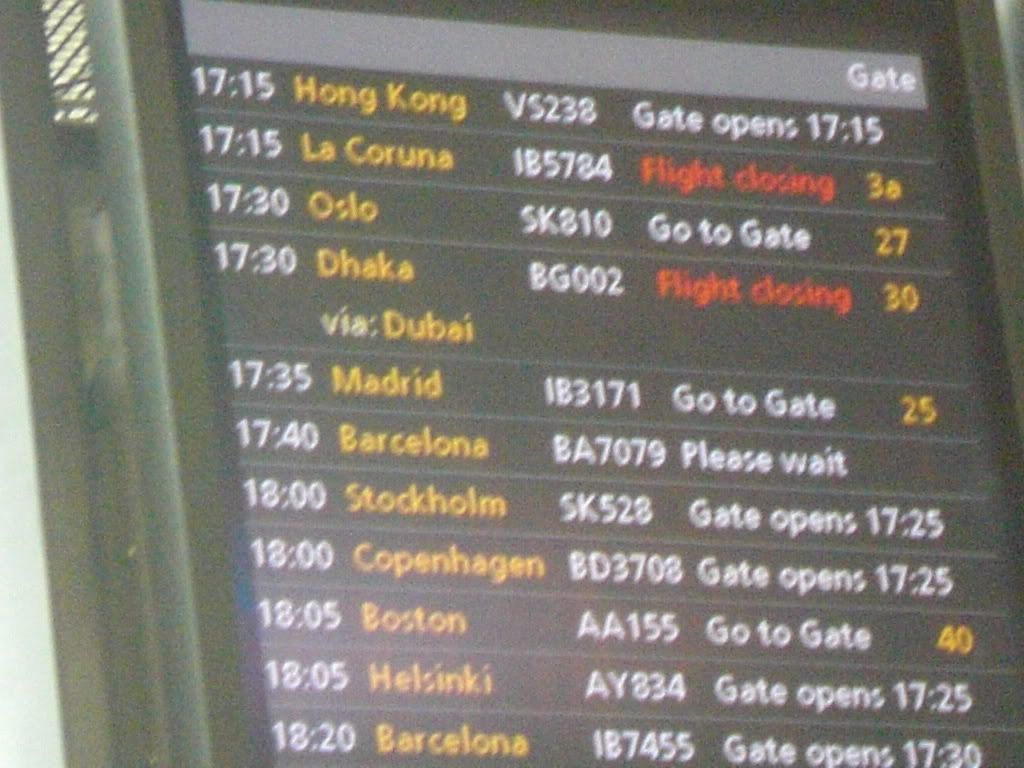 The display monitor saying gate will open the same time as the departure time!
Upon reaching the gate I milled around and pretend to be a Japanese passenger until the ground staff manning the boarding procedure asked if I was boarding and I said no. I decided to leave in case she got angry at me! I still had a good 2 ½ hours until boarding so with not much to do I played with my NDS and waited and waited…and waited. The CX flight gate would open at 17:05 and I was a bit gutted that that flight would arrive before us in HK.
When 17:15 arrived the gate number displayed on the monitor and made my way to the gate holding pen.
Flight: VS238 (LHR- HKG)
Date: 21/ April / 09
Aircraft: A340-600
Scheduled take off/ arrival: 17:15/ 12:30
Actual take off/ arrival: 18:45/ 13:15
Gate: 17
Seat: 55K
Gate 17 holding pen is really small, surely not enough seats for a fully laden 747. Load factor on this flight was really quite low and the seating capacity just managed to hold this number of people; although some people did have to stand due to not enough seats. We were waiting for about 45 minutes in the holding area whilst the VS crew made their way onboard.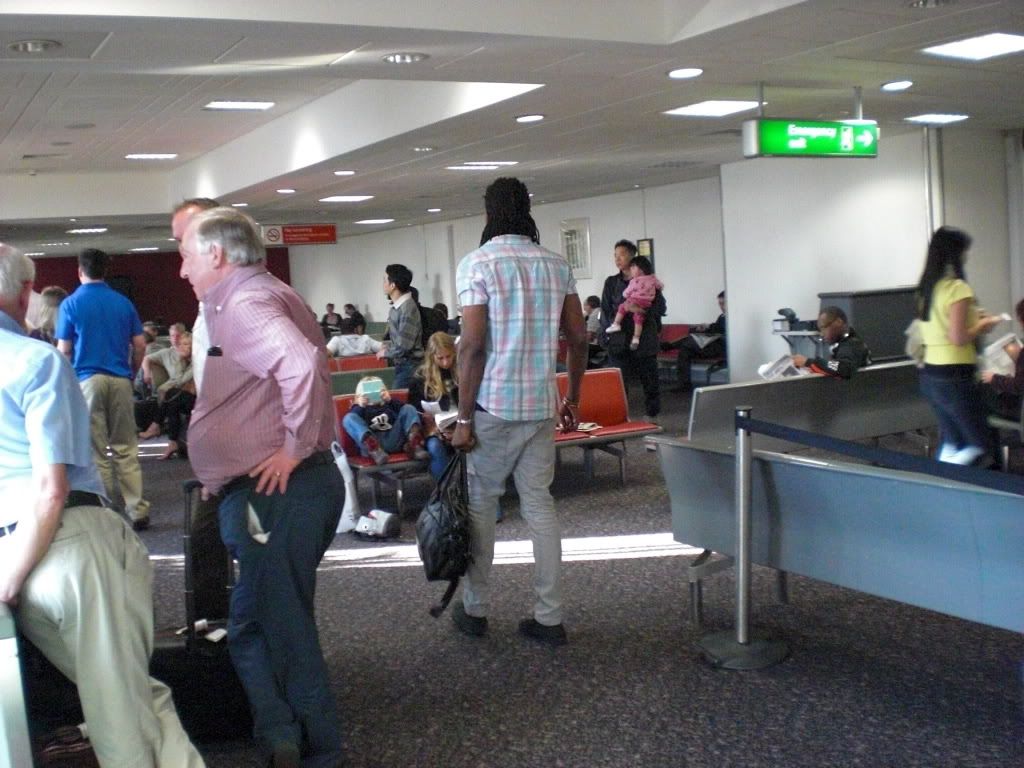 Gate 17 holding area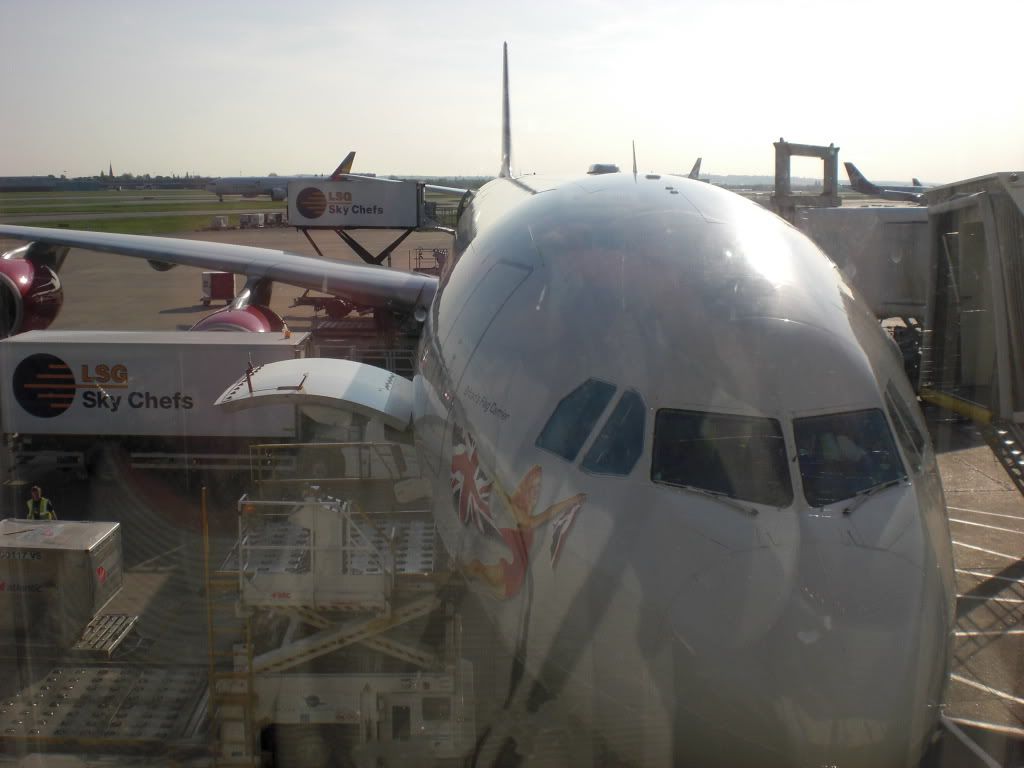 My Aircraft
Lady Bird Aeroplane!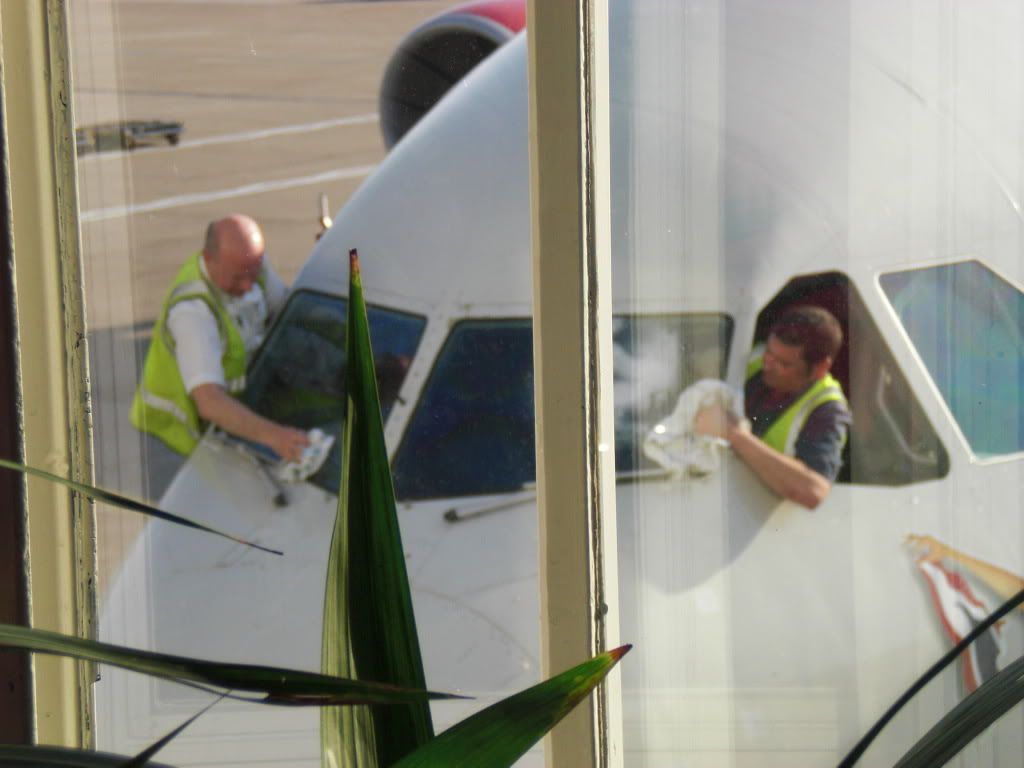 Engineers cleaning the window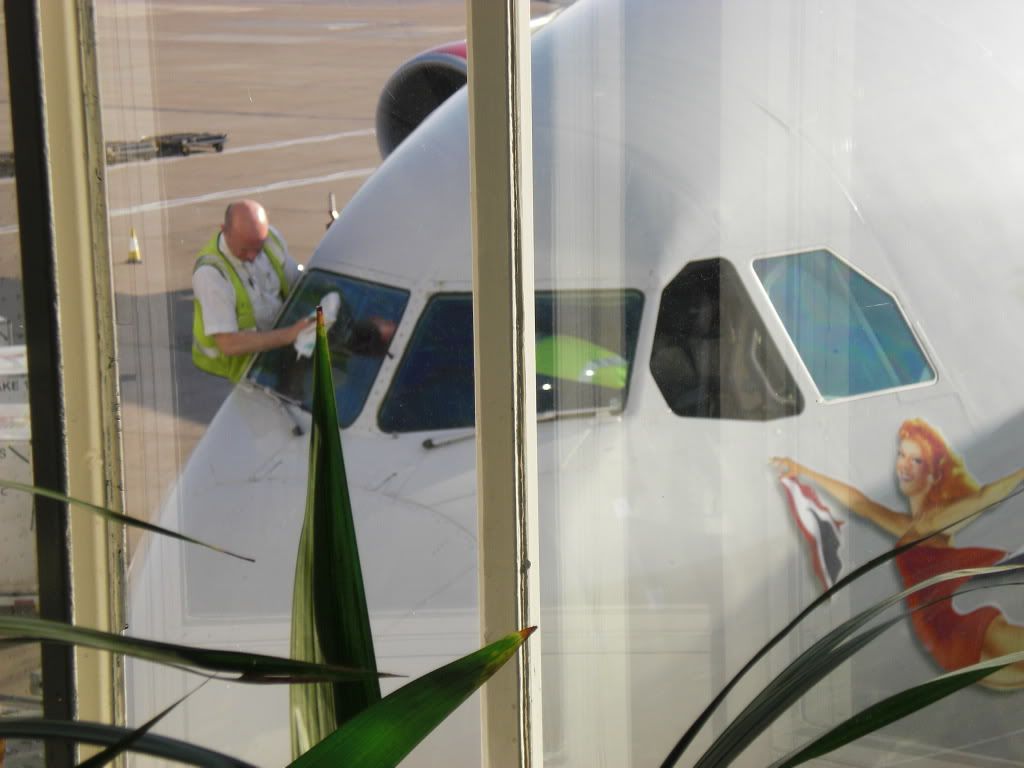 Careful not to fall!!
Boarding finally got underway calling all Upper Class and Premium Economy class passengers to board first. The ground staff did apologise for the delay due to the late inbound aircraft from somewhere. I was amazed at the number of Upper class and Premium Economy passengers booked and the handful of people left made up economy, this truly would be a very light flight! Whilst on the airbridge this god-awful smell made its way, not too sure how to describe it, it might have been the food on board or something!
I was directed to my seat and initial impressions were quite good. Seat pitch was adequate and the colourful remote control underneath the screen looked very technical. The seat was comfortable and on each seat was a red blanket and headphones. I decided to pinch a few more blankets from some unoccupied seats as it got a little cold once airbourne. The Captain again apologised for the delay and informed us that he hoped to make up some of the lost time in the air and then hoping to sweet talk the Ait Traffic Controller into letting us arrive a little early in HK. The crew were predominately from HK I gather and a few UK based crew, predominately from Scotland from the sound of their accents!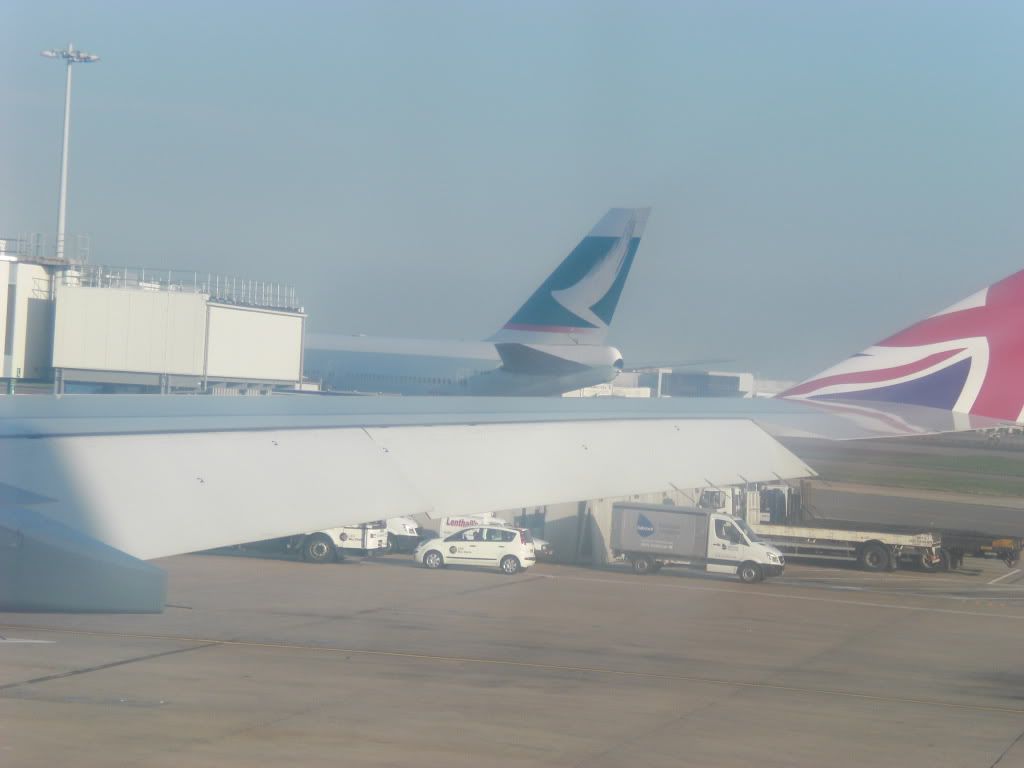 CX747 pushing back before us cos of our delay!
I had the seat next to me free and after take off alot of people moved to empty middle row seats to lay down. The entertainment system is amazing! There are so many movies to choose from with full AVOD, plus TV programmes and audio channels to listen to. The sky map is not that good to be honest; it's a bit slow and not as interactive as it makes out to be. I much preferred NZ sky map than VS, but what I did like is that VS has a short travel guide on each of its destinations to watch which I found very interesting. I managed to watch the Hong Kong, London, Dubai, Boston and San Francisco guide, fast forwarding the 'boring' parts!! I really really want to visit San Francisco; heck anywhere in America would be good for me! I think this might be an urban myth but I've been told that the UK large food portion size is the US equivalent of their small portion which I find hard to believe, plus I have no idea what an 'infomercial' or 'frogurt' is! I have lived a sheltered life!!
Amenity kits were handed out which was a tie string plastic type bag containing red socks, toothbrush and toothpaste, eye mask, pen and a charity envelope. I don't think VS have a dedicated inflight magazine. The movie guide doubles up as a news item one pager with details on how to use the inflight remote control along with a duty free catalogue. Meals were served soon after and the choices were predictable chicken or beef and a vegetarian option. I am not a great lover of aeroplane food and seldom eat everything however the portion sizes on board are absolutely miniscule; more like a child's portion than anything else! A small main dish, one small side dish and a bread roll with a small cake for dessert. Snacks on board consisted of self service water or orange juice with a biscuit! Maybe I should have brought a packed lunch on board! NZ and CX both have pot noodles as snacks however VS only gives these to the crew but a crew member kindly said she would give me one but I declined as I would have to eat it in the galley area.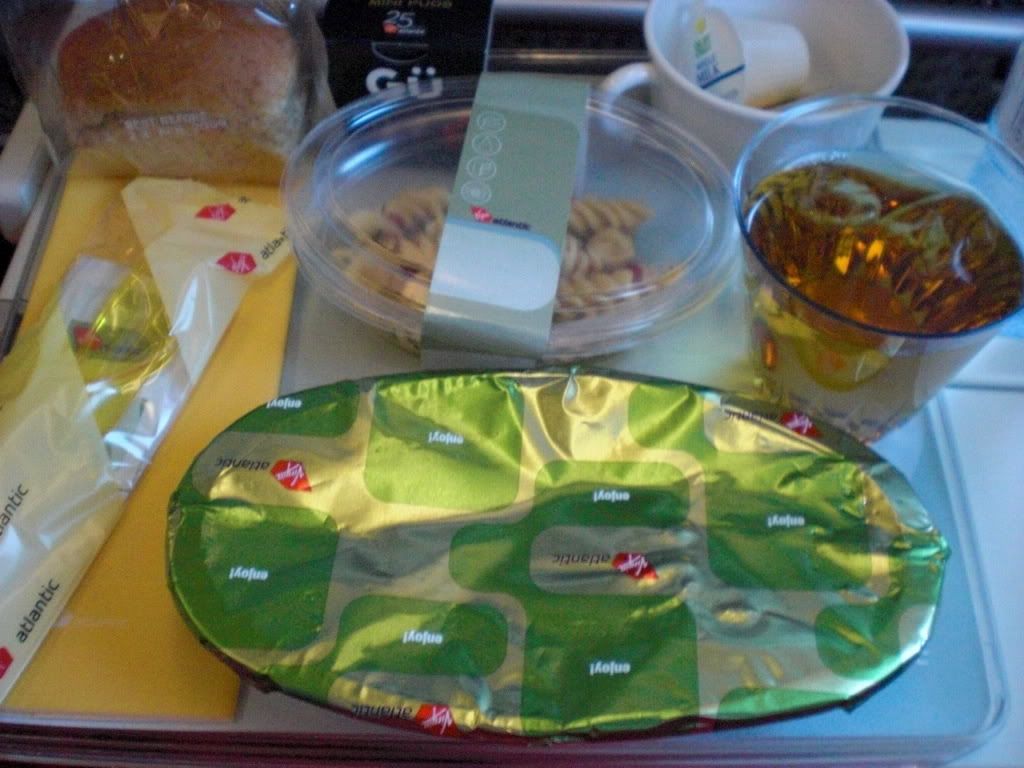 Meal shortly after take off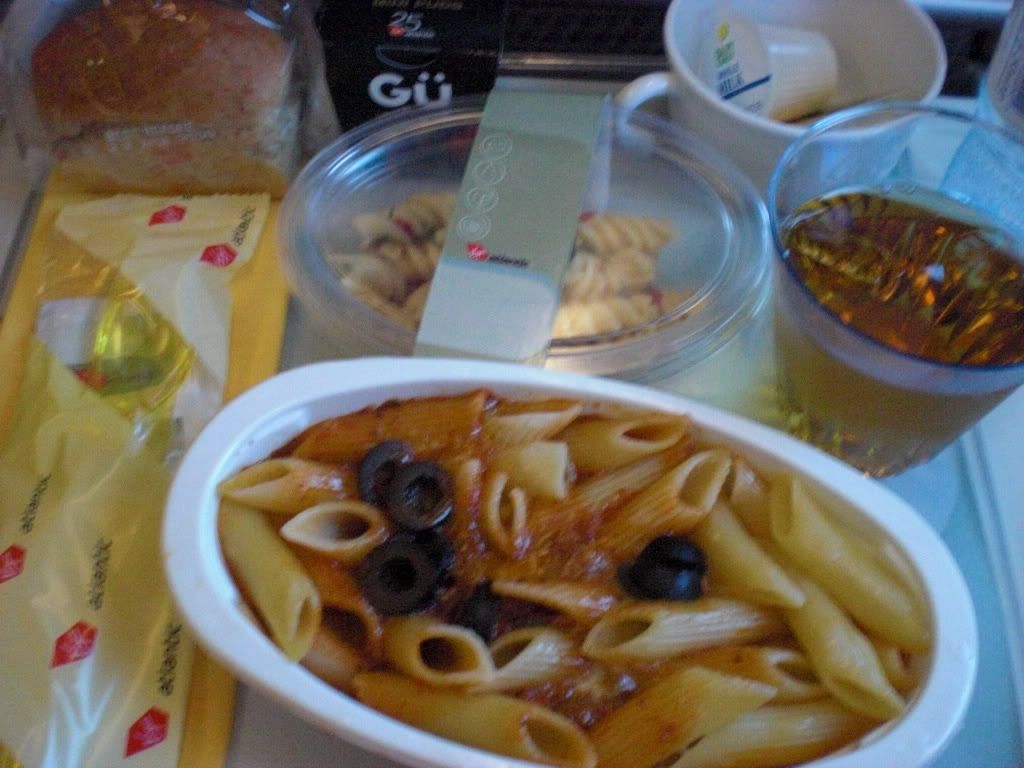 Pasta
At the back of the plane.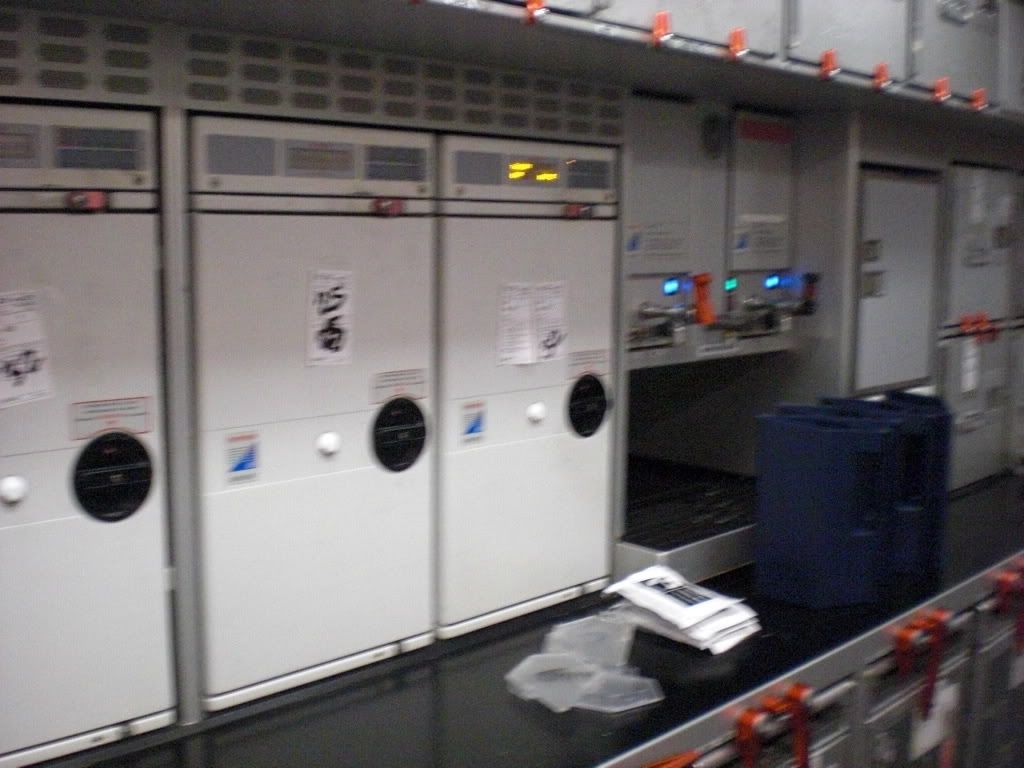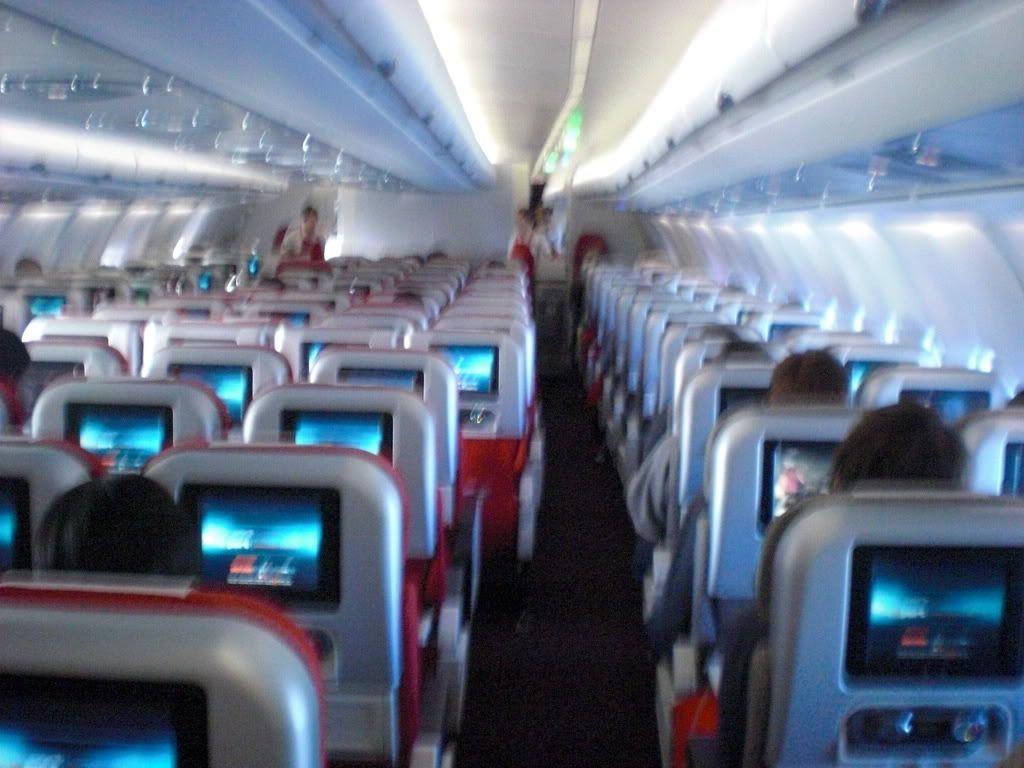 Empty Flight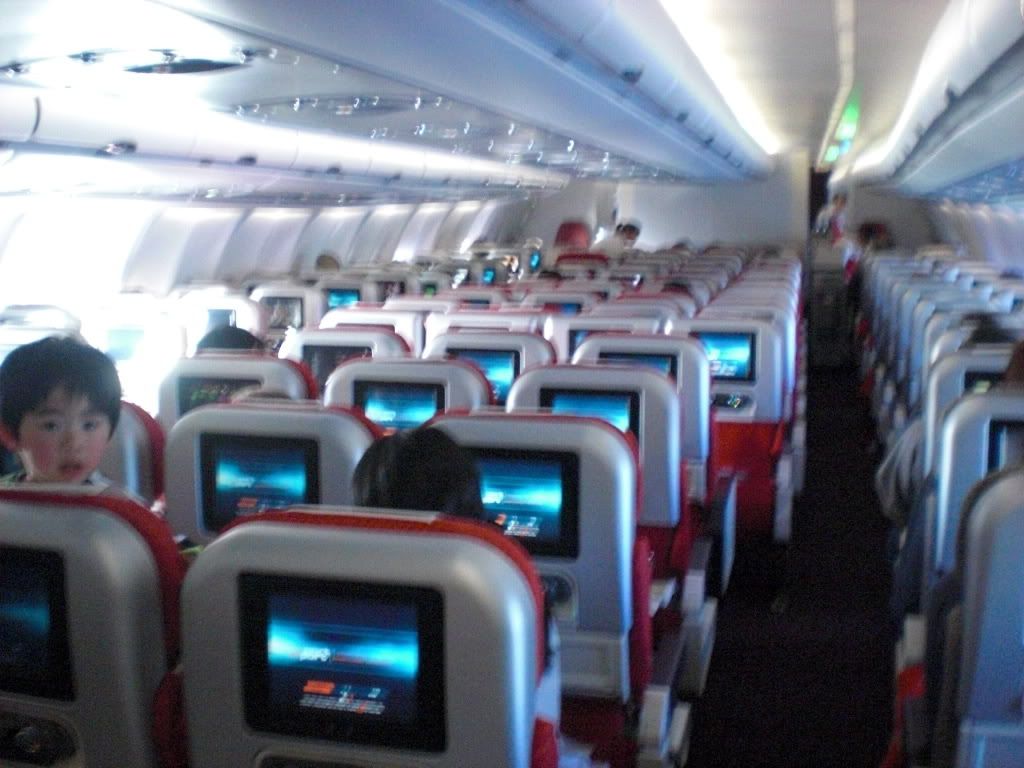 Crew did come around frequently with water and juice during lights out. I am not a great movie lover but I did watch Changeling which is a great film and half way through some other forgettable movie. The rest I tried to sleep and to be honest I have no idea what I did the rest of the trip but before I knew it was breakfast time. Breakfast was another sombre affair and an hour later it was time for landing. The aircraft made some spectacular turns above the water before touch down and taxi to the terminal. I spotted the first BA flight of the day had arrived before us and was docked at the gate. We parked next to an Eva Air aircraft.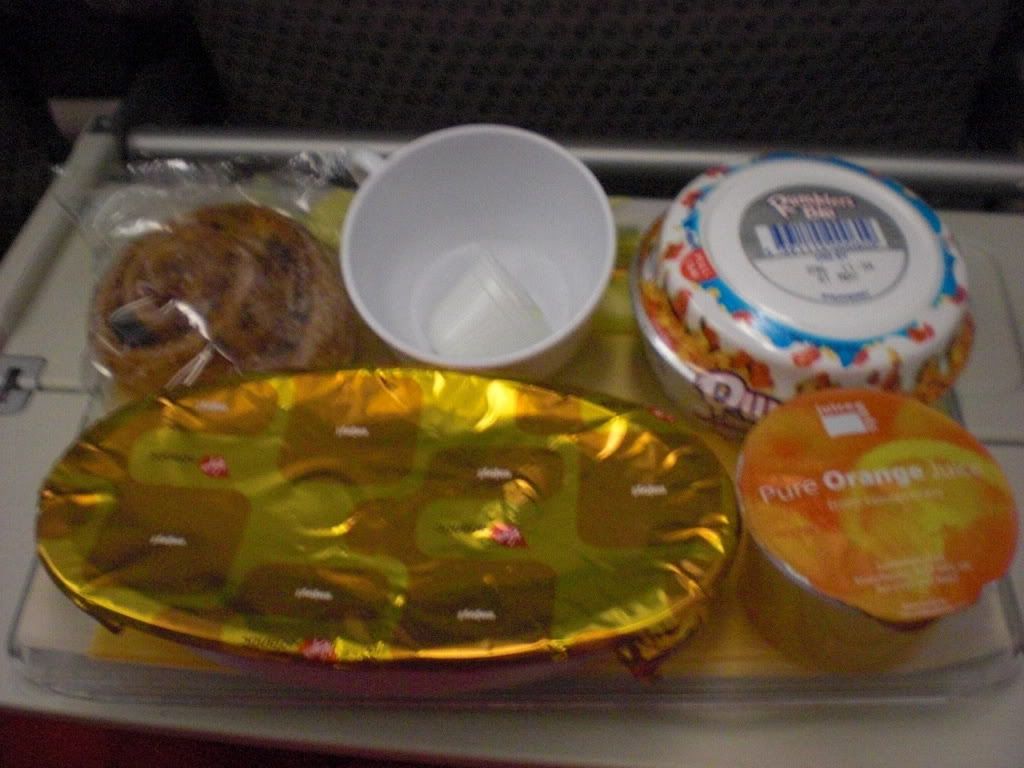 Breakfast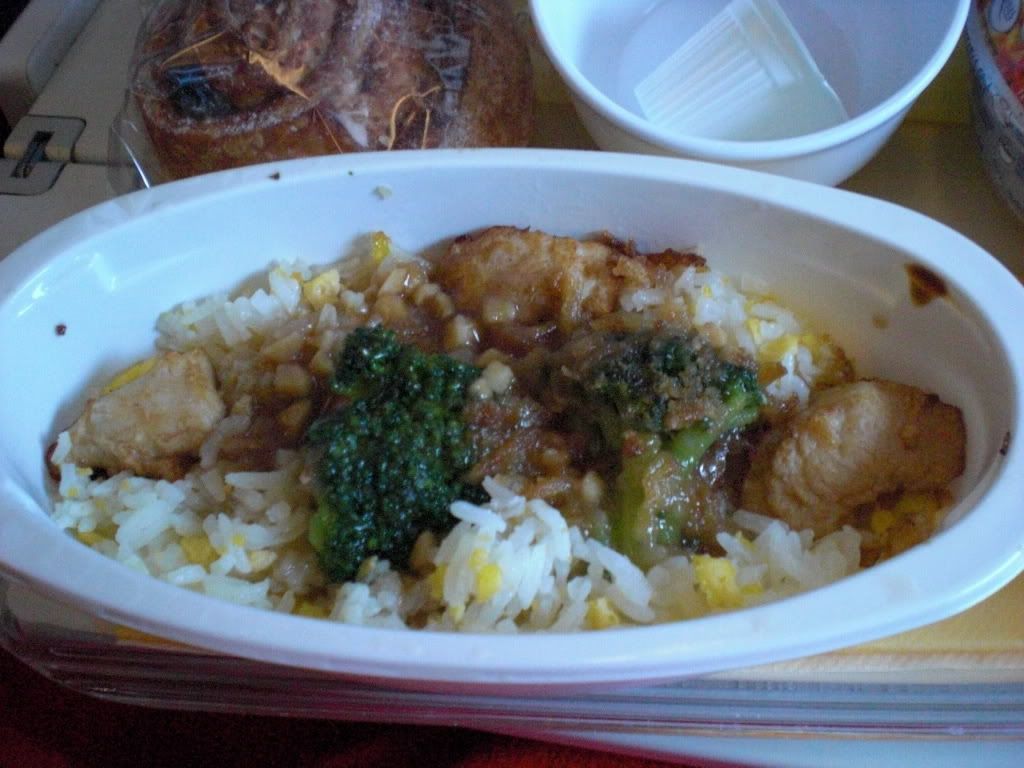 Breakfast
We were required to take a train to reach the immigration area after disembarking from gate 36. I have a HK ID so used the e-channel to enter. HK airport is always a pleasure, bright, clean and efficient. Collecting my luggage took about 20-25 minutes. There was an attendant carefully arranging all the luggage so it would be easier to retrieve; a far cry from LHR where the luggage belt spits out your luggage and sometimes falls onto the floor due to overcrowding of the belt.
Past customs where I had nothing to declare and then into the arrivals hall to head home. I always feel like kind of a celebrity walking into the arrivals hall with all the people looking at you and you just arrived from some far away exotic location! I take the A43 bus to Sheung Shui city which is about a 45 minute bus ride.
http://www.youtube.com/watch?v=JHwd_1AfzgA
Video just after take off
http://www.youtube.com/watch?v=DO3usGR9kCc
Arriving in HKG with cabin annoucement
Continued below...