Background
: I was going on a quick five day trip to Hong Kong, and the carrier of choice was Cathay Pacific. There were four main reasons for choosing CX:
1) I had never flown on Cathay Pacific before although this airline has been serving BOM since decades.
2) This would give me a chance to fly on the Airbus A330-300, another first for me.
3) This would also give me a chance to compare their old and new inflight products.
4) The clincher of course was the price.
1) BOM-HKG
Reaching the airport:
The departure time for my flight - CX 684 from BOM was an unearthly 0350! This meant that I had to leave for the airport at around midnight. Usually, I am fast asleep at this time, so this was going to be tough. I booked a cab in advance instructing them to pick me up at 2350. I barely got an hour's sleep before it was time to get ready and leave. I had registered for CX's notiFly service, and as promised, I received a text message on my cell phone telling me that CX 684 was expected to depart on schedule.
The cab arrived at my place at exactly 2345, and I told the driver that I would be down in five minutes. I bid farewell to my family, and lugged my bags down the stairs. We started at exactly midnight, and I noticed that the traffic on the roads was quite low. Sometimes, it is quite possible to get stuck in a traffic jam even at midnight in Mumbai, so I was lucky tonight. The drive to the airport took around 20 minutes, and we reached Mumbai International Airport's Terminal 2. It took another five or seven minutes for us to negotiate the queue of cars and buses dropping passengers, and arrive at our gate. I paid the driver, placed my bags on a trolley and walked to the entrance. The security guards looked at my ticket and passport, and let me in.
Check-In:
I was in for a nice surprise, as I entered the terminal. MIAL – the company managing the Mumbai airport seemed to have done a neat job of refurbishing the tired looking terminal, and it surely has undergone a sea change as compared to what it was earlier. The following pictures will give you an idea about this.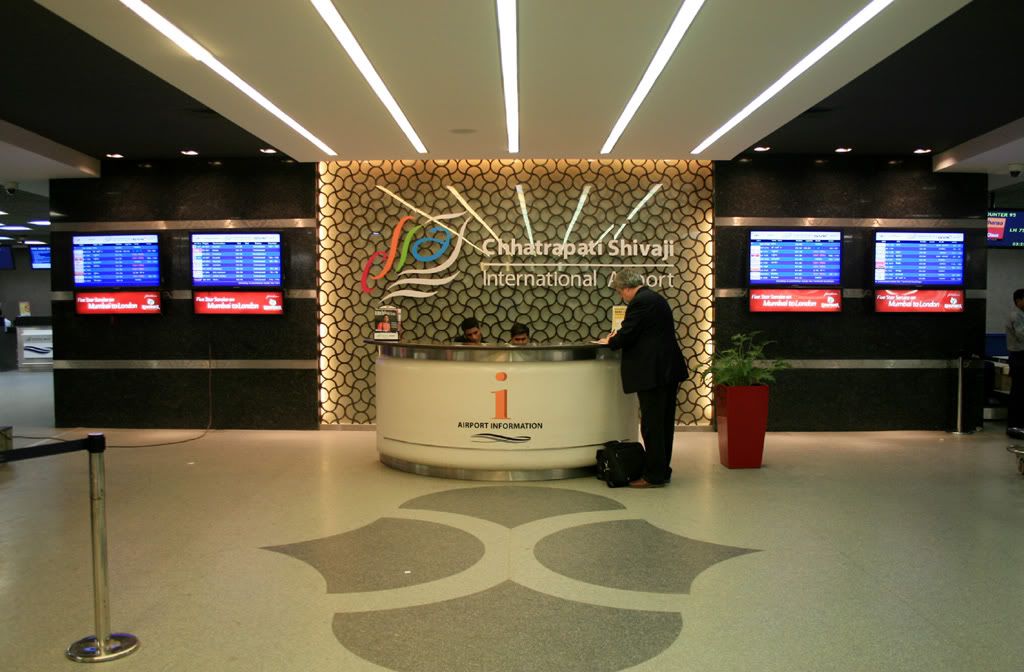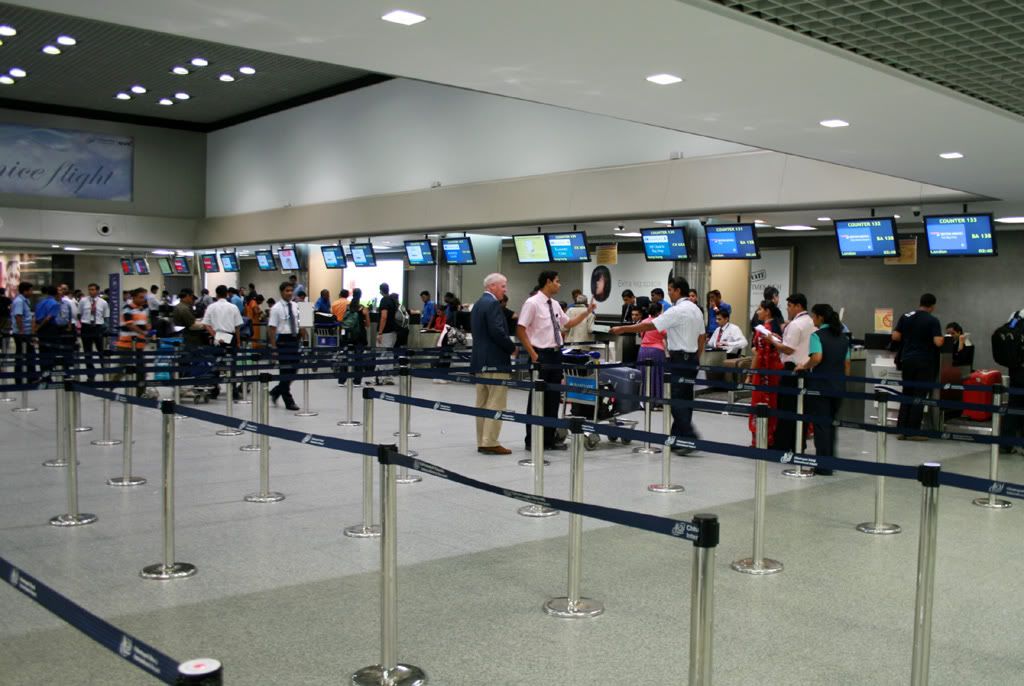 I whipped out my camera, and began clicking pictures of the check-in counters for BA and CX. Soon, I was approached by a young, female member of the ground staff, who told me politely that clicking pictures inside the airport was not allowed. I smiled at her, and showed her a copy of the DGCA (Indian Director General of Civil Aviation) order which allows photography inside civilian airports. Oh how I loved the look on her face, as she read the contents of the letter, returned it to me with a sigh, and said a meek "OK". I hate to be mean, but I think companies need to do a better job of educating their employees on the current rules and regulations.
Anyway, after clicking a couple more pictures, I proceeded towards the Check-In desks. I had checked-in to my flight online a couple of days ago, and pre-selected my seat, so I was ushered to the Self Check-In Bag Drop counter. The lady at the counter weighed my bags, tagged them, and issued my boarding pass, placed in an orange plastic folder and the Indian Immigration Departure card. I asked her about the loads on this flight (the aircraft was coming in from DXB on a DXB-BOM-HKG routing) and she said, "Its not much, sir!" Hoping what she said was true; I made my way to the Immigration counters.
The Wait:
The immigration and security checks were completed quickly, and I made my way down to the departure area. This section has also undergone a makeover with a range of swanky duty free stores, restaurants and lounges.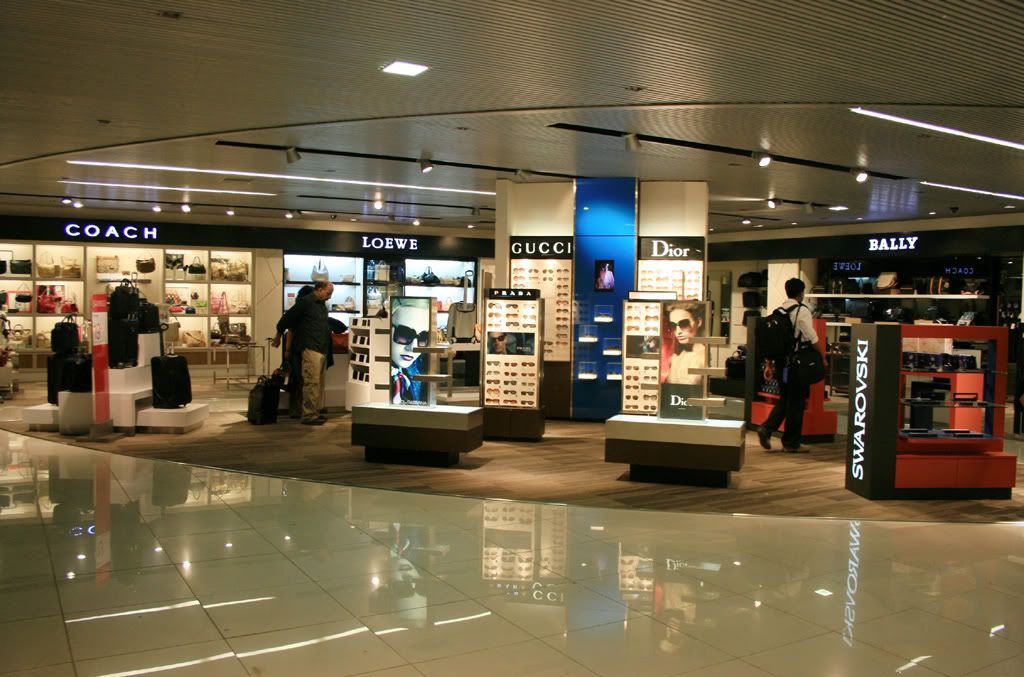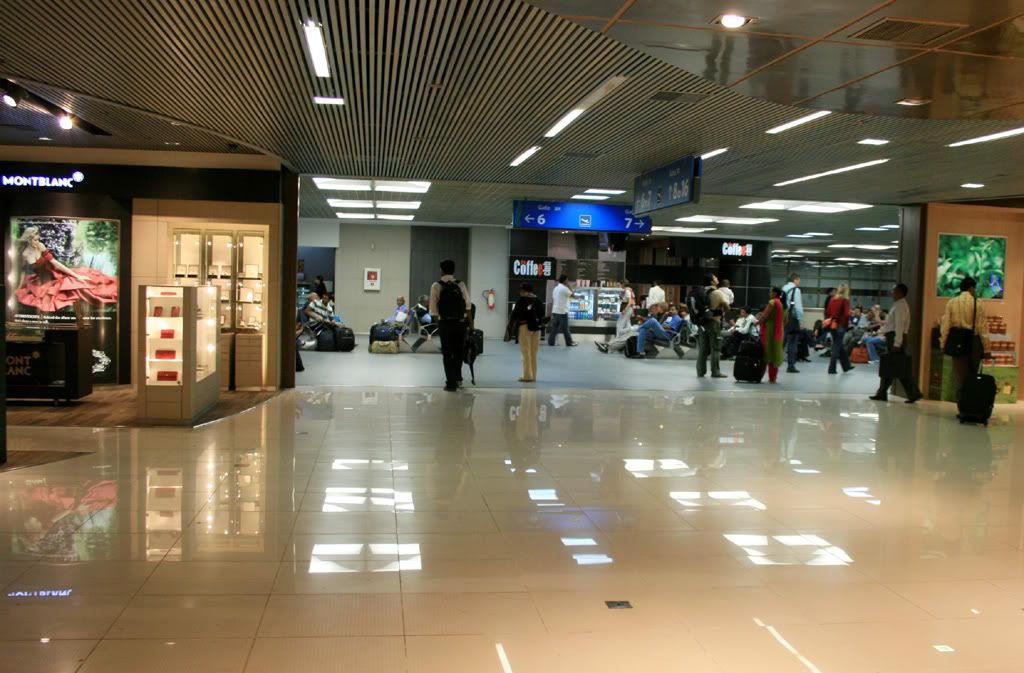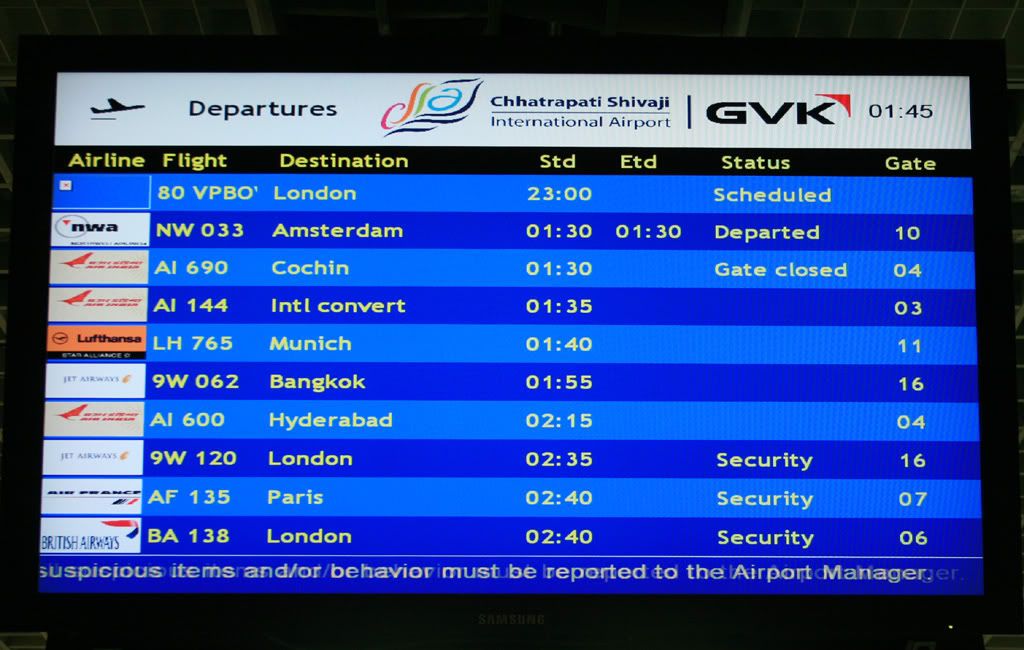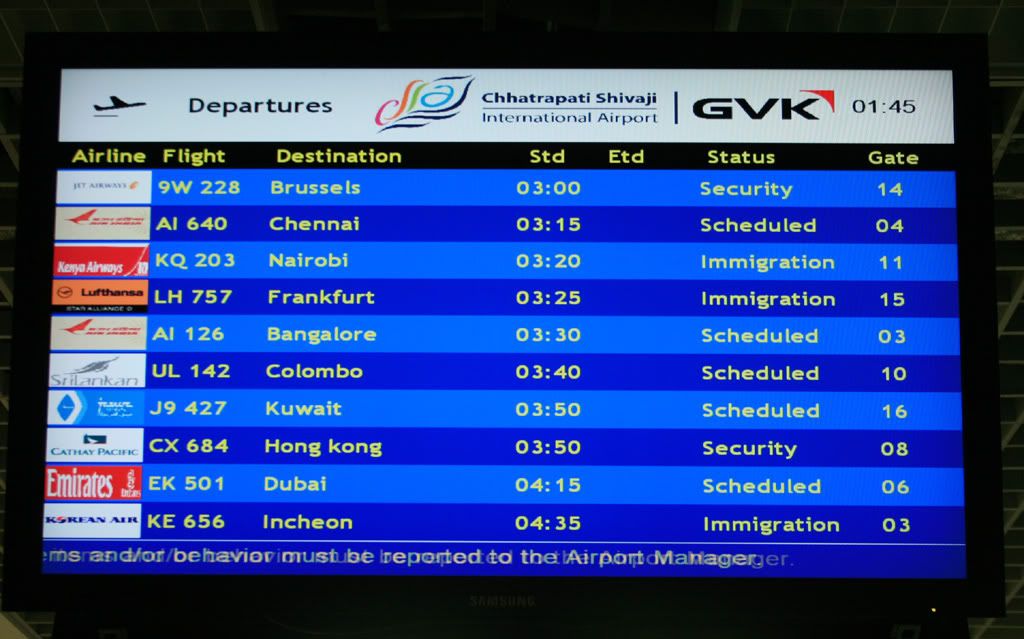 I walked around the area, and sat down in front of "The Noodle" for a bowl of spicy Chicken Hakka Noodles.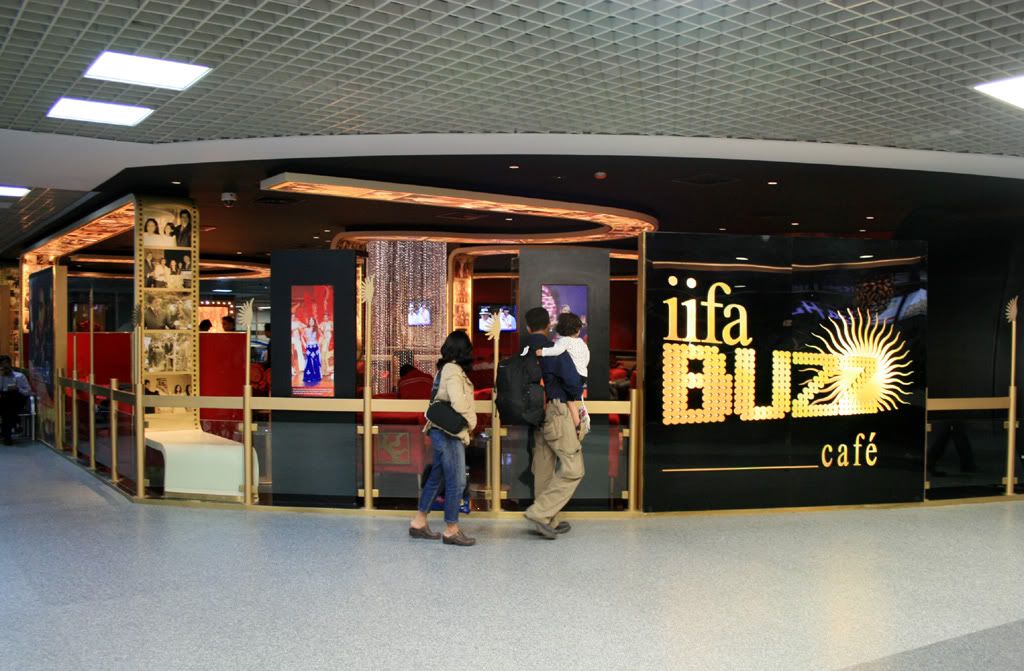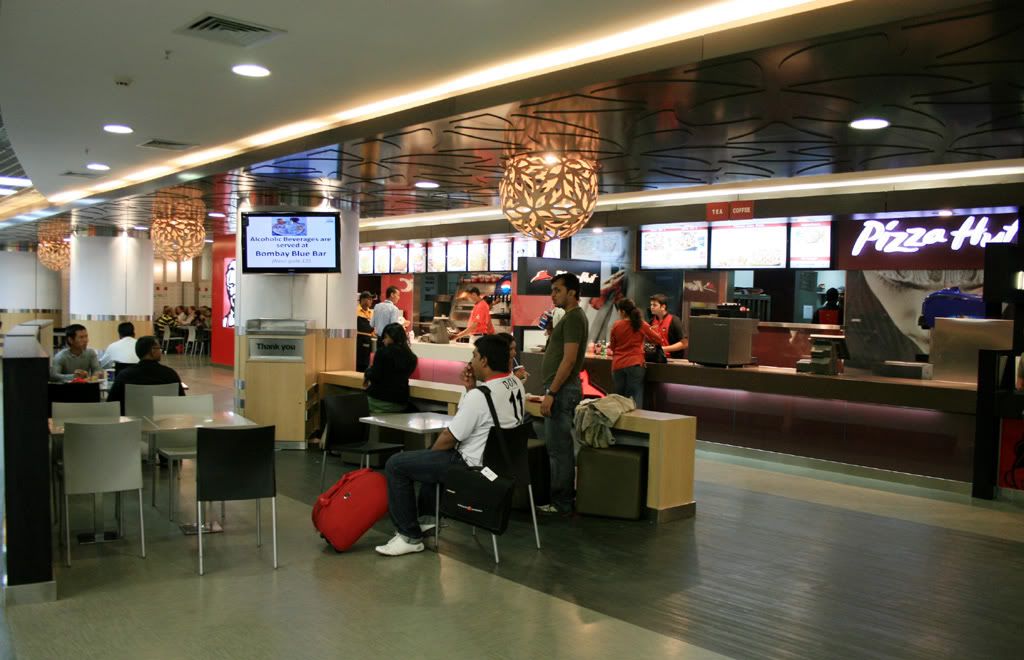 After having a post midnight meal, and freshening up, I proceeded towards our assigned Gate No. 8, only to find out that we were moved to Gate No. 6. We had apparently swapped gates with the Emirates flight to DXB, whose passengers were requested to move towards Gate No. 8.
As I settled down in the waiting area, the ground staff announced a 20 minute delay in the departure of our aircraft. This delay according to them was because of "Late arrival of the incoming aircraft". With nearly half an hour to go for boarding, I tried to catch a few winks, but was unable to do so. The ground staff made another announcement – this time a "Pre-boarding announcement" explaining the sequential boarding process. People travelling with children & disabled folks were invited to board first, followed by people with orange boarding pass covers (I was one of them! Yay!) and so on. First and Business Class passengers were invited to board as per their convenience.

Sector: BOM-HKG
Airline: Cathay Pacific Airlines
Flight: CX 684
Aircraft: Boeing 747-400
Registration: B-HUD
Scheduled Departure: 0350 Actual Departure: 0415
Scheduled Arrival: 1135 Actual Arrival: 1130
Seat: 65C
Boarding
: The passengers formed an orderly queue according to the colour of their boarding pass covers, and the ground staff started collecting the colour-coded covers. I tried to look at the registration as I made my way to the aircraft, but was unable to do so. Two smiling FAs greeted me at the door, and ushered me down the aisle. There were quite a few people already onboard, which gave me a feeling that the loads on the flight were going to be quite high. I reached my seat and after taking the essentials out viz. my camera and flight log, stowed my bag under the seat.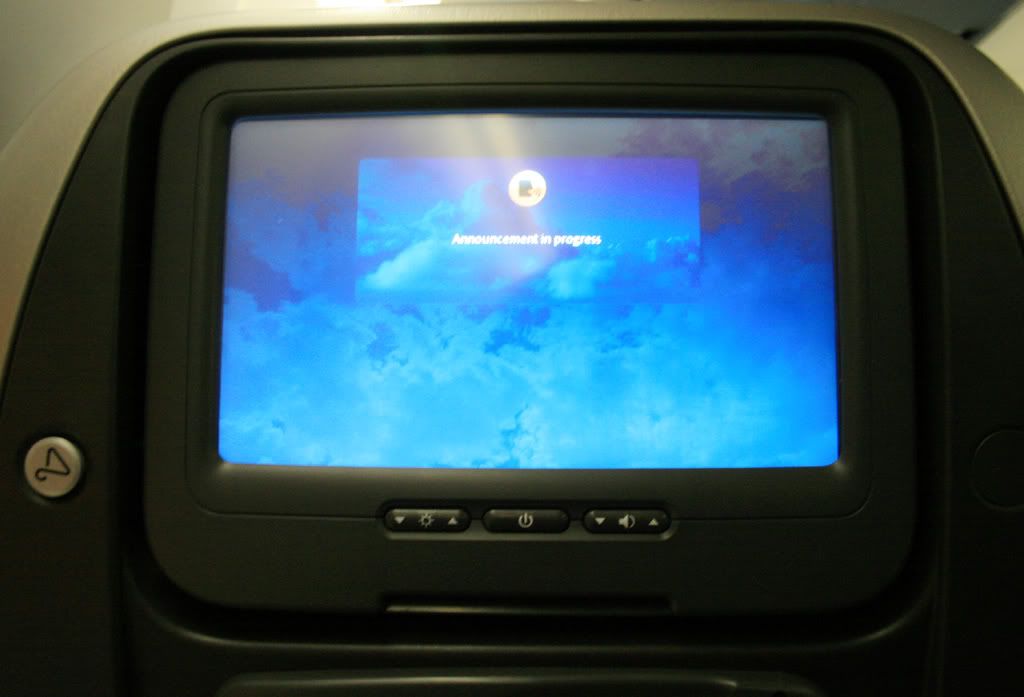 At first glance, the new generation seats on CX 747-400s look quite sleek. They have a high fixed backrest containing the PTV set and the tray table. The seatbacks do not recline but there is a movable backrest that slides down, and the seat bottom slides forward to simulate a seat recline. An interesting concept, which I was going to test in the next few hours. As the boarding continued, I looked outside to see who our neighbours were. An EK 77W was parked a couple of gates away, and a UL A320 further away. Soon, a QR 777-300ER pulled in besides us. The crew went around distributing the headsets for the IFE.
The Flight
: The captain came online at 0350 and welcomed us onboard. He then proceeded to give us the usual information about the flight – the flying time, expected departure and arrival time and the weather in Hong Kong. As the aircraft doors were closed, the IFE system started screening the Safety Demonstration video. It was good to watch a Western (British?) captain and an East Asian F/O explain the safety features in English and Cantonese respectively.
We pushed back at 0415, and one by one our four Rolls Royce engines powered on. As we rolled towards the runway, via taxiway A4, I looked at the Mumbai spotters' favourite hangout – the Jari Mari hill. The dargah there was lit up spectacularly, and my mind wandered back to the good old days (and nights) of spotting from that location. I was brought back to the present by the four RR powerplants as they powered our Jumbo down Runway 27 with a mighty roar. We took off into the clear night sky and saw the lights of Mumbai slowly fall away.
After heading westward for nearly a minute and a half, we banked right and set course in the east-north-east direction. There was no turbulence at all, and the seat belt signs were soon switched off. The IFE system – CX Studio was then powered on, and I immediately started exploring it.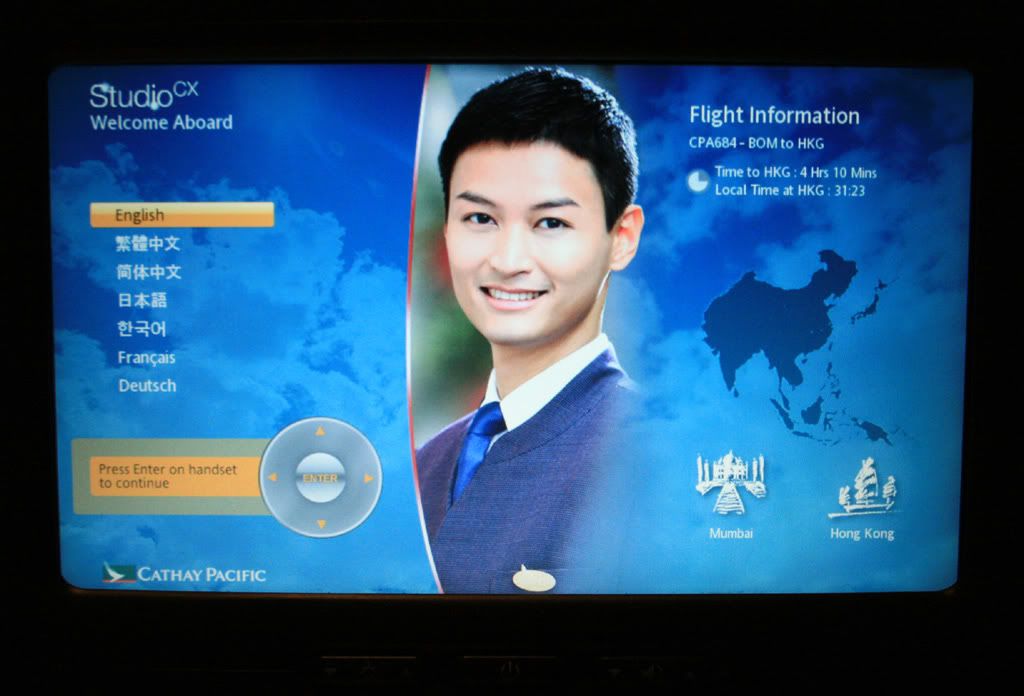 On offer were a variety of Hollywood as well as Bollywood movies. I didn't bother to check what music was on offer. I finally decided to watch "Slumdog Millionaire" which had recently won 8 Oscars. Somehow, I could not find time to watch it in Mumbai, so this was a good opportunity.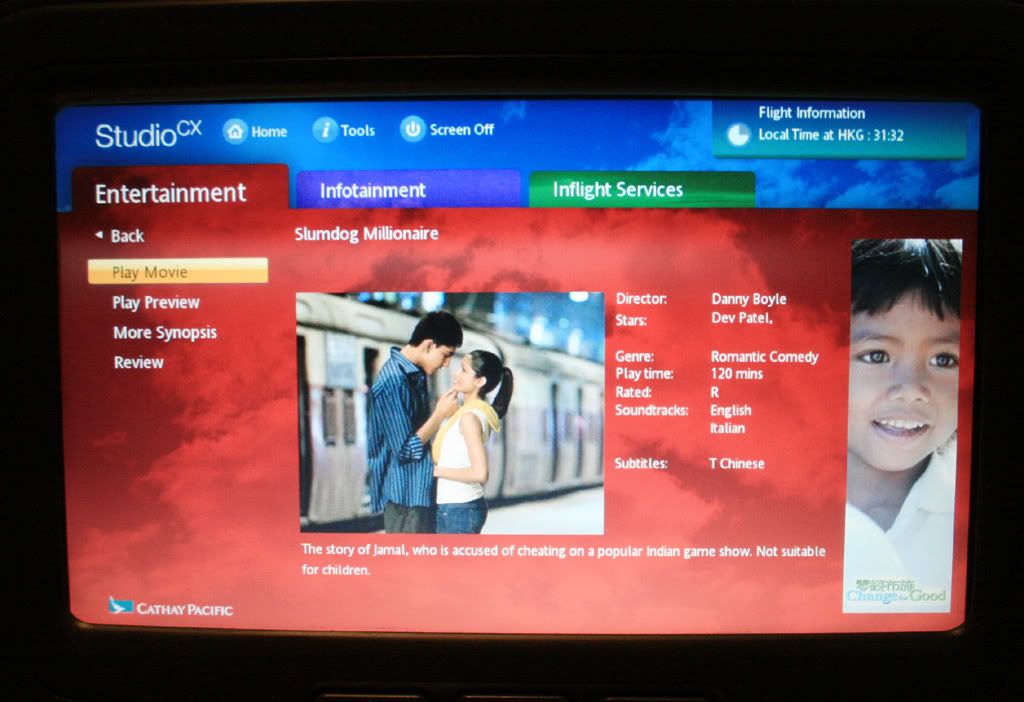 The Meal
: While booking my ticket on the phone, the CX agent had asked me what meals I preferred, and I had told her that I am OK with anything except beef & pork. She had booked a special Indian breakfast for me without me knowing it. As a result, a CX FA asked me my name, and handed me the special meal – almost half an hour before anyone else. The breakfast consisted of an omlette, Chicken Tikka, potato wedges, croissant and cut fruits. This was followed by a round of tea/coffee.
It felt quite odd to be eating when everyone else around me was just waiting for their meals. Anyway, I tried not to look around and concentrated on the movie. I felt quite full after the meal, and was quite sleepy too. I somehow managed to finish the movie, and then decided to catch up on some sleep. I pressed the "Recline" button on the New Generation seat, causing the backrest to slide down and seat bottom to slide forward. It was quite an awkward position to be in, with my knees touching the back of the seat in front of me. I tried shifting into different positions but none was comfortable enough to sleep. In addition to this, the ambient noise meant that I was struggling to get some sleep. I then tried counting sheep, as well as the number of Triple Sevens EK and SQ have, but it didn't help!!! Frustrated, I tried listening to some music to see if it helped. I selected ABBA – relatively soft music but barely managed to sleep for ten minutes.
I finally gave up, and switched on the IFE again. It was 1045 – HKG time now, and we were 50 minutes away from our arrival. The crew then went around doing the drink service, as people started waking up. I opened the window shade to see that it was bright and clear outside.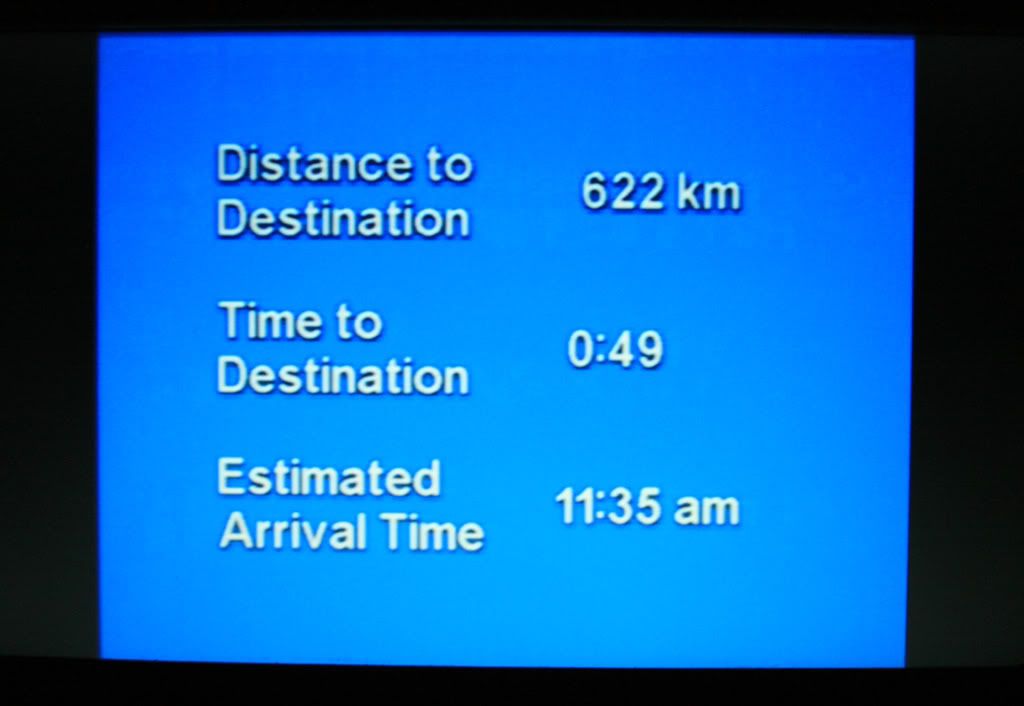 Arrival
: At around 1050, the captain announced that we had started our initial descent into HKG and that we would arrive on time at 1140. The cabin crew started preparing the cabin for landing, and soon after the seat belt signs were switched on. We passed through some beautiful Cumulus cloud formations and the massive Jumbo hardly twitched.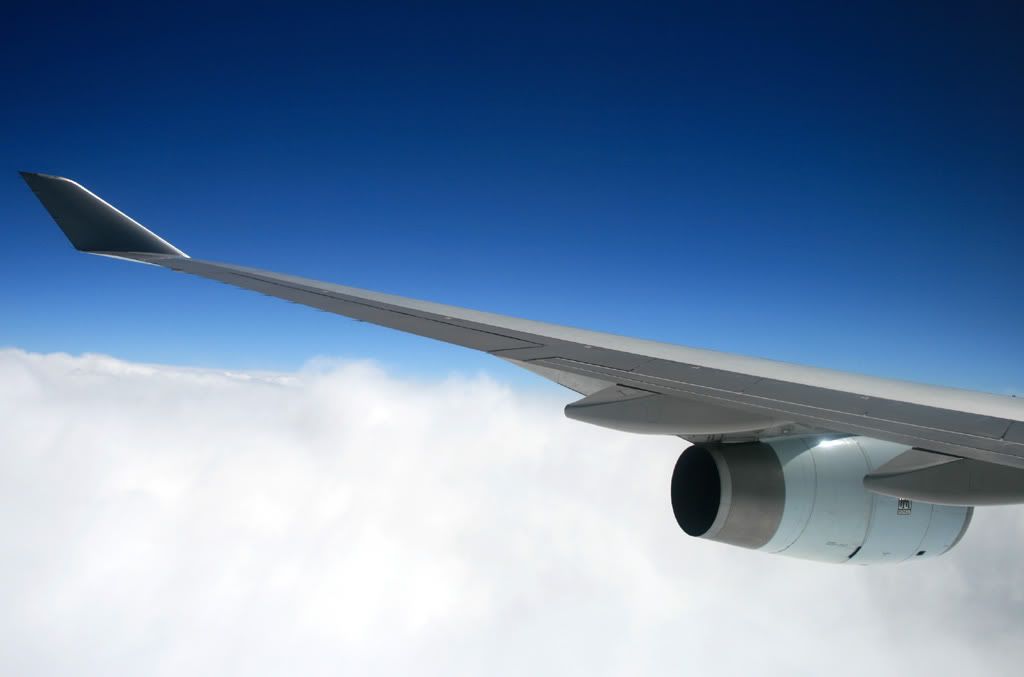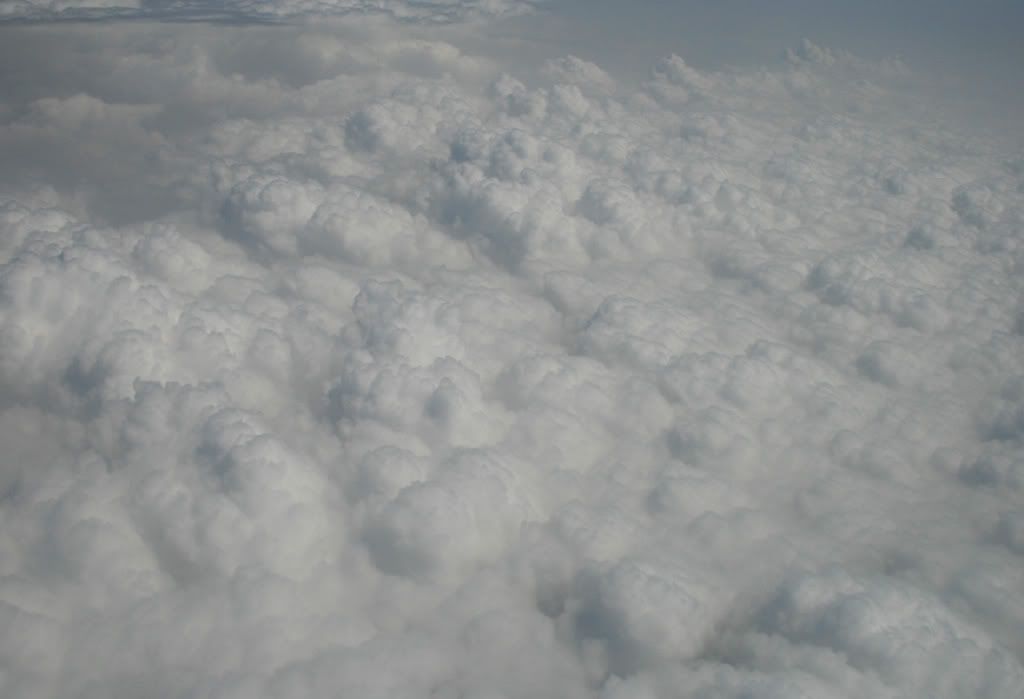 The IFE was switched off, and the PTV screens showed the arrival gate, baggage reclaim and other related information. This I felt was a very good concept, and definitely saved some time and hassle for the passengers.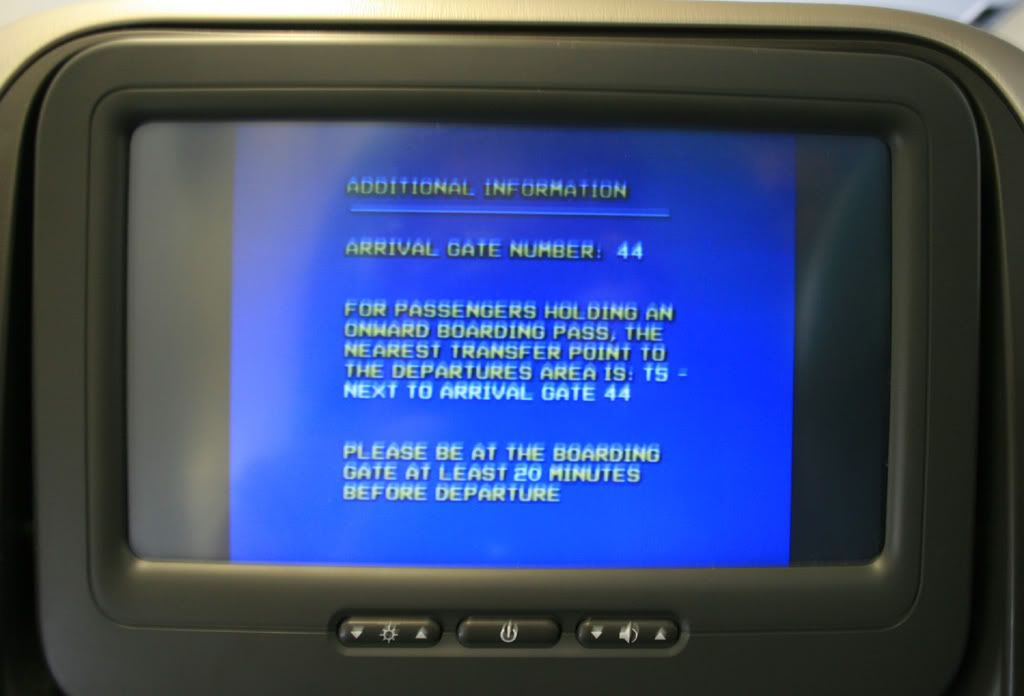 As we broke through the thick layer of cloud, I could see the South China Sea coming closer and closer. It felt as if we were landing on water, when at the last moment a strip of land appeared and we touched down on Runway 07L.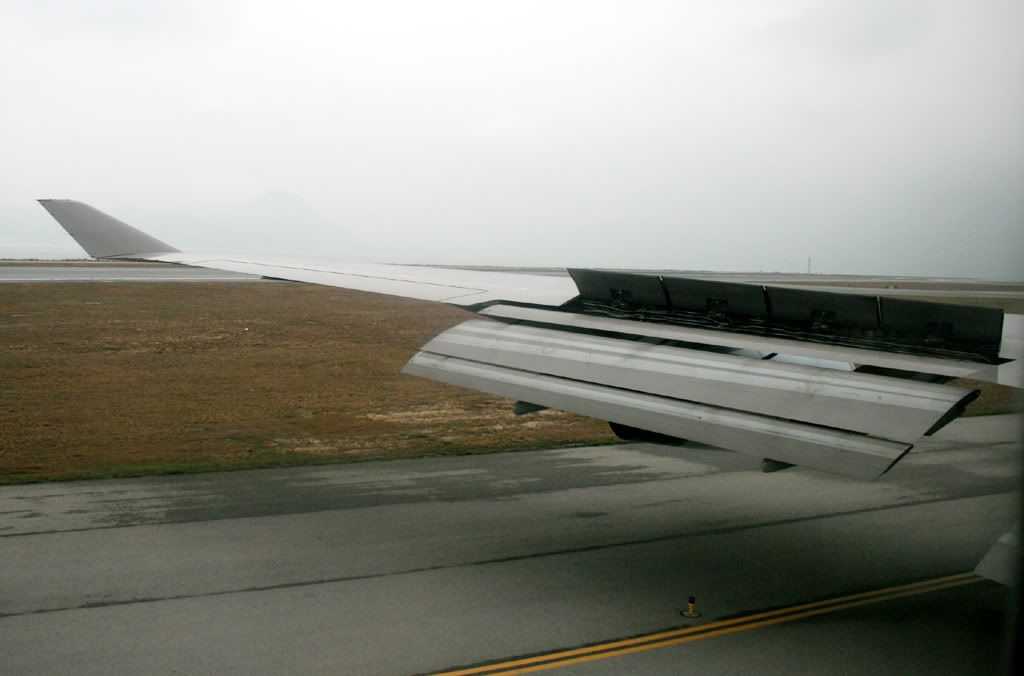 With a heavy deployment of reversers, we slowed down to a crawl and exited the runway. As we slowly taxied towards our Gate, the beautiful terminal of HKG's Chek Lap Kok International Airport came into view. We parked next to a Thai Airways B747-400 HS-TGA.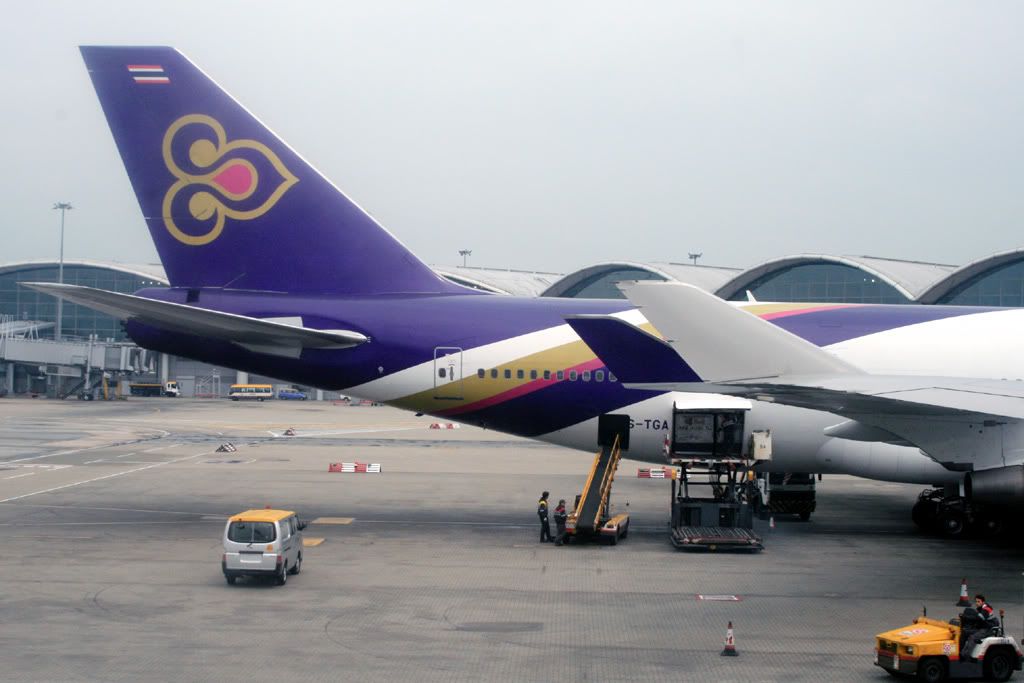 It took nearly ten minutes before folks in our section started moving towards the exit. I waited back to click a couple of cabin shots and thanked the crew before exiting the aircraft.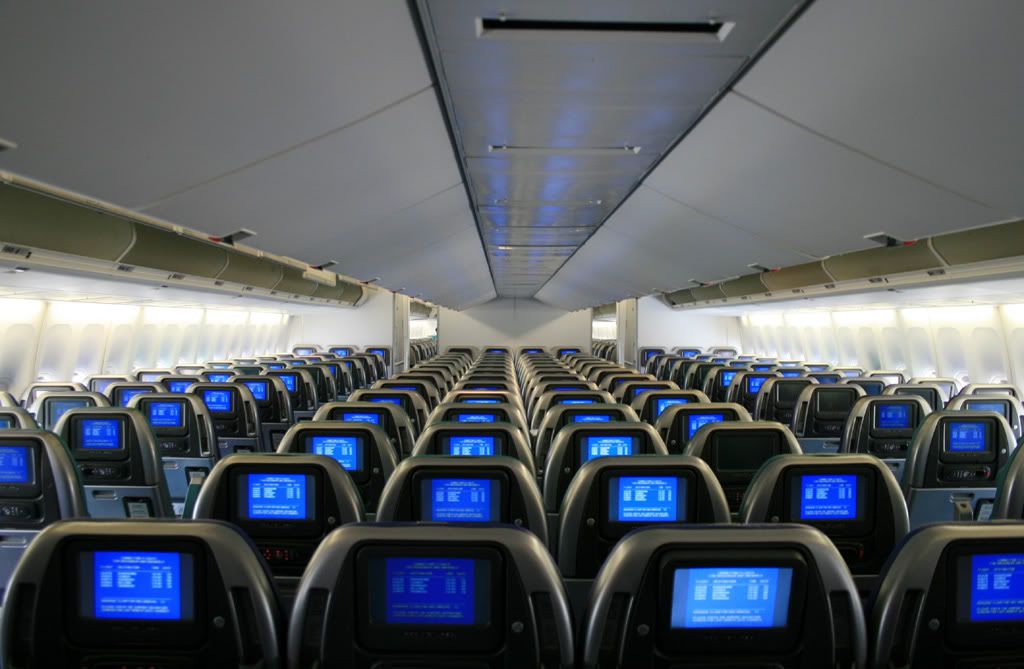 As I walked out, I was greeted by some really gloomy weather in Hong Kong.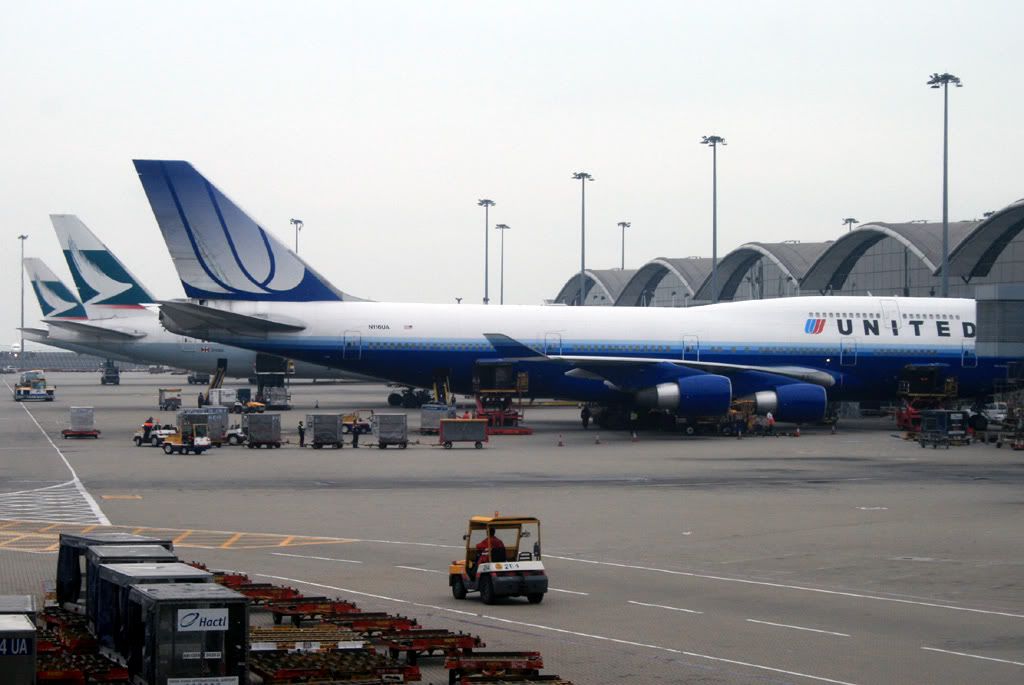 Thankfully, the atmosphere inside the terminal was warm and lively, as I made my way towards the Automated People Mover to take me to the main arrival hall.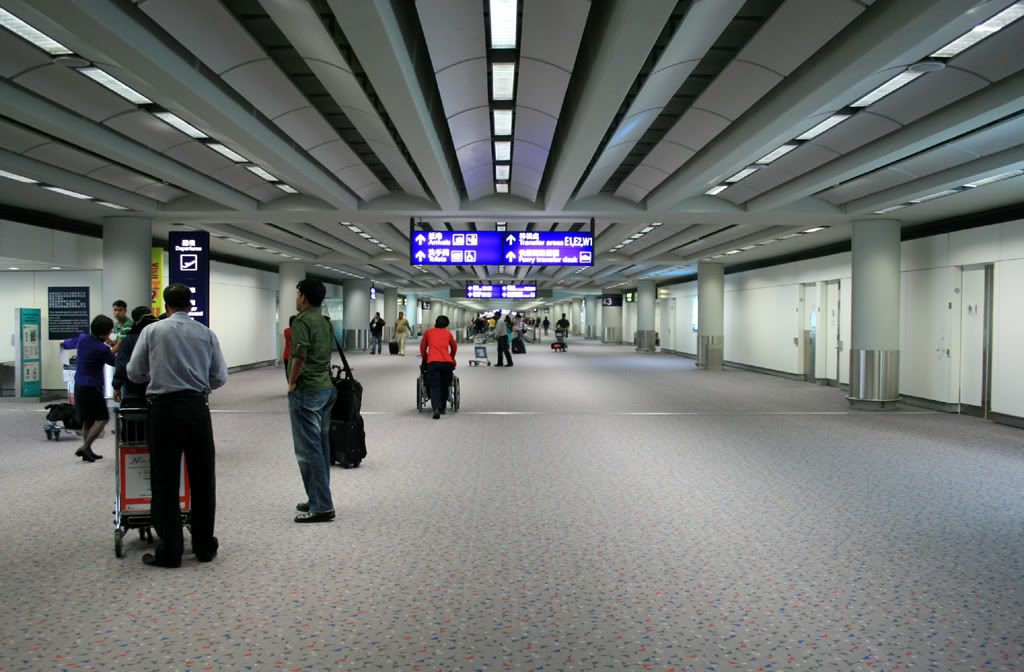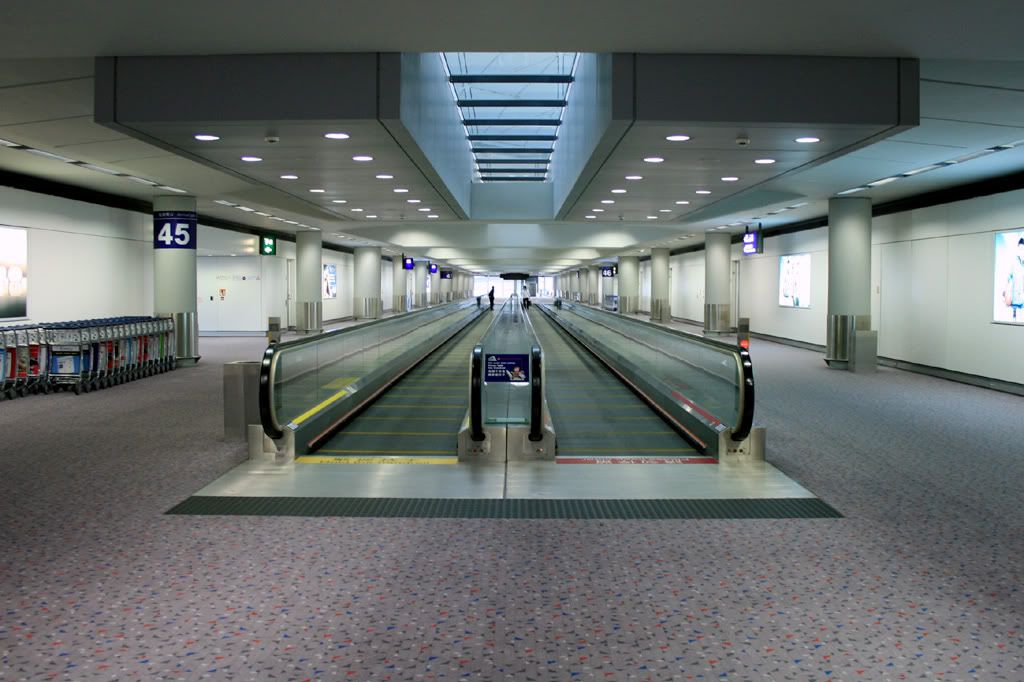 There was a sizeable queue for Immigration, but the officials there were quite efficient and the whole process took no longer than 10 minutes. I made my way to Belt 11, and collected my bags.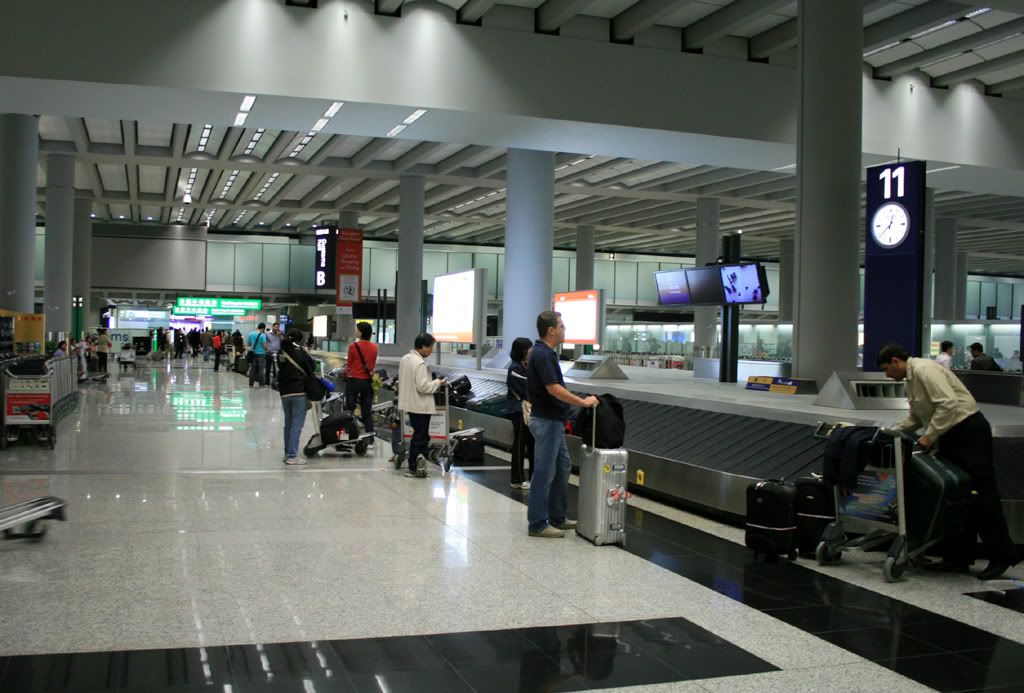 I was supposed to take the Airport Express train to Kowloon, and found a huge queue in front of the ticket counter. It took me nearly 15 minutes to get a ticket. As I was quite hungry by then, I decided to have a quick snack before heading into town. I settled for Burger King, and had a delicious Chicken Burger. As I made my way to the Airport Express station, there was already a train there that was about to leave. I boarded quickly and found a seat. Within a minute, we were on our way. speeding towards Kowloon.
2) Select shots from Hong Kong:
The famous Hong Kong skyline at night.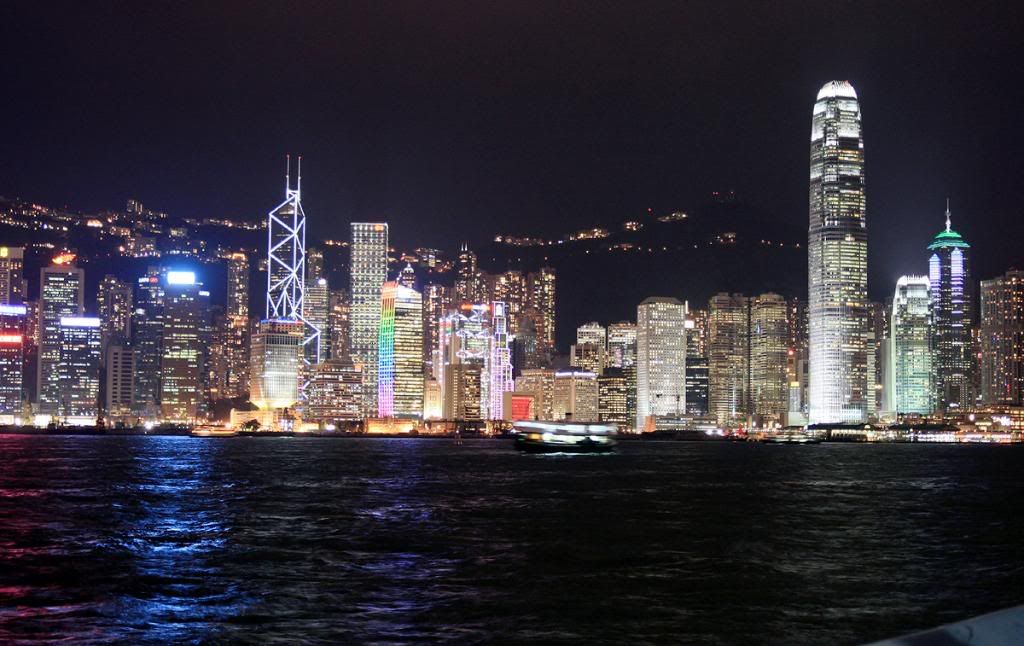 Symphony of Lights on a cloudy evening.
Tsim Sha Tsui at night.
Star Ferry.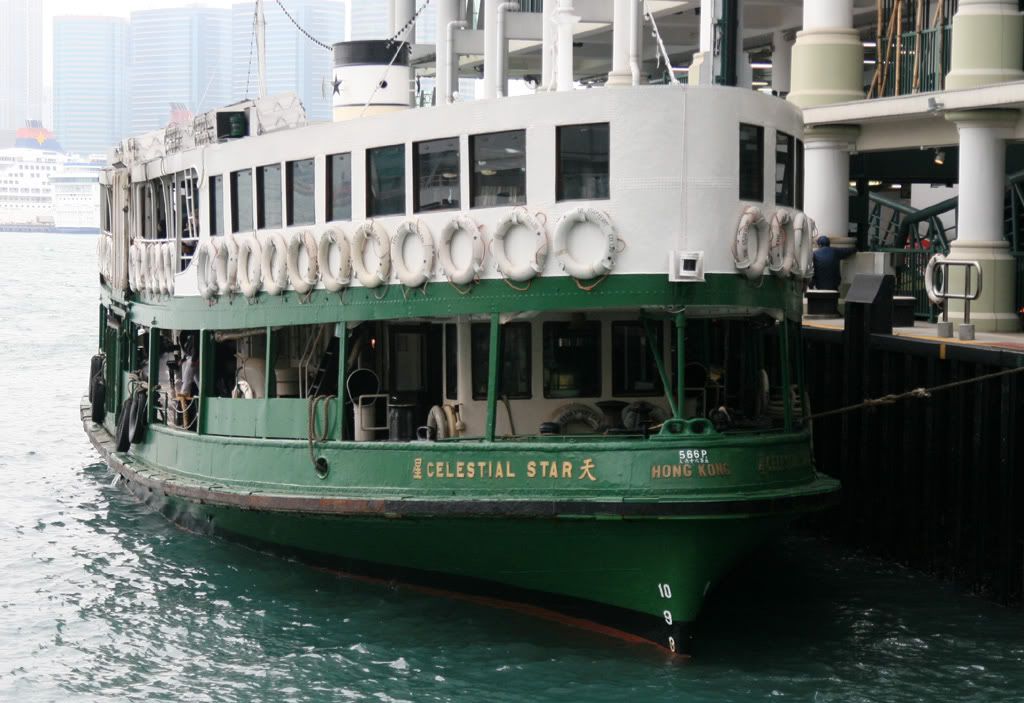 The Peak Tram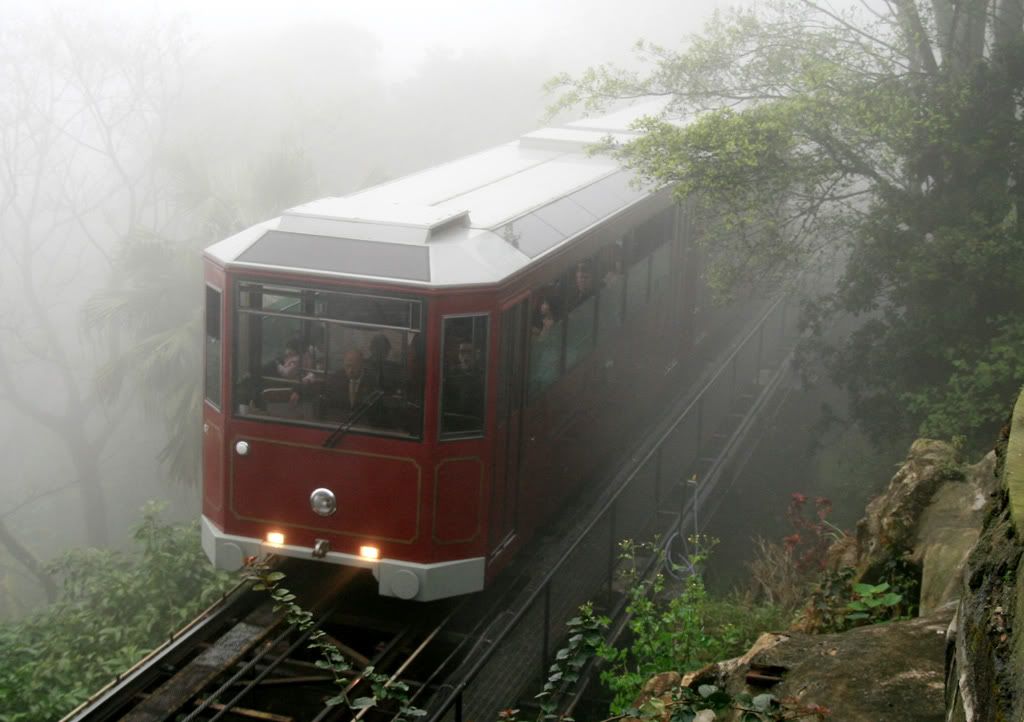 My favourite building in Hong Kong – The Bank of China tower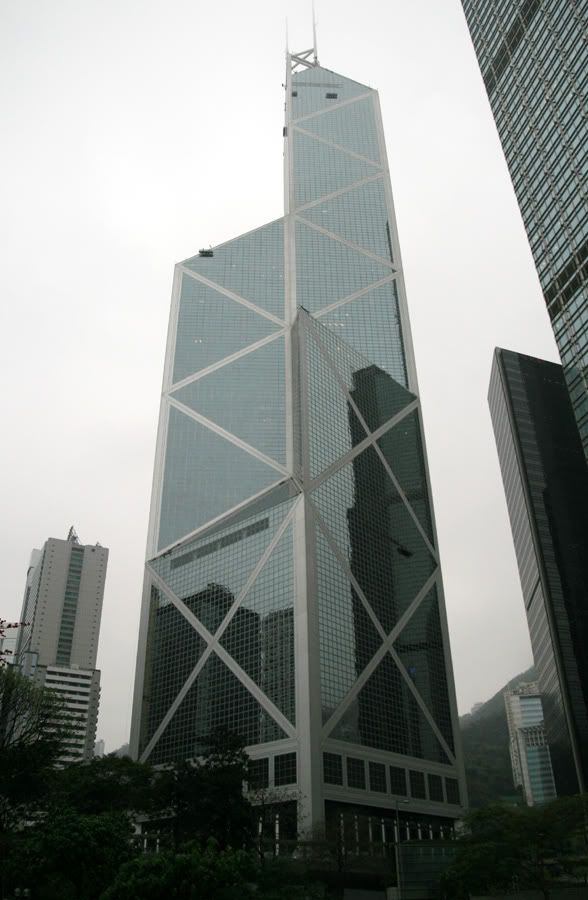 Ngong Ping Cable Car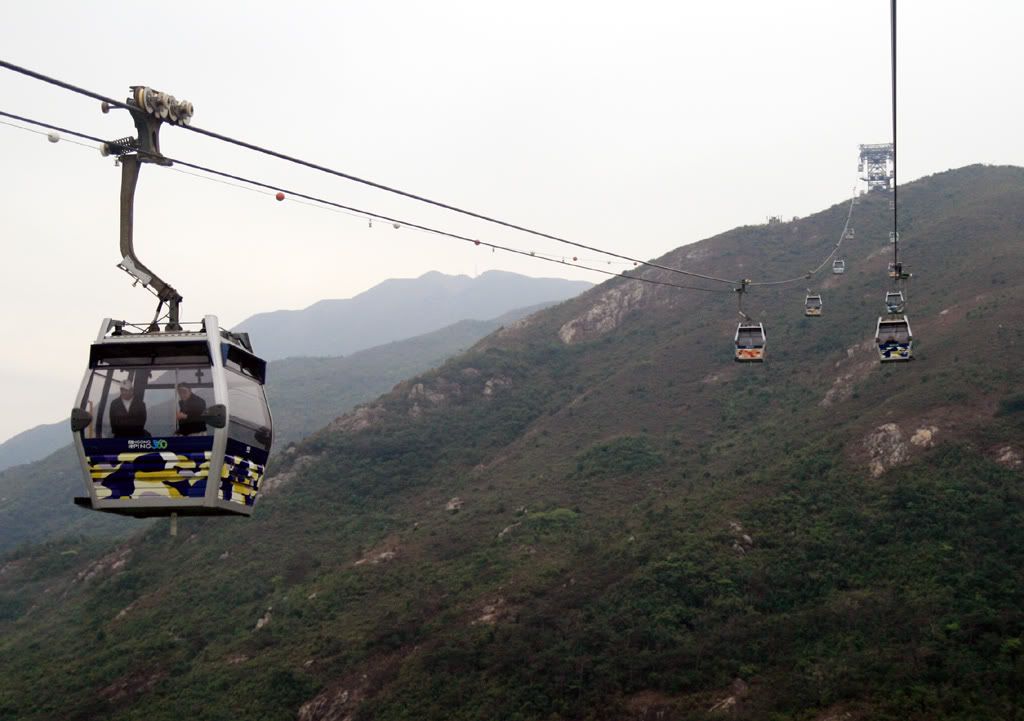 3) HKG-BOM
Check-In:
I had checked in for my flight the previous evening at the Kowloon Airport Express station. I was able to select my seat, and was handed over the boarding pass. Pretty neat! I had to use my Airport Express return ticket to gain entry to the check-in counters.
Reaching the airport:
I reached Kowloon station and took out my Airport Express ticket for entering the check-in area. As I had already "swiped" the ticket the previous evening, it didn't allow me to enter. I then approached the Customer Service desk, and the agent had to send someone to manually open the gate and let me through. This is one glitch in an otherwise perfect system. Anyway, I checked in my bags, and the agent entered the departure gate number – 3 for my flight. I thanked her, and made my way to the train platforms.
The Airport Express arrived in two minutes, and I took a "front-facing" window seat. Although I am not one of those who feel disoriented facing backwards, but facing front just gives you a better view.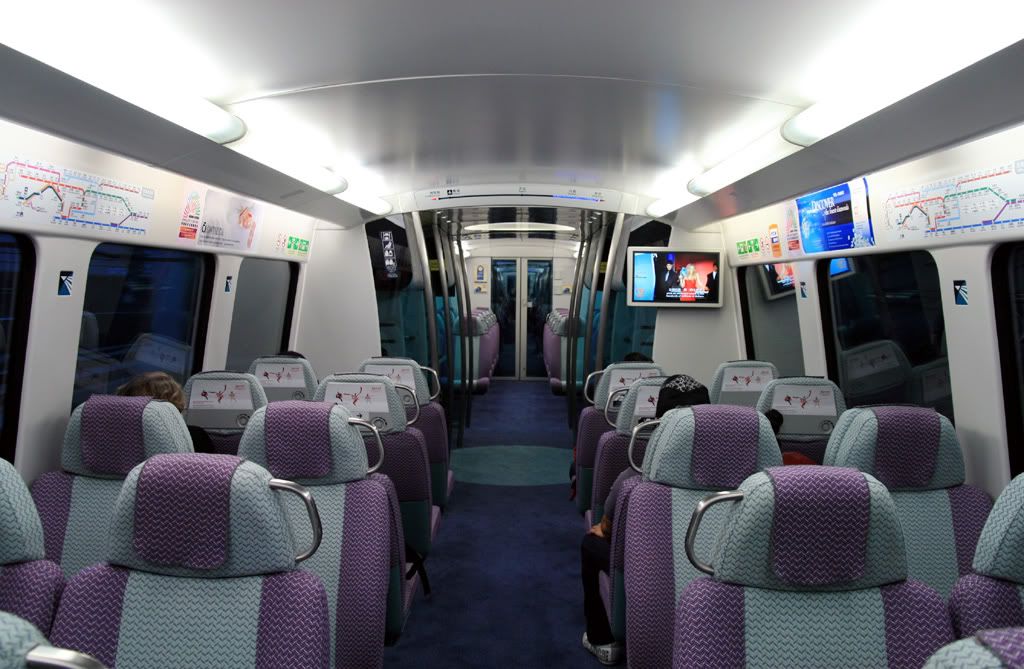 The sleek train was soon on its way and I watched the sights of Western Kowloon whiz past. Soon we were on Tsing Yi island, and negotiated the two major bridges before hitting Lantau island, and finally the airport. I clicked one final shot of the train station and made my way inside Terminal 1.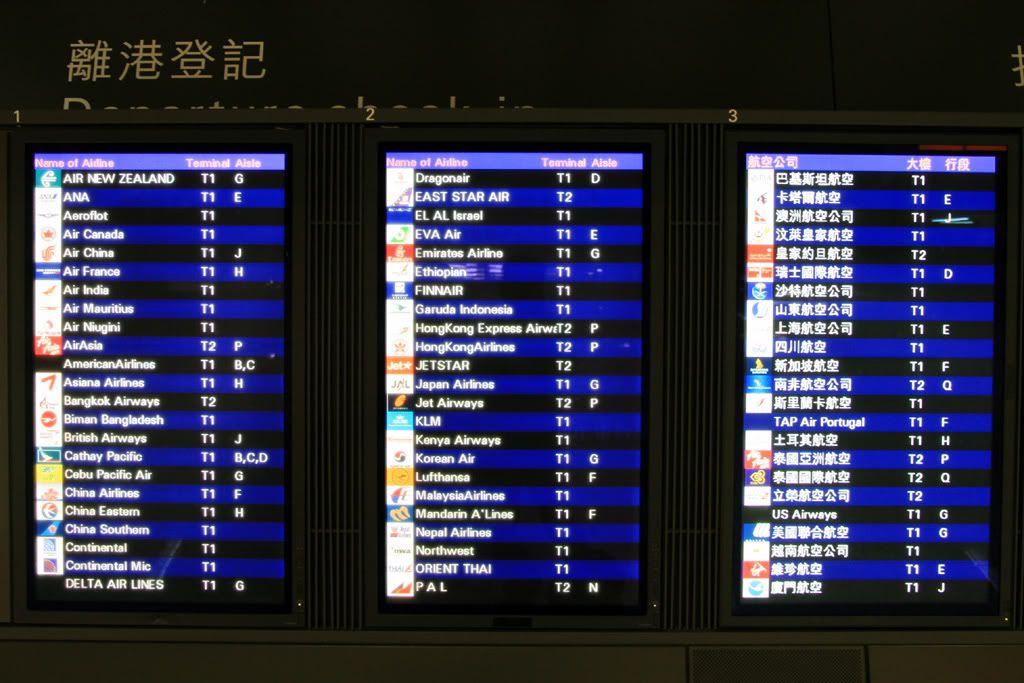 The Wait:
As I had plenty of time on hand, I walked around the terminal to explore it. Here are a couple of shots that I clicked.
FIDS.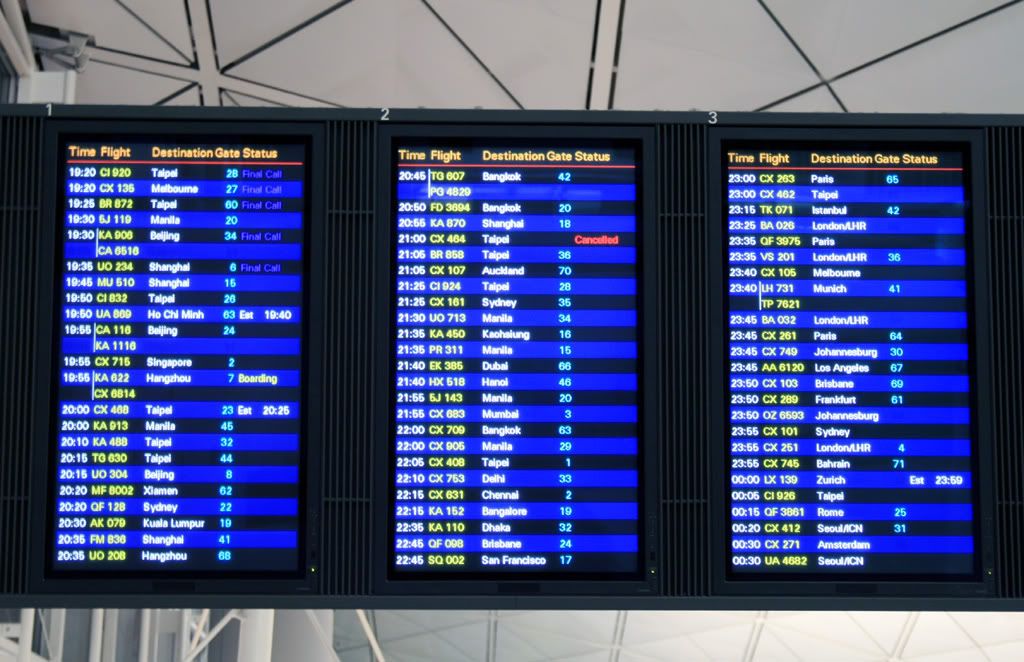 When I was done, I filled out my HKG departure card, and made my way to Immigration. There was a short queue, and my passport was stamped in exactly 5 minutes. Next was Security and this too was done away with quickly. I tried to spot from the glass walls of the terminal, but given the fact that it was now dark outside, I could see nothing but my own reflection.
So, I browsed through the Duty Free stores, looking for some good deals – but sadly there were none. There was the temptation of picking a bottle or two of liquor, but knowing that I had plenty of stock back home, I decided against it. I then made my way to the Food Court, and sat there observing the activity inside the terminal.
As the boarding time grew nearer, I exchanged my remaining Hong Kong dollars, and made my way to Gate No. 3.

Sector: HKG-BOM
Airline: Cathay Pacific Airlines
Flight: CX 683
Aircraft: Airbus A330-300
Registration: B-LAB
Scheduled Departure: 2155 Actual Departure: 2153
Scheduled Arrival: 0200 Actual Arrival: 0155
Seat: 66H
Boarding:
Gate No. 3 is situated at the extreme end of one of the wings of Terminal 1. There were around 25-30 passengers near the gate, and I hoped it would remain that way till the end! I sat down on one of the chairs and looked around.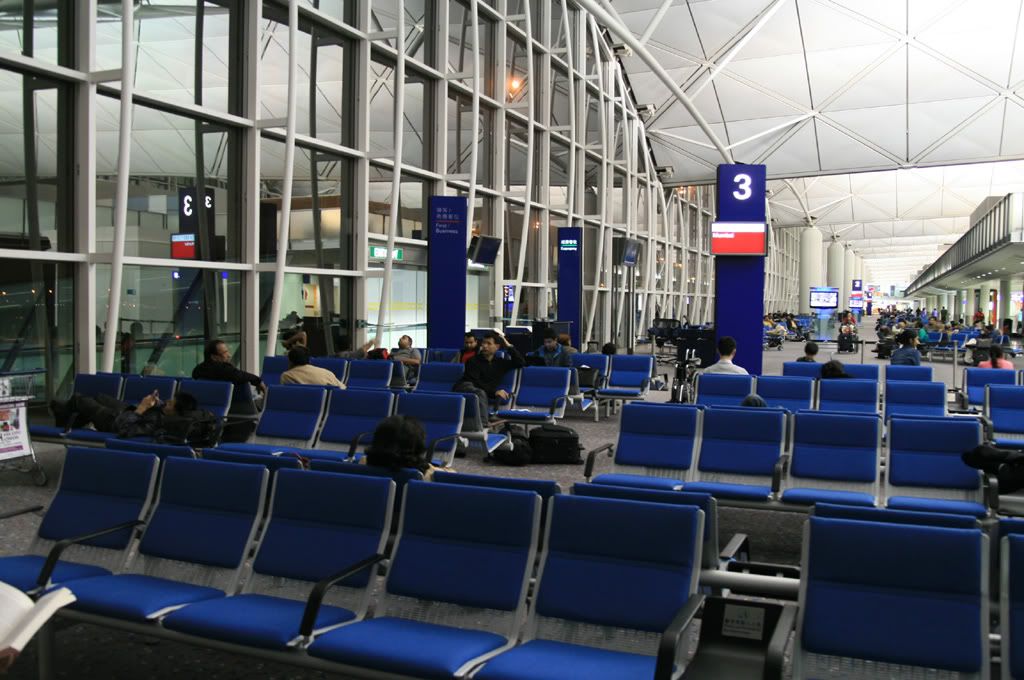 CX 251 to LHR was to depart from the adjacent Gate No. 4 at 2355, and there were already a bunched of tired and sleepy passengers in the waiting area. The aircraft – a 747-400 too was parked at the gate. Our own aircraft – an A330-300 was being readied for boarding. It was hard to read the registration because of the darkness outside and the glare on the glass walls, but I finally succeeded after 5 minutes. I was going to flying on Lima Alpha Bravo.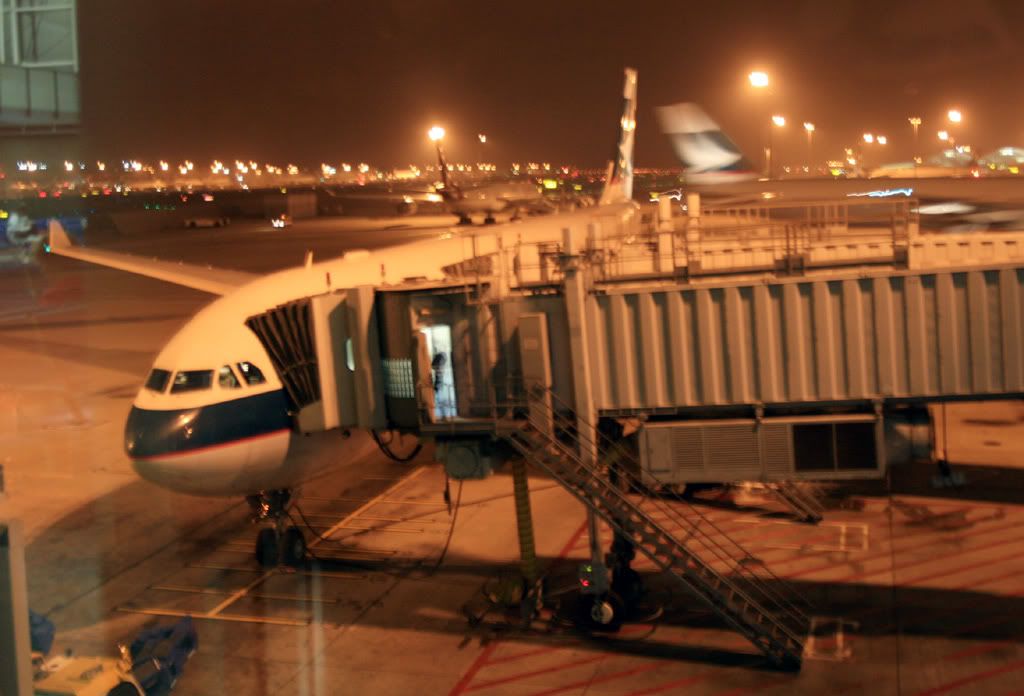 At around 2100 the ground staff made the boarding call, and explained the process for sequential boarding. As I was in the rear section of the aircraft, I would be amongst the first to board. I looked around and saw that although more people had shown up at the gate, the load for tonight's flight would still be quite low. The boarding agent scanned my boarding pass using an electronic scanner, and handed it over to me, without tearing out a part. This was quite cool, as I hate being given the tiny little stub of the boarding pass.
I was greeted by two smiling CX FAs at the door, and was shown my way to my seat. I walked through the empty forward Economy Class section and found my seat. I took out my camera and flight log and stowed my carry on bag in the overhead bin.
CX 744 scheduled to fly to LHR.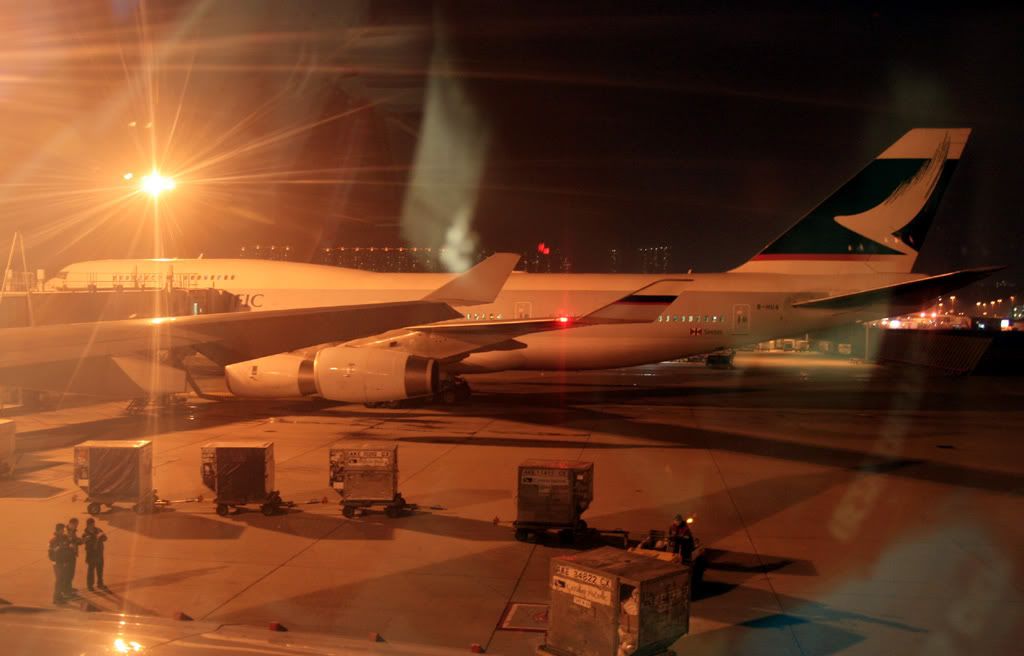 As people in our section settled down, I took a couple of pictures of the cabin. I called one of the FAs – Jackie and told him that I was an aviation enthusiast, and whether he could get my flight log signed by the pilots. He said he was happy to see an aviation enthusiast and readily agreed to get the log signed. He took it with him and told me that he would get it back to me later. I guess CX crews are now used to seeing aviation enthusiasts on board, and therefore are quite open to people clicking photographs or asking weird "technical" questions.
The Flight:
The load as I had guessed was quite light, and this meant that quite a few passengers had the whole row of seats to themselves. I really like a low load, as it gives you plenty of space to move around and the crew also tend you more personalized attention. Sadly, this is not good for the airline's bottom-line though!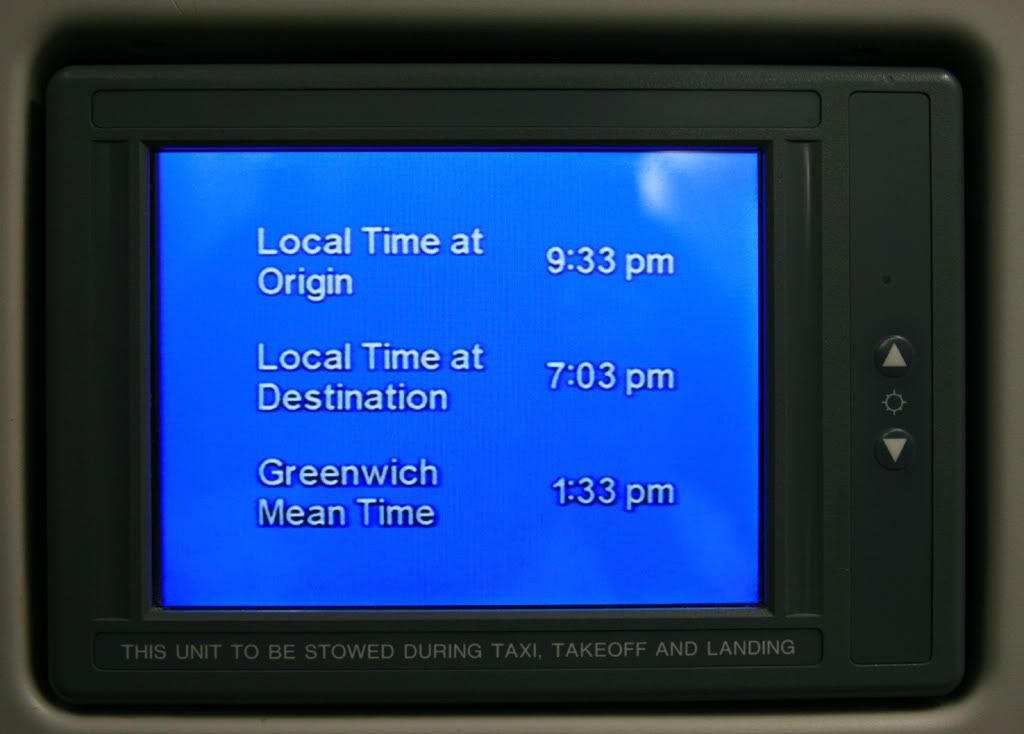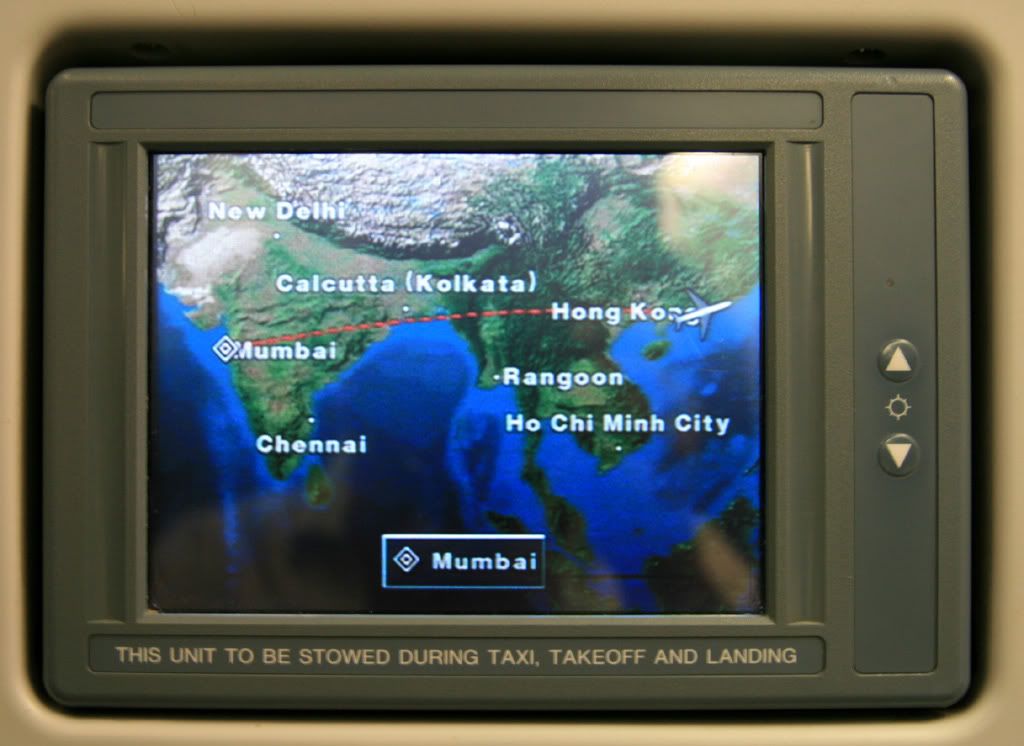 The first officer – a British gentleman came online and announced the usual details of the flight in English. What really impressed me was that he repeated the same in Hindi! Quite a nice touch I would say! We pushed back two minutes early at 2153, and one by one our Rolls Royce Trents came alive. We slowly made our way past the terminal towards Runway 07R. There wasn't too much of a queue – one a couple of aircraft ahead of us. We passed the permanently parked Hainan Airlines A340-600 and turned left to line up on the runway. I could barely make out the Sha Lo Wan ferry pier, where I had been a couple of days earlier for spotting. With their distinctive "cooo" sound, the Trents fired up and we rolled down the runway. The light load was peanuts for the two powerplants and we lifted off into the overcast skies in no time.
There was a slight turbulence as we broke through the layer of clouds, and then it was absolutely smooth going. The seatbelt signs were soon switched off and the IFE system was activated. The IFE on CX's A330s is non-AVOD and I wanted to check out what was on offer. Having AVOD is quite cool, as you can easily pause, stop and change the program as per your convenience. Even then, the older system serves the purpose provided the offering is good. I browsed through the inflight magazine to get an idea of what was an offer, and decided to watch the latest Daniel Craig 007 flick "Quantum of Solace" one more time!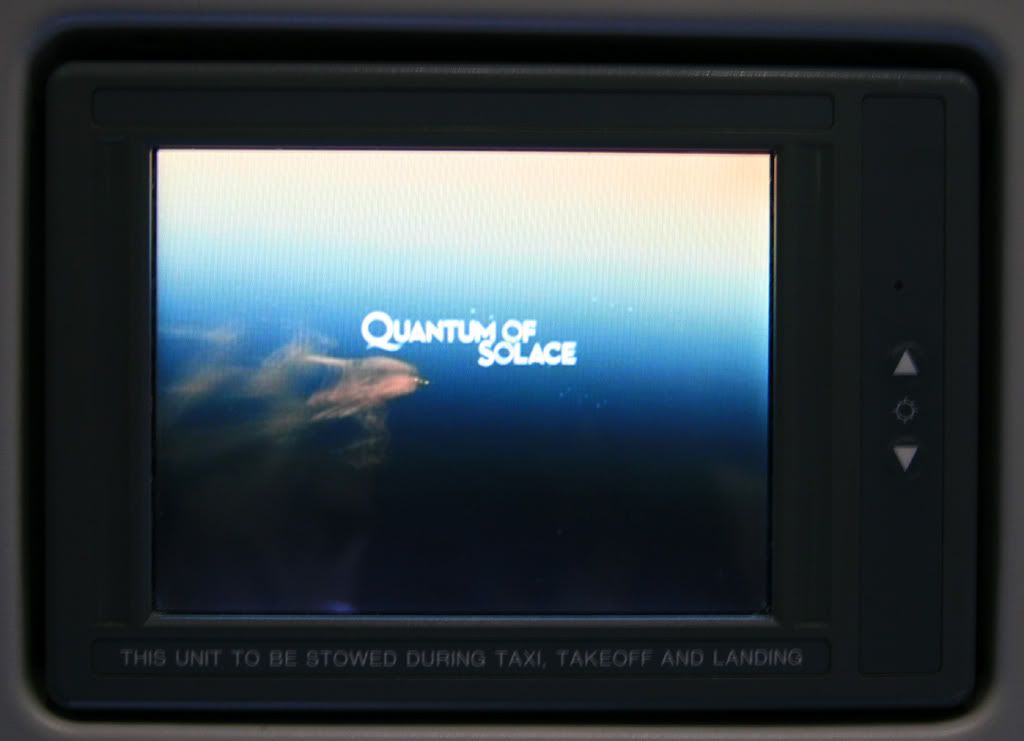 The Meal:
The cabin crew passed around the menus for the flight. I did not see any menus for the flight into HKG, so this seems to be an inconsistent feature.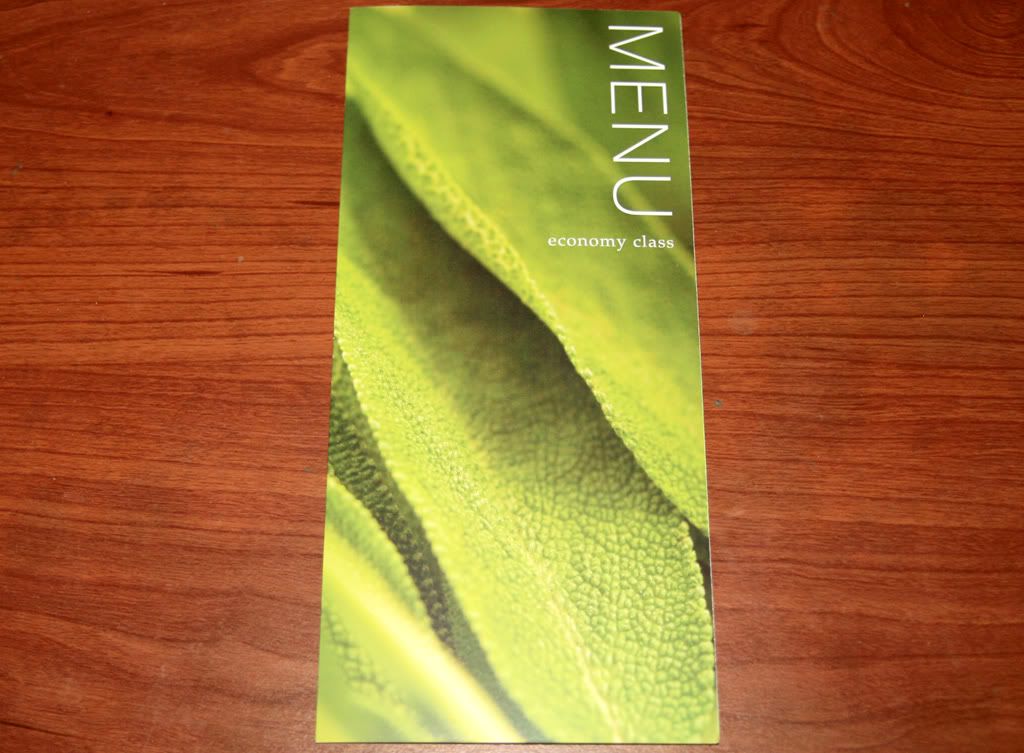 I ordered a Marie Louise Parisot Merlot 2006, which was delivered along with a pack of salted peanuts. It was fun to watch Daniel Craig smashing up the baddies while enjoying my drink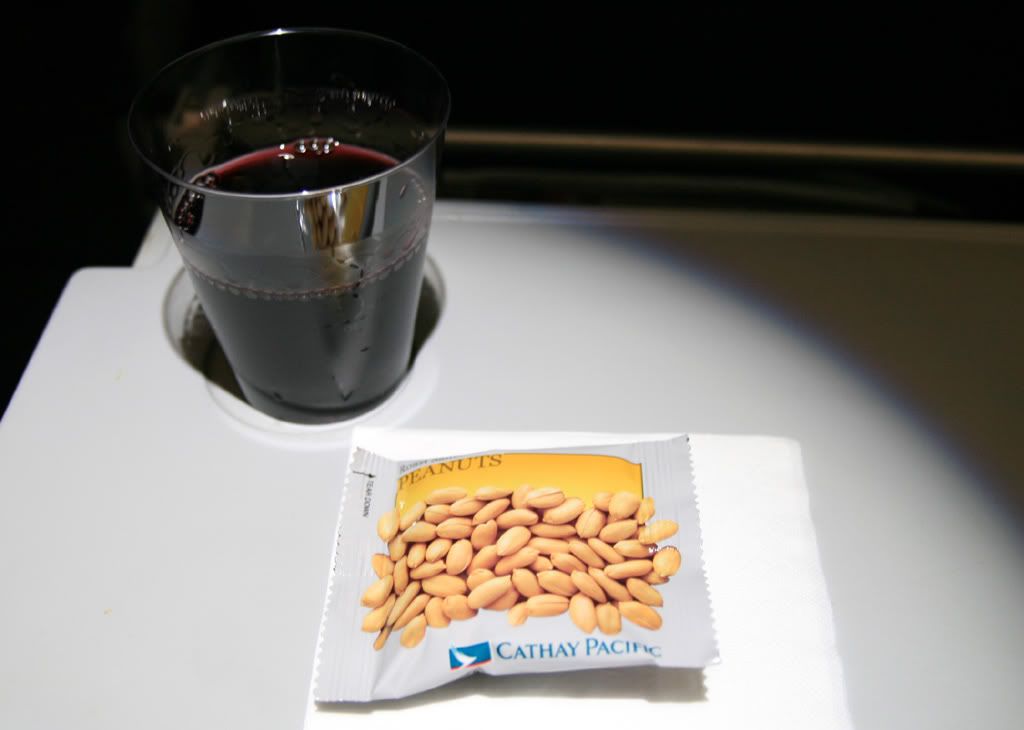 One of the FAs then came around and confirmed my order for a special Indian meal. Soon, my meal was handed over much before anyone else, and as I was hungry, I started devouring it.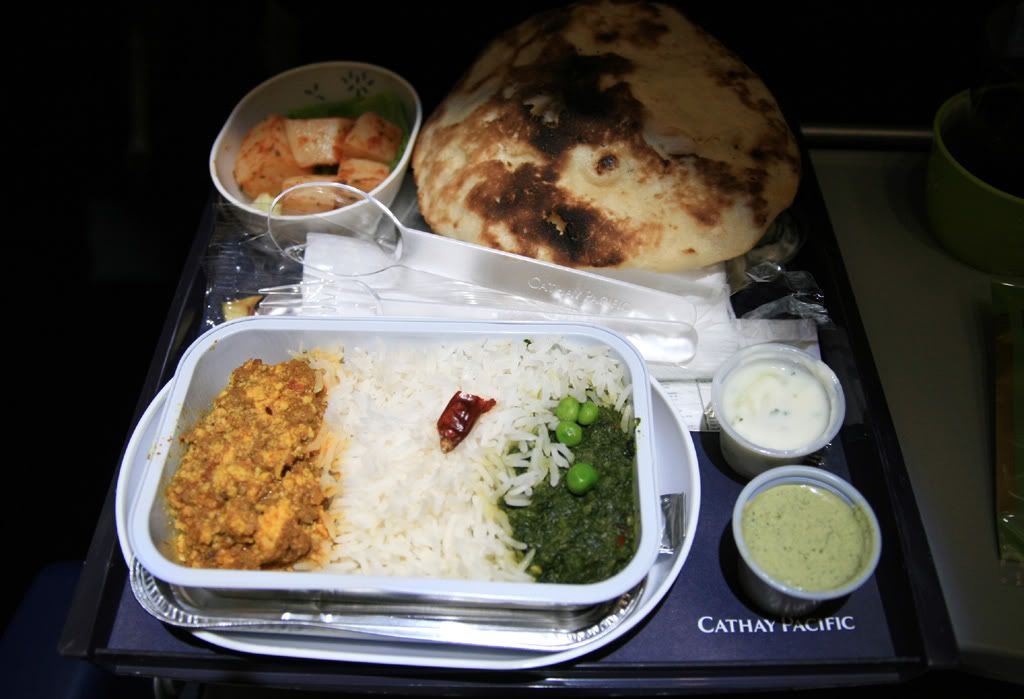 Dessert!
I finished watching the movie and I decided to check the map to see where we were. We were heading in a south-westerly direction and were now over Thailand, north of Bangkok. I didn't quite understand the need to go so far down south while heading for Mumbai. Maybe the pilots forgot that this was a non-stop flight to BOM – without a halt in BKK!
Jokes apart, I think it might have had something to do with favourable weather. Experts – what do you think?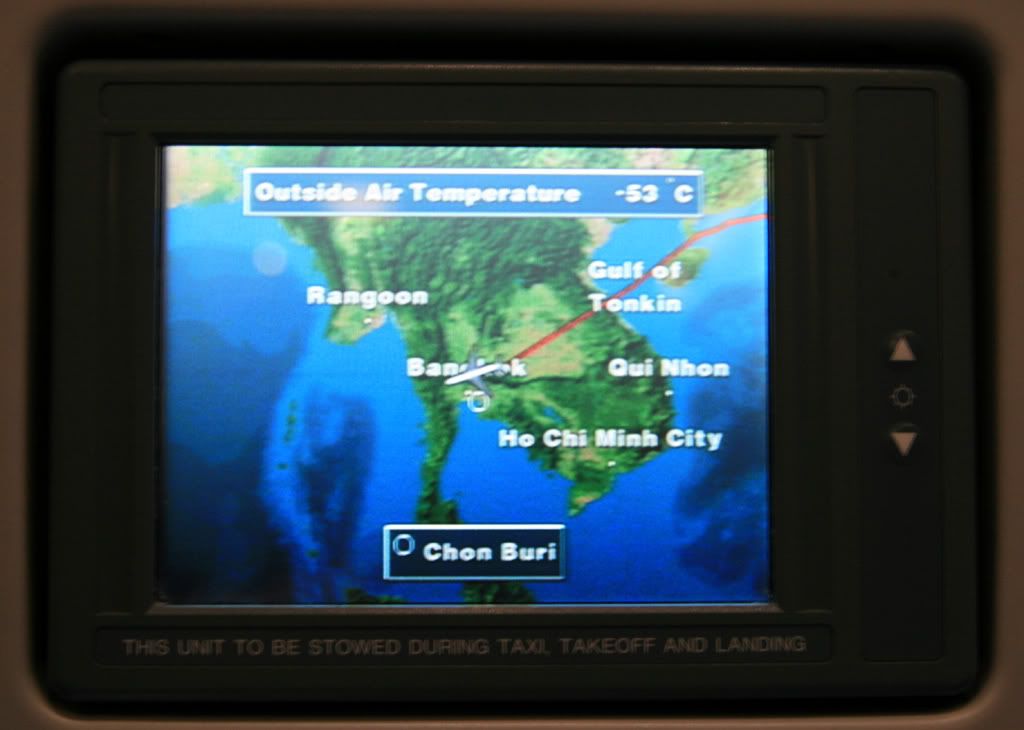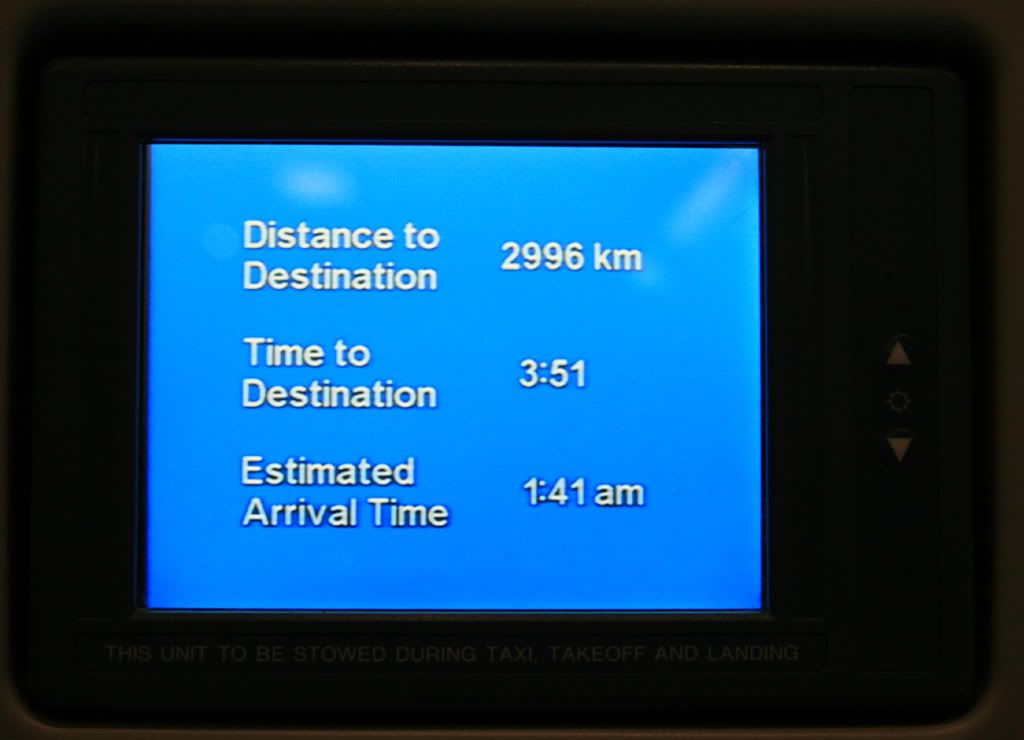 Jackie then came back with my flight log, and handed it over with a smile. I played around more with the IFE to see what else was on offer, but did not find anything special.
With around 4 hours to go for our arrival, I decided to catch up on some sleep. I put the seat into recline and closed my eyes. I then realized that I had the row of two seats to myself, so I pushed the armrest up, and lied down on my very own flat bed in Y class! A sumptuous meal, and a flat bed meant that I fell asleep soon, and woke up only once in between as we hit some turbulence.
I finally woke up when the crew came around with the second drink service. I ordered an orange juice and looked at our flight path. As I mentioned earlier, we had flown down south over Thailand and then flew back in a north-westerly direction towards the West Bengal coast before flying south-west again towards BOM. The captain then announced that we had started our initial descent into BOM, and that we would arrive on time.
Arrival:
Slowly people started waking up as the cabin crew made the preparations for landing. We passed over the town of Ellora – housing the famous Ellora caves.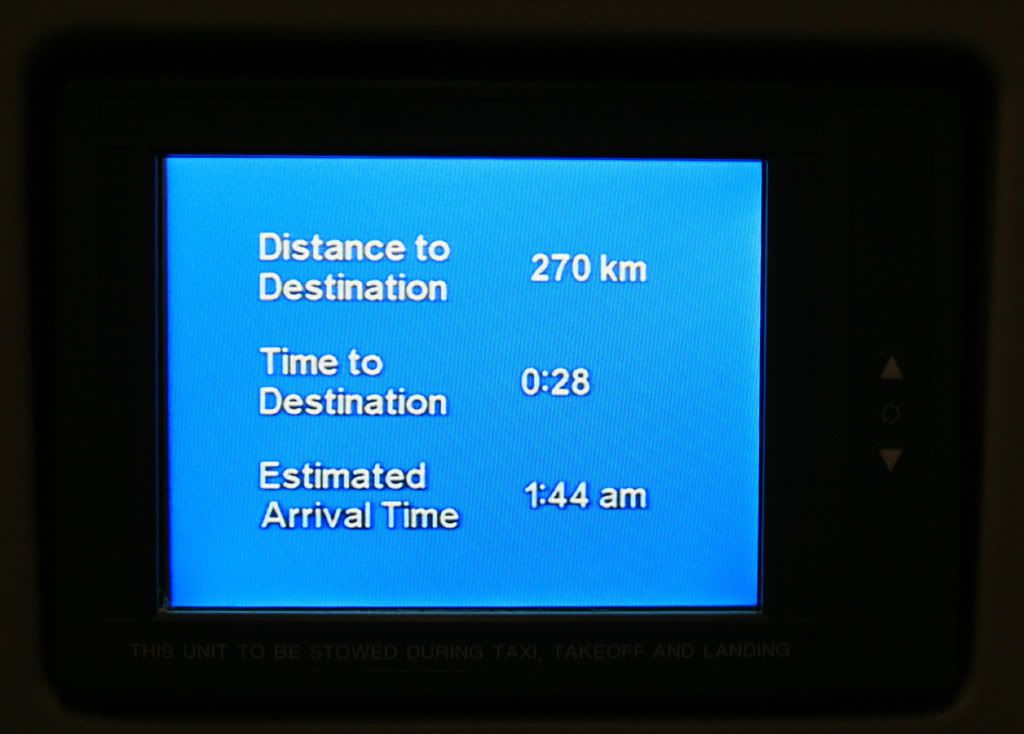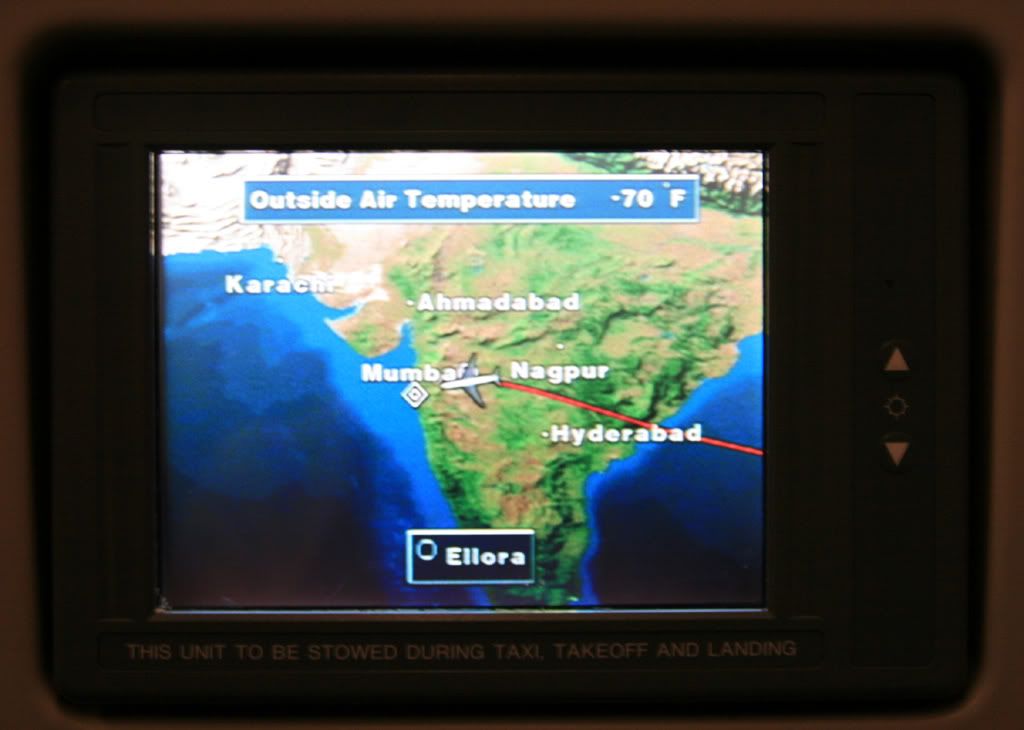 The seatbelt signs were switched on, and soon we were on the approach to BOM. The familiar sights of the satellite city of Navi Mumbai slipped by and we descended lower as we crossed the Thane creek. Soon, the lights of the BOM airport became visible, and we skimmed over the multitude of slums to make a smooth landing on Runway 27. With a not so heavy deployment of the reversers, we slowed down and exited the runway. We slowly taxied all the way back to Terminal 2, as the crew read out the information about BOM weather, and thanked us for flying Cathay Pacific.
I bid Jackie and the other crew goodbye, clicked a couple of cabin shots and walked out of the aircraft.
It was a long walk to the Immigration area, and I saw that Air France had sent in an A330 instead of the regular B777. There was no queue thankfully and my passport was stamped quickly. My bags arrived within five minutes, and I made my way out through the Green Channel of Mumbai Customs.
In summary, I walked away impressed by Hong Kong - its infrastructure, public transport system, its busy energy, and of course its flag carrier – Cathay Pacific!
Thank you all for reading. Your comments are most welcome!
My Previous Trip Reports:
Voyage To Nepal: Nepal Airlines/Buddha Air
BOM-HYD-BOM On Kingfisher + Spotting At HYD
BOM-DEL On Air India, Brand New A321
BOM-GOI-BOM On IC. A320/A300B4
BOM-DEL-BOM On IC A320/AI 743 Combi DEL Fog
BOM-KUL-PEN-KUL-BOM On MH/Air Asia
BOM-AMD On Air India 743 Combi Upper Deck
BOM-CMB-BKK-CMB-BOM On SriLankan Airlines
- Vivek