Before the United double elite qualifying miles promotion ended in June in wanted to get one more mileage run in. I shopped around for a few days and was looking for the most miles I could get for the cheapest price. Finally I came across a trip to MRY which would be nice as it was new airport and route to add to my list, in addition I would get to fly on an EMB-120 which I have only done once before. Since I would have some spare time and longer flights I decided to write another trip report to pass the time.
I arrived at the airport just after 11am and printed out my boarding pass. I had checked in online earlier in the morning but had not printed out my boarding passes. There was no line for security and within a few minutes I was at the gate. The flight left out of C9 like always and it was pretty crowded. Sorry to the MKE folks about the lack of MKE pictures I always feel kinda weird taking random pictures in small crowded areas.
5-9-09
MKE-ORD
UA5989 (operated by Skywest)
CRJ200
N986SW
11:49am-12:33pm
Load: 50/50
Seat: 5A
View Large
View Medium


Photo © Matthew C. Lyons
Upon boarding several passengers had musical instruments. I soon found out they were from a Jazz band that was in town for a concert. I later googled it and determined it was Eric Darius, which I guess is an R&B and Jazz singer. We pushed on time and taxied to 1L. After takeoff we turned east over the lake the pretty much followed the shore line down to Chicago. The flying time was about minutes 20 minutes. Soon after we leveled off we began our decent into Chicago. We landed 27L along side us was US 737 that landed 28.
After deplaning I slowly made my way to B20 before stopping for some fries and a Mcflurry. While on my way to the gate I also tried to check in for my return trip (SFO-MKE) but the kiosk did not give me that option. I had about 45 minutes to kill before my flight to DEN so I spend my time snacking and feeding this bird that was trapped inside the terminal. I figured I would feed him has he was probably hungry be trapped inside and unable to eat.
The bird I fed
My aircraft to DEN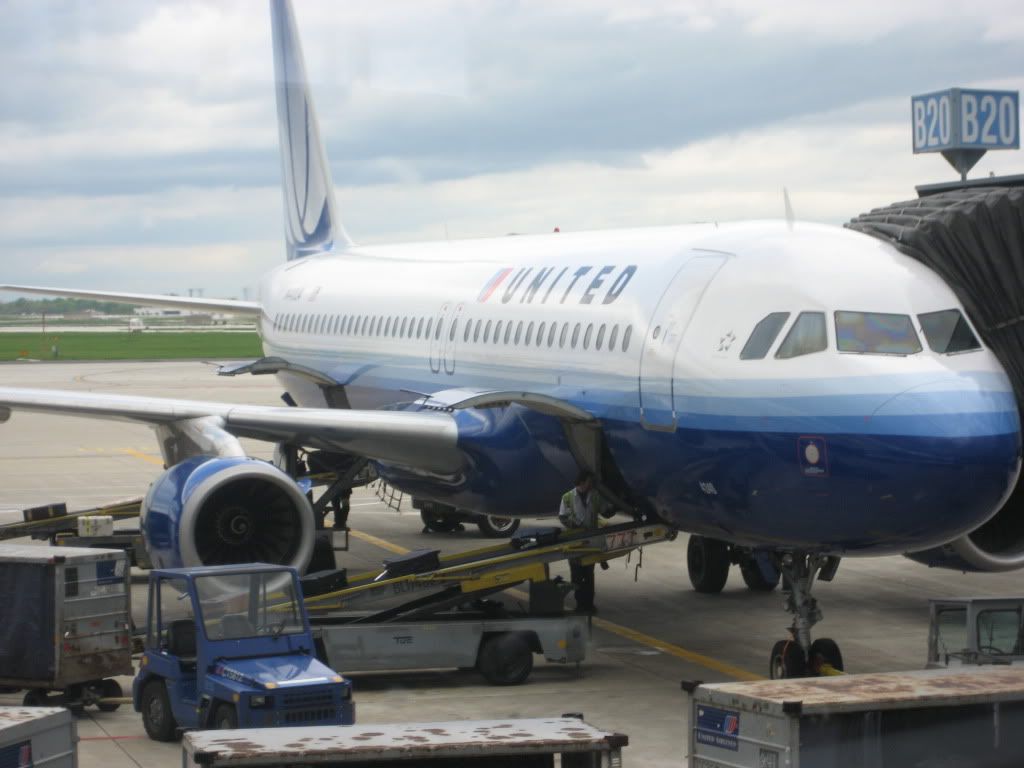 5-9-09
ORD-DEN
UA241
A320 (subbed from A319)
N440UA
1:30pm-3:08pm
Load: 126/144
Seat 6A
View Large
View Medium


Photo © Laura Irwin
This flight was originally scheduled as a 319 however when I got to the gate I realized it was a 320 (because of the 2 over wing exits). Upon boarding I determined this plane was one of the newly reconfigured old TED aircraft. I could tell from the clean look inside and the new seat smell. We pushed back on time and departed 32L to the NW. Flying time was 2:20. This was my first flight on A320 in row 6 of economy plus and I must say the legroom is quite spacious especially with the bulkhead cutout. For the IFE they played some episodes of Thirty Rock however it did not interest me and I couldn't even see the screen with all the sun glare from outside. The flight went pretty quick and we landed 35R.
My legroom in 3A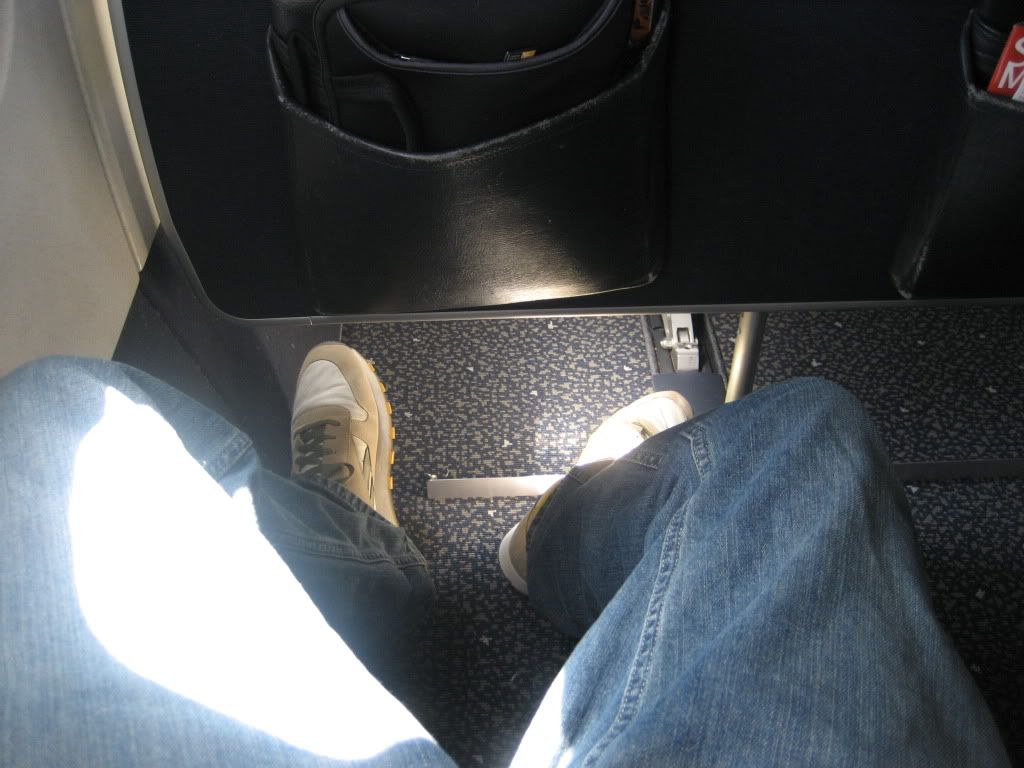 Working on my TR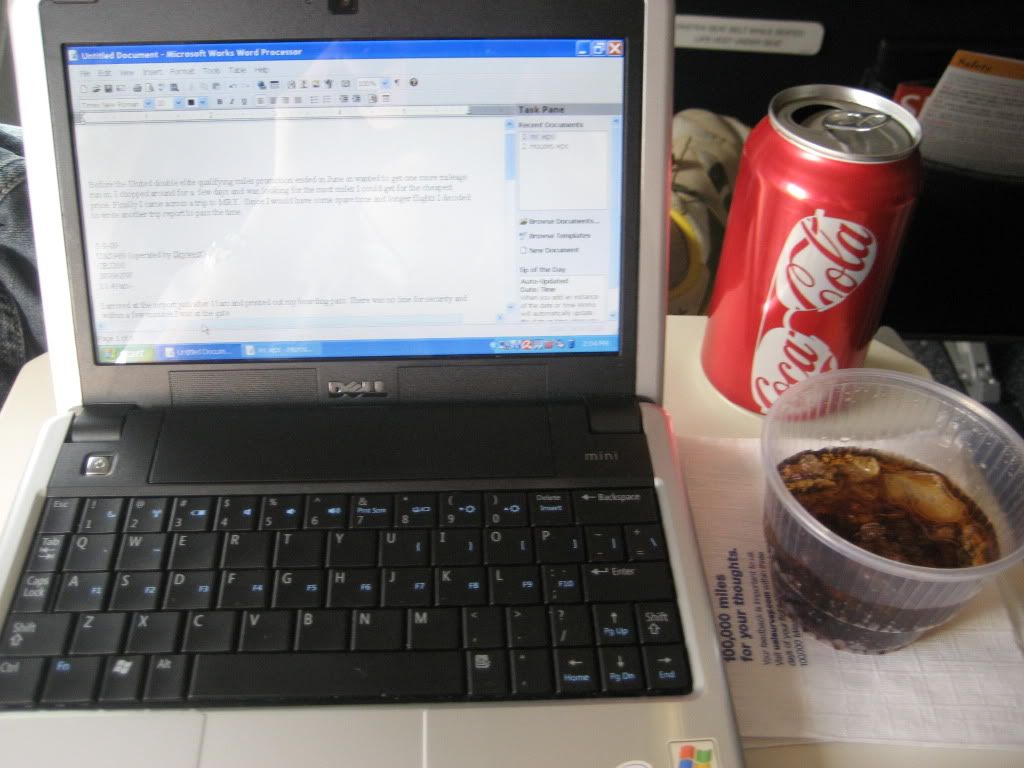 I had about 3 hours before my flight to MRY so I walked around for a bit and made my way over to the C terminal to check out the NW 320 that had a tail strike earlier in the week. I found it parked off the concourse but you couldn't tell the damage from where I was. While walking around I stopped by the customer service desk to get my boarding passes for my SFO-ORD-MKE flights and it took some explaining to the CSR before so knew what I wanted. She didn't really understand my MR and why I was heading back to MKE when I just left from there. She handed me my boarding passes and didn't say a word to me. As I started walking away I heard her talk to coworkers what I had just done. After that I spent the next hour or so at my gate using the free internet DEN has. I was not able to get any pictures for my aircraft to MRY because it was at a screwy gate with no view.
The underground tram at DEN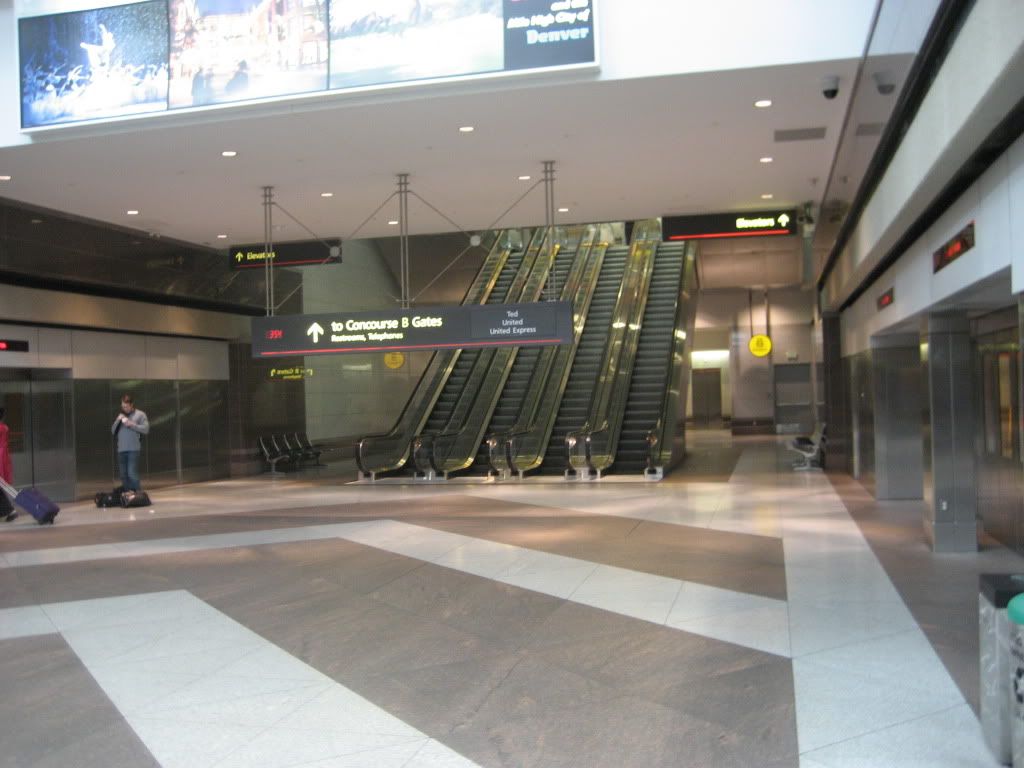 View from inside the tram
The NW 320 with the tail strike
5-9-09
DEN-MRY
UA6709
CRJ-700
N764SK
5:56pm-7:35pm
Load: 67/70
Seat 4D
View Large
View Medium


Photo © Royal S King
Now I must admit, I was not looking forward to this flight, 2:20 on a CRJ just does not sound fun, although at least it was a 700 and not a 200. We pushed a few minutes late and had a long taxi out to 25 for a west departure. I was quite cramped in my seat though if I thought it was cramped I wonder what the people in regular economy must have been feeling. Originally I had booked 3A which is a bulk head, but I changed at the last minute because of seat guru.com remarks about the windows being misaligned. Now that I saw it, the windows alignment is screwy on every seat and I would have had a lot more leg room in that seat, oh well. There was one drink service which only glasses were given out no cans which would have been nice for a longer flight like this. This flight seemed to take forever, probably because I was so cramped in my seat. After about two hours into the flight be began our decent into MRY. It was quiet scenic as we flew low over my hills with huge mansions on them. While on final approach to 28L the engines suddenly spooled up and we began a climb out. We then flew west over MRY and did a big circle and came in to land 10R. The touch down was pretty rough and fast as we were dealing with a tailwind. After parking on the tarmac the FO came on and apologized for the go around. Apparently it was too hazy and they were unable to see the runway.
We deplaned on the ramp and had a short walk to the terminal. Since I was connecting onto SFO I stayed in the small waiting area while everyone else left. It was kinda weird being in the waiting area all alone with no one around. As I waited I watched my outbound aircraft land coming in from SFO.
Cruise somewhere over the Rockies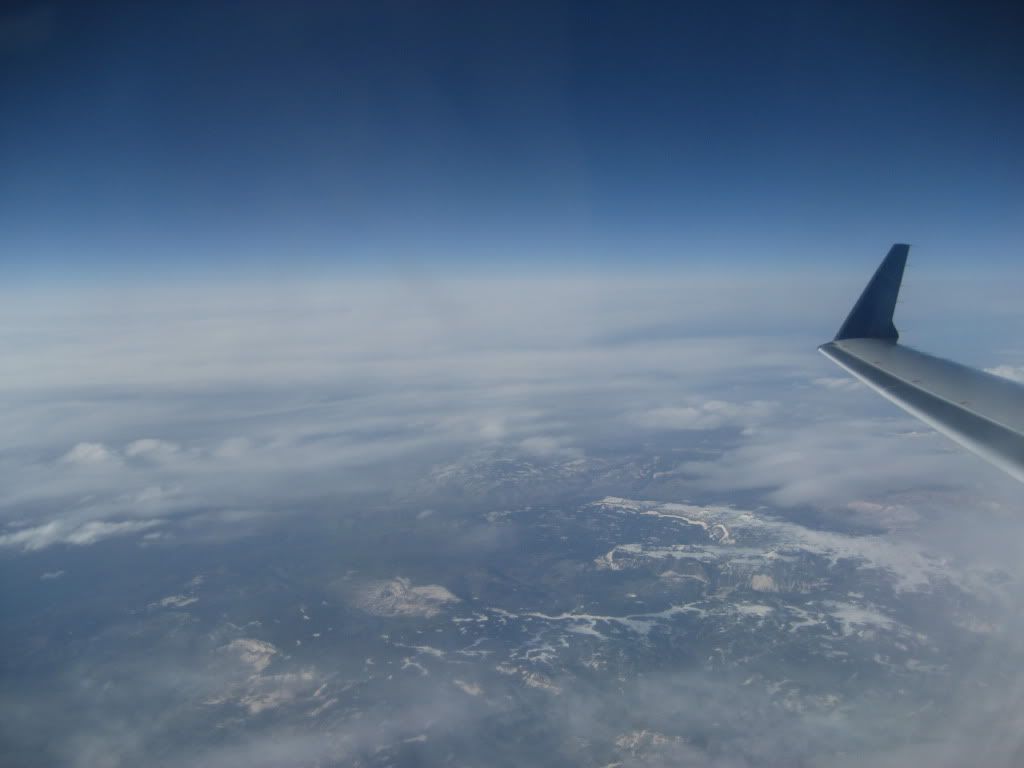 A few minutes before landing at MRY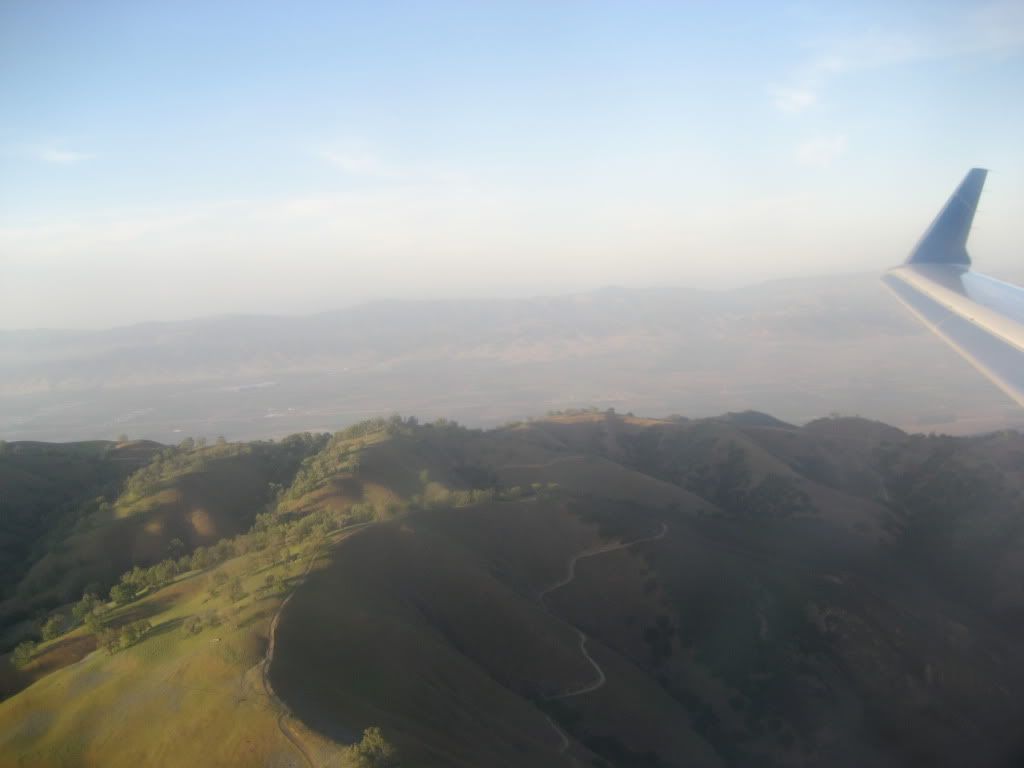 MRY coast line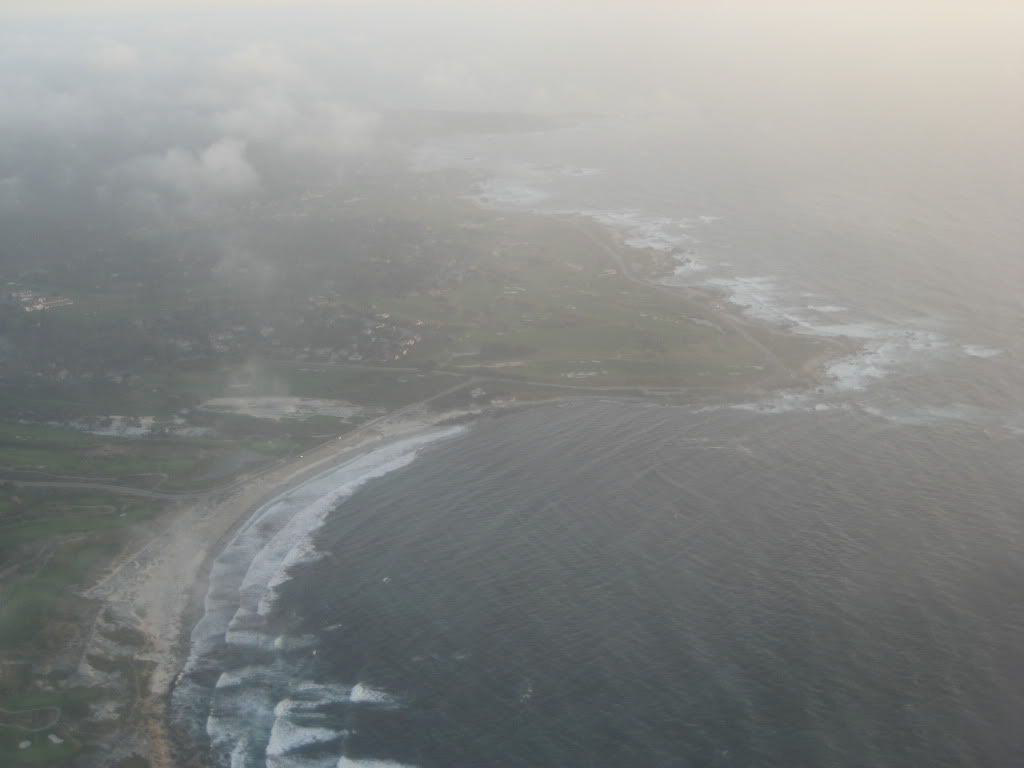 My aircraft from DEN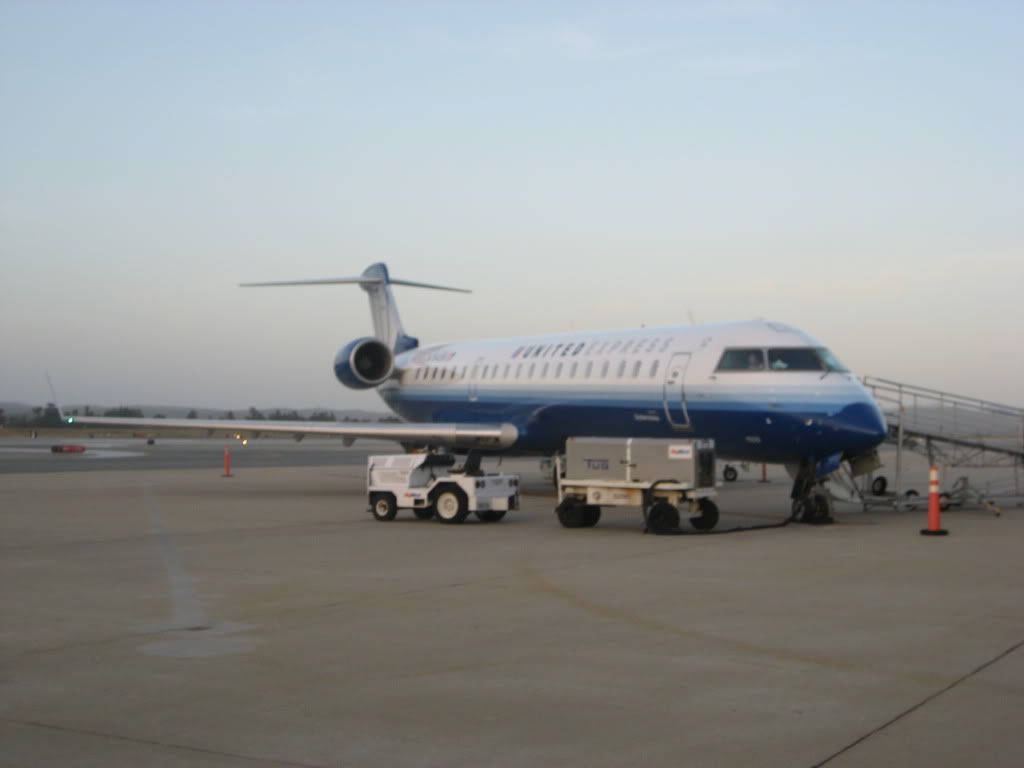 The empty MRY gate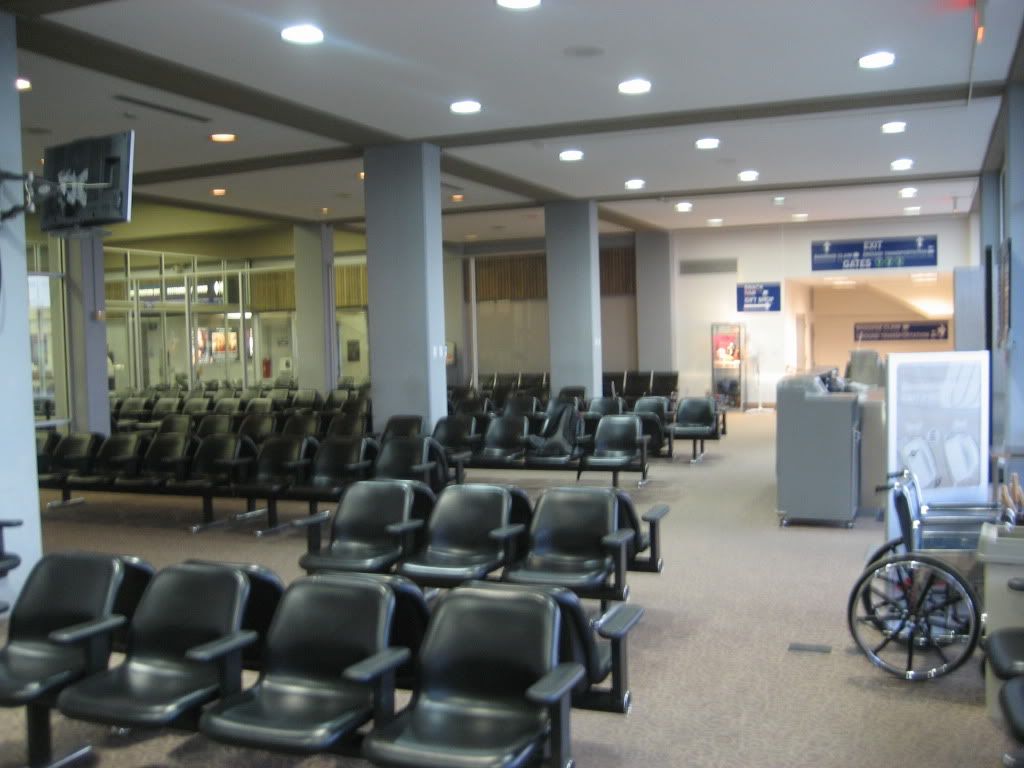 Blurry picture of us boarding to SFO
5-9-09
UA6118 (operated by Skywest)
MRY-SFO
EMB-120
N299SW
8:51pm-9:30pm (actually 9:15-9:45)
Load: 20/30
Seat 9A
Everyone was quickly on board and be left the gate on time. However we were put in the penalty box for about 25 minutes due to traffic and construction at SFO. After take off we flew north along the coast before turning into SFO bay and landed 28L. The approach was very scenic with nice views of SFO.
Cabin view of our aircraft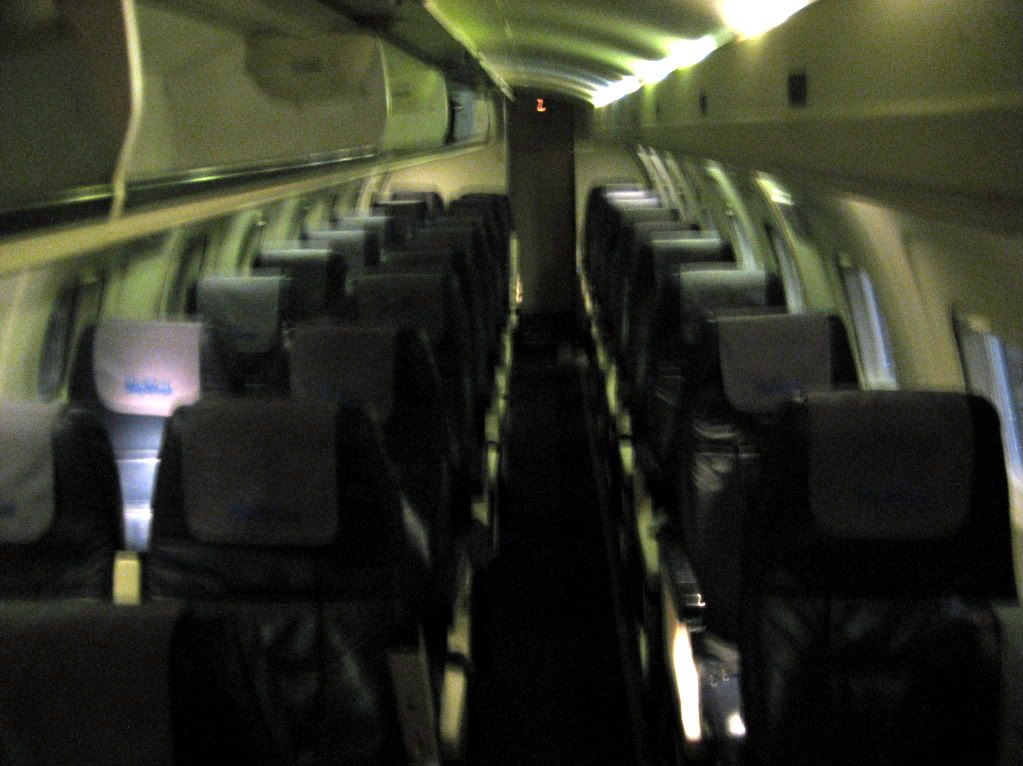 SFO gate area
5/9/09
UA158
SFO-ORD
767-300
N674UA
11:15pm-5:15am (+1) (actual 11:15pm-4:35am)
Load: 244/244
Seat:5J
View Large
View Medium


Photo © Carlos Aleman - SJU Aviation Photography
I was able to upgrade to first class a few days for my departure and this would be my first time on a domestic 767. The 1st class seat was not much to talk about the aircraft still has the old projector monitor and old overhead been which cannot hold much. I was served a pre-departure drink and we pushed back on time. The flying time was 3:20, most of which I slept. After we leveled off in cruise there was a drink service followed by a snack service which was a plate of deli meat, fruits and some cheese and crackers. I had a few bites of it then dosed off for about 2 hours. By that time we had begun our decent into ORD. We landed on 28 and had a good view of the city and we made our approach.
My aircraft from SFO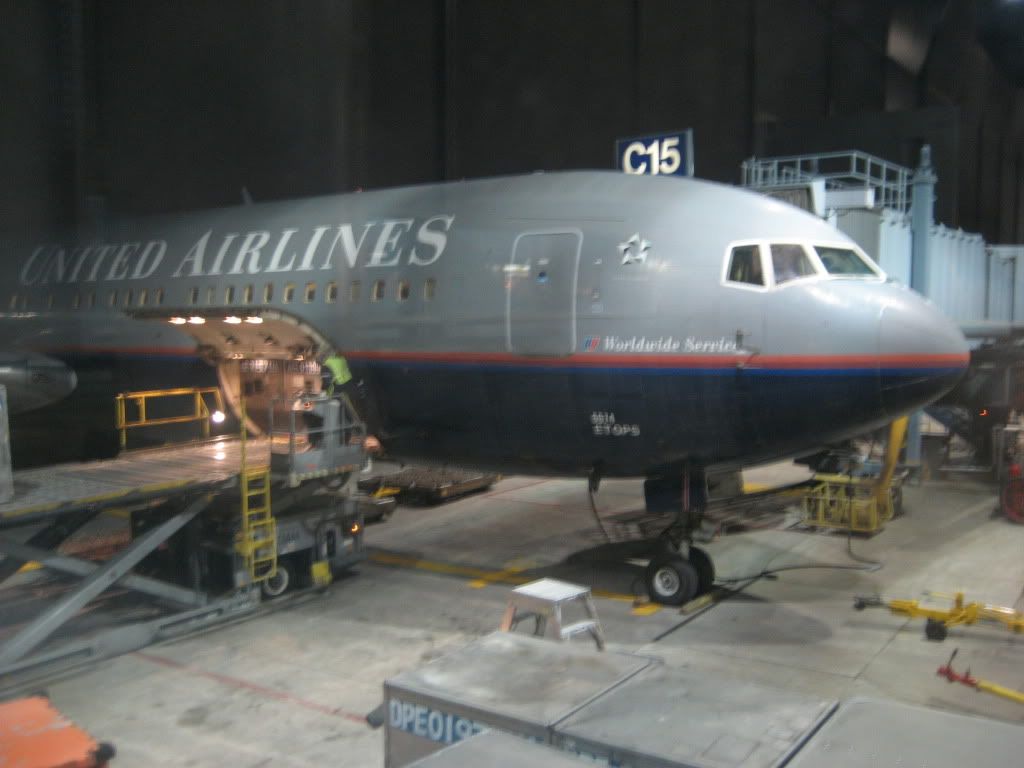 This trip really tired me out much more than my Europe trip last weekend, I was really dragging while I waited for my flight to MKE. I slowly made my way to the F concourse for my departure to MKE.
5-10-09
UA5950
ORD-MKE
CRJ-200
N986SW (same aircraft I took yesterday)
7:12am-7:58am (actual 7:05am-7:35am)
Seat 1D
Load: 21/50
View Large
View Medium


Photo © Alastair T. Gardiner - WorldAirImages
Our plane left from the F1b gate which is a gate where in order to get to the aircraft you have to go down an emergency staircase then walk along the ramp for about 1,000 feet to get to the aircraft. With the light load we boarded pretty quickly and pushed back ahead of schedule. We took off 32R which was a first for me. We departed to the NW then turned E over the lake before landing 25L.
All is all the trip was pretty uneventful, I was really beat by the end and I think I will be taking a break from MR for awhile as I have reached my mileage goal for the year.
[Edited 2009-05-11 00:20:17]