Feedback always appreciated.
Trip Report: 071
Flight Category: Y-ILR (See Report End)
Date: 08 Feb-09 (See Report End)
SDT/SAT/Dur/Delay: 1340/1535/07:55 hrs (Delayed by 04:14)
Flight:
Iberia IB 6165
, 3410 miles
Routing: MAD-BOS
Aircraft: 343
Seat: Economy, 8A
I > Background:
After a week of work in Madrid and a quick trip to Canary Islands, I decided to make a quick trip to Boston to visit some friends. Iberia had some remarkably cheap tickets and I hesitantly decided to try them despite all the horrible reports here and on Skytrax. Interestingly, there are very few A.Net reports on MAD-North America (especially in Y), and this is the first report on the MAD-BOS flight.
II > Pre-Flight:
a) Before Airport:
Iberia (Líneas Aéreas de España), is the national airline of Spain. Based in Madrid, it offers flights to 102 destination in 29 countries and is a major player in the ex-Latin America market, and a prominent member of the oneWorld alliance.
Iberia's website at
www.iberia.com
has come a long way and is actually efficient to use. I was able to quickly book and pay for my ticket which arrived electronically within 30 minutes. While I could view my ticket online, I could not do anything else with it. Also, the inability to chose seats was annoying. Perhaps, because it is one of my pet peeves
. A quick call to the surprisingly nice Iberia office in the U.S. solved that. Interestingly, the Iberia hotline in Spain refused to give me seats. Weird!
b) At Airport:
Madrid's Barajas airport has come a long way and T4 where IB hubs is a truly nice experience. As a "Comodoro" (the most pretentious name of a 'status' holder on any airline), I was able to use the IB-J class checkin. The agent was super nice (a first for IB ground staff) and was able to comply with my request for a bulkhead window. After a quick goodbye to a friend (with many benefits – haha), I proceeded through quick security screening and immigration to take the train to the intercontinental gates. Along the way, I stopped by and sampled Iberia's flagship J lounge. While much better than what they had in the past, it would not be winning any prizes anytime soon. While it had majestic windows affording some majestic views of the tarmac, the clean uncluttered design unfortunately translated to the lack of amenities offered. Food and beverage option was much below what an airline flagship lounge should possess.
40 minutes prior to departure, I made my way to the boarding gate. As in many European airports, I was surprised that no pre-boarding occurred for J class passengers or Elite FF members. Instead boarding was called and there was a haphazard queue to get onboard. I am continuing to think that "ILBST" actually applies to all of the warmer weather countries in general .
There is something very classy about Iberia's logo and the 343 looked had an understated elegance in the red and yellow of the airline. Entering the cabin though, one immediately realized how old these birds were and how outdated the Y cabin looked. While J had been upgraded to newer generation seats, the Y cabin appeared tired and very late 1980s/early 1990s. I don't think Iberia had ever bothered to upgrade their cabin. Since loads were extremely light (and I have a feeling IB might make their BOS operation seasonal), boarding took a fast 15 minutes and doors were closed soon thereafter. Load was a poor 40% in Y and around a equal percent in J.
Then the fun started. I knew something was wrong when we pushed back just 400meters and just sat there. Time passed by without any form of annoucements. After about 40-45 minutes later, as passengers started getting antsy (especially in J), the pilot came over the PA to announce that there would be a mechanical delay due to the self de-icing component on the plane. We returned back to the gate and the pilot mentioned that the delay would last 30 minutes. At some point, the 30 minutes turned out to be around three and a half hours (!) where we just basically sat on the plane with NO annoucments whatsoever. During the entire time, NONE of the cabin attendants came by. There were no beverage runs. Attendant call buttons (like on most Iberia long-haul flights) were unanswered. When I went back to get some water and ask for the delay, the surly lead FA actually had the nerve to tell me that "we would go when we go". Customer service is obviously not something these FA's knew about. After a delay of over 4 hours, in equally blasé manner, the plane just started moving. Frustrated passengers who were standing around decided to just return to their seats and soon we were off to Boston. Absolutely remarkably (and unacceptably), not a single apology was mentioned by any member of the Iberia crew. Just poor.
Airport - External:
(Madrid's super nice Barajas T4)
Check-in: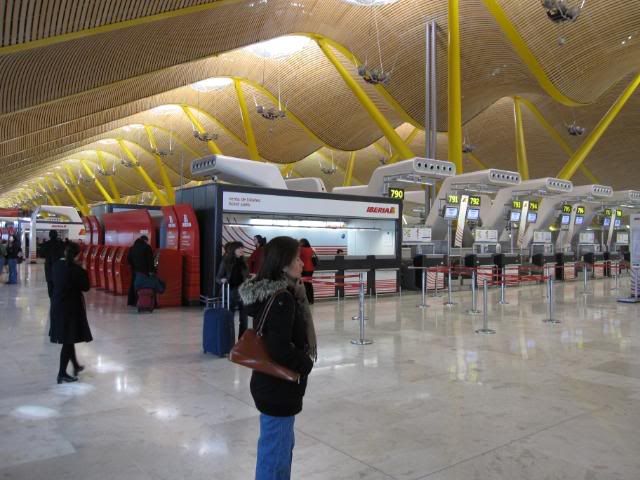 Airport - Internal:
(Internal)
(FIDS)
(Post Security)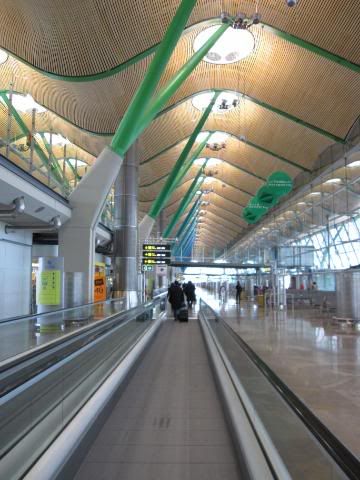 Scenes of the tarmac: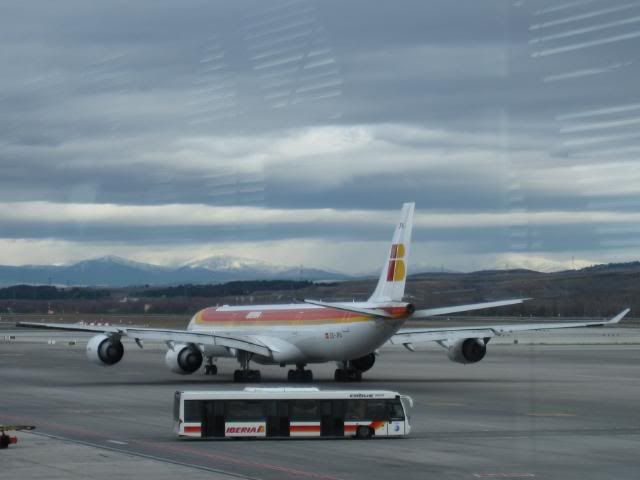 (Beautiful 340)
Lounge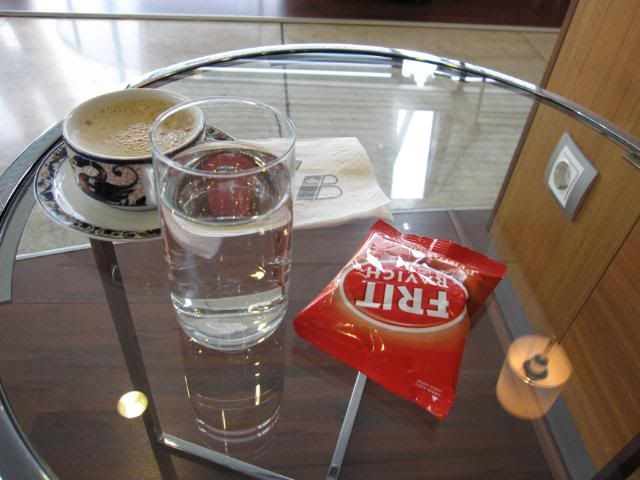 Boarding:
(Gate area)
III> In-Flight:
a) Service Schedule + Impressions:
Soon after take-off, there is a drink service followed by lunch. Duty free sales happen thereafter. 60 minutes prior to landing, a small snack is distributed. The Iberia cabin crew is not to be seen during ANY other part of the flight.
b) Aircraft + Seats:
Iberia's 343 looked worn out. While the seat themselves are comfortable and have decent legroom (especially in bulkhead and exit rows), they are shabby and filthy. Seat recline is definitely above industry average, but nothing can take away from the feeling that you are in the middle of a erstwhile smoke-filled college bar where the couches have not been cleaned (or changed) since the Nixon era. The bathrooms were equally nasty and the dull lighting made me feel onboard a 707 rather than a jet flying in 2009.
Aircraft:
Views from Aircraft:
NONE
General Seat Views + Seat Legroom
(Generous bulkhead seat)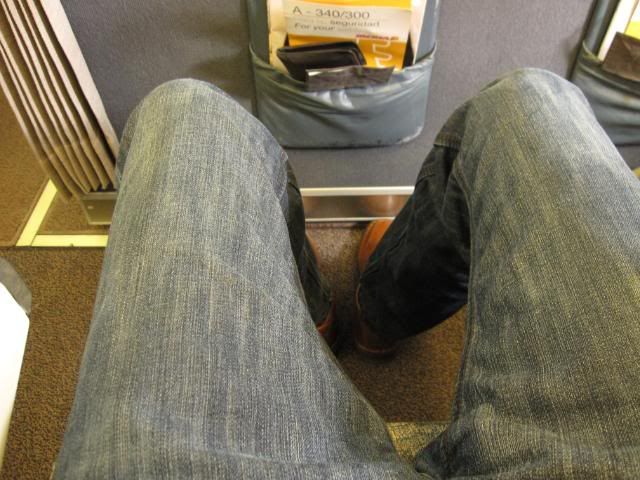 (Even better, exit row)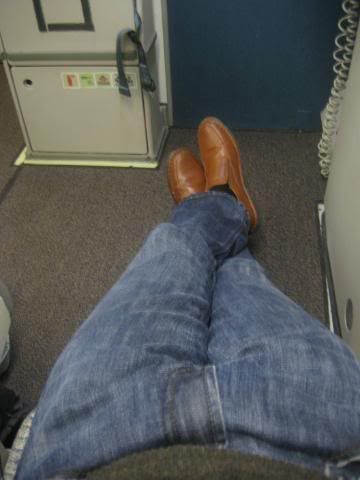 Seat Recline + Angle View:
(Above industry recline)
(Angle view)
Cabin:
c) Meal + Beverage:
One of the better things about Iberia is that food and beverage quality remains above average – especially when compared to its rivals on intra-continental flights. For lunch, choices included chicken or beef. I chose the chicken which was generally good and came with surprisingly fresh vegetables. The salad was dry and the cake was a little too staid for my liking. I was also appreciative of the generous wine supply which included some very decent Spanish white and reds. Mid-flight (if one made their way to the galley), a small cup of café was served with biscuit. Again, above average! Prior to landing, a snack was served. I found this relatively nasty with really poor presentation. 2 pieces of meat with a hard inedible bun is not my kind of food. Having said that, overall one of the better Y cuisine (and beverage) on trans-Atlantic crossings.
(Lunch)
(Café)
(Pre-arrival snack)
d) Inflight Entertainment:
Using CRT screens is probably not a good idea these days. IB's IFE consisted of some non-descript movie being played on loop 3 times over an almost 9 hour period. Sound and picture quality was generally bad.
("In-flight magazines", Boarding Passes, etc.)
e) Crew:
There are reasons why some consider Iberia to have some of the worst attendants staffing intercontinental flights. I always maintained that the level of whining on sites such as Skytrax was unjustified (http://www.airlinequality.com/Forum/iberia-2.htm) – even after compensating for better recent reviews (but then again, I have an inside story on why that is). However, this experience cystalized in my mind why their crew consistently rank so badly. It is actually really simple. It is because they ARE this bad. It blew my mind away that during the 4+ hour delay no one came around to apologize or offer water or basic amenities to passengers. It blew my mind that during this entire delay, no one bothered to attend to a single FA call button. In fact, the whole FA call button should have been taken out on from any aircraft given to Iberia as it seems that they don't understand the utility of the button itself. There was no help during boarding, no greeting, no smiles, nothing. They basically served the beverage and the two meals and then disappeared. If you made the effort to go the galley, they might have given you something. But it was clear that the actual job for them was a HUGE thing and they clearly were not here to make you feel welcome. Finally, their disregard for safety (plane just started moving after the delay) was just absolutely unacceptable. Overall, probably one of the worst in-flight crew that I have encountered in recent memory.
IV> Post-Flight:
Arrival at BOS was smooth and the usually smooth BOS immigration meant that I was at the company of my annoyed friends in no time.
V> Impressions + Scores:
Iberia is cheap. There no absolutely no doubt about it. From a customer interested solely to get from point A to B, Iberia is probably a good value proposition. However, it should not pretend to try to do anything more. I have had significantly better service from LCC carriers charging me for everything and being courteous about it. Heck, I would pay to get better crew! Iberia's ground experience at MAD has improved considerably since I was last there. Besides that, Iberia continues to be a really crappy airline. The delay and the lack of apology were unacceptable. The crew just sucked. There was NO IFE on a 8 hour flight. The only possible redeeming feature was an edible meal and generous beverage service. Unless you are a broke college student or had no options, I would fail to gather why anyone would fly Iberia. They are still around because they have been able to exploit their prominence in the Americas to build a strong hub network at MAD. Other than that, they suck. Sad really, because they "represent" one of Europe's most hospitable countries with great warm people. Two thumps way way down.
1.0 > RESERVATION: 7.0
2.0 > CHECK-IN: 9.0
0.5 > LOUNGE: 6.0
0.5 > BOARDING: 5.0
2.0 > SEAT: 6.0
0.5 > AIRCRAFT OVERALL AMBIENCE: 4.0
1.0 > IFE: 3.5
2.0 > CREW: 1.0
2.0 > FOOD: 6.0
0.5 > BEVERAGES: 7.5
0.5 > A.KITS + OTHER FREEBIES: 5.0
0.5 > DISEMBARKATION: 6.0
1.0 > ON-TIME RECORD: 1.0
WEIGHTED OVERALL IMPRESSION (WOI): 5.16
(Pre-flight WOI of all reviews: 6.48)
* Weighted Overall Impression (WOI) aligns scores with what matters most. Weights are indicated alongside each category.
(Scores are based on comparison with other airlines in THAT class of service – No comparison of Y vs. F for example)
VI> Other Trip Reports:
PREMIUM:
8.64:
Turkish Airlines (59): JFK-IST: 11/2008
8.61:
Air Canada (49): YYZ-SCL: 06/2008
8.11:
Aeroflot (33): MOW-DEL: 09/2007
8.04:
Korean Air (40): NRT-ICN: 10/2007
8.02:
Delta Airlines (24): JFK-CDG: 08/2007
7.46:
LAN (55): YYZ-JFK: 09/2008
7.82:
Singapore Airlines (06): EWR-SIN: 09/2006
7.14:
Swiss (52): SCL-GRU: 06/2008
7.02:
Qatar (68): DOH-JFK: 01/2009
6.96:
Etihad (61): JFK-AUH: 12/2008
6.93:
Delta Airlines (18): SEA-JFK: 11/2006
6.84:
ConViasa (65): CCS-DAM: 01/2009
6.81:
Air Canada (17): ICN-YYZ: 10/2006
6.70:
KLM (32): EBB-AMS: 08/2007
6.36:
Privatair (60): MUC-BOS: 12/2008
6.25:
Korean Air (45): NAN-ICN: 10/2007
6.11:
TAP Portugal (53): GRU-OPO: 06/2008
5.75:
Singapore Airlines (16): CCU-SIN: 10/2006
5.64:
NorthWest (46): ICN-NRT-SEA: 10/2007
5.39:
LOT (54): WAW-JFK: 06/2008
5.07:
TACA (66): JFK-SAP: 01/2009
4.42:
Air France: CDG-JNB (25): 08/2007
ECONOMY: Long + Medium:
9.26:
Air India (48): JFK-DEL: 02/2008
7.38:
Avianca (01): BOG-LIM: 07/2006
7.07:
Sri Lankan (62): KWI-CMB: 12/2008
6.41:
American Airlines (58): LHR-BOS: 11/2008
6.26:
Jet Blue (21): CUN-JFK: 02/2007
6.06:
Air Canada (04): YYZ-YVR: 09/2006
5.89:
USA 3000 (19): PUJ-BDL: 01/2007
5.85:
Spanair (69): MAD-LPA: 02/2009
5.79:
Air New Zealand (42): RAR-NAN: 10/2007
5.46:
TAP Air Portugal (23): OSL-LIS: 05/2007
5.19:
Air Europa (70): LPA-MAD: 02/2009
5.16: Iberia (71): MAD-BOS: 02/2009
ECONOMY: Short
8.56:
Paramount Airways (38): BLR-MAA: 09/2007
8.56:
Kingfisher (64): HYD-CCU: 12/2008
8.24:
Kingfisher (14): IXA-GAU: 10/2006
7.87:
Indian (34): BOM-MAA: 09/2007
7.72:
Alliance Air (13): CCU-IXA: 10/2006
7.57:
Indian Airlines (10): DEL-CCU: 09/2006
7.23:
West Jet (03): YYC-YVR: 09/2006
7.15:
JetLite (37): BOM-GOI: 09/2007
6.70:
Spice Jet (09): CCU-DEL: 09/2006
6.63:
Air Fiji (44): NAN-SUV: 10/2007
6.63:
Jazeera (67): DAM-KWI: 01/2009
6.58:
Air Tran (02): EWR-MDW: 08/2006
6.48:
Air India Express (63): CMB-MAA: 12/2008
6.44:
CO Micronesia (39): ROR-YAP: 10/2007
6.41:
Pacific Sun (43): NAN-SUV: 10/2007
6.37:
Skybus (47): SWF-CMH: 02/2008
6.33:
Kenya Airways (29): NBO-BJM: 08/2007
6.33:
Sky Europe (56): LTN-BTS: 10/2008
6.31:
Indigo (15): GAU-CCU: 10/2006
6.31:
easyJet (57): BUD-LTN: 11/2008
6.22:
Air Link Swazi (28): MTS-JNB: 08/2007
6.22:
Air India (36): HYD-BOM: 09/2007
6.13:
Adam Air (07): SIN-CGK: 09/2006
6.13:
Air Rarotonga (41): RAR-AIT: 10/2007
6.00:
Transairways (27): INH-MPM: 08/2007
5.95:
Air Canada (05): ALB-YYZ: 09/2006
5.85:
SAS Norge (22): OSL-AES: 05/2007
5.81:
LAM Mozambique (26): JNB-MPM: 08/2007
5.69:
Air Deccan (12): IXZ-CCU: 10/2006
5.67:
Rwanda Air Exp (30): KGL-NBO: 08/2007
5.07:
Go Air (35): MAA-HYD: 09/2007
5.00:
Sky Airline (51): IQQ-SCL: 06/2008
4.96:
Valuair (08): CGK-SIN: 09/2006
4.78:
Air Comet Chile (50): SCL-IQQ: 06/2008
4.74:
Fly 540 (31): MYD-LAU: 08/2007
4.33:
Viva Aerobus (20): ELP-MTY: 02/2007
4.11:
Air Sahara (11): CCU-BOM: 09/2006
(Note on Codes: Y – Economy, J – Business, F – First :: I/D – International/Domestic :: SR/MR/LR – Short/Medium/Long Haul)
(Note on Date: Dates are modified to be +/- 3 days from actual flight date to not reveal actual flight pattern)
VII> Other Pictures:
NONE