As I'm sure along with many, Dubai has been a destination of interest for me. My seafaring uncle would recall days of when the emirate was just a sleepy little trading post in the Gulf, decades before we would picture the mirage-like skyline that comes to mind of the dynamic and diverse metropolis that it has evolved to.
From seeing pictures of a ski resort in a place where one would vainly wish for a snowday, to the engineering projects that seemed to to keep the folks at the Guiness book of records entertained, to the man-made islands that resemble palm trees and continents...and of course, the megahub of an airline that just keeps on growing, the place almost seemed like a dream in the desert that somehow found it's way to the realms of reality...a dream that I wanted to see for myself.
Though Dubai has been on the top of my "to visit" list, I didn't full-heartedly expect to have made my first visit in 2008, let alone in Spring Break. It was just this one February day that I was playing around with the NW award search function when I surprisingly found some
PerkSaver
business class inventory with a Skyteam partner available to DXB in all of my search inquiries. Finding a
PerkSaver
C ticket for dates I would desire to travel--let alone one for a Skyteam partner--can be difficult to come by, especially when the planned travel dates was a relative stone's throw away. Without little thought, I immediately cancelled my award ticket to NRT for June and reallocated the miles to DXB. I mean, DXB on your desired dates just three months away, who could resist!
Of course, there was a catch: the airline I would be flying with would have to be Aeroflot. I've read a mixed bag of reviews on the airline with the latest I've read being the TR written by
Abelesojos
. Praises and damnations of the airline notwithstanding, SU was a carrier I would love to experience at least once, especially prior to the opening of Terminal 3 in SVO. As a person whose experiences with business class has been primarily limited to NW's product, I was anxious to try out what SU had to offer.


Flight 322, LAX-SVO
Boeing 767-38AER, VP-BWT
4 April 2008

(Please bear with the quality of the pictures from this flight as I took them from my camcorder)
Being concerned that my
FlyAway bus
would be held up by the gridlock on the 110/101 interchange, I vouched to get to the airport as early as possible. My worst fears didn't materialize at that hour which left me arriving at the Tom Bradley International Terminal (TBIT) a half-hour before the counters would open. Having been cutting it close to flights before--and occasionally
missing one
--I still felt better to be safe than sorry!
Counters prior to opening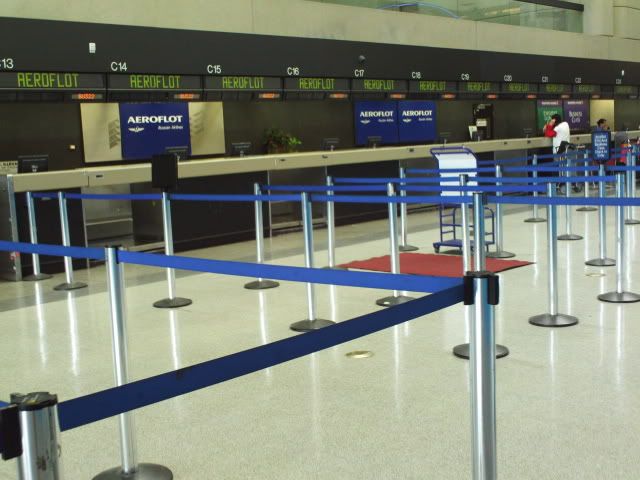 Checking went smooth with requests answered promply and politely by a relatively new contract agent who already seemed like he was already a few years in the job. Inquiring about loads, it turned out the C cabin was less than 1/2 full which would make in-flight musical chairs convenient!
Heading up to the recently renovated lounge proved to be a bit of a hassle as the elevators were under maintenance. Thankfully though, the SkyTeam lounge was just one flight up compared to any of the folks that would've had to hiked another flight to get to their lounge. Thankfully the elevators were long fixed when I visited the ST Lounge again when I flew KE nearly a year later!
Temp sign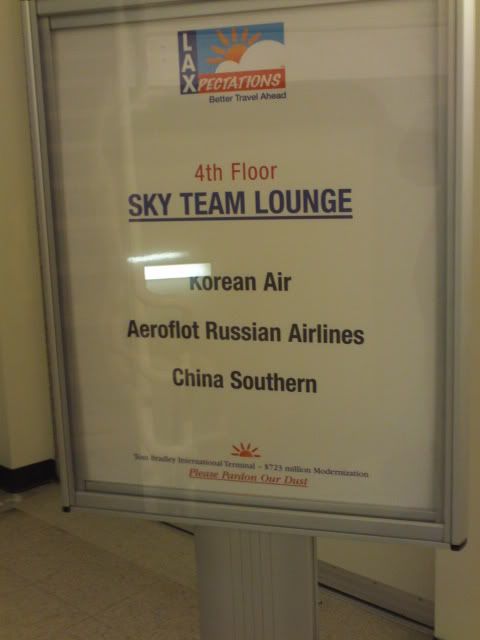 The only other passenger that was alongside me in the lounge for much of my stay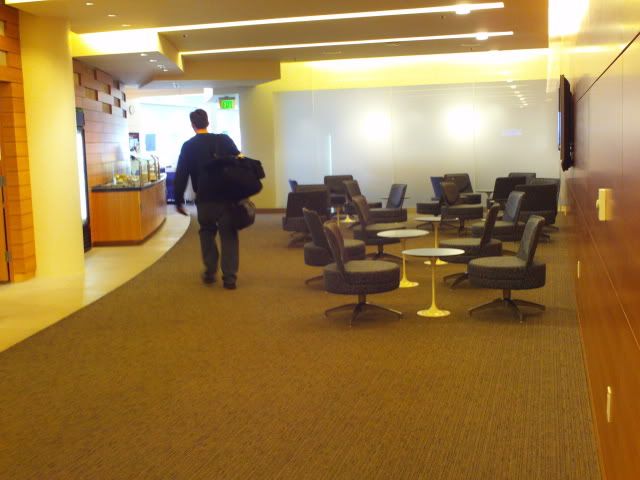 FIDS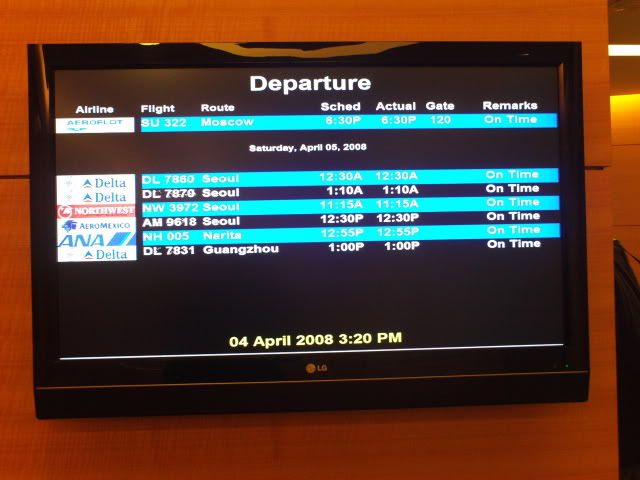 Snack spread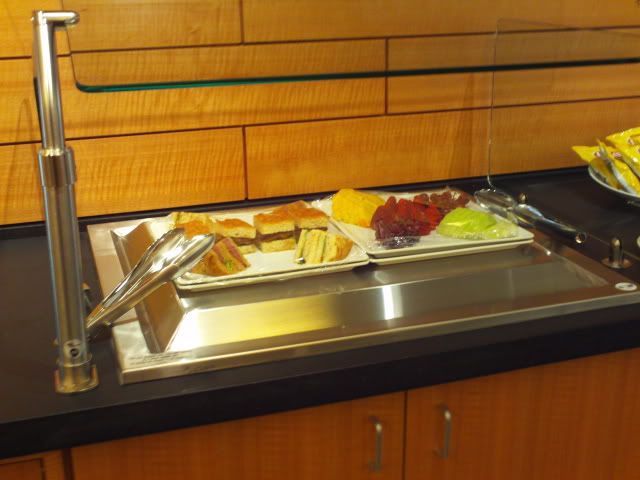 Lounge view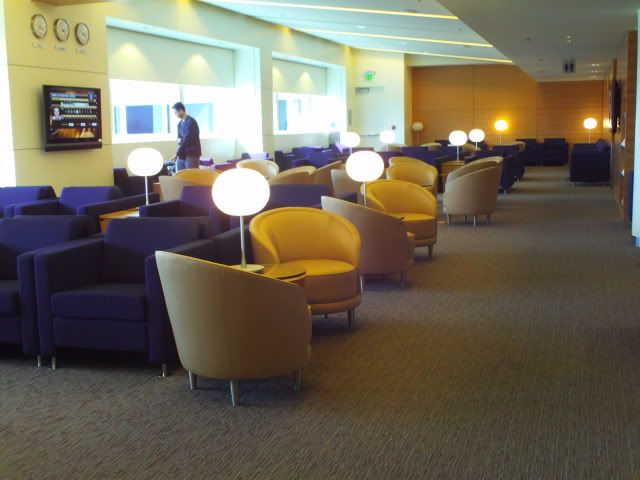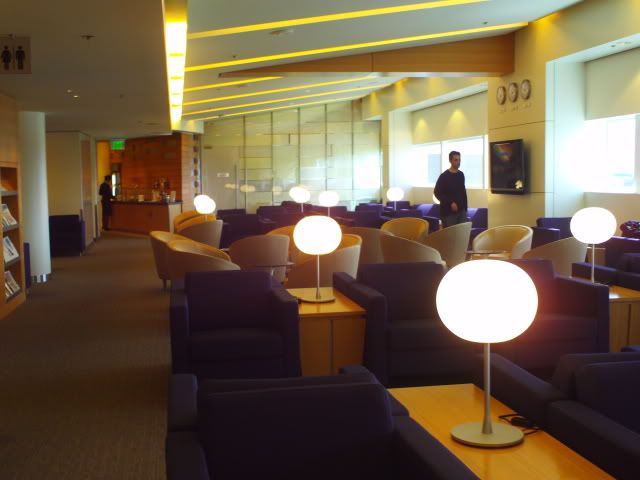 While it is shared with all alliance members operating out of TBIT, the SkyTeam Lounge is decorated in the favour of the predominant ST carrier, KE. From the matrons in the sharp KE uniforms, the familar logo in the doors, and a sign directing "Prestige Class" passengers, the experience itself made me feel like I'm gearing up to head across the Pacific instead.
Food selection was limited to sandwiches, chips, and other light snacks. I presumed that they'd have a more diverse selection when the KE banks of flights roll out, but unfortunately such hope didn't materalize when I did KE18 the following year.
Aside from another passenger and the three matrons, I had much of the lounge to myself! Eventually a handful more popped in once boarding time drew closer, but it was relatively quiet during much of my stay.
Once pre-boarding was called from the lounge, we headed off to the north gates of TBIT. I was originally holding my breath back in check-in as some gates were closed off for renovation which forced some airlines to operate their flights out of the remote stands. Thankfully, SU322 didn't suffer that fate!
Renovations at full swing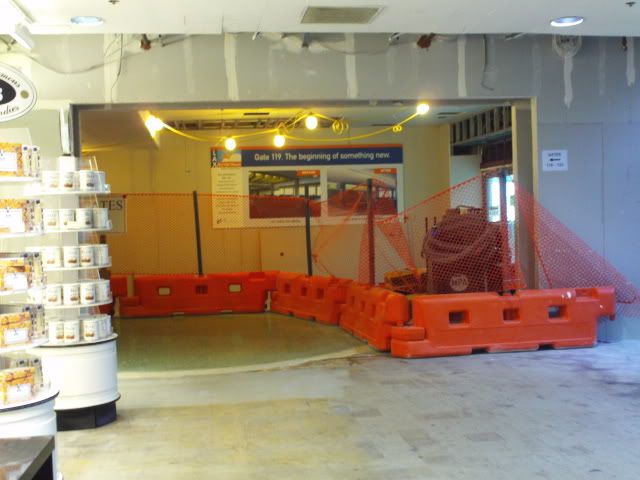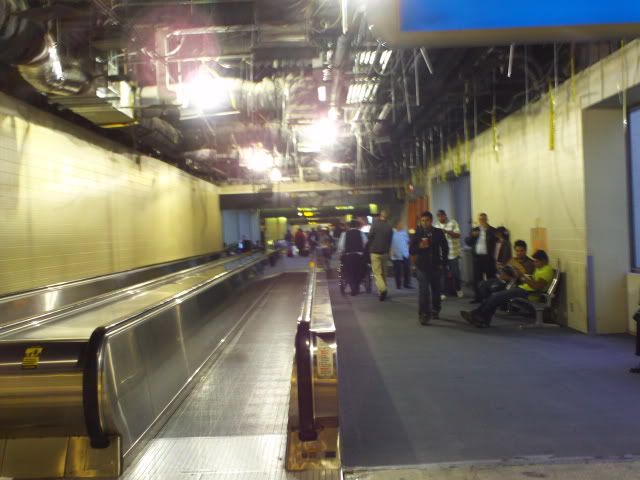 Gate 120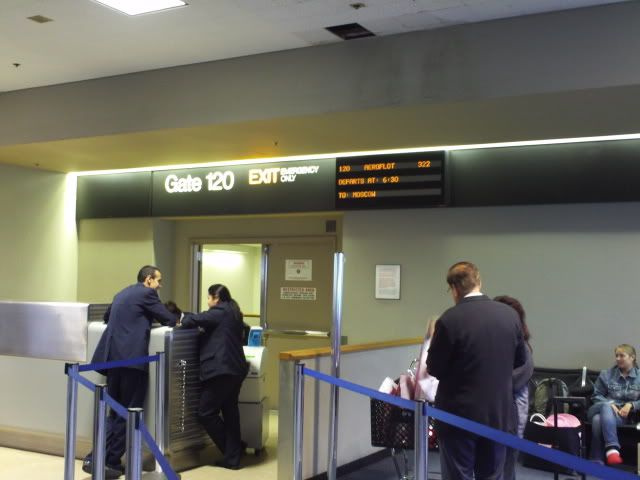 The 763 that'll be taking me to SVO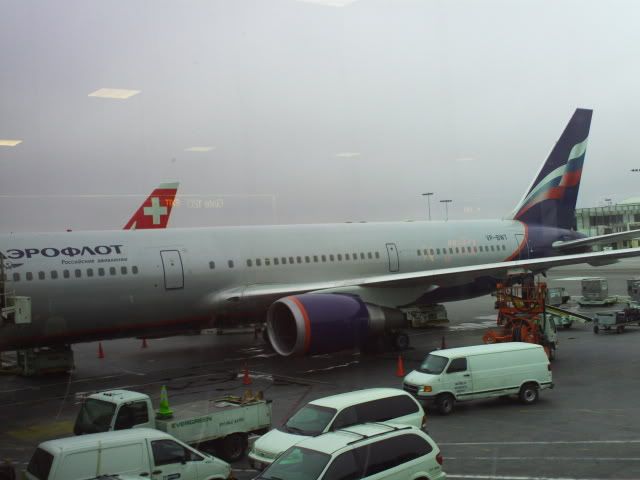 I could still imagine the jitters of excitement I felt as I walked down the jetway. Here I was, ready to try out an exotic airline with such a colourful history. Once onboard, I was greeted and directed by the purser of the flight. Unfortunately though, it seemed like she was the only cheery one that would serve the C cabin. :/
View of the C cabin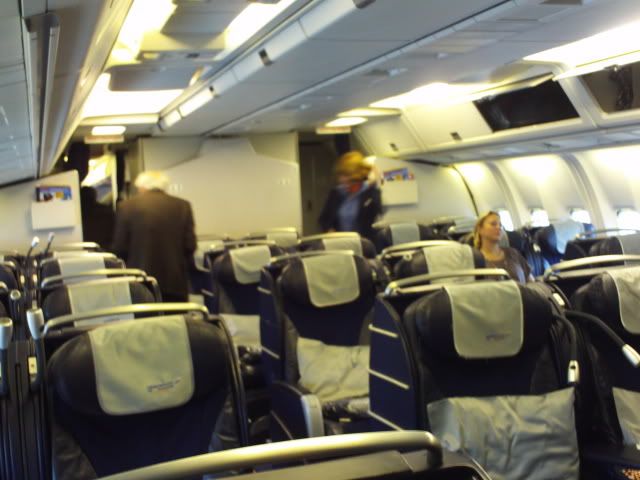 Seat 1H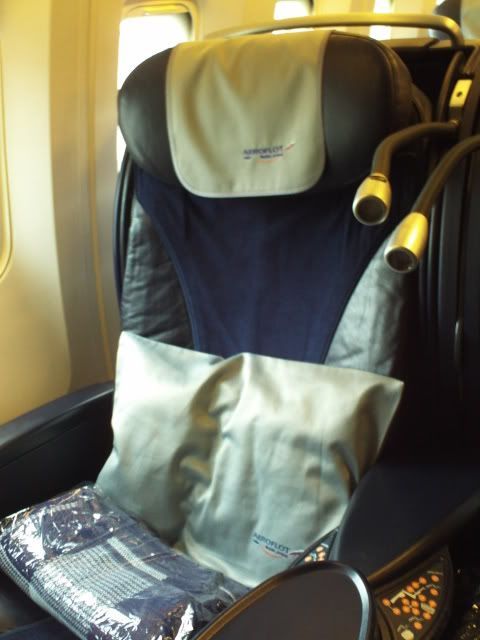 The 767s have been refurbished with angled lie-flat seats in C which are now augmented with a newer generation of seats in their new A330 fleet. The seat itself is the same type that is seen in OZ but without the collapsable armrest and provisions for PTVs. To make up for the lack of a fixed IFE system, C passengers are handed out digE portable players with an anemic selection of movies.
The digE Player in all it's glory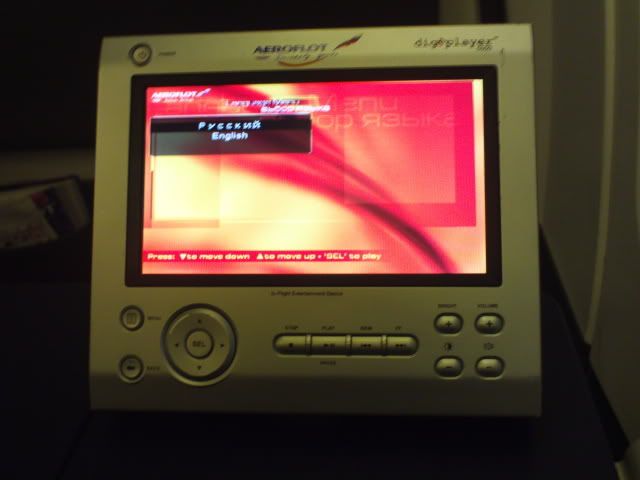 Once seated, I was issued the menu which had the most generous multi-course meal offerings I've seen in business class ever since I flew BR a couple years earlier. Take-off and climbing was gorgeous as we were off into the beautiful late-afternoon sky. Once in cruising altitude, the F/As issued the digE players and headphones as well as taking meal orders. A few minutes later, one of the crew would walk out and place the linens on the tray tables to prepare us for dinner.
Hot Savouries
Samosa and croquette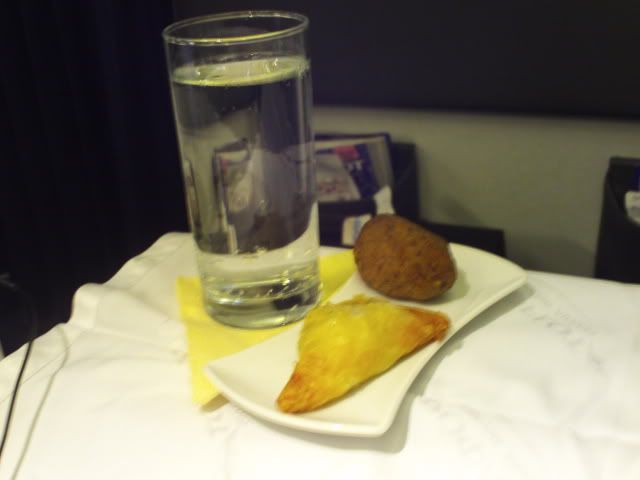 Bread basket
Dinner roll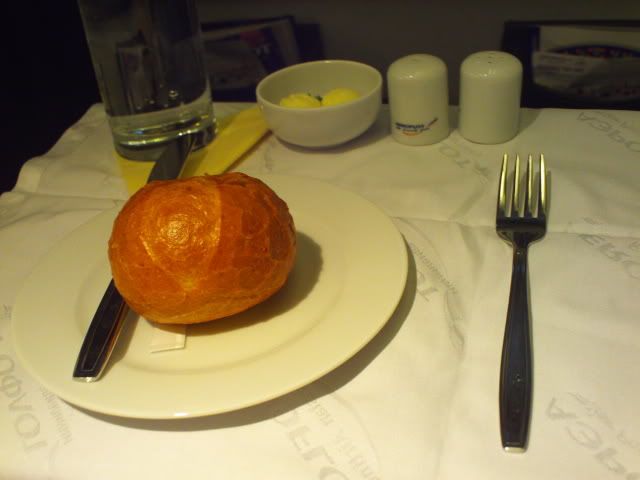 Appetizer
Smoked salmon w/ capers and red onion
Spiced feta cheese w/ tomato and cucumbers
Herring fillet w/ potato salad and marinated beets
Russian devil egg w/ parsley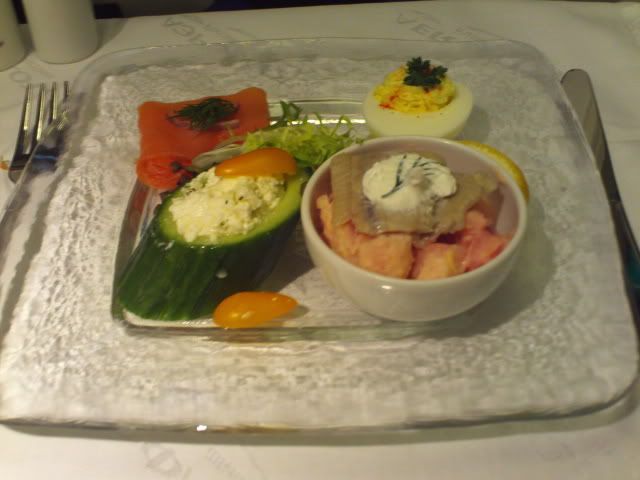 Soup
Cream of mushroom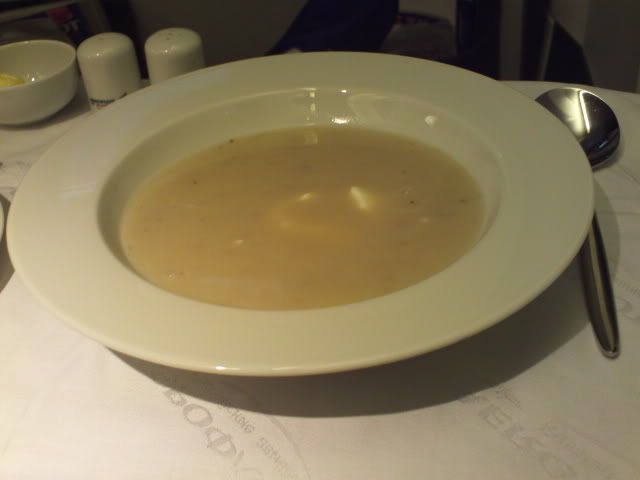 Main dish
Pork loin in Carraway braised sauce with vegetable ratatouli and spinnach fettucini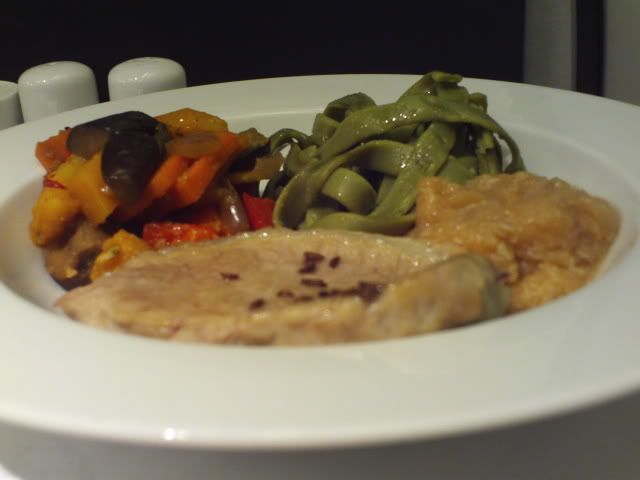 Dessert
Vanilla ice cream w/ fresh berries and hazelnuts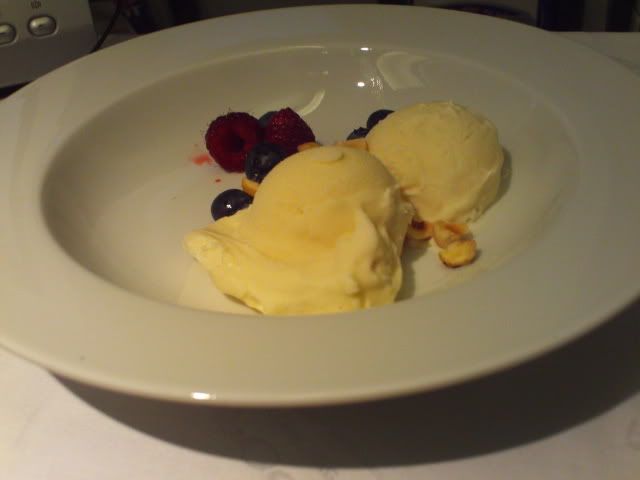 Throughout the meal service, the F/A was seemingly cold, especially when it came to requests, but otherwise extremely professional. Drinks were quickly refilled once the glasses looked the least bit empty while plates and eventually the linens were immediately removed when finished, giving me the ability to stretch back and relax sooner than expected.
I settled to watching
http://en.wikipedia.org/wiki/The_Sun_(film)The Sun
before dozing off for the bulk of the flight. After a few minutes of waking up, an F/A came up to my seat and asked if would wish for a pre-landing snack of which I obliged. Unlike the afternoon breakfasts that I usually receive whenever I fly NW to NRT
-D), the snack was a couple delicious baguette slices and some garlic mashed potatoes.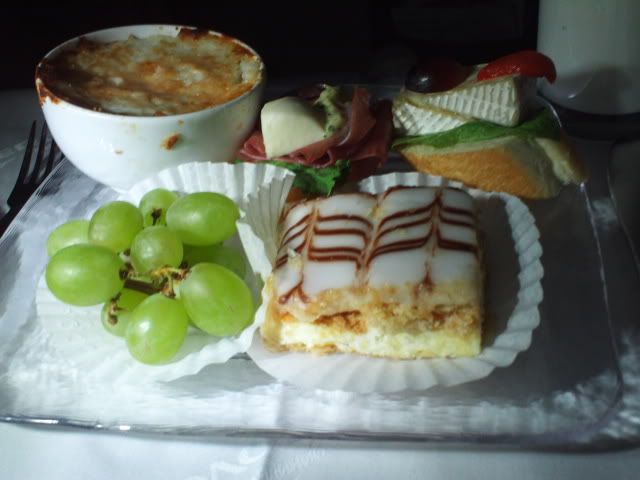 Landing in SVO was one heck of a treat: seeing all these Russian-built airliners dotting the airport landscape for the first time was a sight to behold! I remember my constant thoughts as we taxied to Terminal 2 wishing that I didn't get stuck with the 767s and A320s that were regulated in my itinerary.
It's an Illyushin!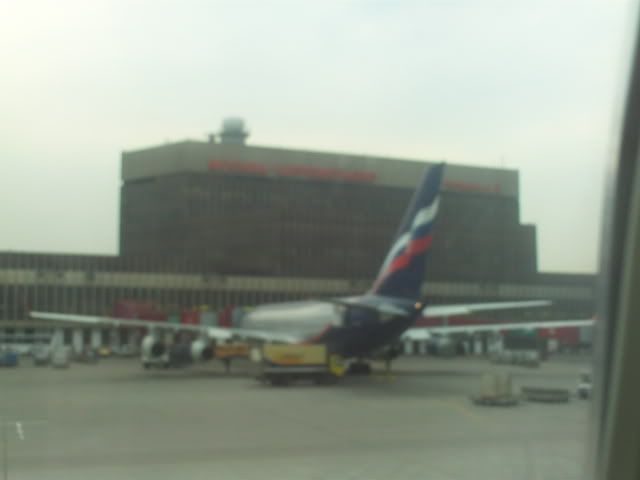 Transiting in SVO
I was prepared of what to expect after what Abelesojos experienced and pretty much received what was expected, save for that one nasty transit agent.
A part of me wished that the opening of Terminal 3 wasn't delayed but another part of me wanted to try out this relic before the newer terminal opened. Well, I got my experience and I can't say it was the most pleasant.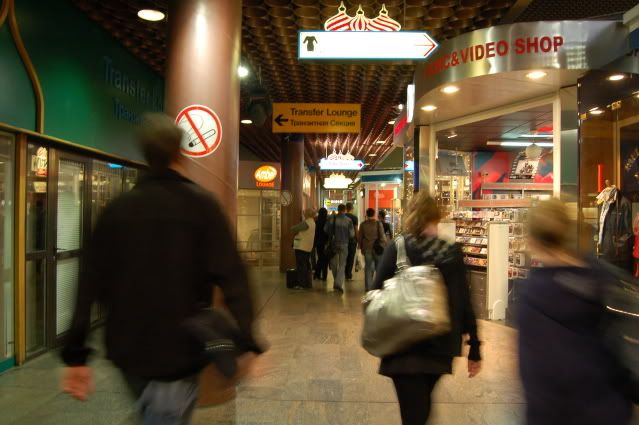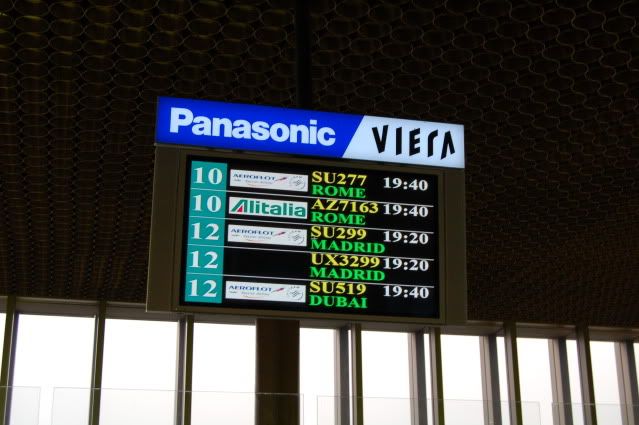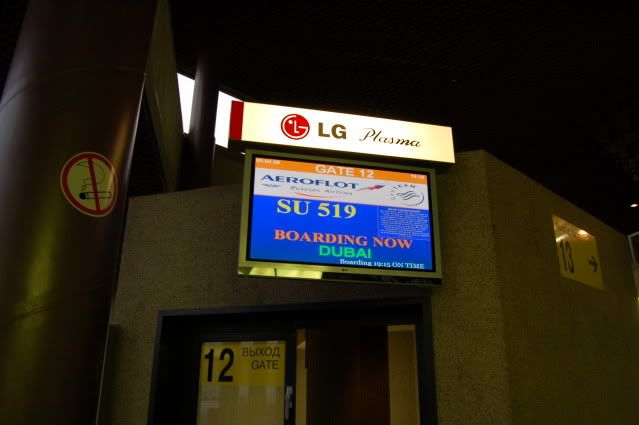 I didn't have time to experience the SU lounge, but after hearing several reviews, it appeared that I wouldn't be missing much, especially considering that I'll be camped in there for almost half a day in my flight back to LAX.


Flight 519, SVO-DXB
Airbus A320-200
5 April 2008

Getting past security for my connecting flight was a bit frustrating as the line that served the gates, one of which where my flight would be departing of, was a lengthy one indeed. Thinking that my connection time was too short to get through that mess, I arrived at the gate realizing that they haven't boarded yet. Once the time came, I came to notice that we would be bussed off to a remote stand.
I couldn't complain much as getting down to the bus provided a gorgeous view of a couple of Il-96s, one of which we'd "tag" alongside as it taxied to takeoff as well as the riding the relatively new bus seemed to be a bit more pleasant than waiting around in the smokers-packed terminal.
Inside the bus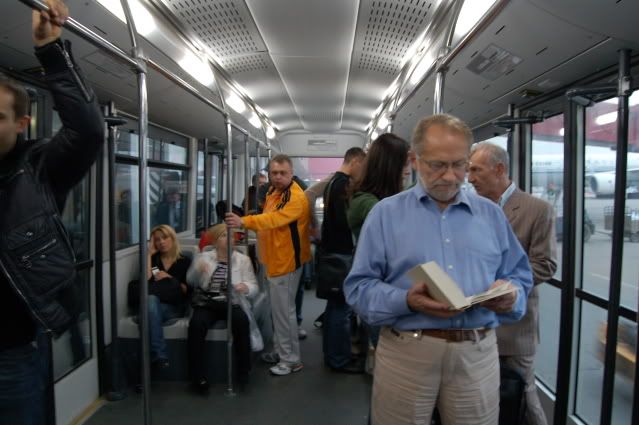 The IL-96 we'd be tagging alongside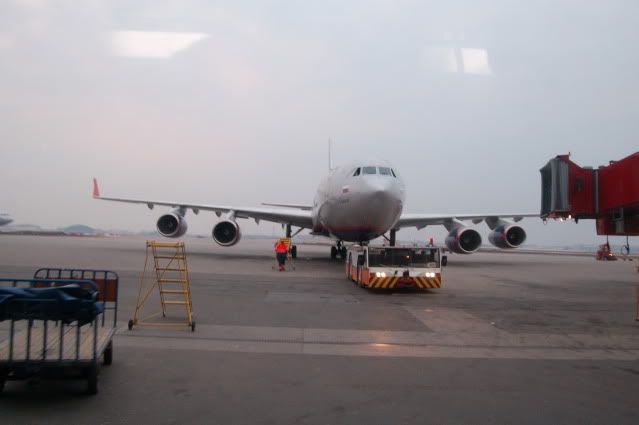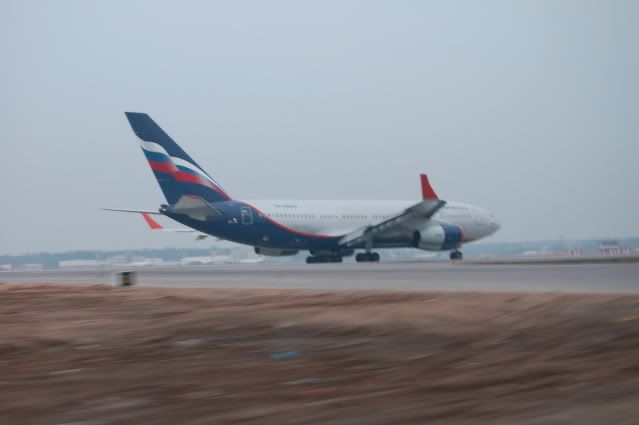 Thankfully it was a beautiful day to do some outdoor boarding as I was able to watch a gorgeous sunset as I climbed up the airstairs, taking a few shots of the A320 before nearly tripping myself at one of the steps, much to the entertainment of some ground agents who witnessed it.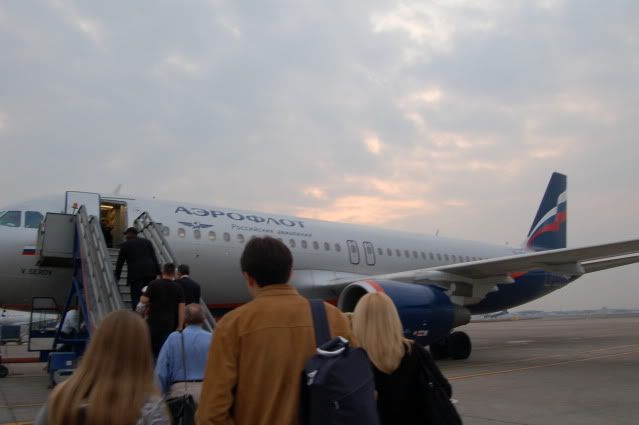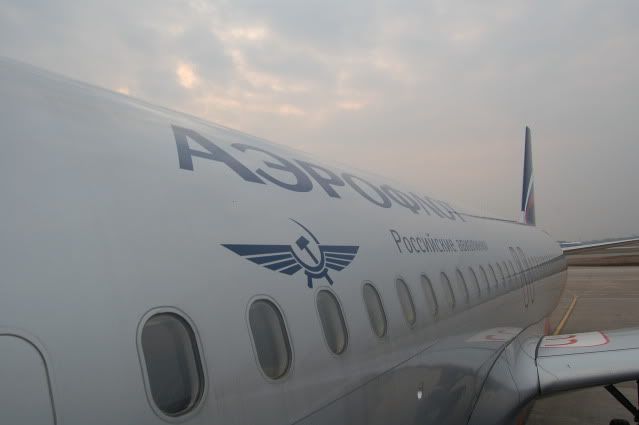 As I settled to my seat, I noticed that I was onboard the newest and freshest Airbus that I've ever flown in. The entire cabin interiors seemed like it was untouched ever since it left the factory, totally different than the well-used and abused A32xs that I frequent with in NW. The seat itself provided much more generous recline than what I was used to in domestic F and while it didn't have a legrest attached to the seat itself, it had a decent footrest installed in the seat forward.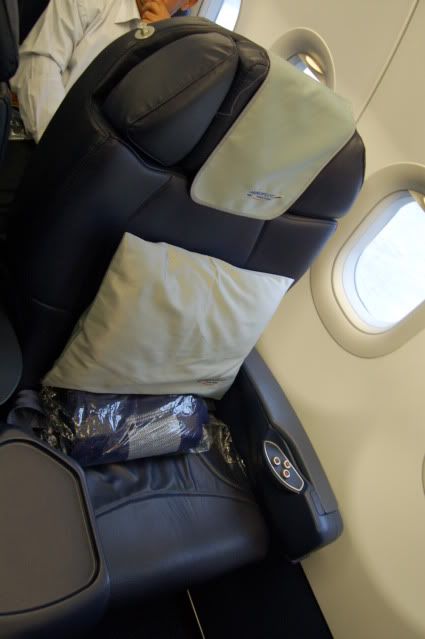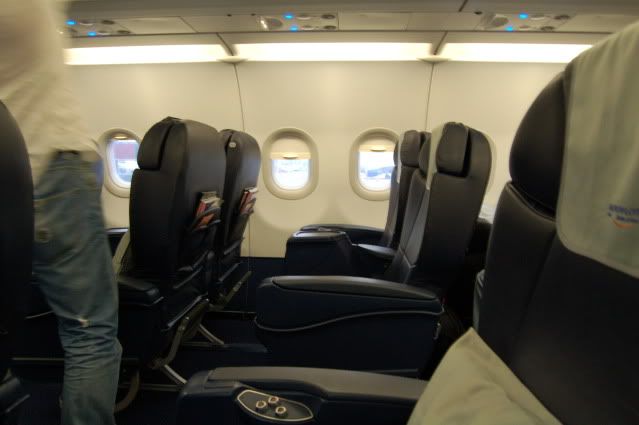 Terminal 2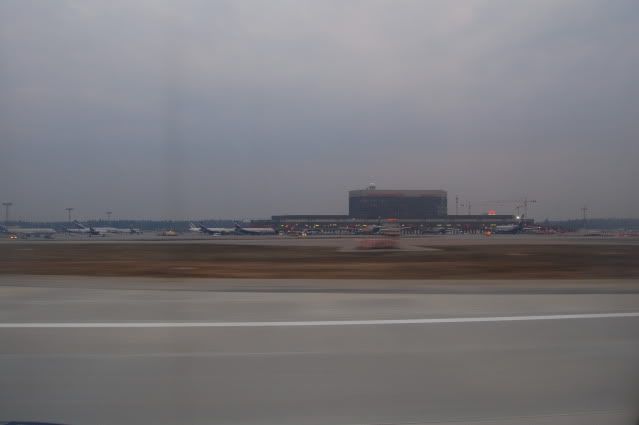 Terminal 3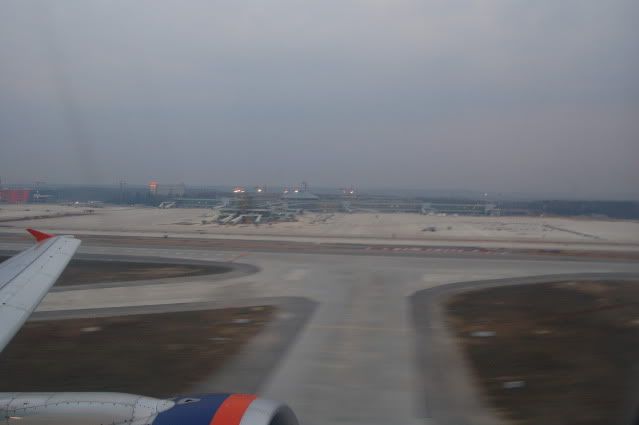 Airborne, F/As once again came around to issue digE players. These ladies were as professional as the ones that I experienced in my preceding flight, but a lot friendlier which was greatly appreciated. The meal service itself was outstanding. I hate to admit, but the salmon main course was one of the finer seafood dishes I've had in a while!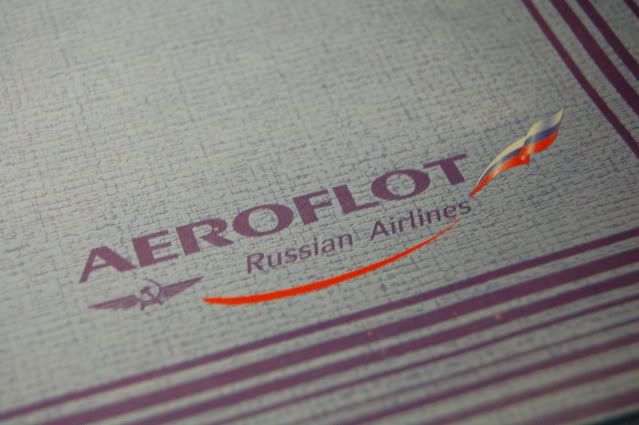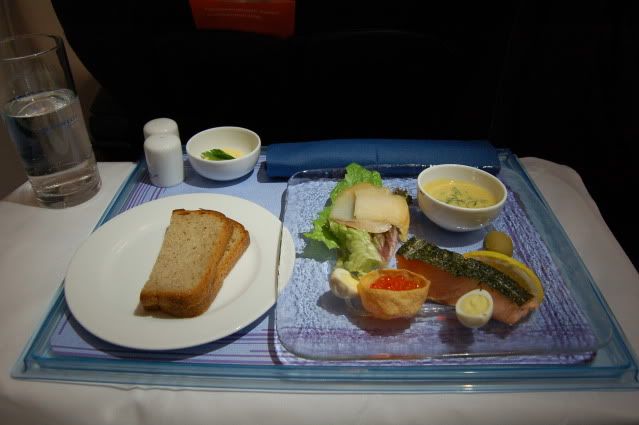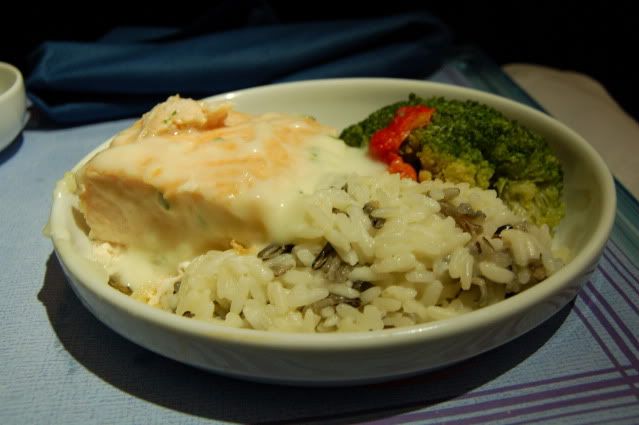 The seat ready for me to settle in and relax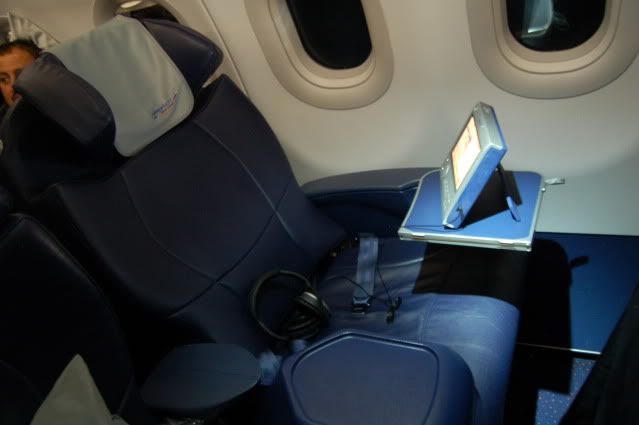 With the meal service settled with, I did what I could do best while in-flight: snooze. I was only awaken once and that was when we were approaching DXB. Unfortunately, though, I was in the "wrong" side of the plane as it appeared that passengers over in the right side of the plane seemed to have a gorgeous view of wonderful Dubai. Oh well...
Landing went smoothly and we taxied into a landscape dotted with widebodies in the signature EK tails all over the place. Here I was, finally experiencing the mega-hub of DXB.
Deplaning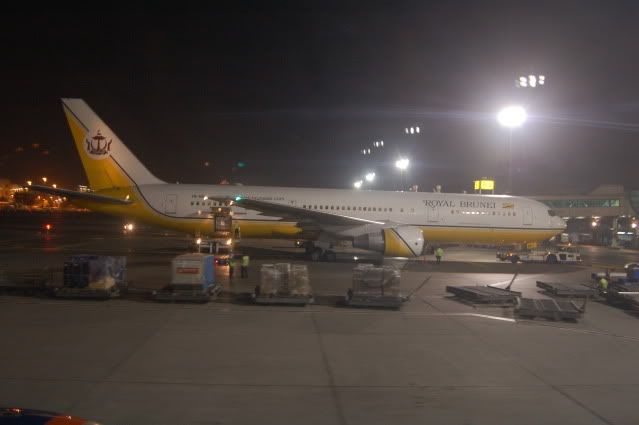 This is it...this is Dubai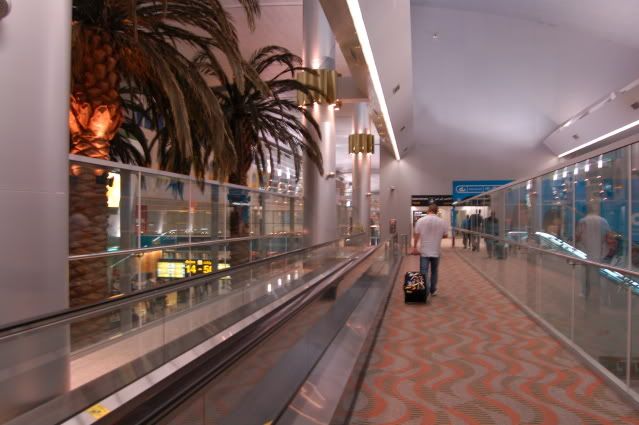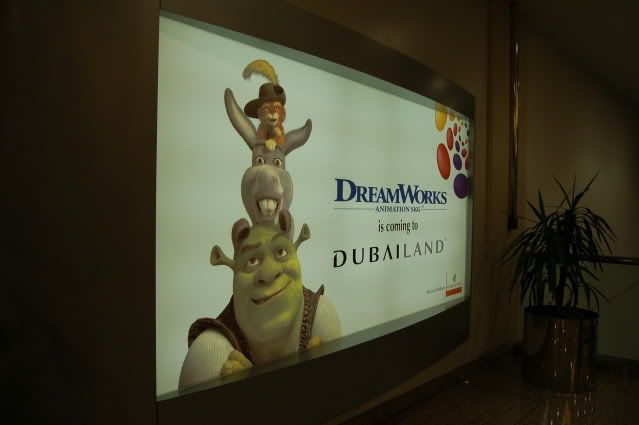 The immigration process was long but relatively painless, however claiming luggage proved otherwise. Following in line with my annual "Spring Break curse", it turned out that my checked luggage did not make the connection with me in SVO. Already in the wee-hours of the morning and wanting to already head to my hotel, I headed to the baggage office where I was assisted by a Filipino agent, one of the many fellow Pinoys that are a part of the larger expatriate community that makes up the majority of the emirate.
The claim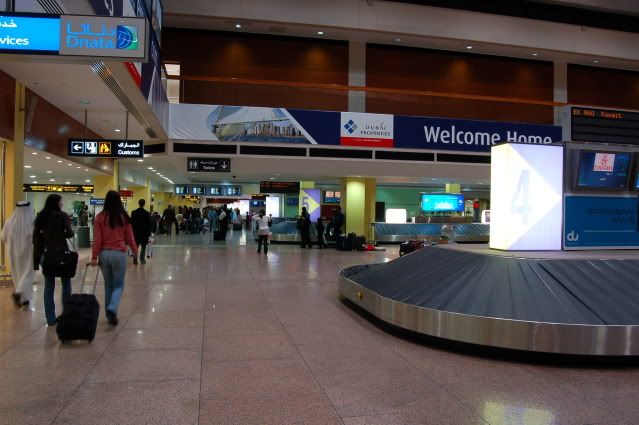 Thinking that my worries were over, I was welcomed into a long line at the taxi stands. Knowing how busy DXB can be no matter what the time, it was still a funky concept for me to see such bustle this late at night/early in the morning! After another 30 minutes, I finally was able to head off to the Dar al Sondos Apartments by Le Meridien over in Bur Dubai, thus kicking off my Spring Break in this illustrious city.
Thanks again guys for your patience in waiting for this report as well as finally checking it out!