I was scheduled to go to Belarus to meet some people at the beginning of April, flying with Czech Airlines, however they recently cancelled their flights to Dublin and I was re-routed to fly via Paris and Warsaw with Air France and Belavia. It was only at the last minute I realised they had given me a 35 minute transfer time in CDG – perhaps ok if I had no bags, however having had problems with misconnecting bags on much longer connections there, I phoned up CSA and advised them to find me another alternative which ended up as DUB-FRA-VIE-MSQ. An interesting set of flights and a chance to rack up some more miles.
The day started quite well, I like a mid morning departure time so I don't have to get up too early. Also, the sun was shining – a great day to fly. A friend gave me a lift to the airport and I was second in the queue for check-in with Sky Handling Partner who look after Lufthansa and Swiss at Dublin Airport. The agent was quite friendly and tagged all my bags through to their final destination and gave me boarding cards for all 3 flights.
Security was fast and I went to the bmi lounge for a while and had a nice cold can of Budweiser. I left plenty of time to walk down to the D pier where our flight was boarding from. It was quite a treck, but I didn't mind. Eventually I ended up in a portakabin at the very end of the pier – The last time I was there, Pier D wasn't open and I was boarding an Aer Lingus flight to Munich at 7am.
08/04/09
Dublin – Frankfurt
LH4981
Dep.12:00
Seat: 6C Business
Airbus A320-200 D-AIQK "Rostock"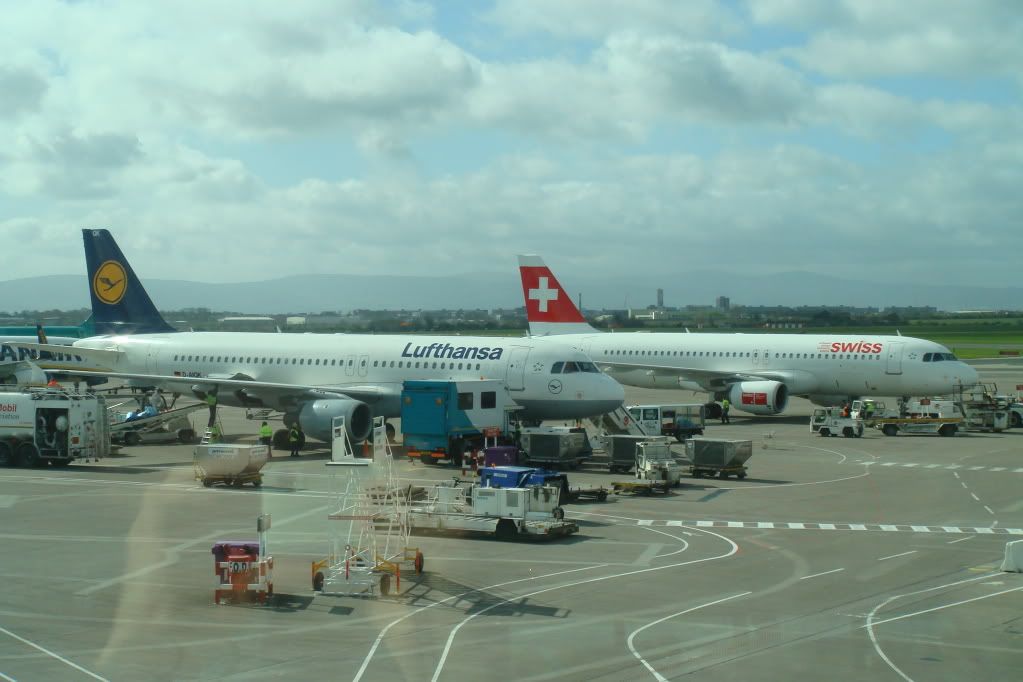 Lufthansa and Swiss together in Dublin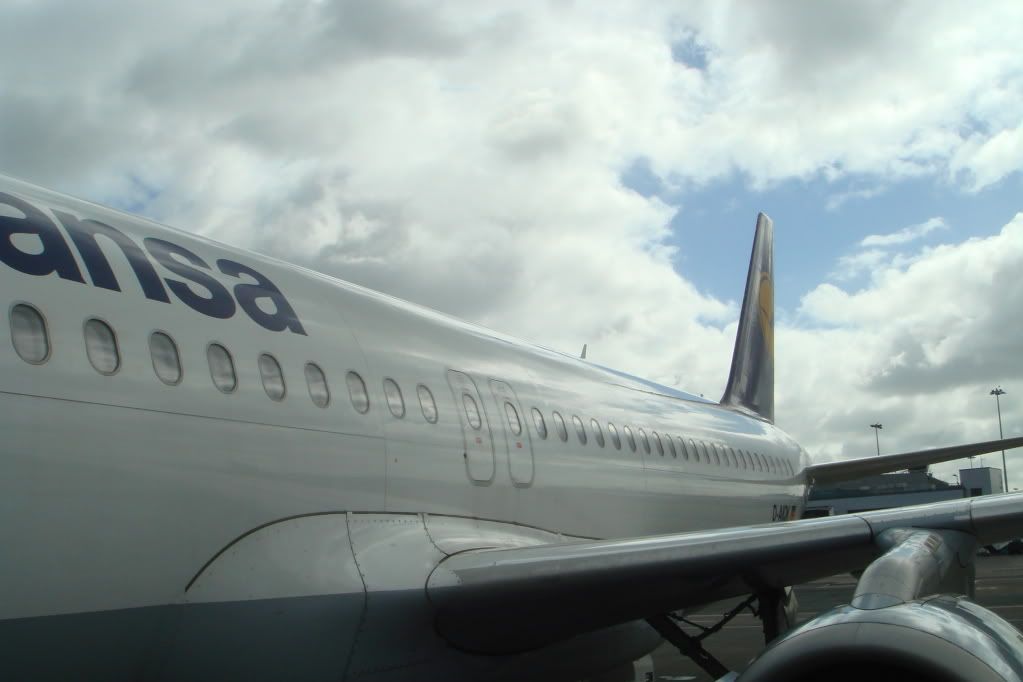 We boarded by the stairs and I managed to get a few photos. I took my seat in row 6, the last row of business. The load in business was quite light, a few Chinese businessmen and an elderly Irish couple – that was all. We had lots of space. Economy appeared full.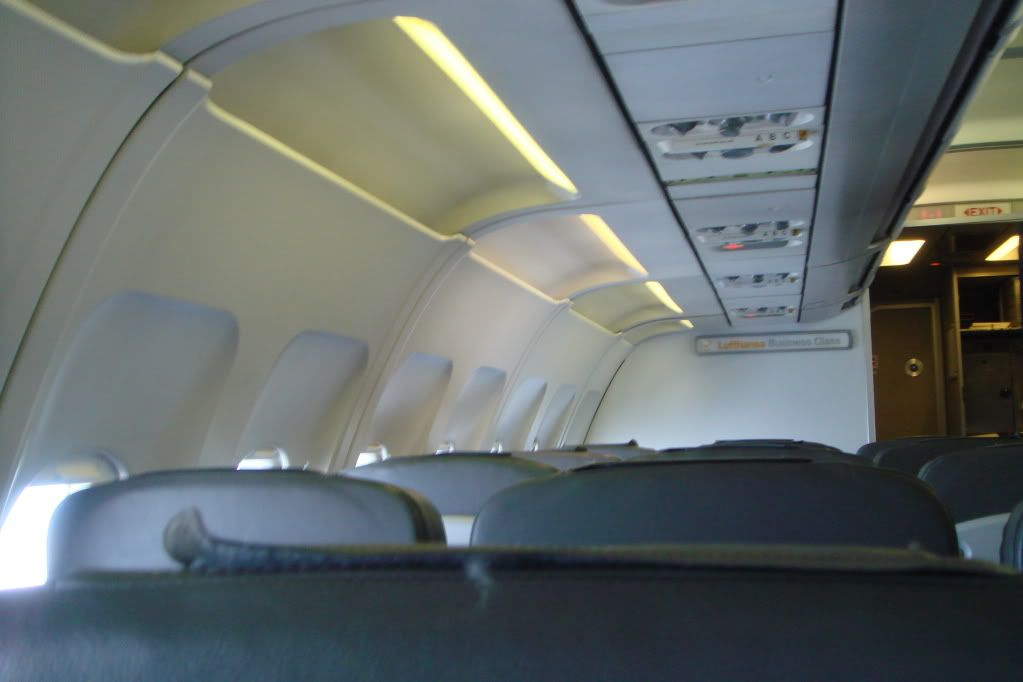 We took off on time for a flight of around 1h40 over the south of England, Amsterdam then Germany. Not long after takeoff the rather senior f/a came around and offered us a meal followed by drinks. I would have preferred a drink beforehand, but it wasn't a big deal. I had a gin & tonic which was nicely served.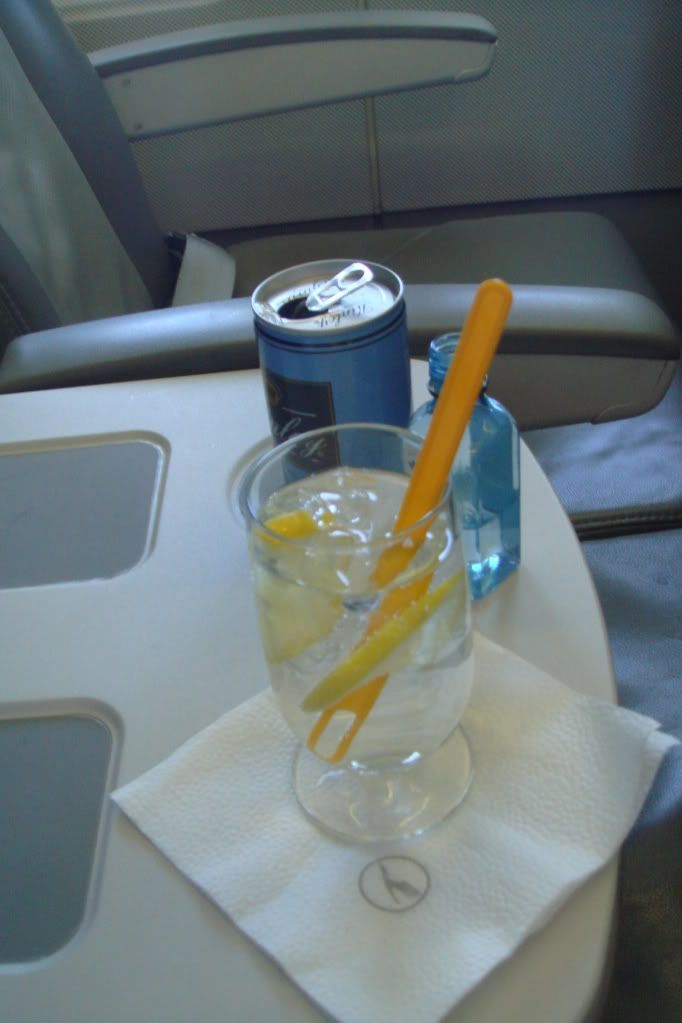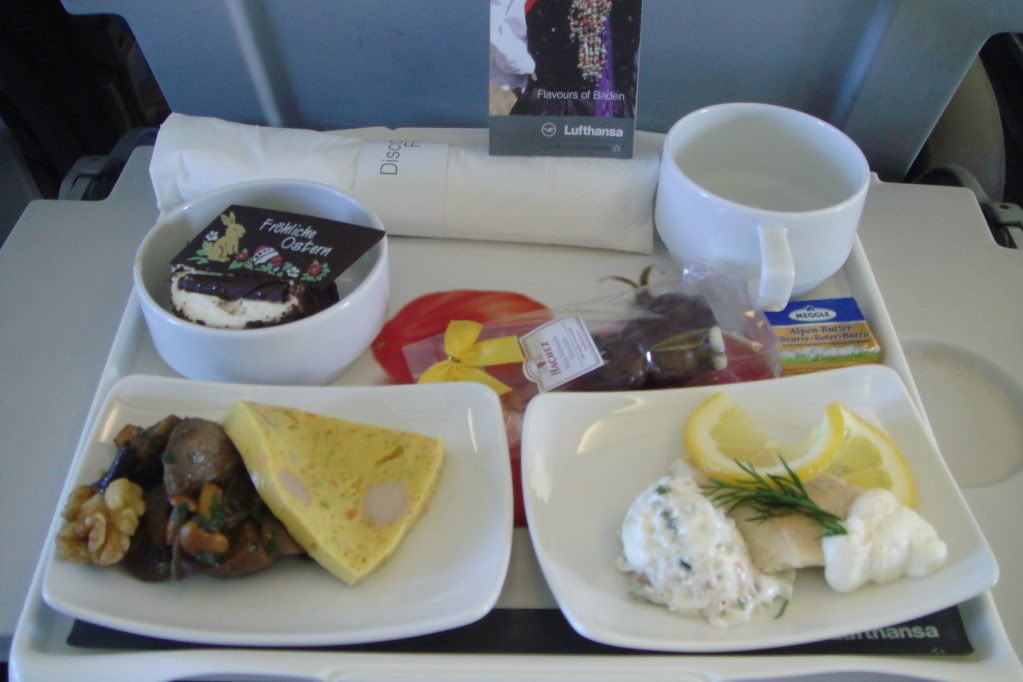 The meal didn't look that apetising however. It was some special 'Taste of Baden' menu Lufthansa were offering, however I'm not a fan of mushrooms and I have no idea what the yellow mouse thing was, nor was I interested in trying it. I asked the f/a for a sandwich from economy. She came back with a choice of two - cheese or cheese with turkey meat, or both if I wanted. I took one and eat the black forest gateau which was one of the nicest I've ever had. I had another g&t, read a few magazines and the flight passed rather quickly and soon we were descending into Frankfurt.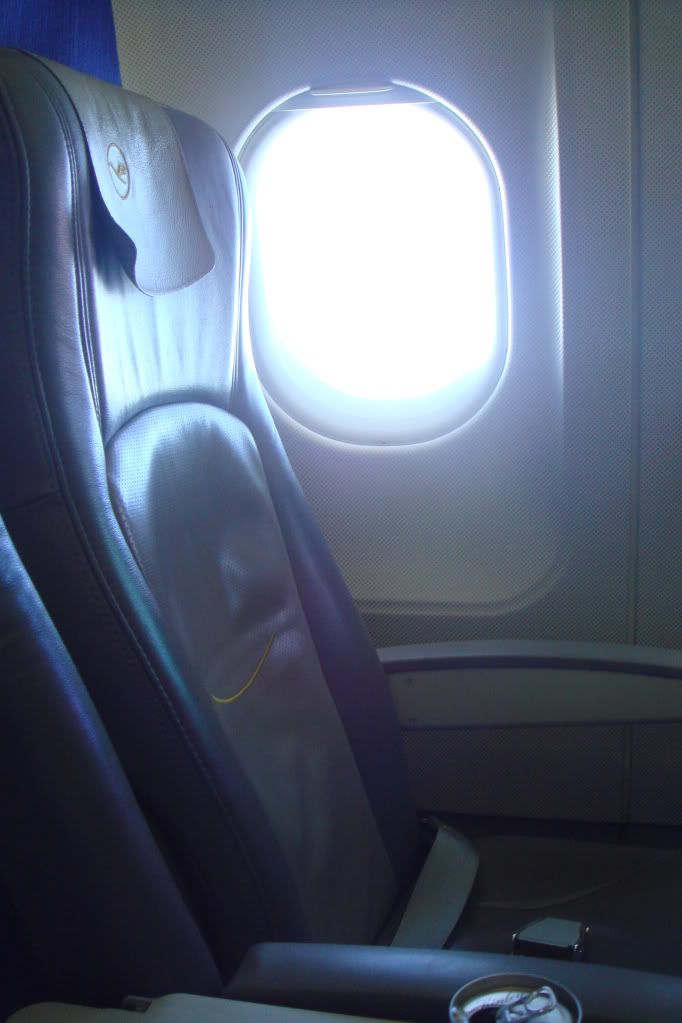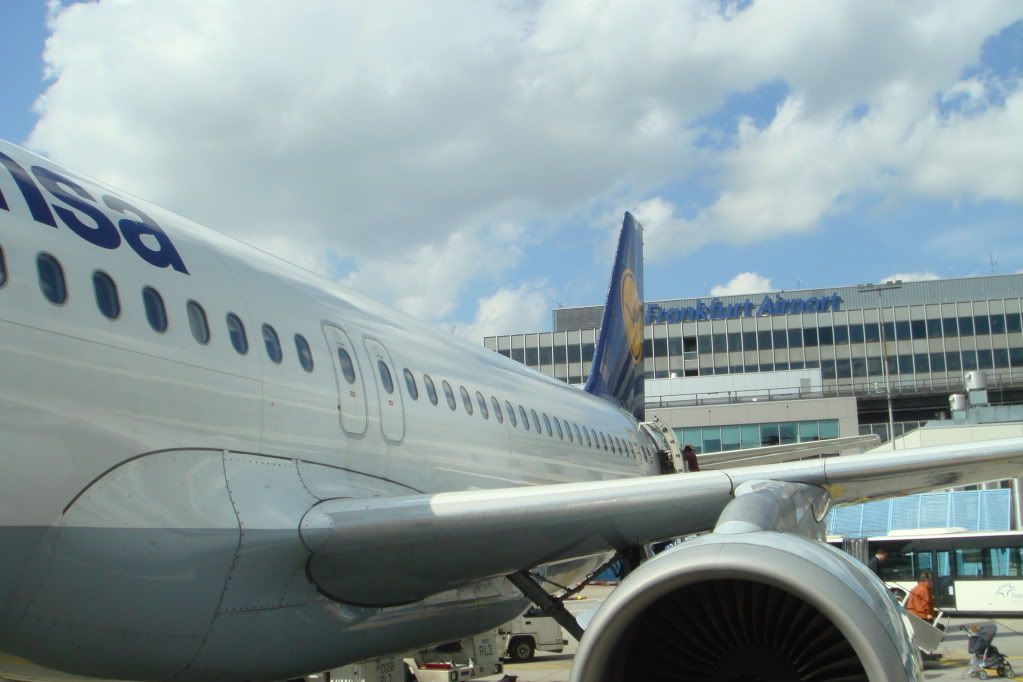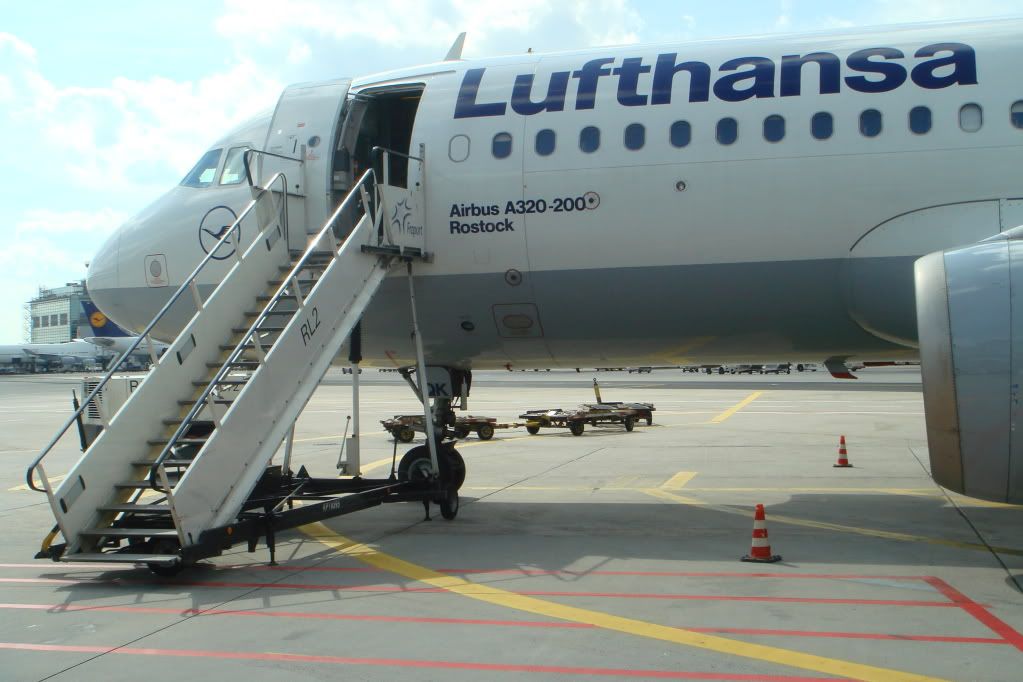 We disembarked via stairs and onto a bus waiting to take us to the usual drop-off point mid-terminal B in Frankfurt where everyone goes up the escalators and disperses themselves to different parts of the globe. My flight to Vienna wasn't for another few hours so I took the Sky train over to the A pier where my flight would leave from. I headed to the new Lufthansa Tower Lounge for a bite to eat. As I got to the A gates I had to go through security again, there was no line and I was the only passenger. One thing that struck me about Frankfurt is how friendly and professional the security agents are and greet each and every passenger. Dublin Airport staff could certainly learn a thing or two about passenger courtesy from these guys.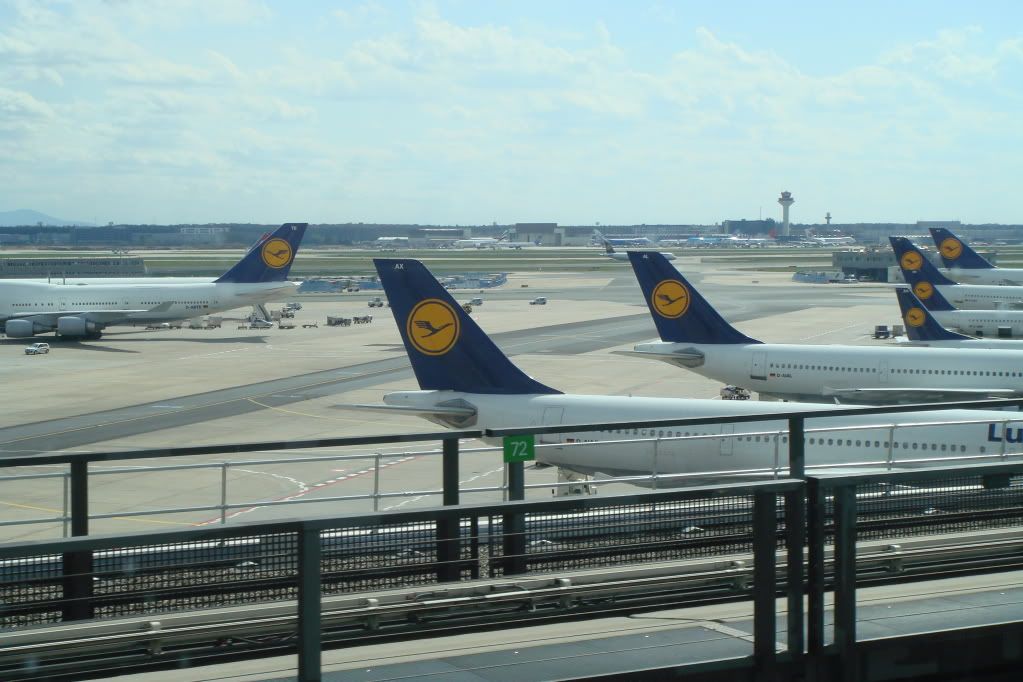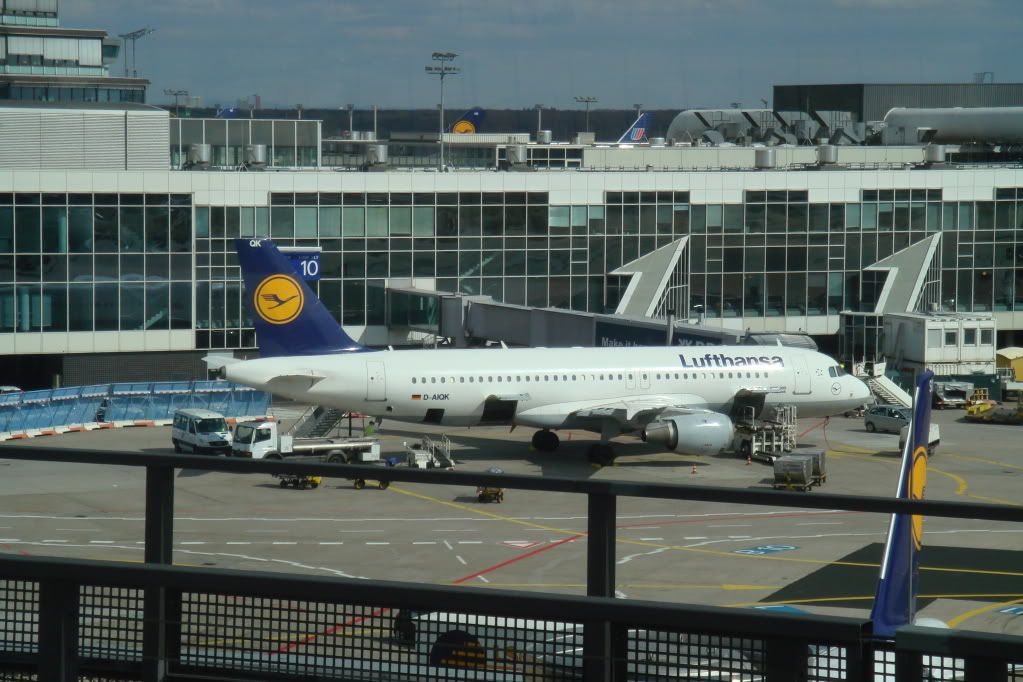 The aircraft that took me from Dublin
To access the lounge you need to take an elevator, which is guarded by a lounge agent checking your boarding card. There was a family (from Slovenia I think) in front of me having a discussion with the woman. The man had a Senator card and was asking for his wife and 2 kids to be let in with him, but as the kids were 13 or 14 this wasn't allowed. Apparently, form what I could hear. If they were under 12 they would be allowed in. It was slightly ridiculous as they seemed well behaved. The agent was not Lufthansa staff so she had to call someone else and eventually they were allowed in. All while this was going on I was waiting – poor in my opinion.
Eventually I got up to the lounge and it was really empty, just a few people came and went. It had great views, and I poured myself a draft Beck's and watched the world go by for a while. The food options seemed ok – they had breakfast style sandwiches of egg and bacon which were good, nuts etc. They also had a grilled sandwich bar, which didn't appear to be manned when I was there.
Lounge Photos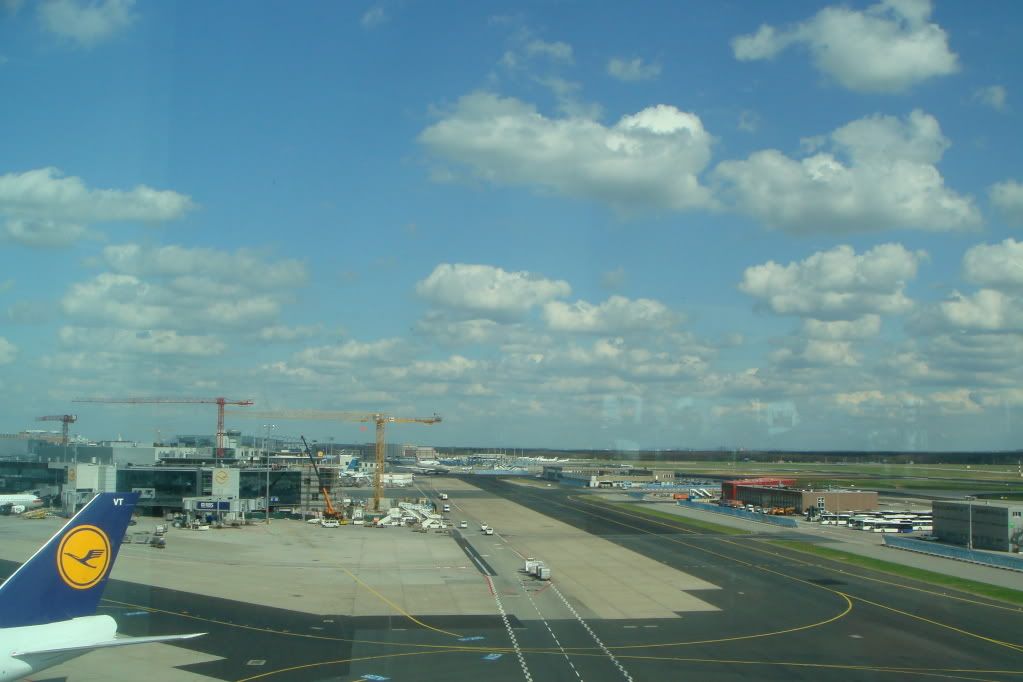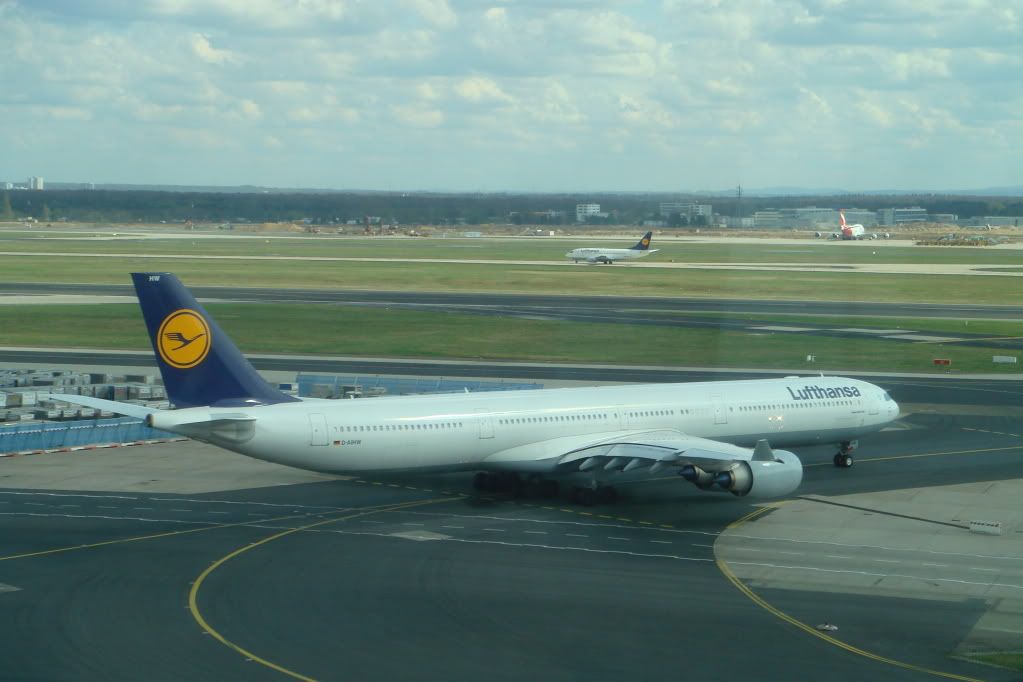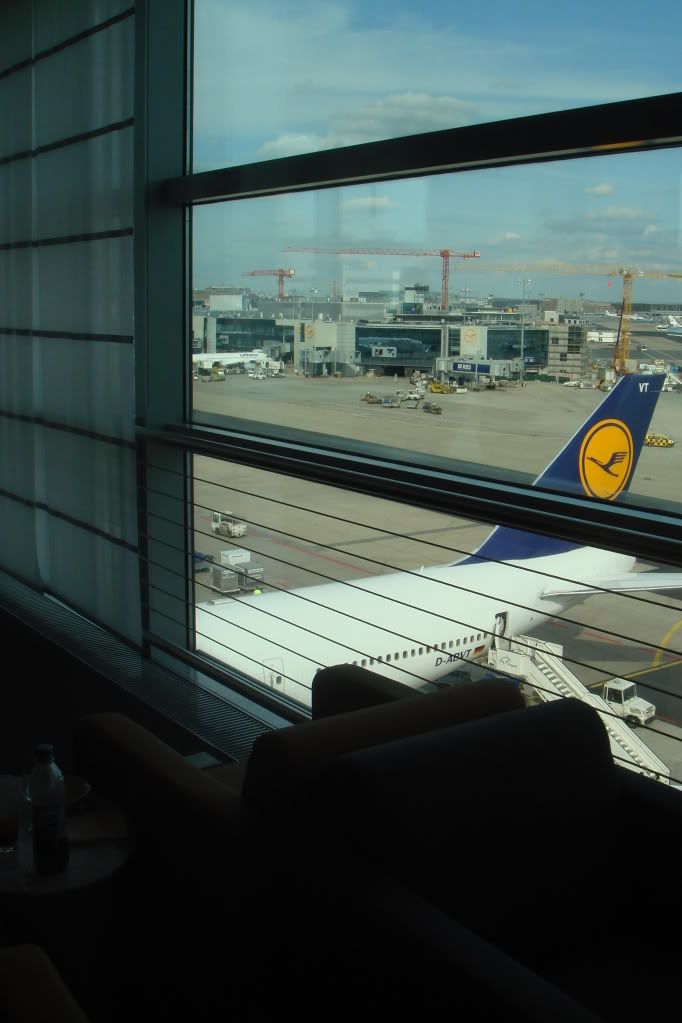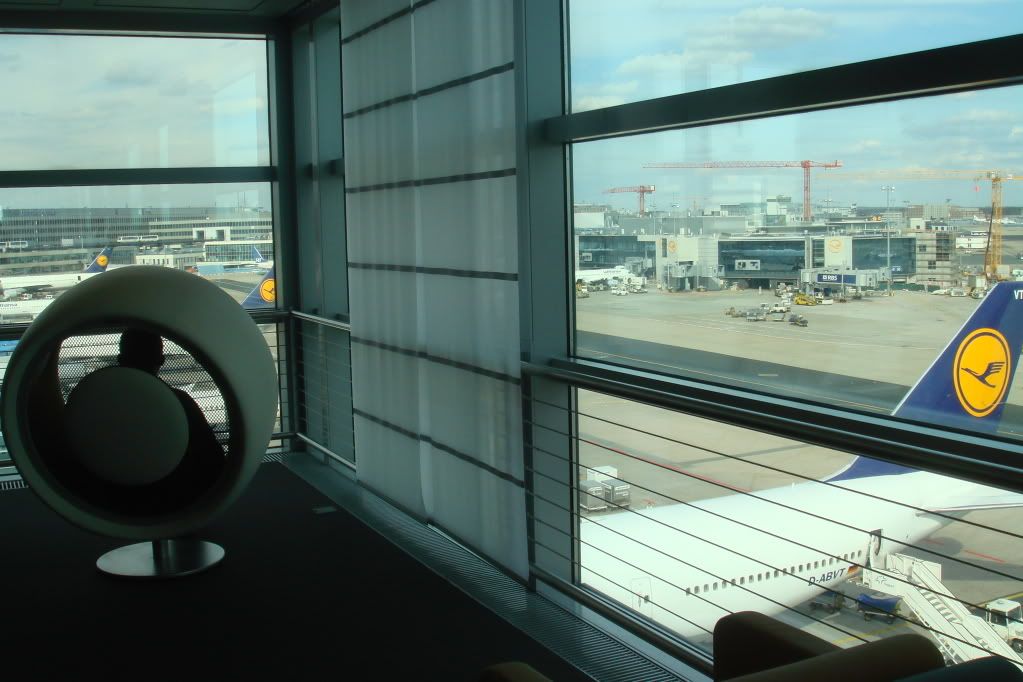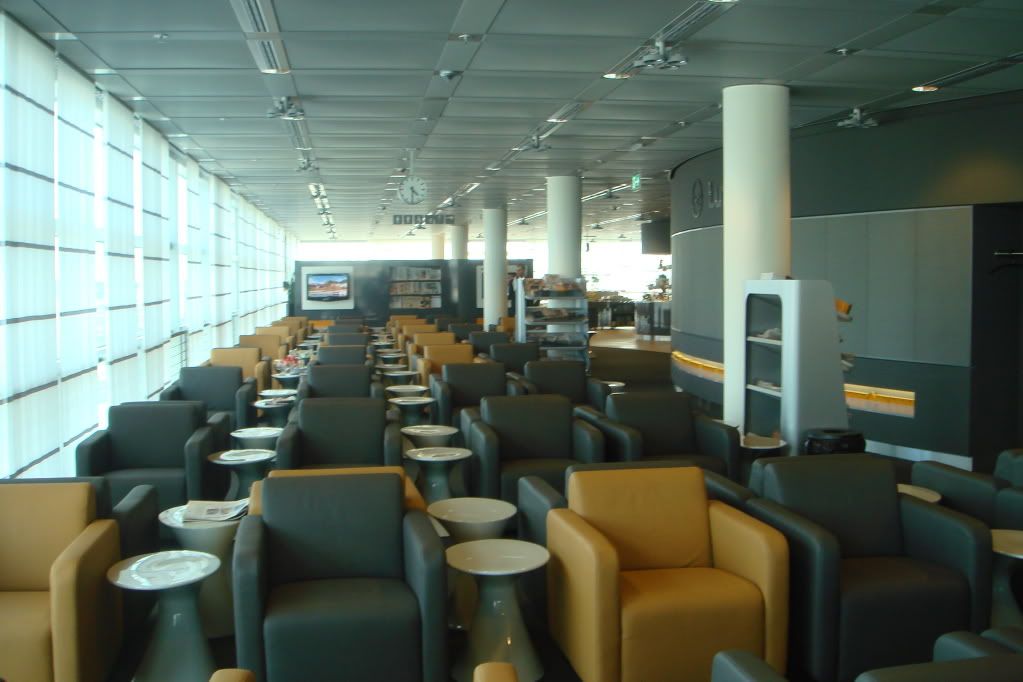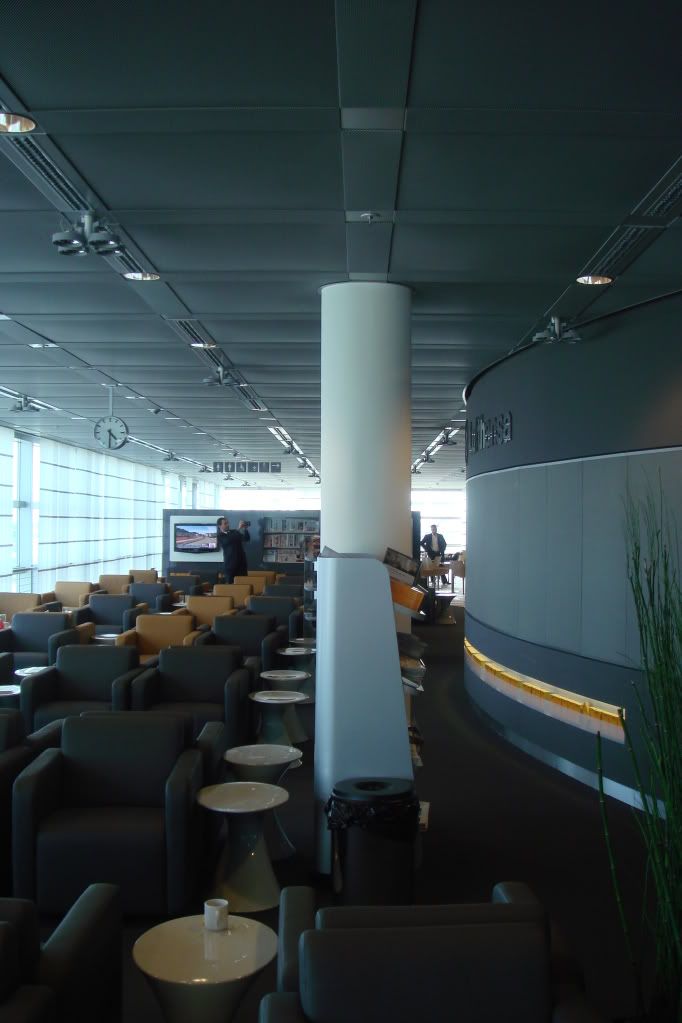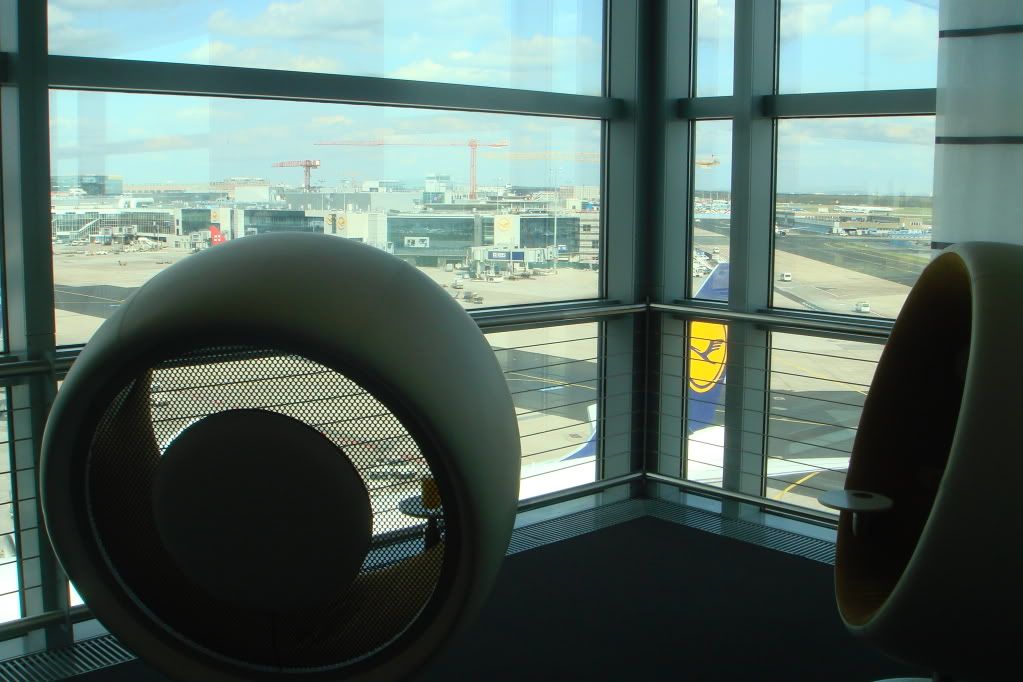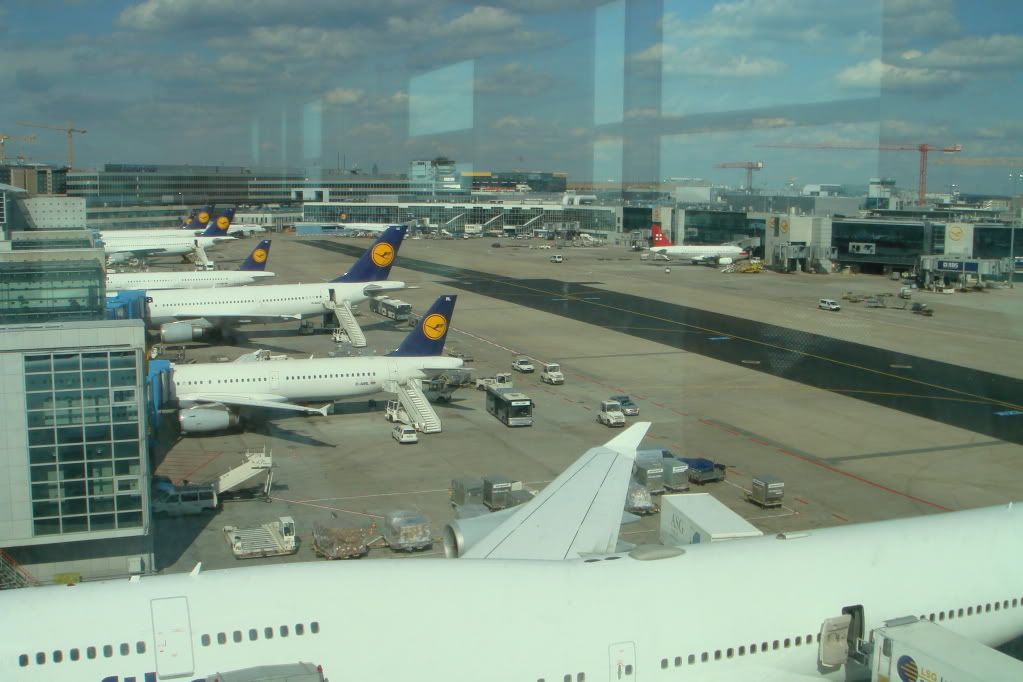 After a while, I headed down towards the gate area and through passport control for the Schengen area.
I arrived at my gate and the flight boarded pretty quickly – I used the automated boarding channel and just scanned by boarding card.
08/04/09
Frankfurt – Vienna
LH3538
Dep. 17:10
Seat: 4C Business
Boeing 737-500 D-ABIK "Rastatt"
Once on board I was greeted by two friendly flight attendants, slightly more so than on my previous flight. Business was 4 rows and not so busy. Economy looked pretty full again. While we were on the ground a rather large man in his late 50's was moved up to business by one of the flight attendants but he received the snack from economy. He looked like he could have been a politician or something.
The flight to Vienna would be a quick 1h and the service started not long after takeoff. I had a gin & tonic and was given the mini-snack tray which was nicely presented, although I'm not really a fan of scallops, and didn't really want to eat that with my drink. So, I asked the nice f/a to for a sandwich from economy. She told me economy were receiving crackers and brought me 2 packets of Italian crackers, which were yummy. She also offered me more chocolates.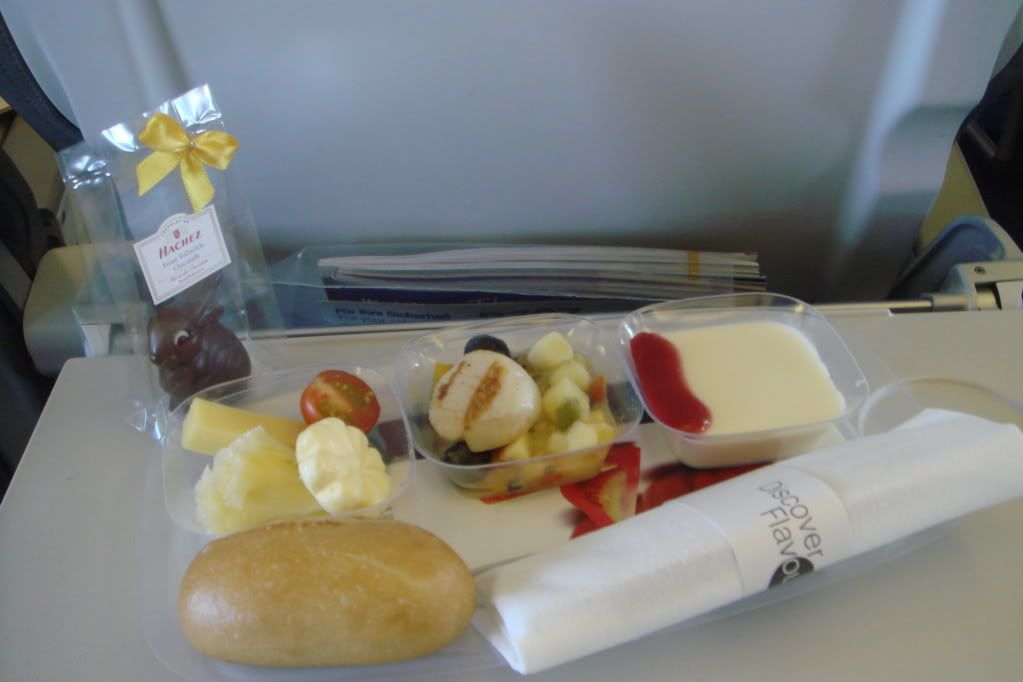 I ate my picnic and had a glass of water before we landed on time in Vienna. It was a beautiful sunny evening and the crew wished everyone a nice evening.
After disembarking, I went and got some gifts in the duty free before heading through to the non-scheme departure pier and the little Austrian Airlines Lounge there. Vienna Airport is an interesting place, it feels like a bit of a time warp and there are some pretty shady characters hanging about – although I have to say I like it.
I was greeted in the lounge by an Austrian guy who told me the flight to Minsk was delayed by an hour, this conversation all took place in German, I have no idea why. Anyway, good thing I understood it.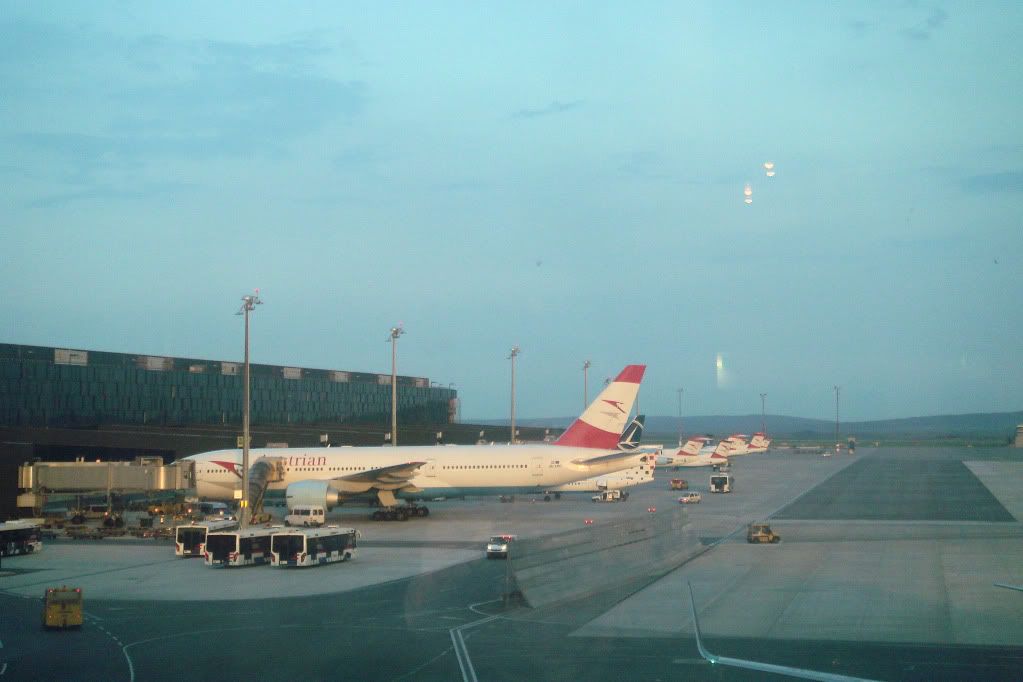 I poured myself some mineral water and some nice spicy paprika soup that was on offer and eat that and looked out over the ramp as most of the evening flights to Europe took off. The lounge attendants were from Asia I noticed and were very prompt in clearing the tables away. They seemed to be enjoying their job also. The lounge emptied and soon there were just a few people there (the Minsk crowd). I poured myself a nice glass of Austrian white wine and enjoyed that before the lounge agent came around to tell each and every passenger individually that the flight to Minsk would soon board (again auf Deutsch for me).
08/04/09
Vienna – Minsk
OS689
Dep. 19:55
Seat: 2D Business
Fokker 100 OE-LVO "Chisinau"
There was another security channel before descending into the downstairs remote boarding area. Not many people… but the gate agents were all ready. Then suddenly stream of Belarusian passengers came, many of them distracted by the duty free shop. Boarding then commenced and the gate agent made a very stern announcement for 'All passengers from Tripoli to go straight to the gate and not to the duty free shop'. As it turned out the flight was delayed as 80 or so passengers were connecting from Tripoli.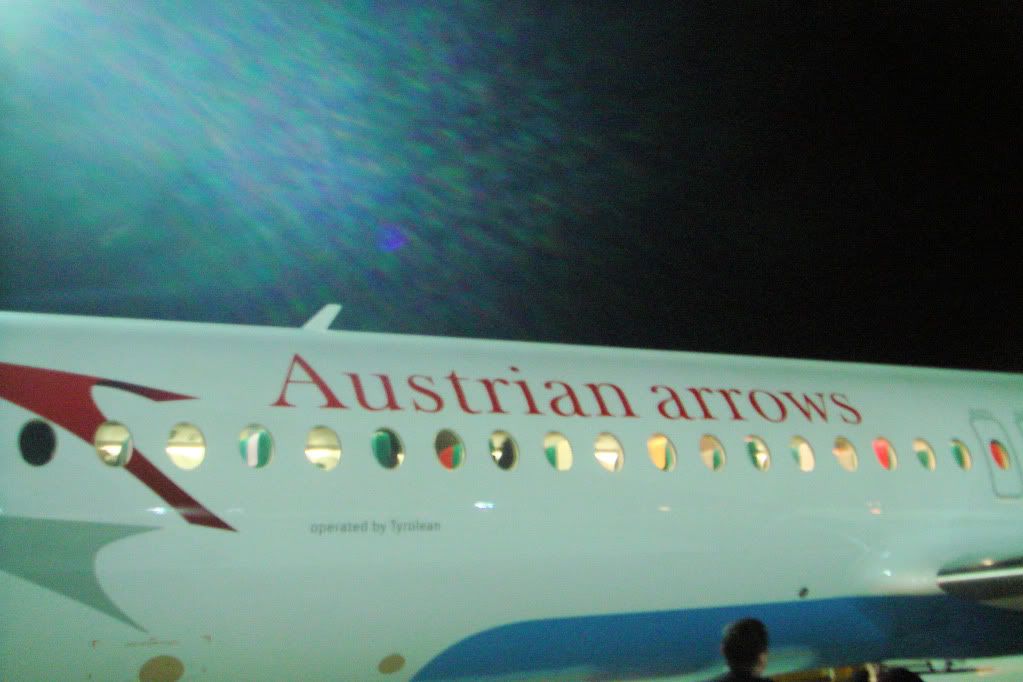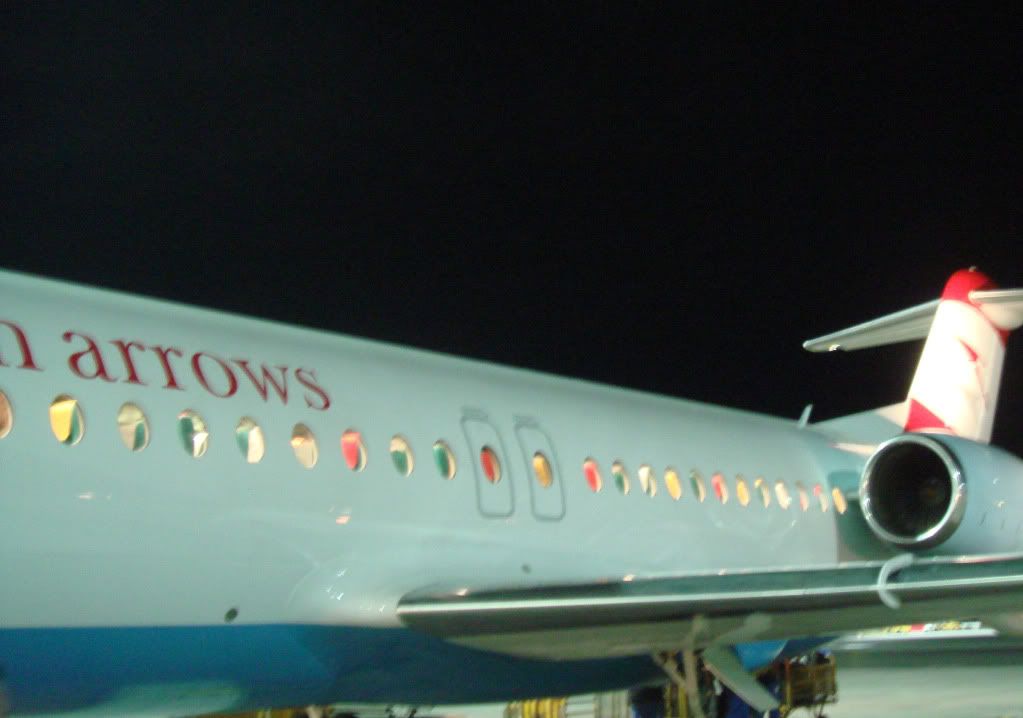 We were bussed out to our waiting Fokker 100 "Chisinau" and was greeted by 2 very good looking Tyrolean girls. Business was 2 rows, 7 passengers in total. Everyone seemed to be German-speaking. Economy was full with the passengers from Tripoli. The atmosphere on board was quite cheery.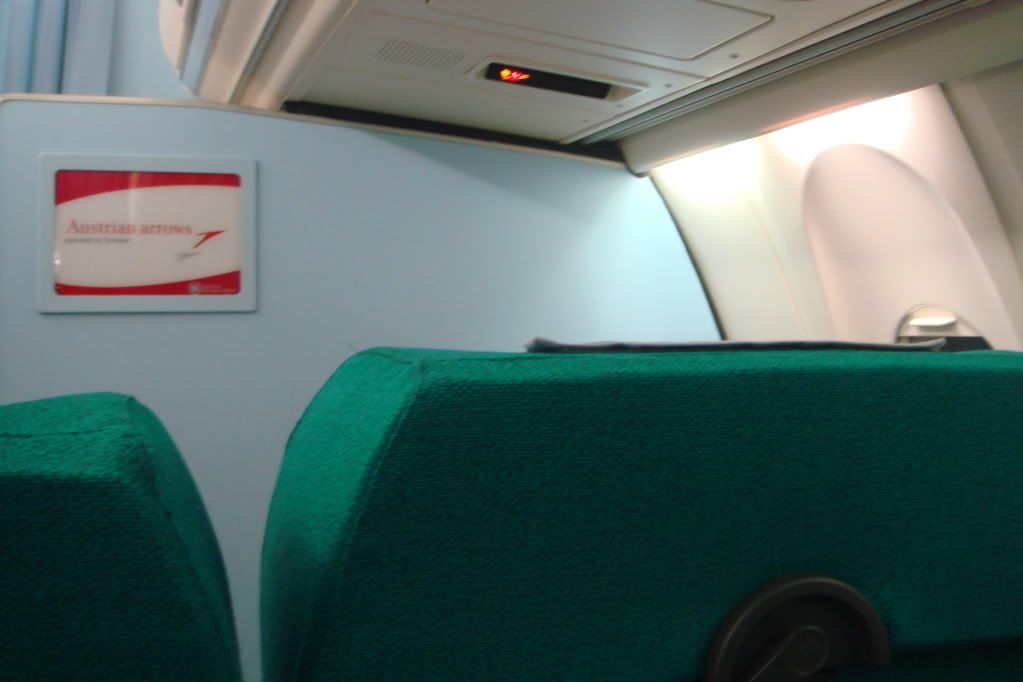 The flight time was 1h 35m – it also felt good to be on a Fokker 100 again, my last flight being over 10 years ago from Nice to Amsterdam on KLM (when a full hot meal was served in economy). Drinks were served first, I had a gin and tonic and some water with my meal, which was beautifully presented and really tasty minced lamb. There was also a menu presented with the meal.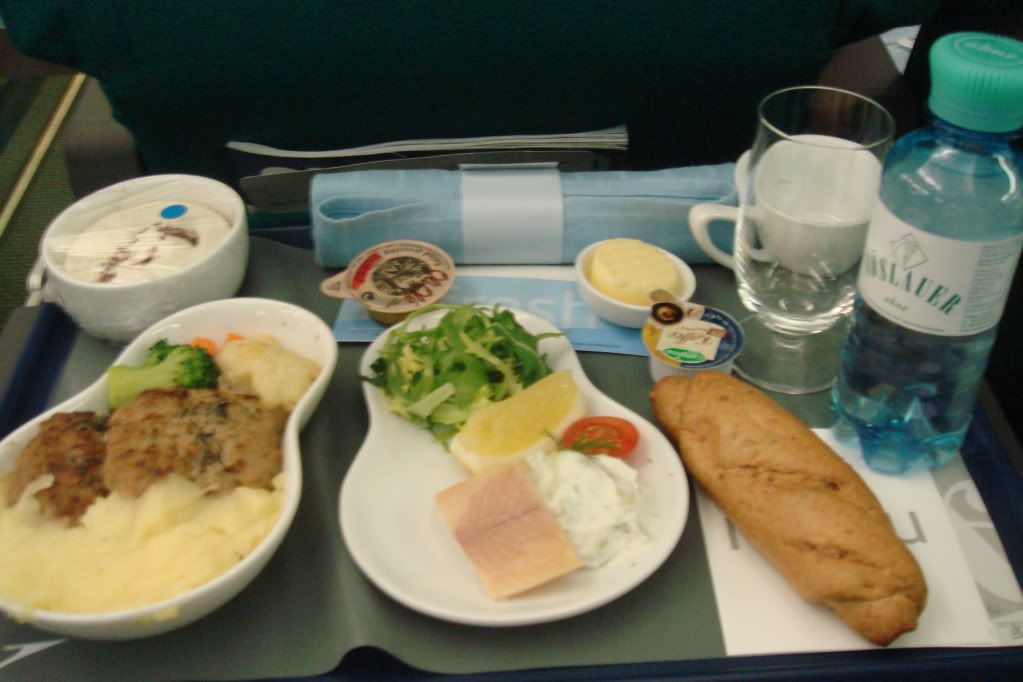 I went to use the washroom, which was located at the back of the plane, I thought it was odd, but the f/a explained that the front washroom is kept as a wardrobe on the flight. I ended the evening with a bailey's on ice as we continued towards Minsk. We were also given immigration cards and a nice Austrian pen to fill them out (which I kept).
We landed on time and there was a round of applause from the back of the plane. I said goodbye to the f/a who were among the friendliest I've encountered in a long time.
All in all, a great trip with Austrian Arrows who I look forward to travelling with again soon. Lufthansa's business product in Europe is good, but hard to justify the price. They really should offer something better catering wise on flights such as Dublin, even something that would appeal to a broader palette.
My return trip was via Prague and Paris with CSA and Air France – I didn't have any battery life left in my camera but I can summarise that they were good flights, CSA business is a good product with nice food and champagne, and I hope to fly with them again soon. Only negative – despite having over 1 hour in CDG on my return, my bag failed to connect.
I hope you enjoyed reading my report – as always comments and questions appreciated.
Photos from Minsk