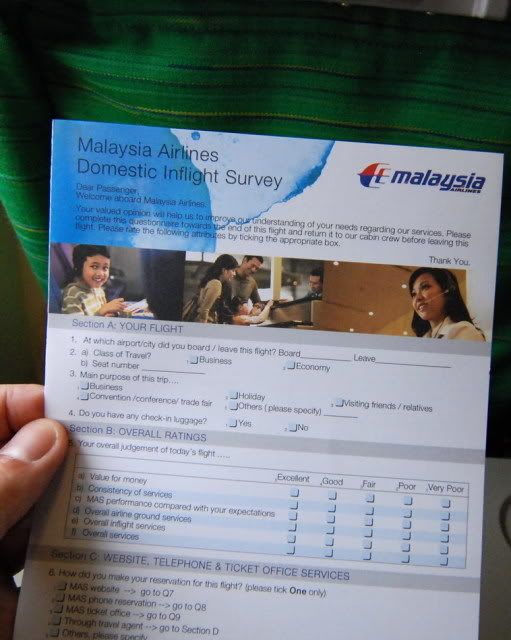 Strange things surveys. There are questions, questions, and more questions. But are they the right ones to be asking? And if they are answered, would the airline be any the wiser? I have my doubts, even as I ponder over question 5(c) for the longest time. It asks me to rate MH's performance
compared with your expectations
. A pertinent question, I agree, but how does MH know what my expectations are in the first place? And how does ticking one box in five do justice to the mess of conflicting emotions I am feeling right now? Alas, it's one of
those
days. But I am jumping ahead of myself: let's go back to where it all started...
Malaysia Airlines to Manila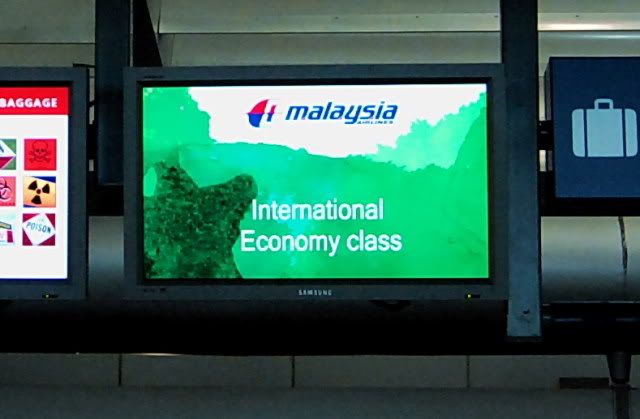 It is mid-December 2008. A trip to Manila from Kuala Lumpur cropping up at the last minute meant scrambling for seats in the peak travel season when Filipinos abroad pack the flights home for Christmas. I was therefore lucky to have got a choice of airlines: my waiting list for both Singapore Airlines and Philippine Airlines cleared within a day. Lucky maybe, but I was left with a dilemma. Which one? SQ would have been the predictable choice – it is comfortable, yields Star Alliance miles, has better frequencies and PTVs - and one many of my colleagues wouldn't think twice about selecting on a business trip. But the fanatic in me gravitates towards PR: the option is more expensive (though I am not paying), is low on amenities and yields no miles for me, but it's interesting and definitely more unpredictable, with the nonstop outbound sector operated by code-share partner Malaysia Airlines, and the return on PR metal via SIN (PR no longer flies to KUL). It could be worth a small adventure, I thought, and maybe (five months later) a trip report too: so here I am.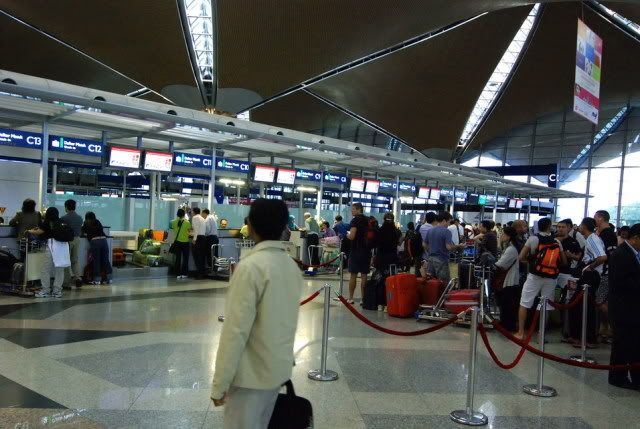 At KLIA, almost everyone in my check-in line seems to be attired for a holiday: sandals, shorts, and the sort of carefree demeanor that comes with the anticipation of fun and relaxation – unlike this grumpy ass who has the exciting prospect of work over the weekend. Malaysia Airlines operates a single-queue system for its economy class check-in and it's quite busy at the height of the airline's morning peak hour with tourists heading off to Phuket, Bali and Hanoi all in the same queue. A lady behind me asks if she is in the right line for Manila; "it's really not clear from the signs… I don't want to wait half an hour and then be told I should be in another terminal," she tells me as we snake steadily along. When I reach the front of the queue some 20 minutes later, I am promptly and efficiently served; yes, there's a window seat, and yes, it's a full flight – my boarding pass is issued in no time and I'm sent on my way. Next please.
KLIA is really MH territory. The only growth segments among foreign carriers are LCCs and those airlines from the fast(er) growing Gulf States, China and India. But even there, the slowdown is being felt and now visibly apparent. This daily Chennai-bound Jet Airways service was operated by an A332 in early 2008; today it's a B738.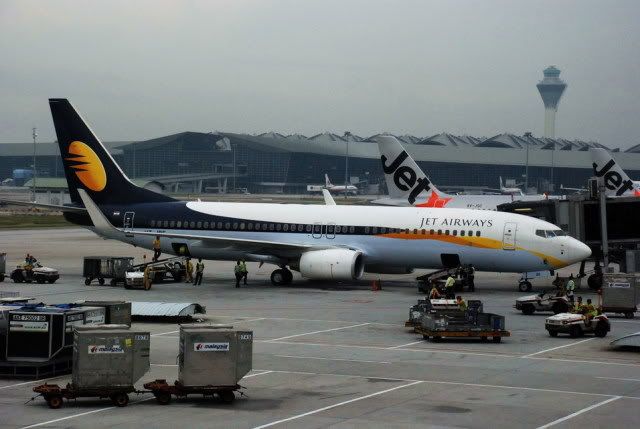 A series of "Jets" share adjacent gates at KLIA. Jetstar Asia, a relative newcomer to the airport, plies the liberalized KUL-SIN route and I am surprised to see two of their A320s this morning. There was, at the time, brewing speculation of a possible QF-MH linkup – which has now been denied. But had the speculation amounted to something more, Jetstar (rather than Qantas) could well have become one of the more common liveries at KLIA today.
Around the corner, another merger that I cannot fully understand is on display every morning at around this time. A colorful Air India Express B738 is parked next to a still-called (even though it apparently no longer exists) Indian Airlines A320, both boarding and departing for Chennai within 10 minutes of each other. Why?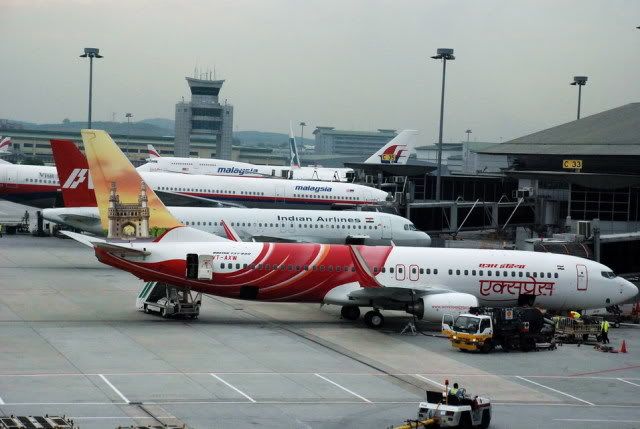 Flights operated by MH's all-passenger B744s are getting increasingly rare. The machine that's taxiing in the background is heading for runway 32R on an even rarer mission – one of the two flights a week to EWR via ARN. I just don't understand so, so many things.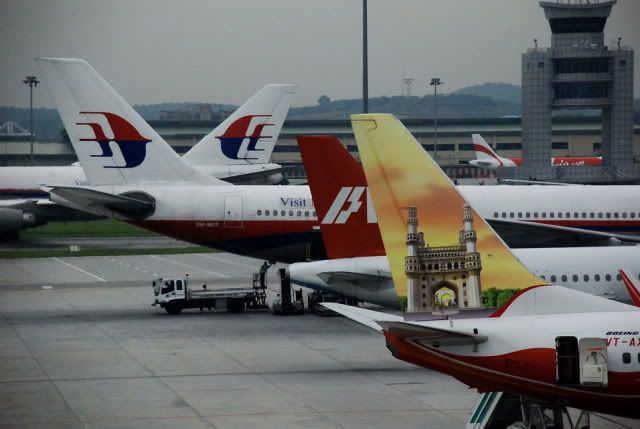 On my leisurely way to the gate, I spot 9M-MPB, one of the two B744s once painted in the red
Hibiscus
special livery, now looking a lot more sober.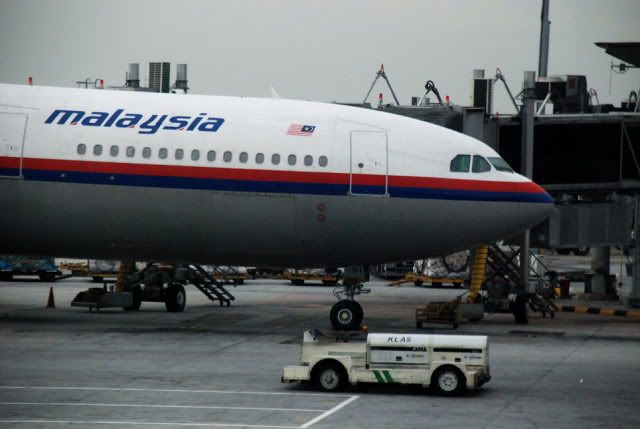 My ride to Manila – on a 13-year old A333 registered 9M-MKI – is parked at gate C1 today. If there is such a thing as a "preferred" MH gate at KLIA, this'll be the one. Close to both the aerotrain and the airline's premium Golden Lounges, this is the gate where you'd frequently find departures scheduled on key long-hauls like flagship flight 002 bound for LHR. Parked next door to the MNL-bound plane is a sister ship about to push back for Xiamen, China from gate C3.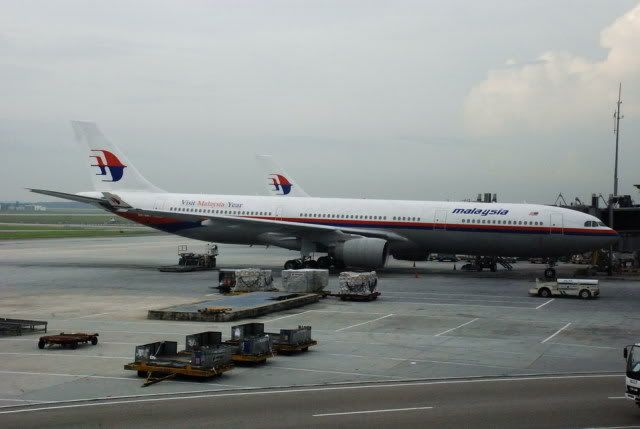 There's a line at the entrance to the holding lounge and I join the queue of cheerful Filipinos heading home for the holidays. From the way some of my fellow passengers are dressed (with coats and sweaters) in the humidity of the tropics, I am guessing they just stepped off connecting flights from Europe. Outside, the Airbus is being readied for our flight across the South China Sea – some things are, apparently, still best done with a wet wipe in hand.
Malaysia Airlines
Kuala Lumpur to Manila on MH 704 (code-share with Philippine Airlines)
Airbus 330-300 9M-MKI
Dep: 1013 Arr: 1352 (on time)
Once through security, there's no further waiting at the holding lounge and I am immediately invited to board. I get a civil enough welcome at door 2L, but strangely see no other crew members as I walk through the front economy class cabin all the way to my seat, half way down the second cabin. A flight on many Asian airlines will see crew members lining the route with wide welcoming smiles and, on some carriers, they are falling over themselves to offer assistance, so this self-service approach is quite a surprise – perhaps, the crews are momentarily unprepared for this early passenger, my kinder self makes a mental excuse for "the world's best cabin staff". What I do get to see in full splendor, however, are the new seat covers of the revamped MH. I try to like what I am seeing for the first time, but I just can't. The raw first impressions spelt out in my note book:
Ugly, Cheap, Nasty
The matter of whether one likes or dislikes a certain color scheme or livery is purely subjective. Perhaps, I tell myself, I am just seeing "awful" because I could
(heaven forbid)
be biased against MH. After all, TG has multi-colored seats and I'm all praises. So, why is this so different? Let be rid of the preconceptions, I say. Scan the cabin afresh, squint the eyes behind a groovy pair of rose-tinted shades, I am determined to find something nice to say. But nothing flows: I am speechless.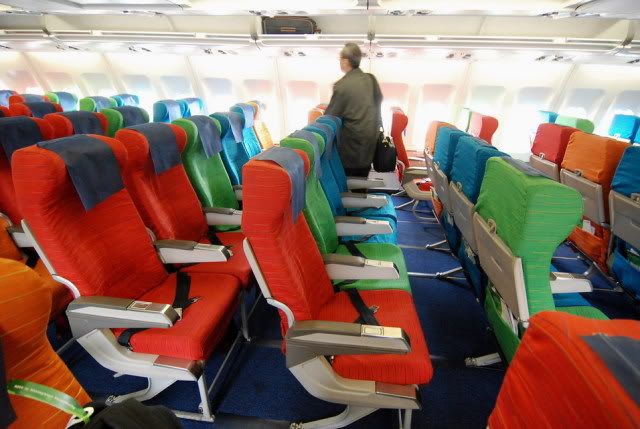 I find my seat as the blue one by the window next to the orange. It looks a bit of a joke. What could possibly have inspired this? Today's just filled with questions I cannot answer.
I am resigned to the fact that this will be my view for the next 3 hours 20 minutes, as the flight starts to fill up and Captain Zubaidi comes on the p.a. to welcome us aboard. My seat pocket has a pair of headsets for the inflight movie, but the airline shouldn't have bothered: without binoculars, happenings on a screen the size of an individual J class PTV seven rows away will be as exciting as watching grass grow. Malaysia Airlines produces a safety video that's more engaging than most – even the I-fly-all-the-time-and-have-seen-everything crowd give it more than a cursory glance – but what's the point of making a good video when a third of your passengers can't see it clearly? But hey, it's not as if your life depended on it, right?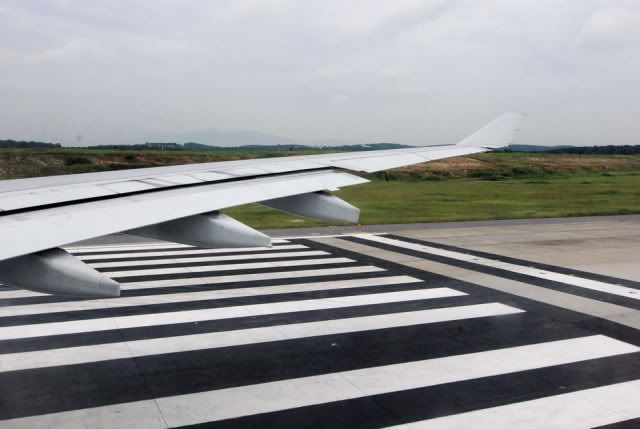 As we leave the gate, more service inconsistencies come to the fore. We push back 2 minutes early – which is a good sign. But the only "amenity" at this stage: a dripping-wet, lukewarm paper towelette distributed in lieu of a real hot towel, isn't. Again, MH shouldn't have bothered. Because as we taxi out, nobody remembers to collect the wet wipes; so by the time we turn onto 32R, they have already made a delightfully nice wet patch on our colorful cushion covers. Granted, it's not the end of the world, but then it's not 5-star either.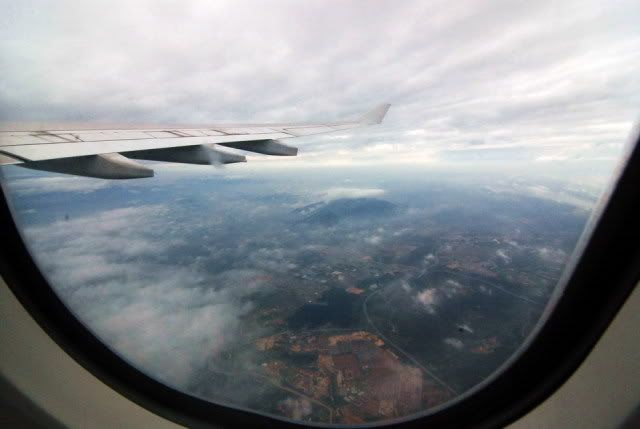 The flight gets underway – outside, the year-end monsoonal weather keeps the outlook overcast and the going bumpy, but not uncomfortably so. Inside, the flight settles into a routine of sorts. I sit back and stretch out: the old seat cushion feels a little lumpy but the 34-inch legroom is impressive. Perhaps, I had been too harsh on MH: after all, had I been expecting too much of the airline? Perhaps all the talk of "five-star value carrier" confused me: lower one's expectations, and things start looking a whole lot better. My mistake had been trying to benchmark against the world's better carriers: MH is clearly not in that league. But go down a notch (or two): among middling-rated carriers, MH – punctual, with decent inflight service, excellent seat pitch, below average entertainment – could be close to top of the class. Having lowered my expectations, I start enjoying the flight.
That is before I have a good look at what hangs over me…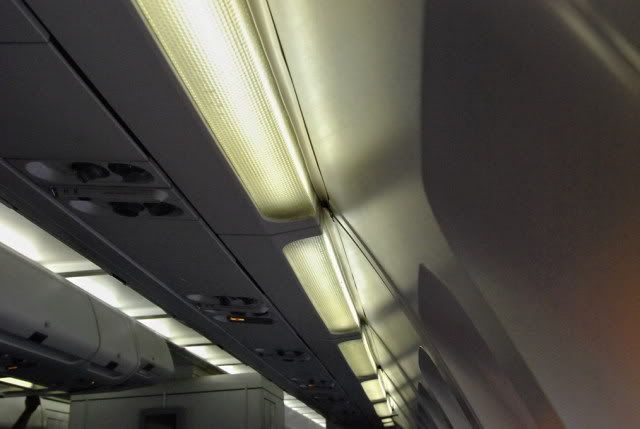 It looks a little odd at first… caught in a ray of sunlight, bits of fluff like snowflakes are silently floating down on the passenger in front of me. Quickly surmising that this isn't part of some magical Christmas show, I realize it is months'-old dirt breaking free from the overhead light panels: like spiders hanging off their webs, some still dangle precariously off barely visible threads from above. And it's not just limited to the passenger in front of me: all along the window line as far as I can see – including right above me – it is a veritable dust heaven: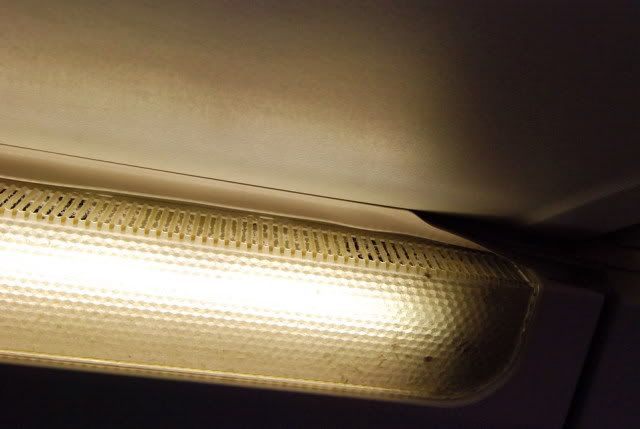 Yikes. The airline management boasts having managed to cut costs in the hundreds of millions: the housekeeping budget must be among those which got slashed. That's really not pretty, MH.
Of course, right on cue, the meal arrives. Just as well it comes in a box with a dust cover.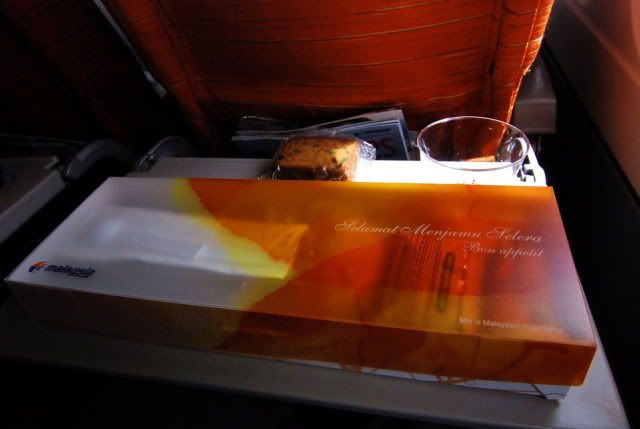 The MH meal box – offered on the airline's longer domestic and some regional flights – is controversial. The kindest thing that can be said of the change from full meal tray to current cardboard box is that the airline became a pioneer of sorts among the region's full-service carriers – and that's not something one can say of MH very often. But the seemingly innocuous shift turned out to be a huge miscalculation: coming from a country where food is arguably the only uniting factor, passengers roundly rejected the new cold meal boxes. The airline tried to cloak the change in all sorts of marketing fluff (including a questionable survey that showed passengers prefer it) but to no avail: the complaints continued to pour in. Eventually, MH was forced to launch a Marque II – a face-saving version which retains the box concept, but includes a warm dish.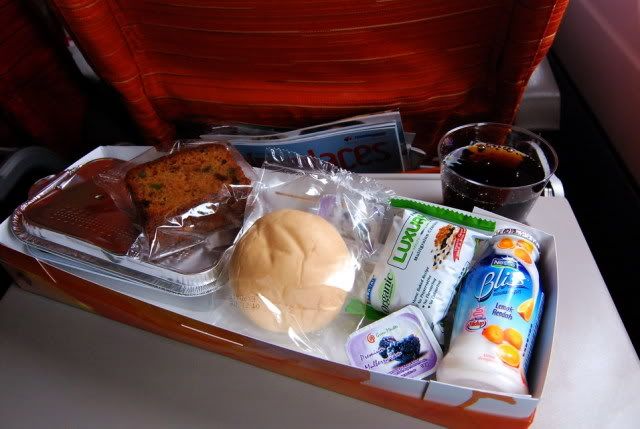 My first ever MH box meal looks like something quickly thrown together from the local 7-Eleven by someone on a budget: small yoghurt drink, dry cold bun with jam (but no butter), crackers (but no cheese), and fruit cake in plastic wrapping. The hot dish is a choice between chicken fried rice and apple waffles. I choose the rice – as do most of the other passengers around me – but that turns out to be of the tasteless variety much favored by Chinese takeaways in small provincial towns in Britain. Suffice to say it isn't the most inspiring meal I've had aloft.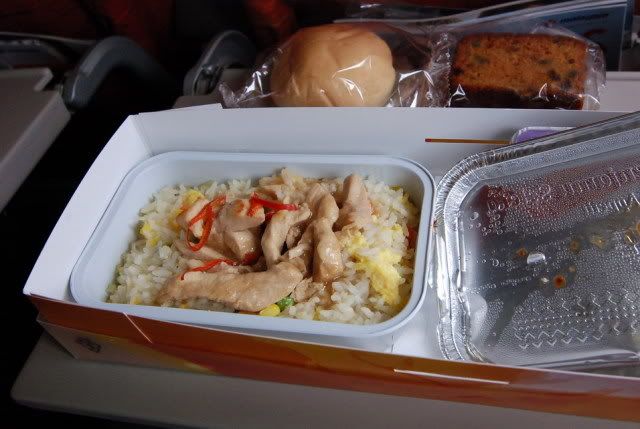 I'm glad I gave up on comparisons between MH and others. For the differences in the quality of economy class catering between MH and some of the better airlines in the region are now so stark as to make them incomparable. Food is not high on my priority list when choosing an airline – years in boarding school has trained me to eat any old junk, and still enjoy it – but today's offering makes me hanker, for the first time ever, for an LCC's BoB.
~ ah, choice, what a luxury that'll be! ~
The beverage service is notable too – a flashback to the Soviet-style days of rationing (granted, I never experienced it, but I guess this must come close): a miserly jug of watered-down juice and exactly two soft drink cans adorn the trolley. My request for a diet cola seems an overly-tough proposition: "you'll have to wait for that," says a member of the world's best cabin crew; who instead offers me the far more convenient regular Pepsi on his trolley. When I accept his offer, the steward fills my glass with the already opened can, then turns to my neighbor – a Filipina migrant worker – with the can: "Pepsi?" he asks assertively. The girl is pressured to nod yes: he drains the remaining contents of the can into her glass. How Skytrax manages to rate MH as five-star carrier is a greater mystery to me than ever before.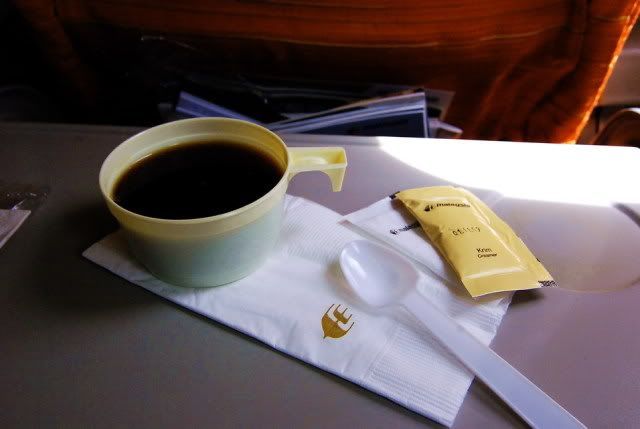 With coffee served, the meal service comes to an end. A movie is screened but not too many pay attention. Otherwise uneventful, light turbulence on the flight across the South China Sea keeps the seat belt signs on for large segments of the flight. Meanwhile, the coldish air conditioning sends crew members scrambling for blankets, which are in such low supply that they later give up searching and just respond with a standard apology to requests. There is no evidence of pillows either:
sorrylah, no stock
could have been the quintessential Malaysian response to almost everything today.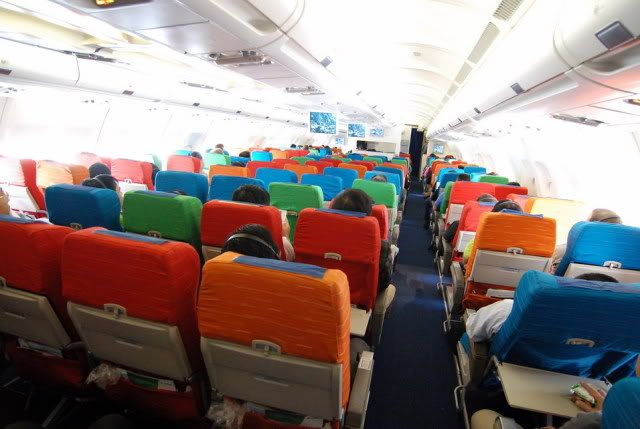 A visit to a supposedly operational washroom yields further evidence of how the reality at MH doesn't quite match the rhetoric. A broken lock is not the end of the world by any means – but the culmination of events just makes the total MH experience today far from satisfactory…
Soon – not too soon, some might say – we break through the clouds and sprawling as far as the eye can see is the densely-populated metropolis and largest city in the Philippines.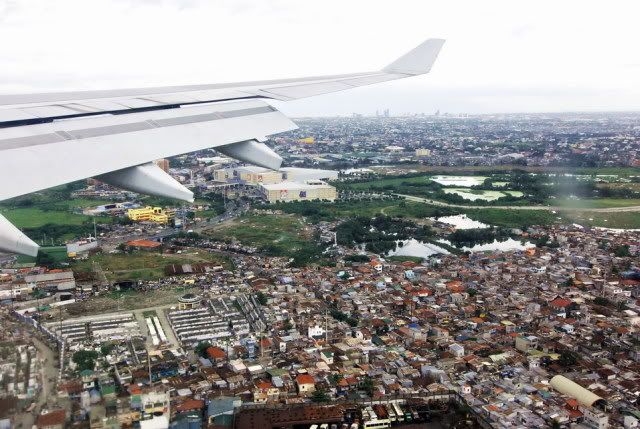 A Filipino greeting shouts across from a building flanking the approach as we make finals to Ninoy Aquino International Airport. In the distance, the skyscrapers form part of the city's business district.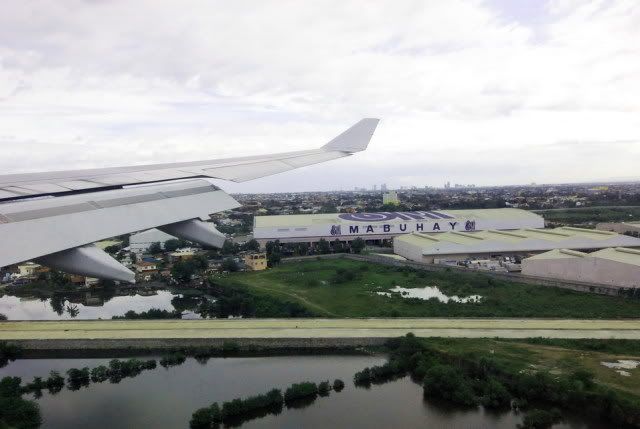 Finally here, and the end of the flight for me: 9M-MKI docks in at gate 2 of Ninoy Aquino's Terminal 1 more than ten minutes ahead of schedule; which is a nice bonus. Having discharged her passengers, the Airbus is being readied for her return flight in about an hour's time.
Philippine Airlines from Manila
Business concluded two days later, it is time to leave Manila. I opt for the later of two morning PR flights bound for Singapore. In flight timings and duration, it is almost identical to my outbound KUL-MNL flight – only this one's done in the opposite direction – and that should form a useful basis for comparison. Another difference – a wee worry for me – is that the more-than-three hour PR flight is scheduled as a narrow-body A320-200. Still, I am banking on the flight to be far less crowded outbound; for pre-Christmas, it is generally the incoming flights to the Philippines that will be busy.
Philippine Airlines, which used to bill itself as Asia's oldest airline (though I have no reason to suppose why it isn't still the case), is the sole operator at Manila's Terminal 2, known locally as the Centennial Terminal. Already much more pleasant than the older Terminal 1 that's used by all foreign carriers, the departure areas at T2 are even nicer this weekday by being generally devoid of passengers. I wait for one person (whom I overhear is also connecting to KUL) ahead of me to check-in, before approaching the agent to hear those delightful words: "we are using a large plane today." An A330, I ask? She nods.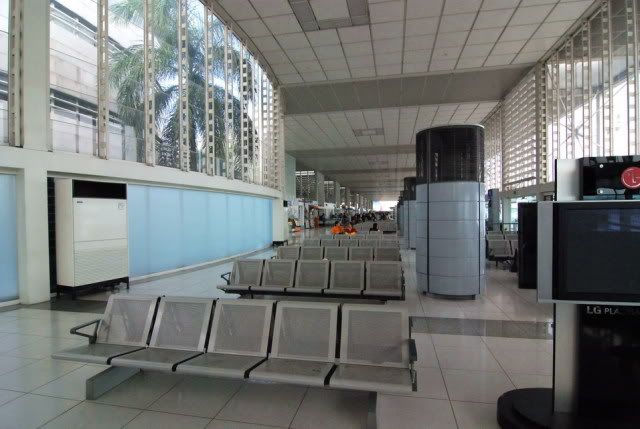 The terminal is bright, airy and easily navigable. Glassy with tall ceilings but without the landmark architectural "excesses" of KUL and BKK or the brand-name shopping overload that is SIN, it is undoubtedly a more basic structure. But for me, this place probably conveys a more accurate, down-to-earth face of modern tropical Asia than any of those imposing mega-structures.
My main complaint is the presence of two layers of glass that separate me from a good photo of the planes (all PR) on the tarmac. Still, I make do, together with plants in foreground and all: this B744 below is pushing back for the short hop to Hong Kong by the way.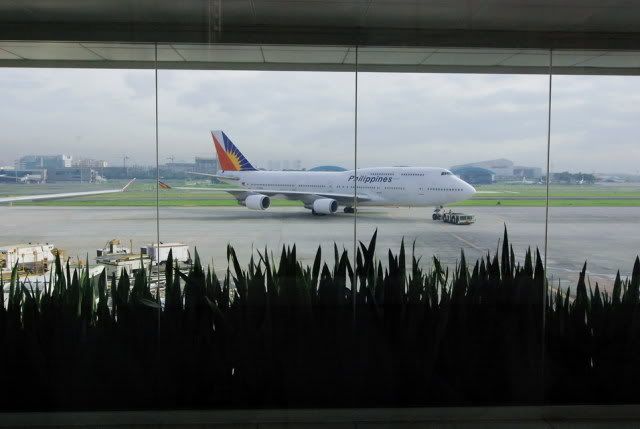 I notice an A340-300 (registered RP-C3431 – no mistaking equipment type there!) being towed in and decide to take a picture. It is only later that I realize this craft is parked at my gate: it's not an A333 after all, but this four-holer that'll be carrying me to SIN today!
Philippine Airlines
Manila to Singapore on PR 507
Airbus 340-300 RP-C3431
Dep: 0953 Arr: 1330 (on time)
Boarding starts early – it is 40 minutes before departure and most of us are already boarded. As I had anticipated (and hoped), the load is thin today: less than 100 passengers in total. An A320 would have accommodated us all with plenty of room to spare, but I'm almost certain we can attribute our good fortune to an over-booked pre-Christmas SIN-MNL return flight.
This aircraft that's usually deployed on transpacific routes is also equipped with what looks like a First Class as well as Business Class cabins, all featuring two-generations-ago reclining seats in a 2-2-2 configuration: this is a long way from what PR's competitors are offering on long haul flights. (The airline is currently in the process of upgrading its B744s with new angled lie-flats in J Class, and removing F Class.) Still, what is (or isn't) being offered up front matters little to this passenger, who ploughs on back to the deep recesses of steerage.
What Philippine Airlines calls Fiesta Class looks surprisingly promising. Pastel blues and pale yellows accentuated by maroon headrests make the cabin inviting and pleasant. I immediately like it better than the nonsensically bold MH offering. The interior too feels like it is in better shape – i.e. better appointed and less worn out – than the MH bird I flew here on. Granted, this Airbus is two years younger but at 11 years of age, it is no spring chicken either. It doesn't look half bad, does it?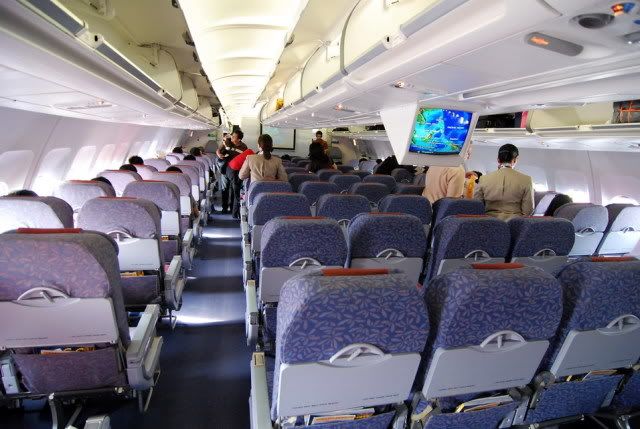 The legroom isn't so bad either. The center seats are largely unoccupied on this empty flight.
My seat is close to the back of the plane, where I am confident of snagging an unoccupied one adjacent to mine. An empty seat: it makes all the difference, doesn't it? Not that it had ever been offered, but given a choice between an empty next-seat in economy and an upgrade to a full Business Class cabin, I have no doubt the empty seat wins for me.
I start noticing things I had previously taken for granted, like pillows on seats. These are not the nicest I have seen in economy, but at least every passenger's got one. I also spot plenty of freshly wrapped blankets stored in some of the overheads. What a contrast from the MH experience.
With a light load and boarding completed in record time, the doors are closed early and we push back more than 10 minutes ahead of schedule. Captain Castro welcomes us aboard: flight time 3 hours 10 minutes to Singapore's Changi Airport. The going will be a bit bumpy across the South China Sea though, he says – the year-end monsoon appears to be tightening its hold.
The take-off run speeds us past a 777-300ER belonging to KLM — the sole European airline still flying to Manila – which sits parked at Ninoy Aquino's Terminal 1 awaiting a daytime return to Amsterdam.
We rotate in front of V-shaped Centennial Terminal 2 from where we departed, home to a mostly homogenous fleet of Philippine Airbuses.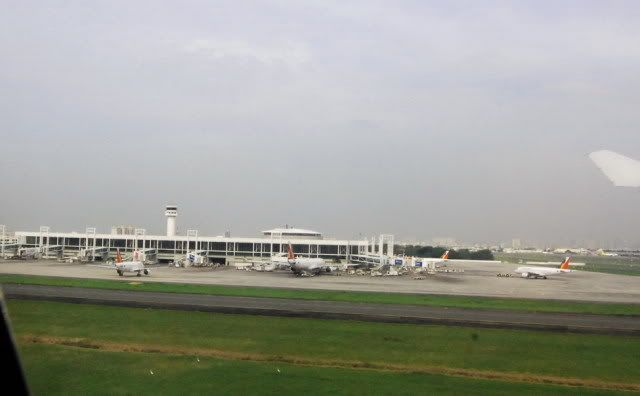 And as we ascend, the beleaguered, 13 million passenger capacity Terminal 3 (that was supposed to have replaced Terminal 1 sometime ago) comes into view. Embroiled in legal battles, the terminal – mothballed since its completion in 2002 – finally opened for business in 2008, operating a skeleton operation serving local LCC Cebu Pacific. Plans call for the migration this year of all foreign airlines from Terminal 1, but that hasn't happened yet.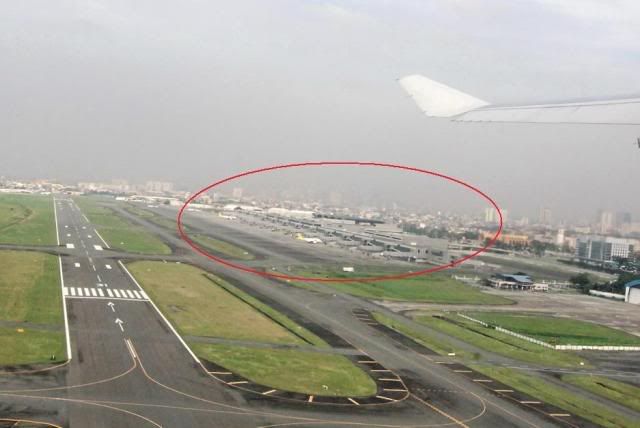 Today's light load means that our ascent is steady and undemanding: outside, business district Makati bids a distant farewell before we break through thicker cloud, obscuring any hope of seeing the Philippines' many idyllic islands from the air. Choppy weather accompanies us all the way to Singapore.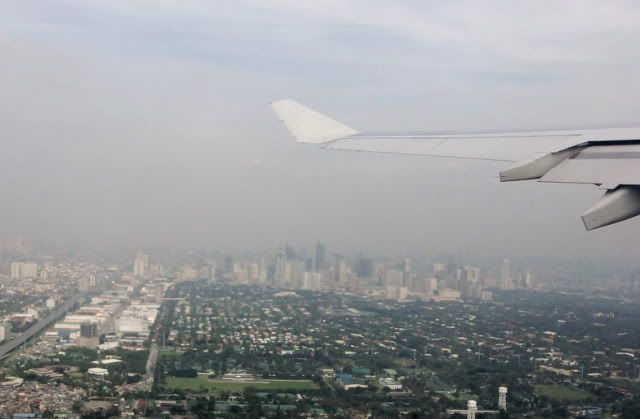 Inflight service swings into action immediately we level off. The crew dispense lunch; offering a choice between chicken and rice, and fish and noodles as the main course. The meal, which comes with a salad and dessert, and a bar service (I get a full can of Pepsi Light), is conventional airline fare and not particularly memorable. Still, it does look like a premium offering when compared to MH. The crews on board are friendly and efficient: nicer than on my last MH flight, but then, the undemanding work load on this sector may well have played a role.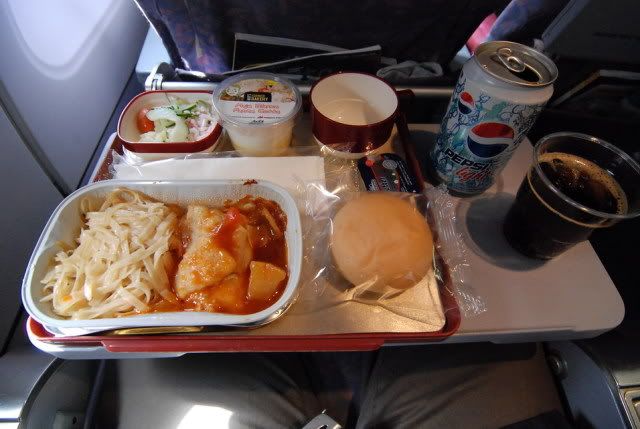 Having stumbled across MH's poor housekeeping aboard 9M-MKI, I feel it only fair to subject PR to the same test. As you can see, this airline does a much better job:
With the meal over, comes "big black out", the strange ailment afflicting a disproportionately large number of Asian airlines. It seems PR is among the sufferers. Never mind that it's noon on a working weekday, or that this is a relatively short hop on a flight that doesn't even cross one time zone: put that laptop away, it's time for the shades to come down and a nice little midday nap, says nanny.
We land into a wet Singapore afternoon, and dock at Changi's Terminal One 15 minutes ahead of schedule. There's ample time for my MH connection to KUL which departs from Terminal Two.
Malaysia Airlines
Singapore to Kuala Lumpur on MH 612
Boeing 737-400 9M-MMA
Dep: 1522 Arr: 1616 (on time)
Everything appears to be running like clockwork today: when I reach the gate some 20 minutes before departure, there's no one waiting. Everyone else has already boarded, and the door is closed shut as I take my seat near the back of the MH B737-400. The load on the afternoon flight – three dozen passengers at most – is also much lower than I had expected. We push back for Kuala Lumpur 8 minutes ahead of the timetable.
Like on the A330, this 16-year old baby Boeing had been spruced up with bold new cushion covers. But the change is only skin deep: the seats remain lumpy, the side panels are yellowing; while an omnipresent odor about the cabin makes me glad it's only a short 40 minute hop.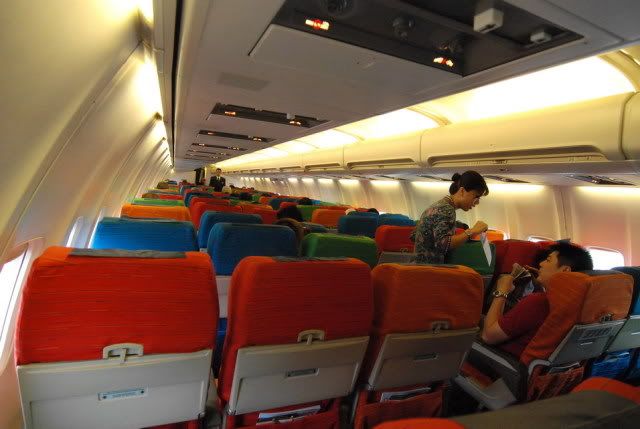 It is on this flight that I am handed a survey form – why MH is studying responses on a Singapore flight with a
Domestic
Inflight Survey is another question I don't have an answer for. Indeed, so many questions and yet, I fear, not many answers.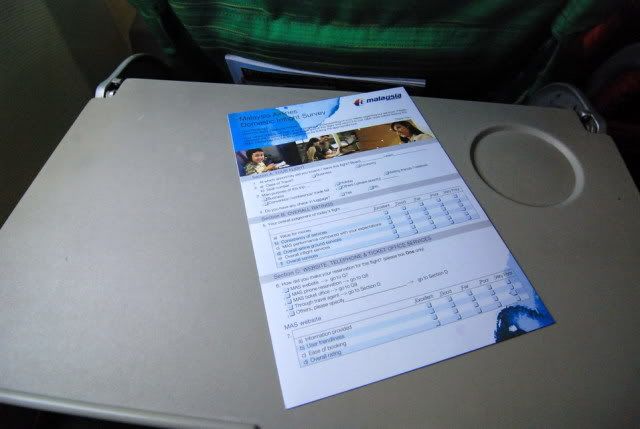 We land at KLIA a good fifteen minutes ahead of schedule; a nice end to a short business trip to the Philippines.
Last Words
This journey gave me the opportunity to try the "new" Malaysia Airlines' mid-range regional flights, for the first time in a long while. And it confirmed a nagging suspicion: cost cutting has made MH's economy class veer so far away from the offerings from top regional Asian airlines that it's difficult to compare. Is MH now essentially an LCC? Is it more of an AirAsia than a Singapore Airlines? That's a debate that I am sure will continue to rage. Philippine Airlines, on the other hand, was a nice surprise. You sometimes hear commentators say MH is an under-rated carrier: that honor should perhaps now go to PR instead.
Thank you for reading.