Amazing S. Korea with AC & KE (460+ pics) 1 of 2
Hi everyone,
It has been a while since I've written a trip report here, so it's time that I present you with the latest trip report. Last night I have just returned from a 10 day (business / pleasure) trip to South Korea, and after going over the 2500 photos that I've taken, I decided to share some of them with you. For those of you that have seen my previous reports, you'll find that I will follow the same style. I love aviation, but a trip report without including photos from the destination tends to get a little boring. For those of you who don't care too much to see them, just skip to where I have included the aviation related photos.
The trip started May 14th 2009 and ended May 24th 2009. During these 10 days, I have been to Seoul, Busan, the DMZ and a few other places in South Korea. Physically, I was also in North Korea, but not "politically". I'll explain later what I mean by that. The flight from Vancouver, Canada to Seoul was with Air Canada, followed by three other separate domestic flights with Korean Air. I even managed to ride the KTX, which is the Korean high speed train.
Vancouver – Seoul – Busan (with Air Canada and Korean Air)

Departure: Vancouver, British Columbia, Canada (YVR) on May 14th 2009 @ 12:20pm
Arrival: Seoul-Incheon, Republic of Korea (ICN) on May 15th 2009 @ 3:40pm
Airline: Air Canada
Flight #: AC63
Aircraft: Boeing 767-375/ER (reg. C-GLCA)
Seat: 17A
View Large
View Medium


Photo © Marco Toso - SpotIT
On Thursday May 14th 2009, I woke up a little later than normal, probably due to the fact that I was rather excited about the upcoming trip. My bags were mostly packed from the night before, but I still had to put a few things that I have left out. A few hours later, I was on my way to YVR. Normally, I would drive there myself, park the car and then off I go, but this time, I didn't really feel like paying 150 dollars for parking, so I opted to have my mom drop me off. I arrived there around 10:30am, with plenty of time to spare before the scheduled departure at 12:20pm local.
After saying goodbye to my mother, I headed toward the check-in counter. I had one checked luggage, one carry-on and my camera bag with an Olympus and my Nikon D50. Checking in was really easy and shortly after I was through security and inside the international terminal. I have to say this is the nicest one at YVR, but still, nowhere close to where it should be, considering other world class cities. I think Vancouver really needs to improve its airport before the 2010 Olympics. Since I haven't eaten anything that day, I went to a pub and had a nice breakfast and a pint of beer. I don't usually have beer for breakfast, but this time, it went down pretty well.
Inside YVR's terminal
After breakfast, I headed toward my gate and boarding followed shortly after. I was in seat 17A, which is a window seat, on the left side of the aircraft. I was really happy to see that the Boeing 767 had the upgraded interior, with the new seats and the personal entertainment unit. On such a long flight it really comes in handy. My seatmate was a Korean guy, from Calgary who was returning home after working in Canada for about a year. Shortly after everyone was onboard, we pushed back and taxied to runway 26L and departed out toward Vancouver Island. Over the next 11+ hours, we'd fly along the coast of British Columbia, Alaska, over Eastern Russia, between Japan and North Korea and eventually East into Seoul, of course, avoiding the North Korean airspace.
Some other planes parked at various gates
The aircraft that would take me to Seoul
Just before pushback
Taxiing to runway 26L
Company 767 taxiing by…
Cargojet planes on the cargo ramp at YVR
Taxi to position:
Take-off
Shortly after take-off a drink service / snack came. Since I already had beer that morning, I might as well continue drinking it. I asked for a Heineken. One of the nice things about the new cabin interior is that it has the new "mood lighting". Basically the lights change colors to give you different "environments"; very relaxing and easy on the eyes if I may say. The first meal service followed shortly after. I had some chicken and mashed potatoes and some veggies. After the meal, I turned my attention to the personal entertainment unit, which I must say, it's the best I've seen so far, in economy class. It has lots of movies, tv shows, music, interactive map, etc. I watched a couple of movies and shows. First I watched "YES Man" with Jim Carrey, followed by "Taken" . I also watched a Discovery Channel show and listened to some music.
Heineken and some munchies.
The lighting in the aircraft
The first meal
Interactive Map:
Movie choices
I also bought some Duty Free, which ended up as a present to my buddy and his girlfriend
On such a long flight, one must also get up and move around so your legs don't go numb. Don't ask why I took some photos of the bathroom, but I always find airplanes bathrooms to be a hit and miss. This one was fairly clean. No complaints
Picture of the cabin
Looking out the small window on the aircraft door
Me, hanging out in the back
Some more pictures en-route
Some hours later, the second meal service came. This time, it was some beef and again, I had another beer. I really like airplane food, especially the one Air Canada has.
You can see how we continued over the sea, between Japan and the Korean peninsula, staying clear of the North Korean Airspace
Not long after we passed over the coast of South Korea, we started our descend into Seoul-Incheon. We flew toward the East, going around the island, and coming back west for the landing. As you can see from the pics, it was really hazy outside.
Seoul-Incheon Airport
After landing we taxied to one of the gates and I stayed behind to take a photo of the flight deck and thank the pilots / crew for the safe and enjoyable flight.
The flight-deck of the Boeing 767
Once inside the terminal, we were greeted by medical personnel who took our temperature to see if any of us had the "Swine Flu". After that, we went through customs and I proceeded to collect my luggage. By the time I arrived there, I was the last one to pick up the bag. I walked outside the arrival area and took my first breath of fresh "South Korean air". I snapped some shots then headed back in the terminal to check in for my flight to Busan, with Korean Air. The reason I had to re-check, is that I booked the two tickets separately. This time I had business class seats, on a KA Boeing 737, that would depart at 8:40pm. I also had some food to eat at a restaurant and waited to get to my destination to meet my friends.
This flight would be my first on Korean Air. It was short and nice. I sat on the first row / window seat, on the right side of the aircraft. Most of the flight I had a chat with an American engineering flying to Busan on a business trip. I didn't take any pictures because it was dark and they don't really come out nice.
An impressive Boeing 747-400
The Korean Air Boeing 737 that would take me to Busan
Once I arrived in Busan, my friend Tom picked me up at the airport and we took the "Airport Limousine" bus to Paradise Hotel, then a quick taxi ride to his apartment building. Tom and his girlfriend have been there for over two years. He's a journalist and she is a teacher at a local foreign school. From Friday May 15th to Tuesday May 19th I would be in Busan, where I spent time with my friends, visited the city and just hung around, relaxing. Here are some photos from Busan. I hope you enjoy them.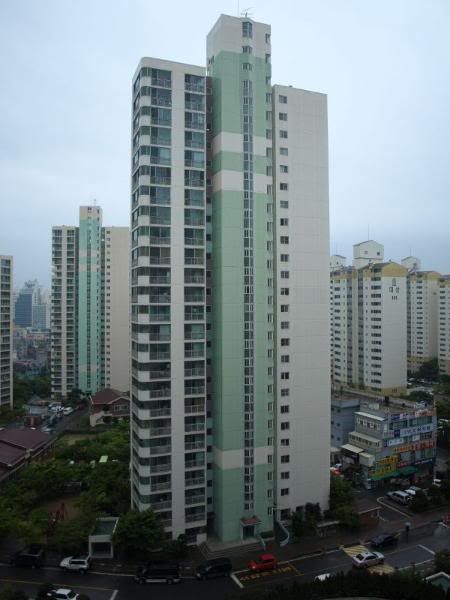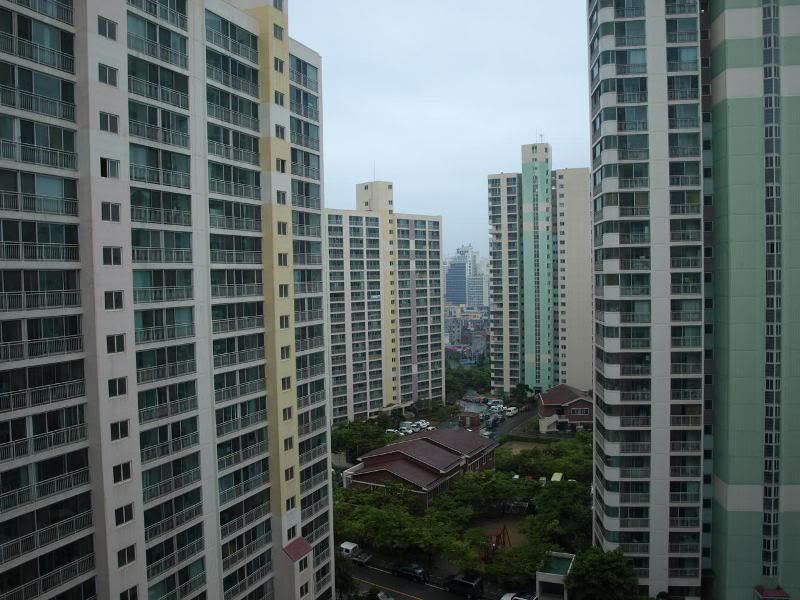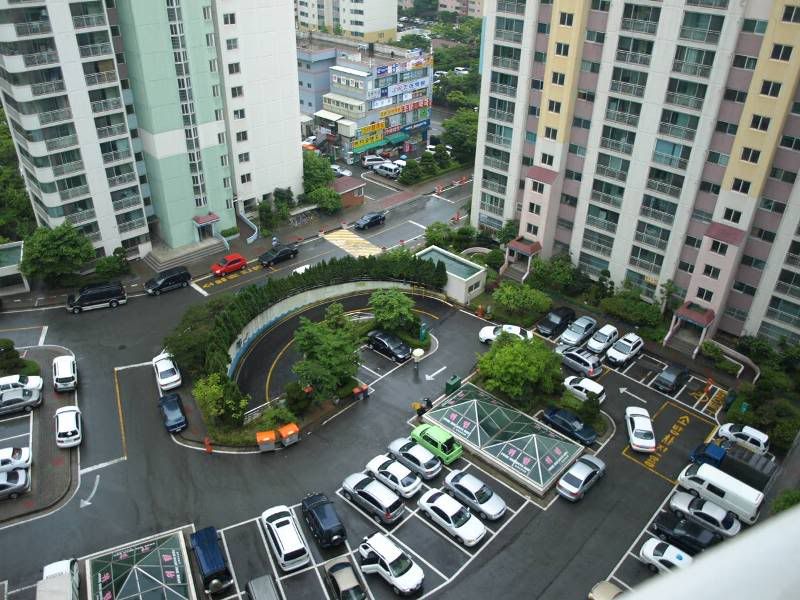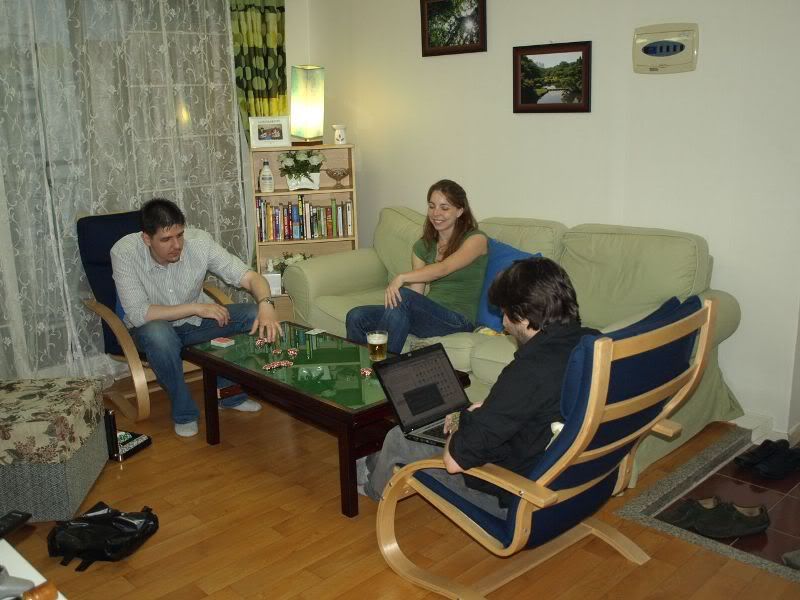 Tom and I. I'm 1.75m (about 5'9") and I still seem short compared to my buddy.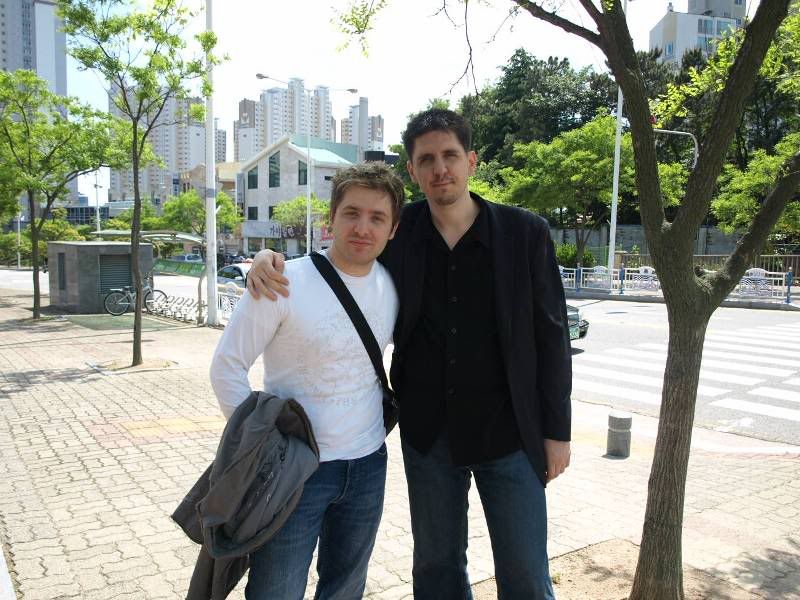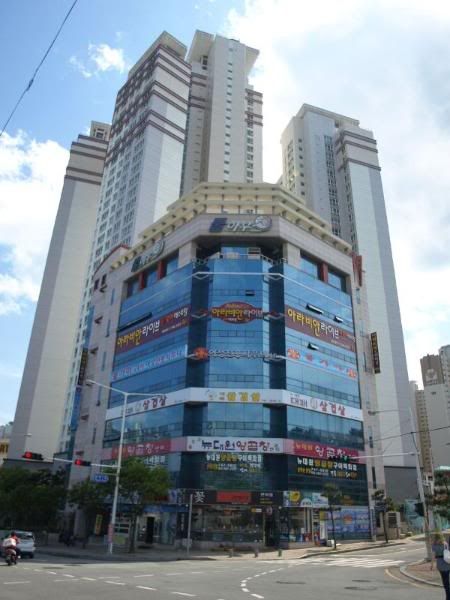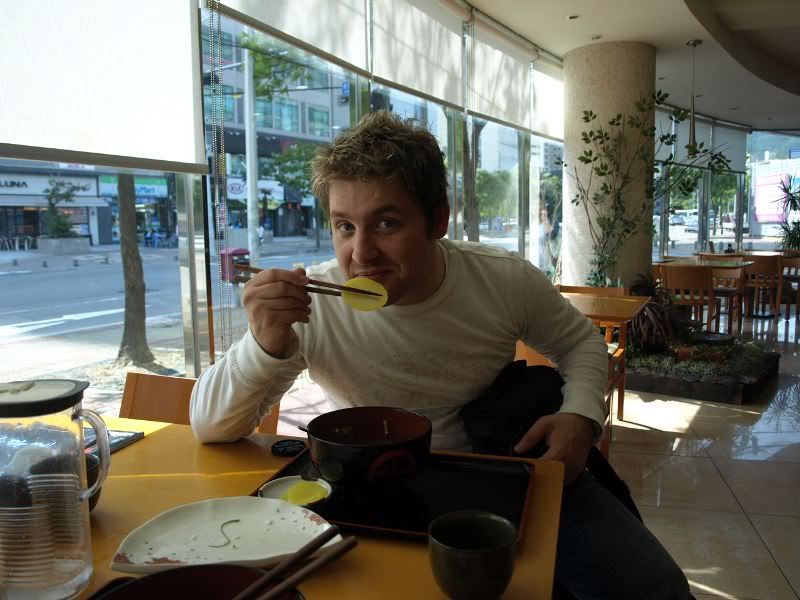 Notice the "poop"? WTF?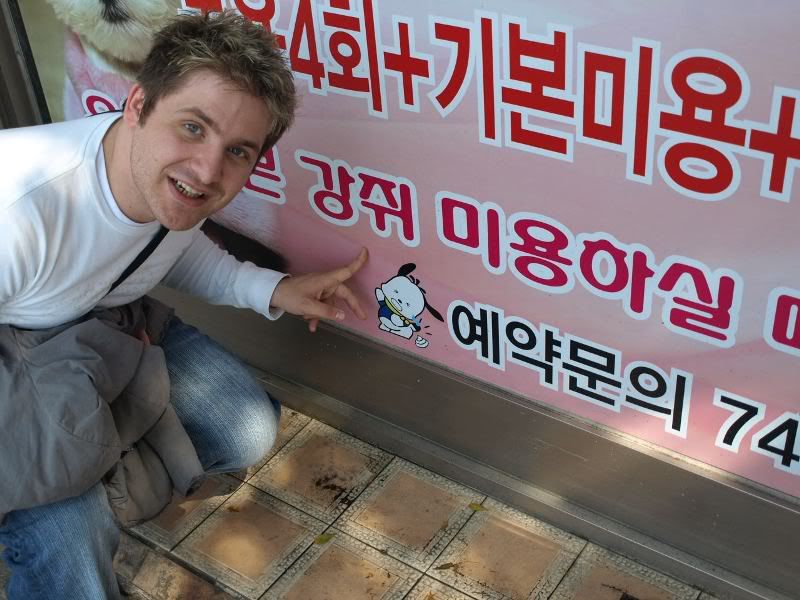 My friend Katerina (Tom's girlfriend)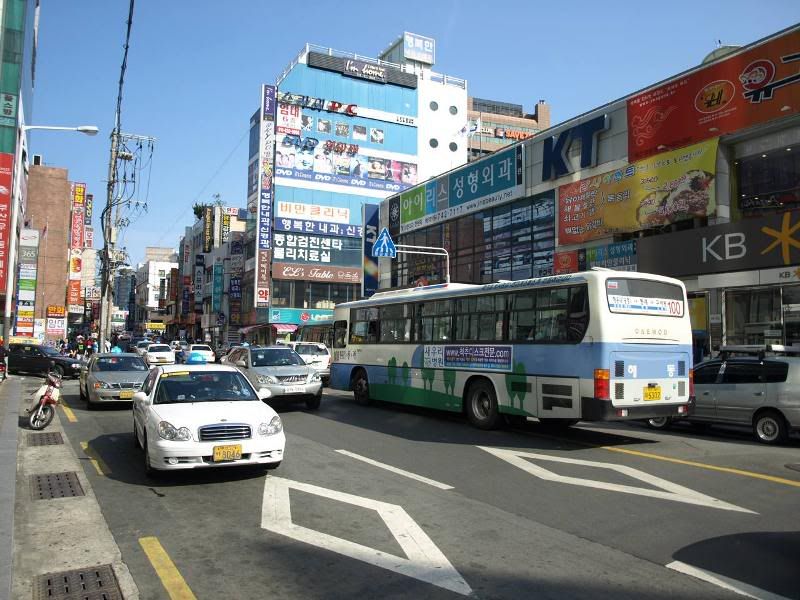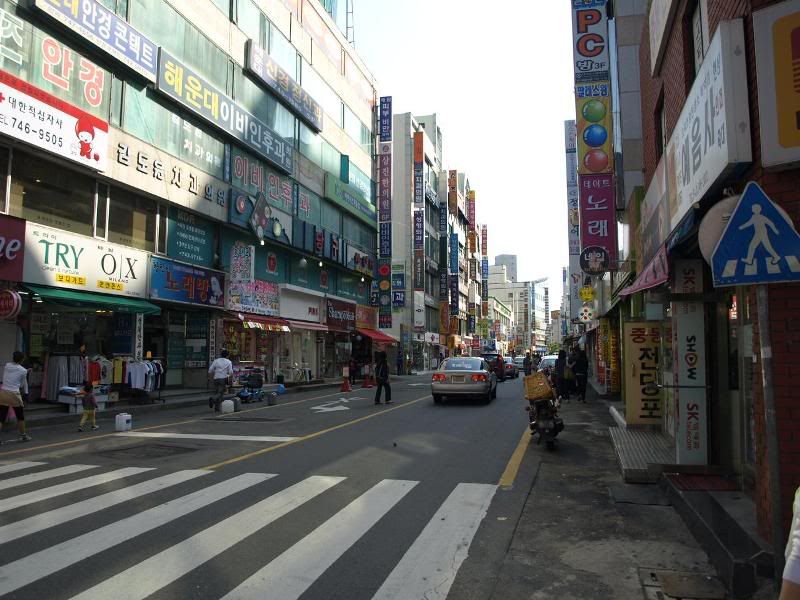 Haeundae Beach, Busan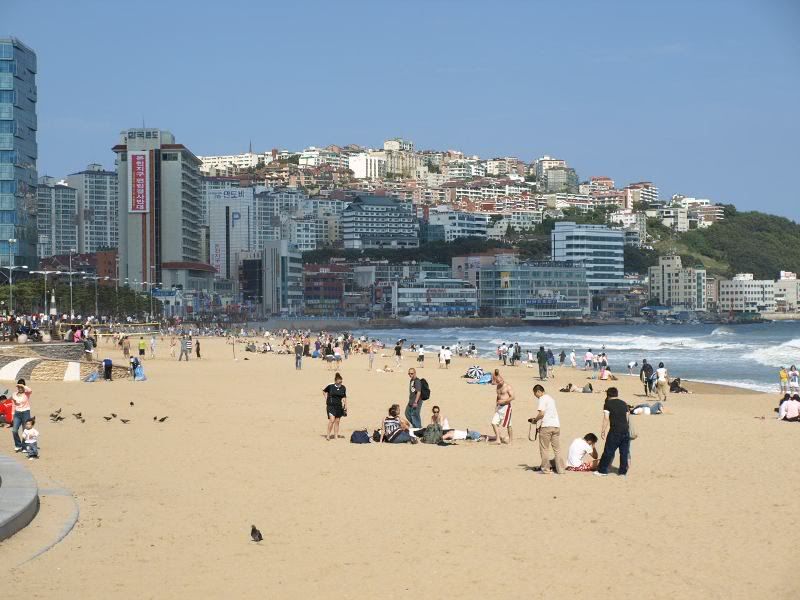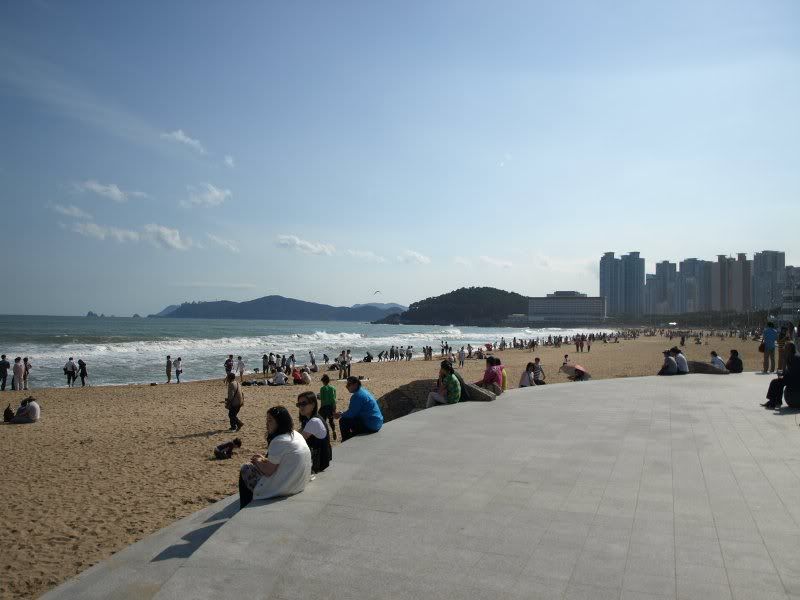 Okay, what is this? All I know is that you eat it.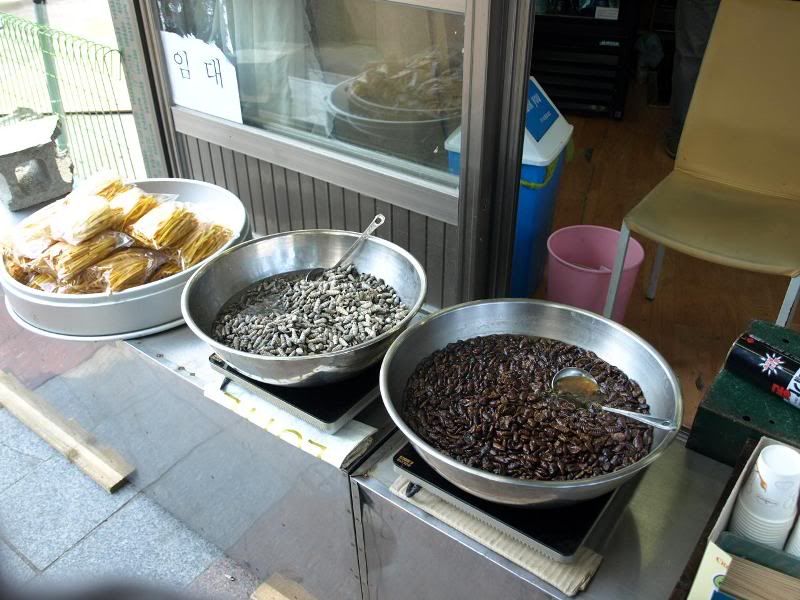 Tom and Sean (the Korean friend)
Me after a couple… of beers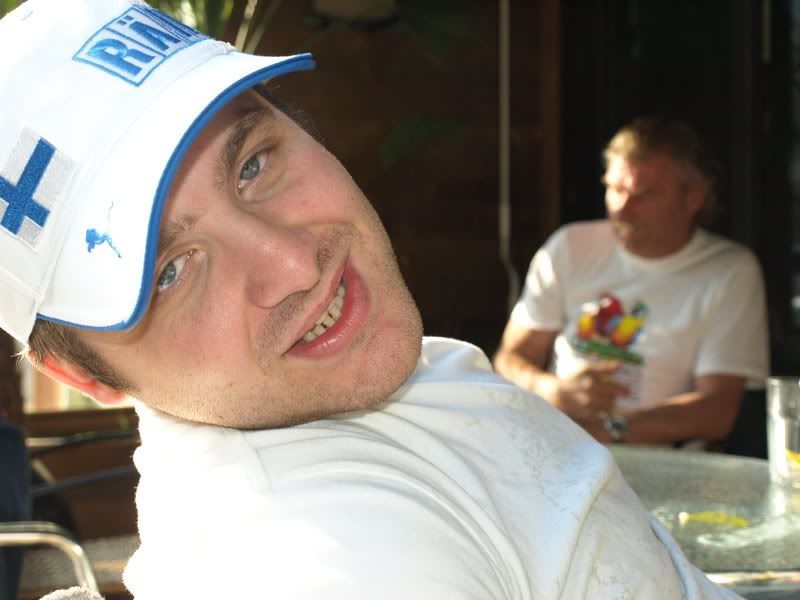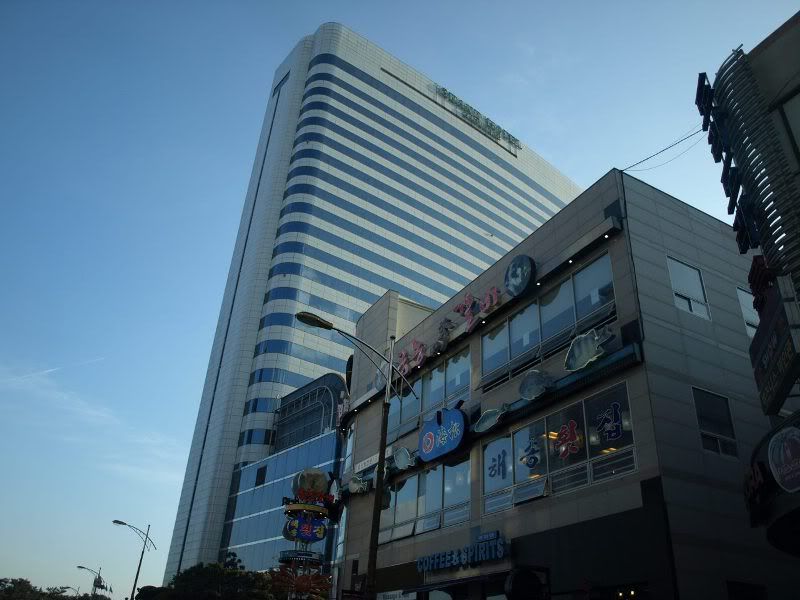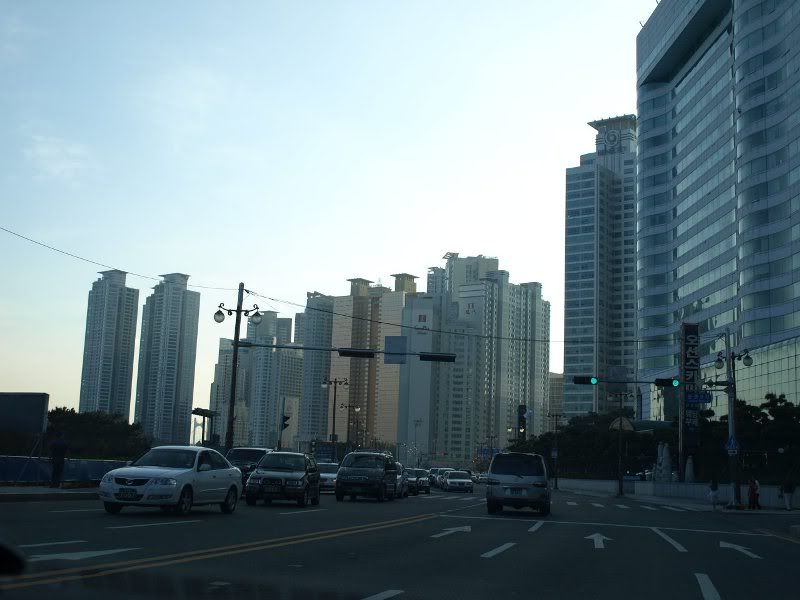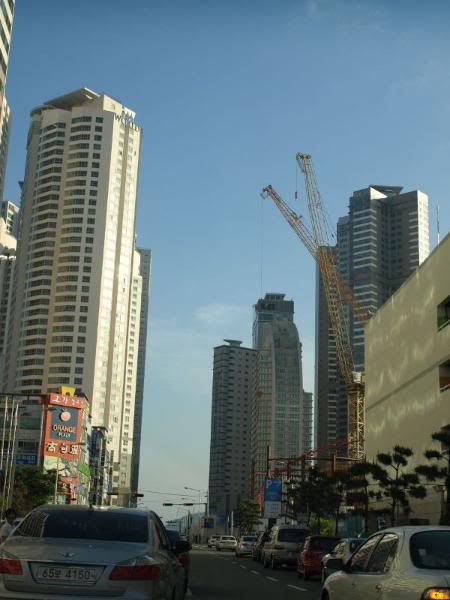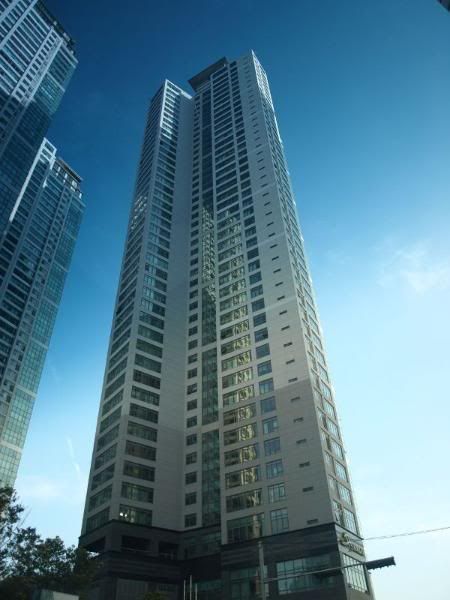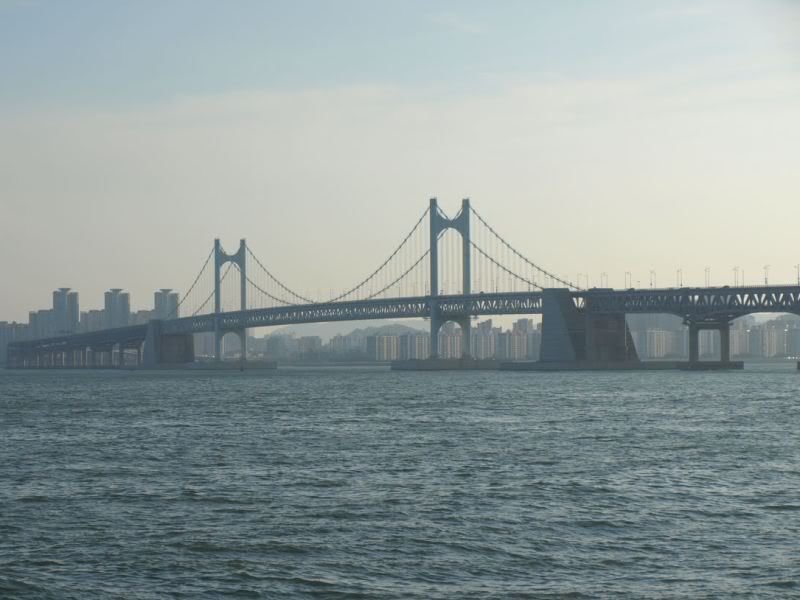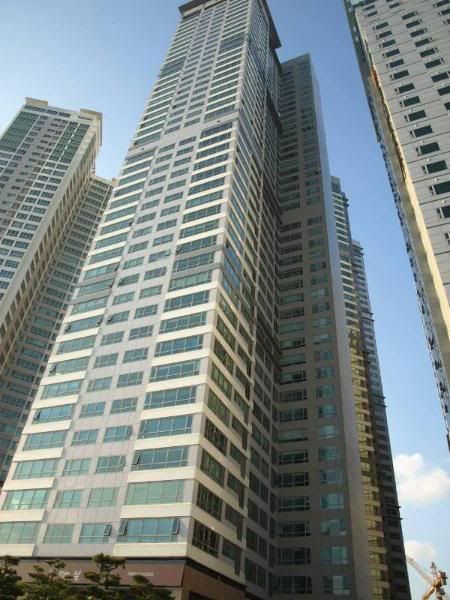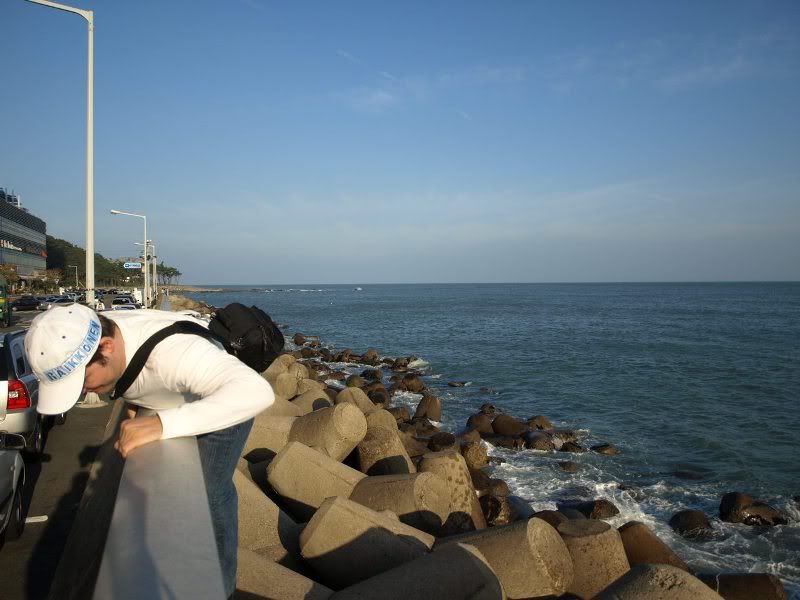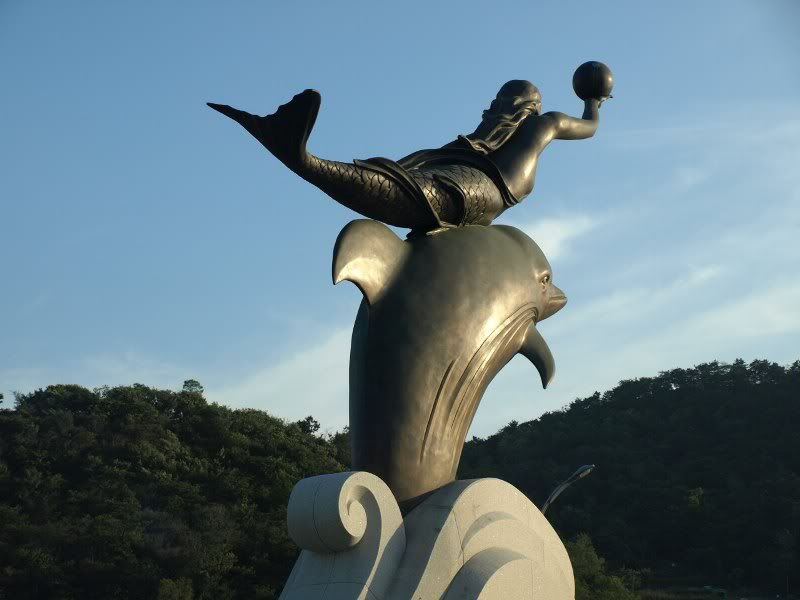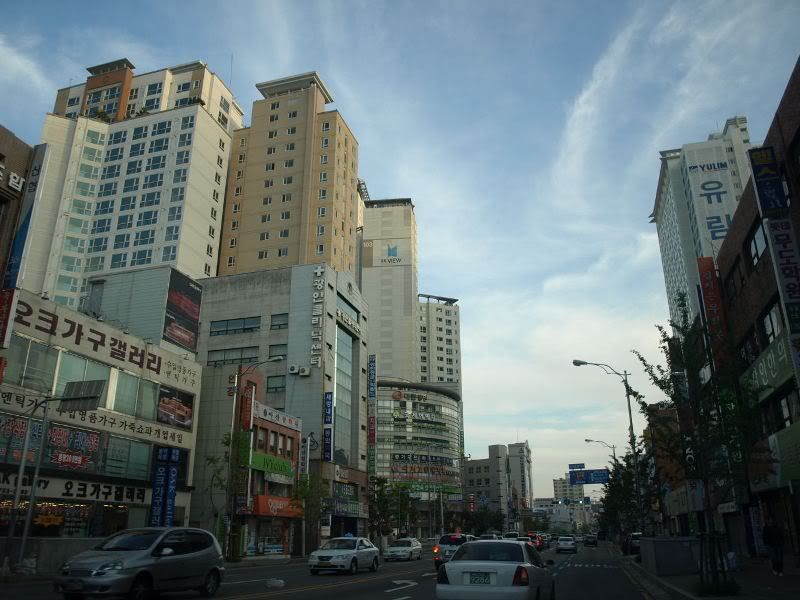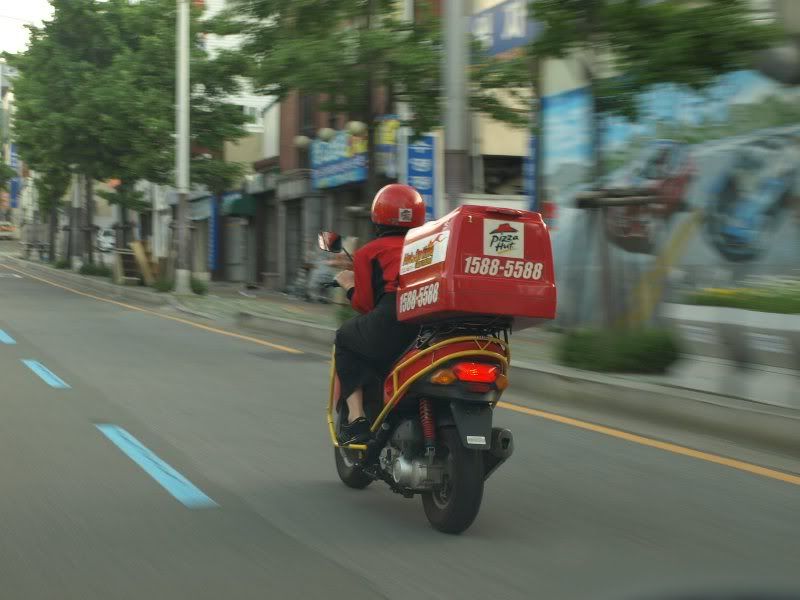 On top of one of the mountains, in Busan. Incredible views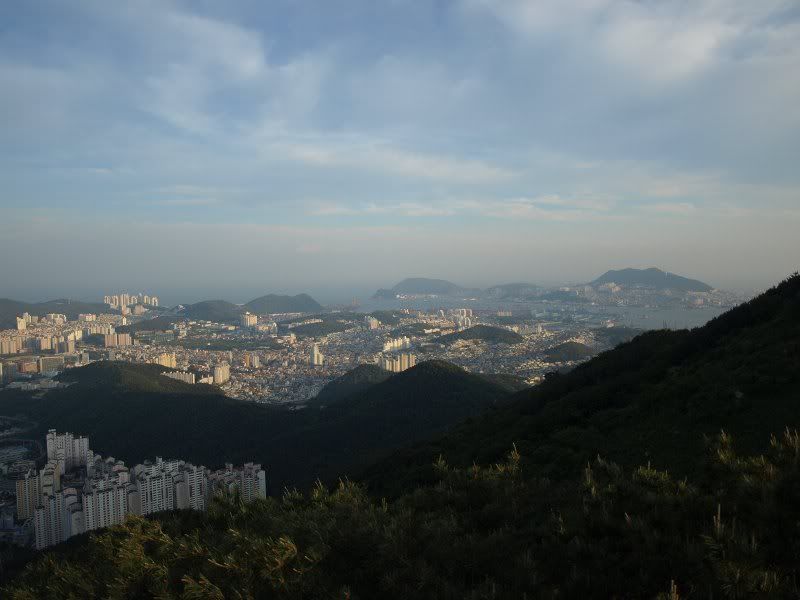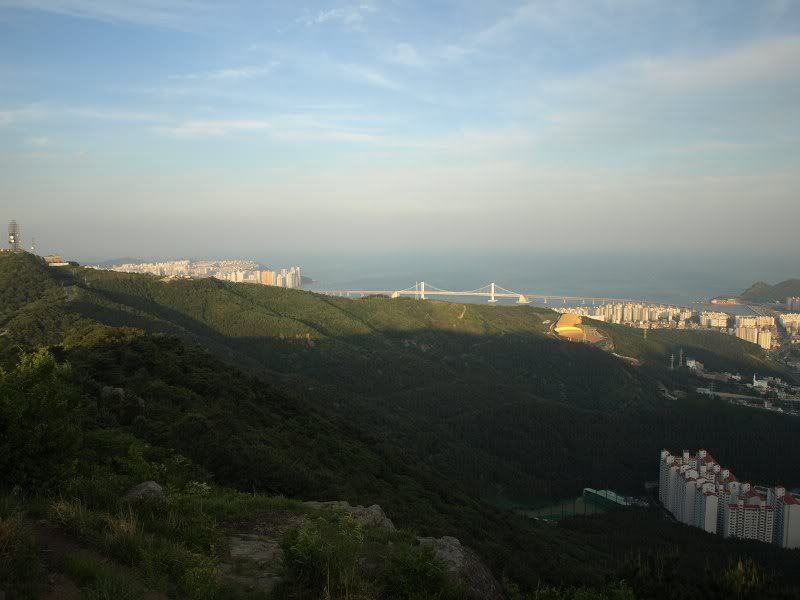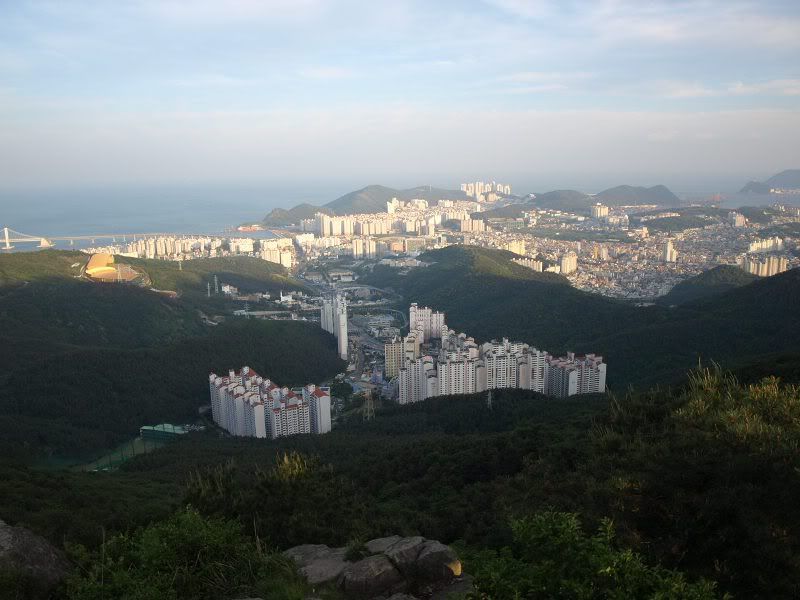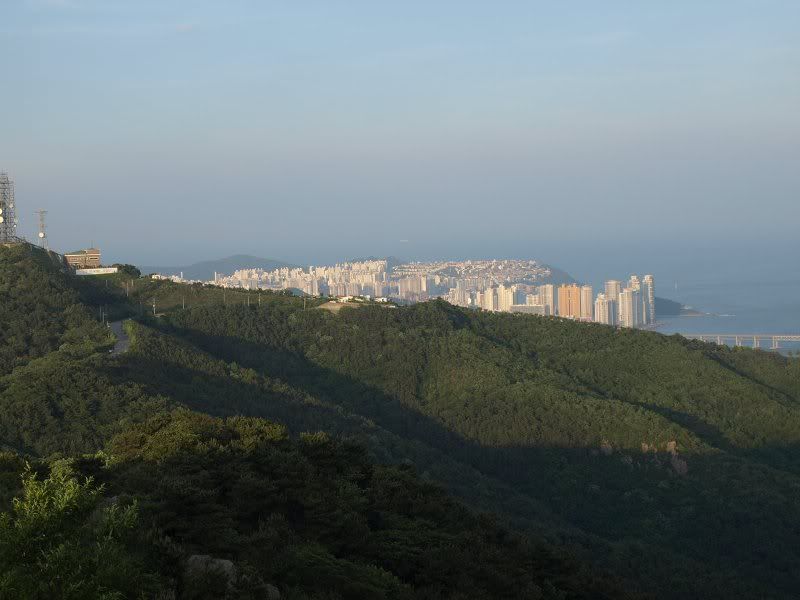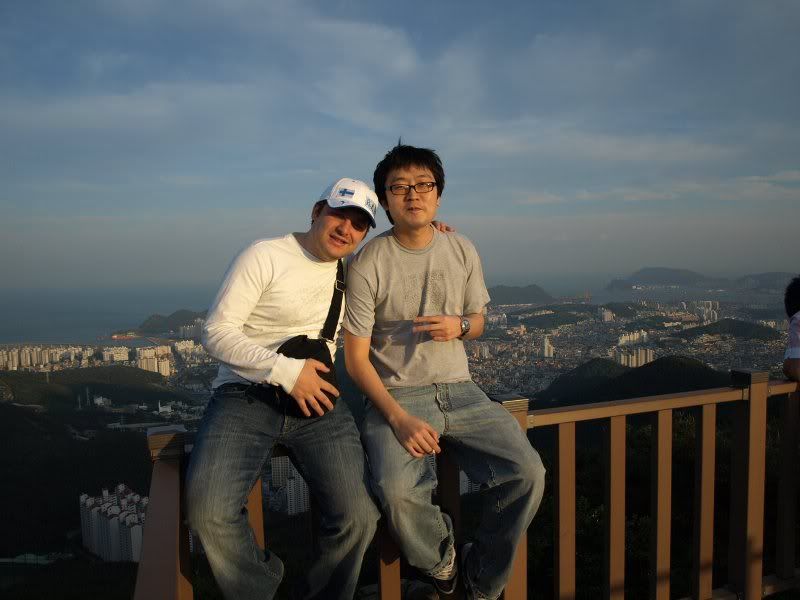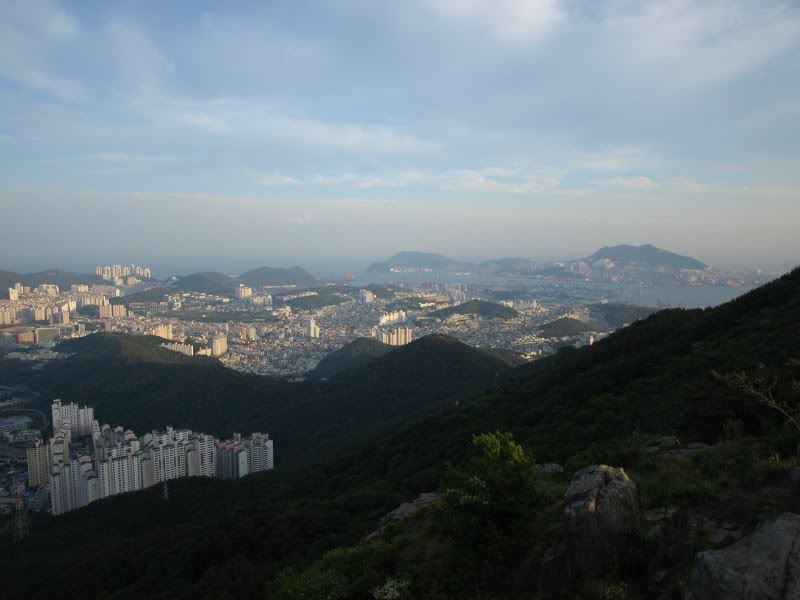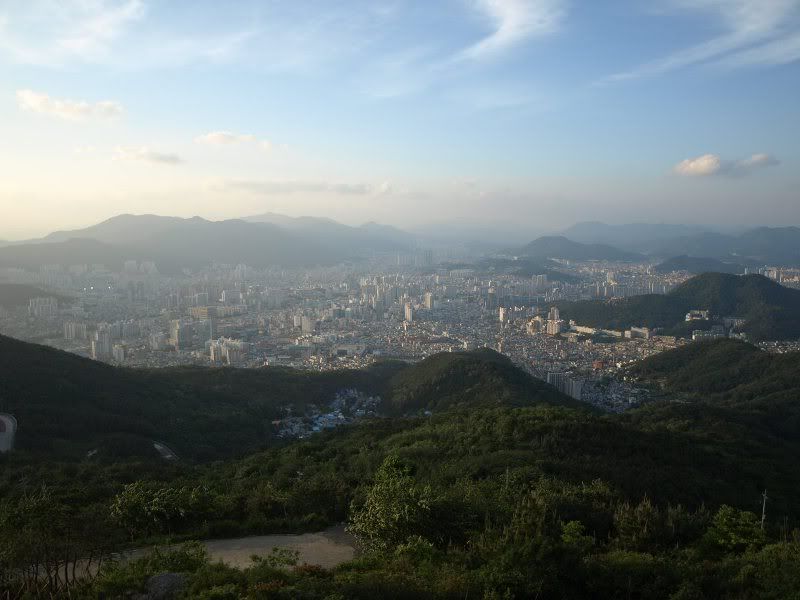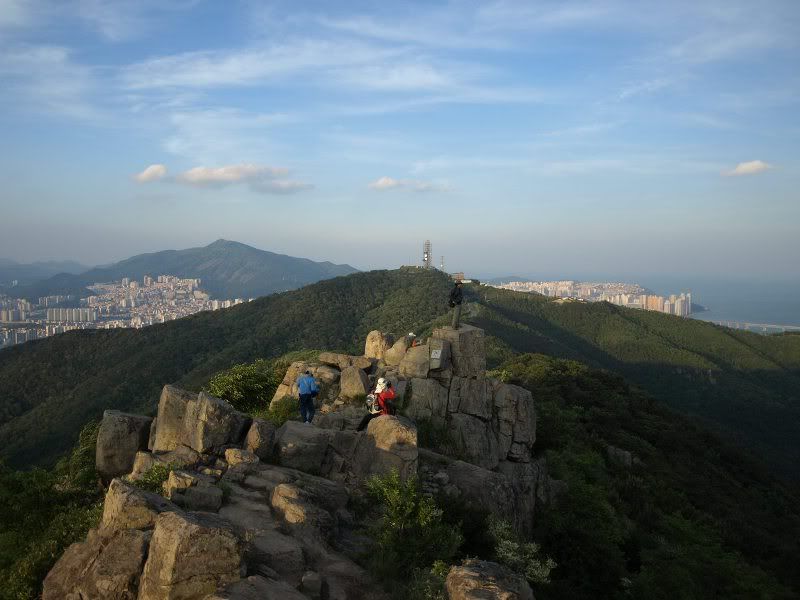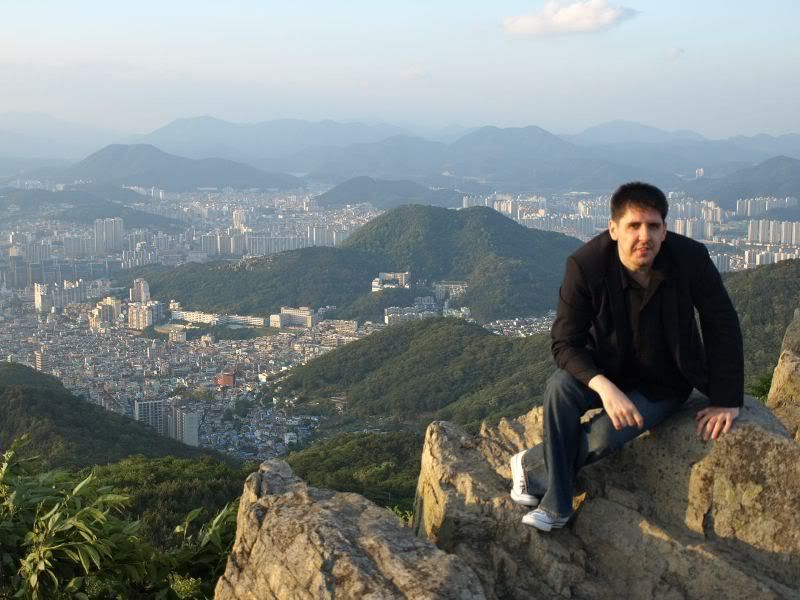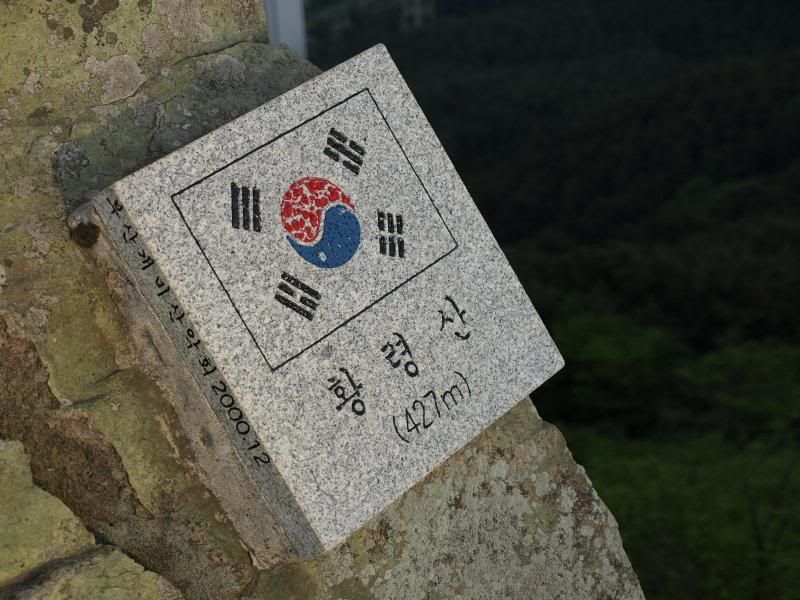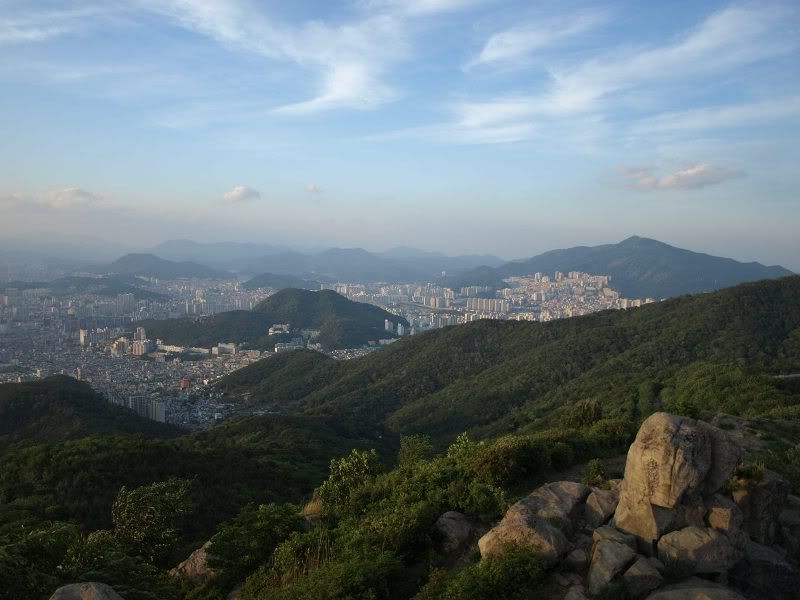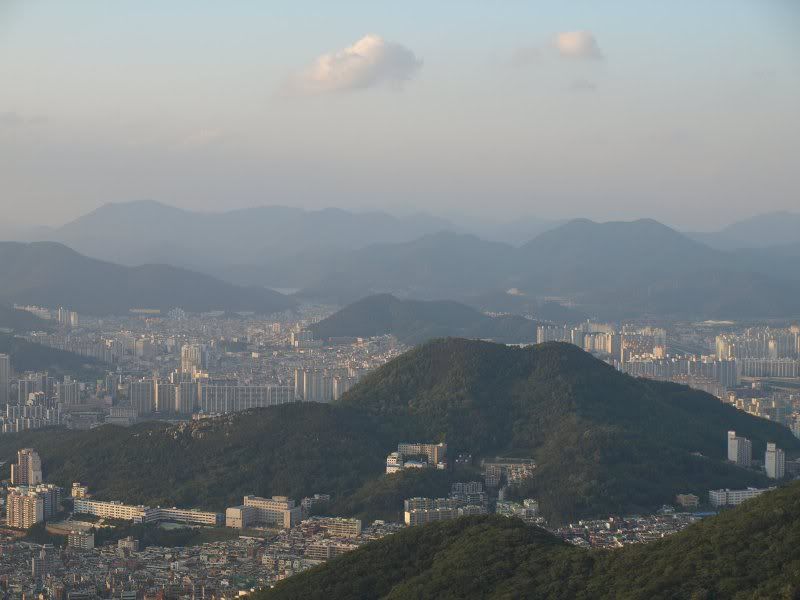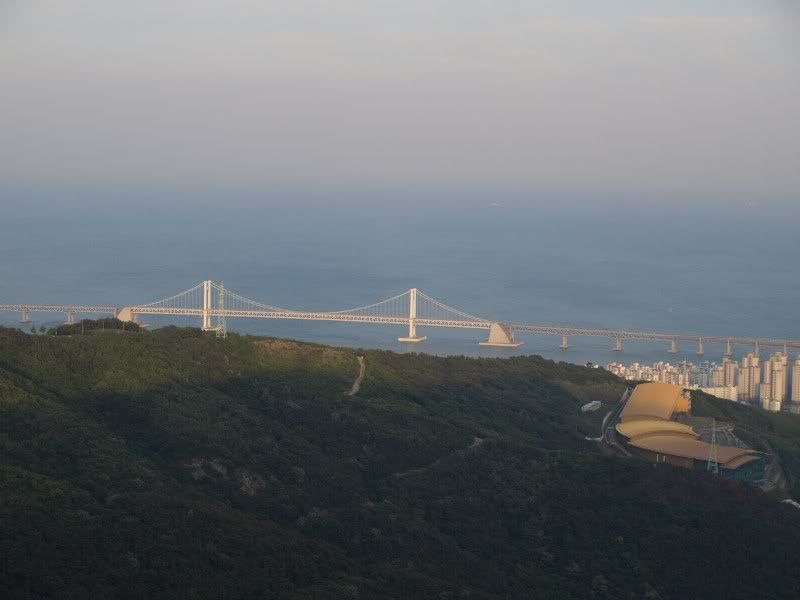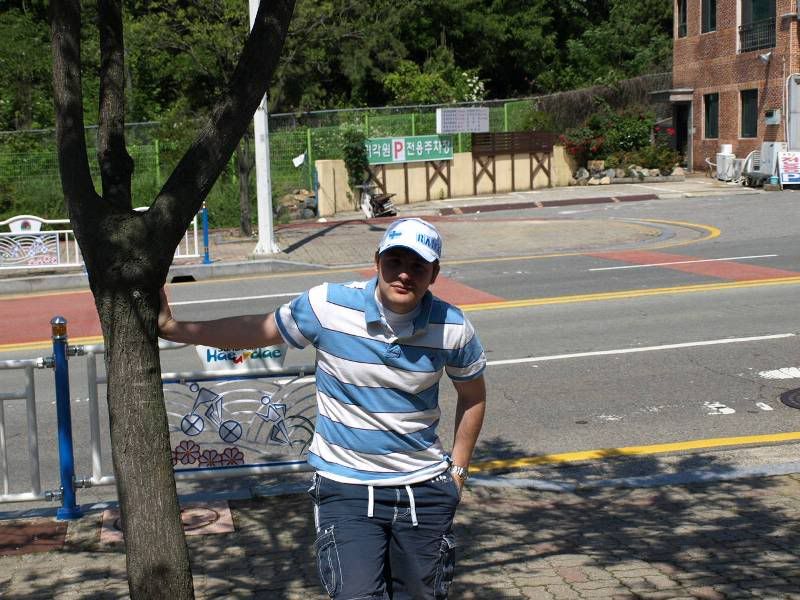 Busan Gimhae – Seoul Incheon

Departure: Busan-Gimhae, on May 19th 2009 @ 8:40am
Arrival: Seoul-Gimpo, May 19th 2009 @ 9:35am
Airline: Korean Air
Flight #: KE1104
Aircraft: Airbus A300B4-622R (Reg. HL7245)
Seat: 10A
View Large
View Medium


Photo © YK
On Tuesday and Wednesday I had some business to attend in Seoul, so I flew there on Korean Air. Originally I bought economy class tickets, but for only 25,000 Won (about 23 dollars), I was able to upgrade to business. I said, why not? I have never been on an A300 before, so I might as well. I woke up that morning and took at taxi to Paradise Hotel, then boarded the "Airport Limousine" bus, for the ride to Busan-Gimhae Airport. The ride was nice and I was able to take some photos of the city. Once at the airport, I checked in for my flight, paid for the upgrade and went to the Korean Air Lounge, which I must say, is not that impressive. I guess they don't put a lot of effort into them, especially for domestic flights. Then again, for 25 dollars "extra" who cares, right? I had a few beverages, a snack, then proceeded to our boarding gate. Since Gimhae Airport, is also a military base, photography is not allowed inside the terminal. Once in the airplane, I was able to take a few shots, but I tried to keep it "away" from military areas. While I waited for the flight, I chatted with a British Captain that was on contract with Korean Air, flying the Boeing 737NG. He was also new to Korea, so I just talked to him about life there and what it's like to work for them. He seemed happy so far, but missed his family back home in UK.
In front of Paradise Hotel: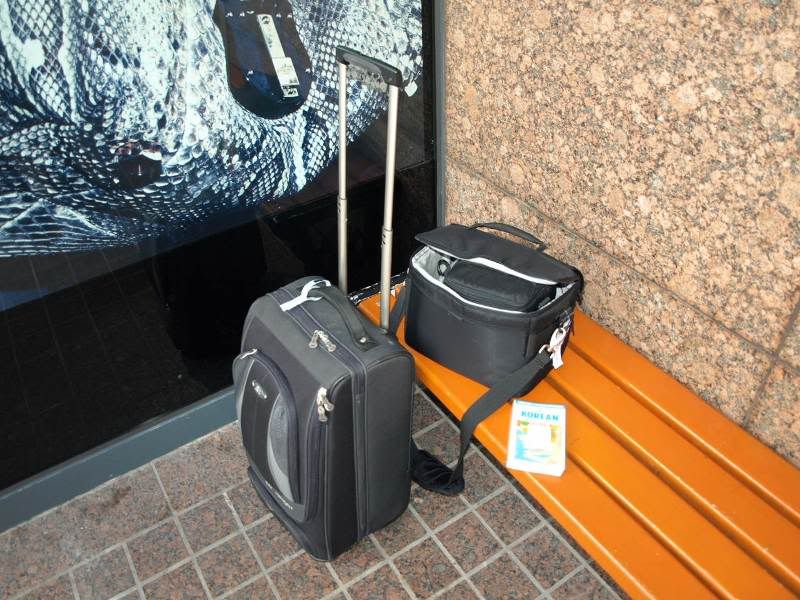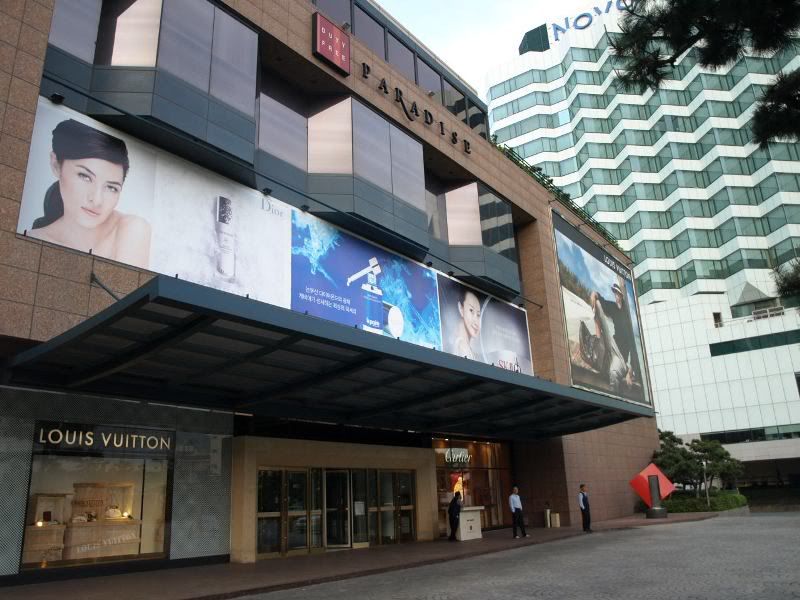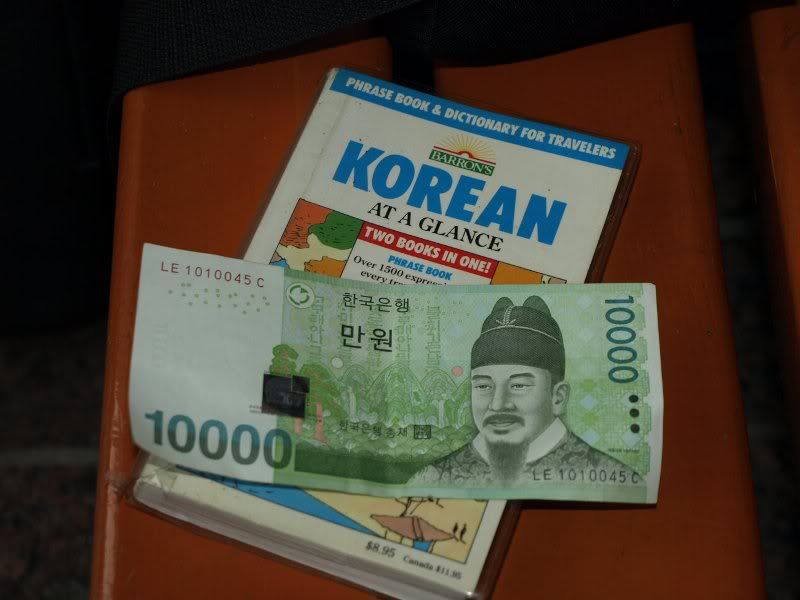 Inside the bus. I was a little tired from not having enough sleep the night before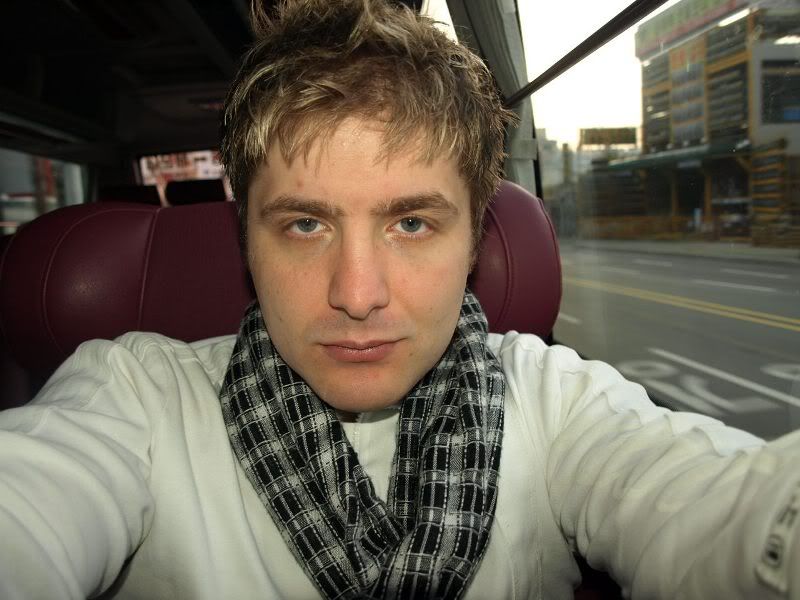 Busan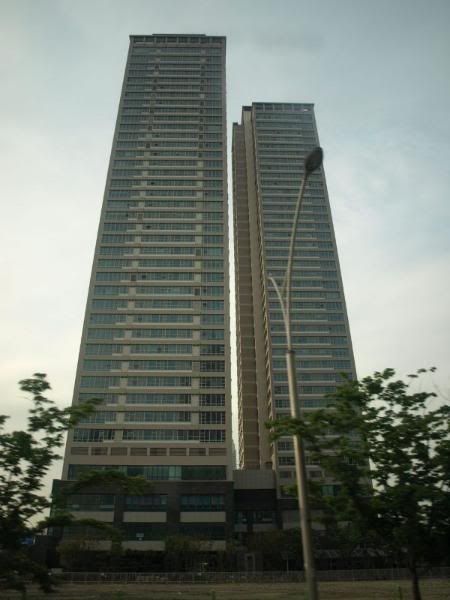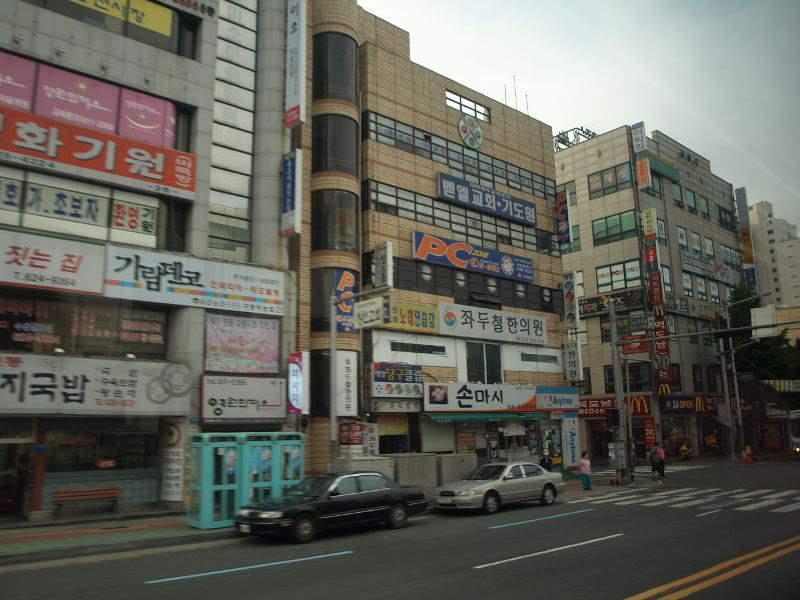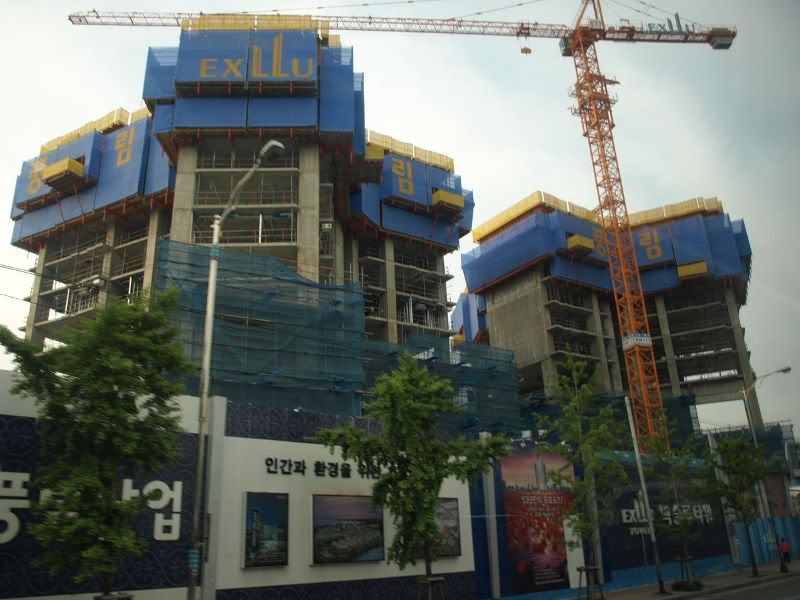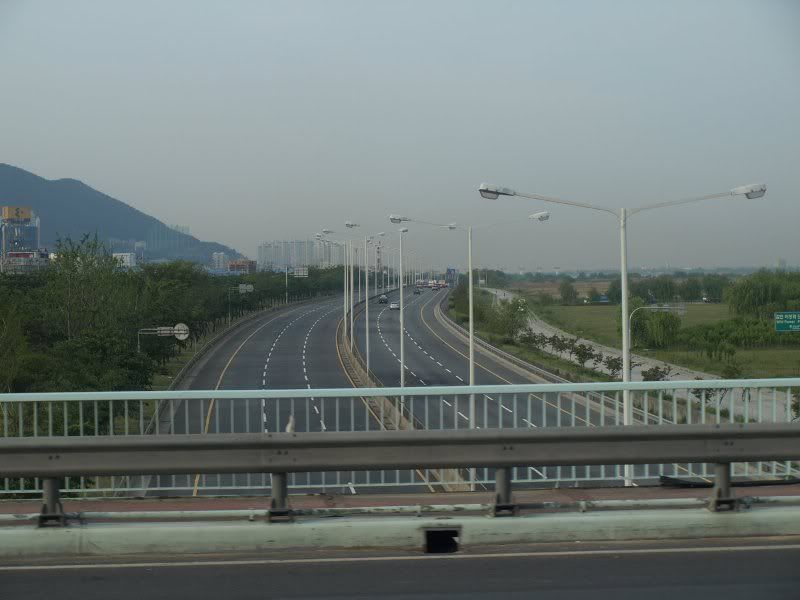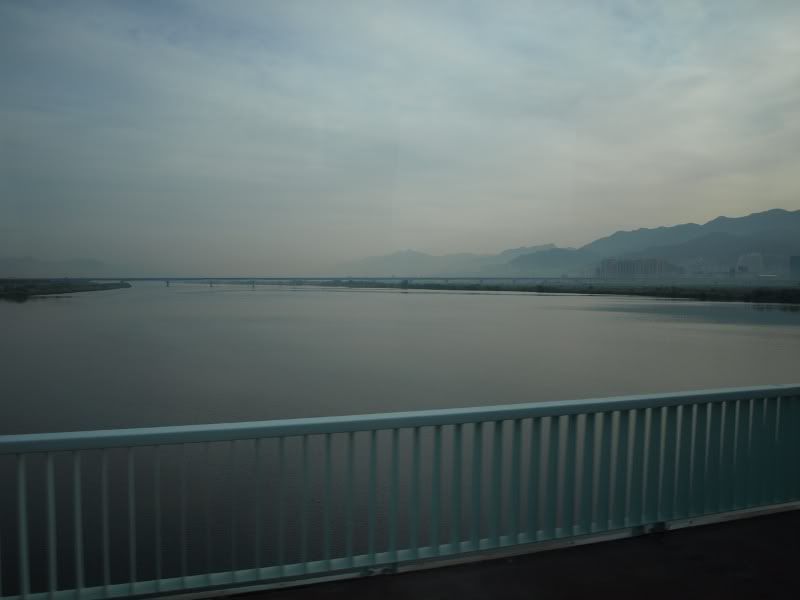 Approaching the airport:
Is this the control tower?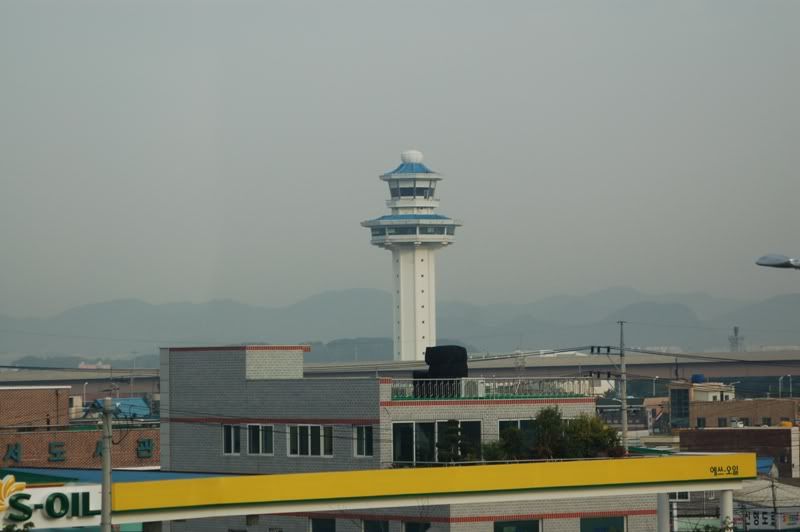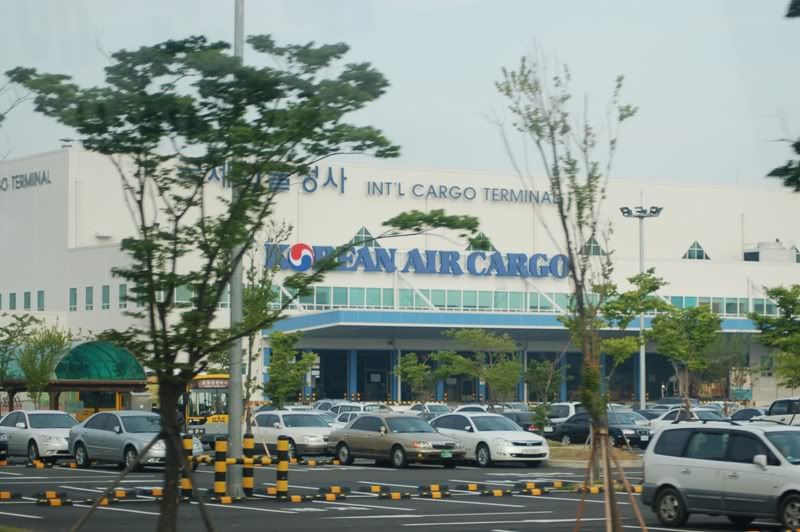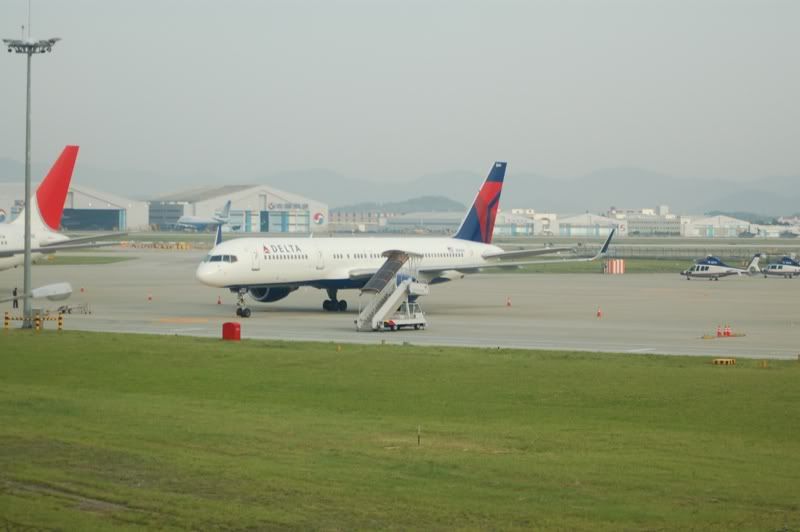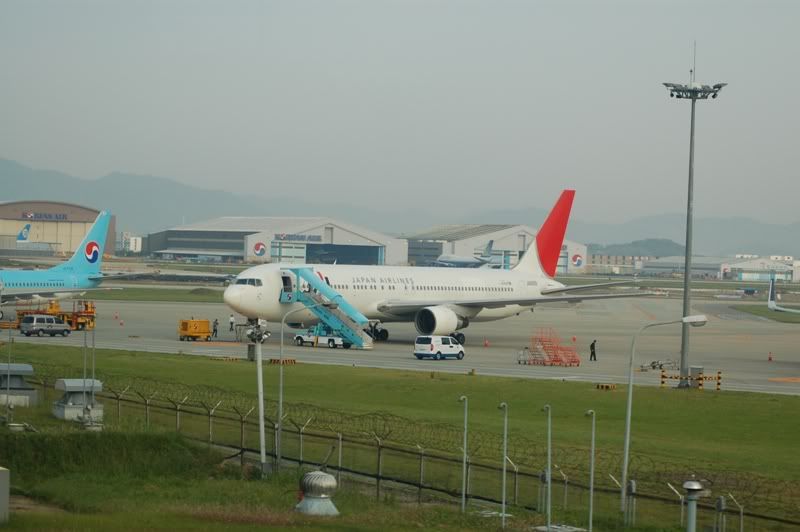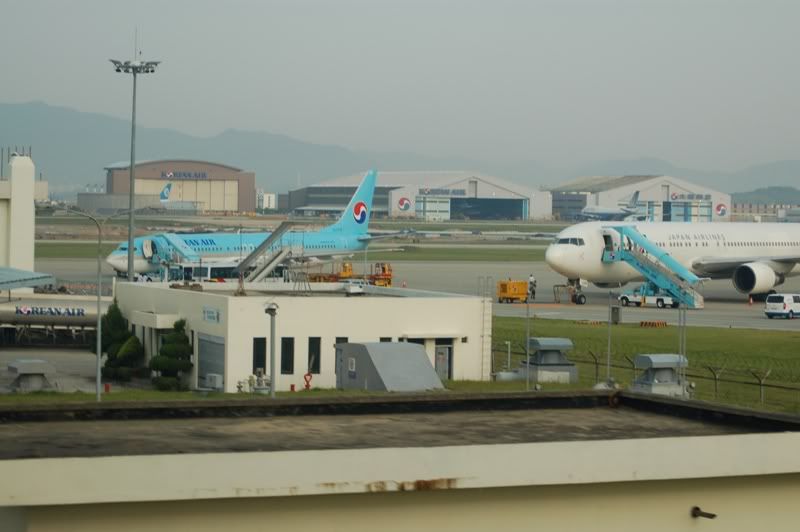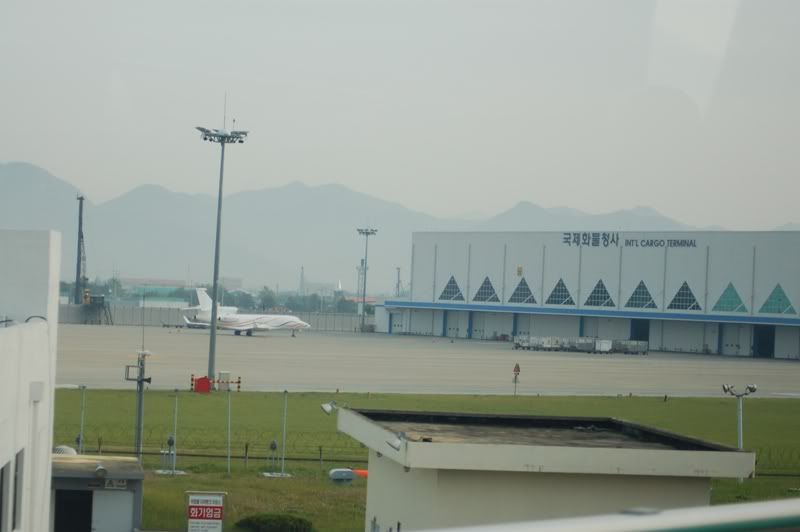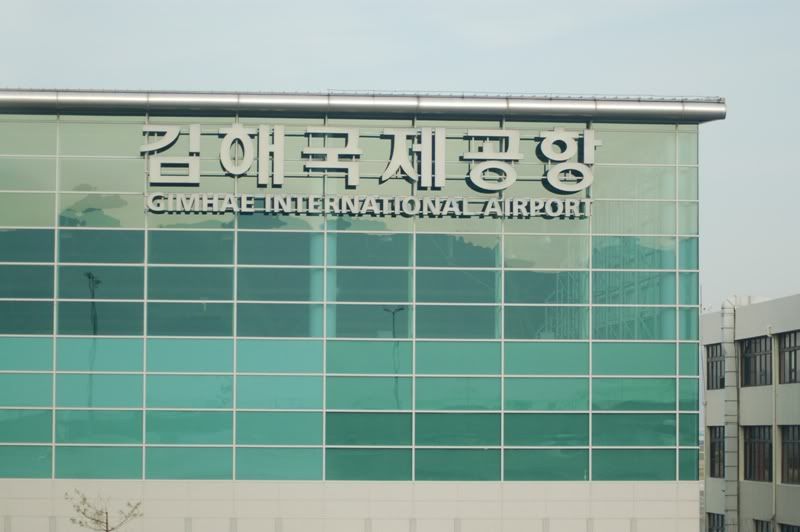 The airport bus: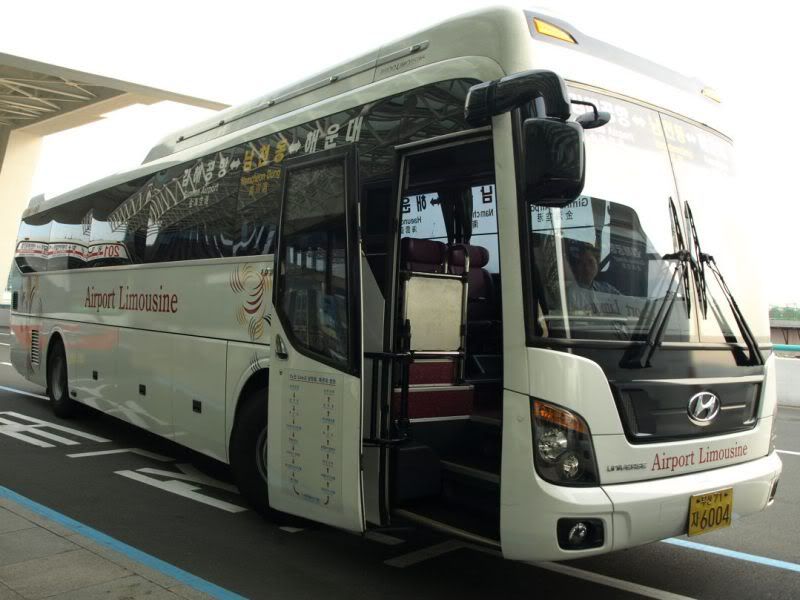 Busan Airport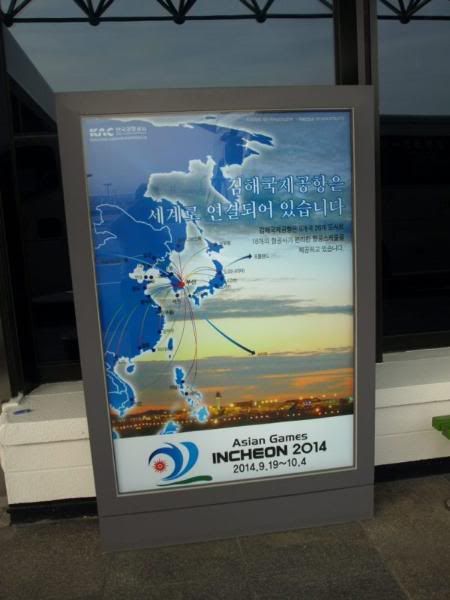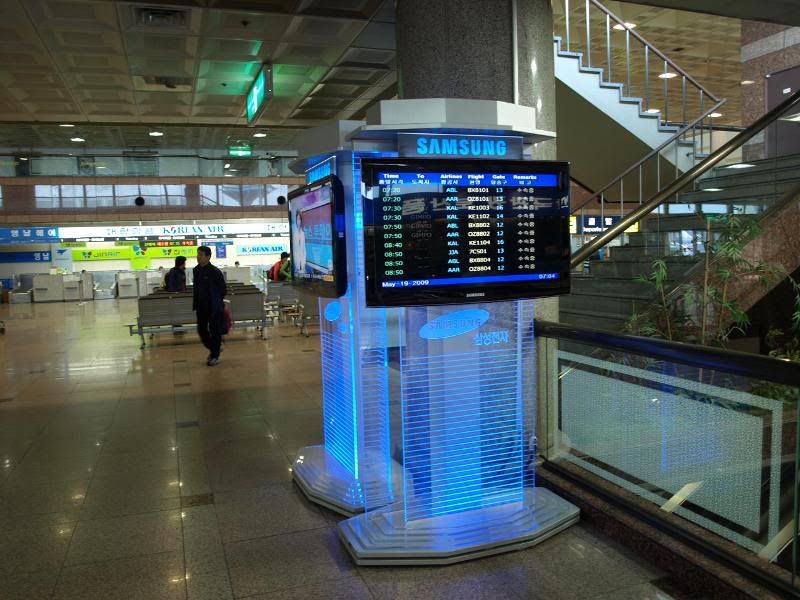 Korean Air Lounge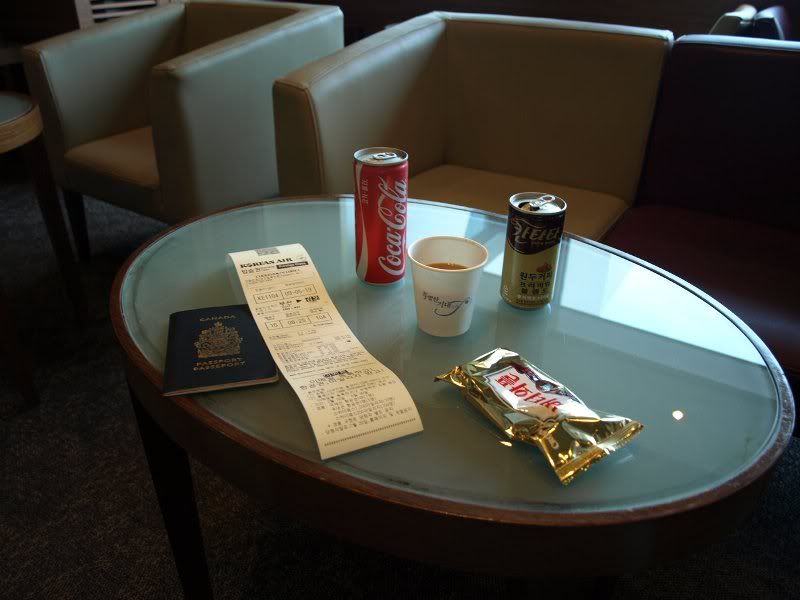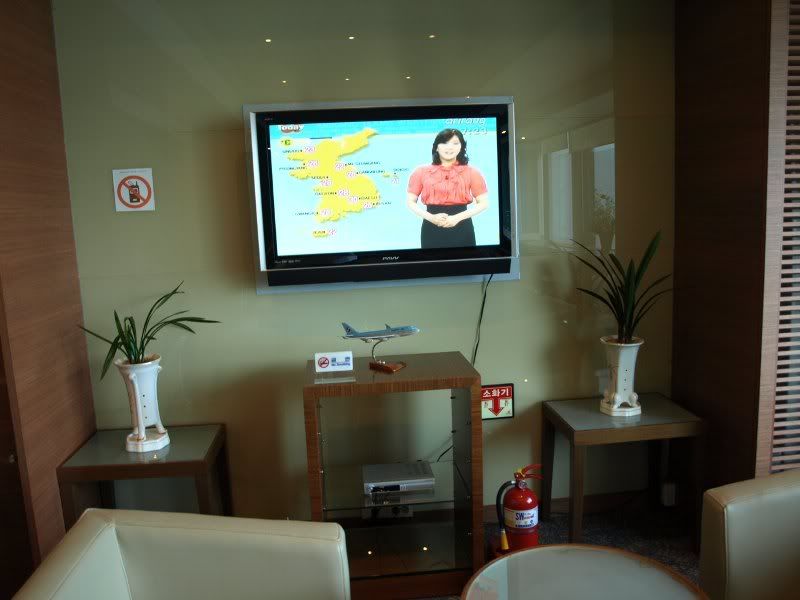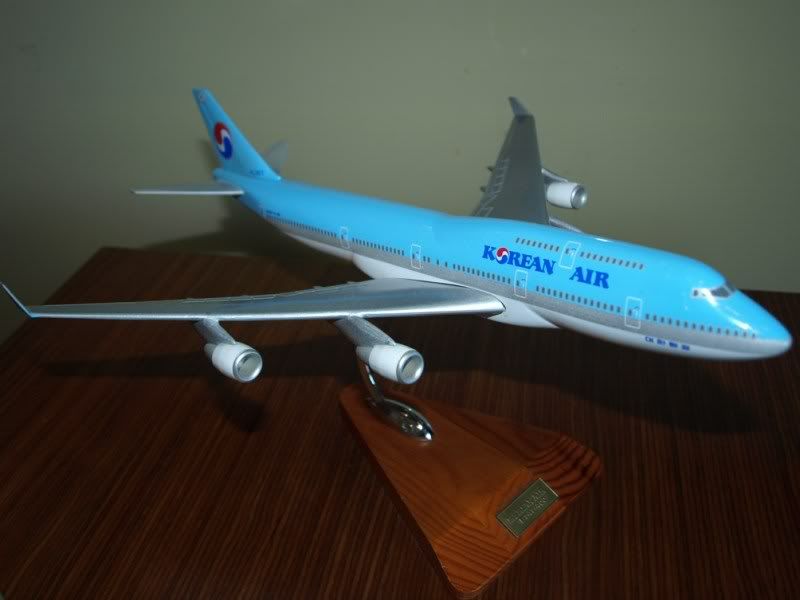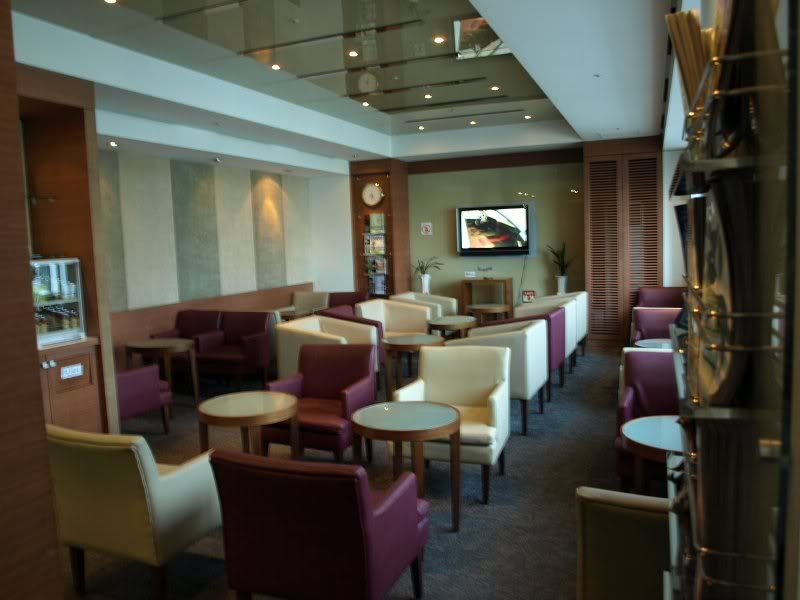 After boarding the A300, we had a Jeju Air Boeing 737 beside us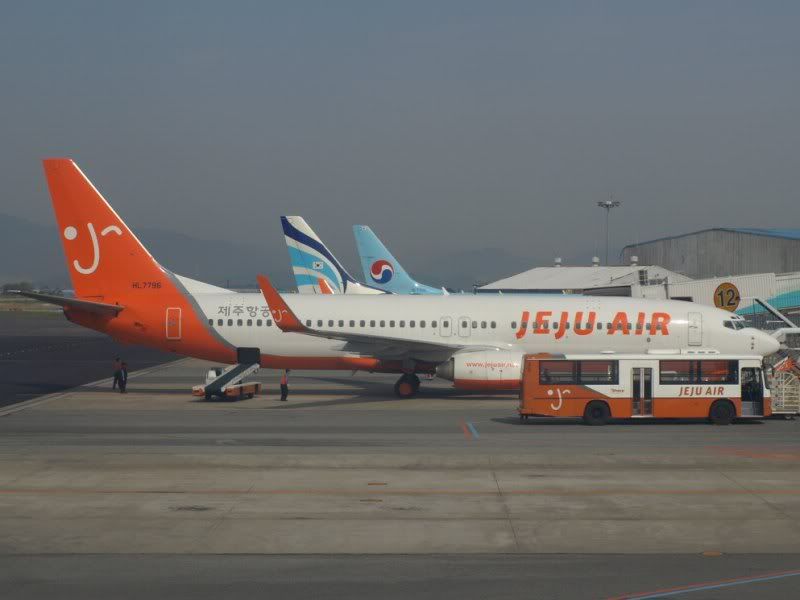 Terminal Building at Gimhae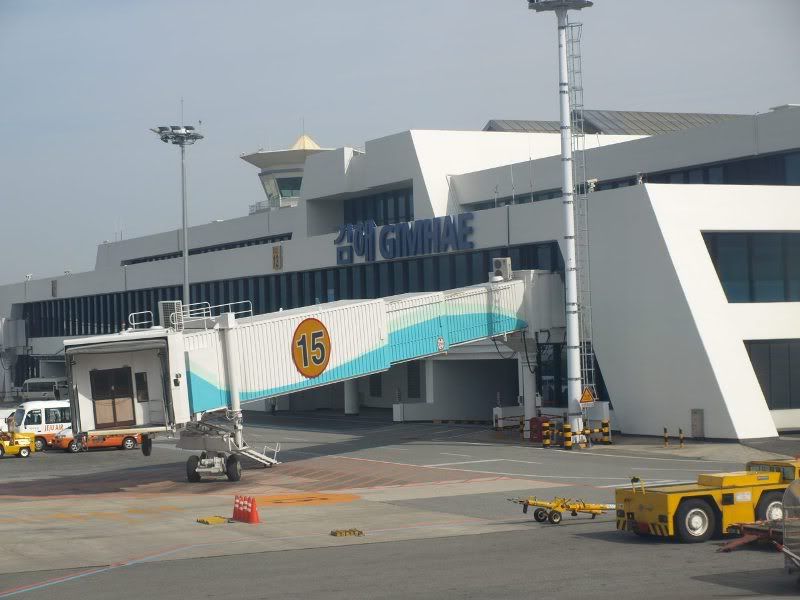 Take-off from Busan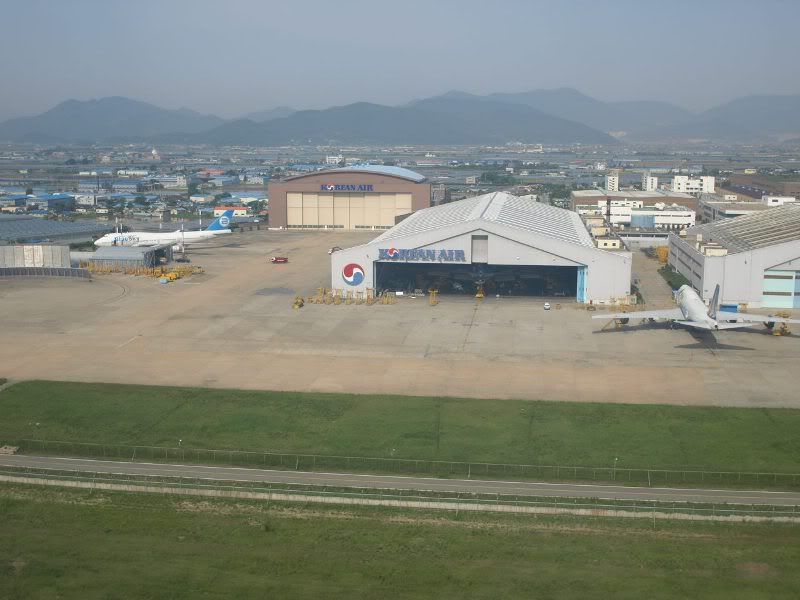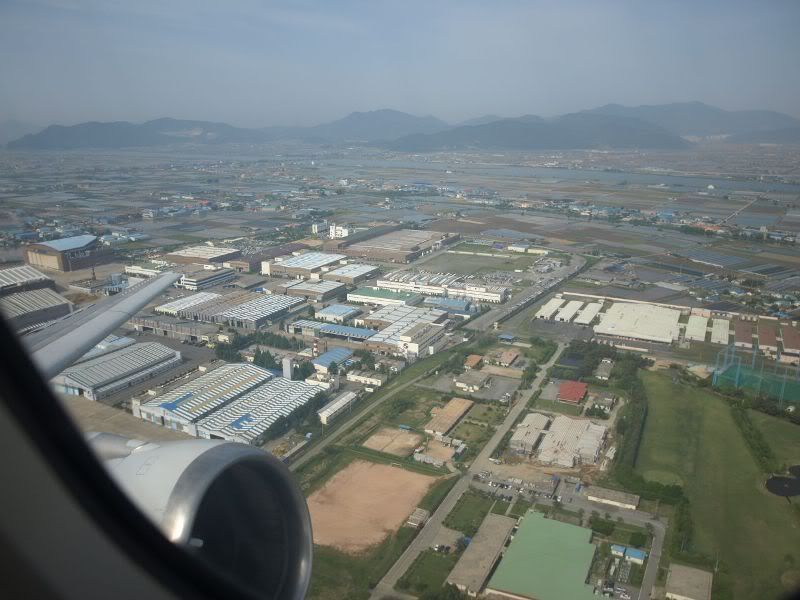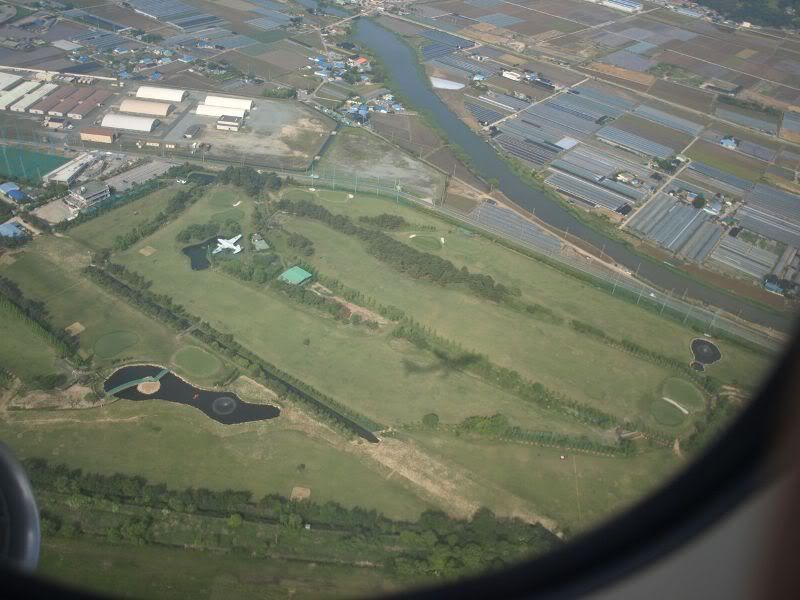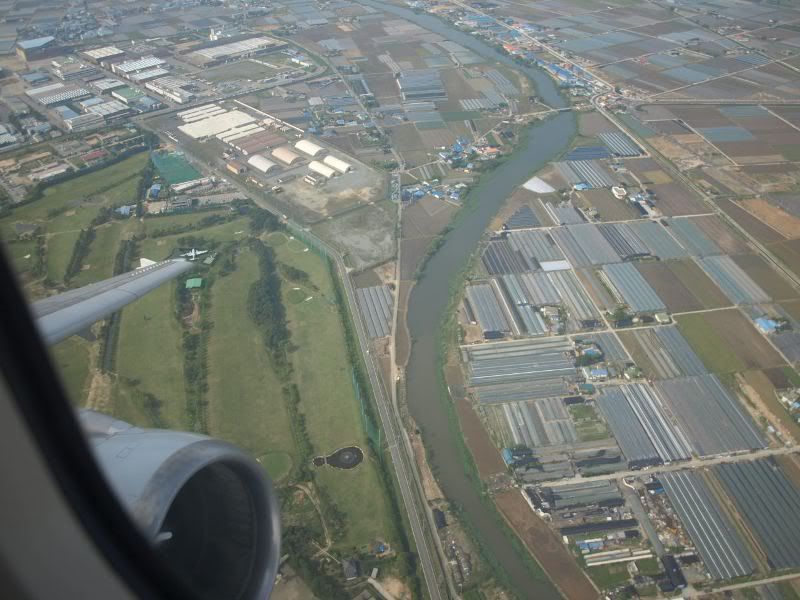 Beautiful scenery as we climb out of Gimhae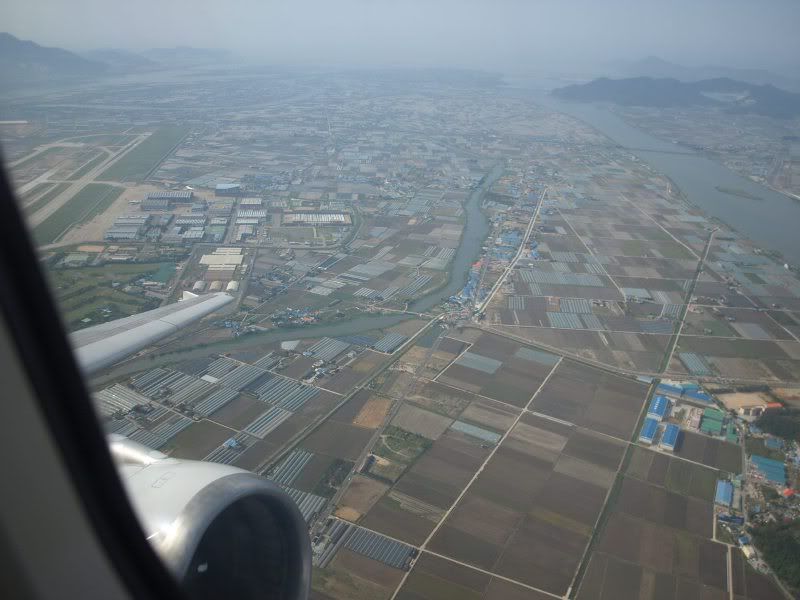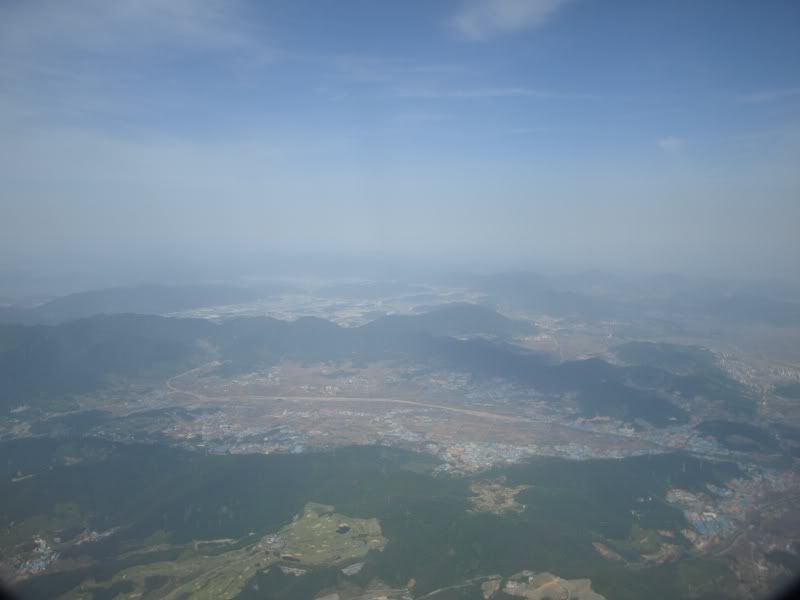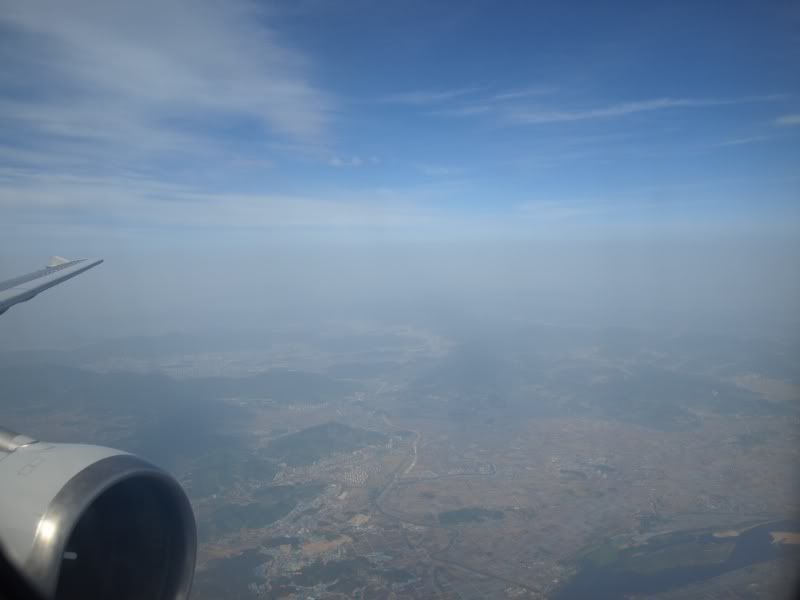 I didn't have anyone beside me, so I just sat back, took photos and relaxed for the short ride to Seoul Gimpo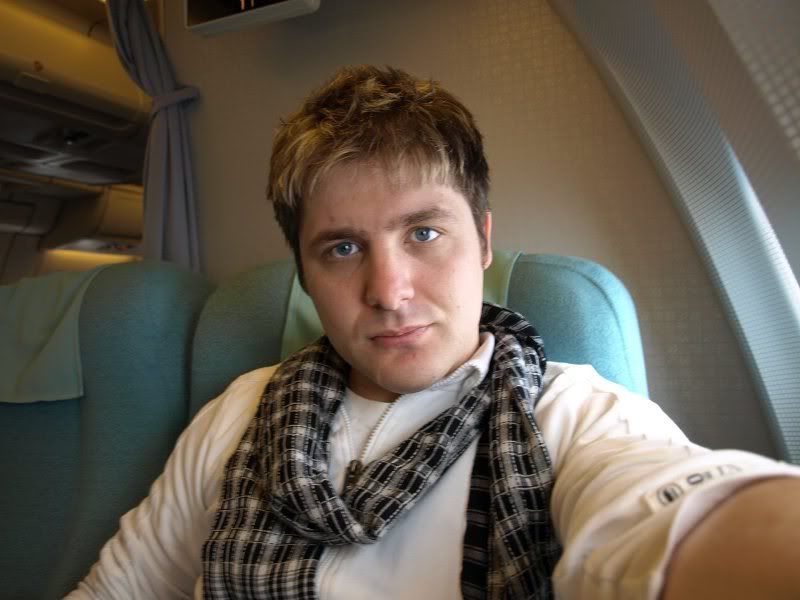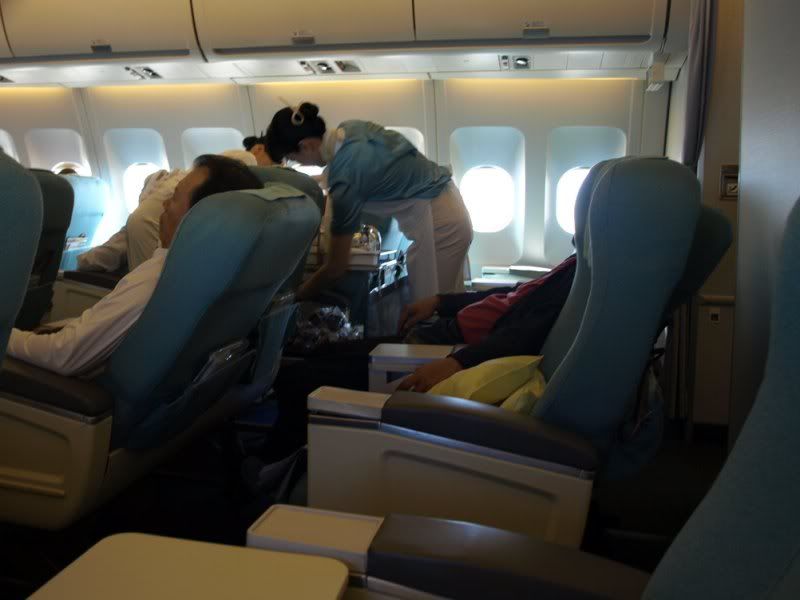 Not much of a "meal", but then again, the flight was about an hour long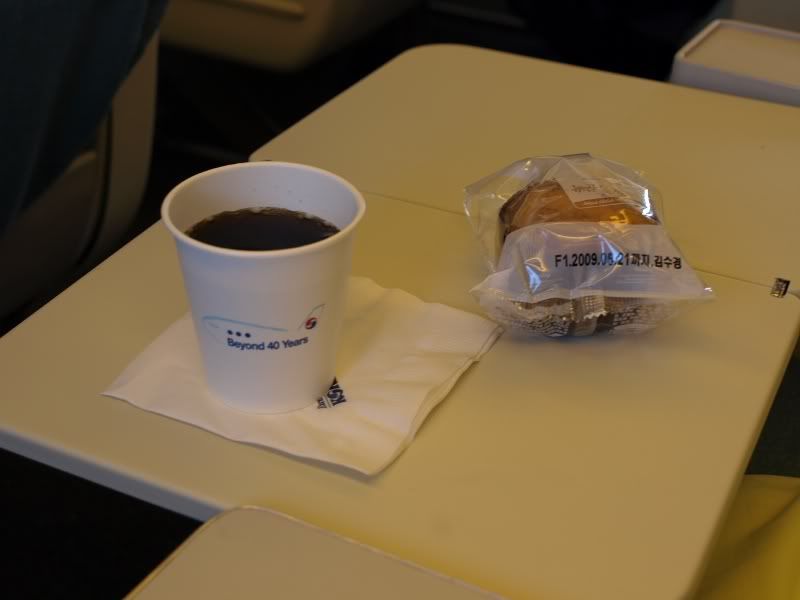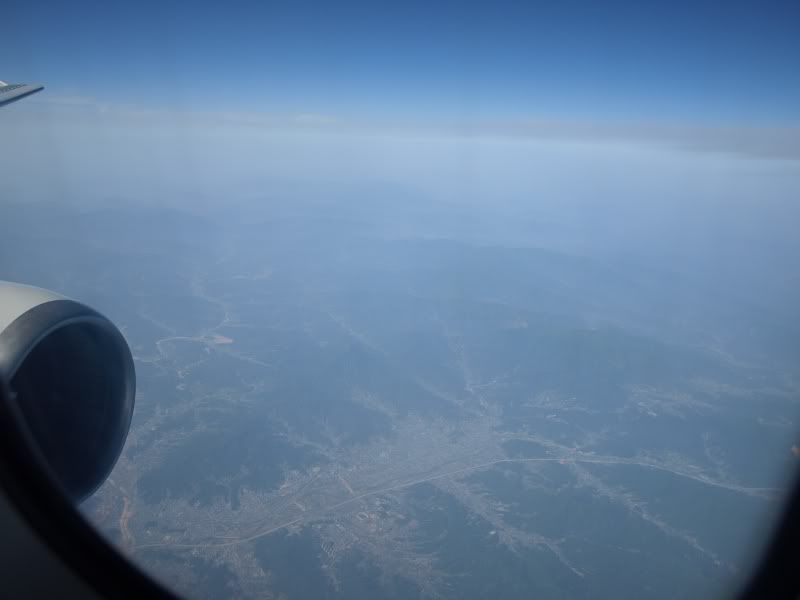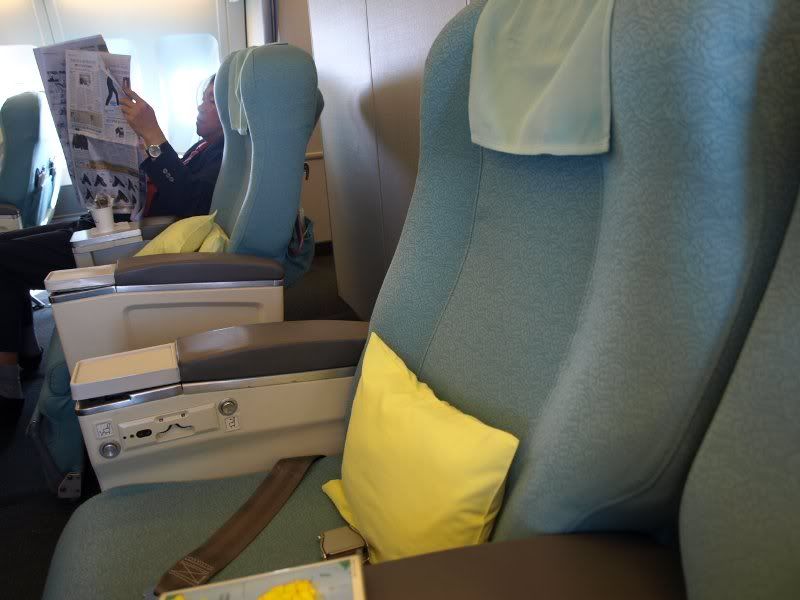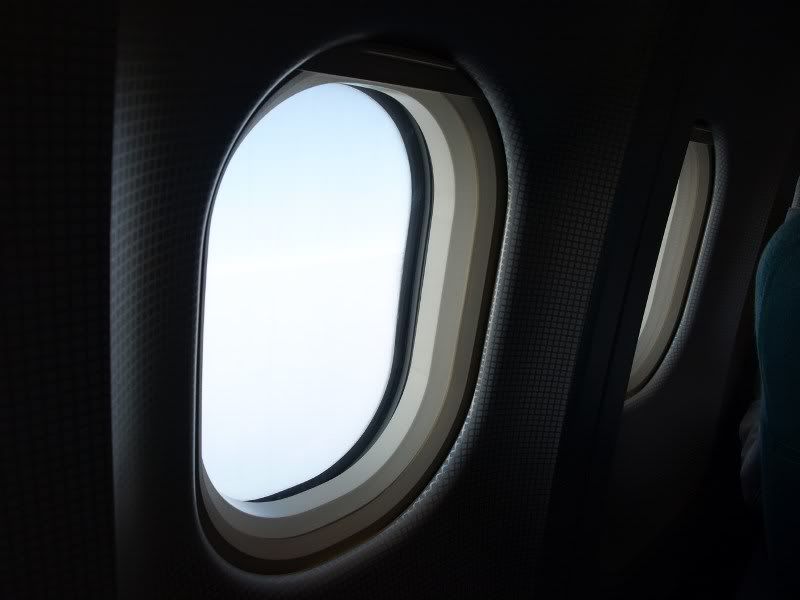 Descending into Seoul-Gimpo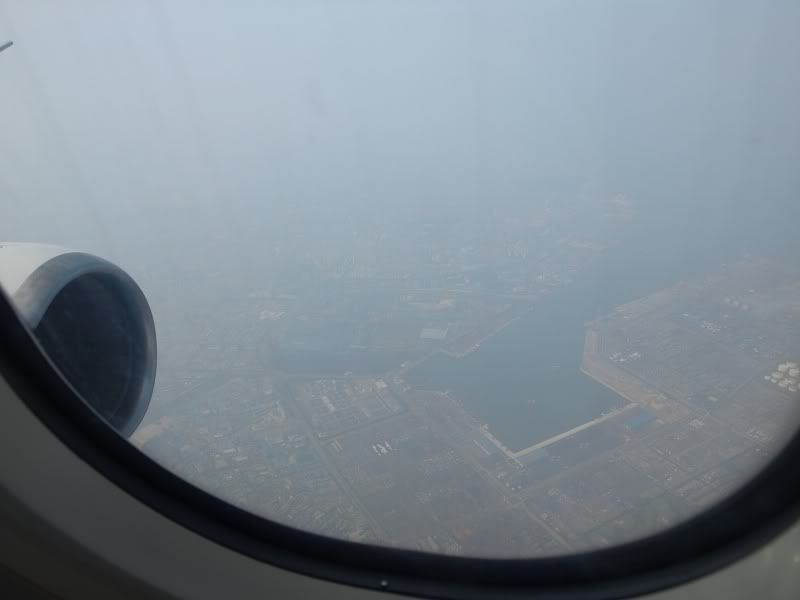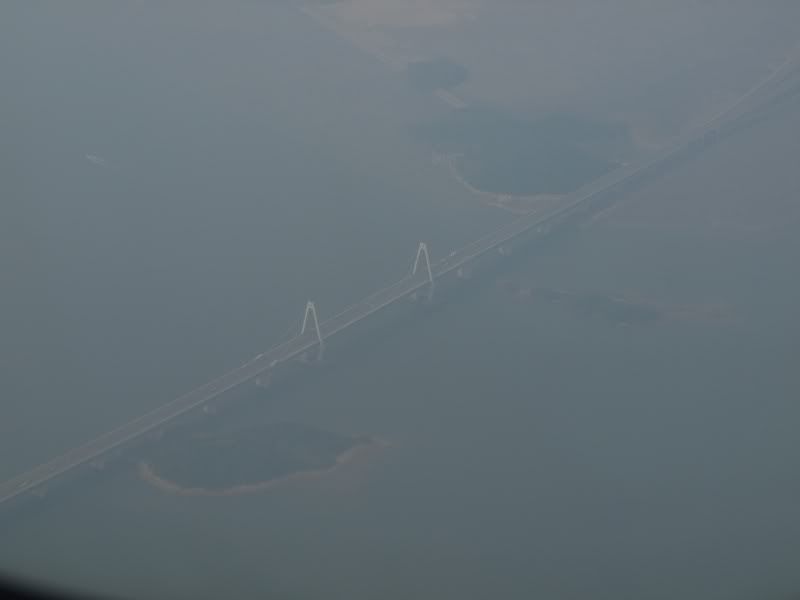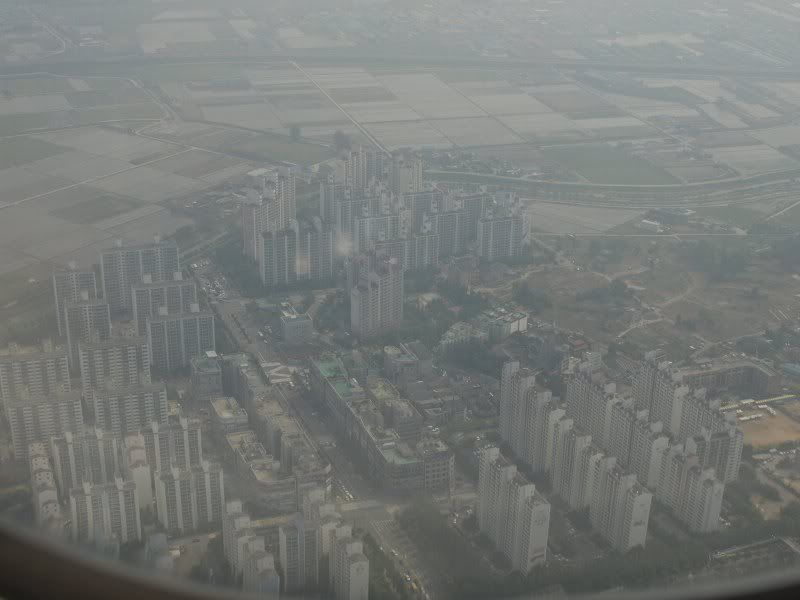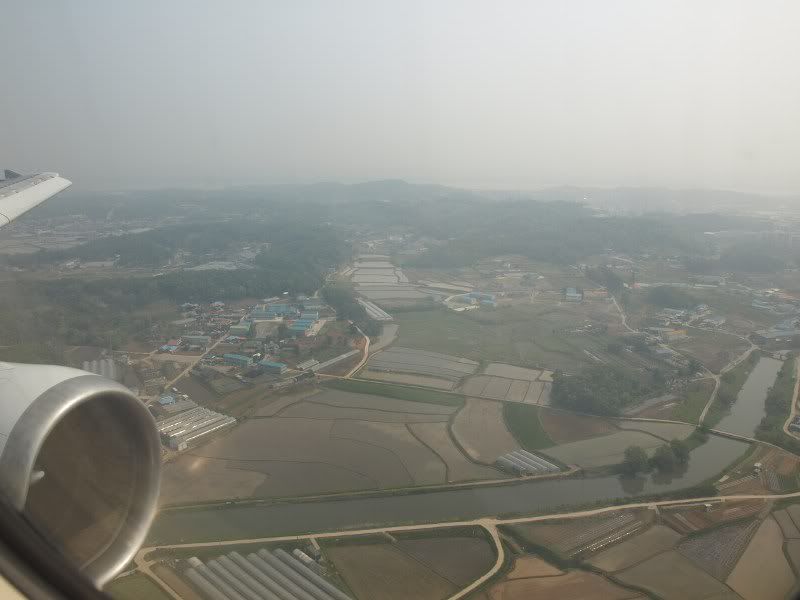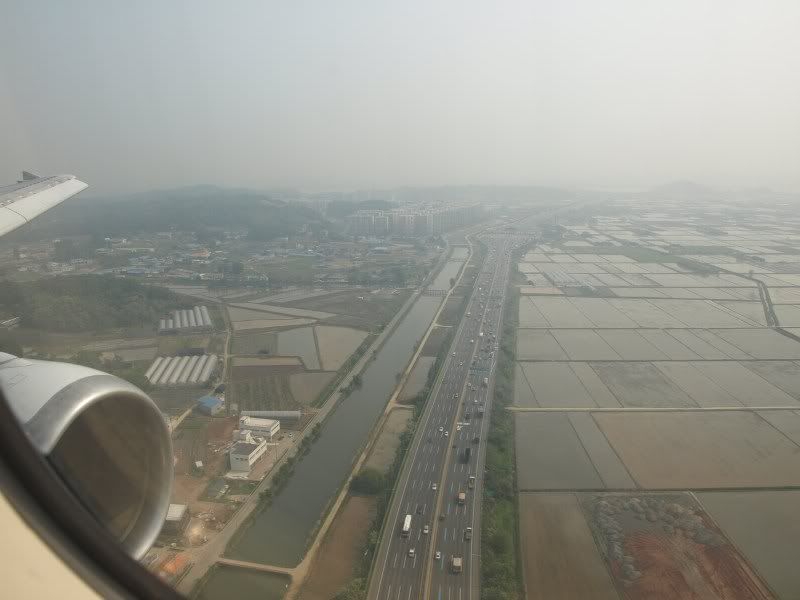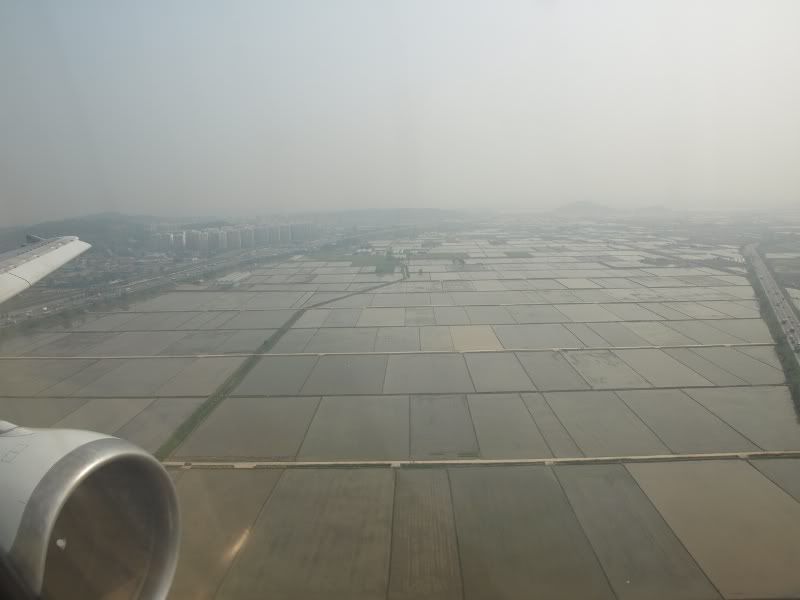 A Korean Air Boeing 747-400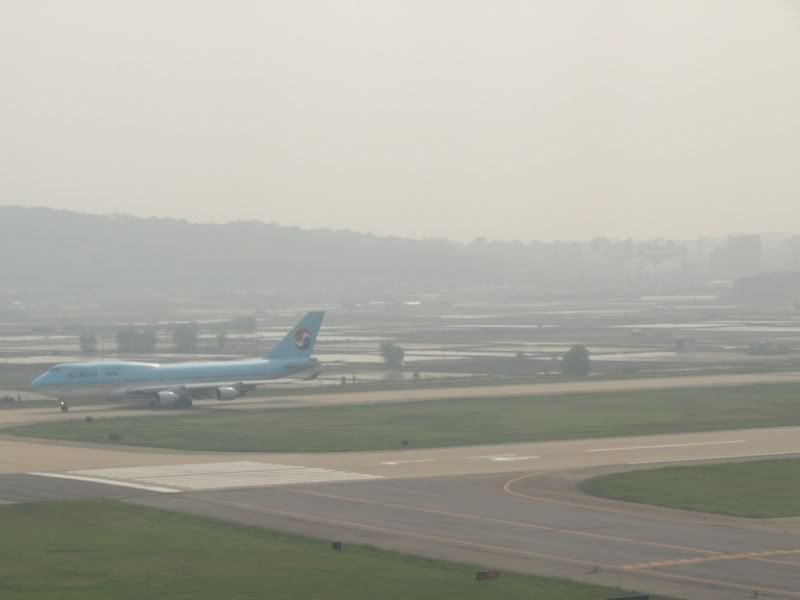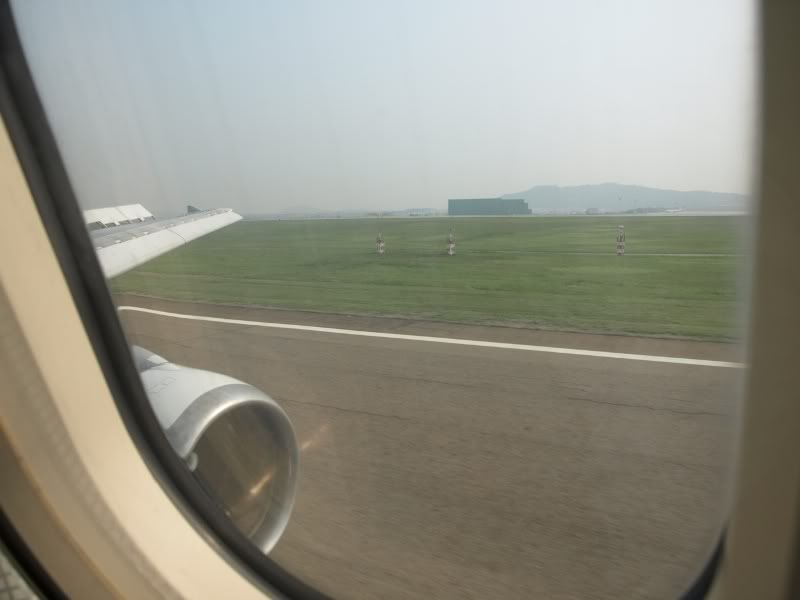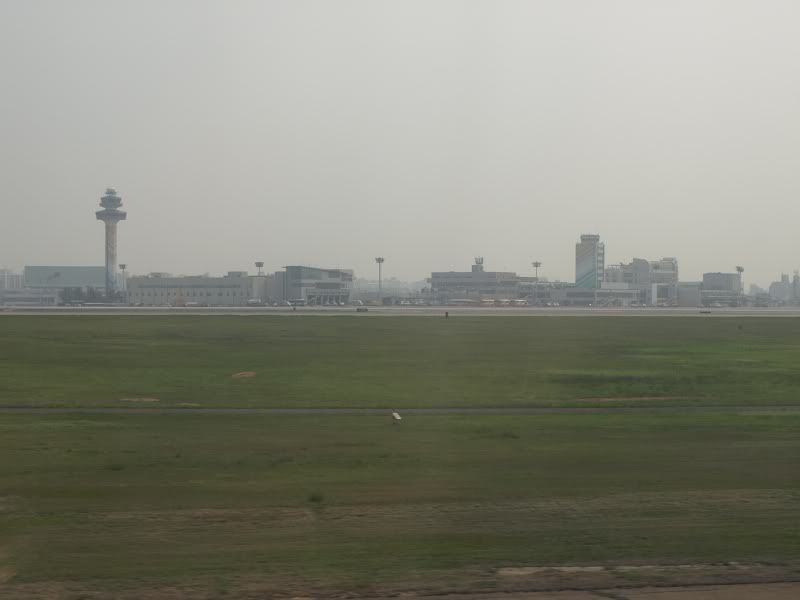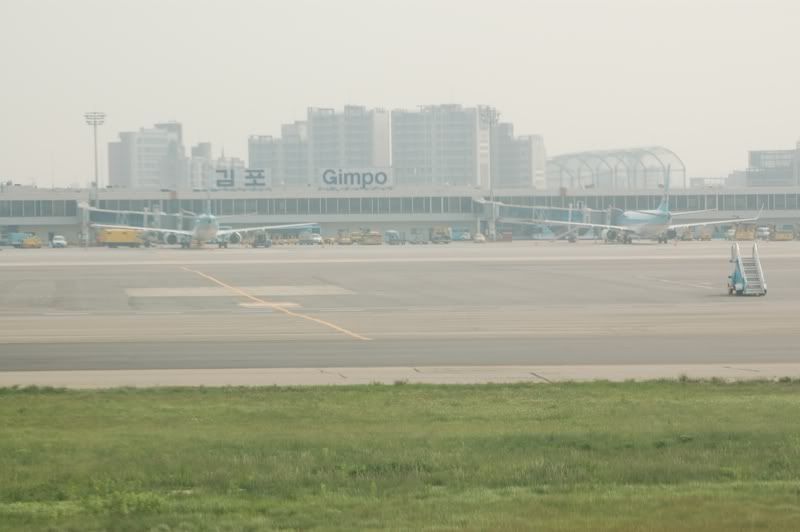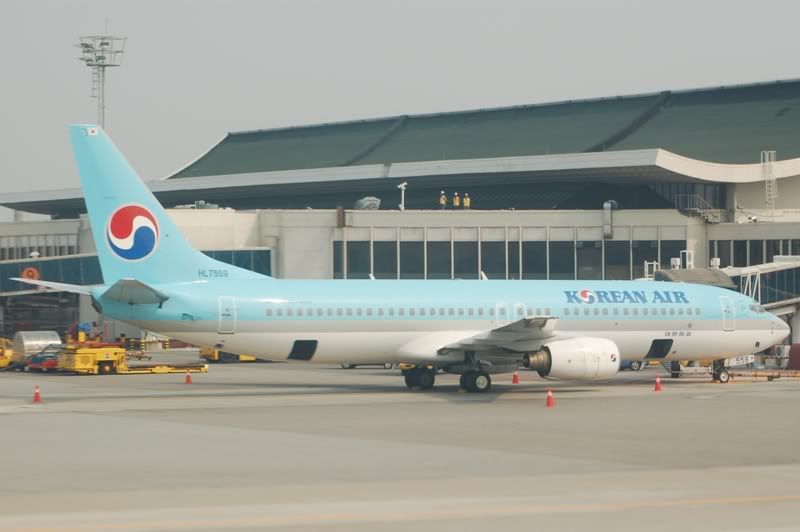 After we pulled up at the gate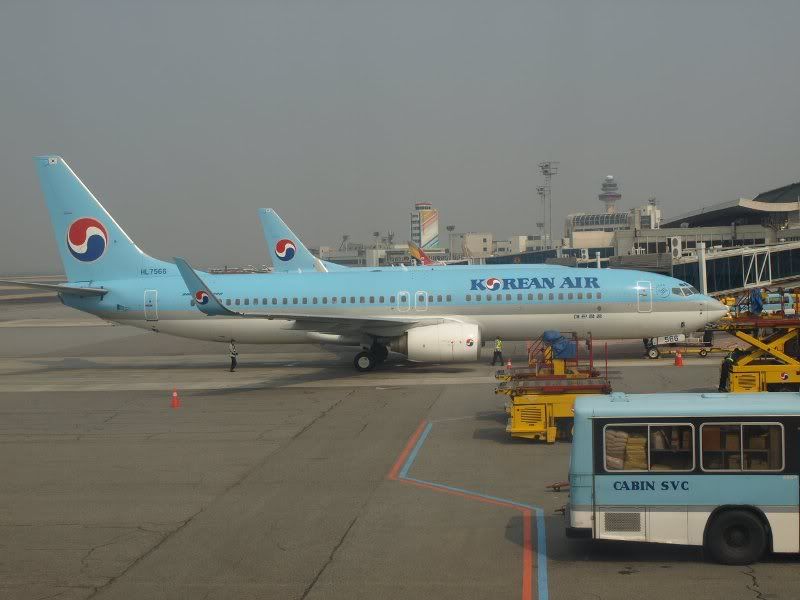 The nose of the A300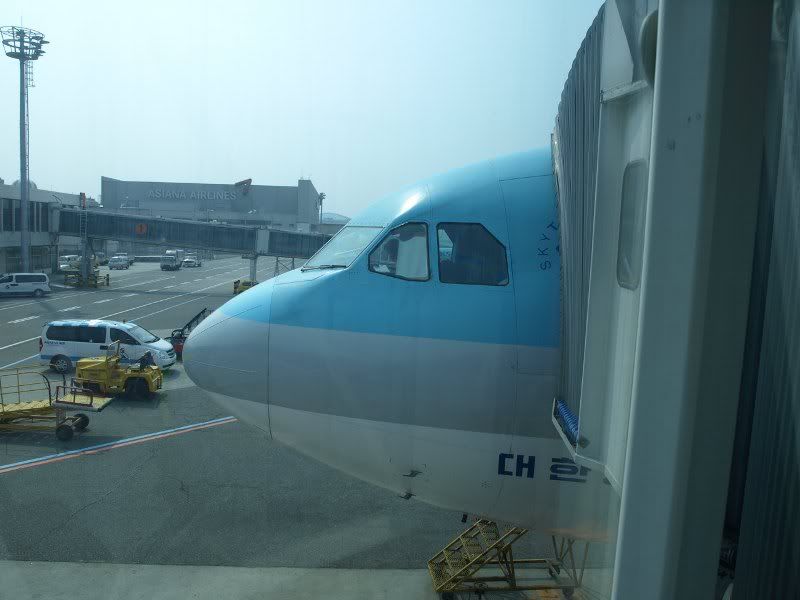 After getting out of the aircraft, I took a few photos of this great aircraft and of course, a few other birds that were around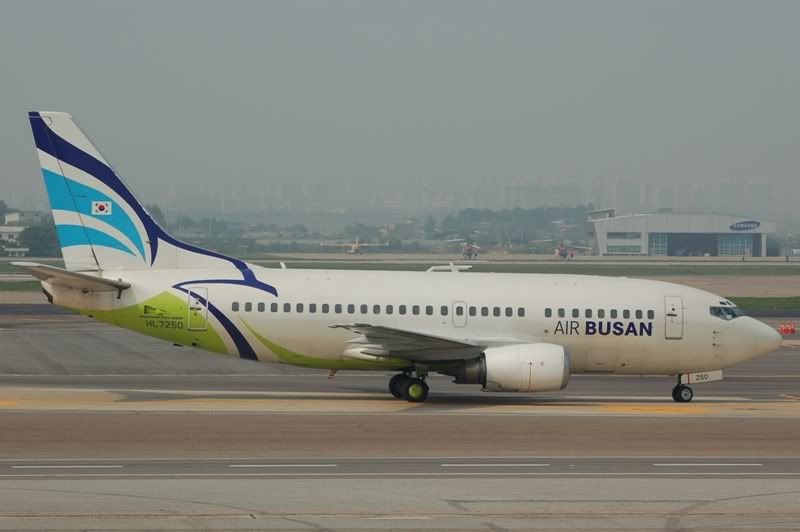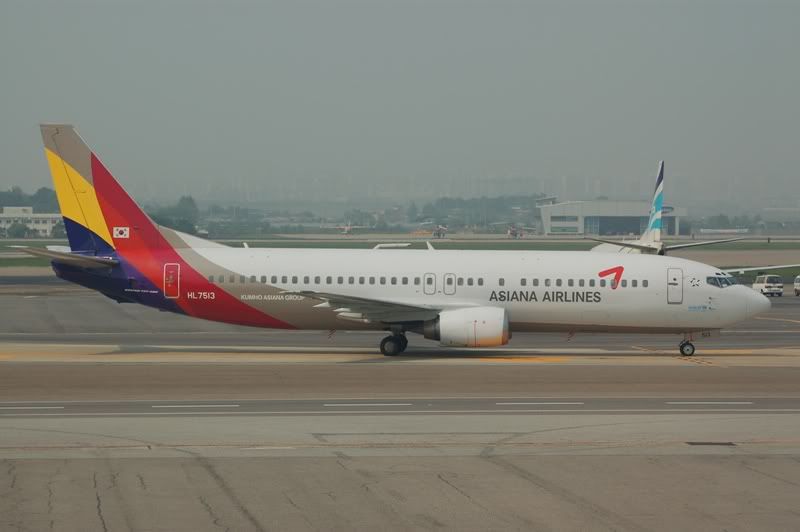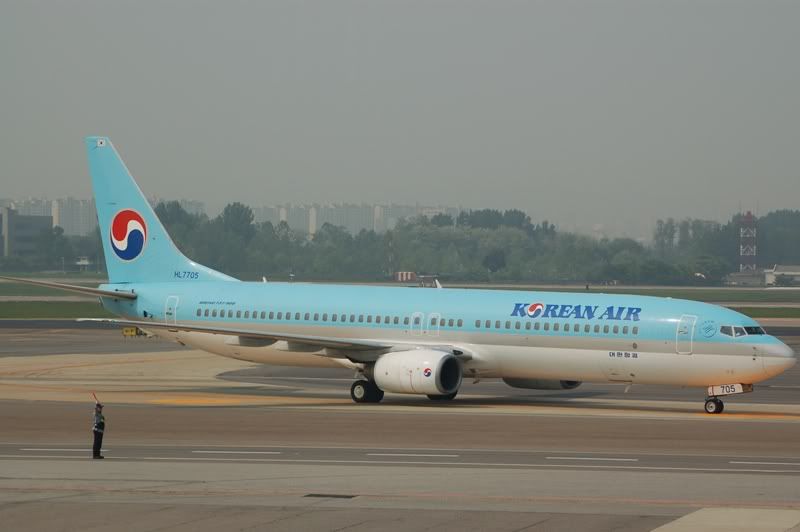 A company 737 pulling up to a gate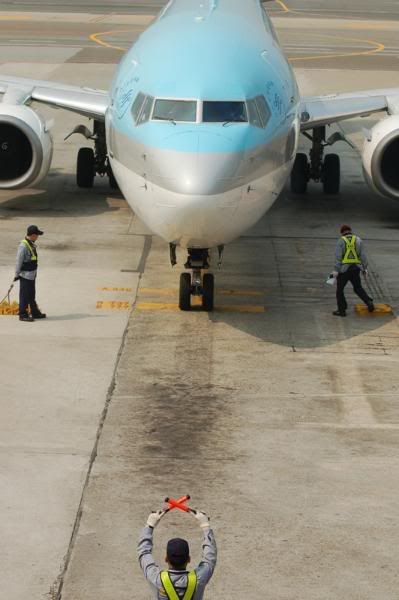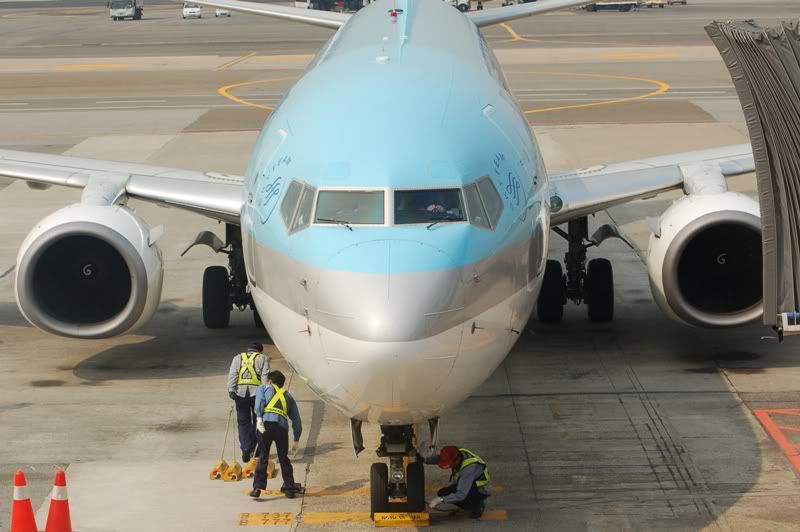 Police Helicopter. Is this a Mil? I didn't know the South Korean Police uses Russian helicopters
Superior decisions reduce the need for superior skills.