It was time to do some more writing for Planereality.com, but on this trip I would head West, as opposed to East...
Malaysia Airlines #95: Los Angeles-Taipei-Kuala Lumpur
Golden Club Class/Business Class
about 13.5 hrs to TPE & 4hrs to KUL
Boeing 747-400 "9M-MPI"
Pre-flight was challenging in itself. The flight was scheduled to depart LAX at 1:40am PST making it, according to the monitors, the last flight out of TBIT that night--which was actually morning if we want to get technical; which we don't…. 1:40 am is not that late, but I was on EST which made it feel like 4:40am to me. Couldn't tell you the last time I pulled an "all-nighter"
BA landed as we were taxiing after arriving at LAX (Boeing building in background)
outside Tom Bradley Terminal at LAX:
tonight's departures:
Check in was a breeze. I asked how much it would cost to upgrade from Business Class to First Class: "$1,000" ...not tonight….
As far as I could tell, boarding was orderly, but I was one of the first passengers to board.
I climbed the stairs to the upper deck, my favorite place to sit, and was greeted at the top of stairs and in the forward cabin by very friendly flight attendants. I called Malaysia Airlines ahead to get a seat assignment (no earlier than 24 hours because I had booked through Air India as a codes share) and was given 8C. Upon check-in at the Malaysia Airlines desk at LAX, 8H was assigned to me.
seat 8H (aisle):
I got settled in that seat and there was a person in the seat next mine. Noticing that the upper deck cabin was only 50% full and that the exit rows were empty, I asked the FA if I could jump back to the empty exit row. He very kindly said: "Let me just make sure I can release those seats and it will not be a problem."
The seats were not occupied and I moved to set 9A, exit row, with 10 yards between me and the seat in front of me. The passenger across the aisle from me did the same thing. So I wound up sitting in 9A, easily the best business class on this plane, particularly because the seat next to me was vacant. A flight attendant does sit across from 9 H & K during take offs and landings; making H&K the 2nd best business class seats on this plane.
Exit Row Seats 9 A & C:
leg room in exit row:
seat controls:
I found the cabin to be very tidy and clean. There was a hand held remote in the seat that controlled a personal television that came out of the armrest. There were a plethora of movies, music and games to choose from. The "new release" movies have not even been released on DVD yet... i.e. "Gran Torino." There were also plenty of classics as well. No noise cancelling head phones, just regular ones, but impressive sound quality none-the-less. Meal menus and separate beverage menus were in a small compartment next to the seat. Oddly, I could not find an in-flight magazine at my seat or any of the empty seats, although I did not ask the FA if there was one available.
impressive beverage menu:
Here is the amenity kit given to business class passengers (minus the toothbrush, toothpaste and mouthwash):
cabin while boarding:
As much as I wanted to sample the full dinner service about to commence, I was bleary eyed and exhausted. I just could not muster the energy and proceeded to sleep for the first 4 hours of flight. The seat reclined almost all the way flat and the blankets provided were huge and warm. I did not "slide" down on the seat while sleeping, like some business class seats allow for.
dinner menu:
When I woke I saw the FA in the aisle and waved her down. She sat down in the seat next to me with a big smile asked what I cared for. I asked for a cup of coffee but she apologetically explained that no hot beverages could be served while the fasten seat belt sign was on. As soon as the seat belt sign was off , the same FA came back and asked me if I would still like some coffee. She also made me aware of the self service snack tray at the back of cabin. I found cheese, crackers, candy bars, peanuts, chips and small finger sandwiches on the self service snack bar. This was a great amenity for the long flight and anyone who had slept through dinner, as I had. I am confident any of the 3 FA's dedicated to our cabin would have prepared a hot meal for me, had I requested it, but it did not cross my I mind at the time.
mood lighting mid-flight:
chasing sunrise:
Breakfast was served about 90 minutes before landing in Taipei. And although my post breakfast hot towel service consisted of a warm towel that was freezing cold in spots, the food was delicious, fresh and plentiful.
On this trans-pacific flight, Malaysia Airline's in flight service is right up to snuff with its reputation: excellent!
After a 50 minute stop in Taipei where passengers were required to disembark while the plane was refueled and cleaned, we were on our way to KL. I was pre-occupied making a telephone call to the United States and I did not have time to determine whether there was a club lounge available to flight #95 passengers.
Views from Taiwan Taoyuan International Airport, Taipei:
Leg # 2
Taipei-Kuala Lumpur
I had the same seat on the Kuala Lumpur leg and managed a 2 hour snooze in the very comfortable seats. No amenity kits or headphones were passed out on this leg, even though new passengers boarded in Taipei. There were 2 flight attendants dedicated to serving the upper deck passengers, but brunch service felt a bit rushed. I chose the braised chicken with preserved ginger and ate every last bit because it had so many incredible, complex flavors.
brunch menu (all of the same beverages were offered)
somwhere over S.E. Asia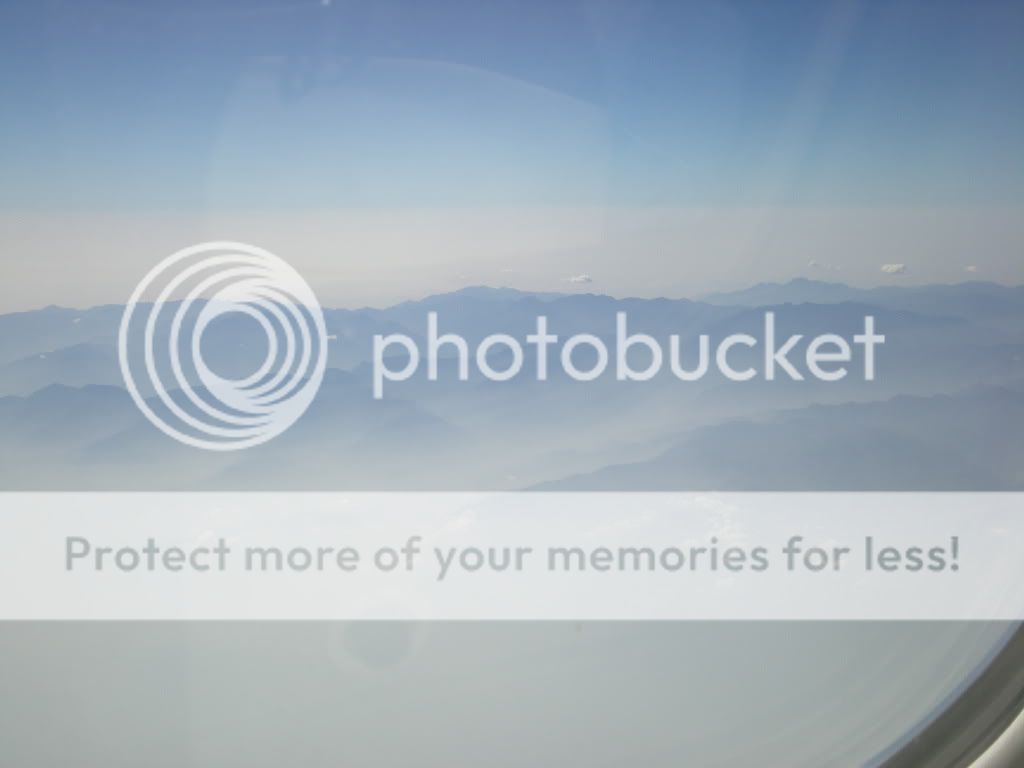 After brunch, the hot towel service was cold, like the last flight. I found it bizarre that on both legs of this flight, pre-meal towel service was very hot like one would expect and post meal service was cold…(?)
All in, I had an awesome experience with Malaysia Airlines. Their super friendly, accommodating staff made a long trip a breeze. Without question, Malaysia Airlines is in the same "class" as Singapore Airlines, albeit with fewer flights from the United States.
A short report on the "International Lounge" at LAX is located at: Planereality.com
Most importantly, thank you for reading this trip report!