Amazing S. Korea With AC & KE (460+pics) 2 Of 2
Welcome back everyone. If you have not read "Part 1 of 2" of this report, please click on the following link:
http://www.airliners.net/aviation-fo...ums/trip_reports/read.main/149096/
As I have promised, I am continuing my trip report, with the second portion which will include the following:
- Trip to Panmunjom, in the Korean DMZ (Demilitarized Zone)
- Flight from Seoul-Gimpo to Busan-Gimhae
- Some more photos from Busan
- KTX (high-speed train) ride from Busan to Seoul
- More photos from Seoul
- Flight from Seoul-Incheon to Vancouver, B.C. Canada
In Part 1 of 2, I've left off somewhere in Seoul. The first evening there, I spent with some old family friends, then I returned to my hotel. The next day, after taking care of some business, I took a trip to the DMZ with one of the tours. For those of you who don't know much about Panmunjom or the JSA (Joint Security Area), it's a village on the South Korean / North Korean border, where the 1953 armistice was signed between the two countries. The JSA is nearby, which is a "complex" (for lack of better words), where talks are still held between the sides. I'm sure lots of them have seen it in documentaries and news reports. It's basically where the South Korean / American soldiers have a "stare down" contest with North Korean soldiers. This was by far one of the weirdest and most interesting trips I've ever taken.
We boarded two tour buses at the travel agency, one bus was a large group of Japanese tourists and the other bus was "westerners" (about ten Americans, three Canadians including myself, a Finn, two French guys, three Australians, two Germans, two Dutch and about four Chinese tourists.) We stopped at a memorial place with lots of monuments dedicated to soldiers who have given their life for ROK, had some lunch and then drove to the JSA area. Pictures were strictly forbidden, unless the tour guide said we could. Lucky for us, she let us take photos of the actual JSA compound, but not the check-points, etc on the way there. We actually passed through two check-points, where armed South Korean / American soldiers checked our passports. Apparently, citizens of certain countries are not allowed to visit the JSA area, including the South Koreans. Is that true?
In Seoul, driving toward the DMZ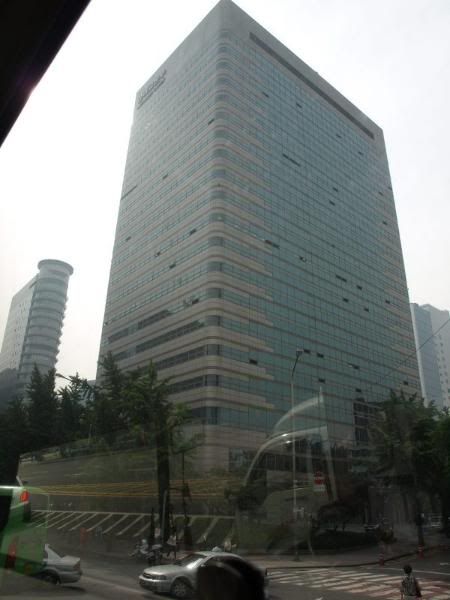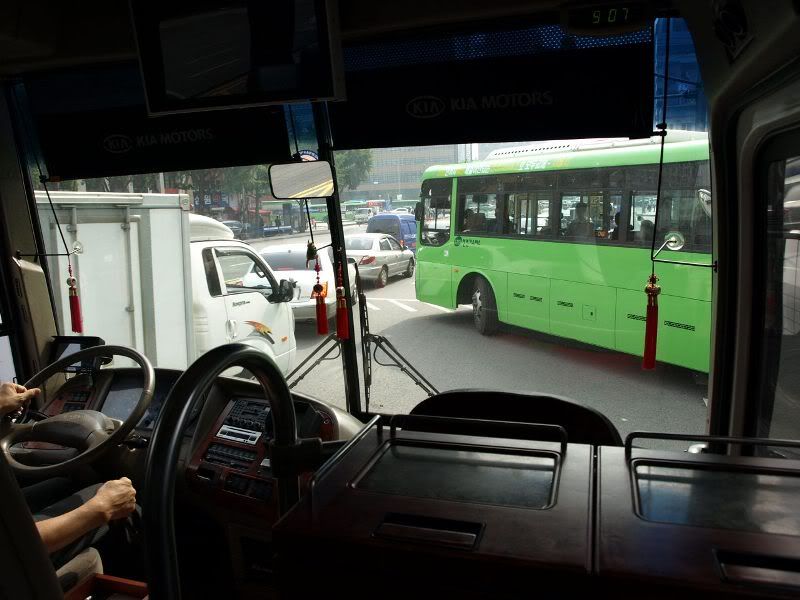 Monuments dedicated to South Korean and its allied soldiers who have served in battle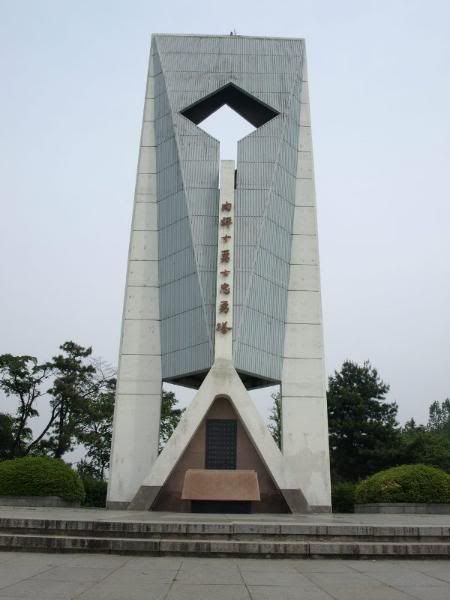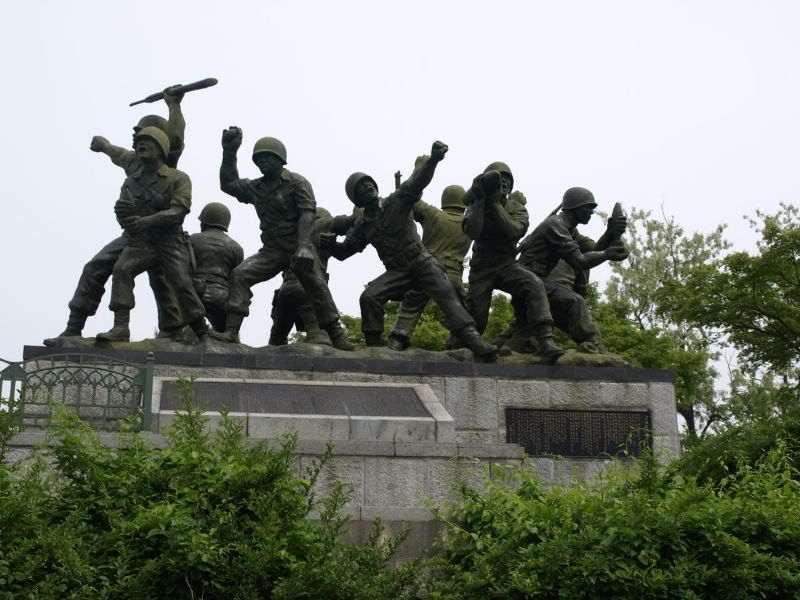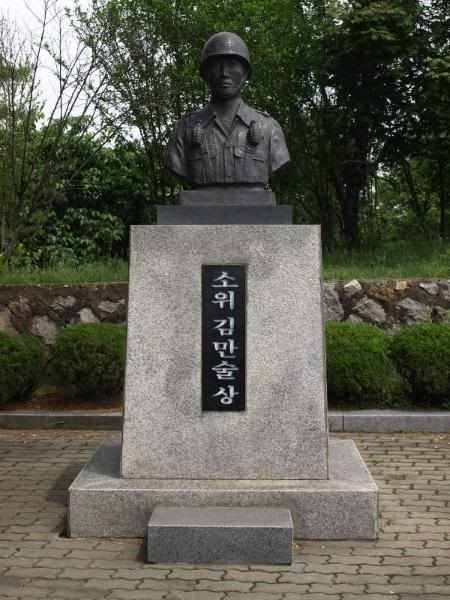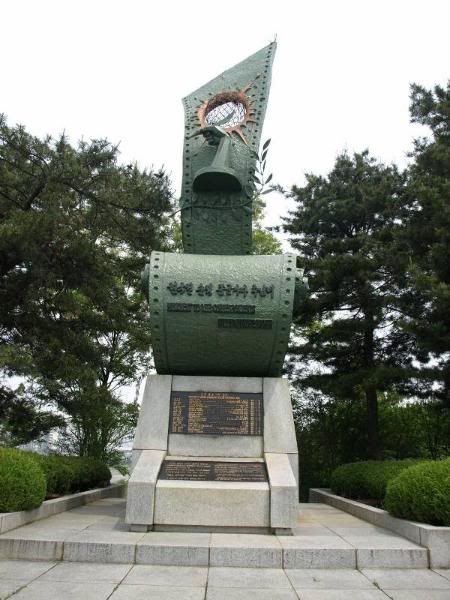 Korean traditional food (for lunch). I'm sorry my Korean friends, but I can't say I'm a big fan of it. It's too hard on my stomach. I don't think I'm made to eat spicy food. The rice and meat is really good, but Kimchi is WAY too spicy for me.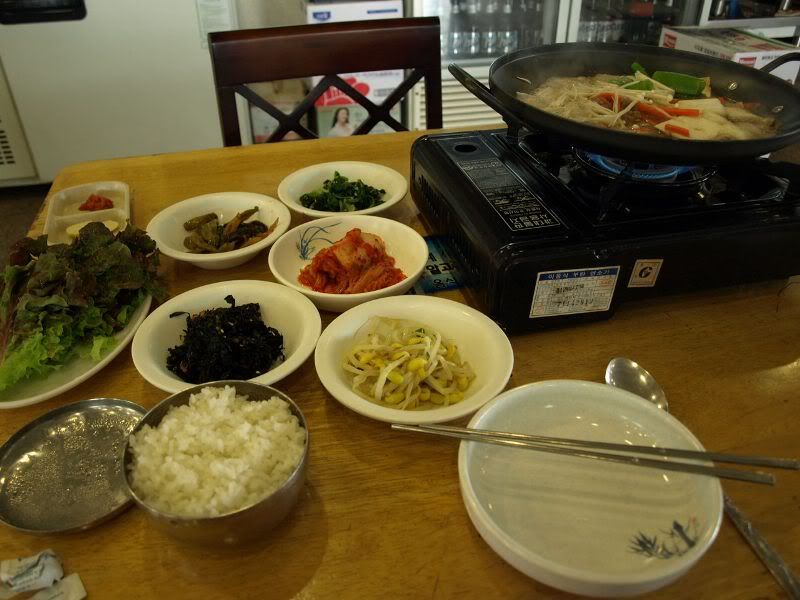 Freedom Bell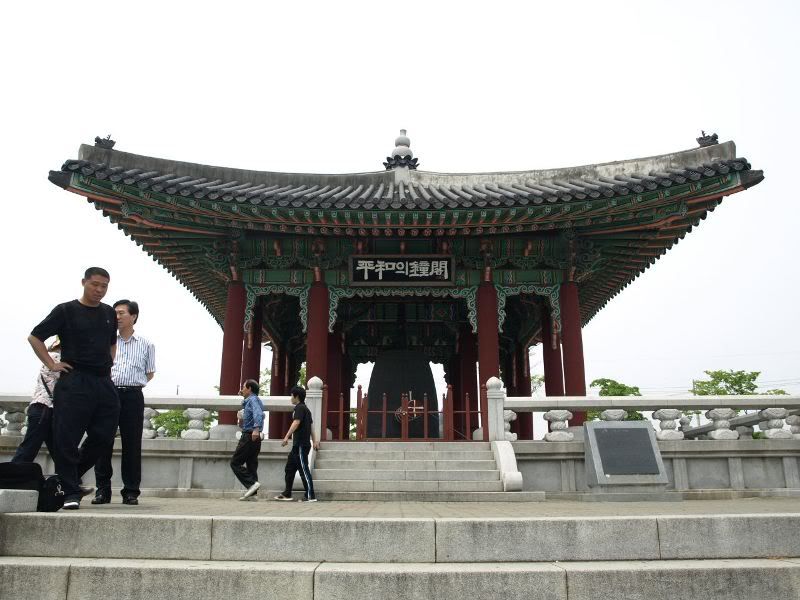 Me overlooking a railroad bridge, that eventually leads to North Korea (the railroad not the bridge). From what I understand, when families are reunited (from North to South) they come to this area. Am I wrong? Locals any input on this?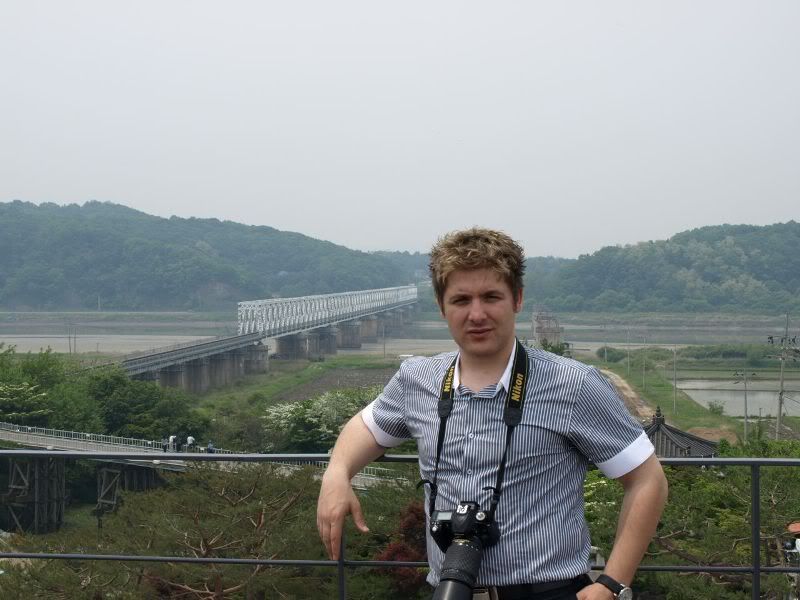 Before we arrived at the JSA area we were given a brief lecture about it, including the famous "Ax Murder Incidents" where, our guide said, a couple of American military men and a South Korean officer were murdered by the North Korean soldiers, while they tried to cut down a tree. I don't want to get into the details, but you can search that on the web.
Once we arrived there, we were lined up and given a tour of the main building called "Freedom House" , which sits right across from the North Korean main building "Panmungak", then we were escorted outside and into one of the blue "conference rooms" that lie right on the border. The main conference table is where the border goes through. So if you sit on the North side of the table, you're inside North Korea and if you sit on the South side, you're inside South Korea. After that, we were brought to an observation platform, where we were able to better see the main North Korean building (Panmungak… see photos below). Once there, once again, we were allowed to take photos. We were then taken by bus and brought near one of the observation posts that oversees the only North Korean settlement, "Gijeong-Dong", also know by its nickname of Propaganda Village (in the South) and Peace Village (in the North). Again, if you would like to learn more about it, you can search it on the net.
Inside one of the blue (UN) conference rooms. The middle of the table is where the border stands. The people you see in that photo are from the tour group and they're all "inside North Korea"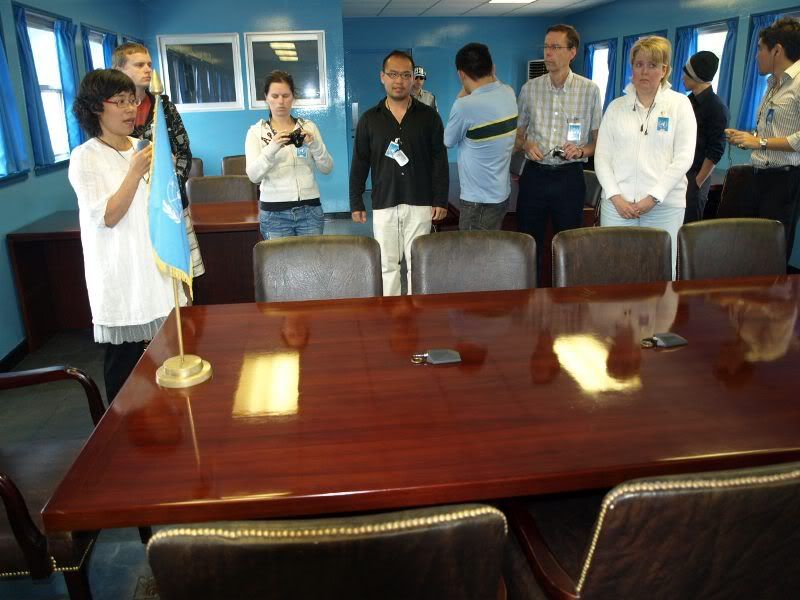 South Korean soldier standing in their "ready position".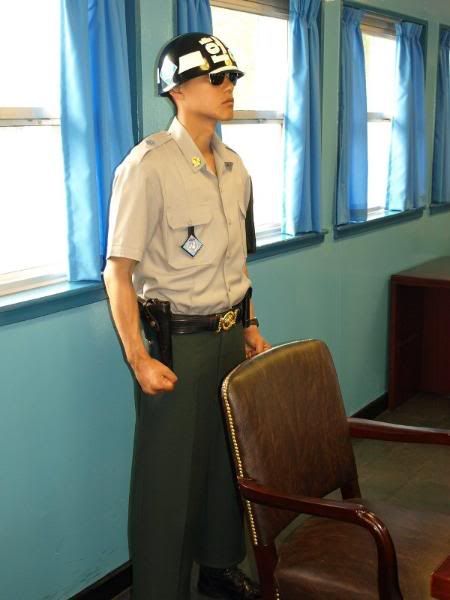 The thick concrete is where the border is. North Korea is on the left, South Korea is on the right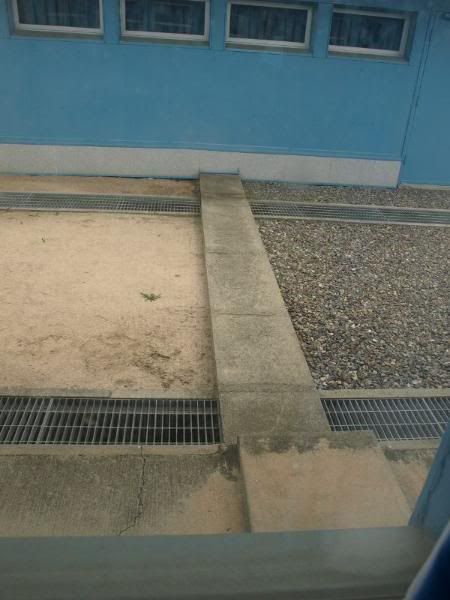 One of the (North Korean) conference rooms (small grey building) and the main North Korean building called Panmungak.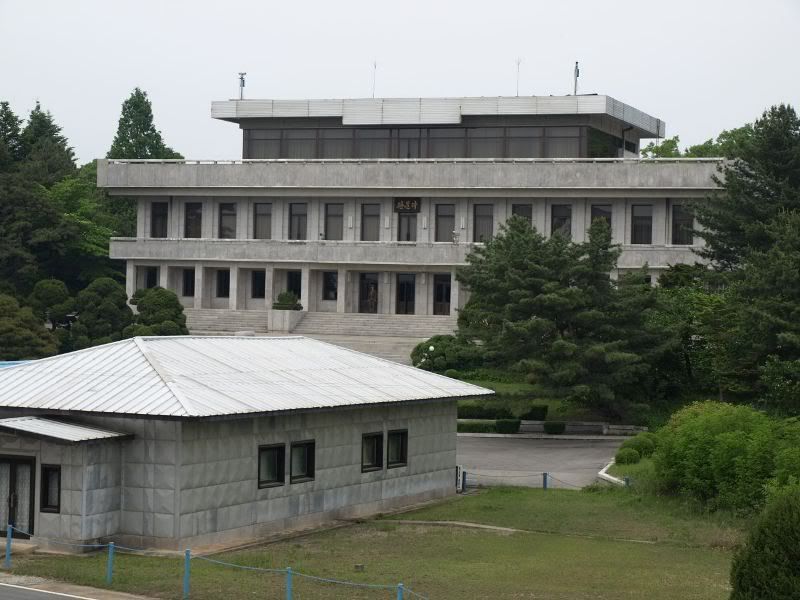 A South Korean / American / UN building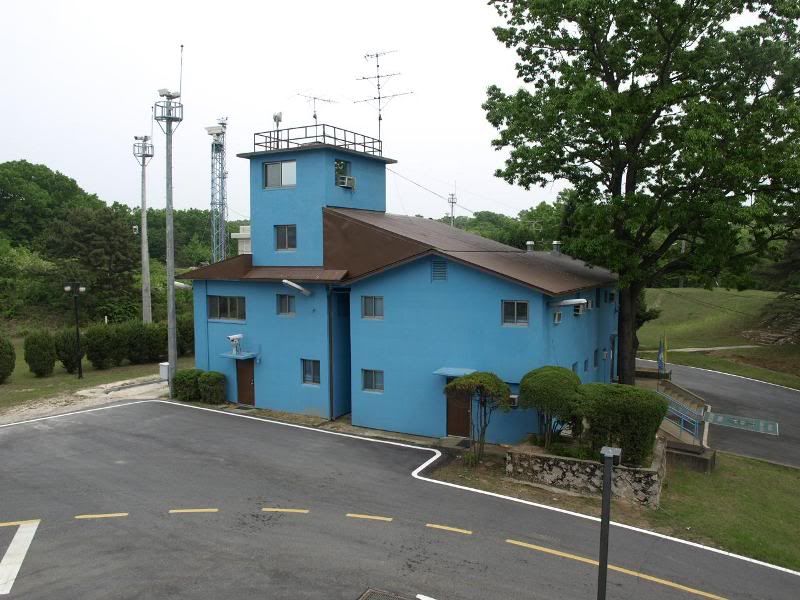 North Korean building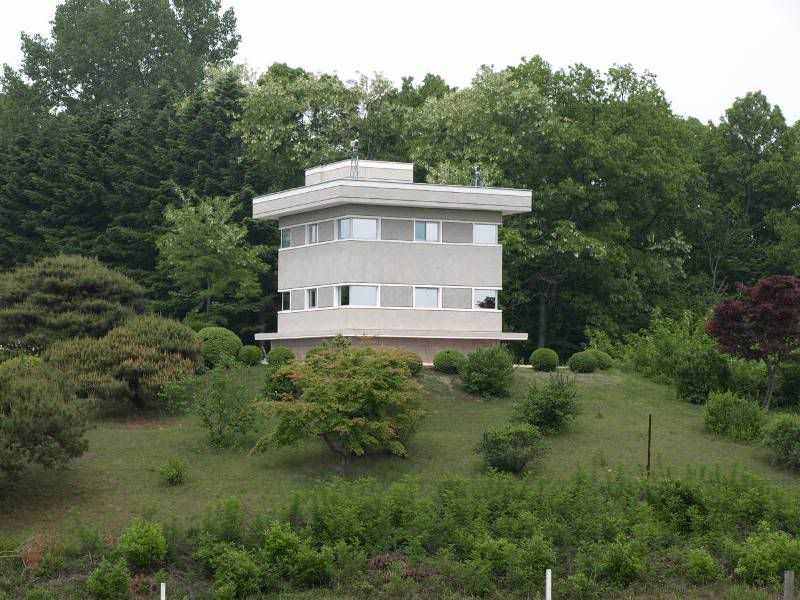 The main "Freedom House" (right) and some other building belonging to South Korea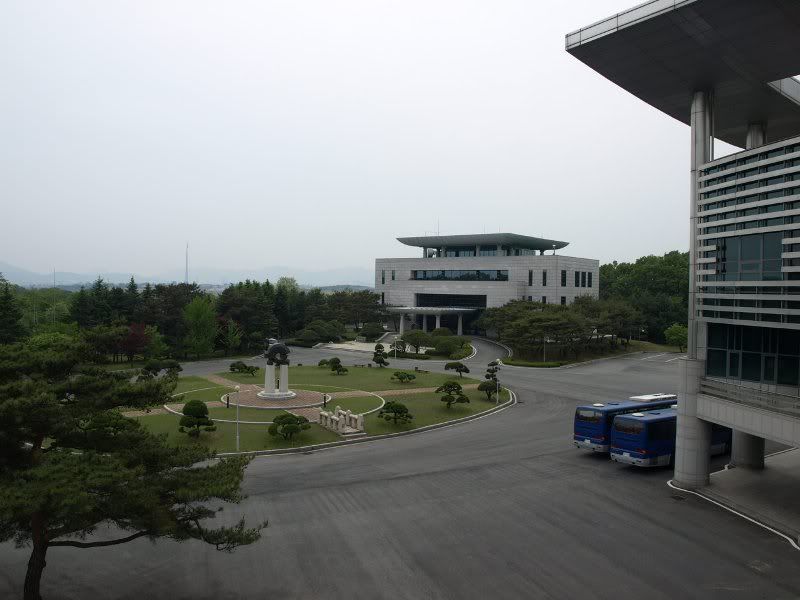 The right side of "Freedom House"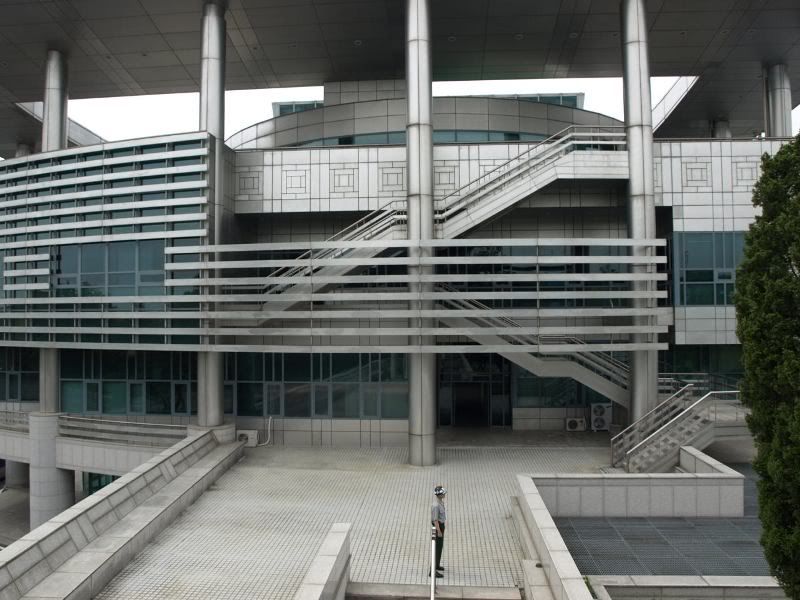 A better image of the JSA with the conference rooms, the North Korean main building and the South Korean main building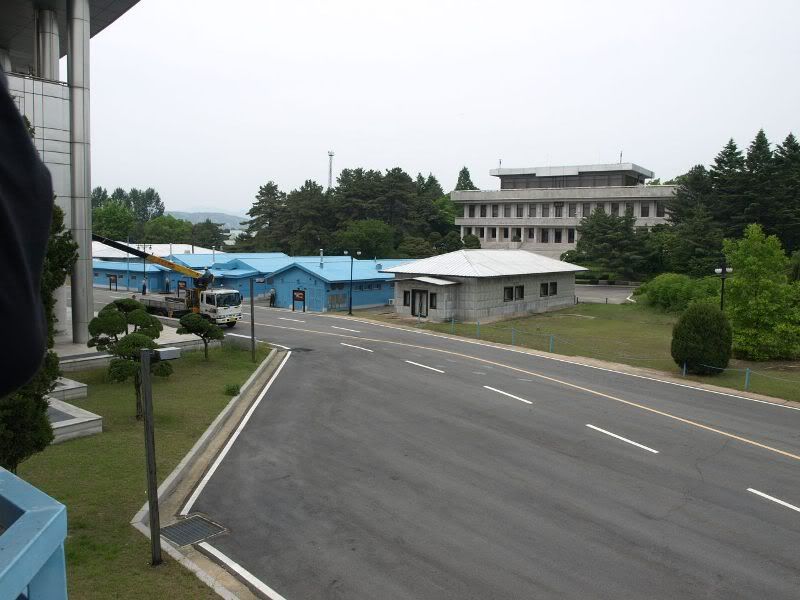 Me, with North Korea in the background. Notice we were all required to wear visitor's badges.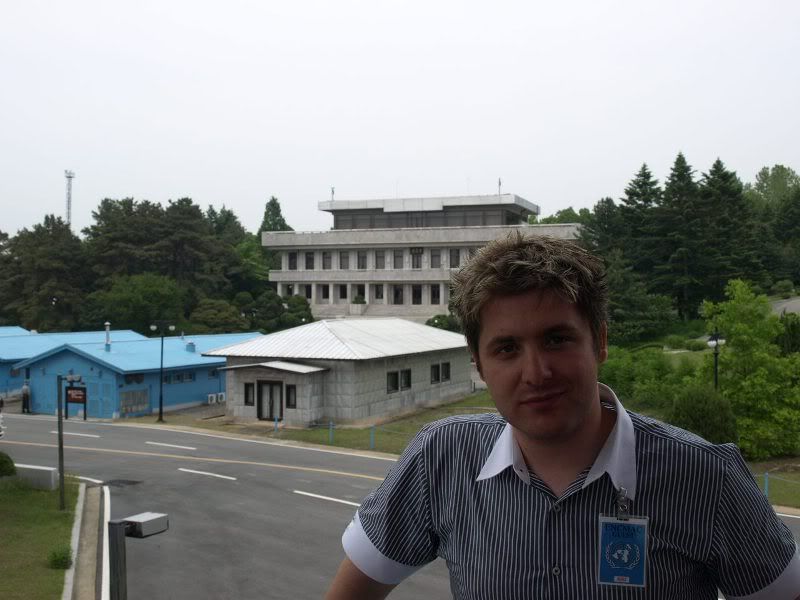 Once we drove by with the bus, you can see the South Korean Soldiers looking toward NK. There was only one NK soldier on the steps of Panmungak, looking at us with binoculars. I wonder what he was thinking. We were not allowed to wave, make gestures, point, laugh or say anything derogatory. The South Koreans claim that the North takes photos then uses them for political propaganda. I'm not sure how true that is, but oh well… We all followed the rules.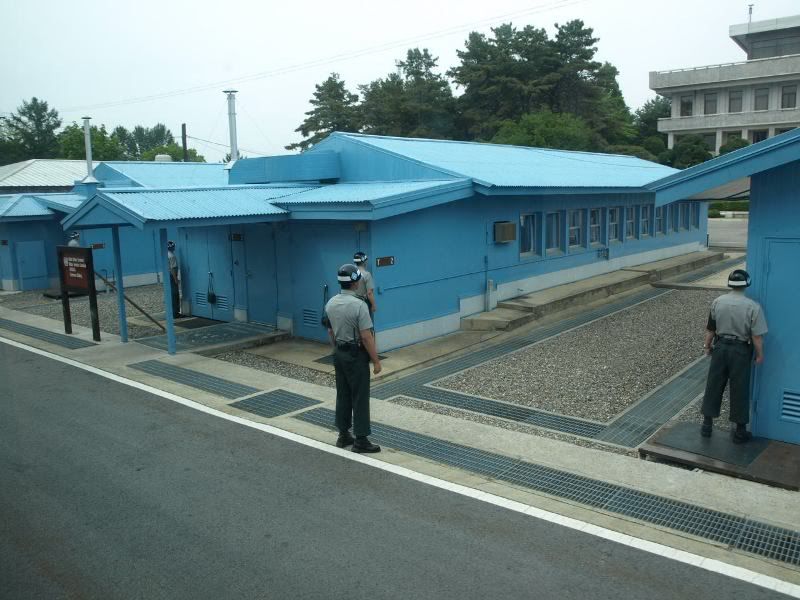 The two blue conference buildings and the main North Korean Building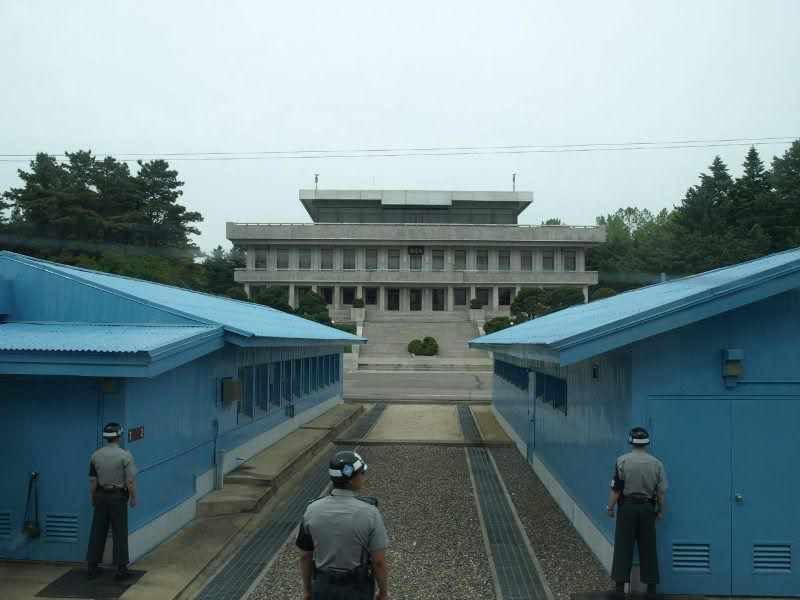 Monument dedicated to the countries that fought alongside South Korea, including my own, Canada.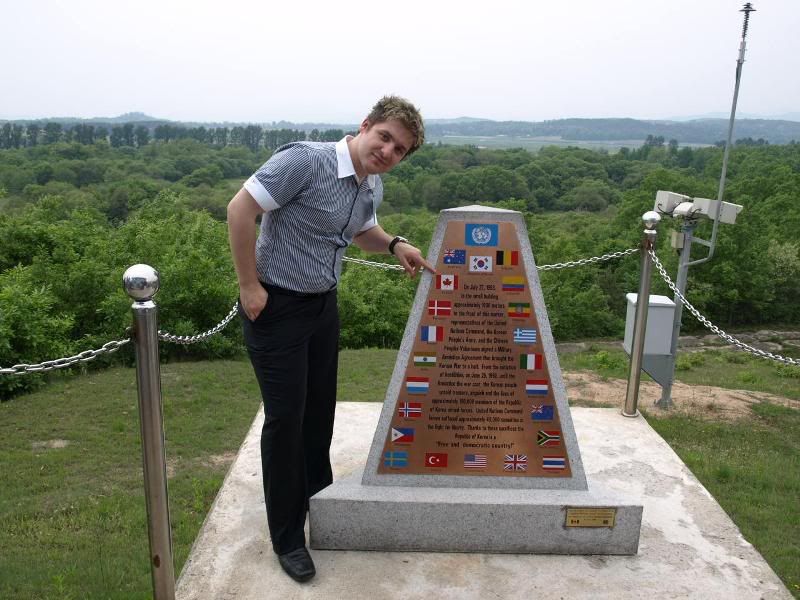 Me, with the North Korean "Propaganda Village" in the background. The tall mast that holds a huge North Korean flag (there was no wind that day), was build in response to a similar tower with flag, built by the South. Of course, the North Korean one is much taller.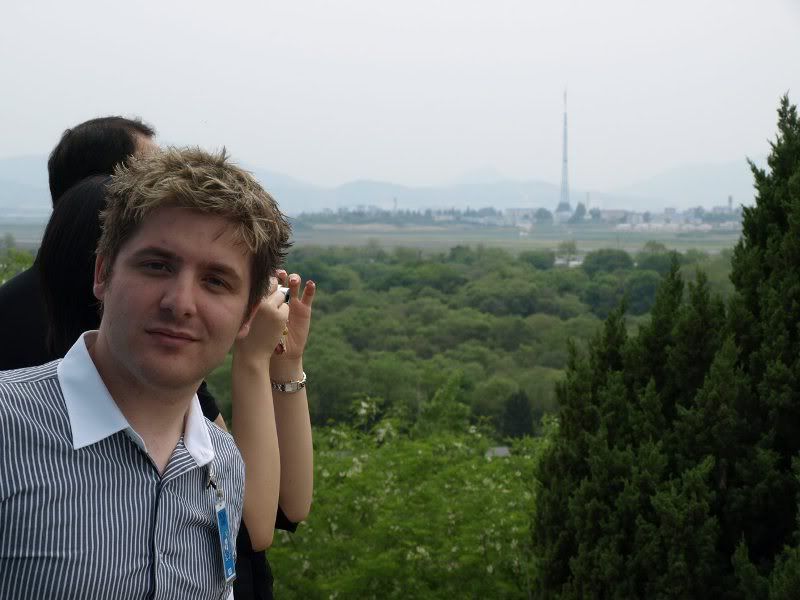 "Propaganda Village". Apparently (according to the South), it was built by North Korea to look "good" and attract defectors to the North. Some say that it's not inhabited by anyone and the buildings have no windows. There are just "actors" there to show that there is "activity". I don't know what to think. Maybe it's true, maybe not, but none the less it's intriguing.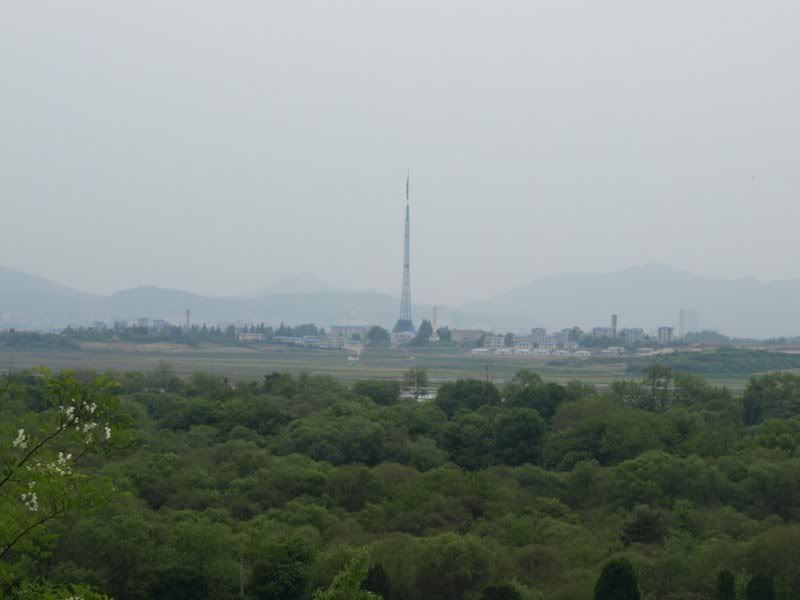 "Bridge of No Return" that crosses the MDL (Military Demarcation Line). This is where the prisoner exchanges took place in 1953. The last time it was used, was in 1968, when the crew of USS Pueblo was allowed to cross into South Korea. The Bridge of No Return was used by the North Korean soldiers until the 1976 Axe Murders, but then the South Koreans / Americans demanded that the MDL be enforced so the North Koreans built the "72 Hour Bridge" which is now on the North side of the JSA.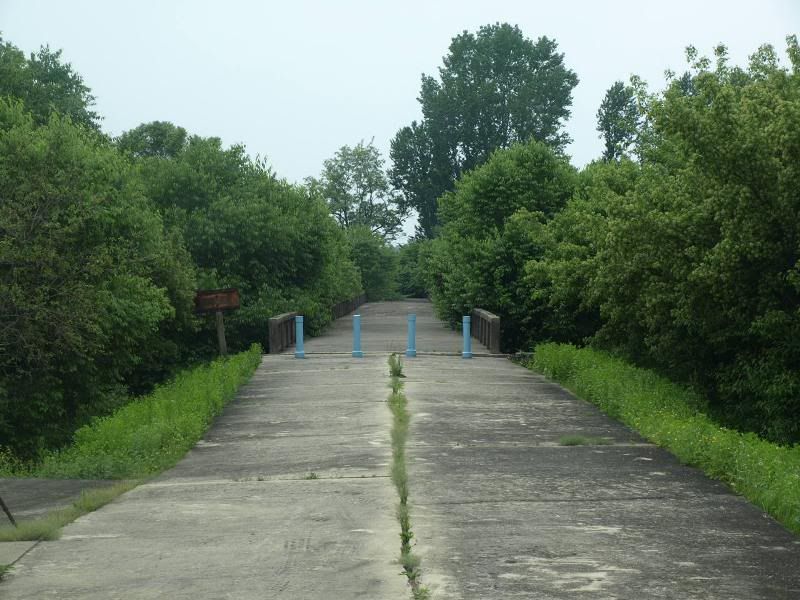 Once the tour was finished, we boarded the buses and returned to the "Gift Shop", where I bought some post cards and had a beer (they only sold Budwiser) with my fellow Canadians. The drive back to Soul was uneventful. The bus dropped me off somewhere near a subway station, where I hopped on the subway and headed to Gimpo Airport.
A nice Korean "style" building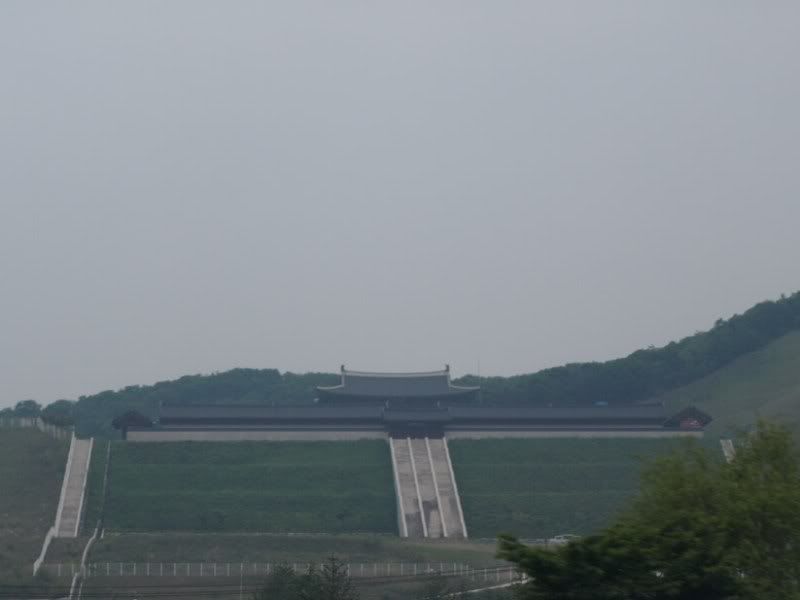 Seoul Subway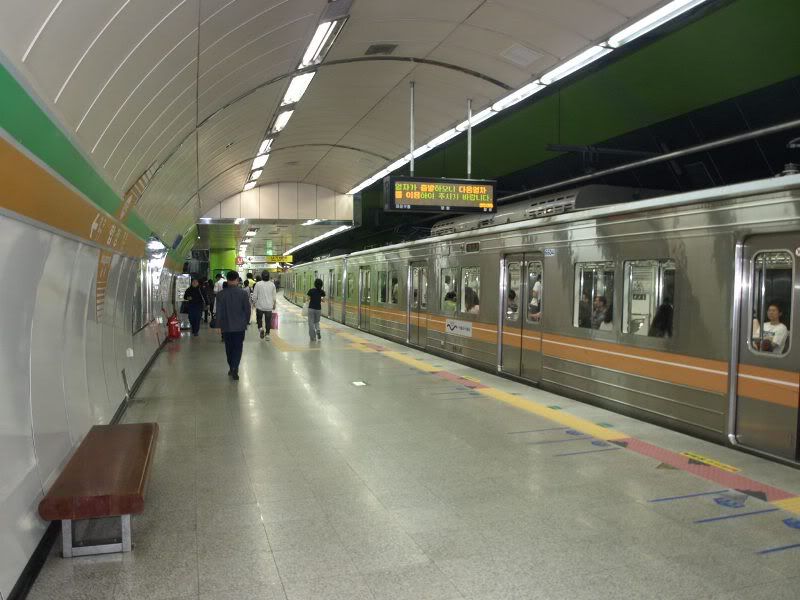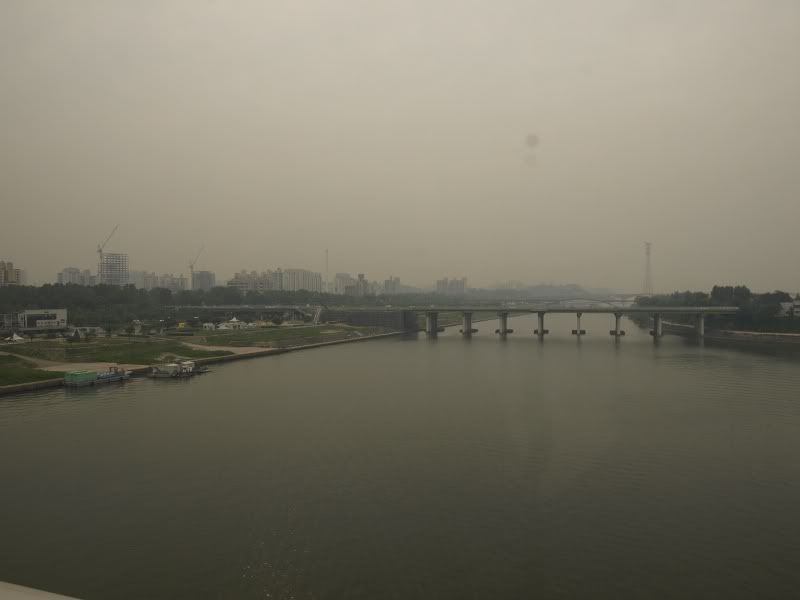 I think this is the Seoul Parlament house (correct me if I'm wrong….)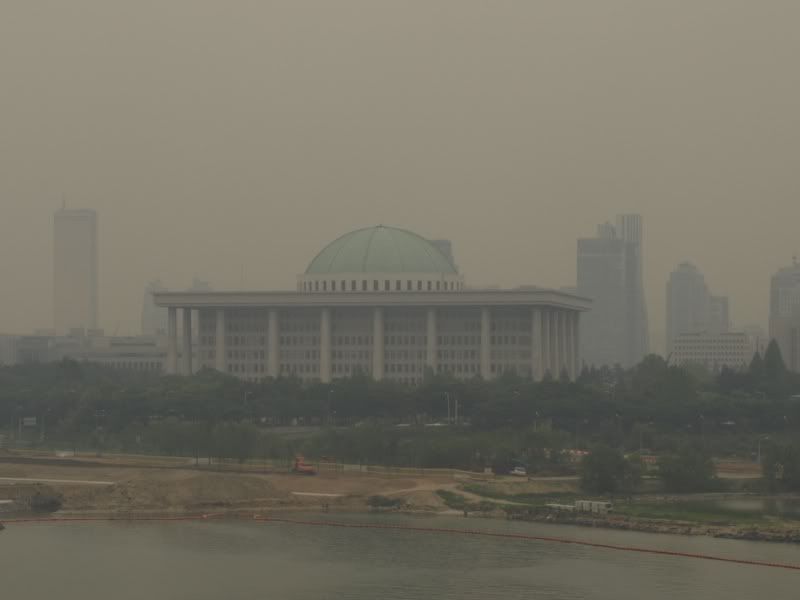 Departure: Seoul-Gimpo, on May 20th 2009
Arrival: Busan-Gimhae, on May 20th 2009
Airline: Korean Air
Flight #: ???
Aircraft: Boeing 737-900
Seat: somewhere near the back (economy)
Once I arrived at the airport, I went to the check in counter. Originally I was booked to fly on an A330, but that flight was cancelled so I was switched to a Boeing 737-900. To my disappointed, the man at the counter could not speak more than a handful of English phrases, and I was trying to find out what aircraft I'd be on, because if I were to fly on an A330 I would've upgraded to Prestige class, but after he had a colleague come and translate, they let me know I was to fly in a Boeing 737NG. I was not interested in upgrading to business class, so I just took my seat on the earlier flight in economy, on the Boeing NG. Once through security, I took some photos, then headed quickly for the gate. Boarding was already completed and I was the last one to get on the aircraft.
Subway station about 100 feet away from the entrance of the terminal. I love the Seoul subway system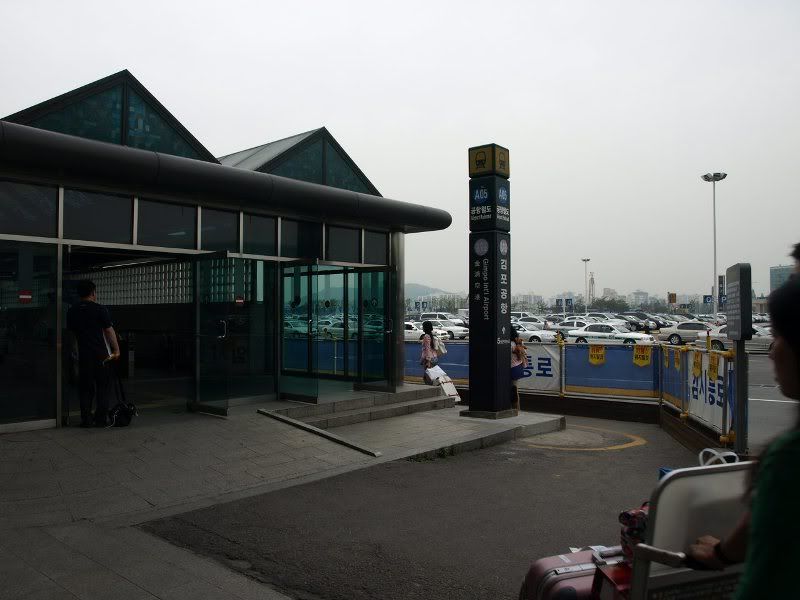 Entrance in the airport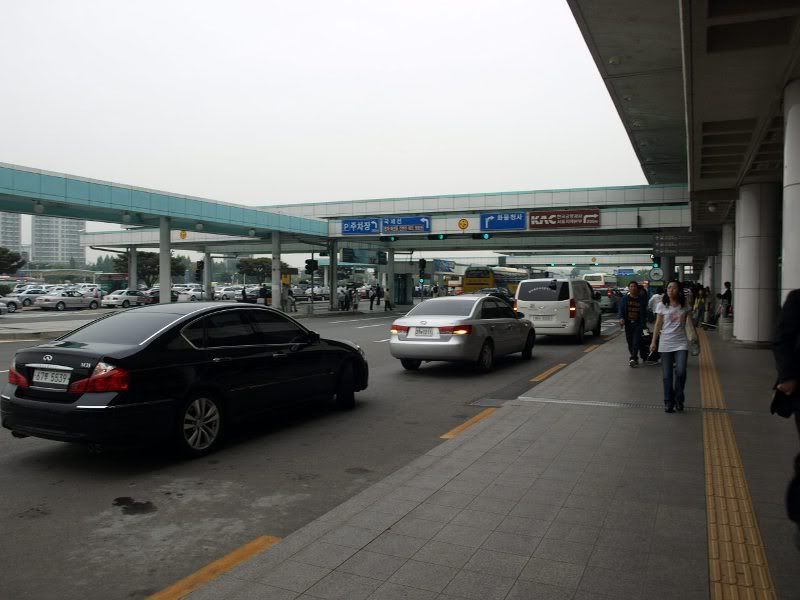 Check in counters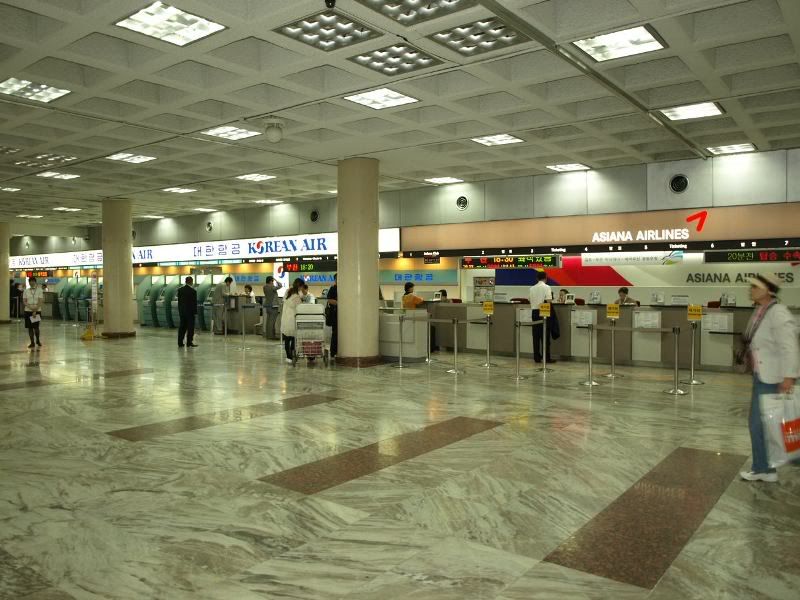 Some airplanes around Gimpo airport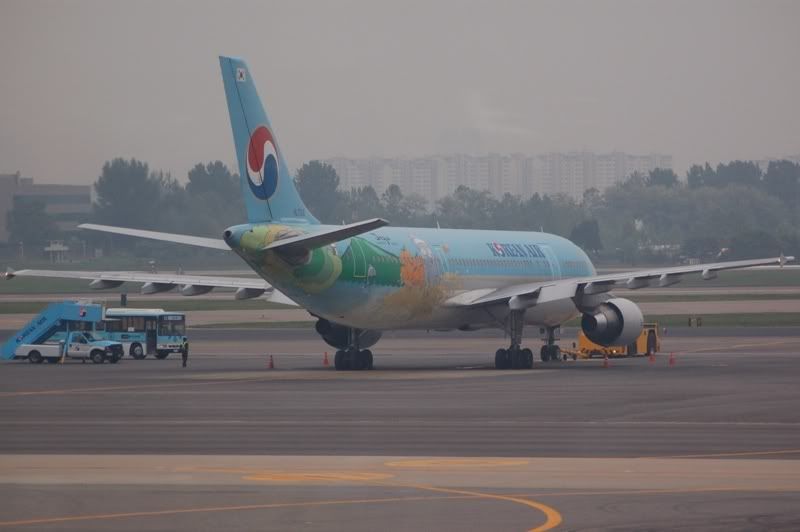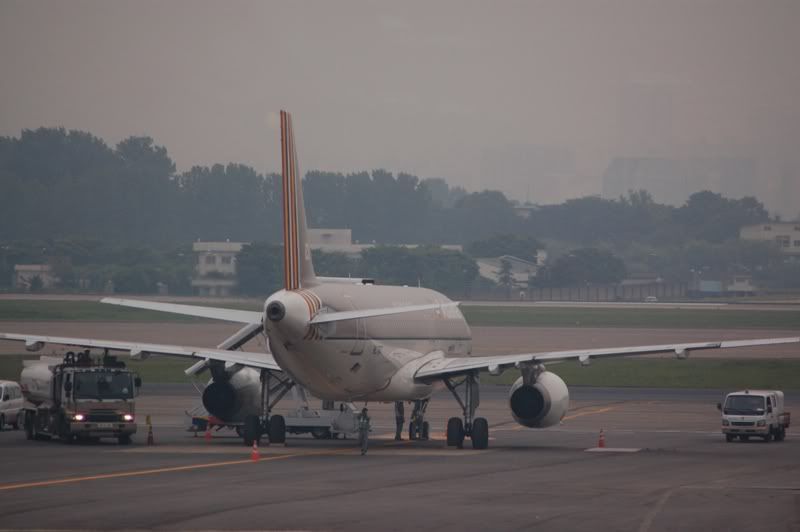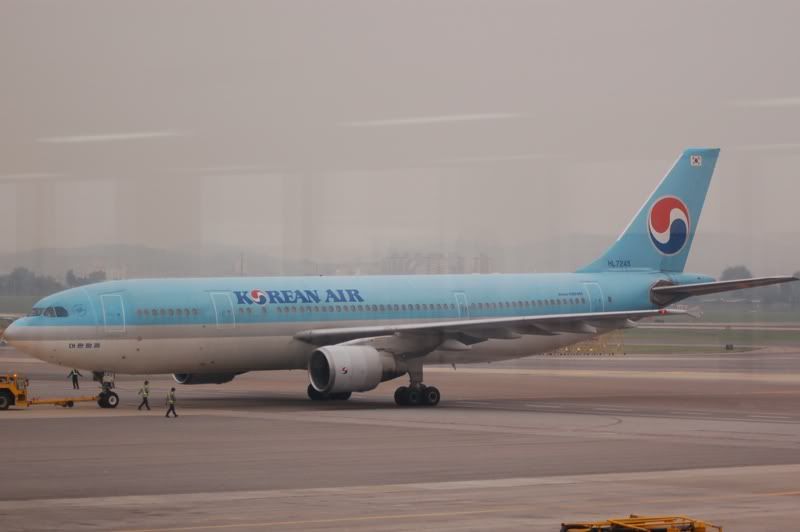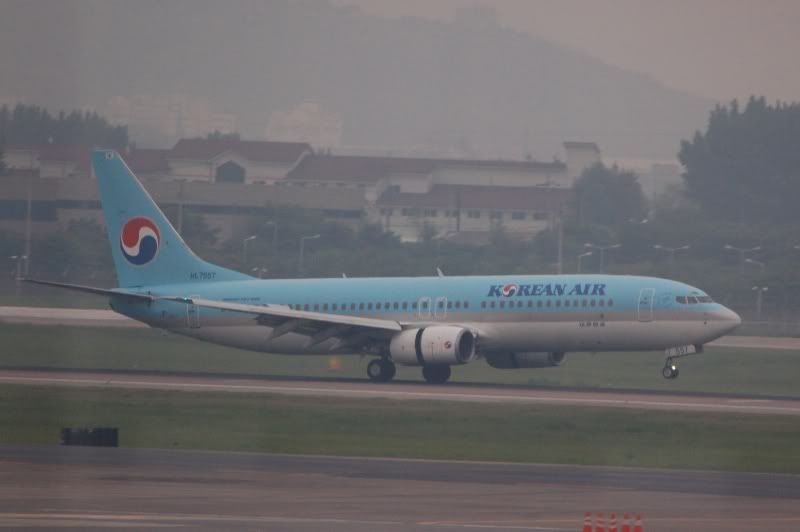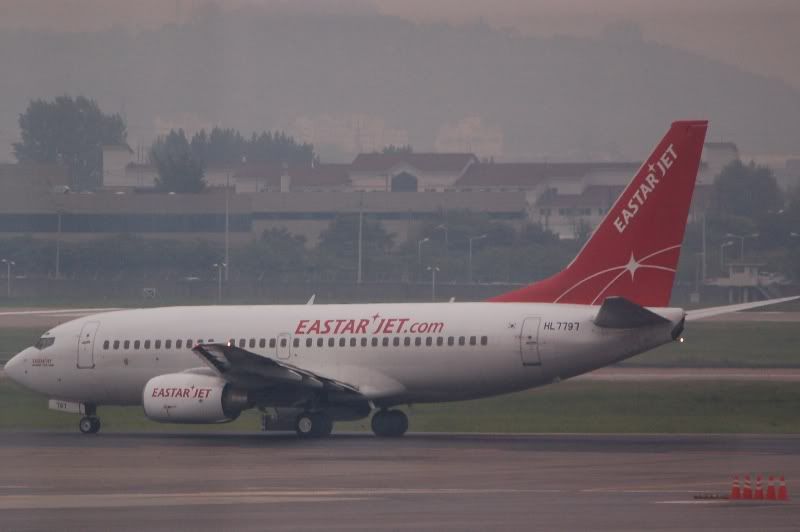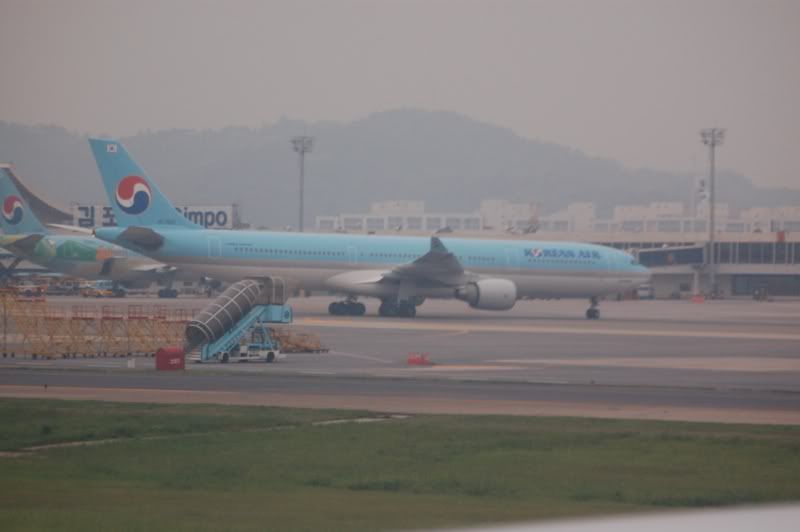 The Boeing 737 that would take me to Busan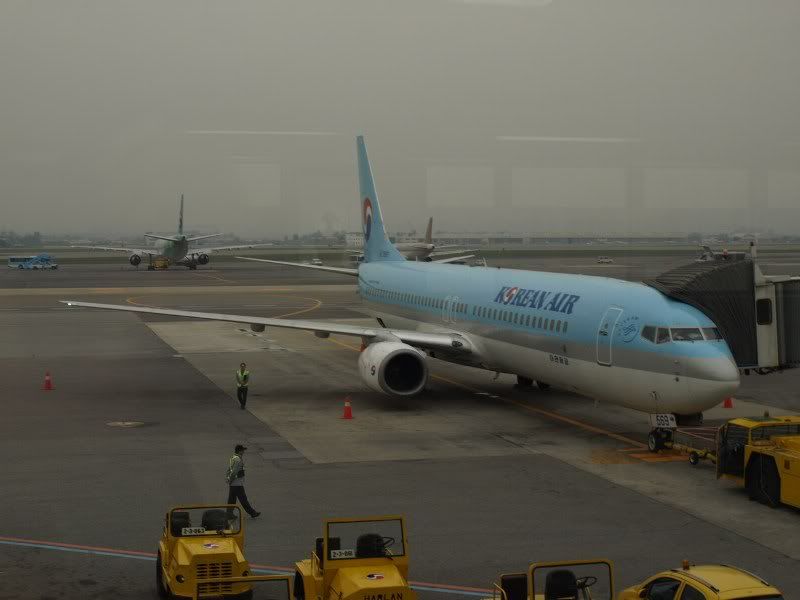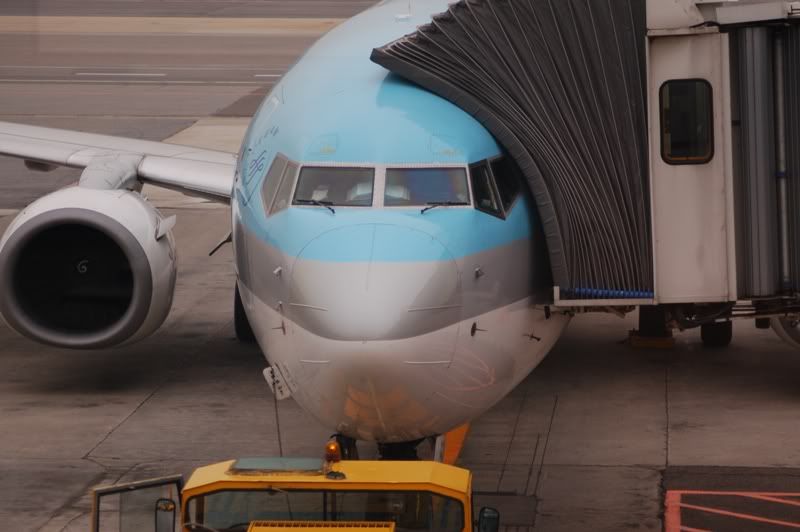 The last people, about to board
Inside the plane. Notice the sign with "Gimpo"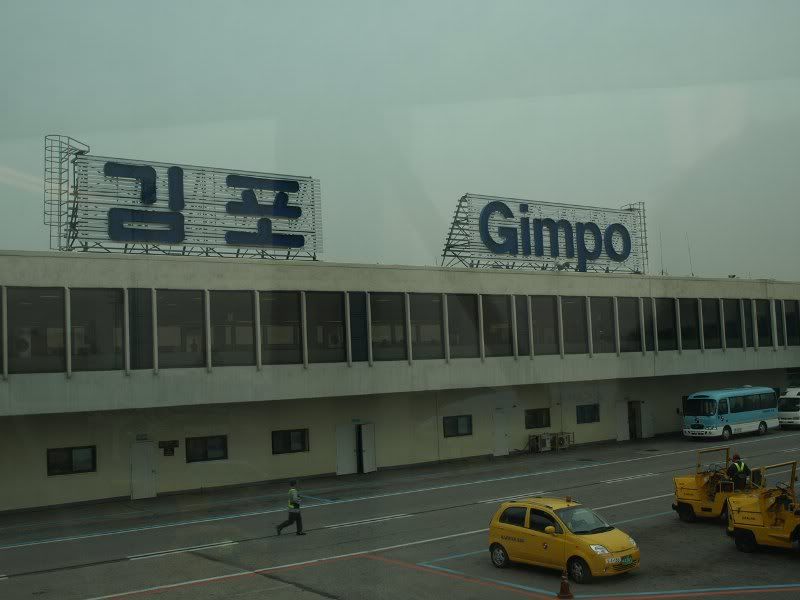 Some more shots of the airport activity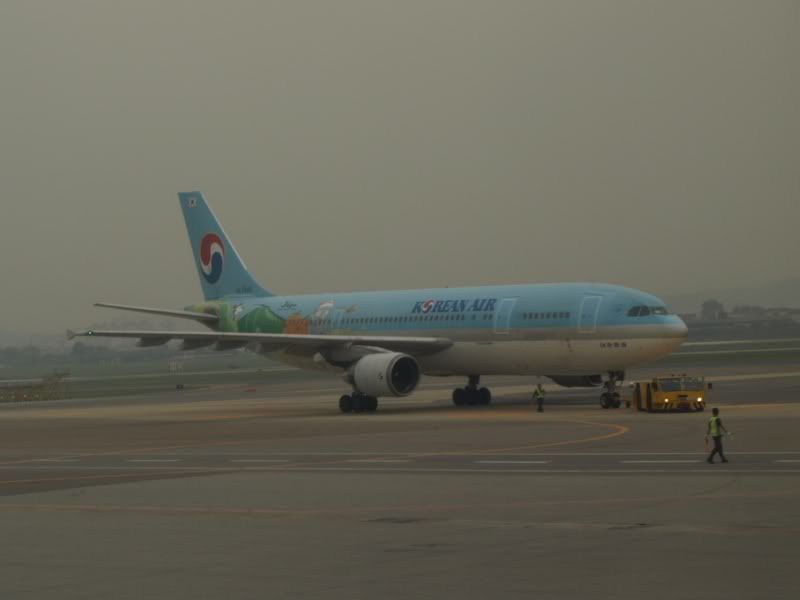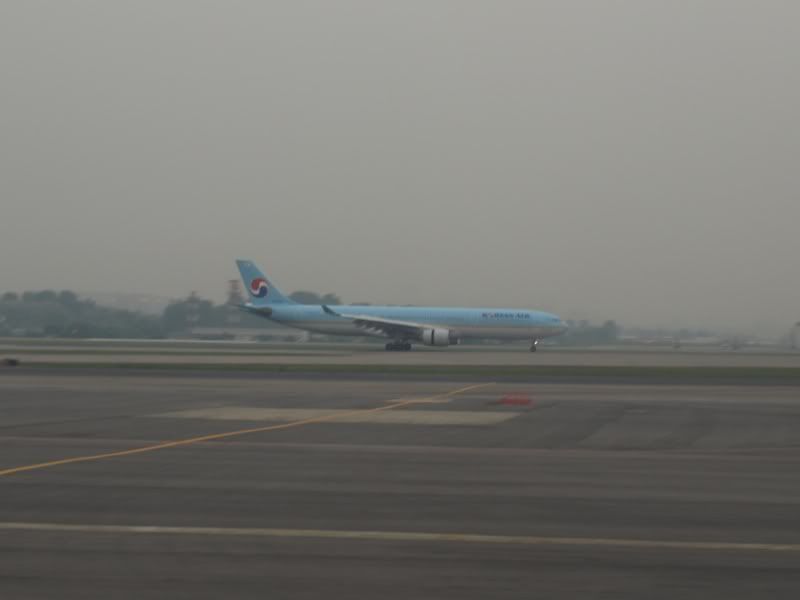 Safety card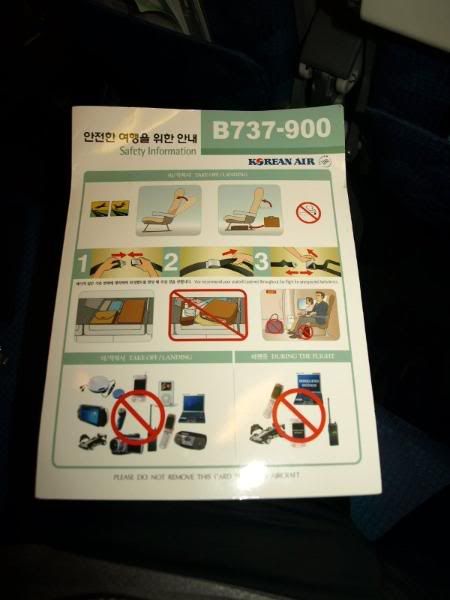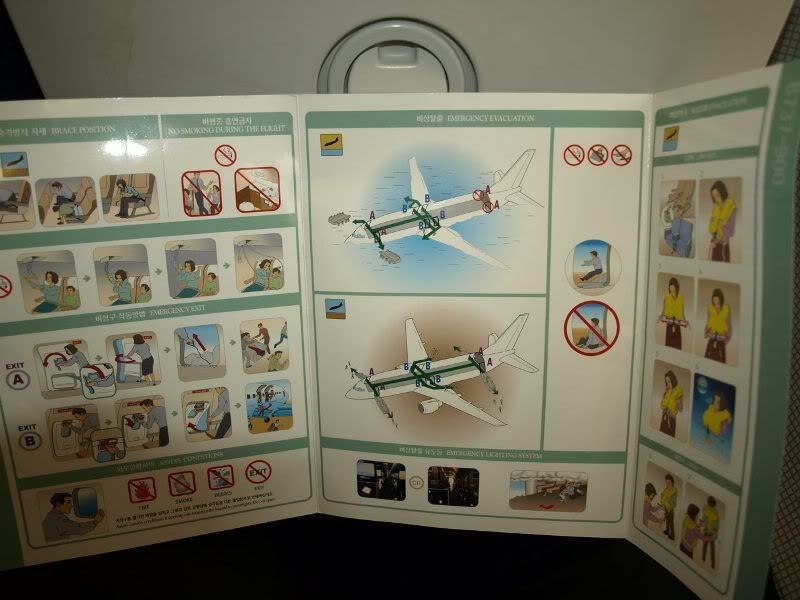 Taxiing out for take-off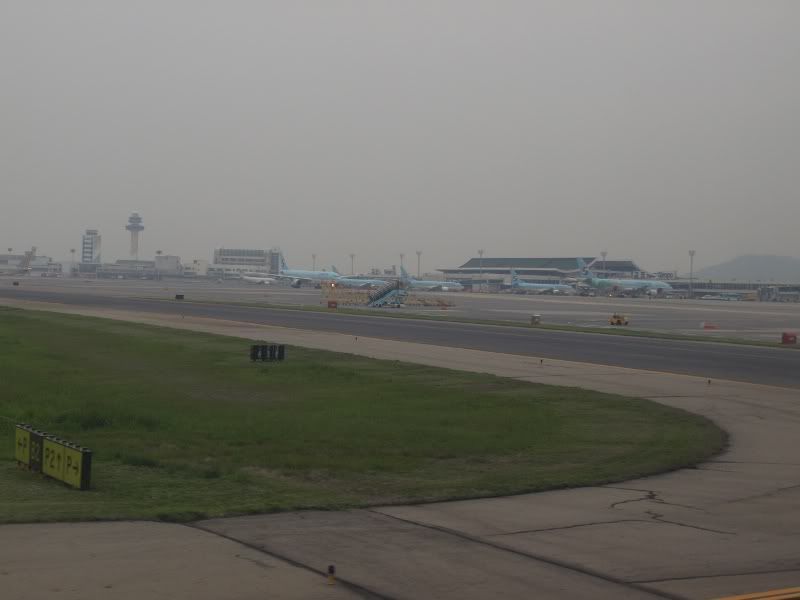 I didn't speak anything with my seat-mate, since he didn't speak any English, but that was okay, because I was too busy taking pictures. I bet he was looking at me thinking "Why is this guy taking all these photos? What's so interesting?" The flight itself was very quick. The flight attendants came by and offered a quick drink service (non-alcoholic) and I had a coke. I don't think South Koreans have Diet Coke or "Coke Light" as they call it in Europe. Interesting…. We had some moderate turbulence approaching Busan and I could see some people were pretty nervous. I myself am quite used to it. I remember one time, flying my DA40 that I had so much turbulence I hit my head on the canopy. This was not even close to what I've experienced on other occasions. The only thing that bothered me that it was too shaky and being evening outside, I didn't have enough light. That made it difficult to get some good shots. The approach into Busan was amazing though. The scenery was fantastic and I was surprised to see so many ocean liners anchored near the shore. There must've been hundreds of them. In Vancouver, I see 5 – 6 at most, but never like this.
Take-off from Gimpo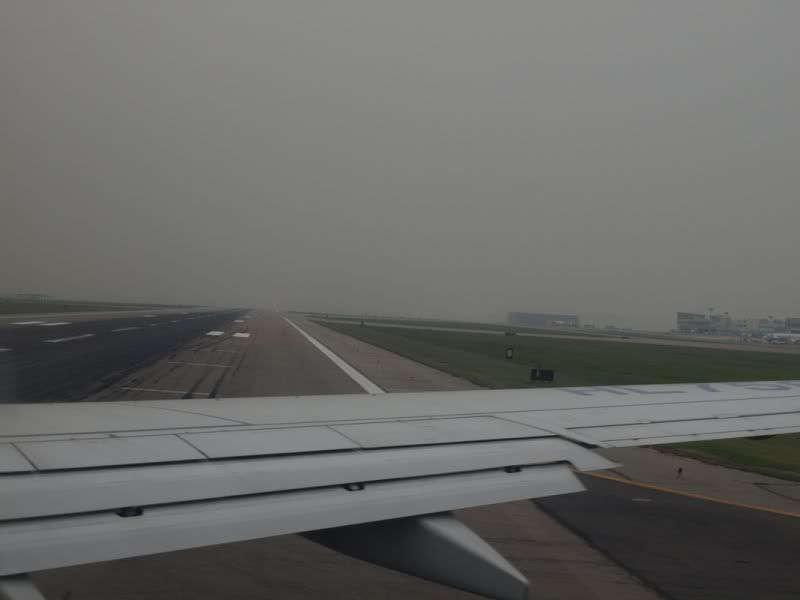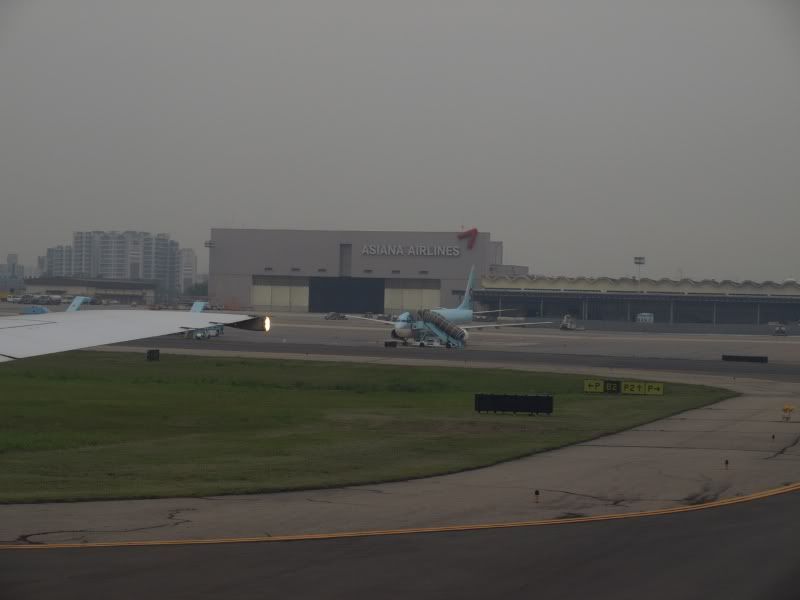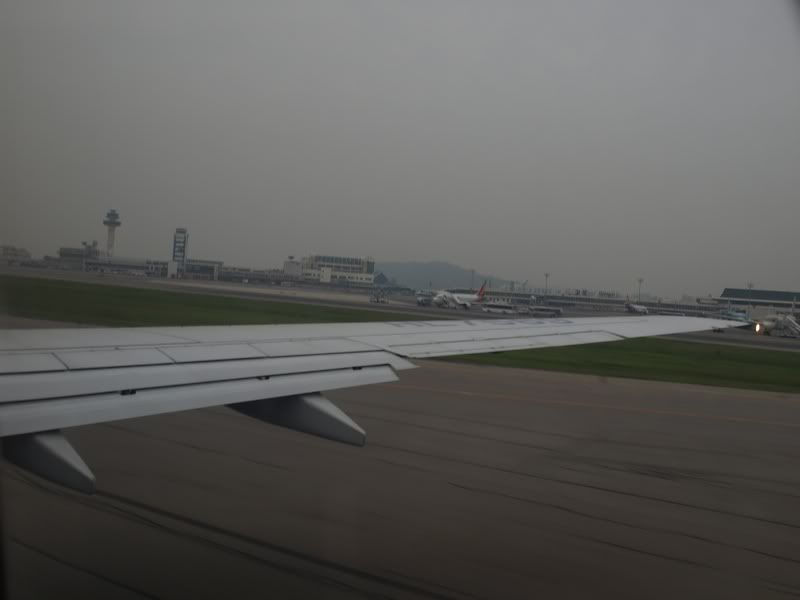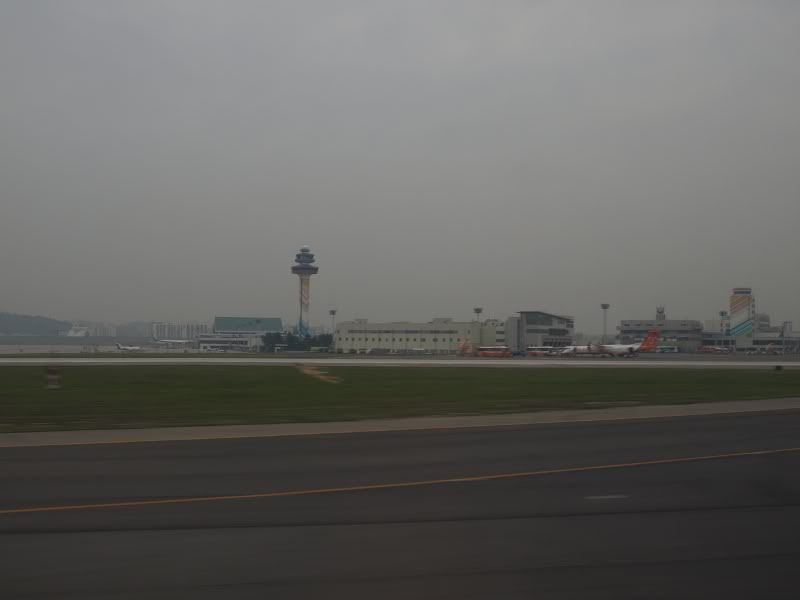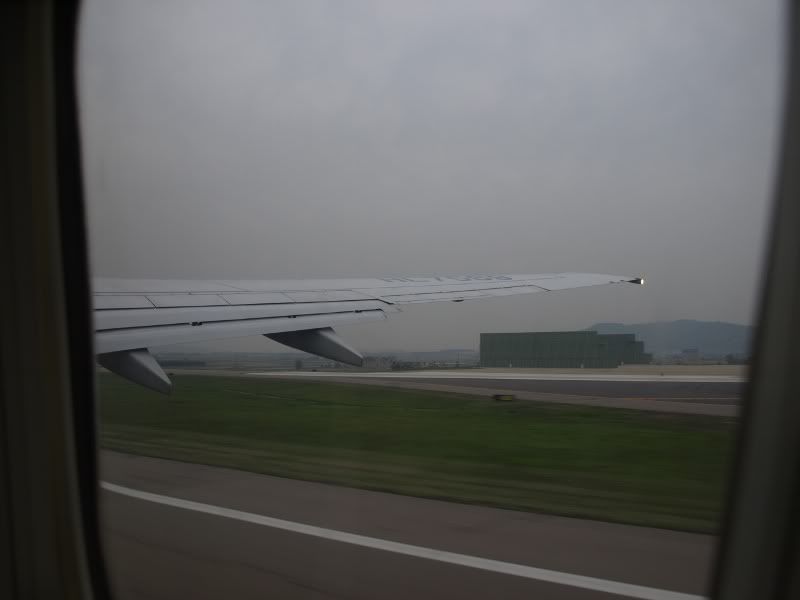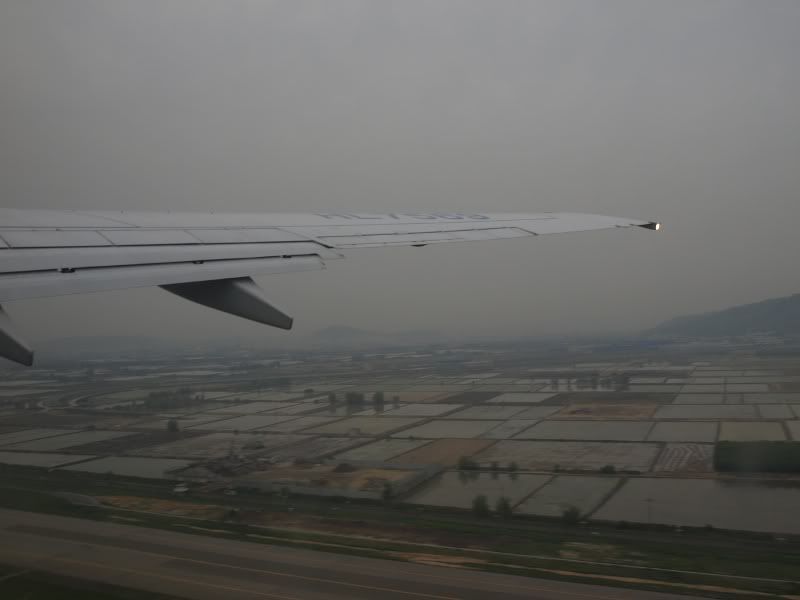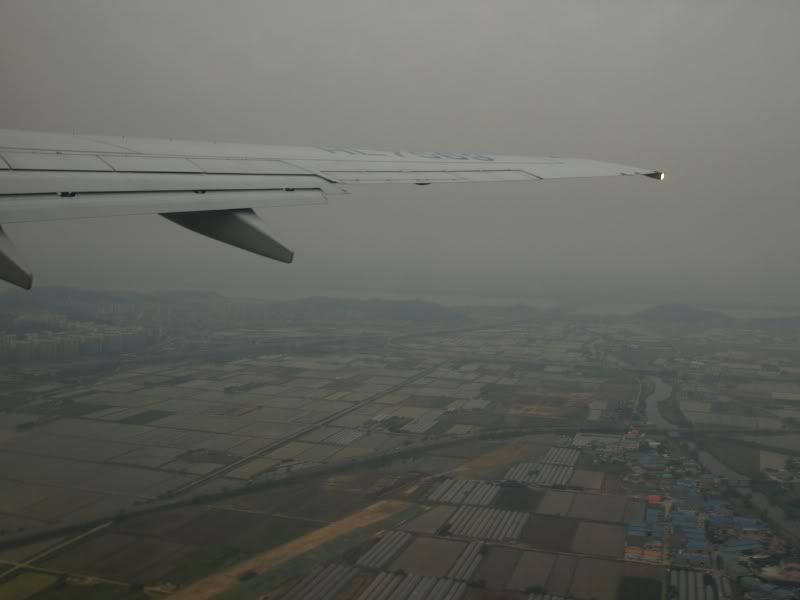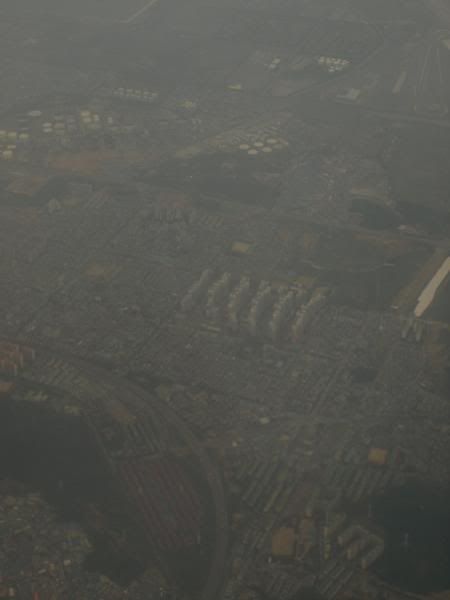 Not much of a "food and beverage service"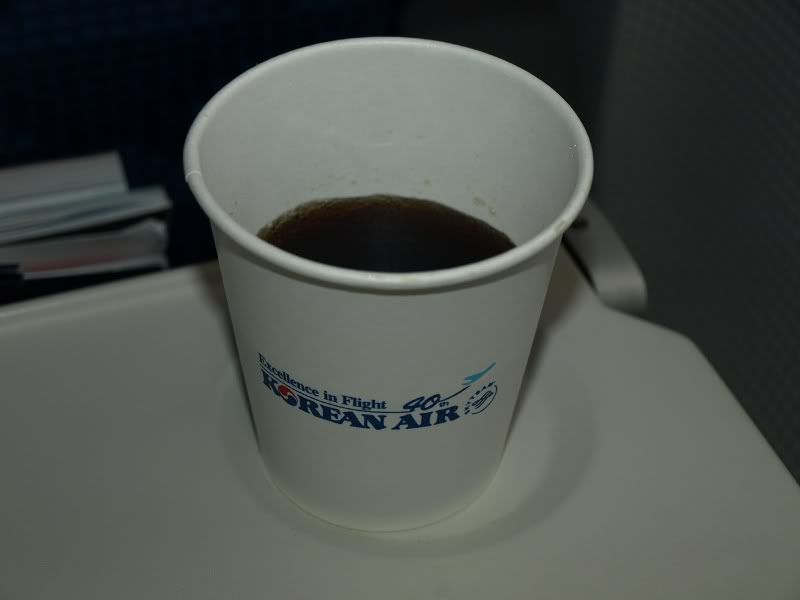 Approach into Busan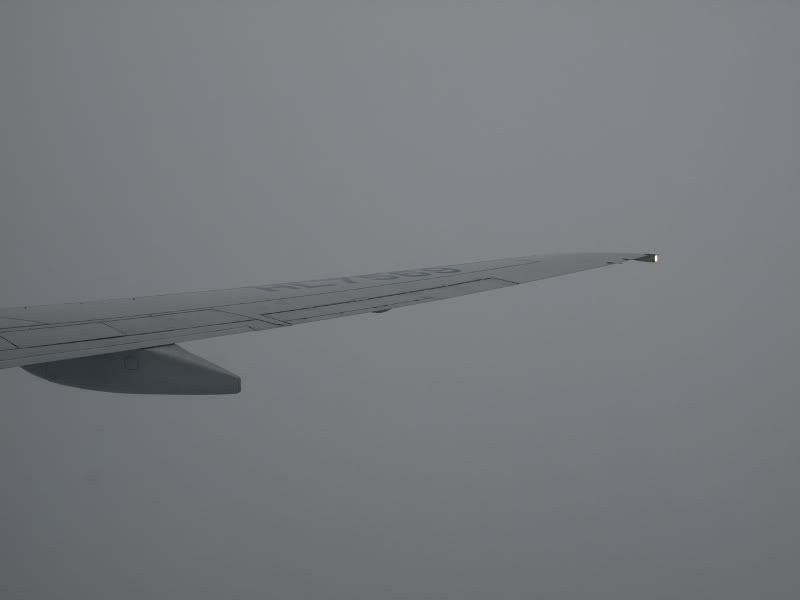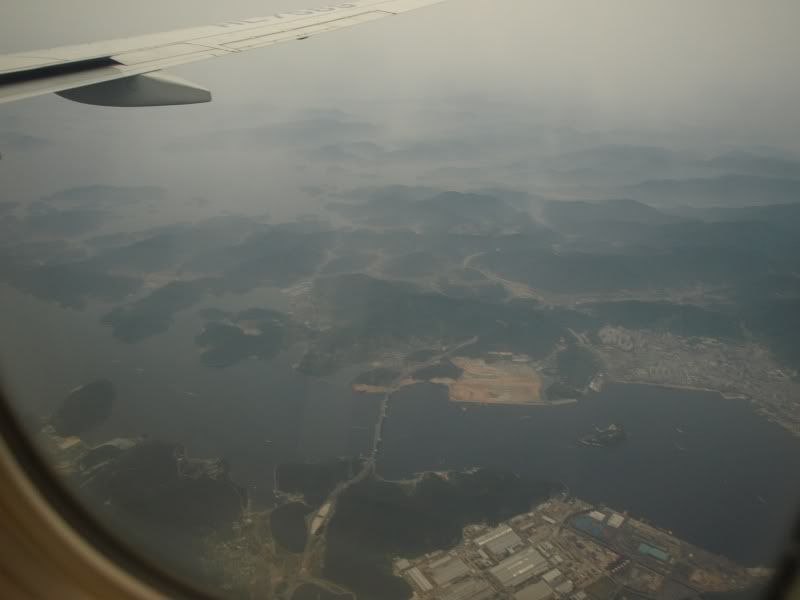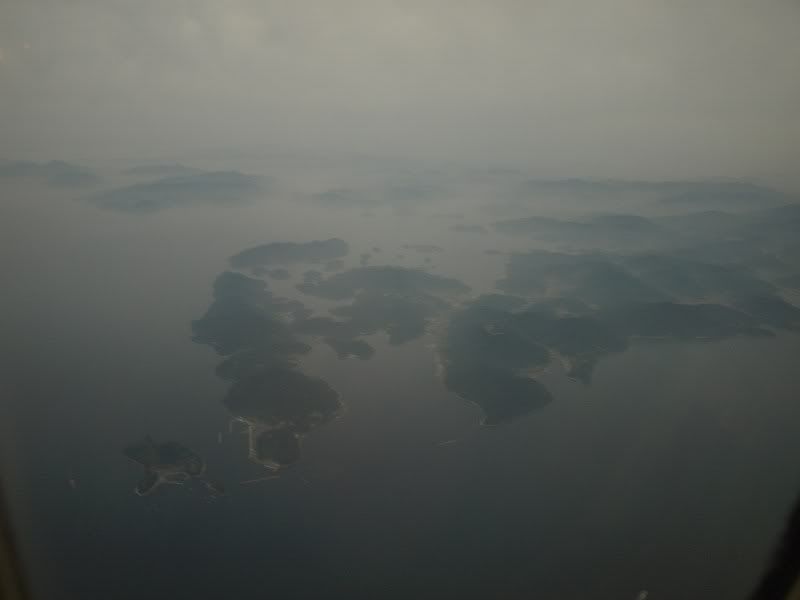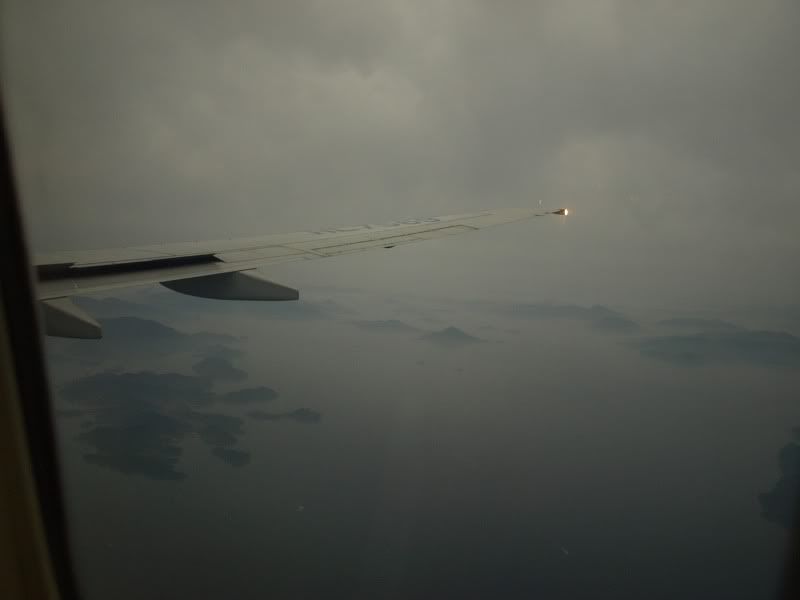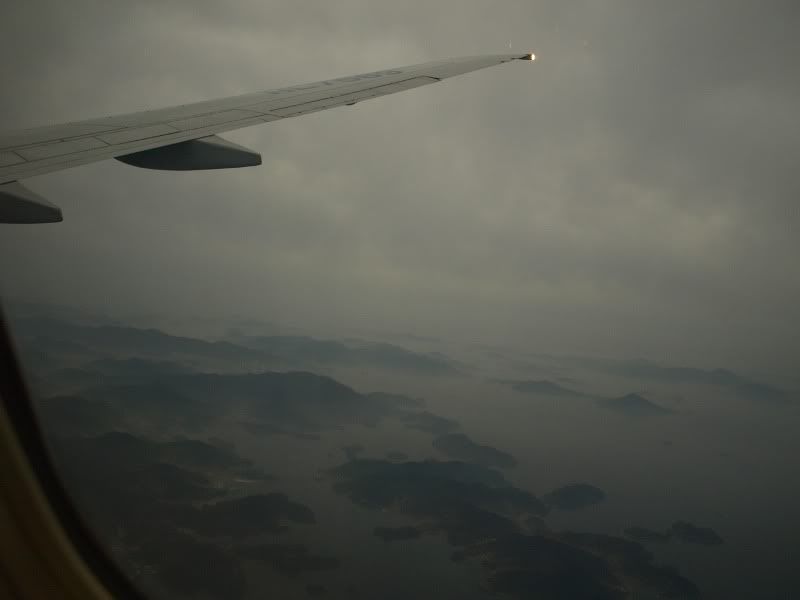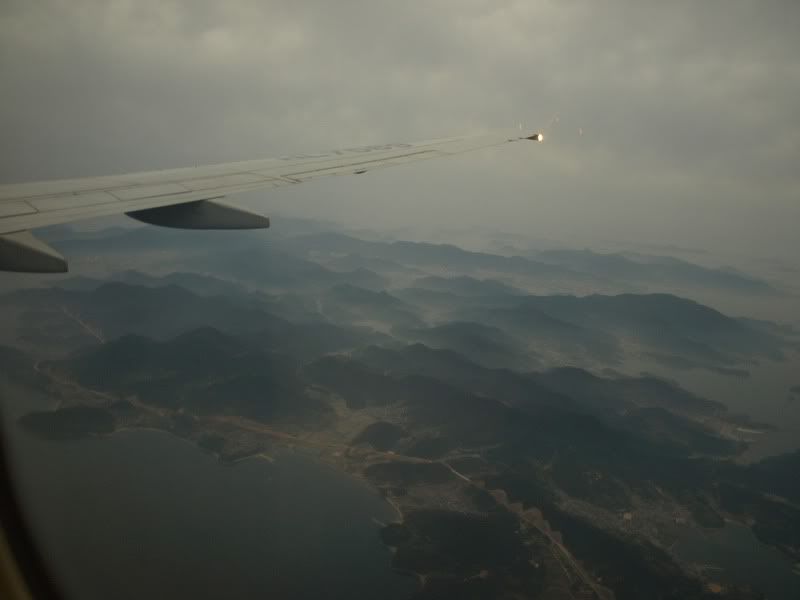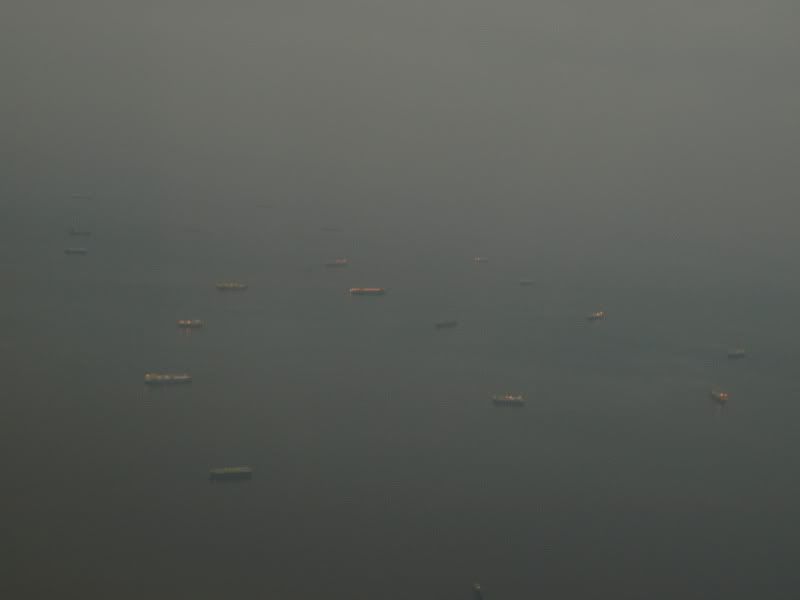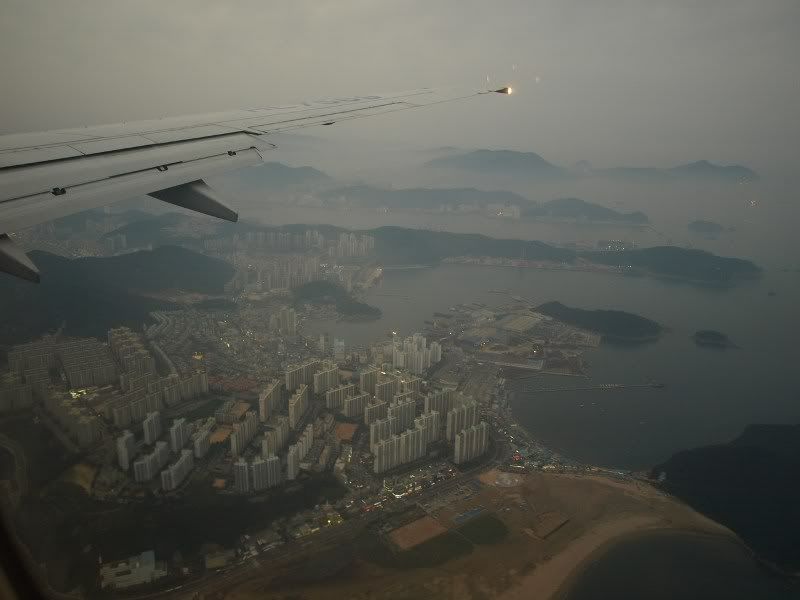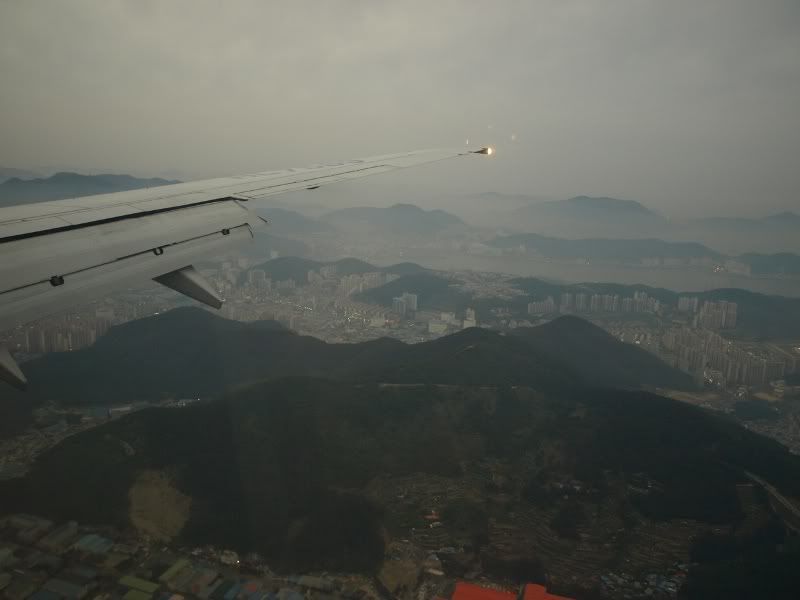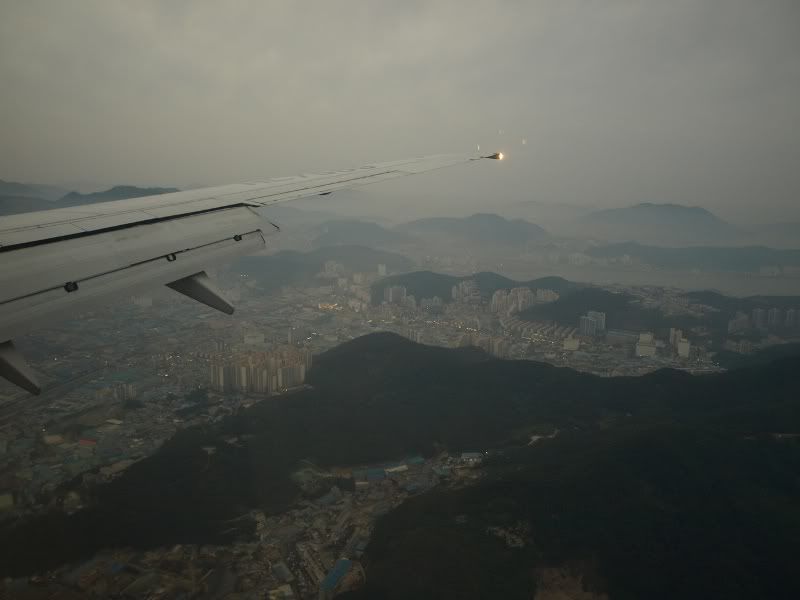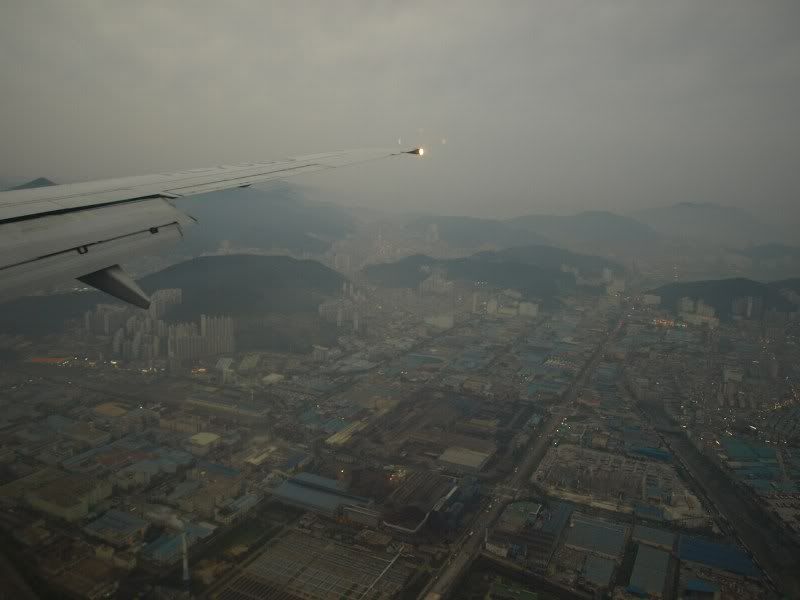 Magnificent city view. The photos don't do it justice.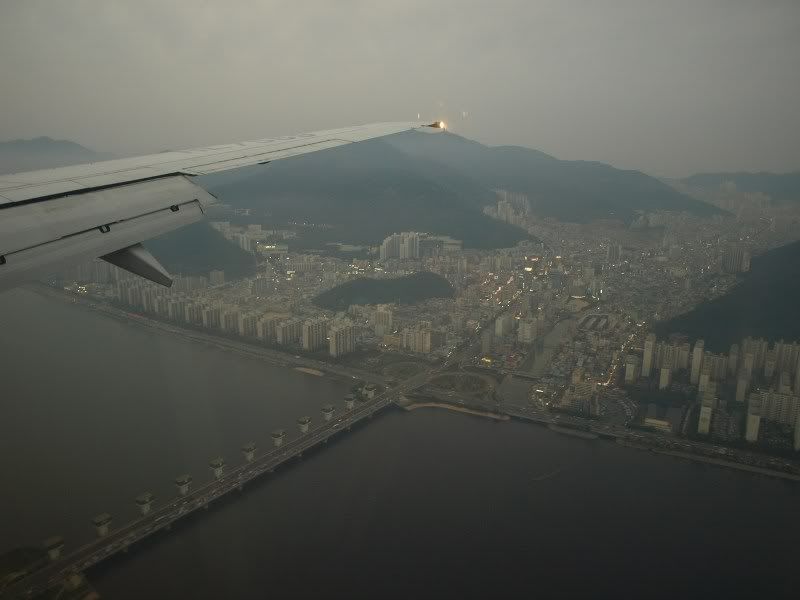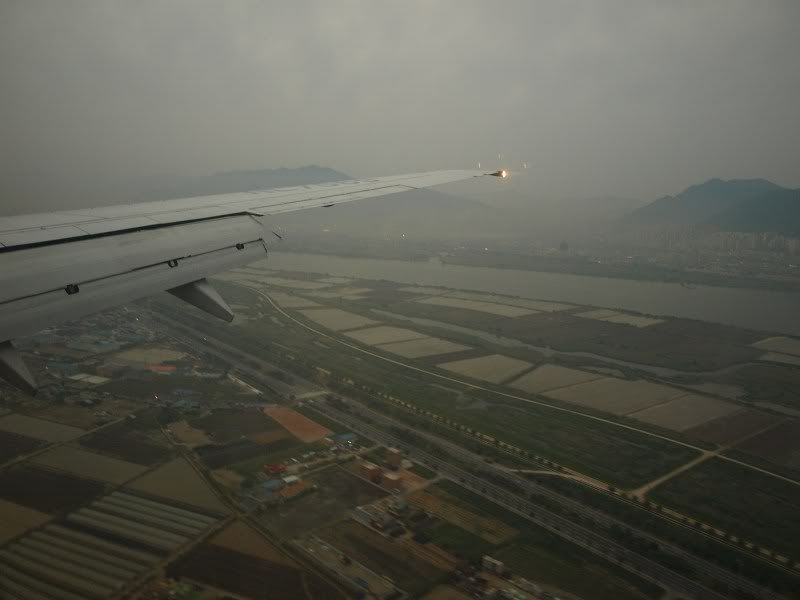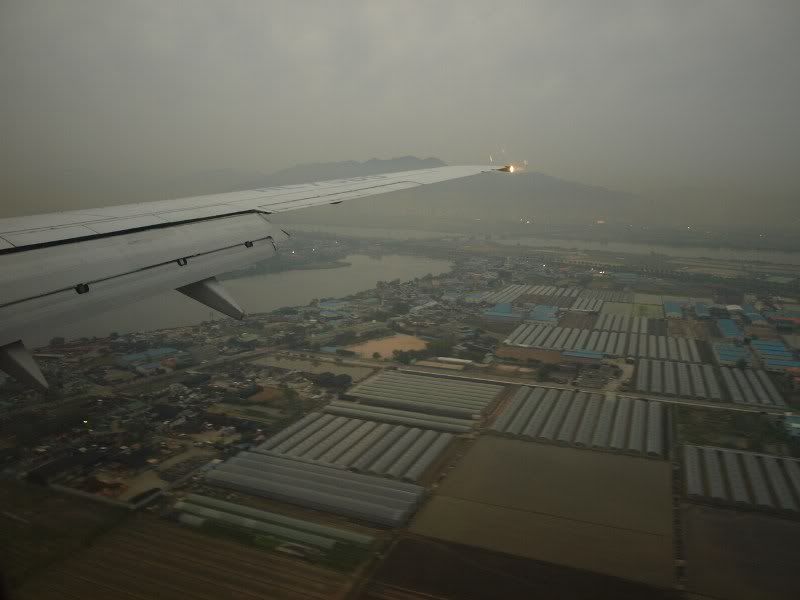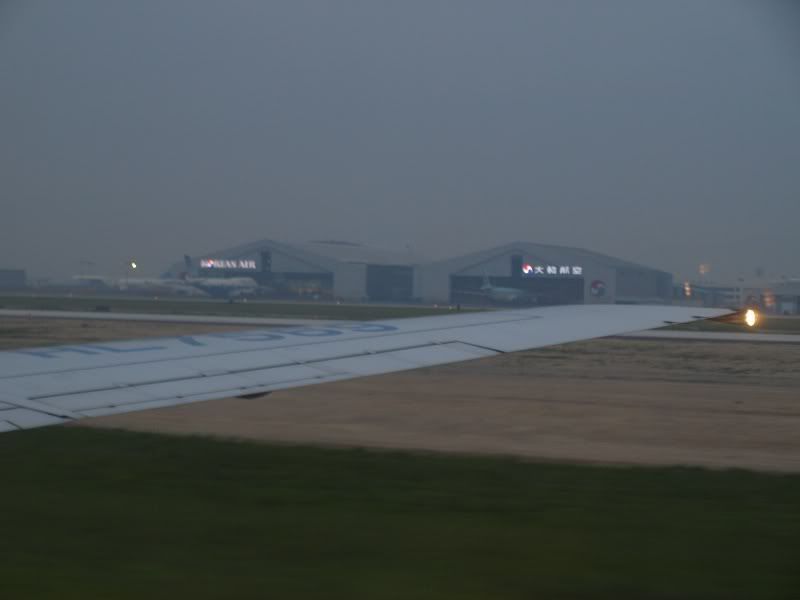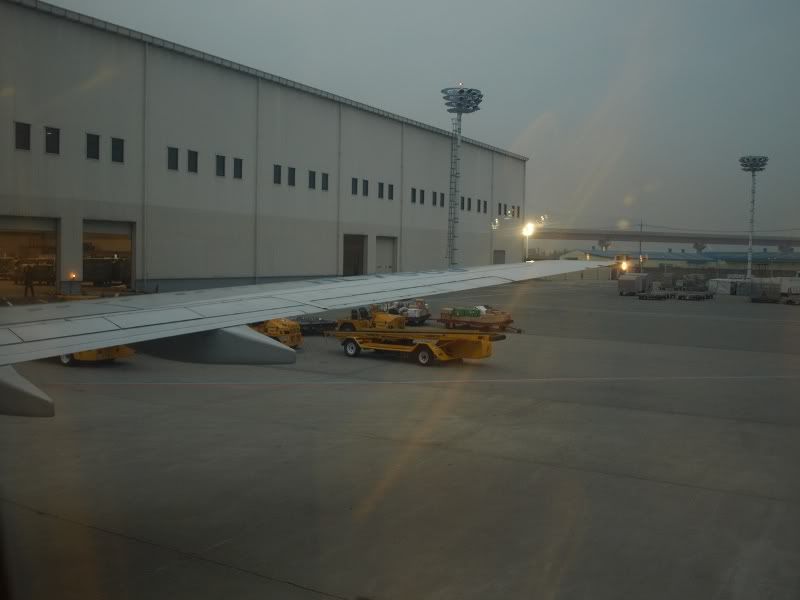 After we landed, I put my camera away. Again, as I have said in Part 1 of this report, Busan-Gimhae is a military airport and I want to respect the law / rules of it and not take any photos, especially of military installations. Since I didn't have any luggage checked in, I proceeded directly outside the terminal, where I waited for the "Airport Limousine" bus to take me to Paradise Hotel, where I would take a quick taxi ride to my friend's house. That night I got to their place around 11:00pm and I was so tired, I didn't want to go anywhere. I just went to bed since I had two very busy days.
The next day, on Thursday, we didn't do much. It was rainy and crap. Katerina had to work, so Tom and I went downtown and did some shopping, ate and had a beer. I can't remember what we did that evening, but I don't think it was anything too important. The next day Tom and I visited Katerina's school, where she's a grade 1 teacher (not one of those "Hogwon" after school teachers, but I mean a "real teacher" with real curriculum) and saw "her kids". They were so cute. Kinda makes me want to have some too. Well I'm 28, so I think in the next few years, would be a good time to have a few of my own. The kids were doing a test so Tom and I had to be quiet for a bit. After they finished, they went off to gym class and I helped Katerina mark them. All her students did very well, which proves she's a great teacher. The test wasn't that easy either. Six pages, and the topic was "bad things" like drugs, alcohol, smoking and medicine. It was basically a "health class" test, that tough kids the dangers of such things. For a grade 1 class, I think it covered a lot.
Fire trucks at a fire station nearby. Much smaller than what I'm used to here in Canada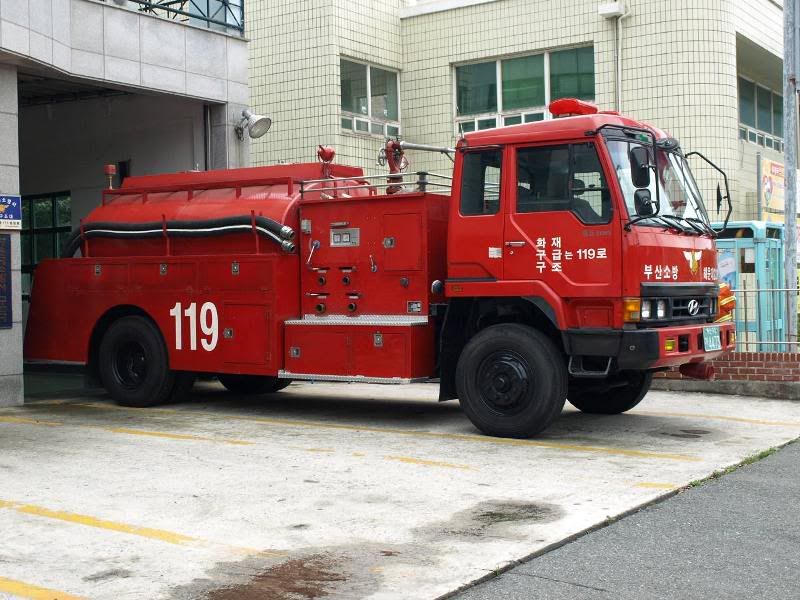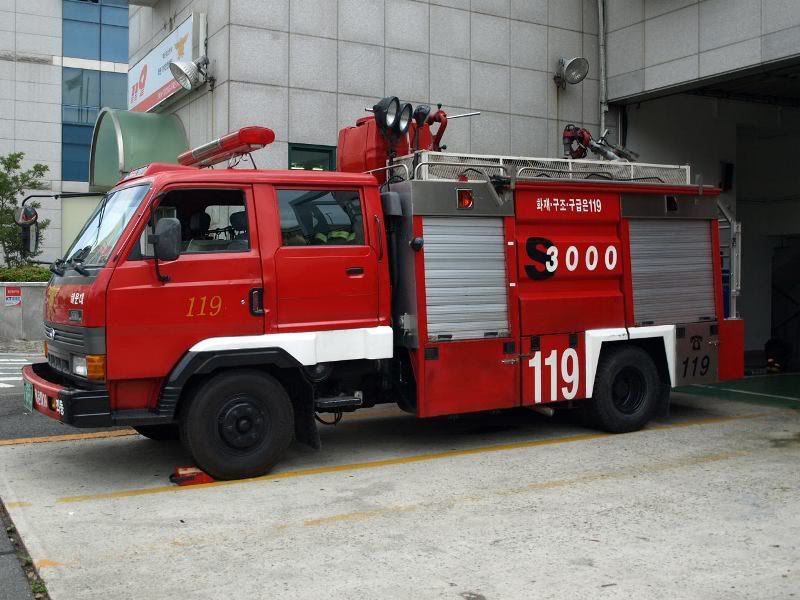 Me, helping mark the tests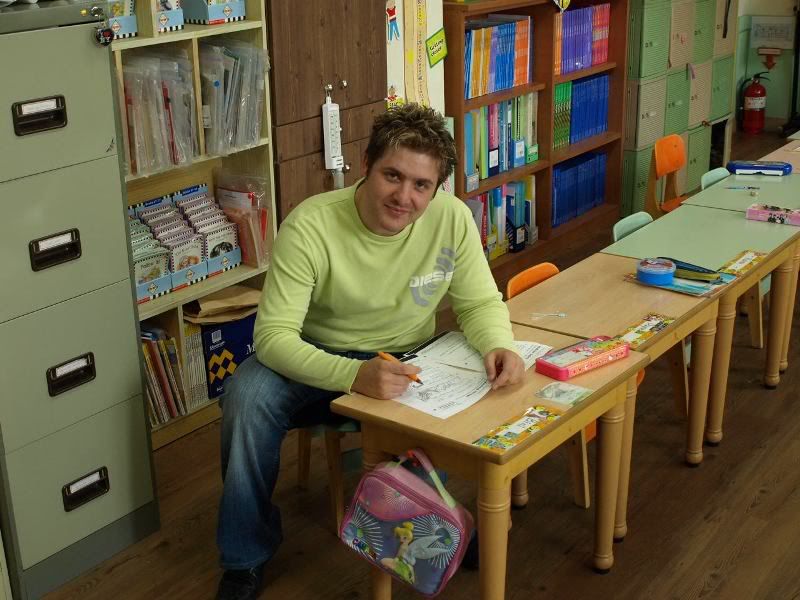 Katerina at her teacher's desk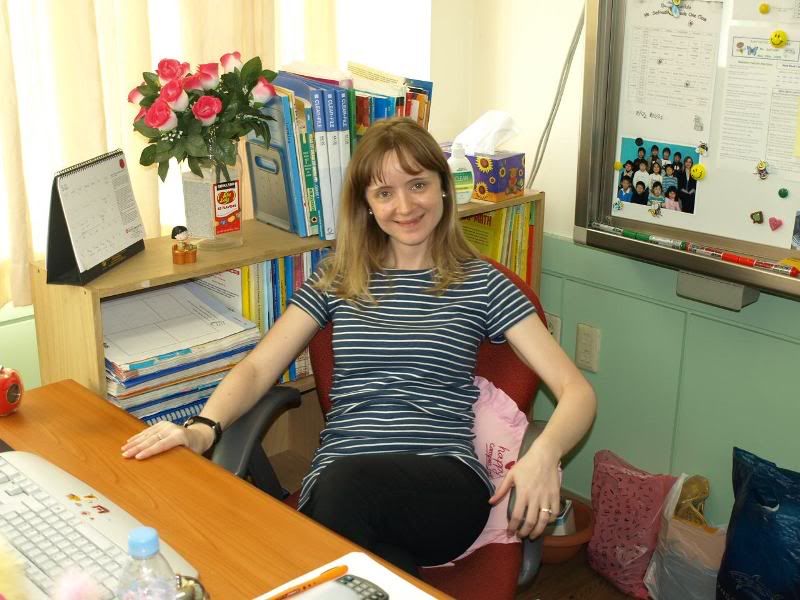 Her classroom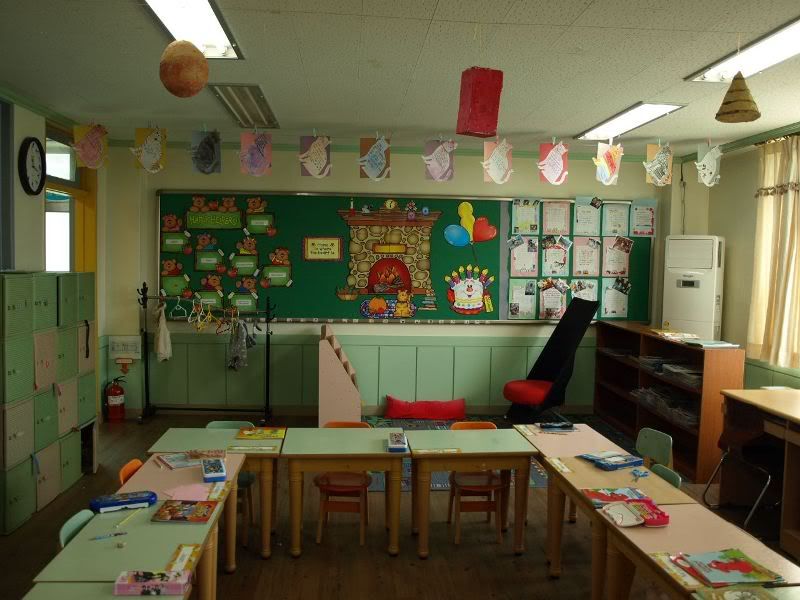 Tom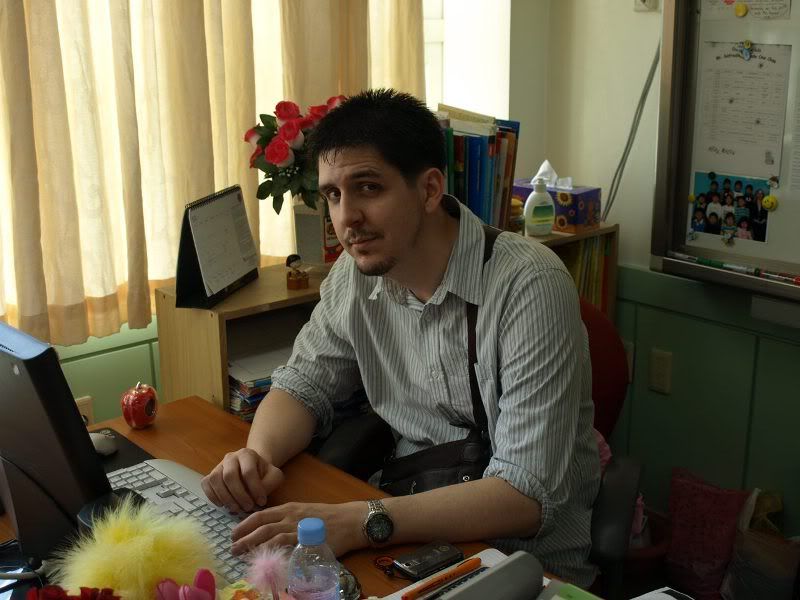 After visiting the international school, Tom, Sean and I went for some beers at an outdoor patio near Haeundae Beach. This is mostly an ex-pats bar. There, we had the pleasure of hearing an engineer from Argentina talk about how much he doesn't like Germany (he holds dual German / Argentine citizenship). Oh well… There are some places I don't like in this world, but I won't go on a 30 minute rant to some strangers I've just met. Later that evening, Tom, Katerina, some of their friends and myself went out to Busan's other beach (can't think of the name), where we hung out at a pub. I met some cool U.S. Airforce pilots who were on leave. I had a few beers with them and had some aviation related talk. Some flew the F-16s and some the A10 Thunderbolt. What can I say? I can't compete with that… I fly an Aztec . None the less, they were happy to meet a fellow pilot, considering that 90% of the people in that bar were there to teach English.
In front of Tom's apartment building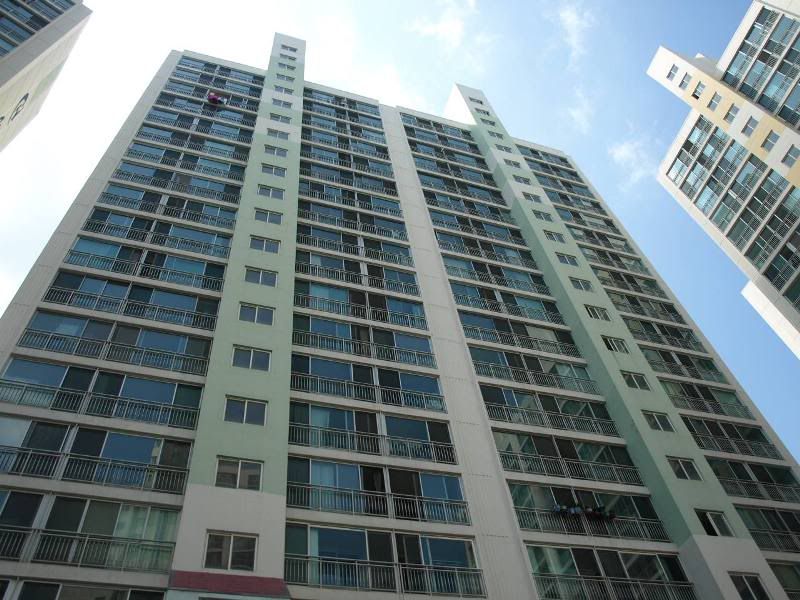 Tom trying to make plans, over the phone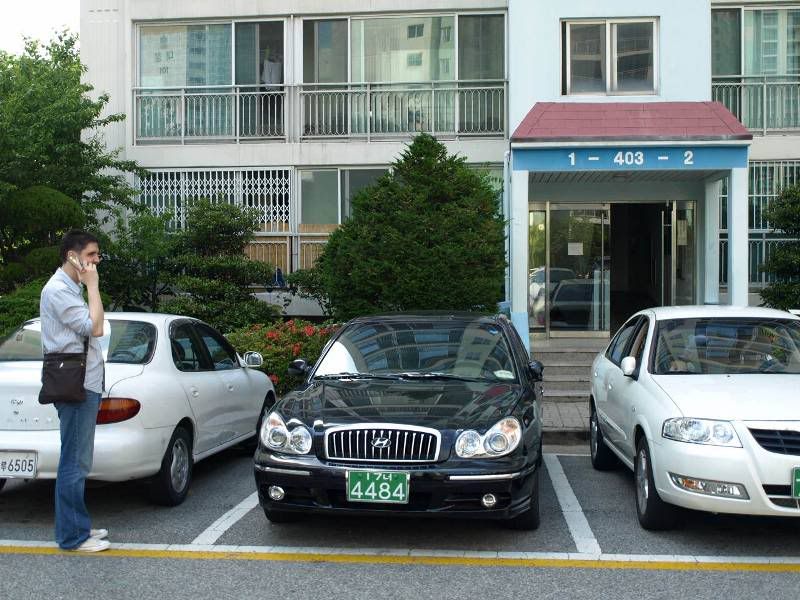 Sean, trying to find some song on his iPod instead of driving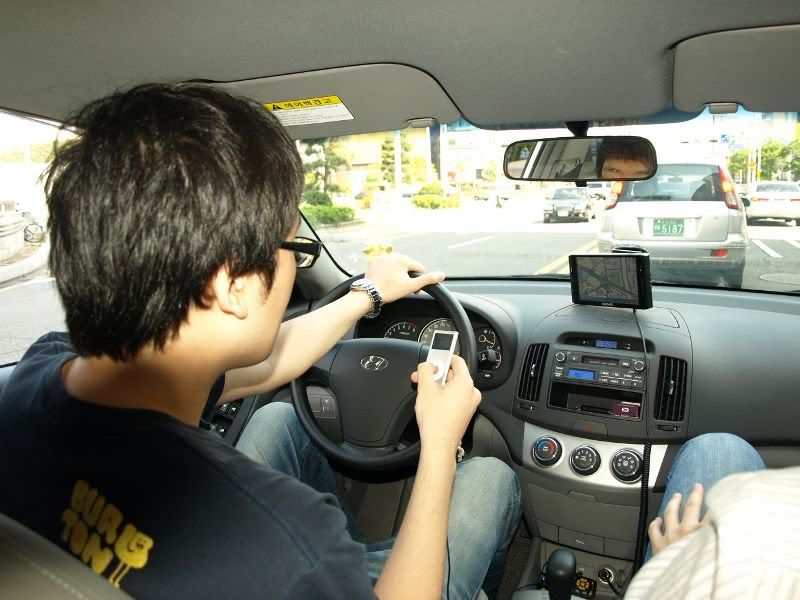 The pub we went to that evening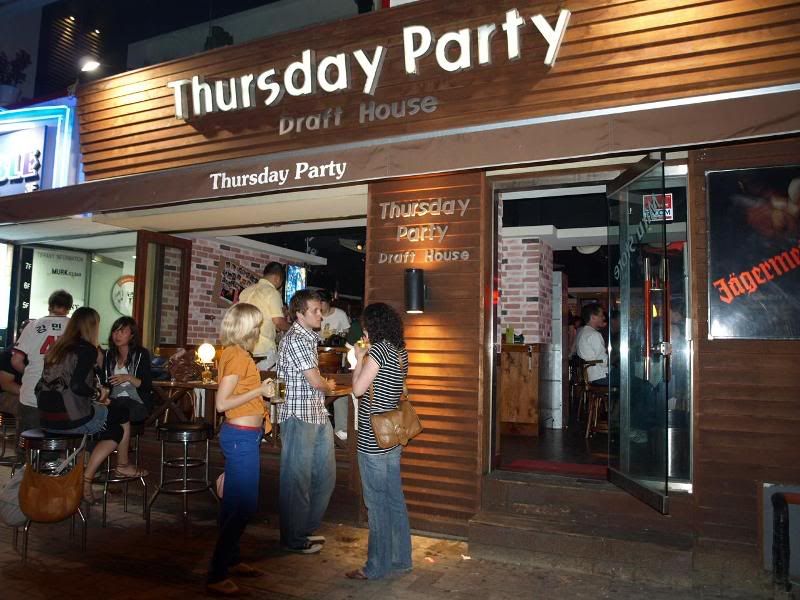 The main street near the beach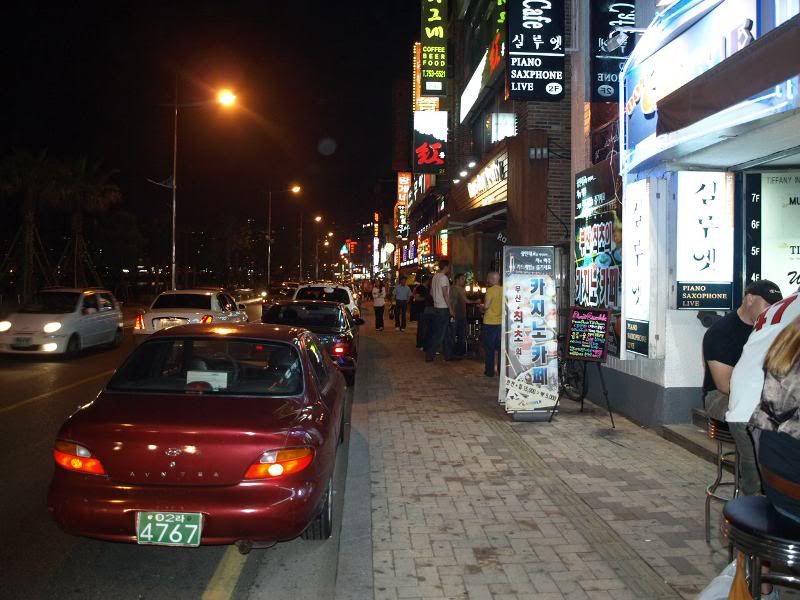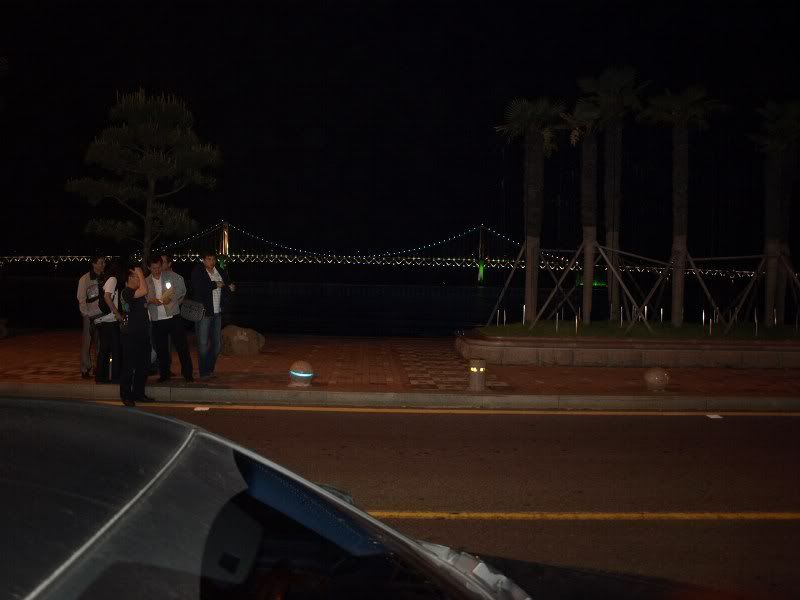 Another pub…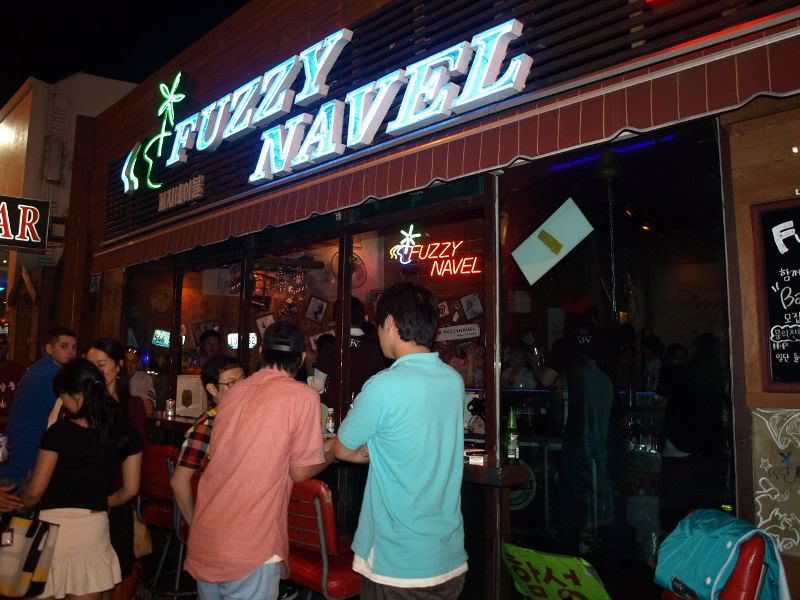 I like this bridge, though I can't think of its name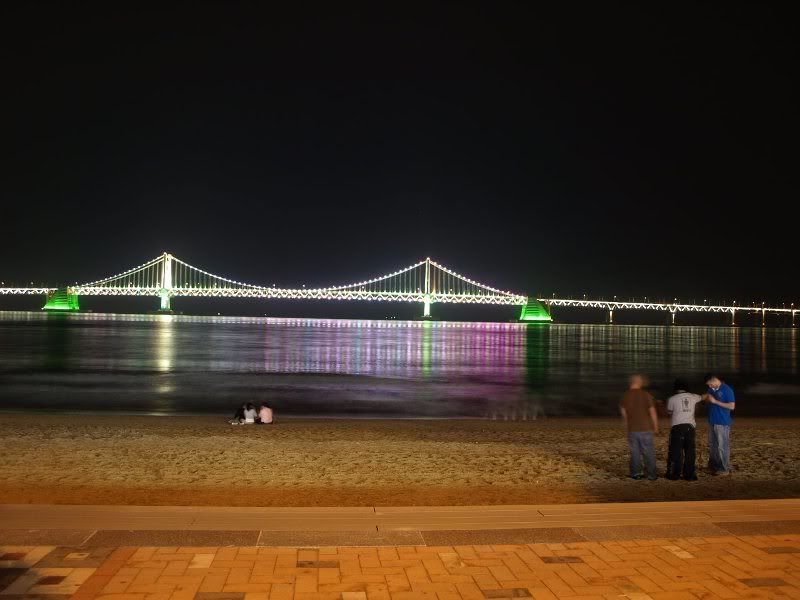 Beach view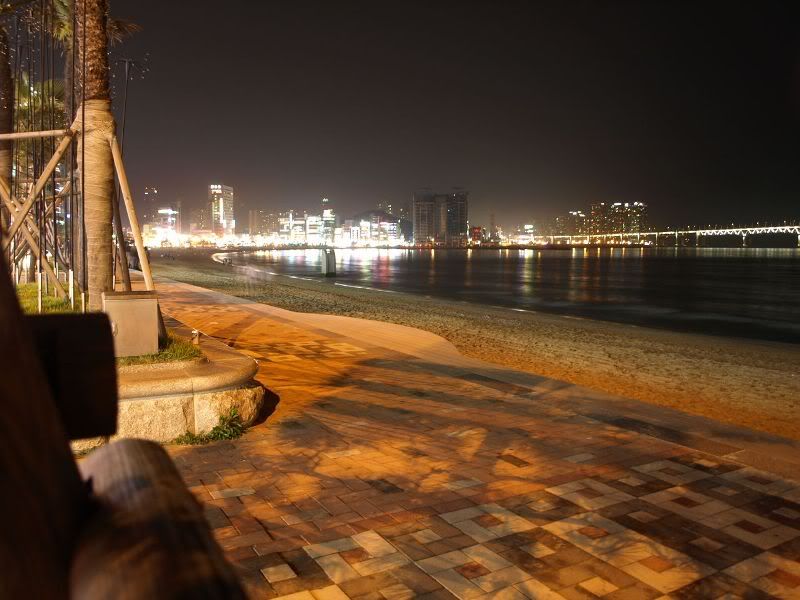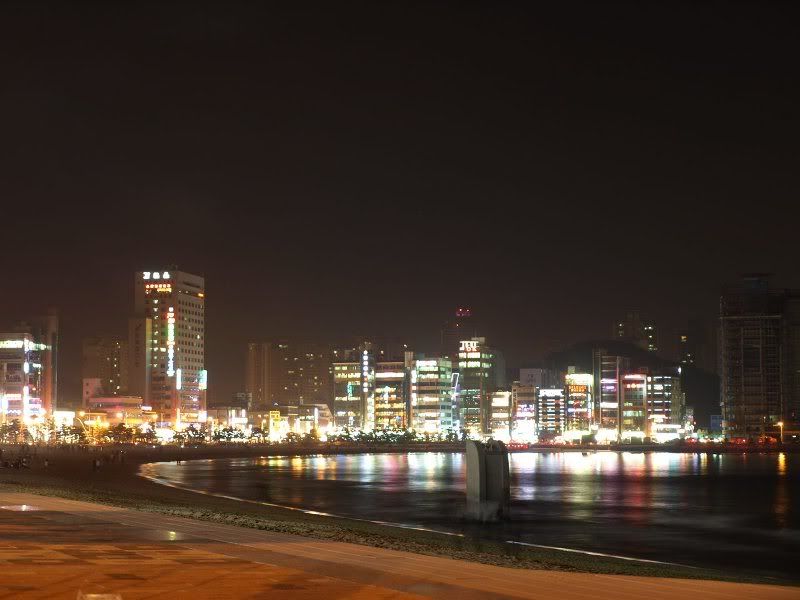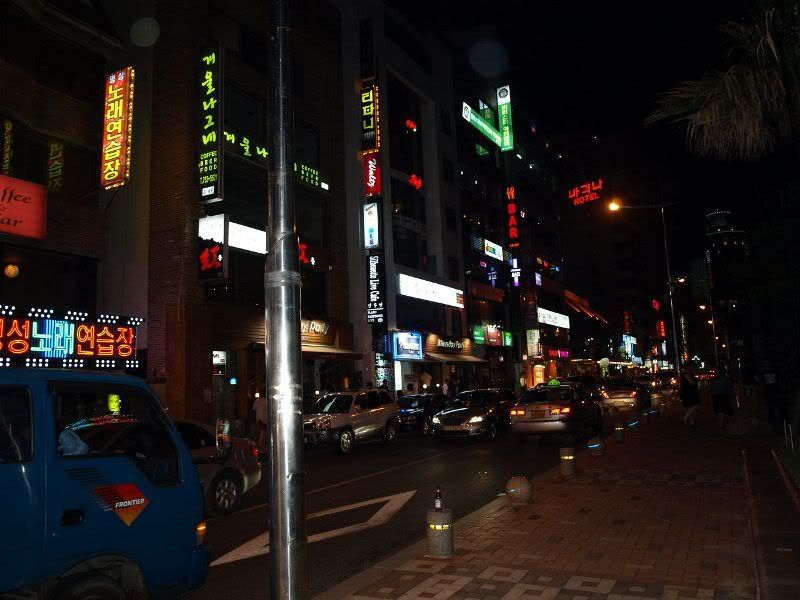 The next morning, I woke up fairly early said good-bye to Tom (Katerina was at work already) and I headed to the Busan Train Station. I took a taxi there and I arrived about 15 minutes prior to 11am. I was just in time to catch the 11:00 o'clock KTX train to Seoul. The train ride was not as cool as I expected it and I found the First Class compartments fairly dirty, especially the carpet and the windows. I don't recommend taking the KTX. Even though it's convenient and fast (300km/h), I would much rather fly. I really HATE dirt / dirty things and for 71,000 Won for a one way ticket, I would much rather fly Korean Air business class (that was about 87,000 Won, so about 80 dollars US). Below are some photos from the train ride, the KTX with Korail.
Ride to the train station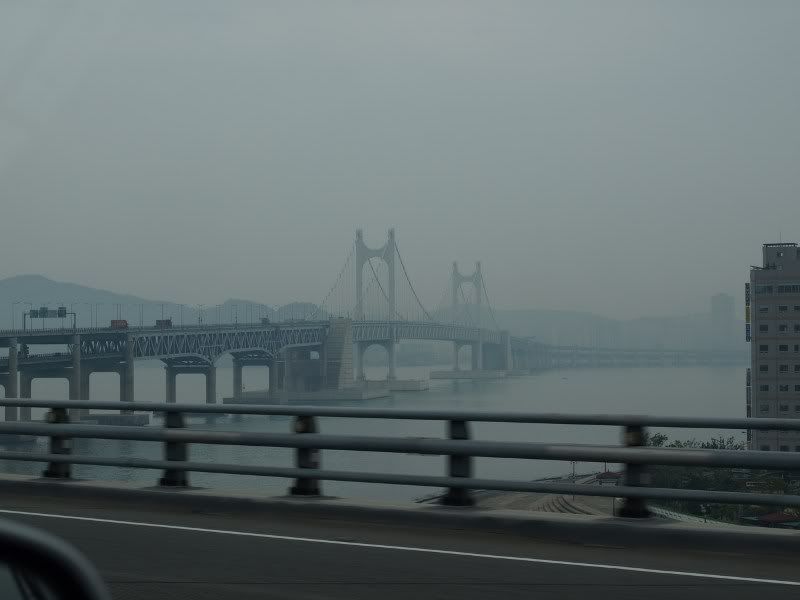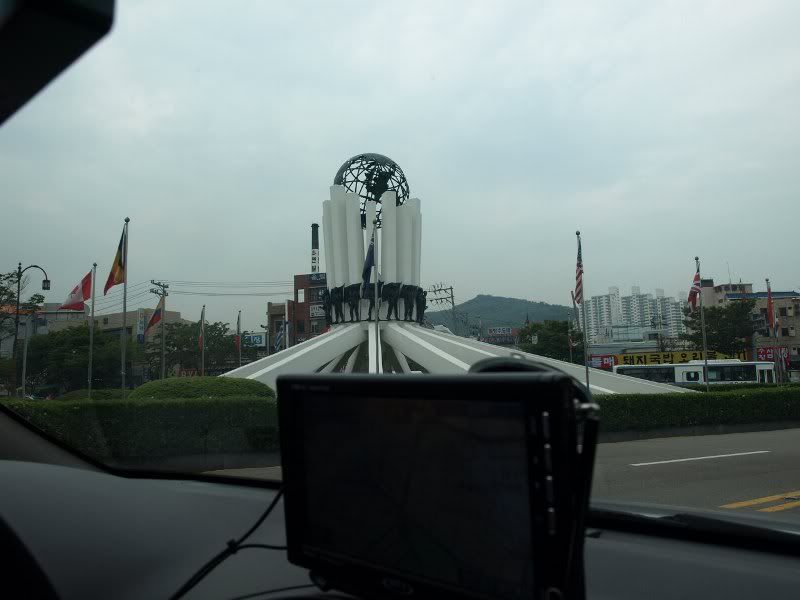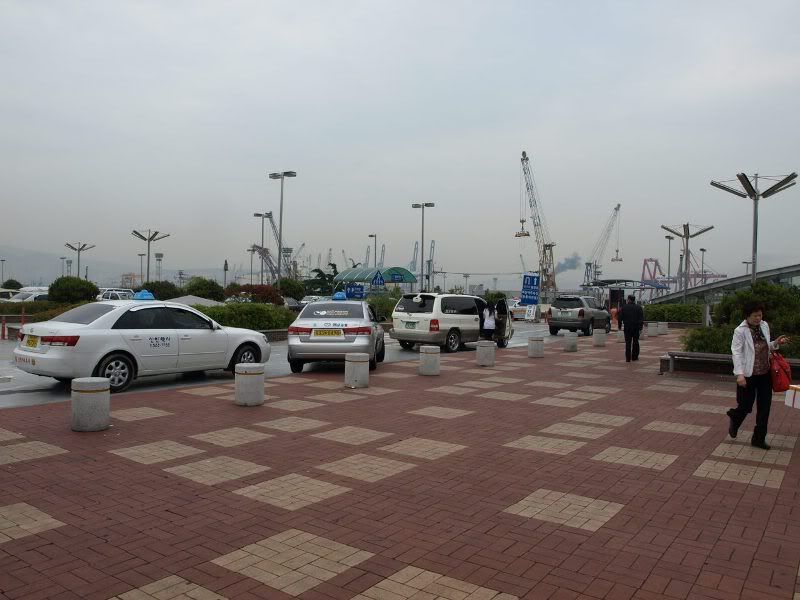 Busan Train Station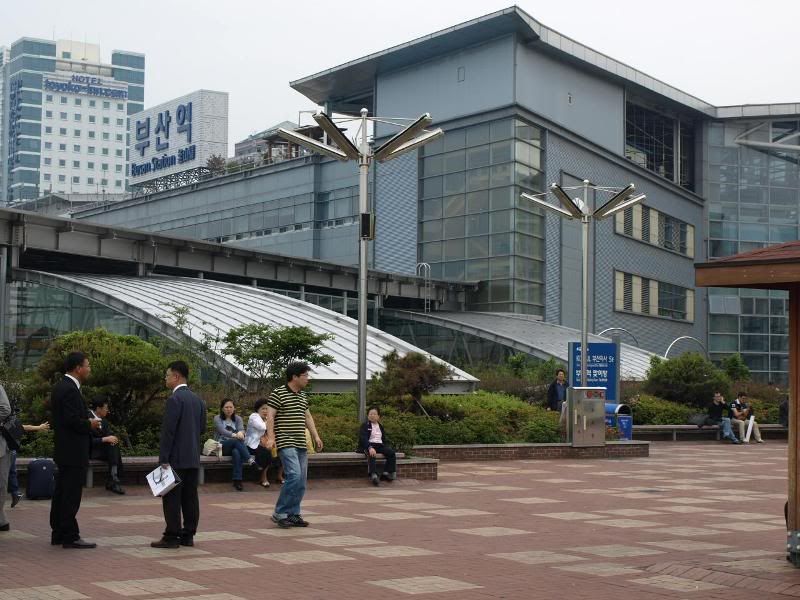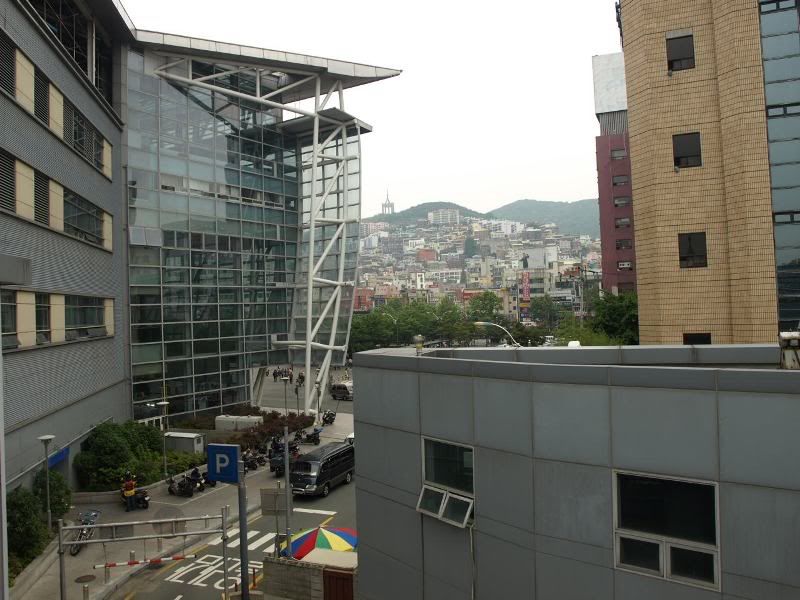 Just before boarding the train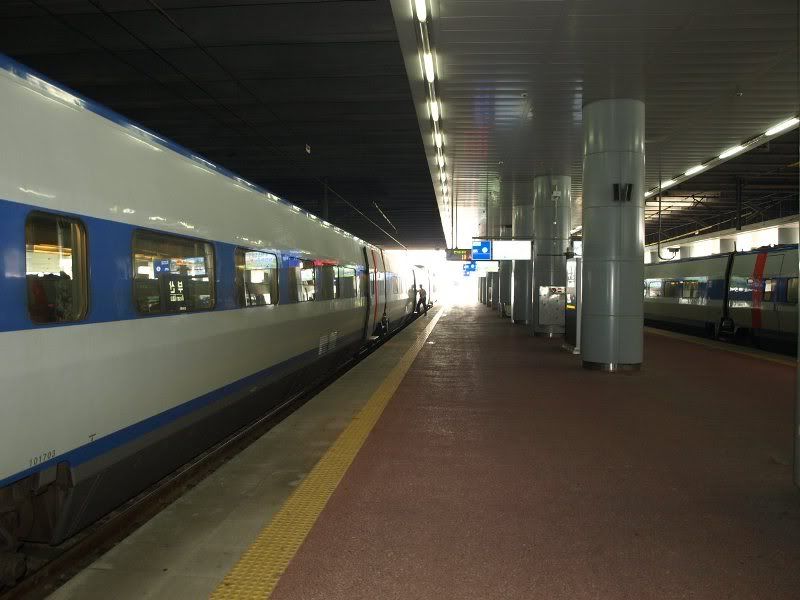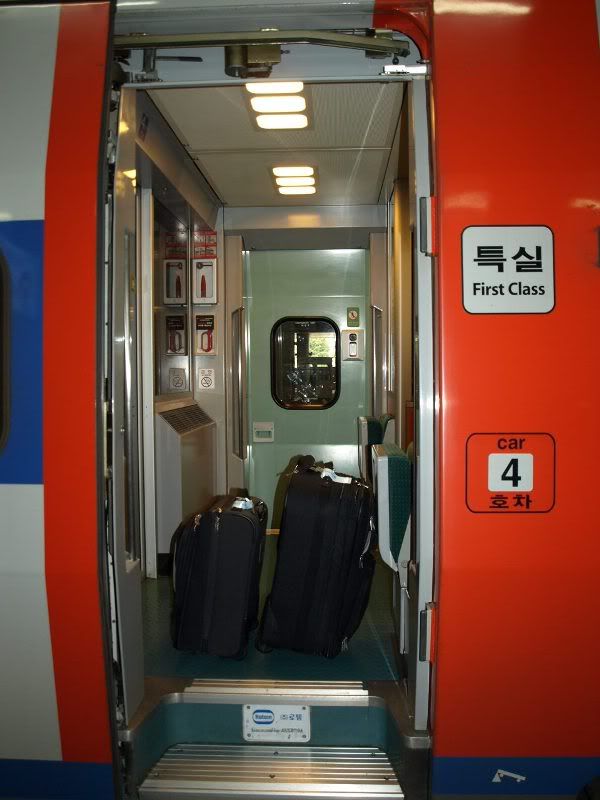 After leaving the train station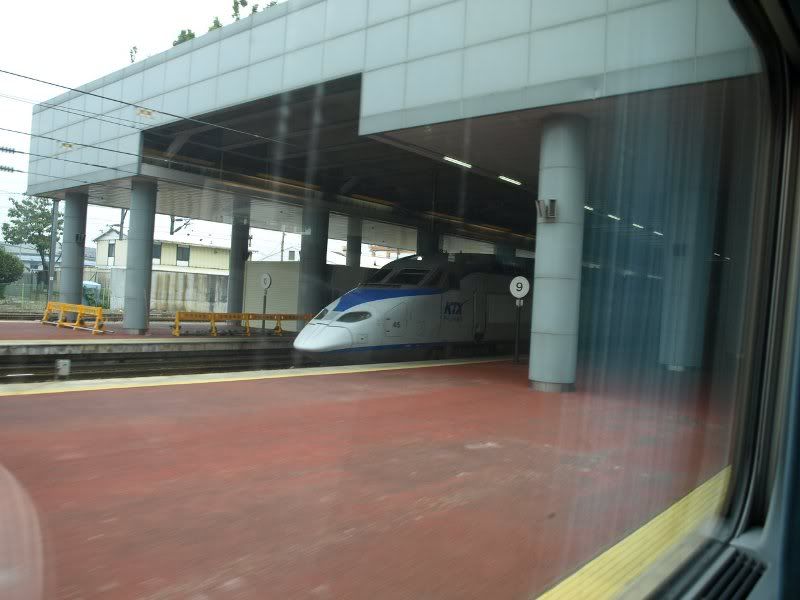 Some pictures from the "trip" with the Korean country side / various cities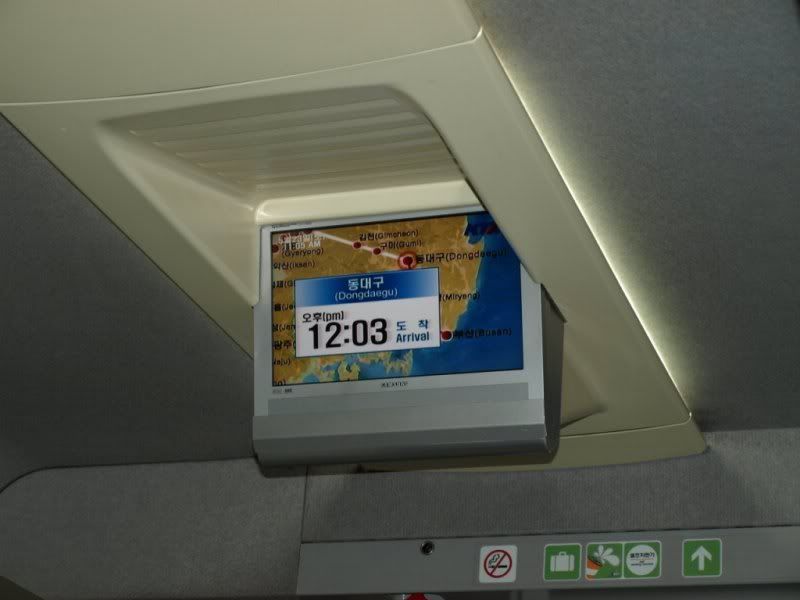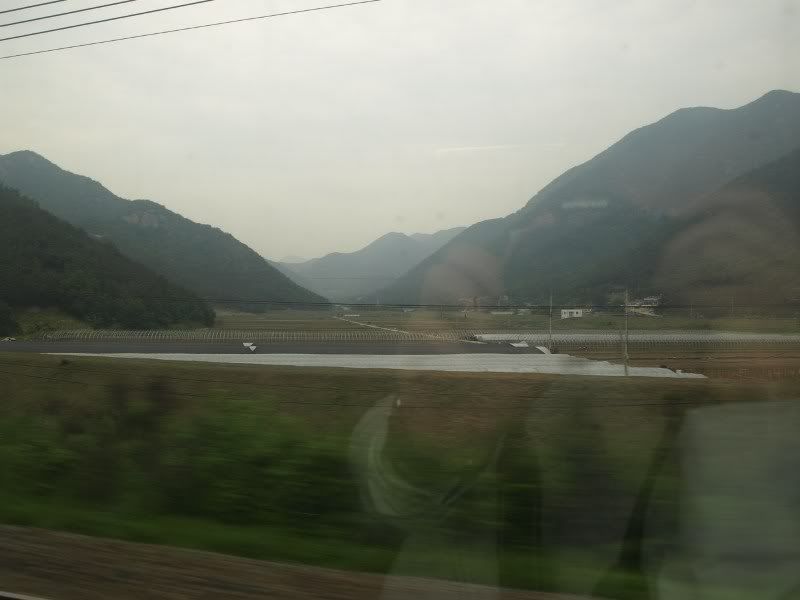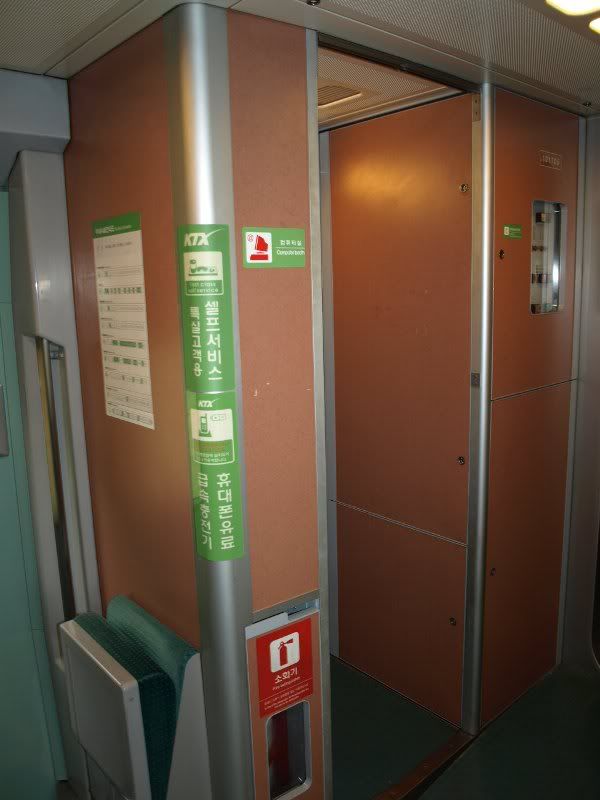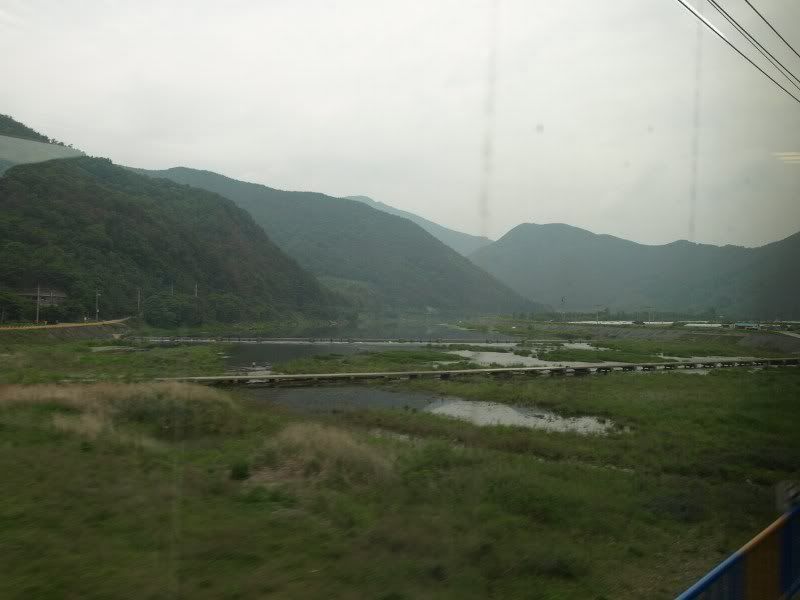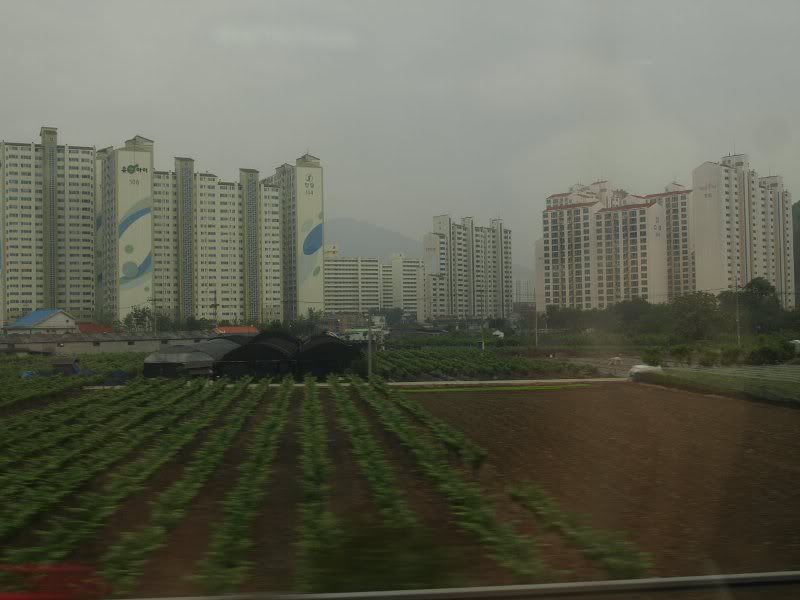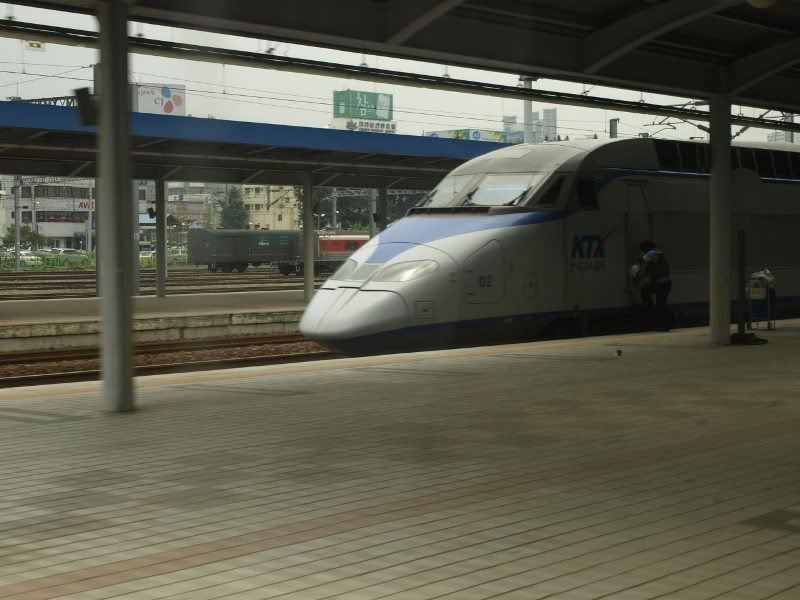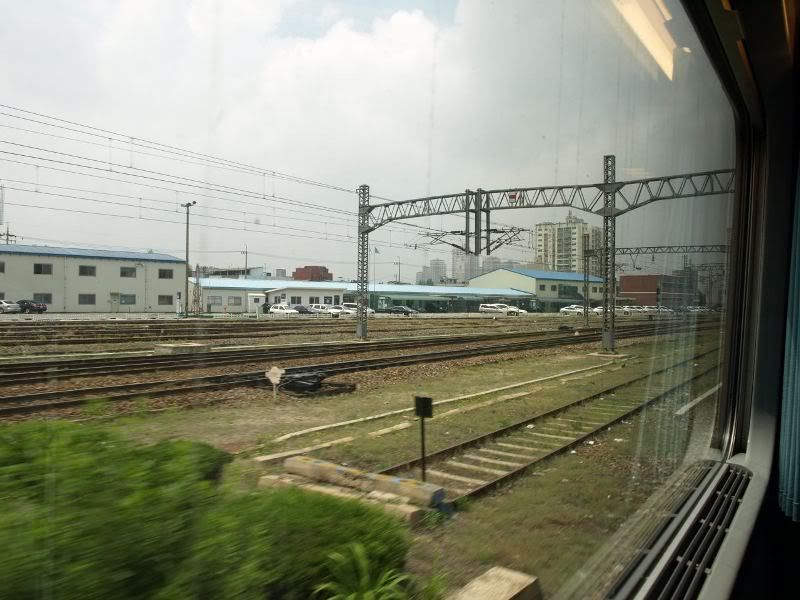 This lunch-box was one of the worst ideas ever. I only ate the rice. Everything else was just disgusting. I said before, I was not a big fan of Korean food, but I can eat it… this though… was a really bad version of Korean food.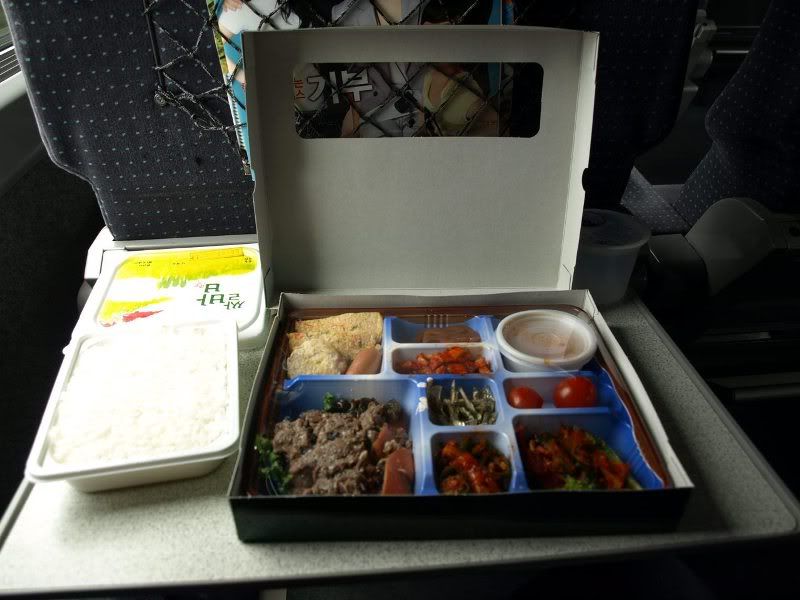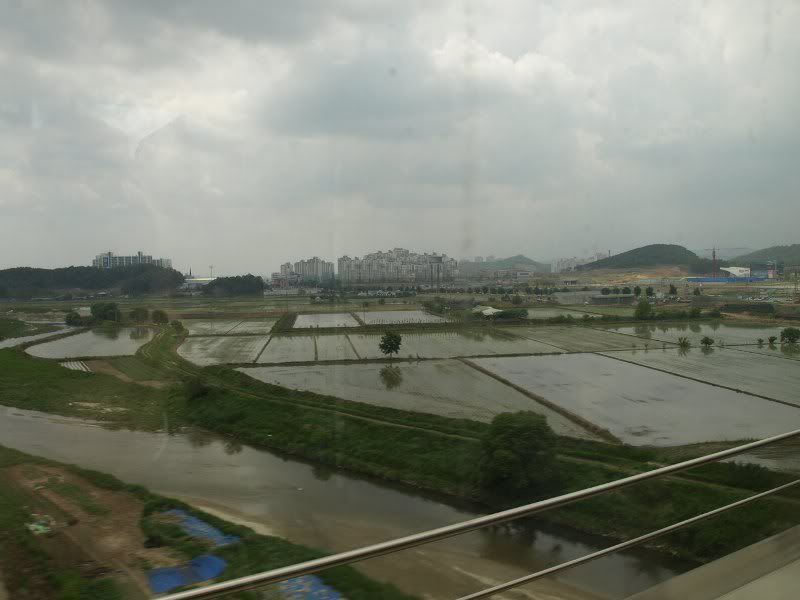 Notice the speed 301 km/h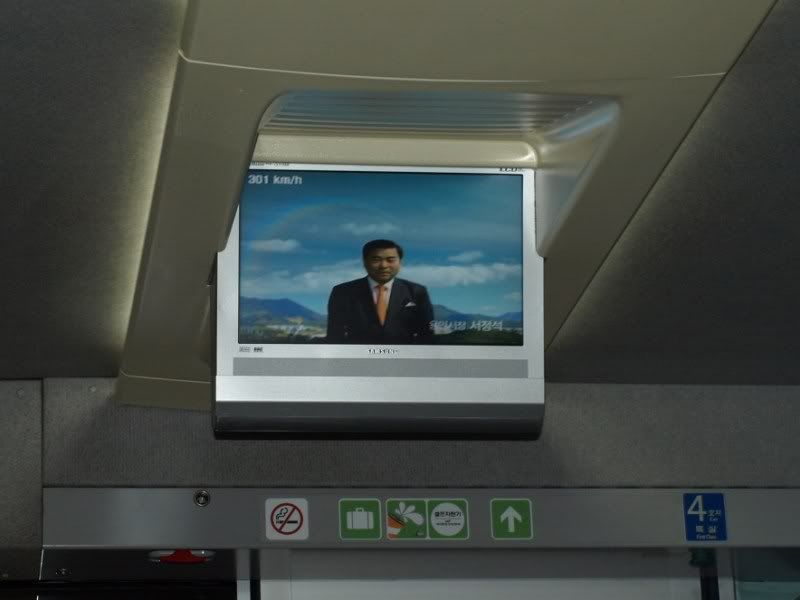 Seoul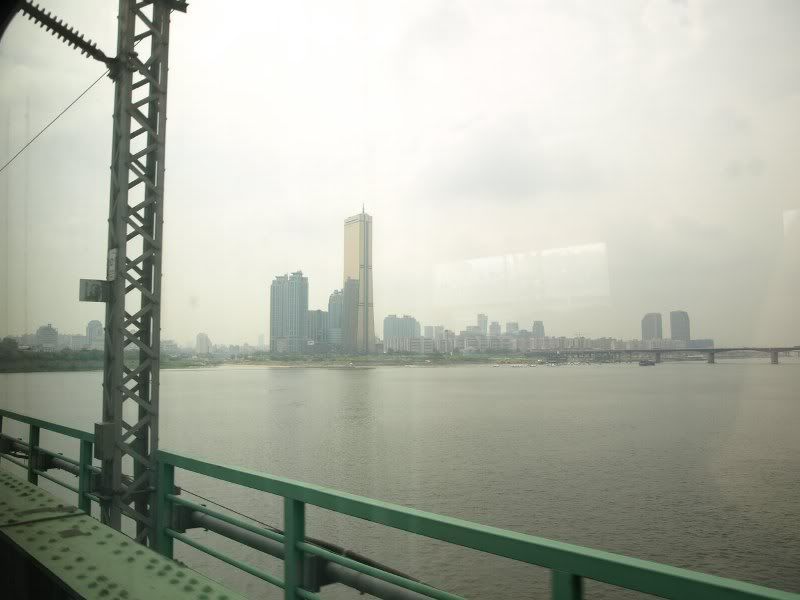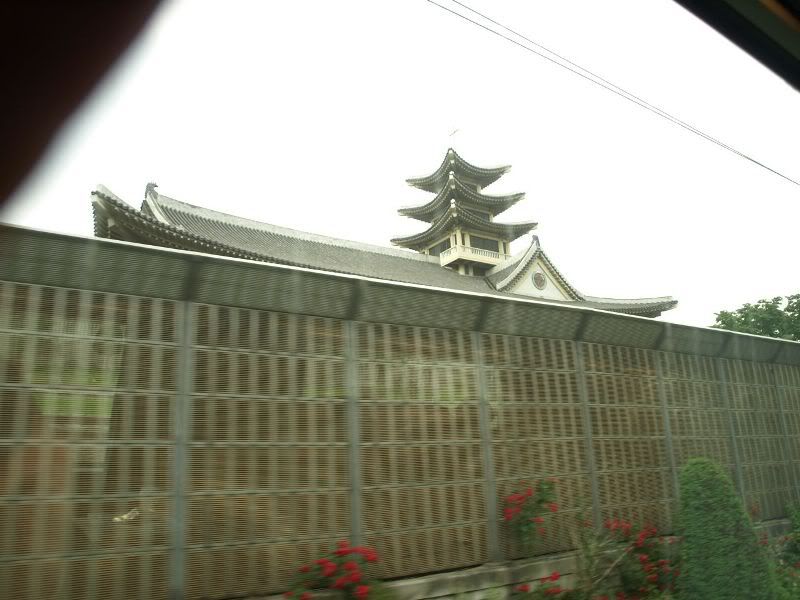 Inside the First Class compartment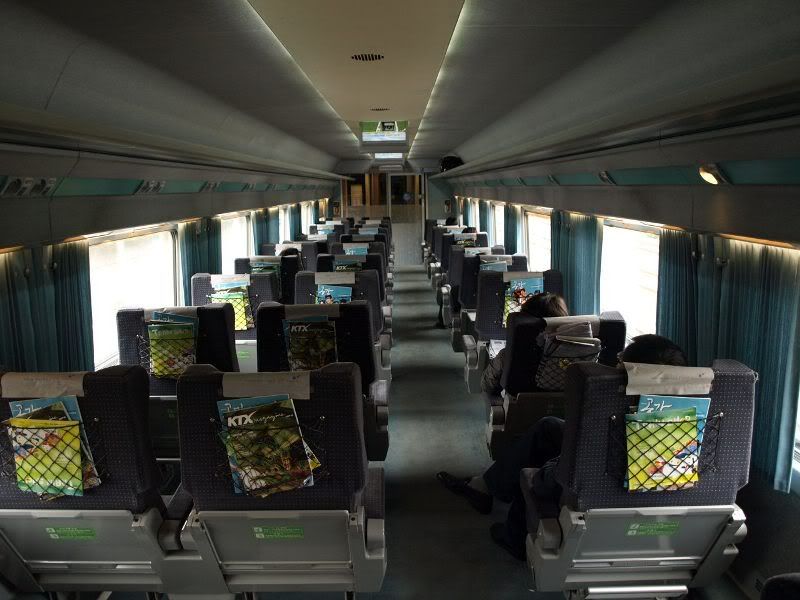 After arriving in Seoul, about 1:45pm
The ex-president of South Korea had just committed suicide and I think this is why all the media was there. I didn't know what had happened at first.
Seoul Station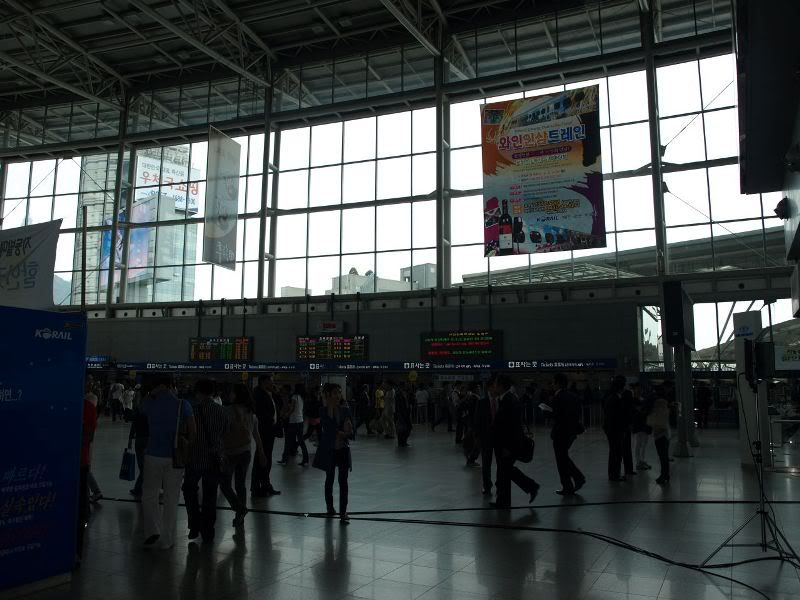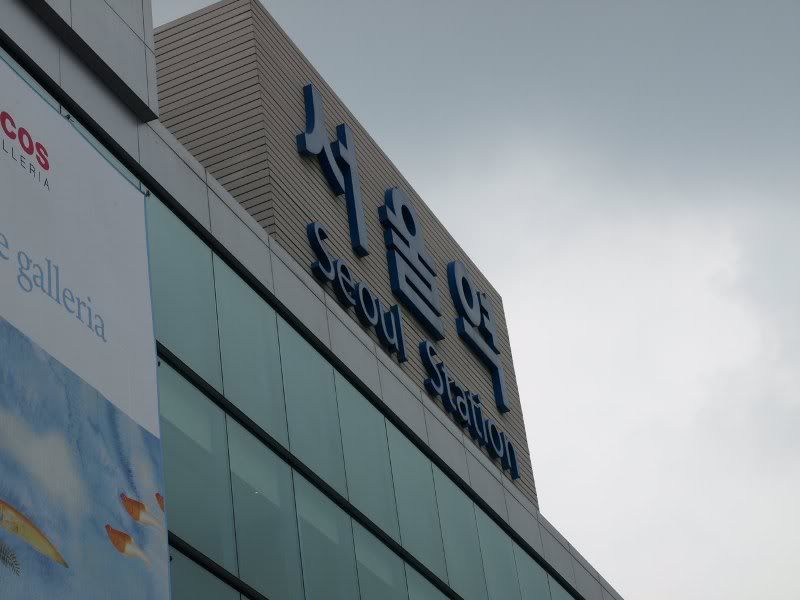 Riot Police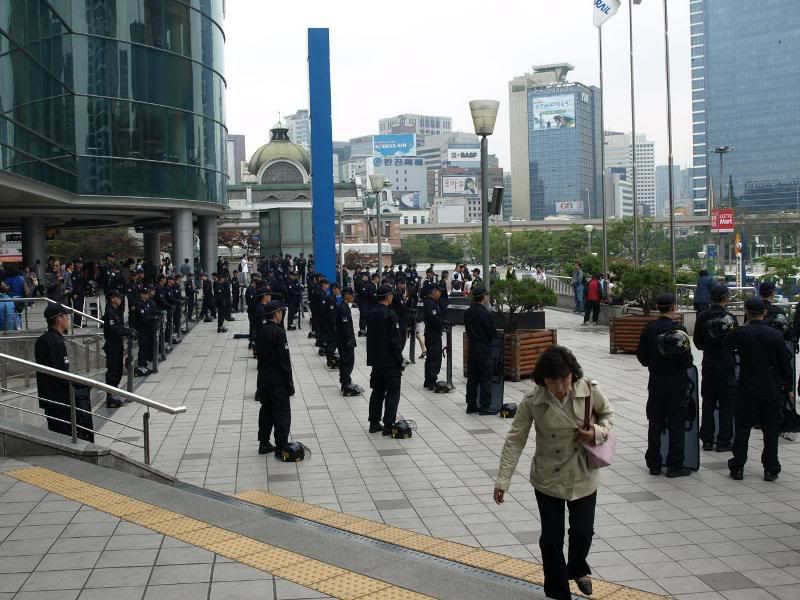 My dad's friend waited (that I have met a few days earlier) for me at the station, so we ended up taking the subway back to his house. I spent the afternoon with his family, had dinner, watched a movie and just talked about the old times in Canada. I went to bed fairly early that night, because I was exhausted. The next morning, their son went to a friend's birthday party and I went with him and his wife shopping for some presents. I bought my mom and my girlfriend some gifts, though I didn't get anything for my dad. I knew that what he wanted, I would find at the duty free shop at the airport. We also went to see Seoul Tower, so we took up the gondola. It was pretty cool. Here are some pictures from there and from around Seoul.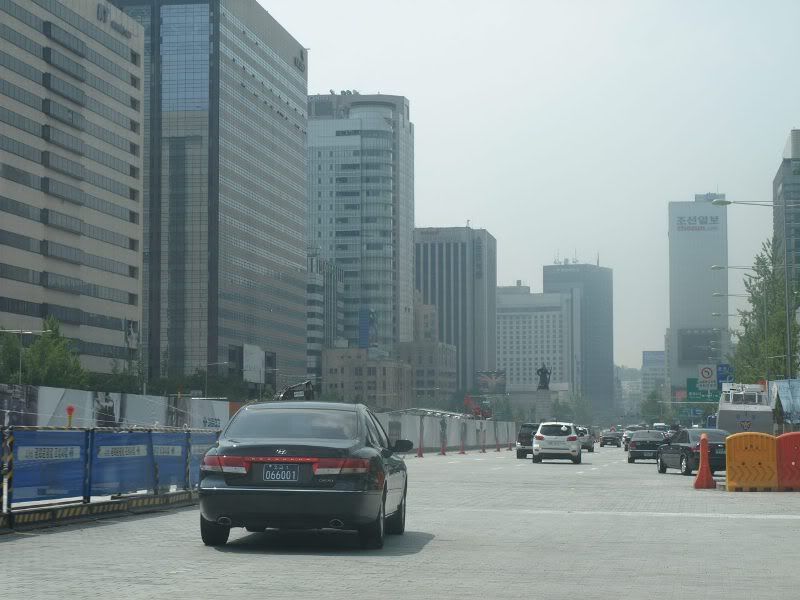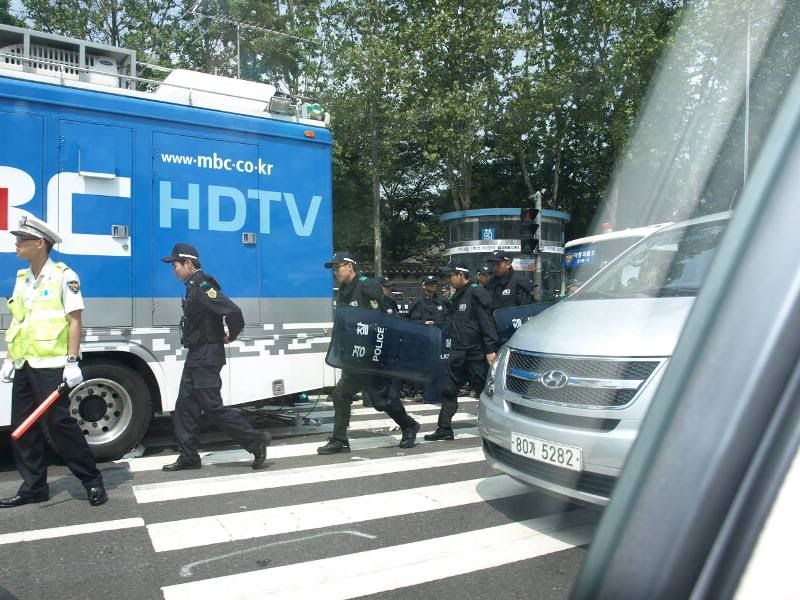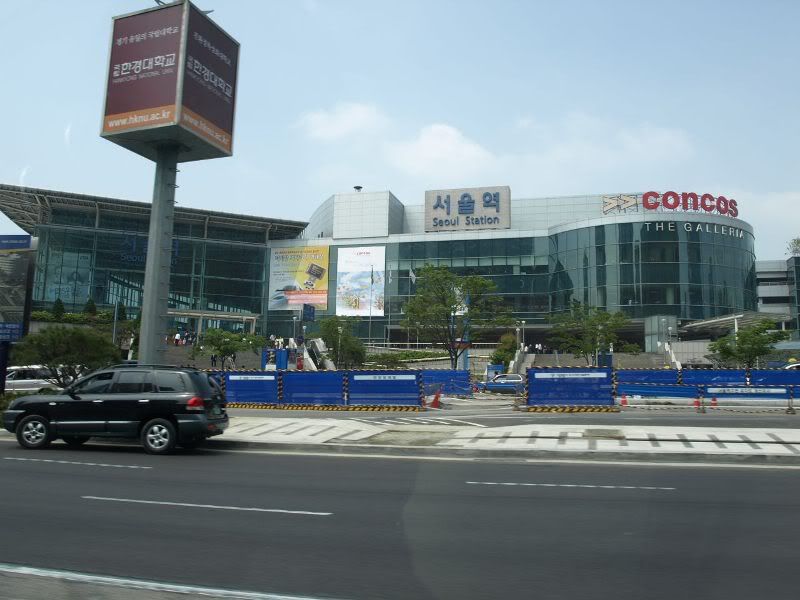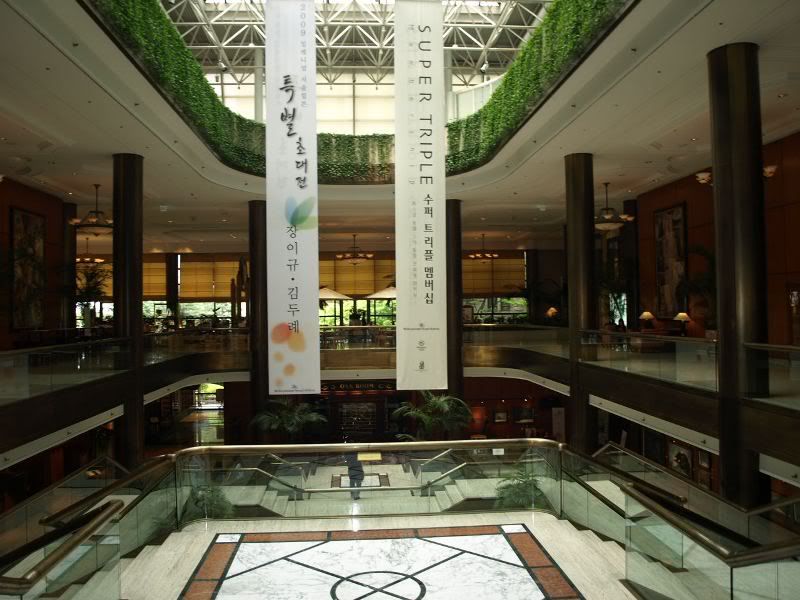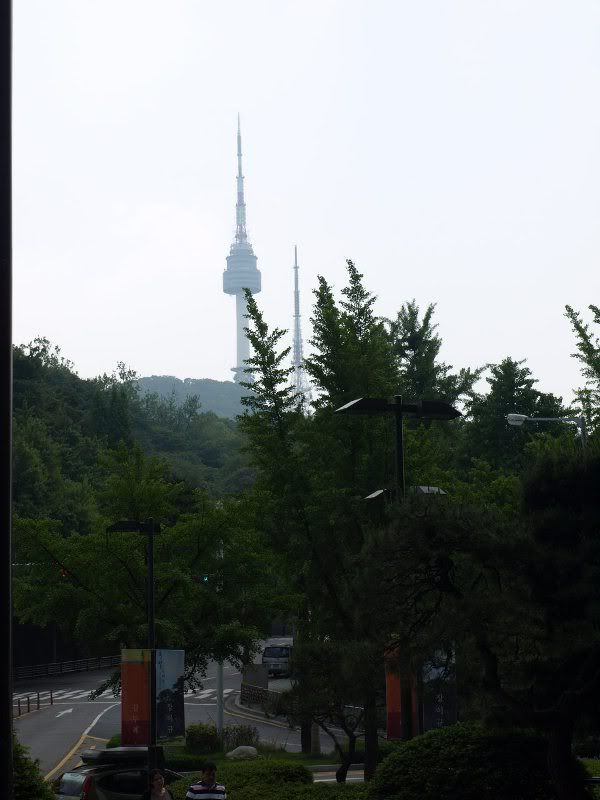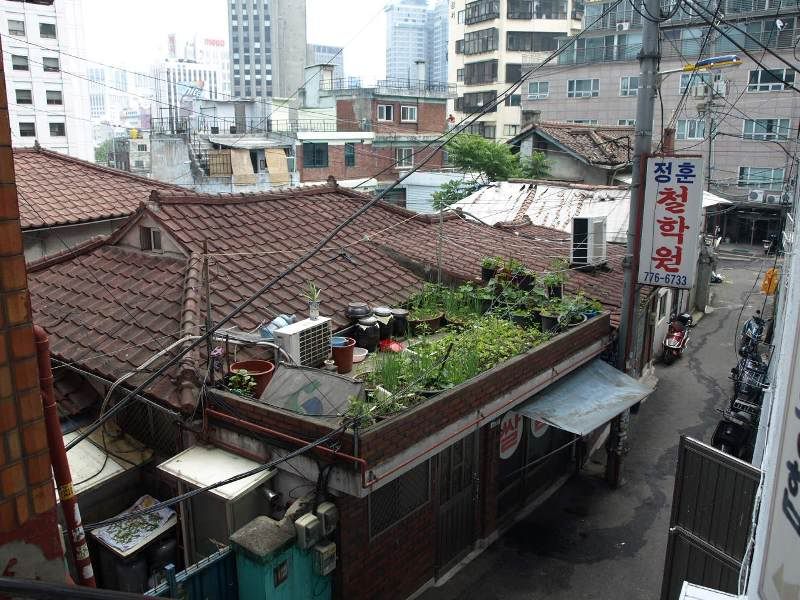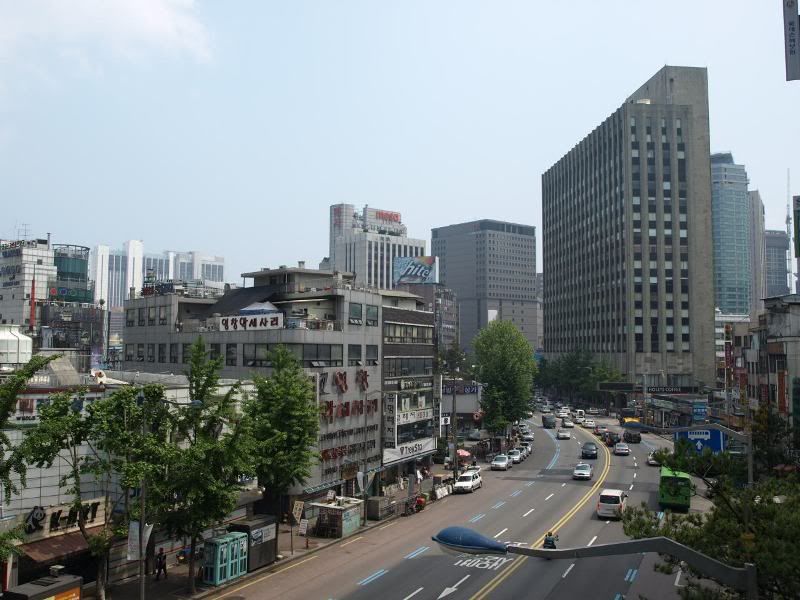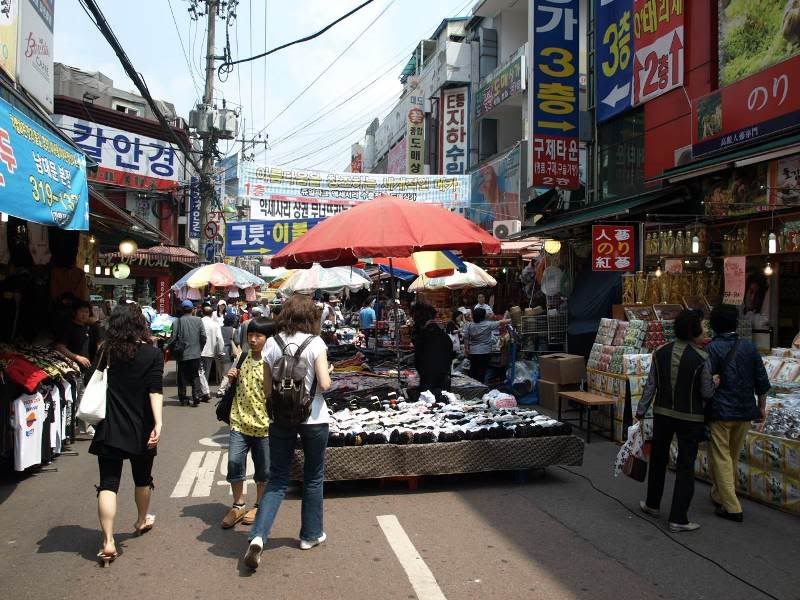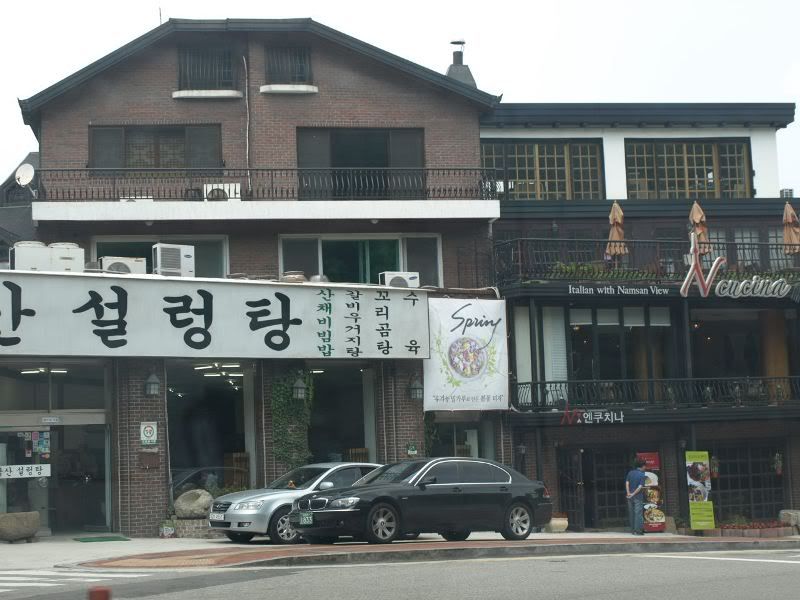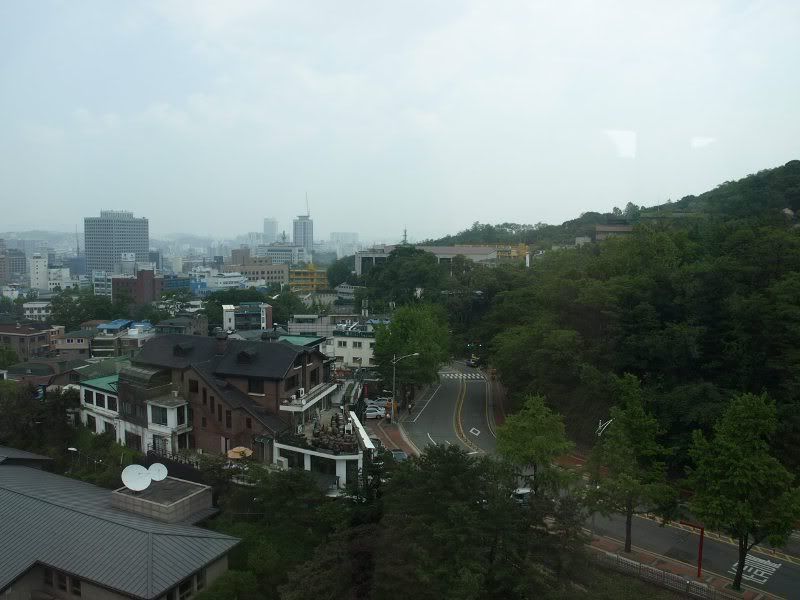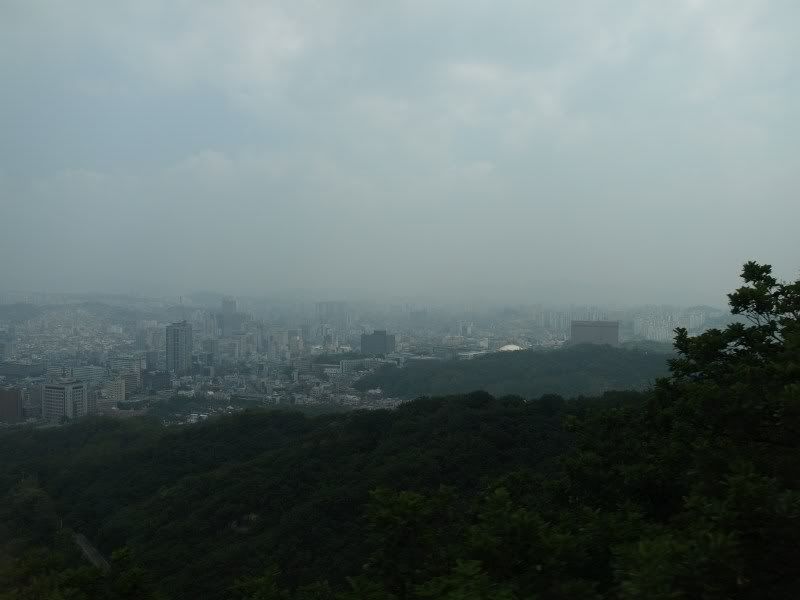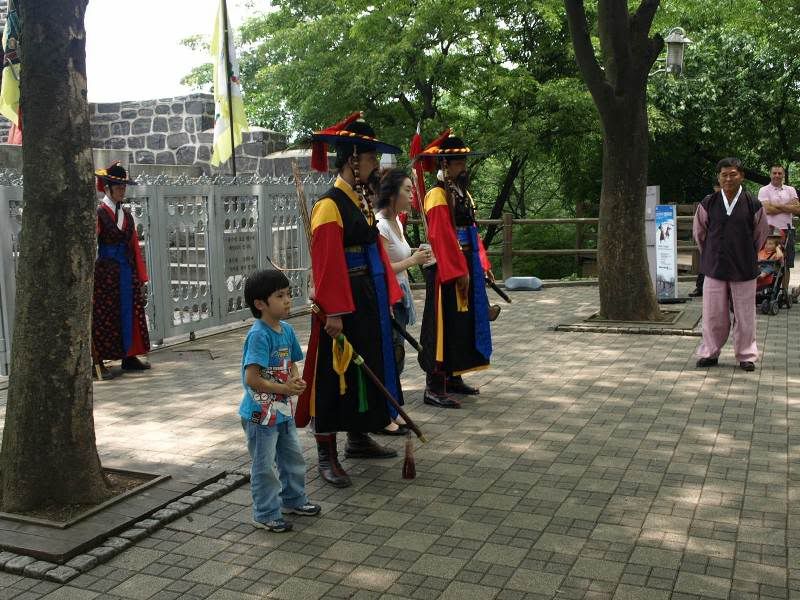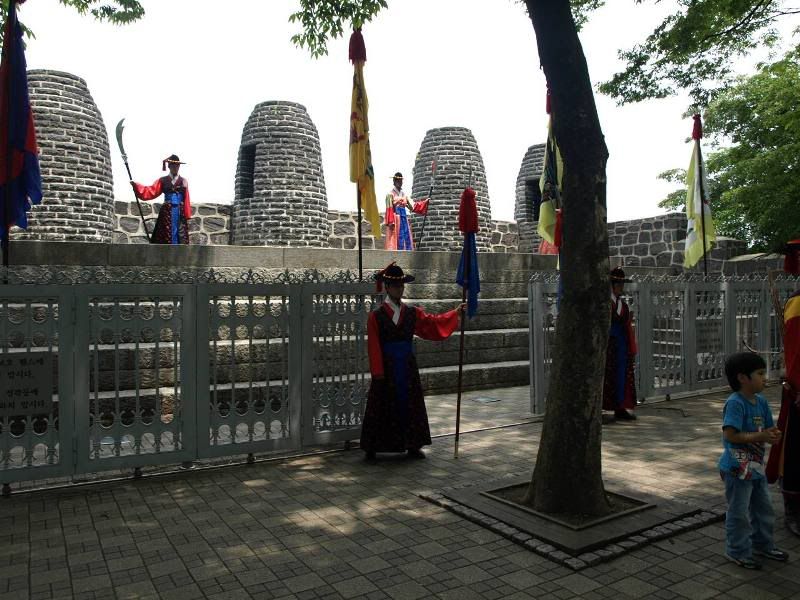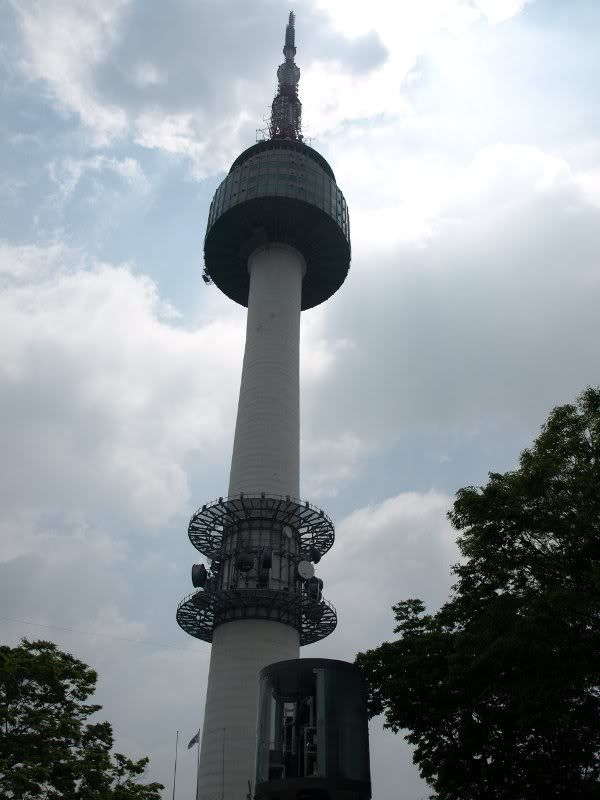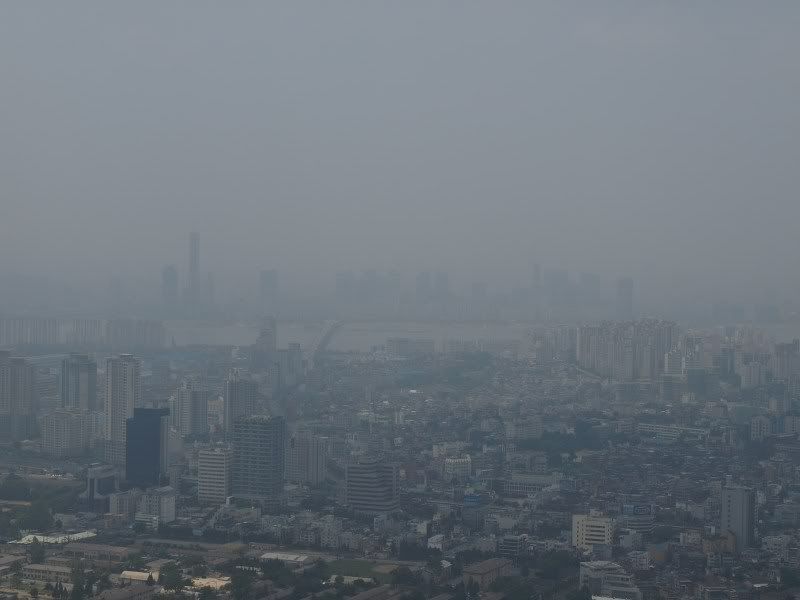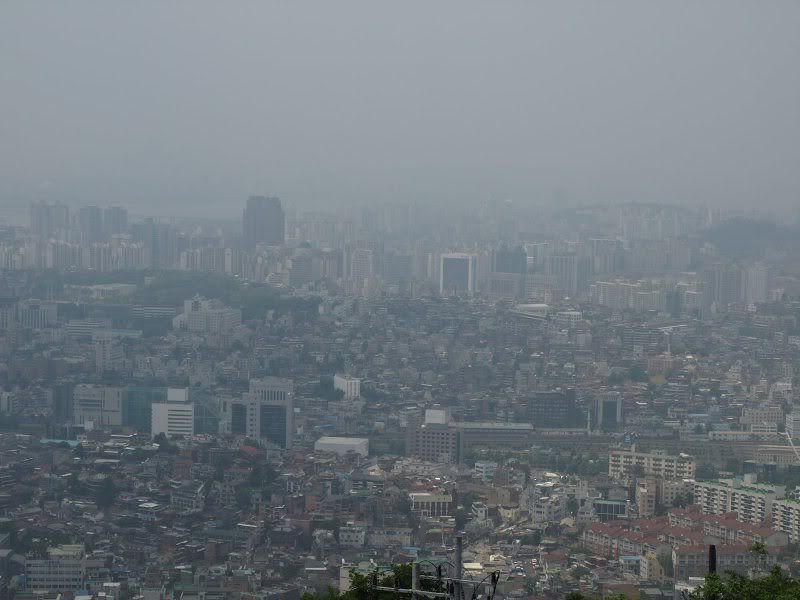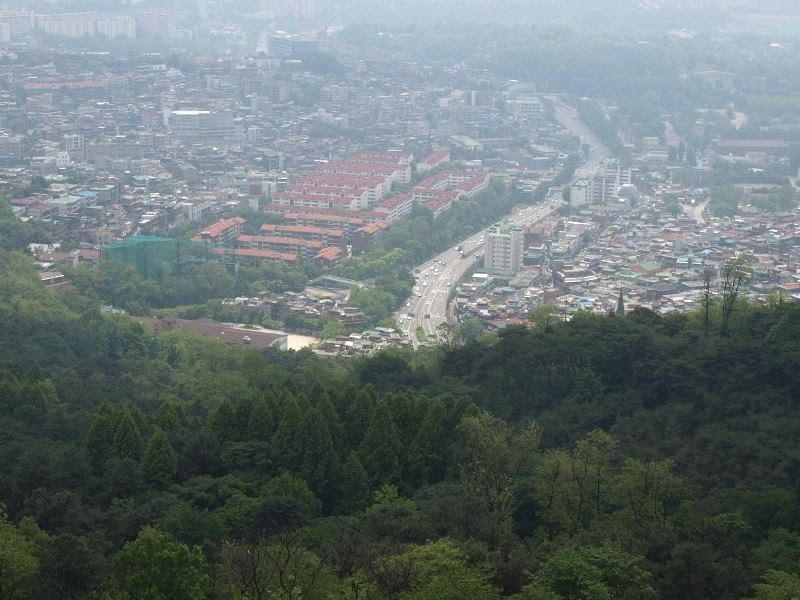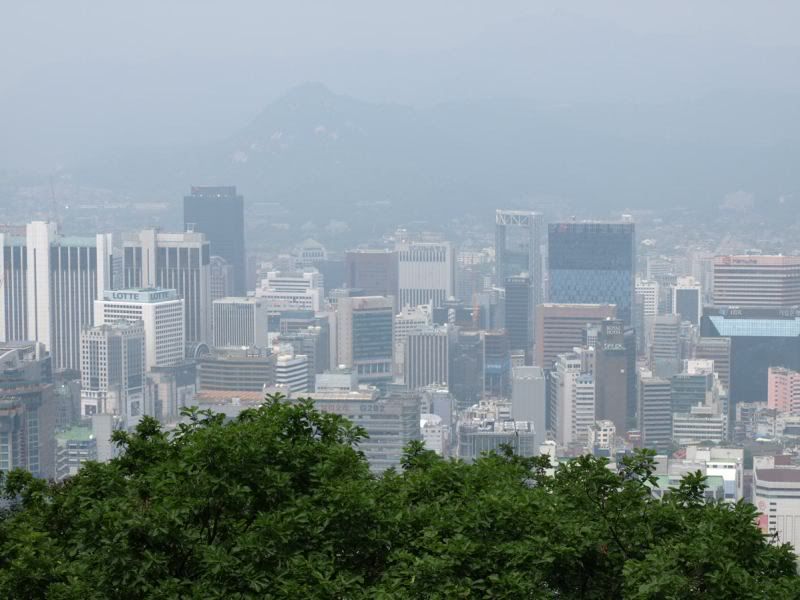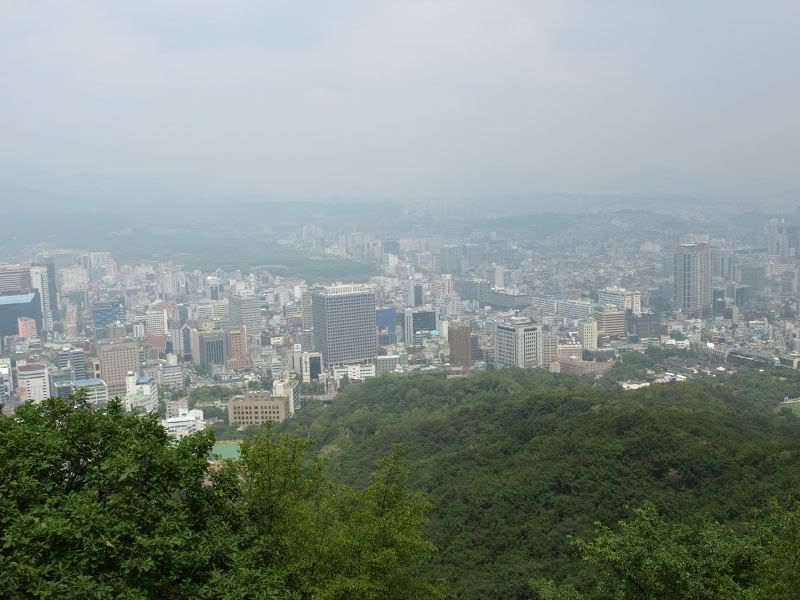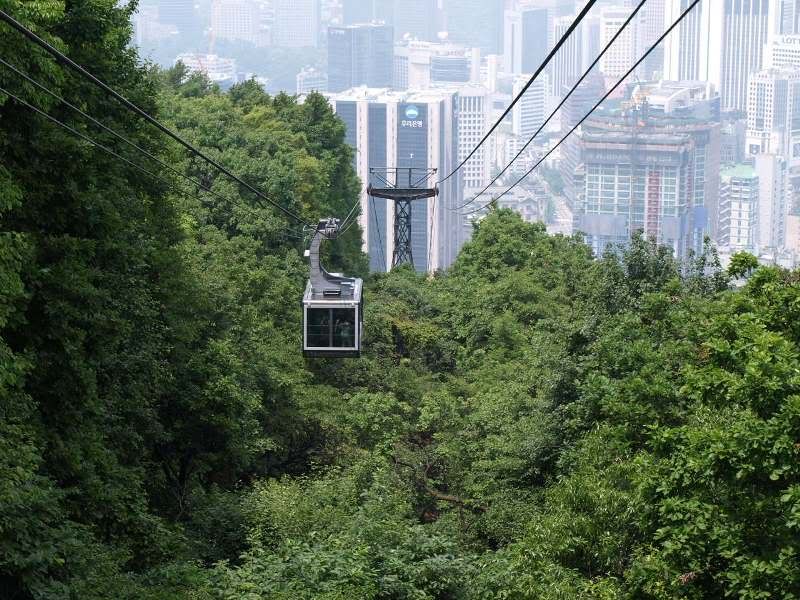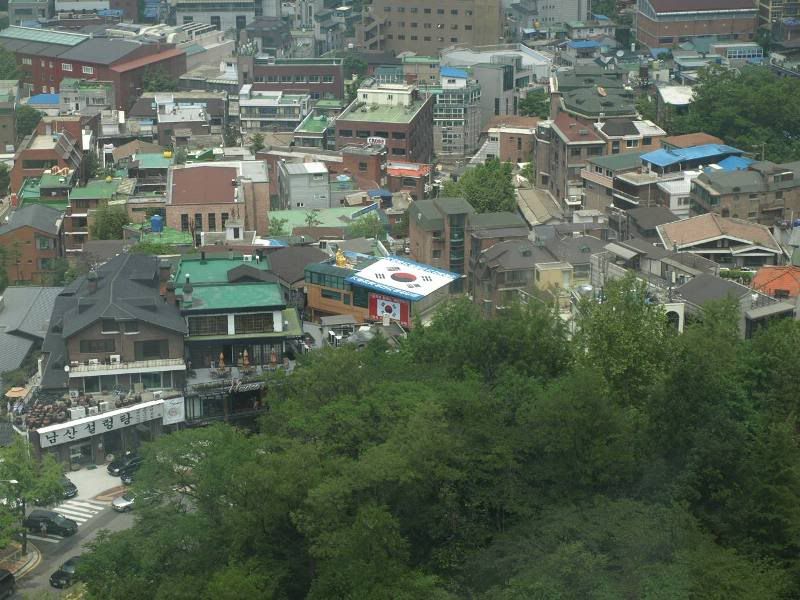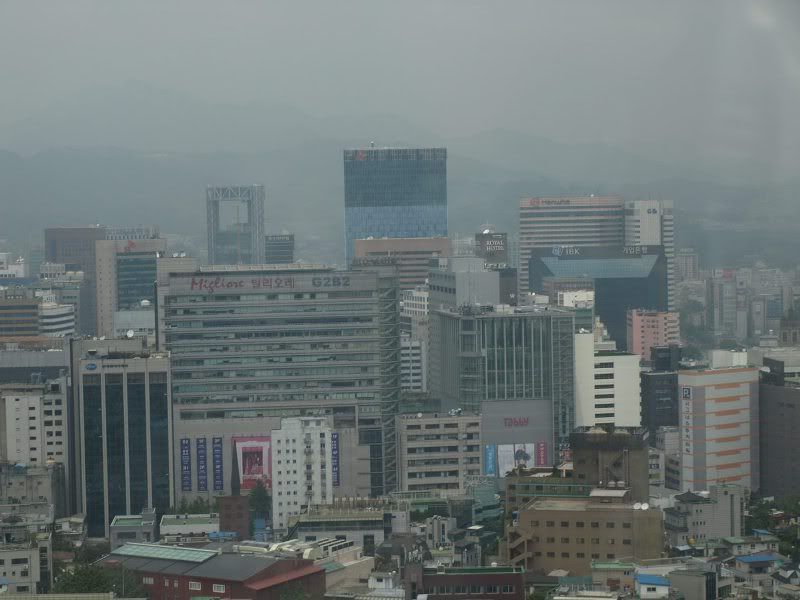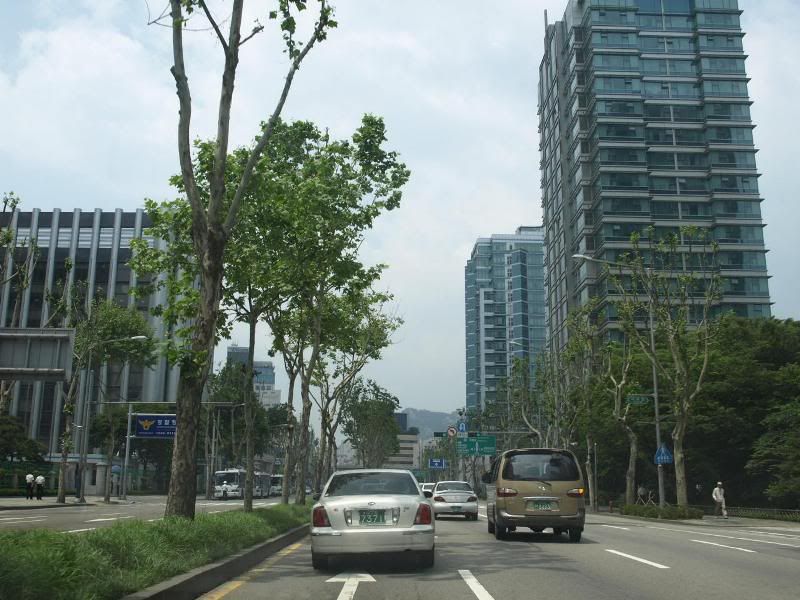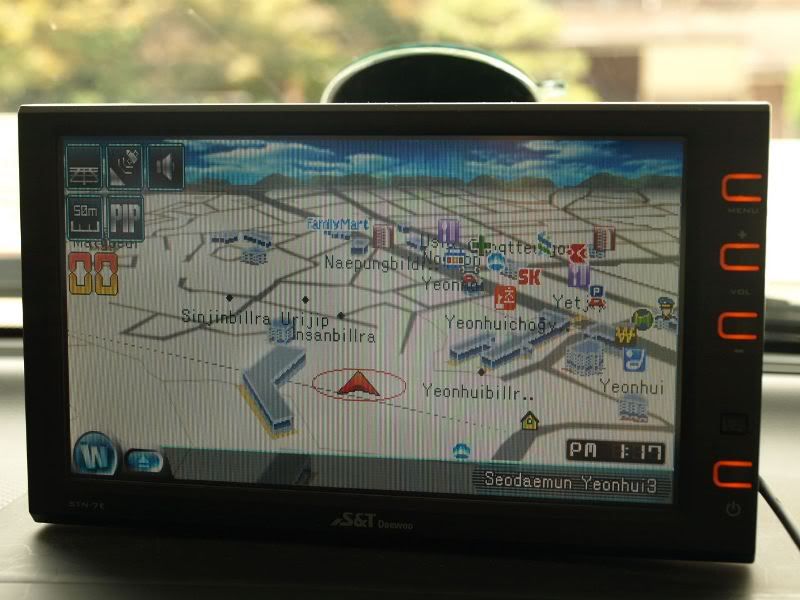 Vancouver – Seoul – Busan (with Air Canada and Korean Air)

Departure: Seoul-Incheon, Republic of Korea (ICN) on May 15th 2009 @ 5:10pm
Arrival: Vancouver, British Columbia, Canada (YVR) on May 24th 2009 @ 11:20am
Airline: Air Canada
Flight #: AC64
Aircraft: Boeing 767-375/ER (reg. C-FCAB)
Seat: 14A
View Large
View Medium


Photo © BJ
After returning to their home, I packed the presents, said good-bye to them and headed for Incheon Airport. I took a bus there and it took about an hour, costing about 9000 Won (8 dollars US). I arrived at the airport about 3:30pm, so I had plenty of time to check in, do some shopping take some photos and even have a late lunch / dinner. Once inside the terminal, I went to the duty free shop and bought my dad some Cuban cigars and a bottle of Korean Liquor. I also bought my girlfriend a Korean fan. I took the underground train to the other terminal that I would depart from and looked for a pub to have a beer. Unfortunately I couldn't find one, which was disappointing. I did find a "food court" that sold beer, but that was hardly the atmosphere I wanted. Oh well… You know, there's something with me and pubs in the airport. Unless I'm flying the plane myself, I normally like to sit and have a nice cold beer before a flight. Having no pub around, really dampers my mood. Sorry to bitch, but really… is it that hard to make a pub available close by? I think we should all take example from Minneapolis St. Paul airport. That place rocks! Every 100 feet you find a pub. Now I sound like an alcoholic… LOL….
Incheon tower in the background. Picture taken from the bus
Korean Air B777
Asiana B777
Outside the terminal
Inside the pre-security terminal, prior to check in
Duty free
This young lady was really good, playing some traditional Korean music
Going to my terminal
Korean B747
Superior decisions reduce the need for superior skills.