May, and time for a holiday break.
Trip report
LGW BA2013 MCO
British Airways Flight 2037
Club World
Flight time 8h 20mins
Aircraft Boeing 777-236ER
Reg G-VIIT
First flight date 07/05/1999
Monday 18th May and time for a holiday, off to Florida for some sunshine and fun. I took the train from London Victoria station nonstop to Gatwick Airport, so very easy and quick, a whole lot better than driving.
I had checked-in on line the evening before and as I only travel with hand luggage I was past security very quickly and off to the BA lounge.
Surprised on a Monday morning at 10:00 that lounge was less than 50% full, well stocked food and drink was available and the ambiance was just right.
Not one for spending long times waiting before flights so had just 25 minutes there before going down to the gate.
The load today was 95% in Club and most of the other cabins by the look of it but boarding was quick and I was greeted by a genuine smile at the aircraft door addressed by name and pointed to my seat.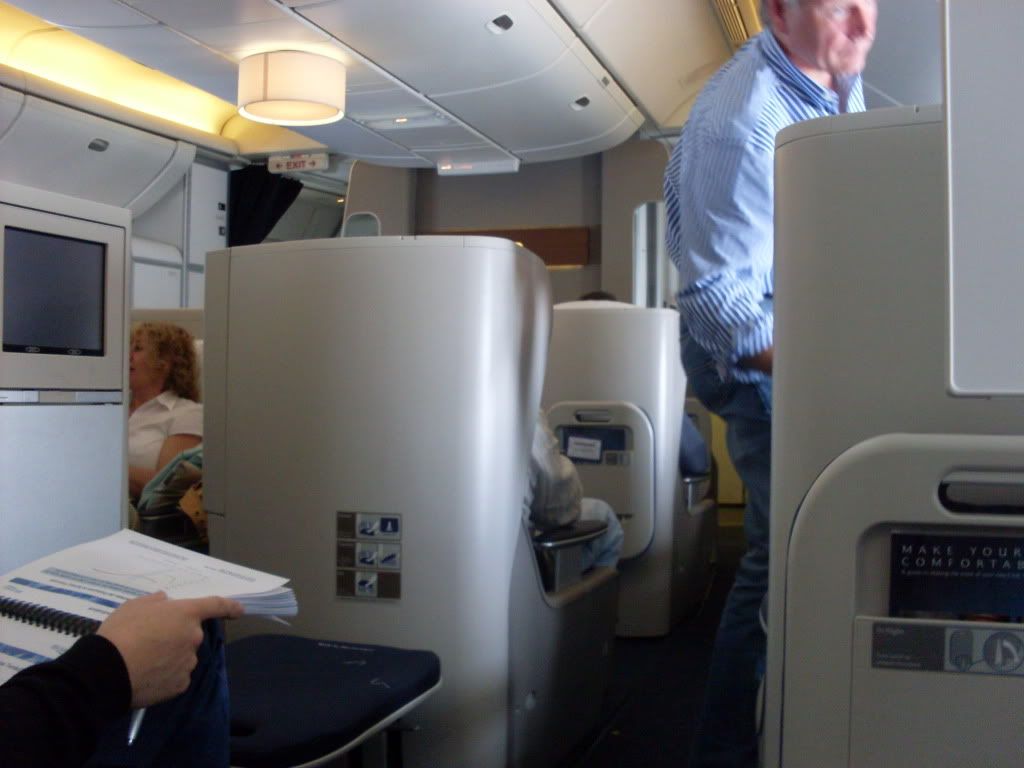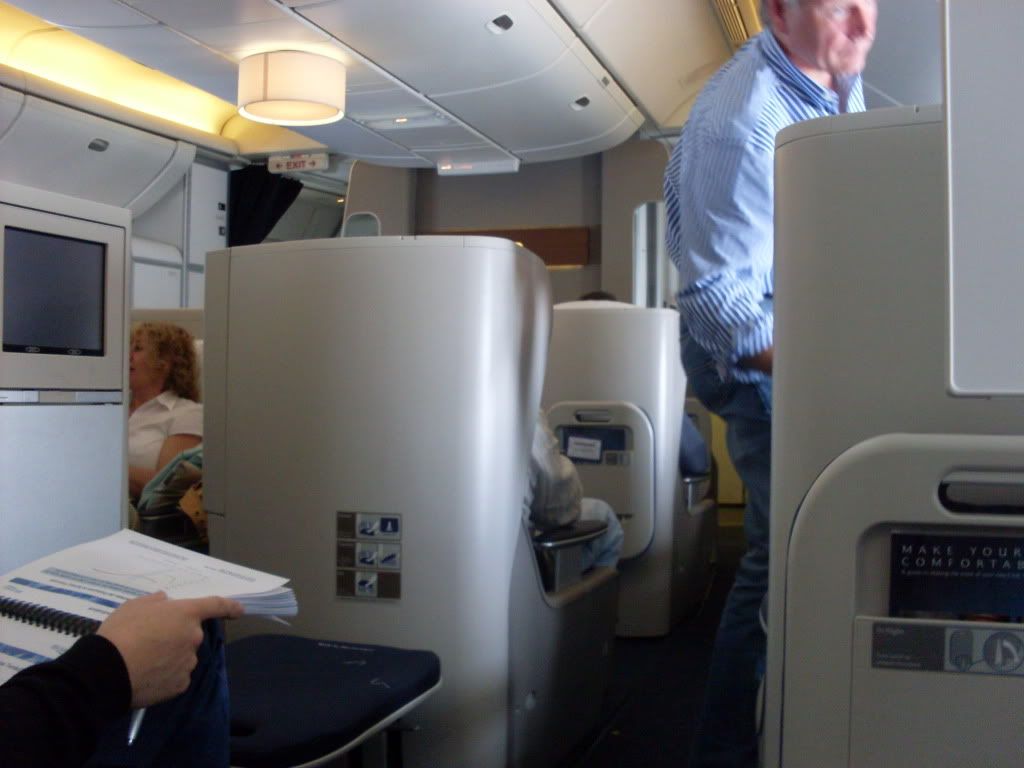 As I turned left I froze in the middle of the aisle, this aircraft was fitted with the New Club World, I just stood and stared,%u201DCan I take your jacket sir?%u201D The lady read my face, %u201CYes, I was surprised to; this is the only one with the new cabin.%u201D She took my jacket and I started to explore like a kid in a sweet shop. From the library pictures I thought that the cabin would be too bright with so much white but it felt very comfortable.
We pushed back on time and after a very quick taxi out were off above the clouds in no time.
The entertainment system was soon up and available, so I flicked through the pages to see what was on offer today.
Newspapers and washbags offered.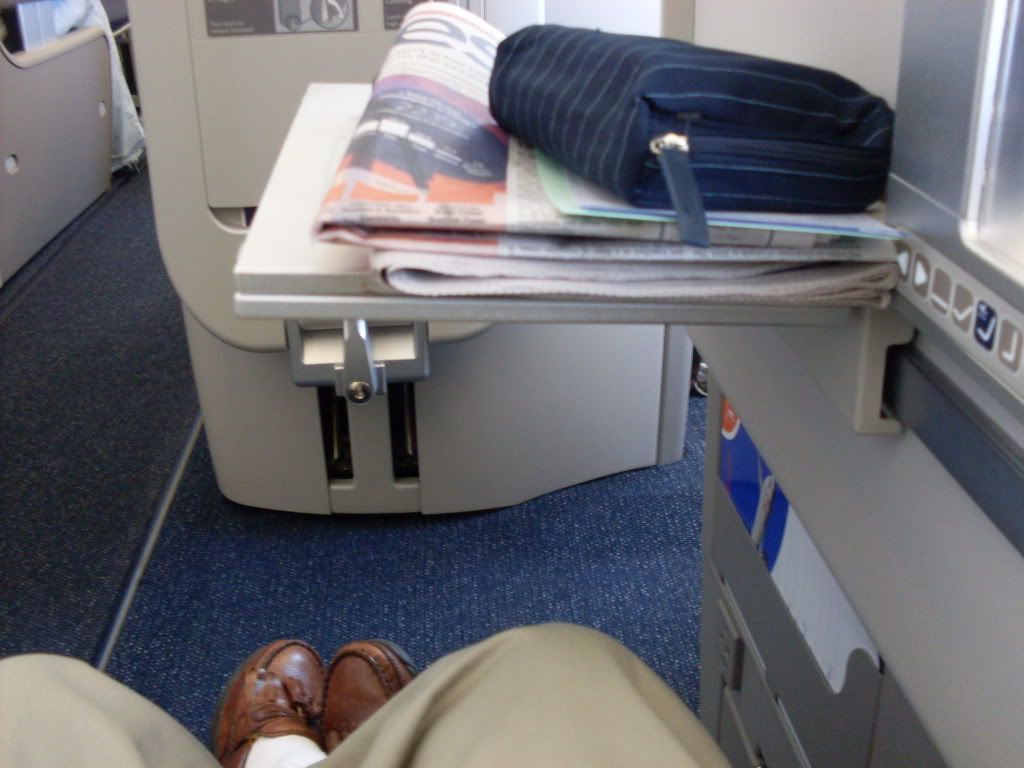 Next today%u2019s menu was handed out.
The drinks cart then appeared from the front, my eyes lit up.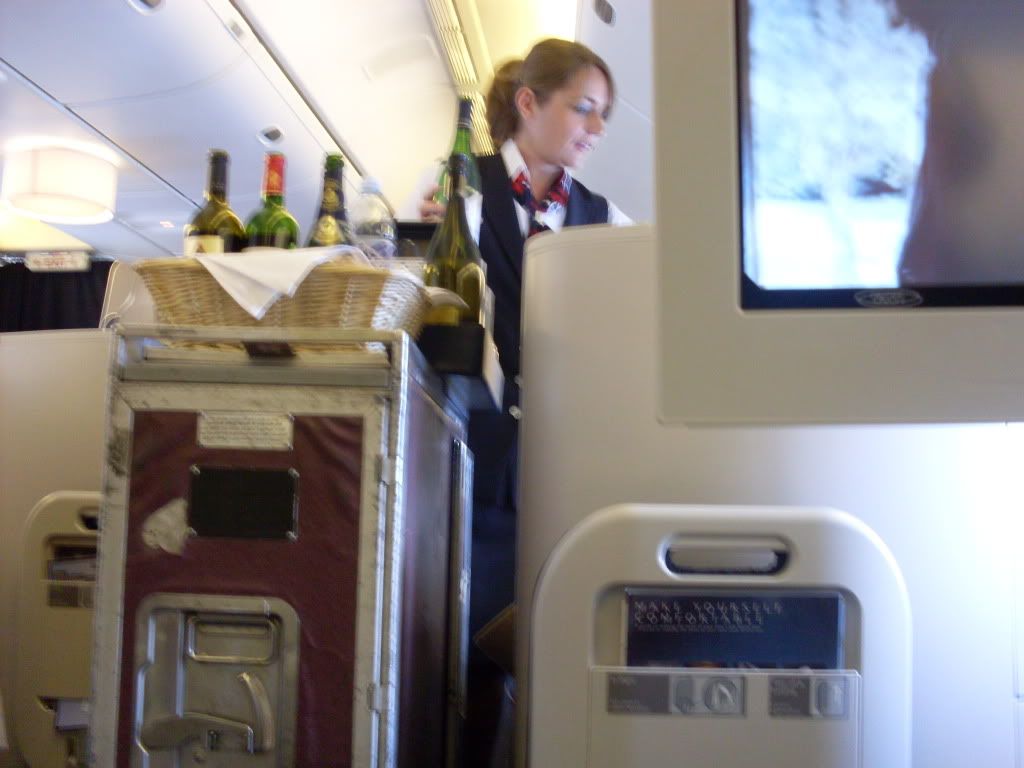 The Sancerre was fabulous and very popular said the cabin manager.It seems to appear in quite a few snaps.
Okay, FEED ME!
The starter was a bit of a left down.
The dressing was awful and only the mushroom had any taste, I left most of that.
Next up was the braised lamb,that was VERY good.
Really enjoyed that meal with a crusty roll and butter.
Well that chocolate hit the spot.
The meal was cleared away and I settled down to watch the Clint Eastwood movie, 20 minutes in the AVOD crashed. The cabin manager made the anoucement, we should not touch the screen for another 20 minutes while the system was re-booted. A passing crew member explained that they had problems with the new system but they were carrying a tech on the flight to record and sort thing out. I had a look in Highlife magazine to see what else was alvailable and found this interesting article.
Sure enough after 20 minutes the system was up and running and stayed that way.
I managed to watch the end of the movie and finish my next glass of Sancerre before having a nap on the new,very comfortable seat/bed.
I don't set an alarm on this flight which I do often, my nose is my alarm clock and sure enough of it went with one hour to go.Afternoon tea was being served and the smell of warm scones passes through the cabin like heaven on earth. I am soon upright and make a quick trip to the toilet to freshen up.
Standard toilet and clean.
Back to my seat,ready for the main event, AFTERNOON TEA!
The best jam to have.
Well we landed a little ahead of time and so doing beat the Virgin Atlantic 747 on our tail across the pond so I knew there was not going to be a rugby scrum at the Immigration desk no long line. Only having hand baggage for a week, buy what extra you need when you get there,saves a hell of a lot of time at the other end. I was off on the tram and into the parking lot to pick up the rental car. I had booked a Mustang for the week,great muscle car.
The lady at the desk smiled and said "SORRY" they had no Mustangs, how about a Solstice? I had tried it before and was fun. "Okay take a seat and someone will bring it over to you. While I waited I snapped the Corvette, this would have been a double Upgrade.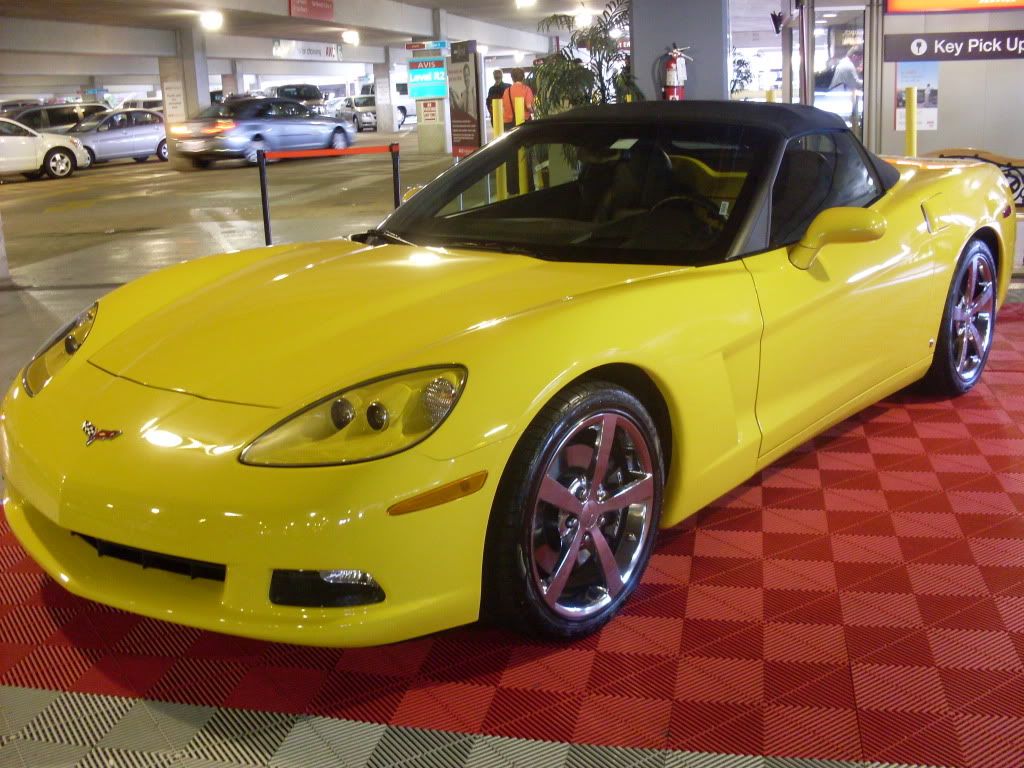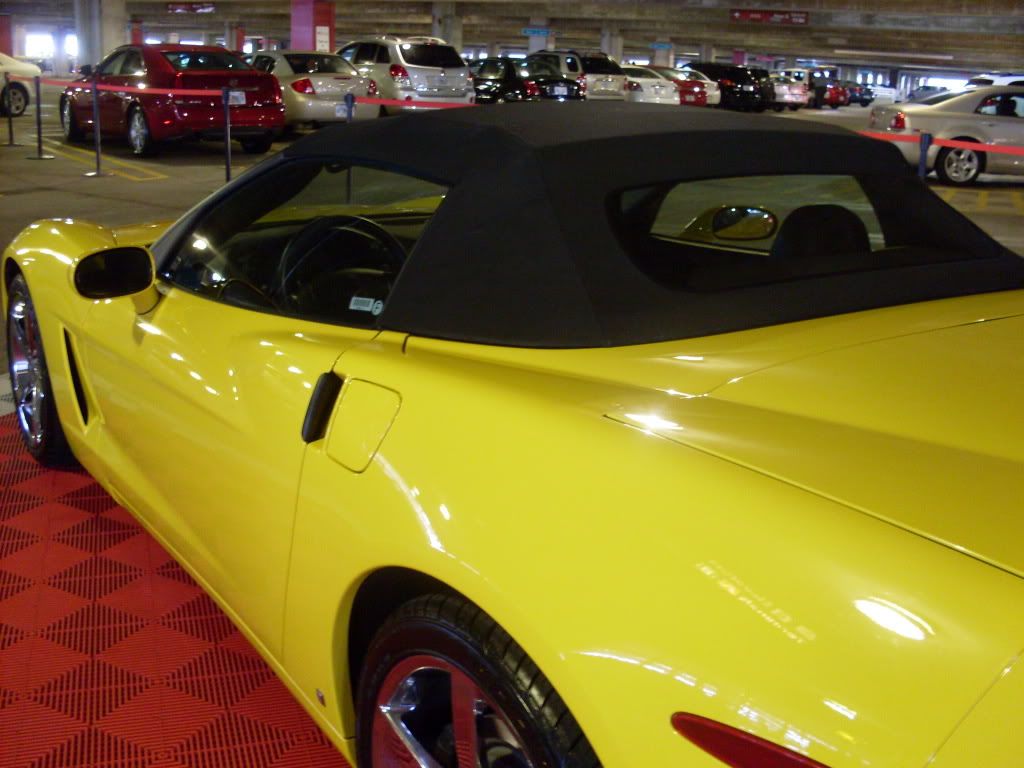 Well my car turned up after a few minutes and I was of the apartment complex I was renting.
Great fun to drive but very impracticle, with the hood down there is just enough room for a laptop in the boot.
Day 1
Went to SeaWorld, they had a new Rollercoaster opening today, had to check it out.
The Manta
You seat in this seat and it tilts forward until you lay flat.
The start
Have to say that this coaster is VERY quiet, no shake rattle and roll noise, more of a hushed whoosh, very smooth.
Next off to the Dolphins,I am a sucker for these mammals.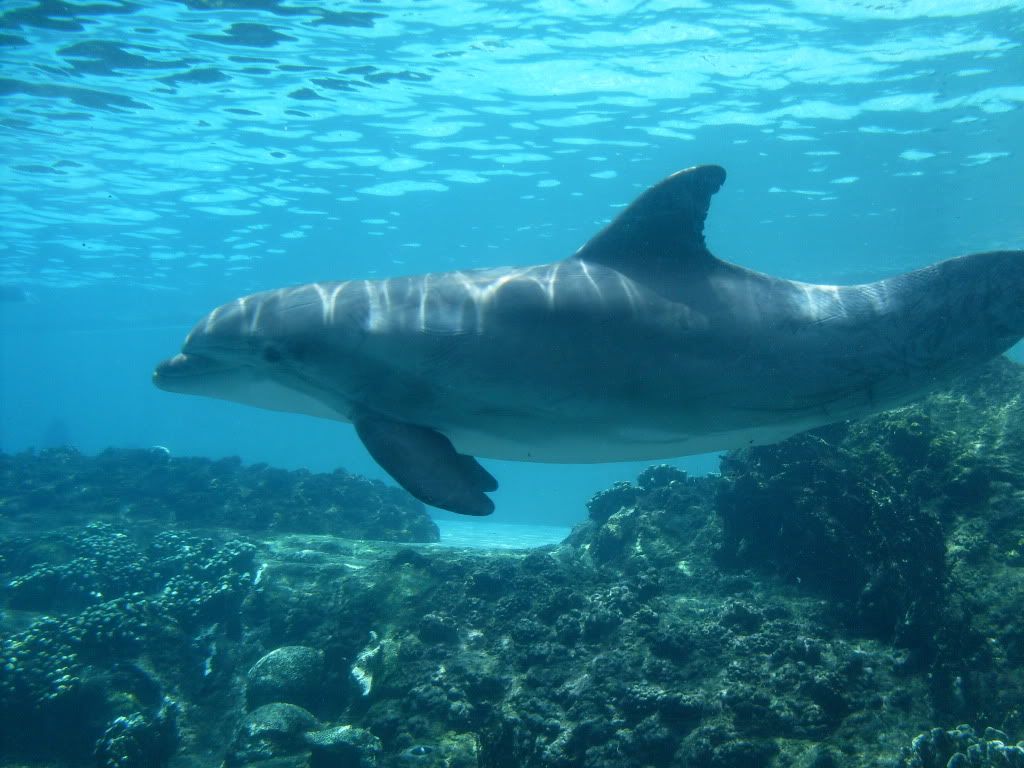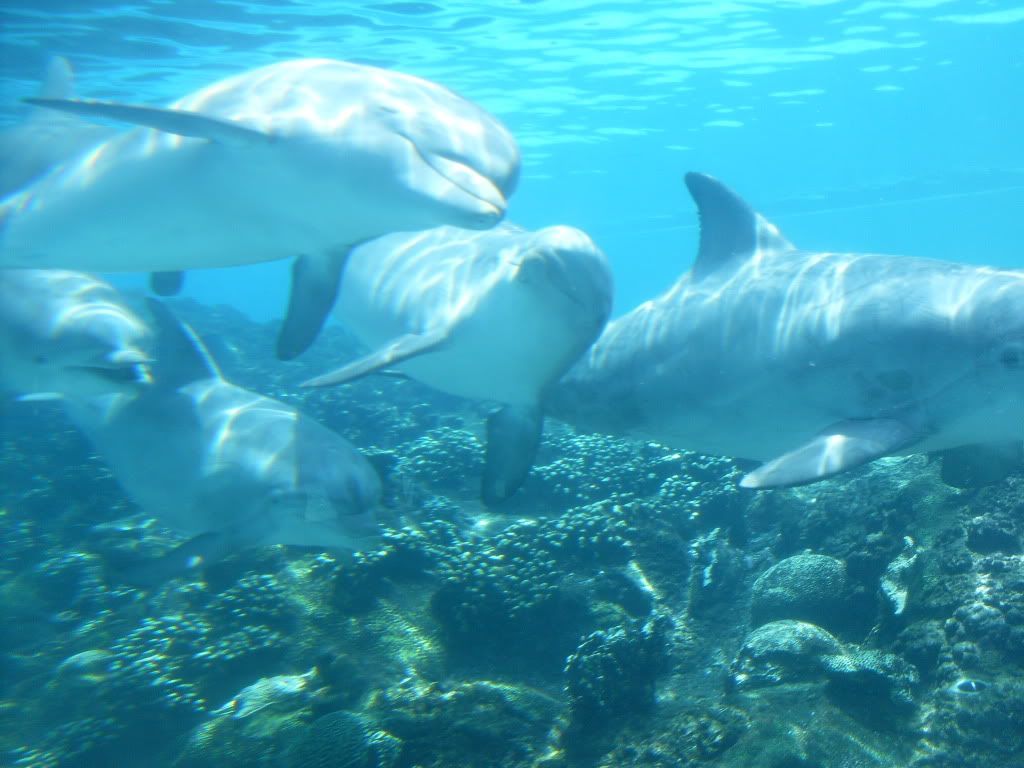 The over to the dolphin show
Another day another park, Universal Studios.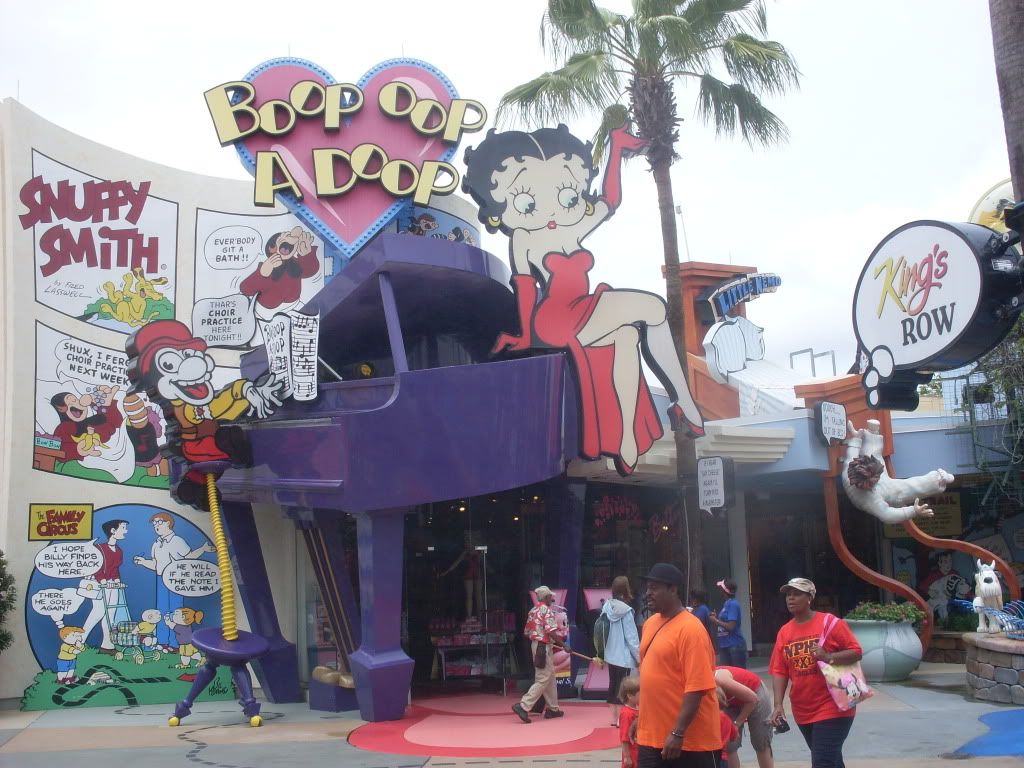 You get wet here.
A bit further round the park the NEW Harry potter ride due to open 2010.
The entrance.
Lots of flying in that tall building I bet.
I thought this ride was showing its age now.
They are building a new rollercoaster ride at Universal.
No launch date yet.
A day at Disney Parks.
The new hotel being built.
The New movie "UP", meet & Greet.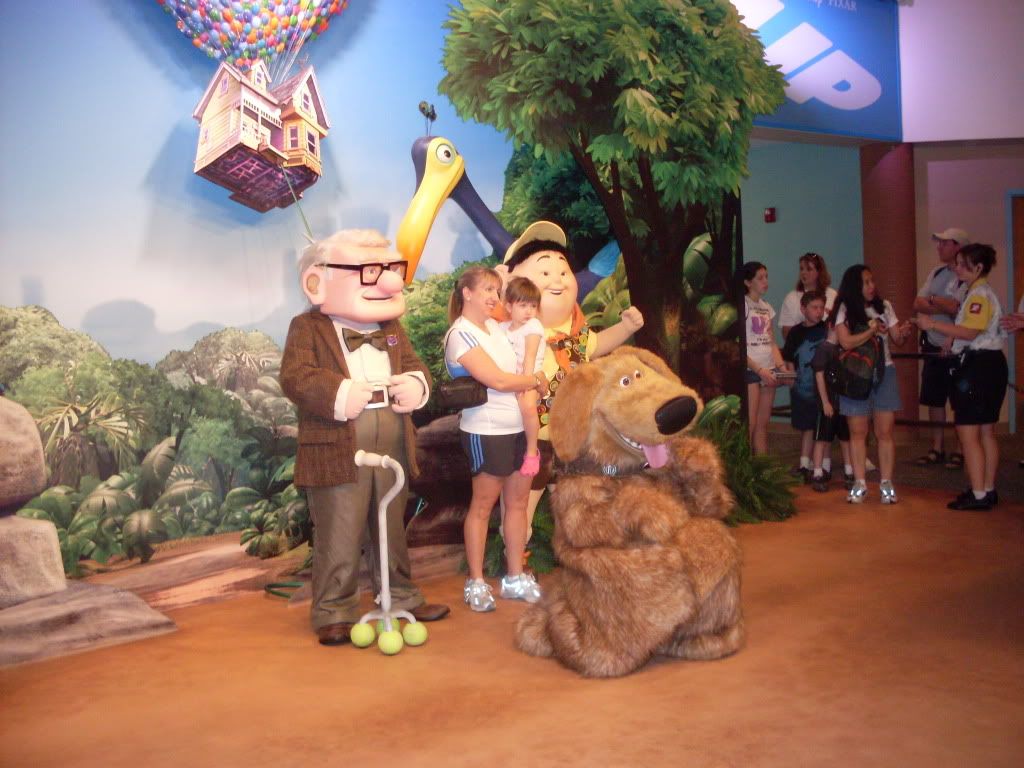 So art work.
And then it RAINED, this was Florida rain, HUGE!
And the the sun came out again.
View from the apartment.
Well the week just flew past and it was soon time to return to the UK.
Check-in is painless but the line to go through security is dire.
After about 30 minutes I am in the Delta Crown lounge which BA use at Orlando.
It has a good bar,good staff and lots of seating, the only thing it is short on are newspapers and mags.
It is just a short walk to the gate from here and I usually wait till the last minute to board.
The flight home was just 7 hours due to tailwinds so not much of a sleep to be had.
The load was less than 50% tonight.And once again I had struck GOLD with G-VIIT the only Gatwick 777 with NCW.
We had a very quick pushback and fast run out and soon was up and flying, small bit of shaking 10 minutes after take off as we passed a large storm cell to the east.
Tonight the AVOD worked perfectly.
Washbags and newspapers were handed out and then Menu.
The wine was the same as the outbound.
New tray table slides back and forth very well.
Can not resist this Sancerre.
Very good pawn dish.
Good fresh salad.
The main event, really good flavours.
This and a couple of glasses of Sancerre ensured a good nights sleep.
About 1 hour before landing breakfast is served. I feel is is a missed opportunity for BA that all that is on offer is a Bacon roll and some cereal.
It is strange, you can fly LHR-EDI and get full breakfast 1 hr but fly across the Atlantic and only get a bacon roll, something wrong.
You are invited to use the lounge when you arrive.
It is located at a near by hotel and is a great way to let the rush hour go past.
Had a good soak for 20minutes in the shower and then a good continental breakfast and left the lounge just after 9:00.
Took the train again, very quick to London.
Well a great holiday as usual in Orland,left out the bit about Hooters, hush my mouth.
I really enjoyed the surprise cabin upgrade both ways,so much better that a planned flight to SYD in September might well be Club instead of First.
Do wish they would sort out the hot breakfast on this route, bit of an own goal I feel.
Thank you for taking the time to read it, ALL comments are welcome.