Feedback always appreciated.
Trip Report: 073
Flight Category: J-ISR (See Report End)
Date: 12 Feb-09 (See Report End)
SDT/SAT/Dur/Delay: 1045/1300/02:15 hrs
Flight:
Egypt Air MS 737
, 762 miles
Routing: CAI-IST
Aircraft: 320
Seat: Business, 10A
I > Background:
I was working in Egypt for a client and decided to visit one of my top 5 cities for a quick getaway. Egypt Air had some incredible J class deals and I jumped at the opportunity to visit Istanbul for like the 13th time! I believe this is the first review of MS J on a 320 short hop international.
I apologize for the lack of normal pictures of the cabin – I know they are rare and would have been a good addition. However, I accidentally deleted a bunch of pictures. Oops.
II > Pre-Flight:
a) Before Airport:
Egypt Air, is the national airline of Egypt. Based in Cairo, it offers flights to 70 destinations in the Middle East, Europe, Africa, Asia, and the Americas. It is Africa's 2nd largest airline and currently the newest member of the Star Alliance family.
Egypt Air's website at
www.egyptair.com
has come a long way and was actually pretty easy to use to purchase the ticket. I was able to quickly book and pay for the ticket which arrived electronically in an hour. It is not a perfect system and has some weird quirks. For example, one can only select FFP information if they belong to BD, MS, or LH!? Now, I don't know which is weird – the fact you can chose only three airlines; or the randomness of the three airlines. Having said that, I was impressed that one could chose their seat, view reservations later, and even modify seat requests. This won many brownie points from me as regular readers of my trip reports understand how important the seat selection thing is for me .
b) At Airport:
Egypt Air still was using T1 for its international flights at Cairo. It has changed to the integrated (and much improved) T3 since then. T1 is a complete Cairo experience. One jostless and pushes their way past countless random people hanging out at the entrance to make their way into the terminal past security guards. Once inside you recognize the huge queues and realize you are going to miss your flight. Fortunately, I remembered there was a separate check-in for Business and First class passengers. To find it required asking a bunch of random security guards who pointed me to this man who walked me to the gates of the premium check-in and then insisted I give him some "baksheesh" … hehe. I love Cairo. And of course, he got nothing from me.
Anyways, there was nothing really premium about the check-in experience as the crazy queues meant that the process took almost an hour. I hit off a good conversation with the director of HSBC Cairo who reeked of alcohol. Gotta love the expat lifestyle! She was flying to London on BD and failed in her attempt to get upgraded. Awesome conversation though. The kind of person I would bond with anywhere in the world. The check-in agent was nice and efficient and gave me my boarding card and lounge invitation.
Post check-in, I made myself through the mess of the airport and crowds past immigration to the very 1970s styled waiting rooms and lounges. There was a distinct air of being stuck in the 1970s and 1980s with smoked filled corridors and a weird sense of nostalgia, romance, and charm. This airport was VERY MENA and I was consistently expecting to walk onto a tarmac filled with 707s and 720s!
CAI has all these random themed lounges which make no sense as none of them live up to their glorious names ("Egyptian" lounge, "American" lounge, "Italian" lounge, etc.). Anyways, after a quick café and goodbye to my friend and fellow A.Netter ("kiramakora"), I made myself to my gate. As boarding was called, there was a mad rush to get into the gate hold area and I am convinced Cairo would be a great addition of a follower to "ILBST". Actually, of late, boarding has been remarkably civil in India and Latin America (founders of "ILBST") and nowhere else! As I was waiting in the boarding line, "kiramakora" frantically sent me an SMS. His flight was delayed by 12 hours and he invited me to witness the "fight" that had broken out at the customer service desk. It was amusing to watch. So the passengers had got no information and the MS people were not willing to re-book. "kiramakora" holding uber-status on five(!) Star carriers and fellow airline consultant lost his cool as he successfully managed to negotiate with the MS Cairo SM to have him be transferred to a flight departing out of T2 in 40 minutes. This involved the SM personally having to take "kiramakora" through immigrations office (where he was temporarily let back into Egypt), having a special car and SM mad drive to T2 through the tarmac, another round of immigration, onto the gate. As "kiramakora" and I discussed later – we did not know which to highlight. The gross incompetence of MS' Cairo staff; or the absolutely amazing SM who understood who is a valuable client and went far above and beyond his duty. In the end we settled that while the SM was simply amazing, 'status' and knowing the airline industry should not be pre-requisities for receiving good service. Anyways, my own flight was nothing as dramatic as "kiramakoras" as boarding was soon called on time.
*** note: my score will not reflect "kiramakoras" experience as this is my TR dammit ***
No priority boarding or buses happened for Business/Star Gold card holders. Boarding past the excited Japanese and Chinese tour groups to our plane via tarmac was exhilarating and I was welcomed to the cabin by a unsmiling FA. J load was 100%.
Airport - External:
(Cairo's Terminal 1)
Check-in:
(Y interior)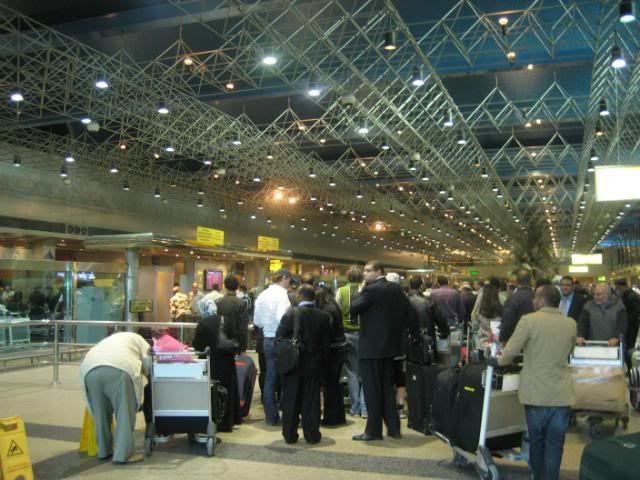 (Premium Check-in)
(Premium counter still has crazy lines and chaos)
Airport - Internal:
(Internal – actuall of arrivals section)
(FIDS)
(Post Security)
Scenes of the tarmac: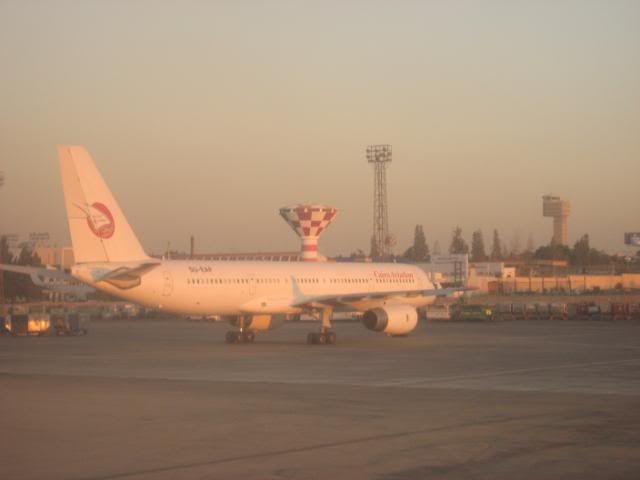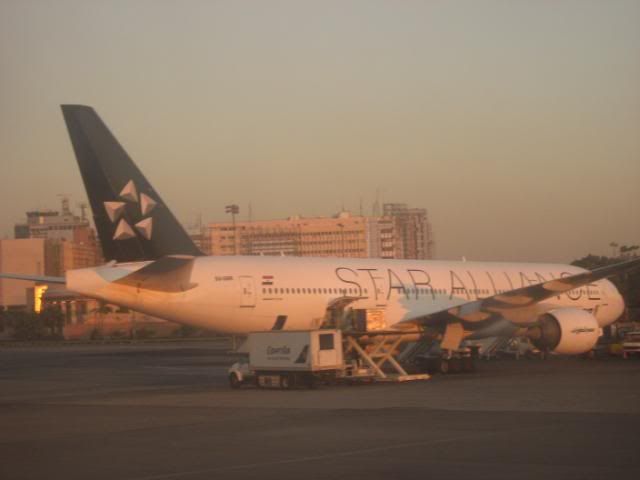 (Executive terminal?)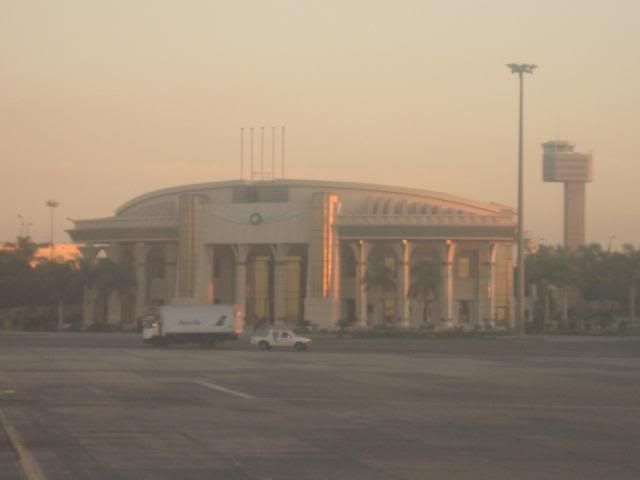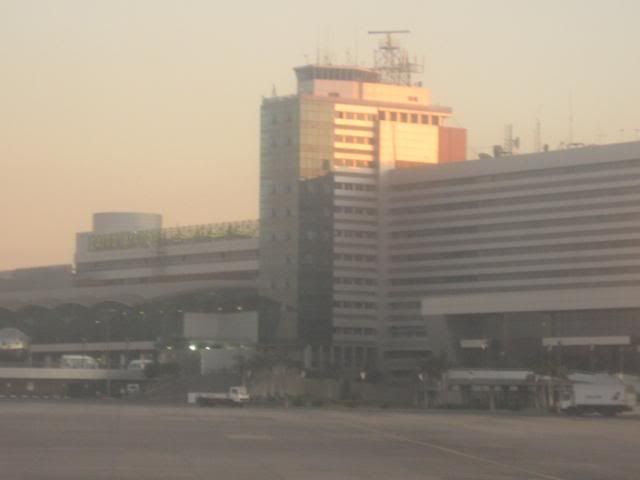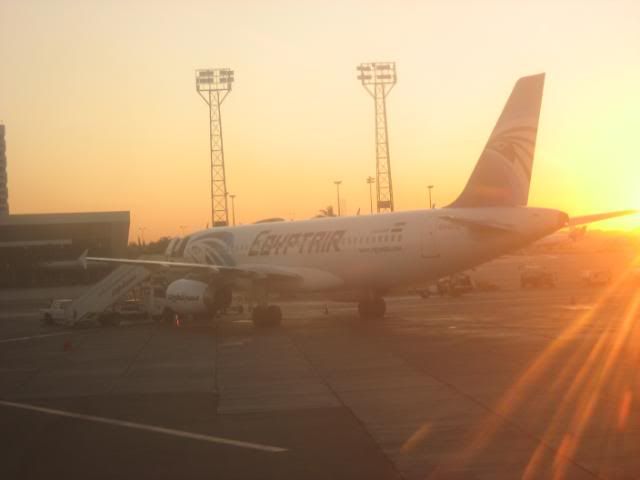 (Old and new liveries)
Lounge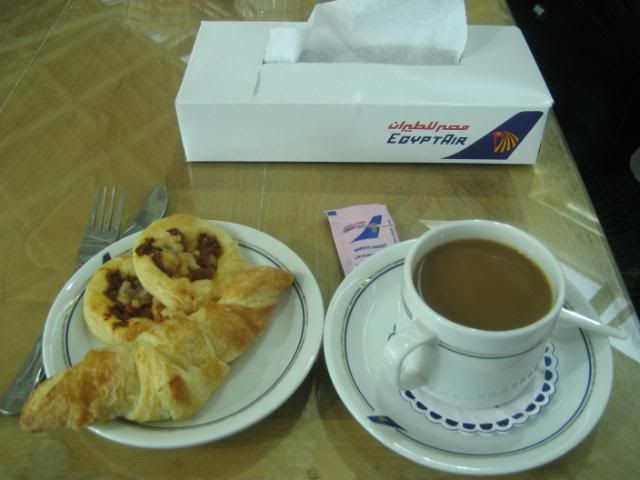 Boarding:
(Huge line to get into gate area)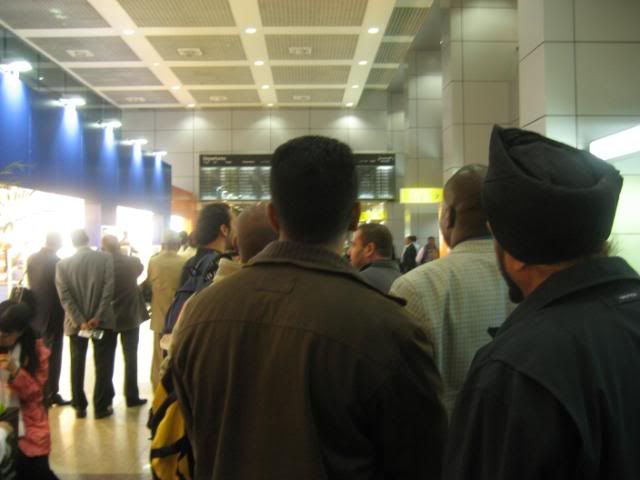 (Crazy security hold area)
III> In-Flight:
a) Service Schedule + Impressions:
Prior to take-off, hot towels and menus. After take-off, lunch served.
b) Aircraft + Seats:
Egypt Air's 320 looked in average condition. I found the seats to be a tad too old-school for me and the lack of legroom and seat recline did not leave a favourable expression on me. On the same sector, TK's mint-fresh 738 just offers a significantly superior service.
Aircraft: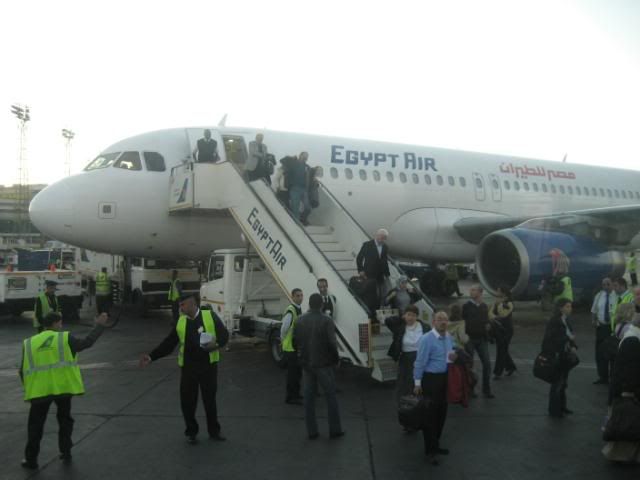 Views from Aircraft:
(Cairo)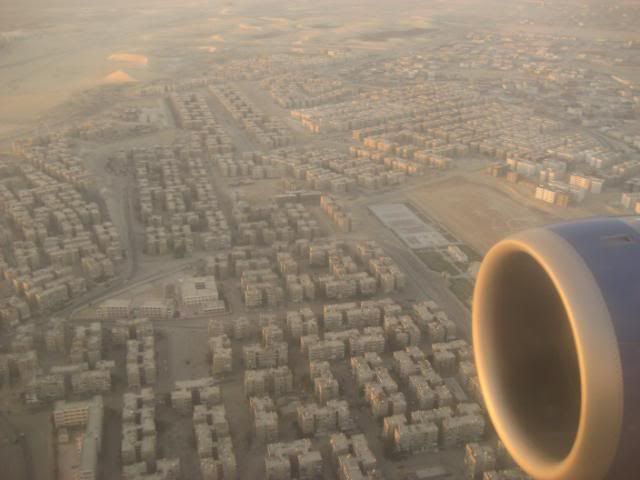 General Seat Views + Seat Legroom
(Poor legroom)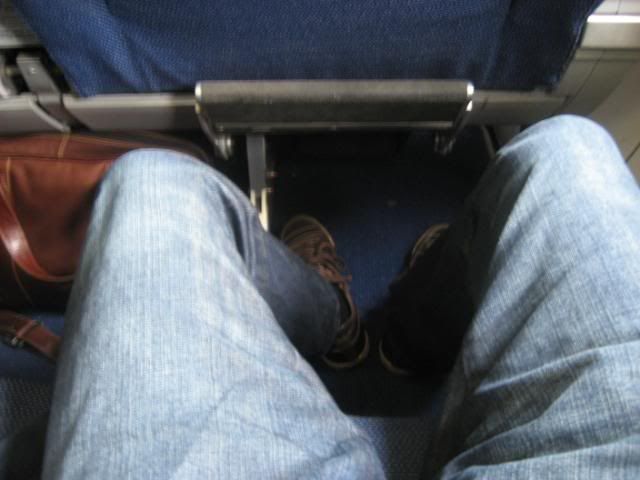 Seat Recline + Angle View:
NONE
Cabin:
NONE
c) Meal + Beverage:
For a short sector, the meal service was actually impressive. I liked the fact that there were 3 choices of meals – though, was surprised at the lack of a vegetarian menu item. I chose the salmon which was just about average – nothing to write home about, but nothing to complain about either. Impressive was the dessert tray made of delicious Egyptian delights. The FA brought a tray and we got to pick. All very impressive. MS is a dry-airline … and since I enjoy a glass of wine with dinner, it would be a thing to consider when chosing them a long-haul flight. Personally, I find this surprising as Cairo is a pretty open minded city for the region. However, I guess Egypt is not the Egypt it used to be in the 1960s/1970s. MS could improve in this area by having an array of fresh juices and smoothies. One thing that shocked me was the dirty linen! I had not received dirty linen since an Air France flight from CDG to JNB. Pretty sad. However, in this instance, the crew was apologetic and replaced it immediately.
(Menu)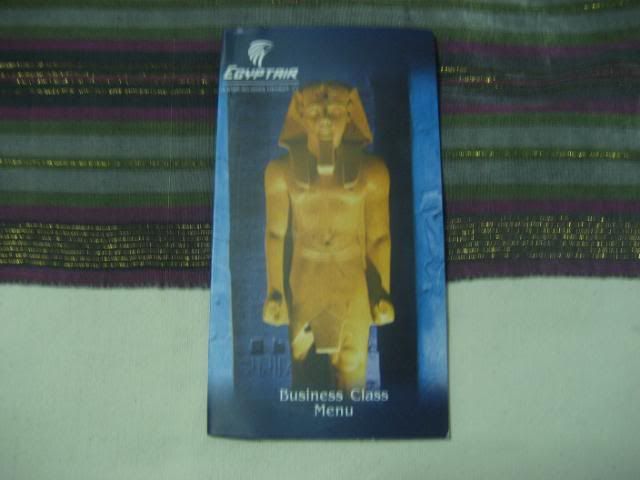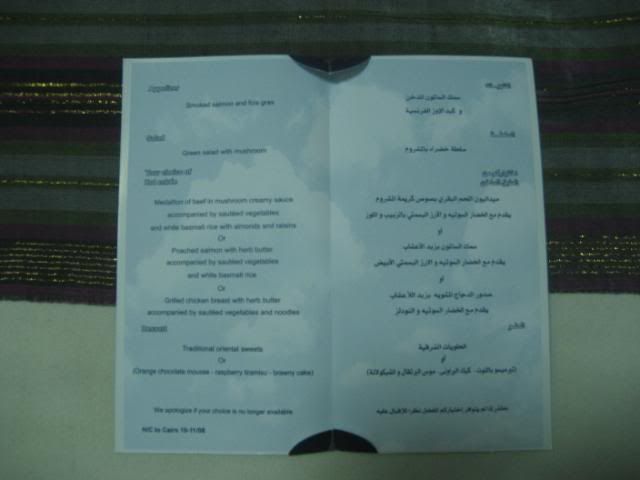 (Lunch)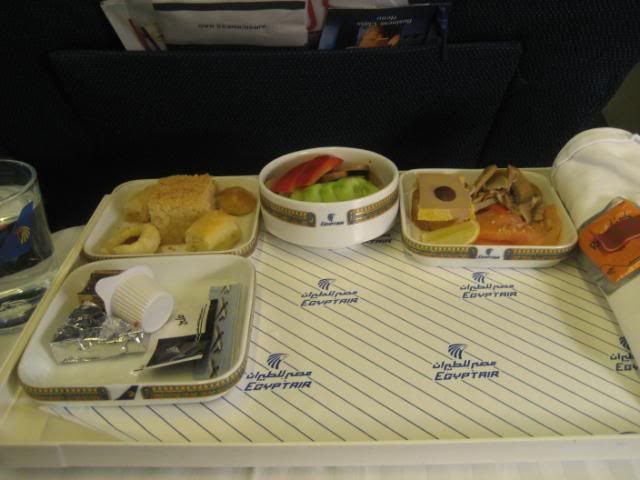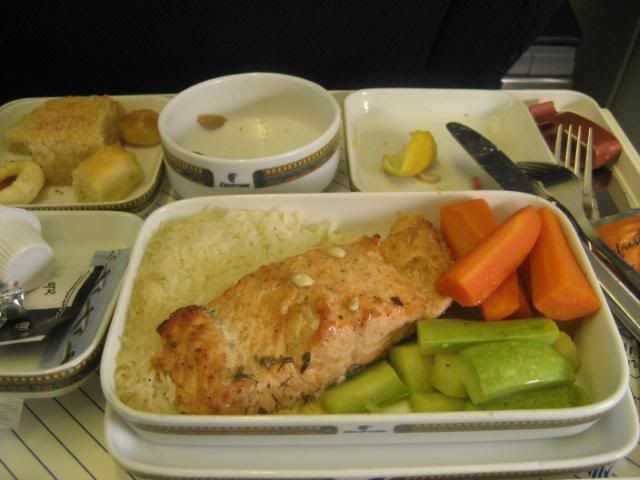 (Dirty linen)
d) Inflight Entertainment:
Extremely poor. There was nothing except the "HORUS" magazine. Again, an area of significant improvement.
("In-flight magazines", Boarding Passes, etc.)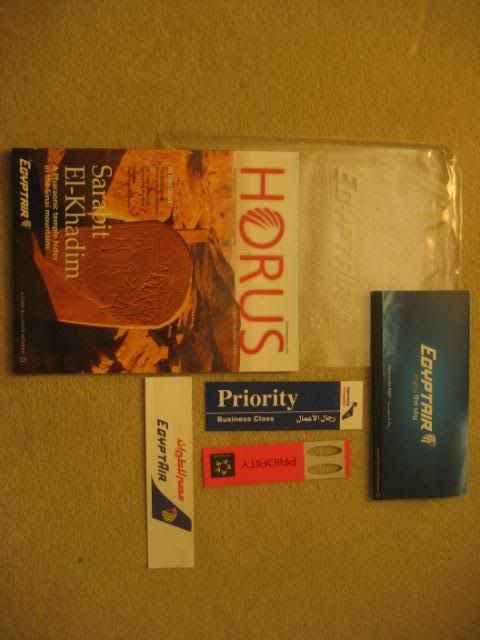 e) Crew:
We were served by a male pursar and a female crew member during the flight. Neither of them had any smiles during the entire flight. They barely were able to greet us, distribute menus, and do the food run. There was as much warmth as I have encountered on some European carriers where crew robotically due their duties and disappear. It is a shame really. Egyptians are infectious people with a great sense of humor. Too bad it does not transcend to the airline. Staff members at Cairo were much more nicer.
IV> Post-Flight:
Arrival at IST was smooth and I was out enjoying one of the my top 5 favorite cities in the world in a matter of minutes. IST seriously should be increasingly considered as one of the best hubs between ZRH and SIN!
(Beautiful IST suburbs and wealthy homes)
V> Impressions + Scores:
While the average staff member at MS is extremely pleased at becoming a Star member, and the opening of T3 has given an additional moral boost, MS has a long way to go before becoming a truly global airline befitting of an ancient civilization. It can be done. Just look at Turkish Airlines! For now, MS should be a carrier chosen solely based on pricing and scheduling. I am sure yields are not great at this bloated airline (look at the staff: aircraft ratio). Check-in was chaotic (and "kiramakora" had a harrowing time), on-board service was mediocre at best (poor IFE, poor seats, average meal, poor beverages), and staff left much to be desired. I am a huge fan of the country and of Cairo and I really do wish I could say nicer things about MS. However, this is a objective trip report and unfortunately I won't seek out to fly MS anytime soon. Thumps down.
1.0 > RESERVATION: 7.5
2.0 > CHECK-IN: 4.0
0.5 > LOUNGE: 5.0
0.5 > BOARDING: 5.0
2.0 > SEAT: 4.0
0.5 > AIRCRAFT OVERALL AMBIENCE: 5.0
1.0 > IFE: 4.0
2.0 > CREW: 4.0
2.0 > FOOD: 6.5
0.5 > BEVERAGES: 3.0
0.5 > A.KITS + OTHER FREEBIES: 5.0
0.5 > DISEMBARKATION: 8.0
1.0 > ON-TIME RECORD: 9.0
WEIGHTED OVERALL IMPRESSION (WOI): 5.21
(Pre-flight WOI of all reviews: 6.47)
* Weighted Overall Impression (WOI) aligns scores with what matters most. Weights are indicated alongside each category.
(Scores are based on comparison with other airlines in THAT class of service – No comparison of Y vs. F for example)
VI> Other Trip Reports:
PREMIUM:
8.64:
Turkish Airlines (59): JFK-IST: 11/2008
8.61:
Air Canada (49): YYZ-SCL: 06/2008
8.23:
United Airlines (72): SFO-SYD: 03/2009
8.11:
Aeroflot (33): MOW-DEL: 09/2007
8.04:
Korean Air (40): NRT-ICN: 10/2007
8.02:
Delta Airlines (24): JFK-CDG: 08/2007
7.46:
LAN (55): YYZ-JFK: 09/2008
7.82:
Singapore Airlines (06): EWR-SIN: 09/2006
7.14:
Swiss (52): SCL-GRU: 06/2008
7.02:
Qatar (68): DOH-JFK: 01/2009
6.96:
Etihad (61): JFK-AUH: 12/2008
6.93:
Delta Airlines (18): SEA-JFK: 11/2006
6.84:
ConViasa (65): CCS-DAM: 01/2009
6.81:
Air Canada (17): ICN-YYZ: 10/2006
6.70:
KLM (32): EBB-AMS: 08/2007
6.36:
Privatair (60): MUC-BOS: 12/2008
6.25:
Korean Air (45): NAN-ICN: 10/2007
6.11:
TAP Portugal (53): GRU-OPO: 06/2008
5.75:
Singapore Airlines (16): CCU-SIN: 10/2006
5.64:
NorthWest (46): ICN-NRT-SEA: 10/2007
5.39:
LOT (54): WAW-JFK: 06/2008
5.21:Egypt Air (73): CAI-IST: 02/2009
5.07:
TACA (66): JFK-SAP: 01/2009
4.42:
Air France: CDG-JNB (25): 08/2007
ECONOMY: Long + Medium:
9.26:
Air India (48): JFK-DEL: 02/2008
7.38:
Avianca (01): BOG-LIM: 07/2006
7.07:
Sri Lankan (62): KWI-CMB: 12/2008
6.41:
American Airlines (58): LHR-BOS: 11/2008
6.26:
Jet Blue (21): CUN-JFK: 02/2007
6.06:
Air Canada (04): YYZ-YVR: 09/2006
5.89:
USA 3000 (19): PUJ-BDL: 01/2007
5.85:
Spanair (69): MAD-LPA: 02/2009
5.79:
Air New Zealand (42): RAR-NAN: 10/2007
5.46:
TAP Air Portugal (23): OSL-LIS: 05/2007
5.19:
Air Europa (70): LPA-MAD: 02/2009
5.16:
Iberia (71): MAD-BOS: 02/2009
ECONOMY: Short
8.56:
Paramount Airways (38): BLR-MAA: 09/2007
8.56:
Kingfisher (64): HYD-CCU: 12/2008
8.24:
Kingfisher (14): IXA-GAU: 10/2006
7.87:
Indian (34): BOM-MAA: 09/2007
7.72:
Alliance Air (13): CCU-IXA: 10/2006
7.57:
Indian Airlines (10): DEL-CCU: 09/2006
7.23:
West Jet (03): YYC-YVR: 09/2006
7.15:
JetLite (37): BOM-GOI: 09/2007
6.70:
Spice Jet (09): CCU-DEL: 09/2006
6.63:
Air Fiji (44): NAN-SUV: 10/2007
6.63:
Jazeera (67): DAM-KWI: 01/2009
6.58:
Air Tran (02): EWR-MDW: 08/2006
6.48:
Air India Express (63): CMB-MAA: 12/2008
6.44:
CO Micronesia (39): ROR-YAP: 10/2007
6.41:
Pacific Sun (43): NAN-SUV: 10/2007
6.37:
Skybus (47): SWF-CMH: 02/2008
6.33:
Kenya Airways (29): NBO-BJM: 08/2007
6.33:
Sky Europe (56): LTN-BTS: 10/2008
6.31:
Indigo (15): GAU-CCU: 10/2006
6.31:
easyJet (57): BUD-LTN: 11/2008
6.22:
Air Link Swazi (28): MTS-JNB: 08/2007
6.22:
Air India (36): HYD-BOM: 09/2007
6.13:
Adam Air (07): SIN-CGK: 09/2006
6.13:
Air Rarotonga (41): RAR-AIT: 10/2007
6.00:
Transairways (27): INH-MPM: 08/2007
5.95:
Air Canada (05): ALB-YYZ: 09/2006
5.85:
SAS Norge (22): OSL-AES: 05/2007
5.81:
LAM Mozambique (26): JNB-MPM: 08/2007
5.69:
Air Deccan (12): IXZ-CCU: 10/2006
5.67:
Rwanda Air Exp (30): KGL-NBO: 08/2007
5.07:
Go Air (35): MAA-HYD: 09/2007
5.00:
Sky Airline (51): IQQ-SCL: 06/2008
4.96:
Valuair (08): CGK-SIN: 09/2006
4.78:
Air Comet Chile (50): SCL-IQQ: 06/2008
4.74:
Fly 540 (31): MYD-LAU: 08/2007
4.33:
Viva Aerobus (20): ELP-MTY: 02/2007
4.11:
Air Sahara (11): CCU-BOM: 09/2006
(Note on Codes: Y – Economy, J – Business, F – First :: I/D – International/Domestic :: SR/MR/LR – Short/Medium/Long Haul)
(Note on Date: Dates are modified to be +/- 3 days from actual flight date to not reveal actual flight pattern)
VII> Other Pictures:
(Scenes from CAI)
(International Arrivals Hall)
(Scenes from IST)