The time had come for another trip away and I had some J class tickets I needed to use before the birth of my next child. Originally myself, my wife and 1 year old daughter were due to travel but my wife was unable to get her leave from work confirmed. So, it was decided that I should have a trip to the USA for the weekend.
I decided on NYC even though I had been there before I knew that with there being 7 flights a day I would stand a much better chance of Club then most other routes.
First of all, let me explain. Im airline staff and when you've served so many years service at my airline you are given some free J class priority tickets. Luckily my wife also works for the airline and joined at the same time as me so she also has a set of tickets...... BONUS!
These tickets are confirmed in economy but if there are any free J class seats you are moved into the J cabin. This would be one of only a few times Ive travelled in Club and I'd never actually travelled in the NGCW on the 747's.
My friend who is also eligible to my staff tickets was to travel with me and we decided to travel down to LHR the night before the longhaul flight. We were only going to be spending 2 nights in NYC so thought that the extra couple of hours of sleep, which travelling domestically the day before would allow us, would help battle the tiredness in NYC
And so, the story begins.............
Luckily I had taken the day of the flight to LHR off work so I wouldn't be rushimng around as I also had other things to do that day. I arranged to pick up my friend at 1645 and we headed to the airport arriving at 1705. Even though I only live about 10 minutes from the airport I decided to give myself plenty of time with it being close to rush hour.
I said goodbye to the Mrs and headed in to the check-in desk. The area was quite quiet for this time of day and we walked straight to the check-in agent.
She checked us in ( I had already checked in online and secured our seats) and issued our boarding cards for both the LHR and the JFK flight.
Security was a breeze with no queue and within 10 minutes of entering the airport we were airside....... To the BAR!
Two pints later and £9 lighter it was time to head to the gate. BA use gate 3 in NCL and its very unusual to use any other gate on a BA flight.
NCL-LHR
BA1335
1810-1920
Push - 1805
TO - 1807 rwy 7
Touchdown - 1913 rwy 9L
A321- G-EUXC
Seat 13F
14/05/09
This was my first flight on the A321 and I was looking forward to it. I took my seat which was pretty much in the middle of the cabin, situated over the wings. The load factor was about 70% and everyone was boarded by 1755, including one of my ex-girlfriends who I hadnt seen for a good 6 or 7 years. We hadnt had the best of break-ups so I was glad she was seated a couple of rows in front of me and not in my row.
view from the bar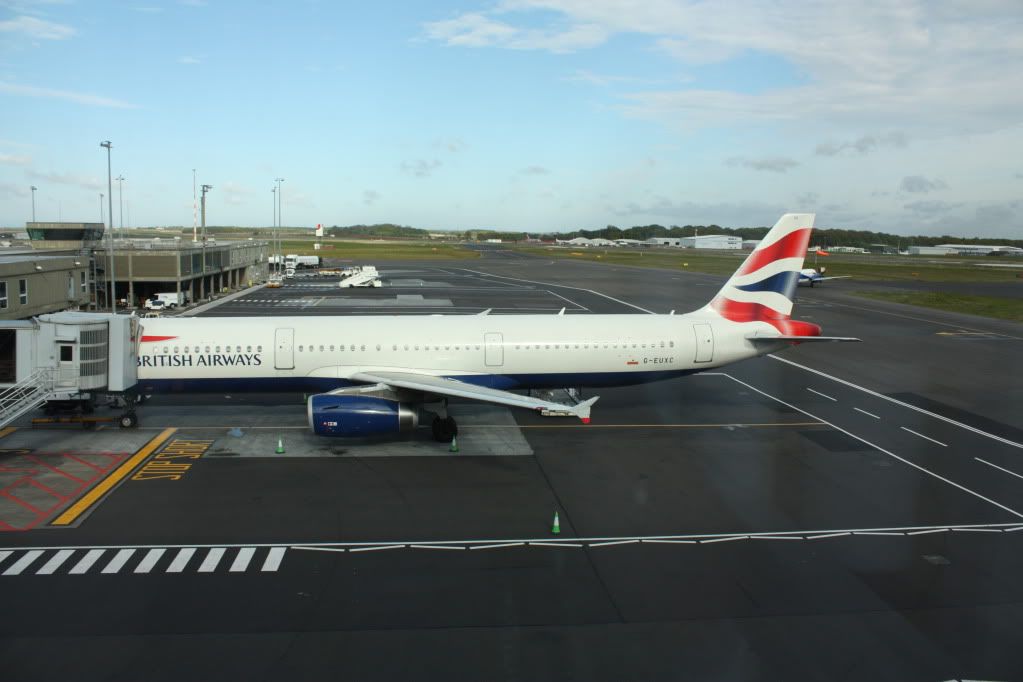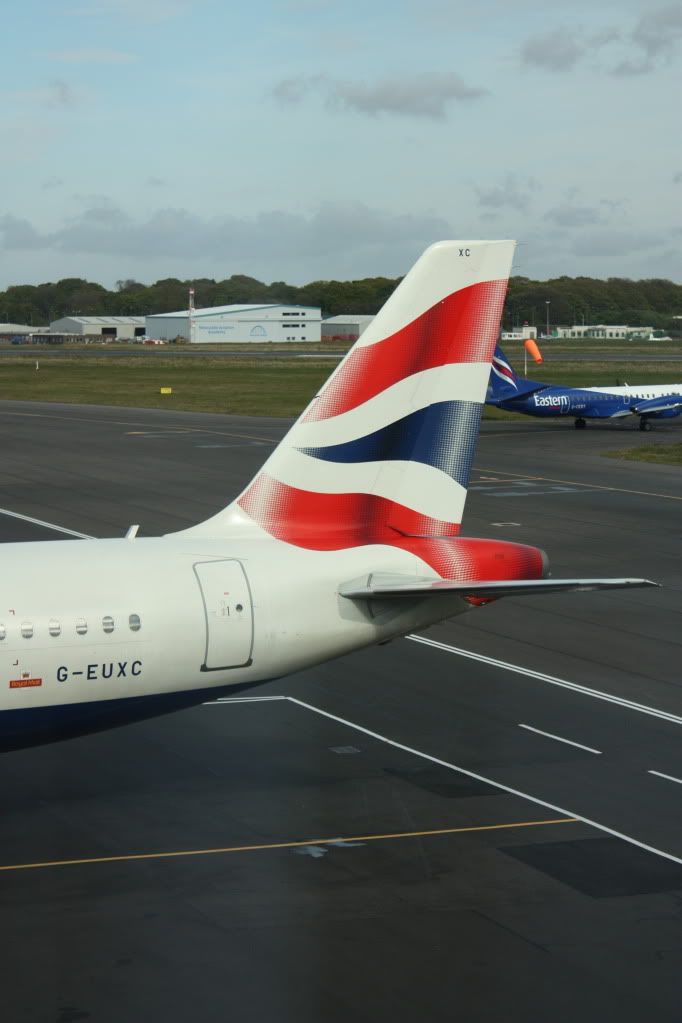 View from my seat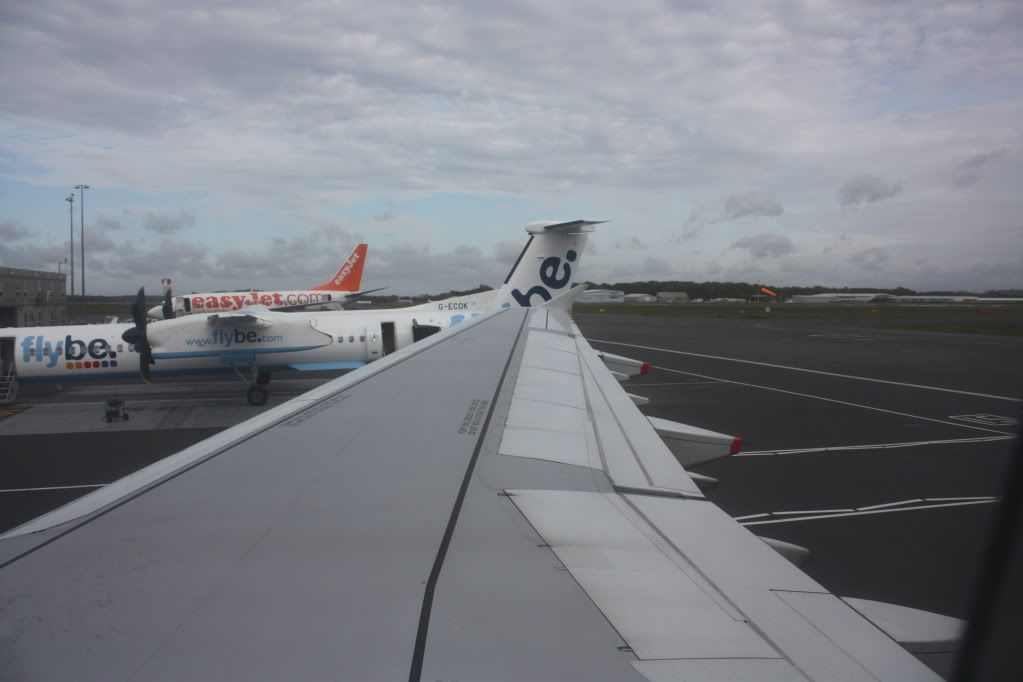 NCL terminal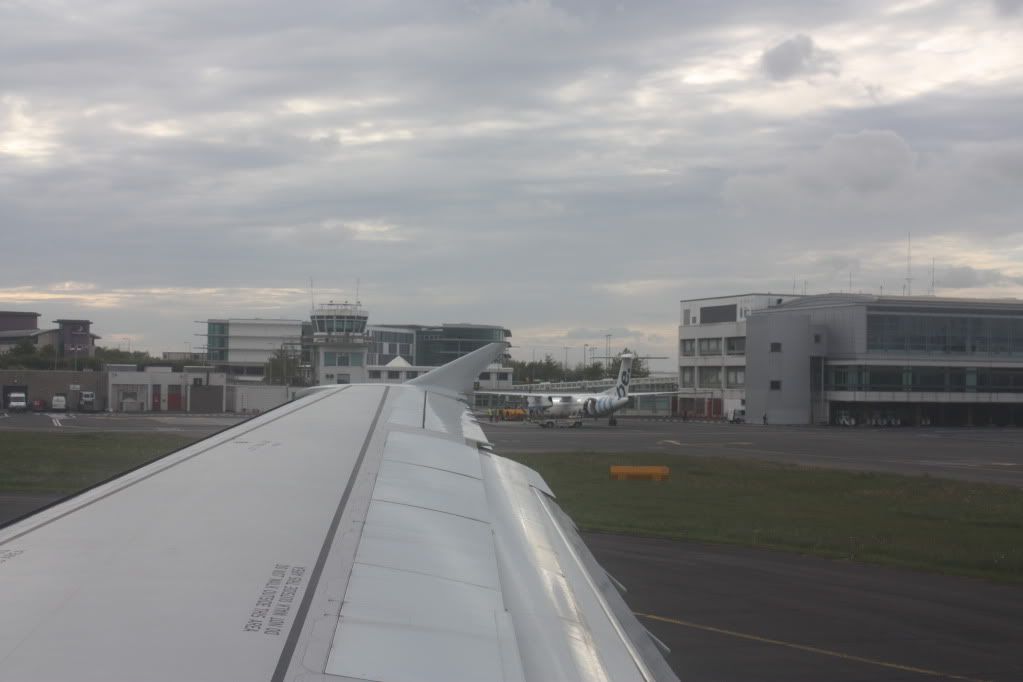 Take off was a short one and withion 40 seconds or so we were airbourne. On the runway 7 departure you fly to about 5000 ft and then make a right turn to kind fo double back on yourself and today was no different. The weather was quite nice and although there were a few bumps along the way through the clouds there was nothing to worry about.
clouds
The crew were released and the drinks and meal service started. Today we would be served with a sandwich and a Breakaway chocolate bar with a drink of our choice. The sandwich was ok but just your typical pre-packed sandwich, consisting of one half cheese and pickle, the other coronation chicken. I ordered a Gin and Tonic from the bar as this is kind of my custom drink when flying. I dont know what it is about being on an aeroplane but I always want to drink G+T's and at least on BA it doesnt cost me 10 Euros as it did on FR
G+T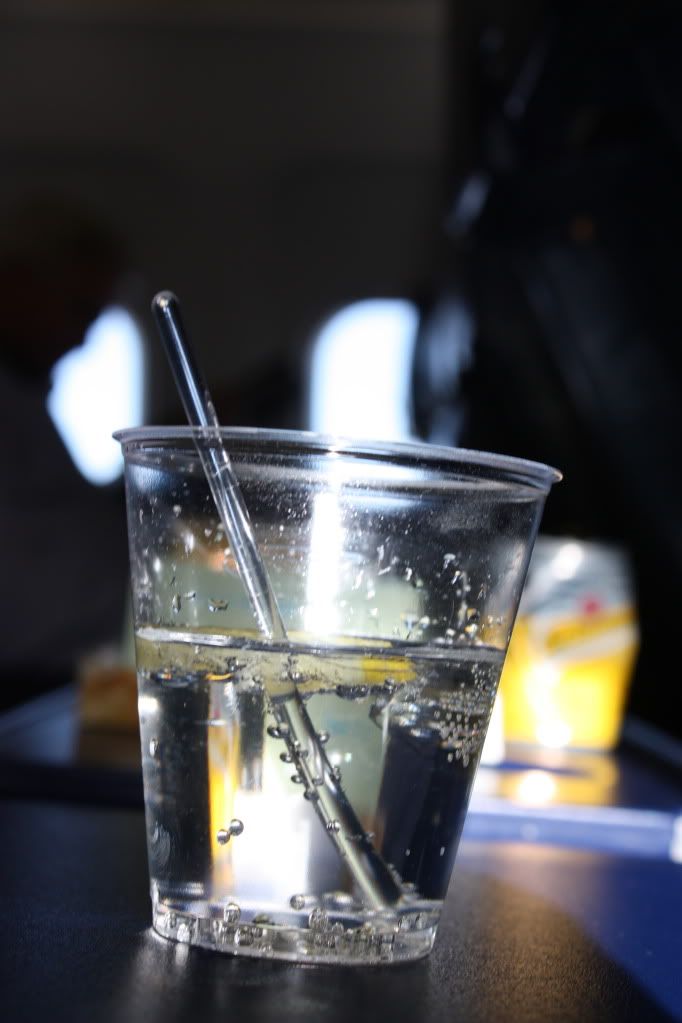 The clouds outside were getting thicker and thicker the further south we went.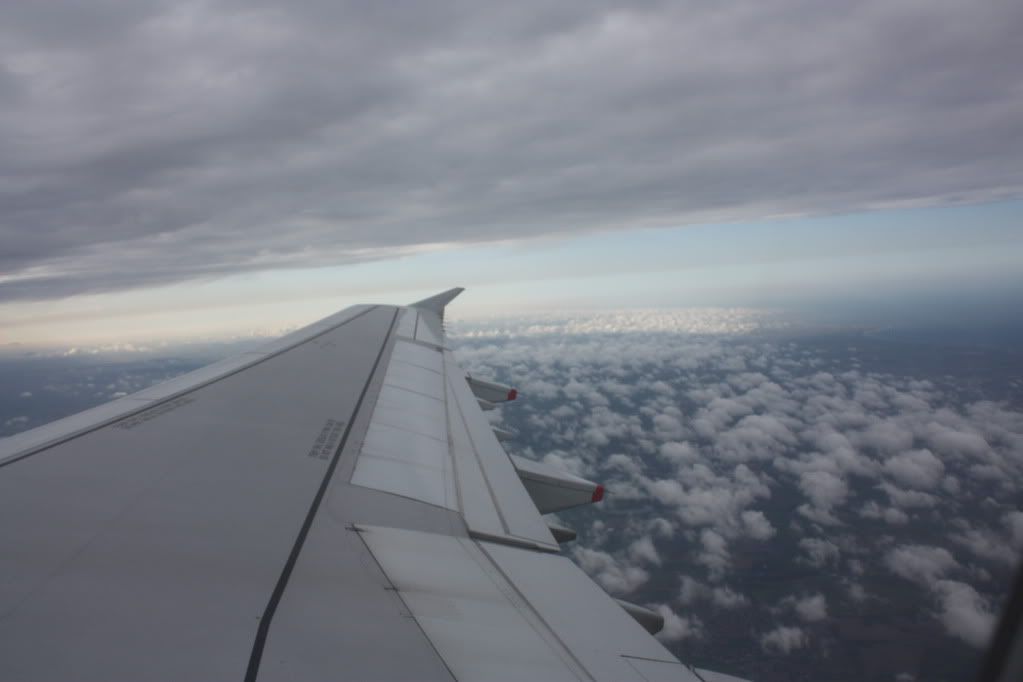 Looking at the moving map I could see that we were getting closer to LHR. We were already well into our descent and were put into the Lambourne hold. Two circuits later and we were heading for LHR runway 09L.
T5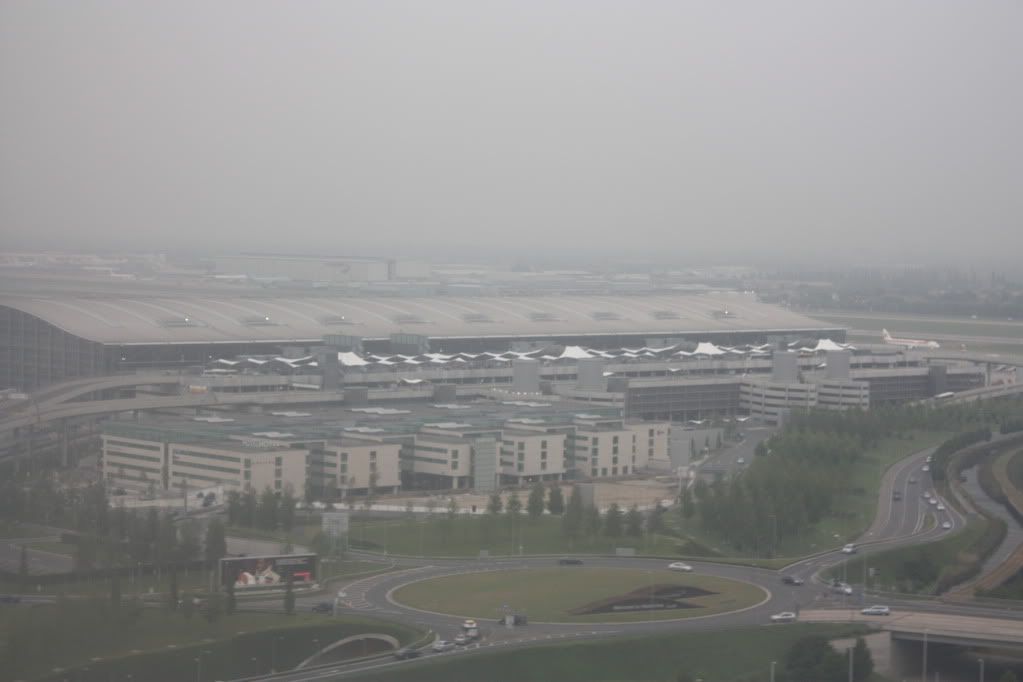 T5 again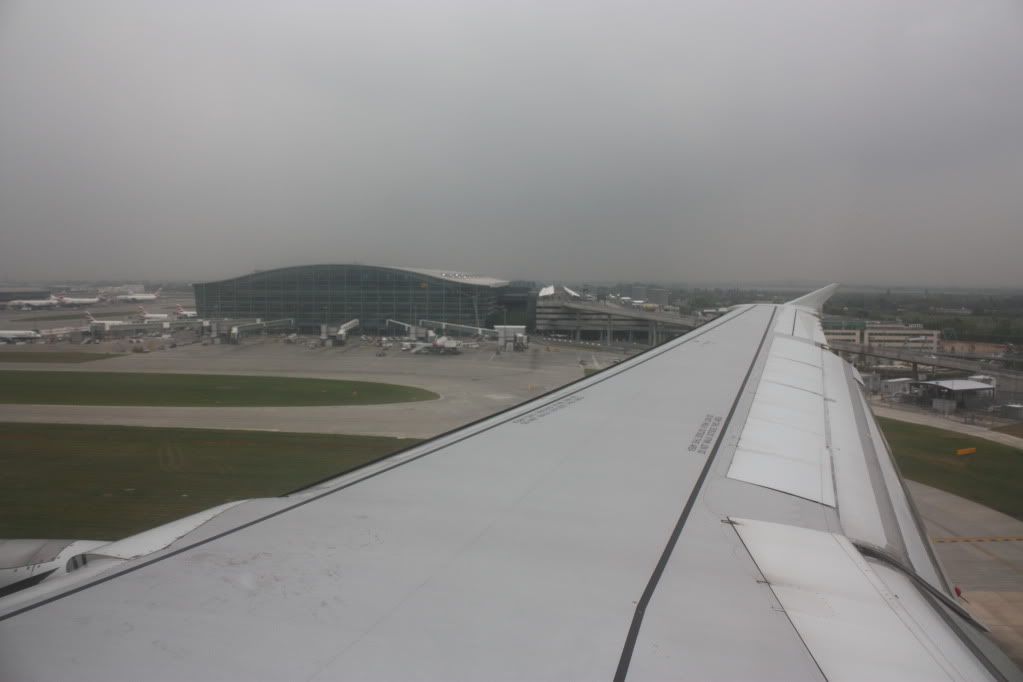 We landed with a little bump and then reversers were deployed and we came to quite a speedy stop. I wasnt surprised though as Ive heard that now BA are in T5 they either stop and exit the runway quite rapidly or taxi all the way to the end of the runway before exiting, depending on which runway is in use.
We arrived at the gate (A8) and witihn minutes the door was open and we were disembarking. After a quick toilet visit ( has anyone else noticed how nice the facilities are in T5?) we headed to baggage claims and we were on the bus to Hatton Cross around 12 minutes after arriving at the gate. Now that is some speedy work by BA ground staff!!!
Arriving into Hatton cross we then walked to the Jury's Inn where we would be staying the night. Since it was still early(ish) we decided to meet up with LHR380 over at The Green Man pub which is just a short stagger from the hotel. A couple of pints later it was back to the hotel for some food as TGM had stopped serving food minutes before we arrived there.
As I climbed into bed I set my alarm for 0600.....zzzzzzzzz
A good nights sleep was had and we headed down to breakfast to be greeted by some Jet Airways crew getting ready for departure in reception.
Checked out of the hotel, we headed back towards Hatton X. The weather was fine this morning, a bit cloudy but no rain or high winds which is a good thing. They normally come hand in hand with any visit to LHR I have
We decided to get the underground to T5 because the busses all looked very busy and there were a lot of people queueing to get on them. I do think though that the £3.50 charged for this is a disgrace, your not even on the tube for ten minutes.
Arriving in T5 from the underground you can see the imensity of the place. I think it looks very clean and modern and gives a good impression of LHR.
We took the lift to the departures level coming which arrives close to zone A. We headed straight over to a check-in desk in Zone C where a nice young blonde lady tagged our bags and checked the passports. She then asked us if we were familiar with the lounges in T5. I said I was but my mate said that he wasnt. She then told us that there are two lounges, one North, one South and we were welcome to visit either one. I was quite shcoked at this and thought my luck was in because although these tickets allowed travel in the Club World cabin they werent applicable for lounge access.
After a quick trip to Travelex it was time to head through security. I find that South Security isn't as busy as North normally so decided to head in that direction.
After showing our J class boarding cards we joined the Fast Track queue where I unloaded my pockets into my holdall and waited for a the queue of 4 or 5 peope in front of me.
There was a business man at the security conveyer belt looking rather hassled. The security agent asked him to take off his jacket and then his belt and then his shoes and then once he'd placed his bag in the container she asked him to take out his laptop. There was a middle aged guy and his wife who were in front of me and next in line and the guy decided to say something. he kind of jokingly said " get a move on mate"!
Well, this strated something because the businessman turned around and started shouting at the guy, " Who the f***ing hell who you talking too you f****ing s**thead"
Well I was astounded and had a right chuckle to myself. They're banter was ongoing throughout the security checkpoint with the businessman offering the middle-aged guy to step outside, then he tried to swap cards and walked away swearing at him. All this and it was only 0830 in the morning.
From here we had a mooch about the shops and then headed to the Weatherspoons pub close to the domestic A gates (1-6).
Has anyone else noticed that no matter what time of day it is you will always find people drinking alcohol in the airport, myself included
Sushi Bar close to TTs system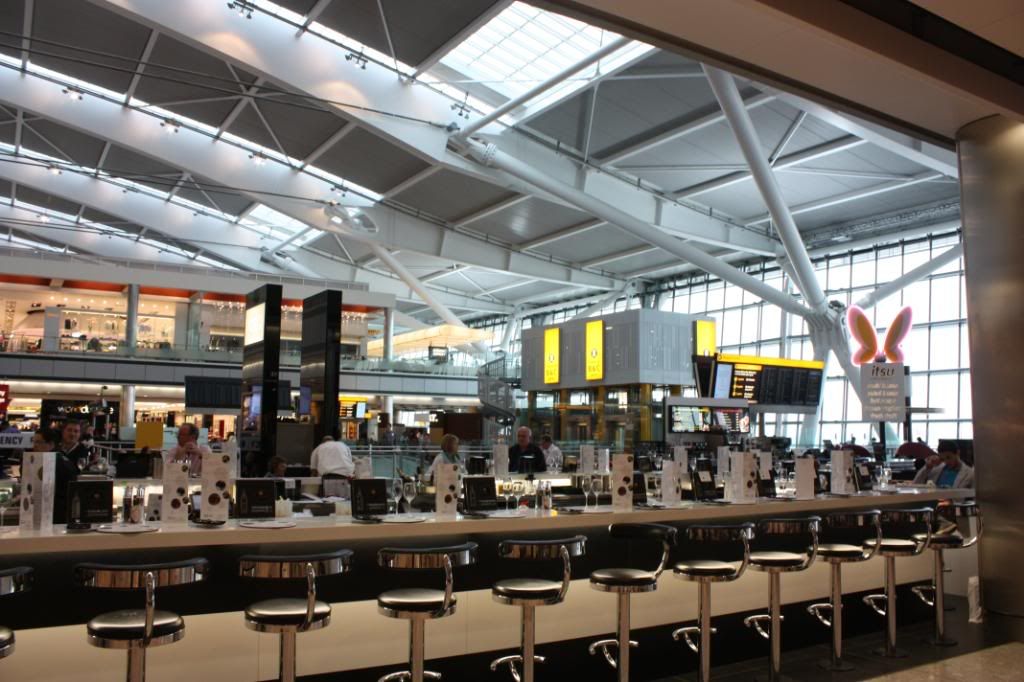 Lifts to T5b and c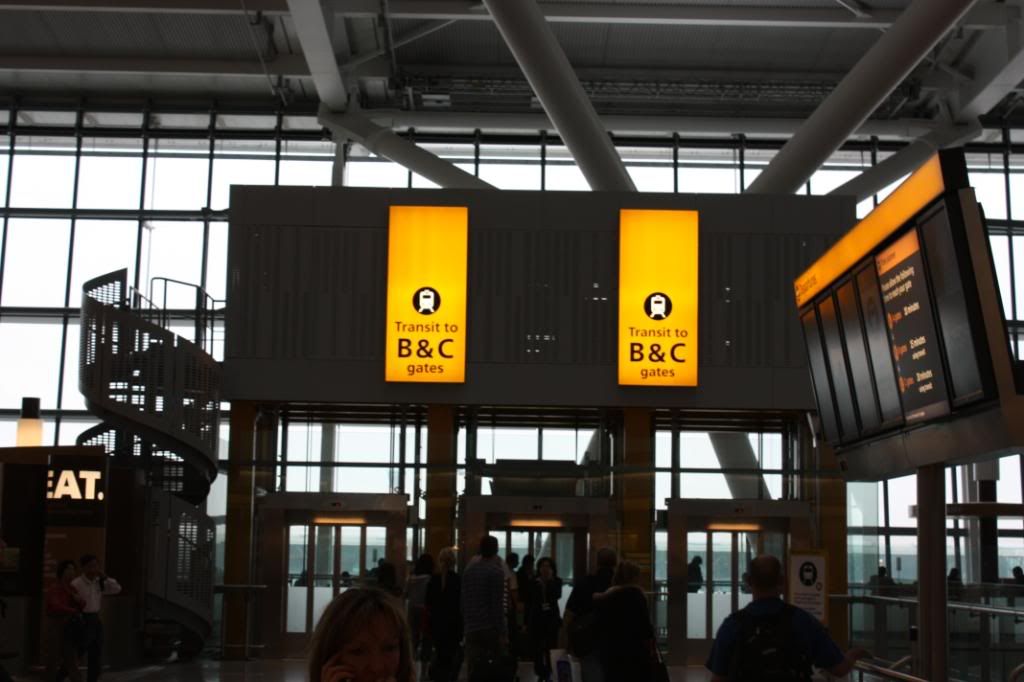 Map of the world taken in the Weatherspoons Pub - it actually looks kinda cool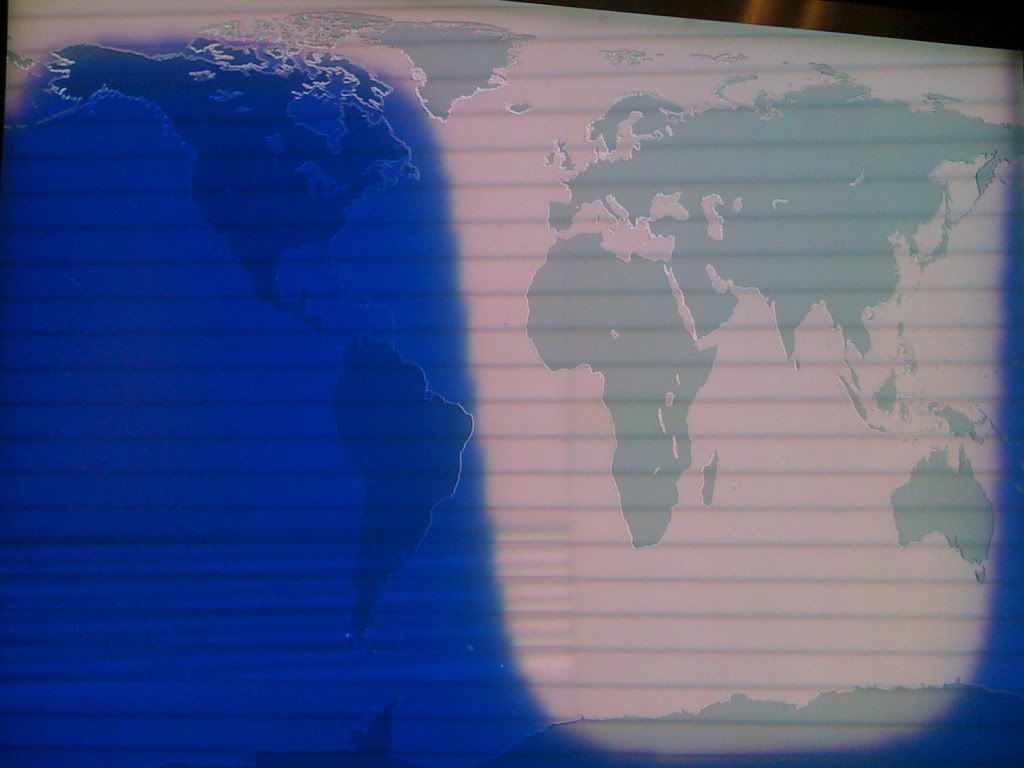 The time was getting towards 0915 and a quick glance at the FIDS showed that our flight would be departing from T5b. Ive never actually been across to 'b' before so was looking forward to it. Drinks finished we headed towards the TTS and arrived in 5b and like people have told me, it really is just a mini 5a.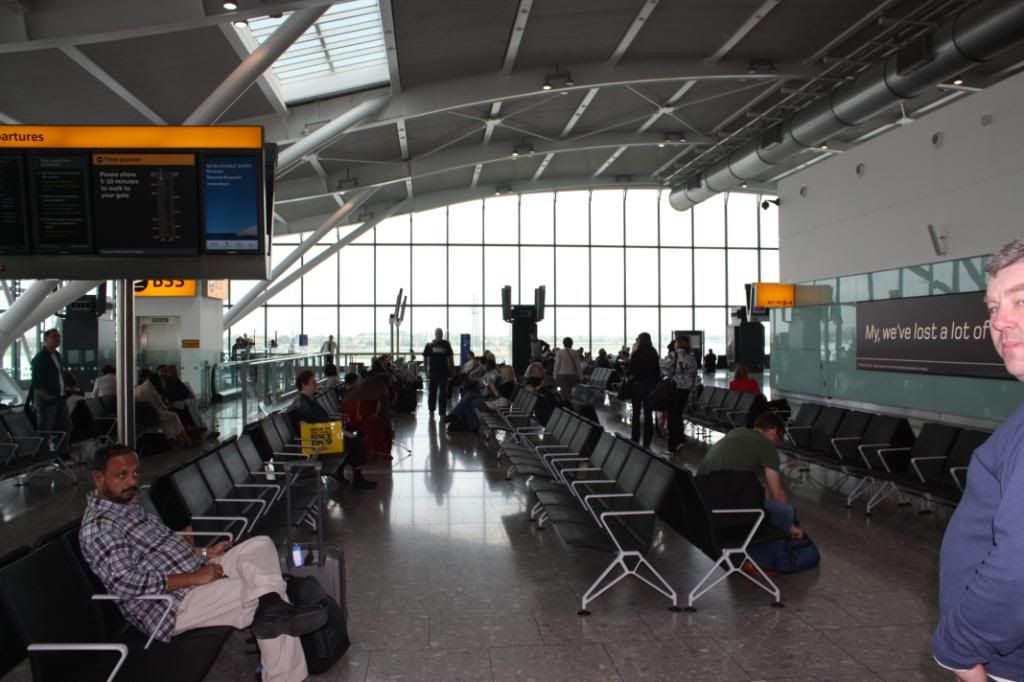 another 747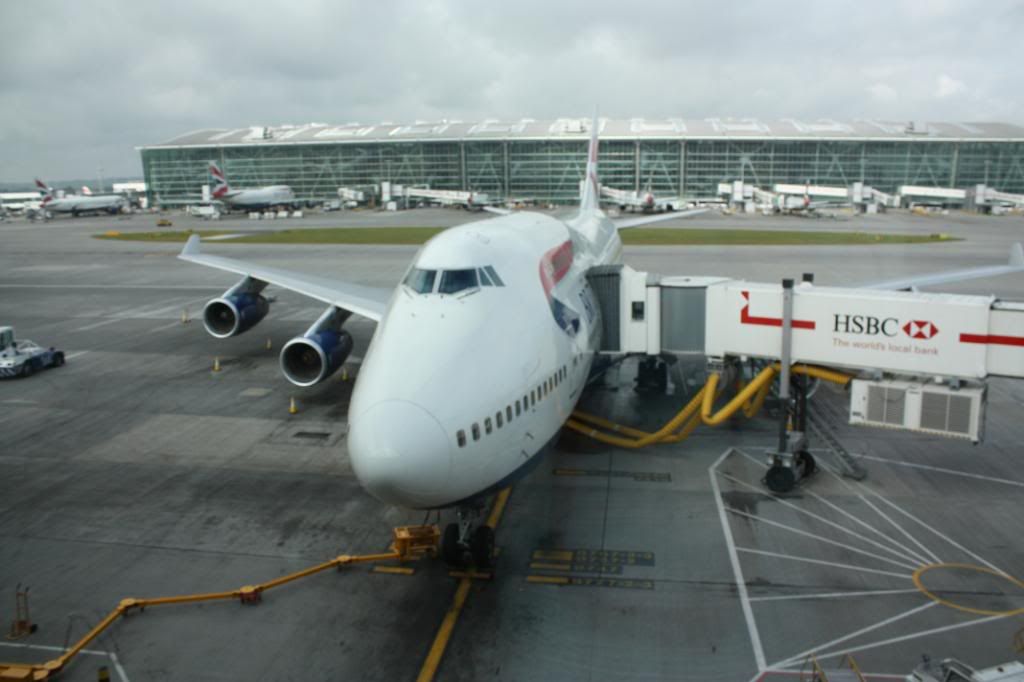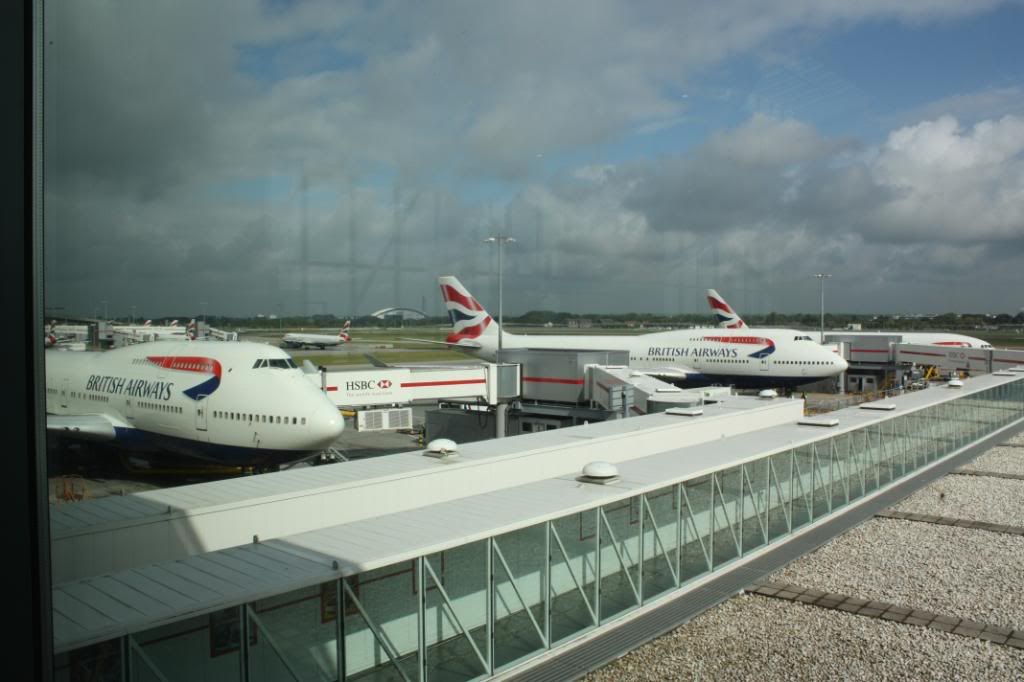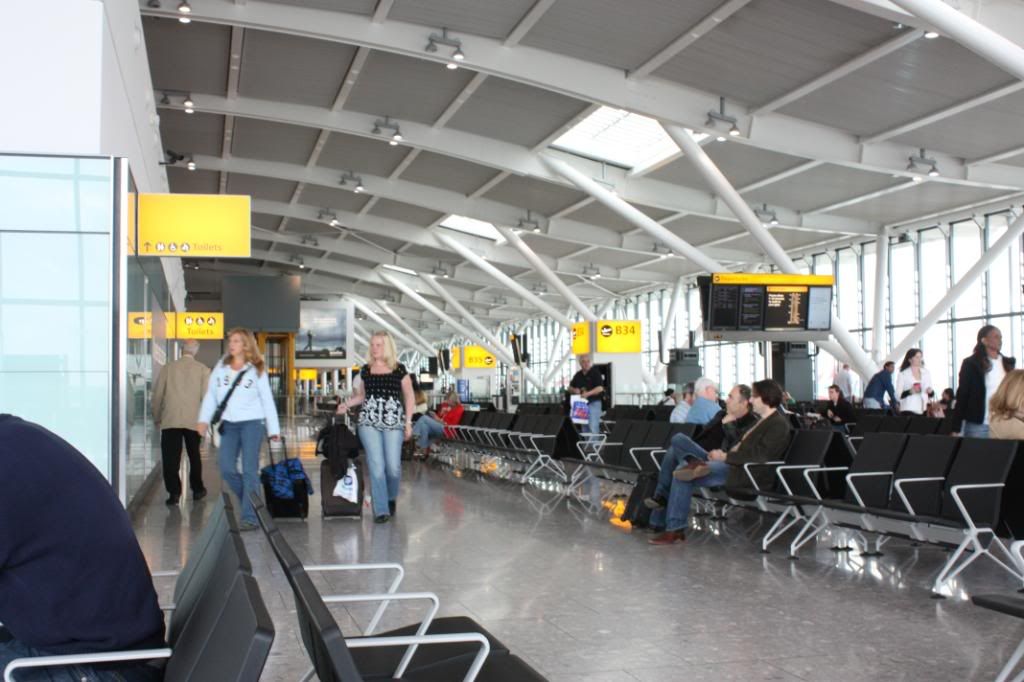 I dont know what was happening here but this suitcase was actually plugged into the wall. It was unattended as well as far as I could see
Boarding started for our flight and as we were in Club we decided to get on the aircraft early and get settled in with a couple of glasses of champers.
LHR-JFK
BA175
1025-1255
Push - 1032
TO - 1047 rwy 27L
Touchdown - 1249 rwy 4R
B747-400 G-CIVR
Seat 19K
15/05/09
I cant remember which gate number we departed from but it was one facing T5 on the Northern end of T5b. Welcomed onboard by name by a smiling CSD and colleague we settled down in our seats. I must say that as soon as my butt hit the seat you could feelthe difference in comforst compared to the lasttime I travelled on the " walnut and blue" club world cabin
My Seat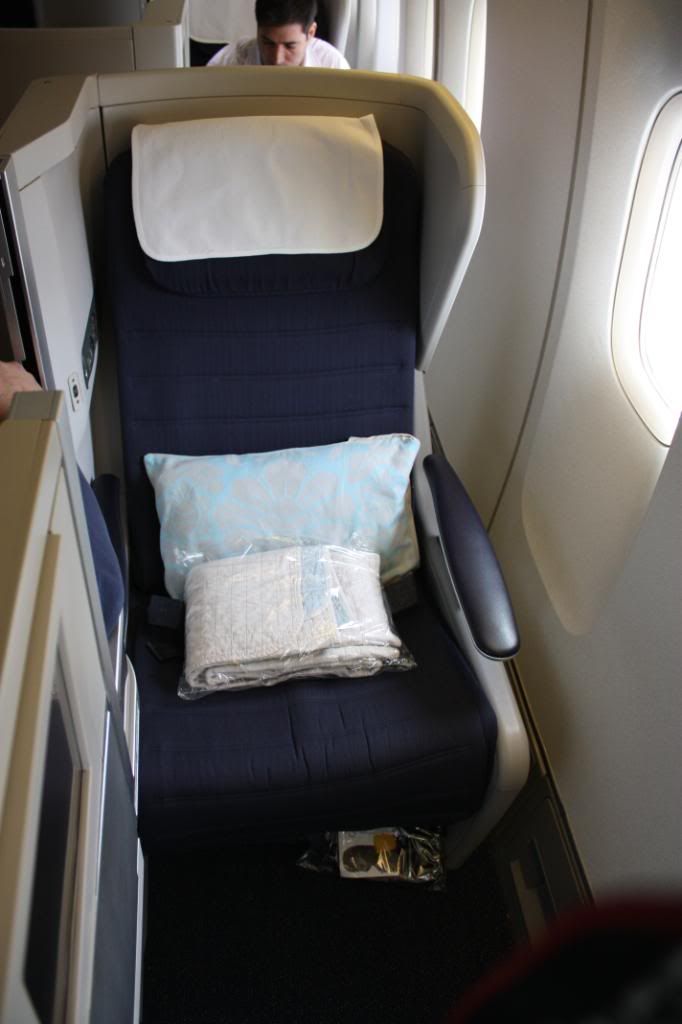 Cabin shot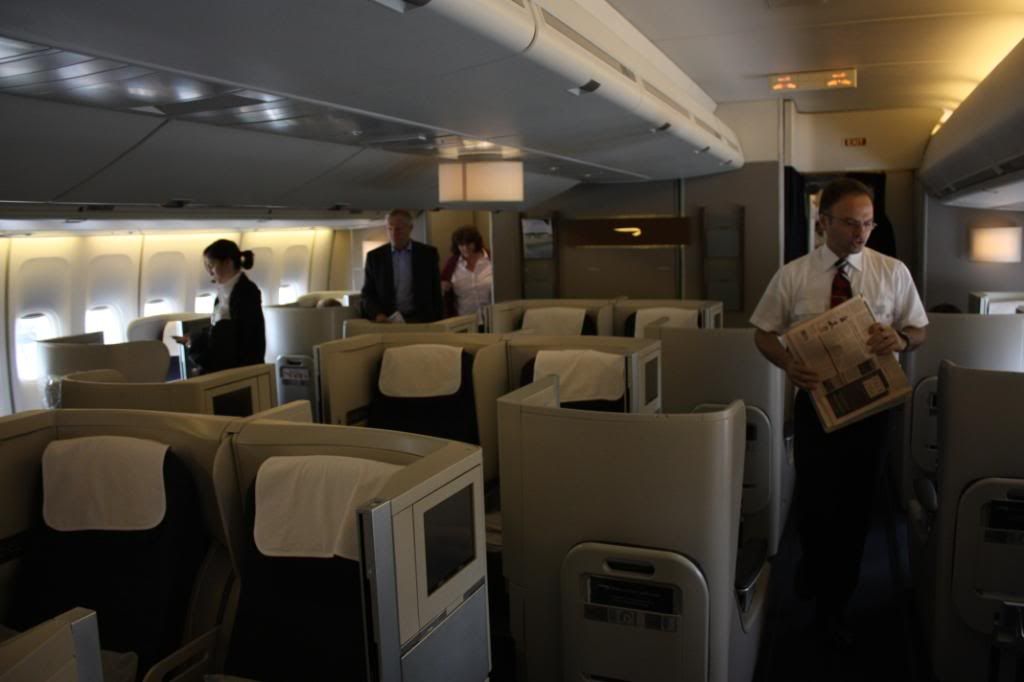 Champagne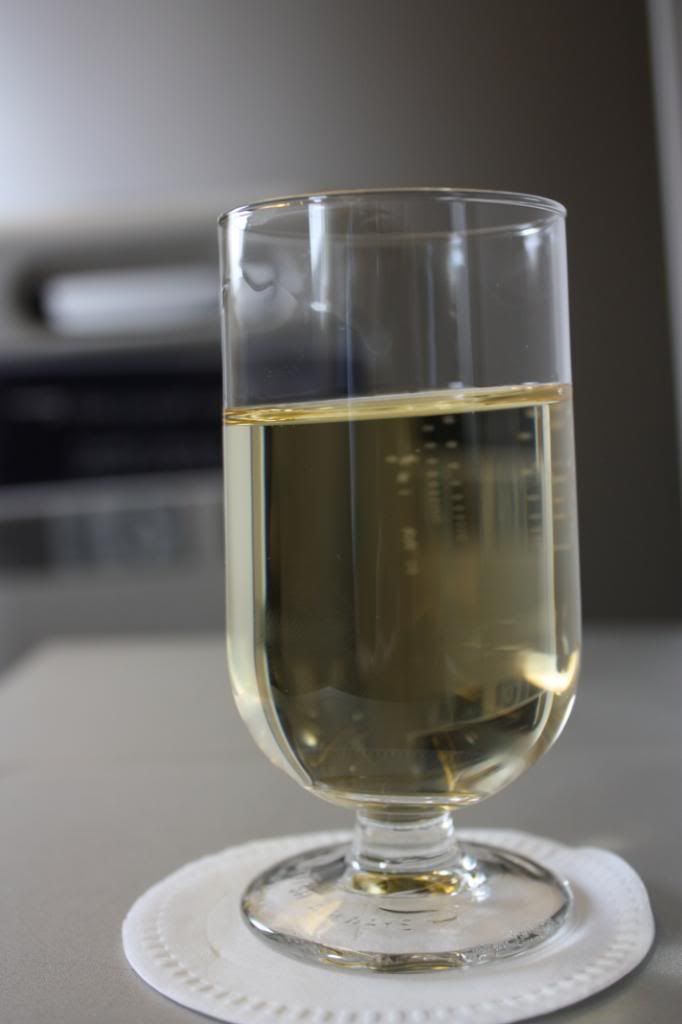 Me enjoying the bubbles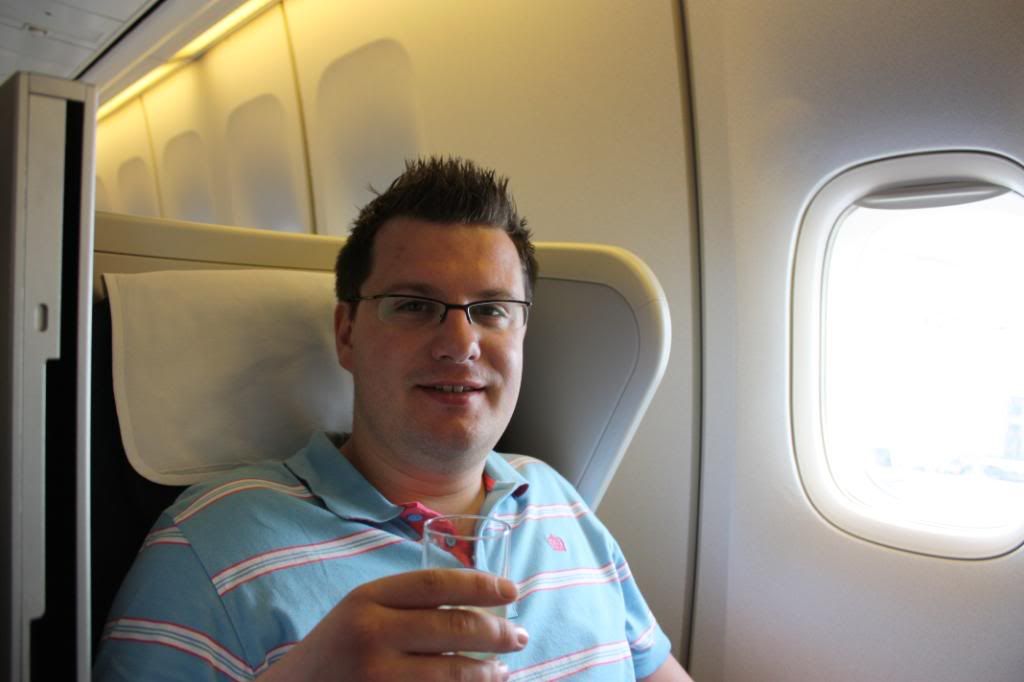 View from my seat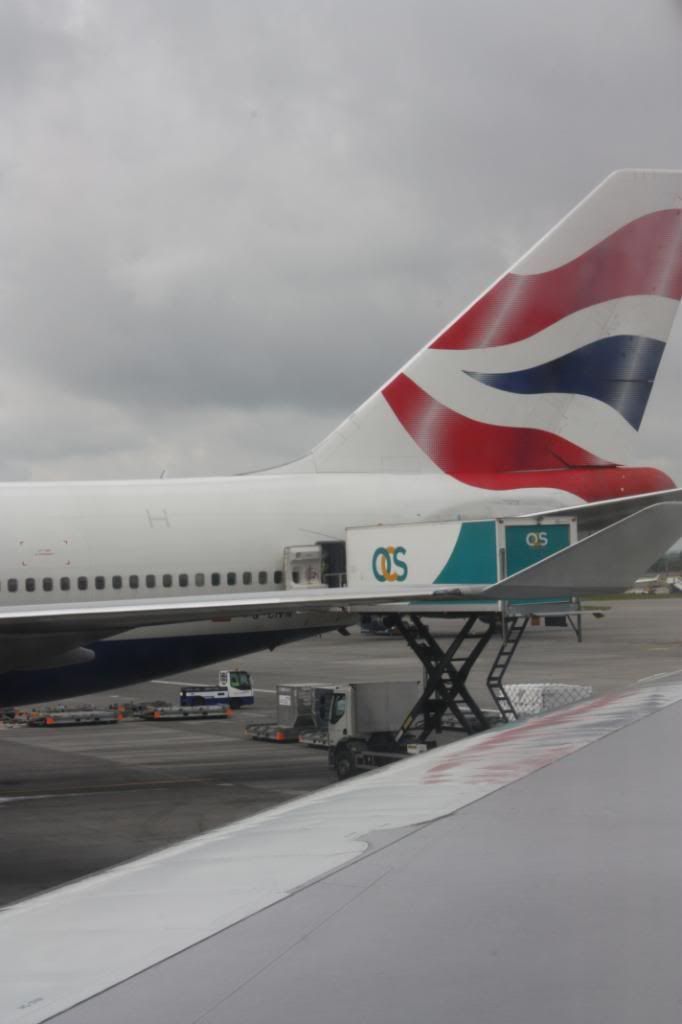 Boarding eventually finished with the load factor in this section of the Club cabin at around 70%
The Captain gave us a quick brief about our taxi and routing and then passed us back to the CSD. The CSD let us know that we should take notice of the safety demo that would be playing as we taxi out to the runway and let us know who was working in what cabin and the service we would be recieving onboard.
Pushback occured just as I was having another glass of champagne and it didnt take us long to taxi to runway 27L
view whilst taxiing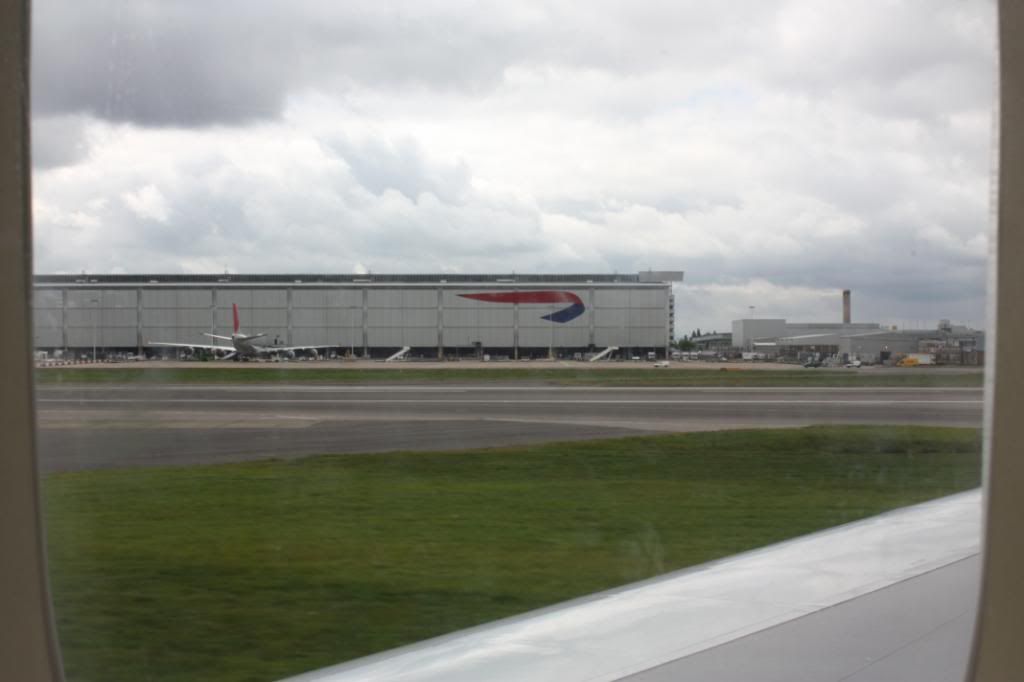 BA 767 rotating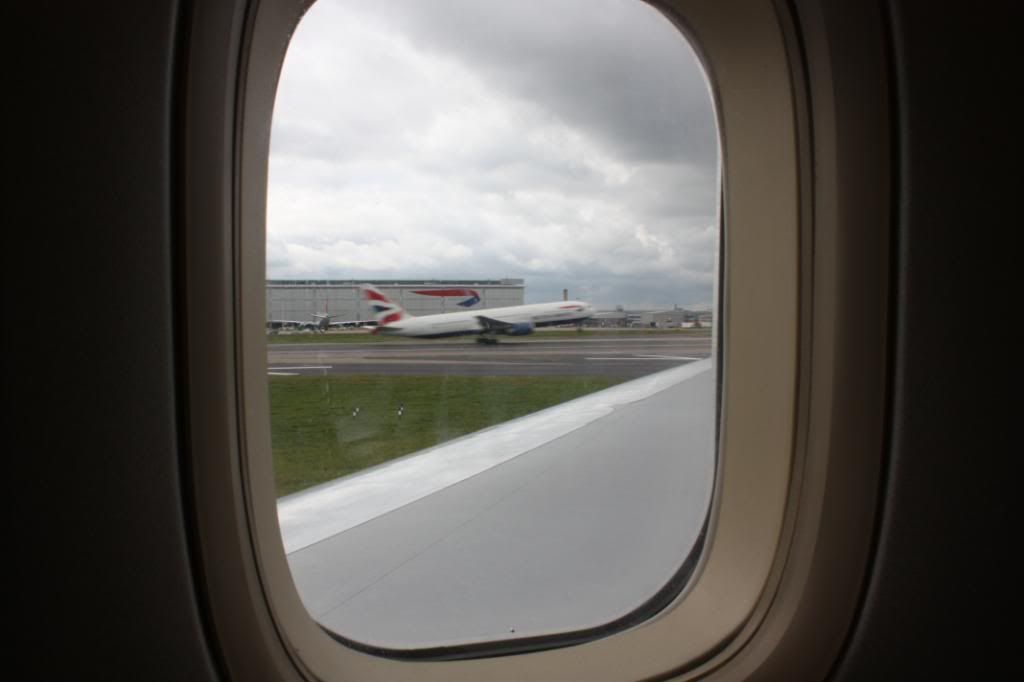 777 starting T/O roll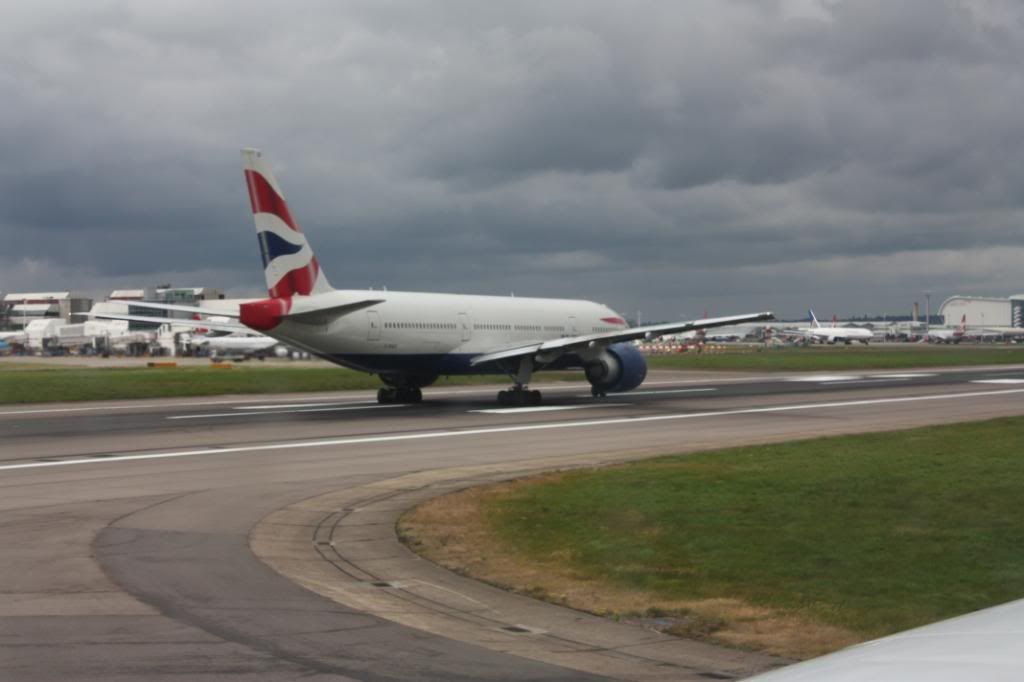 Lift off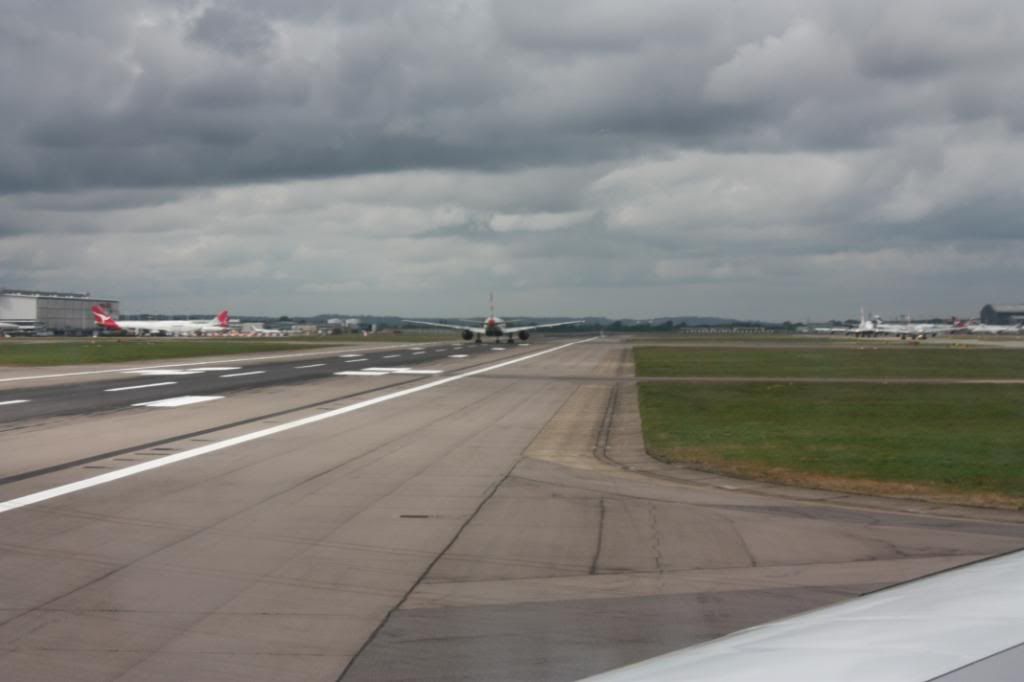 Now it was our turn to enter the active runway
view from the runway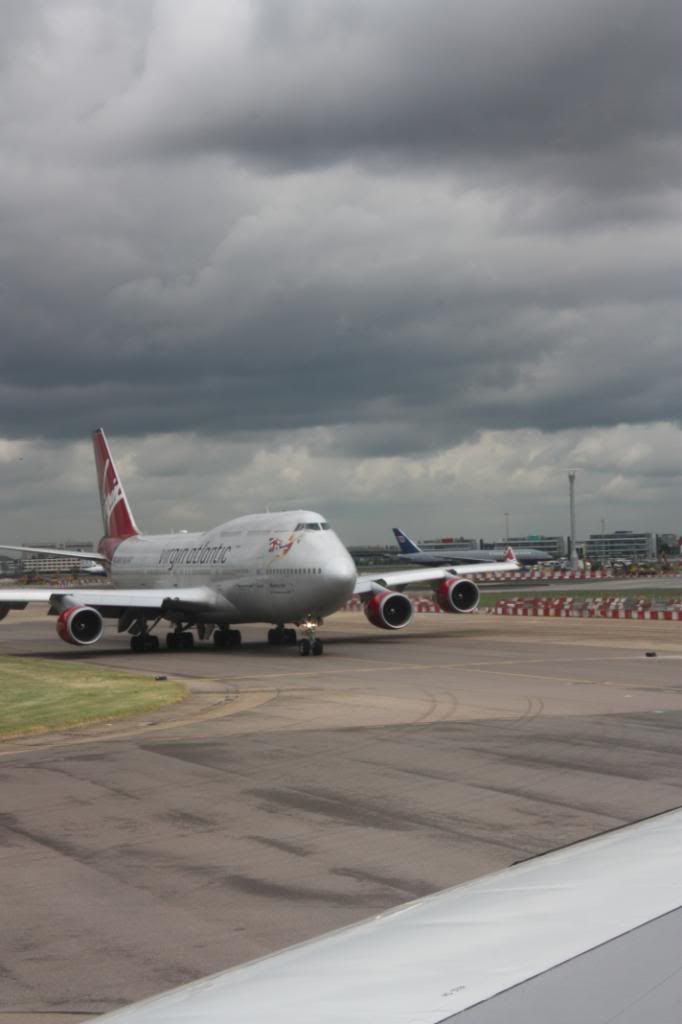 We pulled onto the runway and waited for about 20 seconds before the engines started to make a quiet noise. The noise got louder and I'd forgotten how good the take-offs in a 747 actually are, being 2 years since Ive flown on one.
T5c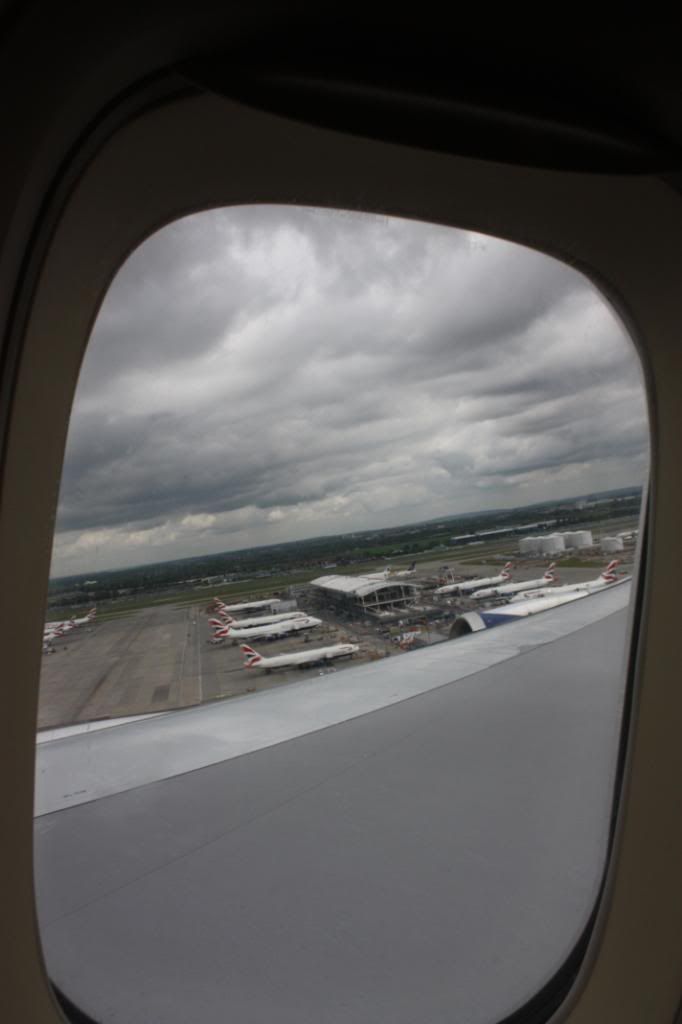 T5b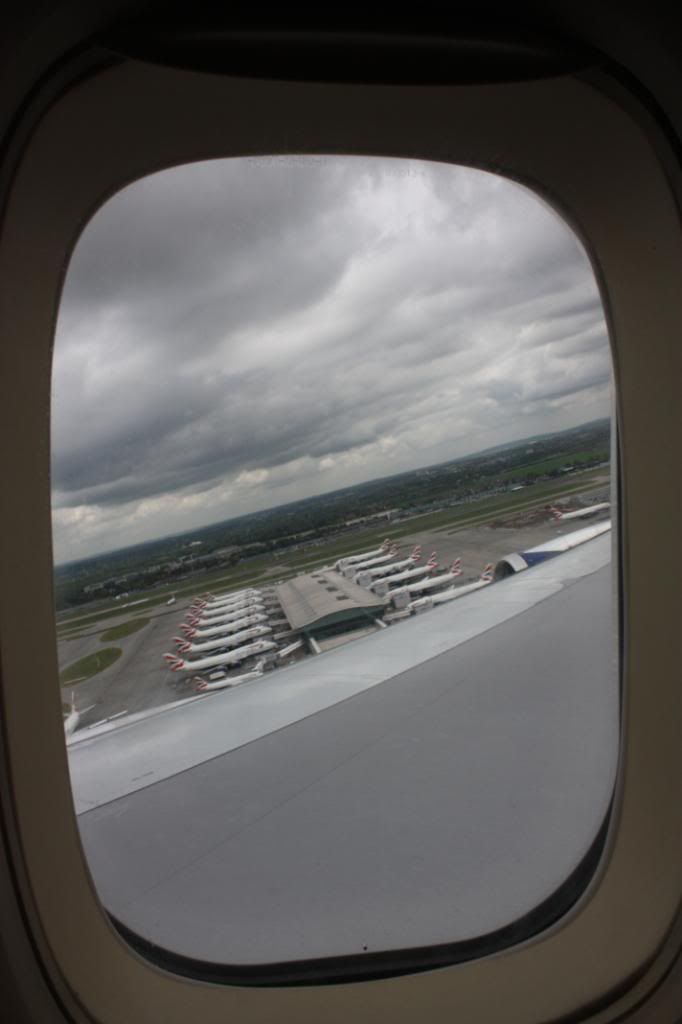 T5a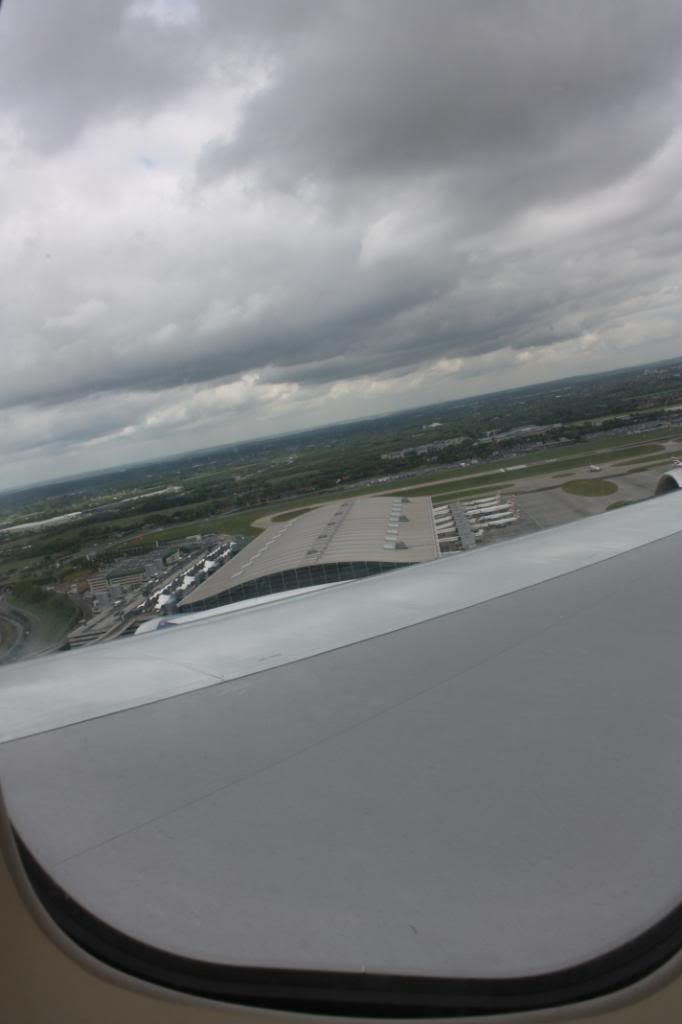 I love flying on 747's and as always when seated by the window Im just glued to the views, although it was starting to cloud over the higher we got.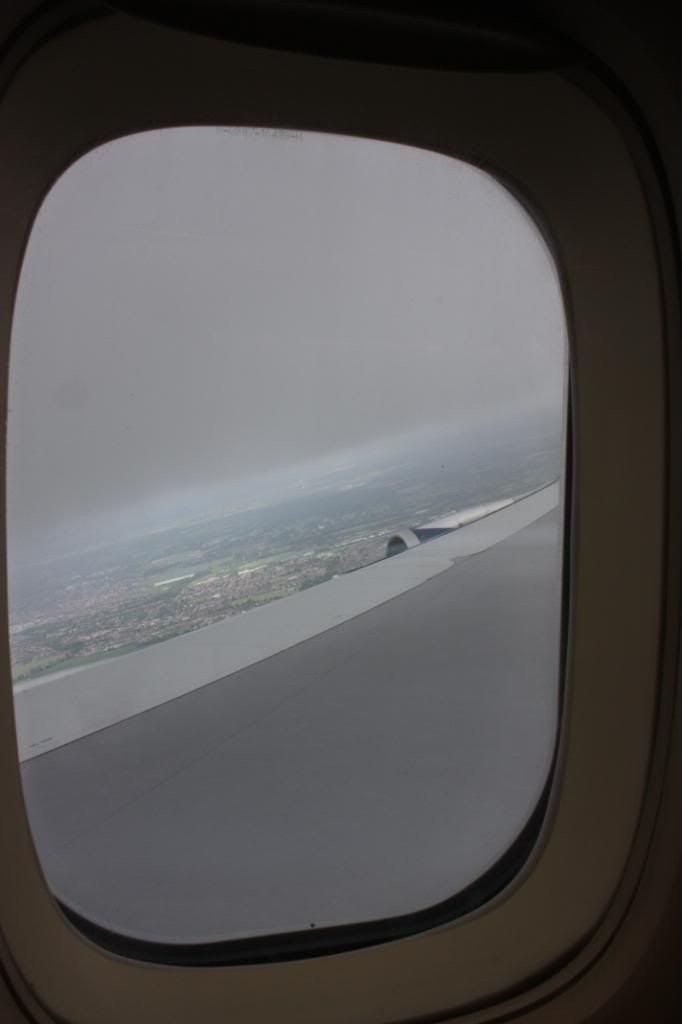 The crew were released from their seats and as had been announced earlier they started their drinks and snack service. They also handed out the amenity kit and menu.
menu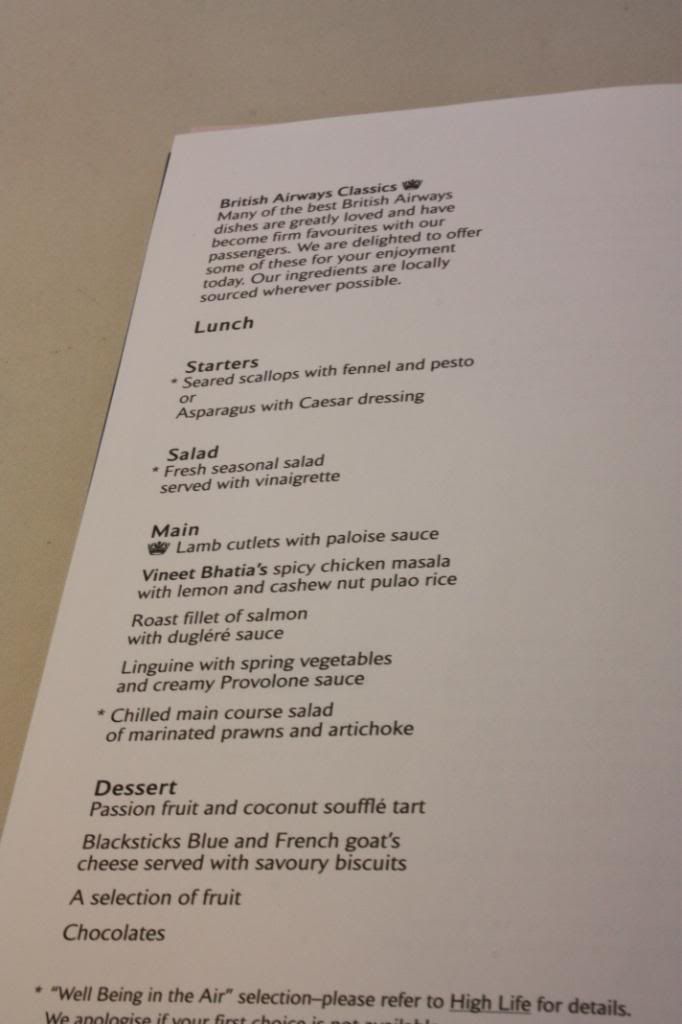 Elemis amenity kit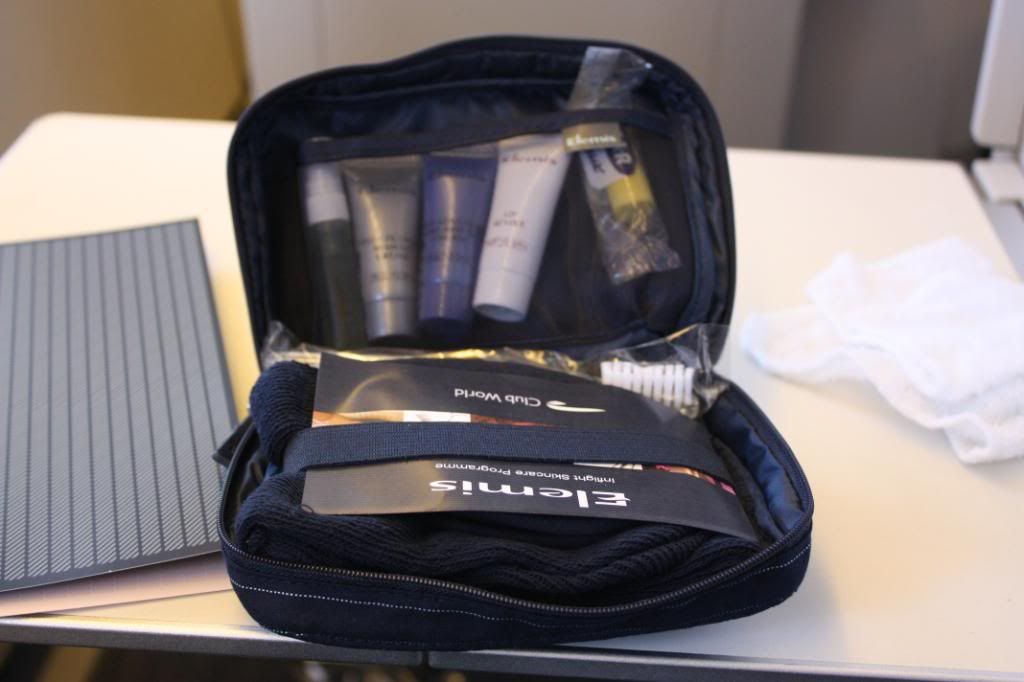 Another glass of champagne and I thought I'd take a view at the moving map to see what was below the cloud cover.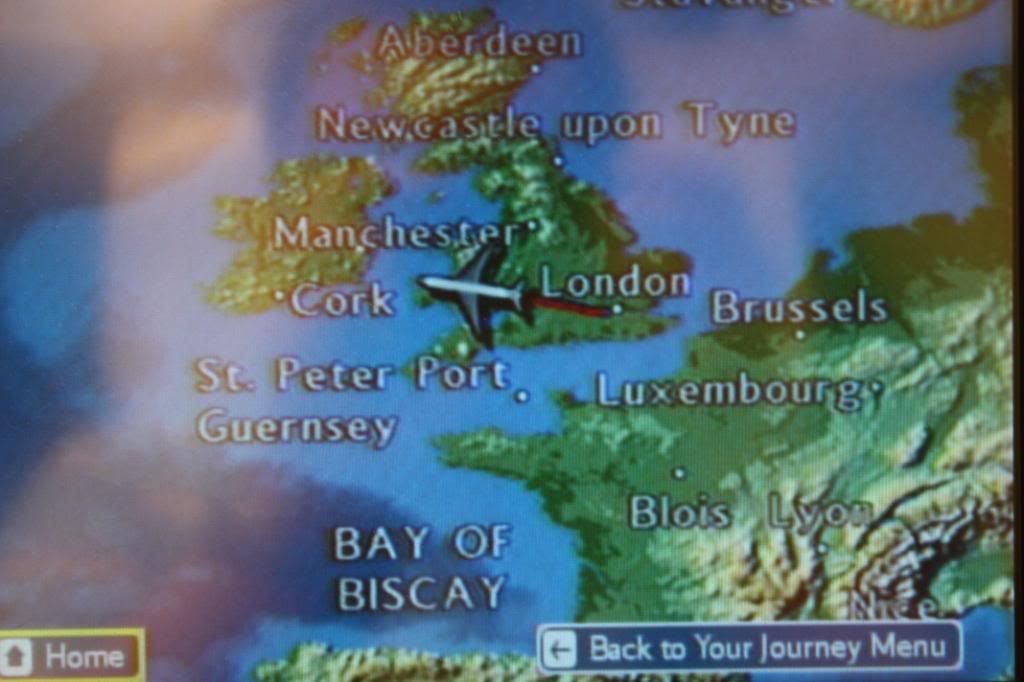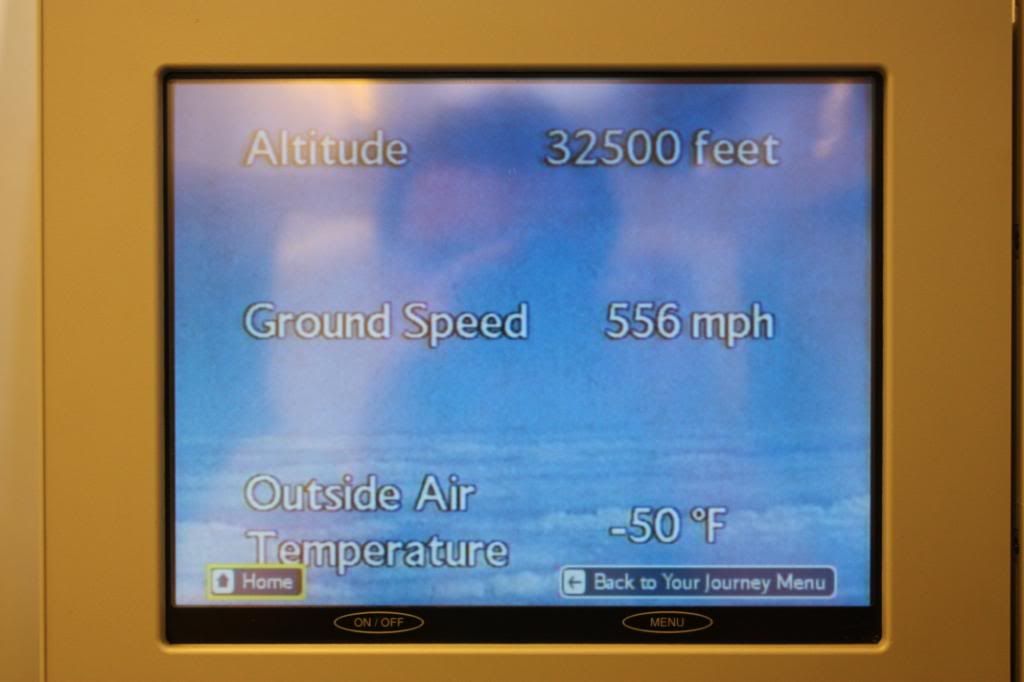 I flicked through the menu of films that were available and picked the couple of films I wanted to watch. First up would be Gran Turino with Clint Eastwood.
The crew came round taking orders for lunch and thankfully my choices were all available
I'd chosen Seared scallops to start, salmon for main and passion fruit and coconut souffle tart for dessert.
It wasnt long before the scallops arrived and I took another glass of champagne to go with the starter. They were delicious but they were cold and I prefer my scallops to be served warm.
Scallops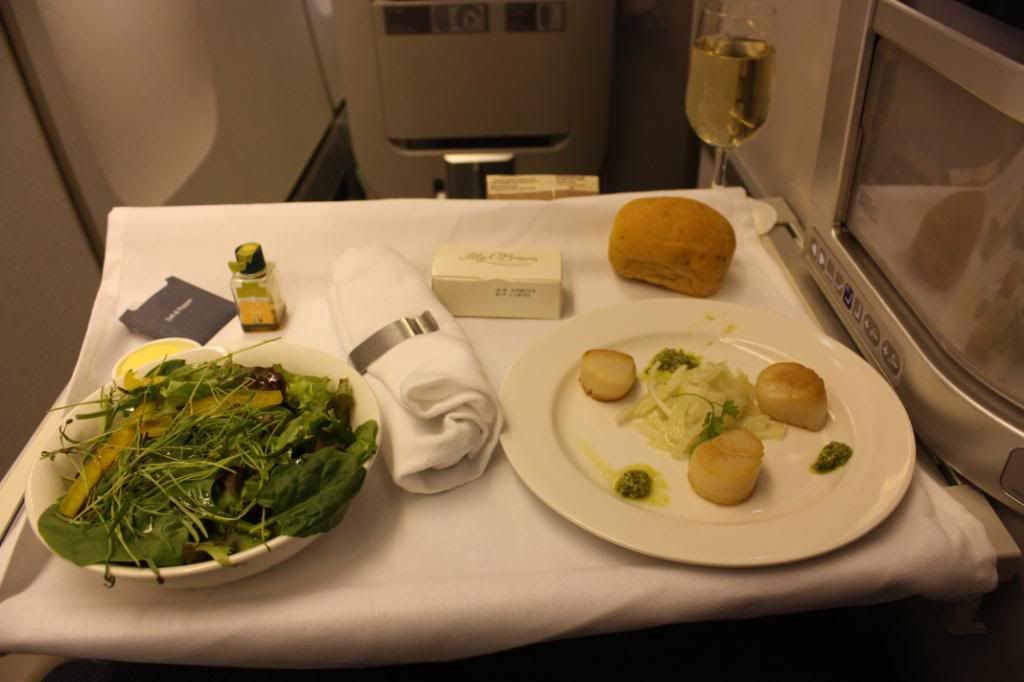 I was watching Gran Turino with the noise cancelling headphones they hand out and I must have seemed really ignorant as the steward had asked if he could take my plate about 5 times..... oops
After tryng decide on the chicken curry or the salmon Im pleased Id opted for the salmon. I try not to eat fish on a plane but I this salmon was fantastic and probably some of the best salmon I'd ever eaten. A thumbs up from me! I'd also taken a glass of Semillon Chardonnay that had been reccommended by the crew as it would go well with the fish.
Salmon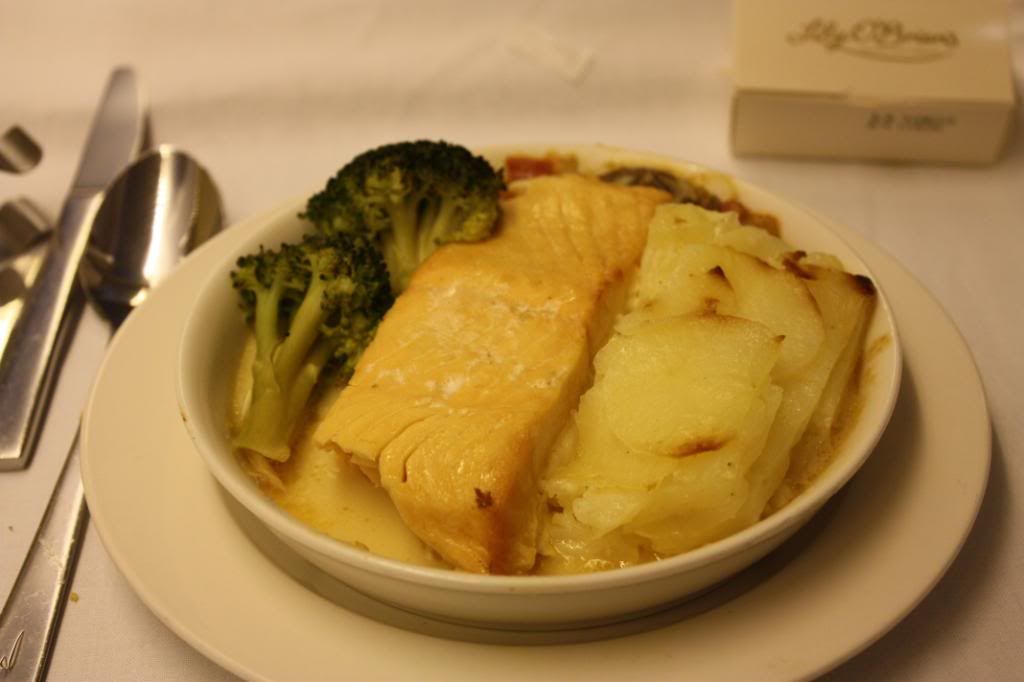 Sem Chardonnay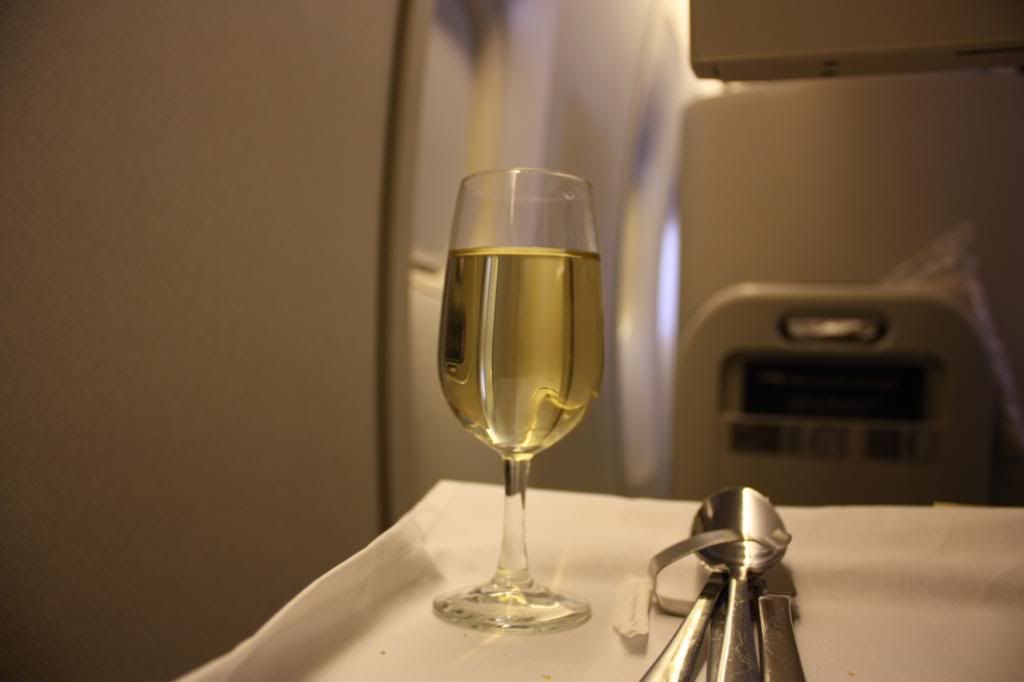 Dessert was ok but I've never found the desserts to be fantastic on any aircraft I'd been on.
Dessert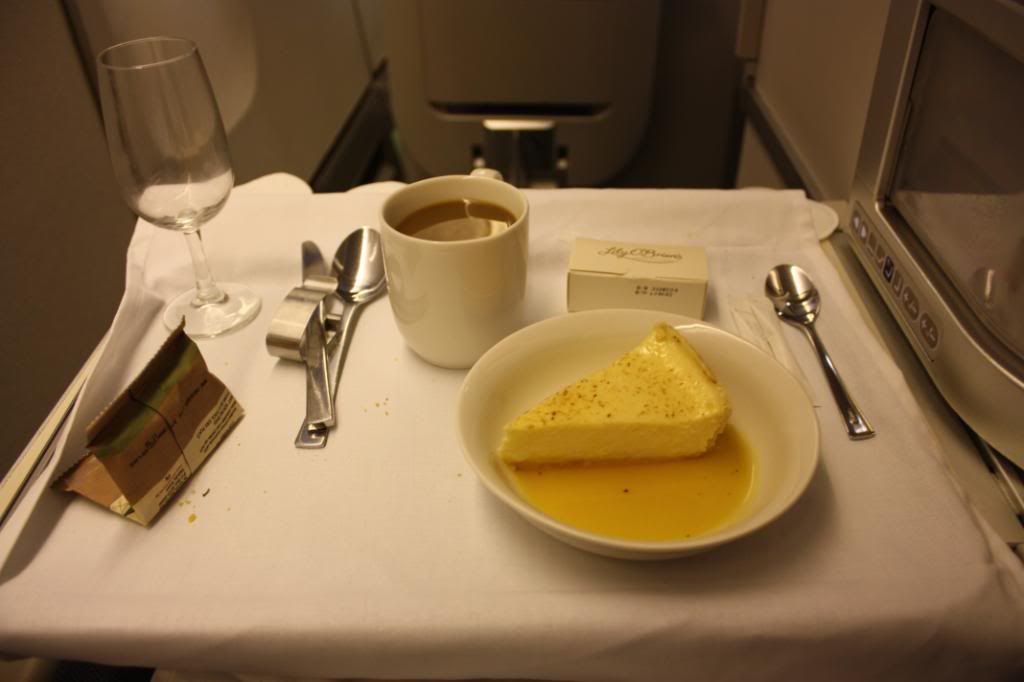 Coffee with dessert
I took a break from the film and glanced out of the window to see that the clouds were subsiding and the ocean was becoming visible
winglet - Id forgotten how big the wings on these 74's are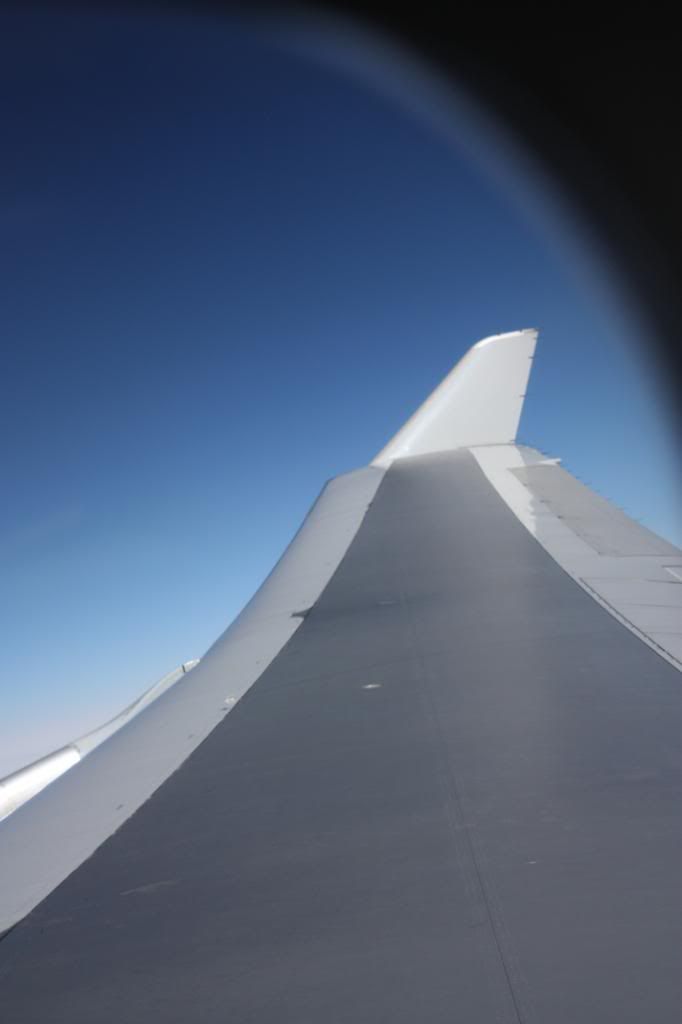 The crew came around and cleared everything up and I decided that as there wasnt much to view outside I would close the window blind ( the other 3 windows I had were already closed).
I reclined my seat and turned the moving on before I would go back to watching the film.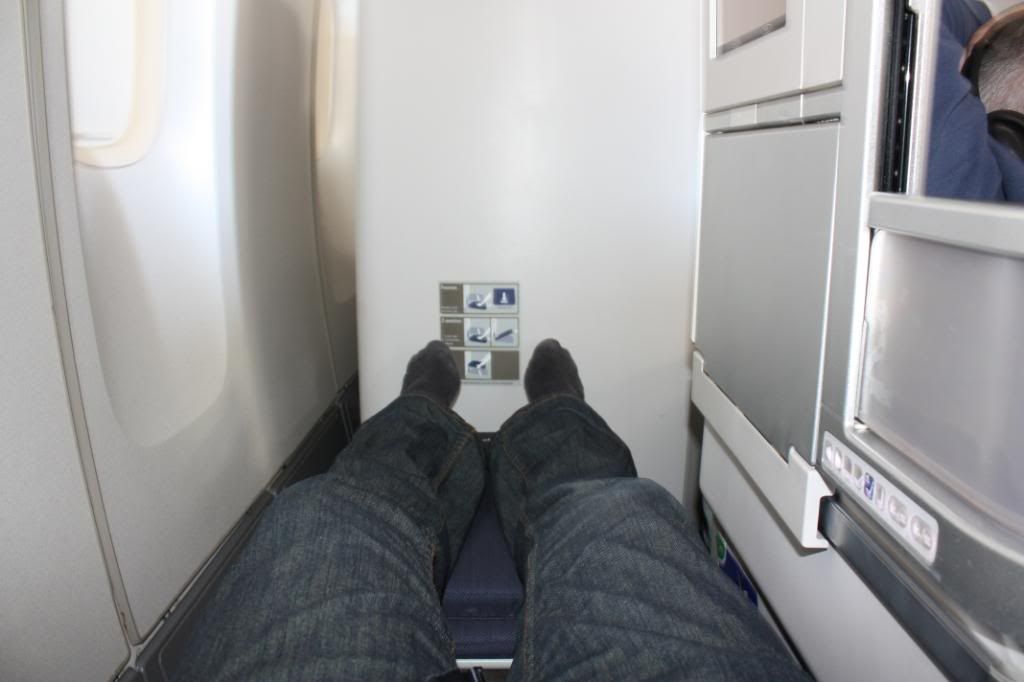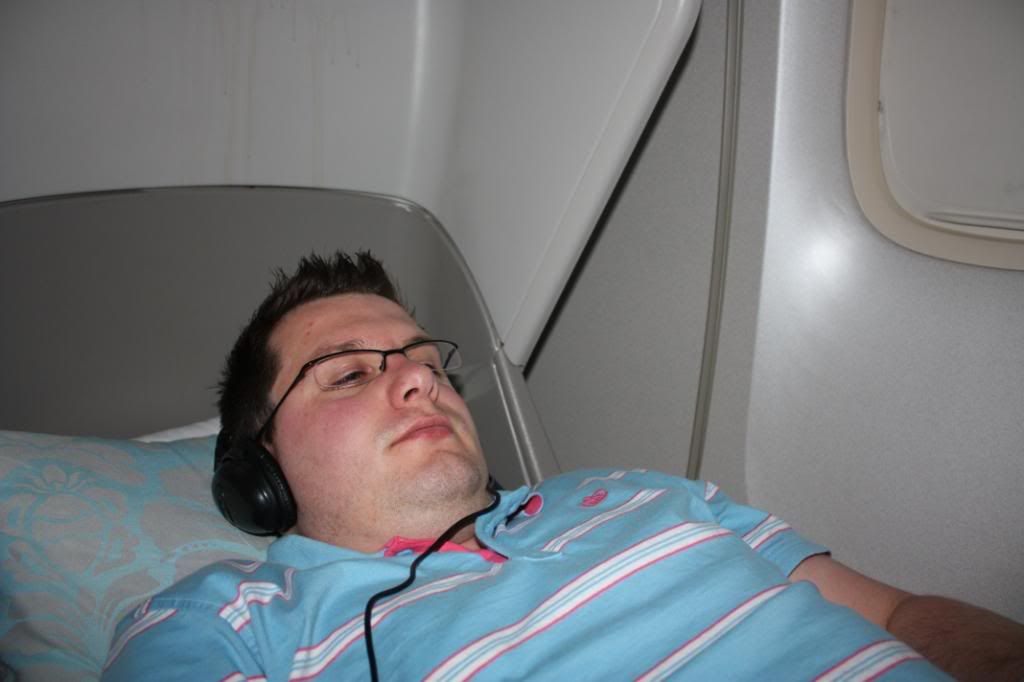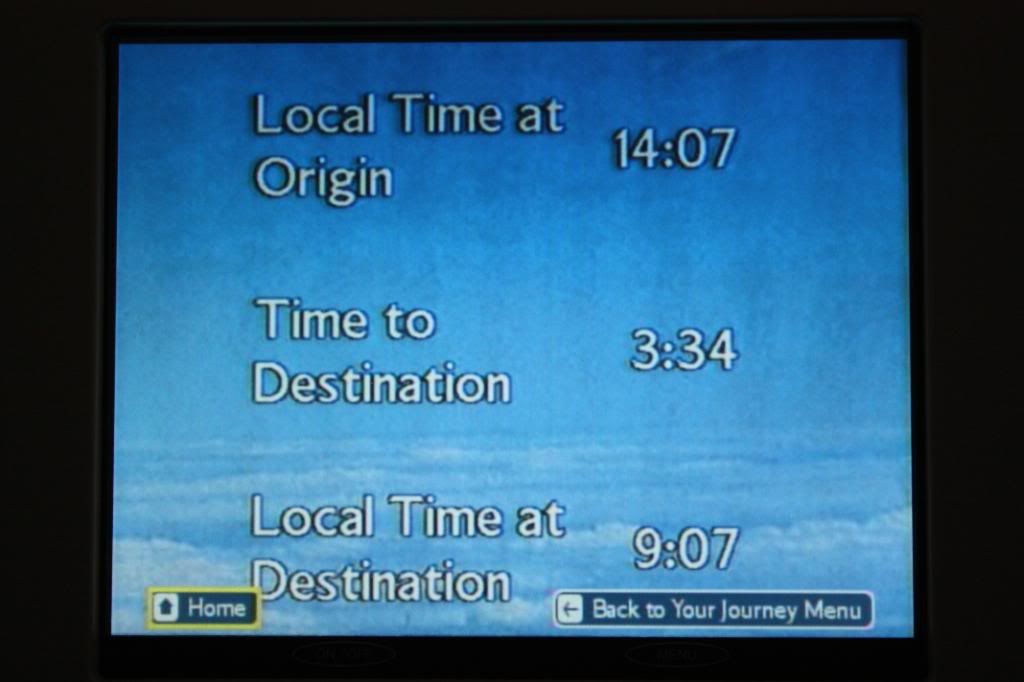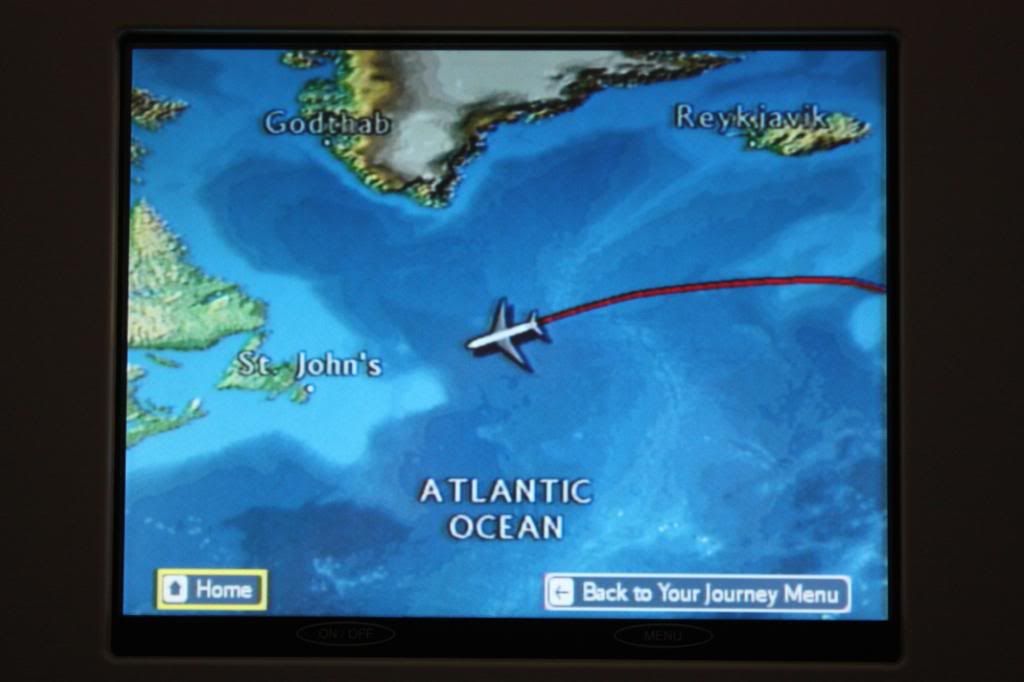 I really enjoyed the film and decided that I'd been sat down, well actually laid down for too long and would go for a walk around the aircraft. WTP was about 50% full whereas economy was around 90%.
Making my way back to my seat I picked up a couple of bottles of water from the Club Kitchen and climbed back into my seat.
When I fly longhaul I love having a window seat and Im actually afraid of not looking out of the window just in case I miss something such as other aircraft flying close by. No other aircraft so far but I couldnt get enough of that wing and RR engines.
engine close up
winglet close up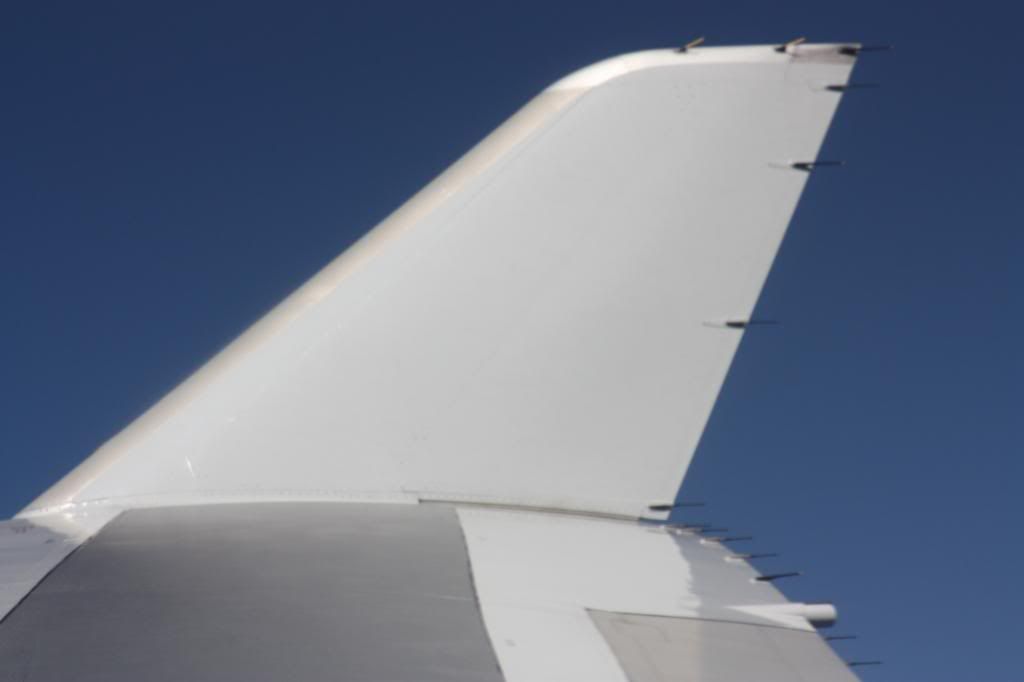 I decided it was time to watch the other film I'd picked out. It was called Taken and the main actor was Liam Neeson. A brilliant film and one I reccommended my friend to watch on the flight home.
The film was part way though when we were crossing into the USA and we started to vector towards New York.
The clouds had kind of cleared but it was still quite hazy.
I love this shot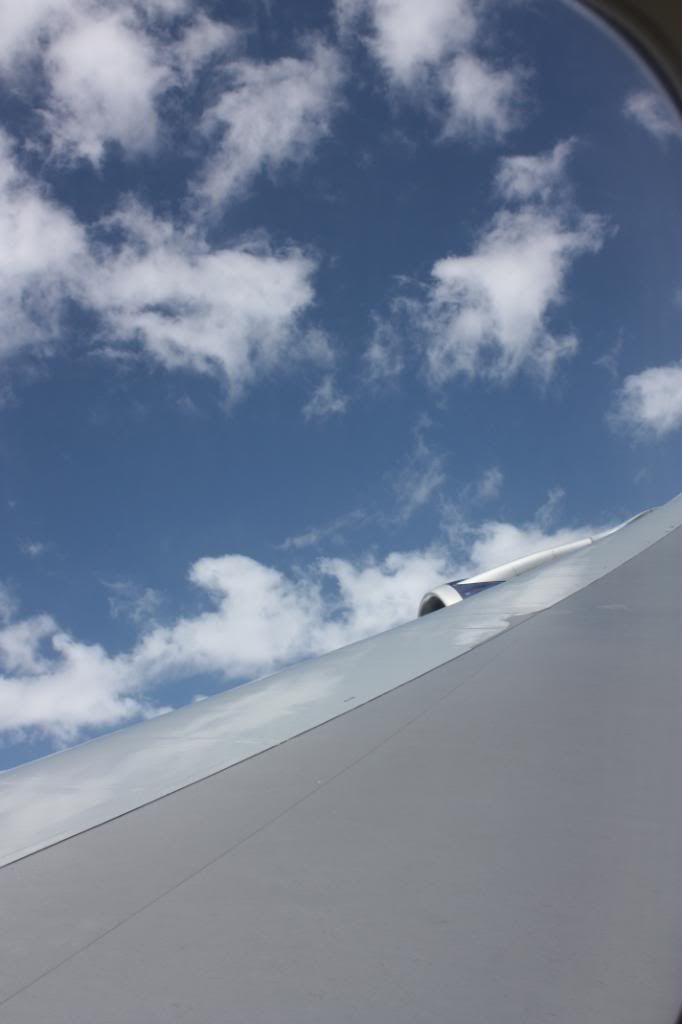 land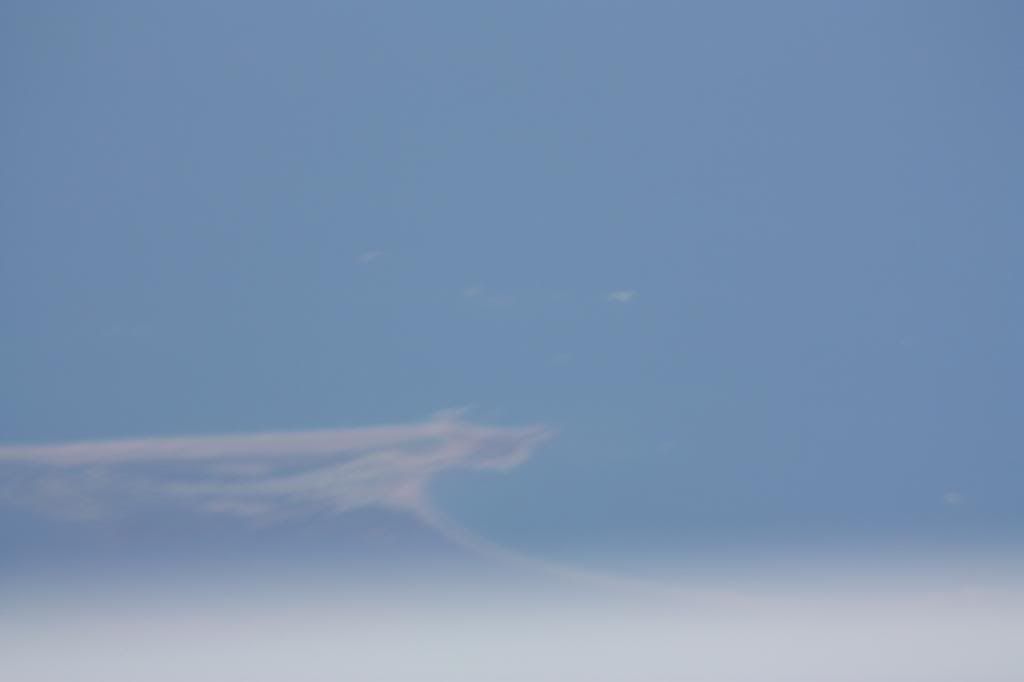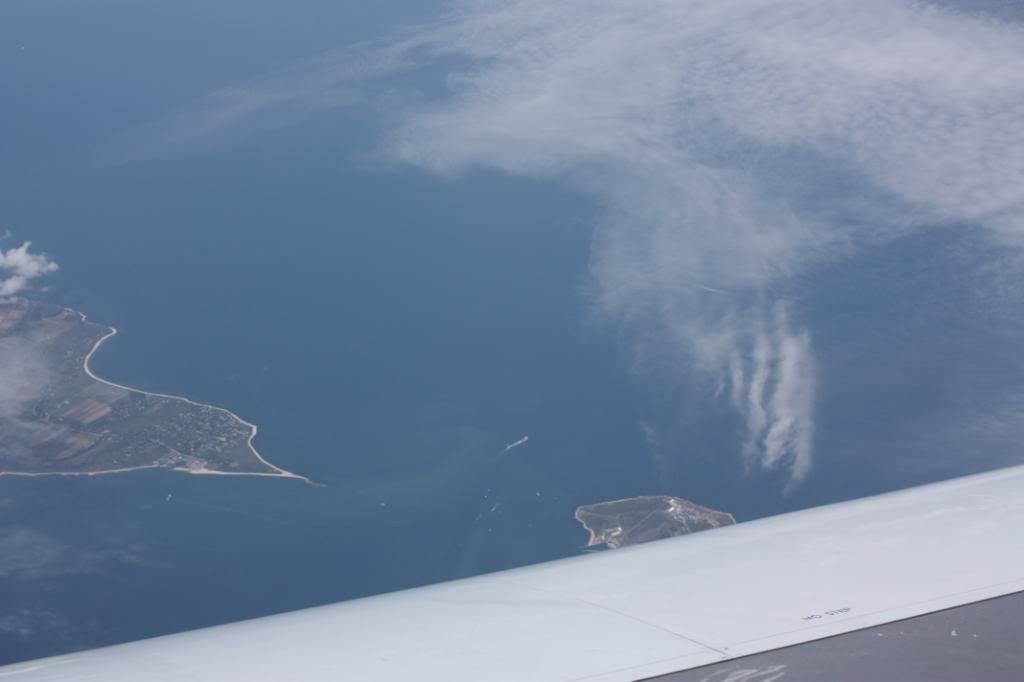 From what I could see we were heading just south of BOS so I was hoping to get a decent viewof the city and maybe even Logan but no such luck. Look at what happened as we flew past BOS
Typical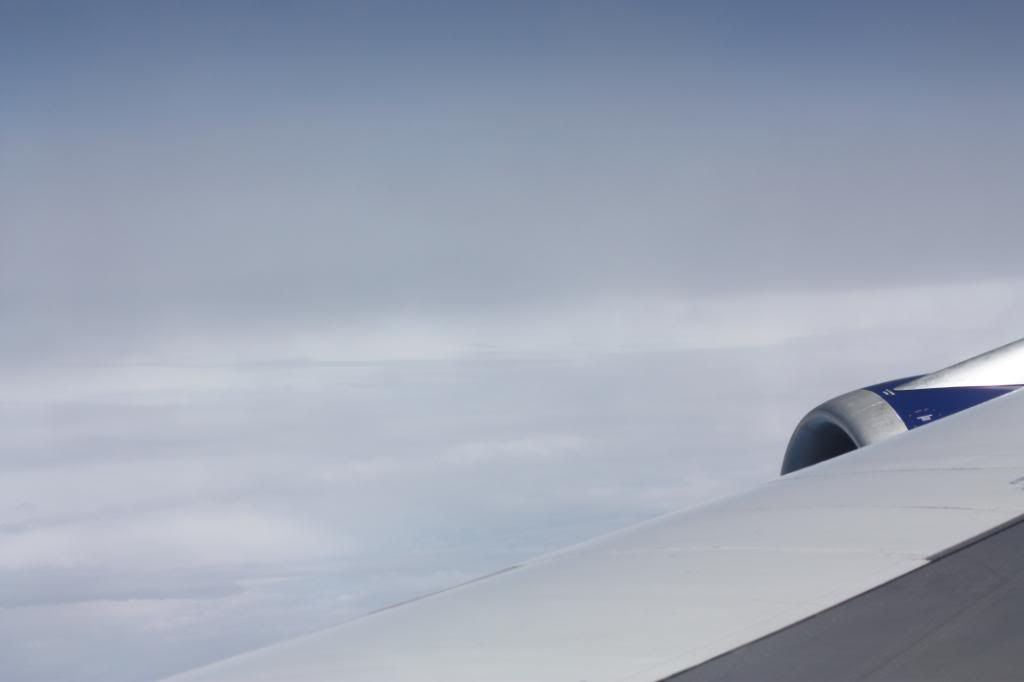 A little further South and the clouds disappeared again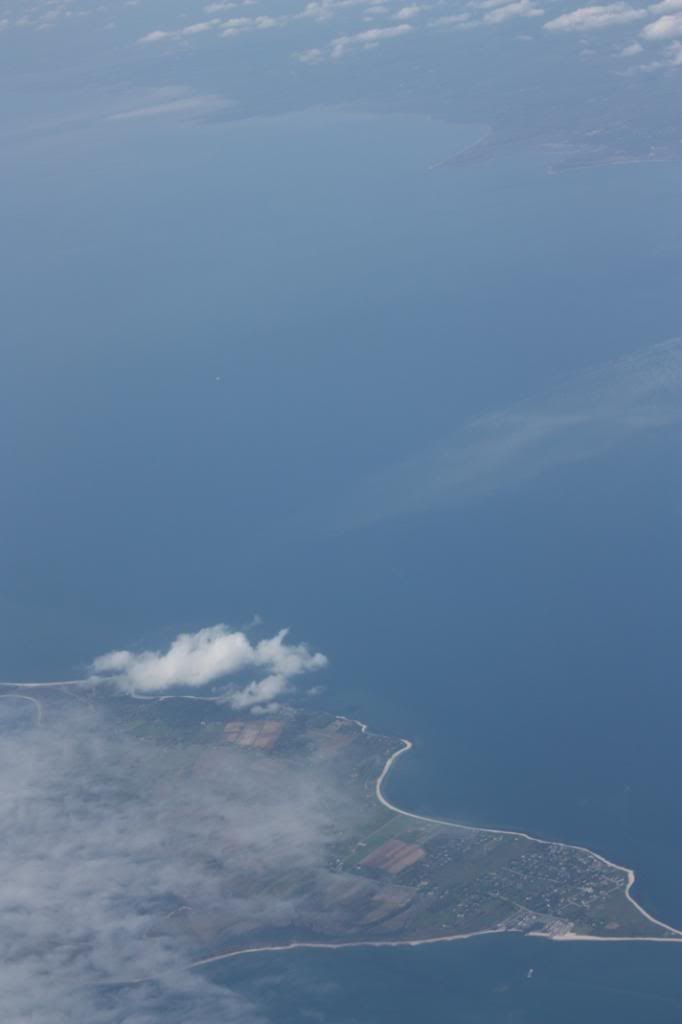 The Captain announced that we would be arriving into JFK in aorund 45 minutes time and we had already begun our descent. It wasn't long before the crew were clearing up the afternoon tea they had served about 1hr 15mins before arrival. It consisted of sandwiches and scones but I only ate one of the sandwiches as I wasnt that hungry.
The Captain announced 20 minutes to landing and the crew started to clear everything up making sure everyones seats were in the upright position and the floor areas were clear. We got lower and lower and it was at about 10,000 feet when the CSD turned off the IFE.
Looking outside we were in the cloud and when we broke all I could see was the ocean through a think haze. We were getting lower and closer towards the ocean with no land in sight and then condensation started to flow over the wing and this lasted for about 5 minutes. Eventually we got closer tot he ground and the condensation disappeared and I could see land again in the distance.
Anybody know this area?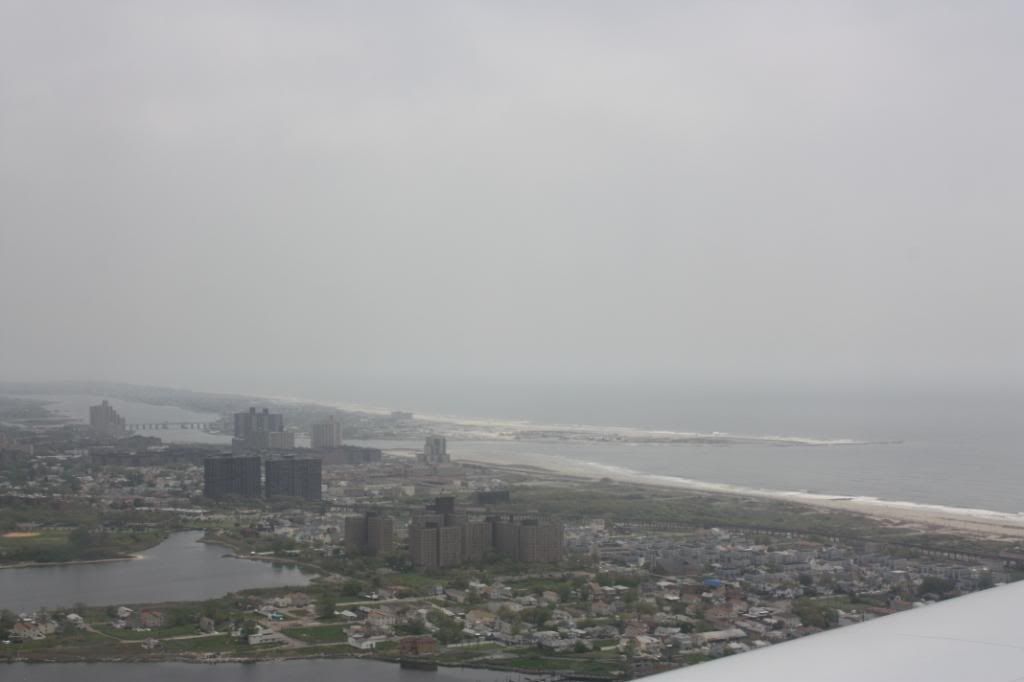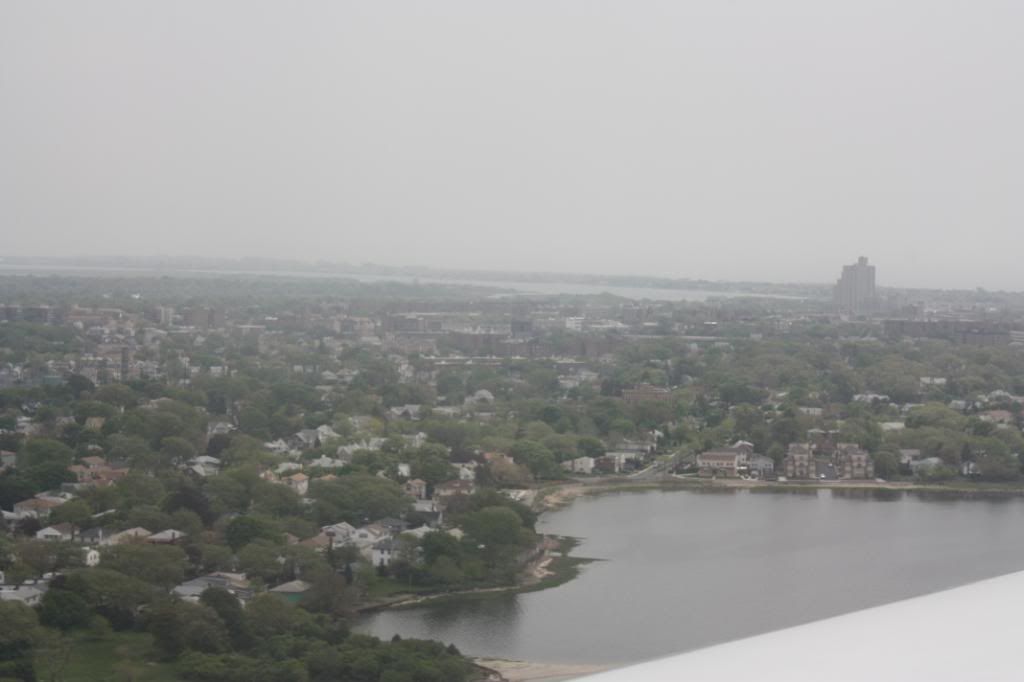 The runway got closer and we started to flare for what seemed like a little too long compared to what Im used to. Touchdown, and we ran all the way to the end of the runway and we were still doing a pretty decent speed until the captain hit the brakes to make the turn off. I also noticed that the reversers weren't activated for that long and what shocked me even more was that the windsock was actually blowing in the direction we landed in. We had landed with the wind instead of against it.
end of the runway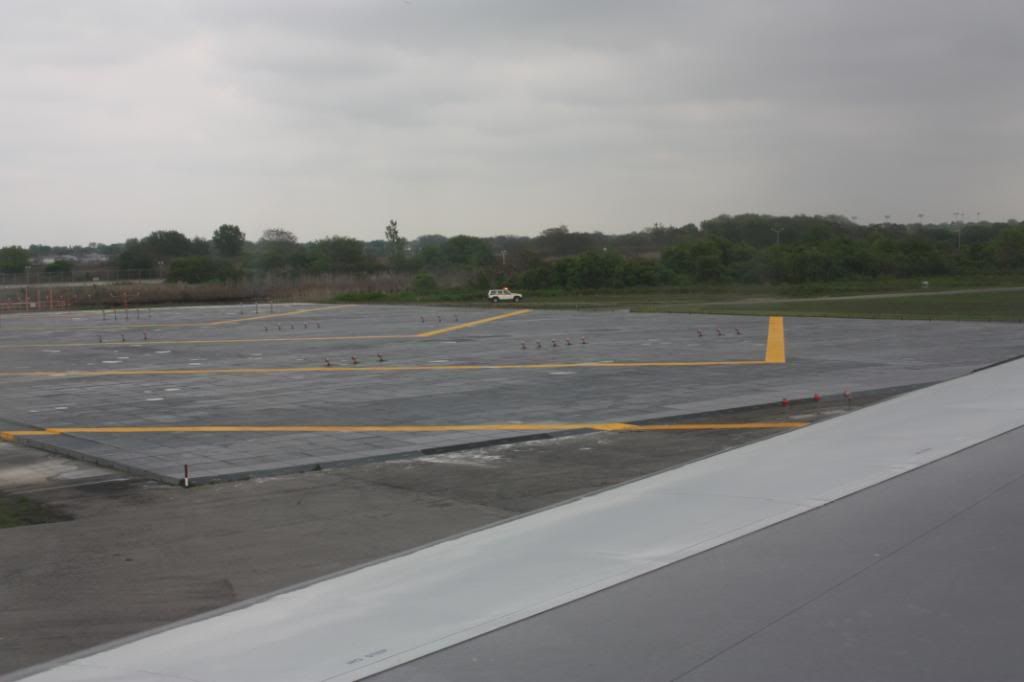 We taxiied into terminal 7 and I think I saw the campest ramp agent ever. me and my mate had a right little chuckle at him. The way he was moving the director lights was so funny and he just looked lke a camp disco dancer. He was even moving his hips along as well. Apologies if this is anyone reading this report but you gave a good end to my flight.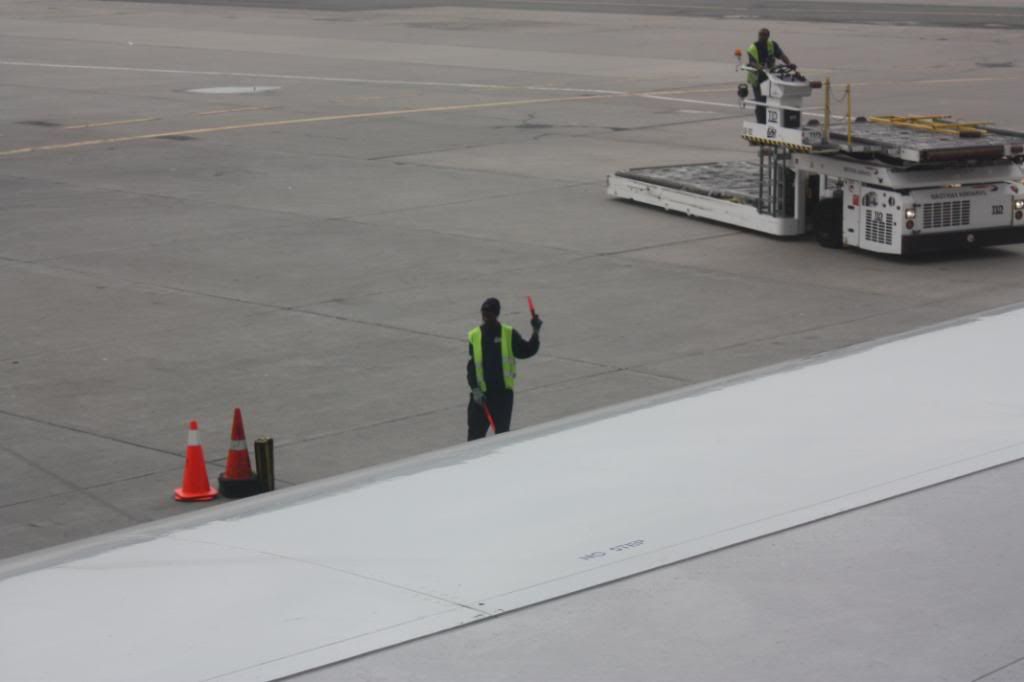 We were at the gate for a matter of minutes before the jet bridge was attached and disembarking took place. I thanked the crew for their service and they advised me to enjoy my stay.
Now, another one of the things I like about travelling in Club is that your basically at the front of the line for immigration. Customs and immigration took no more than 30 miuntes and we headed to the cab rank to catch a cab to downtown manhattan.
I will eventually get around to writing up the return trip but until then please reply with any feedback or questions.....
Lee