Northern Denmark To Australia (pics / Vids) Pt. II
This is the third and final part of my trip report from northern Denmark to Australia and back to Hamburg.
Part 1 can be found here
http://www.airliners.net/aviation-fo...ums/trip_reports/read.main/149517/
Part 2 can be found here
http://www.airliners.net/aviation-fo...ums/trip_reports/read.main/149589/
This part of my report covers the marathon return Sydney to Hamburg via Singapore and London Heathrow.
After spending 4 very nice and exhausting days in Sydney, it was time for me to start my 18000 km way back to my hometown Hamburg.
Once again tried to fit all my stuff into my small suitcase, which was quite a task. Only a little reserved space was intentionally left empty. It should have been filled with a Hardrock Cafe Sydney T-Shirt, which I couldn't buy because there is no hardrock cafe in Sydney at the moment. Disappointing, as I stepped into this marketing trap a couple of years ago and from then on bought shirts at all the places I went to. Maybe next time, Sydney.
After checking out of the hotel I hauled my bag to the train station and was on my way to the airport several hours before my flight QF31 was set to leave Sydney towards Singapore. I wanted to spend some time on the viewing deck and see some exotic airlines.
Goodbye grey and rainy Sydney. I will definitely come back someday.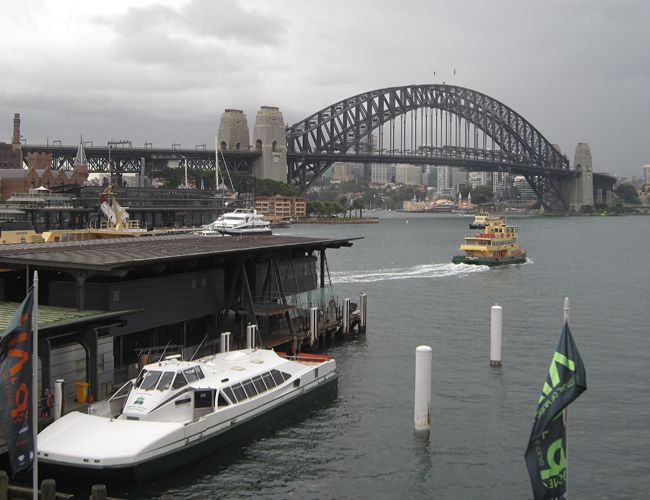 Arrived at the international airport and went straight to the check-in, which had just opened for my flight. As I wasn't able to get a pre-assigned seat on the SYD-SIN-LHR flights through the Qantas website or their callcenter I was still not sure what to expect when I queued at the Qantas check-in desks. I really, really love flying and usually enjoy every minute of it but the closer my return flight came, the more I felt uneasy about flying 20 hours through complete darkness, possibly even on a middle seat between to sleeping persons.
Before I could think about it any further I was waived over by a female check-in agent who told me that I was going on a "big plane today, It's an Airbus 380 today" but unfortunately there weren't any window seats left on the SYD-SIN sector but she had a very nice seat on the SIN-LHR flight for me. As it was a red-eye flight anyway, I immediately agreed and left for the viewing deck. On the way there I came across some PCs with free internet access, so I quickly checked Seatguru.com for the seats I had just been assigned. For SYD-SIN I had 72D, which is an aisle seat on the middle block of the 3-4-3 economy cabin in the A380. The "very-nice" seat I was promised for the SIN-LHR flight turned out to be 80A, which is an exit-row and window seat in the rear economy cabin on the lower deck. One of the best economy seats you can get on the A380. BINGO!
Departure screens.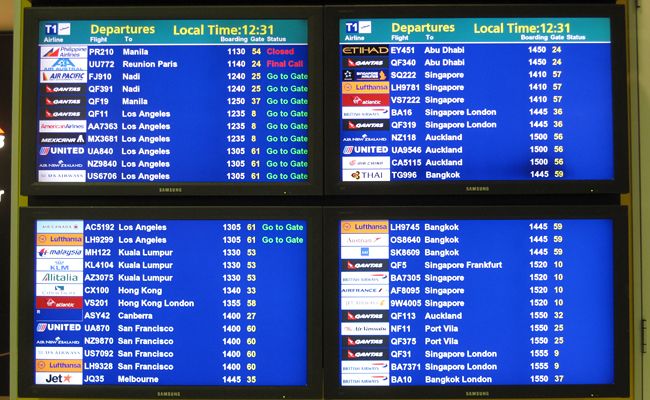 Here are just some miserable shots from the viewing deck. As you can see, the weather quickly turned the whole airport into a dark waterworld.
Left.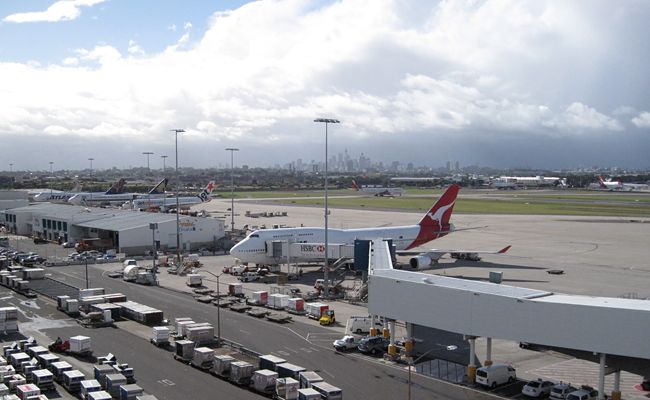 Right.
Air Austral Boeing 777-2Q8/ER F-OPAR being pushed back for her flight to Reunion.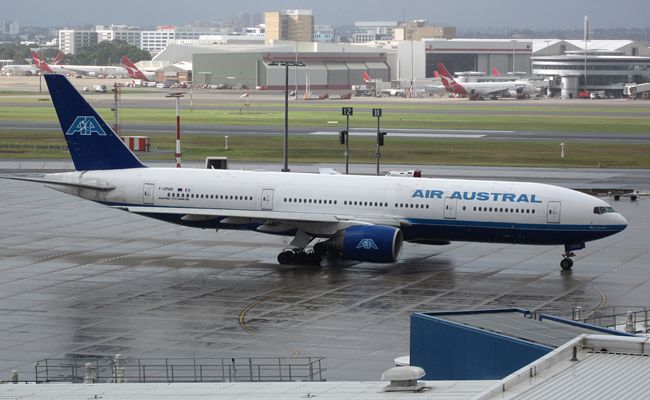 Etihad Airways Airbus A340-541 A6-EHA being towed to the terminal.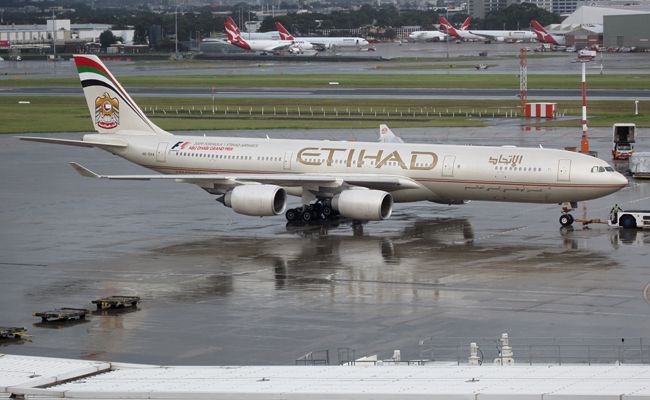 Air Pacific Boeing 747-412 DQ-FJQ to Nadi, Fiji.
British Airways Boeing 777-236/ER G-YMMK which would also fly to LHR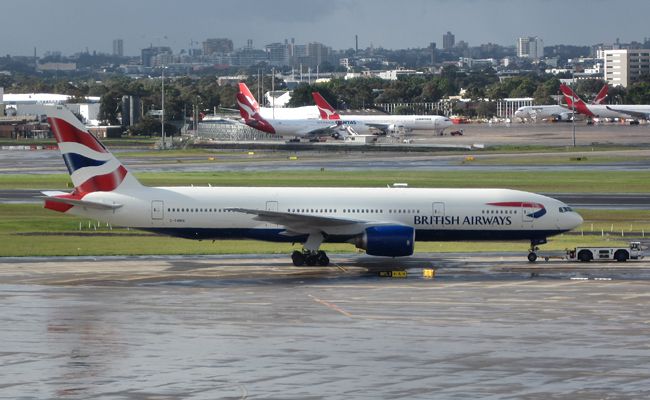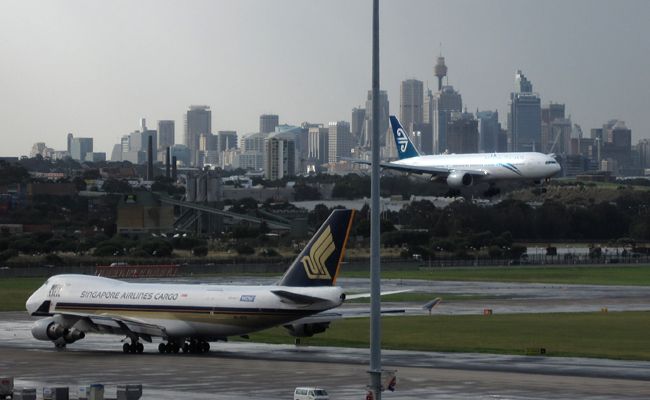 Spot the whale in this picture
Ok, now it might be easier. VH-OQA "Nancy-Bird Walton", my home for the next 20 hours, being towed to gate 9.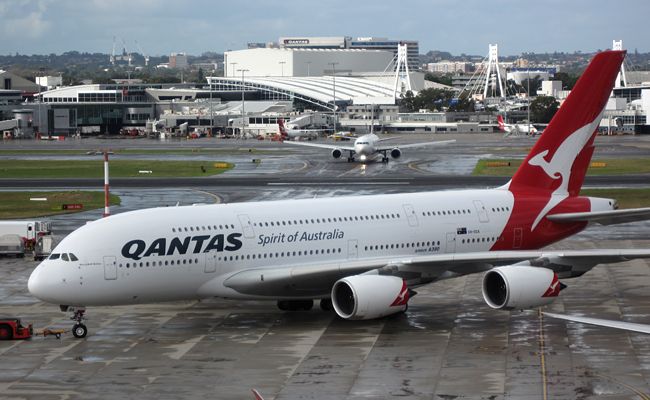 After that I made my way through passport control and eventually security checks. I found it quite strange that the guy at passport control didn't bother to place his "departed australia" stamp anywhere near the one from a couple of days earlier when I arrived at Melbourne. Instead he just opened my passport on a random page and stamped it.
I strolled around the airport and enjoyed the atmosphere and the views.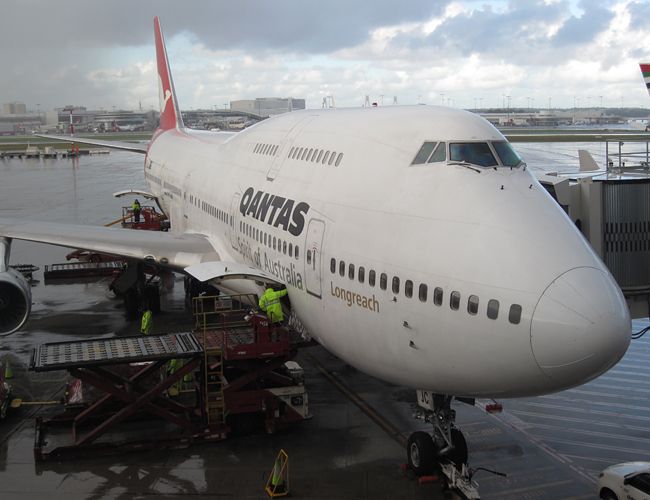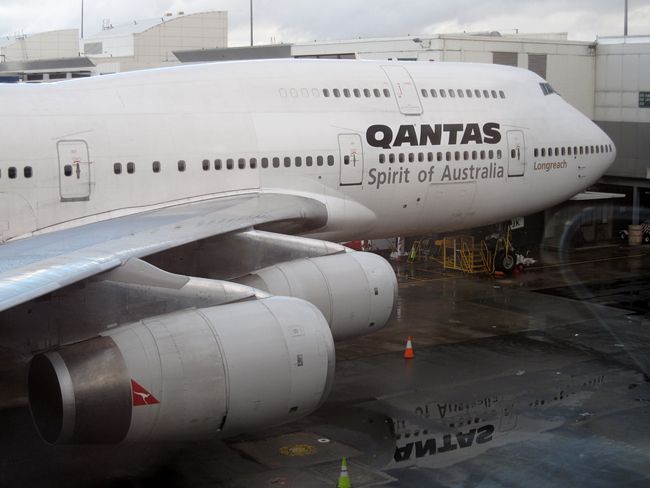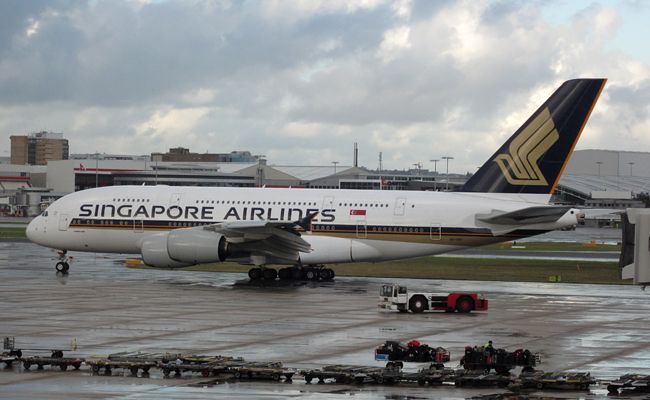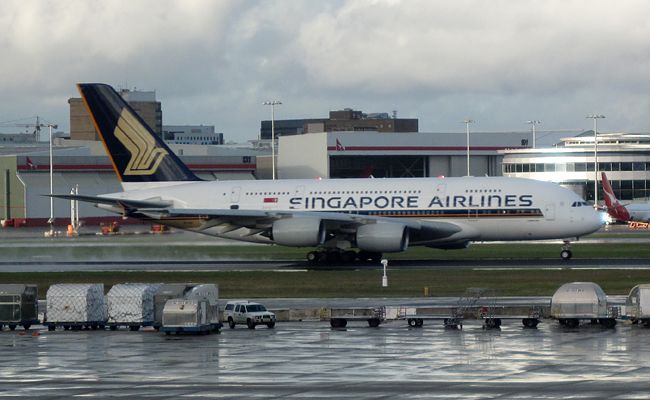 No chance to get an unobstructed view of her...
As boarding time came closer I proceeded to gate 9 where the waiting area was already very crowded and was still filling up. Boarding began shortly after and hundreds of economy pax slowly made their way down the jetbridge and into the airy and spacy cabin of the A380 where a cheerful crew greeted us. First impression of the cabin was very good, just as I expected. I even liked the green section of the economy cabin. It looks very nice and calming. I said hello to my seat neighbour and settled into my aisle seat.
Flight QF31 SYD-SIN
Qantas Airbus A380-842 VH-OQA, delivered to Qantas on 19. September 2008, named "Nancy-Bird Walton"
Seat: Economy, 72D, aisle
Scheduled times: 16:25 - 22:30
Actual times: 16:55 - 23:00
Load: est. 95% in Y, don't know about C and F
We made the quick taxi to runway 16R and quickly departed into the thick clouds. As other people have already said, the takeoff on the A380 doesn't feel very powerful but if you think about the sheer size and weight of this plane, it's still a unique experience.
No window seat, no good views except for the ones the tail camera delivered.
Waiting for a BA 747 to depart.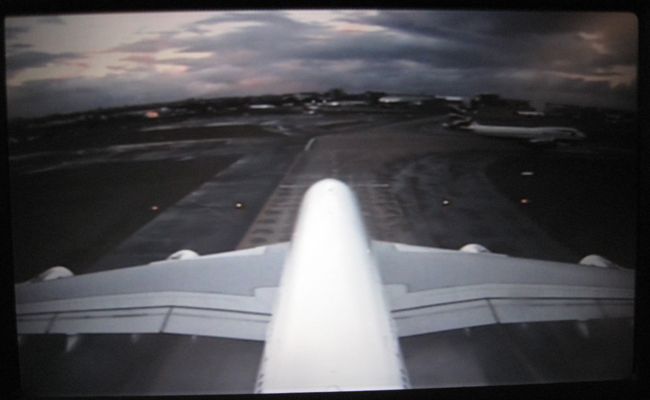 Our turn.
And off into the clouds and rain.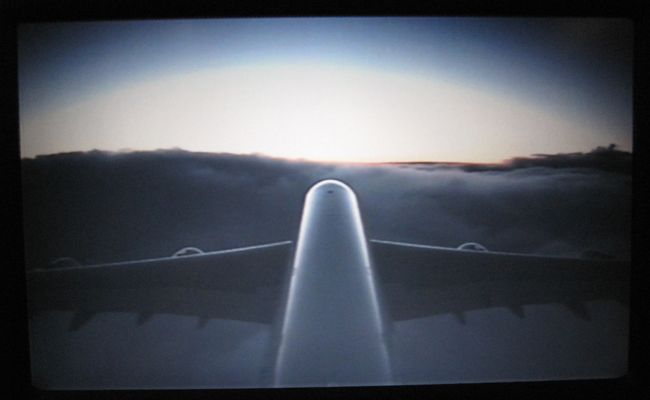 I played around with the easy to navigate AVOD System until around two hours into the flight dinner was served.
Mesclun Salad with Lemon Dressing
Choice of
Chicken and Tofu in Ginger and soy Sauce
or
Steamed Fish in a Mustard and Dill Sauce
I wanted to try the fish as the last time I had chicken it wasn't really enjoyable, but a PA was made that a last minute change of plans had occured and the fish wouldn't be available. Instead it was now chicken or lamb. So I reluctantly opted for the chicken, which was surprisingly good.
An older female FA asked me what I'd like to drink and I ordered Ginger Ale as always. She happily gave me a can and also asked me if I had ever tried ginger beer, as it was quite a popular drink in Australia. I told her that I had never heard of it before and she smiled at me, told me that I should give it a go and gave me a can of Bundaberg Ginger Beer, which I really liked.
Not slimy but delicious chicken this time, phew.....
Cadbury Hot chocolate with marshmallows. Very nice touch.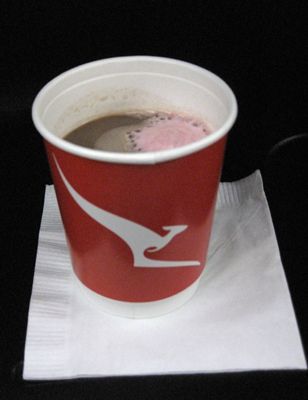 Several hours later and 2 hours before landing at Singapore, I forgot what I did in the meantime, the next meal was served.
Refreshment
Seasonal Melon Salad with fruit juice
Cheese Ravioli with a Mushroom and Basil Sauce

As you can see there weren't any ravioli, instead just some sort of pasta with steamed vegetables. This meal was really bland. The pasta with vegetables tasted boring, the melon salad was much too cold and tasted like water. Sorry Qantas. On a side note, when being asked by the same FA as before what I'd like to drink, I said ginger beer and had a chat with the her. She happily sent her colleague to the galley to get me 2 cans, one for the meal and one for the waiting time at the airport. These are exactly the type of things that you remember when you think of a flight and an airline. Really nice touch.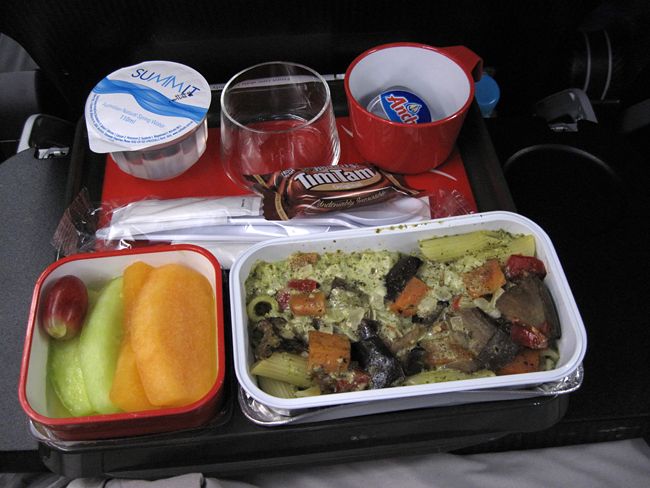 I watched the landing on my decently sized PTV got off the plane and spent an hour or so wandering around Changi's terminal 1 and spending some left over Singapore Dollars in the shops, which was a pleasure. Just like some 6 days before, when I was travelling in the opposite direction. Maybe I am being repetitive, but Changi is the best airport I travelled through so far.
Welcome to terminal 1
Our departure to LHR was delayed by around 30 minutes so I sat in the waiting area of the gate for some time and stared into the dark. Which is not as bad as it sound if you have a view like this. I also used the Wireless@SG service, which offers free wireless Internet access in the whole of Singapore, to check in online for my LH flight from Heathrow to Hamburg the next day.
Whale in the dark
Once again, the mob made its way down the jetbridge where we were greeted by a set of new faces in Qantas uniforms. By the way, the Qantas dress that some of the female FAs are sporting these days really looks quite nice.
Flight QF31 SIN-LHR
Qantas Airbus A380-842 VH-OQA, delivered to Qantas on 19. September 2008, named "Nancy-Bird Walton"
Seat: Economy, 80A, window and exit-row
Scheduled times: 23:59 - 6:40
Actual times: 00:35 - 6:45
Load: 100% in Y, don't know about C and F
So I walked down the aisle, said hello to the older lady on the seat next to me and sat down on my spacy exit-row seat. We where told not to put the seatbelts on just yet, as the aircraft was still being refuelled. Never heard this before, but it definitely makes sense if the plane as to be evacuated.
My endless legroom in seat 80A. Nothing to complain about.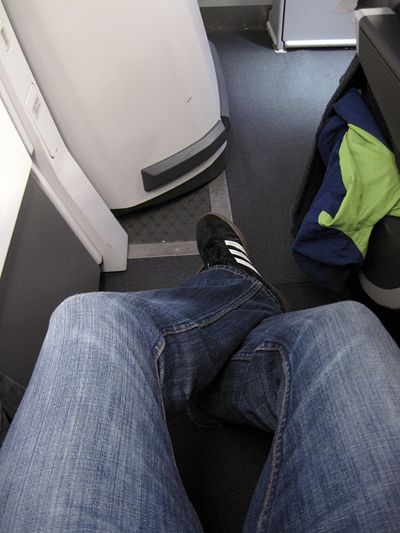 Finally VH-OQA was pushed back, made a quick taxi to the active runway and the second last segment of my trip had begun.
A good hour into the flight, somewhere over Malaysia, the next meal was prepared and eventually handed out. Certainly no time to get hungry on these flights.
Supper
Cucumber and Bean Salad

choice of

Beef in a Rich Tomato Sauce served with Potato Mash and steamed vegetables

or

Jalfrezi Style Fish with Rice and Spiced Pineapple

Jam and Sago Pudding

This time I opted for the Fish, as I like spicy food. I was once again very happy with my choice. The meal was very good. And the 4th can of Ginger Beer in quick succession tasted good also.
After the trays were collected I stowed my tray table in the armrest and played around with the entertainment system and watched some movies until we were halfway to London.
Afghanistan below us and still some 6 hours to go.
I managed to get a few hours of sleep which is quite unusual for me, as I always find it hard to fall asleep in a non-horizontal position. It always feels cramped and uncomfortable.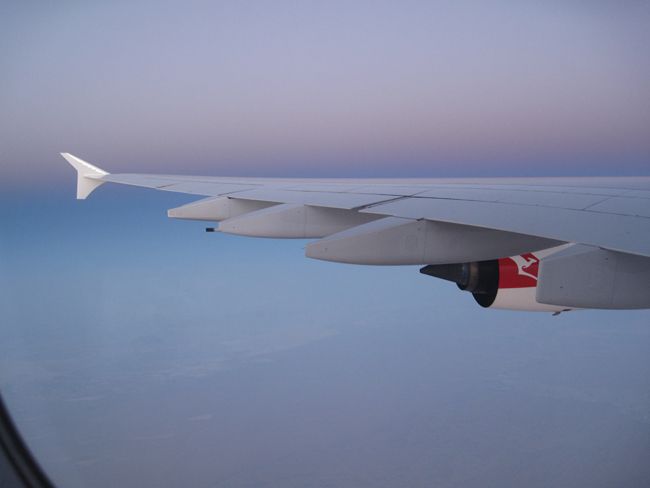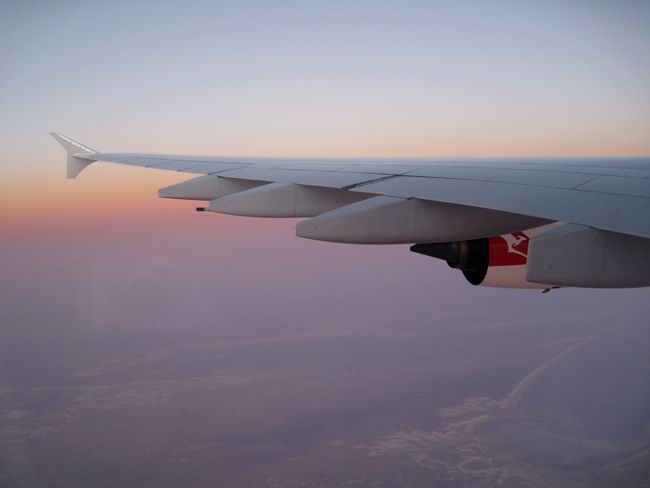 I watched a documentation about the A380 on the AVOD and ate my continental breakfast, which was served somewhere over Belarus or Poland.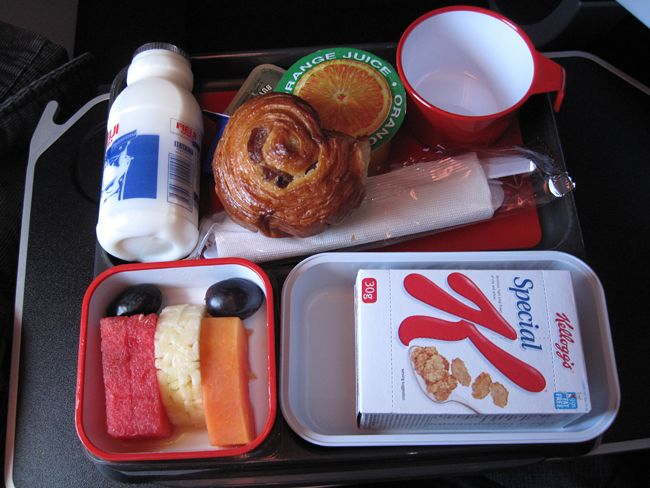 Here are just some pictures I took without much description, as this report is getting longer and longer and I think it's getting boring for you already.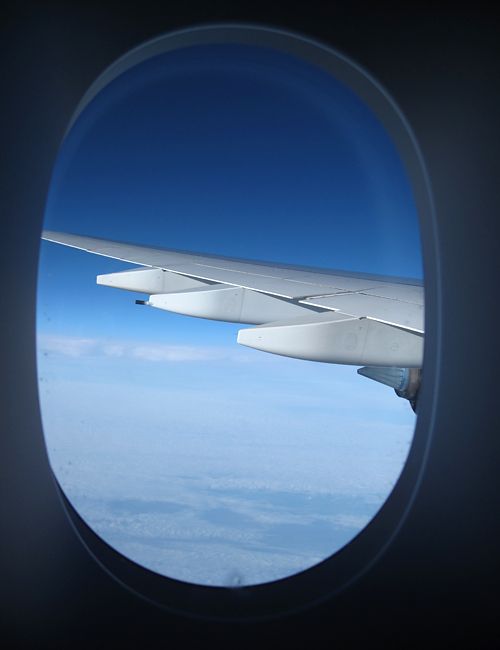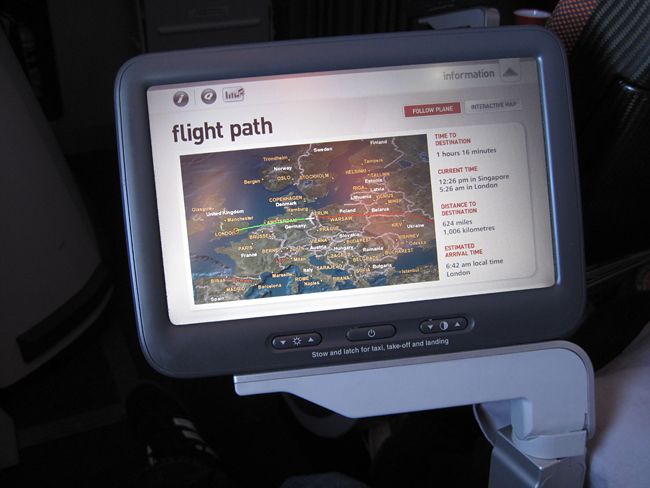 City of Utrecht, Netherlands. Beginning descent.
Speedbrakes
We approached London from the east and the 09s were in use for landing, so we had to fly past London, make a 180° turn to line up with runway 09R for landing.
Heathrow in the distance
Turning
Final approach
"The shock absorbers on the A380 are so good, the passengers hardly feel a thing during landing..." That is what I remembered from the documentation I watched. In reality we literally slammed down onto the tarmac of runway 09R. Well, I DID feel it.
During the whole of the flight, all the way from Sydney, a special child was constantly screaming and crying. I am not a grumpy person without any sympathy for children, even if they are noisy etc. but at the end of this flight nearly all of the pax around me just wanted to grab a piece of duct tape and......
Here's the video of the landing
http://www.youtube.com/watch?v=Yk-7hdsRR_A
Look who is being towed away from T4. G-YMMK, if you scroll further up, you can see her a mere 26 hours earlier at Sydney.
My seat for the last 13 hours, 80A.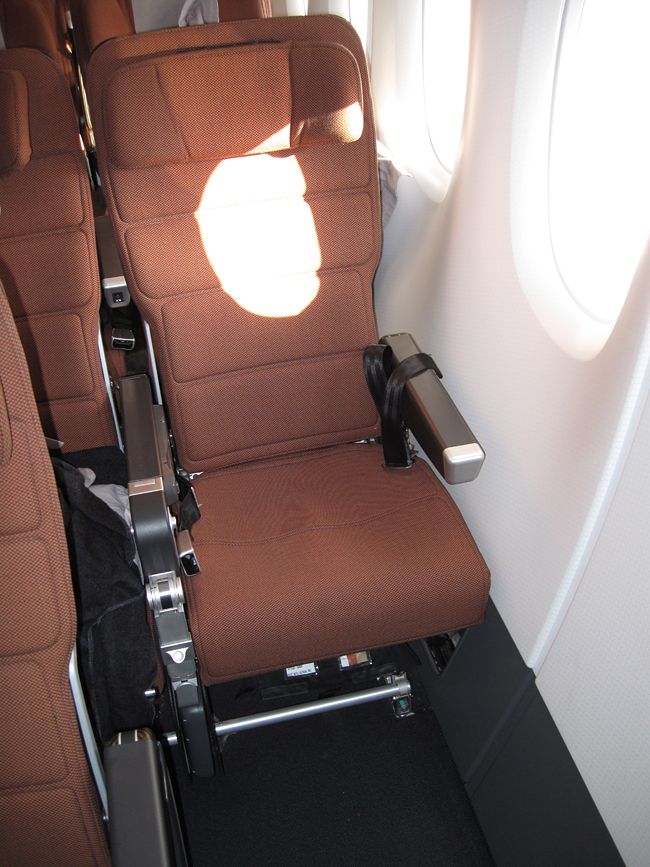 On my way to immigration.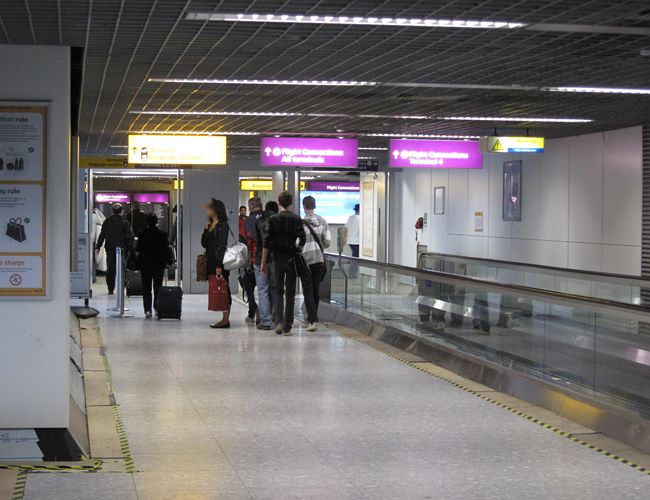 As I had 8 hours to kill at Heathrow, I booked a 4 hour cabin at the T4 Yotel, which is a japanese style honeycomb hotel. You only have a really small room consisting of a Bed, a Shower, a Toilet and a huge flatscreen TV. Really tiny room, but perfectly does it's job. I slept for 3 hours, took a shower and changed clothes. After that I took a train from T4 to Heathrow Central from where I immediately proceeded to a Lufthansa self-service machine, printed out my wobbly paper boarding pass and "queued" at the bag drop counters. There weren't any queues actually.
The Yotel. You enter your reservation and credit card numbers and get a keycard for one of the small rooms.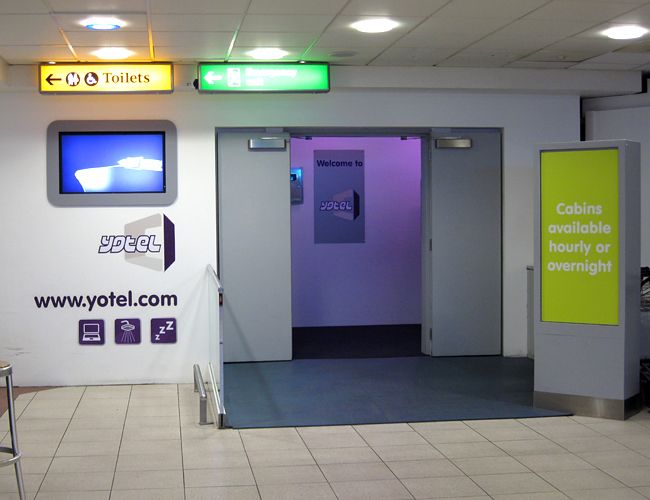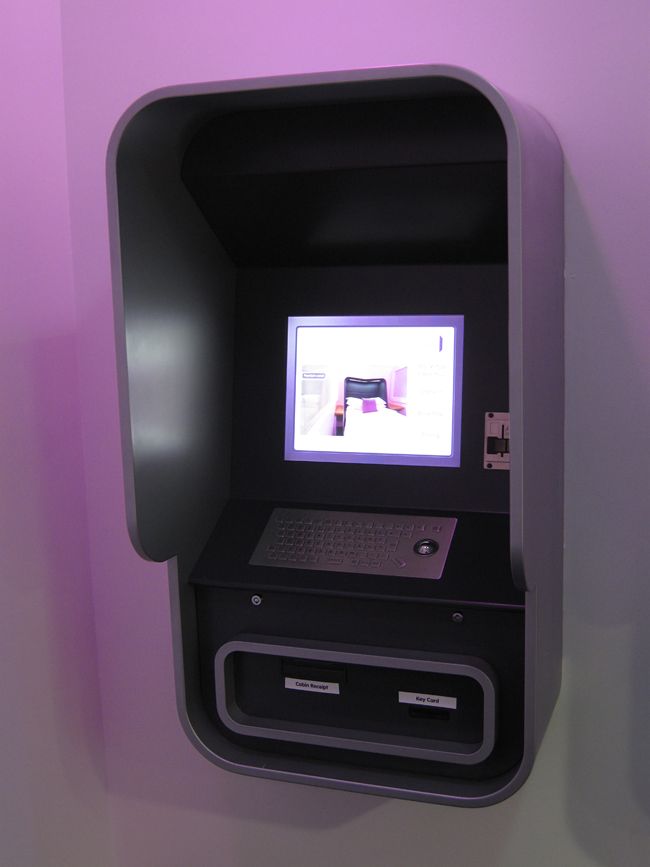 Welcome to London.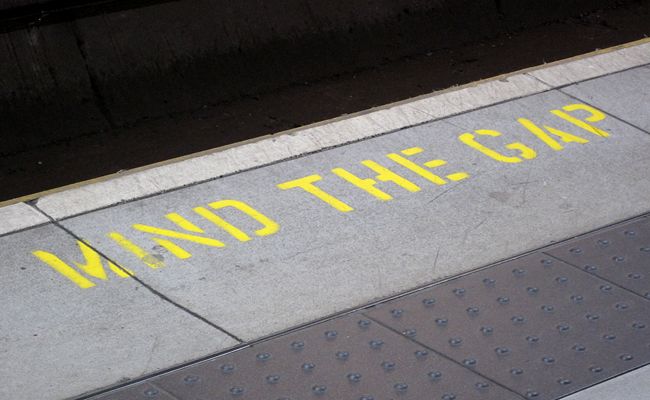 Welcome to Heathrow.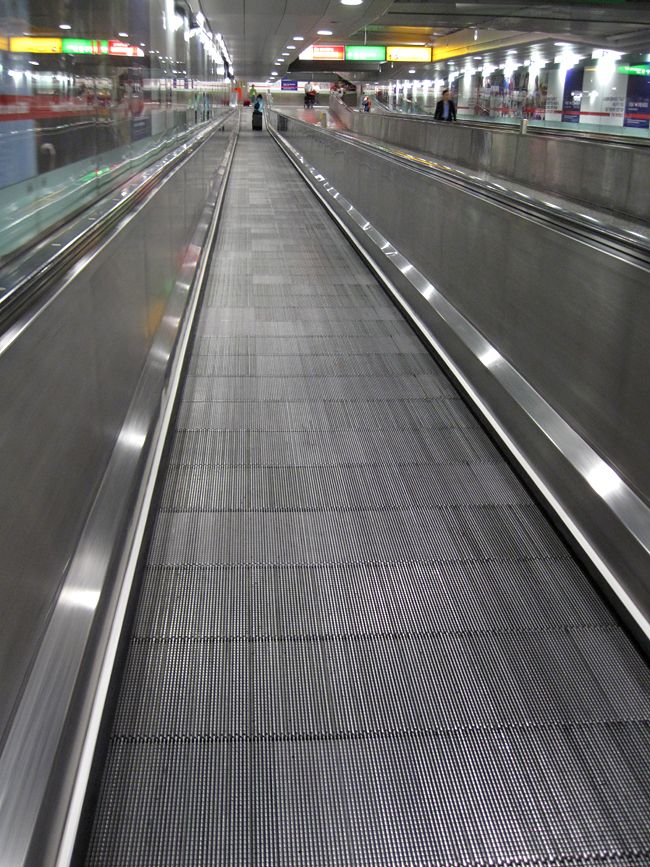 Not many people at T2.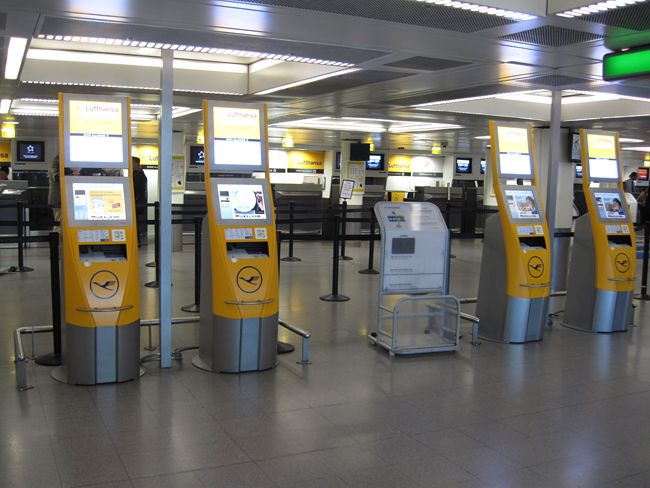 I went straight through security, which I can't remember if it took me a long time or not. After that I wandered around the terminal to kill some time and was bluntly told by a security staff that I shouldn't walk around but wait in the shops....well the T2 departure lounge. Of course they didn't announce the boarding gate of my flight until 2 minutes before boarding time. So I walked to my gate and boarding started immediately.
Air One A320
Flight LH4793 LHR-HAM
Lufthansa Boeing 737-330 D-ABEN, delivered to Lufthansa on 16. January 1992, Named "Neubrandenburg"
Seat: Economy, 18A
Scheduled times: 14:50 - 17:20
Actual times: 14:50 - 17:15
Load: est. 70% in Y, don't know about C
Loads on this flight were light and the seat between me and a young girl in the aisle seat remained empty. This flight was uneventful so here are just some pictures of it.
My view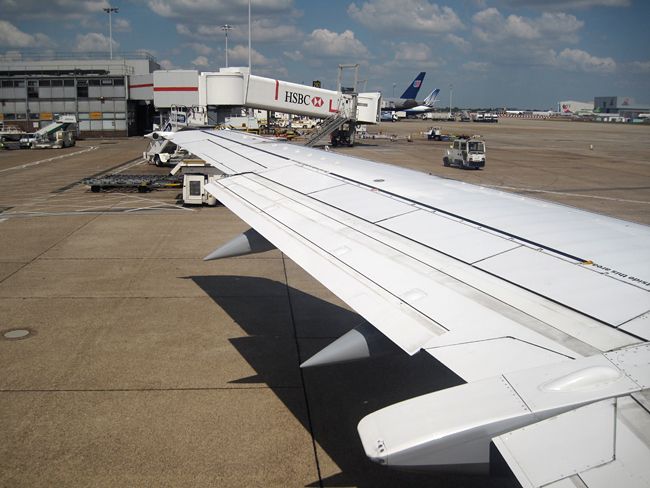 Can anybody tell me what this plane was doing at LHR?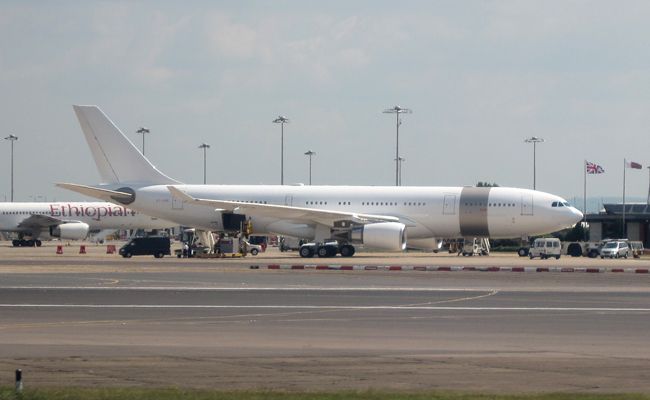 Etihad A340-600 to depart ahead of us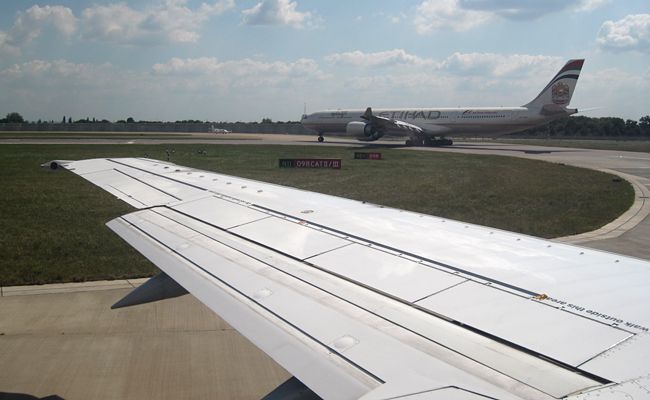 BA 747 to depart behind us
Quickly departed on runway 09R and made an immediate left turn towards the north-west.
Video of the departure, spot the Emirates A380 being pushed back
http://www.youtube.com/watch?v=cuCDilQZ0kM
Wembley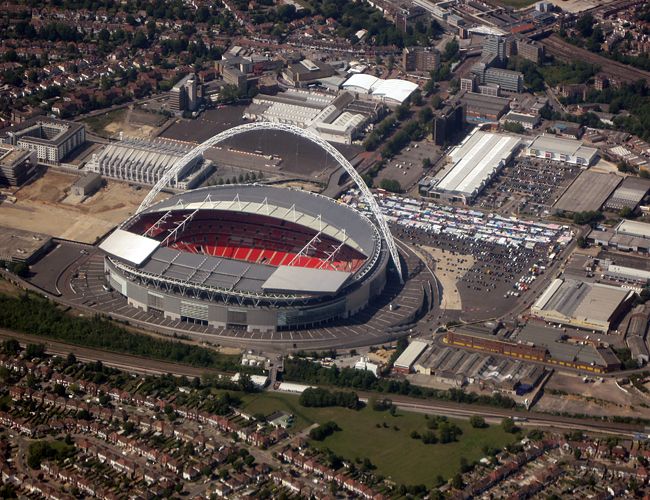 London Stansted, once again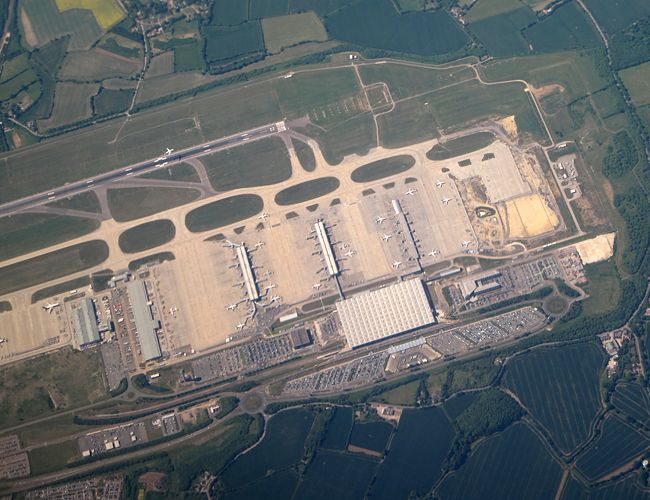 Unknown airport #1
Unknown airport #2
Over the channel
Lufthansa snack, and yes, I like sugar.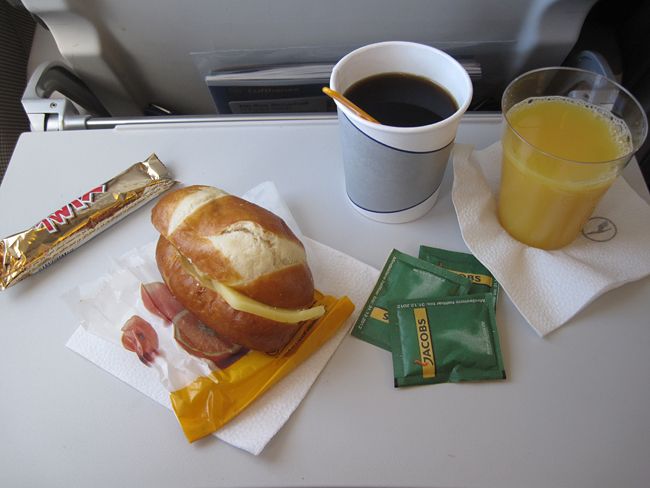 Perfect weather for flying today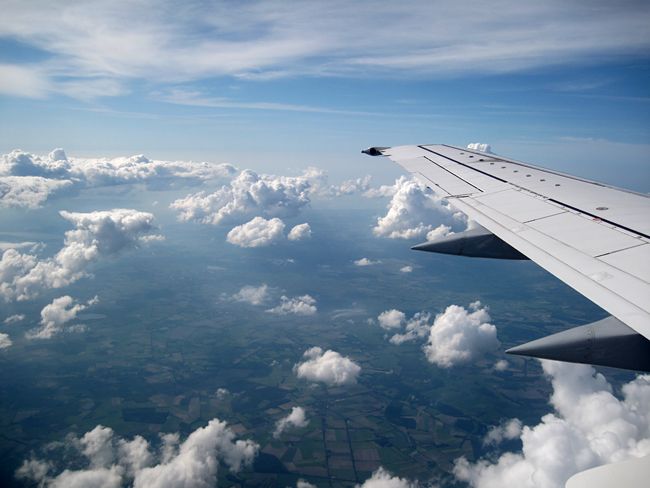 The "Altes Land", just south of Hamburg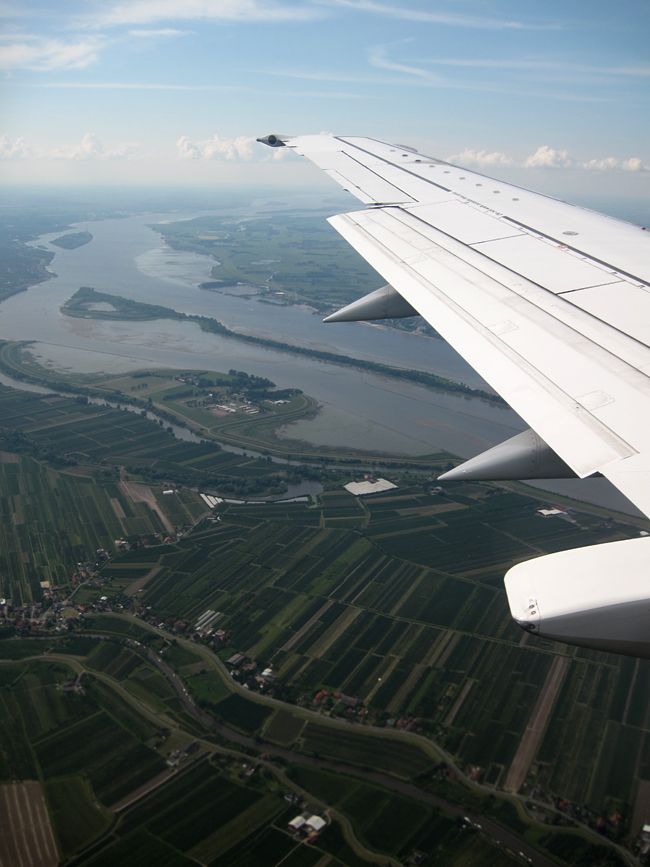 Made a steep descent to approach runway 05 at HAM, here we are over the Elbe and Blankenese
Video of the landing
http://www.youtube.com/watch?v=6JOb03gReOc
Welcome home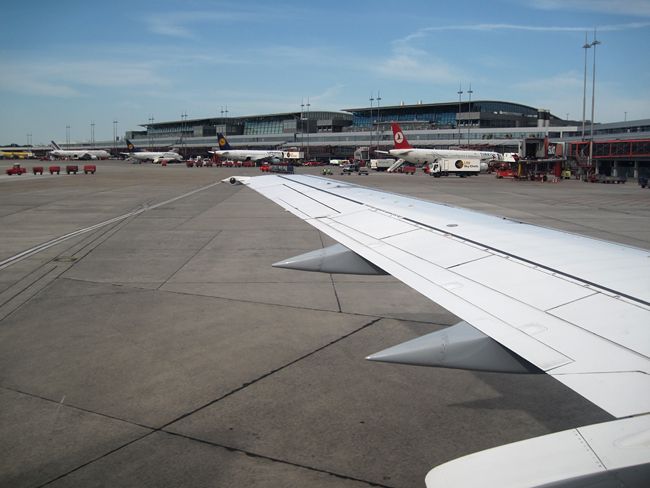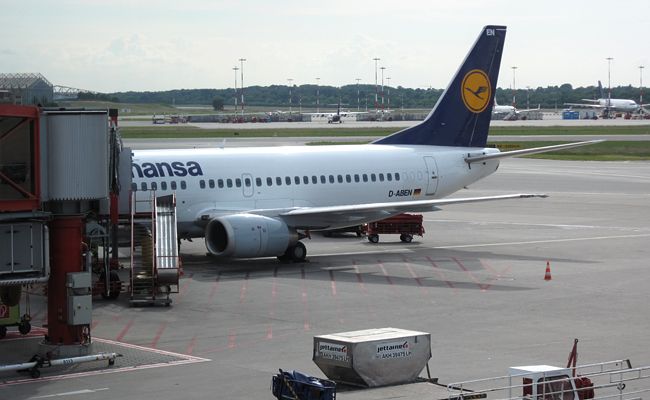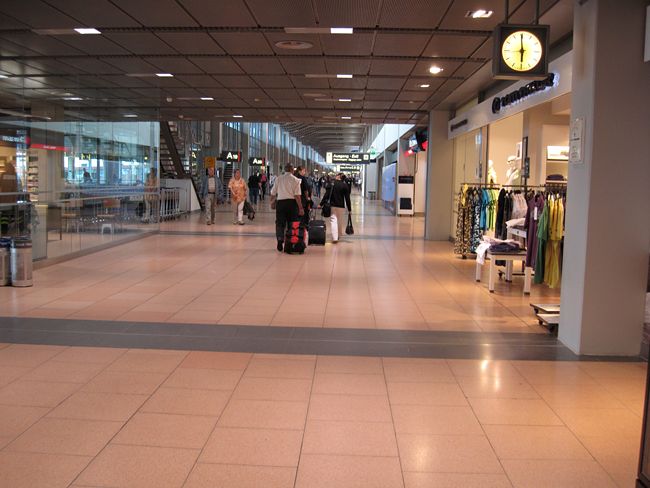 At the airport I was welcomed home by a good friend of mine. As she does Acupressure Massage at Hamburg aiport, I enjoyed a refreshing 25 minutes massage, which was perfectly relaxing. So if you ever travel through Hamburg, be sure to get a massage there. Very good service.
After that we went home and this was the end of my "little" journey to Australia. I hope you enjoyed the 3 parts of this trip report and didn't fall asleep during reading. I just noticed that this part is much too long and has far too many pictures, so sorry for that.
If you liked it or have comments or questions, please say so.