Preview:
This is a trip report that I have been looking forward to write for a long time. I only just came back from the trip but it was all planned since early January. My friend Panos, whom I've known since before college and who now lives and works in Edinburgh, had been nagging me for the longest time to plan a Japan trip together. Ever since I've known him he had been telling me how badly he wants to visit the Far East, but how hard it was to do so given that none of his friends was willing to follow him. Long story short, one cold January night (I was back home visiting my parents at the time) I decided to give in and agree to a 10-day Japan vacation. I was to fly out of ORD to NRT (via ICN) with OZ and then return from HIJ to ORD (via ICN) with OZ, while his itinerary involved an EDI-AMS-NRT route on KLM and a HIJ-NRT-CDG-EDI return with ANA (Ibex) and AF. The plan was for us to meet at NRT and then travel throughout Japan for the next 10 days, including visits to Tokyo, Kyoto, Osaka and Hiroshima.
May 17
OZ 235
ORD-ICN
B777-200ER (HL7775)
Seat: 17A
Fast forward to May. I was very excited to be flying with OZ, given that they had just been selected as airline of the year, ahead of powerhouses like Emirates or Singapore Airlines. I knew that it was not a good idea to raise my expectations too high but I couldn't help doing otherwise. My flight out of ORD was at 1am, which is the latest (or earliest if you will) that I have ever flown. A colleague of mine was driving one of her friends to ORD (we all live in Hyde Park) on the same night (He was to fly ORD-CPH on SAS) so I decided to go with them even if it meant that I would need to spend some extra hours at the airport. After getting there we grabbed some eats and then said my goodbyes. During check in we were distributed name/address tags to attach to our luggage. Most of the personnel were friendly but there were a couple of guys amongst them that looked very unenthusiastic. After I checked in I made my way through security and into the departures' area so I could have a look at what was going on outside. It was already getting late so naturally there wasn't much movement on the runway but I did manage a few shots of my friend's SAS bird and a THY Airbus.
Our neighboring THY and SAS to Istanbul and Copenhagen respectively.
Our 777 to ICN
Getting ready
After boarding the plane I was met with an ugly surprise. For the second consecutive time on a long haul flight I got a window seat with no actual window. According to seat guru, on Asiana's 777-200ER the seats to be missing a window are on row 15 (A + K). However, in reality it was row 17 (A + K) that was missing them. I was very disappointed by this but there was nothing I could do as the flight was almost full. Leg room was satisfactory but I did not get the chance to enjoy it, as the passenger in front of me had her seat fully reclined for the entire 14hours of the trip.
Leg room
I slept for a good chunk of the flight and spent the rest watching movies on the IFE system which provided over 36 different options. We took a very northerly route, passing through Canada, Northern Alaska, Chukotka, Kamchatka and then we avoided North Korean airspace to enter South Korea directly from the east.
Flying over north Alaska
Promptly avoiding North Korean airspace
Two meals were served, one immediately after take off and another about 2 hours prior to landing. The first one consisted of beef with steamed vegetables, a shrimp salad, a Greek salad and an apple pie. Notice the metal cutlery! . The pre-landing snack consisted of a couple of tasty soft rolls filled with a goat-cheesy substance, a potato waffle, fruit salad and a fruit yogurt.
Main meal and pre-landing snack
Landing was smooth and we were soon in a largely empty ICN (it was about 5am local time). Right after deboarding we were met with a quarantine team which collected the health questionnaires we were given on the plane and took our temperature before being allowed to enter the main building. Once there, I made my way to the security check for my second flight. I wandered about for some time waiting for a currency exchange office to open and get some Won so I could buy some food and a phonecard to call home. I had some pounds sterling left from my last visit to Britain which I wanted to use for that purpose.
Arriving early at a largely empty terminal building. Plenty of traffic to come though.
After doing so I went to one of the food courts and got some kimchi stew (I adore kimchi). It was way spicier then the one I get in Korean Town but really enjoyable nonetheless. It did turn my eyes and nose watery and I had to sneeze a couple of times which I bet made people around me uneasy. I was soon to find out that everyone in both Korea and Japan was very concerned about the swine flu outbreak.
I could not resist a pork Kimchi stew
I then spent some time looking at the traffic in search of interesting or rare birds but all I could see were KE and OZ. When it was time to board our flight to NRT, I realized that the 777-200 we were about to enter was the same that brought us there from ORD.
Korean Air and Asiana dominated the airport
Some international traffic
May 18
OZ 102
ICN-NRT
B777-200ER (HL7775)
Seat: 10A
Boarding the HL7775 once more, this time for NRT
This time I had seat 10A which despite being a window seat it also did not have a window. However being the first row after the middle galley/toilets I could bend forward and see through the window in front.
Loads of leg space this time
Flying over Incheon and Seoul
Our expected route
We were served a nice meal of beef, rice and cold noodles and by the time I was done with it I could already see the Japanese coast appearing under us.
Tasty meal service
Once we approached the Tokyo area I started looking out for Mount Fuji but unfortunately it was too cloudy to get a good look at it. All I managed was a brief glimpse of it which however was rewarding enough.
Flying over central Japan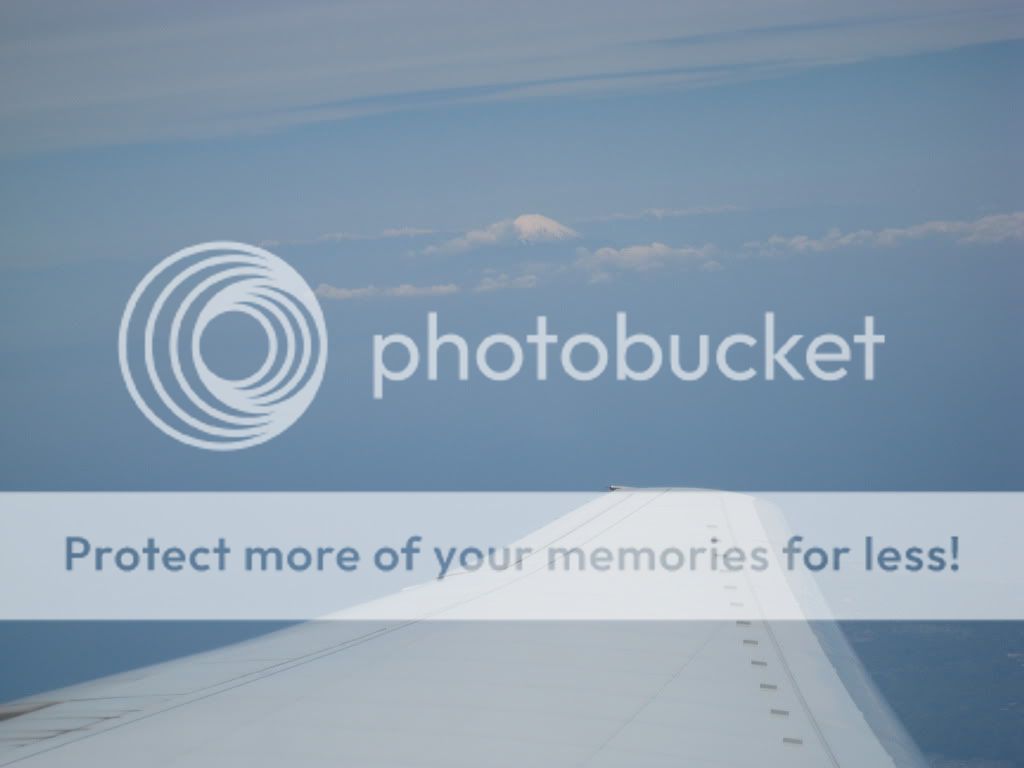 A glimpse of Mount Fuji!
We eventually approached NRT from the west and landed on time. Before entering immigration we had to go through a health check inspection again. I handed in my form and when the inspector saw that I was coming from the US she kindly asked me to fill in another form, more detailed this time, which required information about the places I was going to stay while in Japan. Given that I had a fairly busy itinerary I had to spent a considerable amount of time writing it all down. Once through the health inspection I found immigration to be fairly fast. I collected my luggage and proceeded to arrivals where I soon spotted Panos waiting for me. After catching a breath, we headed downstairs to get the train that would take us to Asakusa in Tokyo. We decided to use the Limited Express Train (instead of the Skyliner) given that it was half the price and only 15-20 mins slower. We got off at Ueno and then took the Hibiya subway line to the nearby stop of Iriya. From there it was a short walk to our hotel.
Trying to figure which train to take. Compared to other networks this was a piece of cake
Skyliner/Limited Express ticketing area
Retro ceiling fan in our Limited Express train
We had a great time in Tokyo. We visited several places, including several temples and shrines in Asakusa, the Ueno Park, the Akihabara Electric Town, the Ginza, downtown Tokyo, Shinjuku, the Tokyo Tower and we also went to watch some sumo at the Ryogoku. I shot over 3.000 photos during the trip but I wouldn't like to overload the page with them. If anyone is interested I can provide them with a link with some 200+ non-aviation photos from this trip.
Next stop was Kyoto. We took an early Shinkansen service (a Hikari one) and after about 2.5 hours were there. Unlike Tokyo, where it was mostly sunny and warm, we arrived at a wet and gloomy Kyoto. From the station we took the bus to Gojozaka and from there we walked to our hotel. We wasted no time and headed to the Otowa-san Kiyomizu-dera Temple at the foot of the hills on the east of town. We also visited the Nijo castle, the Imperial gardens, the Toji temple the downtown area and several temples on the north side of town. After a short stop at Osaka we proceeded to Hiroshima, using once more the Shinkansen.
Here are a couple of photos from one of our 3 Shinkansen rides:
Hiroshima is a lovely city and it has so much more to offer other than the Peace Memorial park and Ground Zero (A-Bomb Dome). We also did a short hop to Miyajima Island using a JR ferry. After 10 full days in Japan it was time to fly back home. I was excited at the prospect of flying out of HIJ. I knew that this airport was kind of unique, being located on top a hill in the middle of nowhere. Given its position, looking out on the runway felt like the whole airport was floating in the air. We got there using the Limousine bus from the railway station.
May 27
OZ 161
HIJ-ICN
A321
Seat: 16F
In the bus that would take us to HIJ
Arriving at HIJ 45 mins later
Our bus
Panos was flying first and he had to check in and go to security right away while I had a couple of hours to kill. I looked around for a bit and then waited outside the international check in area which was closed at the time.
Interior Views
Looking outside
When checking in I asked if I could get seat 10A or K again (for the ICN-ORD leg of my trip) but I was told that this particular seat was locked so I had to stick with my original 15K. At security I was told that the amount of liquids I could carry in Japan was less than those elsewhere (or so I gathered from the basic English of the security officer) so I had to give away my small toothpaste and mouthwash bottle. The waiting area for the international departures is tiny (not much international traffic out of HIJ).
Our ride to ICN
A neighboring ANA 747 getting ready for NRT if I am not mistaken.
We were the only international flight to be leaving for a while
About an hour before boarding a guy from the Duty Free came over and distributed free samples of chocolate to all of the passengers waiting at the international departure lounge. Not a big chocolate fan, but they tasted really good!
Take off was a bit noisy (a high pitched noise superimposed on the usual humming) but the noise went away during cruising. I ate my lunchbox and spend the rest of the time reading my book.
Leg space was fairly decent
Looking out onto the terminal
Ground crew waiving us goodbye as it is customary
Getting ready for take off. There is truly absolutely nothing but hills and forests for miles.
Take off snapshots
Cabin view
The lunchbox we were served was delicious. I could however not identify half of the items in it!
Approaching the coast of Korea
Not sure which airport is this. Perhaps Cheongju?
Flying over Seoul on approach to ICN
The health questionnaire we were distributed prior to landing.
We landed in ICN on time and once more we were inspected for swine flu symptoms before allowed to enter the terminal building. I had about 7 hours to kill and the first thing to do was to get some more kimchi at the food court (I chose the tuna stew this time).
I could not help but... help myself to some Korean cuisine. Kimchi Tuna Stew
Views of ICN
One of many OZ birds carrying the old livery.
I looked around the shops to find ways to spend the 70.000W I was left with. I went to a shop with Korean items and looked around for ideas for gifts. The moment you walked in, one of the many girls would walk up to you and try to help you, something which I found rather annoying. I prefer to be given the chance to check the items myself and only ask for help if I need some. Even though I thought I made that clear, they wouldn't go away. I understand that it is their job but they seemed very insistent, which many customers I think find annoying. Not a big deal though obviously. I bought some presents from the duty free and it wasn't long before I was back at the food court for some more Korean treats. This time I chose the bibimbap which I also thoroughly enjoyed.
Bibimbap
May 27
OZ 236
ICN-ORD
B777-200ER (HL7775)
Seat: 16K
Our 777 ride back to ORD (which coincidentally happened to be the same plane that I did the ORD-ICN and ICN-NRT legs 10 days earlier).
Finally boarding and getting ready for the long journey back.
Not much space to move in
IFE
Cabin view
View from my seat
After boarding the aircraft we were announced that we would be delayed because our luggage had to be manually scanned. We waited for about over an hour while the process was completed.
After taking off I noticed that the route we were taking was directly easterly, assuming that it was done simply to avoid N.Korean airspace. However, after reaching the coast I noticed that we were also heading south. For a moment I wondered whether I was on the right flight
. As much as I would have liked to visit Australia, it was not the right time to do so. Then I thought that we may be avoiding some bad weather. Finally it struck me that we were trying to get advantage of the jet stream.
I was surprised (at the time) at our southerly routing
Delicious meals: Main: Bulgogi Ssambab (along instructions as to how to eat it!), soup, egg roll-thingies, water melon, and kimchi!!!
Snack: Beef rice and vegetables, cabbage and ham salad and fresh pineapple slices
While over the Pacific, our captain made an announcement about something regarding the crew which I could however not follow, due to his heavy accent. Soon after however, the cabin crew showed up dressed in traditional costumes and started parading. Each one of them paraded at least 3 times and then they all gathered together so that passengers could take photos with them. It was quite a surreal moment. I still have no idea what was the occasion.
Cabin crew dressed up in traditional
The rest of the flight was uneventful and we arrived at ORD with about an hour and a half delay. The taxiing was long (more than 10 minutes) and we were soon at the terminal.
Overall, it was a pleasant experience to fly with OZ. Both their long and their short haul services were good and you could tell they are trying to make the experience as comfortable as possible. I would definitely re-consider flying with them, even though I am curious to see how the two big Japanese carriers (and also KE) compare to them.
Many thanks for reading
I'm looking forward to you comments.