Feedback always appreciated.
Trip Report: 074
Flight Category: J-IMR (See Report End)
Date: 08 Apr-09 (See Report End)
SDT/SAT/Dur/Delay: 2130/0400+1/04:00 hrs
Flight:
Jet Airways 9W 571
, 1715 miles
Routing: KWI-BOM
Aircraft: 73H
Seat: Business, 1F
I > Background:
After 3 days of work in Damman, I needed to get away. 2 of my top 5 cities are "nearby" … and since I had been to Istanbul recently, it was time to head to Mumbai/Bombay for the weekend. I really wanted to try Jet Airways' medium haul international offerings and they had a good introductory fare out of KWI. I believe this is the first review of 9W's medium haul international operations in any class or route.
II > Pre-Flight:
a) Before Airport:
Jet Airways is India's pioneering airline based in Bombay. It is India's second largest airline and has an extensive network in India, with international operations to the Americas, Europe, and Asia. It is well known for excellent customer service. However, it has struggled of late in a difficult macroeconomic environment.
Jet Airways' website at
www.jetairways.com
is visually clean and the perfect way to make a reservation. It is crisp and within a few minutes I was able to use my credit card to buy my ticket. I was particularly impressed by the use of colors (especially in the "fare families" stage). Furthermore, unlike in the past where Indian carriers have struggled with a Liechtenstein issued credit card, I was able to book my ticket seamlessly. In a matter of minutes, a smart looking PDF e-ticket was delivered to my inbox. Now, the website gives you plenty of opportunities to view/modify bookings. However, it has no functionality for seat selection for any class of travel. This is a pet peeve of mine and I wish 9W changes this in the near future. I was able to get a seat assigned calling the excellent call center.
b) At Airport:
Jet Airways uses Gate 2 @ KWI. After going through security, I made my way to the relatively empty 9W counter where an agent quickly processed my check-in. She was new at the job and was supervised by a wonderful 9W supervisor lady who thanked me for trying 9W's new route, giving me directions to the premium lounge, and indicating me that the flight today would be operated by a 73H in 2x2 configuration in J. I thought it was a nice touch … after all, not all passengers are A.Net geeks
. When asked about the loads, she said I should not worry as she had blocked the seat next to me. Nice
.
Post check-in, you get through the premium security line (makes a world of difference), and on to airside. While KWI has improved significantly, there still is relatively little to do, and the terminal still looks depressing. I made my way to the "PEARL" lounge and must say I was not disappointed. It is MILES ahead of the Kuwait Airways lounge (also used by UA, MS, LH, etc.). The lounge had plenty of non-alcoholic beverage options, hot dinner service, computer terminals, and showers! Enough to keep me occupied until boarding was called.
Boarding involved another security check at the gate and then onwards to the aircraft. It was remarkably civilized for a Gulf airport as everyone neatly lined up. Now prior to boarding, I usually make it a point to photograph the aircraft. At this point, the apparent 9W station manager (Mr. SamXX) came and yelled at me for holding up the flight. I looked at him, asked his name and title, and politely reminded him that Mr. Goyal would probably not be too happy with his attitude towards premium passengers given that we were 43 minutes away from push-back. Perhaps I should not have said a thing, but I just have this huge problem with being yelled at by anyone in the customer service industry whose salary is being paid by my hard earned money and who takes their own frustrations with life at me. Moreover, I am able to hit back … many other passengers would have just taken the verbal abuse.
Anyways, I relaxed soon thereafter upon entering the rather soothing Jet Airways cabin and being cheerfully and warmly greeted by the flight attendants on duty. The lead attendant came and introduced herself and told me to "feel at home". Aaw. She brought me an extensive choice of juices to drink for and mentioned, "you look thirsty for something a tad stronger … do not worry, the locks come off the bar as soon as we take off". Jajajaja. I smiled and knew it was going to be a great flight. Also, prior to take-off, the thickest cold towels I had seen were distributed. J load was 60% … impressive for a new flight.
Airport - External:
(Kuwait International Airport – Gate 2)
Check-in:
(Security prior to check-in)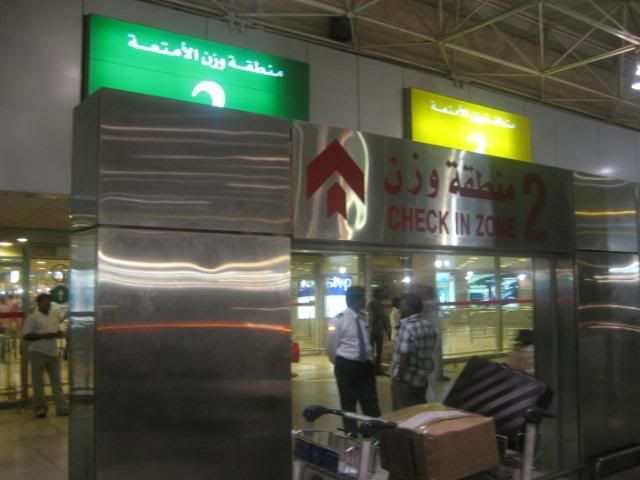 (Check-in)
Airport - Internal:
(Internal)
(FIDS)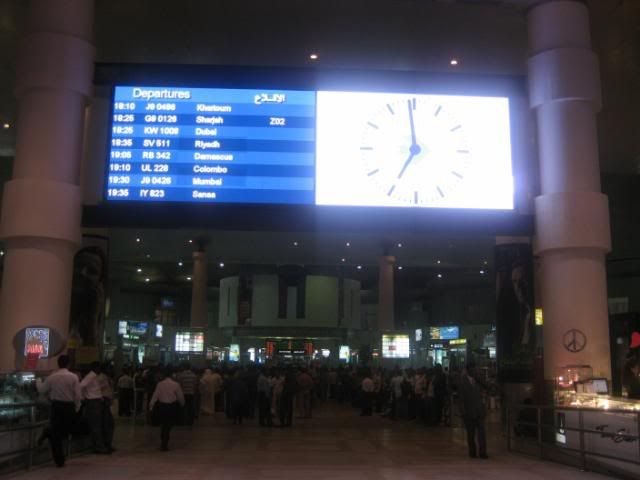 (Post Security)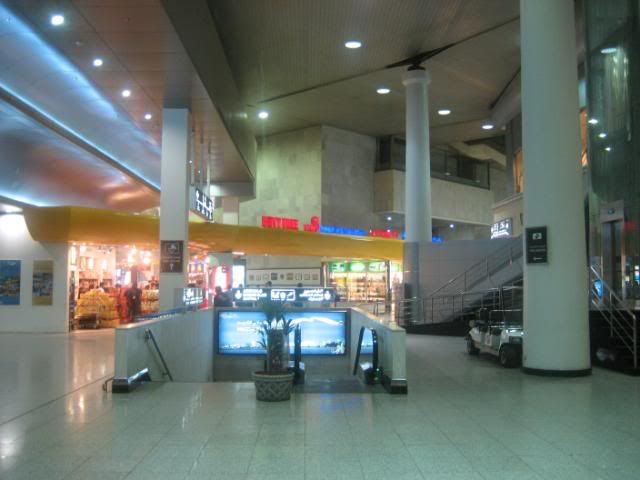 Scenes of the tarmac:
NONE
Lounge
(Definitely the better of the two lounges at KWI – the "PEARL" lounge)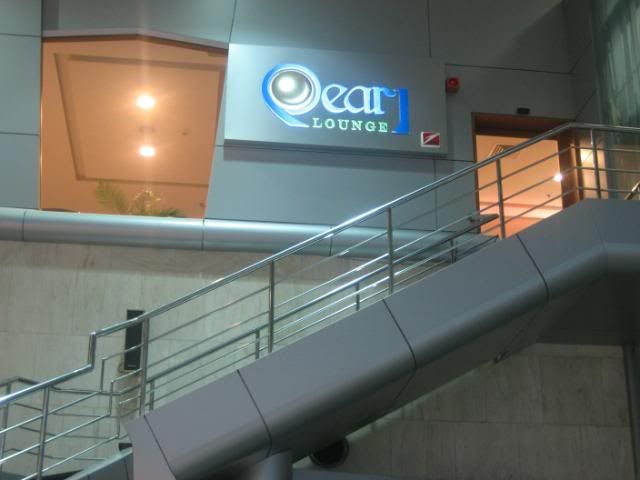 (Good pre-flight meal)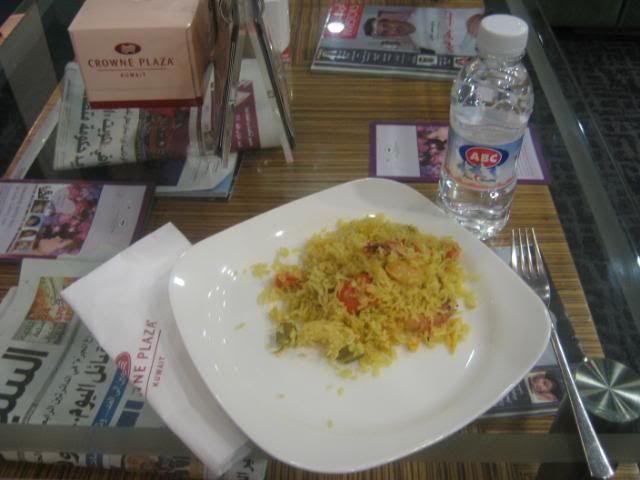 (Even showers)
Boarding:
(Boarding gate)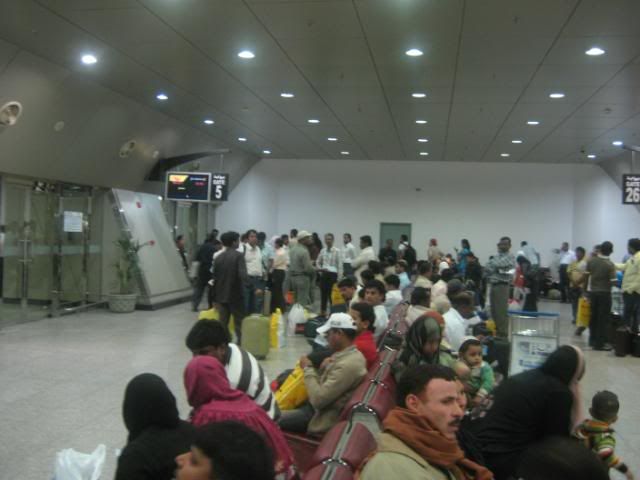 (Organized line to get into gate area)
III> In-Flight:
a) Service Schedule + Impressions:
Prior to take-off, beverage service of exotic juices, cold towels, newspaper, and menus. After take-off, champagne service, then dinner service. Prior to landing, another round of beverages. Cabin attendants walked throughout the cabin topping up water, etc.
b) Aircraft + Seats:
Jet Airways' 73H was in immaculate condition. Their medium-haul J product was also pretty impressive. It is not a flat-seat of any dimension, but the big leather seat where you sink in was perfect for a 4 hour flight. It had the right amount of pitch and recline for a routing of this length. Moreover, it was comfortable. I would not want to fly this on super long haul, but for this sector, it was more than adequate. Seat legroom was also decent. Nothing spectacular.
Aircraft:
(Got yelled for this
)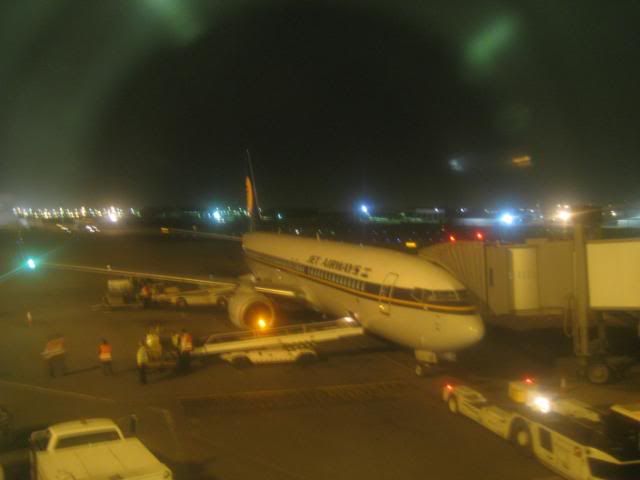 Views from Aircraft: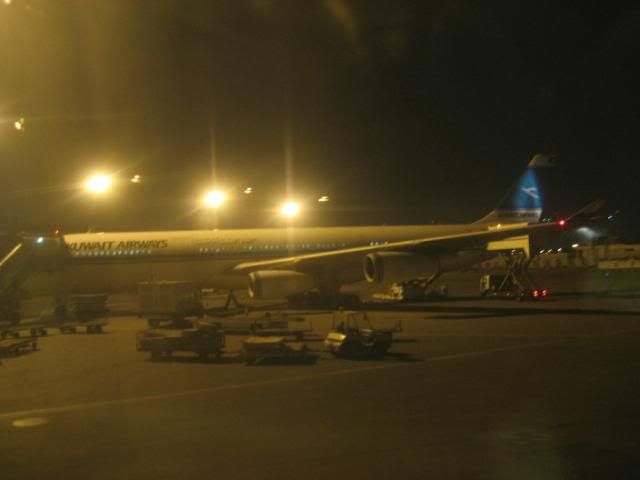 General Seat Views + Seat Legroom
(Legroom)
(Seat control)
(Power and USB connector)
Seat Recline + Angle View:
(Decent recline)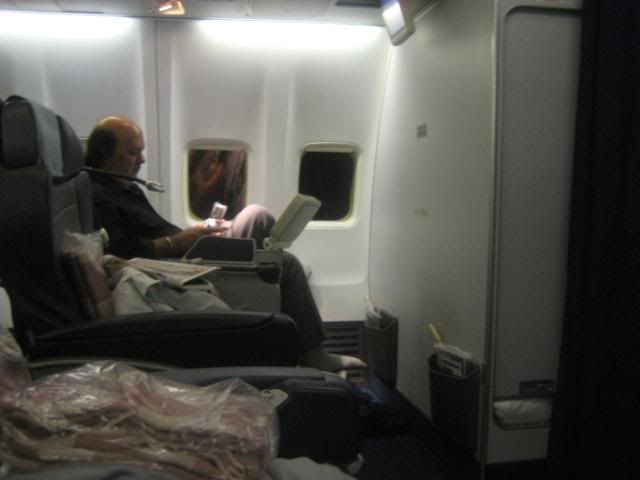 Cabin: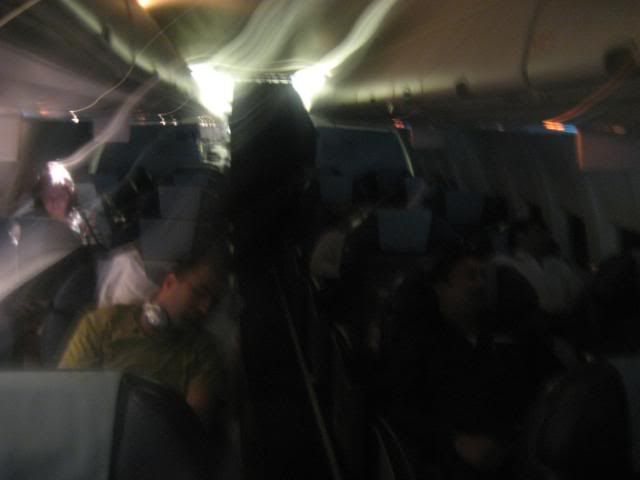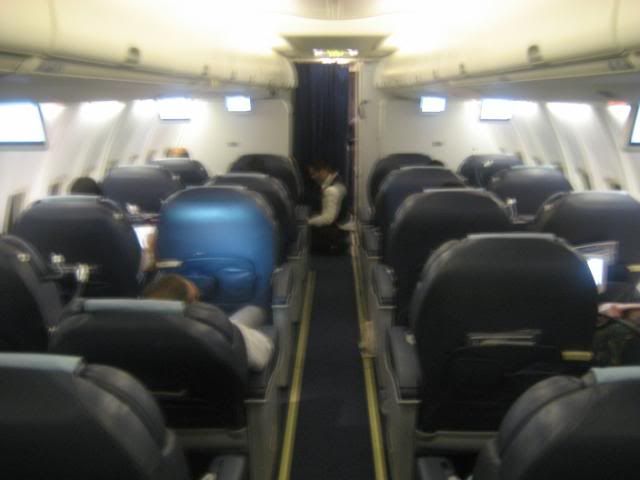 (Bathroom with amenities)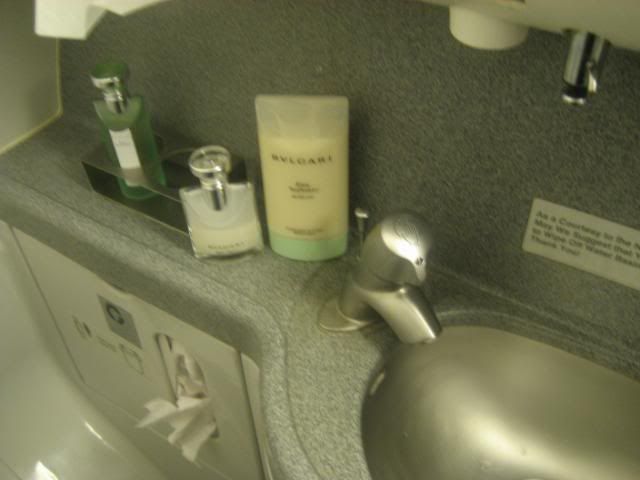 c) Meal + Beverage:
Prior to take-off, an excellent selection of fresh juices, water, and soda were offered. I chose the rather soothing fresh lime juice. I remain convinced that Indians are addicted to it because I find it on all flights on Indian airlines. It is great! LOL. After take-off, we got some nuts and champagne. The lead FA immediately who had been so sweet at check-in, came literally within 5 minutes of take-off and asked me, "Alex, are you ready for that drink?". Jaja. One thing which was interesting … being greeted by my first name. This is definitely a first for me on an Asian carrier and I was wondering if it was a combination of an experienced crew and that I am "young-ish"? Anyways, the champagne hit the spot and I was ready for my main course. I chose the "Jhinga curry" which was basically a shrimp curry. Like most Indian airline food, catering was flawless. The curry was something you'd find at an upper level Indian restaurant. Delicious. The shrimps were succulent, the rice perfectly cooked, and the lentil soup ("daal"?) just right. I was not impressed by the side salad which looked like an after-thought. I chose the "Kesari Rasamalai" for dessert and it was nice. One thing – all food was served together to rush through the service and have the lights dimmed for those who wanted to sleep. I was pretty impressed with how fast the crew worked to have this all taken care of. Since I did not sleep during the flight, I had my beverage topped off throughout the flight.
(Menu)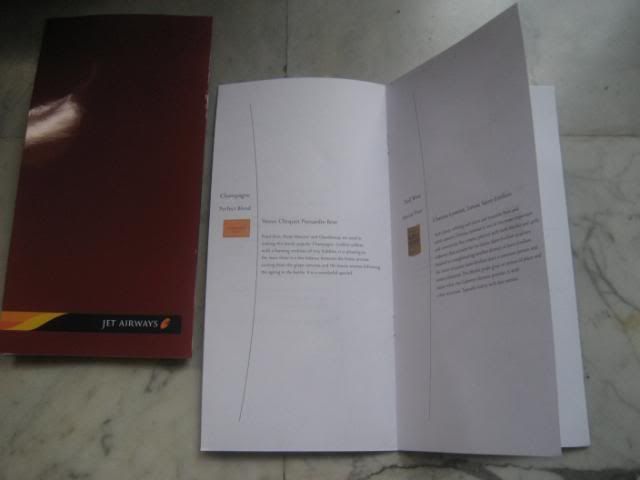 (Pre-departure drink)
(Warm nuts and champagne post-take off with IFE unit, control, and head-set)
(Classy linen)
(Excellent dinner – though, salad can be improved)
d) Inflight Entertainment:
While not top of the line, 9W's AVOD kept me entertained throughout the flight as I caught up on "Curious Case of Benjamin Button". The screens are adequately sized for a 738 and probably have the best touch-screen response I have seen on a plane. Quality is also crisp and clear and the noise-canceling headsets make sure that you hear the sound well. The in-flight magazine is good and you have a nicely stocked selection of magazines and newspapers to keep you more than happy for 4 hours.
(9W AVOD)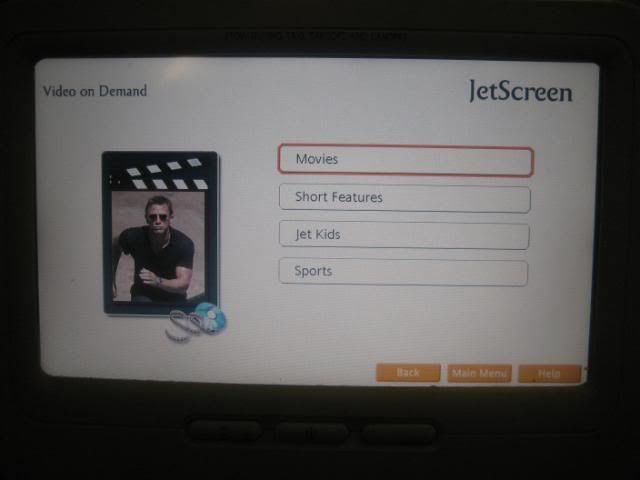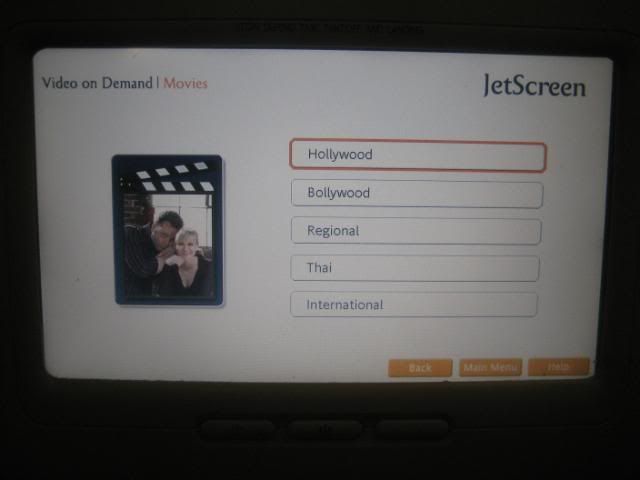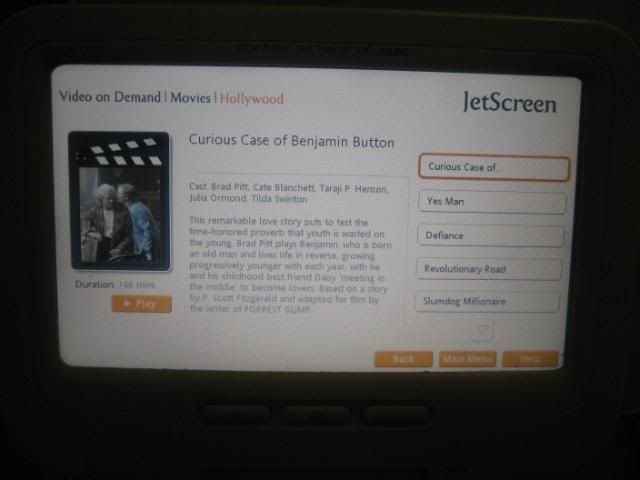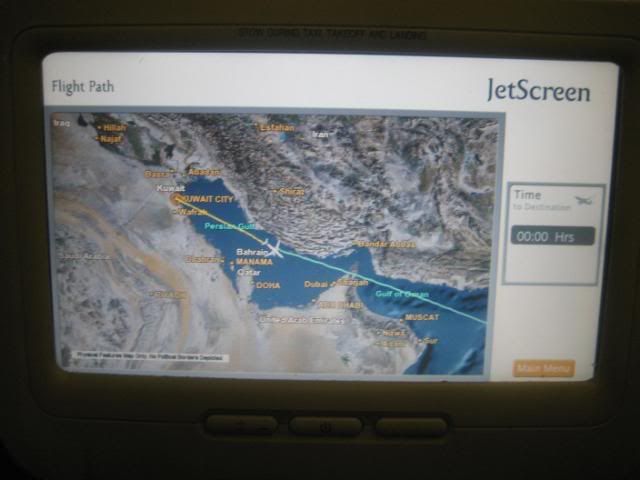 ("In-flight magazines", Boarding Passes, etc.)
(Can some Indian please tell me who the girl is on the left? She reminds me of my Israeli friend!)
e) Crew:
WOW! WOW! WOW! Another data point to support my theory that best cabin crew come from India and Sri Lanka
. 9W's crew on this flight was flawless. On Indian carriers, I have usually preferred the genuine warmth of AI and IC, and thought 9W and IT were trying too hard with the "hot women" lacking a level of genuine smile that would melt your heart away. This 9W crew totally changed my impression. Throughout the flight, they displayed genuine-ness which comes from experience. Upon boarding, help with the bags and greetings by name. Here what sets out an Asian airline from most of their European and American counterparts is that they had learnt the names and were not reading from the flight manifest in front of you! I loved the lead FA who was at ease with her duties and her interactions with me upon boarding.
Throughout the flight, you could see them walk along the aisle checking on passengers, topping drinks and carrying bottles of water for those who needed it. All with polite, "Would you like some more?" and "Can I top it off?". As usual, a great set of crew is made up of memorable experiences that you remember well after the flight. These are small anecdotes that remain in your mind amongst all the flying hours you clock. The 9W crew demonstrated all of it. Here are my 3 favorite ones that made flying with these women a true pleasure:
1/ During taxi out, the cabin lights were dimmed. One of the crew members walking to her secure position saw me read the in-flight magazine. She immediately came to me and turned the reading light that I did not notice the J seat to have. 2 minutes later, she came and offered me her little reading-light keychain.
2/ I have this bad habit of taking my "notes" for the TR's on the pages of the in-flight magazine. During the flight, the lead FA noticed that I was writing all over the magazine. She immediately brought me a 9W stationary pad with 9W pens. Nice.
3/ Around 10 minutes prior to touch-down, I requested if I could have one last glass of champagne. After all, I was "starved" in KSA
. I had not realized the galleys had all been locked for touch-down. With a smile and "certainly", the crew went and unlocked the galley and had my champagne to me. Usually many crew would just have said "NO" and I would have been OK with it. It is just that this displayed an amazing level of customer service and the desire to make a passenger feel special.
Great cabin crew anticipates your needs. Very few airlines have mastered this concept. While I have almost always had extremely pleasant service from 9W crew, this particular set of women completely blew me away. They reminded me that a poor start (remember the 9W SM @ KWI?) can be easily rectified with warmth. They reminded me the value of genuine warmth and demonstrated that in 4 hours I would be reminded once again why I love flying.
IV> Post-Flight:
Arrival at BOM was smooth and I created a new personal record of being picked up by my friend 17 minutes after landing. Perhaps having dedicated premium immigration counters helped towards the process. BOM has seriously improved since I was last there.
V> Impressions + Scores:
Jet Airways was a joy to fly. It is undoubtedly one of the best carriers out there with an in-flight experience far superior than many of its cohorts. Airlines are made up of people and the crew on board was just fantastic. Also contributing towards a pleasant flight were a good IFE, good food, good beverage, and adequate seating for a medium-haul flight. Of course, there are rooms of improvement ... such as the nasty SM at KWI. Also, I do wish they provide a basic amenity kit on "over-night" flights irrespective of lenght. However, in my continued flying experience with 9W, these individuals are a rare breed.
I think 9W has been a wonderful addition to the GCC-India market and am convinced it will be able to steal market share from the big state-funded behemoths of the region. What I like about 9W's service on the GCC flight is that it brings it same level of service across the network and does not lower its product offering because of passenger demographic. Any airline humane enough to treat all people (especially those less-fortunate) must deserve extra praise.
I do hope 9W continues to tweak its performance and improve its financial standing. A strong 9W is important for the consumer as it provides a far superior service than other medium haul flights I have had ex-India on SQ, EK, EY, etc. I would go out of my way to fly 9W and am willing to pay a price premium. Two thumps way up!
SCORING: (please let me know what you think of this new graph based scores which make it easier to benchmark)
VI> Other Trip Reports:
PREMIUM:
8.64:
Turkish Airlines (59): JFK-IST: 11/2008
8.61:
Air Canada (49): YYZ-SCL: 06/2008
8.30:Jet Airways (74): KWI-BOM: 04/2009
8.23:
United Airlines (72): SFO-SYD: 03/2009
8.11:
Aeroflot (33): MOW-DEL: 09/2007
8.04:
Korean Air (40): NRT-ICN: 10/2007
8.02:
Delta Airlines (24): JFK-CDG: 08/2007
7.46:
LAN (55): YYZ-JFK: 09/2008
7.82:
Singapore Airlines (06): EWR-SIN: 09/2006
7.14:
Swiss (52): SCL-GRU: 06/2008
7.02:
Qatar (68): DOH-JFK: 01/2009
6.96:
Etihad (61): JFK-AUH: 12/2008
6.93:
Delta Airlines (18): SEA-JFK: 11/2006
6.84:
ConViasa (65): CCS-DAM: 01/2009
6.81:
Air Canada (17): ICN-YYZ: 10/2006
6.70:
KLM (32): EBB-AMS: 08/2007
6.36:
Privatair (60): MUC-BOS: 12/2008
6.25:
Korean Air (45): NAN-ICN: 10/2007
6.11:
TAP Portugal (53): GRU-OPO: 06/2008
5.75:
Singapore Airlines (16): CCU-SIN: 10/2006
5.64:
NorthWest (46): ICN-NRT-SEA: 10/2007
5.39:
LOT (54): WAW-JFK: 06/2008
5.21:
Egypt Air (73): CAI-IST: 02/2009
5.07:
TACA (66): JFK-SAP: 01/2009
4.42:
Air France: CDG-JNB (25): 08/2007
ECONOMY: Long + Medium:
9.26:
Air India (48): JFK-DEL: 02/2008
7.38:
Avianca (01): BOG-LIM: 07/2006
7.07:
Sri Lankan (62): KWI-CMB: 12/2008
6.41:
American Airlines (58): LHR-BOS: 11/2008
6.26:
Jet Blue (21): CUN-JFK: 02/2007
6.06:
Air Canada (04): YYZ-YVR: 09/2006
5.89:
USA 3000 (19): PUJ-BDL: 01/2007
5.85:
Spanair (69): MAD-LPA: 02/2009
5.79:
Air New Zealand (42): RAR-NAN: 10/2007
5.46:
TAP Air Portugal (23): OSL-LIS: 05/2007
5.19:
Air Europa (70): LPA-MAD: 02/2009
5.16:
Iberia (71): MAD-BOS: 02/2009
ECONOMY: Short
8.56:
Paramount Airways (38): BLR-MAA: 09/2007
8.56:
Kingfisher (64): HYD-CCU: 12/2008
8.24:
Kingfisher (14): IXA-GAU: 10/2006
7.87:
Indian (34): BOM-MAA: 09/2007
7.72:
Alliance Air (13): CCU-IXA: 10/2006
7.57:
Indian Airlines (10): DEL-CCU: 09/2006
7.23:
West Jet (03): YYC-YVR: 09/2006
7.15:
JetLite (37): BOM-GOI: 09/2007
6.70:
Spice Jet (09): CCU-DEL: 09/2006
6.63:
Air Fiji (44): NAN-SUV: 10/2007
6.63:
Jazeera (67): DAM-KWI: 01/2009
6.58:
Air Tran (02): EWR-MDW: 08/2006
6.48:
Air India Express (63): CMB-MAA: 12/2008
6.44:
CO Micronesia (39): ROR-YAP: 10/2007
6.41:
Pacific Sun (43): NAN-SUV: 10/2007
6.37:
Skybus (47): SWF-CMH: 02/2008
6.33:
Kenya Airways (29): NBO-BJM: 08/2007
6.33:
Sky Europe (56): LTN-BTS: 10/2008
6.31:
Indigo (15): GAU-CCU: 10/2006
6.31:
easyJet (57): BUD-LTN: 11/2008
6.22:
Air Link Swazi (28): MTS-JNB: 08/2007
6.22:
Air India (36): HYD-BOM: 09/2007
6.13:
Adam Air (07): SIN-CGK: 09/2006
6.13:
Air Rarotonga (41): RAR-AIT: 10/2007
6.00:
Transairways (27): INH-MPM: 08/2007
5.95:
Air Canada (05): ALB-YYZ: 09/2006
5.85:
SAS Norge (22): OSL-AES: 05/2007
5.81:
LAM Mozambique (26): JNB-MPM: 08/2007
5.69:
Air Deccan (12): IXZ-CCU: 10/2006
5.67:
Rwanda Air Exp (30): KGL-NBO: 08/2007
5.07:
Go Air (35): MAA-HYD: 09/2007
5.00:
Sky Airline (51): IQQ-SCL: 06/2008
4.96:
Valuair (08): CGK-SIN: 09/2006
4.78:
Air Comet Chile (50): SCL-IQQ: 06/2008
4.74:
Fly 540 (31): MYD-LAU: 08/2007
4.33:
Viva Aerobus (20): ELP-MTY: 02/2007
4.11:
Air Sahara (11): CCU-BOM: 09/2006
(Note on Codes: Y – Economy, J – Business, F – First :: I/D – International/Domestic :: SR/MR/LR – Short/Medium/Long Haul)
(Note on Date: Dates are modified to be +/- 3 days from actual flight date to not reveal actual flight pattern)
VII> Other Pictures:
(Bombay – at sunset and dusk – truly, one of my favorite cities in the world)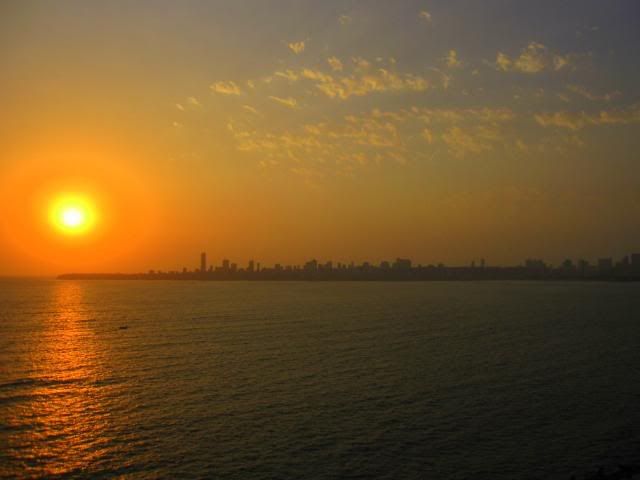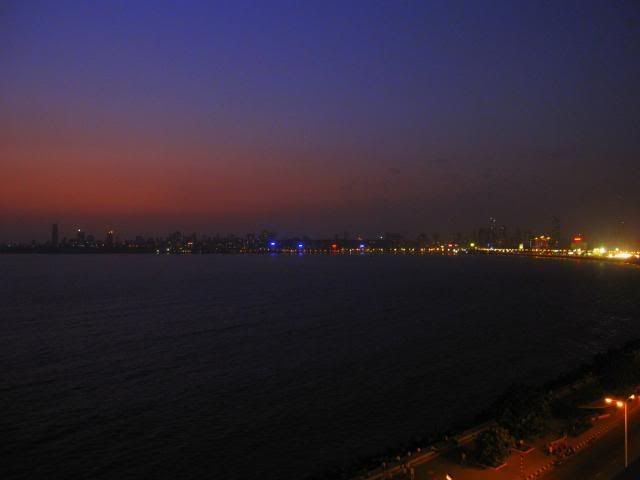 (One of my favorite Bombay restaurants – little cabana kind things on the beach)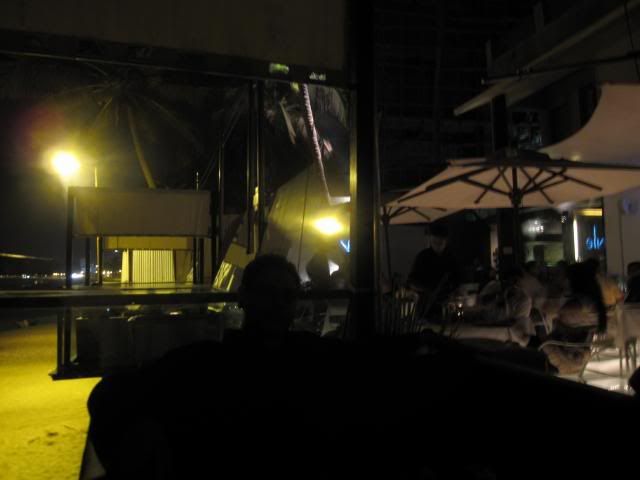 (Inside of a cool lounge in Bombay. The picture is blurry as I was totally under the influence by then)
[Edited 2009-06-06 12:42:43]