Feedback always appreciated.
Trip Report: 075
Flight Category: J-IMR (See Report End)
Date: 12 Apr-09 (See Report End)
SDT/SAT/Dur/Delay: 0735/0845/03:40 hrs (Delayed: 0135 hrs)
Flight:
Gulf Air GF 57
, 1501 miles
Routing: BOM-BAH
Aircraft: 321
Seat: Business, 1A
I > Background:
Post a great weekend of too much partying in Bombay, I was supposed to be meeting a client in Istanbul to sell a business idea. The TK nonstop was sold out in J, so I decided to try Gulf Air. I had flown them in the late 1980s onboard the elegant L10-511's on NBO-AUH routings and it had over the years got the reputation of being a "very poor airline". However, recent trip reports had all spoken highly of a resurgent GF and I thought this was the best time to try. Also, GF offered a "lie-flat" seat out of BOM on a 343. There has been several GF reports and I think I saw a few in J ex-Indian subcontinent.
II > Pre-Flight:
a) Before Airport:
Gulf Air is the flag carrier of the Kingdom of Bahrain. The airline operates scheduled services to 41 destinations in 26 countries across Africa, Asia and Europe. It used to be owned by a consortium of GCC countries (Bahrain/Qatar/Oman/Abu-dhabi), but each have now individually pursued their own state airline. Years of neglect and a management structure which never adopted to the changing ownership structure meant GF failed to exploit its status as the pioneering "GCC hub carrier" and gradually decline to be known for its poor customer service and lacklustre service. Its service has recently improved … though, it does not seem to have a clear strategy for a stable secure future.
Gulf Air's website at
www.gulfair.com
is well organized and the booking process is a breeze. Within a few minutes, I was able to book my ticket and have it delivered to my e-inbox. Now, the website gives you plenty of opportunities to view/modify bookings. However, it has no functionality for seat selection for any class of travel. This is a pet peeve of mine and I wish GF changes this in the near future. I was able to get a seat assigned calling the excellent call center.
b) At Airport:
Gulf Airways uses Gate D @ terminal 2A at BOM. After a quick bag scan, I made my way to the empty GF check-in where an agent quickly processed my seat. I knew a change of gauge had occurred when I got seat 1A and not the 8A I had pre-booked. Upon asking, the SM at BOM confirmed the downgrade from a 340 to a 321. I was slightly upset because the SOLE reason for having bought a GF ticket was to fly in a "lie-flat" seat. Else, I would have bought a 9W ticket to KWI and then connected onward on KU. Uugh. The station manager was apologetic and we talked briefly of his 20+ year career at GF BOM and how yields had suffered due to low cost competition. While I understand that poor loads were the reason for the equipment substitution, airlines sometime fail to realize that the customer may have bought a ticket based on an advertized product and the failure to comply could lead to further dilution in faith of its branding. Anyways, after more polite apologies, boarding card and lounge invitation in hand, I made it past security and immigration.
BOM's terminal has improved tremendously and I was impressed by the amount of food and duty-free options that had cropped up. I made my way to the peaceful Clipper lounge which had also gone through significant improvements and made myself a hot breakfast. There were lots of staff around eager to help out … but I chose to pick a quiet corner and read the newspaper.
Boarding was called and I was glad to see that "ILBST" was alive. I was missing them from Indian airports! Anyways, the GF SM seeing that I had lined up, specifically motioned to me to bypass the line and let me board. Upon boarding, I was greeted by a rather cheery female Indian FA and her British counterpart. Along with a male Bahraini pursar, they were to take care of me. All of them were in excellent spirits and the Indian FA joked that today was self-service. She would continue joking with me throughout the flight telling her peers that I would be doing the service, etc. The British FA was equally nice and had an impressive knowledge of the air industry. Excellent and made me take my mind away from the downgrade. Prior to take-off, there was some water or juice – though, presentation was poor. Also, the pilot announced that due to congestion, we would be delayed by an hour. That hour soon became 1:35 and I resigned to the faith of missing my connection to IST. Looking around, I recognized why the downgraded occurred … J load was 10%! I knew GF was bleeding money on their sub-Continent flights, but this made me realize the level of its misery.
Airport - External:
(CSIA Bombay – Terminal 2A, gate D)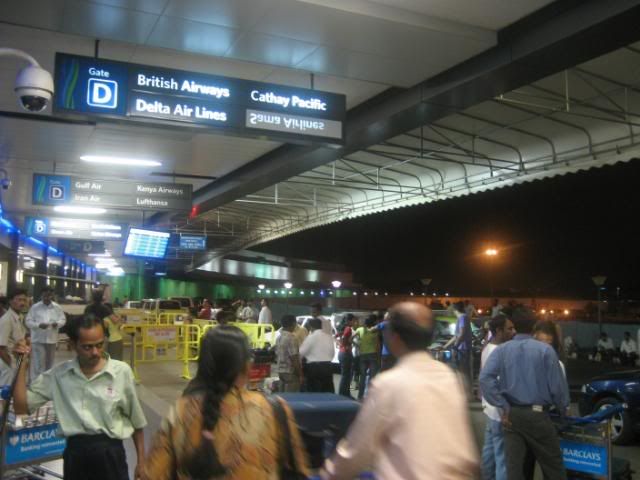 Check-in:
(Stern warning at check-in -
– interestingly no jeans whatsoever)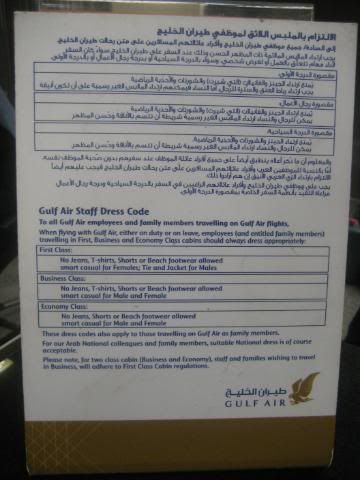 (Check-in)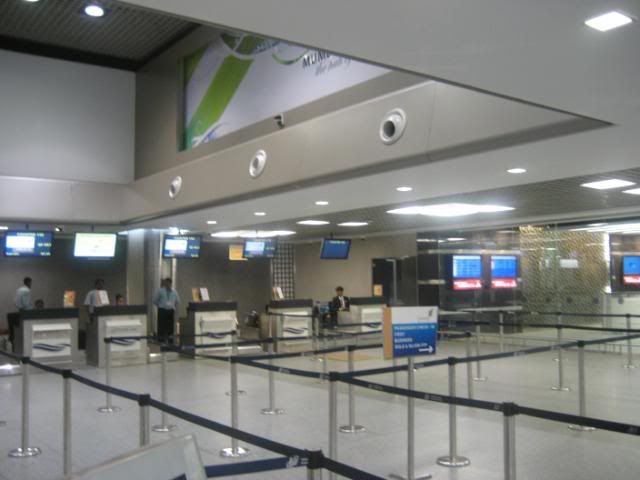 Airport - Internal:
(Internal)
(FIDS)
(Post Security)
Scenes of the tarmac:
NONE
Lounge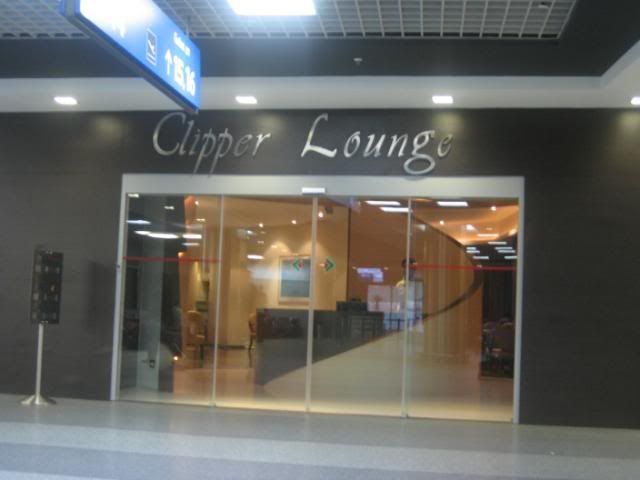 (Good breakfast – something Indian)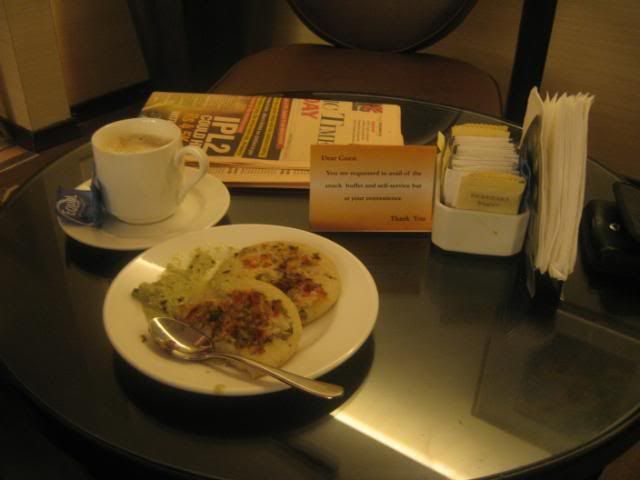 Boarding:
("ILBST" is back)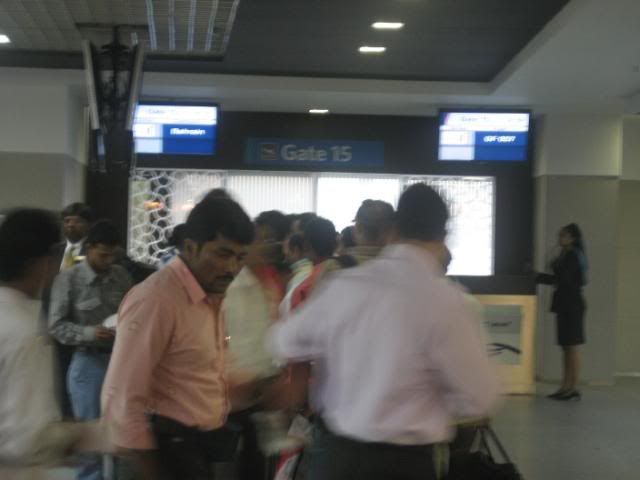 III> In-Flight:
a) Service Schedule + Impressions:
Prior to take-off, water is served … and that is pretty much it! After take-off, breakfast service.
b) Aircraft + Seats:
Gulf Air's 321 looked very "old-school". The cloth based interior is not too my liking and the colors gave it a rather drab feel. Moreover, seat pitch and recline were extremely poor. In fact, I found the seat recline to be one of the worst I have encountered on a full-service carrier J class. Especially when contrasted with my BOM inbound flight on Jet Airways, Gulf Air stood out as a shoddy 2nd rate product. Moreover, the cabin was dirty. One would expect the crew to at least go over the J cabin. I found a used dirty plastic bottle on between my seat and window clearly visible. (See picture)
Aircraft:
(Photo courtesy as shown)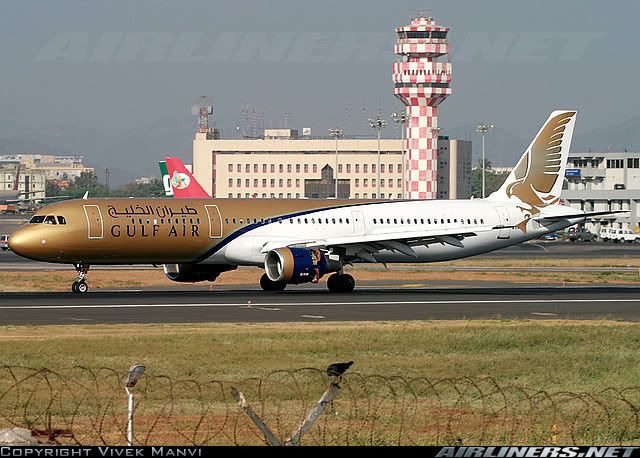 Views from Aircraft: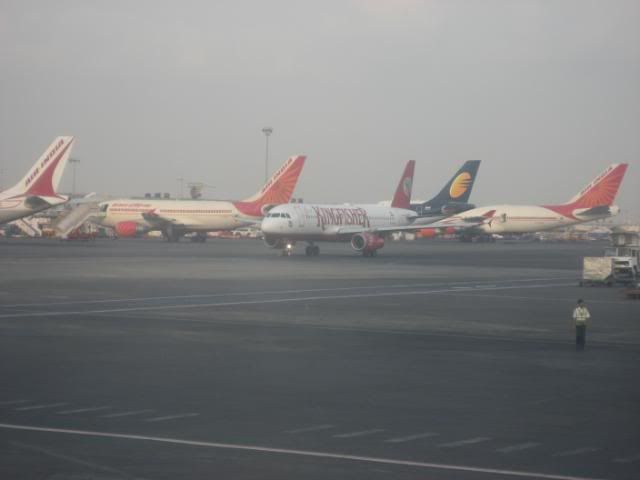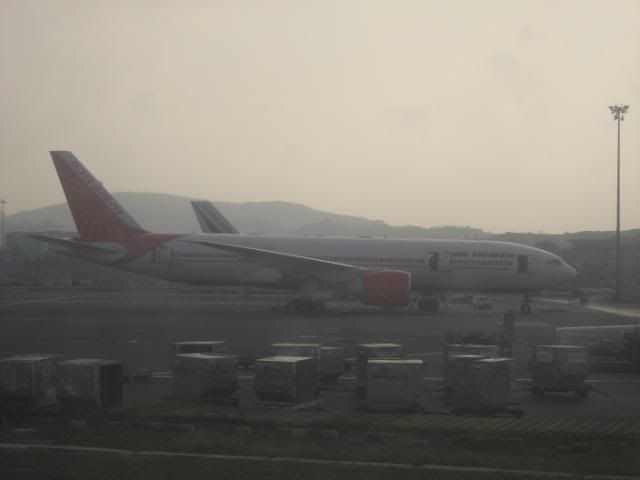 General Seat Views + Seat Legroom
(This is J Legroom!)
(Seat control)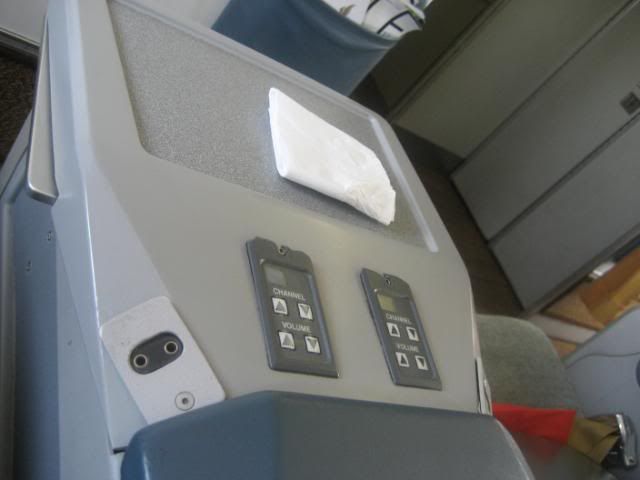 Seat Recline + Angle View:
(Poor recline)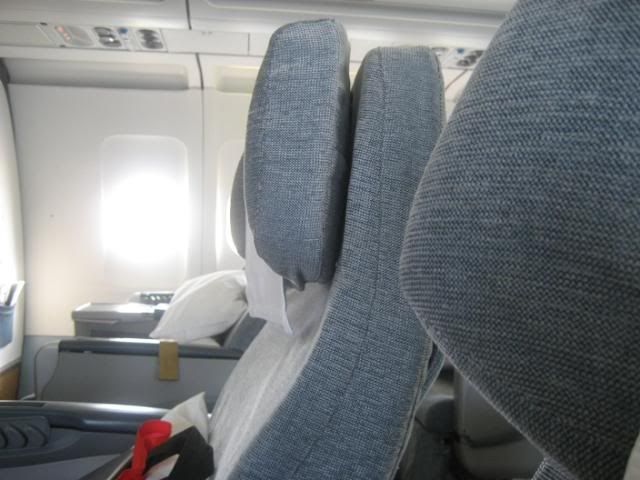 Cabin: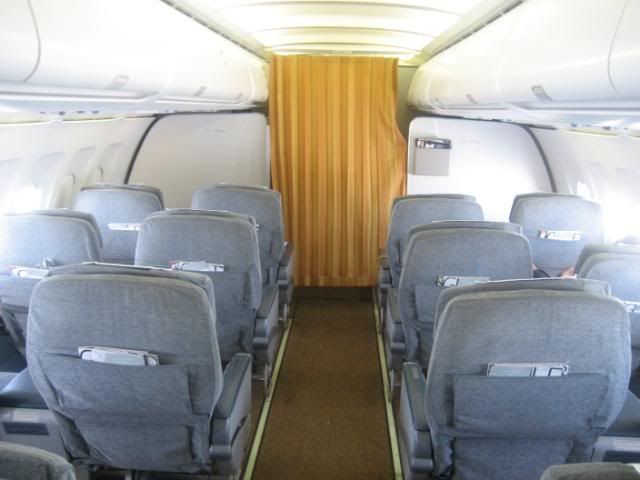 (Leftover from previous flight)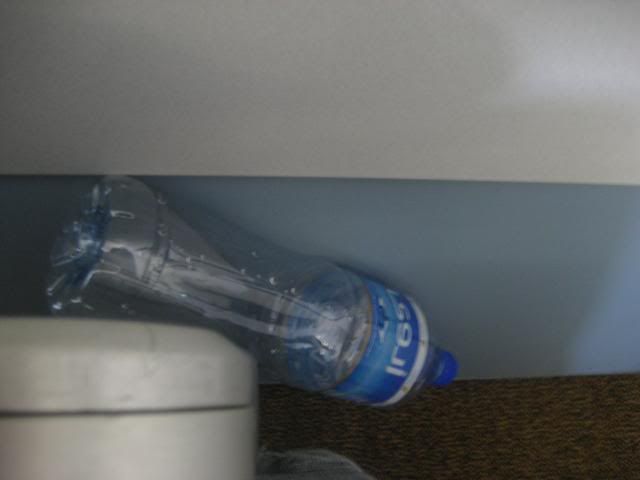 (Bathroom with amenities)
c) Meal + Beverage:
I was surprised that prior to take-off the only offering was water. Moreover, I found out that no juices or anything were uplifted at BOM and thus the only beverage throughout the flight were cans of soft drinks. Another interesting thing was the lack of menus. I don't remember the last time flying in an Asian carrier and having no menus. There was no choice for breakfast … a bread tray, fresh fruit, and an ensemble of bread, chicken sausages, and scrambled eggs. I guess the difference was highlighted even more because of how different it was from my 9W flight. There were only 2 of us in J – so there was no real need to do beverage runs and the crew was responsive to my requests for tea. Though, the quality of the tea left much to be desired.
(Poor presentation of Pre-departure drink)
(Breakfast)
(Drinks and Cafe – they only had soft drinks on flight)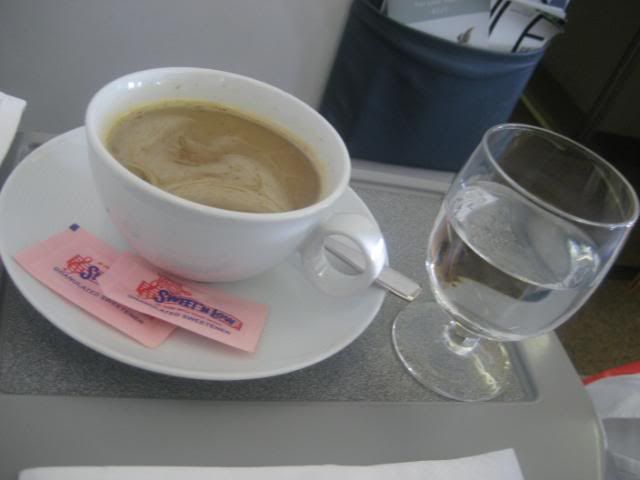 d) Inflight Entertainment:
Again, the difference between Jet Airways and Gulf Air was clearly demonstrated. Gulf Air has NO AVOD and NO personal in-flight unit and had some Arabic movie on loop. I wonder why would they play an Arabic movie that primarily had Indian passengers, and what was the need of the noise-canceling head-set that they had given out. At least, the in-flight magazine was reading worthy.
(Screens playing an Arabic movie …)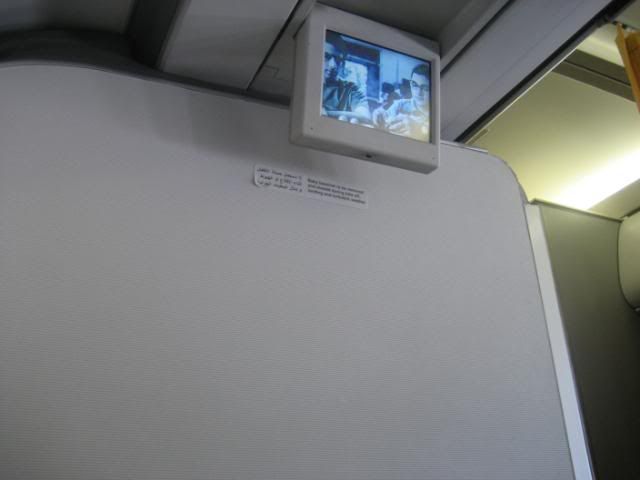 (… but hey, you get an average noise-cancel headset … why bother?)
("In-flight magazines", Boarding Passes, etc.)
(Count the amount of stamps … LOL)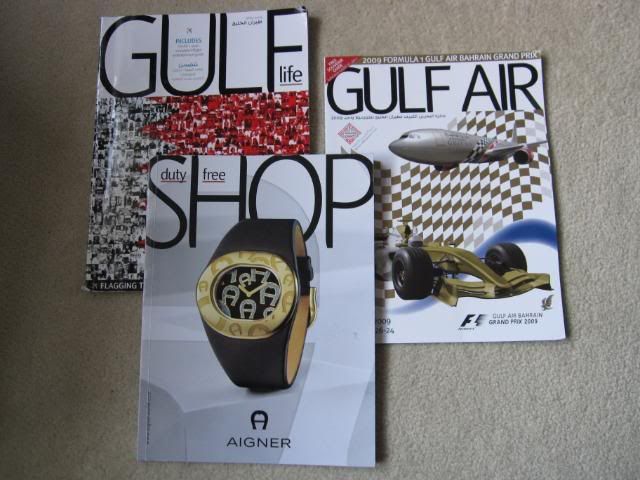 e) Crew:
I have always heard mixed reviews of GF crew. Even the recent positive GF reviews mostly involved 9W crew. However, the one thing that stood out on this flight was the good crew. Led by the energetic and joking Indian FA, they were in good spirits and ready to help. I even went and had a brief conversation with the Indian and the British crew member about the GF incident involving the Swedish FA at KUL. Their answers were surprisingly honest and objective, and they were clearly able to take both sides. Pretty professional. Also, they were on call for most of the flight and responded to the call button pretty fast. Of course, a load of 2/20 does not challenge a crew and I wonder how they would have done under pressure.
IV> Post-Flight:
Arrival at BAH was a nightmare. We taxied around for a few minutes looking for an open bay. At BAH all transit passengers had to do re-do security. The transit desk staff yelled at me for being late. WTF?! The Egyptian man later realized that I was in J and tried hard to be friendly. Oh well. He offered me a connection via KWI on KL and then TK getting in at 0600+1 to IST. Since I had already missed my business meetings, I could care less and accepted. He assured me that my bags would make it to IST ... the one time I checked bags ... and of course, they did not. Extremel poor ground handling at BAH given that they had a whole day to interline them over to KL. Uugh. I have a friend pretty high up at the Finance ministry and thankfully he came by to give me company and hear of my impression on GF. Bahrain is the one Gulf country I can stand and I made the most of my time there.
(Tarmac action @ BAH)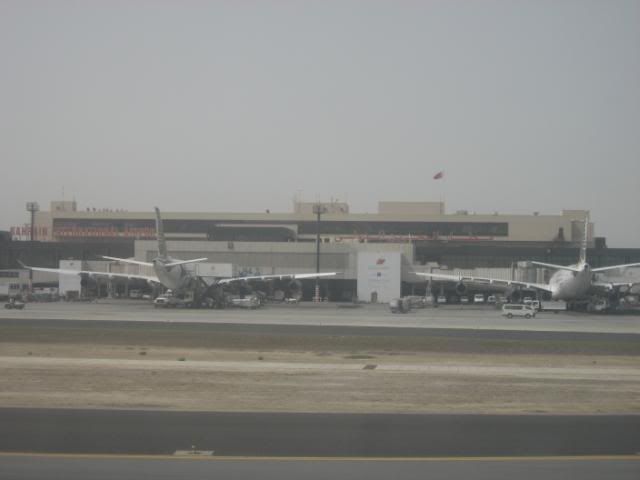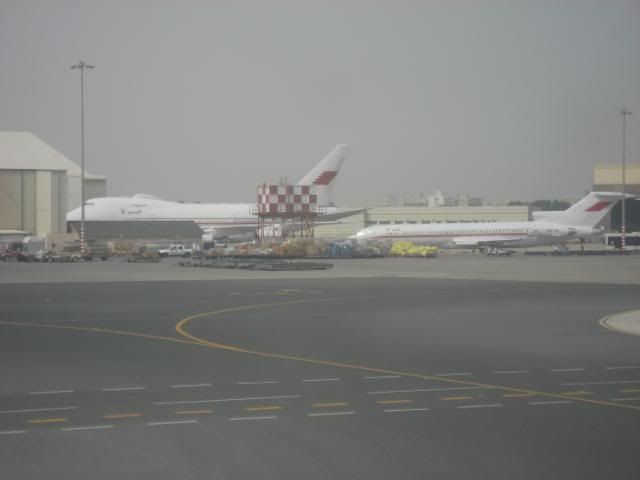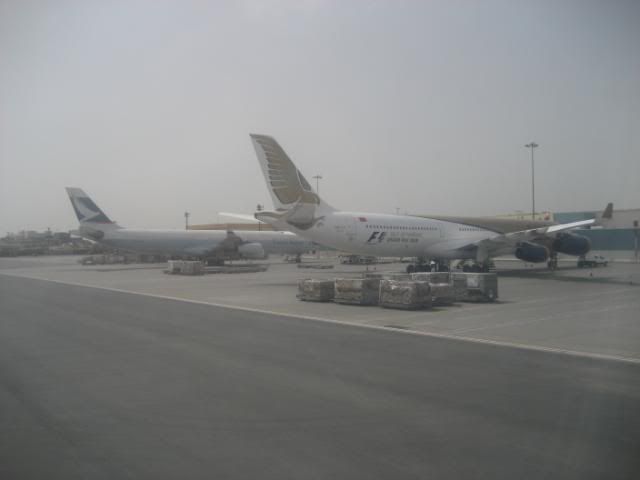 V> Impressions + Scores:
Perhaps I had put too much stock on some of the recent reviews on Gulf Air and failed to recognize that most of them had been on flights operated by Jet Airways crew and aircraft. I was left underwhelmed by my experience. Ok, their in-flight crew has come a long way and I was impressed by them. They were on-par with QR and much better than EY or EK.
However, beyond that, Gulf Air's product is sub-standard. While lounge and check-in at BOM were good, their hard product sucked. Poor seats, non-existant IFE, poor meals, non-existant beverage, and a really inefficient transfer process at BAH made sure that they failed to impress me.
Airlines usually rise when facing a competitive landscape. It is surprising that GF has not been able to rise up and can pass off such shoddy products. It is no doubt that they are losing market share and are known for rock-bottom fares ex-the sub Continent. Without more investment, I just cannot see how they can compete with the other players in the region. It is unsurprising that their Indian routes bleed. Besides price, there really is few reasons to fly GF. Of course, I would fly them. But only based on price. Thumps down.
SCORING: (please let me know what you think of this new graph based scores which make it easier to benchmark)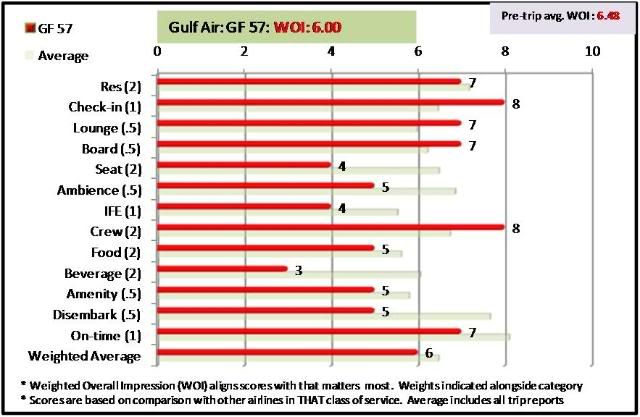 VI> Other Trip Reports:
PREMIUM:
8.64:
Turkish Airlines (59): JFK-IST: 11/2008
8.61:
Air Canada (49): YYZ-SCL: 06/2008
8.30:
Jet Airways (74): KWI-BOM: 04/2009
8.23:
United Airlines (72): SFO-SYD: 03/2009
8.11:
Aeroflot (33): MOW-DEL: 09/2007
8.04:
Korean Air (40): NRT-ICN: 10/2007
8.02:
Delta Airlines (24): JFK-CDG: 08/2007
7.46:
LAN (55): YYZ-JFK: 09/2008
7.82:
Singapore Airlines (06): EWR-SIN: 09/2006
7.14:
Swiss (52): SCL-GRU: 06/2008
7.02:
Qatar (68): DOH-JFK: 01/2009
6.96:
Etihad (61): JFK-AUH: 12/2008
6.93:
Delta Airlines (18): SEA-JFK: 11/2006
6.84:
ConViasa (65): CCS-DAM: 01/2009
6.81:
Air Canada (17): ICN-YYZ: 10/2006
6.70:
KLM (32): EBB-AMS: 08/2007
6.36:
Privatair (60): MUC-BOS: 12/2008
6.25:
Korean Air (45): NAN-ICN: 10/2007
6.11:
TAP Portugal (53): GRU-OPO: 06/2008
6.00: Gulf Air (75): BOM-BAH: 04/2009
5.75:
Singapore Airlines (16): CCU-SIN: 10/2006
5.64:
NorthWest (46): ICN-NRT-SEA: 10/2007
5.39:
LOT (54): WAW-JFK: 06/2008
5.21:
Egypt Air (73): CAI-IST: 02/2009
5.07:
TACA (66): JFK-SAP: 01/2009
4.42:
Air France: CDG-JNB (25): 08/2007
ECONOMY: Long + Medium:
9.26:
Air India (48): JFK-DEL: 02/2008
7.38:
Avianca (01): BOG-LIM: 07/2006
7.07:
Sri Lankan (62): KWI-CMB: 12/2008
6.41:
American Airlines (58): LHR-BOS: 11/2008
6.26:
Jet Blue (21): CUN-JFK: 02/2007
6.06:
Air Canada (04): YYZ-YVR: 09/2006
5.89:
USA 3000 (19): PUJ-BDL: 01/2007
5.85:
Spanair (69): MAD-LPA: 02/2009
5.79:
Air New Zealand (42): RAR-NAN: 10/2007
5.46:
TAP Air Portugal (23): OSL-LIS: 05/2007
5.19:
Air Europa (70): LPA-MAD: 02/2009
5.16:
Iberia (71): MAD-BOS: 02/2009
ECONOMY: Short
8.56:
Paramount Airways (38): BLR-MAA: 09/2007
8.56:
Kingfisher (64): HYD-CCU: 12/2008
8.24:
Kingfisher (14): IXA-GAU: 10/2006
7.87:
Indian (34): BOM-MAA: 09/2007
7.72:
Alliance Air (13): CCU-IXA: 10/2006
7.57:
Indian Airlines (10): DEL-CCU: 09/2006
7.23:
West Jet (03): YYC-YVR: 09/2006
7.15:
JetLite (37): BOM-GOI: 09/2007
6.70:
Spice Jet (09): CCU-DEL: 09/2006
6.63:
Air Fiji (44): NAN-SUV: 10/2007
6.63:
Jazeera (67): DAM-KWI: 01/2009
6.58:
Air Tran (02): EWR-MDW: 08/2006
6.48:
Air India Express (63): CMB-MAA: 12/2008
6.44:
CO Micronesia (39): ROR-YAP: 10/2007
6.41:
Pacific Sun (43): NAN-SUV: 10/2007
6.37:
Skybus (47): SWF-CMH: 02/2008
6.33:
Kenya Airways (29): NBO-BJM: 08/2007
6.33:
Sky Europe (56): LTN-BTS: 10/2008
6.31:
Indigo (15): GAU-CCU: 10/2006
6.31:
easyJet (57): BUD-LTN: 11/2008
6.22:
Air Link Swazi (28): MTS-JNB: 08/2007
6.22:
Air India (36): HYD-BOM: 09/2007
6.13:
Adam Air (07): SIN-CGK: 09/2006
6.13:
Air Rarotonga (41): RAR-AIT: 10/2007
6.00:
Transairways (27): INH-MPM: 08/2007
5.95:
Air Canada (05): ALB-YYZ: 09/2006
5.85:
SAS Norge (22): OSL-AES: 05/2007
5.81:
LAM Mozambique (26): JNB-MPM: 08/2007
5.69:
Air Deccan (12): IXZ-CCU: 10/2006
5.67:
Rwanda Air Exp (30): KGL-NBO: 08/2007
5.07:
Go Air (35): MAA-HYD: 09/2007
5.00:
Sky Airline (51): IQQ-SCL: 06/2008
4.96:
Valuair (08): CGK-SIN: 09/2006
4.78:
Air Comet Chile (50): SCL-IQQ: 06/2008
4.74:
Fly 540 (31): MYD-LAU: 08/2007
4.33:
Viva Aerobus (20): ELP-MTY: 02/2007
4.11:
Air Sahara (11): CCU-BOM: 09/2006
(Note on Codes: Y – Economy, J – Business, F – First :: I/D – International/Domestic :: SR/MR/LR – Short/Medium/Long Haul)
(Note on Date: Dates are modified to be +/- 3 days from actual flight date to not reveal actual flight pattern)
VII> Other Pictures:
NONE