Virgin America was established in August, 2007 and with it came promises of bringing "low fares and high quality service". In typical Richard Branson fashion, the airline celebrated its first day with lots of fan fare, press and camera flashes all around. Over the last eighteen months Virgin America has received headlines for numerous issues ranging from lawsuits by competitors to well known aviation analysts predicting their abrupt and immediate demise. Despite all this the airline has wavered on, slowly announcing new destinations and garnering rave reviews most of which are from frequent flyers who were very loyal to their respective airlines.
Having never been a large fan of anything Virgin, (least of all Virgin Atlantic) which from my experience has failed to deliver anything remotely consistent or memorable. It was with some apprehension (but more curiosity) that I booked a one way from Los Angeles to Boston for a mere $79 plus tax. So far Virgin America delivered on their "low fare" promise, now it was time to see if they airline could pull off the other half of their lofty promise and deliver high quality service.
Virgin America 360
Los Angeles - Boston
Airbus A320-214 (N624VA) (
f
red, white and blue)
Seat: 19A
Scheduled Departure Time: 7:00
Actual Departure Time: 6:54
Scheduled Arrival Time: 15:25
Actual Arrival Time: 14:59
Check In:
As with most airlines, check in opens 24 hours before the flight. As my work day died down on Friday, I logged onto Virgin America's website and printed off my boarding pass before heading for the airport to catch my flight to Los Angeles. Flying non revenue is always tough but thankfully I made it to Los Angeles without any problems.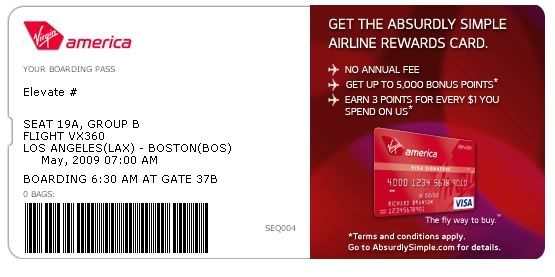 At around 5:30 the next morning, I met up with two friends who had decided to join me on the trip. All three of us walked up to one of the white Mac screens on the check-in table and proceeded to check in and get some freshly printed boarding passes.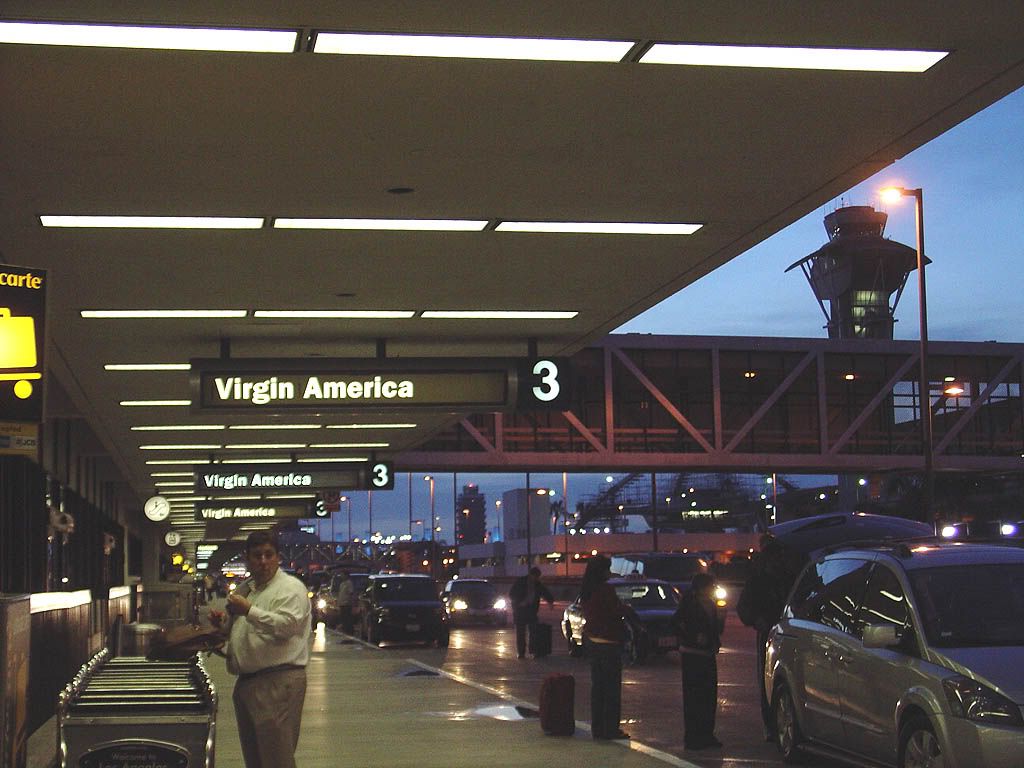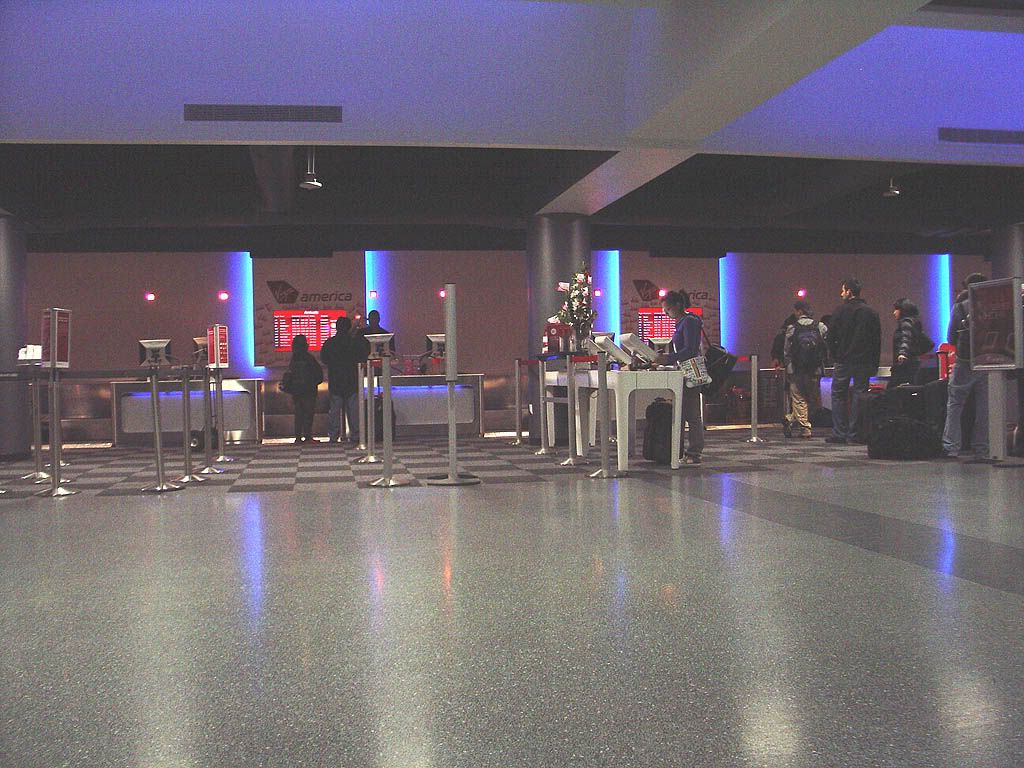 The boarding passes that came out were rather interesting and unique. While they were printed on real thick boarding paper stock, they were half the size with a bright red back.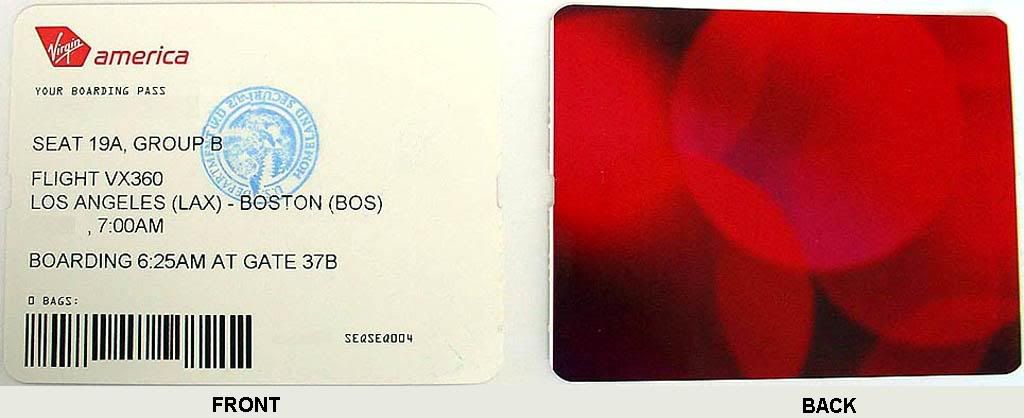 Security was a rather simple affair at this early hour and we were through in no time with a large TSA stamp ruining our otherwise pristine white boarding pass. The last time I had ventured through doors of Terminal 3 was back in 2003 when I flew Alaska Airlines up to San Francisco. Sadly, the only thing that seems to have changed since then is the frequent flyer card in my wallet. The terminal was still plain and drab, I was expecting a bit more of a remodel from Virgin America. Nevertheless their presence was still very prominent with a set of white counters being placed along one side of the pier. The counters were very similar to the check in desk area, but this time the computers were Dell rather than Mac.
There were not a lot of flights going out this morning, which is why I was very surprised when I walked over to gate 37B to look at our aircraft and found this on the gate screen.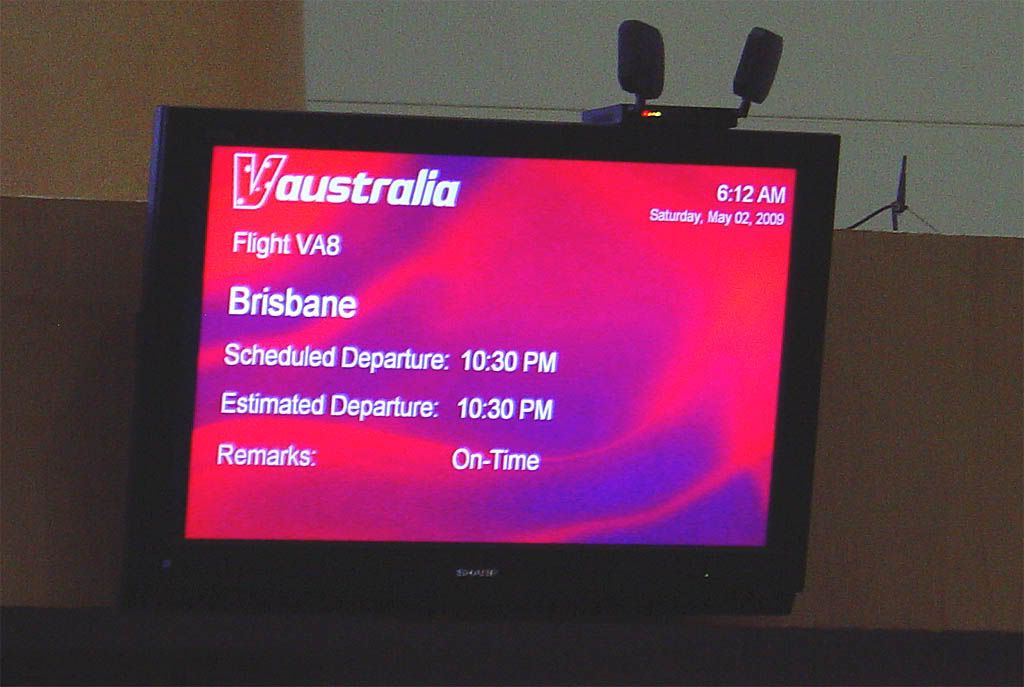 I could only be so lucky to be flying V Australia to one of my favorite places on earth. I'll give them credit though; Brisbane and Boston both start with a "B." The aircraft that was sitting outside was one of the earlier A320's delivered to Virgin America (June, 2006 to be exact), named
f
red white and blue. As many of you know, Fred Reid was Virgin America's original CEO before the Department of Transportation (DOT) requested his removal as a condition to let Virgin America fly.
Boarding:
Boarding was called by groups and since I had boarding group B, but my two friends had group C, we proceeded towards the gate together. I took all three boarding passes and handed it to the gate agent hoping he would not notice the different groups. He looked at me and smiled,
"Come on now, I have seen parents hold boarding passes for their kids but aren't you guys a bit too old to be doing this."
We chuckled and one of my friends commented about how he acts a like kid at times. The agent scanned all three boarding passes and wished us a pleasant flight.
As we walked onboard, we were greeted by a young male flight attendant who I shall call "E" from now on. We proceeded through the eight seat First Class cabin which looked very inviting unlike the majority of the airlines in this country. While the white leather seats with big red pillows looked very inviting, sadly we headed towards the back today. Almost all the window shades were still down and you could tell the mood lighting was in the full effect, shades of purple and blue lit up the rather dark cabin. Having flown numerous wide bodies with mood lighting, it was nice to see this feature on a domestic narrow body aircraft as it made the cabin look fresh and inviting.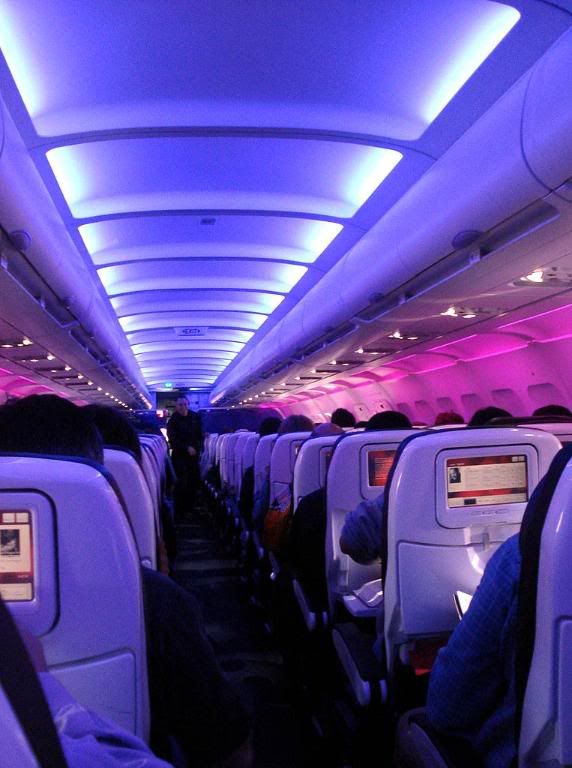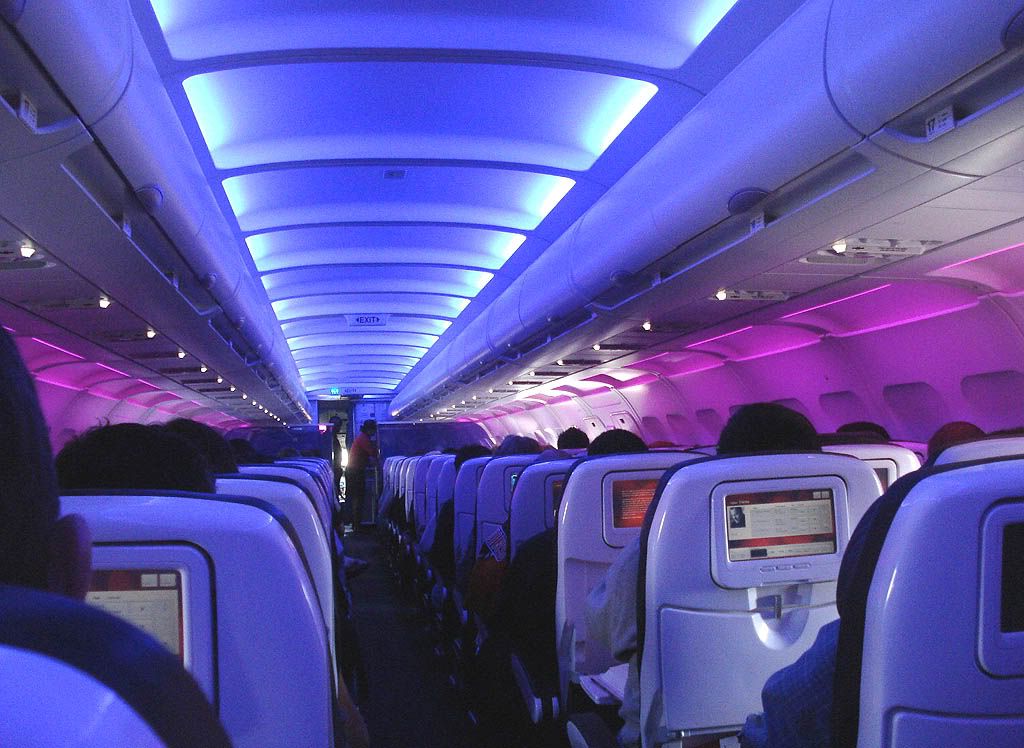 Once seated, the black leather upholstery was actually comfortable, much better than Delta's rigid blue leather seats. The legroom was standard, not overly roomy or anything but then again I have been spoilt with my years of exit row seats. The plane started to fill up quickly and it soon became apparent that it would be a very full flight today. Then again, what do you expect for the bargain basement price of $79 one way with tax? The only thing in the seat pocket other than the safety card was a little booklet outlining some features available on Virgin America.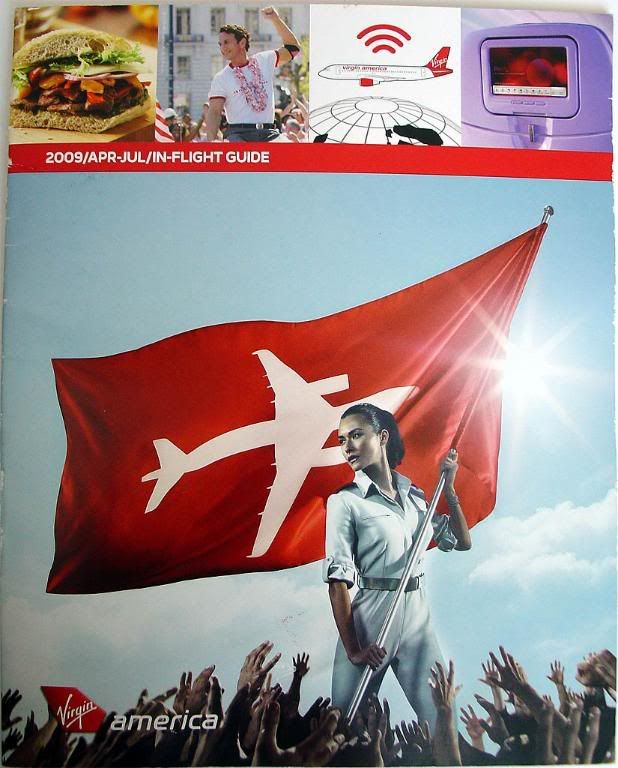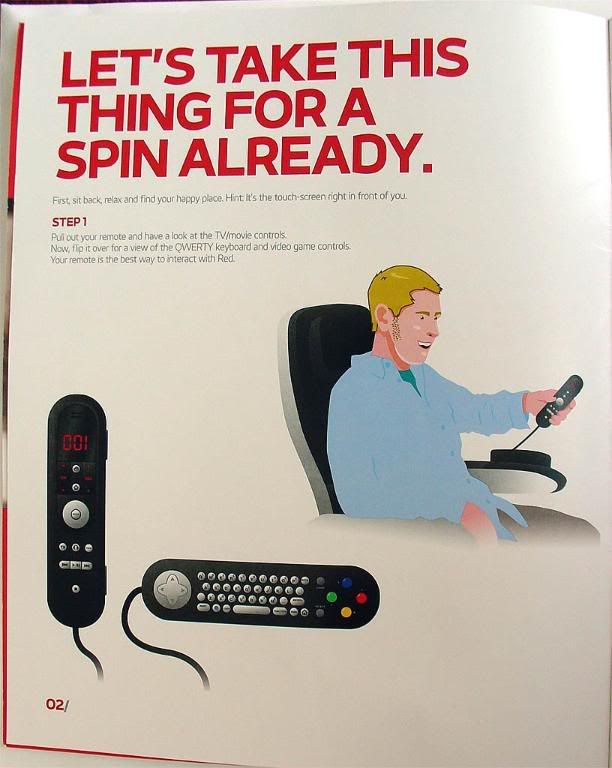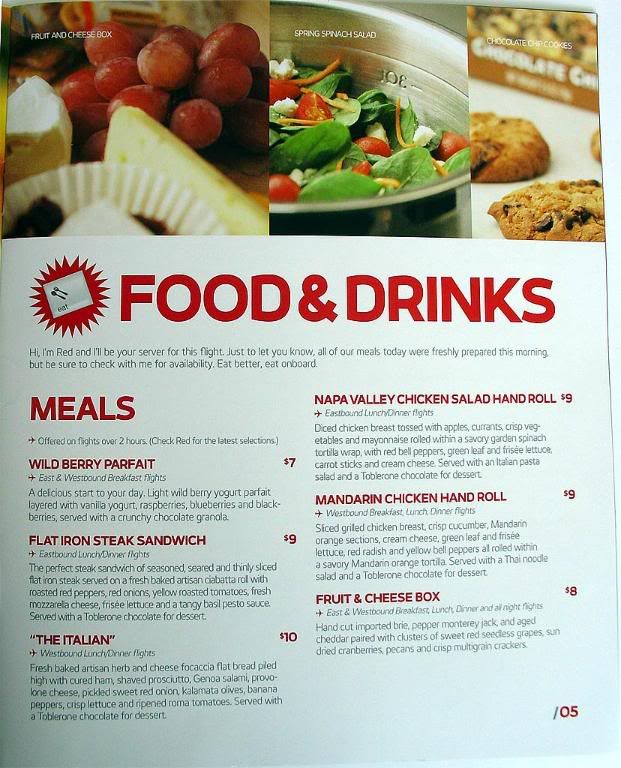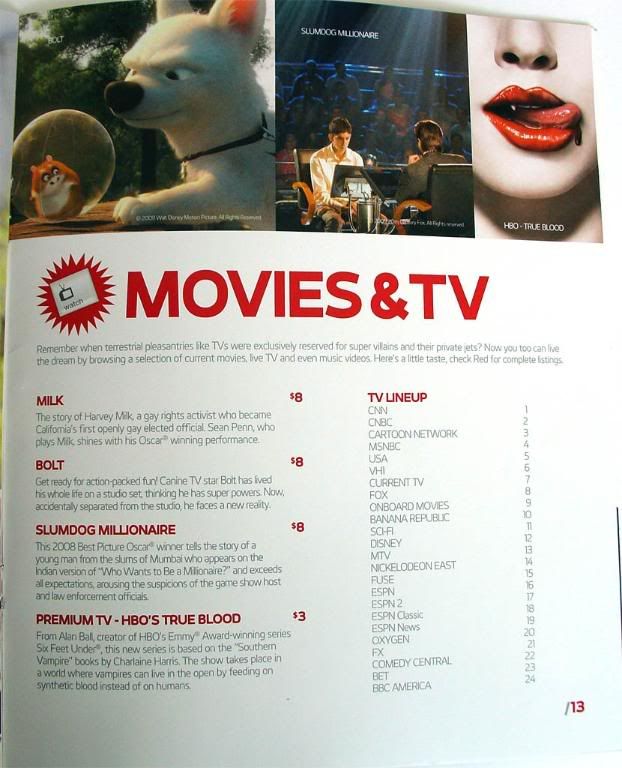 The captain came on to welcome us and proceeded to mention our entire route and all the landmarks we would pass. As one of my friends is a first officer for another airline, he just looked at me with a smirk and an "I guess we got a chatty one up front." Then again, having flown with my friend for the first time not too long ago, he must have muttered a total of ten words on a three hour flight. I smirked back it would not be a bad idea for him to be more vocal at work. He just shrugged and said, "that's what the other crew members are there for."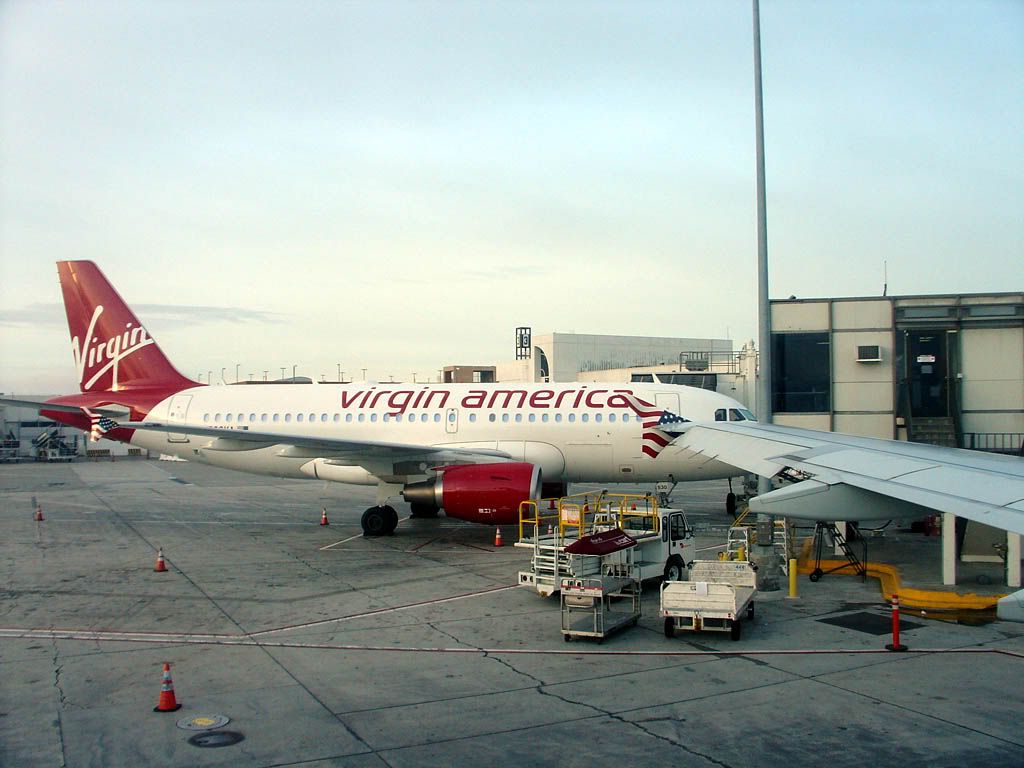 Soon thereafter the cabin door was closed and one of the flight attendants introduced the cabin crew and mentioned how delighted they were to have us onboard today. Pushback occurred six minutes early at 6:54 with the rather humorous cartoon safety video being played on all our PTV's.
Virgin America Airbus A320 Safety Video
Once both our CFM engines were sufficiently pumping with Jet-A, we began our quick taxi to 24L which was desolate at this early hour.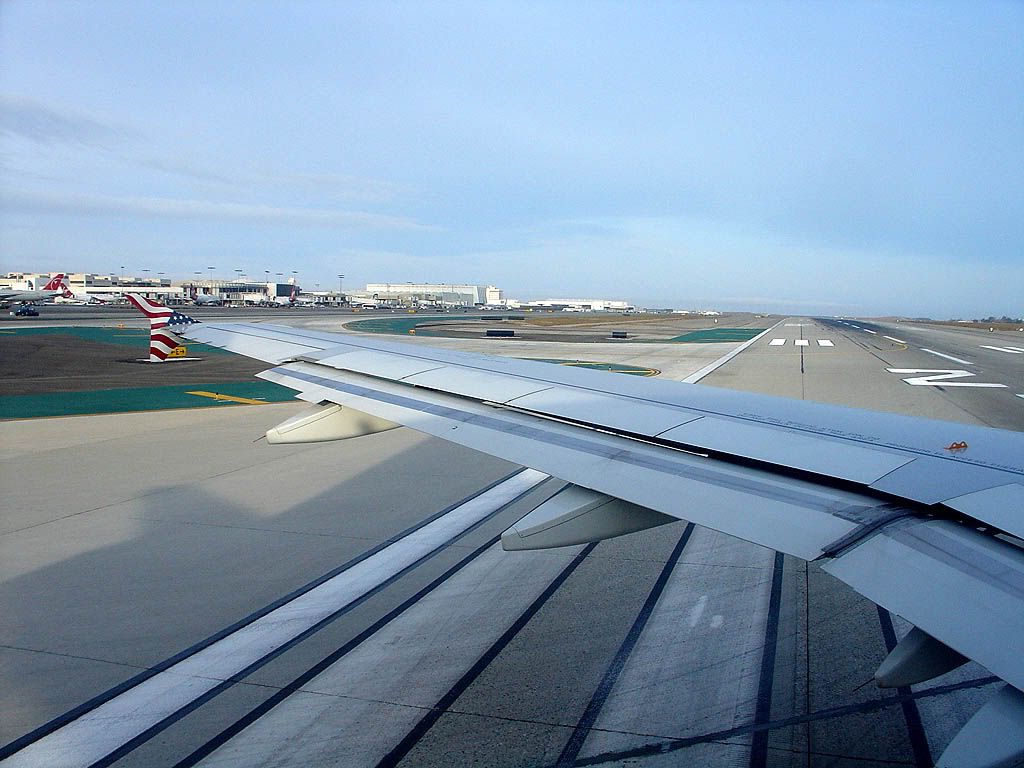 With no one else in line for take off, we started speeding down the runway almost as soon as we reached it and rocketed towards the Pacific Ocean. A couple of turns later were flying over Los Angeles headed towards the Northeast.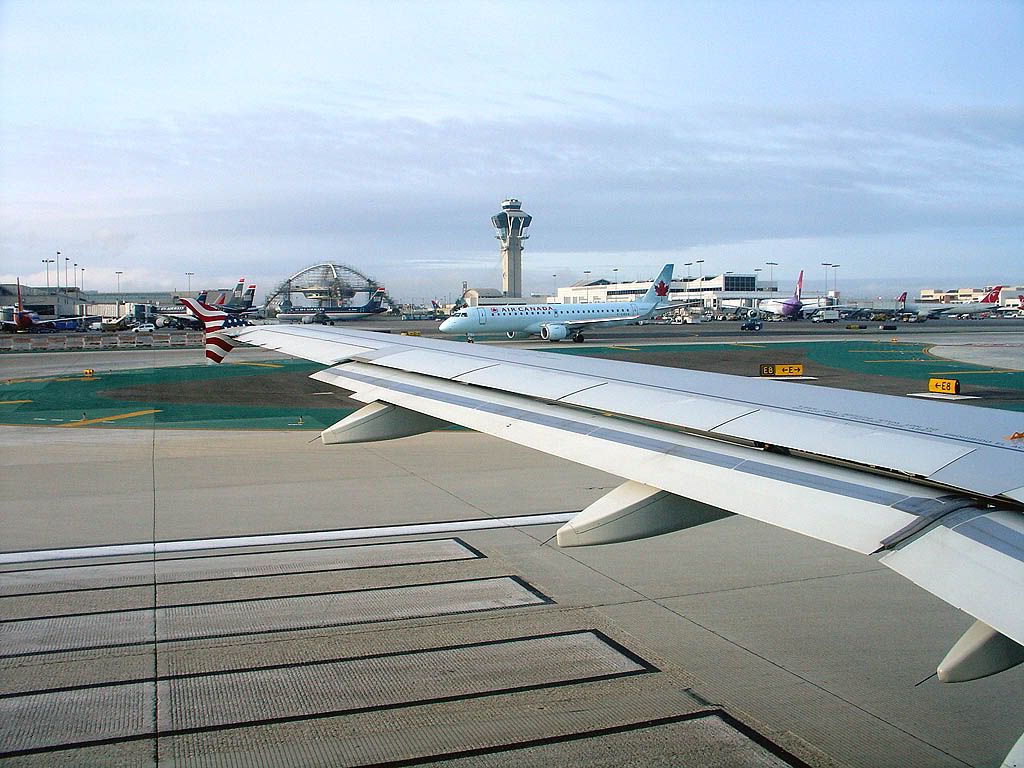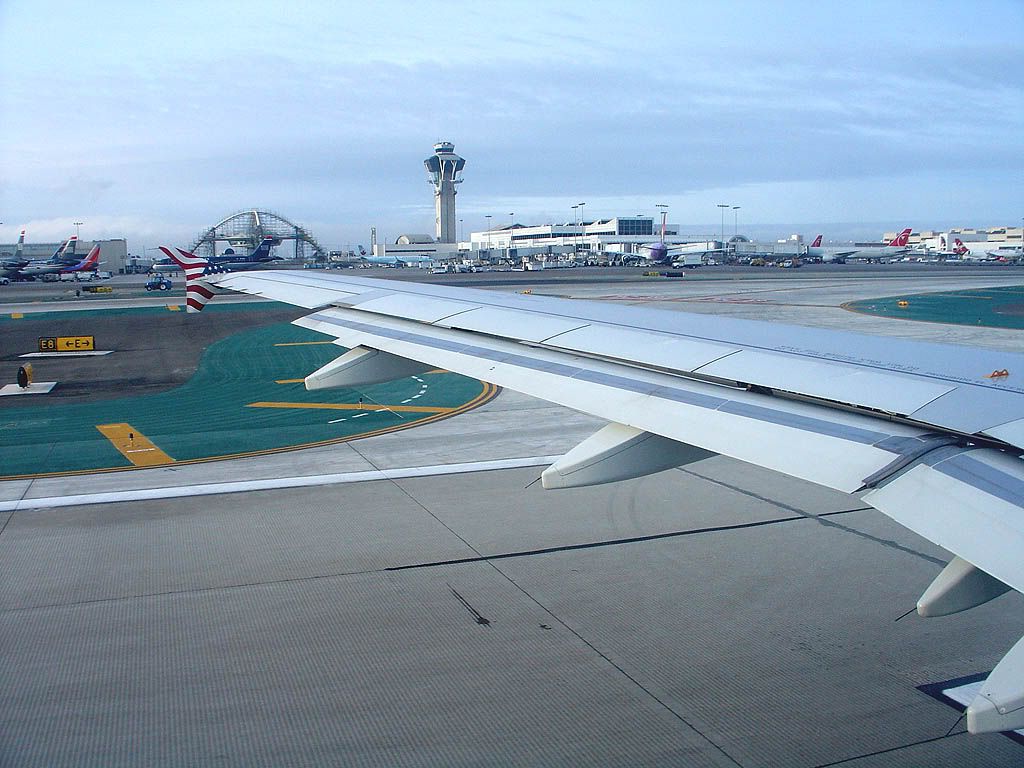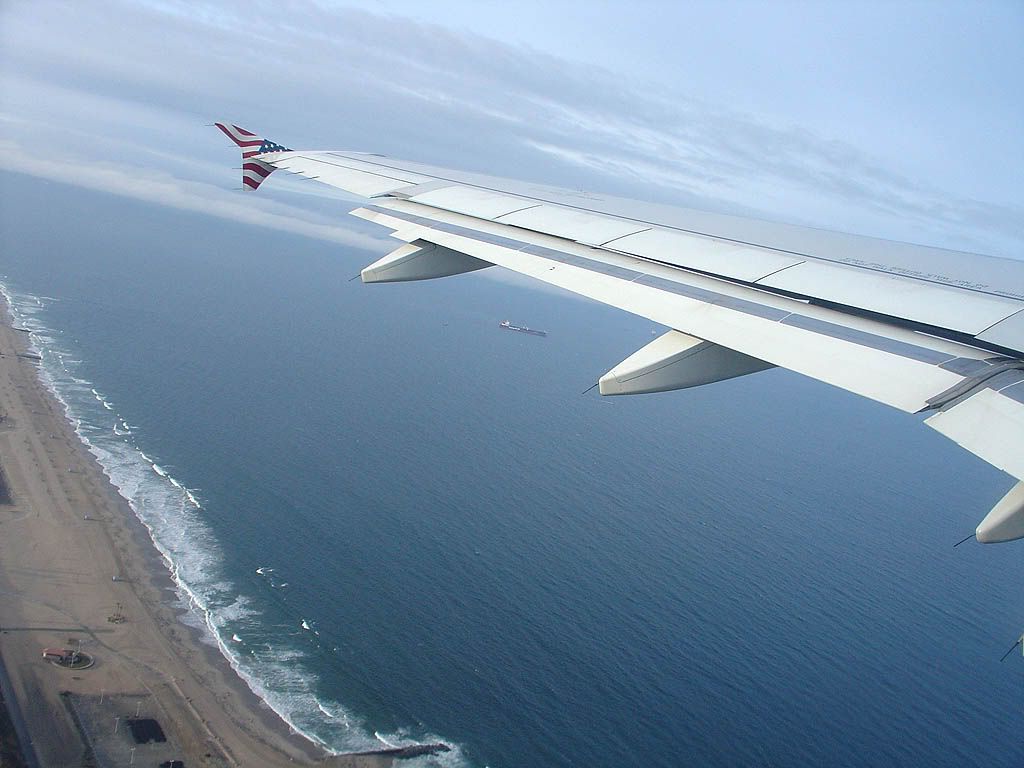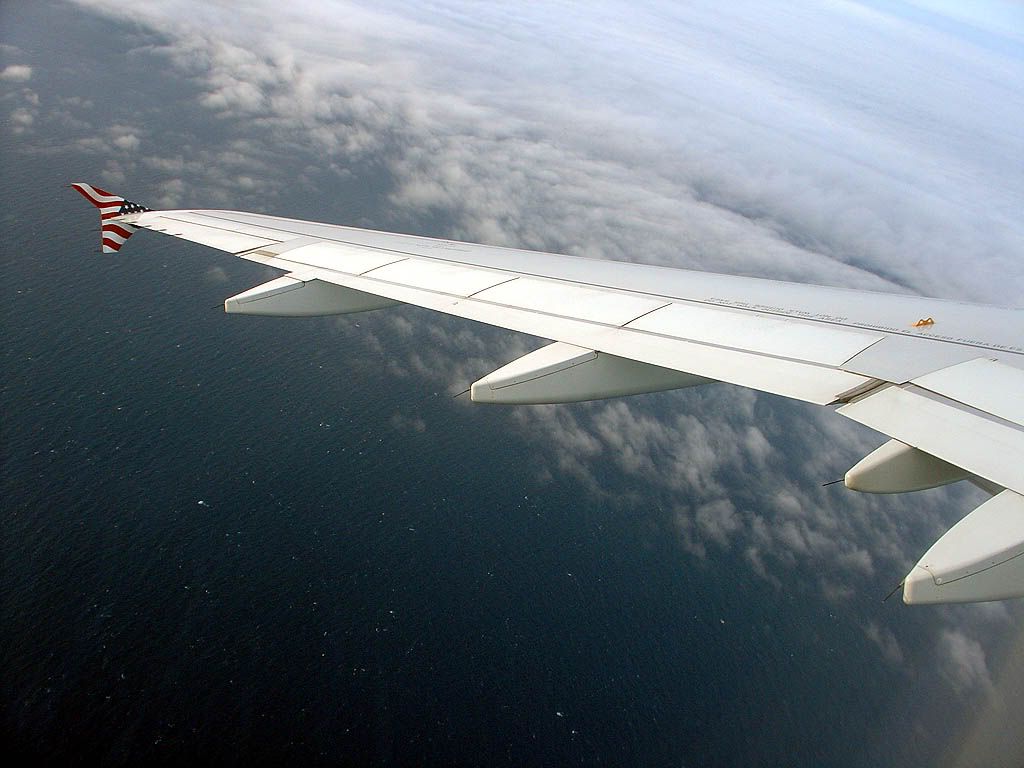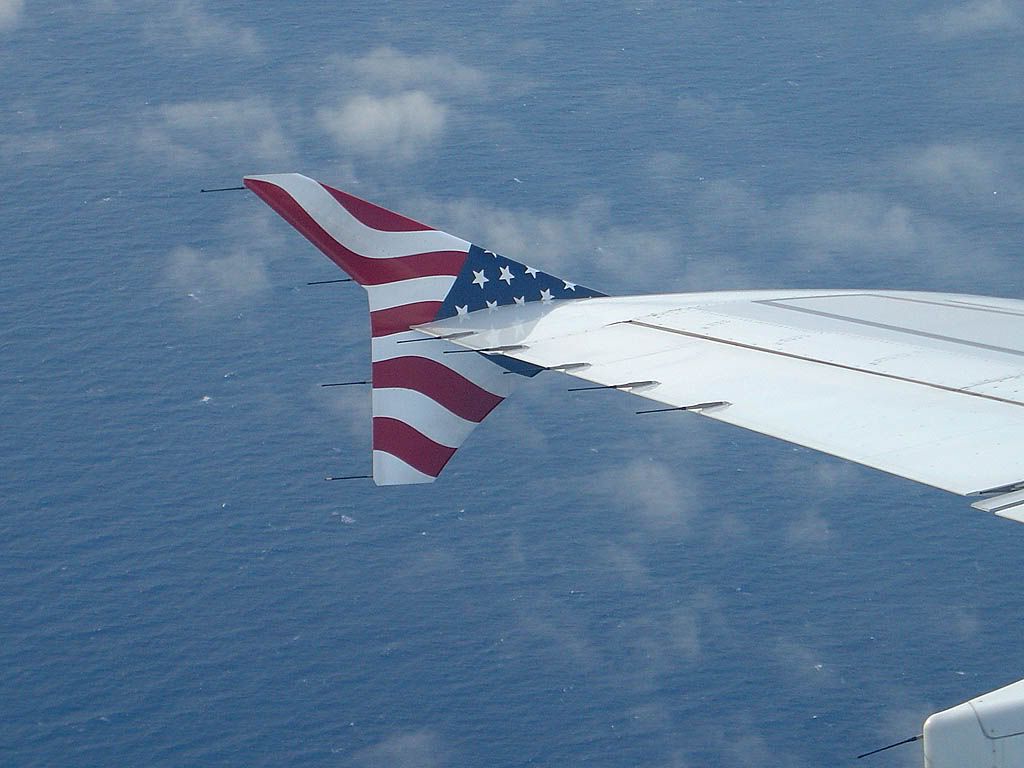 The Flight:
As we began to level off, the crew were released and we all started playing around with our PTV system which is affectionately known as "Red" by Virgin America.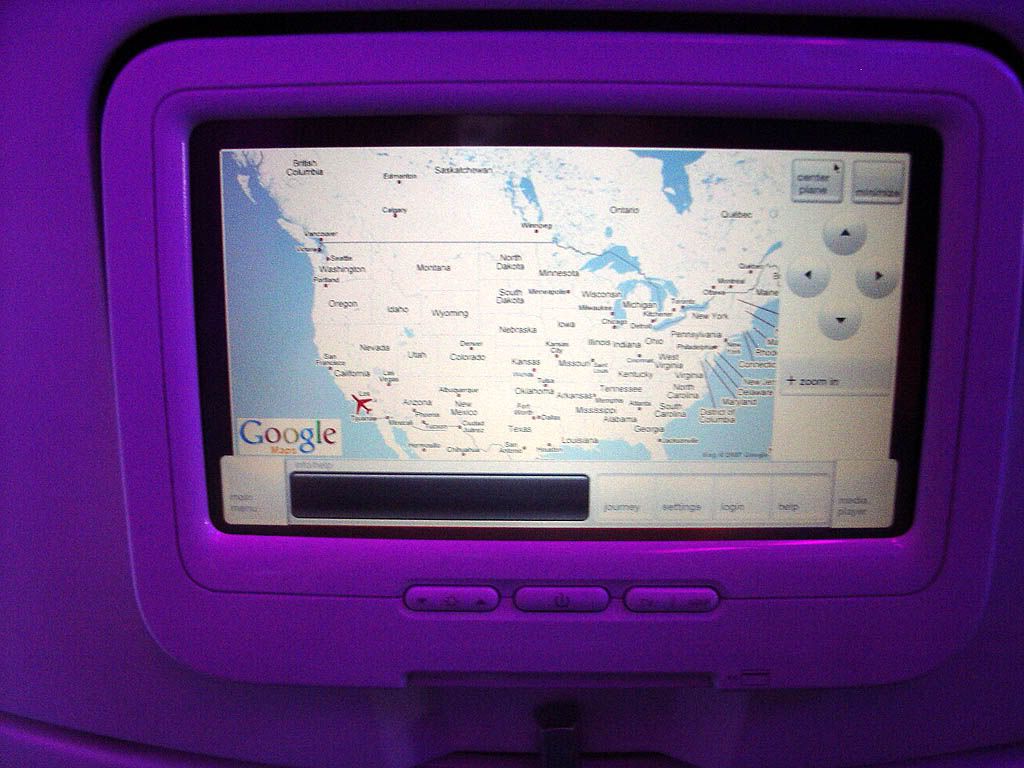 For those of you who are unfamiliar with it, one of the unique things about the system is the ability to order food and beverages from your seat with a swipe of your credit card. All three of us decided to order something different, but we were in for a rather rude awakening when we saw the menu options.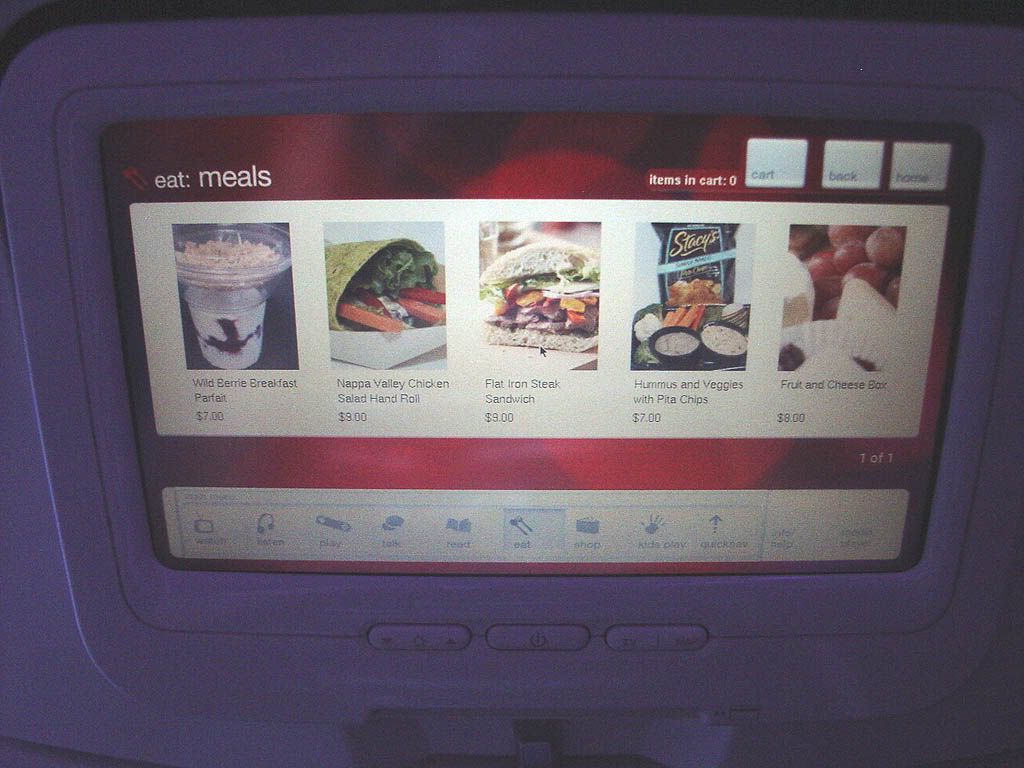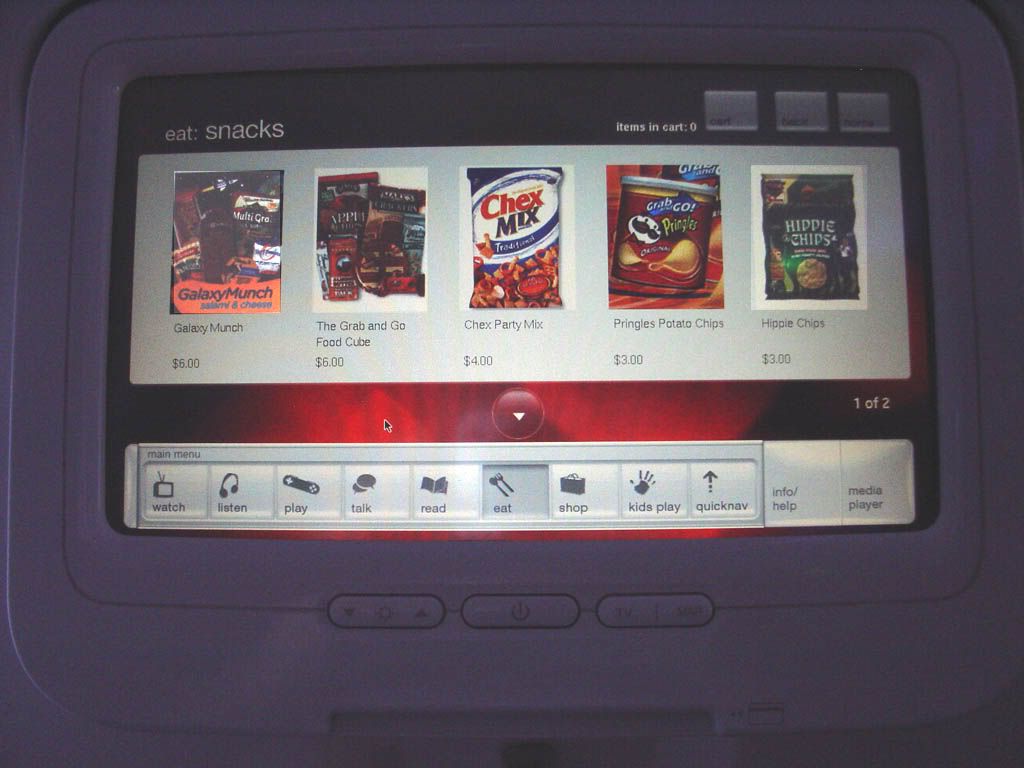 As you can see from the four options on offer above, only one was a breakfast item and maybe only two fit the profile of "before 11am." As our watches were firmly stuck on 7:25am, we just decided to bite the bullet and still take something different each. My friend in the aisle chose the yogurt parfait and a diet coke while my friend in the middle chose the steak sandwich, a cup coffee and a box of chocolate chip cookies. I picked the cheese and fruit box with a cup of tea. We all processed our orders and swiped our plastic cards almost at the same time.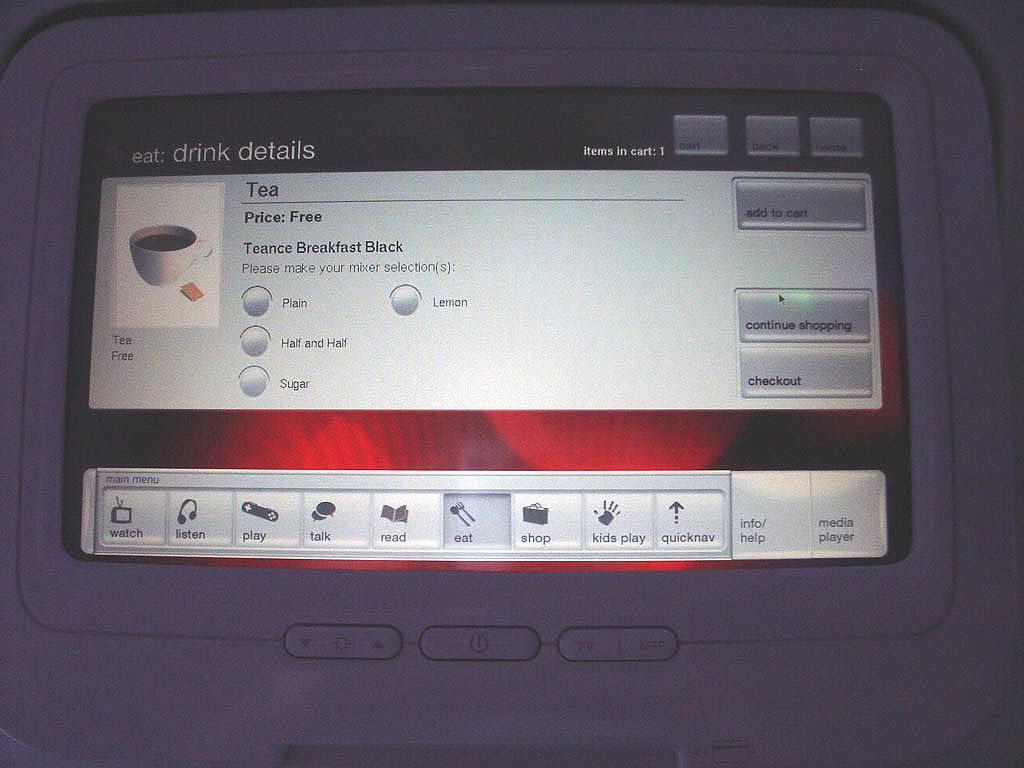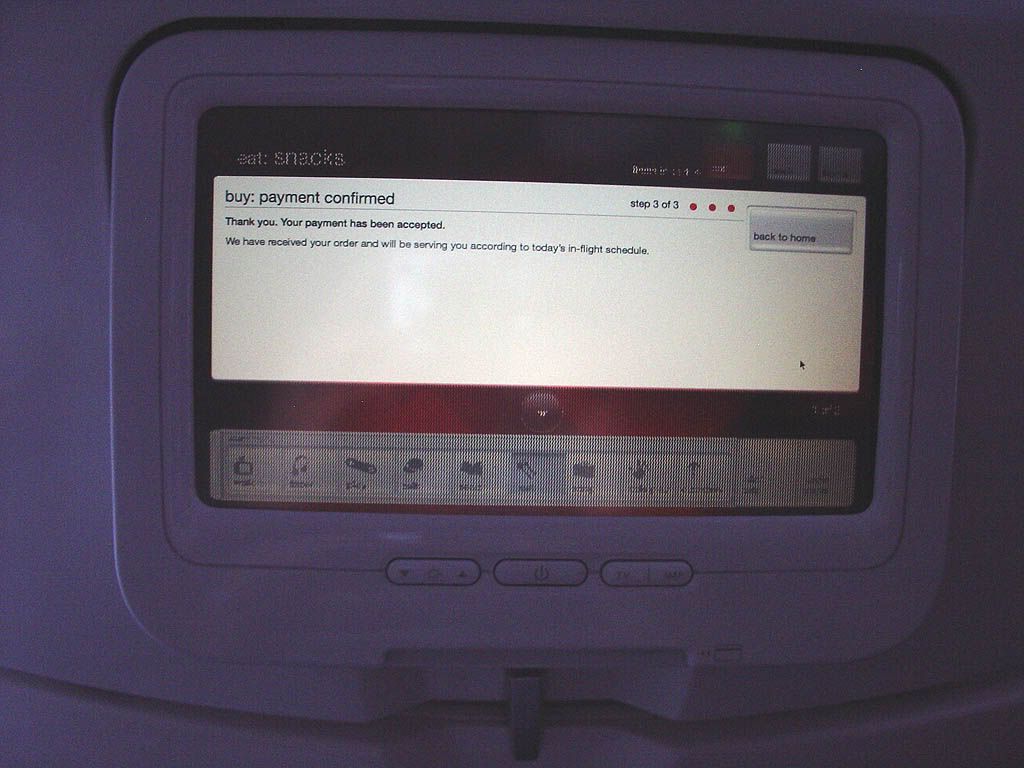 I found it interesting that when I opted for tea, it asked if I wanted sugar, half and half, lemon or to keep it plain. Within five minutes of ordering, "J" was by our side with a smile holding our food. "M" followed her a few second later with our drinks.
"We put the milk and sugar in one cup since we assumed you all know each other and wouldn't mind sharing."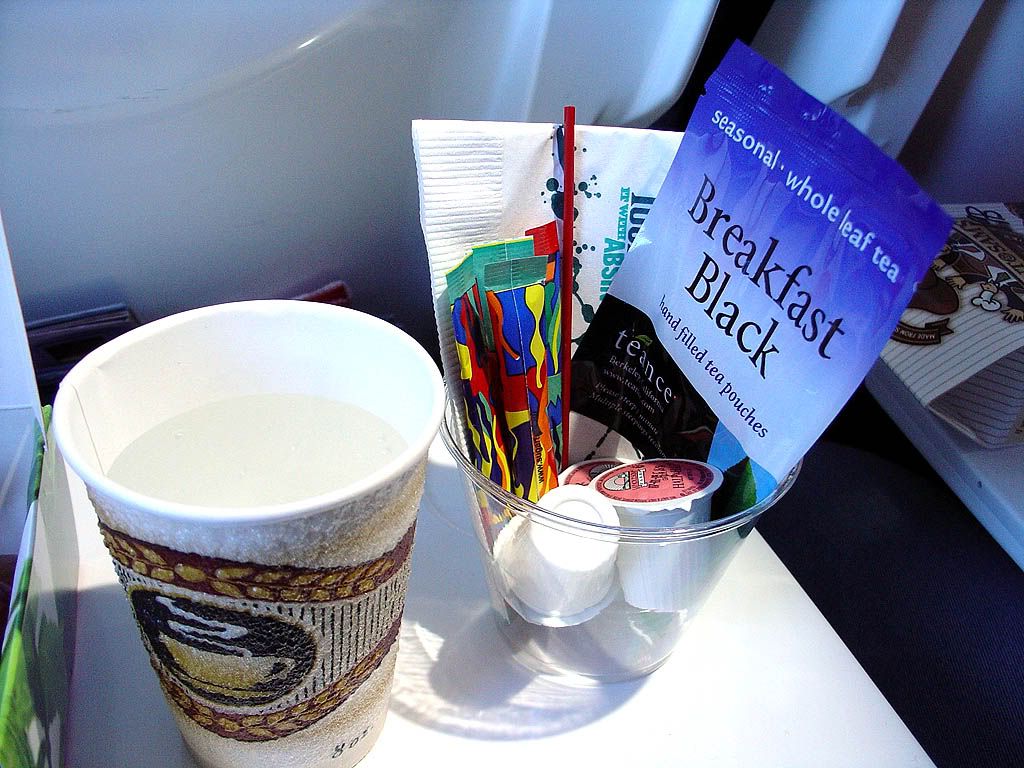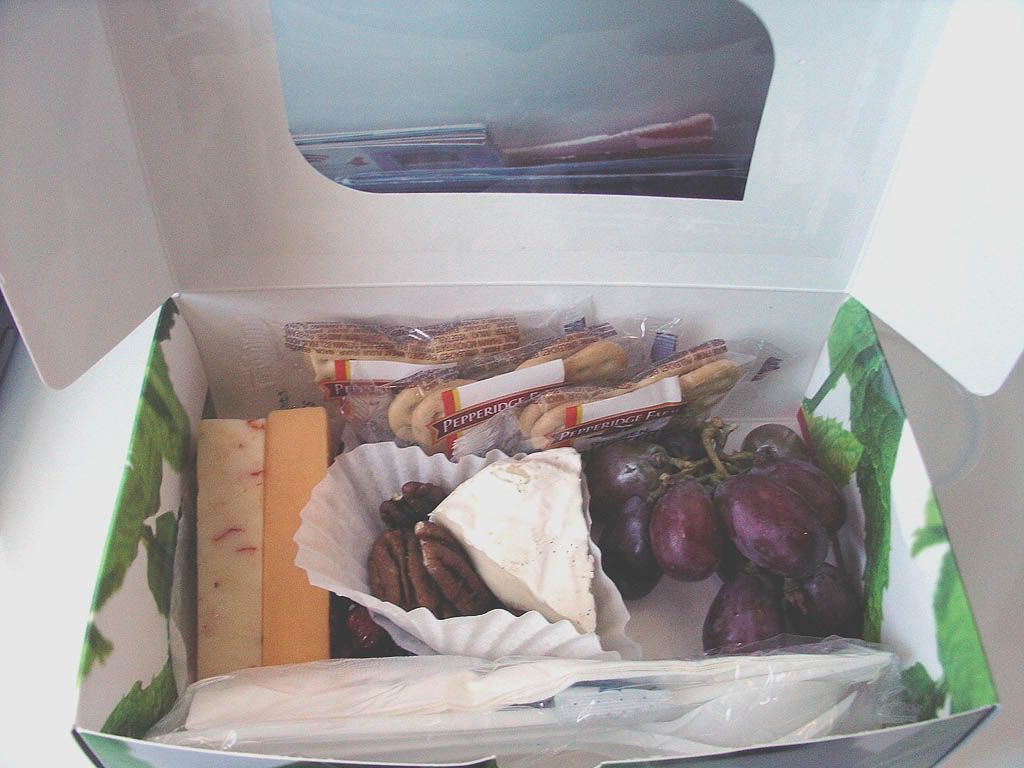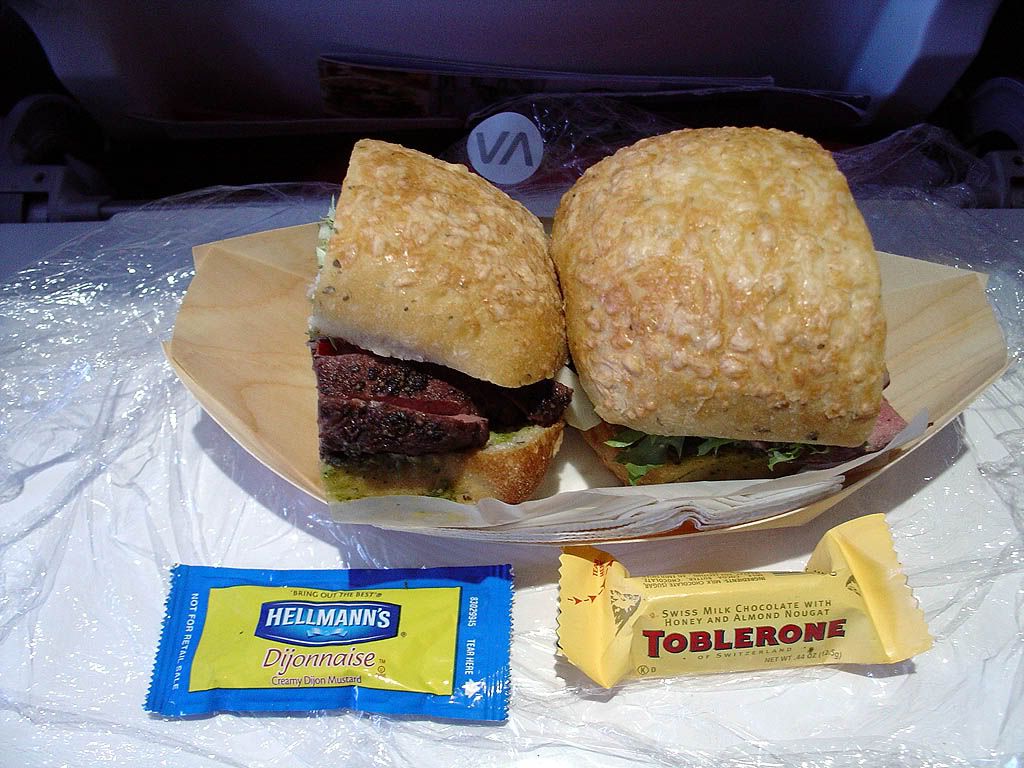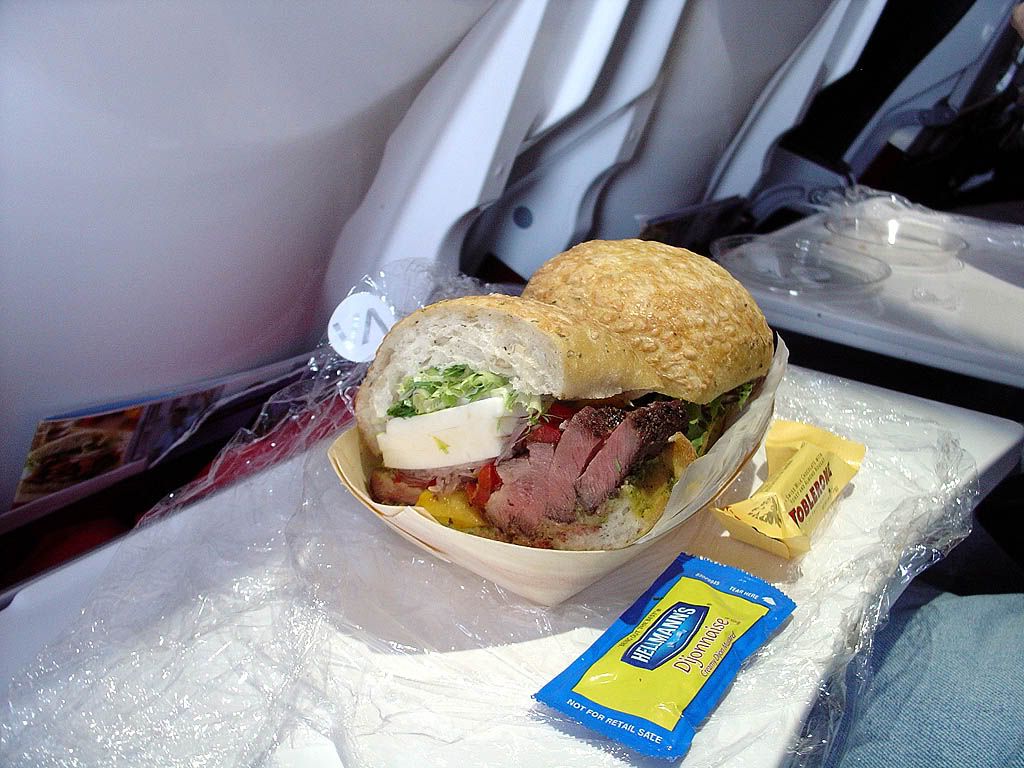 The yogurt parfait was pretty good according to my friend and he was happy he had chosen it. The steak sandwich was also nothing to rave about, it was cold and the meat was rather thick and chewy, certainly not worth anywhere near $9. The cheese box was again not worth anywhere near $8 and was filled with the standard processed stuff that one could find at a grocery store for 1/4th the price or even a domestic airline lounge.
This really is one of Virgin America's weakest points. For comparison, Song (when it existed) had a vast menu with some really nice food on offer including breakfast only items such as turkey bagel sandwiches at reasonable prices. If Song could pull it off, there is not reason Virgin America can't. Start by introducing some more breakfast items for morning flights and maybe even the possibility of selling mini pizza's or hot sandwiches during later parts of the day. The ovens already exist onboard, so why not turn them into revenue generators? Then again that may just be the airline manager in me speaking; I have to keep in mind I don't work for Virgin America.
There were about 12 movie options on today's flight, all of which cost $8 each. Not willing to pay to watch any of them, I went ahead and just flicked through the 24 live TV channels on offer. To date my luck with live TV on aircraft has never really held, with the exception of one international carrier. Naturally, Virgin America was no exception. Some channels were out of service, others had patchy screens while some would cut out at random moments in time. I tried watching "The Devil Wears Prada" on USA, but after about five minutes, this is what my screen started looking like.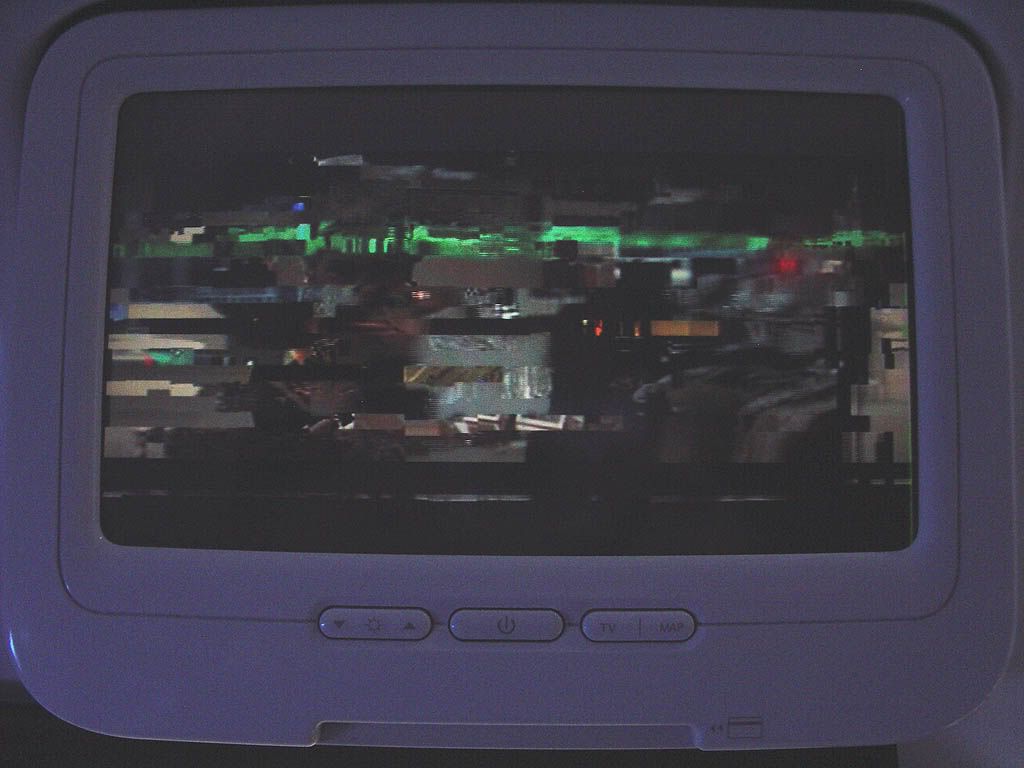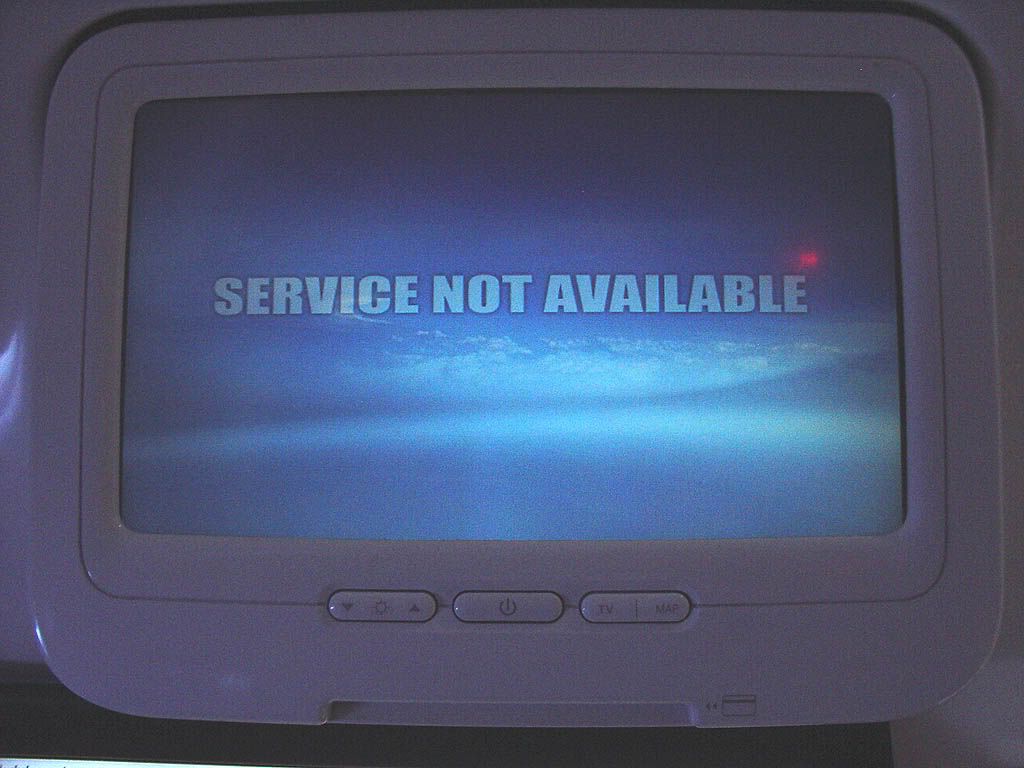 Giving up on LiveTV during the first 90 minutes of a five hour flight is never a good sign. Instead I switched over to their music selections to see what was on offer. I was ecstatic to see I could make my own playlist let alone pick from a bunch of electronic/dance music including one of my all time favorites, Paul Van Dyk. Congratulations Virgin America, your music system certainly beat out Jetblue and is in line with many premium International carriers.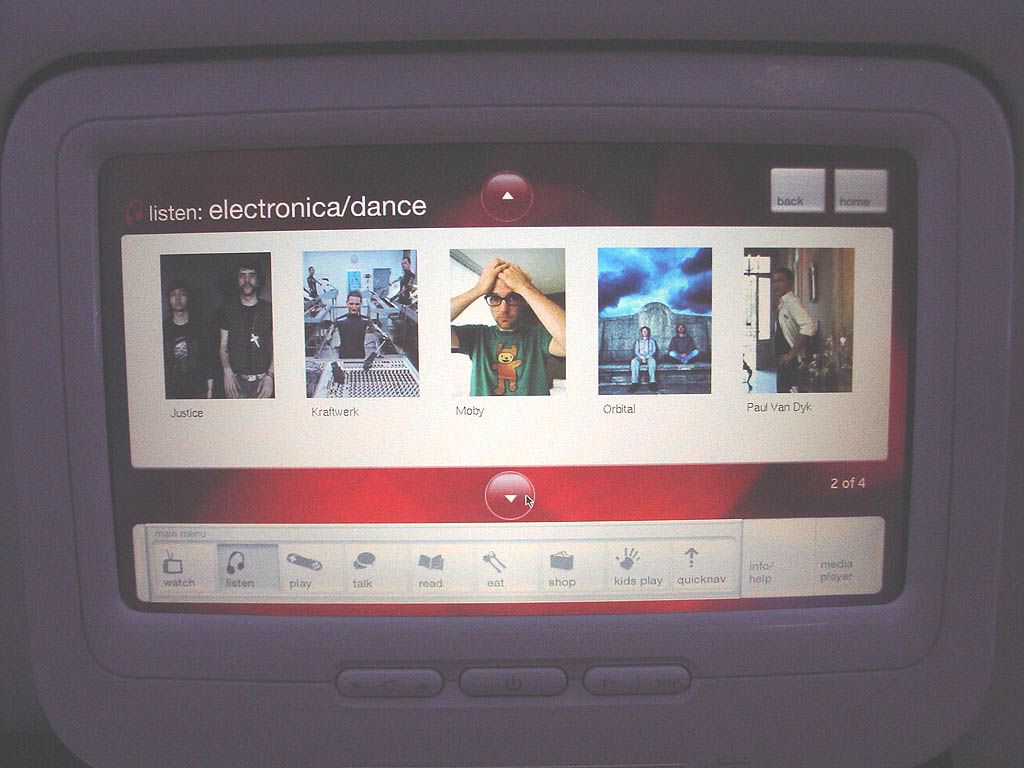 I decided to order a bottle of water using "Red" again while my friend in the center seat decided he would order a second cup of coffee. Within minutes of placing our order, "J" was by our side with the drinks. We opened up the packet of cookies my friend had bought earlier and tried to savor every single morsel for as long as we could, at a $1 a cookie, it was a rather expensive junk food endeavor. Nothing to complain about though, the cookies were just like any other packet of cookies that you can buy at your local grocery store.
After all those liquids earlier in the flight, nature was calling so I signaled my seat mates that it was time to head to the rear of the aircraft. We all reached the back of the aircraft where "J" and "M" were preparing items that were being ordered by passengers using "Red." As both bathrooms were occupied at this point in time, we all stood around trying not to get the crew's way, but no matter how hard you try, you always end up right in front of something that the crew need.
In my case I was standing in front of a mini floor level cabinet full of water bottles. "M" approached me,
"Mind if I get back there?"
"Oh sorry," was my reply.
"That's one heck of a Boston accent you got there!"
The look on my face must have hinted to him that he just blurted out something very wrong. However before I could interject and say I have absolutely nothing to do with Boston or Massachusetts, my friend did it for me.
"He's not from Boston, hell he's not even from this country!"
At this point, "J" interjected;
"Oh wow! We only assumed you were because we no one even apologies for being in the way unless they are from Boston."
So began our long conversation with the "M" and "J." We talked about where we were from, what airlines each of us worked for and how we thought we would just try Virgin America for the heck of it. While we were having a great time chatting I could see the order list continue to grow, thus I excused myself into one of the now vacant lavatories.
One of the first things to hit me as I entered was the "groovy" 70's music playing. I almost felt like I was in some sort of Austin Powers re-make. The amenities in the bathroom were pretty much the same as any other domestic flight. However the soap was not infused with an overbearing scent of lemon grass and sandalwood like a certain other carrier, which I appreciate. Sometimes plain and clean is the way to go.
We all took our seats again and I started playing around with the music and map features. Suddenly all three flight attendants were by our side.
"We were talking it over in back and decided that since you did something special to fly us today, we would return the favor by doing something special for you. We are going to give you a round of drinks on the house, what would you guys like?"
To say we were surprised would be an understatement, especially when you consider the fact that none of us ever get free drinks on our own carriers. I thought about the Absinthe cocktail that was featured on all the napkins but "J" crushed that dream, "unfortunately we don't have any loaded today, you could always try on another flight."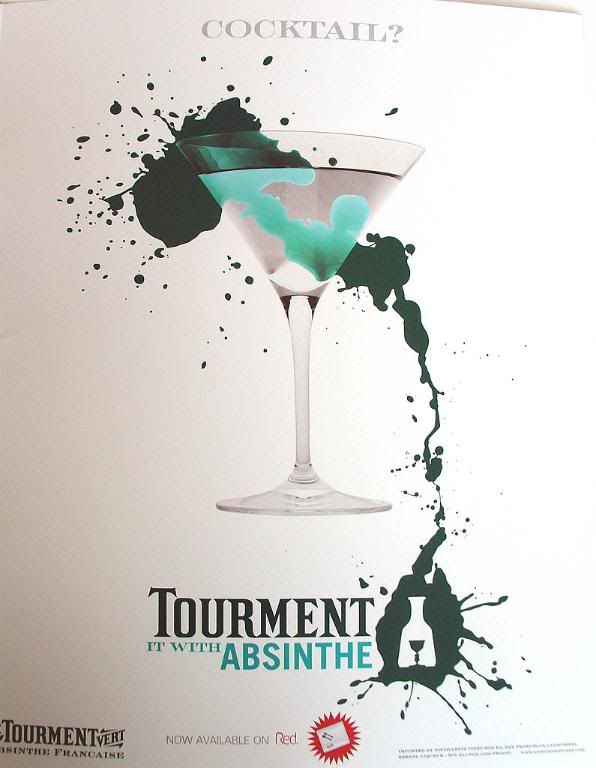 Nonetheless our scotch, white wine and Baileys were delivered a few minutes later by "E" along with some food. "This is our cheese plate that we serve in First Class, hope you enjoy it."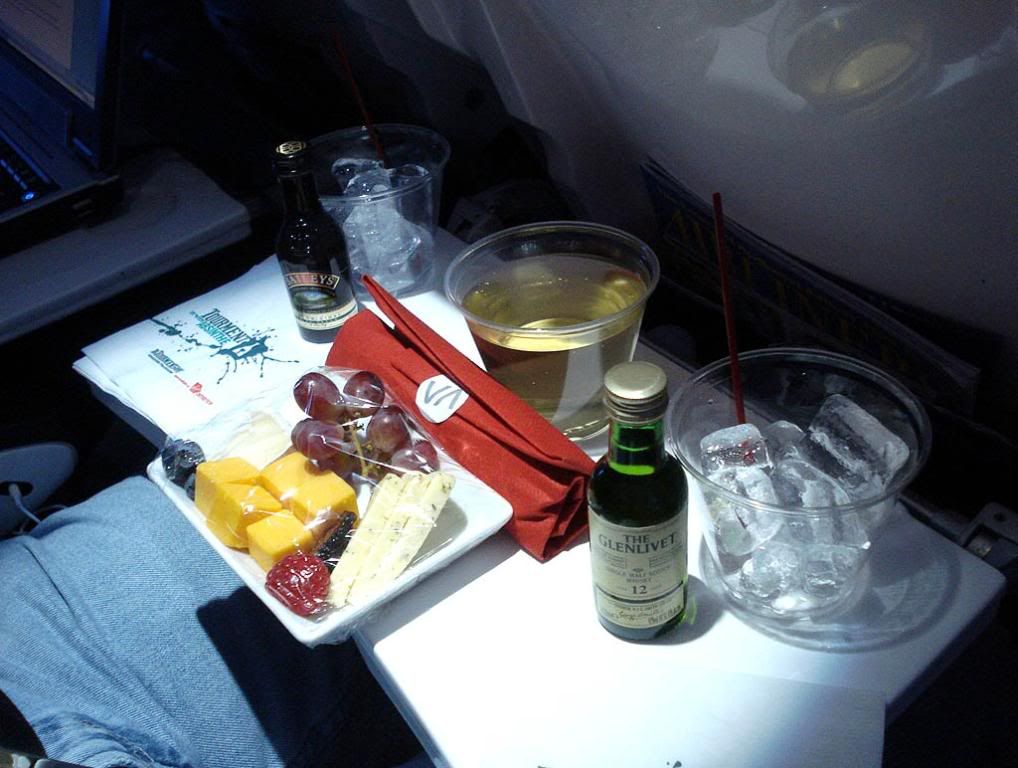 Free drinks and free food in coach on a domestic flight, could life get any better? Upon looking at the plate we noticed there were no crackers on there. However before we could say another word, "E" was back holding a bunch of crackers. I got to hand it to today's crew, they were always one step ahead.
As we started to gorge ourselves with the free food, "J" swung by check up on us to see how things were going. She asked about our jobs and mentioned how Virgin America was trying to start flying to Chicago and Phoenix due to the large number of employees living in those two areas. She even joked with my friend in the middle seat that he should switch and become a pilot for Virgin America. The cheese plate was certainly standard fare and almost identical to the box I had bought for $8.00 earlier. However, it seemed to taste a whole lot better this time round as it was free.
Later during the flight I noticed "J" take an anti bacterial wipe and run it along all the overhead bin handles. Now I don't know if this was in response to the Swine Flu outbreak or if this was something that all Virgin America crew do. That actually put a smile on my face, glad to see Virgin America going the extra mile for us passengers.
As the flight passed by, all three of us were engaged in idle chat when "M" appeared by our side again, "I got some more stuff for you guys." Three glasses of white wine and a large packet of Chex Party Mix were placed in front of us.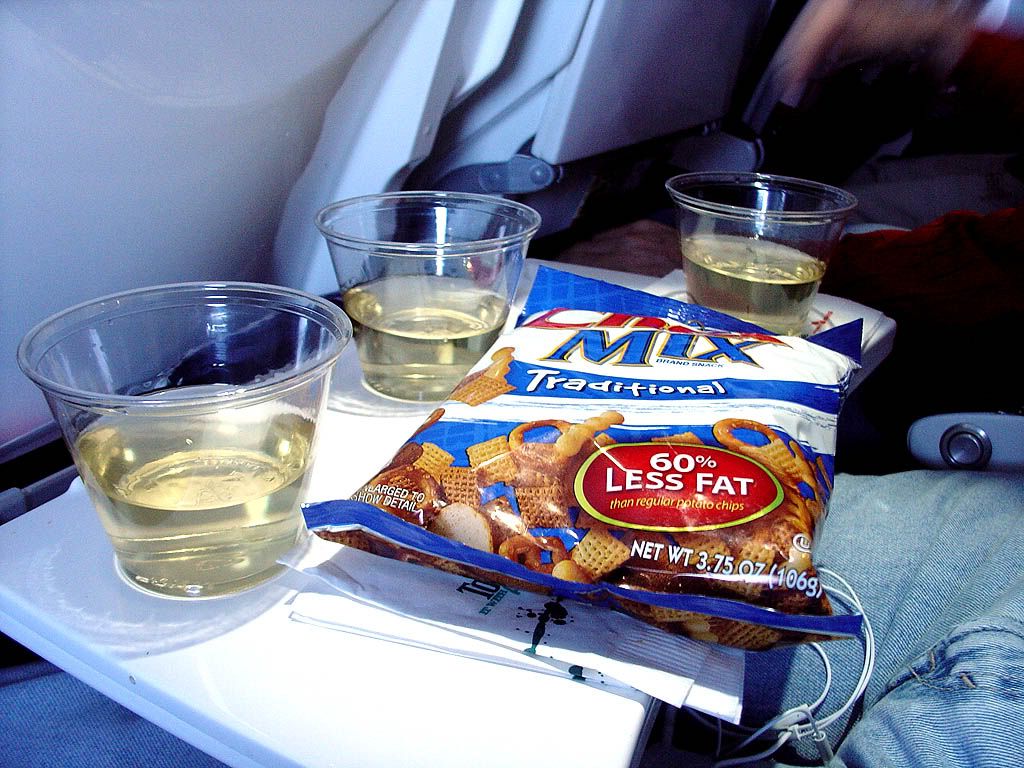 We were really happy right now with all the free stuff, but sadly the engines were throttled back and the nose was lowered as we had started our descent into Boston Logan. As we descended down, all three crew members stopped by one by one to ask about how we enjoyed our Virgin America experience. All three of us answered with a resounding "it was great!"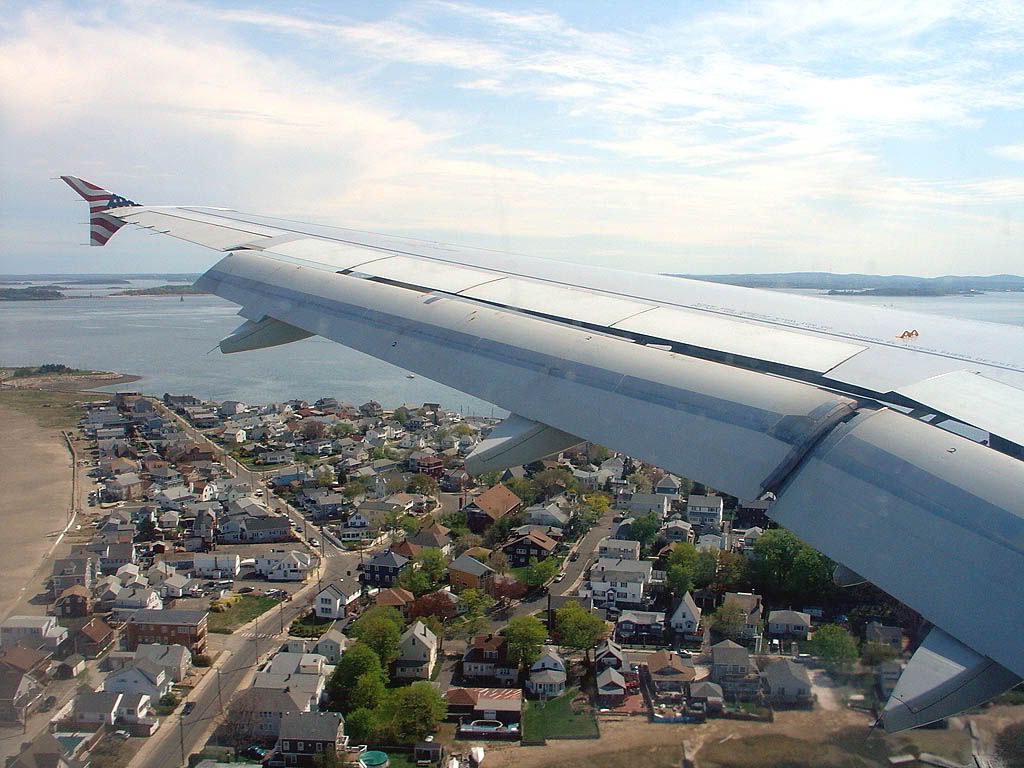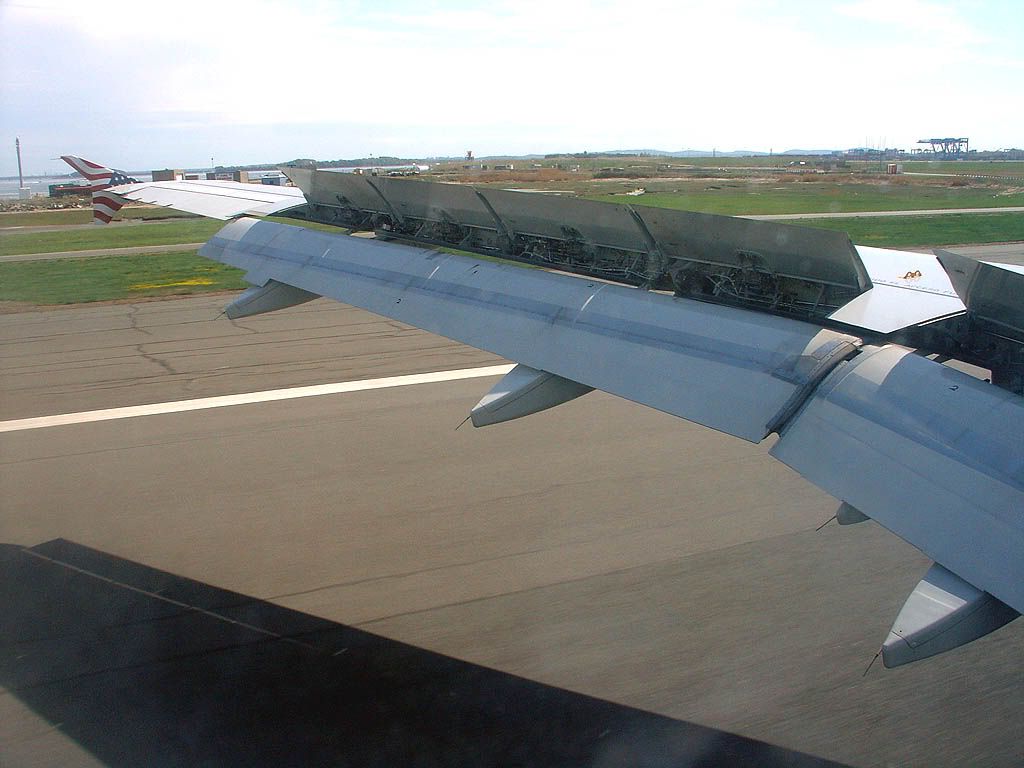 Arrival:
All of my arrivals into Boston over the last couple of years have been during crystal clear days and today was no exception. There were some great views of Boston and the surrounding area as we flew in closer to Logan. We touched down smoothly onto runway 27, a full thirty minutes before our scheduled arrival time.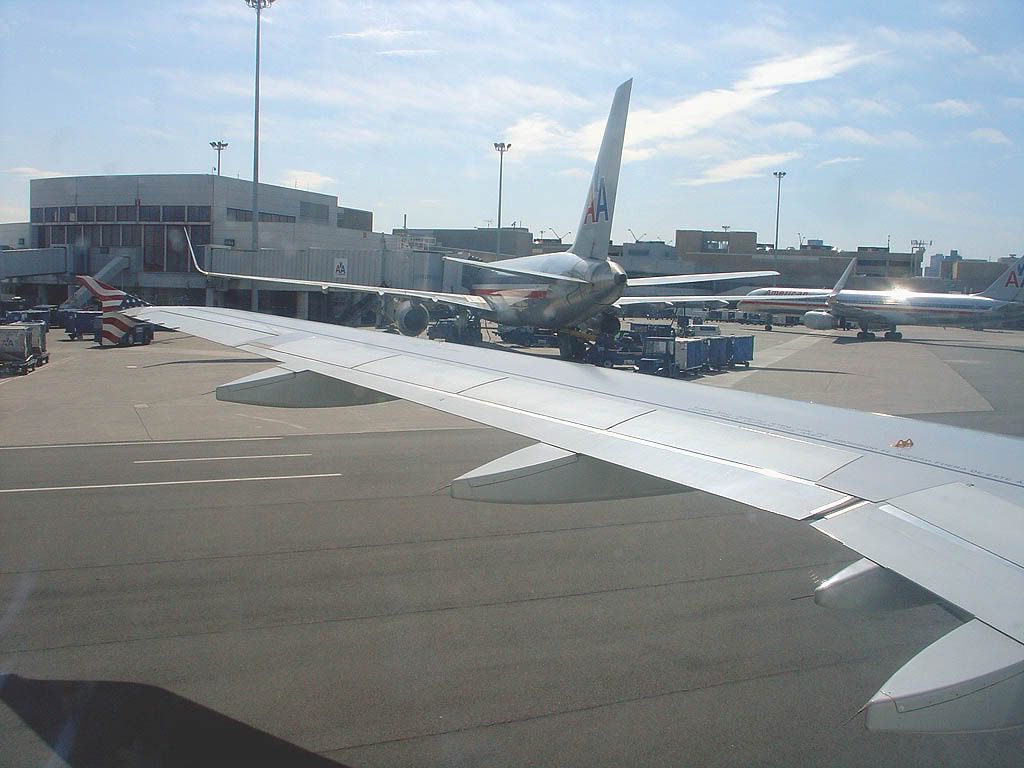 Once docked at the Virgin America gates in Terminal B, passengers started collecting their belongings and head down the aisle. As we were disembarking, the pilot was standing in front of the cabin with a smile on his face wishing everyone farewell,
"Bye, have a great day. Please come back and see us again. I mean it, my paycheck depends on it!"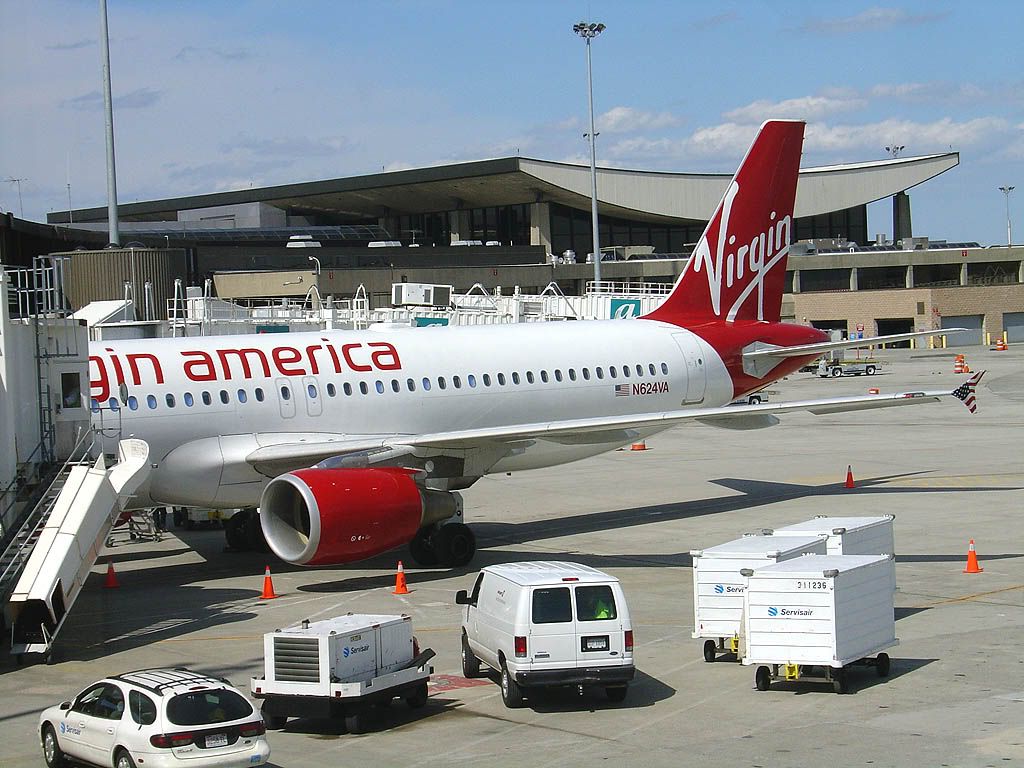 With that we exited the aircraft into the terminal and headed towards our respective terminals to catch our flights home. As I was walking to my terminal, I noticed a huge Virgin America advertisement on one of the bridges connecting the terminal to the walkway.
My friend the pilot who works for the other "classy LCC" turned to me and said "I think Virgin America is my new favorite airline!" I smiled back and said, "yeah, that was definitely something unique." We all said our good byes and headed our separate ways.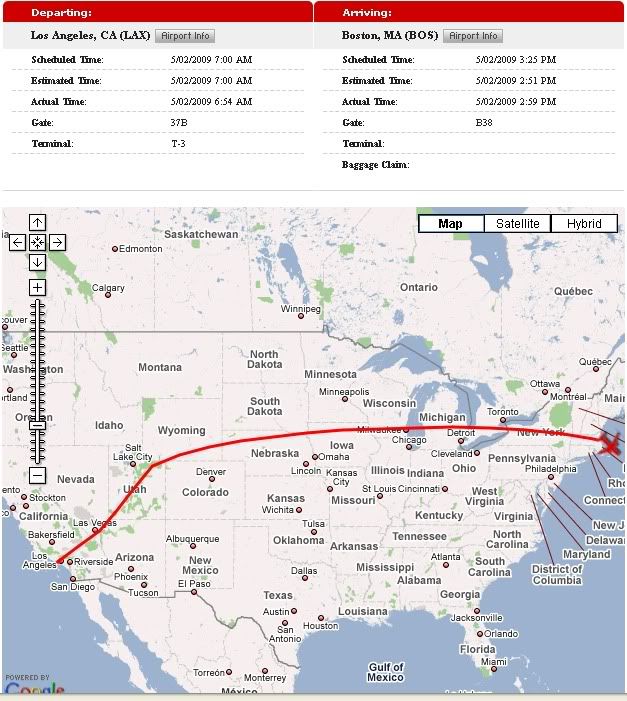 Verdict:
So did Virgin America keep the rest of its promise regarding high quality service? Absolutely! Without a shadow of a doubt this was the best domestic economy flight I have ever had the pleasure of being on.
Even with the above I would like to talk about where Virgin America has room for improvement. First let's start off with one of the aspects Virgin America should improve in, catering. More choice certainly needs to be added, especially for breakfast. The quality was also not all that great in my opinion when you consider the prices that were charged. Song for example charged less for items that in my opinion tasted a whole lot better. Here are some pictures from Song's menu offerings and BOB for comparison.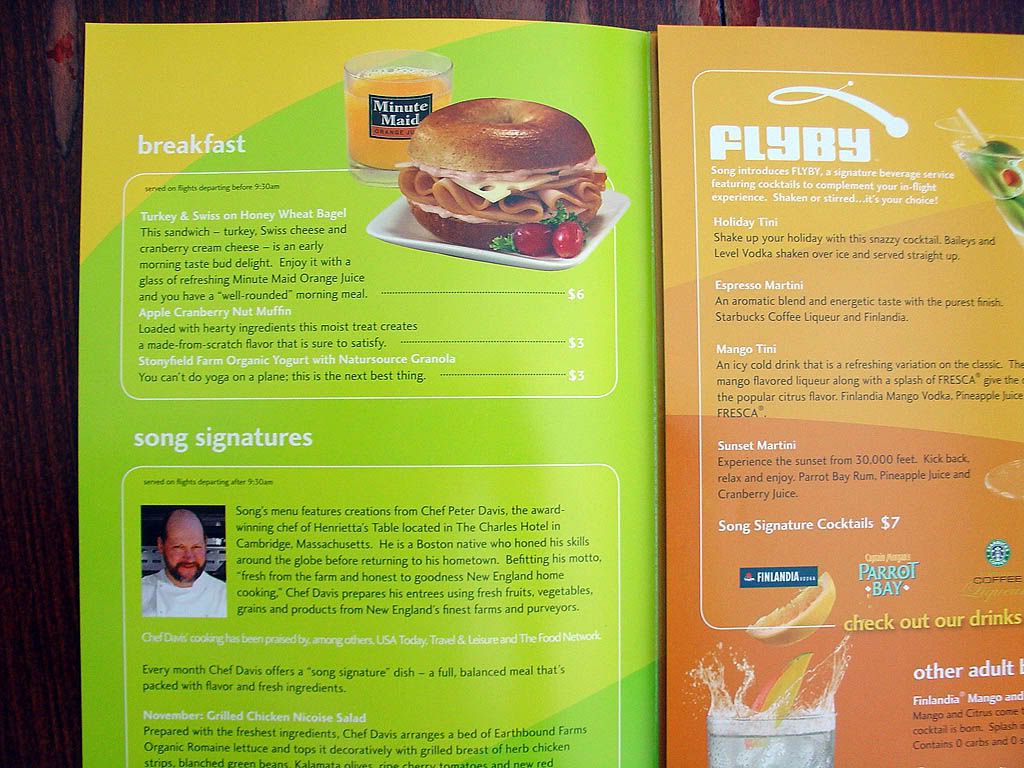 As far as the Live TV goes, it was also another disappointment with a number of channels not working properly or cutting out during aircraft movement. To be fair this problem is not confined to Virgin America, I have experienced it on Jetblue and Delta. Hopefully over time the system becomes more reliable for Virgin America.
Now lets move on to the positive aspects of Virgin America. Not only did the seats and cabin layout look stylish, they were comfortable too. I am not a fan of leather as it causes me to get hot and sweaty after a certain amount of time. This was not the case here which made the flight very comfortable.
However in my honest opinion the airlines biggest asset is their employees. Every employee we encountered was clearly trying to win each passenger over with smiles and a positive "yes we can" attitude. It has been a long time since I have seen such positive attitudes while flying domestically in the United States. The three flight attendants we encountered were an absolute joy to fly with. They looked after everyone on the flight while going above and beyond their normal duties to please passengers. They took the initiative to do something special for the three of us when they found out we were enthusiasts and that is what sets a good crew apart from a great crew. Thanks M, J and E, you guys really left an impression on all three of us.
I may work for one of Virgin America's biggest competitors but I am secretly rooting for them! I really hope they survive and grow as an airline. We are sorely in need of an airline that can bring the word "service" back to the US airline industry. I say go give Virgin America a try, forget about those miles, it's worth it.
Virgin America 360
Check In:
10 (The online process was easy and the check in area really is stylish and welcoming. The white Mac screens added a classy touch)
Boarding:
10 (Boarding was called by zones and we were greeted with a smile and let onboard the jetway)
Seat: 8
(While I am not a fan of leather the seat was comfortable and looked very sleek and stylish)
Aircraft:
9 (Not the new updated Airbus interior, but still in great shape)
Food: 6
(This is VX's weakest area in my opinion. The menu was rather limited with virtually one item suitable for breakfast)
Entertainment:
7 (There was free live TV and music, but there were a few glitches with the system)
Service:
10 (For a domestic flight they were great, constantly around the cabin and never disappeared. Two thumbs up to Jessica, Mike and Eric.)
Arrival:
10 (Smooth as silk)
Score: 70/80 = .875
Virgin America scored a
88%