This is my first trip report over here. Be gentle on me, thank you
. I've been a lurker for a long time, but finally decided to take the plunge and upgrade.
Background
Back in December 2008 Wind Jet (IV) announced starting flights between Riga and Forli. Always eager for a bargain and to add new airlines, planes, airports and routes to my log I booked a ticket for the inaugural flight (although I didn't realize this back then) on June the 10th 2009 for a princely sum of 29 EUR all-in.
I filled the rest of the gaps over the next two months or so, with the final routing becoming HEL-RIX on BT, RIX-FRL on IV, BLQ-BVA on FR and finally ORY-DUS-HEL on AB, with the remaining gaps filled by trains, buses, metros and whatnot. I struggled to find something reasonable to take me home from Paris, but finally settled for Air Berlin. Something that weighted heavily in the scales was getting a new airport for my log at ORY and the fact that ORY-DUS was operated by one of their new(ish) Dash 8 Q 400 turboprops, a carrier-plane combination not yet flown by me. It wasn't exactly cheap at 133 EUR, but decent value for money still (during my hesitation the price actually went up by 35 EUR or so...)
Amazingly there was only one schedule change even though I had booked so far in advance - Air Baltic likes to play musical chairs with most of its routes, and my originally scheduled 11:50 departure to Riga was cancelled and I had to settle for the earlier 9:55 departure, which gave me a nasty 4 hour layover at Riga, but what can you do. I also watched nervously the news about Beauvais' airport's runway resurfacing works that closed the whole airport in the beginning of June, until June 9th. I sure hope they would finish on time, or otherwise I'd be stranded in Bologna.
All in all it would be a trip with 5 flights on 5 different plane types, 1 new airline, 4 new airports and 3 new routes for me. All this within 38 hours or so. Sounds good to me!
June 10th 2009
HEL-RIX
BT302
Fokker 50 LY-BAZ
Seat 10A
9.56 - 11.08
Arrived at HEL airport by bus in good time around 8:45. The SK self-service machines (also used for BT) were out of order, and in a brilliant display of logic there was only one agent working on the economy class check-in desks. Elite/Business desks and bag drop counters had both two agents not very busy at all as the peak morning departure time was already behind. I wonder if the bag drop folks did even notice that they had no customers as the machines being kaputt meant that nobody could use these desks. Because of this queuing took a good 15 minutes. The girl had some problems with my ticket - apparently the rebooking after the canceled flight was not properly done and the system insisted on a paper ticket (hey - I thought these things didn't exist any more!). She spent some time on the phone fixing it and repeatedly tried to usher her idle elite desk colleagues to come help the other passengers at the economy lines. Finally somebody did, but it took some effort. Great customer service. Finally I was deemed fit to fly even without the imaginary paper ticket so passed security in about 45 seconds (HEL is great for that) and spent some time wandering around the place and having a drink.
We boarded around the indicated time - the smallest plane the Helsinki jetways can take is probably an ERJ-170 so naturally it was a short bus ride out of gate 26A to the waiting Fokker. I was delighted to score another one I hadn't yet flown on: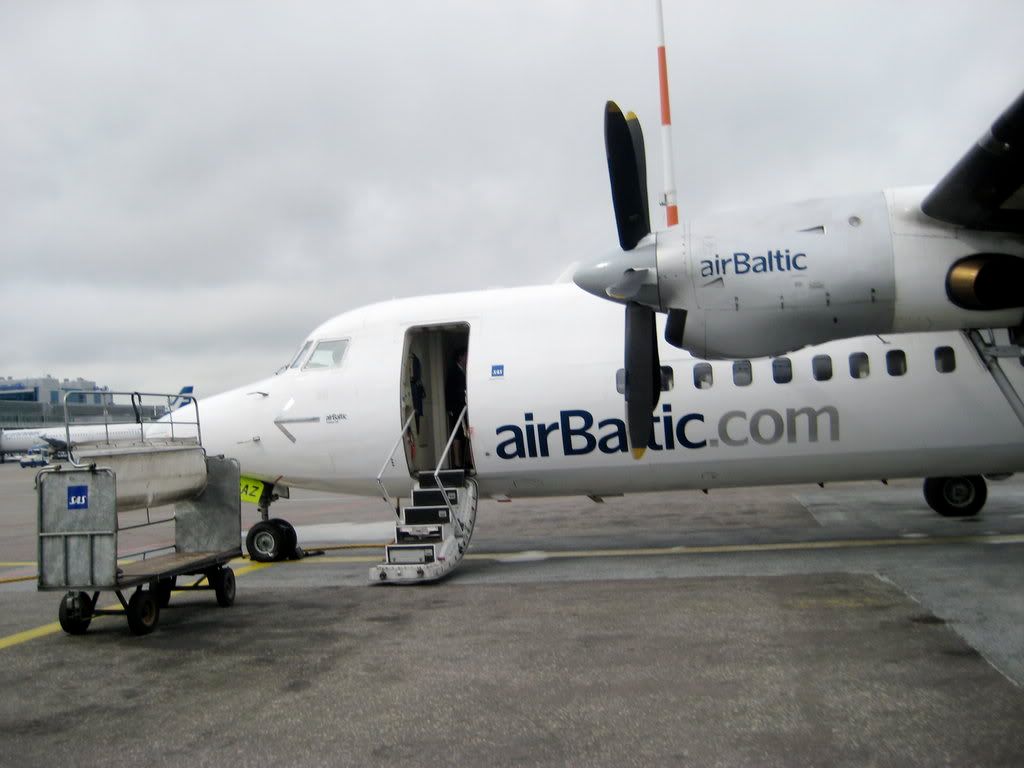 Boarding was quite orderly, load being around 50%, all in economy. One thing I dislike about BT is the total lack of English language newspaper on offer - they only offer a bunch of Latvian ones. Adding the Baltic Times to the mix wouldn't cost too much. On board there were exceptionally three FAs, I think one was a trainee. Usually BT staffs the Fokkers with two. There was a Turkish family on board with absolutely tons of luggage, they were carrying huge shopping and carrier bags stuffed full of who knows what. The bags of course didn't fit under the seats nor in the overhead bins. Finally the FAs strapped them in the spare seats behind the family, a funny sight: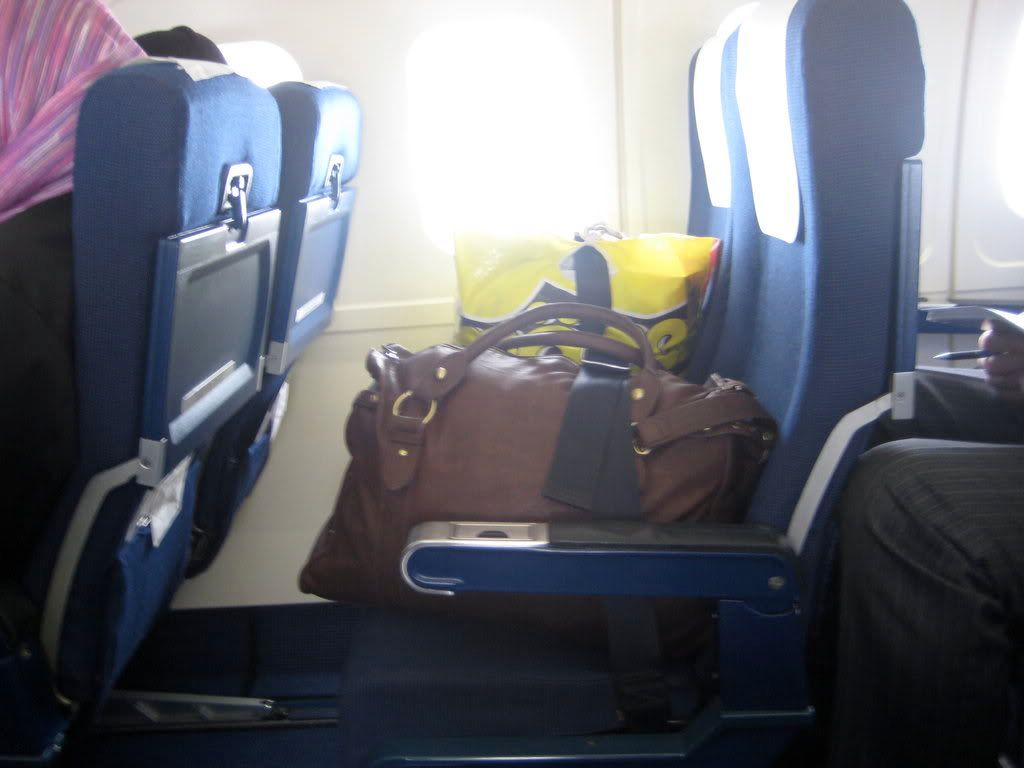 The lead FA did give them quite a stern lecture about having to check them for the next flight as they just were too big. I'm not sure if they understood anything this being given in English, though.
We taxied in time and made our way to 04R to take off. Flight time was announced as 1h10mins which is quite long for this route - I assumed we would land on runway 36 at Riga which is the wrong way around and requires some extra flight time. The Finnish summer weather was quite depressing (nothing new about that), so very soon after take off we disappeared into the low-hanging clouds. It cleared a bit when nearing Tallinn, so I took a few photos, including this snap of Lennart Meri International Airport (I liked "Ülemiste" way better) TLL:
Otherwise it was quite a boring flight, buy-on-board didn't interest many people, I bought a beer which is excellent value at 3 EUR for a half-litre can. Managed to finish my newspaper just before the seat belt sign came on. Riga weather was even more appalling than in Helsinki, with some rain showers and much more sinister looking clouds. We broke clouds very low, and I realized that I had been right about the landing direction - we touched down on 36 after almost exactly 1h10mins of flight time. Taxied quite a long time to the north apron near the biz jet section and the aviation museum - this area is not used that often. Upon deboarding I noticed that the Turkish people actually had even more carrier bags waiting in the "delivery at aircraft" cart. I know BT charges for hold baggage and all but this is just ridiculous! Quick bus ride to terminal and time to brace for the 4 hour layover.
Riga Airport
Riga is quite a cute little airport. It has its origins on the Soviet times, but extensive reconstruction and renovation works have improved it a lot. Too bad it's also a very boring little airport - there really isn't very much to do, the shops are very uninteresting with high prices and especially air side eating options are very basic. The good part is that the minimum connection time is only 25 minutes - which is easily achievable. For the first time one has a long layover there's also a very interesting aircraft "museum" containing lots of rusting and abandoned old Soviet military planes, but I've already been there and couldn't face the rain to go again (and to pay the foreigners entrance fee which is about twice what locals pay). So I made some work-related phone calls until it was time for lunch. I had planned to go to my favorite eatery here, the airport branch of the Latvian institution "Lido" (located landside), but the crap weather was really depressing me so I craved for some fatty comfort food at the TGIF that's at one end of the terminal. I'd regret it later but what the heck - a huge burger with the works took some of the gloominess off me. Interestingly there was a fire alarm while I was sitting at the restaurant which caused the automatic fire doors between the check in halls to be closed. A few minutes later the doors were manually opened and business resumed as usual - so it must've been some sort of fluke.
Wind Jet being one of the few LCCs not having any kind of web check-in I had to do it the manual way (at least they don't charge you for this!). Strolled towards the assigned desks which of course were empty, so sat and wait. I noticed the Turkish people with the huge amounts of luggage sitting next to me, presumably waiting for the check in to open for the TK flight to IST. Some 2 hours before the scheduled departure time some agents appeared on the desks and a small queue was forming so I jumped gun to stand in line. And stand. And stand. And stand. There was lots of typing, phone calls, maybe 10 different agents coming and going, saying prayers, threatening the computer, offering it candy if it would work (i.e. normal parenting stuff) and still nothing. Finally after 20 minutes they could start checking in the first passengers - only one of the two desks was open. Despite being around the 6th in the line (hard to tell with some people whether they actually are passengers or just family seeing somebody off) I reached the desk after half of hour of queuing. My request for "exit row window" was acknowledged with an offer for 12C - ticked off from a white Xerox copy of the seat map (so what did they need the computer for?) - for which I insisted that it was no window seat. "Yes it is." "No" "Yes - Oh wait, yes, you are right, it is not. Here's 12A". "Paldies!" "First flight, hard to get used to this" "Yeah, whatever".
Ok, cross the security to go airside - Riga security is surprisingly efficient. Went for a beer at a bar and was amazed to see the plane arriving already at 14.00, well ahead of schedule and docking to the jetway just across from the bar where I was sitting. There weren't many people disembarking, maybe 30-40 in total. The white and orange livery just screamed "cheap" at your face: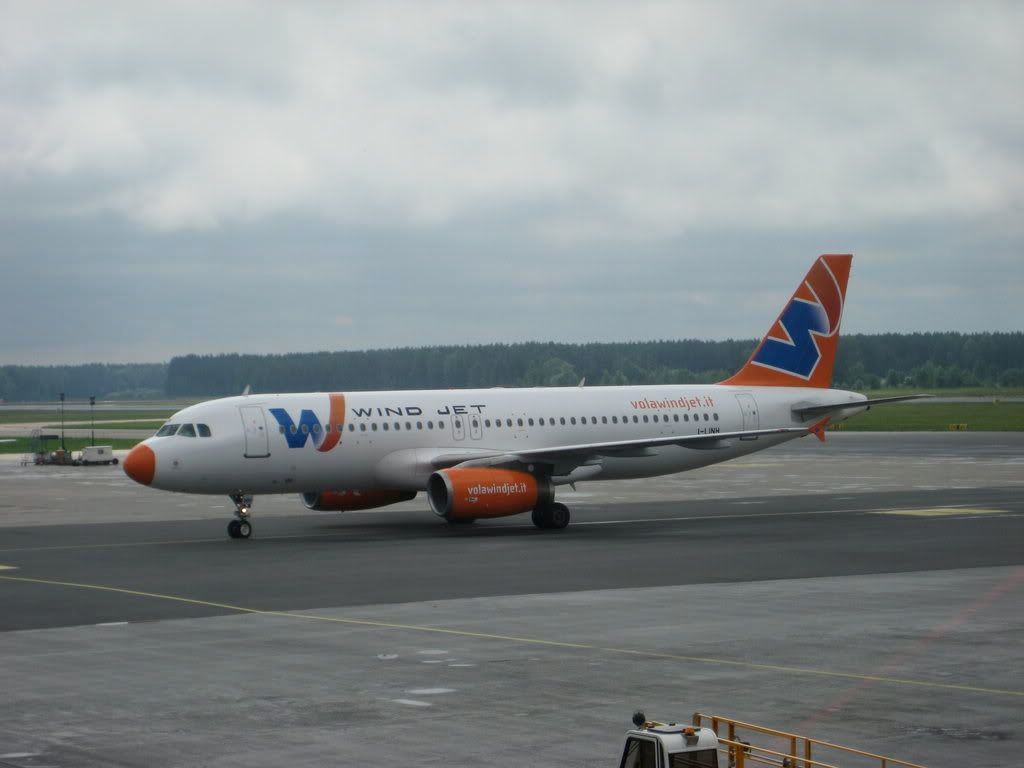 IV479
RIX-FRL
A320 I-LINH
Seat 12A
15.05 - 17.46
Despite the early arrival boarding didn't start for another 45 minutes or so. However at the gate it became apparent that the load was very low (something I had assumed already) and we boarded very quickly. In total there were maybe 30 people. There was a guy in coveralls sporting a Wind Jet maintenance logo sitting in 1A to whom I offered: "Should I be worried that there's a maintenance guy on board?" "Don't worry, this is just routine." "Ok, I feel safe now". Cabin was quite tired looking - later I realized that this plane was almost 20 years old, only 2 years younger than the Fokker I flew in on. Leg room on normal rows looked tight, of course on the exit row it was excellent: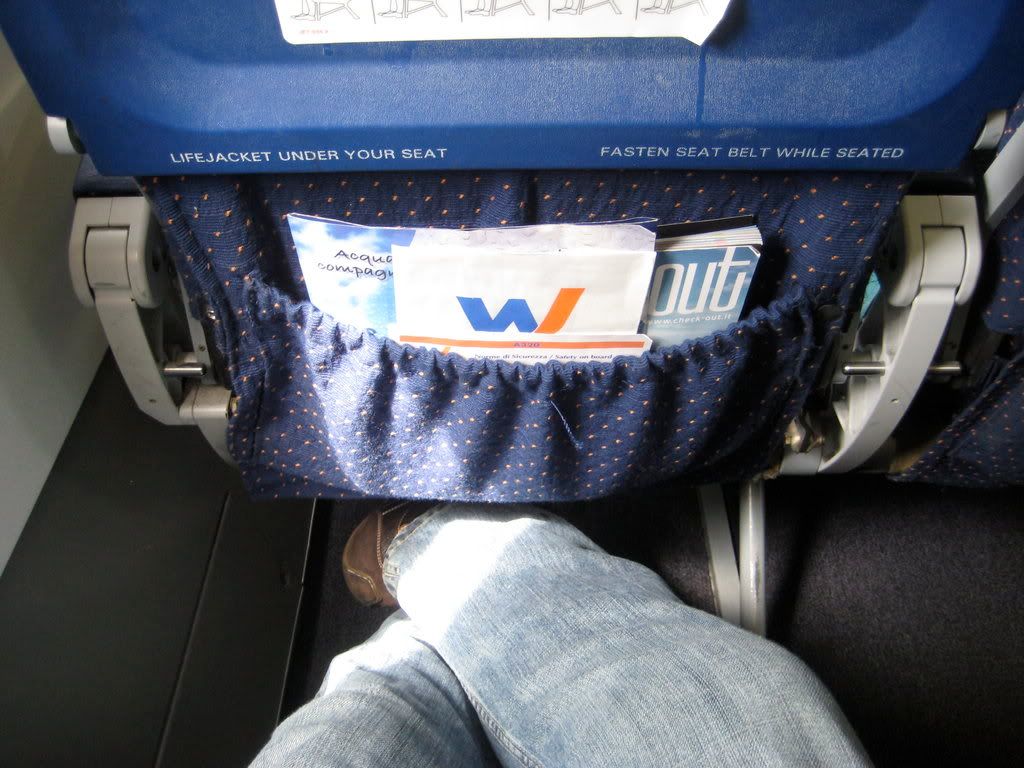 Yeah, it's a LCC complete with ads: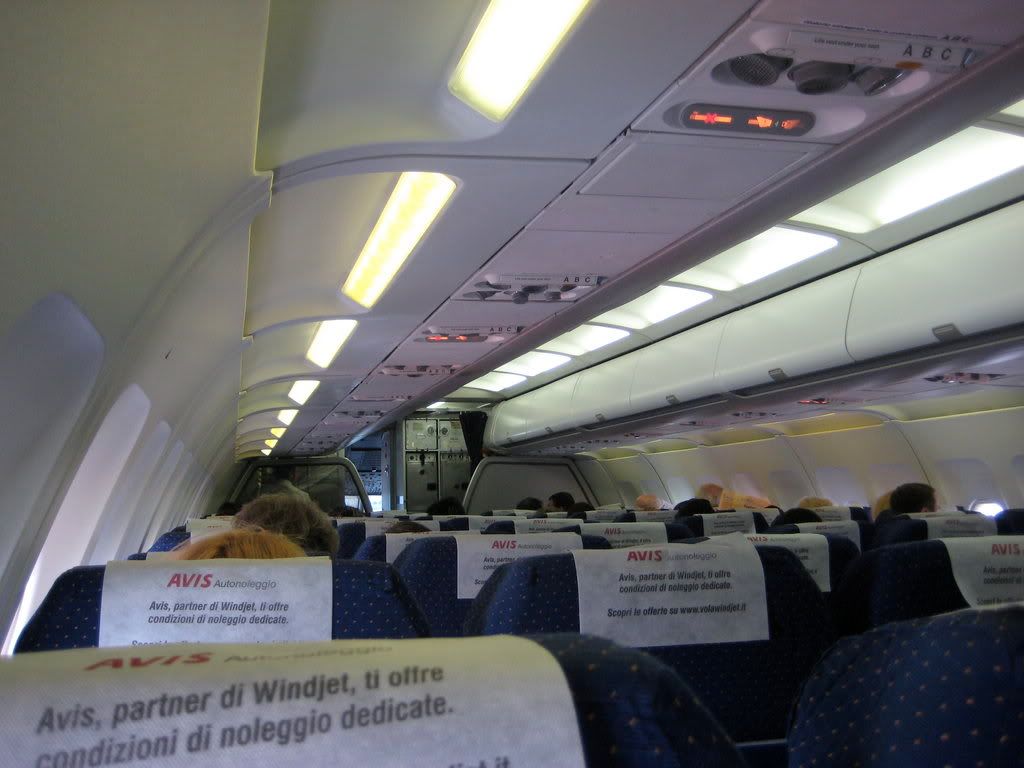 We pushed back some 10 minutes early, to the announcement of a longish flight time of 2h50min, explained by the captain by "some very strong headwinds". This would also explain the early arrival time. Took off from runway 18 and disappeared once again into the cloudy sky. BT 757 and 737 visible: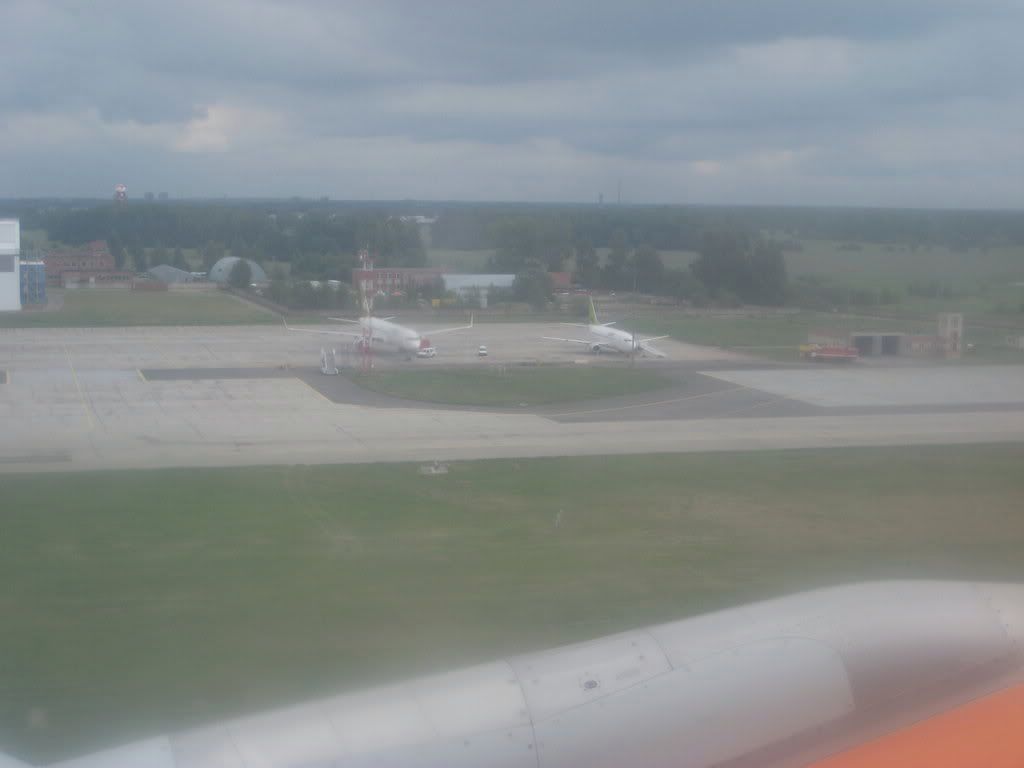 Pretty much the whole route until descent over the Adriatic Sea was covered with clouds, so views were very limited. My very dirty window didn't help either (more on this later). Somewhere over Poland the captain came on, announcing our routing as RIX-WAW-KRK-(Czech airspace)-VIE-FRL and it being sunny with 26 degrees at Forli (Yes! Finally some decent weather).
Service was started with a free glass (ok, a plastic cup) of Prosecco, supposedly to celebrate the inaugural flight - no announcement was ever made. The BOB menu was quite decently priced (hear me, Ryanair!) - they had some good value for money combos, but when I tried to buy an advertised Campari + Prosecco + Peanuts combo for 5 EUR they were out of Campari and just omitted it for the same price (fair deal?). Some time later in the flight with still an hour to go I went to the lavatory in the back, intending to buy a beer on the way back. There were no pax sitting behind row 15, and the staff had gathered on the last rows to have a nice chat. I asked if I could get a beer but was told that "We have already locked away the trolley and it would just be too much work for our lazy asses to unlock it" (ok, maybe not in those exact words). To his credit the guy even asked the cabin supervisor about it but it still wasn't possible. I insisted that we still had an hour to go to which he replied "No sir, we land in 45 minutes". I had to admit defeat.
Of course we didn't land in 45 minutes, but a little over hour after the incident. The inflight magazine was not very interesting, one of those types where the main content is in the national language and only a short English summary is given for the articles. Well, luckily I have my own supply of reading material and my IPod to keep me happy. Soon enough descent was announced and finally the clouds gave way, first revealing the blue waters of the Adriatic, followed by the flat farmland of Emilia Romagna with the uphills and mountains of the Apennines visible on the other side.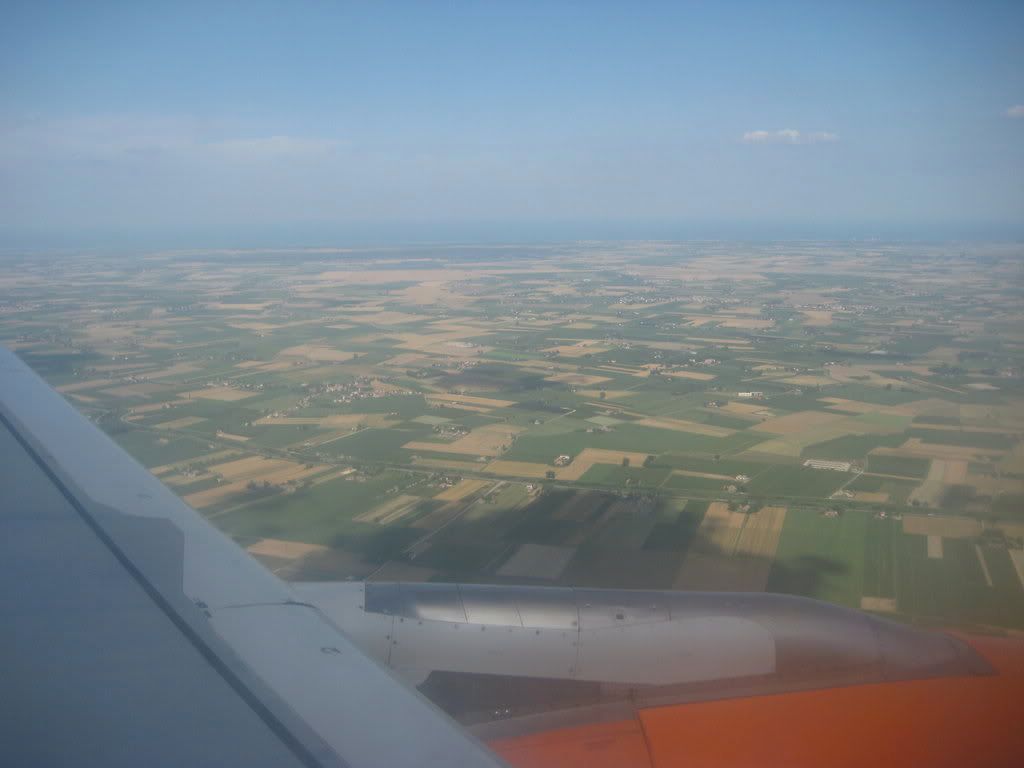 Descent seemed to take forever - at this point I noticed that there must be some water trapped inside my window as the sunlight was fogging it over making all the photographs I tried to take very bad. We came in very hard and fast on runway 30 - the pilot probably thought that he was actually speeding it down at the Imola F1 circuit not far away from here. Total flight time was around 2h45mins. There was an announcement about pax continuing to Catania and Palermo to go to check-in for their continuation flight (yes, IV also sells some limited connections kinda like what Germanwings does nowadays).
The airport was true to the low cost form, with a terminal that looked like a shack but surprisingly two new arrival halls (Schengen/non-) in eye-soring bright yellow: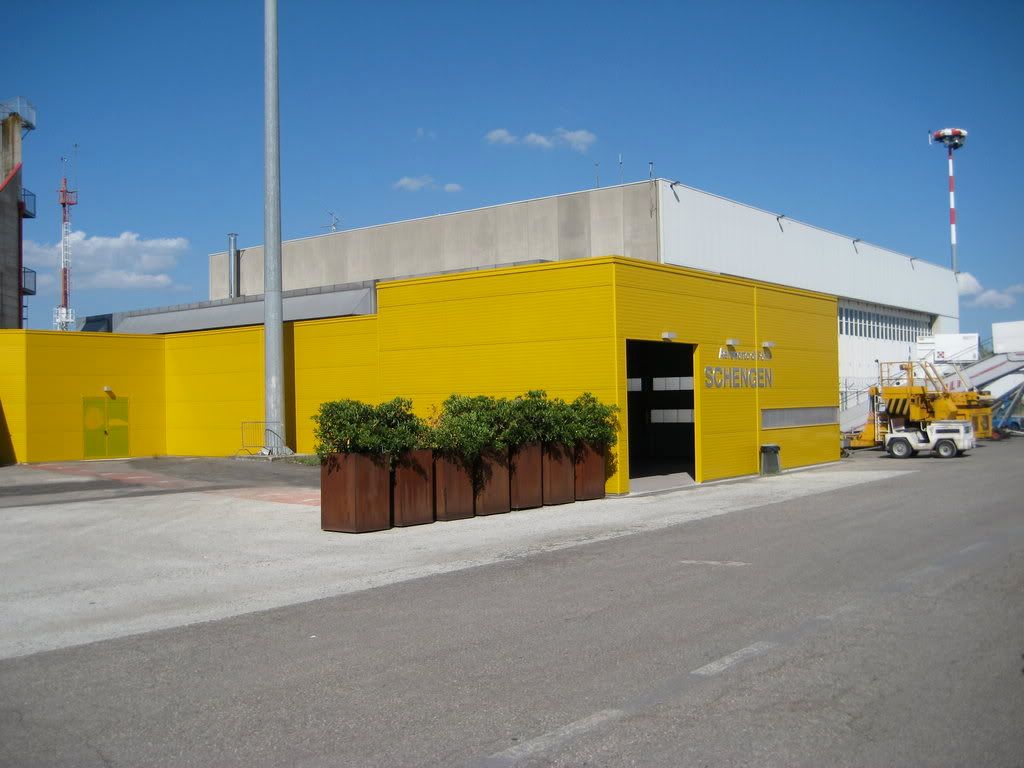 The 27 degree air and sunshine sure felt good on me and made even the plane look better: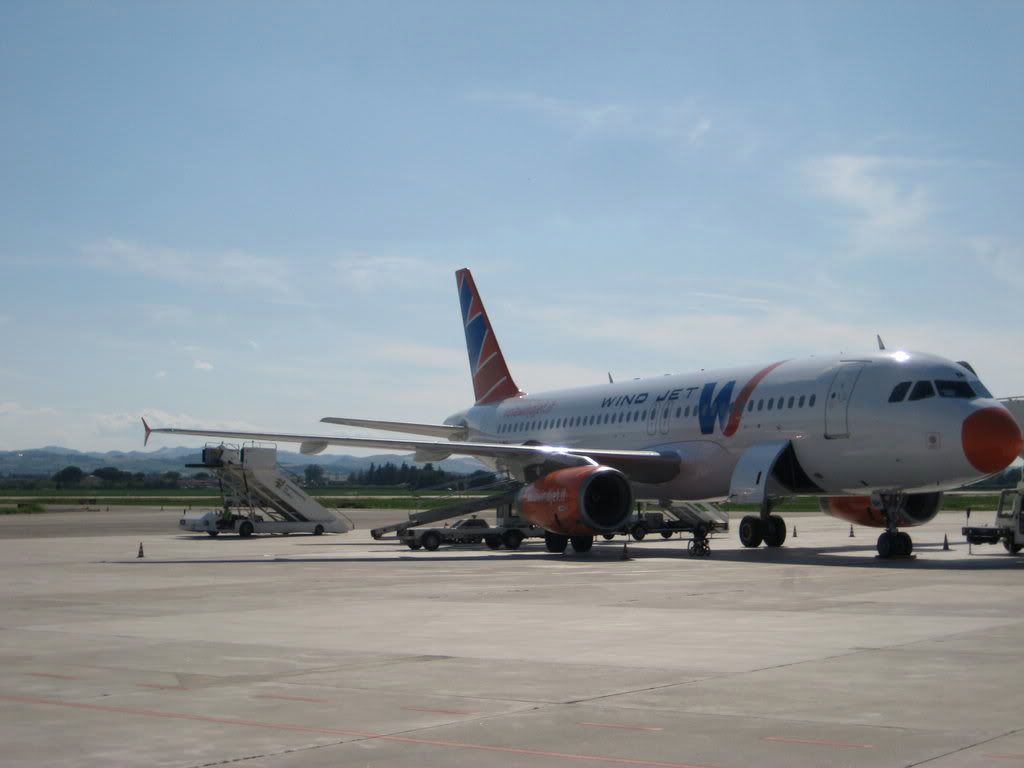 Forli
Ryanair calls FRL "Bologna(Forli)", so there is a bus connection to Bologna. However it is scheduled to meet only certain flights - and the Riga one isn't one of those. There was also a bus to the Forli railway station, but it was not scheduled to leave for another 30 minutes so I hopped in a taxi. The flat 11 EUR fare to the station felt like a decent deal until we reached it and I realized that the journey was only a few kilometers - FRL airport being basically on the edge of the city. Anyway still being mesmerized by the sun I even gave the guy a few euros of tip which made him happy.
I was sufficiently early so that I could catch the 17.22 regional train to Bologna Centrale. I was very impressed by the ticket machine, due to two simple facts: it spoke perfect English (in a machine sort of way) and happily accepted a credit card - something that I thought was not very common in Italy. The second class journey cost 4.80 EUR. While waiting for the train there was a funny announcement about a EuroCity express train from Torino to Bari being delayed by 2h30mins. Ok, that itself wasn't funny, but the English version of it concluded with "We regret any convenience this might cause". Yes, do be sorry for convenience, embrace inconvenience.
The train showed up on time from Rimini. The 2nd class carriage was not very comfortable, but sufficed for the one hour ride to Bologna. Amazingly it felt like there was not a single curve in the track - it was all just a straight line. If it wasn't for the numerous intermediate stops I'm sure we could've sped it down in 20 minutes or so...
Bologna
Emerging form the station at Bologna I was greeted with even more heat and beautiful sunshine. Bologna Centrale: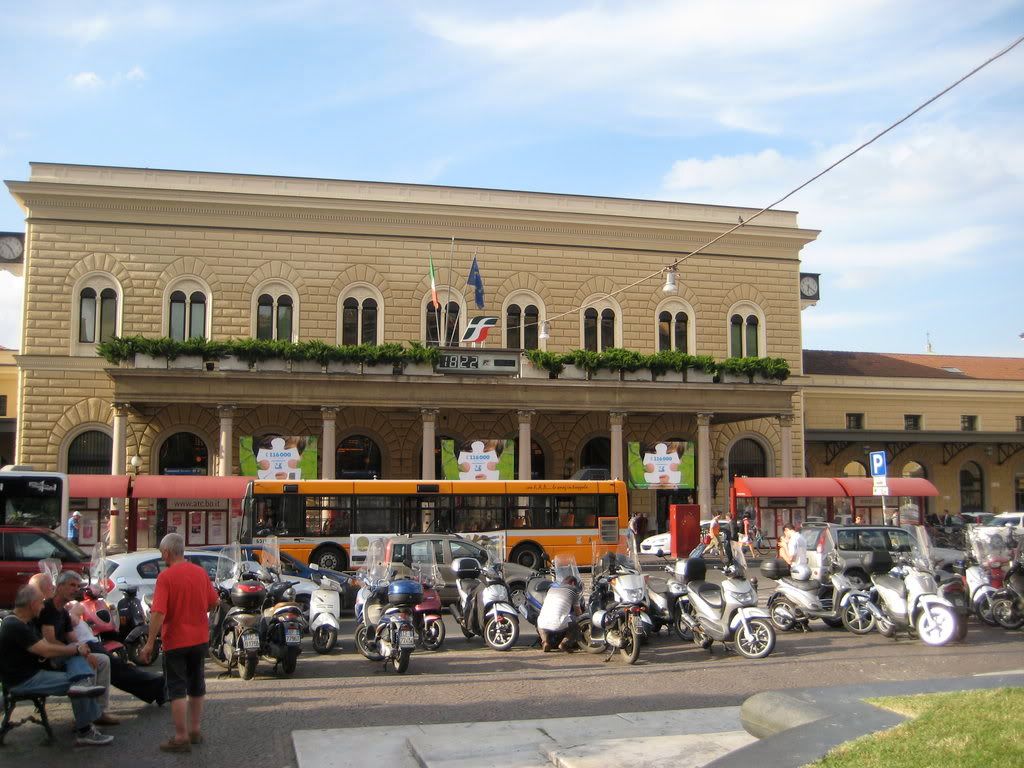 Crossed the street from the station to the Hotel Mercure (great great location) and checked in.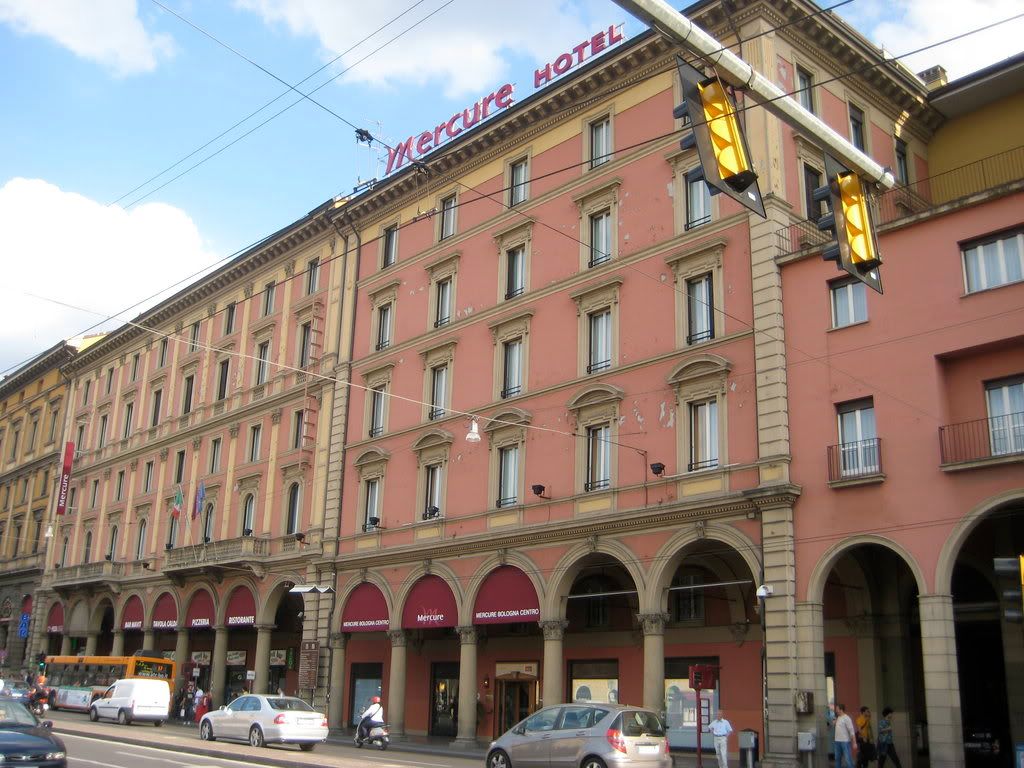 I asked the clerk about the temperature outside, which was "maybe 30". The hotel was quite okay, everything was impeccably clean but it just was a bit old fashioned - how long has it been since you last had a real key (as opposed to a key card) that you're supposed to leave at the reception when heading out? Still the value for money was good. The window of my room was covered in curtains and after opening I learned why: the tile wall of the next building was build right against it. If they'd added some metal bars it would've felt like a prison window, I'm sure.
After refreshing a bit (hey, free bottled water at the minibar - actually that was the only thing there was inside) it was time to head to the city. I really didn't know what to expect, based on my previous not so good experiences of Italy in Rome and Milan and a good visit to Sicily many years ago. I was delighted to find a very beautiful city full of history, a bustling city center with some nice old buildings and piazzas full of happy people leisurely strolling away. It's a student town and frankly it shows in the young spirit and energy. The covered walking arcades alongside the main streets are an interesting idea - apparently there are over 40 kilometers of them in the city. Strolled around a while until settling down to a restaurant for dinner. Italian food usually being very near perfection it was of course very good but I went way over my budget. Well - we live only once.
Covered walking arcades lined with shops: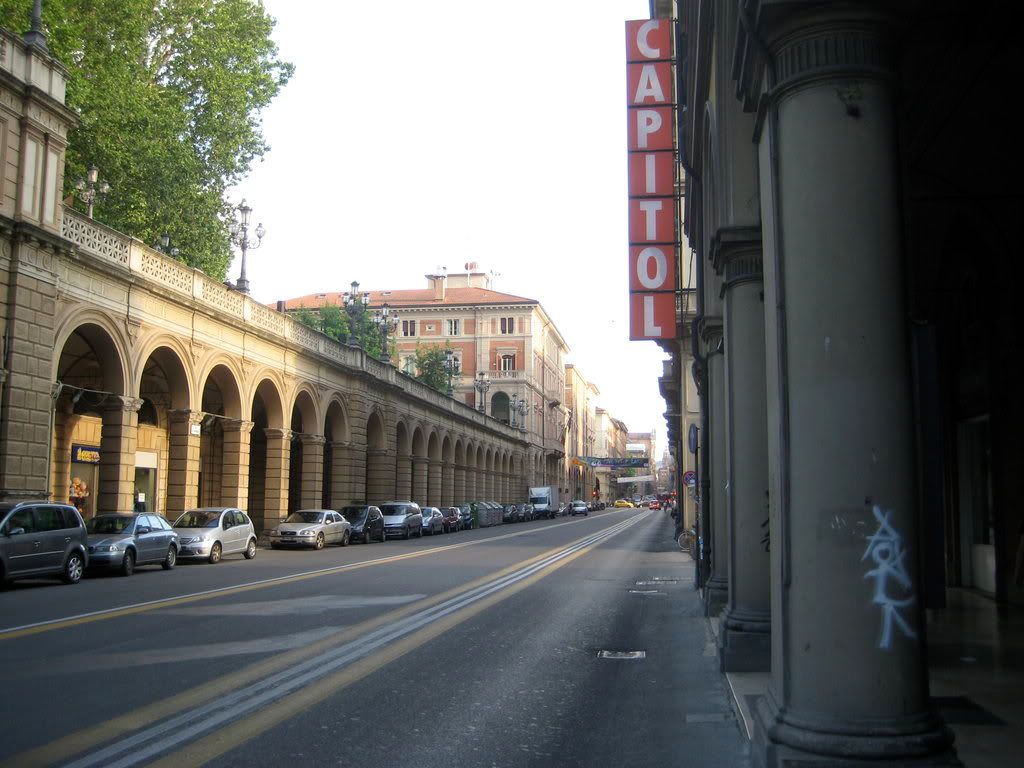 Even McDonald's is stylish here: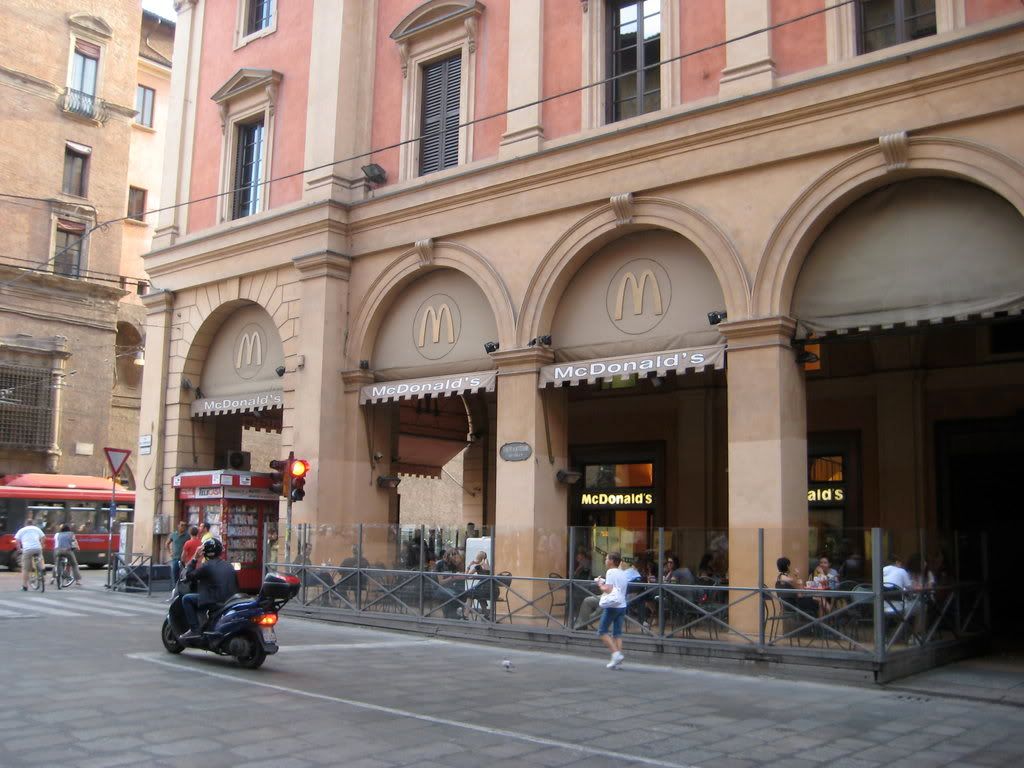 Fontana del Nettuno: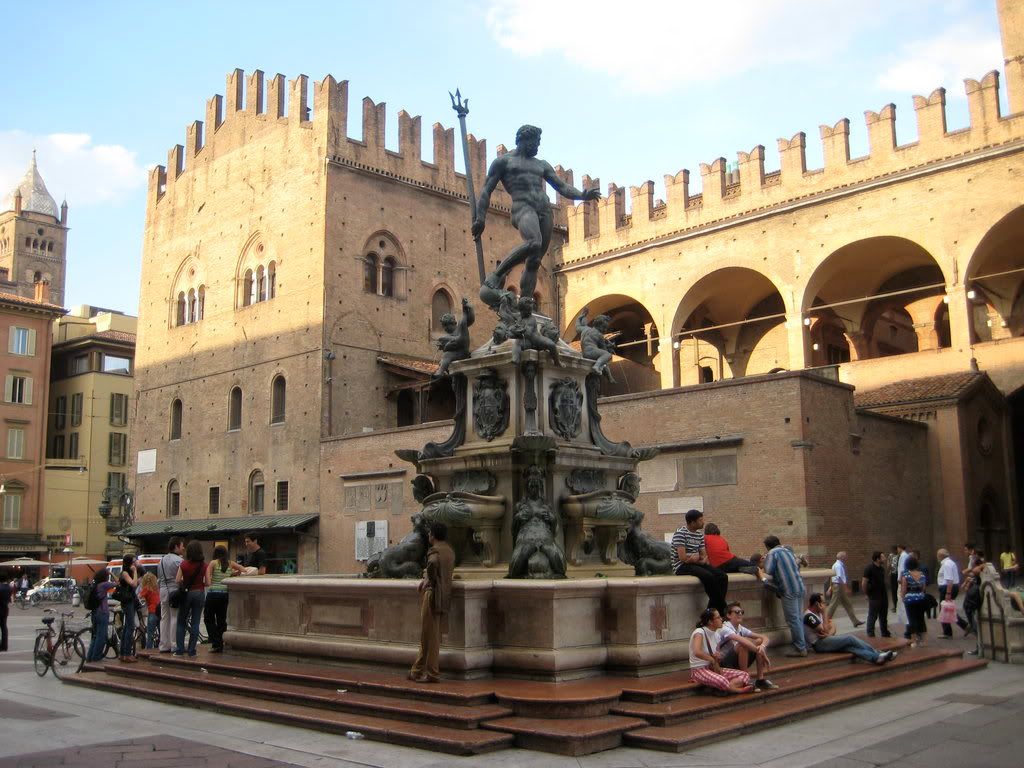 Piazza Maggiore: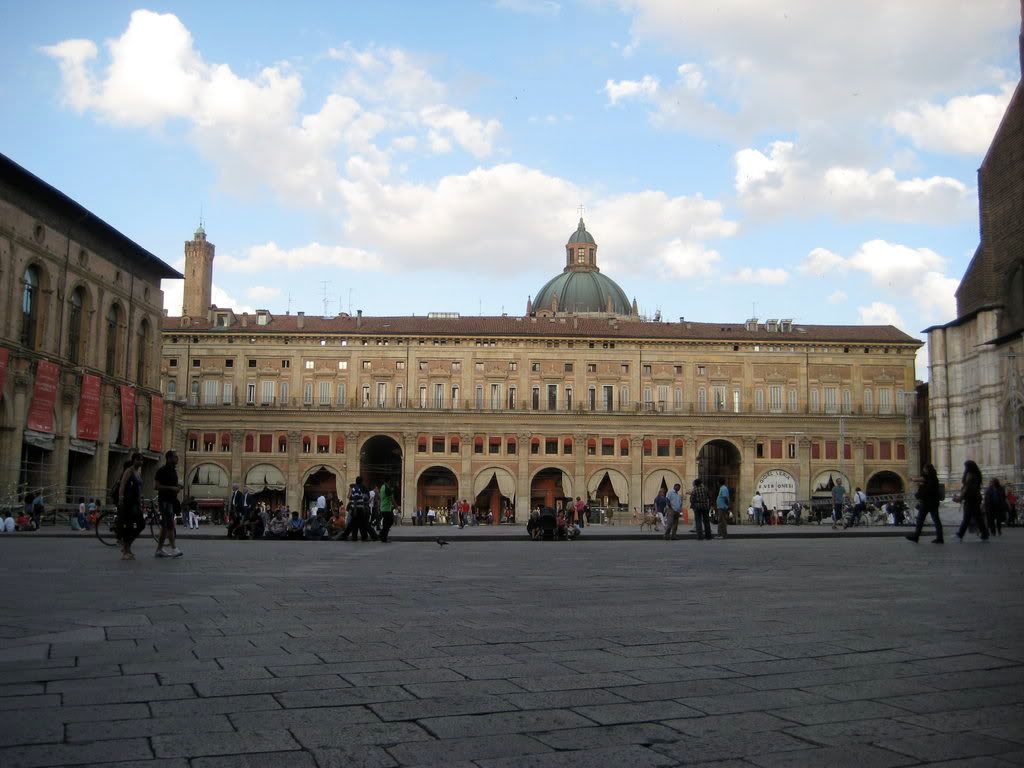 Typical street - the restaurant I ate (outside, of course) can be seen ahead: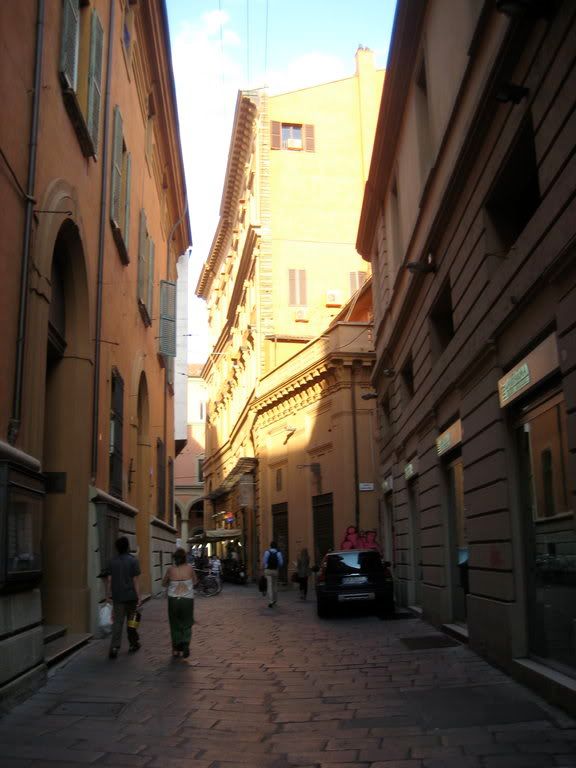 11th June
Bologna airport
I didn't sleep very well - must've something to do with the heavy feast last night, the wine, beer and whatnot. So I hopped out of the bed quite early, even so early that after checking out I easily made the 7.30 airport bus just across the street - having originally aimed for the 8.00 service. At 5 EUR the ticket was a rip off, local buses charge less than 2 EUR and the distance is only 6 kilometers. Of course the local buses do NOT serve the airport, so it's a bit of a catch-22 situation. The journey took around 20 minutes as the main street was packed with rush hour traffic, bus lanes included (hey, this is Italy, remember).
I was dying for coffee at this point, so a coffee stand inside arrivals fulfilled my wishes with strong, hot espresso and some tasty croissants to double as a breakfast. Conveniently there was also a post office opposite it, so I could grab some stamps for my postcards. Well - not so on the grabbing front - ended up queing for over 20 minutes as the lady being serviced at the till apparently fixed all her life finances at this tiny post/post bank office at 8 AM on a Thursday morning.
Having endured the stamp test went upstairs to the departure area. Having checked in online (hey, it's Ryanair, there's no other way!) I headed to the security queues. This was surprisingly fast and took less than 5 minutes. Airside I realized what a fatal mistake I had made - it was even more boring than Riga airport, there were even fewer shops and food was limited to two coffee shop/bars at each end of the terminal (maybe there was a third one at the non-Schengen area at the other end as well). What was more depressing was that apron and runway views were blocked by the architecture of the terminal. Had I known this I would've spent some more time outside in the nice sunshine (it was already 30 degrees by 8 AM) instead and only headed through security at the last moment. Sat down at the coffee shop to nurse an ice tea - at least these windows had a limited apron view. Traffic was quite heavy with two IG MD-8x departing for CTA and OLB/CAG at the same time, Blue Air to BBA: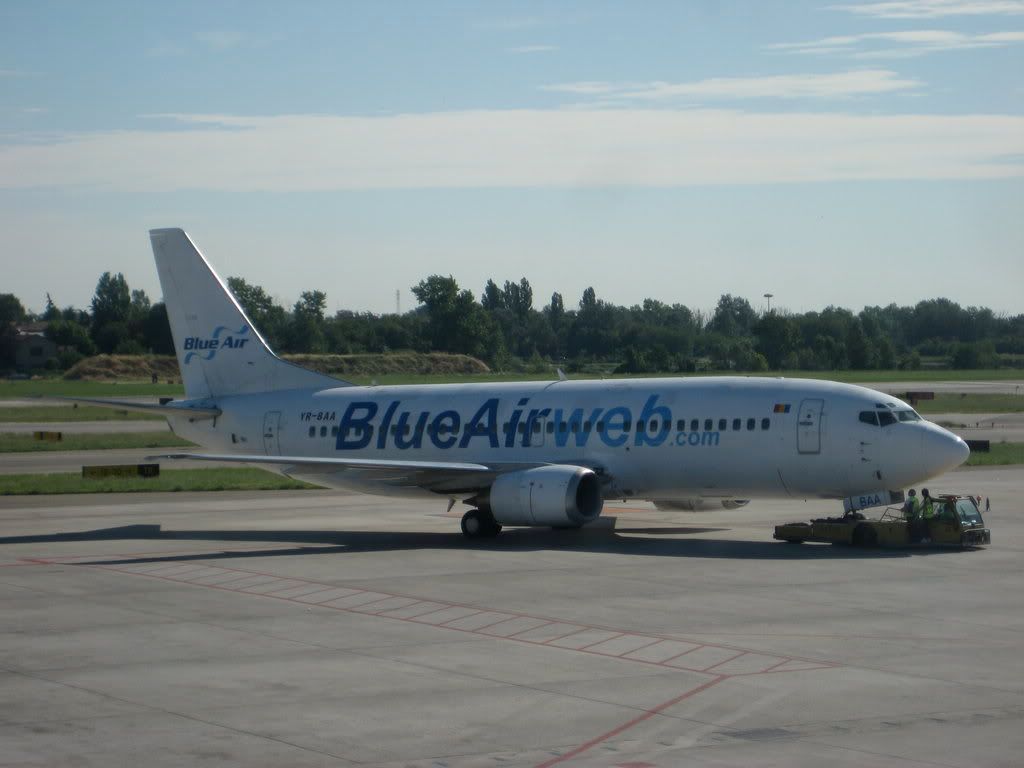 FR to HHN, various AZ/AP planes to domestic destinations, AF/Brit Air to CDG, LH to FRA, EN to MUC etc. Had to leave when the next table was invaded by an annoying and loud Scottish family, no doubt flying FR to EDI.
All in all not a very nice airport to spend any time at - most of the toilets were missing seat covers etc. It just felt a bit run-down.
FR4303
BLQ-BVA
B737-800 EI-DLT
Seat 31F
10.27 - 12.22
In true Ryanair fashion a queue started to form on the gate a good 45 minutes before the departure time. I had priority boarding (I absolutely refuse to fly Ryanair any more without it), but the queue was not really a queue at all, rather a heaving mass of humanity which made it kinda hard to know where one should stand. The gate layout didn't really help either as it was very crowded and cramped. Fortunately the agents arrived soon enough and put some order to the mass - setting up the Other Q/Priority Q divider etc. An older American guy in a suit immediately dashed for the prime location at the head of the Priority Q. He had two or three very large carry on bags (the kind you see on domestic US flights) - I have no idea why nobody objected vetoeing on the "1 carry on bag only" rule. He also sported large and shiny Delta elite tags on his backbag - I wanted to ask why he wasn't taking the AF flight to CDG instead, SkyTeam and all but couldn't get close enough due to the mass of people.
While waiting I spotted a CarpatAir Saab 2000 from TSR landing - particularly nice as in less than two weeks I'm supposed to be flying this particular combination. Our plane landed at 9.45 and immediately a boarding announcement was made. Even the queues straightened up a bit and I was able to move to the proper one. Five minutes later the "boarding" started. Well, actually what happened was that the gate agents started letting people through the gate. At the same time the plane was just starting deboarding, so we were led to a stairway down to the apron with a locked door at the bottom. There another queue formed waiting for the door to open. This took ages, I spent almost 20 minutes in that small, claustrophobic staircase until the door was opened at 10.10, which was our scheduled departure time. Funnily while queuing two middle-aged Italian ladies reeking of heavy perfume came down the stairs sporting priority boarding passes and settled right in front of me before stopped by some agitated folks. It turned out I was the last one of the priority boarders.
After being let out of the pen everybody made a beeline towards the front stairs: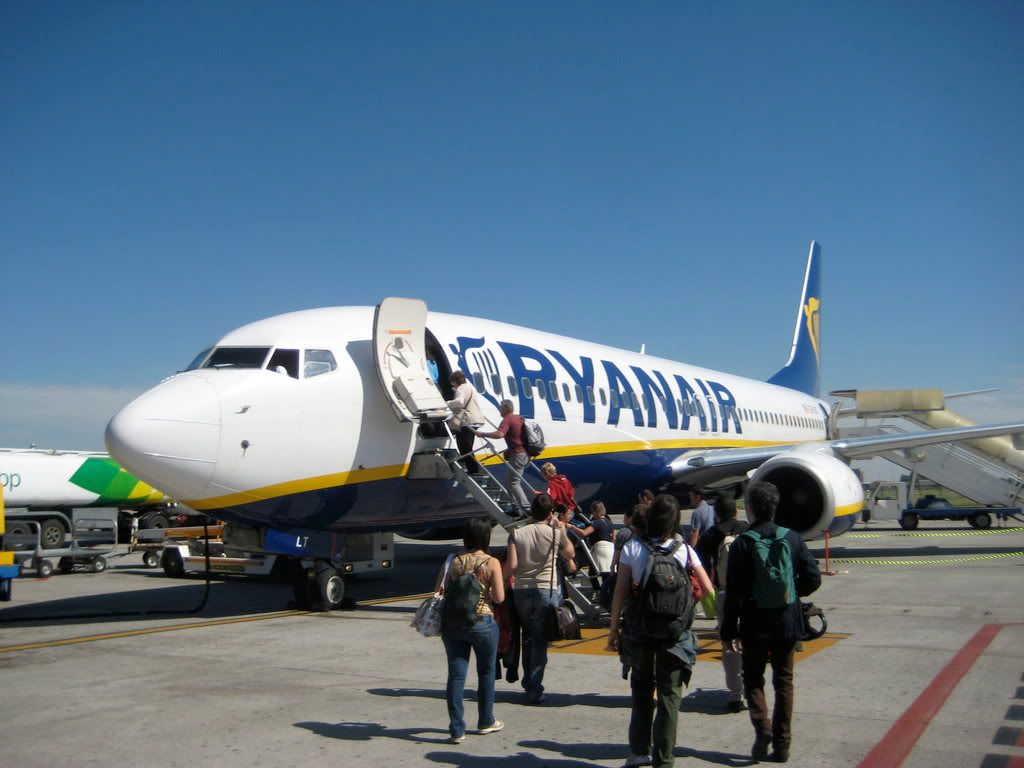 Why - I don' t know. As usual I strolled towards the rear stairs and was the first one to board from there. Told the FA there that "I cannot figure out why everybody wants to pack the front stairs." We agreed it had to be a psychological, lemming-like thing. Sat down at 31F (I don't like exit rows on FR since I am high maintenance and need a lot of stuff onboard so need either a seat pocket or my bag at hand). Repetitive announcements were made about the flight being full (it really was!) and that people should just grab a seat quickly and settle down in order to get us on the way as soon as possible. The Italians wouldn't have any of it and were happily switching places and showing their carry ons around. Still, we were ready to go in 15 minutes after the boarding started and started moving at 10.27, delayed by 17 minutes. I think this is the first time I'm on a FR flight that is actually officially delayed. Nice lineup of tails from my window: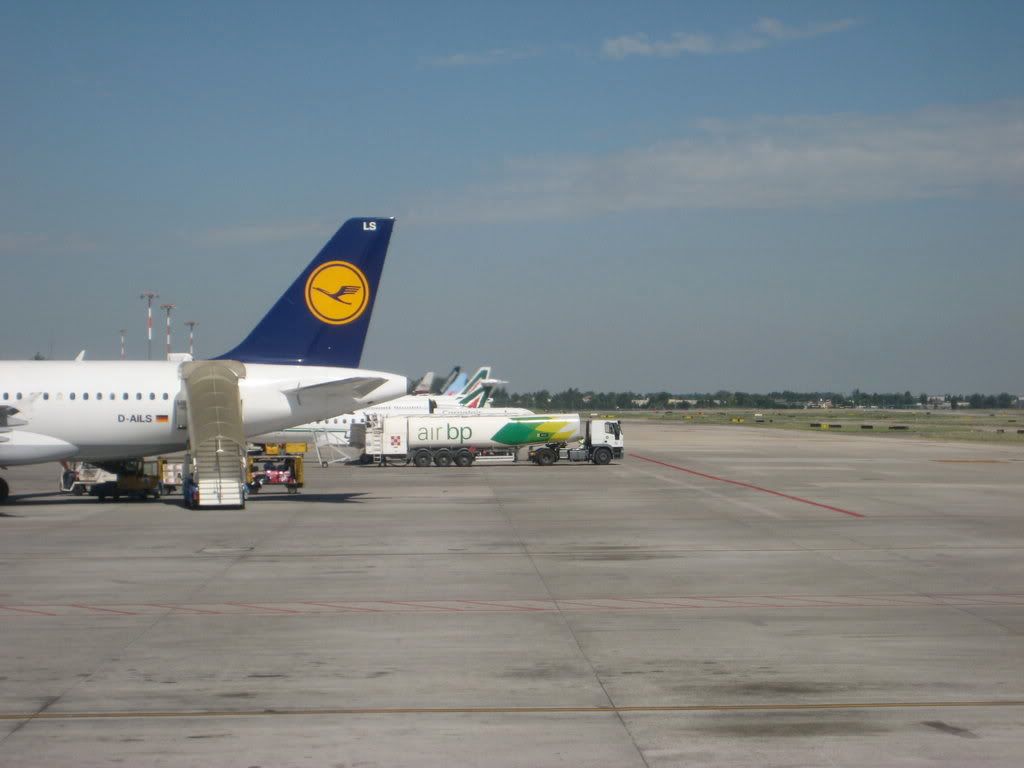 The pilot announced a long flight time of 1h50mins, with the now familiar explanation of "strong headwinds". So yesterday the winds were blowing from south to north and today they are blowing the opposite direction. Swell. We taxied very slowly, it took a good 15 minutes to reach the end of the runway 12. Interestingly I spotted a rabbit happily bouncing away on the grass between the runway and apron. Let's hope it won't get sucked into our jet engine. For it's own sake and also for our sake, it would do a lot of nasty stuff to the turbine blades, I'm sure. The V3 Saab took off before us:
..and then we just sat beside the empty runway for a while. Soon an AP 737 and IB/Air Nostrum CRJ landed and we entered the active. Another very powerful take off (a fully loaded -800, shortish runway and 30+ degree temperatures are a difficult equation) followed. I had an excellent view of the city: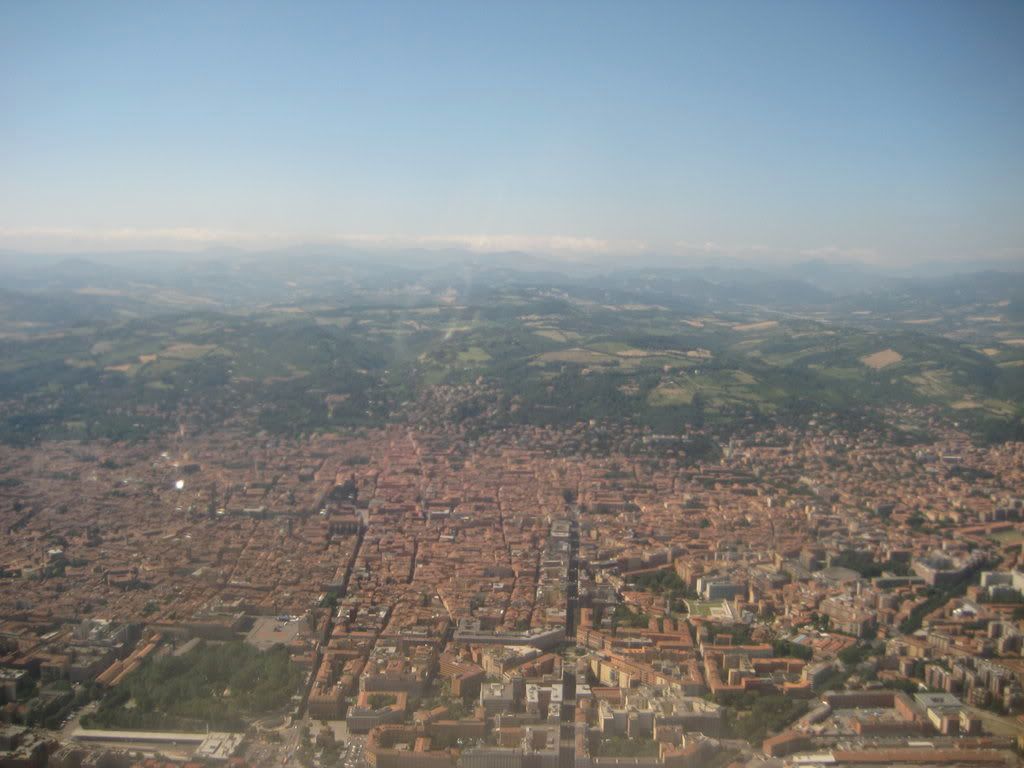 No wonder they call it "Bologna the Red" (and let's not even talk about the political affiliations!).
We ascended towards the northwest over Modeno (home of Ferrari!):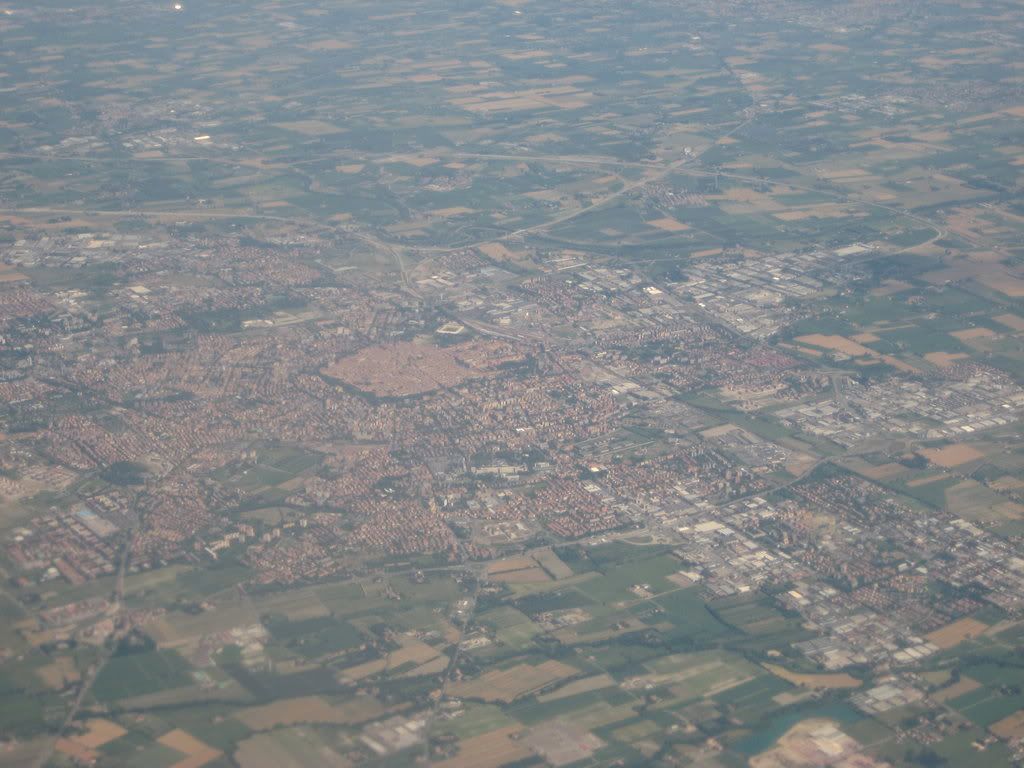 and a bit later Parma (ham... drooling...):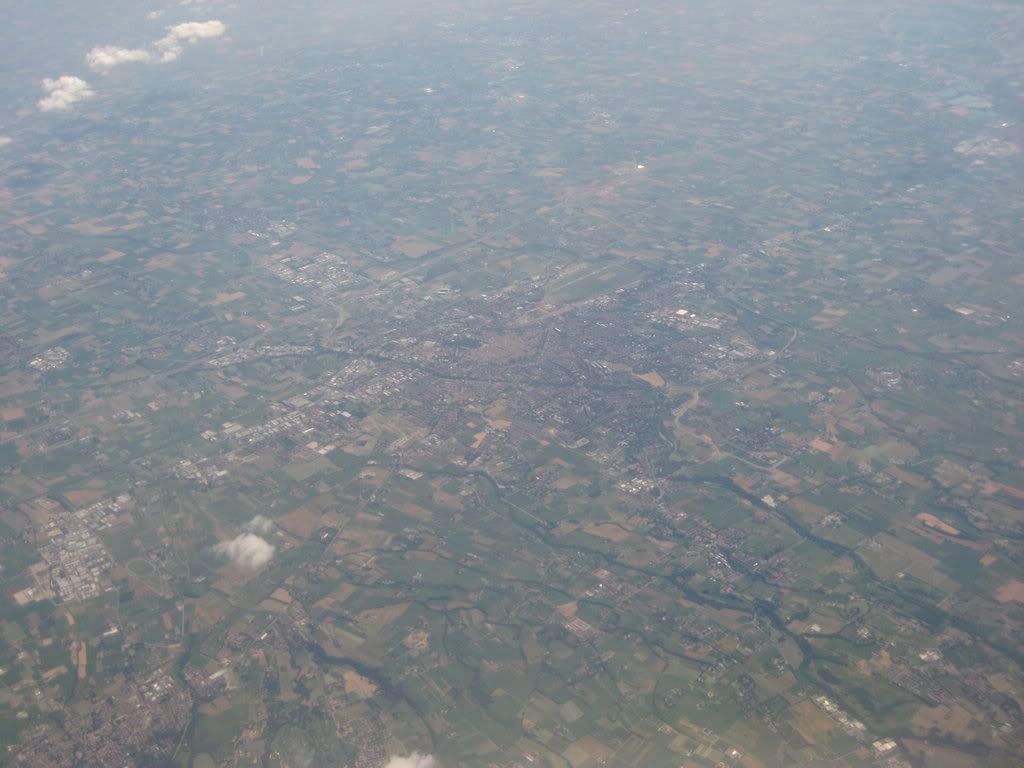 until the clouds got their revenge on me and Northern Italy was mostly overcast. It looks like we flew directly over BGY, although it was a bit hard to tell from the clouds. Right after the foothills of the Alps started there was quite heavy southbound air traffic some 10000+ feet below us, I think we overflew some of the southbound approach paths into the Milan area airports. I picked a seat on the right hand side to spot a view of the Alps, but they were mostly overcast, so no good photos came out. We flew directly over Yverdon-les-Bains with the Neuchâtel lake visible, but I couldn't get a decent photo of it either.
You know you fly FR too often when the inflight magazine is the same one you have already read on your previous flight - this was the case today. Before the onboard sale started they announced some new promo with some weird cigarette product "that you can absolutely legally have onboard - just ask the crew". When the sales cart passed a guy in the row in front of me actually bought one. It looked like a regular pack of cigarettes - I assume it was some sort of nicotine gum thing. I was one of the few to actually purchase something, being always hungry a sandwich and a beer at rip off price helped. At some point the clouds opened up a little to reveal endless French countryside, not a very interesting sight. Some 1h10mins into the flight the pilot announced start of descent that it was still very windy at Beauvais and we would be on the ground in half an hour. After this the crew made another announcement about how important it is to keep hydrated on flights and that you should drink this much water per hour. "The crew will now make a pass through the cabin with water bottles for sale.". This was a new one to me. I didn't see any partakers at the sale.
A railway viaduct:
A nice bridge at Pont-Sainte-Maxence: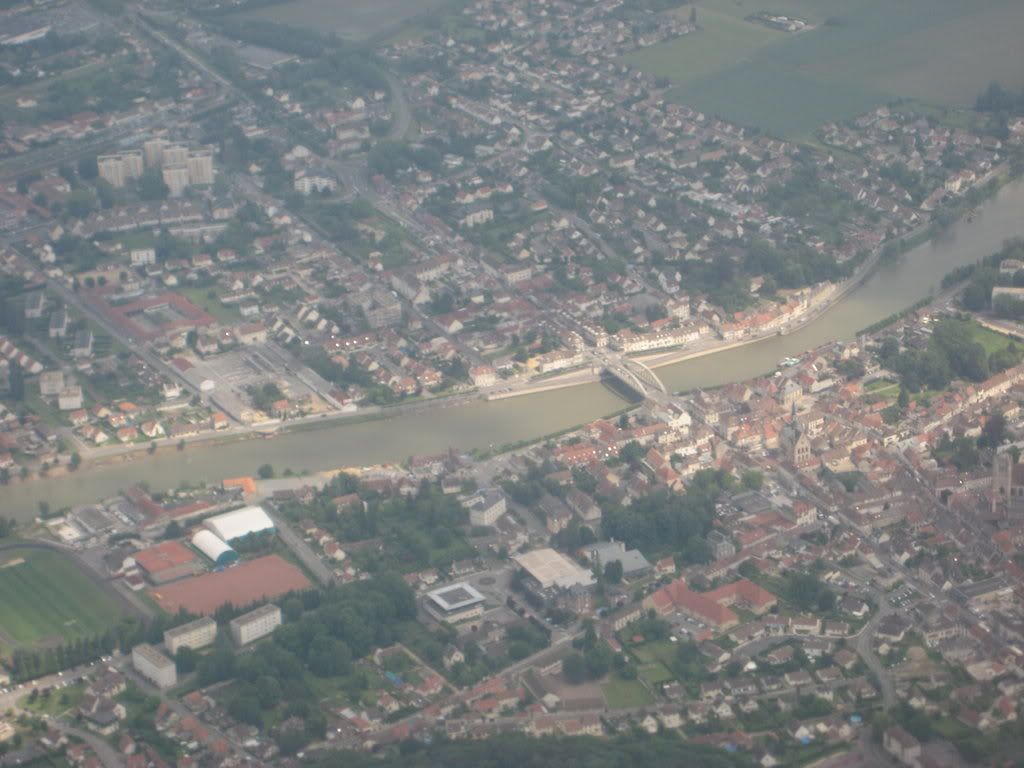 We touched down in the middle of a field (ok, there was a motorway and some other traces of civilization as well):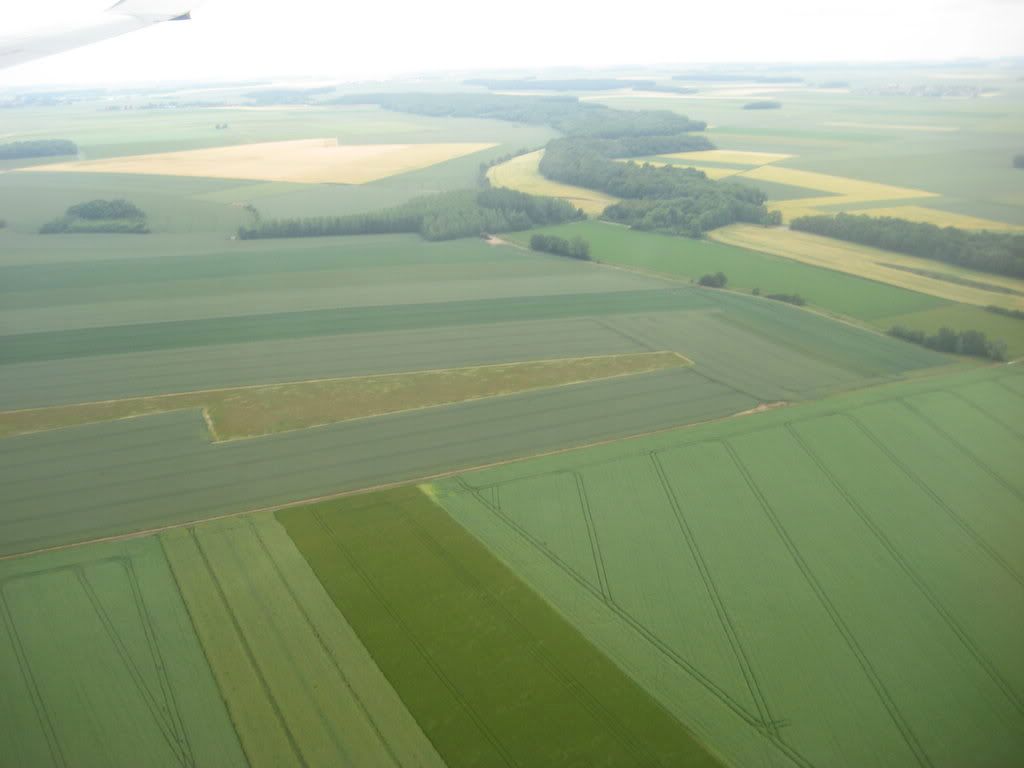 luckily on a runway (31) exactly 30 minutes after the pilot's earlier announcement. The paving of the runway was definitely brand new, so looks like they finished their job on time. Good work. The Italians broke up into a spontaneous clapping session, no doubt to celebrate the new asphalt. Upon disembarking I noticed that it indeed was very windy. The weather was quite dreary as well, no perspiration but grey clouds all around us. Here's EI-DLT under the gray skies: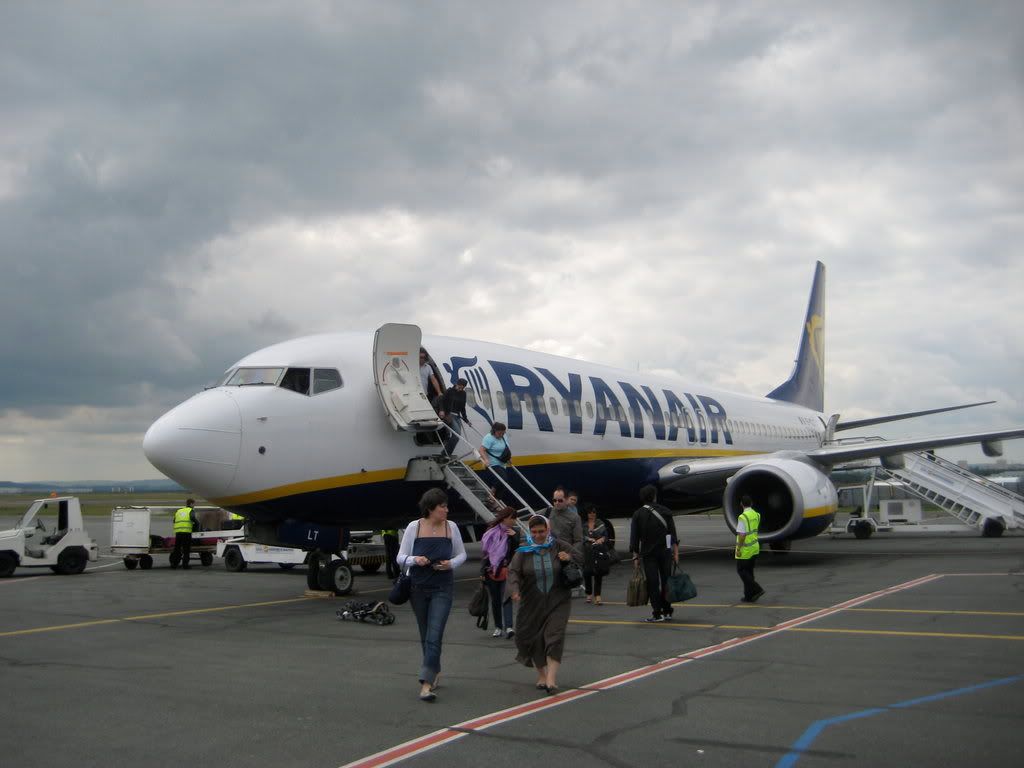 Beauvais and the bus ride
Yes, it is true what they say about the Beauvais airport. The departure hall really is a tent, although a little more sturdy than your average camping variety. Entering the baggage hall I was overwhelmed by the smell of cow manure (seriously!). I knew it was rural, but this is too much. Did some local farmer get refused acceptance to a FR flight after being too late and retributed with a load of the homegrown stuff or what? Bought a bus ticket to Paris for 13 EUR and stepped outside where the bus was just pulling to the stop. Then I made the fatal mistake of going back inside for a toilet break and to grab a soft drink for the long bus ride. Coming back outside just 5 minutes later I found the bus swamped with my fellow Italian co-travellers fighting head over toe for the last places onboard. Oh well. The next bus should be in 20 minutes anyway. It actually pulled up in 10 minutes and having no luggage to deposit to the hold I was one of the first ones onboard. Needless to say the bus was again packed to the brim, but actually left some 5 minutes early.
The airport's official name is something like Beauvais airport (Tille) and now I realized why, the main (and only) street of the village of Tille ends at the airport perimeter fence. Must be convenient for these people when they get the urge to fly away. It would also make for a nice stopover for somebody switching FR planes at BVA as the walk from the terminal is maybe 500 meters and the village looked quite inviting in the rural French sort of way. We hit the motorway after passing around 42 roundabouts (the French do love these things, even so as to place the world's largest one around one of their best known national monuments) - 77 kilometers to the City of Lights. The bus ride is very boring but uncomfortable - there's no room for my big backbag anywhere else than on my lap and the Irish guy next to me is not the smallest one on the planet (neither am I, have to admit). Traffic on the motorway is light, so we make good progress. Views are very rural until we penetrate the outer suburbs of Ile-de-France (which are nice looking) to the more inner suburbs (which are not - it makes you wonder if you landed at some Russian city instead). One hour after leaving BVA we pull off the motorway, some minutes later I catch the first glimpse of the Eiffel Tower (phew, it was Paris after all!). Another 10 minutes later we pull off at the Porte Maillot next to the huge convention/shopping centre in a sorry looking bus depot crowded by the backpack travellers taking a nap in the sun (oh yes, the weather has improved since BVA and now it is actually sunny and warm).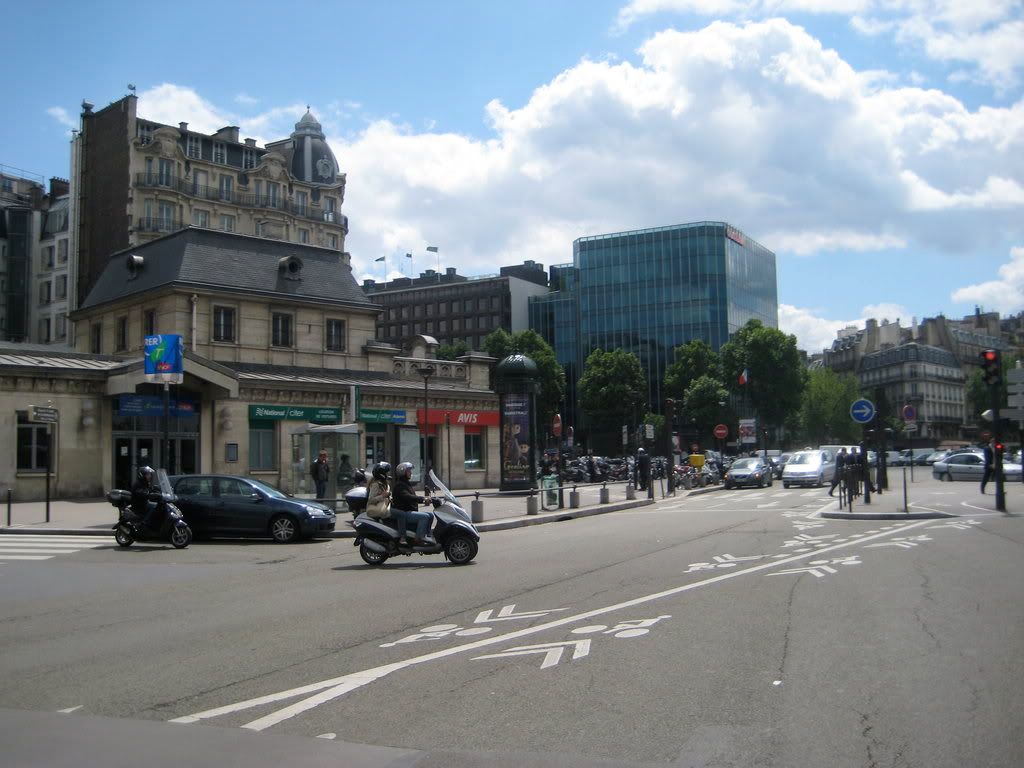 Paris
Ahh, good old Paris. While making my way to the metro station I take a look down the inviting Champs-Élysées and for a while I'm tempted to just ditch it all, waltz my way down the lovely boulevard only to join the growing number of homeless guys on the streets in two days time when my money would run out. I shake the disturbing, yet fascinating thought away and descent the stairs to the bowels of the metro system. It's been a good three years since I'd last been in Paris (outside CDG, that is!) and I had blissfully forgotten the more peculiar aspects of the metro system: the ceramic tile covered endless transfer passages, stations that appear connected but actually live on separate dimensions only connected via an endless passageway, the mad rush hours, panhandlers, homeless people sleeping it off at the stations etc. It's all coming back now, in a whim. A ticket from the self-service machine at 1.60 EUR represents good value. One transfer at CDG/Etoile to the M6 line which is very nice as it runs partly overland to cross the Seine and affords another magnificent view of the old iron tower. 30 minutes later I'm deposited at the Denfert-Rochereau station where the OrlyBus to Orly leaves. Handily there is a sign with an OrlyBus logo pointing towards one exit, which I take. Not so handily it just dumps you at some random boulevard with no signs to get you further. After running around like a headless chicken I spot some buses in front of the RER station and connect the dots. A ticket from the guy at the ticket stall goes for 6.30 EUR, not so good value any more. The bus gets packed with people with massive amounts of luggage, but I'm the first one in so I selfishly grab a seat and refuse to budge.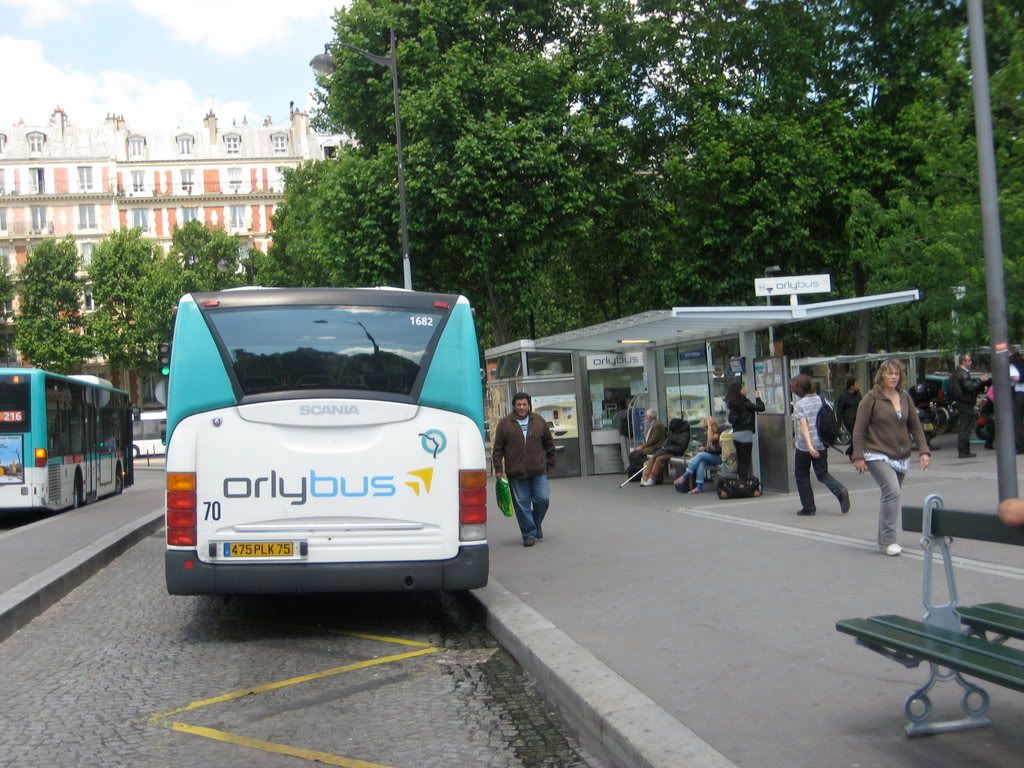 The ride is surprisingly quick, no doubt helped by the interesting bus lanes blocked off by concrete in the middle of a wide motorway. While approaching ORY there is an endless row of mostly Accor hotels, including the world's ugliest Mercure (the buildings look like plastic molds). The bus stops first at the Ouest terminal which looks like Air France territory, left and right. Most of the bus empty here, and then we continue to the final stop of the line, Sud (yes, that's French for "South") terminal. I don't know what the guy who designed the Orly driveway system was on, but I want a couple of crates of that stuff - the 500 meters or so between the two terminals involves some very interesting curves and double backings. Finally, around 25 minutes after departure we stop in front of the Ouest terminal. The whole journey from BVA took a little more than 2.5 hours, which was mostly non-stop travel.
Orly Airport
The first impressions of this airport are not so nice - the building has a very obvious 70's feel with low ceilings, massive use of concrete and so on. Oh yeah, it's also packed to the brim. There are tons of exotic-sounding airlines from the former French colonies (mostly in Africa), with the trademark passengers who are checking in interesting things like cardboards of microwave ovens, washing machines, Peugeot cars and French wine (kidding about the last one). Fortunately the very first check in counter I spot is Air Berlin - and there's no queue at the two desks! A rather nice French girl checks me in, although her niceness is shattered by the fact that she insists that my backbag must be gate checked as "it iz ze very zmall aircraft, zir". I try to argue (yes, this backbag fits just fine under the seats on many turboprops), but in the end I end up with a gate check tag attached to my bag. She almost forgets to hand me my connecting boarding pass, but after reminding her about it everything's sorted out with a smile and apology. I have a snack at a landside cafe (no fastfood in sight - disappointing), which costs horribly lot for not much and rip off the bag tag, depositing it in my pocket for the unlikely event of somebody actually bringing the matter up upon boarding.
Then it's time to go upstairs through security. There seem to be two blocks of gates, A and B, with A apparently being exclusively non-Schengen and B the other way around. The queue through security looks horribly long, but actually feeds 5 separete checkpoints and doesn't take more than 10 minutes. The B gate area looks very uninteresting, consisting of a long corridor with gates on one side and some boring shops on the other one. The corridor ends at a wider concourse of sorts with gates all around, including my assigned one. There are a lot of people around, with an EasyJet flight to Nice, NE to Prague and some Aigle Azur (who are they?!) flights to Mediterranean destinations due to depart in the next half on hour from here. The assigned boarding time at my boarding pass is 16.20, which is the time when I actually spot our Dash-8 landing. A few minutes late it taxies past, looking tiny against the CorsairFly Jumbos in the background: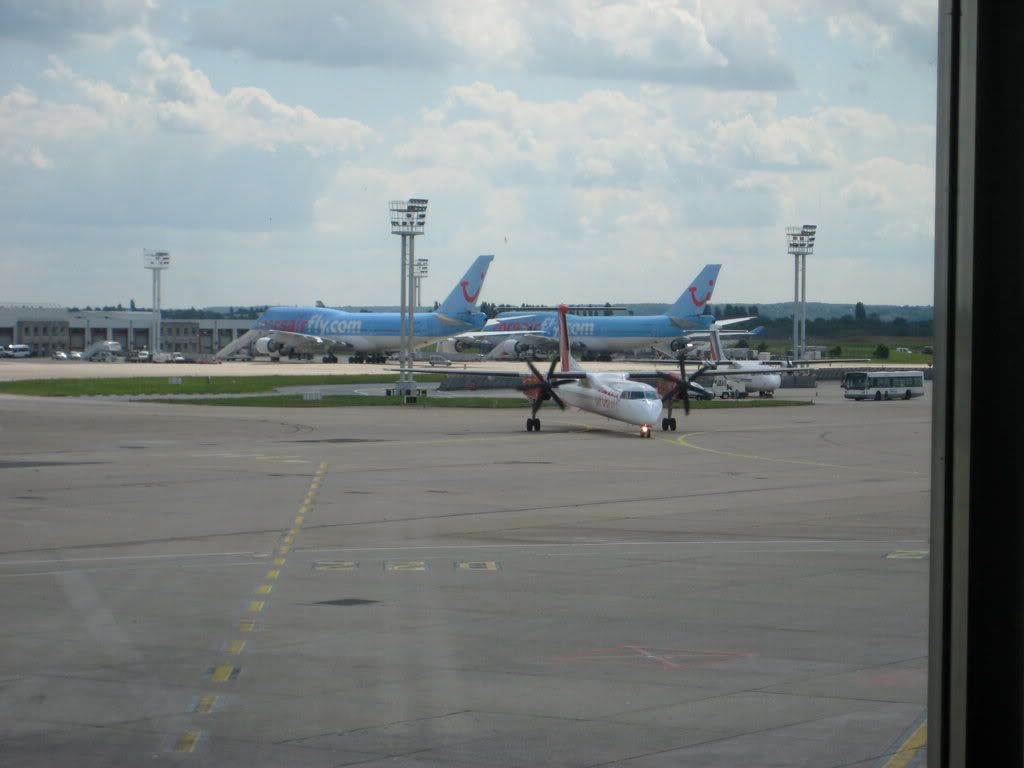 Some 25 minutes later a boarding announcement is made, and we form an orderly queue at the boarding gate. It's nice to have mostly German co-travellers as forming a queue is something encoded deep within their gene pool. The gate display is proud to announce the fact that "boarding is by bus". After reaching the rather cute (in a French sort of way) mid-20s gate agent girl I use up half of my French vocabulary with "Bonjour" and "Merci!" - she is visibly taken by this feeble attempt and proceeds to flirt with me with a very inviting smile. Ahh, to be young, fit, single and in Paris! Unfortunately only the last one of these conditions is fulfilled at the moment and even that one will change in a moment, so I just give her a longing smile and head down the stairs to the waiting bus. And wait we do, after most of the passengers have shown up. This is what I hate about bus boardings, you always have some strugglers that you end up waiting for. With a jetway at least you would be seated and all set to go. After 10 minutes or so a young couple shows up - an American woman suggests that we should clap for them but the idea never takes off. Off we go. Peculiarly the Dash is now parked at the other end of the apron where I saw it taxiing to earlier - the registration matches to the incoming one so I'm not sure what the deal is here.
AB8025
ORY-DUS
Dash 8 Q 400 D-ABQA
Seat 6A
17.12 - 18.22
I try to take a quick photo of the plane after getting out of the bus only to be yelled at in French by the ramp agent. Some other poor soul after me faces the same scolding. Nobody cares about my backbag, although some people leave their larger rollaboards on the waiting cart. Inside the plane still has the new plane smell in it. The leather slimline Recaro seats look and feel very nice and clean, giving the whole plane a very modern feel. The two flight attendants however couldn't really be less interested in their job - no smiles, a forced "Hallo!" when greeted and I almost had to fight for my Air Berlin candy. The load today is less than 50%, with around 30 passengers, the seat next to me remaining empty. Oh, and my backbag fits neatly under the seat in front of me. Actually two would fit. The captain comes on saying that we are still waiting something regarding the baggage (sorry, I couldn't really make it out), only to be interrupted by a ground handling guy stepping in and handing over a piece of paper - after which he just disappears from the P/A and the engines are quickly started. Flight time is announced to be one hour exactly. We start moving pretty much in schedule, tailing a Aigle Azur (again, who are they!?) A321: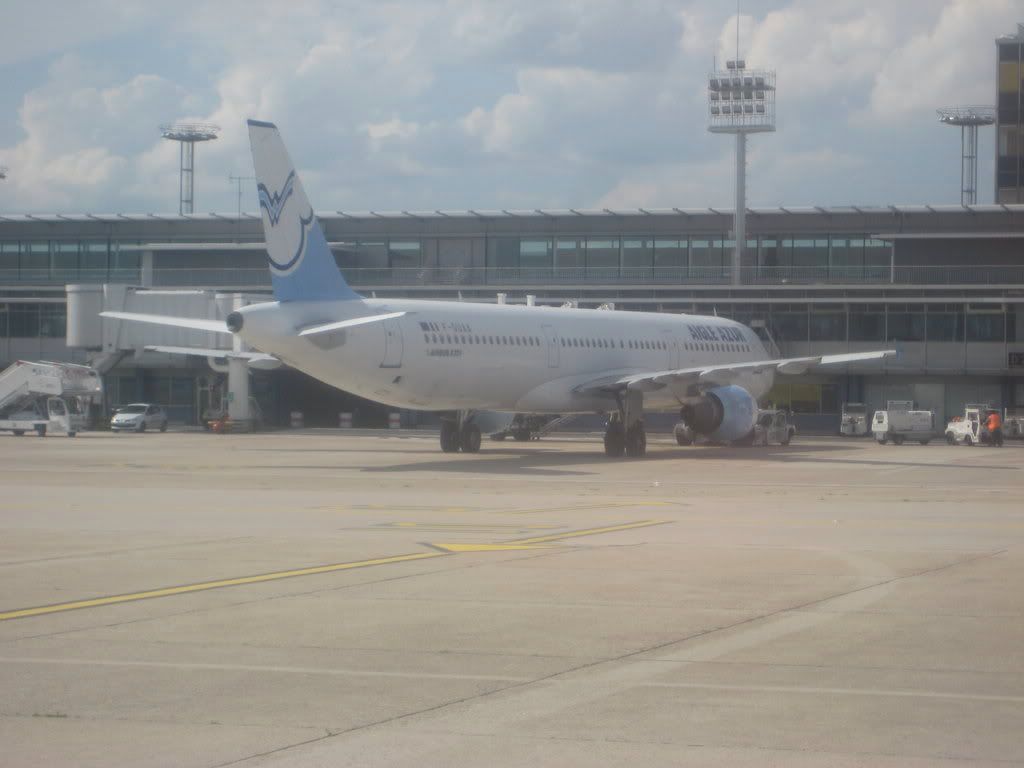 While taxiing around the two terminals we pass rows and rows of various Air France regional aircraft like ArlinAir ATR-72: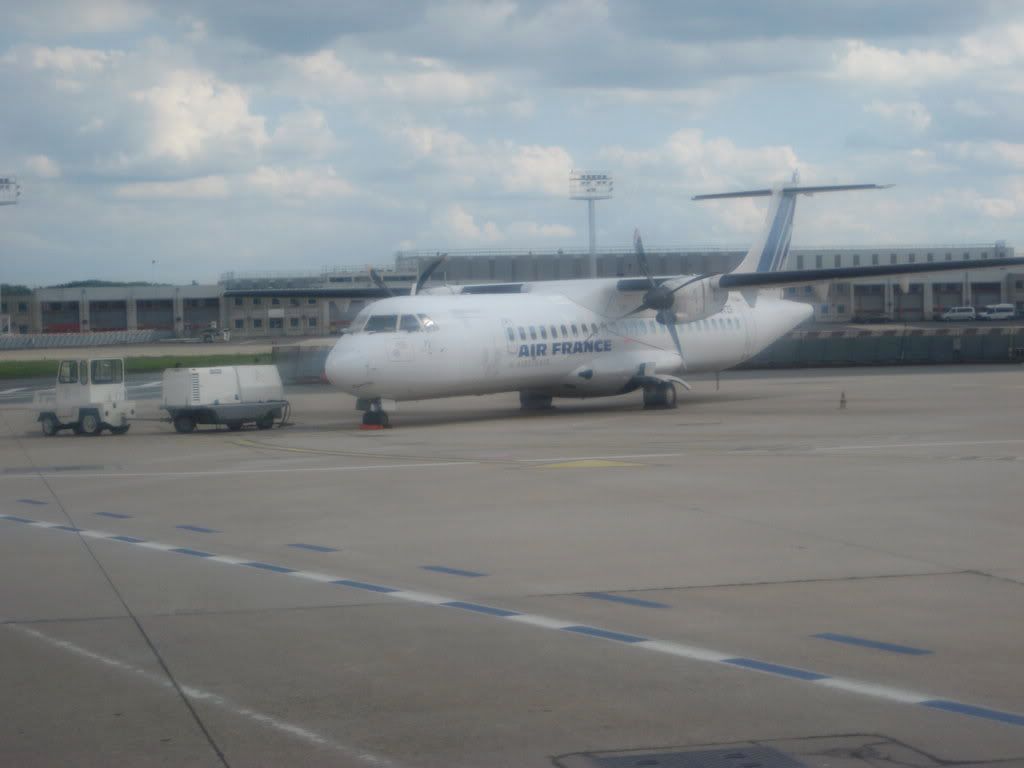 Brit Air CRJ: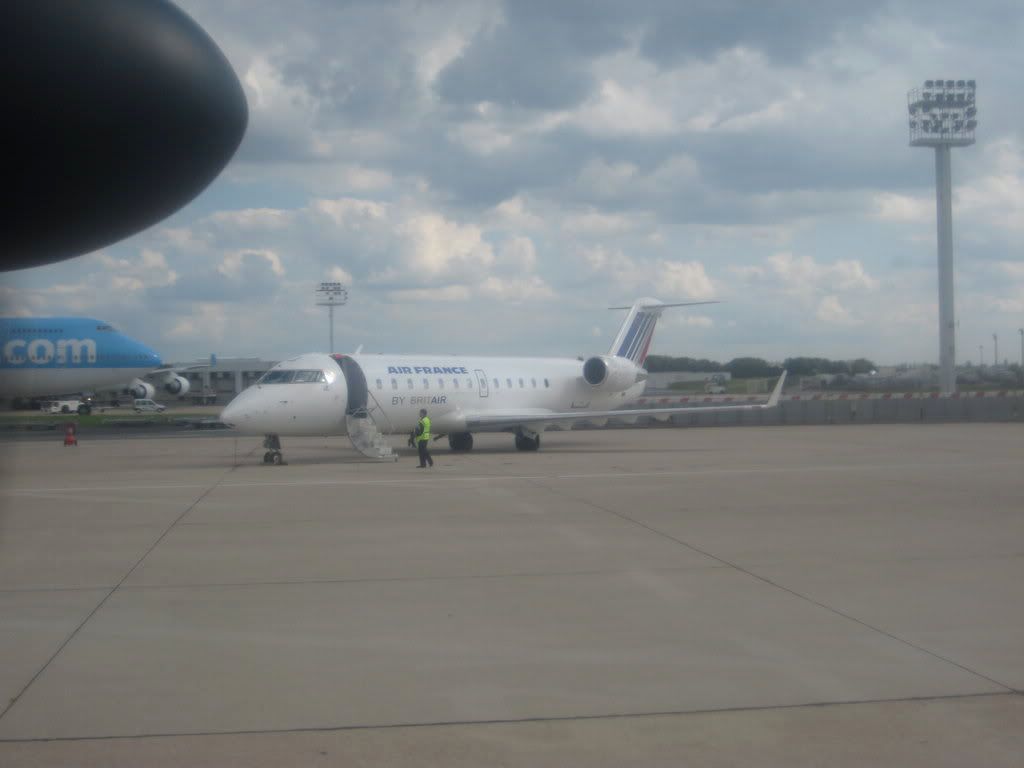 And F100: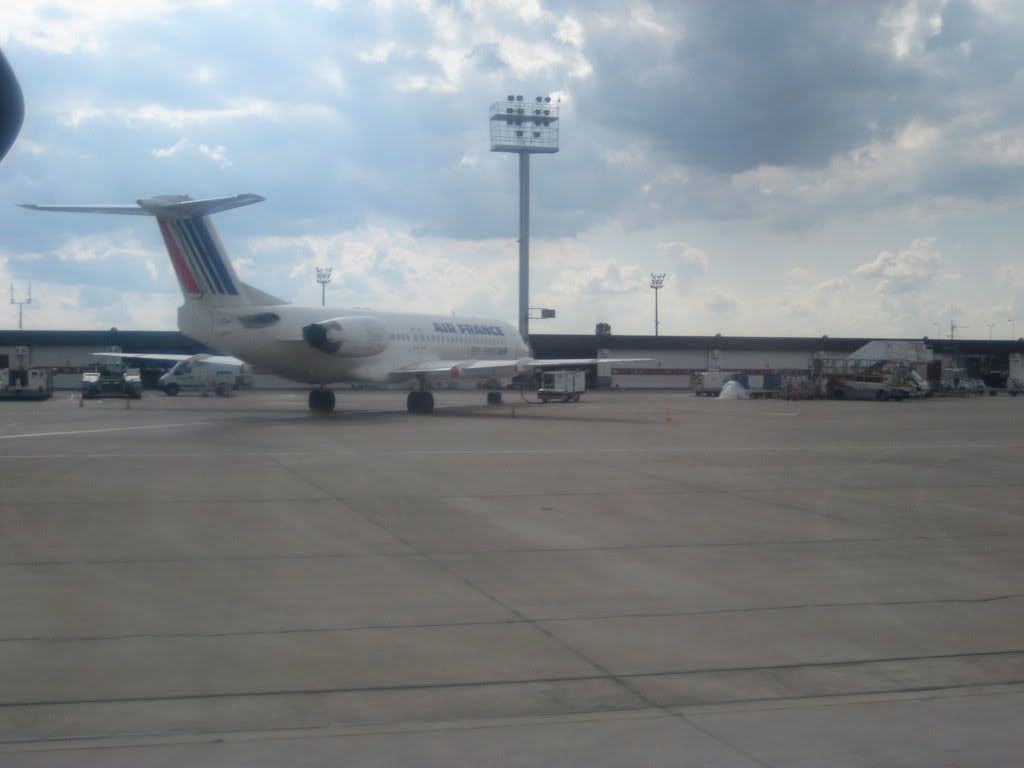 When reaching runway 24 there's a very smart-looking UX E195 before us: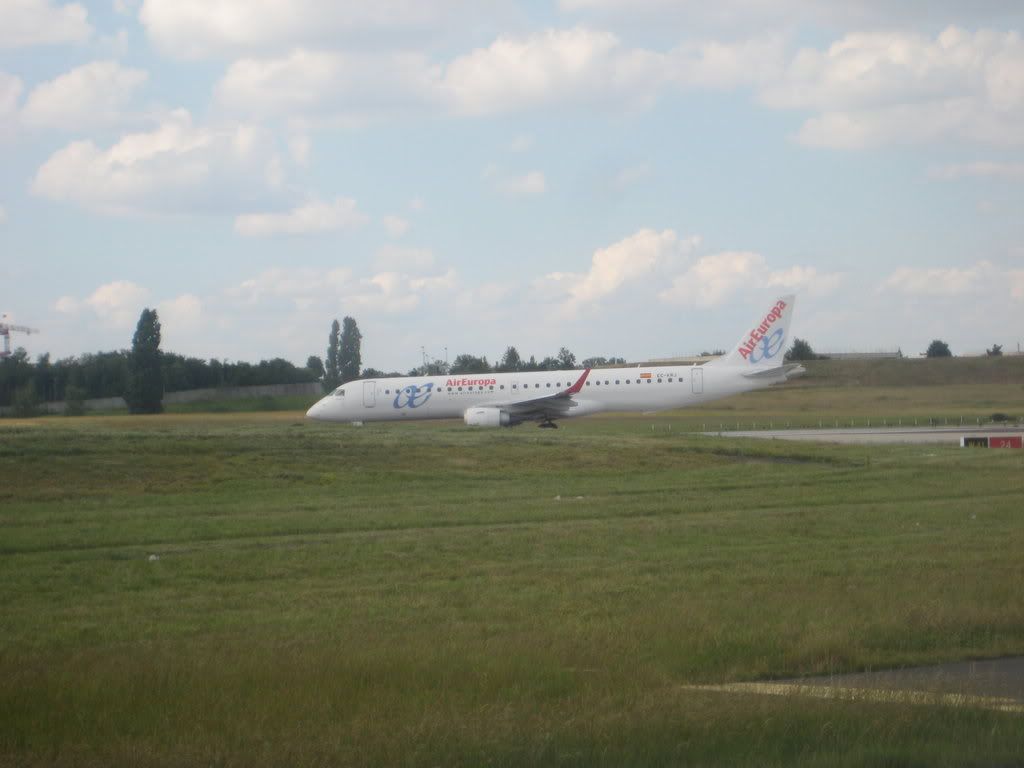 I want to fly one of these babies soon. After the Aigle Azur bird takes off it's our turn and we commence a very short take off roll and disappear into the French skies: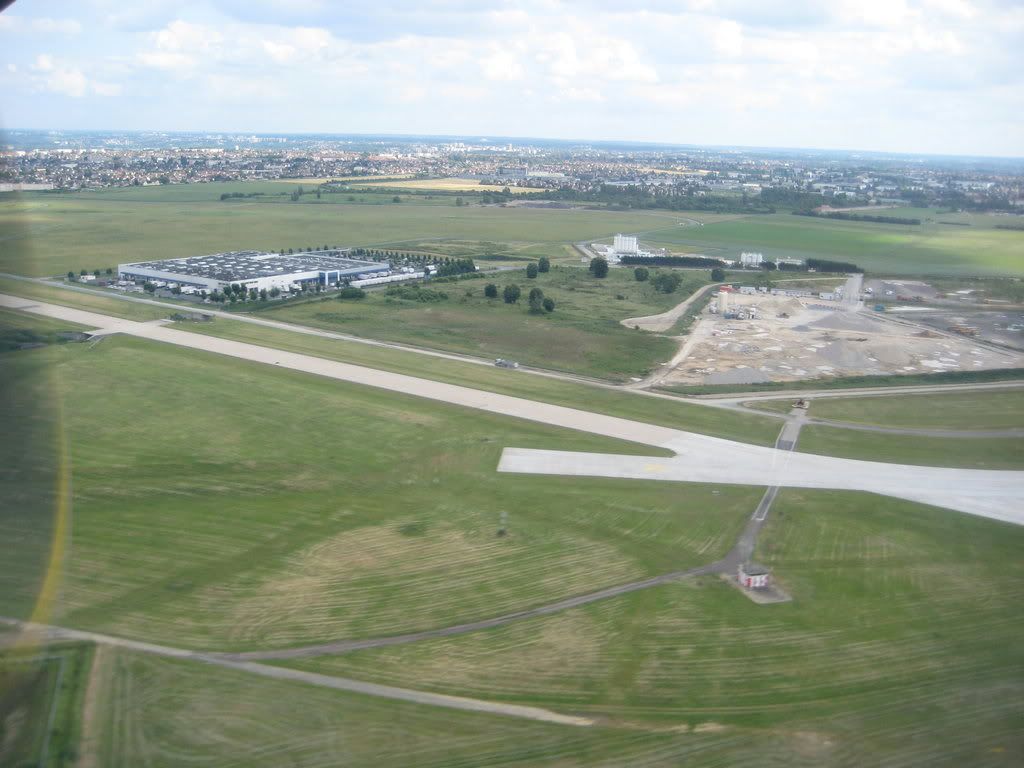 Sadly there are no good views of the capital even though we pass it on the eastern side, just some random suburbs with those horrible concrete housing blocks halfly covered with clouds: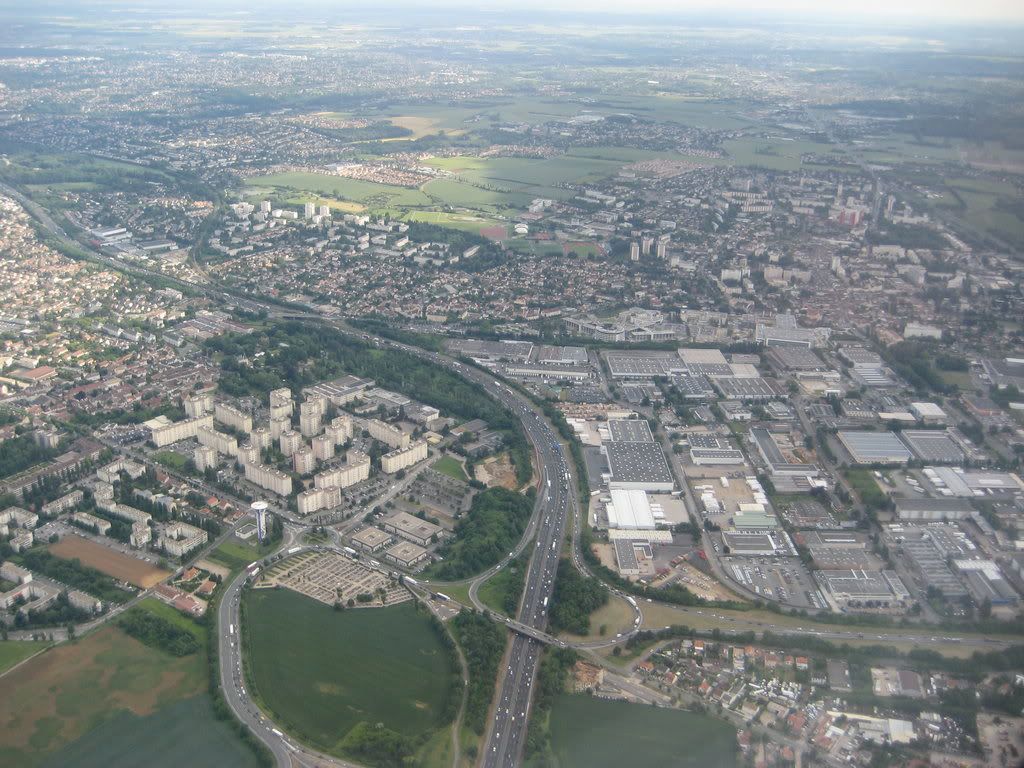 I hoped to catch a glimpse of CDG as well, but alas it was not to be. Very soon after the seat belt sign is switched off the crew runs through the cabin with the service cart, very hurried. "Cheeseorturkeysandwich?" (seriously!) and the same in German "Käseoder..." is offered, I go for the Käse one - this one actually tastes very good. I think they've changed the recipe somewhat, or maybe the ex-HEL catering just sucks. Soon the weather starts turning appalling, dark clouds, rain and some turbulence - we must be nearing Nordrhein-Westfalen then! After around 45 minutes of flight we start descending around 18.00. After the seat belt sign is switched on I place my trash in the plastic cup from my drink and leave it on the aisle seat tray table expecting the crew to pick them up once they prepare the cabin for landing. Well - the surly FA sure passes my row, but just dumps the cup on the spare aisle seat next to me and raises the table - instead of just carrying the trash away to wherever it is that trashes usually go to. Wow, that's just bad service. The dark clouds are very low, so we descent seems to take forever until we break the cloud: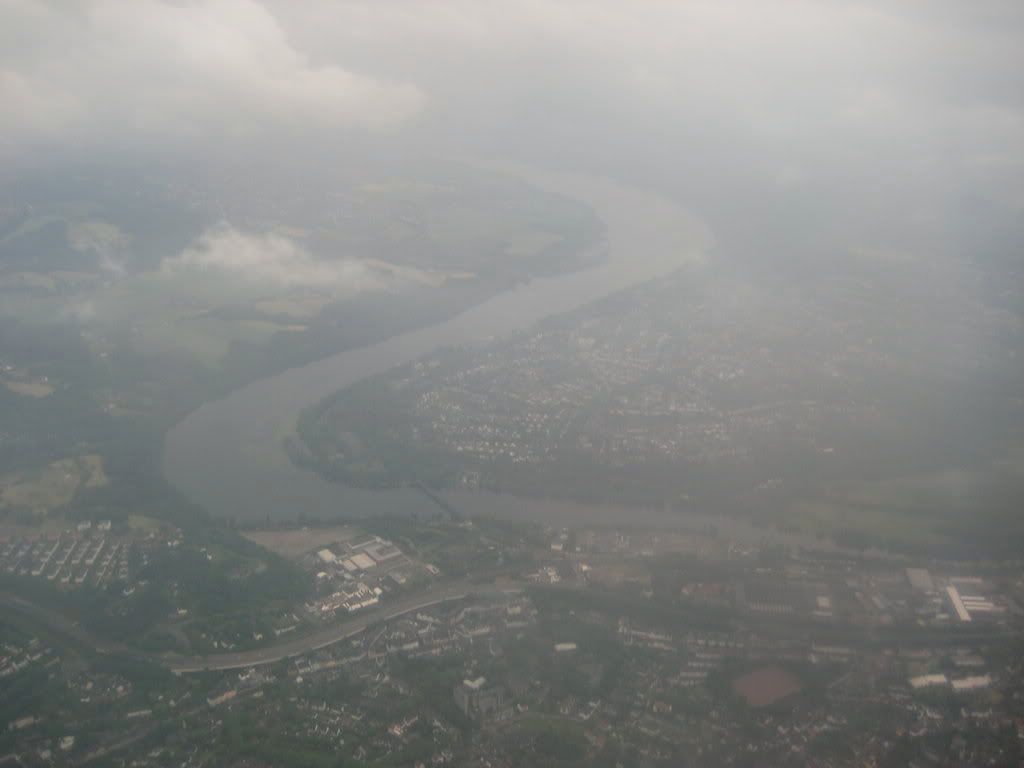 A short while later we glide over the Düsseldorf-Duisburg railway line with the airport train station in the background: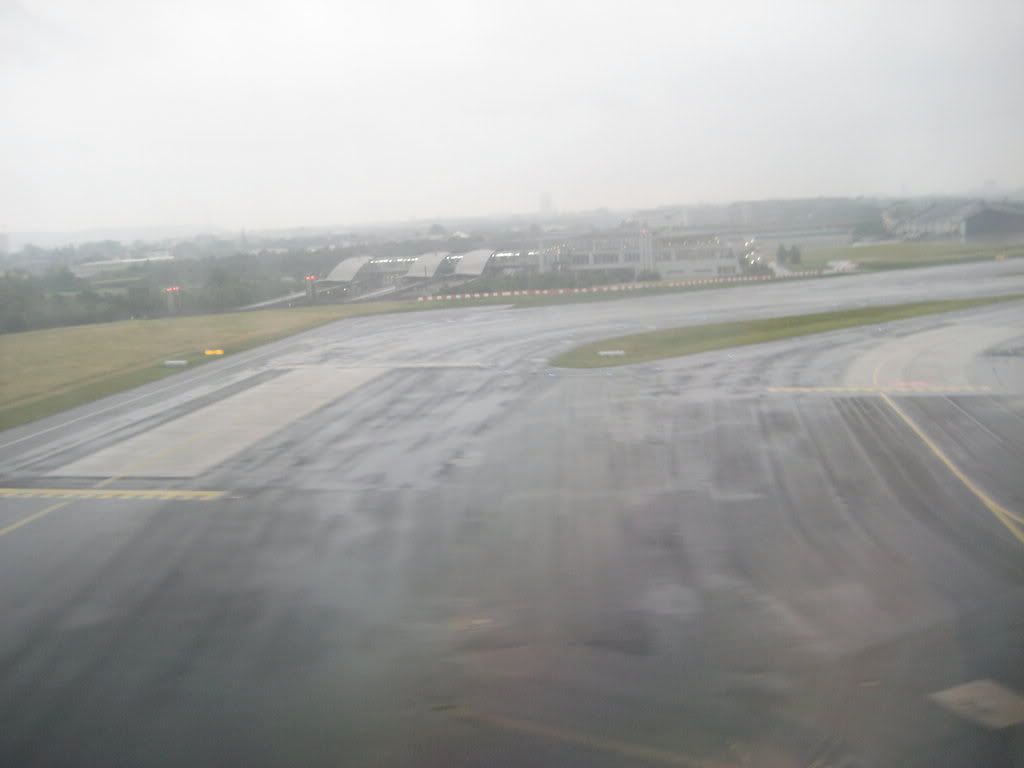 and make a very hard landing on runway 23L. Weather is really bad, with rain pouring down and everything looking very gloomy.
We taxi quickly to the apron in front of the C pier and park between a KL F70 and a company 737. At deboarding the lead FA even fakes a smile at me - this was the only time during the whole flight. They must be happy to get rid of us and go to home to be nasty to their husbands or something. Despite running the 10 meters or so to the bus I still get wet. Interestingly all the "delivery at aircraft" baggage has been placed in the middle section of the bus - a very smart move from the baggage guys considering the rain.
Düsseldorf airport
The AB buses make two stops, first at arrivals for those pax whose ultimate destination is DUS (or I guess are connecting to other piers than B) and secondly at a special gate at the B pier. This is fine and convenient, apart from the fact that this is announced by a recording around 10 times during our short wait and drive in the bus. It's almost as bad as the FR "Bullseyebaggieswannabeamillionairewithryanaircheapstarfishcallingcards" boarding ads. Most of the passengers exit at the first stop, only 7 or so of us continue to the B pier. The nice part is that it places us inside security.
I've got around one and half hours here, so I first grab an overpriced dinner of chicken curry at the cafeteria - I don't know why but I had this idea of a McDonald's being located inside the B pier which turned out not to be the case so I was actually prepared for a cheap, greasy burger instead. Maybe I had mentally confused it to the Starbucks there. Anyway then it is time to stock up on travel value liquer (hey, I'm going home to Finland!), shatter the dreams of a few Finnish girls who want to buy duty-free cigarettes intended for non-EU destinations at the shop (sorry, I'm just the messenger - blame Brussels!), try flirting with the hot Norwegian girl (I don't think there are any non-hot Norwegian girls at all) in the cashier queue before me with disastrous results and grab a beer or three at the bar there. Time flies by and I make my way to the gate B73 just when boarding is announced at 19.50.
AB8920
DUS-HEL
B737-700 D-ABLD
Seat 13A
20.05 - 23.09
They board in two lots by row numbers, luckily the limit is "13 and up", so I'm one of the first ones. On the way I make a note of the registration and it sounds very familiar - sure enough I flew this bird back in March HEL-DUS, so no new frame this time, bummer. AB seems to operate their planes ex-HEL in a W-shaped pattern, the 6.30 HEL-DUS flight returns back to HEL, then flies HEL-TXL-HEL in the afternoon before completing another HEL-DUS-HEL in the evening and overnighting in HEL on weekdays. On weekends it is slightly different as there's only one daily DUS flight, but they throw HAM in the mix - some weeks ago I flew HEL-HAM on a Saturday and the plane would immediately turn back to fly HAM-HEL. On weekdays it is the other way around. Anyway this means that if you spend a day spotting at HEL you are likely to see the same AB bird arriving and departing many times even though there are no based aircraft here. I don't know when they switch the aircraft for maintenance, probably during one of the DUS turnarounds.
On-board the crew is of the regular AB standard, friendly and smiling, that is. Boarding is quite quick, although we wait a while until two Finnish guys turn up all huffing, puffing and sweaty. They happen to be seated on the exit row in front of me, so I gather from their conversation that they were coming from the Netherlands but there was some incident at the Autobahn which almost made them miss the flight. Anyway we still depart bang on schedule at 20.05. Load today is maybe 80%, this is in line with all the AB flights to/from Finland that I've taken - hope the yields are decent and they keep expending the HEL operation. I like this airline a lot and I hope it won't abandon HEL like so many low cost carriers have in the past (Germanwings, here me!). Flight time is announced to be 2 hours, pretty standard for this route.
AF BabyBus next to us: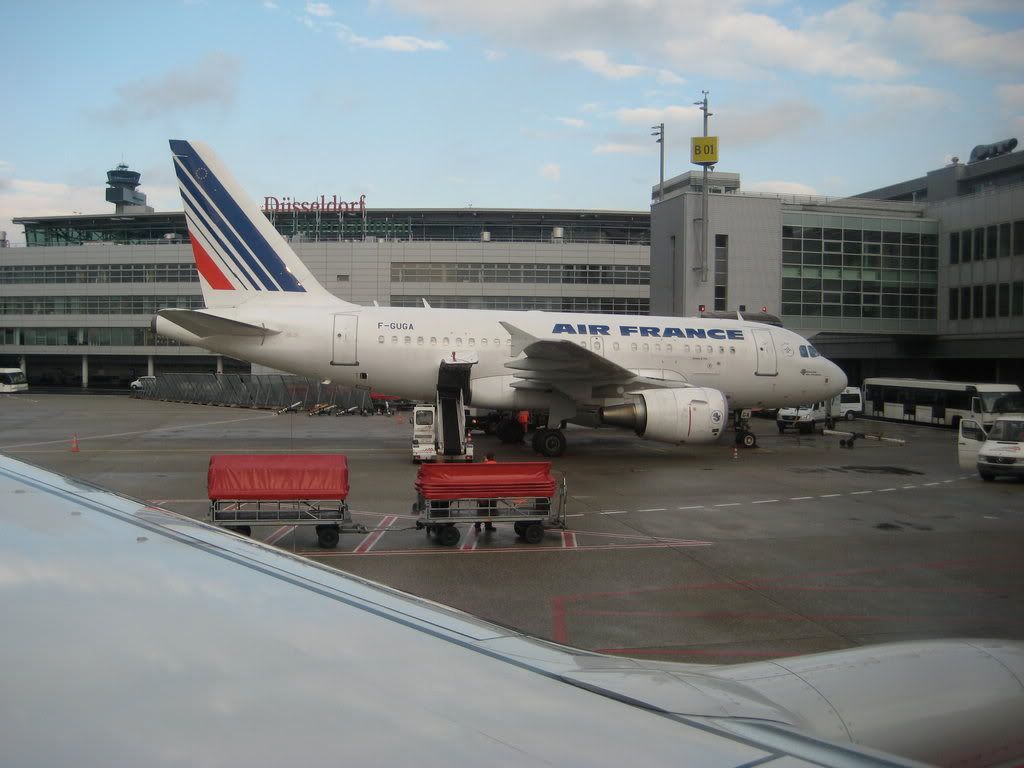 I like winglet shots: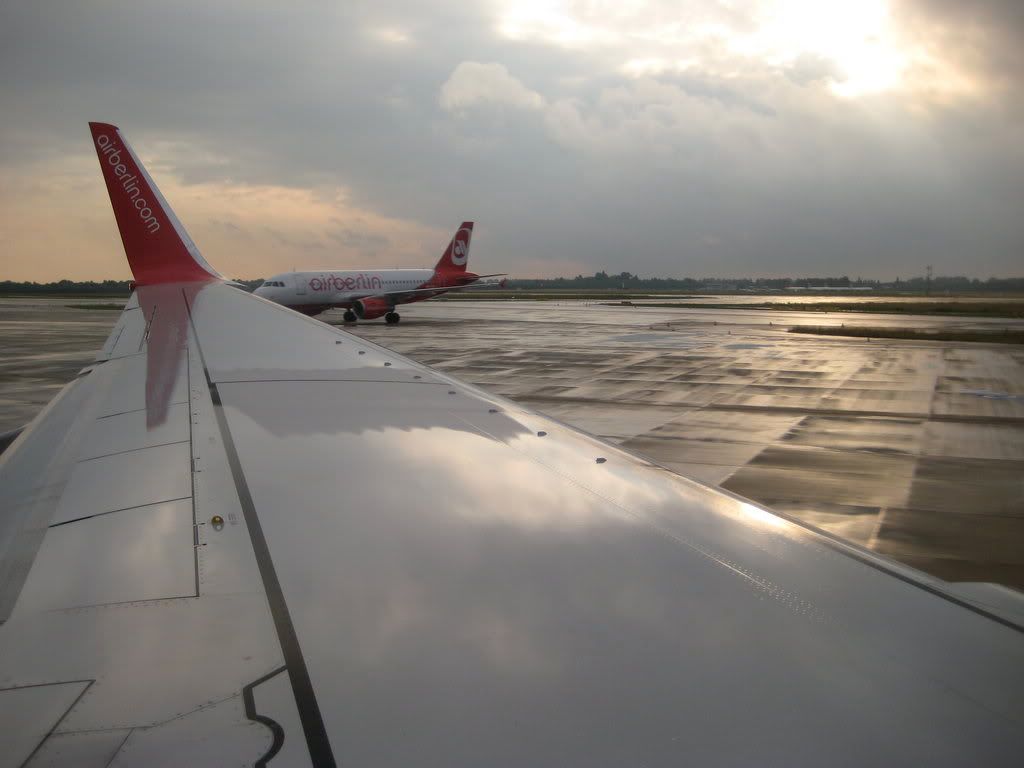 OS F100 taking off:
Top