I'm not much of a fan of trip reports split into parts - I guess I'm just too impatient and want to have the whole cake and eat it too at the same time. Still, my upcoming trip to Moldova and Ukraine is just so large that I'll try splitting it into parts. This also makes it faster to post as I'm not sure when I'll be able to finish the whole report - holiday plans and other commitments mean that finding enough time to write it all down and do the photo stuff not to mention being able to get online will be somewhat challenging in the next month or so.
Anyway here's the first, introduction part to act as a teaser - consisting of the simple feeder hop KUO-HEL on Blue 1 to take me to my starting position. I'm about to embark on the actual journey tomorrow morning.
Background
During the summer holidays I usually take one larger solo trip (subject to approval by the CEO.. err... my wife, actually) and then another family-oriented holiday with the wife and daughter. This year I got approval for a week's break just after the midsummer festivities in Finland, when both of our vacations started. I spent quite a while looking up airfares to different corners of the world that would make for a nice trip and allow the aviation geek in me to fly more or less exotic new carriers, routes and airports. In the end I settled for a not so distant (in the geographical sense) destination of Ukraine. While searching for options I quickly realized that I could also throw in the neighboring Moldova with not much effort, in addition to a short day trip in Timisoara, Romania, thanks to Carpat Air's flight schedules. Obviously I wanted to try some domestic flights in Ukraine as well. A lot of inspiration for this trip and destination choices came from PlymSpotter's excellent trip report series "Summer Wanderings" (hey mate, how about posting the last missing chapter(s) of this epic?!).
The finished trip looked like this:
22.6.2009 KUO-HEL on Blue 1 (this report)
23.6.2009 HEL-RIX-KIV on Air Baltic
24.6.2009 KIV-TSR-LWO on Carpat Air
25.6.2009 LWO-KBP-ODS-KBP on Air Ukraine International, AeroSvit and Dnieproavia
28.6.2009 KBP-DTM on WizzAir Ukraine and DUS-HEL on AirBerlin
As a bonus to get me back to my family:
29.6.2009 TMP-KUO on Air Baltic
Sadly all the Ukraine flights were scheduled to be operated by western equipment, a couple of 737s and a ERJ-145 - the Soviet planes seem to be disappearing from the skies too fast.
22.6.2009
Kuopio, Finland
This trip starts in the city of Kuopio, a city of almost 100 000 inhabitants in Eastern Finland, which also happens to be my hometown - although I moved out a good 8 years ago for greener pastures. We had spent the midsummer festivities of the previous weekend around here, and my wife and daughter would spend the upcoming week here as well, visiting family and friends.
My wife dropped me off at the Kuopio airport at 8.50, exactly an hour before my scheduled departure time. Inside there were a few people queuing for the two open check-in counters, but in no time all I dropped my bag off, having done online checkin already they day before. Kuopio airport, despite being the 7th busiest airport in Finland with almost 300 000 annual passengers is small and compact: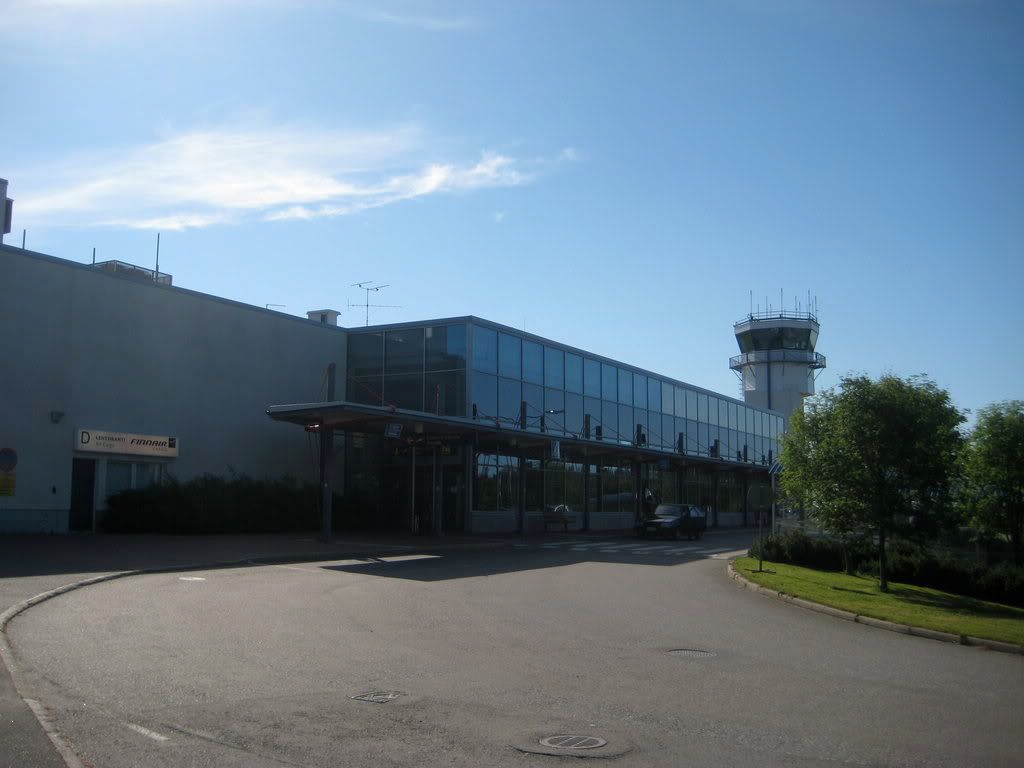 There are two gates, the usual arrival/check in facilities and a cafeteria upstairs with great apron views - a shame there isn't much traffic to see here. I headed to the cafeteria with the idea of grabbing a quick coffee, but as soon as I arrived upstairs I saw our plane landing on runway 33 some 10-15 minutes ahead of schedule. At the same time an announcement was made asking all Blue 1 passengers to proceed to the gate area through the security check - so I abandoned the idea of coffee. Still I took a few shots of the aircraft taxiing in to its parking position: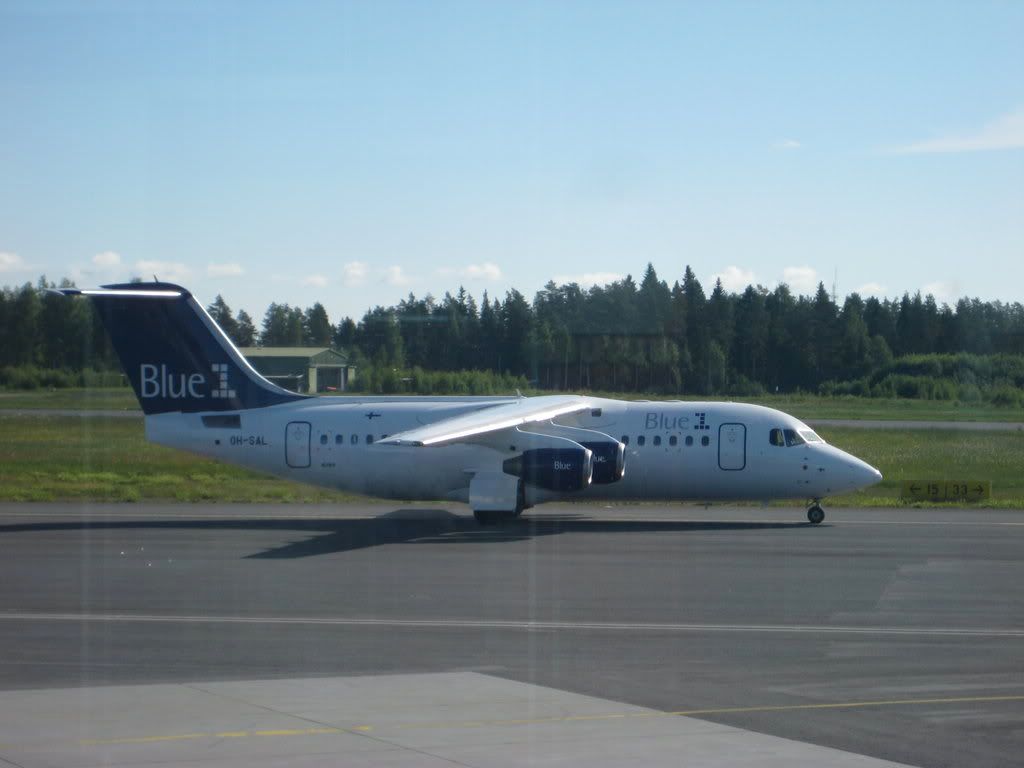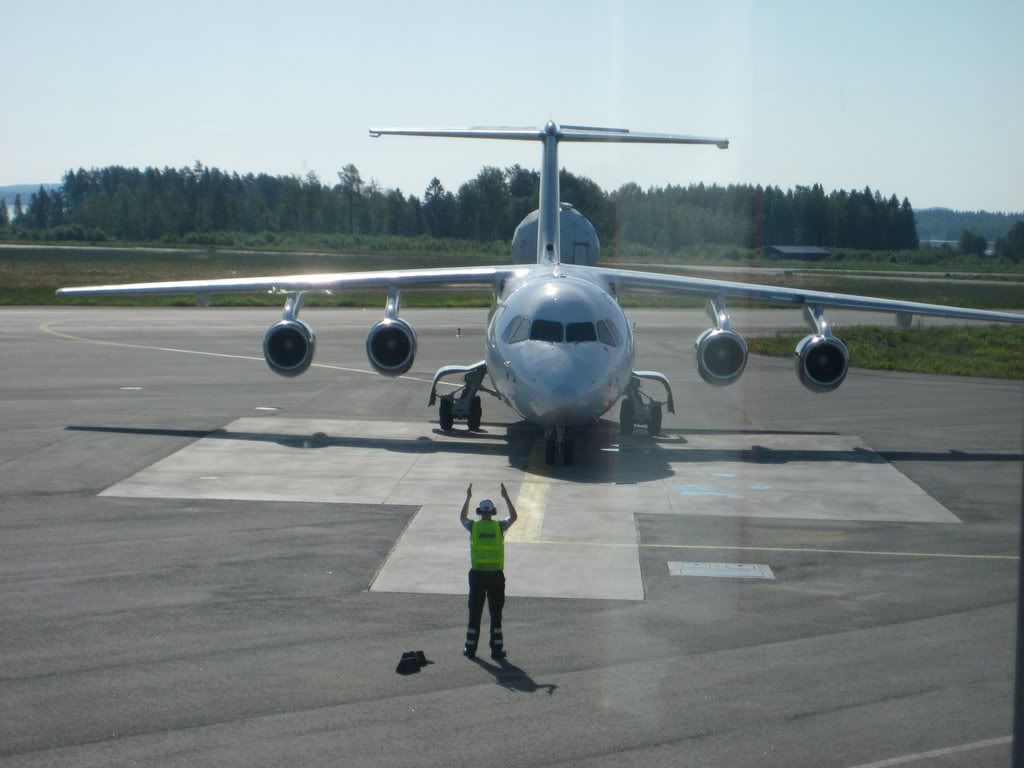 Today's ride would be ARJ-85 OH-SAL, named "Orivesi" - all of KF's planes are named after Finnish lakes. I've covered a lot of flights on these Avros - this would be my 7th flight on this bird.
At the same time a FC ATR 72-500 departed for HEL - usually I would have taken this flight but since they made some nasty changes to AY Plus mileage earnings on their cheap fares I decided to give my money to the competition. KF was also way cheaper at 39 EUR one way - a great deal.
Security was quick as it almost always is at these smaller airports. The departure lounge got quite packed - load seemed to be decent. There were a lot of families with small children - who were given permission to board first around 9.15. Soon it was time for the rest of us to take the walk to the waiting aircraft (no jetways here):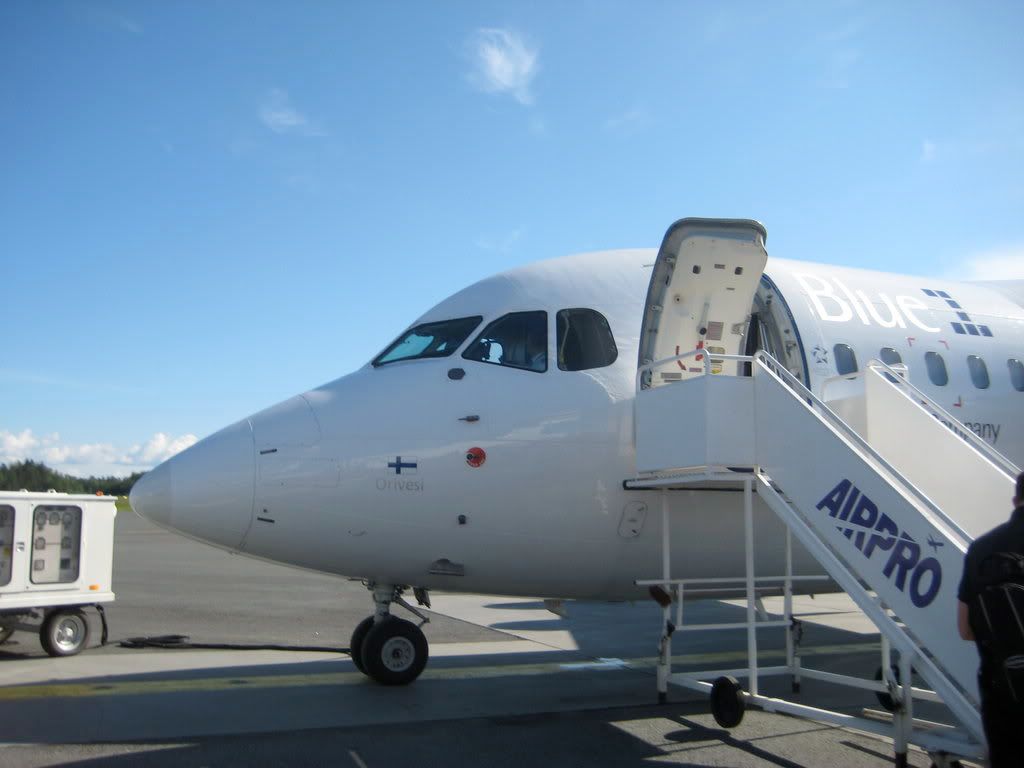 KUO-HEL
KF254
ARJ-85 OH-SAL "Orivesi"
Seat 15F
9.44 - 10.24
The original Avros on the KF fleet feature 3-2 seating with old-style cloth seats, making it quite comfortable. Leg room is decent as well - unlike on the MD-90s where it is frankly abysmal.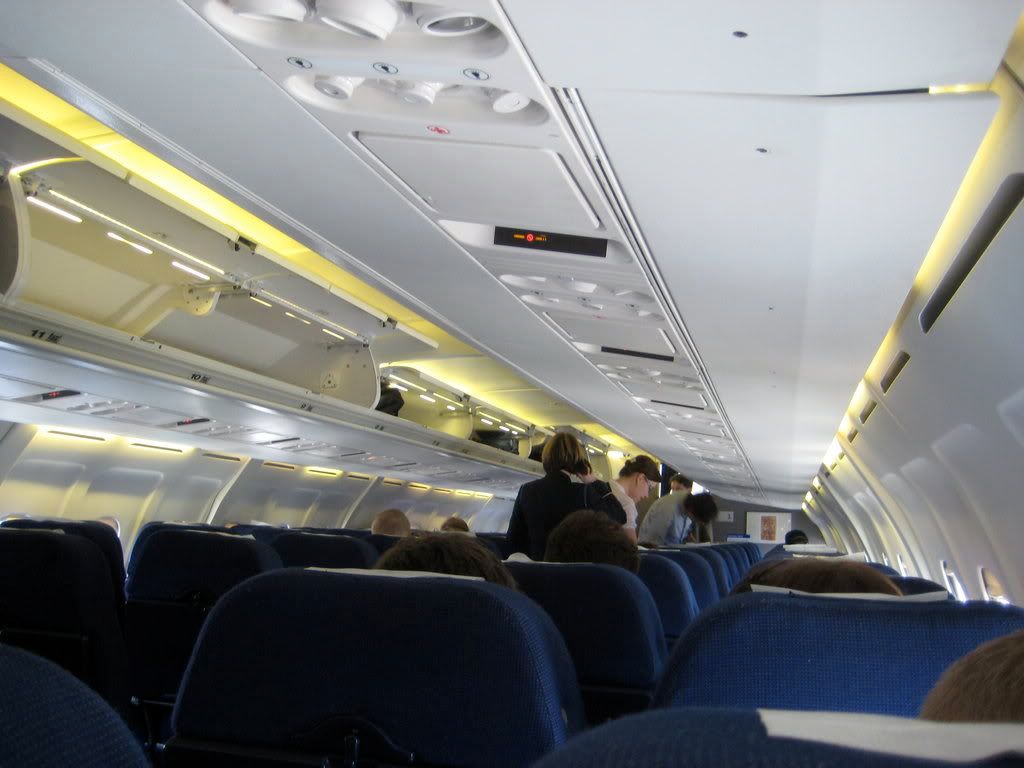 This spring KF also leased two Avros from CityJet, OH-SAQ and OH-SAR - for which they kept the CityJet 3-3 leather seats. I had the misfortune of flying on OH-SAQ already twice and cannot recommend that experience - it just feels far too tight for my comfort unless you have a vacant middle seat next to you.
Load was maybe 90% with just a few vacant seats here and there. Boarding was completed quickly, and the captain came on the P/A announcing a flight time of 45 minutes and that a nice summer weather was expecting us in Helsinki, just like here (too bad the midsummer weekend weather was something completely different). We started moving 9.44, six minutes ahead of schedule. Short taxi to runway 15 and a powerful takeoff followed.
I had picked a window seat on the right hand side on purpose - unless there are some really heavy winds all southbound departures ex-KUO use runway 15, which puts you on a flight path directly over the city and gives us on the right hand side some great views over the city (landing traffic usually uses 33 as well, which means that for the optimal views an A seat is preferred in this case). Today was no different, and with the great weather I went a bit trigger happy, shooting away pictures after pictures.
Part of the Finnish Air Force facilities at the airport - there are a several F-18s and Hawk trainers based here: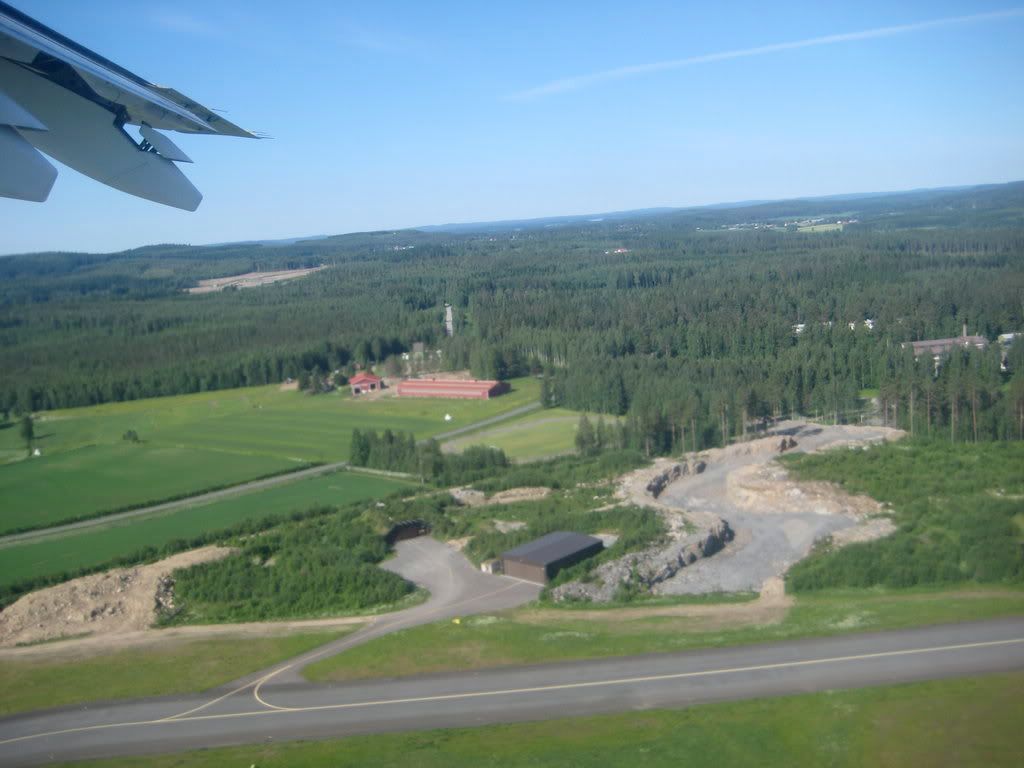 Overview of KUO airport from air as we make a right turn: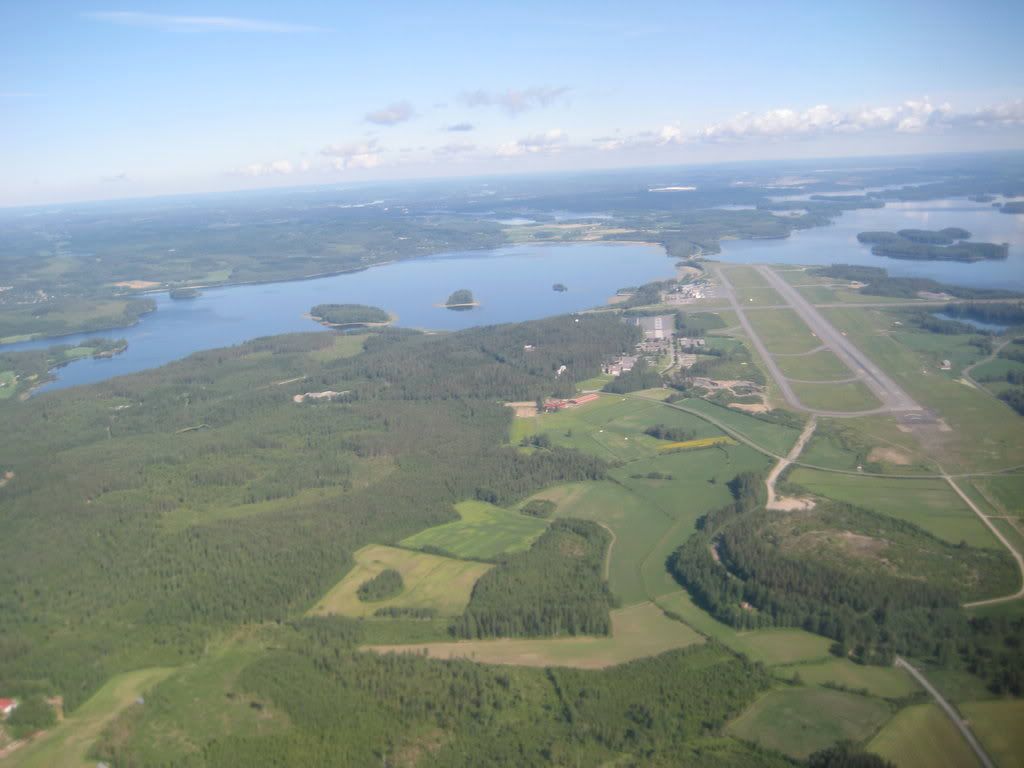 The Kallansillat rail and road bridge - they don't call Finland "the land of thousand lakes" for nothing: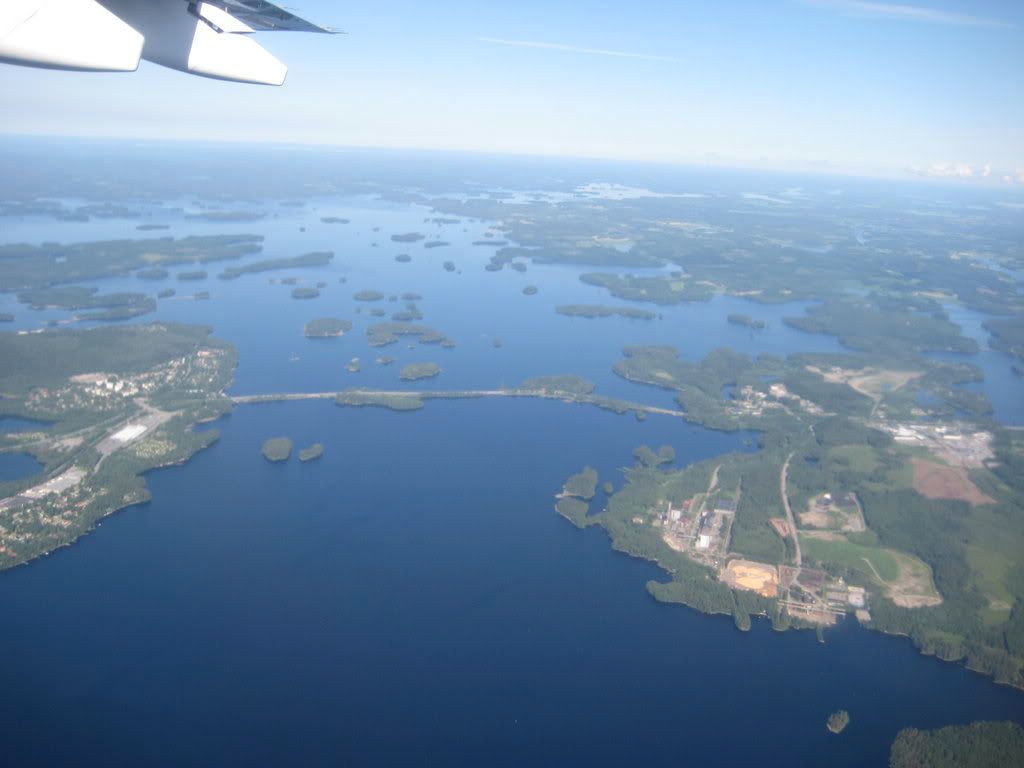 Downtown Kuopio with the harbor on the bottom of the picture:
The Blue 1 on-board service has seen many different phases - it started as really good with free hot meals on the longer routes and sandwiches or similar on the shorter ones plus the full range of beverages, including all kinds of alcohol. Soon enough they followed their parent company SAS in starting to charge for all service in normal economy (at the same time an "economy extra" class was introduced where service remained free but ticket prices shot up to ridiculous levels). Some time last year or so they reverted to free coffee/tea on some of the shorter routes due to "the flight time being too short to properly serve everybody with the buy-on-board concept". I'm still not sure what routes fall under this category, but I think at least HEL-VAA, KUO and all the feeder services to ARN ex-Finland are like this. The longer domestic sectors to OUL, KTT, KAO and IVL (RVN was dropped earlier this year) as well as all the European flights and OSL/GOT/CPH are buy-on-board, or "Cafe 1" as they call it.
So today's service featured free coffee/tea/water or juice. I finally got my coffee - you used to get some cookies or a small pastry with it, but apparently this was deemed too expensive as well and none was served today. A toffee candy was offered as well a bit later - I'd still preferred some cookies with my coffee! I spent pretty much the whole flight just staring out the window as the views and weather were just great, snapping the occasional photos.
Vesivehmaa general aviation airfield with the Vääksy isthmus in the background - often regarded as one of the most beautiful places in Finland: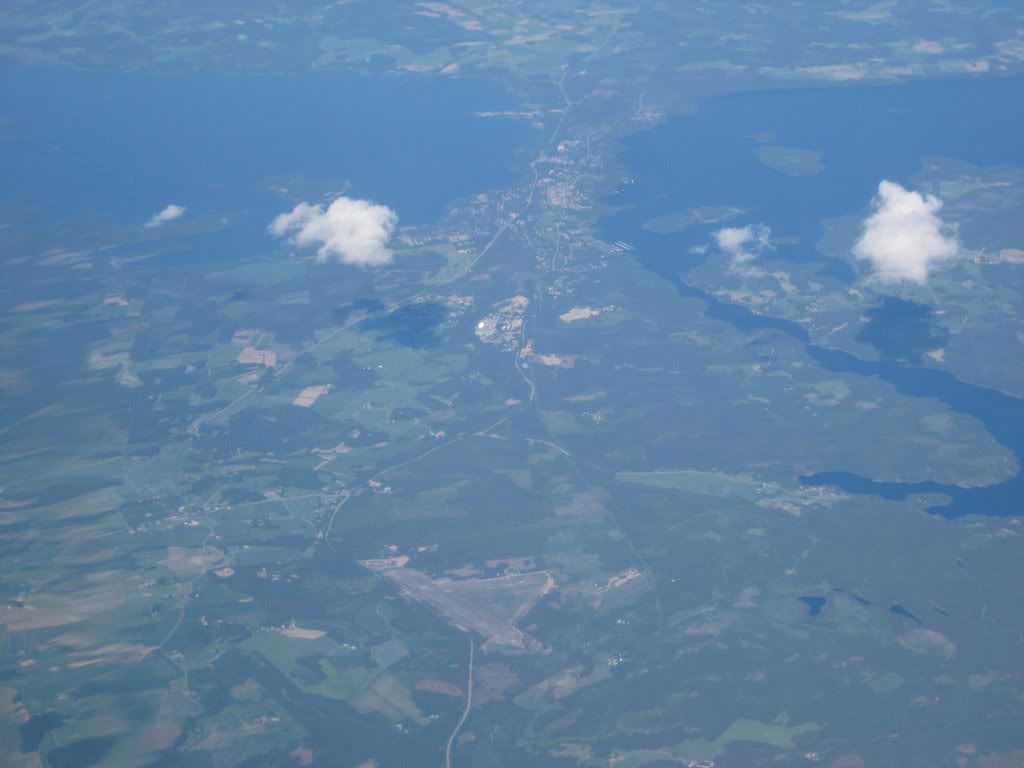 Over the city of Lahti the first officer announced descent starting (which I could feel a few minutes earlier) and the remaining flight time being only 10 minutes - considering that we spent one and half hours driving the same distance among the big holiday traffic jams on the motorway last week this was a definitive improvement! We took a pretty straight approach first staying east of the aforementioned Helsinki-Heinola motorway and then turning right over the city of Kerava to line up with the runway 22L. A very smooth touchdown followed, over 10 minutes ahead of schedule.
Kerava with the main Finnish trunk railway running through it: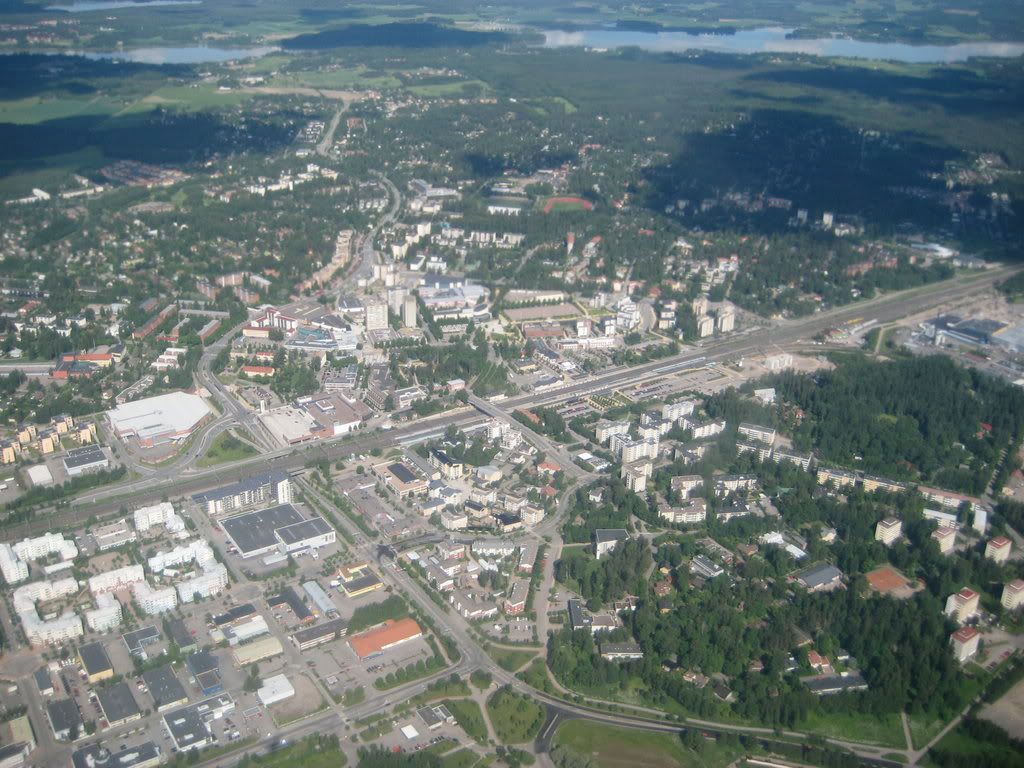 On short finals to 22L over the Tuusulanväylä motorway: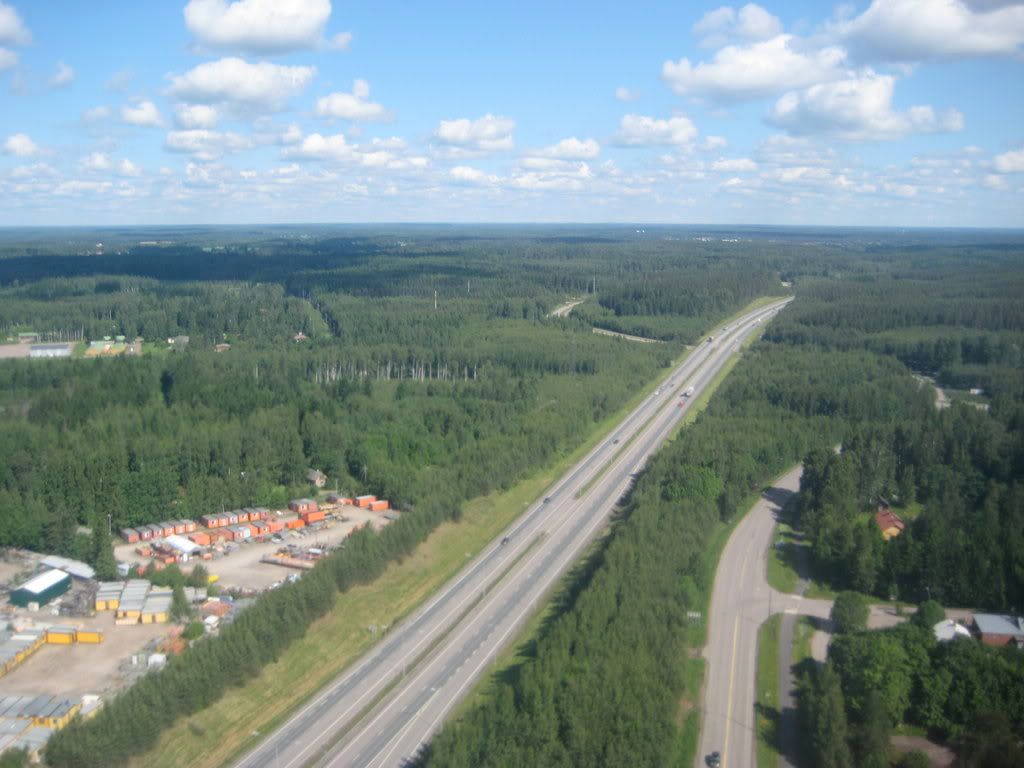 Helsinki-Vantaa airport
Helsinki-Vantaa was pretty deserted at this time as the morning traffic had departed a couple of hours earlier and had not yet returned.
The non-Schengen terminal expansion nearing completion: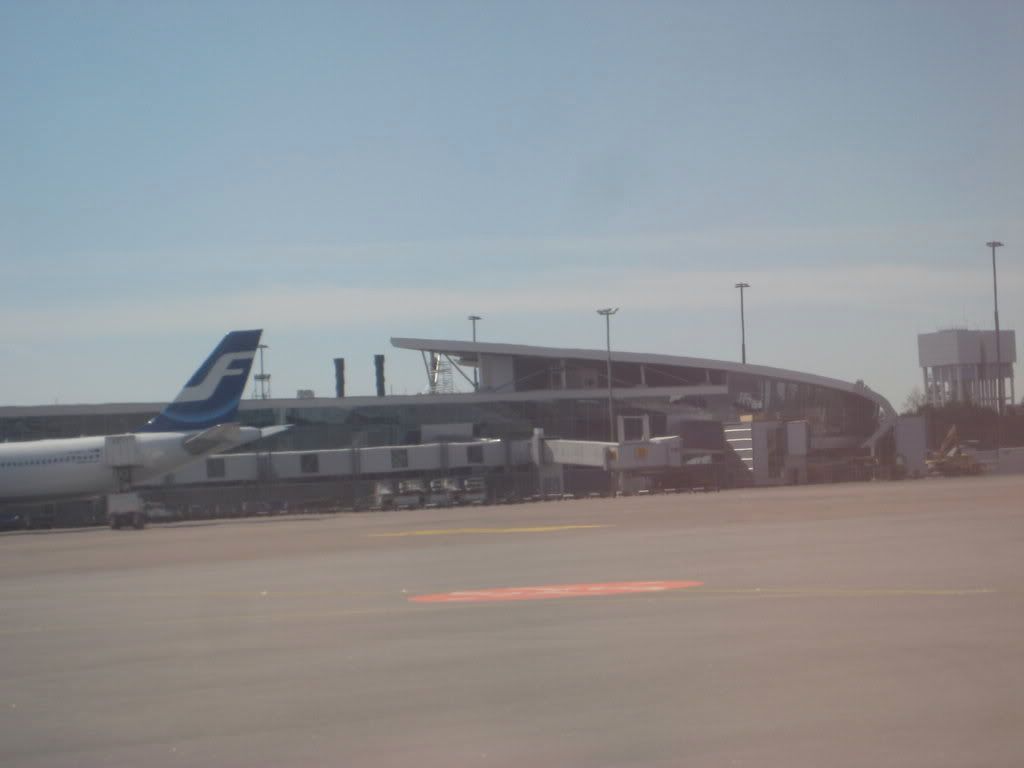 Air Åland Saab 340 being refuelled for her return flight to MHQ:
A quick taxi took us to gate 20, where we docked to a jetway only 4 minutes later. As this gate is considered to be part of the "international" terminal the hike to domestic baggage claim was quite long. Thankfully this situation will improve in August as the artificial split (with Schengen and all) between international and domestic terminals will be removed and the terminals will simply be T1 and T2, with the split being based on airlines and not destinations. The good part of the long walk was that the baggage belt was already rolling when I arrived there and I got my bag pretty quickly. Then it was just a matter of hopping to the local bus and I was home 20 minutes later - ready to run various errands in preparation for the next morning's departure.
This concludes the introductionary part. The next parts of the trip are coming, but as mentioned not in the next week at least - I'll try to travel light so I'm not taking my laptop with me for this trip.