Hey all,
Welcome back to a short TR, flying domestic with Aerolineas Argentinas to Peninsula Valdes (a UNESCO World Heritage Site/ National Park), to see some whales!
Old TRs
AA J To Argentina: A Fantastic Trip (85+ Pics)
(by
Longhornmaniac
Jun 5 2009 in Trip Reports)
AUS-BNA (the Looonng Way). AA F/J/Y (100 + Pics)
(by
Longhornmaniac
Apr 5 2009 in Trip Reports)
AUS-ORD-PHL-AUS AA F And WN (lots Of Pics)
(by
Longhornmaniac
Apr 5 2009 in Trip Reports)
AA Y AUS-BNA; AA F TYS-AUS + 777, Pics And Vids
(by
Longhornmaniac
Oct 13 2008 in Trip Reports)
AA AUS-DFW-PHL In Y; JFK-LAX-DFW-AUS In J/F + Pics
(by
Longhornmaniac
Jul 17 2008 in Trip Reports)
Viva Aerobus AUS-CUN With Pics
(by
Longhornmaniac
May 26 2008 in Trip Reports)
Flagship Detroit DC-3 With Pics And Vids
(by
Longhornmaniac
Aug 9 2007 in Trip Reports)
My First SXM Experience + Plenty Of Pics And Vids
(by
Longhornmaniac
Jun 14 2007 in Trip Reports)
AA AUS-CUN First Class (40+ Pics And Vids)
(by
Longhornmaniac
Apr 29 2007 in Trip Reports)
AA MSP-ORD-DFW-AUS 777 + Pics/Vids
(by
Longhornmaniac
Aug 19 2008 in Trip Reports)

Background
During my studies down here in Buenos Aires, a couple of friends and I decided to go explore Argentina a bit during a couple of long weekends. The first of these trips was to Puerto Madryn/ Peninsula Valdes via Trelew's airport (REL). The trip was booked through a travel agent down here, and the cost for the airfare was about $270 USD.
Thursday, June 11, 2009
We arrived at the airport about 3:15 for our 5:45 flight. I was a little unsure of what to expect, since I'd heard Aerolineas was pretty disorganized. That, combined with a little bit of a language barrier, I was glad we arrived 2:30 early.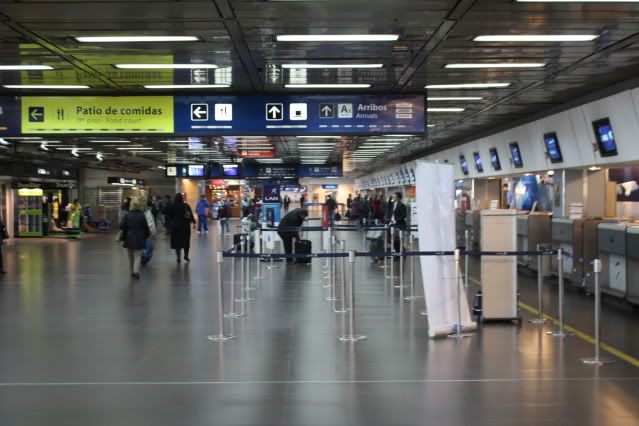 AEP check-in
As it turns out, everything went smoothly, we got our boarding passes after a very short wait, and decided to explore a bit. We went to the ATM and a magazine stand, and wound up upstairs on the departure level. With plenty of time to kill, we decided to sit down at the food court, which is outside security. I was actually very impressed with how nice Aeroparque was, it looks like they've invested quite a bit of money remodeling the 2nd floor. You can certainly see what it used to look like downstairs, it's very dark and shoddy, but upstairs it's a whole 'nether world. Lots of glass, full-length windows, very bright, and modern. The food court has quite a selection, including La Madeline, a sushi place, as well as several other, more traditional Argentine restaurants. We ate there and just relaxed for a bit, before deciding to go on through security. At this point, we still didn't know what gate our flight was at, so after making it through without any incident (a note about Argentine security: they've got it figured out. None of this hassling, ridiculous trekking through security. You put your bags on the belt, empty all of the metal out of your pockets, and walk through. No stupid bags with all of your tiny liquid bottles, or shoes on the belt. No computers all by themselves in a bin. It's security, not an invasion of privacy…ugh I hate the TSA). After we made it through security, AEP surprised me once again with how roomy and airy it was, as well as how big a couple of the stores were. At this point, we still didn't know what gate our flight was at (I gather that's pretty normal in other parts of the world), so we decided to go exploring the stores a bit. My friend Katie, who was on drumline in high school, wowed a small crowd in one of the stores on the drums in the game Rockband; we eventually just decided to sit down at a place with a view, where I could spot, and they could relax.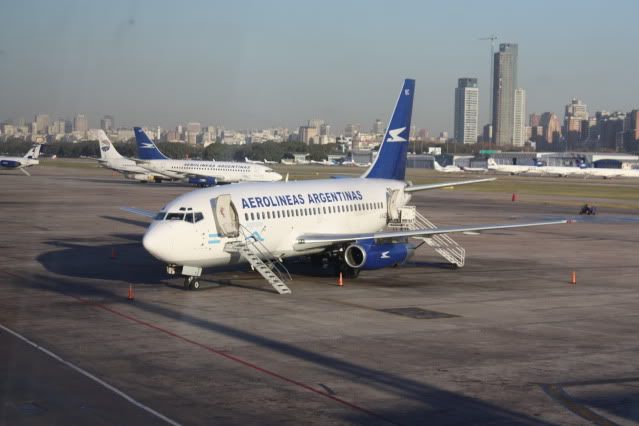 AR 732…what I'd give to fly on one of these one last time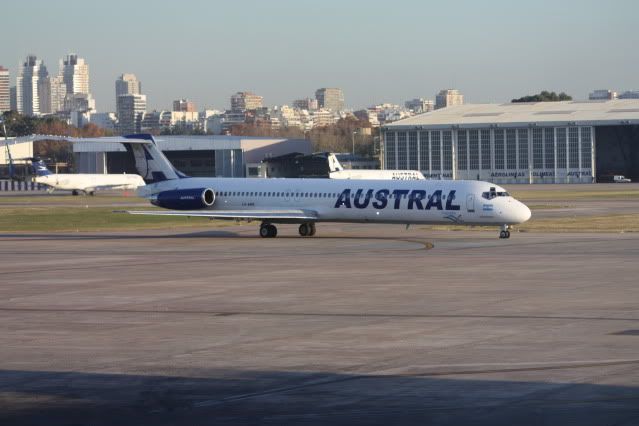 AR (operated by Austral) MD-80
Eventually, they announced a gate, and by the time I noticed it, there was already a fairly long line. Boarding commenced at exactly the announced time of 5:15. So far, AR was impressing. (A note about the boarding process, it's an adaptation of Occam's Razor: this boarding process is entirely free-for-all, no boarding groups or anything, yet it's infinitely more efficient than the micromanaging US airlines do!)
AR 2866
AEP-REL
MD-83
LV-WGN

Scheduled Departure: 1745L
Out: 1749
Departure Gate: 7
Seat: 18A
Departure Runway: 13
Off: 1801
Arrival Runway: 24
On: 1935
Arrival Gate: 6
Scheduled Arrival: 1945
In: 1938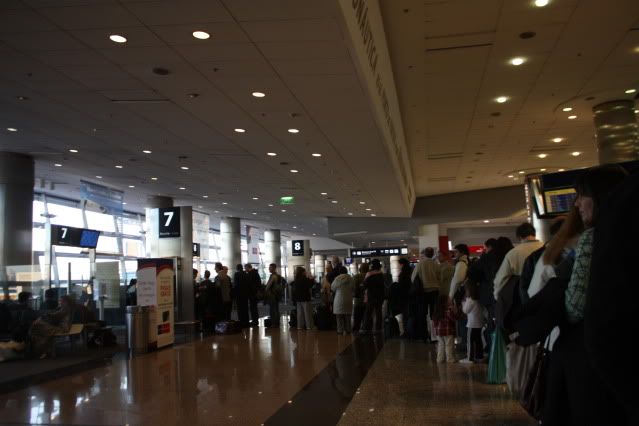 Line for AR 2866 to REL at Gate 7
With no plane at the jetbridge that corresponded to our gate, I correctly deduced we'd be taken to a remote stand.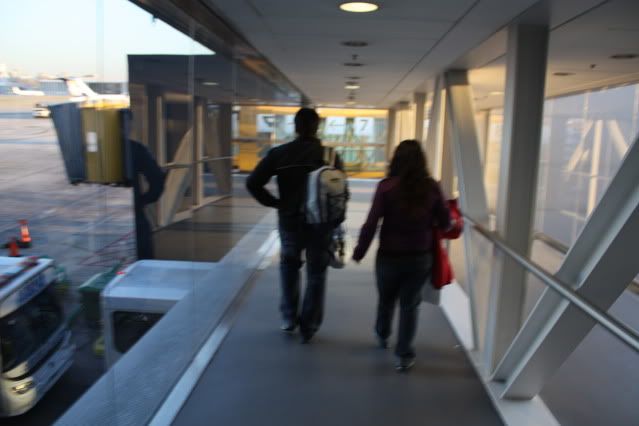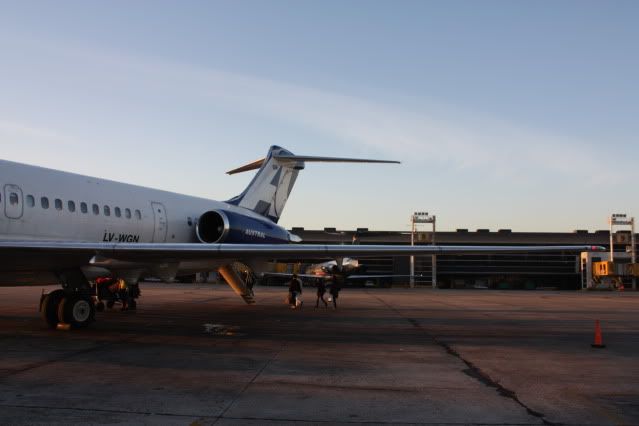 LV-WGN waiting for us
As our seats were toward the back of the plane, I decided for us (more just because I'd never done it before
), that we'd board using the tail cone door.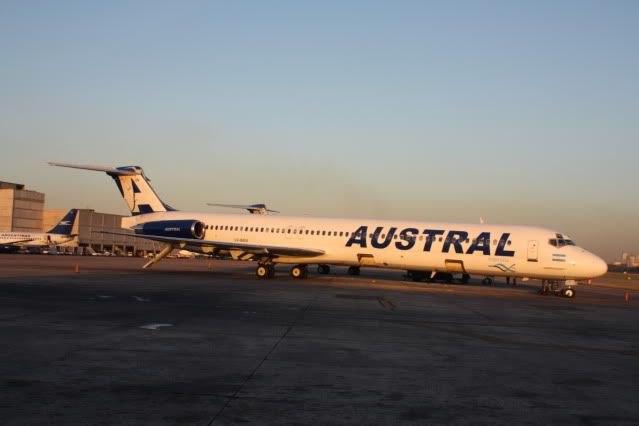 Sister MD-80, LV-BGV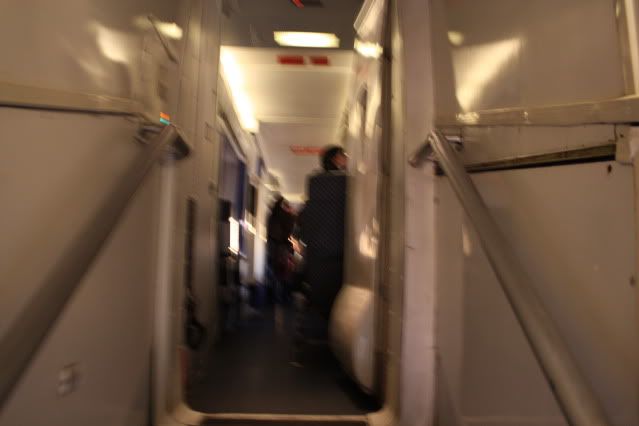 Blurry shot of boarding via the rear airstairs, that APU is loud!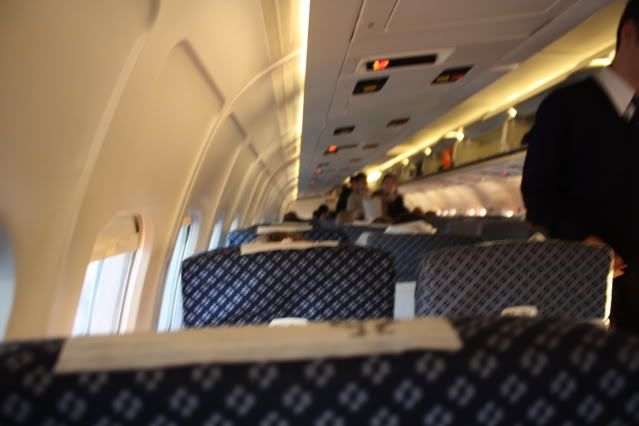 Shot of cabin after finding my seat.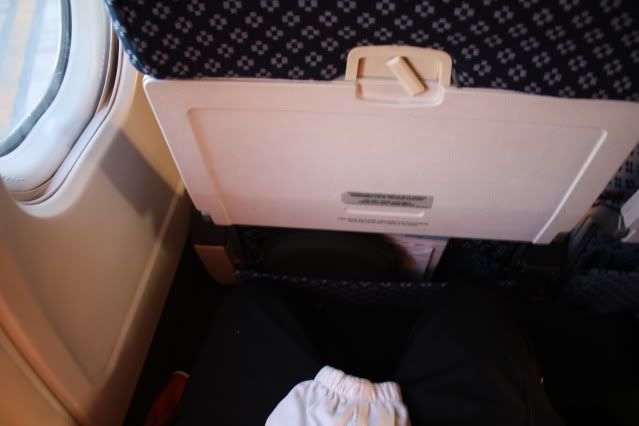 Legroom was adequate, but nothing otherworldly
We loaded up and pushed back a couple of minutes late, and taxied to 13.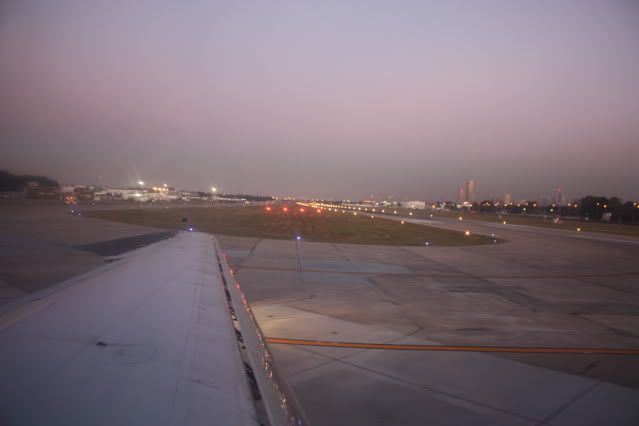 AR 2866, Cleared for takeoff runway 13
Turning onto the active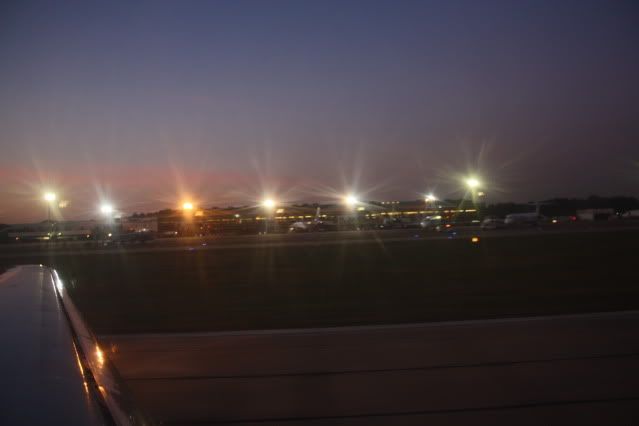 Rolling on 13, past the terminal
Airborne! Rio de la Plata off the wing
After takeoff, we turned to the north to join the departure (I've deduced that this is standard for all AEP departures on 13, to avoid EZE traffic, someone let me know if I'm wrong). I was given a fantastic view of the sunset.
Beautiful! AEP can be seen to the trained eye.
Eventually, we turned back to the east, south, and southwest to begin our relatively short flight to REL. I had no idea what to expect from AR onboard, so I just tried not to think about it (no sense in trying to fry my brain, I'm on vacation!). Eventually, I was handed a tray with some sort of sandwich on it, and a small piece of cake. Shortly thereafter, I was offered a drink, as well. I must say, I was pretty surprised to get even a small offering on the flight, so I was very pleased. The sandwich (some form of tostada, served cold) was really bizarre at first (I still couldn't tell you what it was), but I decided I really liked it after a couple of bites.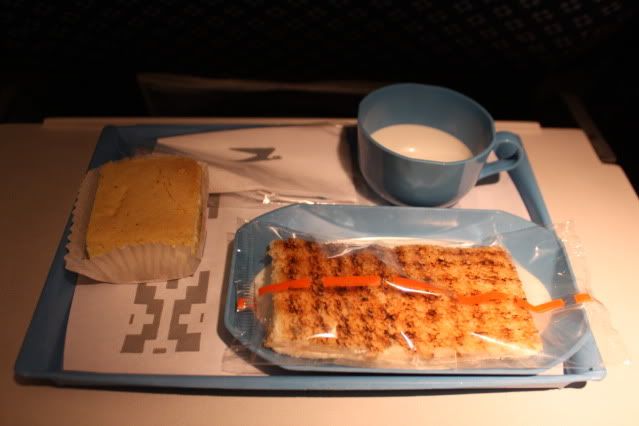 Food tray
After 'dinner' I relaxed a bit, and got out my iPod. Since I had nothing better to do, I decided to practice some night-time photography. This was my best effort.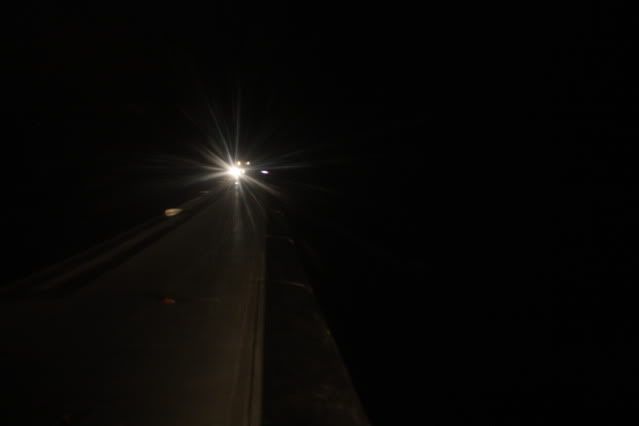 Cruising inflight. We seemed to have cruised fairly low (I'd guess FL220), but I don't know for sure.
After an uneventful rest of the flight, we began to descend into Trelew.
Puerto Madryn can be seen in the distance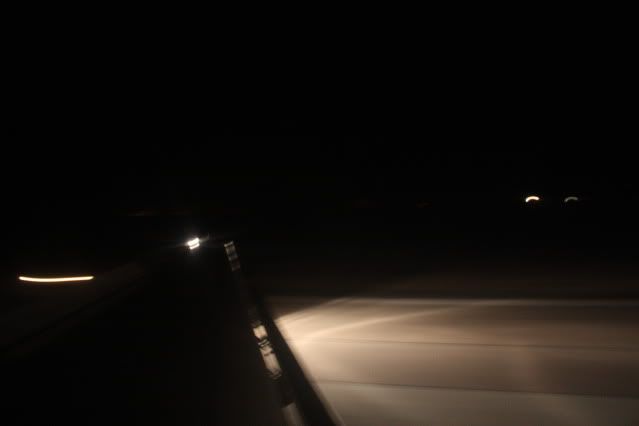 Touchdown on 24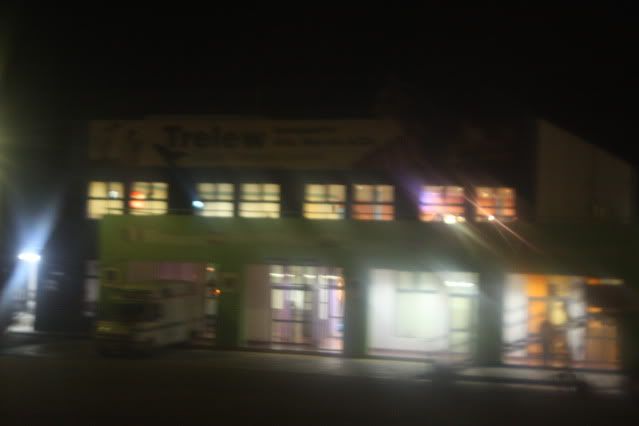 Trelew's terminal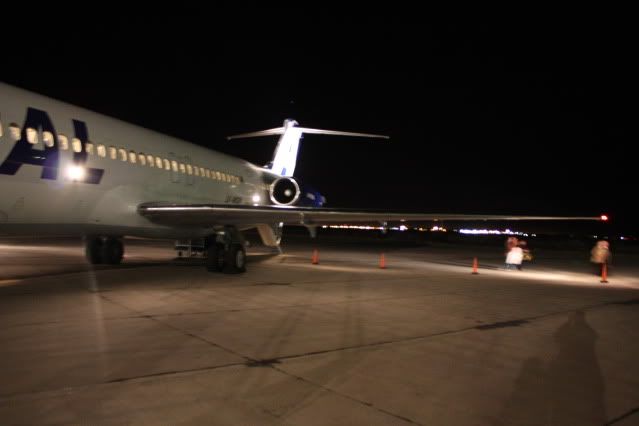 One last shot of LV-WGN as we head to baggage claim
We retrieved our bags, and put them through an organic products detector, since they're not allowed to be brought into the Chubut province. After that, we had a slight adventure getting to our hostel, but ultimately had a wonderful 3 days in the area.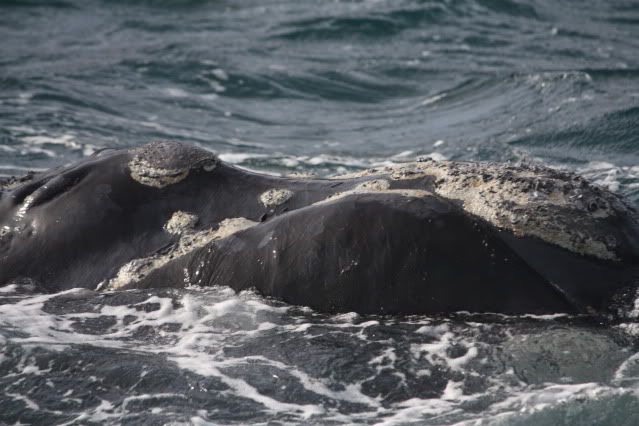 Whale!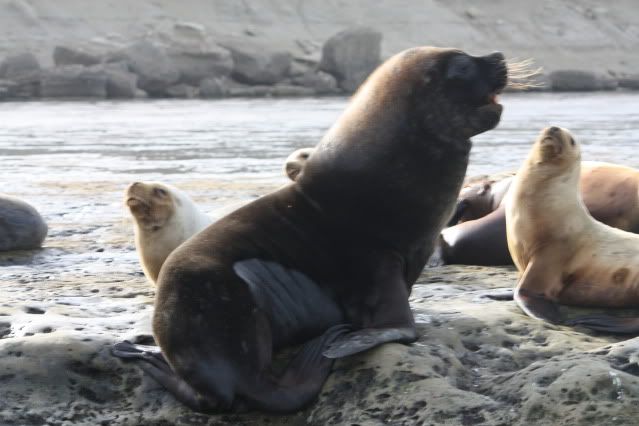 Sea lion!
Sunday, June 14th, 2009
After a fun vacation, it was time to head back to the big city for another week of studying, before another weekend vacation.
We arrived at REL about 4:15 for our 5:35 flight, after having spent the afternoon at the paleontology museum in Trelew. Really neat! The airport was pretty deserted, but we checked-in and headed upstairs to a little café. I enjoyed the nice overview it had, but unfortunately, there wasn't much to see. After a short while, I saw a 737 banking to the west, coming in from the south. I figured this flight had just come from Buenos Aires, so that was a little odd. As it got closer, though, I got even more excited to see that it was, indeed, a -200! Absolutely unreal feeling! I never thought I'd get to fly one of them again in my life, so I was really excited to have the chance one more time. I love the bucket thrust reversers! It taxied in, and shortly thereafter, we went downstairs to go through security, and into the really small boarding area.
After a little while, boarding was called, and I excitedly made my way out to what is almost certainly the last 737-200 I'll ever board.
LV-ZXU
AR 1815
REL-AEP
737-200
LV-ZXU

Scheduled Departure: 1735L
Out: 1731
Departure Gate: 3
Seat: 19F
Departure Runway: 06
Off: 1735
Cruising Altitude: FL230
Arrival Runway: 13
On: 1909
Arrival Gate: ?
Scheduled Arrival: 1923
In: 1912
We boarded quickly, there were quite a few people already on the plane, which I'd determined had come in from Ushuaia (USH), and we taxied out 4 minutes ahead of schedule. A quick taxi to 06, and the JT8Ds (this time from under the wing!), roared to life.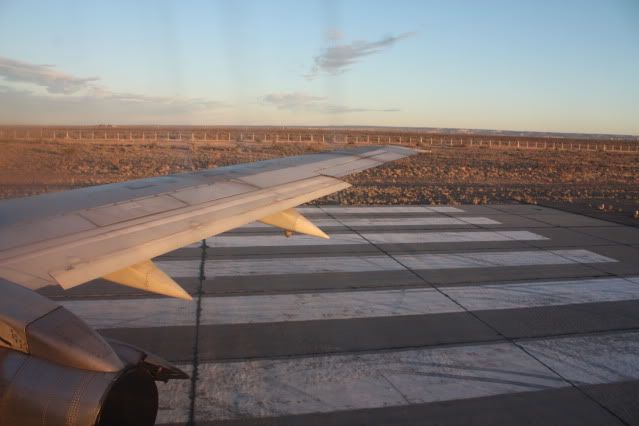 Turning onto 06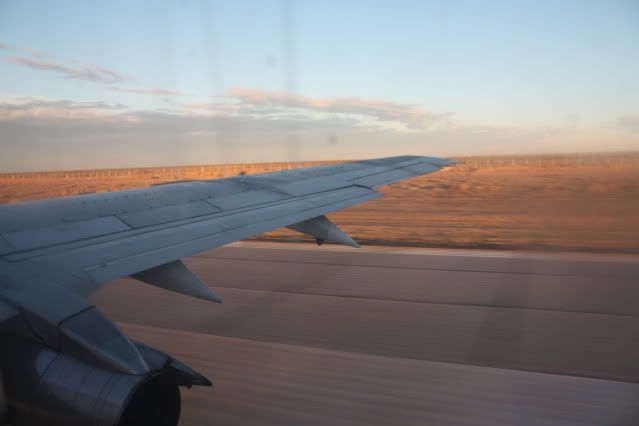 Thundering down the runway, and rotate!
Unfortunately, I thought my battery died shortly thereafter (it didn't), so there are very few pictures from the rest of the trip. The flight was very empty, and I had the whole set of seats to myself (as did the girl in front of me, who was from Kansas, as it turns out, small world!) We were given some rice and chicken dish, which was edible, but not as good as the tostada on the way down. I passed most of the time talking with the girl from Kansas (strangely enough, she's also studying at UCA, in the classroom next door, at the same time!)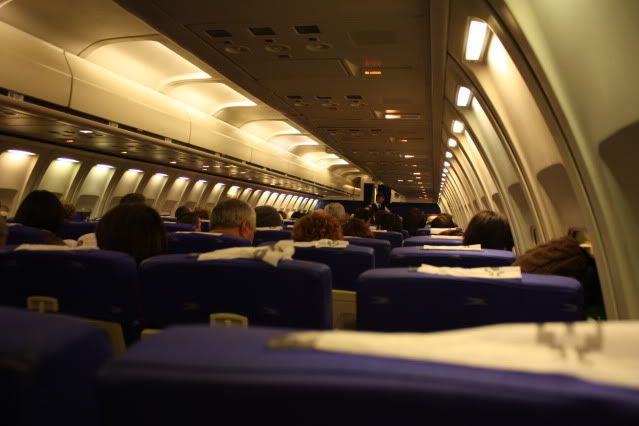 Cabin shot
Photo showing legroom. Not as good as the MD-83, but not bad, either.
Eventually, we began our descent into the sprawling metropolis of Buenos Aires. What a huge city!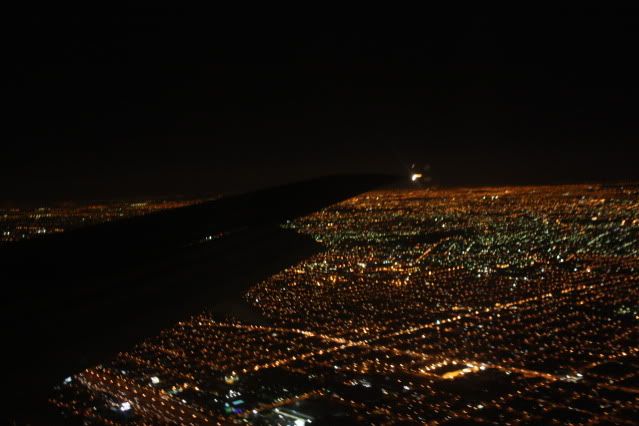 Buenos Aires on approach to AEP
Unfortunately, my camera decided not to focus on anything, and I forgot to switch it to manual, so there are no pictures of the bucket reversers (my only regret on this trip). Alas, I don't think they would've turned out real well, anyway! We rolled out to the end, then taxied back to the stand, where we deplaned after a short holdup. I made my way inside to the baggage claim, where I reconvened with my amigas, and afterwards we got in a taxi and headed home.
Comments/questions/thoughts always welcome!
Thanks for reading! Next TR will be my second trip on this vacation, of similar style, to Ushuaia.
Stay tuned!
Cheers,
Cameron