Korean Air #17: ICN-LAX
Boeing 747-400
Prestige Class (Business)
Obviously we did not fly the A380 but I thought it was a cool picture/drawing/postcard.
Here are some pics from the International Terminal at ICN:
oddly, this came out looking like 1 picture; it is actually 2:
This sign was on a random wall by a gate. I looked all around, but could NOT figure out what I was not supposed to take a picture of:
just before pushback to JFK:
shortly after push back to DXB:
I am not sure if Incheon Airport is so huge that it seems empty, is huge and really is not very busy, or some combination of the two. This is what most of the gate areas looked like:
Incheon Airport includes many ultra high end shops.
International Departures:
Here is our ride to LAX. Boarding was organized, minus the security screening of carry on baggage just before entering the plane. The security personnel were off to the side, kind of waving and yelling (politely) for people to bring their bags over, while more people were trying to board, creating a bottleneck at the jet way entrance.
our plane to LAX:
HL7493
my seat, upper deck, exit row, window:
Surprisingly, no amenity kits were given to Prestige class passengers; only slippers were available.
far eastern part of Russia?:
Once we leveled off, dinner service began. The menus were not passed out, they were already in bins at our seats when we boarded. There was dinner and breakfast service on this flight.
I had the opportunity to try something new for dinner: "Bibimbap" - a bowl with rice, vegetables and minced beef. It was similar to a stir fry, but I believe the vegetables were steamed. Quite tasty indeed.
Appetizer: best smoked salmon I have ever had. The small dishes in the upper left hand side are condiments for my main dish.
Instructions on assembling the Bibimbap:
Bimimbap (the red stuff is hot pepper paste)
I was served the soup as well, but I had the FA take it away as it was bumpy and I almost wound up wearing it.
post dinner cheese plate:
For the exit row, a personal television came out of the armrest. Here is a sample of the movies, many had not yet been released on DVD. The breadth and depth of music selection was also impressive.
flight path:
mid flight, looking forward in the upper cabin:
sunrise:
think there enough leg room in the exit row?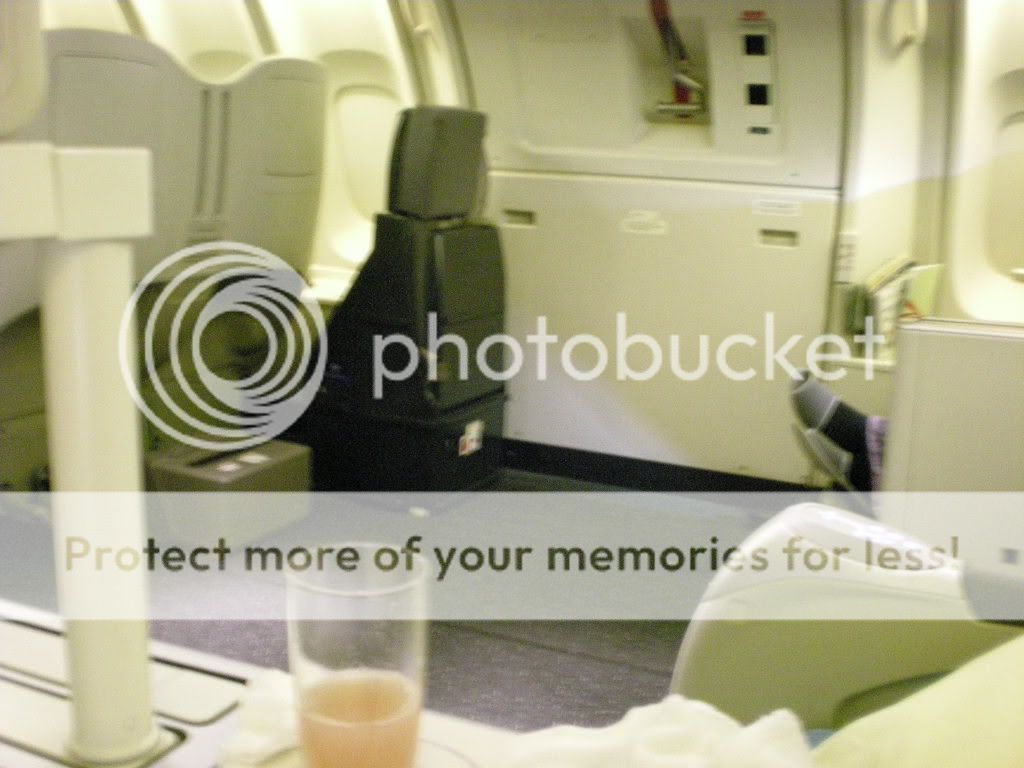 tasty breakfast:
The seats were comfortable but not flawless. I managed a few hours of sleep, but did wake up once with the lower portion of my legs on the floor. I had slid down the seat.
seat in full recline:
Service on this flight was smiles all around. Korean Air flight attendants make you feel like you are the only one on the plane. Fly Korean Air to experience "Excellence in Flight" from food to entertainment to service.
Thank you for reading my report, hope it was enjoyable.