Taiwan: EVA Air (HKG-TPE rtn), UNI Airways (TSA-HCN), Daily Air (TTT-KYD rtn)
I recently had the opportunity to travel to Taiwan, which I jumped at the chance at. From Beijing, I took a rather convoluted journey down to Guiyang (KWE) via Shanghai (SHA) on Shanghai Airlines on one of their RMB700 fares (Beijing to anywhere in the country!). The SHA-KWE had a total of 5 pax on the Boeing 737-700, which was a (minimum) record for me (up till that point). From Guiyang I went overland to Changsha and flew Xiamen Airlines to Xiamen (Boeing 757), then took the train down to Hong Kong….
The direct Mainland-Taiwan flights were quite expensive relative to flights from Hong Kong, so I looked only at HKG flights. EVA Air, China Airlines, Mandarin Airlines, Cathay and Dragon Air all fly between HKG and Taiwan. Initially I wanted to take Mandarin Airlines E90 to Taichung (RMQ), as I'd never been on an E90, but RMQ wasn't particularly convenient. After lots of umming and ahhing, I selected midday flights on EVA outbound on the B777-300, return on the B747 Combi to Taipei. To my delight after booking when I went to select my seats online, the seat map showed seats in Premium Economy for selection. A bit of research revealed that on the HKG-TPE sector these are sold on a first-come-first basis. What a deal! Unfortunately by this stage there were only middle seats left, but I thought it was worth it over a regular window in the back. On the return I was able to grab a seat in row 21 (2nd row in the nose). Anyway, onto the flights…
EVA Airways
Hong Kong (HKG) – Taipei (TPE)
BR 868
Boeing 777-300ER B-16710
Scheduled: 1345-1525 (1 hour 40 minutes)
Actual: 1446-1600 (1 hour 14 minutes)
Premium Economy
I caught the bus from my hotel in Kowloon to the airport though the most torrential downpour. The rain hadn't abated by the time I arrived. There were no queues at check in. I asked about any better seats in Premium Economy, but was told the flight was full. My bag was checked in, and I went off though immigration.
Despite the fact that the rain was still coming down in torrents boarding started on time.
First impressions of EVAs new flagship aircraft were very good. The Premium Economy seat was very comfortable, especially for this short hop.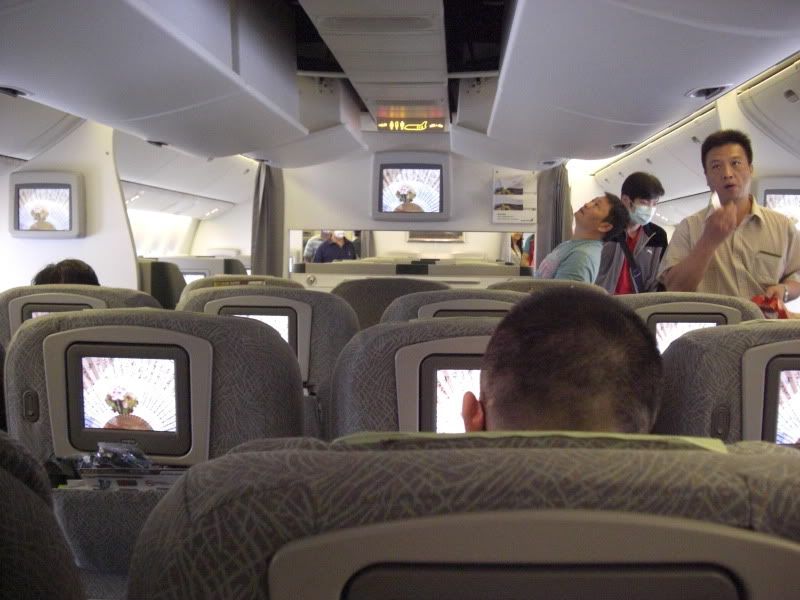 Once everyone was aboard, the captain came on to announce a delay due to the weather. The crew came around with drinks and the IFE was switched on. The choice was a bit limited for this sector, but adequate.
After around an hour sat on the tarmac, the rain had eased enough for operations to start picking up again. A VERY tasty chicken and rice meal was served – after reading PlaneHunters report of the food I wasn't expecting much, but this was a good meal!
"The Wings Of Taiwan": EVA Air A332, 744 Combi
(by
PlaneHunter
Jan 31 2009 in Trip Reports)?threadid=142091&searchid=142725&s=EVA#ID142725
As I was stuck in the middle I couldn't see much of what was happening outside. We touched down only half an hour late, into a very empty Taoyuan Airport.
The airport seemed nice and clean, though architecturally unspectacular. I got to immigration seconds before a load of Japanese passengers arrived (off an ANA flight from NRT). I'd say 98% of the pax on the HKG flight were Taiwanese pax, very few foreigners. My bag took a while to appear, but appear it did eventually. I took the bus into central Taipei, then a taxi to my hotel.
Signs at TSA AIrport
After a relaxing night in Taipei it was time for my first domestic flight. I would be flying with EVA's domestic subsidiary from the mainly domestic airport of Songshan to Hengchun in Kenting National Park in the far south of the Island. This is Taiwan's longest (by distance) domestic flight. Despite Kenting being one of Taiwan's top attractions (over 5 million visits a year), only UNI Air offer flights, and only 3 times a week. The alternative to the flight takes at least 6/7 hours door to door, so I'm not sure why the flight is so unpopular – I would have thought it'd be packed!
Songshan airport was an interesting airport. Very small, and compact, and very close to the city centre. Check in took less than 30 seconds, and I was given a seat in row 1. Since the opening of the High Speed Railway down the West coast, the terminal has become very empty. A few years ago there were some 60 odd flights a day to Kaohsuing (KHH) – now there are none!
Departure Board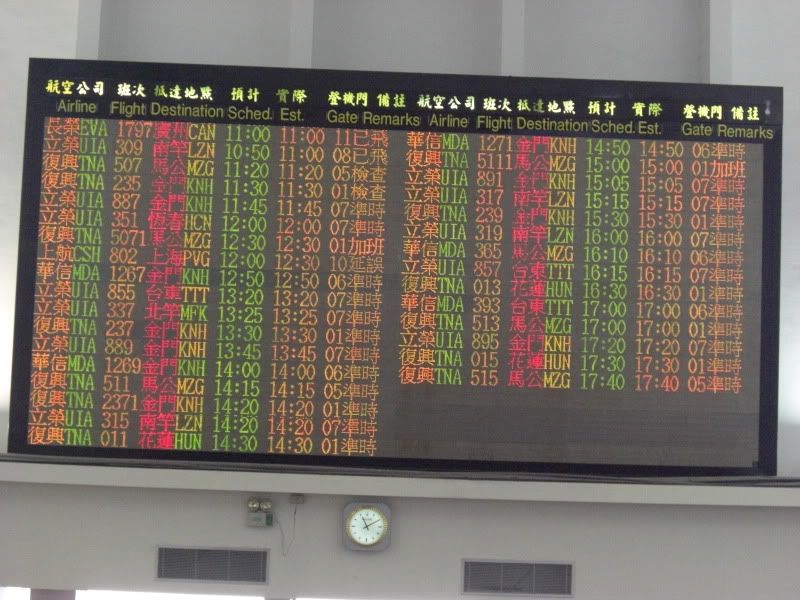 Security took twenty seconds, and I was in the empty departure lounge. There wasn't a lot to see other than the forlorn looking fleet of FAT (Far Eastern Air Transport) sitting on the tarmac.
UNI Air
Taipei Songshan (TSA) – Hengchun (HCN)
B7 351
Dash 300 B-15237
Scheduled: 1200-1315 (1 hour 15 minutes)
Actual: 1213-1310 (57 minutes)
Economy
When boarding was called I was quite surprised when only three other people stood up. "Surely this can't be it?". It was. A new record! 4 pax on a plane! As you can imagine, boarding took a whole minute, and before I had time to put my bag in the overhead and buckle my belt, the doors were shut and the two (very overworked!) FAs were preparing the cabin for departure.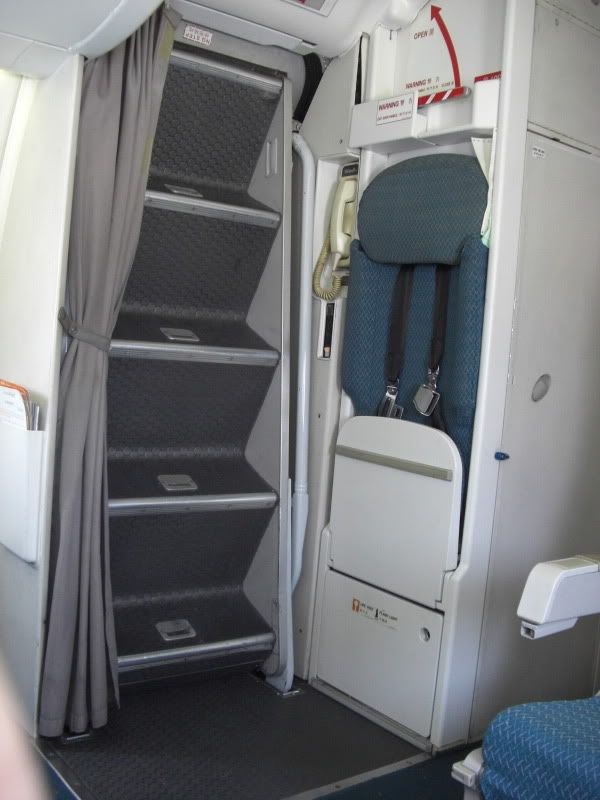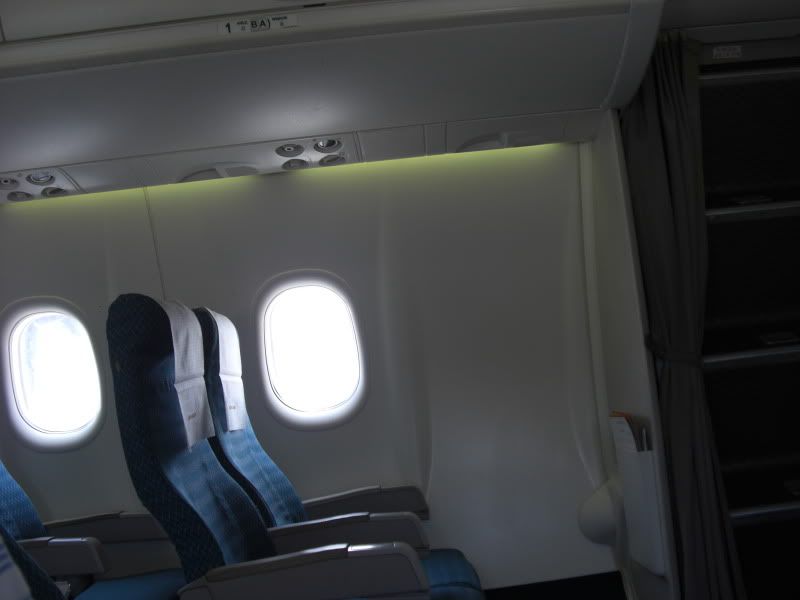 Annoyingly, after a very fast take off, there were some amazing views over Taipei and Taipei 101. I say annoying as I was in row 1 right next to the FA and couldn't take any pictures! Grrr.
The in-flight service consisted of a cup of water…that's it. Not very impressive. Refills were offered. I imagine the FAs were rather bored. It was quite hazy most of the way so there wasn't much to do other than read the not particularly interested in-flight magazine.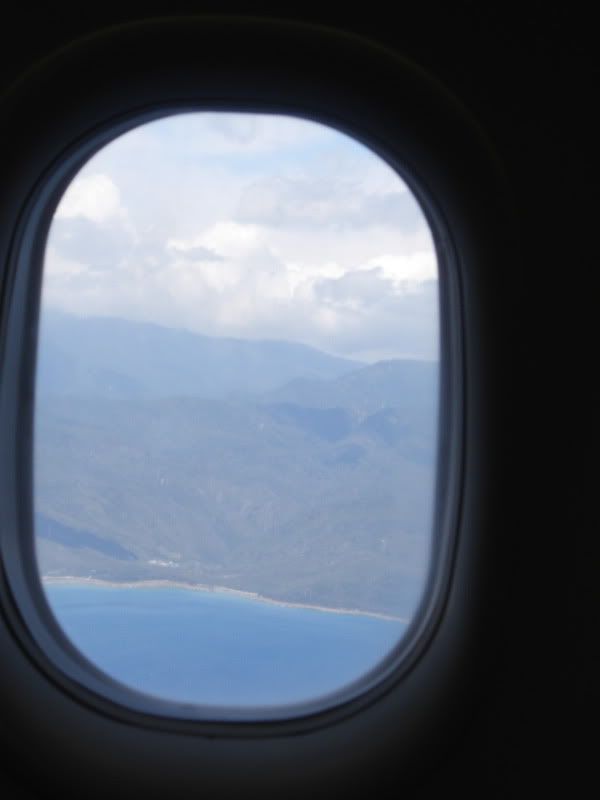 Unfortunately I didn't learn from my mistake at take off (why!?), and stayed in row 1 for landing, missing out some lovely views of the beaches and mountains of Kenting from the plane. Hengchun airport was understandable small and efficient. I had left the airport with my checked bag within five minutes of landing.
Kenting National Park was wonderful. I hired a scooter for a few days and scootered around all the sea-side mountain roads stopping at deserted beaches, climbing mountains amongst other things. Very relaxing!
Chuhuo, where natural gas 'bubbles' to the surface is burns.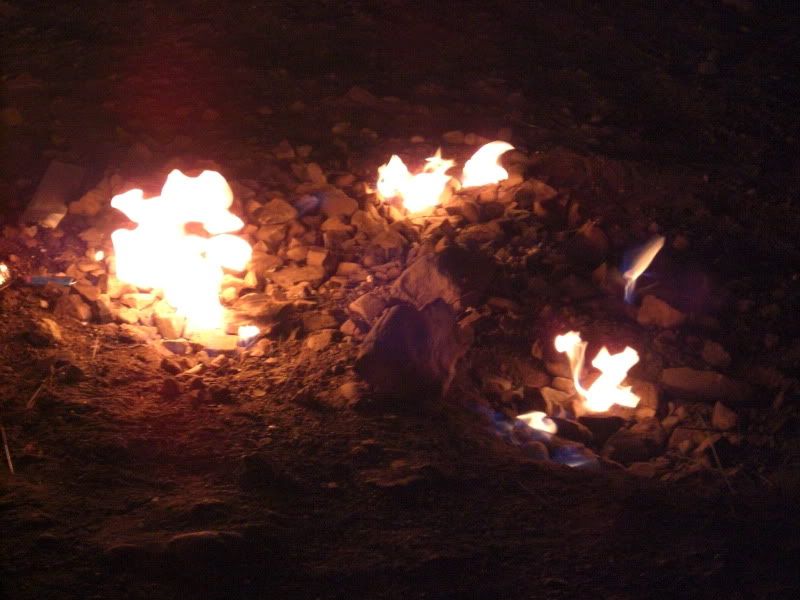 Bat cave
From there I got a bus to Kaohsiung (not very interesting) then a train to Tainan (also not wonderful), before getting another train to Taitung on the east side of the island to connect with a flight to Orchid Island. Daily Air fly around seven flights a day to Orchid Island on a Dornier 228. Orchid Island isn't too far off the coast, but far away enough for the culture to be quite different. It's a volcanic island, so the geography is quite different as well.
Daily Air
Taitung (TTT) – Orchid Island (KYD)
DA 7531
Dornier 228 B-55565
Scheduled: 1420-1440 (20 minutes)
Actual: 1428-1446 (24 minutes)
Economy
A short taxi from the station got me to the airport two hours before my flight. The airport was deserted other than a guy at the Daily Air desk. He offered me a seat on the flight leaving an earlier which I accepted. He printed my boarding pass (seat 1A!), and told me to go to another desk to have my bags tagged. The luggage allowance was only 10kg, but the excess charge was really small (around USD 10 for 13 kgs!).
Taitung airport is pretty small, but very nice, clean and new. As you can see, security opened for the flight at 1410, with a scheduled departure of 1420! Taiwanese airports are very efficient! There were lots of Orchid Island canoe inspired pieces in the terminal (see more about the canoes).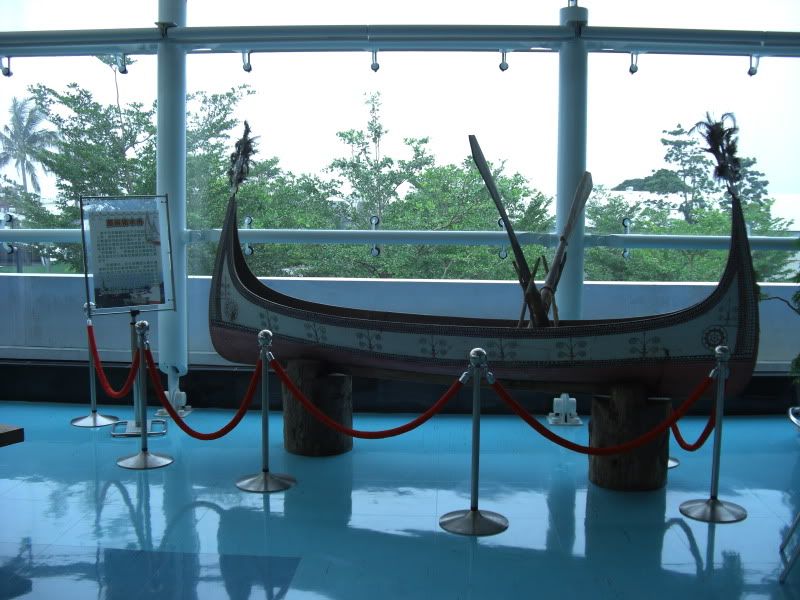 Daily Air Check in
UNI Air to Taipei
This flight, like nearly all of them, was fully booked. Other the flying with Daily Air, the only other way to get to the island is on the often cancelled boat service. In the departure lounge, they played a safety video.
Boarding was fast and I took my seat in the front row. There was a curtain separating the cabin with the cockpit which thankfully stayed opened the entire time. The cockpit definitely wasn't spacious. 1A gave a pretty good vantage point to watch the goings on.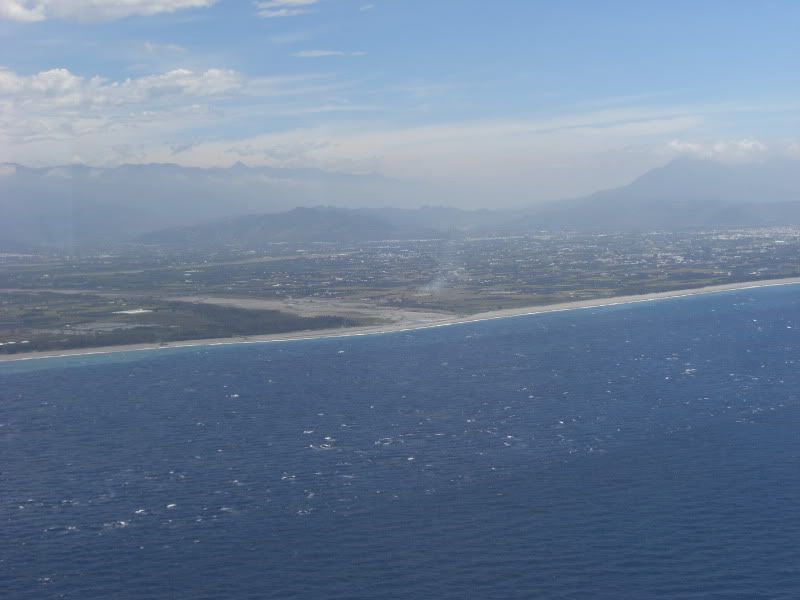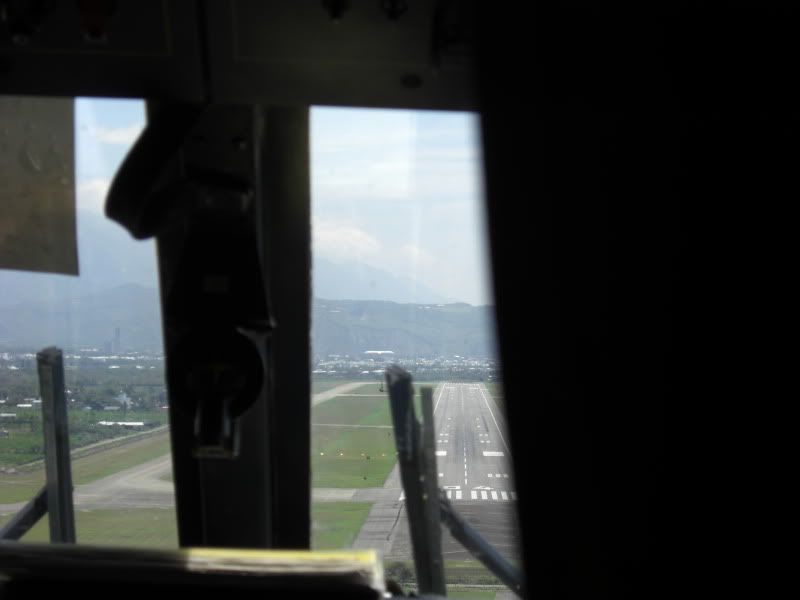 The flight itself was uneventful. There was no cabin service obviously, and as we were over water almost the entire time, there wasn't a lot to see. After around fifteen minutes, however, Orchid Island finally came into view. In the final minutes of the flight we flew over the harbour, the main village and the school before finally setting down on the beautifully situated runway, wedged between a mountain and the sea.
The terminal, like many other things around the island was decorated in the Island's three main colour, black, white and red, and designed in the shape of a canoe, something the Island is famous for making. The luggage was off pretty quickly, and I was picked up by my home stay family, who were members of the local Yami tribe (a Polynesian/Philippines sort of mix). They drove me to the harbour where they helped me sort out scooter hire. I then followed them home on the only road on the island (well, there are two, a round one, and one the bisects the island going over the central mountain.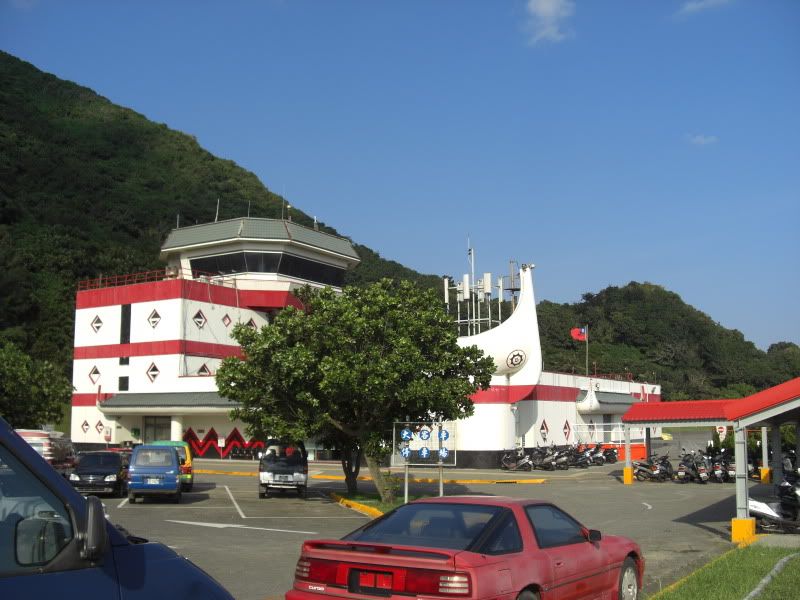 As you can imagine, the airport was somewhere I passed frequently over the next few days just for a look. I even had a go at racing a Dornier at takeoff on my scooter. The Dornier won.
I spent the next four days exploring the Island, which was fascinating. I climbed the highest mountain on the island which had a volcanic lake (caldera) at the top.
Apparently the scuba diving around the island is good, but I ran out of time before being able to give that a go – maybe next time.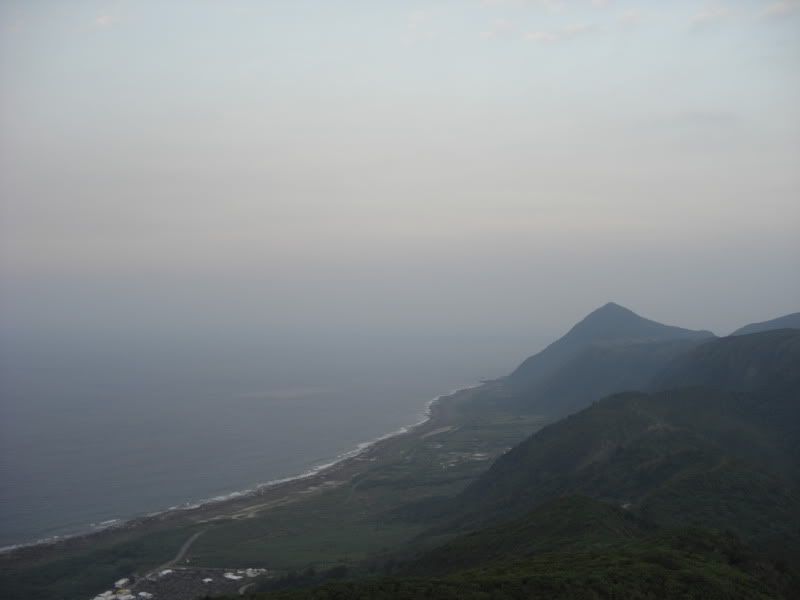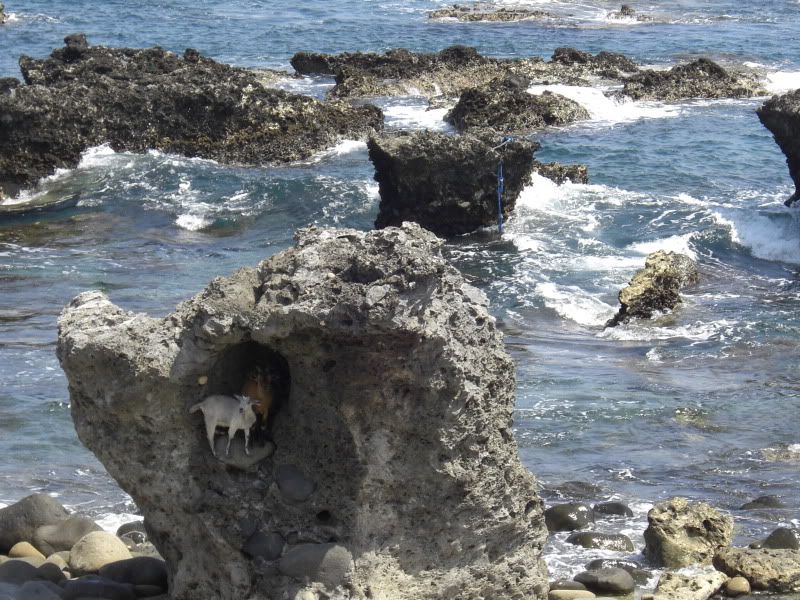 Traditional Local house built at ground level to protect from Typhoons
Daily Air
Taitung (TTT) – Orchid Island (KYD)
DA 7502
Dornier 228 B-55565
Scheduled: 0935-0955 (20 minutes)
Actual: 0930-0947 (17 minutes)
Economy
Goodbye!
For the return flight, I booked myself on the first flight of the day in order to get up the coast to the Taroko gorge the same day. The aircraft arrived early from Taitung. I was the first to be checked in and got seat 1C – surprisingly enough seat 1A was unoccupied. The flight much like the last was uneventful. The aircon on these aircraft is a bit weird. The bottom two foot of the cabin was filled with white gas swirling around – must have been off-putting to nervous or new flyers.
The 'Mainland'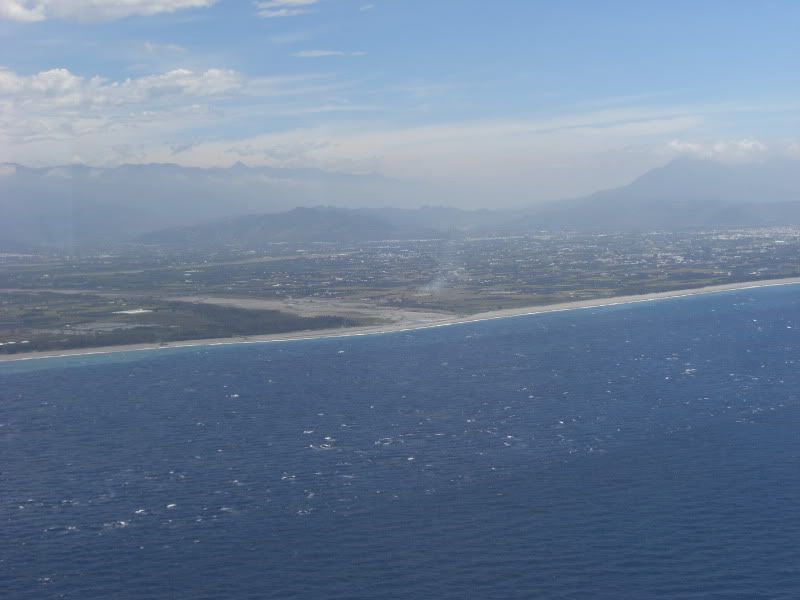 We landed a few minutes early back in Taitung, where another Daily Air 228 was ready for the next trip to the Island, and yet another was undergoing heavy maintenance. A UNI Air MD80 had just arrived from Taipei.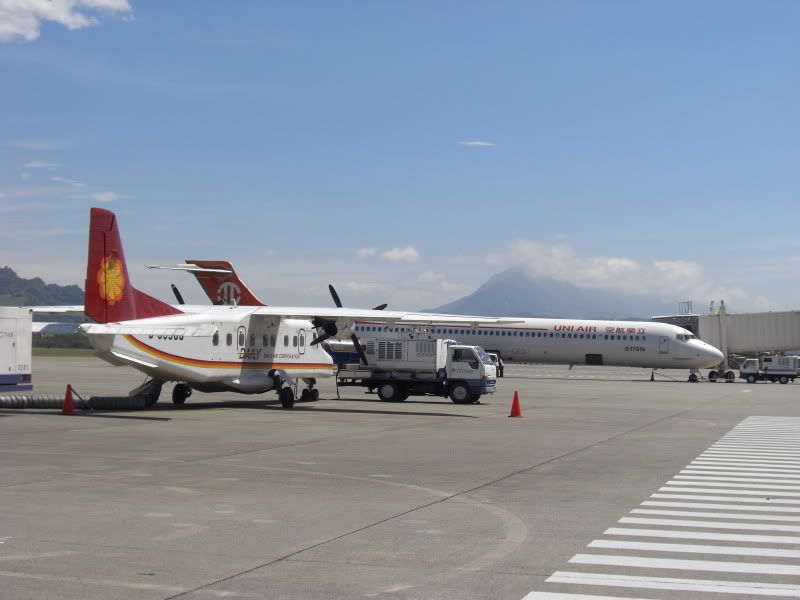 From Taitung, I took the train up the coast of Hualien, then a bus to Taiwan's top tourist destination, the amazing Taroko Gorge. I spent a night there and did some fantastic walking, before heading back to the station and getting the train north to Taipei.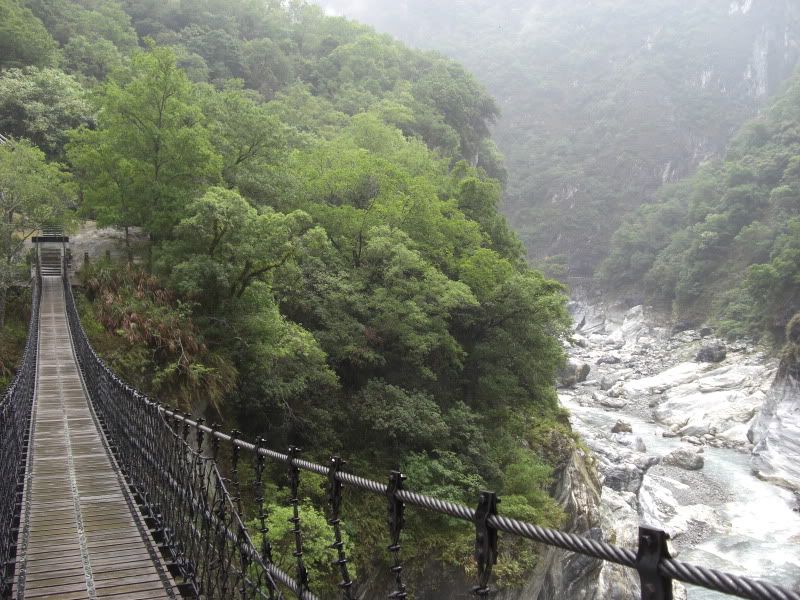 I spent three nights in Taipei during which I went to Taipei 101 (World's tallest building, well, one of them), the Shilin Night market, some hot springs and a few other places. After two weeks, it was time to head back to Hong Kong.
View from the top to Taipei
When I walked into the airport, queues for the EVA flights to HKG were massive. As I joined the end of the queue, an agent told me to join the line for the Macau flight instead as it was much shorter. As I was walking over there I saw a line for online check in (which I'd done the night before), which had no queue at all, so when there instead. When I first booked the flights, I got row 21, row two in the nose. However, when I checked in online, somehow, 20A had become available, so I jumped on it. Window seat in the nose! Hurray!
EVA Airways
Taipei (TPE) – Hong Kong (HKG)
BR 855
Boeing 747-400 Combi B-16409
Scheduled: 1410-1550 (1 hour 40 minutes)
Actual: 1419-1532 (1 hour 13 minutes)
Premium Economy
I went to Burger King and spent the last of my Taiwanese Dollars, then went though security and immigration. The airport wasn't very busy, and there wasn't an awful lot to see. I went down to the gate, took a few pictures, then joined the boarding queue.
I was one of the first passengers to board so I managed to get a few pictures of the cabin. The cabin gradually filled up – another full flight. Clearly the new Mainland-Taiwan flights aren't having too much impact on the flights to HKG – I was expecting much emptier flights.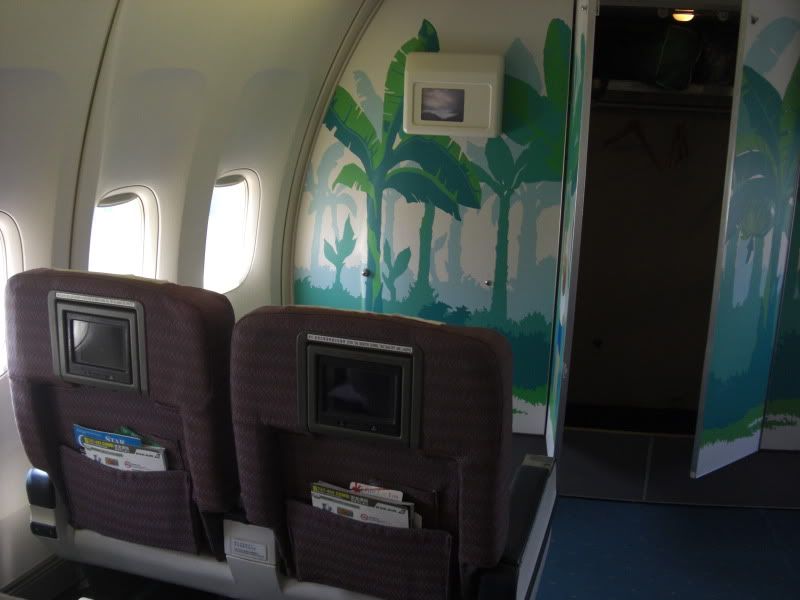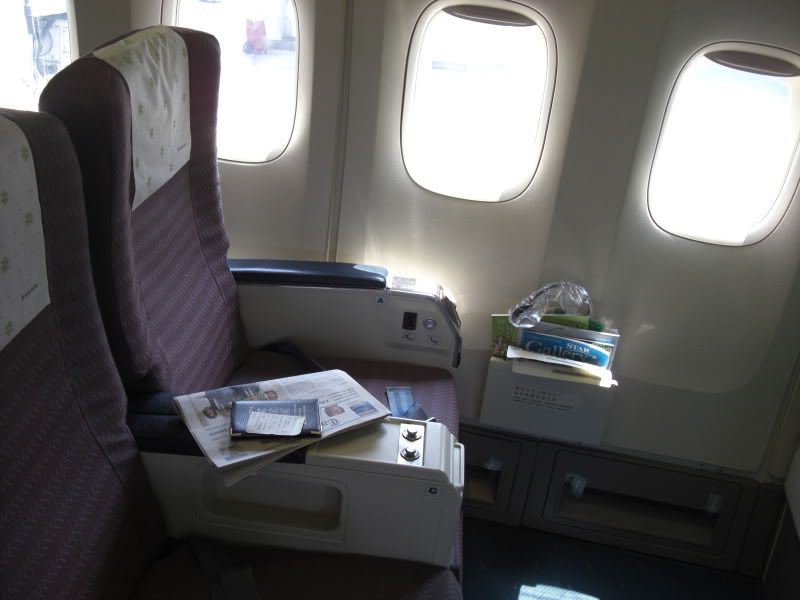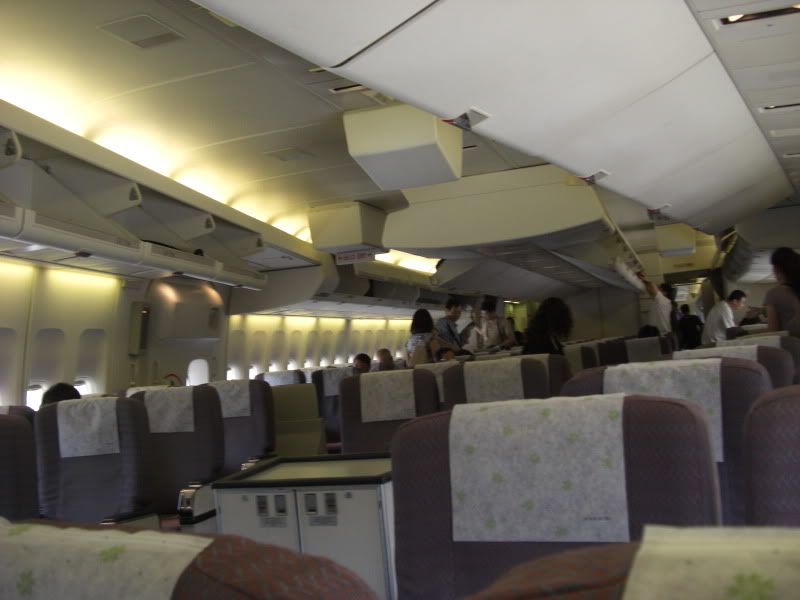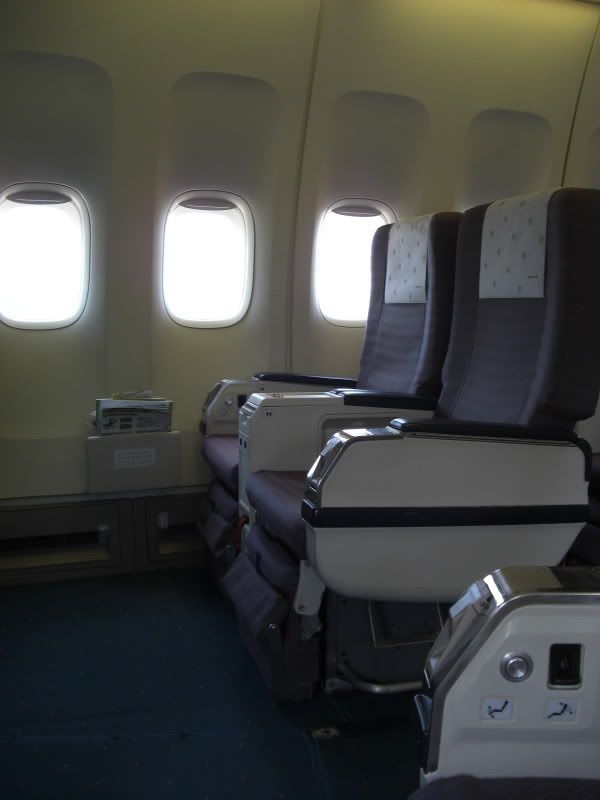 I ended up sitting next to a mother and her young daughter, which wasn't too bad – the daughter only screamed for about half and hour of the flight.
It was nice this time to have a window so thins time I could see what Taipei Taoyuan Airport actually looked like!
Goodbye Taiwan! You know you're somewhere in Asia when they do this!
I took a stroll down to the galley near door 2R to get another beer after the meal service (Spaghetti Bolognese, which was quite good). The residual noise level of the cabin when walking straight from there back to the nose was incredible. You don't appreciate it much when you're sitting there, but the nose is so much quieter than the rest of the cabin!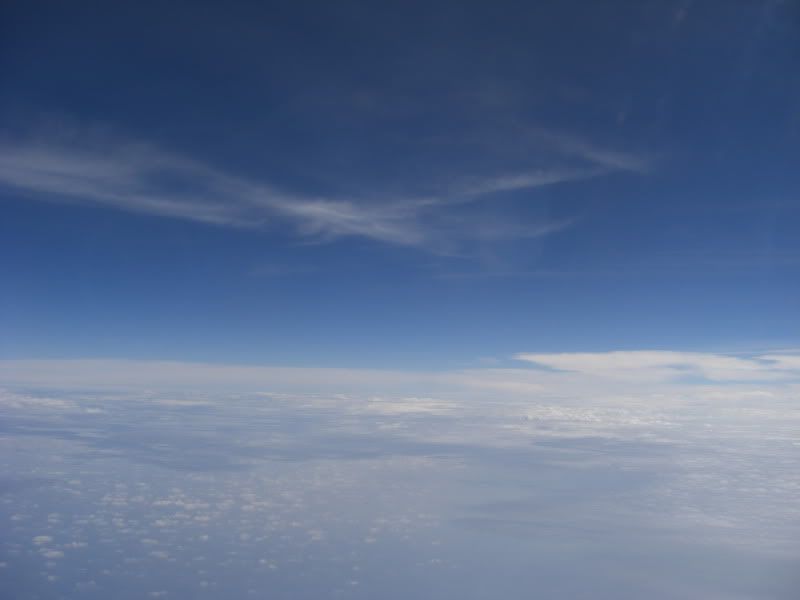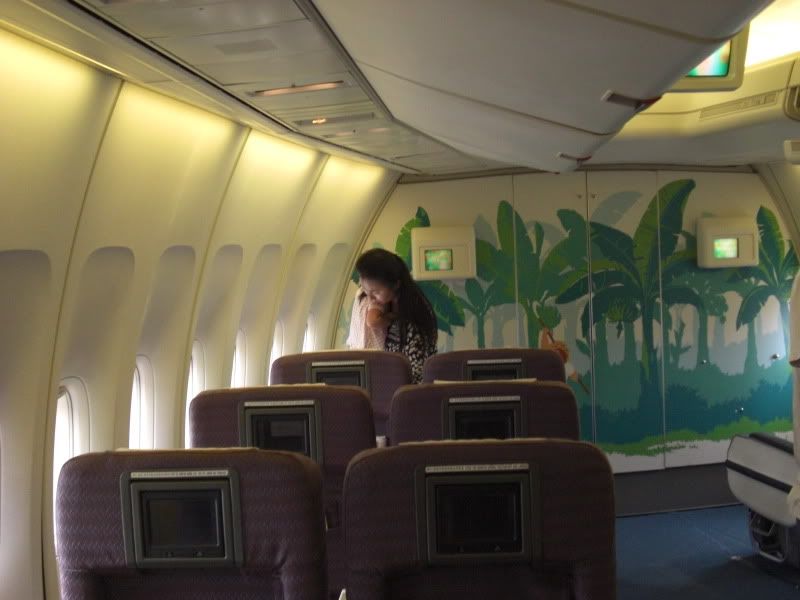 We landed after an uneventful flight nearly twenty minutes early. There was a long walk back to immigration, which wasn't great. My bags appeared about fifteen minutes after I got to the belt.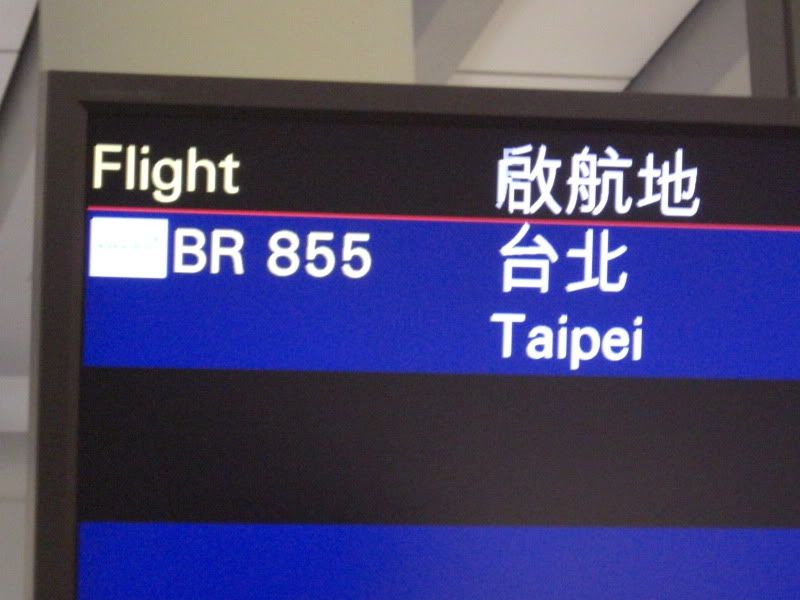 Overall, EVA were really good, especially if you can get the Premium Economy seats for economy prices. UNI Air weren't amazing – one glass of water is hardly wonderful catering. Daily Air were a great way to get to an amazing Island. Not the cheapest of flights, but one of the few opportunities to get on a Dornier 228 today. Taiwan was amazing – I'm already planning on returning. All comments/questions welcomed!