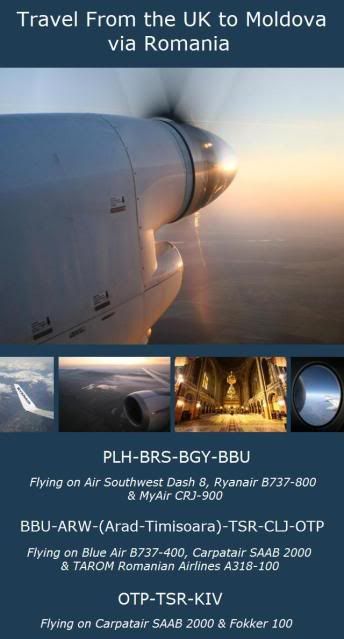 Introduction:
Hello and welcome to the first in a series of three trip reports which document my travels to and from Chisinau in Moldova, a city which I visited in order to fly on that most illusive of aircraft; the Ilyushin Il-18. It is a type which I've wanted in my logbook for many years, so I was delighted to find that the German specialist tour operator
Air Events
were planning to charter an example for a Chisinau-Kiev-Chisinau set of flights. Unfortunately, this trip failed to attain the 30 bookings required to go ahead but, undaunted,
Air Events
re-launched the Il-18 trip for a later date, this time offering a return flight from Chisinau to Balti, Moldova's second largest city. A few days before the booking deadline an email notified me that enough participants had come forwards for the flight to take place, so it was time to plan my trip to Moldova!
Chisinau is not the easiest of places to get to; Air Moldova offer twice weekly flights to London, amongst other destinations, but the timings were not convenient and the fares hideously expensive from all of their departure points. I decided quite quickly that I'd like to enter via Romania, spending a few days there in order to take some internal flights before continuing to Moldova. The Il-18 trip itself wasn't cheap, so in order to afford the domestic flights in Romania, I would have to keep my international travel out and back from the UK as cheap as possible. After much deliberating I settled on Ryanair from Bristol to Bergamo, then MyAir onwards to Bucharest, splashing out a bit for my travel to Chisinau by taking Carpatair on the F100 from Timisoara. I then spent hours searching timetables of domestic flights and eventually found a way to fly Blue Air, Carpatair with the SAAB 2000 and the A318 with TAROM all in one day. For the return journey from Chisinau I would enter the Ukraine by bus, fly up to Kiev with AeroSvit and then take WizzAir to London before flying back down to the South West with FlyBe.
Due to the number of flights, I've split the report across three parts; the second covers the all important Il-18 flights plus the ramp tour at Chisinau, whilst the last documents my journey home:
Part Two:
Flying The Ilyushin 18D: KIV-BZY-BZY-KIV
Part Three:
Pt.3 Moldova To The UK: An-24, A320 & DHC4
Flights Covered in This Report:

31.03.2009 ... PLH-BRS ... Air Southwest ... DHC 8-311
31.03.2009 ... BRS-BGY ... Ryanair ... B737-8AS
01.04.2009 ... BGY-BBU ... MyAir ... CRJ-900
02.04.2009 ... BBU-ARW ... Blue Air ... B737-400
02.04.2009 ... TSR-CLJ ... Carpatair ... SAAB 2000
02.04.2009 ... CLJ-OTP ... TAROM ... A318-100
03.04.2009 ... OTP-TSR ... Carpatair ... SAAB 2000
03.04.2009 ... TSR-KIV ... Carpatair ... Fokker 100

Tuesday 31st March 2009:
It was still dark outside as my alarm clock sounded to tell me it was 5am - time to get up. Normally when I'm taking the early flight to Bristol I don't bother with sleep, but as I would be spending the following night in an airport I thought it wise to get some rest whilst I could. Thankfully Plymouth City Airport is less than five minutes from my house by car at that time of the morning, so in no time at all I was sat in the terminal, boarding pass in hand. I was trying to keep cost of this trip to a minimum, but considering flying up to BRS cost just £10 more than the alternative combined rail and coach fare, taking the plane was a no-brainer.
Once all passengers on today's flight, destined for Bristol, Manchester and Leeds (the latter via and aircraft change at BRS) had checked in, the security lane was opened, after which the ground staff were already in place to board passengers straight onto the awaiting aircraft,
G-WOWB
, which stood on the ramp under the first light of dawn beside two of its Sister ships, bound for Gatwick and Newcastle.
PLH-BRS
Plymouth City Airport (Roborough) to Bristol (Lulsgate) International Airport
Carrier:
Air Southwest
(74th sector on airline)
Flight:
WOW 302
Aircraft:
DeHavilland Dash 8-311(Q)
(73rd sector on aircraft type)
Registration:
G-WOWB
(19th sector on aircraft)
Date of First Flight:
During 1992
Seat:
2D
Block Departure Time:
06:30
Actual Take off Time:
06:37
Block Arrival Time:
07:05
Actual Touchdown Time:
07:08
Distance Flown:
90 miles
Flying Time:
31 minutes
Fare:
£29 + £1 debit card booking fee
Runway 13 was selected for use today, the pilots utilising every foot of the turning circle to maximize the runway length available to them as they lined the Dash up to the centerline. The props beat furiously at the air as maximum power was applied, the aircraft dancing on the brakes until they were released and the plane lurched forwards like it had just been shot out of a canon, pulling gently up into the awakening sky after a 600m roll.
It was too dark during take off for my little video camera to capture any decent footage but, once we'd climbed above the dismal layer of grey cloud blanketing the West Country, the view outside became a little brighter. As the flight is pretty short I combined all of the footage, including landing at Bristol, into one video:
Video:
Air Southwest Dash 8 Flight From Plymouth to Bristol
Of all the flights I take, this is probably the nicest when it coincides with sunrise – I love watching the ball of fire peep gingerly over the horizon, bathing the Dash in a golden light as it does. Today was in fact a minor milestone for me, being the 25th time that I've flown the route in this direction.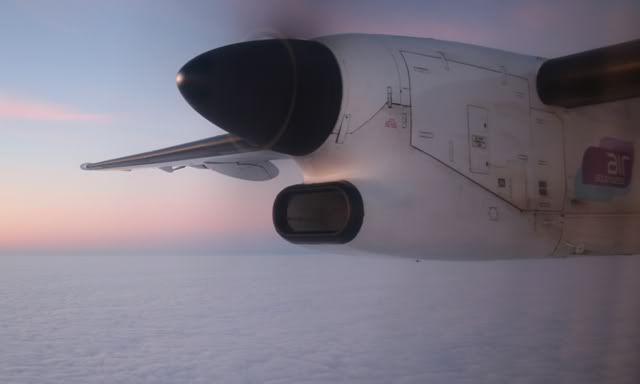 The route flown up to BRS was the same as always; after take off bank towards and then climb out over Dartmoor, maintaining a North-Easterly heading towards Exmouth, where-upon a left hand bank was made, heading almost due North in the direction of the former Hinkley Point power station. If runway 09 is being used for arrivals at BRS then it's a quick and easy approach from here, but today we'd be landing on 27, meaning heading East above the Mendips towards the town of Bath, before executing a long 180 degree left turn to approach the airport. A benefit of landing in this direction is that you're presented with an excellent panorama of Bristol below during final approach, today being no exception, with the touchdown following shortly after - just a few minutes behind schedule.
A bus arrived just after the Dash pulled on stand, picking up the LBA passengers at one end and BRS pax at the other, dropping us at the terminal first as the flight from NQY (which continues to LBA) had yet to touch down. It's annoying that Bristol Airport doesn't have any form of flight connections channel, as I now had to walk through the reclaim and arrivals area, then go back upstairs and pass through the whole security process all over again. Pleasantly it was very quiet and I didn't have to queue, most of the morning rush having already subsided, but even so there was precious little seating in the departures lounge.
I took a guess at where my next flight, on Ryanair, would be boarding from and managed to find a spare seat. Impressively I was right on the mark, with boarding commencing at about 11:30, signaling a wave of people who leapt forwards towards the gate. So long as I'm one of the first 100 or so passengers to board then I don't mind so much, as that's about the cut off point for still getting a window seat, which I managed comfortably on this occasion, choosing a row in the mid 20s – although I forget which exactly, but you get a decent idea of where I was from this view:
BRS-BGY
Bristol (Lulsgate) International Airport to (Milan) Bergamo
Orio al Serio
International Airport
Carrier:
Ryanair
(16th sector on airline)
Flight:
FR 8262
Aircraft:
Boeing 737-8AS(W)
(20th sector on aircraft type)
Registration:
EI-DLC
(1st sector on aircraft)
Date of First Flight:
16th December 2005
Seat:
Free
Block Departure Time:
12:10
11:50
Actual Take off Time:
12:14
Block Arrival Time:
15:15
14:55
Actual Touchdown Time:
15:03
Distance Flown:
691 miles
Flying Time:
1 hour 49 minutes
Fare:
£10 + £4 credit card booking fee
Boarding took a little longer then anticipated, resulting in the pushback being 25 minutes late – spot on the original block time when I had booked the flight though, before the schedules were tweaked a little. The wind direction had stayed the same although the weather had closed in a little, so from stand three it was just a short distance back to runway 27 for take off, with about a 70% load factor onboard.
Video:
Ryanair B737-800 Departing From Bristol
The roll seemed pretty typical of Ryanair with the power on an 'economy' setting to maximise fuel efficiency, resulting in a roll which used almost all of the tarmac, despite starting from well before the threshold of the 2011m runway. As someone who cares about the environment I really shouldn't complain, but I do like to hear a good roar from the engines!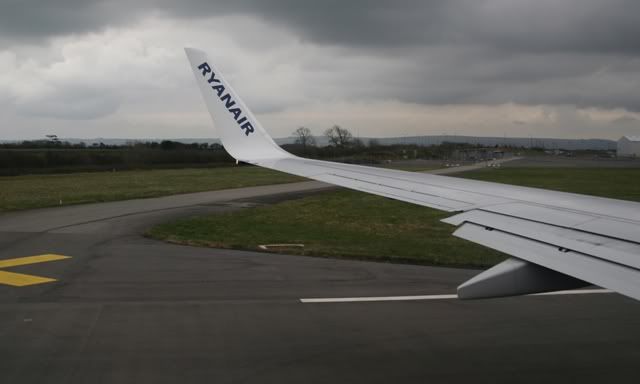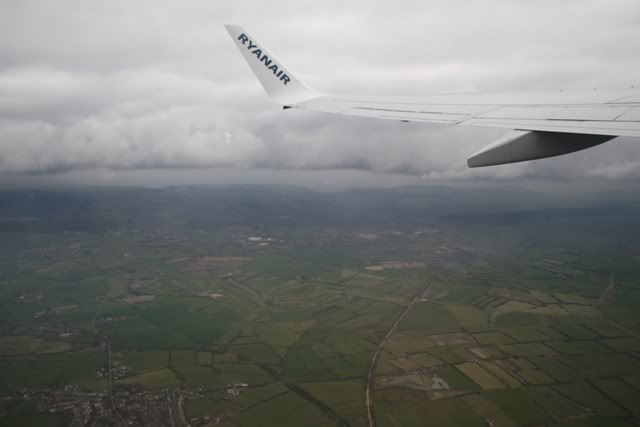 Runway heading was followed until we were at about 5,000 ft and broke through the layer of murky cloud, emerging into a bright and sunny sky and immediately pulling a long right hand bank. From here the routing took the flight towards the South East of England then over the Channel towards Paris, providing an excellent overview of CDG and Le Bourget, then turning to fly South East towards Switzerland.
CDG Airport: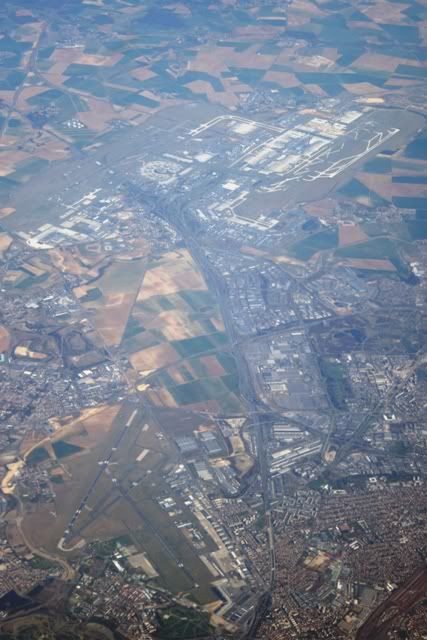 It wasn't until midway through the flight that the crew ran out of automated sales pitches to play over the address system, no doubt coming as a relief to most passengers, but this is the compromise you have to make for flying so cheaply – I had after all paid just £10 for my ticket on this 700 mile flight. The crew were professional and polite, the seat comfort was average and the legroom acceptable, although the hard plastic backs of the seat in front dug into my legs when I tried to extend them but, as the middle seat next to me was free, space wasn't a pressing issue. The plane itself was a newish aircraft which had been delivered just over three years ago.
An hour of so into the flight the landscape below began to change; the lumbering hills and valleys of France morphing into the jagged peaks of the Swiss Alps which thrust upwards, still crowned with the winters last snow.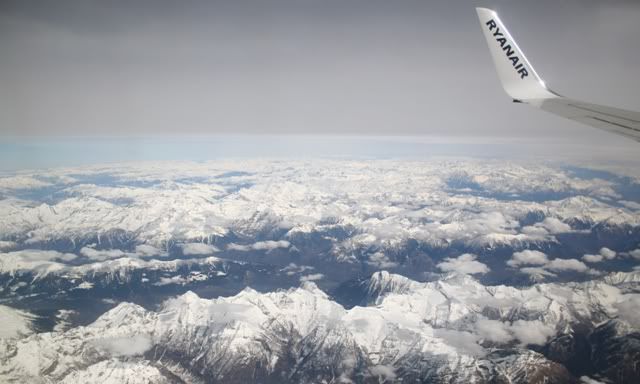 Mid way over the mountains descent into Bergamo was initiated, dropping gracefully back down to Earth whilst presenting further stunning views of Southern Switzerland, including Locano and Lake Maggiore, pictured below: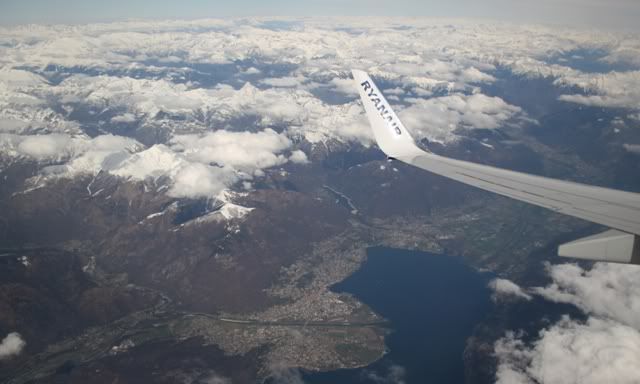 The course then took us over Lake Como in Italy, after which the decent rate increased and a 180 degree bank had the plane lined up for final approach on the Westerly runway 28. There was nothing terribly elegant about the landing; little flare and a heavy contact of the main gear with the runway, jolting the cabin rather well, and then using two thirds of the tarmac to roll out along before exiting via the express taxiway just opposite the terminal buildings.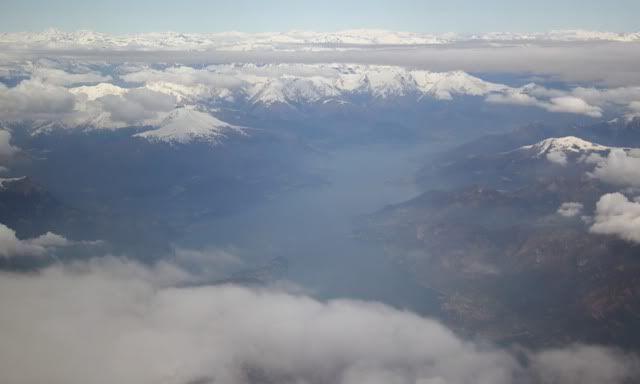 Video:
Ryanair B737-800 Landing at Bergamo
Disembarkation was far more rapid than the boarding at Bristol, with a good number of the passengers being out of their seats and in the aisle even before the plane had come to a halt, earning a scornful telling off from the cabin crew. Passport control took a very long time to clear – each passenger being scrutinized instead of the normal cursory glance from passport photograph to face, but despite having only a passing resemblance to my photograph these days I encountered no problems.
There were now some 15 hours before my next flight was due to depart so, not wanting to spend them all sat in the terminal and as Milan was too far, I headed into Bergamo; a travel pass on all the public transport in the city (including the bus from the airport) cost just a few Euros, which is very good value for money. I didn't know what to expect as I'd not done any planning in advance for this bit of the trip, but what I found was a nice city with a very quaint walled Medieval hill top centre, perched high above the rest of the city which lies in the valley below. After catching some dinner at a Pizzeria I headed back to the airport on the last bus.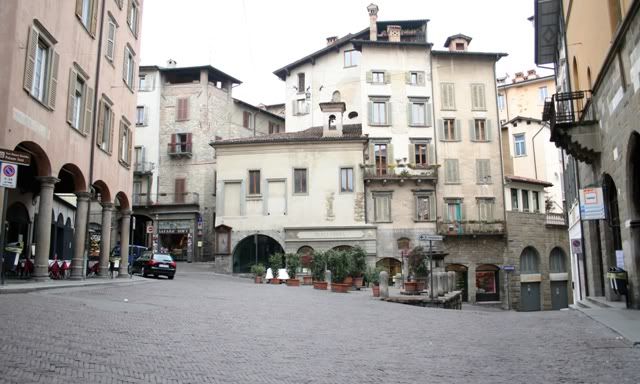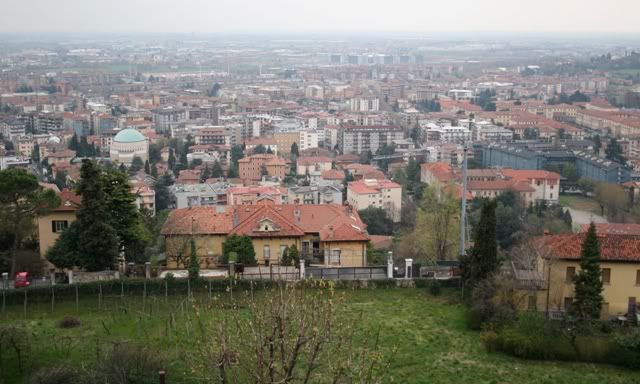 Not wanting to flood this report with sightseeing pictures, I've only linked in a few, but the rest can be found here:
Plymouth to Bucharest, via an Afternoon in Bergamo
Wednesday 1st April 2009:
Luckily the terminal did, as I had presumed, remain open overnight – a good job, as it was literally packed with fellow travelers who had to arrive the previous night by public transport in order to catch early flights. The police weren't so keen on the idea though, and rather enjoyed moving people around every hour or so, sometimes to aid cleaning, other times for no apparent reason. Come 5am I noted the first signs of life around the MyAir desks and, sure enough, check in began a few moments later. When booking there was no indication of which aircraft I'd be flying and even a picture search revealed that both the Airbus and the CRJ are used to Bucharest, but pleasantly today's almost full flight would be flown by the CRJ 900. This was preferable for me, as I've only flown one -900 series before, whereas I've been on dozens of A320s, so I selected a seat in row 10 so that I might have a good view of the wing, but still benefit from the cabin being quieter up front.
Looking around, Bergamo airport appeared considerably underused; everything was ordained in Alitalia green, yet their presence is marked by just one destination – Rome, and is now vastly overshadowed by Ryanair, without whom the airport would appear almost deserted at times. The plus side of this is that you don't feel overcrowded and that security was a breeze, taking barely a minute to pass through before I was in the equally empty departures' lounge.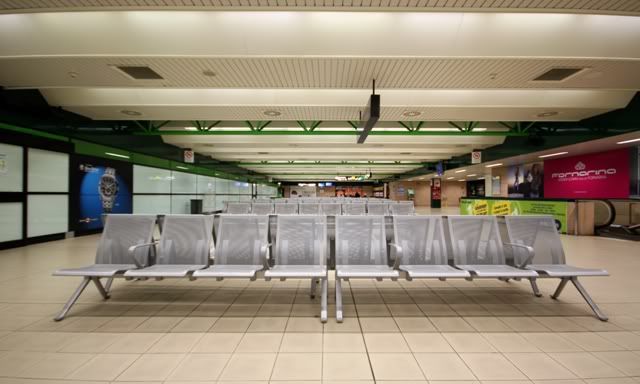 My flight would be departing from what I presume is the new LoCo wing of the lounge; situated at ground level so that passengers can walk straight out to their awaiting aircraft. With its metal seats chilled by the frosty morning air which seemed to be flowing in from somewhere and general sparse nature, it looked a little more like a prison waiting room than part of an airport, but if the carriers wish to pay lower and lower passenger fees, then airports have no choice but to economise - yet despite its apparent purpose built nature, none of the Ryanair (or other) departures were using it!
Boarding for the flight to Bucharest began right on time, arriving at the CRJ courtesy of a bus ride. It was dark and cold outside with a little rain beginning to filter through the mist, just to really set the mood, so there was a concerted dash for the stairs as soon as the doors were opened. Considering it quite literally 'grew' out of the comparatively tiny Canadair business jet, the CRJ 900 is a very long aircraft. My previous flight on the type had been almost empty but today, with a full load, it took some time for everyone to get onboard, partly because there was so little room in the overhead lockers that many passengers were struggling to find adequate space for their hand luggage. Even so, we moved off stand only ten minutes behind schedule.
BGY-BBU
(Milan) Bergamo
Orio al Serio
International Airport to Bucharest
Aurel Vlaicu
International Airport (Baneasa)
Carrier:
MyAir
(1st sector on airline)
Flight:
8I 1600
Aircraft:
Canadair CRJ 900
(2nd sector on aircraft type)
Registration:
EI-DUY
(1st sector on aircraft)
Date of First Flight:
Early 2007 (Delivered 2nd February 2007)
Seat:
10A
Block Departure Time:
06:40
Actual Take off Time:
06:53
Block Arrival Time:
09:50
Actual Touchdown Time:
09:42
Distance Flown:
803 miles
Flying Time:
1 hour 49 minutes
Fare:
€30.45 + €5 credit card booking fee (£31.90)
Runway 10 was being used for departures this morning, just a stones' throw from the stand, meaning with no other traffic the CRJ was soon lined up and ready to go. I have to say that I wasn't expecting much from the -900 series performance wise, but no, this thing could move – accelerating quickly and using about 1500m of runway before easing back into the damp and overcast sky.
Video:
MyAir CRJ-900 Departing Bergamo
The shadowy foothills of the Alps receded into the distant murk, which itself reflected more of a pink hue the higher we climbed, signaling that dawn was imminent. After no sleep the previous night, and little the one before that too, I relaxed back into the comfortable seat and was soon in a deep sleep, awakening again on final approach to Bucharest's Banesa airport. A gentle early reunion with the ground signaled some fierce breaking as the pilots did their utmost to stop on a sixpence, pulling up and drifting to one side of runway 07 to turn around in no more than 800m.
Amidst the aircraft parked in front of the hangers I'm sure I caught a glimpse of (now withdrawn?) UR-BVY, AeroSvit's sole B737-200 which I flew the previous summer, whilst the main apron was busy with other aircraft - including several of Romania's own LCC, Blue Air.
YR-BIA
; a B737-8AS belonging to Blue Air: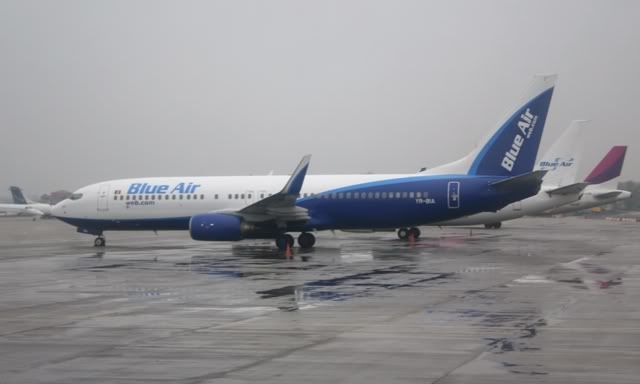 The preparations for disembarking took a little while, so in the meantime I had a chance to reflect on the cabin and the seat comfort – I'm unaware of the (buy on board) in flight service because I slept right through it, although the crews were smiling and generally appeared welcoming during other stages of the trip. The seat itself was very comfortable and, despite being 6ft, I could fit my legs comfortably under the seat in front. What really let the cabin down though was the layout and position of the rows; each seatback is located directly next to the window, blocking much of the view out and giving the cabin a smaller feel due to letting less natural light filter in. The aircraft had been delivered new to MyAir in 2007, and I can't think of another carrier who has this configuration on the CRJ-900, I'm sure others reading this can though, and I presume it's been adopted in order to fit an extra row in.
Transport to the terminal was by bus, it appeared the airport officials weren't too keen on photography, but I managed to take a couple of pictures without getting myself strung up, including the front of Baneasa's rather unique design.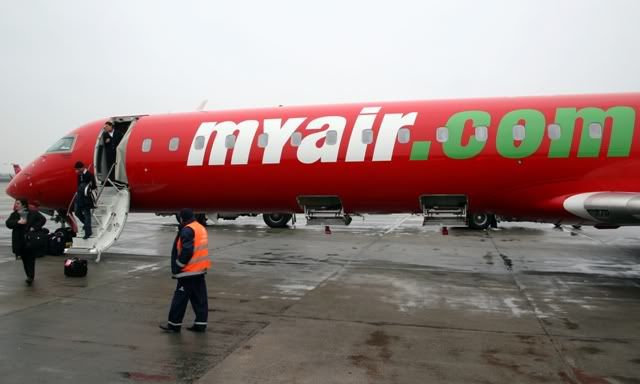 I had hoped for a passport stamp, but with Romania being in the EU and now operating under the Schengen agreement I had no such luck. The border control was reasonably quick and, with no checked bags, I made a hasty exit through the arrivals area - mainly to dodge the numerous taxi drivers who were insistent on yelling
'No, no bus!'
and
'No sir, there no bus to city'
at me. Anyway, despite their protests and having to pick my way through a chaotic traffic jam whilst crossing the road thanks to some road works, I was soon on the number 131 bus into the city center. You can get on the express bus which also serves OTP, but it costs almost three times more so I really couldn't see the point; especially as the journey took barely half an hour in heavy traffic.
My destination was Piata Romana, from where I spent a good few minutes walking around in circles, or rather blocks, before finding the location of my accommodation –
The Midland Hostel
, which would have been really easy to find had I followed the directions from the right bus stop, but as it was the bus had missed it's correct stop and dropped everybody off on the wrong side of the square! For just €11 a night, this was excellent value for money, having comfy beds and a safe and friendly atmosphere – just what you want from a hostel really. Today was my only free day in Bucharest itself though, so despite having no real sleep the previous night, I planned to see as much as possible – by foot!
Former Royal Palace, now home to the National Museum of Art of Romania: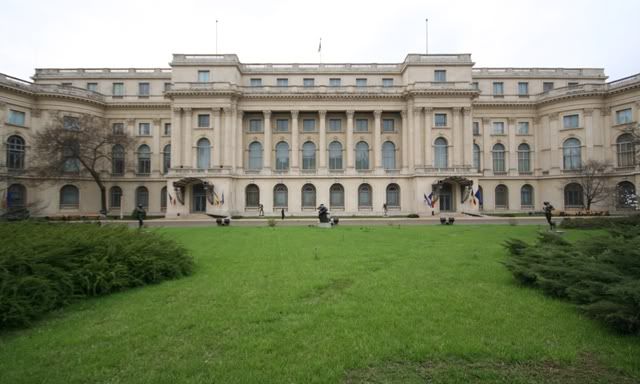 Romanian Athenaeum:
The highlight of the day was, without a doubt, taking a tour through the monumental Palace of The Parliament - a building on a magnificent and omnipresent scale which is composed entirely from materials sourced within Romania. The palace was the brainchild (and ultimately the downfall) of Romanian leader Nicolae Ceauşescu, who specified a lavish finish to every inch – highly impressive now but, considering the living conditions of most Romanians at the time, totally irresponsible and a travesty of judgment. In a way the building is a little like an iceberg, extending further below ground than it protrudes above, ranking it as the largest, heaviest and most expensive civil building in the world according to Guinness Records. For 15 Lei you can take a guided tour, which was free for me as a student, although I had to pay an additional 'photography fee' for my camera.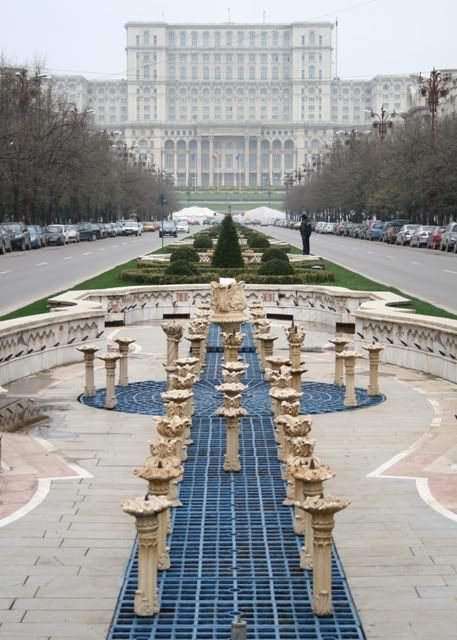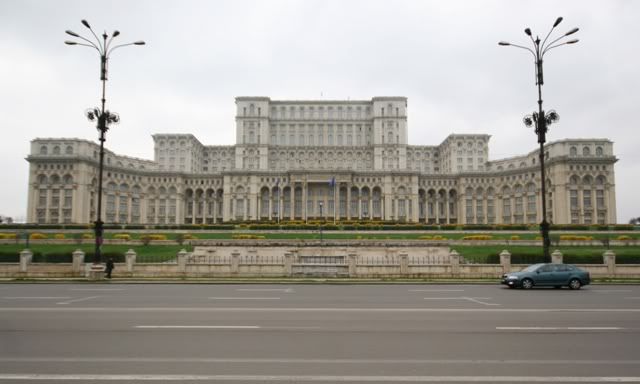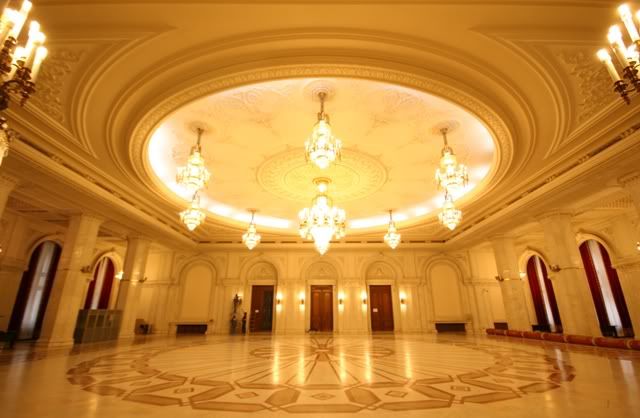 Again, I didn't want to fill this report with pictures of Bucharest, but others can be found in this collection:
Bucharest & Romania
Continued Below...
[Edited 2009-06-30 04:17:13]
[Edited 2009-06-30 04:19:05]