Photo Trip Report: SAT-IAH-SJU on Continental (with DirecTV)
My kids keep shaking their heads and try to comprehend the logic: "So, Dad, we live in Houston and we can fly to Puerto Rico non-stop on Continental. But if we drive to San Antonio and fly Continental back to Houston, change planes, and fly to Puerto Rico, it's cheaper?!?"
Not just cheaper, but $60 cheaper – per ticket! Unfortunately, I don't have a simple answer for them, but it doesn't matter, my wife has her family and friends in SA, so we made a weekend of it before heading out on our annual family vacation on Monday.
Some pics from the driving portion of our trip: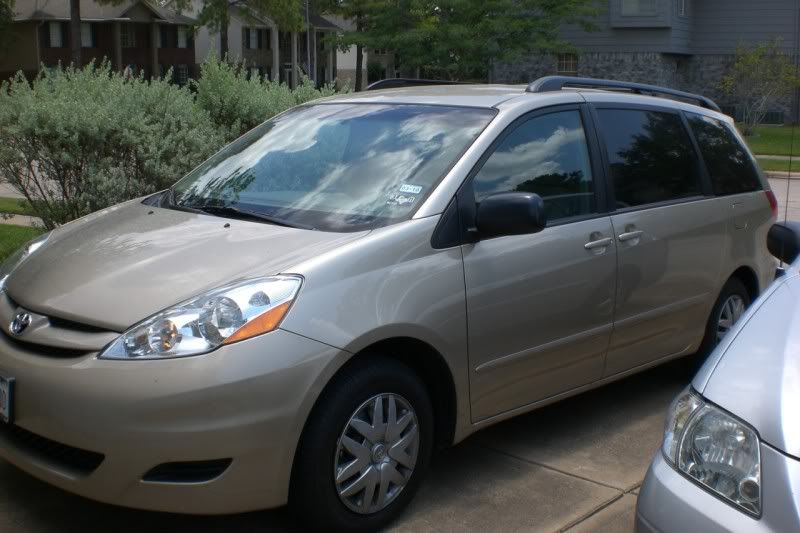 Equipment: Toyota Sienna (delivered 3/28/09)
Scheduled / Actual Departure: 1300 / 1304
Scheduled / Actual Arrival: 1550 / 1641
Route: HWY6 IH10 IH410 JNSMB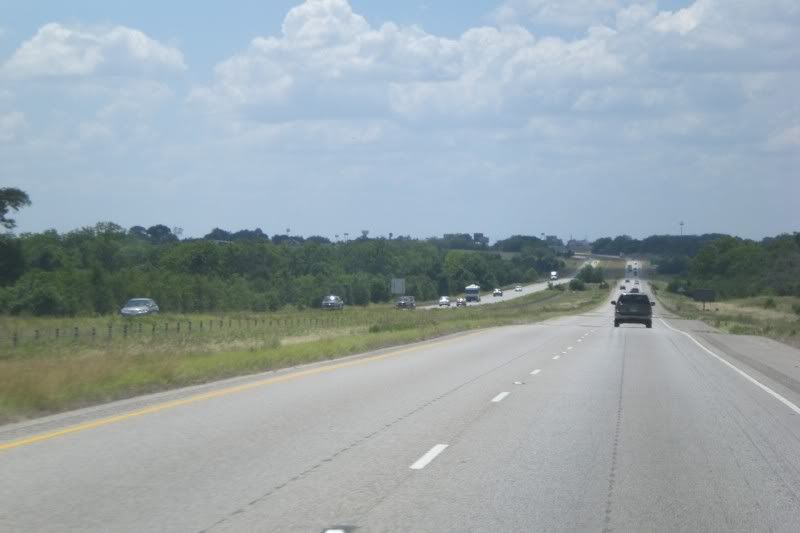 "Warm winds blowing, heating blue skies, and a road that goes forever…"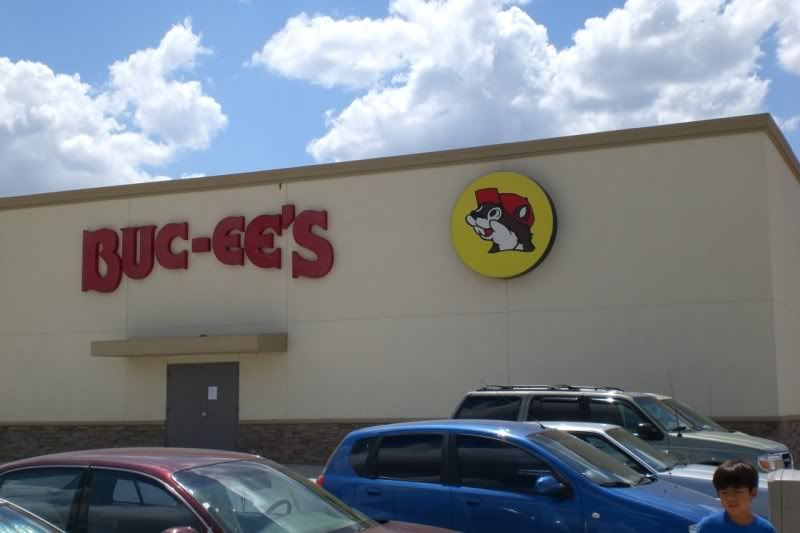 Pit stop at the world famous (okay, regionally famous) Buc-ee's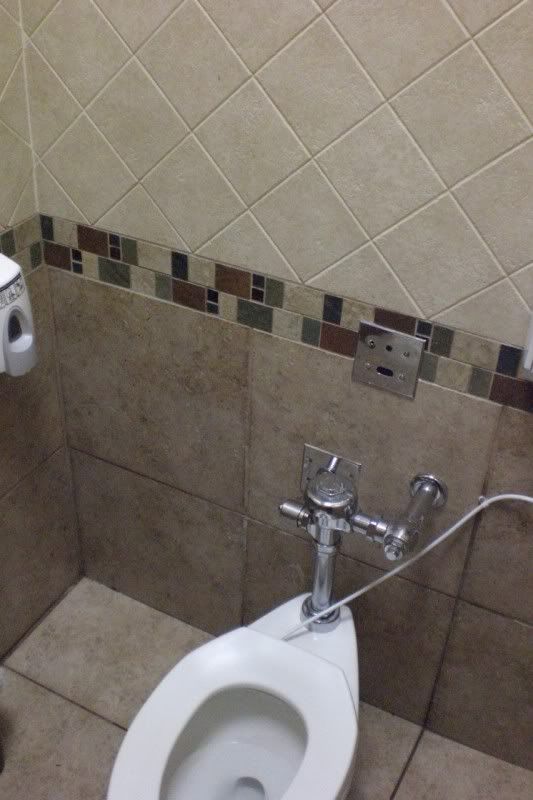 Buc-ee's highly touted (and clean) bathrooms: they don't have toilet stalls; they have toilet rooms, actual tiled walls separating the toilets
After arriving in San Antonio and meeting up with relatives, we headed downtown to visit our hometown as tourists (albeit an abbreviated tour: no Alamo, no Riverwalk)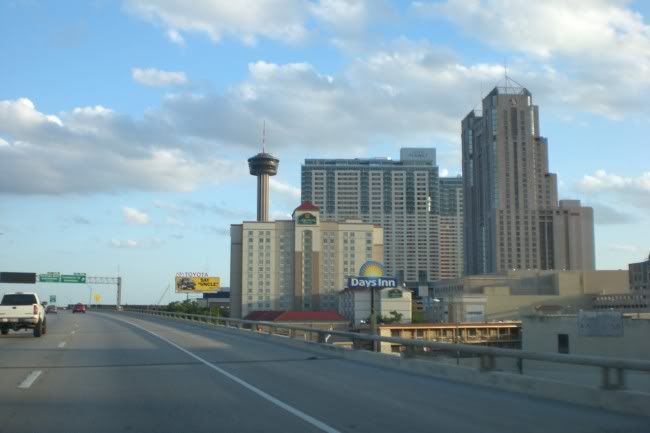 Part of downtown (from l to r): Tower of the Americas, Grand Hyatt San Antonio, Marriott Rivercenter (La Quinta and Days Inn in the foreground)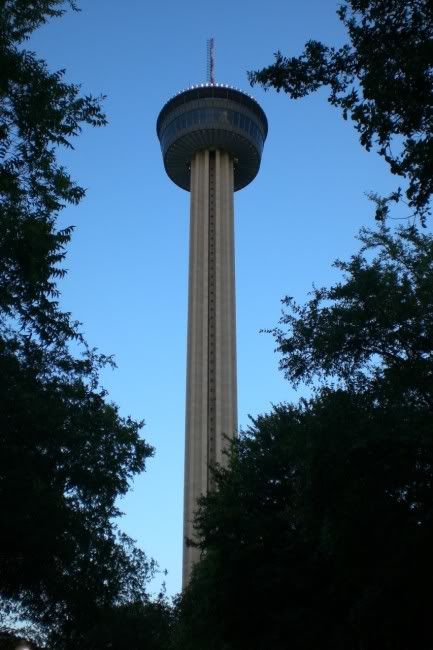 Tower of the Americas, at 622 feet (190 m), was the tallest observation tower in the US until the Stratosphere (Las Vegas) was completed in 1996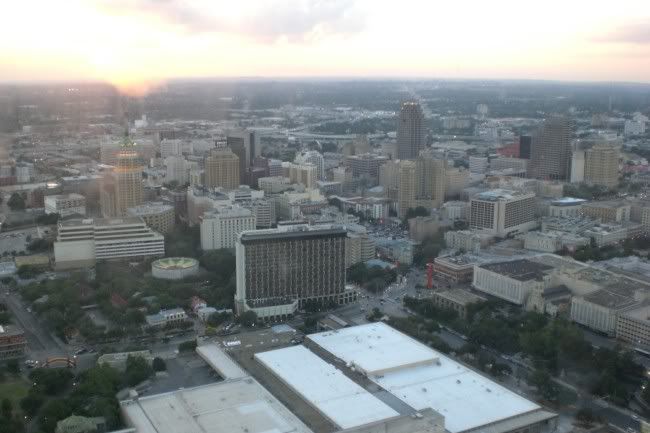 Westerly view of downtown (from the tower)
I made the excuse (to the wife) to come out to SAT the day before departure so I can get our boarding passes. I wanted to see how the construction is going on the new terminal (to be designated Terminal B).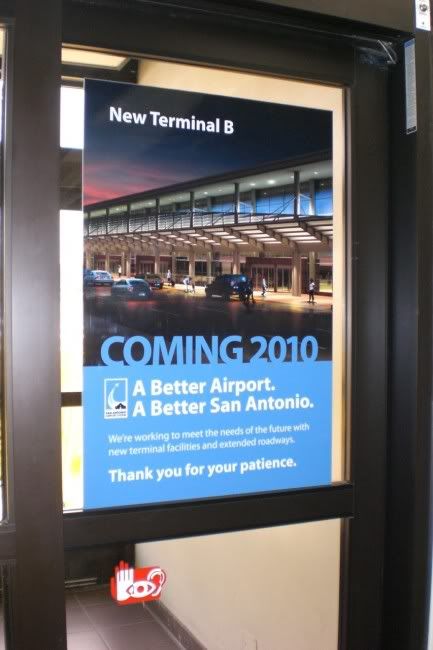 Inside Terminal 2 (to be demolished after B is completed)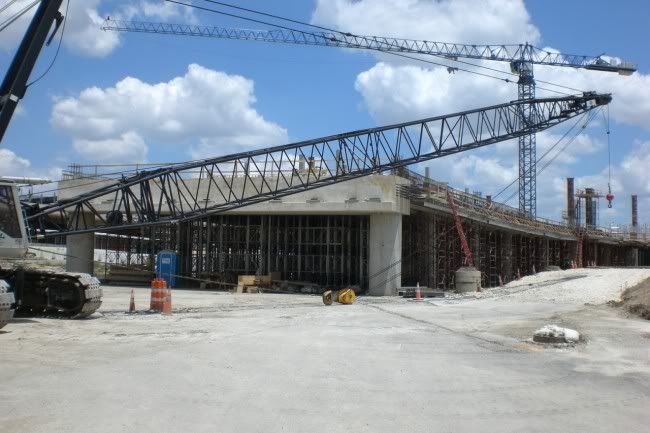 New two-level roadway extending from Terminal 1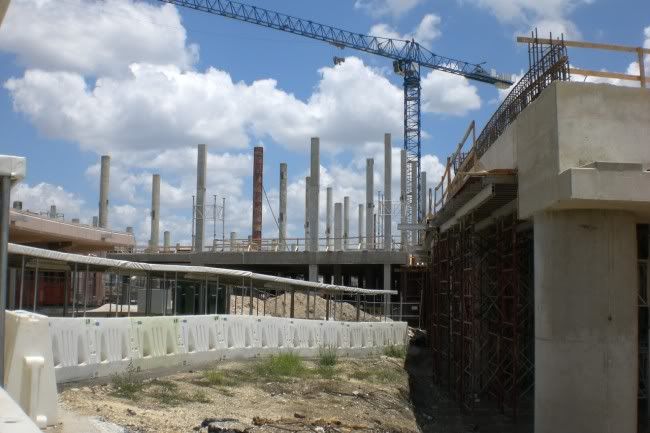 Concrete columns/slab for the new terminal (existing Terminal 2 on the left)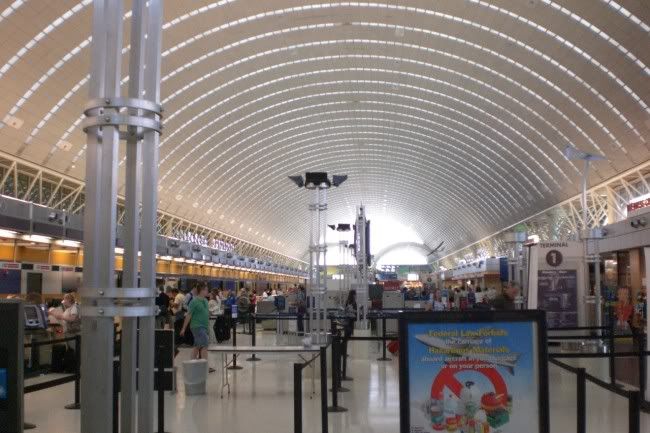 Terminal 1 (to be renamed Terminal A after Terminal B is completed) – after 20+ years, still one of my favorite terminal designs
I have kept a quiet, cautious optimism about the IAH-SJU leg of our trip. Continental's website is showing ship #427 being assigned to flight 212 on Monday. Some of us know the significance of that designation: at the time, it is one of eight 739s that has DirecTV installed. Fingers are crossed (toes, too).
Some other pics in and around SAT: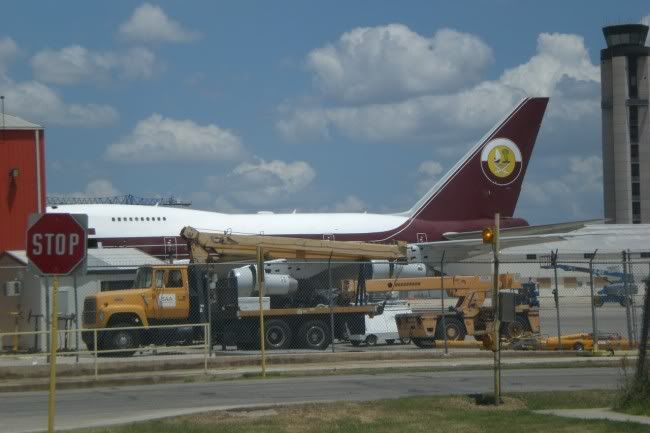 QAF 747SP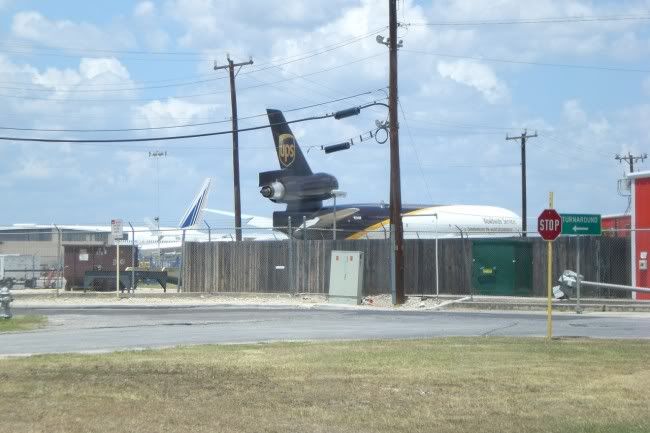 UPS MD-11F with Transaero 772 to the left
22 June 2009 (Monday)
San Antonio – Int. (SAT) to Houston – George Bush Intercontinental (IAH)
flight / equip / reg
CO7 / 739 / N75410
(delivered 12/5/01)
scheduled / actual departure (gate)
0815 / 0808 (31)
scheduled / actual arrival (gate)
0919 / 0903 (C42)
seat
9A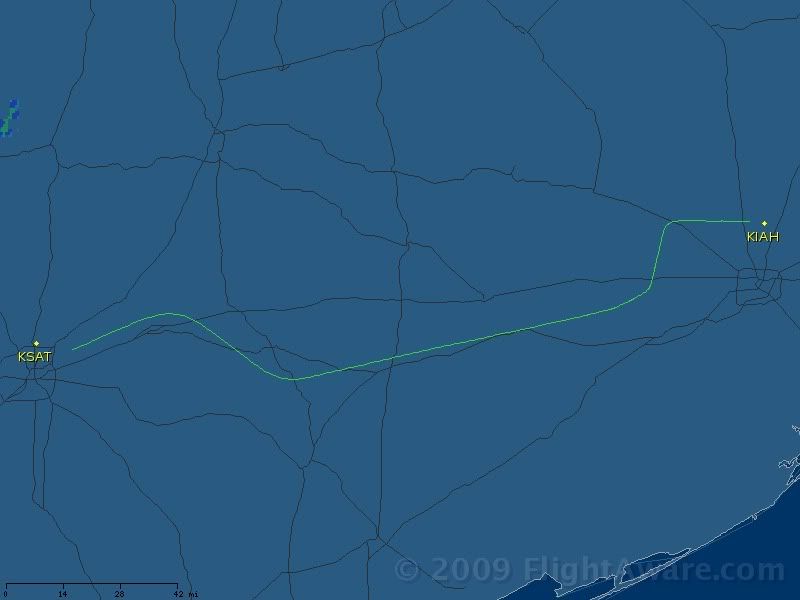 Another aspect of travelling with family that I take comfort in is the fact that we have no problems getting the boys out of bed, dressed, and ready to head out. God help us when it's a normal school day (especially our oldest and youngest – the middle child is a light sleeper, like myself).
We parked the car and took the shuttle to Terminal 2, which is quite a mess with the construction going on (essentially the new terminal is being constructed right next to the existing one).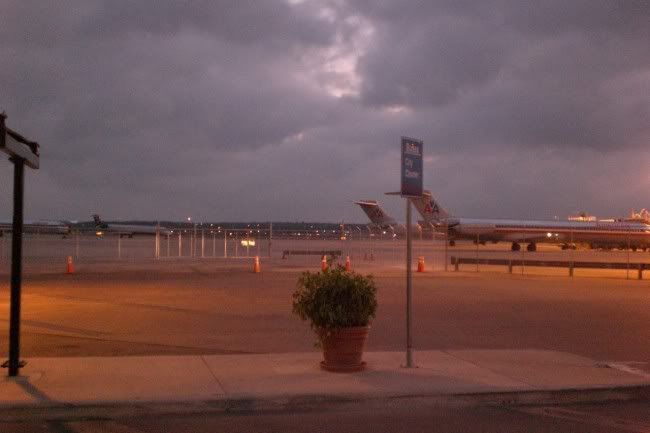 Shuttle dropoff at Terminal 2 (with AA and DL RONs)
CO and AA are the only remaining airlines left in Terminal 2 (US relocated to Terminal 1 earlier this year). Talking with a CO agent, there is no word yet what airlines will occupy Terminal B, which will have 8 gates.
Checking-in our luggage was no problem. The line was incredibly long, but we discovered a separate line for pax that are already checked-in for the flight and there were maybe 2-3 people ahead of us. We made it through security with time to kill.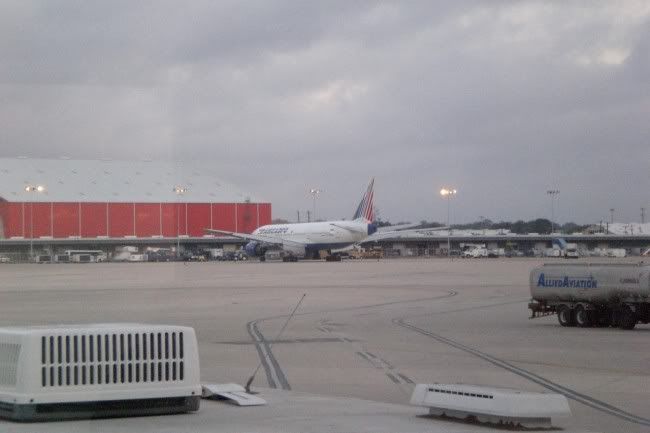 Transaero 772 (again)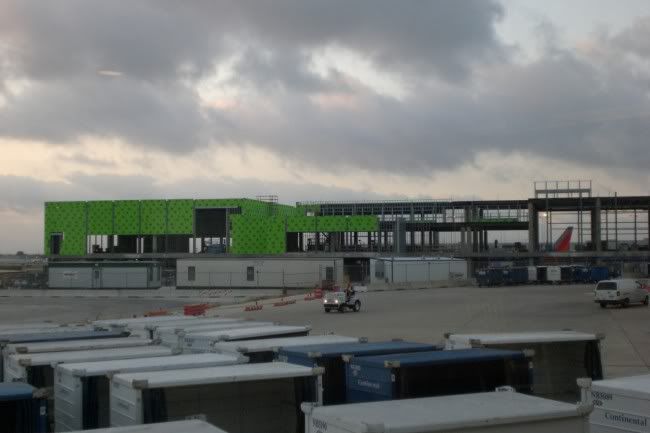 Terminal B airside under construction (with WN peeking through)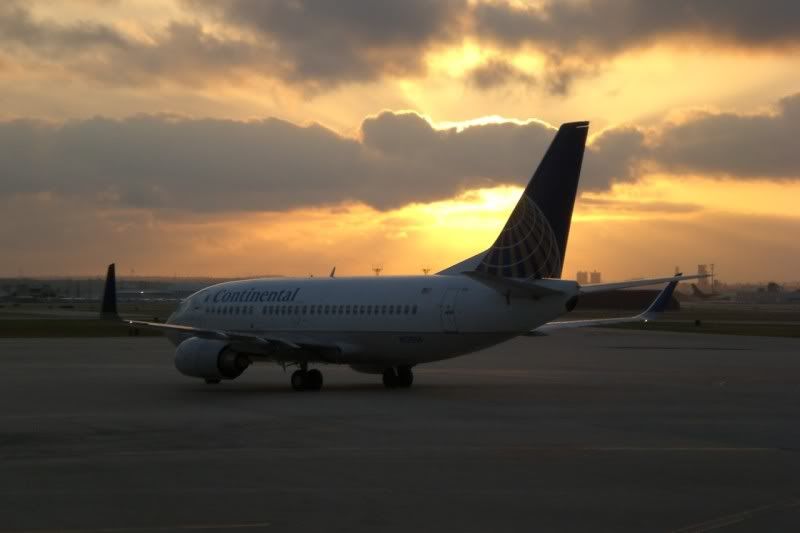 CO 735 on its way to EWR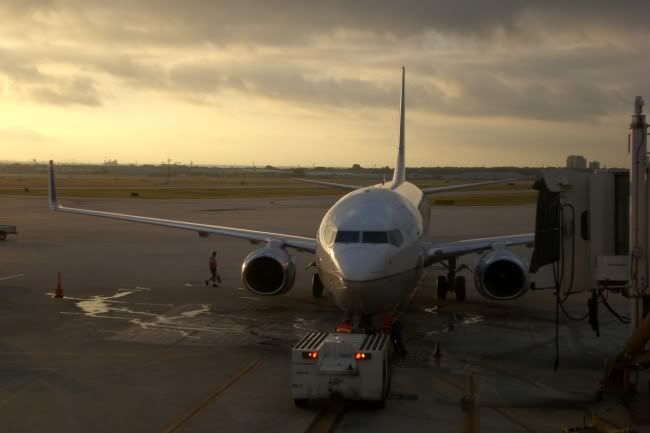 Our plane (ship #410) towed to our gate
We took off on 12R going back to Houston (my oldest son likes to rub it in, "You know, Dad, we could've just took off from Houston, instead of driving to San Antonio and doubling back.").
The flight was normal/boring/etc. (not much happens on a 37-minute flight).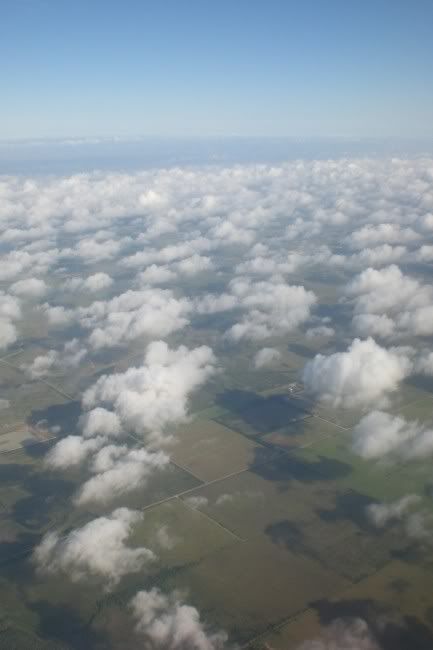 Obligatory in-flight shot
We arrived pretty early (landing on 8R), which means we won't have to high-tail it to our connecting flight (which is moot since we found out our plane to SJU was only a few gates down).
My youngest son (5 years old) is my fellow aviation enthusiast. As of now, he can identify close to 20 different airlines (currently B6 and LH are his favorite, but that changes constantly). In addition, he can identify the different Boeings and now can identify the Airbuses (he would say "they have those little winglets").
Currently, I'm teaching him on the difference between a 752 and a 753 and Continental makes it easy for him (752 have winglets, 753 do not – for now). He is fascinated by the 753 because of its length and I would tell him that CO 753 usually flies to places like LAS, LAX, and MCO. Of course, subsequently he sees a 753 and announces "757-300! And it's going to Las Vegas!" Then he sees another 753 in the background and says (more thoughtfully) "Hmm, another 757-300. I think that one is going to Orlando." It's funny to see the incredulous/confused looks on the other passengers…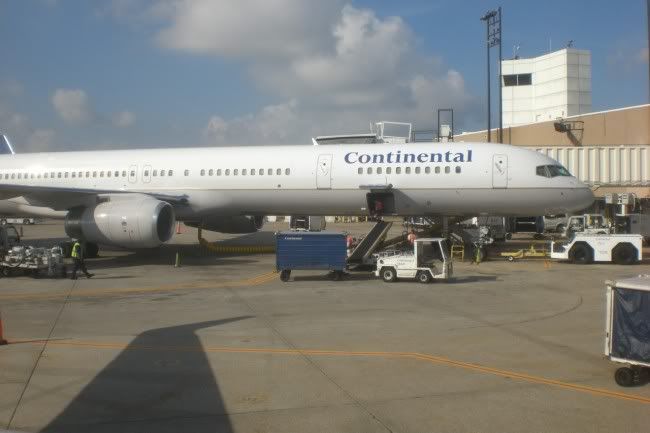 Parked next to CO 753 (readying for its flight to LAS)
We made it to gate C30, where our plane is parked. The bad news: we did not get ship #427. The good news: we got ship #413. I hope to God I remembered to charge my camera batteries before we left.
Houston – George Bush Intercontinental (IAH) to San Juan – Luis Munoz Marin Int. (SJU)
flight / equip / reg
CO212 / 739 / N37413
(delivered 1/15/08)
scheduled / actual departure (gate)
1000 / 1032 (C30)
scheduled / actual arrival (gate)
1537 / 1557 (29)
seat
14C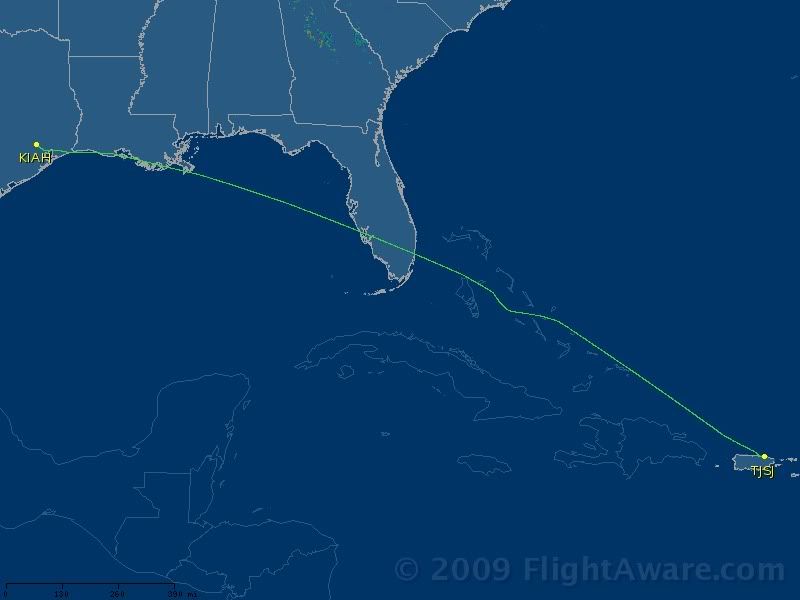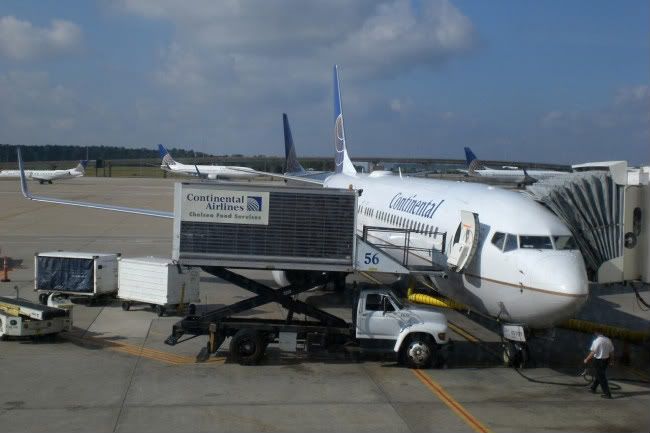 Ship #413 (note the "bump")
I was away to get a snack, but when I returned, my wife said the flight was being delayed because they are replacing the seat cushions on the plane. Actually, at first, they were replacing cushions on 4 seats, and then decided to replace all of them. We didn't hear the reason for this.
No matter, the job was done and boarding commenced. The gate agent announced before boarding that this flight is equipped with DirecTV and passengers can grab the headsets once you step on the plane. This makes sense, since you can start watching when you sit and you don't have to wait for the FAs to come around and pass it out.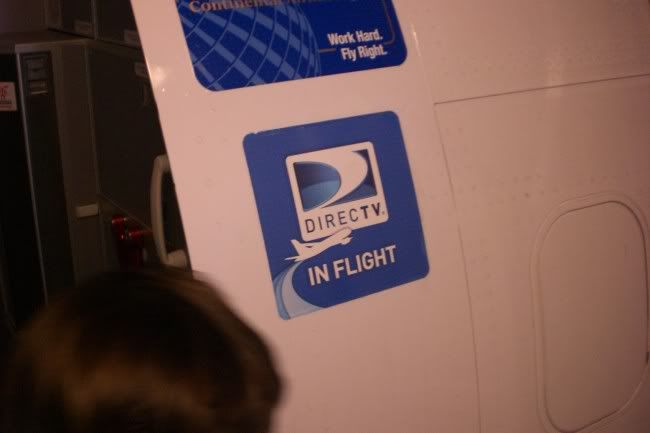 More evidence (like I need it)
We all take out seats and I got the three boys (and wife) set up with their DirecTV – basically just swiping the credit card and pressing a couple of buttons and we're set ($6 a pop).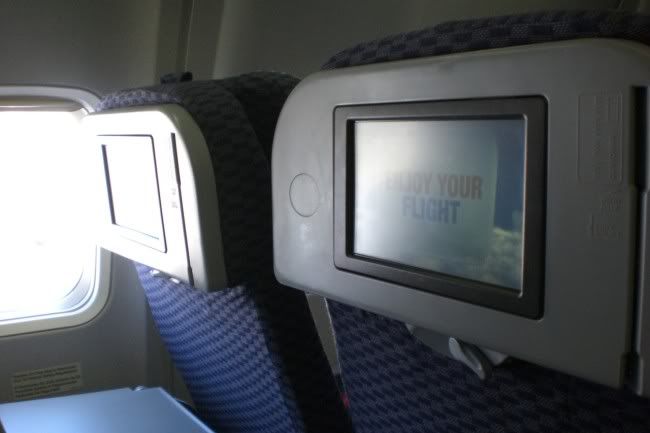 "Enjoy your flight" Okay, I'll try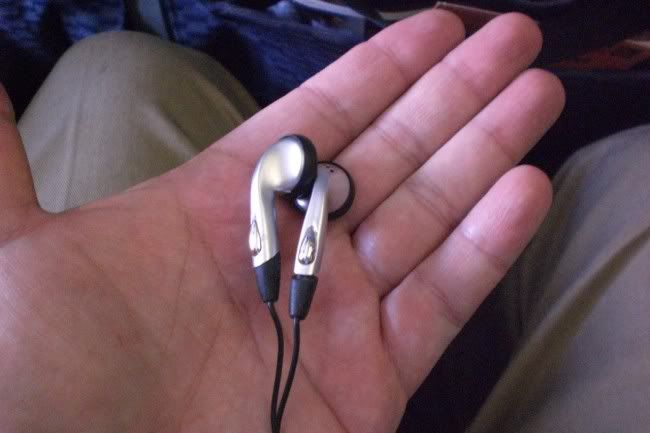 Free earphones – nice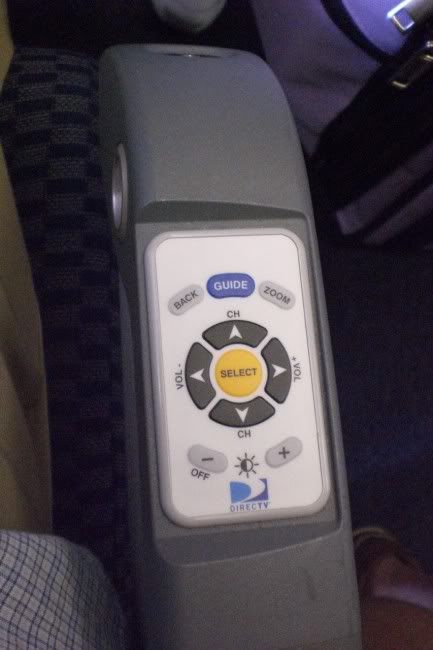 Controls in the armrest
The way the channels are set up, the first few channels are Continental's movie/tv programming that runs on a loop (pretty much like their standard PTVs on their 767s and 777s pre-AVOD) and numbered 1-1 through 1-9. For this flight, the movie choices were
New in Town[/1] (Renee Zellweger), [i]Hotel for Dogs
(some kids…and dogs),
Inkheart
(Brendan Fraser), and
Bride Wars
(Kate Hudson and Anne Hathaway). The TV portion has the usual suspects: "House", "Big Bang Theory", "New Adventures of Old Christine", "The Office", etc. plus some travel programming with host Samantha Brown.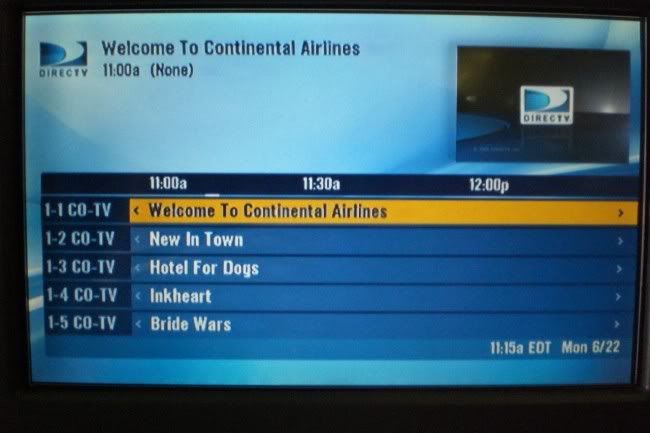 Welcome screen
The rest of the channels are DirecTV, starting with channel 202 (CNN). It's been a while since I had DirecTV service, but I'm pretty sure the channels on the plane match their regular at-home channel lineup.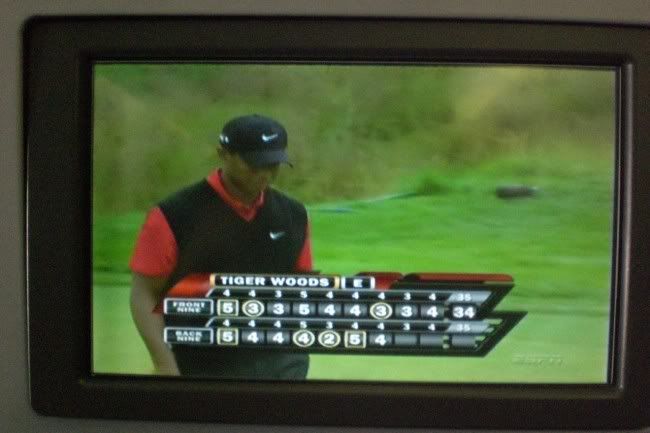 Eldrick Woods at the U.S. Open (he was not able to repeat as champion)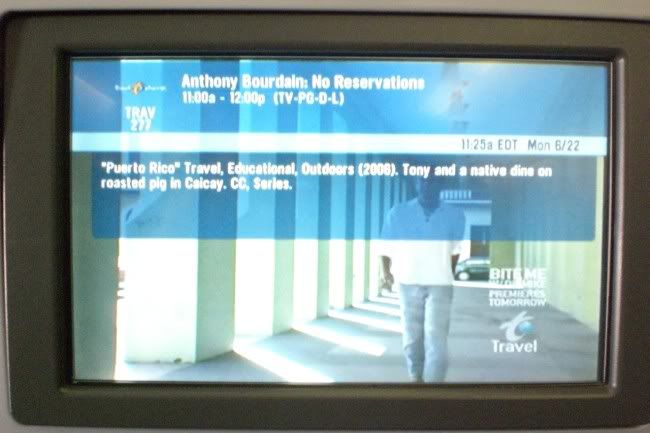 Nice coincidence for this flight: Anthony Bourdain profiling cuisine in PR
Unfortunately, we were not able to see Mr. Kellner's welcome as it is not part of the video package, so we watched the FAs do the deed (in both English and Spanish).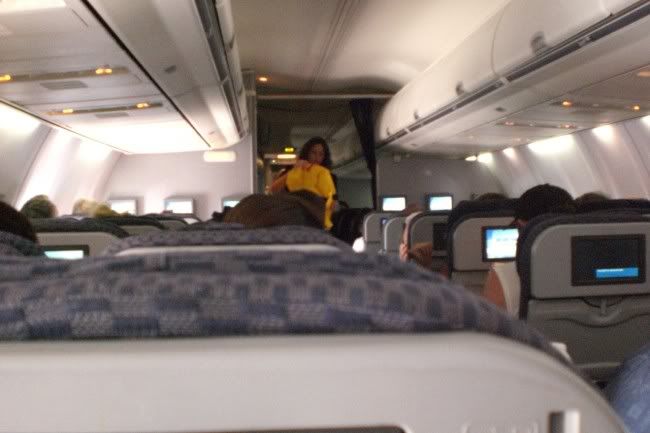 Watching the safety demonstration the old-fashioned way
One nice thing included in the DirecTV package is the local network feed from the East Coast (specifically NYC) – I wonder if this changes depending on the plane location (LA programming flying to the west coast for example).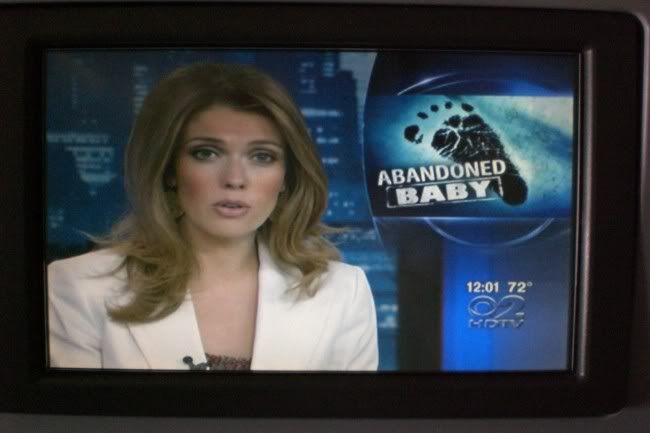 The lovely Kate Sullivan delivering NYC news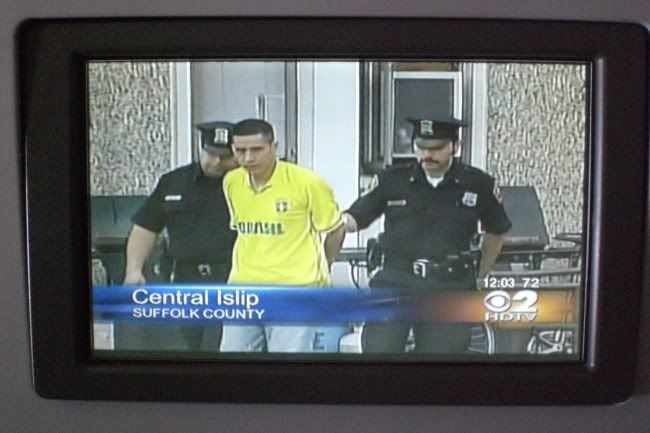 Brazilian soccer fan has invaded Long Island!
Judging by the other pax and what they were watching, I estimate that 40-45% of coach had DirecTV showing. I wonder if it is above or below expectations as far as Continental is concerned.
About halfway through the flight, it was time to eat. We got a cheeseburger (actually pretty tasty), with a salad and a mini brownie. The FAs were all professional and friendly during the flight, especially at meal service.
That's right, no charge for this meal
A quick note on the headrest: I really never got to try it out in terms of comfort, but it seems that they made it a little thicker and softer, maybe in order to the accommodate the monitor.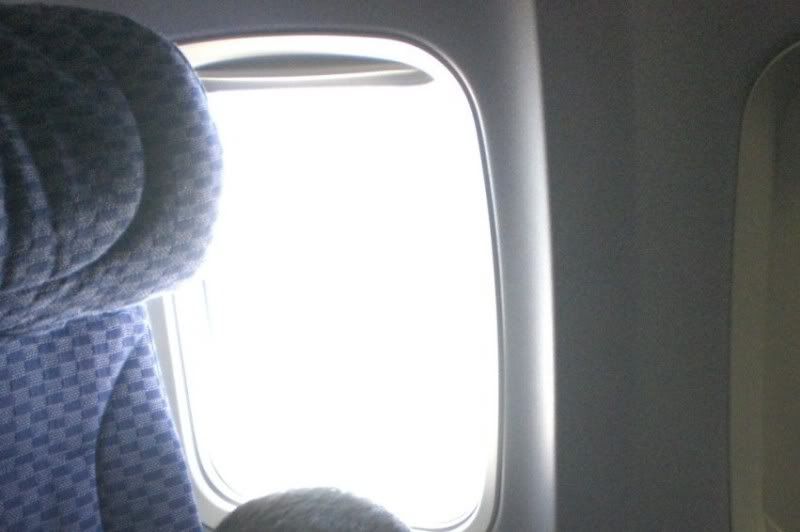 Partial view of the headrest (don't mind the top of my sleeping son's head)
Overall, the flight was pleasant and smooth with the occasional bump/chop along the way. As I expected, approximately 2 ½ hours in, somewhere over the Bahamas, we started to lose the satellite signal. It was gradual in terms of the individual screens going out: mine went out approximately 15 minutes after the first screen I witnessed went out.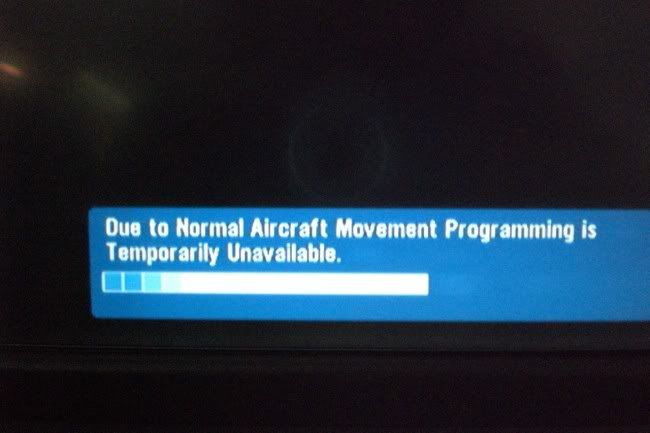 Dammit, I was watching Rachel Ray…I need closure!
Even though DirecTV was out, the Continental programming was still viewable (well, it depends on the quality of the shows…)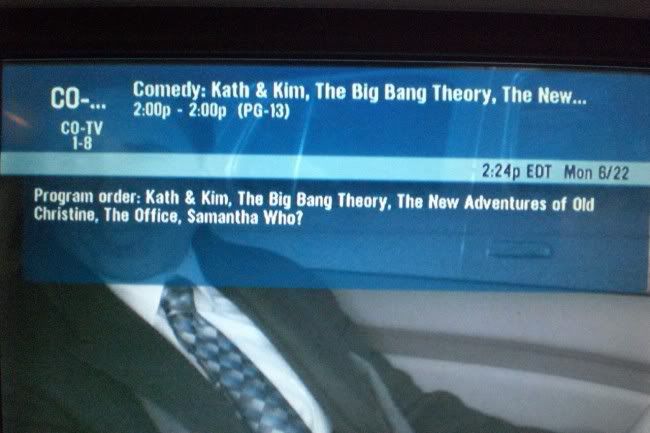 "The Office" is currently on
I guess I can look out the window for some real-time entertainment.
Over the Atlantic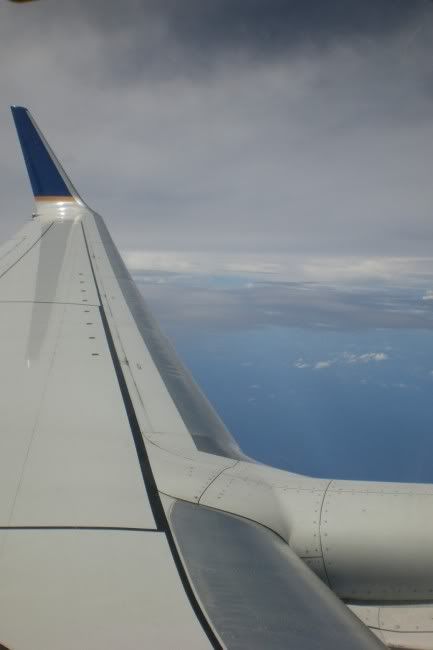 Still over the Atlantic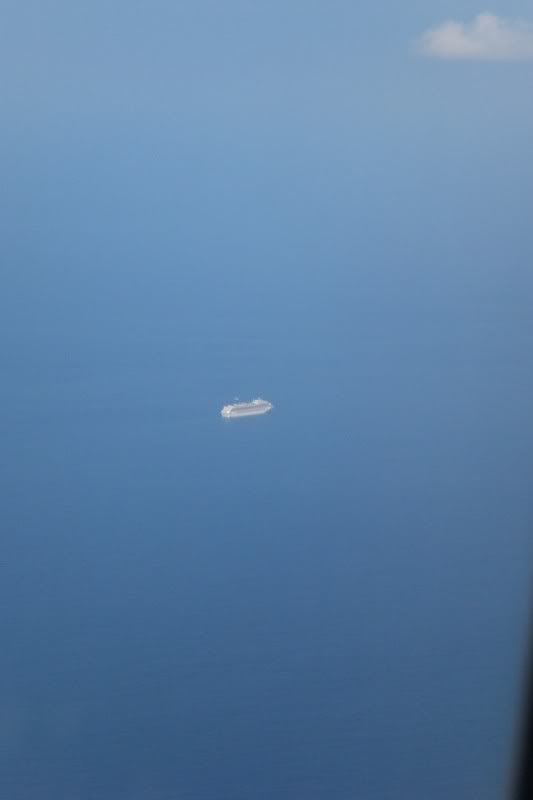 Cruise ship en route (I think we'll beat them to land)
Before long, we started our descent into SJU. Boy was I glad we picked seats on the left side: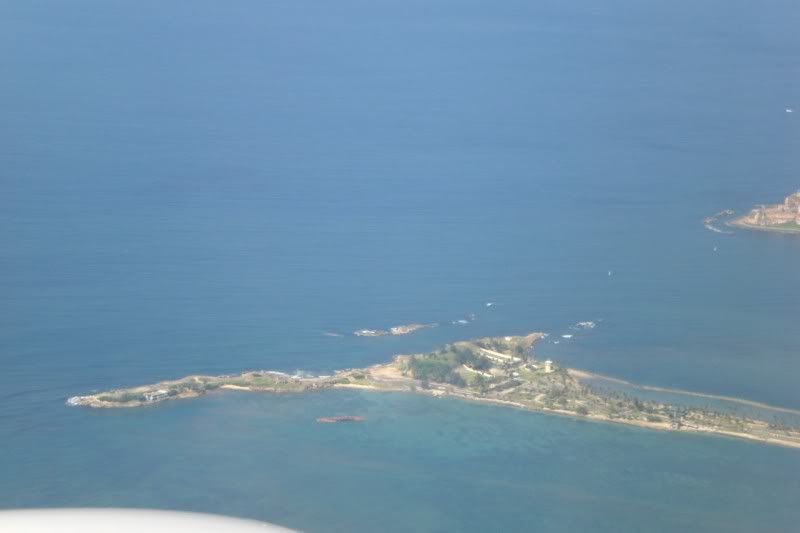 Our first sight of land: Goat Island, at the entrance to Port of San Juan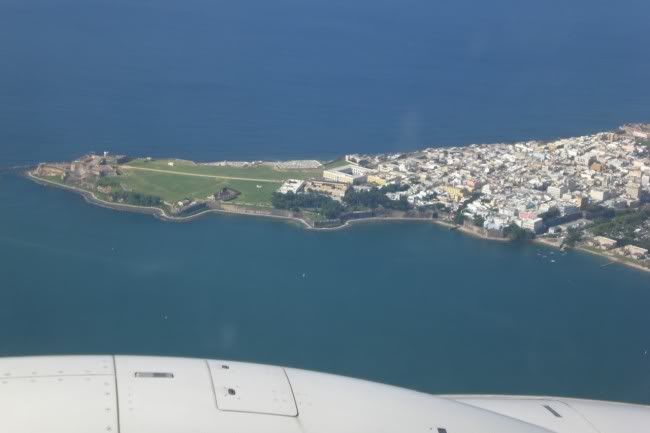 Old San Juan, with El Morro at the tip (on the left)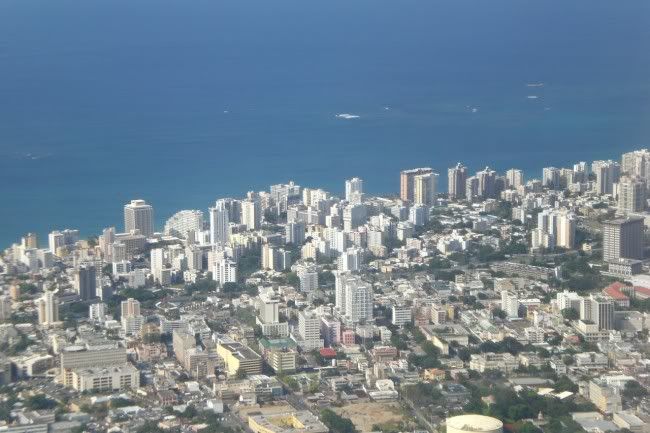 Uh, New San Juan?
We made our landing on runway 10 and proceeded to our gate at Concourse C.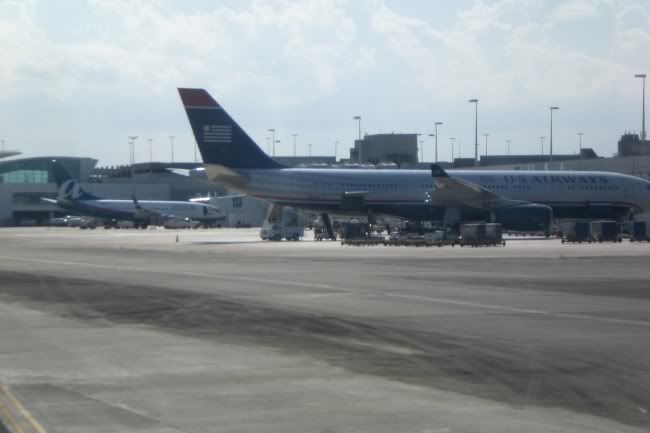 FL 737 and US 330 parked at Concourse B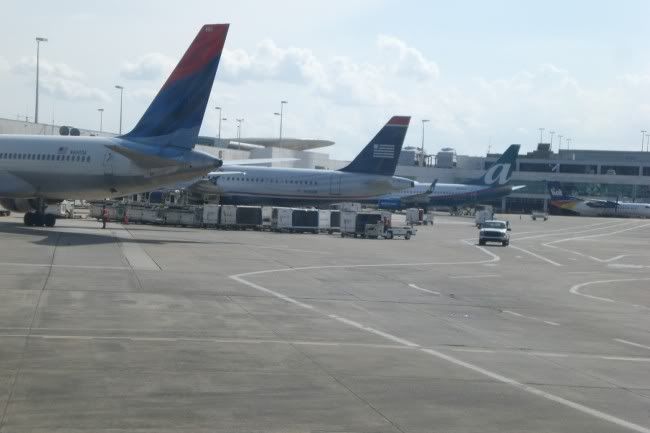 The other side of Concourse B: DL, US, FL, and LI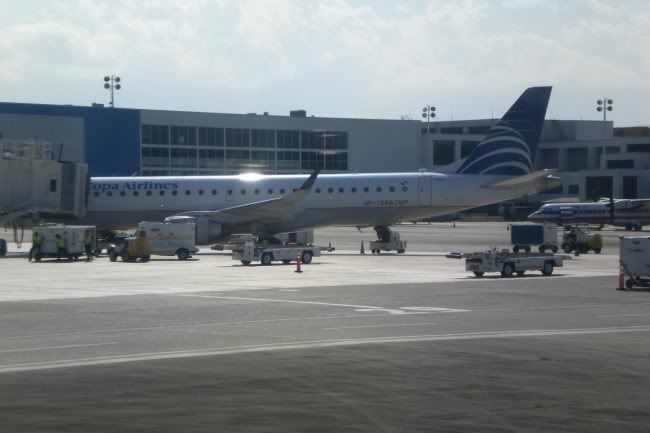 My five-year-old son: "Why does that Continental look different?"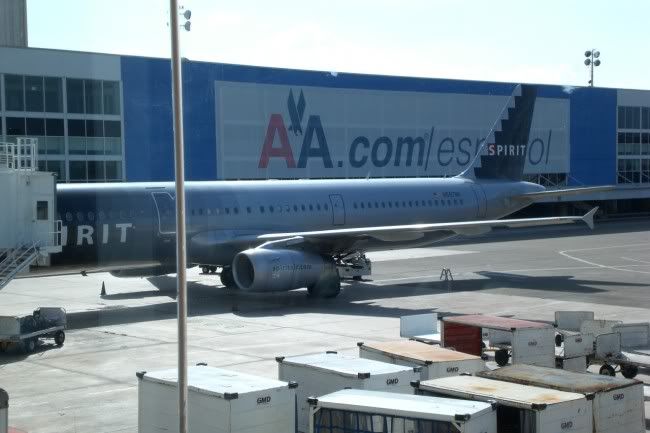 NK 321 awaiting its return to FLL (or MCO, whatever)
We made our way to baggage claim, where our luggage promptly came out. We then hopped onto the rental car shuttle to get our ride for the week.
We had a great flight, the DirecTV is definitely a great component, especially in keeping the kids occupied. Hopefully in the future they are able to add Airshow to the video options. I do understand pax that might have a problem with the $6 charge, especially if it was a shorter flight, but no one is forcing them to use the service.
Please stay tuned for our next report, where we will chronicle our great vacation on this beautiful island and our return flight to Texas.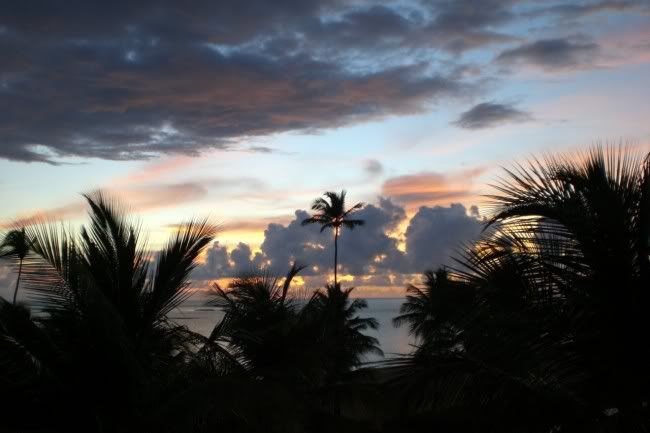 Sunrise in paradise
Thanks for reading, and any questions/comments are appreciated.