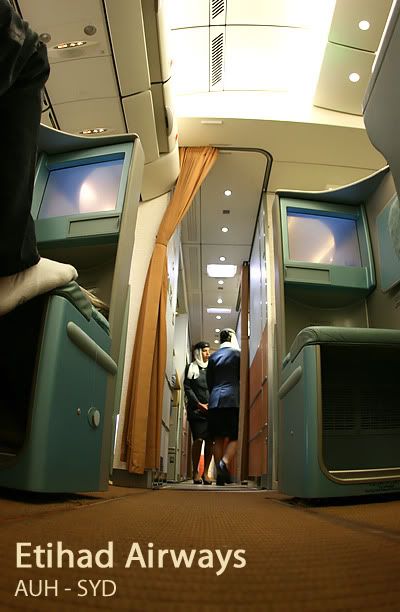 For as far as I can remember, or let's just say since I was born 30 years ago, traveling through Abu Dhabi International Airport was the most predictable and rigorously unchanging process I could think of. Just like everyone else, visions of the unique greenish-blue rotunda always come to mind at even the slightest thought of this airport. Simply put, change was never on the agenda at Abu Dhabi; the airport was there, it worked well, and Gulf Air was happy, so why mess with that?
Today, things are different. Dubai has advanced years ahead of our times, Doha gained momentum, and even Bahrain had a go at its own niche in aims of leaving the eighties and their rotundas behind. Certainly so, Abu Dhabi also saw the light at the end of the tunnel. Stripping lowly Gulf Air to its bare bones, Etihad made Abu Dhabi home and has one of the most aggressive expansion plans in the world that an airport with a mere five million passenger capacity can never handle. And so, a new terminal was planned.
On April 7th 2009, Abu Dhabi International Airport's Terminal 3, the new home of Etihad Airways, was declared fully operational and the majority of Etihad flights were transferred to this new facility. Raising the annual capacity to 12 million passengers, Terminal 3 adds a modern face to Abu Dhabi, and an opportunity for Etihad to further demonstrate its top-class product.
Abu Dhabi now joins the masses, and flexes its muscles, and this is not where it ends. Terminal 3 is just an interim solution for only a few years until a new airport rises from the grounds. From now on, time will simply fly.
Welcome To Terminal 3
Welcome to my 14th Trip Report,
This Trip Report will cover my flight on Etihad Airways to Sydney, from Abu Dhabi's new Terminal 3. This will be a brief TR, as I have reported many Etihad flights in the past, and I also had to be careful with taking pictures at AUH, for security purposes. Nevertheless, at least you get to see something.
This TR will cover my first portion of my spring travels. I had about a week off from work and I was aching to get on an airplane and go somewhere. I decided to meet a friend in Sydney for a few days, and return back with a stopover in Singapore for another few days.
So many obsessive thoughts came to mind when I searched for flights. however, being a huge fan of the underdog non-flagship frequencies of any route, I decided to give Etihad's second Sydney frequency a try. In the 4th quarter of 2008, Etihad introduced 4 additional frequencies to Sydney with a night-time departure from Abu Dhabi. This was perfect timing for me, as I could go to work that day, and fly out at night.
I booked a one-way ticket in Coral Economy, and planned to use my miles to upgrade to Pearl Business at the airport on the day of travel, a new feature introduced by Etihad.
Wednesday April 15th 2009
I had a very busy day at work, and almost thought that I may need to scrap my travel plans. However, I managed to barely get by but had no time to go back home and change my clothes, or even shower. Luckily however, I had my luggage in my car, along with a spare change of clothes.
I got into my car, where I discreetly changed my clothes, grabbed my luggage and headed towards the airport at around 7:20pm, walking past Terminal 1 and towards T3.
Common-Use Arrivals Hall Entrance For Terminals 1 &3
Etihad Dominates Terminal 3
Terminal 3 Departures Entrance
After cruising around the curbside and smoking a few cigarettes, I proceeded inside the terminal at 7:30pm. The departures area of Terminal 3 is separated into two sections; one soley for Etihad's premium passengers, and the other only for Coral Economy passengers. As I was traveling in Economy, I arrived at the Economy class section, where I was greeted by friendly airport staff who are standing by to guide all passengers. After learning that I was traveling to Sydney tonight, the friendly staff guided me towards the check-in desks and wished me a pleasant flight.
Departures Hall
I arrived at the check-in desk at 7:30pm, and handed my documents to the Etihad agent who welcomed me as he started typing away my details in the computer.
Etihad Airways Check-In Desks At Terminal 3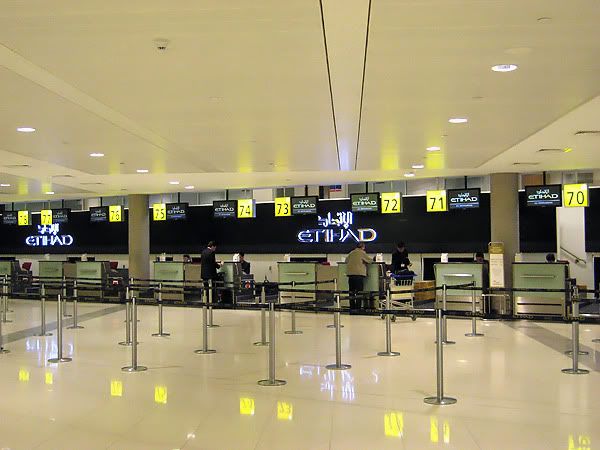 As I waited to be checked-in, I noticed the agent repeatedly swiping my passport on his computer.
"Sir, have you filled out an ETA?"
"What is an ETA?"
"Its an Electronic Travel Authority that is mandatory to complete before traveling to Australia"
"I was never informed about this ETA"
"Just one moment sir"
The agent got off his desk and went looking to consult with his manager. After some moments, he returned with his manager.
"Sir you need to complete an ETA before traveling to Sydney, did you not know that?"
"No I did not, and I purchased this ticket from your office in town, and no one informed me"
"We do not inform anyone sir, you need to know about it"
"?!?!?!?!"
That was the most ridiculous response I have ever heard. How on earth will I know what the hell an ETA is? And why is it strictly enforced to inform all passengers that their details must be submitted prior to flying to the USA for example, and not in this case?
"Don't worry sir, we can do it for you here, please proceed to the ticketing desk and the agent will help you"
I grabbed my passport and ticket and headed to the ticketing desk located right behind check-in. I explained my situation to the agent and she gladly agreed to type up this mysterious ETA for me. I waited, she typed away, I waited some more, she typed some more, and this went on for some time before she handed back my documents and my printout and asked me to go back to the check-in desk.
Heading back to the same check-in agent, he performed his second attempt at checking me in. This was followed by another attempt of repetitively swiping my passport on his computer.
"What now?"
"Sir the computer is not accepting you into the system, please wait, we will have to call our Sydney office"
Check-In Desk
By then I was feeling a little edgy and impatient. A while later the agent and his manager returned back to me and asked me to go back to the ticketing desk where she will have to type up another form because my passport details were incorrectly entered.
I went back to the slow ticketing agent, where she took forever again to type it up.
"I would like to upgrade to Pearl Business using my miles please, how do I do that?"
"When you go back to check-in, you can inform the agent, and he will check if there are any seats available and tell you, then you come back here and let me know if there are any seats available and I can process it for you"
"?!?!?!??!"
The ETA was finally printed out, and actually worked this time. I was eventually checked-in, and also was lucky that there were plenty seats available in Pearl Business. However, one last time, I had to go back to the ticketing desk to get my upgrade done.
FIDS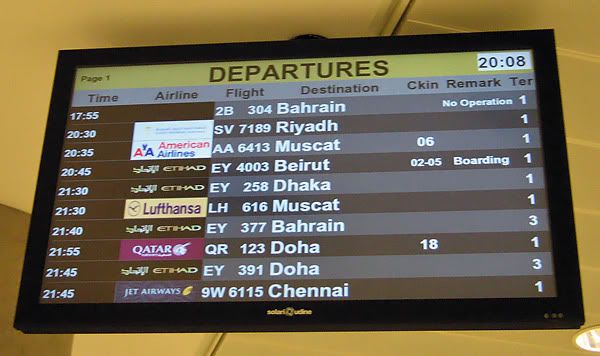 Overall the process took one and a half hours, and was one of the stupidest experiences I had with Etihad. It was highly unnecessary and clearly evident that Etihad has a lot to learn on the ground handling front.
Boarding Pass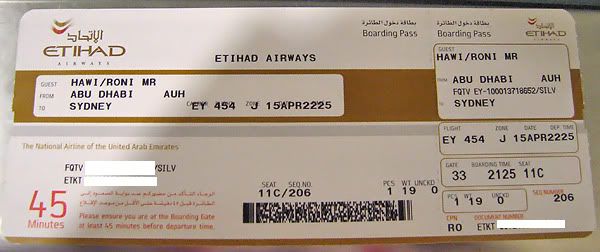 Lounge Invite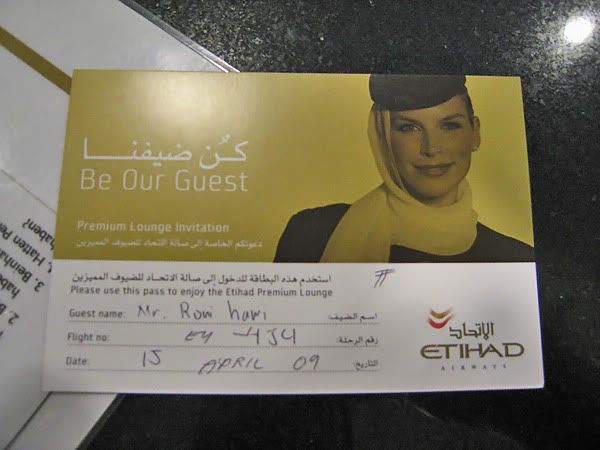 At 8:55pm I headed straight towards immigration and security, which were nothing out of the ordinary. By 9pm I was airside. I decided to pay a quick visit to Etihad's new premium lounge for a bite to eat and a quick photo opportunity.
The lounge itself was much better than what is available in Terminal 1. It is segregated into three sections, one for Diamond First, the second for Pearl Business, and the third for the spa. All three sections had a common aisle that also included a concierge and showers.
Etihad Airways Premium Lounge At Terminal 3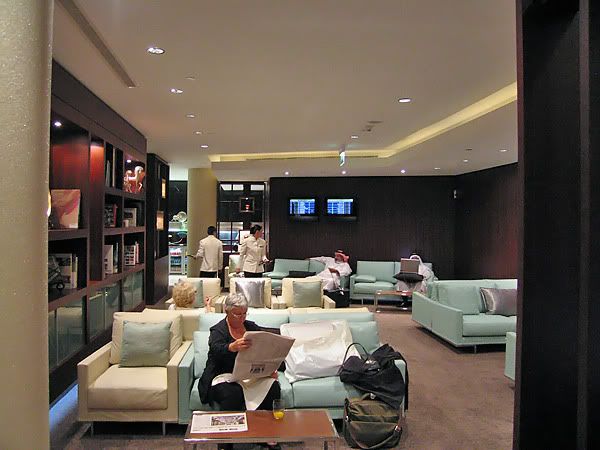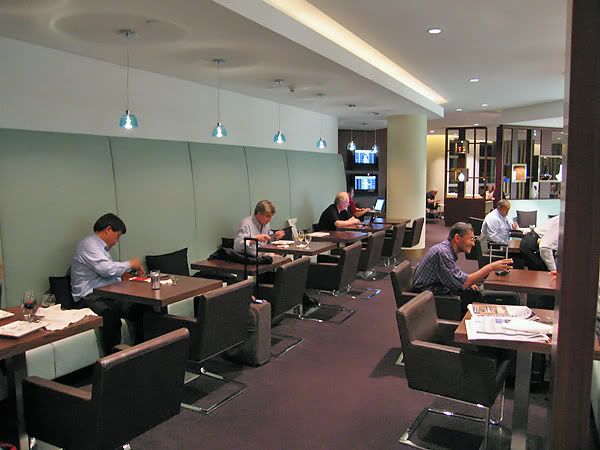 Tasty Lounge Food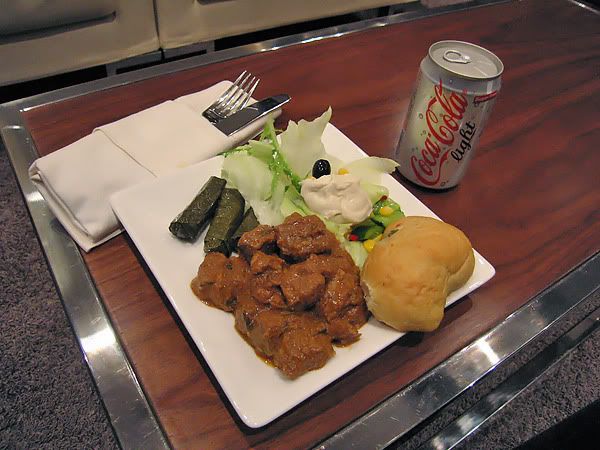 I left the lounge by 9:20pm and decided to head towards the gate, and along the way, I snapped some photos of the scenery.
Duty Free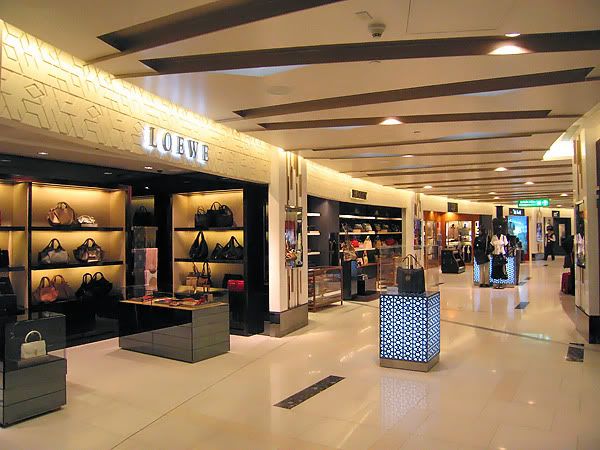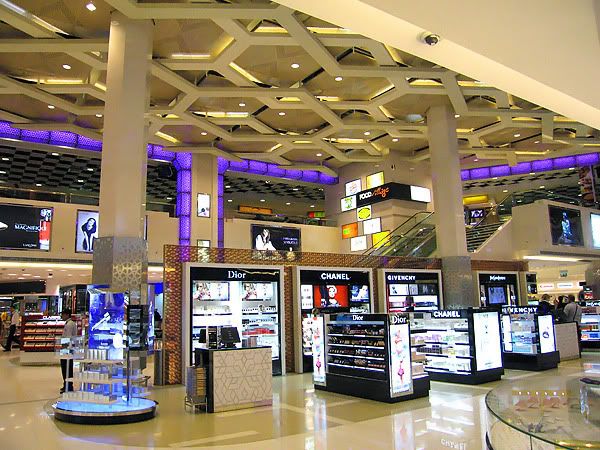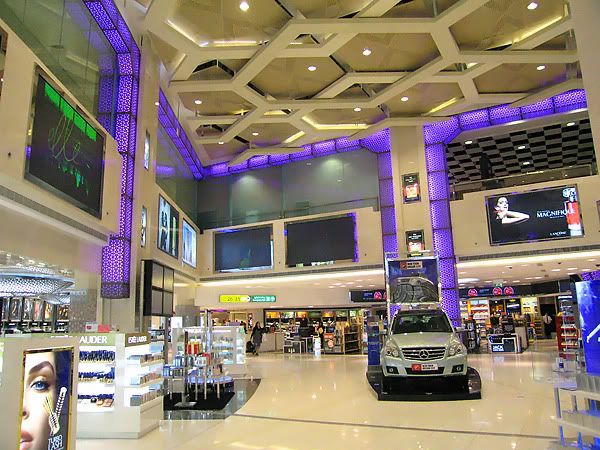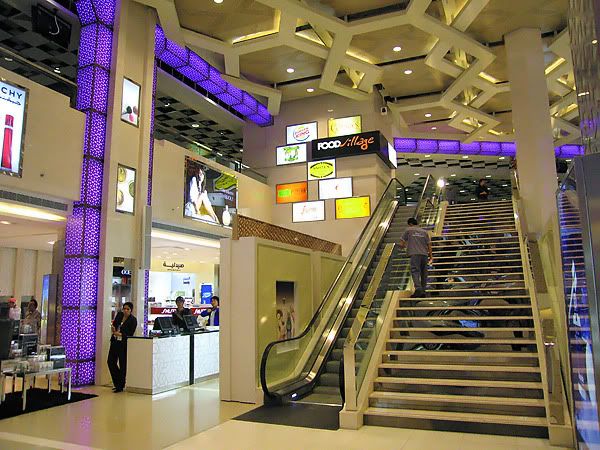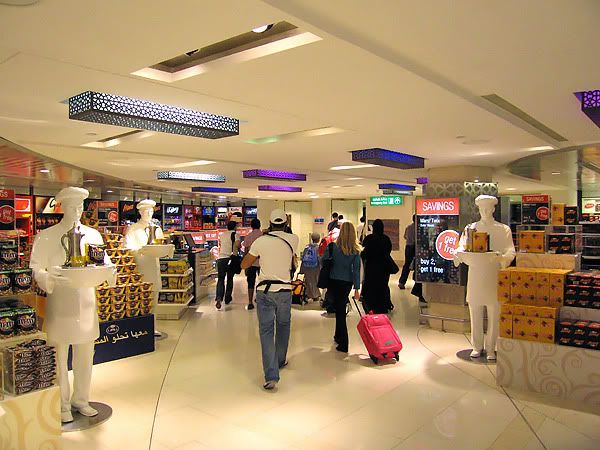 Past Duty Free, Walking Towards The Gate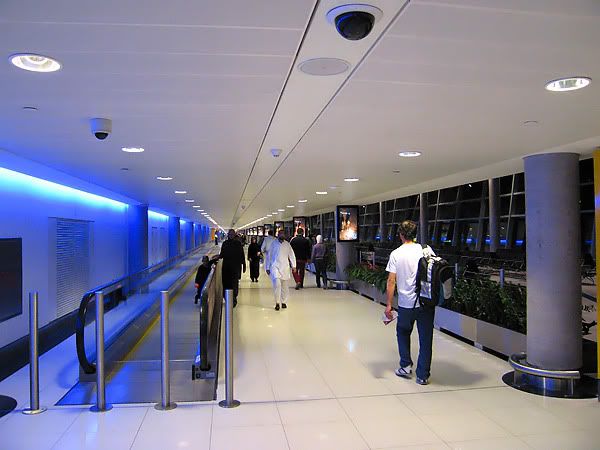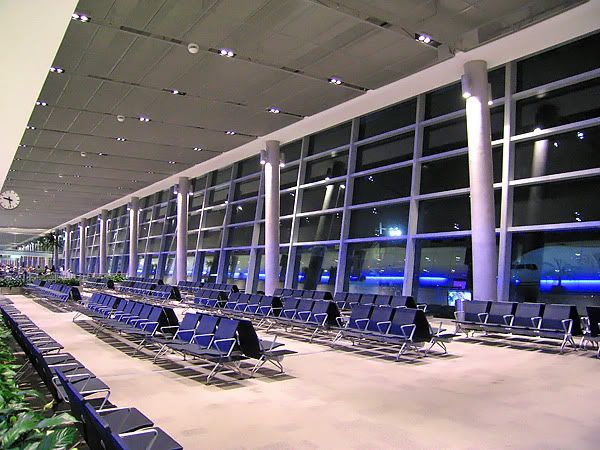 One other reason for choosing this specific flight to Sydney was that it was scheduled to operate using the A346 on that night. While I wanted to fly EY's A346, I was more in hopes of flying the Formula 1 themed aircraft, A6-EHJ. One could only hope at least, and so I did.
Walking towards the gate, I could barely see the aircraft outside because it was dark. However I was able to catch a glimpse of the tails. Spotting a white and black checkered tail, the F1 aircraft was evidently available for a flight. Quickly estimating what gate it was docked at from where I was located, the result was outstanding! It was assigned to operate to Sydney that night!
At 9:40am I arrived at Gate 33, where I stood in a short queue. Shortly afterwards I arrived at the security podium where the Etihad security agent checked my passport and ensured I had filled out an ETA, before letting me in the holding area.
Standing In Line At Gate 33
Holding Area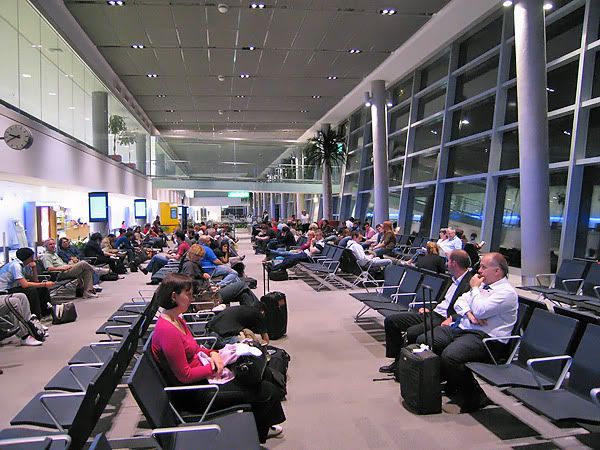 At 9:45pm boarding commenced with no announcement. I proceeded towards the gate, and stood in line for boarding.
Standing In Line For Boarding
I arrived at the podium and handed the agent my boarding pass. She tore off the larger portion for her and handed me back my stub. She wished me a pleasant flight, after which I proceeded through the aerobridge towards the aircraft.
The Only Opportunity To Catch A Glimpse Of This Beauty
Inside The Aerobridge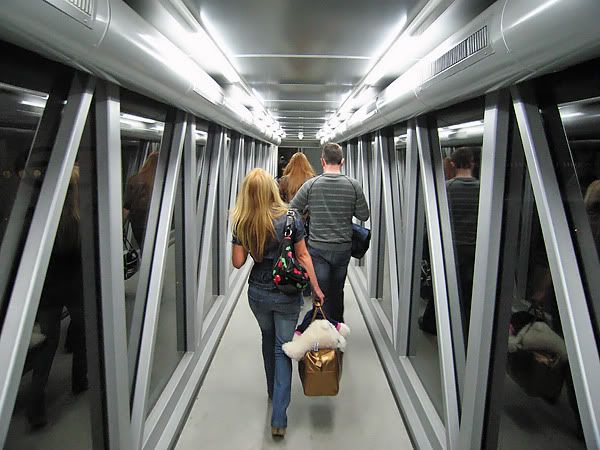 Arriving At The Door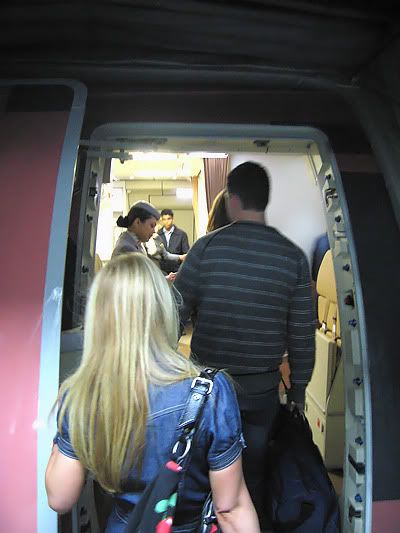 Arriving at Door 2L, I was greeted by Sabrina, an Indian Cabin Manager operating tonight's flight.
"Welcome on board……Mr. Hawi, my colleague will escort you to your seat"
"Enjoy your flight"
She signaled for her colleague, a lovely Kholoud from Egypt to escort me to my seat.
"Mr. Hawi, welcome on board, please follow me"
By 9:55pm I was on board.
CONTINUED BELOW