Trip report: Day return, Blackpool International (Squires Gate, BLK / EGNH), to Ronaldsway, Isle Of Man (IOM / EGNS), Monday 8th June 2009.
I've been toying with the idea of a day return for a while and thought the ideal opportunity would be to celebrate my birthday with a short trip somewhere. I had a couple of days I needed to take off work through working bank holidays so Monday 8th June was the perfect time to use one. It was just a question of where to go and the types of aircraft to play on! I have a choice of local (ish) airports to fly out from, Manchester mainly but also Liverpool and Blackpool. As I fly from Manchester most often, I fancied the other options. Although this limited destinations, I wasn't too worried as it was only a day return. Ryanair and Easyjet are the main airlines at Liverpool and offer a selection of flights to domestic and European destinations. However most flights leave early moring and return later in the evening. I wouldn't want to be stuck with nothing to do for several hours in between. Blackpool offers very little in the way of destinations with Jet2 offering flights to so called bucket and spade destination in Spain and Portugal, but these are single return flights so no good for a day trip. Aer Arann took over from Ryanair after they pulled out of Blackpool over the airport development fee introduced on 5th January 2009, but again these were single flights. The other option was the Isle Of Man. I've never been to this little island located in the middle of the Irish Sea and always wanted to visit. Manx2.com offer several daily flights so perfect for a day return. However, Flybe (Loganair) have now joined the club and offer twice daily flights. That would be perfect, fly over to the Isle of Man with Manx2.com and their Let 410 on the lunchtime flight, then return with Flybe (Loganair) on their Saab 340B on the afternoon flight. I checked the prices for 8th June and both airlines were competitive, £24.95 with Manx2.com on the outbound flight including taxes and charges and £34.40 with Flybe (Loganair) on the inbound. I booked both flights straight away and looked forward to sampling these little turboprops. Both airlines offer online check-in so no problems with queues at the airports.
Flight Details:
Date: Monday 8th June 2009
Departure Airport: Blackpool International (Squires Gate, BLK / EGNH)
Airline: Manx2.com
Flight: NM107
Equipment: Let 410
Registration: .SA Czech Airlines">OK-UBA
Destination Airport: Ronaldsway, Isle Of Man (IOM / EGNS)
Allocated Seat: No seat allocated, 1C
Departure Gate: 4
Scheduled Departure: 1200 (BST)
Actual Departure: 1156 (BST)
Departure Runway: 10
Scheduled Flight Time: 35 minutes
Scheduled Arrival: 1235 (BST)
Actual Arrival: 1232 (BST)
Actual Flight Time: 36 minutes
Arrival Runway: 08
Distance: 69 nautical miles
Arrival Gate: remote stand
Happy birthday to me, happy birthday to me!!! It was the 8th of June and time to prepare for my day trip to Ronaldsway. My flight wasn't until 1200 and since I'd checked-in online a few days previously for the outbound and inbound sectors, there was no need to be at the airport early. I thought I'd get there for about 1030 though and have a watch of the 1045 Flybe (Loganair) Saab 340B landing as I'd be returning on that flight later in the day. It was G-LGNA operating this morning and with winds from the east, runway 10 was active.
View Large
View Medium


Photo © Darren Wilson
After I'd watched her land, I drove around to the other side of the airport and took a decision on the way; do I risk parking at the airport or park on the adjacent Morrison's? Blackpool introduced an airport development fee (ADF) on 5th January 2009 to help fund future airport development, particularly runway, taxiway and apron repairs. Every passenger over the age of 16 must pay £10 before going through security. As mitigation, the airport introduced free car parking at the airport. That's great news for passengers, but it's proved popular and with limited parking at the best of times, I wasn't expecting there to be any spaces. The airport are currently building more spaces at the other side of the terminal by Flight Academy, but they weren't available for my trip. I therefore decided to park on Morrison's just in case there were no spaces. After parking up, I had a quick look at the apron to see if there are any different helicopters or small props around. Morrison's provides some excellent views and photo opportunities for those who want to observe movements. There was just an Emerald Airways HS.758 and a Robinson R-44. The apron looks pretty bare now the former Emerald Airways leet of HS.758's and ATP's have moved on to new airlines or been scrapped.
Things were quiet and with the time ticking, I walked around to the terminal. It's only a 5 minute walk. I arrived just after 11am and had a look at the main car park as I passed. There wasn't a single car parking space available that I could see so good decision to park on Morrison's. Given the ADF was introduced in January, you'd have thought the airport would have made the extra parking facilities available by now and I hope they are online before the summer rush.
View Large
View Medium


Photo © Darren Wilson
I entered the terminal building and headed over to the check-in area on the left to find the two machines to pay my ADF. You need the ADF receipt to access the departure lounge. It was simple enough, just select the passenger type (under 16 or adult, and number), put your £10 note in and press the green button. The printout has a unique barcode used to gain access to the departure lounge.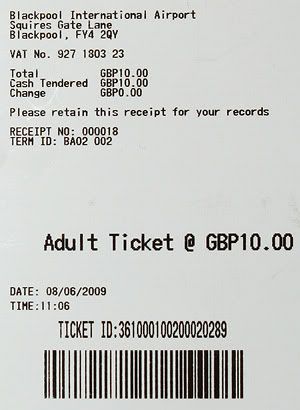 Equipped with my printed online boarding card, photo ID and now ADF, I headed over to security and the departure lounge. At the entrance to the security channel is a turnstile. You simple insert your bar-coded ADF receipt in to the machine and it lets you in to the security area. Well, I say simply, for some reason I put my receipt in to the machine and it said enter but the barrier didn't open! When I tried inserting it again, it said the receipt had already been used so I just jumped over the barrier. Something didn't work somewhere. The security person checked my ADF was valid and no questions were asked. My boarding card was scanned and checked at security and then it was the x-ray machine.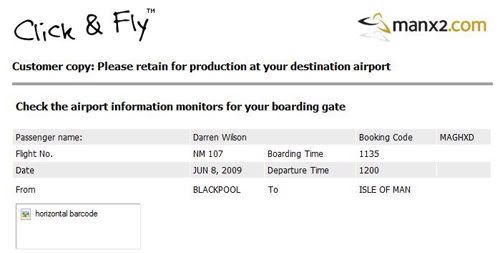 They requested I take off shoes and belt but I still beeped when I went through the metal detector! I seem to always get searched regardless and today was no exception. I don't mind as it's for all our safety. As my bag was full of camera equipment, that was searched by hand too. It only took a couple of minutes to get through security, Blackpool is known for how quiet it is and recently came top in a Which? award for the time taken to check-in and the time it takes to get through security. I have to agree, Blackpool airport is excellent for it's slickness but then it only handles a few flights every day. I had the departure lounge virtually to myself after security, there were more staff than passengers!!!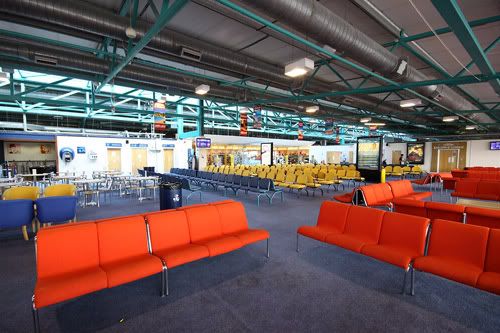 According to the screen, my flight would be boarding from gate 5. There are 5 gates at Blackpool, but there's only really a couple that get used. My flight was scheduled to arrive at 1140 from the Isle of Man, and I was expecting .OK-UBA. It's the aircraft used the majority of the time. It's a Let 410 and operates on behalf of Manx2.com by Van Air Europe (wet leased). It's a 19 seat turbo-prop and quite a nice looking bird. I've see it operate many times and always fancied a ride on her, and today was that day!
On 30th November 2008, .SA Czech Airlines">OK-UBA suffered a blow-out when landing on runway 10 at Blackpool, I hope she wouldn't have that problem on my flight!
View Large
View Medium


Photo © Darren Wilson
I had a quick walk around the departure lounge, and it was quick because there's not a lot here! The duty free sells the usual array of souvenirs, tobacco and spirits but I didn't want anything. I kept a check out of the large windows overlooking the apron and 5 minutes ahead of schedule, I saw a Let 410 land on runway 10. It was .OK-UBA as expected. She taxied in down bravo that is unusual, ATC normally send aircraft down runway 25 then taxiway alpha. She parked on the apron adjacent to gate 5 and at least 10 passenger disembarked. Within seconds of the passengers leaving, the fuel tanker was uplifting fuel for the return flight and the bags (literally 3!) loaded in to the rear hold. As the flight was a little early, there was no rush. At 1145, I heard the dispatcher make a call to the gate staff that they were ready to accept passengers, all 6 of us! The flight was called for boarding from gate 4 rather than 5. As I'd checked-in online, my official boarding card was collected at the gate and scanned.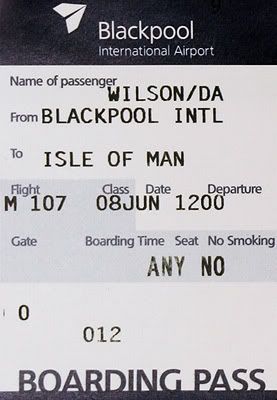 I was the second person to board the aircraft. Seating isn't allocated, you just take your pick when you board. The first officer, Peter, greeted us at the door to welcome us onboard. With only one other person on the aircraft, I grabbed a cabin photo as I boarded.
View Large
View Medium


Photo © Darren Wilson
Now it was dilemma time, which seat should I pick? I went for 1C, just behind the first officers seat so I could watch flight deck operations while having the engine and propeller in view but still having good views below. This seat also provided extra legroom.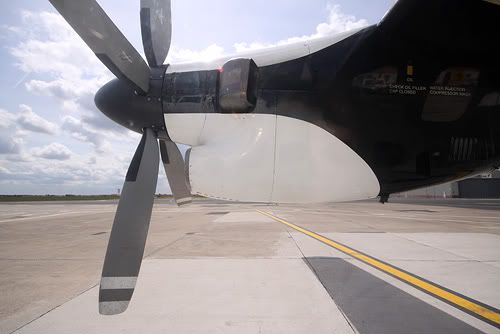 Once everyone was onboard, the first offer closed the rear door and welcomed us onboard for a second time from the front of the aircraft. As there's no cabin crew onboard, it was the first officers duty to run through the safety demonstration. He pointed out the emergency exits (main door we embarked from and emergency exit hatch adjacent to where I was sat), showed how to fasten, unfasten and adjust the seat belts and run through the safety card and brace position. He then introduced Captain Andreas who was starting to do the pre-flight preparation. A nice touch, he put his head around the bulkhead and shouted hello and gave us a wave!! What a unique experience this was!!
Cabin safety briefing complete, Peter took his seat on the right of the flight deck and the engines were started. The time was 1156 so slightly early. We taxied down alpha and held at alpha 1, just short of runway 10 that we would be taking off on.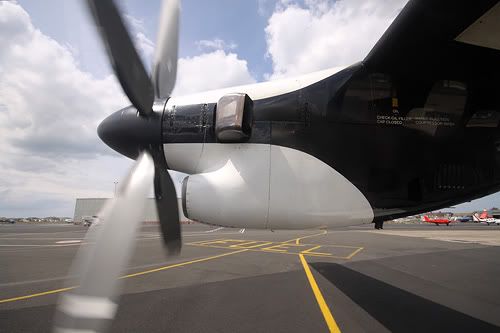 Peter would be at the controls for this flight. I heard ATC give clearance to line up on runway 10. Lined up, the throttles were opened with the brakes still applied. Once the engines were stabilised, the brakes were released and we shot down the runway. This little turboprop accelerated pretty quickly and we were pushed in to our seats and soon in to the air.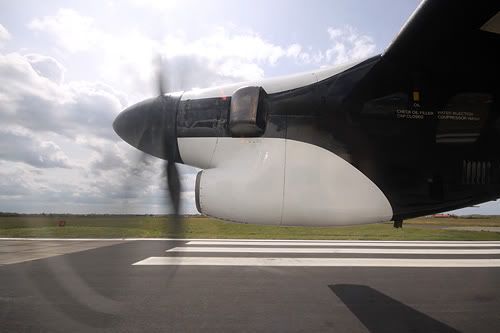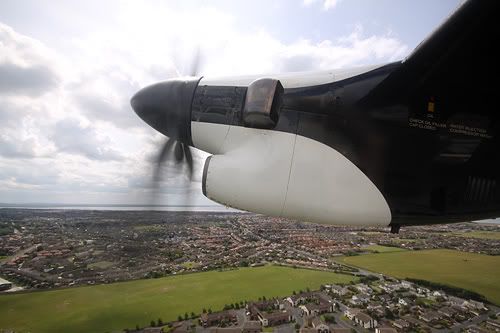 After take off, we climbed to 2,000ft before turning north then on to a heading of 345 degrees. As we turned, we got a glimpse of Warton Aerodrome, the home of BAe Systems where the Eurofighter Typhoon amongst other aircraft are manufactured, with the River Ribble estuary and River Douglas in the background.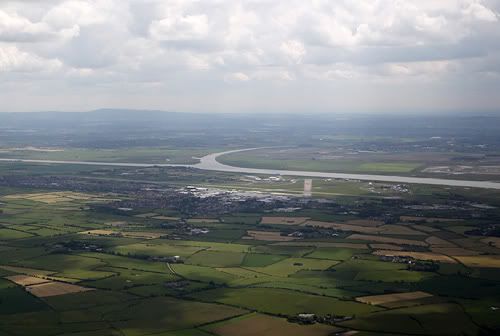 We continued on this heading that took us over the north of Blackpool and Cleveleys.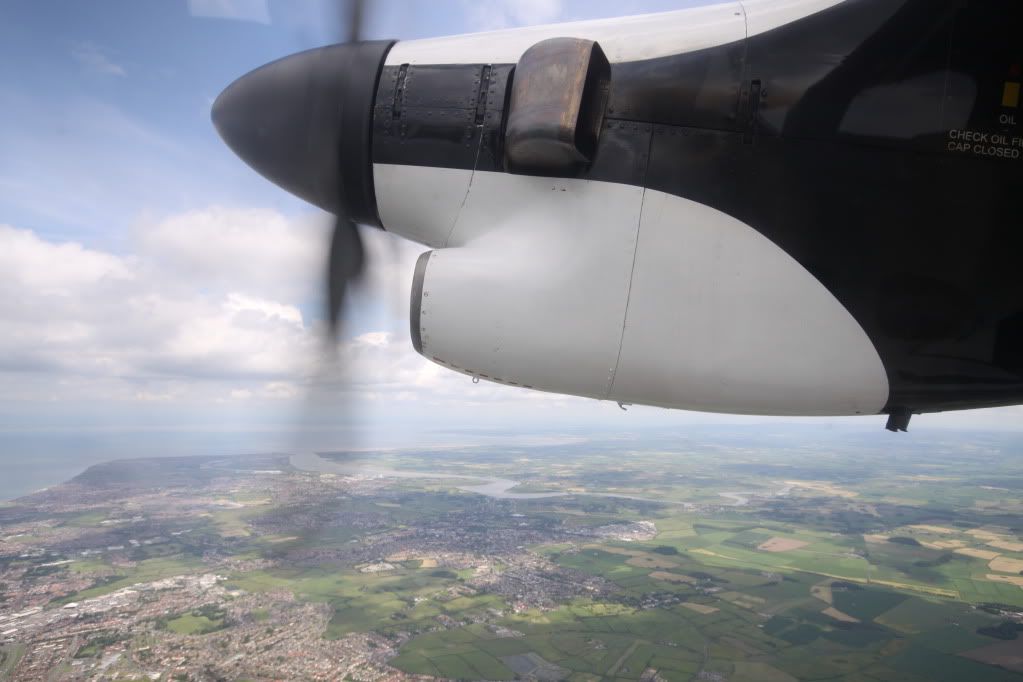 We crossed the coastline over the Irish Sea with Fleetwood and the River Wyre estuary in the background.
View Large
View Medium


Photo © Darren Wilson
It's only a 69 mile hop across the Irish Sea from Blackpool to Ronaldsway with an expected flight time of 35 minutes. Our cruise altitude would be a mighty 5,500ft! There were a few bumps of turbulence after take off but that soon settled once we'd cleared the coastline.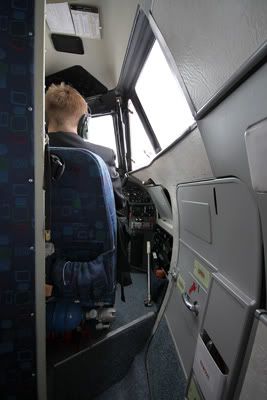 The weather was glorious and cleared as we progressed across the Irish sea. The clouds lifted and cleared giving us some lovely views of the sea below us. We passed over some of the Morecambe bay gas rigs, one of which was the unfortunate site of the tragic loss of one of the CHC helicopters on 26th December 2006 with the loss of both flight crew and 5 workers. In the distance was one of the new offshore wind farm generating electricity for the north of England.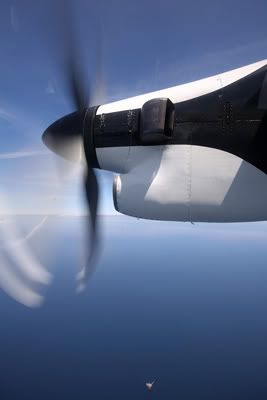 No sooner had we departing the English coastline, I could see the northern tip of the Isle of Man in the distance. We routed to the south of the island as we headed downwind for landing on runway 08 in Ronaldsway. We had some lovely views of pretty much the whole of the island.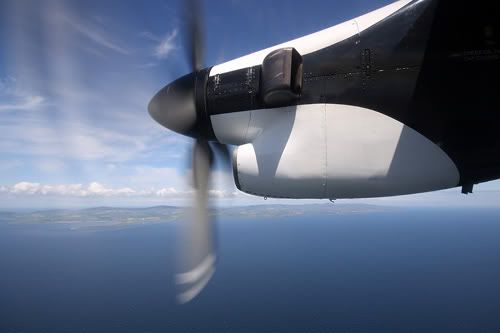 The engines were throttled back slightly as we gently descend over the sea to the south of the island. I couldn't quite make out the airport as we made a right turn on to base leg. The views of the clear sea below were excellent, it's far clearer than the silty water on our side of the Irish Sea! I was hoping we might get a glimpse of a Basking Shark that are frequent visitors to the island in summer to feed, but my luck wasn't in. I'd love to revisit at some stage with my snorkelling or diving equipment and view these gentle giants. We made another right turn over the island as we started our final visual approach to land.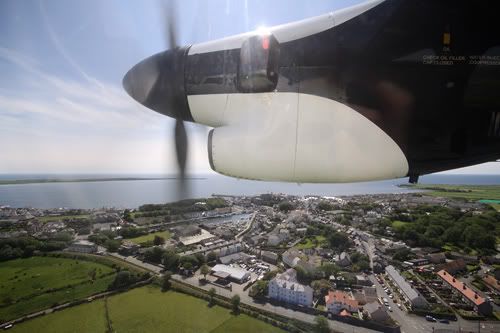 The islands former capital, Churchtown came in to view as we gently descended. We passed over the airfield and I could feel the rudder being applied to keep us straight while the automatic altitude indicator was counting down; 50, 30, 20. The nose of the aircraft lifted slightly as we flared and our descent rate slow.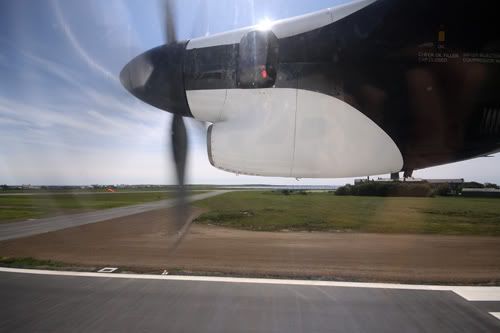 Just after it called 10ft, we very gently touched down on the runway. Peter did a great job. The landing was so smooth. We didn't seem to slow much until half way or so down the runway, we seemed to coast then the brakes and props we feathered. There must have been another aircraft on approach so ATC requested we keep the speed up until the end. Touchdown was at 1232, slightly ahead of our scheduled 1235 arrival. We vacated the runway at the end and taxied towards the terminal. As I thought, a Flybe Dash-8-400 landed just after us.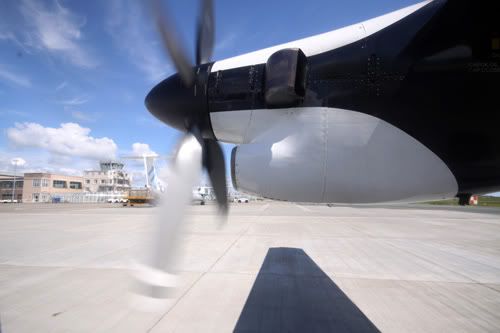 We parked on a remote part of the apron next to two other leased Manx2 aircraft; a Dornier 228 (D-IFLM) and Fairchild Metroliner (EC-GPS). As soon as the aircraft stopped, the engines were cut and Peter was out of his seat to go and open the door and lower the step. He never stopped working on this flight! With the door opened, a bus arrived to take us to the terminal since we were on a remote stand. Before I disembarked, I asked Captain Andreas if he'd mind if I had a look around the flight deck and take a photo. He said 'of course not, you're more than welcome and thank you for flying with us'. What a lovely chap he was!
View Large
View Medium


Photo © Darren Wilson
With everyone now disembarked, I got another photo of the cabin facing aft. I had to be quick as the other passengers were waiting for me in the bus!!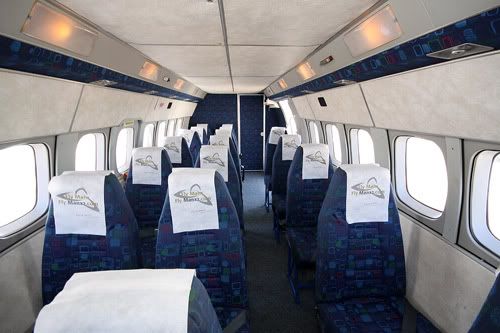 I thanked Peter for the enjoyable flight as I disembarked and boarded the bus. It only took 15 or so seconds to get to the terminal, but what a lovely terminal it was. I wasn't expecting anything as big or as modern as it was. The terminal was rebuilt in 2000 with a new ATC tower currently under construction. Once inside the terminal, I headed straight for the exit since I had no luggage to collect. Here I was, in the Isle of Man! The weather was glorious so I headed outside and had a walk around the apron area to grab a few photos. I had about an hour before I needed to be back in the airport for my return flight. Parked on the main apron was an Eastern Airlines BAe Jetstream 41 (G-MAJH) with a VLM Fokker 50 in the special 'The Green Machine' livery (OO-VLP).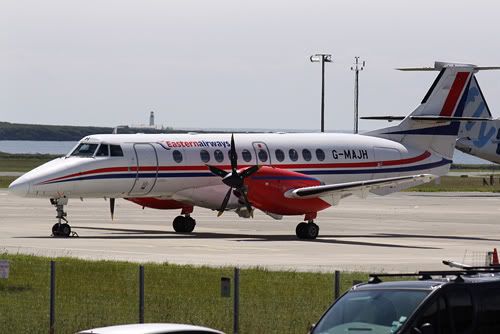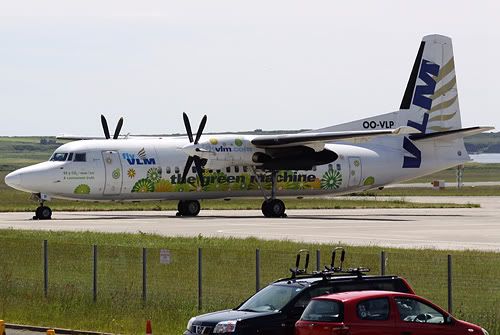 A little further down towards some of the smaller hangars and Manx2's headquarters was a lonely PA28, G-KAIR.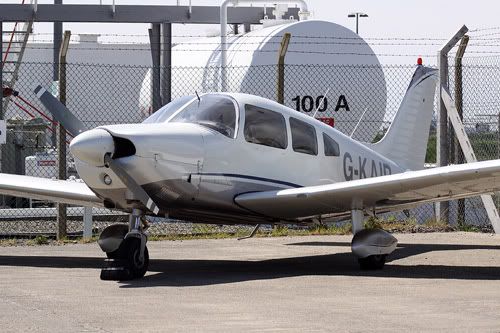 I had a walk back to the terminal and carried on around to the other side of the apron to have a look over the area where I disembarked. Next to the Let 410 (OK-UBA) that I'd arrived on was another leased Manx2 aircraft EC-GPS wet leased from Euro Continental, Fairchild SA-227BC Metro III.
View Large
View Medium


Photo © Darren Wilson
I carried on walking down the road towards Churchtown in the glorious sunshine, passing another leased Manx2 Metroliner parked on a remote taxiway.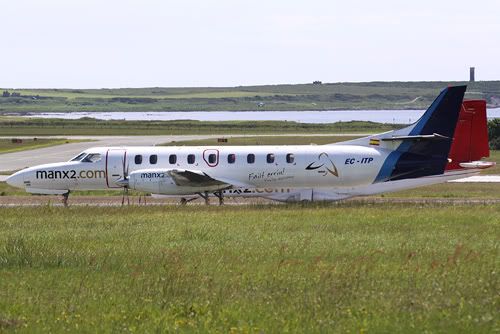 The weather and scenery resembled being in the south of France! About 5 minutes walk from the airport is the Isle Of Man Military and Aviation Museum.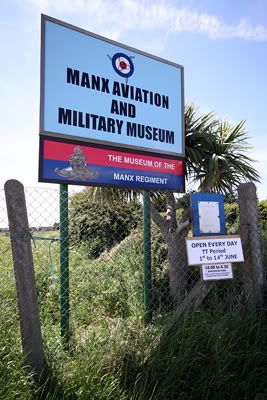 There's a few second world war exhibits along with a Fly Keen Embraer 110 on static display.
View Large
View Medium


Photo © Darren Wilson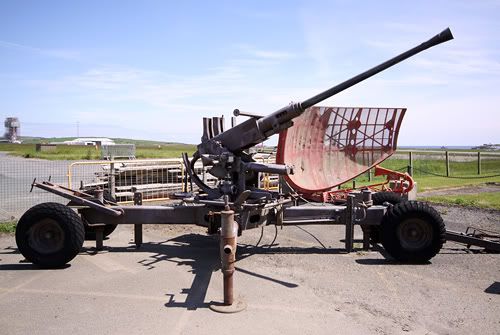 After a quick look around the museum, that's free entry, I carried on down the road to Churchtown to have a look down the runway and watch a few aircraft on final approach. As it happened I'd missed the lunchtime rush, apart from a couple of light aircraft. As movements were light, I had a walk back towards the terminal where a Flybe Dash-8 was just taxiing for take off on runway 08. I didn't bother with photos as the heat haze was extreme.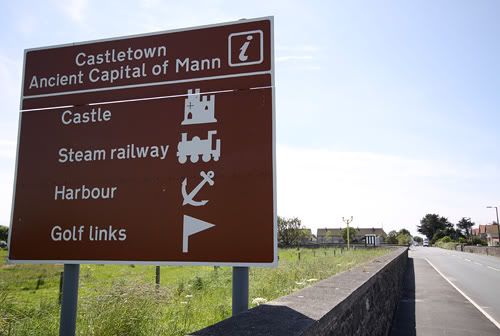 After a final look around the apron, I headed back to the terminal and headed for departures, located upstairs in the main terminal building.
Before the security check-point, there's a café serving drinks and snacks offering excellent views over the apron. I did think of grabbing a drink and snack, but I thought I'd head through security as it looked like the views from the departure lounge over the apron were better, and I only had 45 minutes before my flight back to Blackpool was due to depart. As with my outbound flight, I'd checked in online the day before so I had my boarding card ready and printed. I'd already chosen seat 9A as it offers good views over the rear of the wing without being too obtrusive. I had wanted to sit at the front, 1A so I could see the prop but that seat had already been taken by the time I checked-in online so 9A was the next best seat. 2A doesn't have a window on Saab 340B in Flybe (Loganair) configuration and row 3 - 8 has too much wing / engine in the way, so 9A it was. With boarding card in hand, I headed over to security.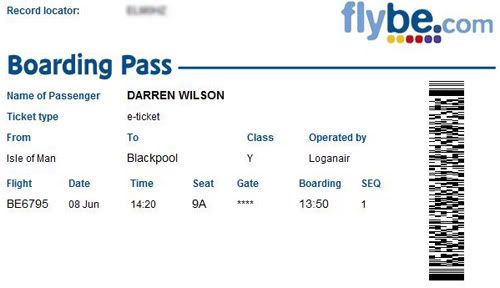 Flight Details:
Date: Monday 8th June 2009
Departure Airport: Ronaldsway, Isle Of Man (IOM / EGNS)
Airline: Flybe (Loganair)
Flight: BE6795
Equipment: Saab 340B
Registration: G-LGNE
Destination Airport: Blackpool International (Squires Gate, BLK / EGNH)Allocated Seat: 9A
Departure Gate: 4
Scheduled Departure: 1420 (BST)
Actual Departure: 1427 (BST)
Departure Runway: 08
Scheduled Flight Time: 35 minutes
Scheduled Arrival: 1455 (BST)
Actual Arrival: 1458 (BST)
Actual Flight Time: 31 minutes
Arrival Runway: 10
Distance: 69 nautical miles
Arrival Gate: remote parking
There were only a couple of people in the queue for security so it only took a couple of minutes to get through. I had to take boots and belt off again. Even though I'd removed everything from my pockets, the x-ray machine beeped as I walked through and I got searched, as usual!! My bag wasn't searched this time though. Once in the departure lounge, I was pleasantly surprised. It was large and airy with a bar serving a full compliment of drinks and snacks, and a small shop selling newspapers and souvenirs. There were a couple of plasma screens showing BBC news so you could catch up with world events and plenty of seating. It was a nice relaxed departure lounge with 6 gates.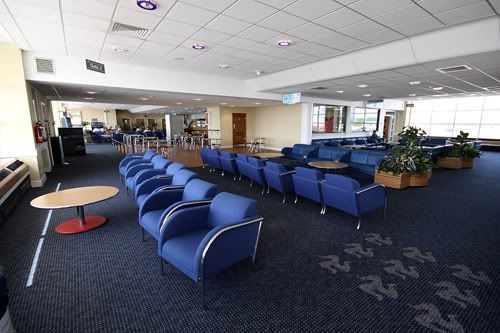 The best part about the departure lounge was the excellent views it gave over the apron with the runway in the background. While I waited for my flight to arrive, a Flybe Dash-8 (G-JECG) departed from gate 5 for a flight to Glasgow, and a Saab 340B (G-LGNK) departed to Belfast.
The Saab 340B to take me back to Blackpool was due in at 1350. I kept an eye out over the runway for it's arrival. In the mean time, I grabbed myself a bottle of Coke from the bar. At £1.99 it wasn't cheap, but it hit the spot! At 1400, 10 minutes late, I saw a Saab 340B land, my ride home had arrived. It taxied across the apron and pulled up at gate 4. It would be G-LGNE taking me back to Blackpool.
A couple of minutes after the passengers had disembarked, our flight was called for boarding. I proceeded to gate 4, handed my printed boarding card over for scanning and was told to go down the steps to the gate holding area as there were some wheelchair users to board first. I went downstairs and 5 minutes later, we were invited out to board the aircraft as the others were onboard. We were directed out on to the apron to the awaiting aircraft. The Saab 340B has it's own set of steps that fold out from the door so access to the aircraft is simple. As I climbed the steps, the flight attendant in her brightly coloured red uniform welcomed us with a big smile. I took my seat, 9A that I'd pre-assigned. The aircraft is configured 1-2. I didn't manage to get a photo of the cabin as the flight was pretty full, only 3 or 4 spare seats and it took a while for everyone to settle. Because we were running 10 minutes late, the crew were keen to make up as much time as possible on the turnaround. We pushed back at 1425, so they'd made up 5 minutes already. As we started to taxi, I took my last views over the apron.
View Large
View Medium


Photo © Darren Wilson
We taxied on to runway 08 and didn't stop,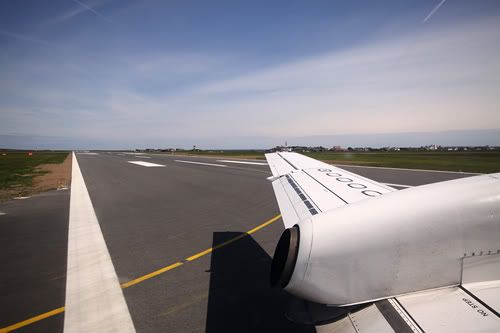 the engines spooled and we quickly accelerated down the runway.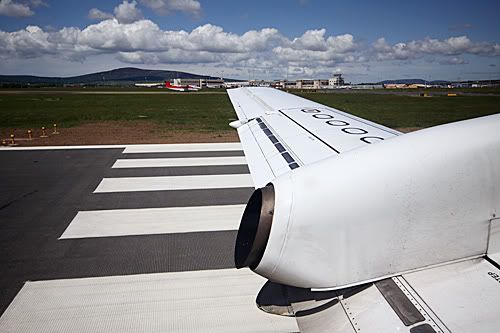 It didn't take long before we rotated and climbed quite steeply. As we departed the airfield, we made a right turn for a direct route across the Irish Sea to Blackpool.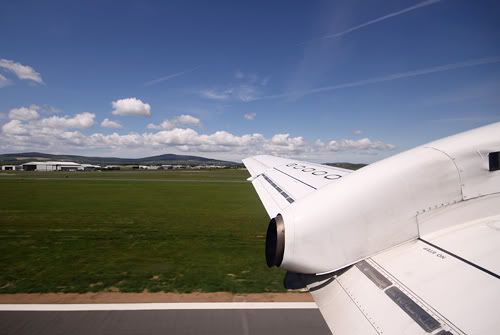 Given the winds were from the east, we'd be landing on runway 10 so a straight in approach. The Captain introduced himself just after take off to apologise for the delay and to say we'd be cruising at an altitude of 5,000ft! He said he was hoping to make up most of the delay in-flight so we should only be landing a couple of minutes late.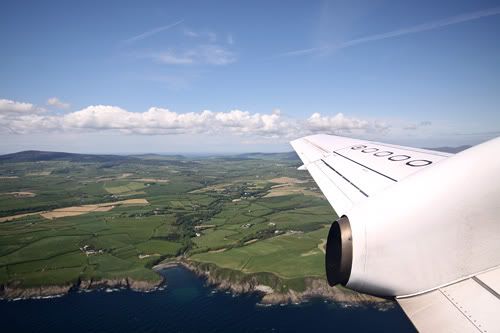 As we departed the island, we got some great views and could see pretty much the whole land mass, and the modern capital of Douglas.
View Large
View Medium


Photo © Darren Wilson
As I drive a Saab car, it was interesting to note that there's not much in common between the aircraft and their cars as their advertisements used to claim, especially since their cars are General Motors underneath. The seat belt chimes are the same though so at least there's something in common! I was surprised how narrow the fuselage was compared to the Let 410 I flew out on, there wasn't as much room on the 340B. The seats were a little narrower as was the cabin dimensions. Then again, the aircraft is a lot sleeker with a higher cruising speed; 250-280 kn compared to the Let's 210 kn. Apart from a few bumps and shakes as we flew through cloud, the flight was uneventful. The weather when we departed Ronaldsway was glorious but as we made our way towards the English coastline, the clouds descended. I wish I'd stayed in the Isle of Man!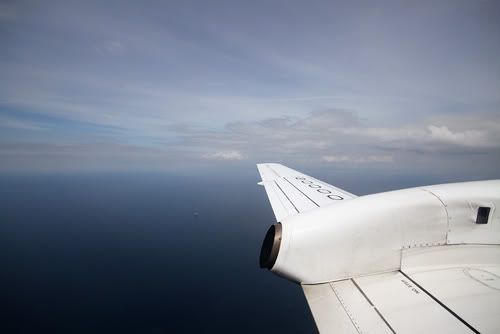 Final approach was a little bumpy as we descended over the sand dunes of Blackpool beach. It gave us some nice views over Blackpool with two of the major tourist attractions; the pleasure beach and 158m tower.
View Large
View Medium


Photo © Darren Wilson
As we passed over the threshold for runway 10, a Jet2 737-300 was holding at alpha 1 while we landed.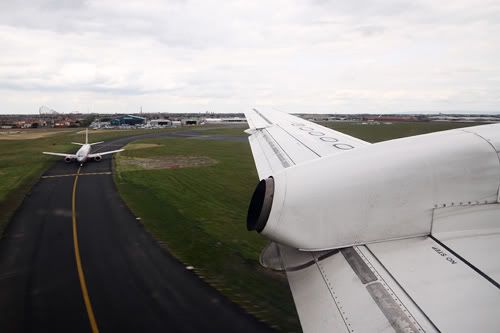 Touchdown was a little heavier than in the Let 410, a nice positive plant of the landing gears.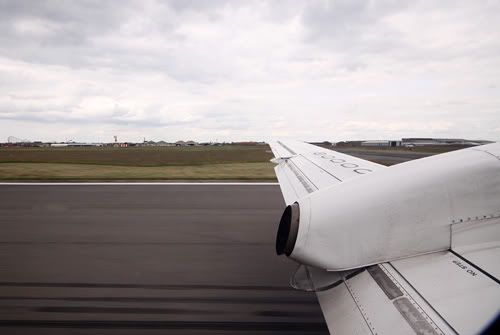 We rolled part way down runway 10, then did a 180 degree turn to backtrack.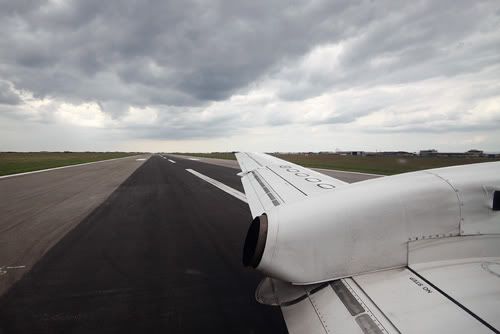 View Large
View Medium


Photo © Darren Wilson
We vacated the runway at bravo and taxied down runway 31 to alpha then on to a remote parking stand adjacent to stand 3.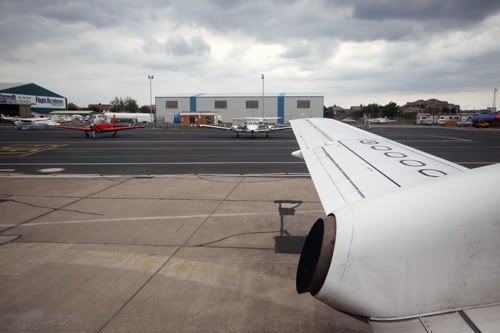 I was planning on getting a cabin shot after everyone had disembarked but due to the wheelchair users, they wanted everyone off the aircraft before they assisted them. The flight deck was busy preparing for the onward flight to Belfast City so I was unable to get a flight deck shot either.
I disembarked the aircraft via the stairs at the front and made my way in to the baggage reclaim area. One advantage with Blackpool is it's a compact terminal, you step off the aircraft directly in to the baggage reclaim hall! One thing to note, if you've taken advantage of the free parking and assuming you got a space, you must validate your car parking ticket in the baggage reclaim hall. If you don't, you won't be able to get out of the car park. A message over the tannoy is made to this effect as you wait for baggage. This is to prevent anyone using the car park and validating tickets if it was placed in the arrivals hall. As I only had hand luggage, I made my way out in to arrivals in the terminal building.
That was that, the end of my day trip to the Isle of Man. I walked back to Morrison's where I'd parked my car, noting that there were still no car parking spaces available in the 'free' areas. Before I drove home, I had a quick look at the apron and noted a couple of new arrivals; a Diamond DA40 TDI and a Netjets Cessna Citation 560 XLS.
To sum up, I was really impressed by Manx2.com. The Let 410 is a lovely little turboprop with a spacious cabin and great crew. I'd have no hesitation in recommending them. They have a great punctuality record at Blackpool and many flights are actually early. Ronaldsway airport is a very comfortable, slick and modern airport. I was quite impressed with it and wasn't expecting it being as nice. Flybe provided a good standard of service but I was less impressed by the Saab 340B. It's a nice aircraft but not as spacious as I was expecting. It wasn't a problem for the hop across the Irish Sea, but I wouldn't like to do a longer flight in one. It was an enjoyable day and a great way to celebrate my birthday. Bring on next year!
Happy flying!
Darren