Feedback always appreciated.
Trip Report: 077
Flight Category: J-ILR (See Report End)
Date: 29 Apr-09 (See Report End)
SDT/SAT/Dur/Delay: 2345/2020/14:35 hrs
Flight:
Turkish Airlines TK 016
, 3275+3306 = 6582 miles
Routing: GRU-DKR-IST
Aircraft: 332
Seat: Business, 1K
I > Background:
Ever since TK had announced this routing, I had publicly mentioned a desire to fly this routing and as one consulting "engagement" ended, I managed to sneak in a week of vacation and buy myself a ticket to experience this unique route. This is the first trip report on TK's GRU-DKR-IST and I believe the first to feature DKR. Moreover, there seems to be a continued dearth of TK J reports as well and this contributes to that list for this fast growing airline.
II > Pre-Flight:
a) Before Airport:
Turkish Airlines (TK) is the "flag carrier" of Turkey, and was formed in 1933. It is owned primarily by private investors, with the government retaining a large (40%?) share in the company. A member of Star Alliance since 1st April 2008, TK has been on a consistent rapid growth path which would finally capture on its strategic location and take advantage of its membership into the world's largest alliance. On a personal note, TK is one of the few airlines that I strongly think is poised for long-term growth. IST-DKR-GRU is a plethora of newly opened routes and was greeted by wild skepticism.
Ticketing for the flight was done on the recently updated Turkish Airlines website at
www.thy.com.
The site is pretty clear and crisp and bookings are done easily. You can also view and modify your PNR later. The only thing it does not provide is advanced seat selection. The other small issue is the inability to add any FQTV information outside of TK.
b) At Airport:
I love the chaos of Guarulhos. While airports have modernized elsewhere, there is a certain 1970s/1980s charm to GRU that can be replicated by very few airports. After arriving in GRU, I went to the TK counters with separate queues for Business and Star Gold members. Check-in by the nice agent was a breeze and we talked briefly about the flight and my unique Liechtenstein passport. Along with my boarding pass, she also issued me a GRU lounge card (yes, they ALSO use the GOL/Varig lounge). However, she was perplexed when I asked her for the "Fast Track" card at IST and had to check with the TK station manager before coming back and saying they had none. After check-in, I proceeded to the hour-long madness of GRU's security and immigration process. A Frenchman who had checked-in for the TK flight bitched and moaned about him being a "J class pax" and having to do the line with "commoners" and how it was unacceptable. He complained to everyone who would listen. I was close to giving him a piece of my mind on CDG … but refrained and prayed that he was not sitting next to me.
After immigration, I poked around the dreary terminal before making my way up to the "Smiles" lounge run by GOL. For the past three times I have come here, it has sported a new look and new name and the "Smiles" livery was actually fresh and uplifting … and much better than the short-lived "new" livery of erstwhile Varig. Interestingly, I met the same old attendant and he immediately welcomed me with open arms. You can read of my exchange with him during a TAP flight last year [url=
TAP Portugal TP 192: 10/JUN/08: GRU-OPO: J Cabin
(by
Abrelosojos
Aug 18 2008 in Trip Reports)]here[/url] and see how right I was .
At the lounge, I struggled to connect to the internet and wondered at the absurdity of having to register a full set of contact information. I was also amused that 85% of the lounge users were Indians ... either on the Turkish Airlines flight or the Emirates flight to Dubai. Strange indeed. Who would have thought this was possible a few years back? Striking up a conversation, I gathered that the J class travelers were to BOM and DEL and been in Brasil to invest; the Y class passengers (who had contracted lounge access) were oil workers from MAA in fields of Rio.
Boarding was called an hour prior and I bid adieu to my lounge friend(s) – old and new - and headed to the gate. Surprisingly (perhaps because of time of day?), boarding was relatively fast and while there was some pushing and shoving, it was still a gentle version of "ILBST". Entering a packed J class, I got no greeting from the crew, and no assistance with my bags. The crew looked frazzled as they dealth with a J load of 100%; Y load was also 100%. Pretty impressive for such a new flight ... who is betting with me that this flight will go nonstop by the end of 2010?
Airport - External:
(GRU)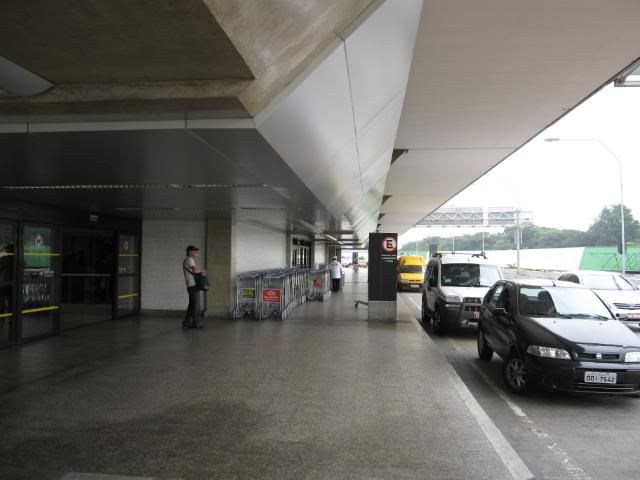 Check-in:
Airport - Internal: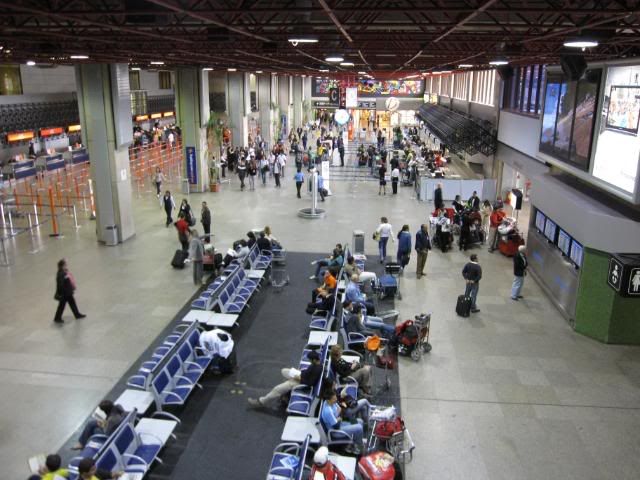 (FIDS)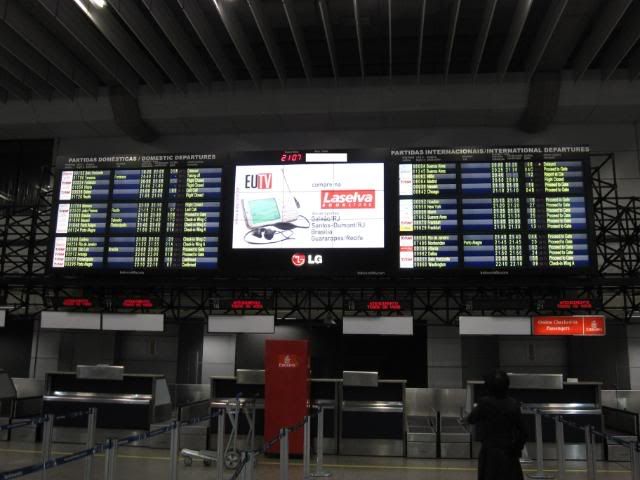 (Post Security)
Scenes of the tarmac:
NONE
Lounge
(Smiles lounge by GOL)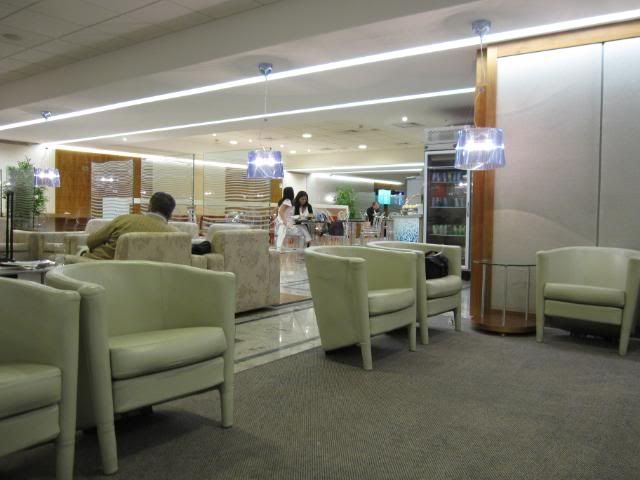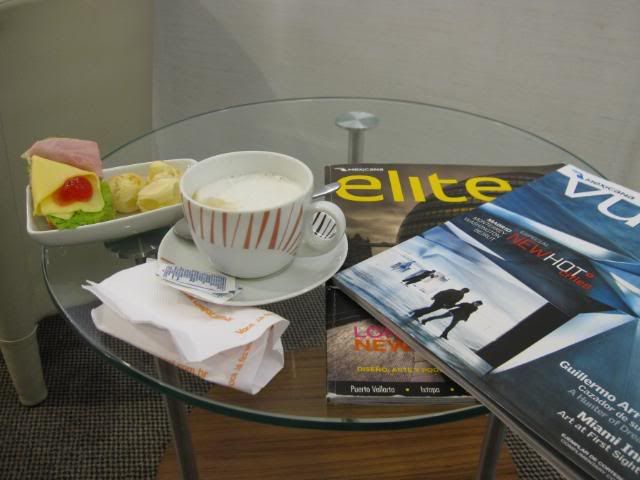 Boarding: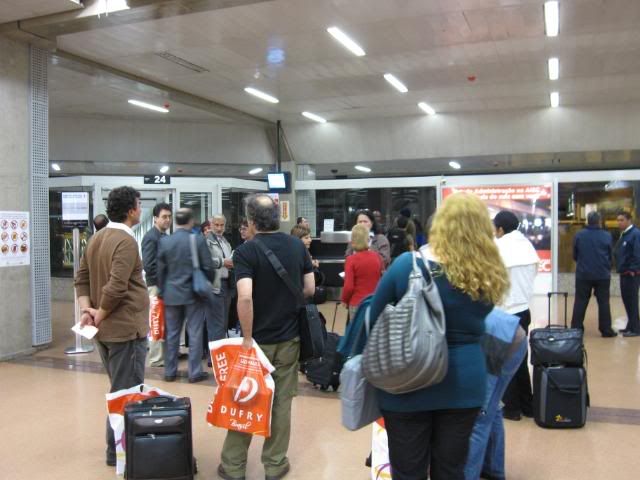 III> In-Flight:
a) Service Schedule + Impressions:
An impressive service schedule overall – and a good positive impression as soon as you walk in (with a bartender!). Pre-take off, champagne/OJ/water service directly from the bar and distribution of amenity kits. Post-take off, head phones are distributed, menus are distributed (more on that later), hot towels, beverage and dinner service, duty free service. Prior to landing at Dakar, cold towels.
At Dakar, passengers have to wait inside the aircraft with cleaning crews coming in. As we joked and bonded amongst ourselves, it felt like being in the 1970's with an exotic stop in an exotic country en-route between two exotic lands. Perhaps being in Dakar with no other aircraft on tarmac added to the aura of mystery. At Dakar, 2 of the J pax got off (including the Frenchman) and probably around 30 Y pax got off. Interestingly, they were replaced by an equal number of people making loads remain at an impressive 100%.
After take-off from Dakar, hot towels, and welcome drinks followed by a breakfast service. Snacks offered prior to landing in Istanbul along with cold towels.
b) Aircraft + Seats:
Turkish Airlines 330 was immaculately maintained in the J class … including the lavs. The mood lighting enhanced the cabin was made it very soothing. Also, the pale pink curtains actually do not look as bad as some in A.Net had initially thought … one hardly notices them as it blends pretty well with the cabin. I was surprised actually given I was one of those skeptical ones on A.Net.
The lie-flat seat that Turkish Airlines uses is the average lie-flat seat you'd find on other Euro carriers (KL/AF/LH/etc.). Interestingly, these are Sogerma seats (and not the near identical Sicma seats of the 343's). Perhaps it was in my mind, but I found the overall comfort and space to be greater than the 343. It is extremely comfortable to sit on and you can get nice crouched/recline positions while watching TV, etc. However, in sleep mode, it goes the way of other lie-flat seats with way too many pronounced "breaks" and folds that ultimately lead to not the best sleeping experience. Thus, in fully reclined position (like its counterparts at the Euro carriers), the back of the seat moves down, however is at an angle which is not the same as the rest of the seat or the leg rest … thus 3 different angles or "breaks". I am not a big fan of lie-flat in general … though, the old Raffles lie-flat is pretty good as far as lie-flats go. Having said that, TK's lie-flat is still better than say Air France as there is plenty of legroom which allows you to sit in various positions and not have your knee bang up with the seat in front.
Aircraft:
(A.Net photo courtesy of Gordon Gerbert Jr.)
Views from Aircraft:
(Dakar)
(Dakar Airport)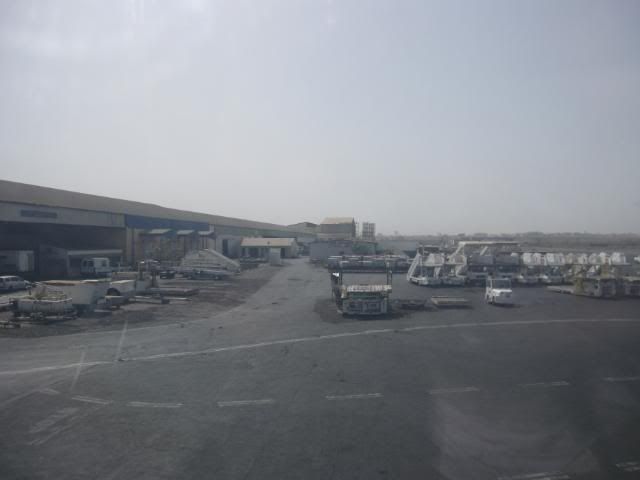 (Dakar coast)
(Somewhere over the Algerian desert)
(View as per downward cam)
(Location on the map)
General Seat Views + Seat Legroom
(Seat control)
(Legroom – row 1 is definitely the best to have)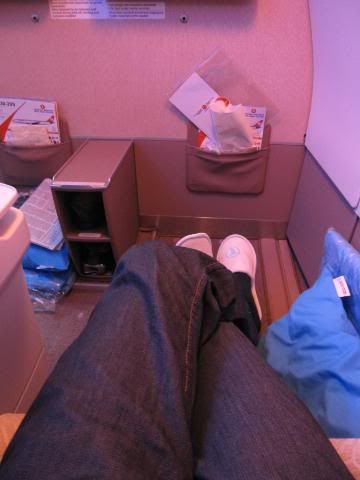 Seat Recline + Angle View:
Cabin:
(Bar)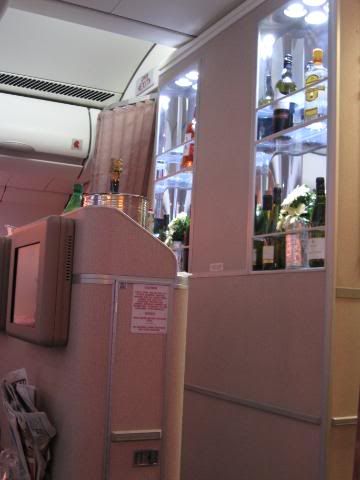 (Bathroom)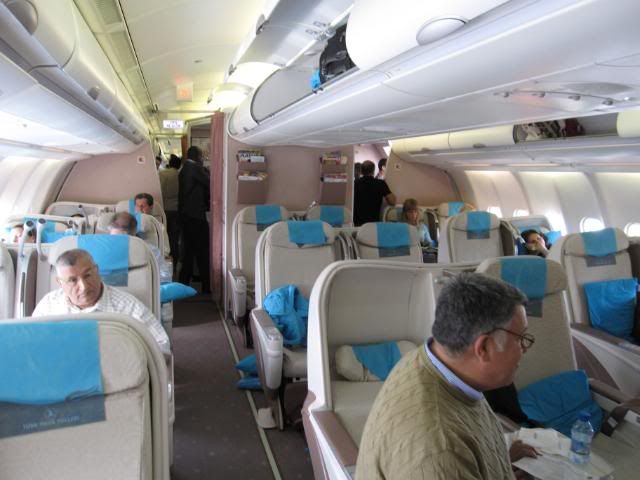 c) Meal + Beverage:
While on the ground, a beverage service is done where you can chose from OJ/champagne/water. It is all done in front of you – one attendant pours the drinks, the other delivers. Soon after take-off, menus were distributed. Now, these were high quality menu holders and had a section on the breakfast where you made your selection and the crew later picked it up. Not bad!
Post take off, there was an exotic drink service – which included various mixed champagne based drinks (ex: Belini) and some exotic non-alcoholic juice mixes. Presentation from the tray, and the proper way of serving (holding your other arm behind you) added to a level of panache about the service. Table was set up and bread rolls were distributed. Soon thereafter, the actual dinner service (from tray) commenced. It was an elaborate affair with plenty of sumptuous options (see menu). For the main course, I elected the Kebab/rice combination which was absolutely wonderful. Seriously, outside an Indian airline, I have never tasted food so good in a very long time. After the brilliant dinner, a lavish dessert service followed with excellent Turkish baklava, a really tempting coffee vanilla bean panna cotta, chocolate soufflé, and sorbets. I usually avoid on-board desserts … but this was just an absolutely lavish affair. Finally, the post desert trolley rolled by including tea/coffee, a collection of digestives (including some kind of special Turkish wine), and some awesome "petit desserts". Adding to the atmosphere was the genuineness Turkish hospitality by the crew who insisted on making you eat … again, very reminiscent of service on board Indian carriers.
After dinner service, plenty of further alcohol runs were done, and finally bottles of water were distributed as people began to doze off. I got some shut eye prior to landing in Dakar.
After taking off from Dakar, breakfast service commenced. I had pre-selected the fresh made smoothie (or you could have fresh squeezed juice … how wonderful!), had a fresh fruit plate, and then topped it off with a great spinach "borek". Again, just really delicious food and served with a smile. Another impressive thing was that you could order as much as/or as little as from the menu. A lot of items were listed as "and" and not "or" options.
Finally, prior to landing, a brief sandwich service for those of us who were still hungry.
Water and beverage runs were done throughout the flight … even at the oddest hours where most people were sleeping. All together, very impressive!
(Menu)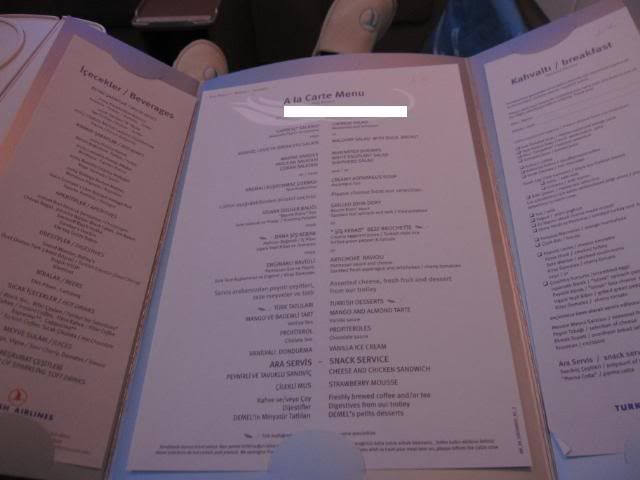 (Pre-take off drink)
(Post-take off cocktail service)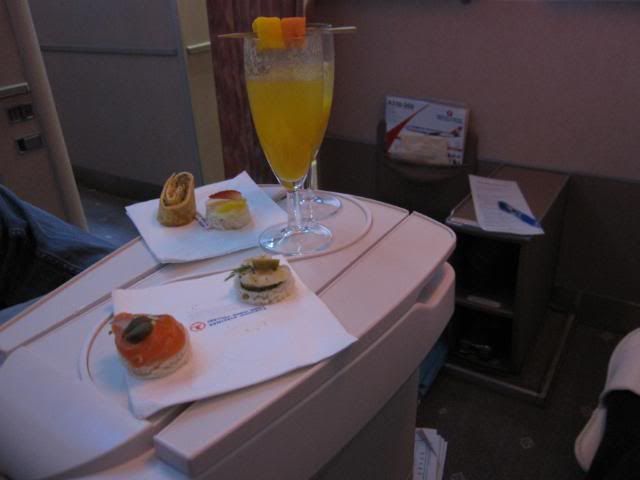 (Dinner)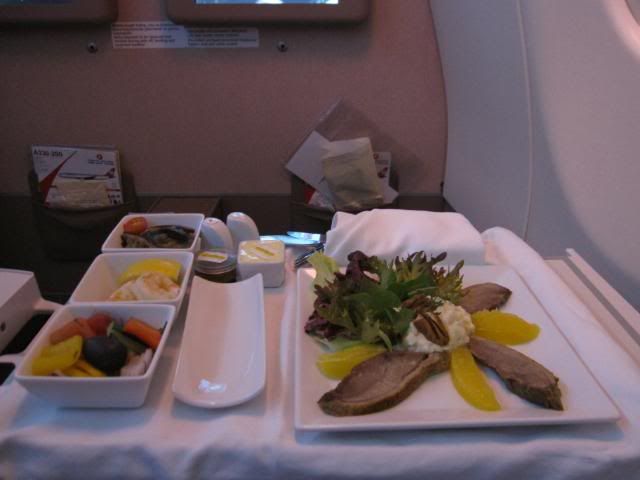 (All food was from the trolley)
(Drinks after departing from Dakar)
(Breakfast service)
(Sandwich snack an hour prior to arrival)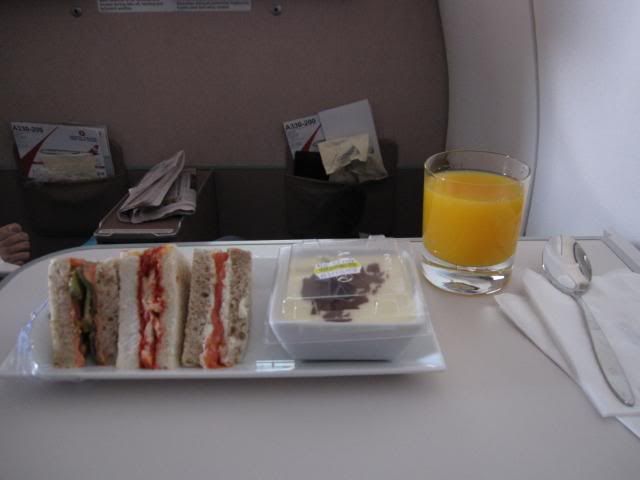 d) Inflight Entertainment:
This is where TK probably disappointed the most. While, Turkish Airlines has a fully equipped AVOD system with around 30 movies, TV shows, games, an awesome interactive 3D flight map, and cockpit/camera view, their AVOD selection is below average. Their English movie selection is limited and I found it amusing that most movies were from Korea and India. Also, their ENTIRE English movie collection were not available on the GRU-DKR leg! The head phones were good noise-cancelling quality ... however, the quality of the video was not as crystal clear as it could have been.
There was a very generous and diverse stock of English and Turkish newspapers and periodicals and the in-flight magazine was excellent … very reminiscent of older Lufthansa in-flight magazines.
(AVOD system)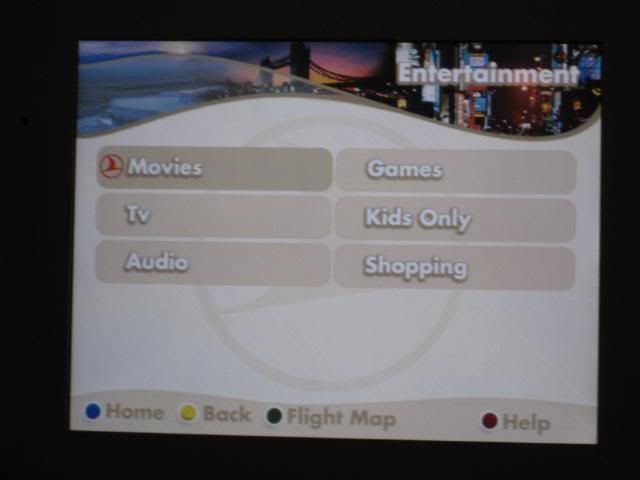 (Post Dakar, you get some English movies)
(Routing)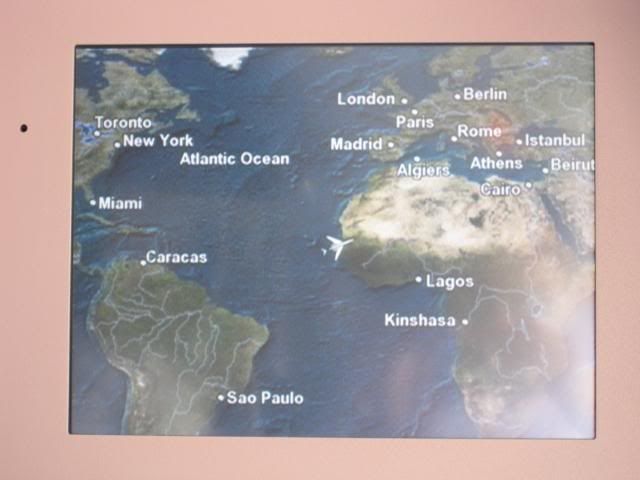 ("In-flight magazines", Boarding Passes, etc.)
e) Crew:
Turkish Airlines crew have come in for criticism in the past from many frequent fliers, and on this board. However, my experience was completely contrary to previous discussions. I was impressed by their professionalism and "grace under fire" attitude as they were able to carry out a large service offering to the 100% load. At the beginning of the flight, they did look a little stressed … and overall, they lacked the finesse of say MH or 9W crew, but this I attribute mostly to inexperience … and something that can be learnt with time. What was great was the genuineness of their hospitality, and small touches like proper eye contact when serving, making suggestions for food, convincing passengers to eat more, asking several times if you needed refills, hand back when serving alcohol, checking-in on passengers, all along smiling with a genuineness that is missing even from more fancied carriers. Some of the female FA's were a little reserved … but one of them was absolutely brilliant. I wrote her a good complement letter and hopefully seniors at TK will reward her for it … or, perhaps they will read about her service here and reward her! Good job TK … I was pretty impressed. Interestingly, the only odd-person here was the lead flight attendant ... this elder woman was not the best brand ambassador and could learn a few things from the people she supervised. Another interesting note ... for the first time, all attendants in J were women and in Y men. Is this a new TK policy? Perhaps someone at TK can let us know
IV> Post-Flight:
Landing in Istanbul was smooth and after thanking the crew for a wonderful flight, I made my way to a quick immigration with a smiling agent and onwards to my hotel in 20 minutes. The "fast track" lanes definitely help.
(Tarmac action @ IST)
(IST Arrivals FIDS)
V> Impressions + Scores:
THY won me over by their service standards. The food was top notch, and besides the purser, the crew was excellent. An above average seat coupled with relatively good ground handling at ensured a really positive flight. If there is an area that needs to be addressed soon, it must be their poor AVOD selection. It seems a relic from the past and far worse than many of its competitors.
I had an excellent experience on TK's JFK-IST flight and wrote that they need to do it consistently. This flight proved that they do indeed have the capacity to follow-through. They should now keep their focus on building their IST hub and implement the 9W hardware throughout the fleet. I had written earlier that they should embrace a F-cabin and am happy that they are following up with that strategy. TK does not yet have the brand recognition it deserves … and most high-value fliers would fly over reliable LH than TK. The only way for TK to crash this party and differentiate themselves is by adding a better product. Of course, back this up with consistency that is the hallmark of LH. However, just being consistent is not enough … as inertia would mean that current high-value fliers chose the perceived safer option.
In regards to the IST-DKR-GRU link, I am sure TK is looking to drop DKR as soon as suitable aircraft come online. The DKR option not only adds to flight time, but is also inconvenient from a passenger perspective. You get roughly a 6.5 hour flight – where after meal service, you can only sleep for around 3 hours. Your sleep is then broken with a ground stop, and you have another 3 hours or so to sleep in day-time flying conditions. Many of the J passengers I spoke with actually preferred the LH link via FRA because one could get a full night sleep in between GRU and FRA.
I am convinced that Star Alliance made the absolute right decision by inviting Turkish Airlines to join. Like Turkey, THY has come a long way and is poised for sustained growth. While not flawless, their product is FAR FAR superior than most Star carriers and indeed much better than most current Star members. In fact, this is the second time, I would rate THY miles better than Lufthansa, Austrian, Swiss, SAS, bMI, etc. and my choice for flights to Europe and to connect to Asia.
Without a doubt, I give Turkish Airlines two thumbs up and recommend it as the preferred carrier for a plethora of routes.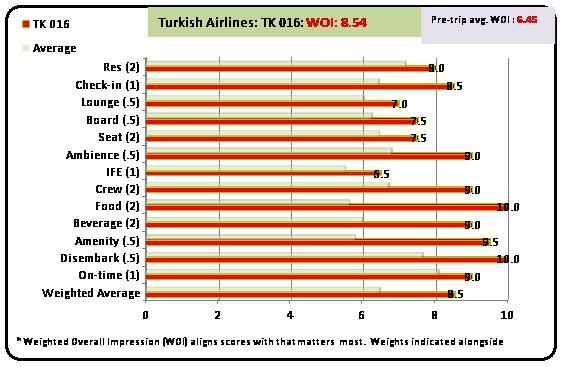 VI> Other Trip Reports:
PREMIUM:
8.64:
Turkish Airlines (59): JFK-IST: 11/2008
8.61:
Air Canada (49): YYZ-SCL: 06/2008
8.54: Turkish Airlines (77): GRU-DKR-IST: 04/2009
8.30:
Jet Airways (74): KWI-BOM: 04/2009
8.23:
United Airlines (72): SFO-SYD: 03/2009
8.11:
Aeroflot (33): MOW-DEL: 09/2007
8.04:
Korean Air (40): NRT-ICN: 10/2007
8.02:
Delta Airlines (24): JFK-CDG: 08/2007
7.46:
LAN (55): YYZ-JFK: 09/2008
7.82:
Singapore Airlines (06): EWR-SIN: 09/2006
7.14:
Swiss (52): SCL-GRU: 06/2008
7.02:
Qatar (68): DOH-JFK: 01/2009
6.96:
Etihad (61): JFK-AUH: 12/2008
6.93:
Delta Airlines (18): SEA-JFK: 11/2006
6.84:
ConViasa (65): CCS-DAM: 01/2009
6.81:
Air Canada (17): ICN-YYZ: 10/2006
6.70:
KLM (32): EBB-AMS: 08/2007
6.36:
Privatair (60): MUC-BOS: 12/2008
6.25:
Korean Air (45): NAN-ICN: 10/2007
6.11:
TAP Portugal (53): GRU-OPO: 06/2008
6.00:
Gulf Air (75): BOM-BAH: 04/2009
5.75:
Singapore Airlines (16): CCU-SIN: 10/2006
5.64:
NorthWest (46): ICN-NRT-SEA: 10/2007
5.39:
LOT (54): WAW-JFK: 06/2008
5.21:
Egypt Air (73): CAI-IST: 02/2009
5.07:
TACA (66): JFK-SAP: 01/2009
4.42:
Air France: CDG-JNB (25): 08/2007
ECONOMY: Long + Medium:
9.26:
Air India (48): JFK-DEL: 02/2008
7.38:
Avianca (01): BOG-LIM: 07/2006
7.07:
Sri Lankan (62): KWI-CMB: 12/2008
6.41:
American Airlines (58): LHR-BOS: 11/2008
6.26:
Jet Blue (21): CUN-JFK: 02/2007
6.06:
Air Canada (04): YYZ-YVR: 09/2006
5.89:
USA 3000 (19): PUJ-BDL: 01/2007
5.85:
Spanair (69): MAD-LPA: 02/2009
5.79:
Air New Zealand (42): RAR-NAN: 10/2007
5.46:
TAP Air Portugal (23): OSL-LIS: 05/2007
5.19:
Air Europa (70): LPA-MAD: 02/2009
5.16:
Iberia (71): MAD-BOS: 02/2009
ECONOMY: Short
8.56:
Paramount Airways (38): BLR-MAA: 09/2007
8.56:
Kingfisher (64): HYD-CCU: 12/2008
8.24:
Kingfisher (14): IXA-GAU: 10/2006
7.87:
Indian (34): BOM-MAA: 09/2007
7.72:
Alliance Air (13): CCU-IXA: 10/2006
7.57:
Indian Airlines (10): DEL-CCU: 09/2006
7.23:
West Jet (03): YYC-YVR: 09/2006
7.15:
JetLite (37): BOM-GOI: 09/2007
6.70:
Spice Jet (09): CCU-DEL: 09/2006
6.63:
Air Fiji (44): NAN-SUV: 10/2007
6.63:
Jazeera (67): DAM-KWI: 01/2009
6.58:
Air Tran (02): EWR-MDW: 08/2006
6.48:
Air India Express (63): CMB-MAA: 12/2008
6.44:
CO Micronesia (39): ROR-YAP: 10/2007
6.41:
Pacific Sun (43): NAN-SUV: 10/2007
6.37:
Skybus (47): SWF-CMH: 02/2008
6.33:
Kenya Airways (29): NBO-BJM: 08/2007
6.33:
Sky Europe (56): LTN-BTS: 10/2008
6.31:
Indigo (15): GAU-CCU: 10/2006
6.31:
easyJet (57): BUD-LTN: 11/2008
6.22:
Air Link Swazi (28): MTS-JNB: 08/2007
6.22:
Air India (36): HYD-BOM: 09/2007
6.13:
Adam Air (07): SIN-CGK: 09/2006
6.13:
Air Rarotonga (41): RAR-AIT: 10/2007
6.00:
Transairways (27): INH-MPM: 08/2007
5.95:
Air Canada (05): ALB-YYZ: 09/2006
5.85:
SAS Norge (22): OSL-AES: 05/2007
5.81:
LAM Mozambique (26): JNB-MPM: 08/2007
5.69:
Air Deccan (12): IXZ-CCU: 10/2006
5.67:
Rwanda Air Exp (30): KGL-NBO: 08/2007
5.11:
Aero Republica (76): BOG-CCS: 04/2009
5.07:
Go Air (35): MAA-HYD: 09/2007
5.00:
Sky Airline (51): IQQ-SCL: 06/2008
4.96:
Valuair (08): CGK-SIN: 09/2006
4.78:
Air Comet Chile (50): SCL-IQQ: 06/2008
4.74:
Fly 540 (31): MYD-LAU: 08/2007
4.33:
Viva Aerobus (20): ELP-MTY: 02/2007
4.11:
Air Sahara (11): CCU-BOM: 09/2006
(Note on Codes: Y – Economy, J – Business, F – First :: I/D – International/Domestic :: SR/MR/LR – Short/Medium/Long Haul)
(Note on Date: Dates are modified to be +/- 3 days from actual flight date to not reveal actual flight pattern)
VII> Other Pictures:
(Amenity Kit)