Feedback always appreciated.
Trip Report: 078
Flight Category: Y-IMR (See Report End)
Date: 15 May-09 (See Report End)
SDT/SAT/Dur/Delay: 2355/0530+1/05:35 hrs
Flight:
Avianca AV 285
, 2473 miles
Routing: JFK-BOG
Aircraft: 319
Seat: Economy, 12A
I > Background:
A friend of mine was going through an emotional crisis and I decided to change my return to Venezuela to make a stop in Bogota.
II > Pre-Flight:
a) Before Airport:
Avianca (AV) serves as the "flag carrier" of Colombia. It was formed in 1940 and operates out of Bogota to a collection of destinations in the Americas, and to Madrid and Barcelona in Europe. After emerging from bankruptcy at the end of 2004, new majority owners (Brasilian Synergy Group) embarked on a total image transformation (something also being done at the country level) which is definitely having some tangible results.
Ticketing for the flight was done on the sharp looking Avianca website at
www.avianca.com.
The site was pretty clear and the "fare family" concept was evident in all stages of the booking. However, the "pretty" site failed to deliver when it mattered as it choked on all credit cards I used. Finally, I had to call the reservation center to have the ticket processed. Agents at the call center were rude and not as competent as one can hope. Also seat selection is limited to only higher bucket fares … which did not win me over. I maintain that seat selection is a basic requirement! Finally, while I could view the reservation online, I could not do anything additional with it.
b) At Airport:
Avianca uses Terminal 4 at JFK and the 2355 departure meant that the terminal was relatively empty when I got there. Empty pretty much everywhere except the Avianca counters which were a mad house. Living in Latin America, I am used to crazy check-in lines where passengers take their kitchen sink with them … however, this surpassed all records. The line was huge and I resigned myself to a long check-in process as every passenger had several huge over-size suitacases. In contrast, I only had a carry-on. Almost an hour in the line, I politely asked the security guy to see if I can use the empty J counter as I only had a carry-on (now, with no J pax, why can't AV use them for crowd flow is beyond me). He went to the agent and she said "OK".
The agent was nice and was amused at my lack of luggage. As she was checking me in, a Colombian couple appeared behind me (apparently "status" holders), over-heard my request for exit row seating (in English), and told the check-in lady in Spanish that he wanted the exit row and it should not be given to "foreigners". My Liechtenstein passport apparently meant I could not speak Spanish. Now this couple has all the (as Colombians say) "super play" characteristics which my Parque 93 friends know I despise … hehe. I turned around and in fluent Spanish informed him that I was well qualified for the jobs of an exit-row and that I found his anti-foreigner stance hypocritical given he was in a foreign land himself. The couple was stunned . The agent smiled and whispered that she had blocked the seat next to me. Hehe. Anyways, after 1:30 minutes in the line (oh, and they could not enter my DL info in the FQTV field), I proceeded through a quick security and into the boarding area. Like many flights to Latin America, boarding call ensured that "ILBST" was quickly activated as the mad rush began to get onboard and store the belongings. In this instance, I understood the need for the rush. With limited storage bins, and 2-3 hang bags per person, first come is definitely first served! Anyways, upon boarding, the ladies in their "Ruana Roja" looked tired and failed to smile or greet any passenger. Nor did they offer any assistance with bags. Y load was around 85%.
One thing, does Avianca have to off-load some bags due to weight at JFK? I did not know the 319 had a huge belly space. Insight?
Airport - External:
(JFK T4)
Check-in:
(Check-in lines + chaos)
Airport - Internal:
(Internal)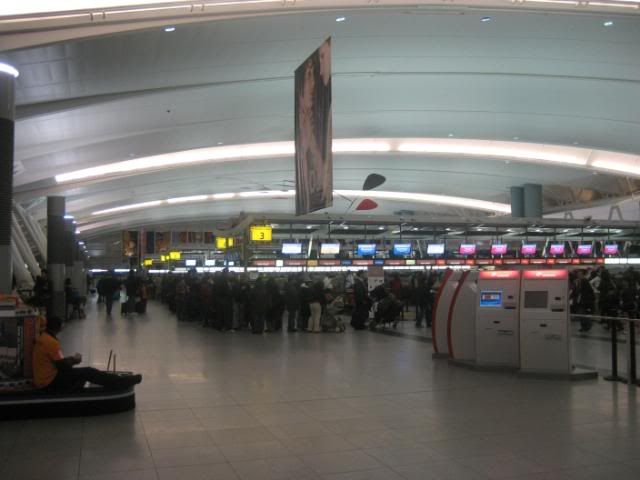 (FIDS)
NONE
(Post Security)
Scenes of the tarmac:
NONE
Lounge
NONE
Boarding:
III> In-Flight:
a) Service Schedule + Impressions:
Immediately after take-off, a meal service.
b) Aircraft + Seats:
Avianca's 319 was spotless and featured the new generation in-seat recline. The seats (even outside the exit row I was in) featured average recline and pitch. However, I am not a big fan of the very hard seat cushions as it was not comfortable. I much prefer the seats on AV's 757 and 767s.
Aircraft:
(Beautiful Avianca)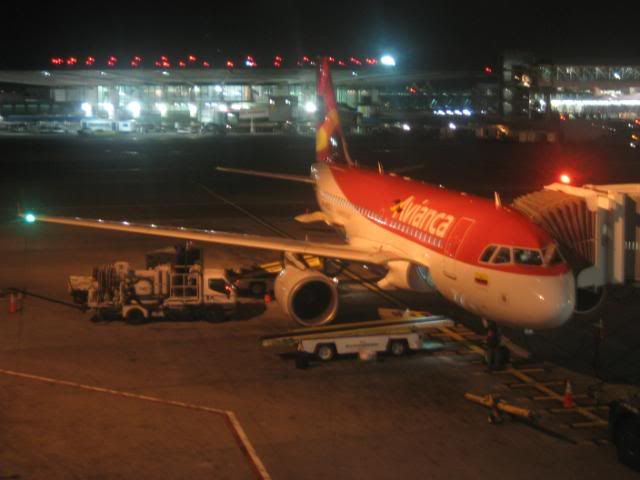 Views from Aircraft: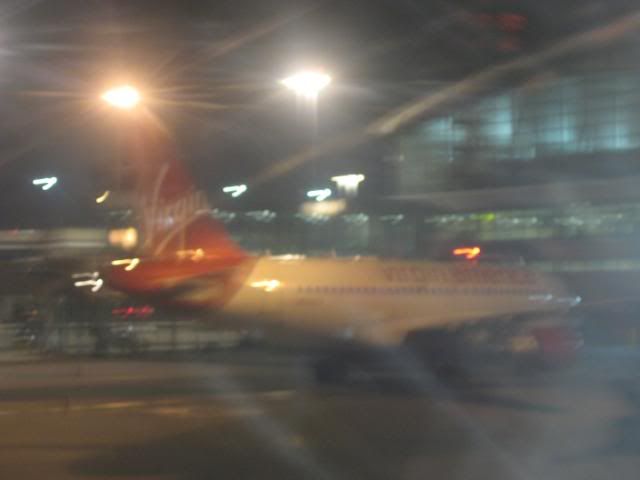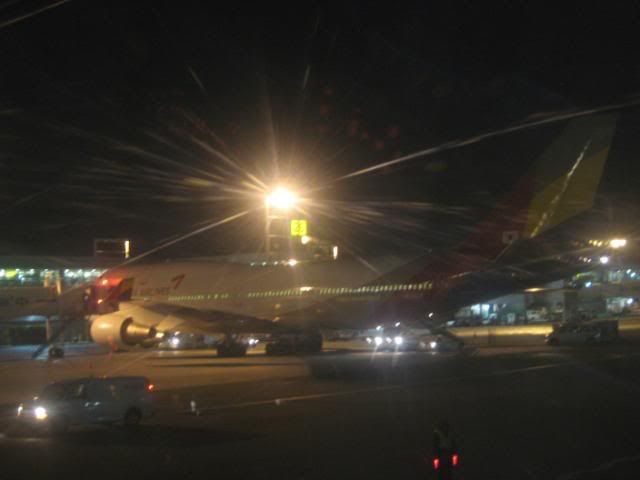 General Seat Views + Seat Legroom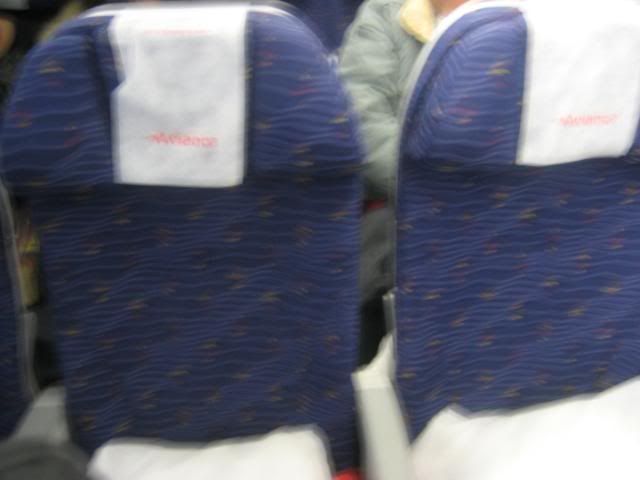 Seat Recline + Angle View:
Cabin: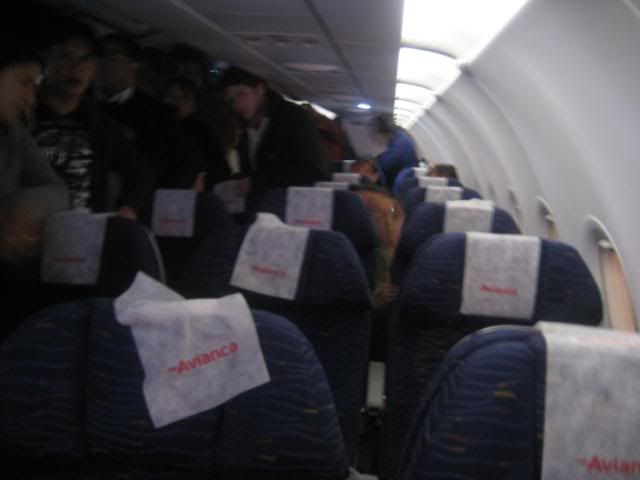 c) Meal + Beverage:
Immediately after take-off, a quick meal service commenced. There were several beverage options (including beer and wine for free), but no options for food. Everyone (who wanted) got a basic Turkey wrap, a weird Chocolate cake and some fruits. The quality of food was mediocre at best ... but in AV's defense, it was a midnight flight and most people probably wanted to sleep. One thing though – I was surprised that there were no additional drink runs.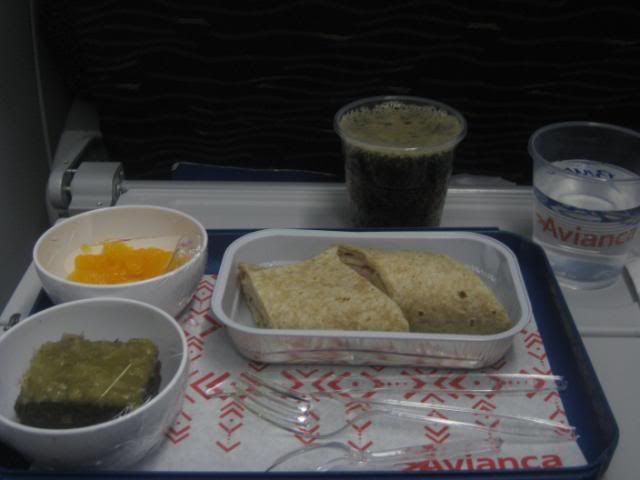 d) Inflight Entertainment:
One area where Avianca has definitely upped its game is in IFE. The 319 featured full AVOD and the quality of the screen and the headphones were both of above average quality in Y. While not many movies were offered (6?), I was shocked at the lack of any Latin movie. And "Volver" is not Latin ... hehe. While AV does not have any immediate danger (its AVOD is better than most of its competitors), it should really invest here to stand out and become a brand identifying quality. After all, if you have the hardware, buy the software! As usual, I found their inflight magazine of very good quality.
(AVOD)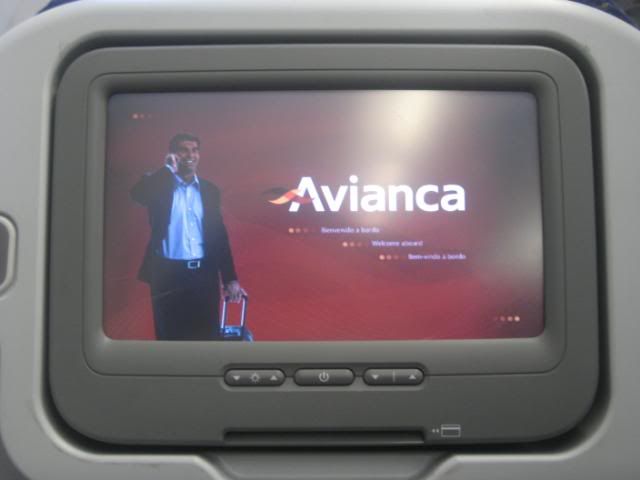 (One day we I Latin America will evolve and be an inclusive society … where people in ads represent the country and not just the elite …)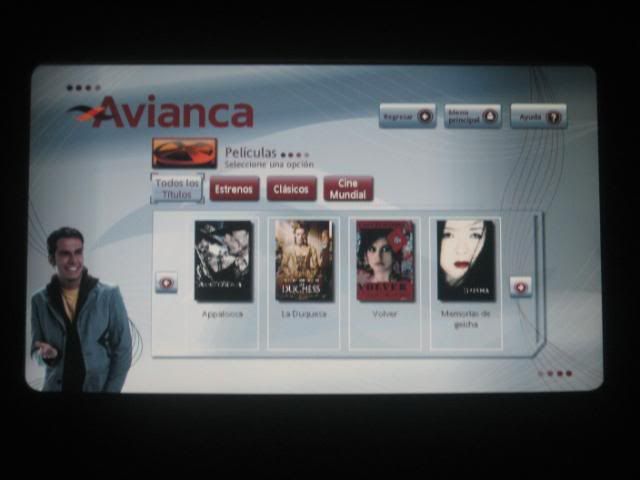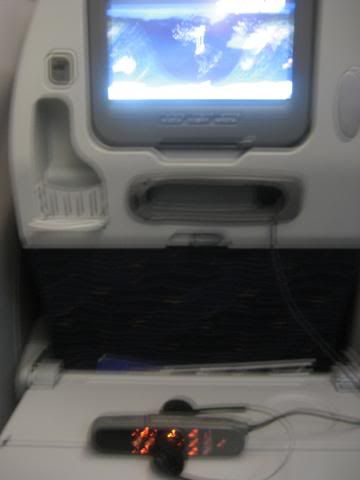 (Found this interesting … instructions to use the bathroom)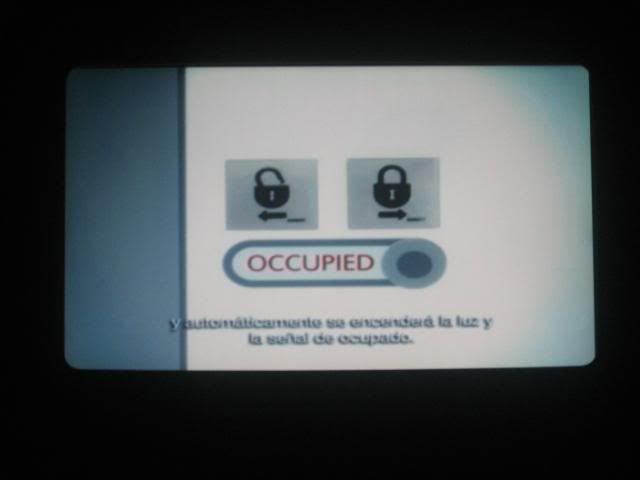 ("In-flight magazines", Boarding Passes, etc…spot the "error" here…)
e) Crew:
I don't know if the ladies in the "Ruana Roja" were tired (not really an excuse) due it being a night flight, but they missed charm and spark. During boarding, there were no smiles or offers for assistance or even a welcome; during the flight, they robotically did the menu service and disappeared. Now it is in an overnight flight and they probably wanted to let passengers sleep ... but not answering the call button of the girl seated in the aisle seat (until she had to go to the galley) does not show good form. Finally, when will they learn how to speak tolerable English?
IV> Post-Flight:
Landing in Bogota was remarkably smooth and I was off to being picked withi 20 minutes.
NONE
V> Impressions + Scores:
I know Avianca has its core set of followers, especially on A.Net. While most are Colombians and some do not want to hear criticism, I think Avianca is slipping. There have been some fantastic cosmetic changes in the recent past, and new orders have ensured that today's Avianca is certainly more ambitious in its understanding of its role in Latin aviation. However, you cannot lipstick over issues. Don't get me wrong … AV has improved and its hardware (IFE, new aircraft, etc.) are excellent. However, it must focus on the software – minor issues such as poor AVOD selection aside, it MUST work on its people. I encountered poor customer service at their call centers, at ground in BOG, and most disappointingly in air. Only JFK ground crew (outsourced) salvaged my interactions with Avianca workers. Avianca was my first trip report (on the same JFK-BOG routing) and its score is still 2nd best amongst all Economy medium and long haul experiences. Unfortunately (and disappointingly) this Avianca comes nothing close. And sadly, it is more typical to my experiences of late on the airline. While I most certainly fly them again, I can no longer give them thumps up or endorse them without a heavy heart.
VI> Other Trip Reports:
PREMIUM:
8.64:
Turkish Airlines (59): JFK-IST: 11/2008
8.61:
Air Canada (49): YYZ-SCL: 06/2008
8.54:
Turkish Airlines (59): JFK-IST: 11/2008
8.30:
Jet Airways (74): KWI-BOM: 04/2009
8.23:
United Airlines (72): SFO-SYD: 03/2009
8.11:
Aeroflot (33): MOW-DEL: 09/2007
8.04:
Korean Air (40): NRT-ICN: 10/2007
8.02:
Delta Airlines (24): JFK-CDG: 08/2007
7.46:
LAN (55): YYZ-JFK: 09/2008
7.82:
Singapore Airlines (06): EWR-SIN: 09/2006
7.14:
Swiss (52): SCL-GRU: 06/2008
7.02:
Qatar (68): DOH-JFK: 01/2009
6.96:
Etihad (61): JFK-AUH: 12/2008
6.93:
Delta Airlines (18): SEA-JFK: 11/2006
6.84:
ConViasa (65): CCS-DAM: 01/2009
6.81:
Air Canada (17): ICN-YYZ: 10/2006
6.70:
KLM (32): EBB-AMS: 08/2007
6.36:
Privatair (60): MUC-BOS: 12/2008
6.25:
Korean Air (45): NAN-ICN: 10/2007
6.11:
TAP Portugal (53): GRU-OPO: 06/2008
6.00:
Gulf Air (75): BOM-BAH: 04/2009
5.75:
Singapore Airlines (16): CCU-SIN: 10/2006
5.64:
NorthWest (46): ICN-NRT-SEA: 10/2007
5.39:
LOT (54): WAW-JFK: 06/2008
5.21:
Egypt Air (73): CAI-IST: 02/2009
5.07:
TACA (66): JFK-SAP: 01/2009
4.42:
Air France: CDG-JNB (25): 08/2007
ECONOMY: Long + Medium:
9.26:
Air India (48): JFK-DEL: 02/2008
7.38:
Avianca (01): BOG-LIM: 07/2006
7.07:
Sri Lankan (62): KWI-CMB: 12/2008
6.41:
American Airlines (58): LHR-BOS: 11/2008
6.41: Avianca (78): JFK-BOG: 05/2009
6.26:
Jet Blue (21): CUN-JFK: 02/2007
6.06:
Air Canada (04): YYZ-YVR: 09/2006
5.89:
USA 3000 (19): PUJ-BDL: 01/2007
5.85:
Spanair (69): MAD-LPA: 02/2009
5.79:
Air New Zealand (42): RAR-NAN: 10/2007
5.46:
TAP Air Portugal (23): OSL-LIS: 05/2007
5.19:
Air Europa (70): LPA-MAD: 02/2009
5.16:
Iberia (71): MAD-BOS: 02/2009
ECONOMY: Short
8.56:
Paramount Airways (38): BLR-MAA: 09/2007
8.56:
Kingfisher (64): HYD-CCU: 12/2008
8.24:
Kingfisher (14): IXA-GAU: 10/2006
7.87:
Indian (34): BOM-MAA: 09/2007
7.72:
Alliance Air (13): CCU-IXA: 10/2006
7.57:
Indian Airlines (10): DEL-CCU: 09/2006
7.23:
West Jet (03): YYC-YVR: 09/2006
7.15:
JetLite (37): BOM-GOI: 09/2007
6.70:
Spice Jet (09): CCU-DEL: 09/2006
6.63:
Air Fiji (44): NAN-SUV: 10/2007
6.63:
Jazeera (67): DAM-KWI: 01/2009
6.58:
Air Tran (02): EWR-MDW: 08/2006
6.48:
Air India Express (63): CMB-MAA: 12/2008
6.44:
CO Micronesia (39): ROR-YAP: 10/2007
6.41:
Pacific Sun (43): NAN-SUV: 10/2007
6.37:
Skybus (47): SWF-CMH: 02/2008
6.33:
Kenya Airways (29): NBO-BJM: 08/2007
6.33:
Sky Europe (56): LTN-BTS: 10/2008
6.31:
Indigo (15): GAU-CCU: 10/2006
6.31:
easyJet (57): BUD-LTN: 11/2008
6.22:
Air Link Swazi (28): MTS-JNB: 08/2007
6.22:
Air India (36): HYD-BOM: 09/2007
6.13:
Adam Air (07): SIN-CGK: 09/2006
6.13:
Air Rarotonga (41): RAR-AIT: 10/2007
6.00:
Transairways (27): INH-MPM: 08/2007
5.95:
Air Canada (05): ALB-YYZ: 09/2006
5.85:
SAS Norge (22): OSL-AES: 05/2007
5.81:
LAM Mozambique (26): JNB-MPM: 08/2007
5.69:
Air Deccan (12): IXZ-CCU: 10/2006
5.67:
Rwanda Air Exp (30): KGL-NBO: 08/2007
5.11:
Aero Republica (76): BOG-CCS: 04/2009
5.07:
Go Air (35): MAA-HYD: 09/2007
5.00:
Sky Airline (51): IQQ-SCL: 06/2008
4.96:
Valuair (08): CGK-SIN: 09/2006
4.78:
Air Comet Chile (50): SCL-IQQ: 06/2008
4.74:
Fly 540 (31): MYD-LAU: 08/2007
4.33:
Viva Aerobus (20): ELP-MTY: 02/2007
4.11:
Air Sahara (11): CCU-BOM: 09/2006
(Note on Codes: Y – Economy, J – Business, F – First :: I/D – International/Domestic :: SR/MR/LR – Short/Medium/Long Haul)
(Note on Date: Dates are modified to be +/- 3 days from actual flight date to not reveal actual flight pattern)
VII> Other Pictures:
NONE