Champagne meets Coca-Cola:
MUC-CDG-ATL on Air France A318 & A340
Intro
It took a while in busy times, but now it's finally online: Part 1 of a new report series about a short transatlantic trip to Atlanta and Chicago. It covers the MUC-CDG and CDG-ATL sectors on Air France, operated by Airbus A318-100 and Airbus A340-300. Part 1 also includes a set of pictures from a visit to the World of Coca-Cola in the heart of Atlanta.
Background
In early January my brother and I decided to go on a short sightseeing trip to the United States. We weren't fixated on a certain city, but my brother suggested to integrate Chicago. Numerous airlines offered attractive fares for mid-February, but the cheapest options on US Airways and British Airways couldn't impress me. Finally I found some interesting options on AF/KL/NW, including DC-9s. Now I sniffed a chance to get what I missed two years ago: the DC-9-50. I continued searching and suddenly an entry on NWA's website caught my attention: an ORD-DTW flight operated by a rare DC-9-40. Honestly, I hadn't ever tried to find those, because I had never seen them separately in the NWA timetable. However, they did now indeed show up in the system. Now I still had to solve an old problem: How to include the DC-9-50, too?

I continued searching, probably for several hours. In the end I hadn't only found the desired DC-9-40 and DC-9-50, but also a (Delta) MD-88 which was also missing in my log. The long-haul sectors would be operated by Air France and KLM, airlines which I had flown several times before. And I had also been on the A330-200 and the A340-300 several times before. However, I hadn't boarded an Air France A340 and a KLM A330 yet. An A318 also showed up on the MUC-CDG sector, but I had already flown that type before. So I finally booked the MUC-CDG-ATL and ORD-DTW-AMS-MUC sectors on AF's website and added an ATL-MEM-ORD trip on orbitz.com. Final price: 490 Euro.

Two years ago the scheduled DC-9-50 was replaced by a DC-9-30 during one of my trips. So for several weeks I kept wondering: Will the scheduled planes really show up at the gates this time?
Saturday, 14 February 2009
Munich (MUC) - Paris (CDG)
Air France AF1523
10:35-12:20 (10:33-12:14)
Flying time: 01:12 (hrs)

Airbus A318-111
F-GUGR (MSN 3009), delivered in 02/2007
Economy Class, Seat 21E
Check-in & Aircraft
Checking-in online wasn't possible for our journey to the United States, but at least I had been able to reserve seats for the long-haul sectors in advance on AF's website. We had to wait for a while in the cramped combined AF/KL check-in area, but finally we got our boarding passes and could proceed to the gate.
I had been concerned about the short transfer time at CDG, but I stopped worrying when our aircraft arrived on time. It was
F-GUGR
, the newest A318 in the fleet, delivered in February 2007.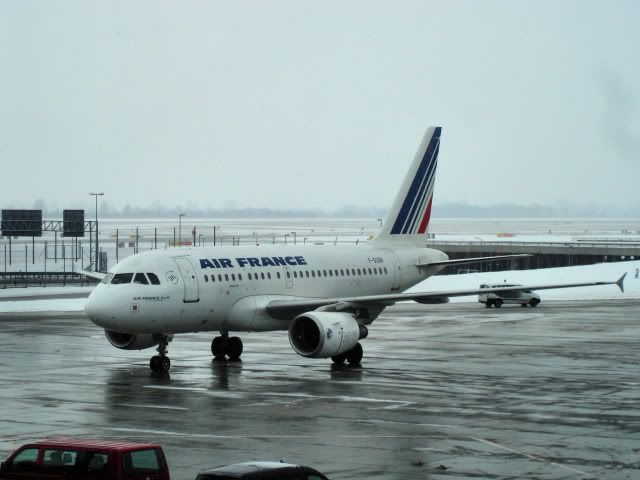 Cabin Comfort & Departure
Friendly flights attendants welcomed us on board after we had had a look at the numerous newspapers and magazines on offer at the door. The seats look more comfortable than they really are...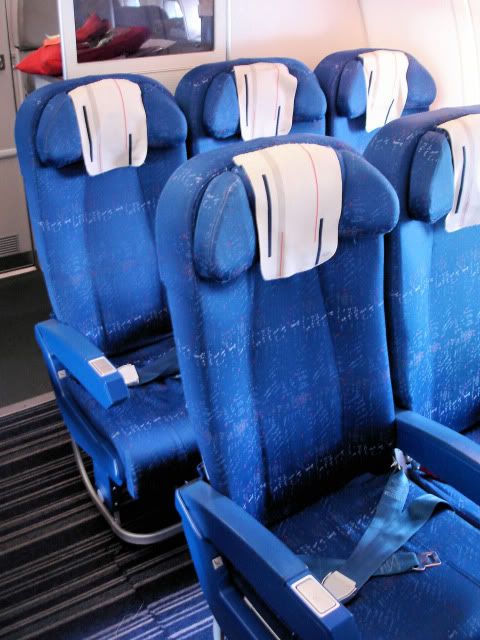 ...and the seat pitch isn't very generous either:
We left the gate a bit early, but the captain announced that we would spend another 10 minutes on the ground due to de-icing on this cold Saturday morning.
"This is perfectly normal in these meteorological conditions"
, the captain explained for those who are not familiar with the procedure.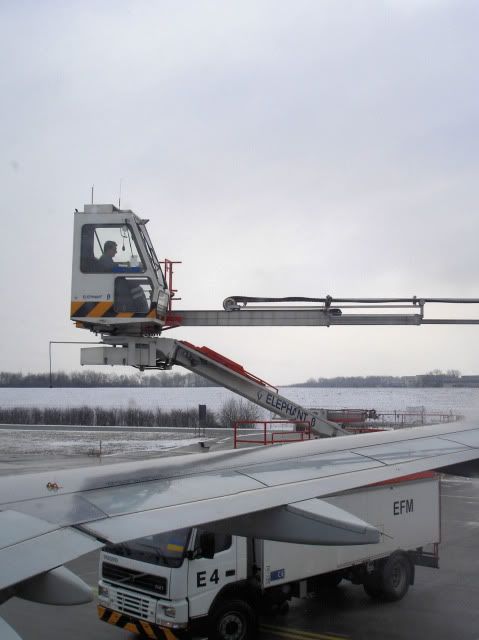 The wing turned orange first...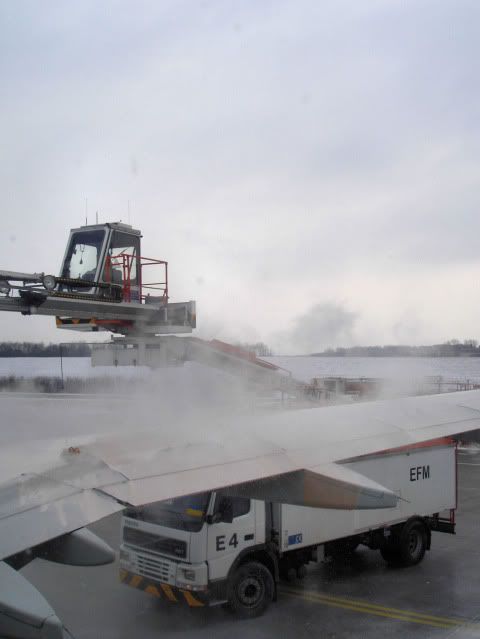 ...and remained green for a while: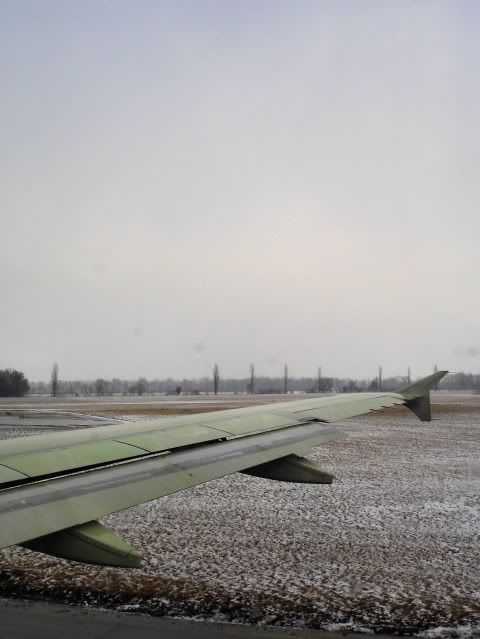 Instant Coffee
I hadn't expected much in terms of catering on that short flight anyway, but Air France still managed to disappoint me a bit - by serving an instant coffee. It was ok, but the taste is just not the same. Anyway, the cookies were good, but small.
The remaining flight was uneventful and we arrived at a bus gate six minutes ahead of schedule.
Transfer at CDG
Transferring at CDG, especially getting from one end to another, can be a pain. However, it turned out to be quite easy and speedy this time. We left the bus which had brought us to Terminal 2D and immediately got in line for the shuttle bus to Terminal 2E. Passport control was required here and we were surprised by a very friendly officer: He addressed us in German, asked for our hometown in Bavaria and told us that he liked Munich. Some minutes later we left the bus at Terminal 2E - but now it took us about 20 minutes to pass the totally cramped security checkpoints. So in the end it had taken us more than 30 minutes from gate to gate. Add a slight delay to that and you may have trouble to get the connecting flight.
Saturday, 14 February 2009
Paris (CDG) - Atlanta (ATL)
Air France AF388
13:35-17:30 (14:10-17:39)
Flying time: 09:11 (hrs)

Airbus A340-313X
F-GLZN (MSN 245), delivered in 11/1998
Economy Class, Seat 45K
Aircraft & Boarding
Both the exterior design and the interior design of Terminal 2E are impressive...
...but the windows are a nightmare for spotters. Here's the best picture I could take of our aircraft,
F-GLZN
, an A340-300 delivered in November 1998:
Boarding had just started when we arrived at the gate - and two long queues plus additional passengers still being seated indicated that the flight would be full. So we had to wait another 20 minutes until we could enter the jetway. Certain passengers were selected for another security check after the boarding pass screening, but luckily, we could proceed. Again, friendly flight attendants greeted us on the way to our row.
The seats weren't the airline's latest long-haul models, but still quite comfortable: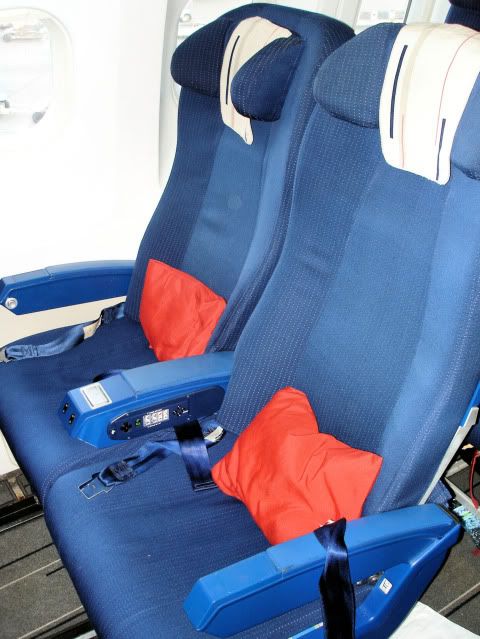 Old-style, blue seatback with small PTV:
Seat pitch wasn't very generous - it was only just sufficient for me, but not for my brother who is some 15 centimeters taller than me.
Delayed Departure
After nearly all seats had been taken and loading had been completed, I was expecting an immediate pushback...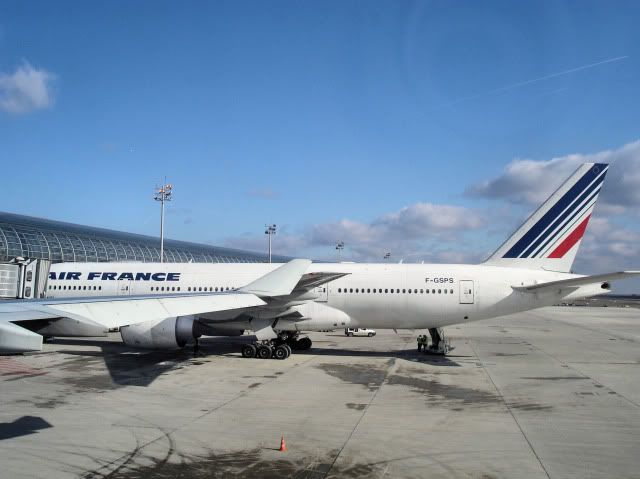 ...but the captain announced a delay: Some passengers hadn't shown up at the gate and now their luggage had to be offloaded again.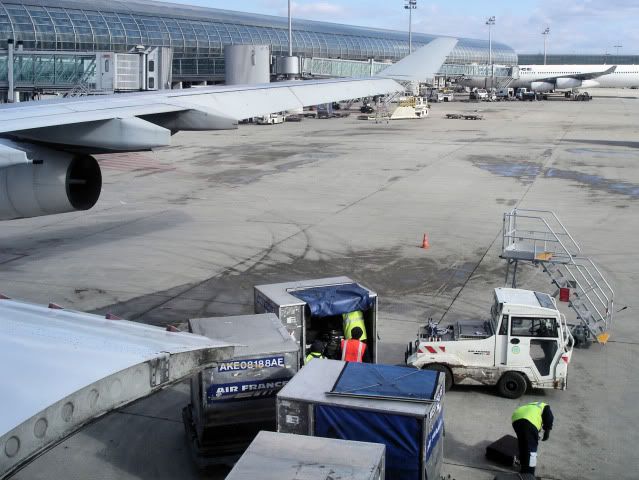 We finally left the gate 35 minutes late and started taxiing. There's a lot to criticize about CDG, but the architecture is definitely something special.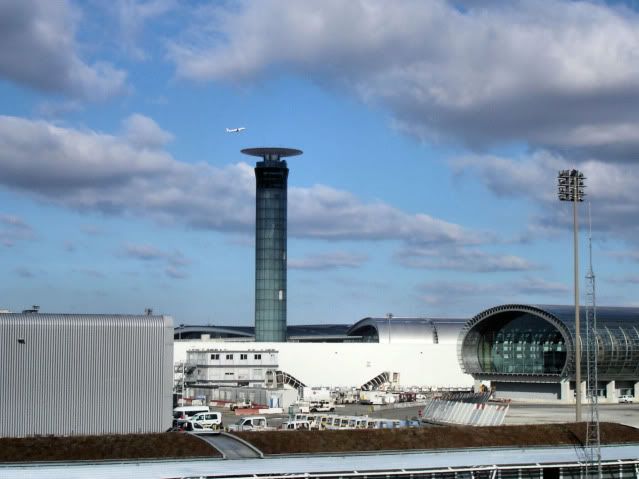 Ten minutes later
F-GLZN
started accelerating, rolled and rolled and rolled and gently lifted off...
...slowly climbing into the blue skies over France.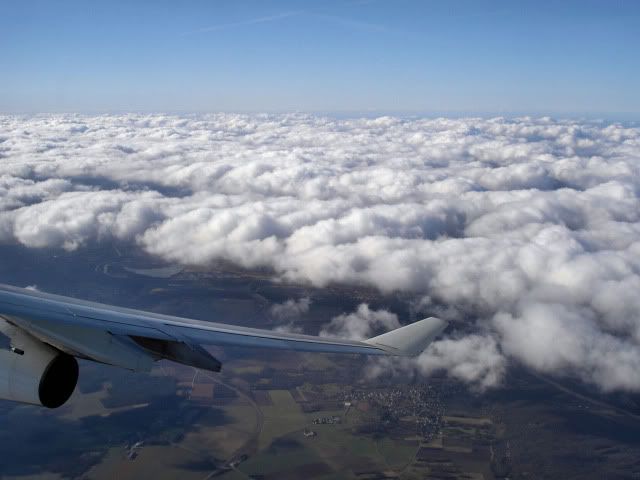 Amenity Kit
Many carriers don't offer amenity kits in Economy Class any more, but Air France still distributes them. Eyeshades and earplugs can be really useful, especially with noisy kids around...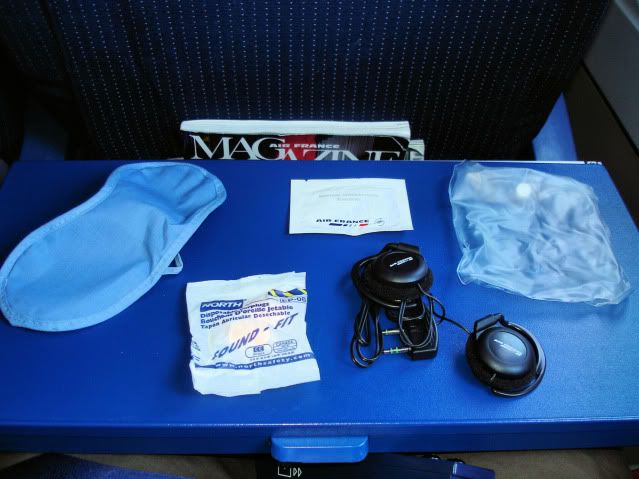 Free Champagne
Another specialty on AF long-haul flights is the free champagne available in Economy Class. So when the flight attendants offered the first round of drinks we certainly ordered the
Jacquart Brut Mosaïque
which tasted quite good. Of course, using plastic cups is a breach of style, but the main thing is it was cool and bubbly.
The anise-flavored crackers weren't bad either.
IFE
Even though the hardware wasn't up to date,
F-GLZN
was already equipped with AF's new AVOD system. Main menu: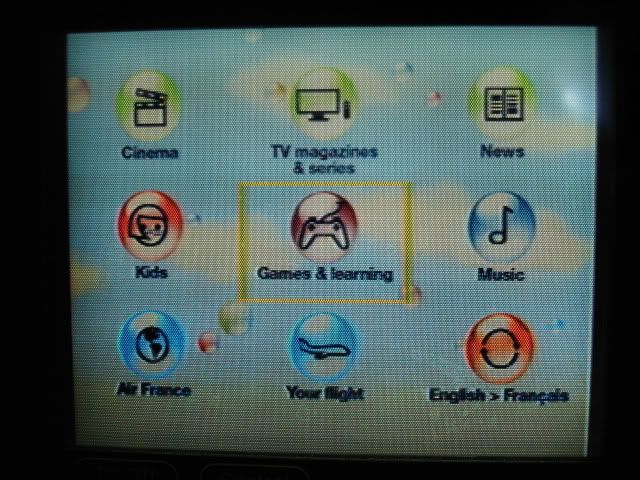 It's not as funky as the systems offered by Emirates or Singapore Airlines, but it still offers a large selection of entertainment options. These are the highlights:


- More than 90 movies, available in different languages

- Dozens of TV features (comedy, sports, nature, travel, lifestyle, kids etc.)

- More than 200 music CDs and albums (incl. playlist builder)

- 25 radio channels

- 15 video games

- Classic airshow channel

- Survey about the flight

The system was easy to operate (touchscreen and handset control) and I didn't notice any problems.
Irish Isles
About 1,5 hours after takeoff we passed several tiny isles...
...and the airshow revealed the exact position:
Lunch
What looks like a postcard is Air France's menu card: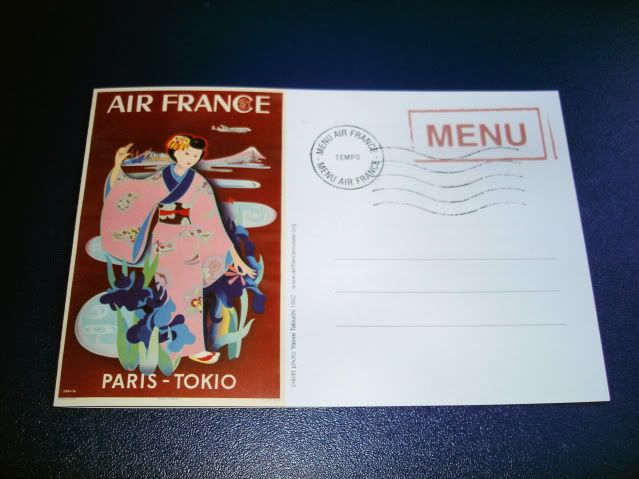 There was a choice between
Beef Bourguignon with mashed potatoes and French green beans
and
Broccoli and potatoes au gratin with chicken
- however, when the flight attendants with their trolley arrived at our row in the very back of the cabin only one option was left. Bad luck again? No, the beef, my preferred choice, was still available. However, I found out that Air France doesn't serve ginger ale - so I opted for an Indian Tonic. Anyway, the tray looked quite promising: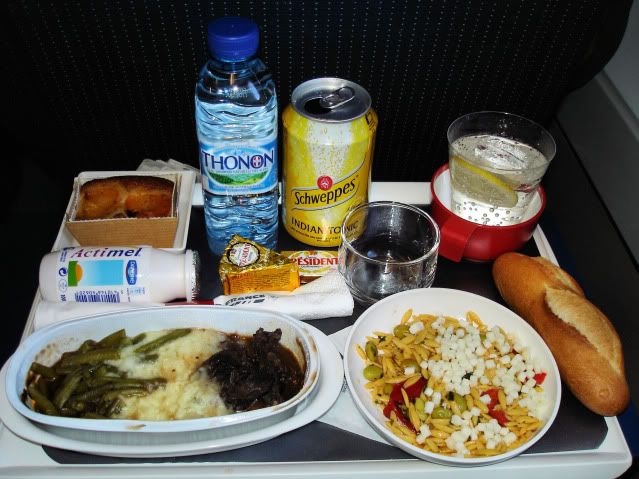 And the tray wasn't just an optical delight. The beef and the sauce in particular tasted excellent, as well as the pasta salad (with vegetables, chili pepper, sheep's milk cheese) and the pistachio apricot cake. The camembert cheese and the crispy baguette were good additions, too. It was a large and filling lunch - one of the best meals I have ever had on a European long-haul carrier.
Traffic & Cabin View
More than 3,5 hours after takeoff, when we were cruising at 36,000 feet over the ocean...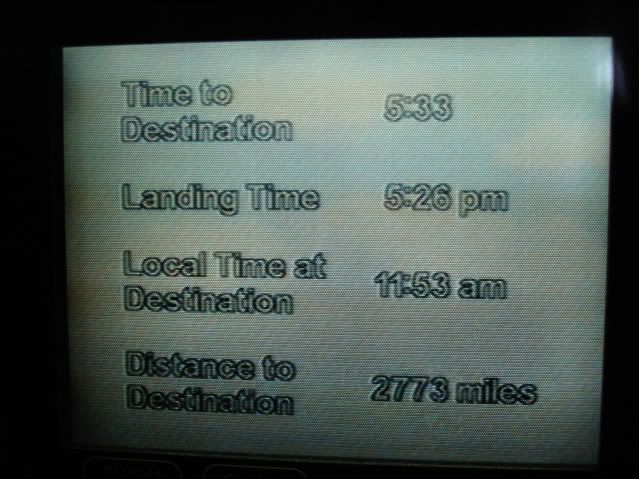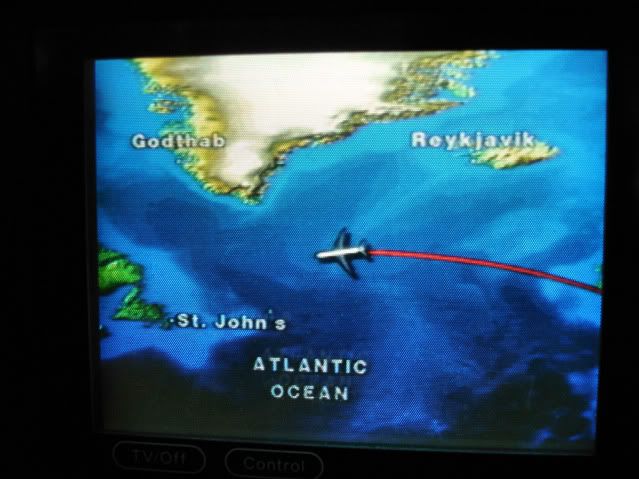 ...I first noticed an American Airlines bird in the distance - and some time later I spotted a British Airways 767-300ER which came a bit closer:
After spending a few more hours using the IFE system it was time for a walk and a cabin shot: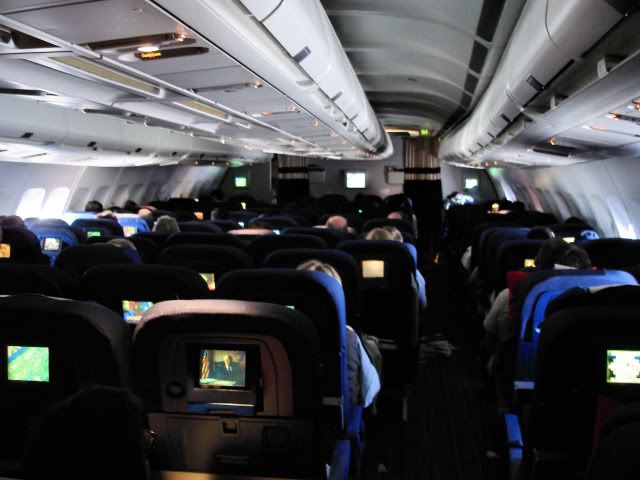 Newfoundland partly covered by snow: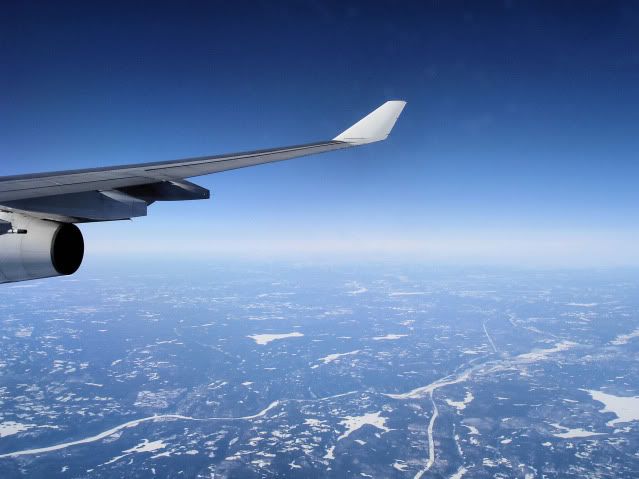 Dinner
According to the menu card, a "chilled dinner" would be served prior to arrival. And again Air France surprised us with a delicious meal, consisting of couscous with chicken, bread, cream cheese and a tart.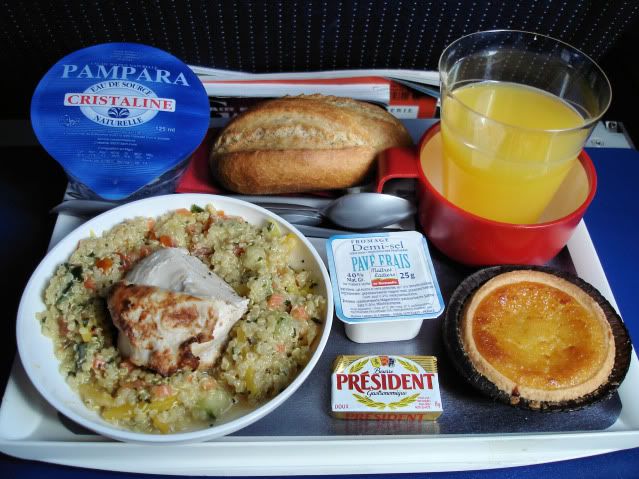 The couscous tasted fresh and the large piece of chicken breast was soft and juicy. I also liked the cream cheese, but the best of all was the sweet and fruity tart. One has to praise Air France for offering such a dinner - which is in stark contrast to the fatty and nasty pizza pieces or pies other carriers serve as pre-landing snacks on transatlantic routes.
Approach
After almost nine hours in the air we broke through the clouds in the evening sun: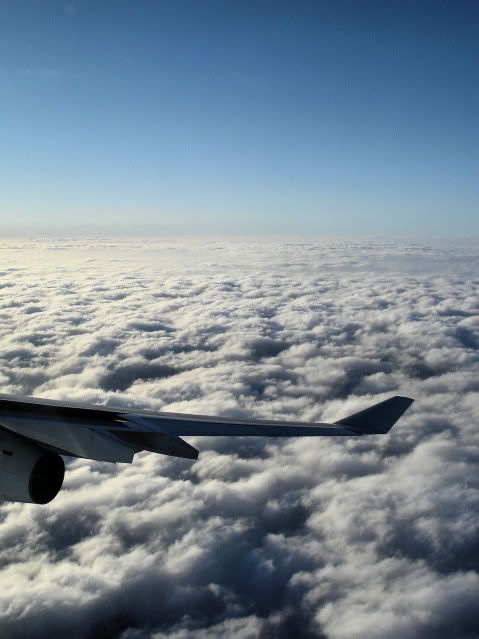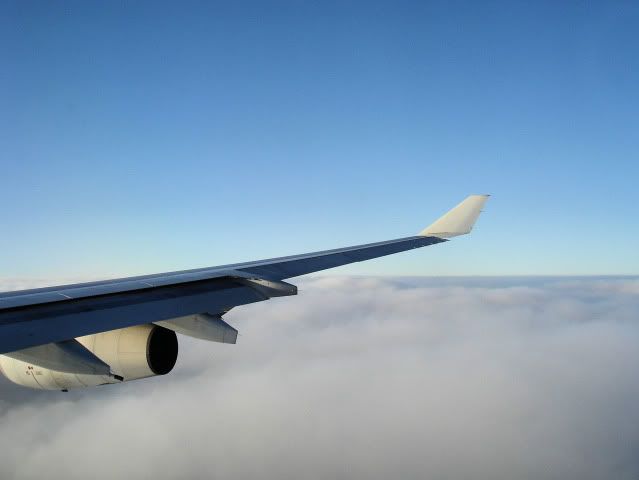 Delta jet on approach to one of the northern runways:
Delta MD-88 waiting for takeoff clearance on runway 27R: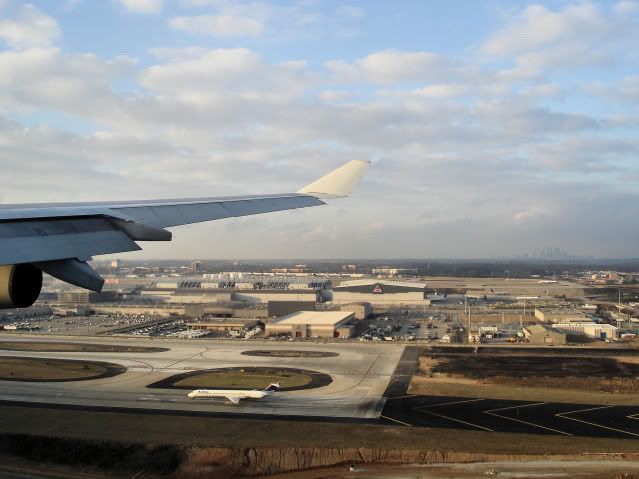 Shortly after touchdown on runway 27L...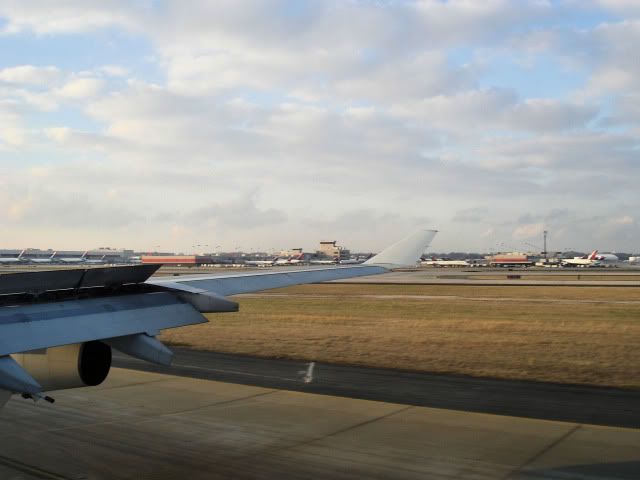 ...the very MD-88 climbed out over our head. Simply awesome birds, aren't they?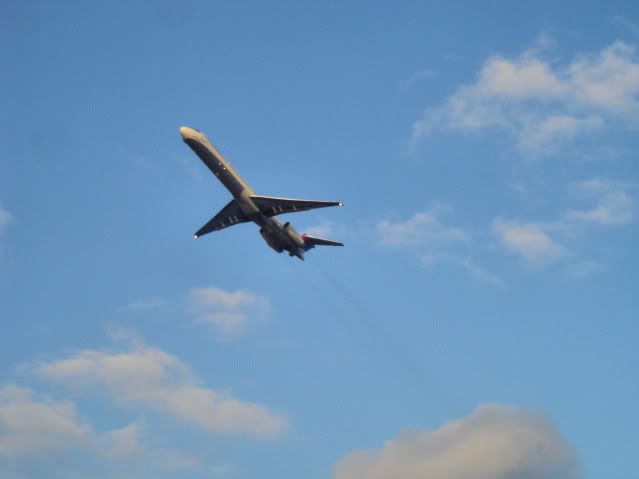 Our aircraft finally arrived at the gate only nine minutes behind schedule and we soon found ourselves stuck in a large crowd in the immigration hall. We had to wait in line about half an hour, longer than at most other gateways I had visited before. ATL was our final destination today, but passengers with tight connections definitely ran into trouble. It may also be confusing that even arriving passenger have to put their luggage back again on a belt AFTER the customs check - but that's because of the specific layout of the airport with numerous concourses. After arriving at the main terminal hall you can finally pick up the luggage.
Renaissance Concourse Hotel Atlanta Airport
I had stayed elsewhere in Atlanta before, but the
Renaissance Concourse Hotel
is my favorite. It may be a bit more expensive than other airport hotels around, but it's very conveniently located and it's equipped with nice and comfortable rooms. Main hall:
Large beds with six pillows: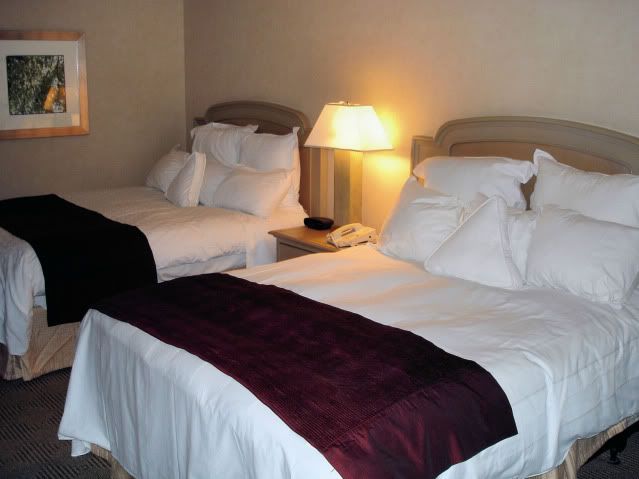 Just make sure you request airport view at the time of booking – then you can sit down on the room's balcony and watch the movements:
No doubts, this is the home of
D-E-L-T-A
!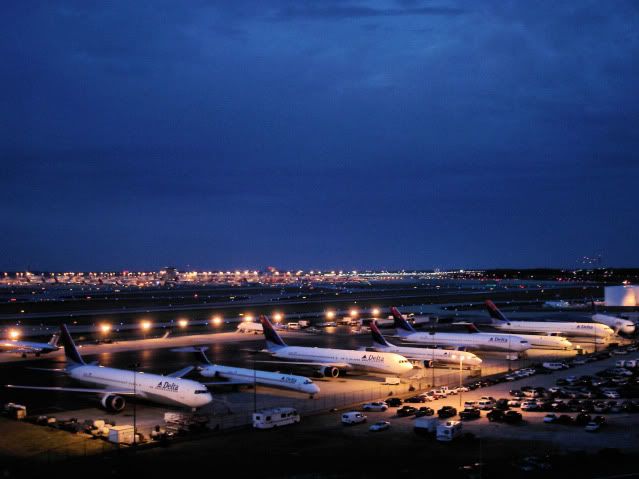 Btw - the windows are soundproof. Well, you can still tell when an MD-80 rockets upwards.
Downtown Atlanta & World of Coca-Cola
On the next morning we took the shuttle to the airport and bought train tickets to downtown Atlanta. Some 30 minutes later we arrived in the heart of Atlanta - which was completely deserted on that early Sunday morning.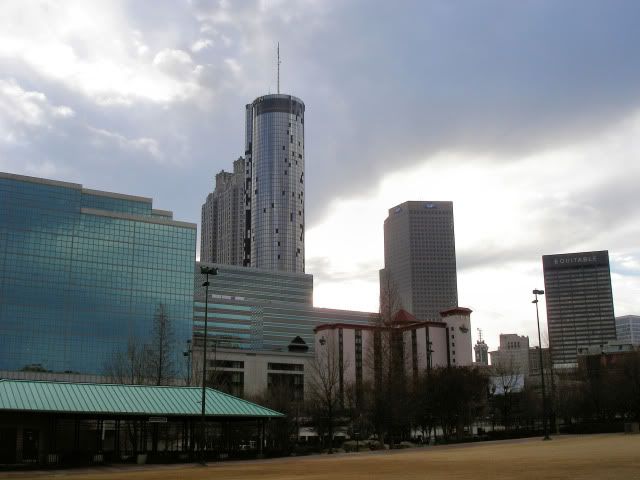 This is CNN's headquarters, the
CNN Center
:
The tower on the right is the
Bank of America Plaza
, the tallest building in Georgia and the 30th tallest building in the world (311.8 meters). The tower on the left is the
AT&T Midtown Center
: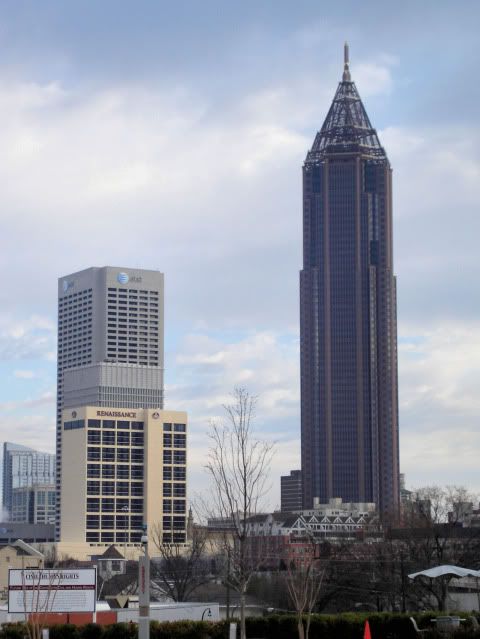 On the way to the Coca-Cola museum we walked through the 21-acre
Centennial Olympic Park
, built for the 1996 Olympic Games: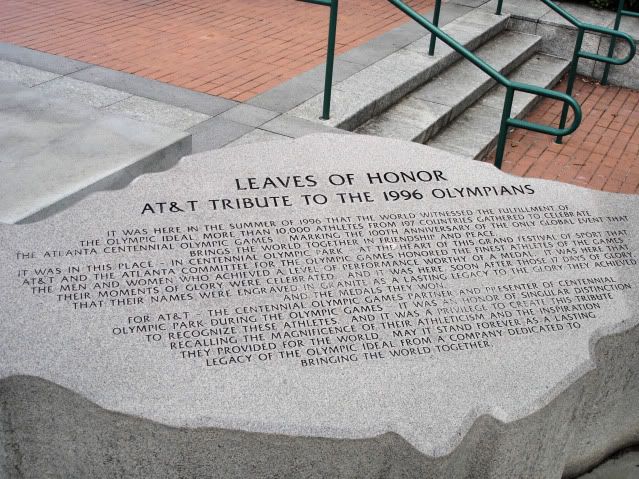 Here it is - the (new)
World of Coca-Cola
, opened in May 2007: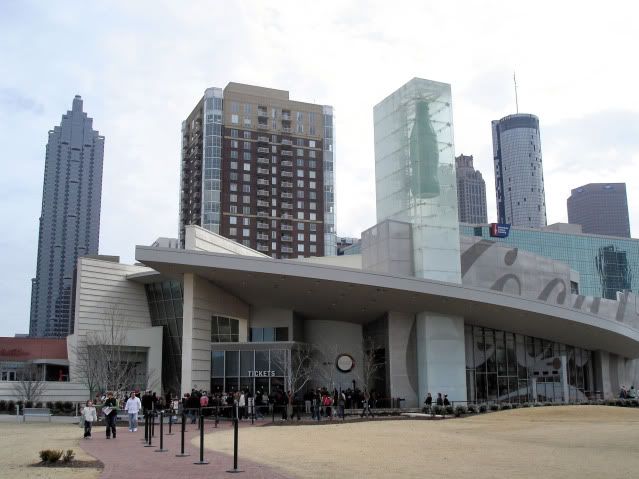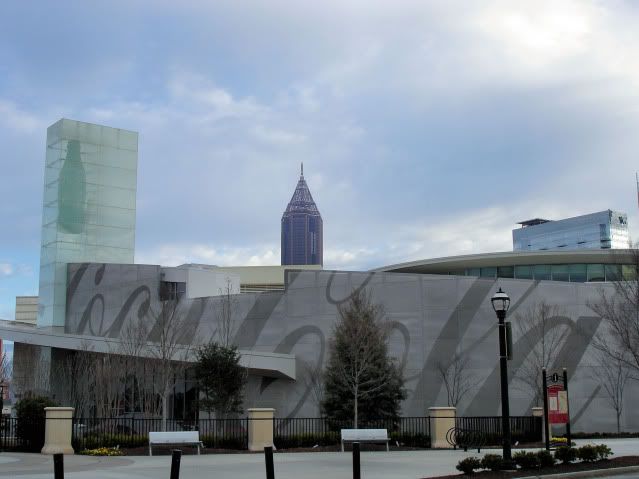 The museum is located at
Pemberton Place
, named in honor of
Dr. John S. Pemberton
, the inventor of Coca-Cola: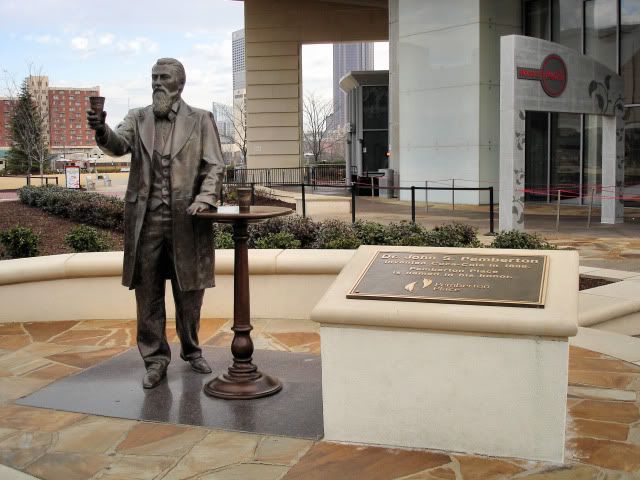 I had purchased tickets online some days prior to the trip, so we didn't have to wait in line. We spent about two hours in the museum which is interesting even for those who aren't Coca-Cola fans. No matter if artifacts, memorabilia, documentaries, a theater, a bottling line or a giant gift store - there's a lot to discover in the museum.
Entrance hall: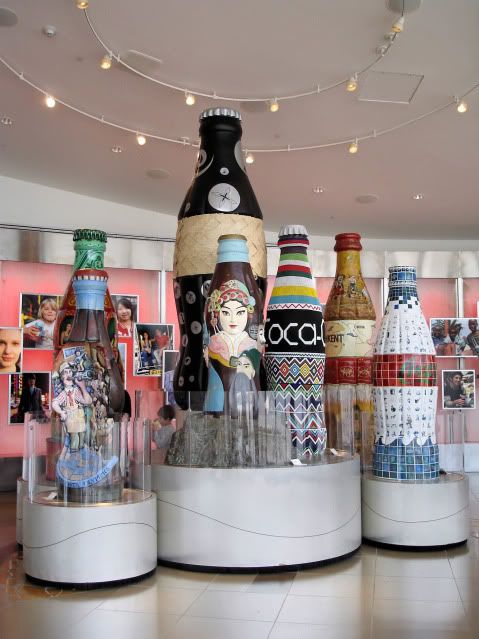 Signs from around the world:
The secret formula...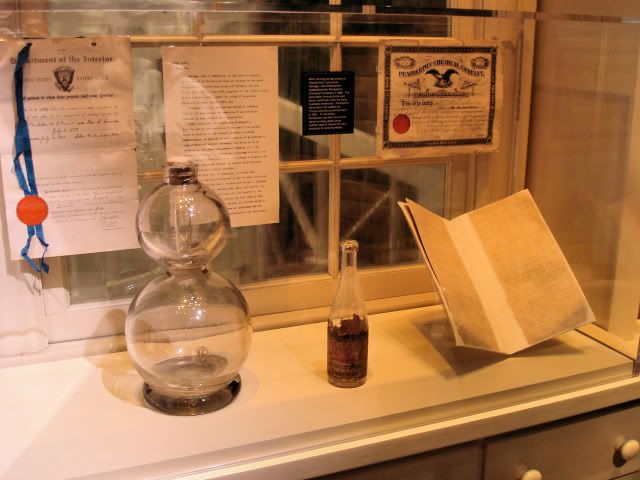 Dr. Pemberton again:
Classic delivery truck: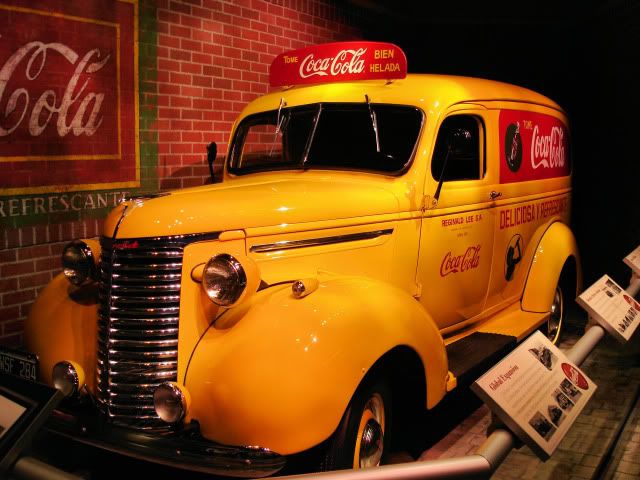 Bottles...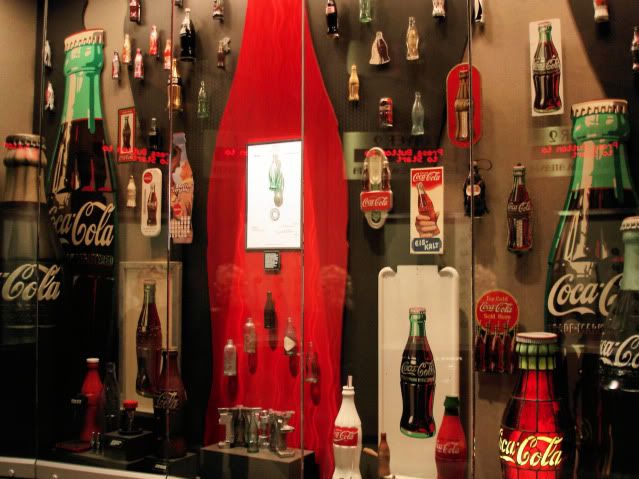 ...and fridges: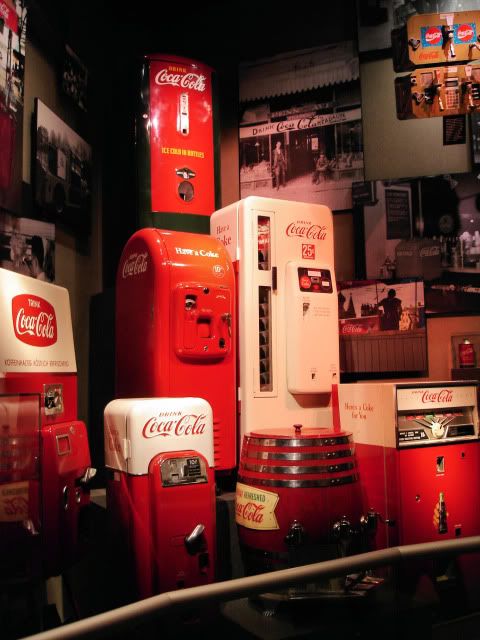 Products from around the world: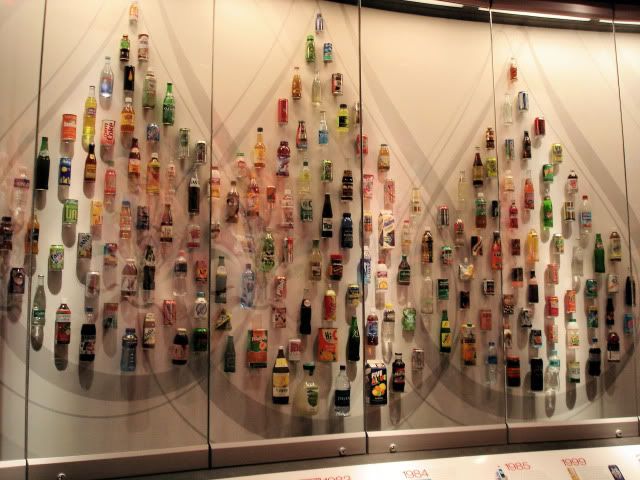 Memorabilia...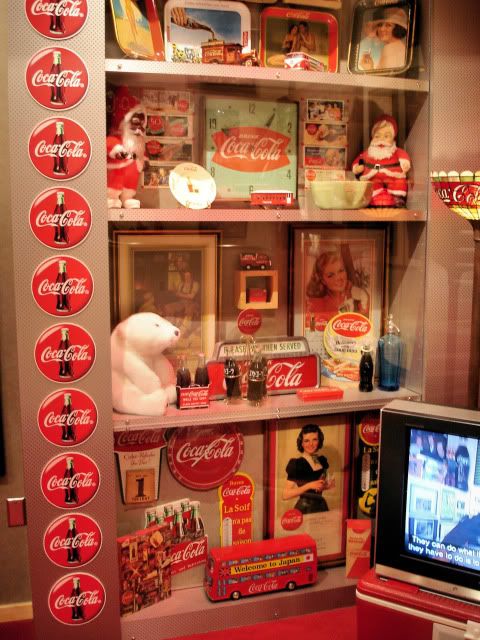 Fully-functioning bottling line: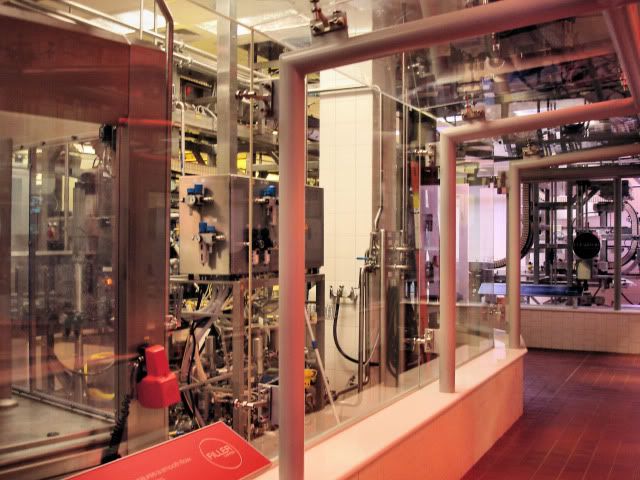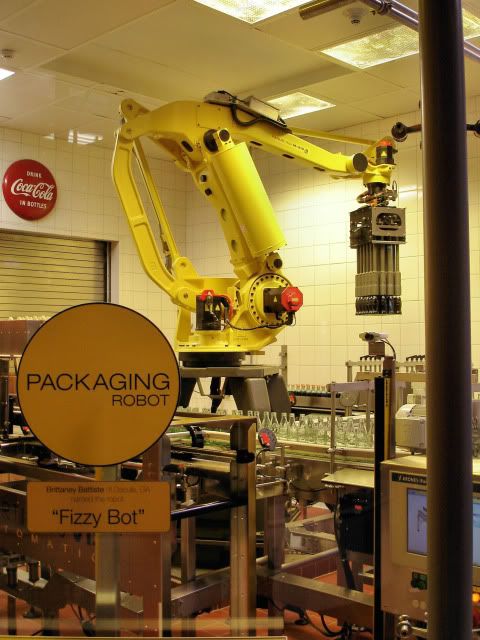 This is what I liked most: the
Taste It!
exhibit where guests can sample nearly 70 products offered by the company worldwide:
Here's some really weird stuff, sold in African countries: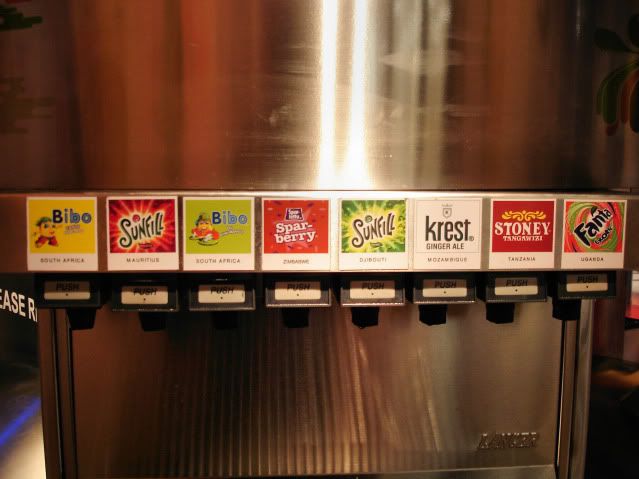 In the early afternoon it was time to return to the airport for our onward journey to Chicago via Memphis...story to be continued.
Conclusion
Flying Air France to ATL was a pleasure, despite certain weaknesses. First of all, the catering on the long-haul sector deserves a special praise: portions were big and the food tasted very good, partly even excellent. Getting champagne in Economy Class is another positive aspect - but there could have been more rounds of drinks in general. And AF should get rid of the instant coffee (which is also served on long-haul routes). The catering on the European sector was a bit disappointing, but that's what you get on many carriers in these days. The seating comfort was good on the A340, but pitch was limited on both flights. It will be interesting to see what happens when the older cabins get upgraded with new seats. AF's AVOD IFE system keeps you well entertained, and it's just a matter of time until the old-style PTVs will disappear on the A340s. The cabins were clean and in good shape. However, I noticed a lack of paper tissues in the lavatories after a few hours on the CDG-ATL flight. Flight attendants and ground staff were friendly and motivated, without an exception.
As for the transfer: Everything worked out as planned this time, but I would still try to avoid tight connections at CDG. So will I fly Air France on long-haul routes again? Of course, no doubts about that.
Next report: ATL-MEM-ORD-DTW on Delta and Northwest
Best Regards,
PlaneHunter
P.S.: Just in case you missed them - other recent reports:
"Mission A380": Disappointing Legs On BA/BD/EI
Delights Of Doha, 773 & 77W: DOH-DXB-LHR On EK
A380 Really a Step Forward? LHR-DXB-DOH On EK
Quality & Style: HKG-LHR On Air New Zealand 744
Taiwan Trio: TransAsia, UNI Air And The Taipei 101
"The Wings Of Taiwan": EVA Air A332, 744 Combi
SHA-SZX, Shanghai 757: Delayed By The Military
PEK-SHA, China Eastern A330 & Shanghai At Night
Striking Newcomer: Berlin-Beijing On Hainan A330